20 Charming Cottagecore Wallpapers to Perfect Your Aesthetic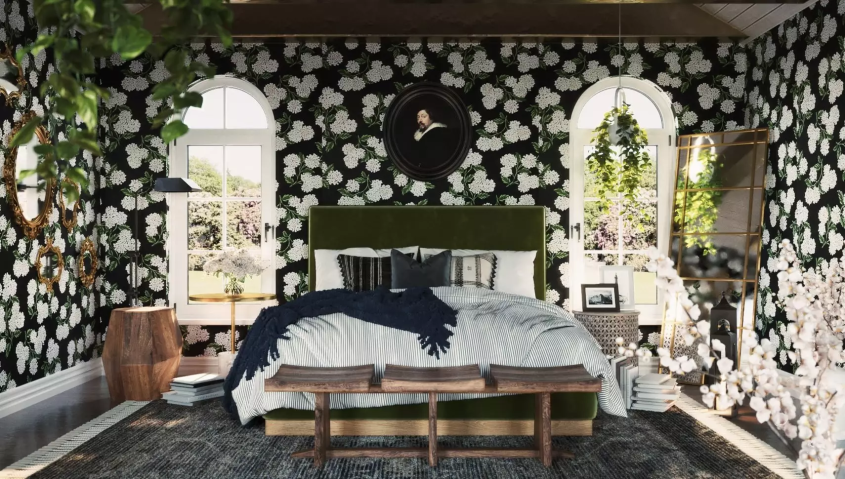 The immersive and enchanting world of cottagecore wallpaper has taken a huge stride in transforming your place's aesthetics to a whole new height. This cottagecore helps in infusing your surroundings with the magic of rural life in your modern and luxurious setup.
The best part of this setup is that it comes in a wide range of options ranging from charismatic, serene blooming wildflowers, countryside's rustic elegance, or soothing options from our nature's palette.
And if you are also planning to begin with any of such ideas ahead but are stuck in a puzzle of how to proceed, then worry no more. We have got your back. We have curated a fancy list of 18 similar captivating wallpapers that are simply magical and help elevate the standard to a wholesome level.
So, brace yourself up to dive into the whimsical charm of cottagecore wallpaper. This list consists of ideas that have the potential to fulfill the need of every enthusiast and has a delightful story to tell.
What is Cottagecore, and From Where Did It Start?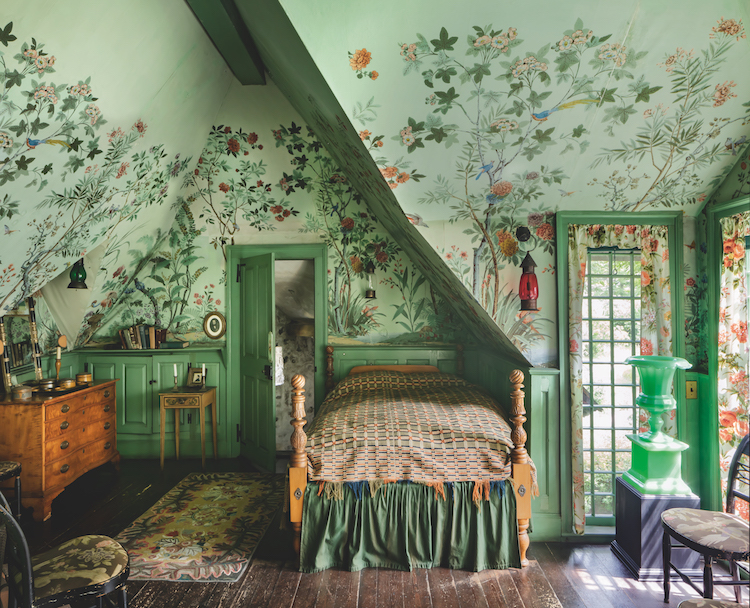 Before heading into the charismatic world of cottagecore wallpaper, let us first delve into the magnificence beginning of cottagecore style. This delightful aesthetic movement romanticizes rural life with a wide range of artistic beauty in hands-on tasks starting from knitting, gardening, and baking. It's often described as country living that meets the style of greenery and flowers with the best of vintage theme. The idea of Cottagecore began in the 2010 decade as one of the trends on platforms like Tumblr and TikTok. However, it has been in existence since long ago.
In fact, as per several sources, the roots of its beginning can be traced back to the Victorian era when it was popular for wealthy city dwellers to escape to the timeless rural village. Cut to recent times, the idea of cottagecore aesthetics widely exploded into the mainstream during the pandemic era, where many people saw this as the antidote amidst the endless scrolling of bad news full of anxiety that came along with the most draconian threat to mankind.
Ever since then, the trend has only proceeded for good. With more and more people getting drawn towards this, the cottagecore wallpaper theme took the most of the limelight among all. Now, the time has evolved in a fashion that the cottagecore has actually been gaining steam among the wider mass of millennials and Gen Z-ers who are looking to decorate their homes as their beloved grandparents actually did.
1. Fabrics and Layered Pattern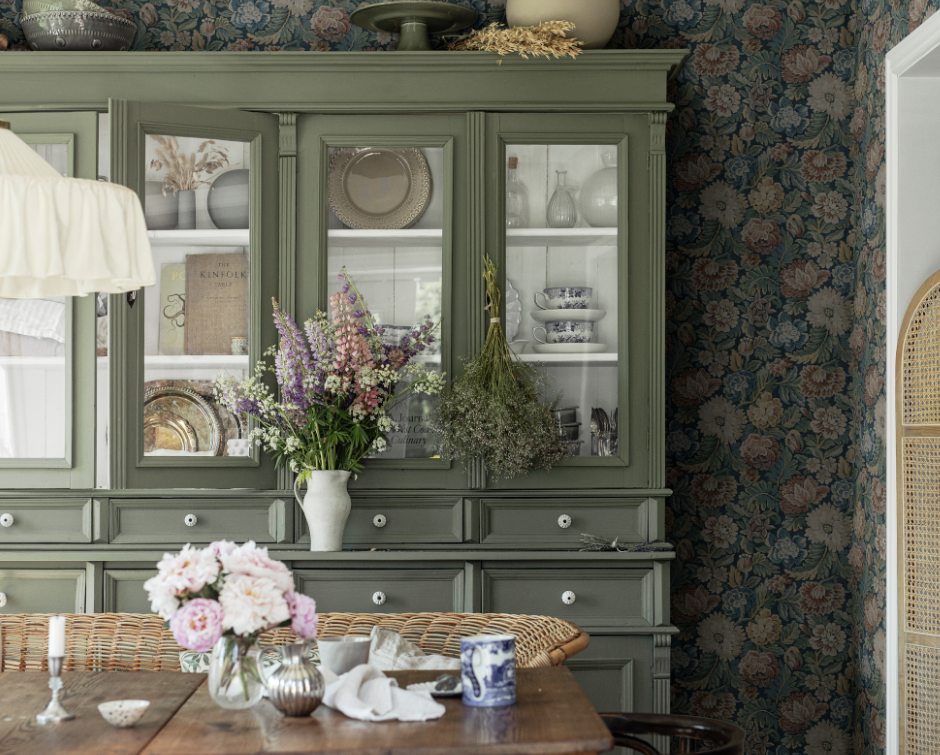 The first idea on the bloc, there's certainly nothing much pristine to detail about this cottagecore wallpaper idea; this is all about layering patterns differently based on your preference to match the ambiance of the home's overall aesthetics. This idea helps bring out the best in you and provides you the complete liberty to play along with floral prints in cohesion with stripes; gingham can be paired with polka dots, and solids can be taken into offset with plaids. While to complement it with the fabrics, thick linen, wool, and cotton are best to go with a variety of textures.
2. Cottagecore Wallpapers Mixed with Wood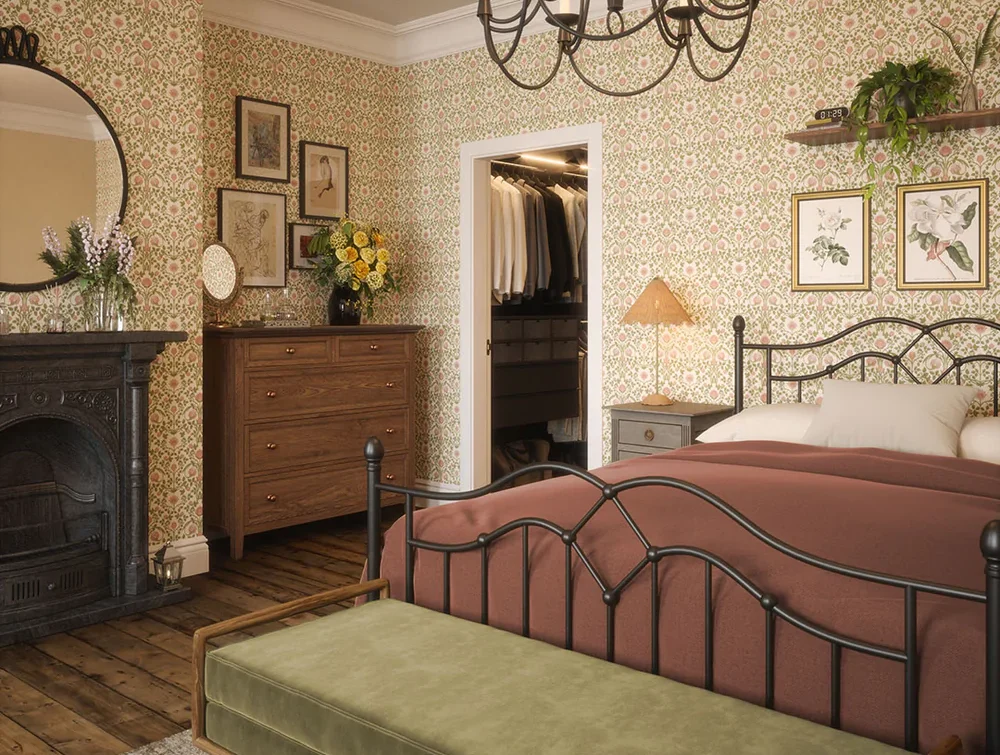 Wood is the most delightful and common theme in the cottagecore style, but it is completely not the case that you have to stick to just one type. The liberty of incorporating different woods can add great depth to your space in totality. So, take up the idea with absolute pleasure and take the pace to mix and match. Try to pair a rustic farm table in the idea with some mid-century furniture, as shown in the image above. A weathered dresser with a big circular mirror also adds to the overall look. The possibilities are endless. All you require is to copup with the theme.
3. Elegance in Wild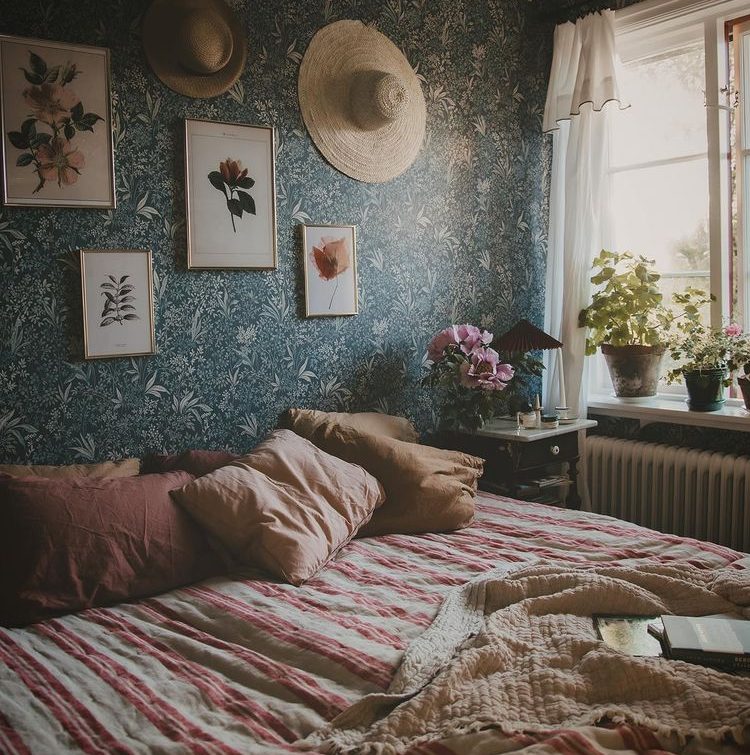 Whether you decide to use it as a featured wall, try to pair it with paneling, or apply it with furniture, this cottagecore wallpaper has the potential to go with all forms of style and provides the comfort to use it in multiple ways. One idea, as depicted in the image above, gives you the idea that this form of wallpaper goes well with both light and dark-themed rooms. Just make sure to choose a design that speaks to you and your personal style.
4. Nature-Inspired Wallpaper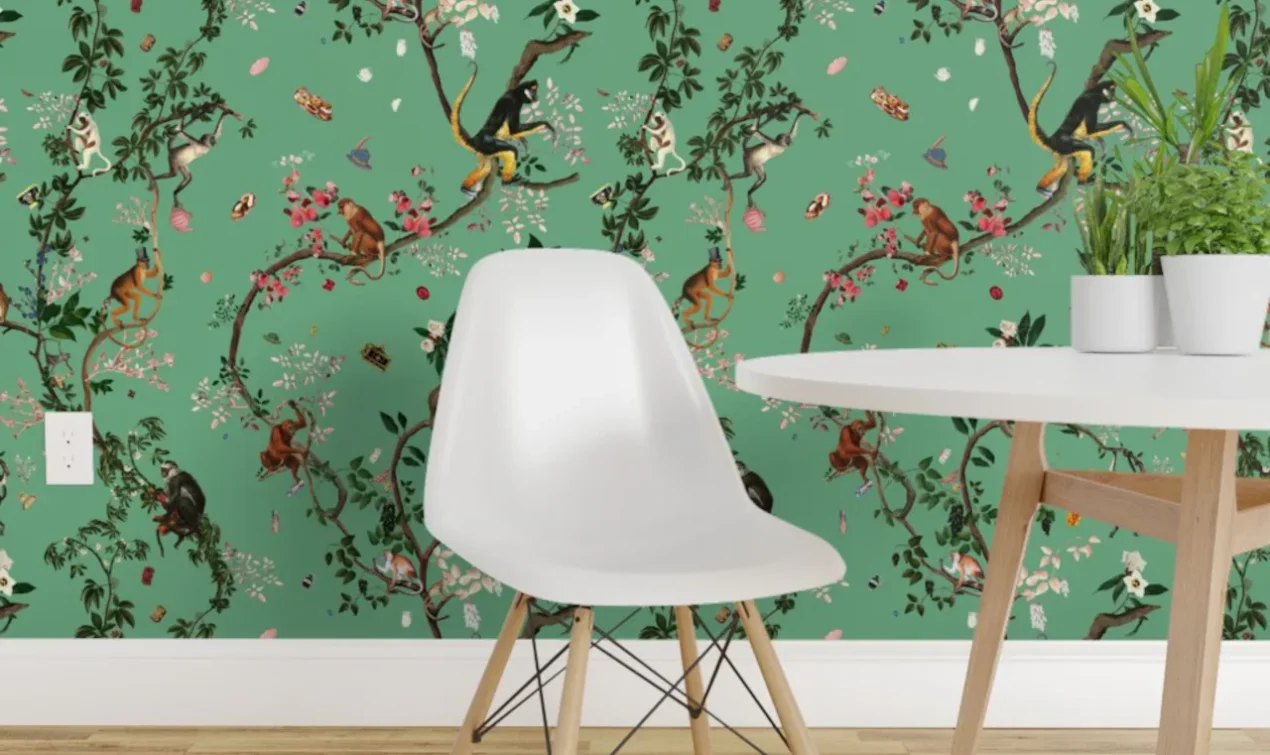 One of the most inspiring and definitive characteristics of cottagecore wallpaper designs is that it keeps nature as a center of attraction. There is no surprise that greenery amplifies the overall theme and serenity of a space. You can incorporate the style in any manner you wish; all you need to focus on is club it with real-life plants in a vintage jug, which will help amplify the overall ambiance and fill the space with liveliness and freshness.
5. Keeping It Simpler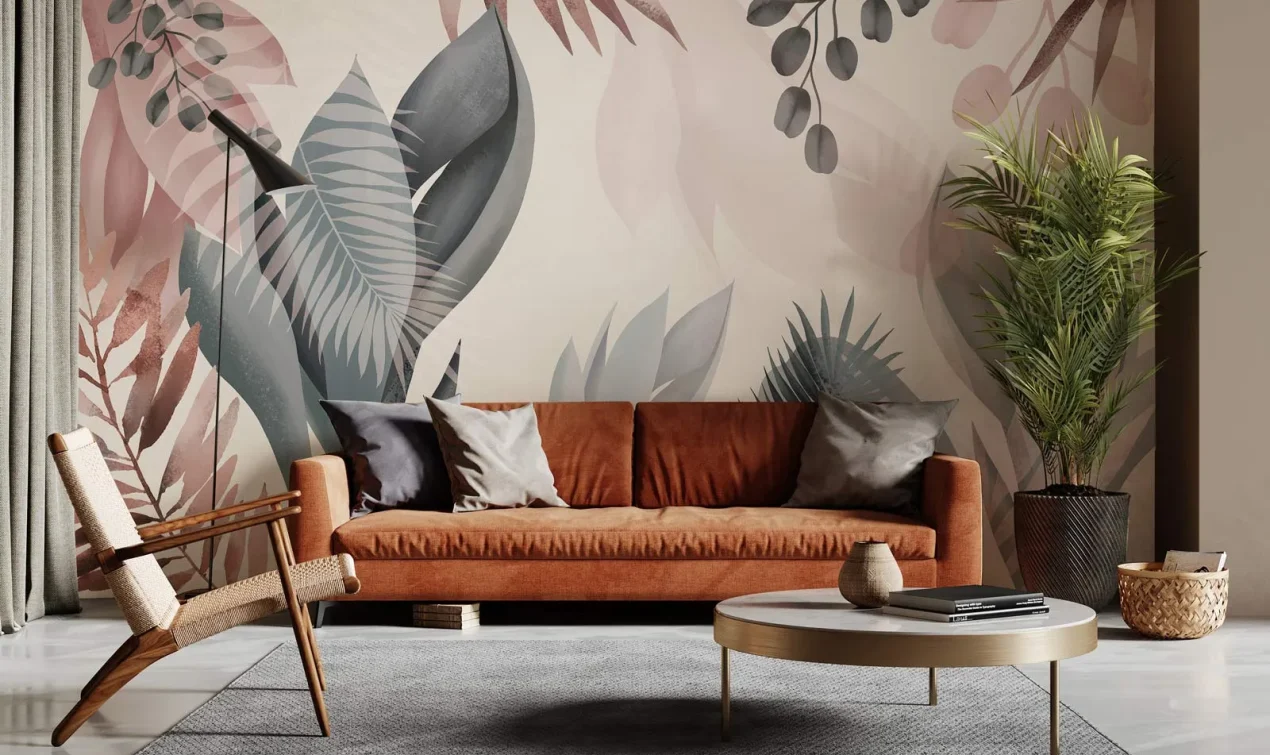 Irrespective of whichever ideas you choose, this tip is essential to incorporate in all the styles you wish. You will get the best out of cottagecore wallpaper when you keep the overall theme as simple as possible. To be precise with the idea and advice on it, make sure you don't entertain much of the wires inside your room; this hinders the overall look of the wallpaper and compromises the overall ambiance of the room. It is essential for you to know that when wallpaper is displayed, the room must have sufficient volume contained in it to present the best look.
6. Cottagecore Wallpaper with Beadboard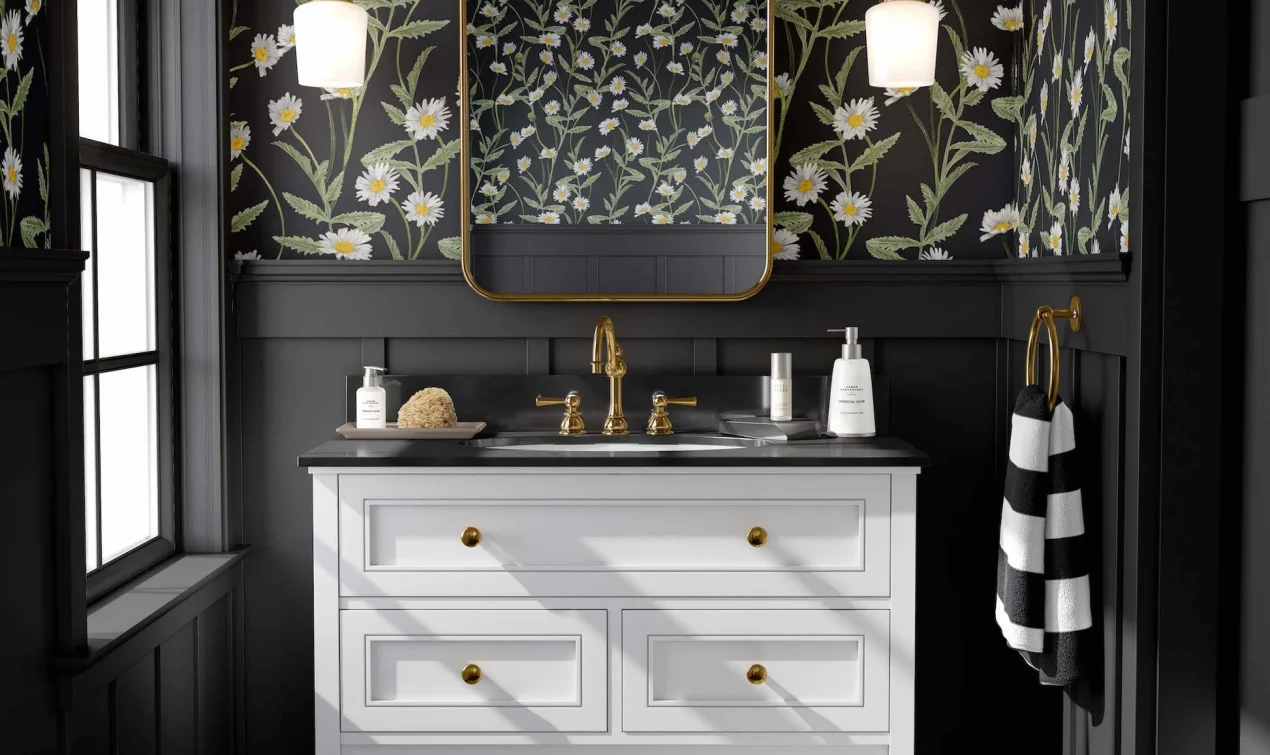 Clubbing the idea of cottagecore wallpaper with beadboard can never go wrong. The traditional style of wall coverings is the go-to style in country-style homes, and they can help you enhance the ambiance of the home in the best possible manner. It can work even in the contrasting notation. However, it is highly advisable that you proceed with the option to use the beadboard of the same theme as that of the wallpaper. This will help you give the best look to your space besides enhancing the coziness in its entirety.
7. Furnishing Idea with Vintage Finds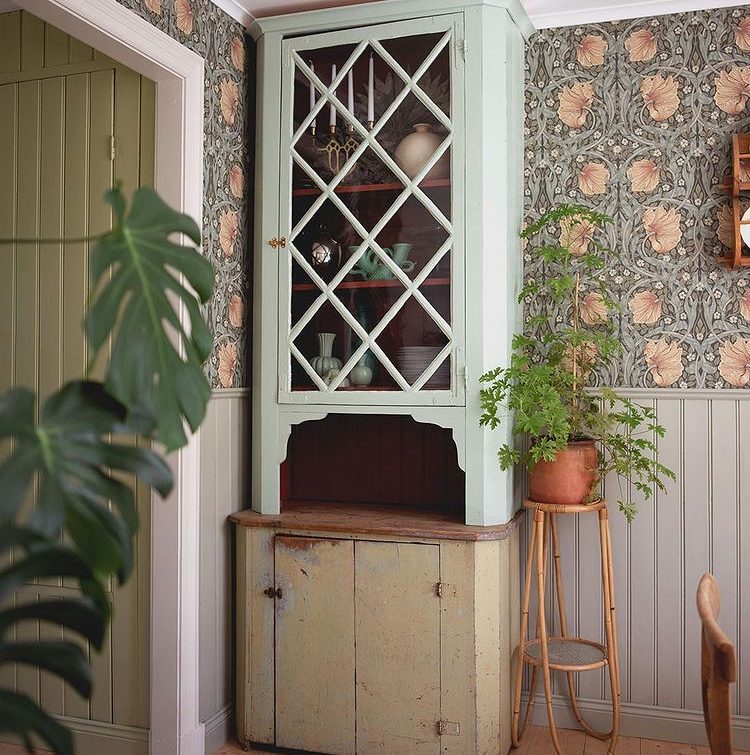 A budget-friendly idea to incorporate with any of your cottagecore wallpaper ideas. Consider adding second-hand and vintage furniture; don't think of spending much, as you might end up messing up the home's decor because this is something the cottagecore wallpaper designs need. Old-fashioned plate racks, bureau-style desks, and old dressers can all be given new life with a little elbow grease and some paint. Just make sure the pieces you choose fit the overall feel of your space.
8. Bring Muted-Tone Color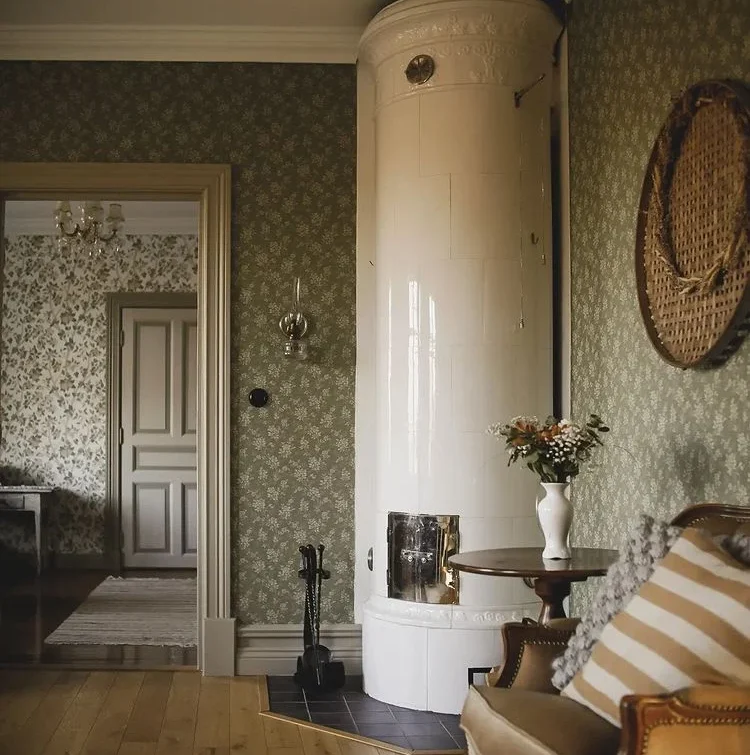 Cottagecore Wallpapers favor the muted tone in the best possible manner. You can consider the shades that include off-whites, creams, vintage blues, and greens specifically to amplify the room's overall serenity. If you are confused about where to start, you can begin by painting the wall in a neutral shade and then building upon it with fabrics and other decors.
9. Display Your Cutlery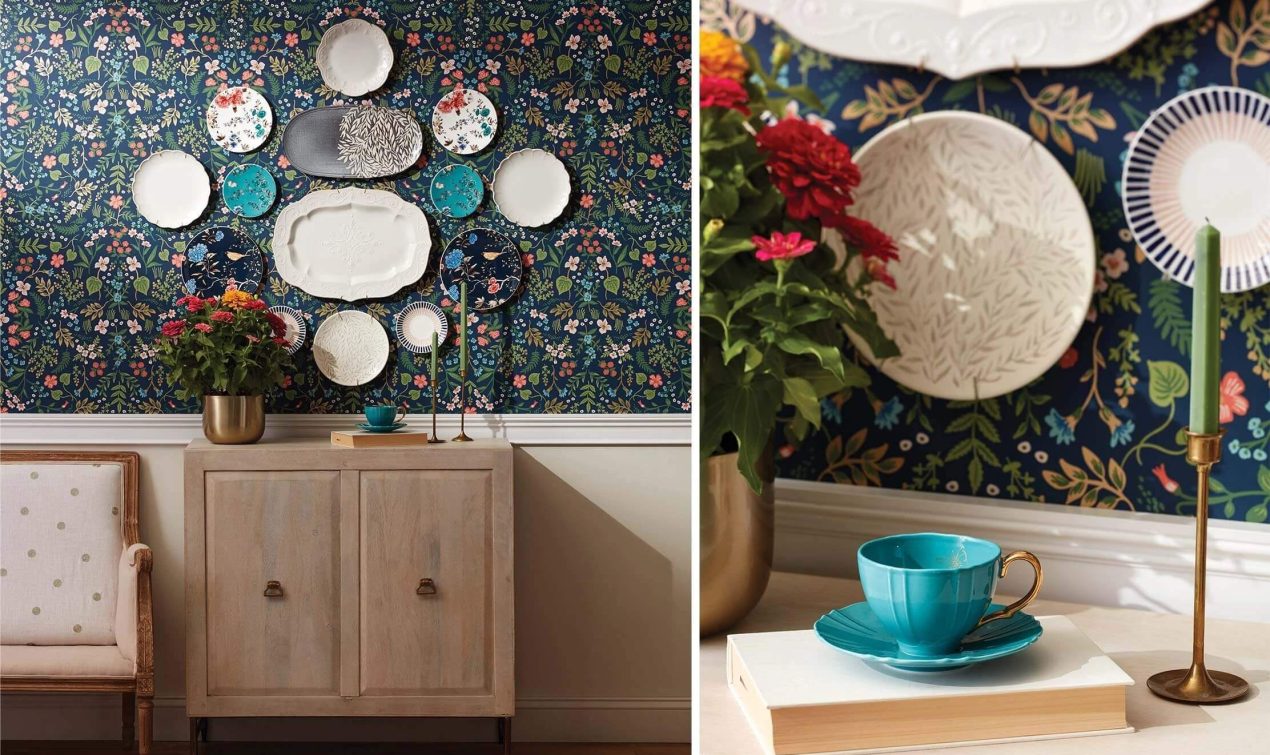 Another profound and high-on-trend designing option is to teach the notion of cutlery items in your room's decor. If you are thinking of proceeding with a theme of this sort, then there must not be a second thought regarding the incorporation of displaying your best china. It is the best way to proceed along where you can take all of your cutlery out of the cupboard and put it on the display and give your setup an inviting look. Besides, it also helps in giving your room a touch of tease and class and will help build your reputation to a wholesome level.
10. Adding the Wall Art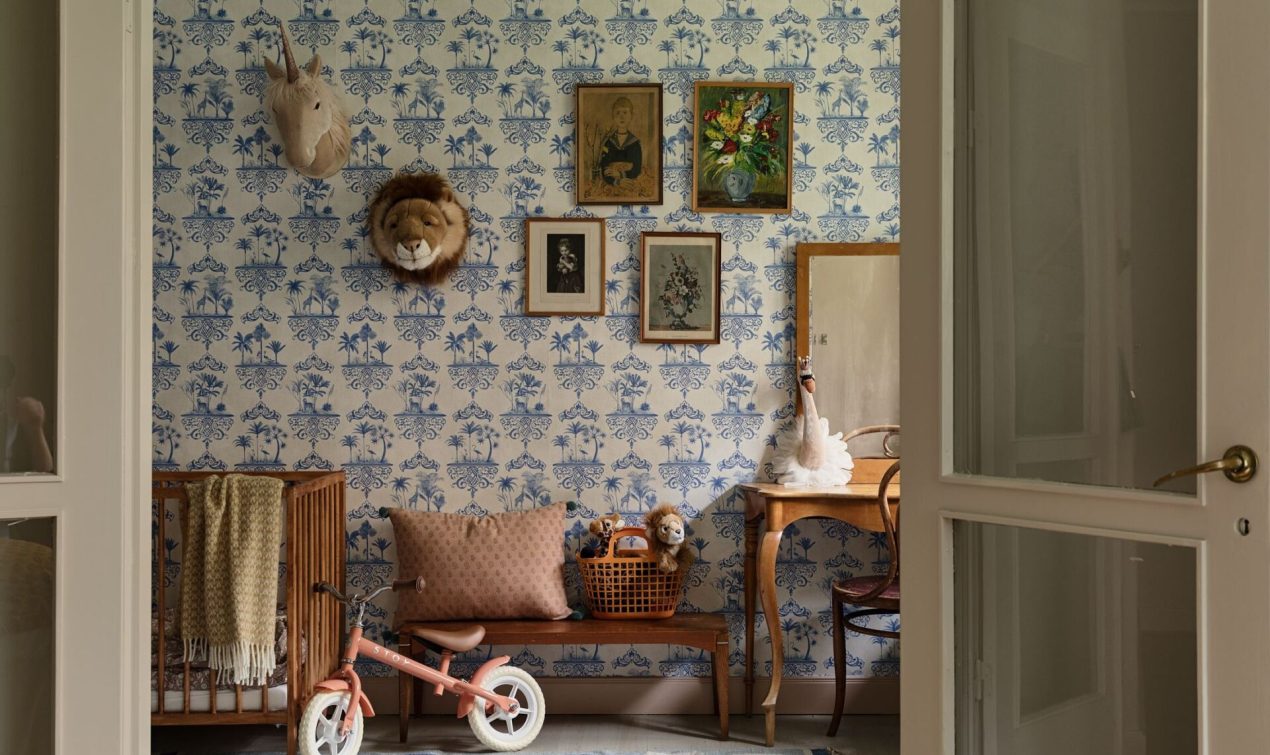 Pastoral wall art is one of the best ways to add vintage style to cottagecore wallpaper. However, we highly recommend that you don't restrict yourself to just one form of art; multiple works of art would do the justice. However, that must have the potential to evoke the feeling of peace and tranquility. So whether you choose a serene nature watercolor, an old sketch study, or even just a pretty botanical print, make sure it speaks to you and makes you feel at ease.
11. Sink Skirt Cottagecore Wallpaper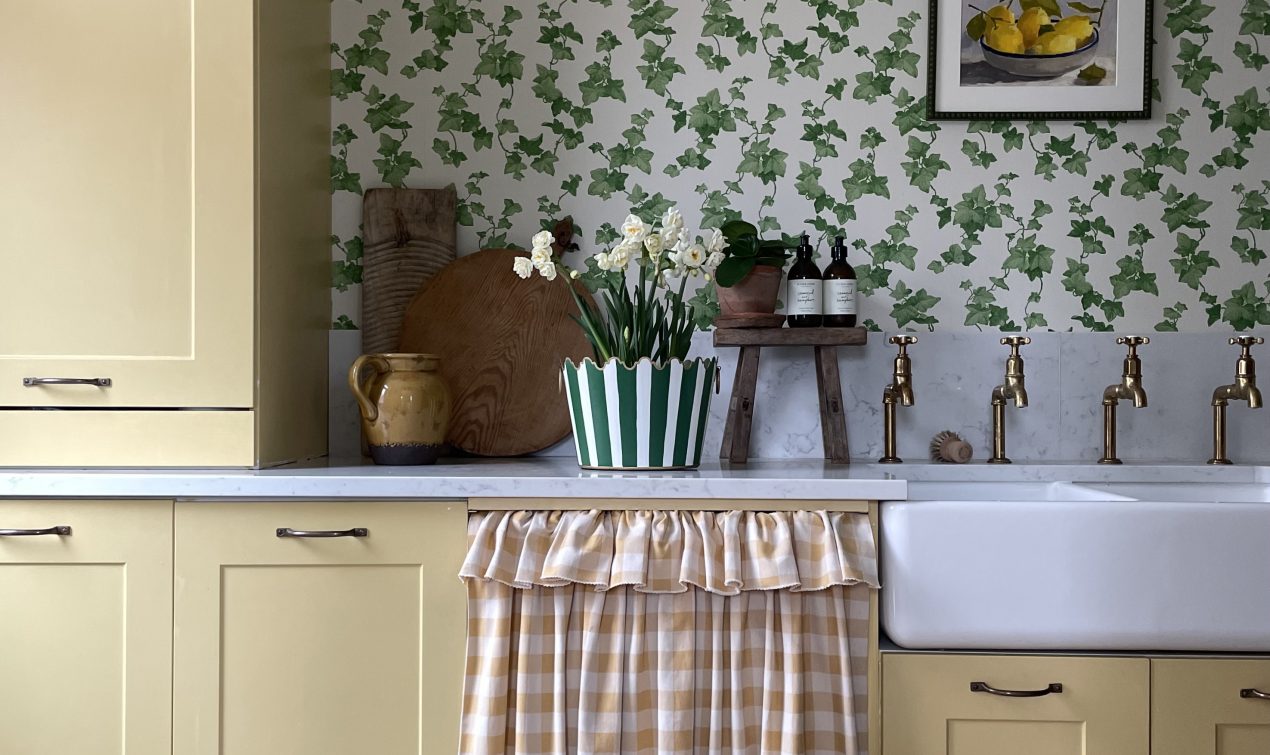 Skirts for sinks! It might sound a bit strange, right? However, this is the best way you can amplify the space of your room with minimal effort. If you can't find the right piece based on the overall ambiance of your room, you might consider making one for yourself. All you need is some fabric, elastic, and a good sewing machine. Proceed with adding some ruffles or the lace trim to add the personal touch that would also add to the look in totality.
12. Peaceful Work Space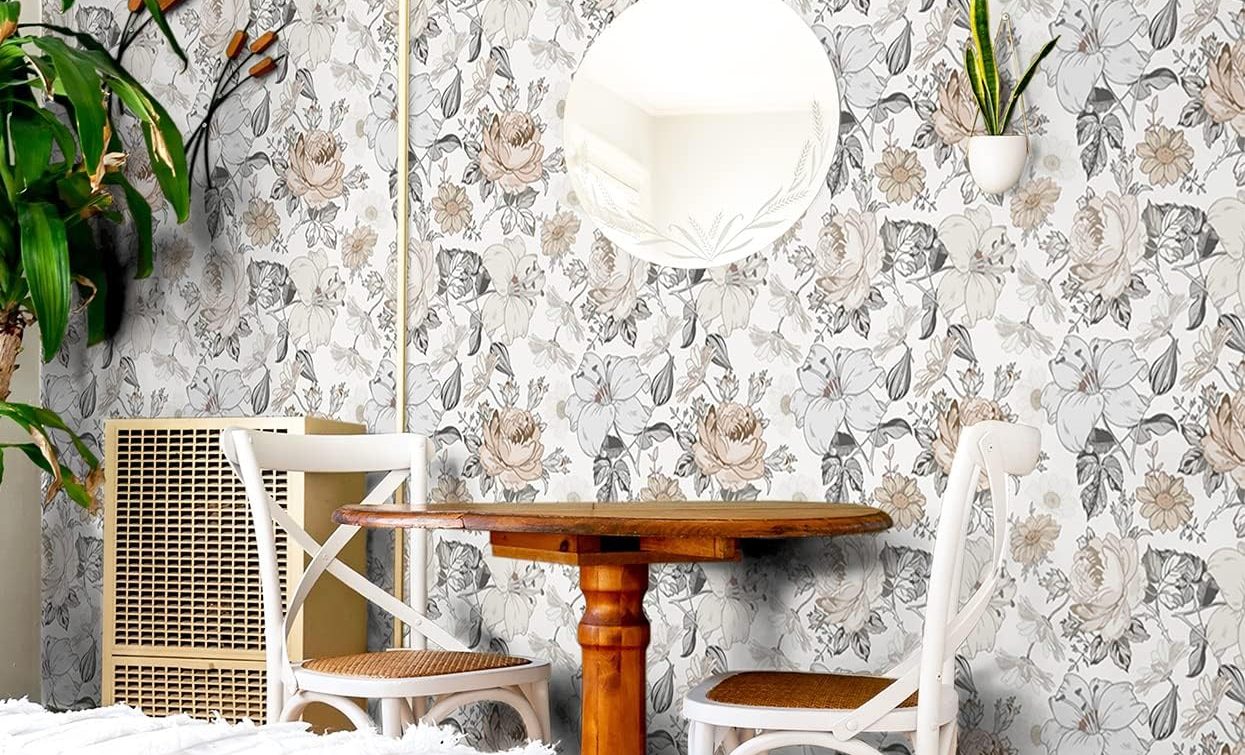 A delighted animated workspace that encompasses potted greenery and charming cottagecore floral wallpaper. Illuminated by an array of ceiling lights, life plants, and other related decor. This is the perfect game-changer design that has the potential to give a much-needed touch of elegance to your room. A magical wooden flooring adds to the ambiance in the best possible manner, creating a harmonious and appealing space.
13. Bedroom with Pink and White Cottagecore Wallpaper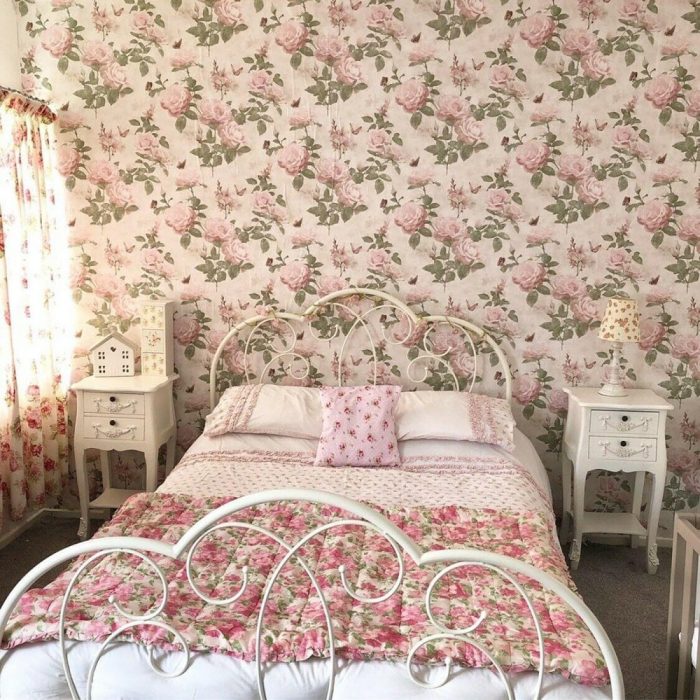 Presented at the very center of the stunning bedroom, with a cozy bed that flaunts a distinctive arch-shaped headboard. This wallpaper setup adorns a soothing, soft pastel pink with gorgeous floral patterns. This room infuses characters of immense importance. This is one of the most ideal of all the ideas on the bloc that complements the aesthetics and utility in the best way. The two bedside table stands to make the overall setup inviting and functional. You might consider adding anything based on your personal needs.
14. Monochromatic Cottagecore Wallpaper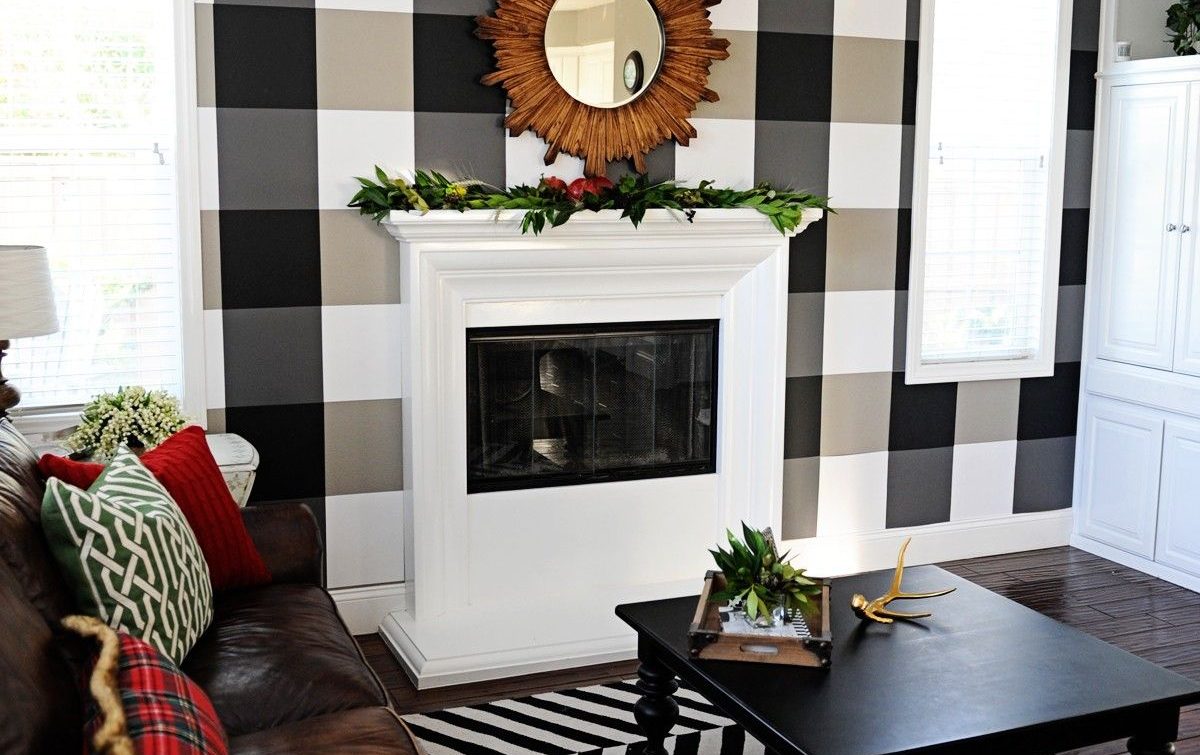 This kind of setup is simply perfect for presenting a decent drawing room setup, making it one of the best combinations of modern and traditional design. The timeless black-and-white checkered pattern for cottagecore wallpaper helps in giving a striking visual. It is highly advisable that you first create the look of the entire room. You might go on to adjust other elements in any manner you wish, as this is one of the rarest patterns in the cottagecore wallpaper segment that can suit any interiors in any manner you wish.
15. Country Brick-Style Wallpaper for the Kitchen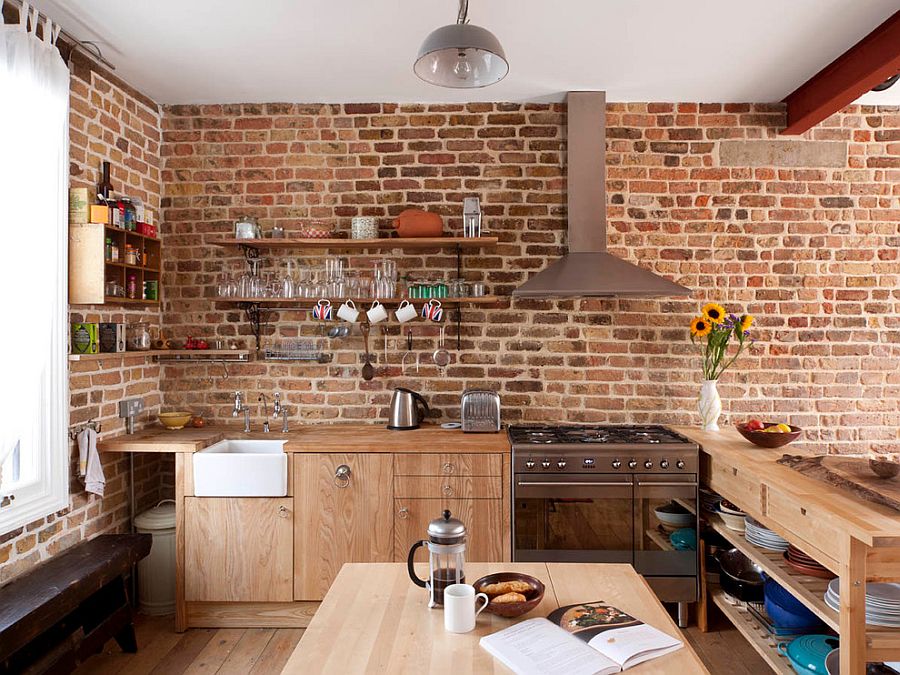 It is one of the ideal designs to follow to create a lively pattern in your interior settings, especially when it comes to one of the most happening places in your room. Pair the setting well with yellow lighting and bright paint to get the most out of the look, as depicted in the image above. Hang all your necessary dishware in a pattern so that you don't mess up in any manner. Make sure that you don't opt for much modern cabinetry in order to maintain that sync, which is essential for getting the best look out of this arrangement.
16. Greena and White Striped Wallpaper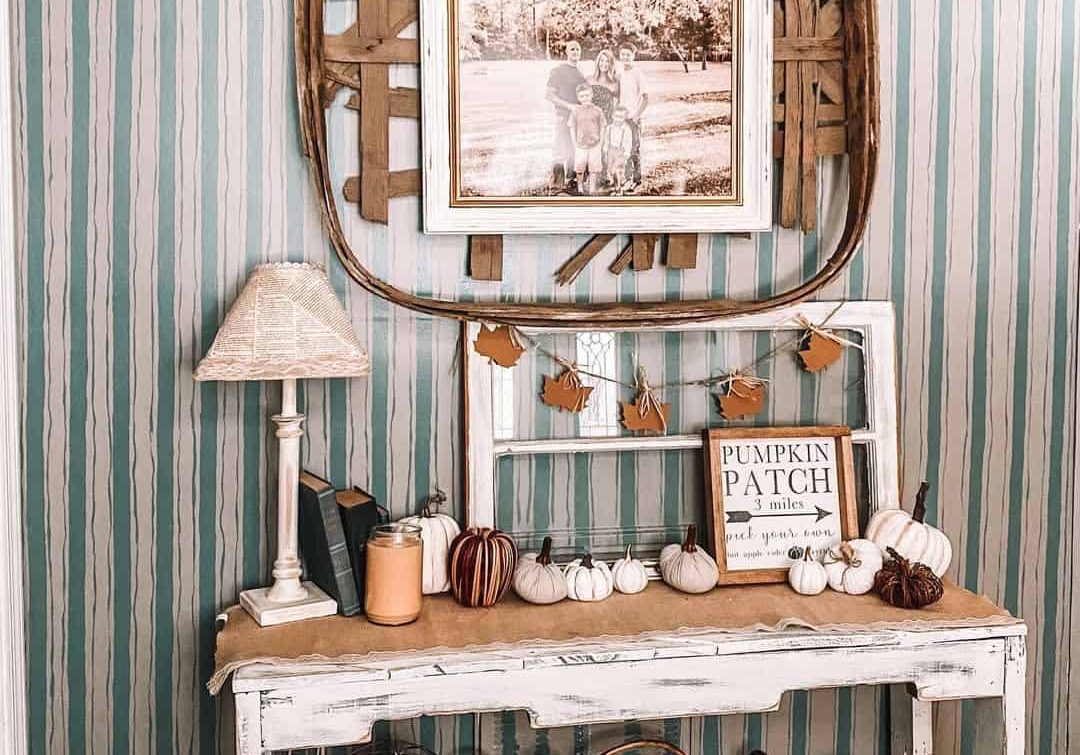 This entryway features charming green-and-white striped wallpaper and a much-needed vintage wooden table that is decorated with white pumpkins, a light, and an antique fan. The design and the overall setup are completed with the presence of a vintage basket that contains a white-framed family photograph. This arrangement gives you the taste of luxury in the authentic vintage Western style. Consider adding a few decors, as depicted in the image above that will help in enhancing the look in the best way.
17. Dining Room Cottagecore Wallpaper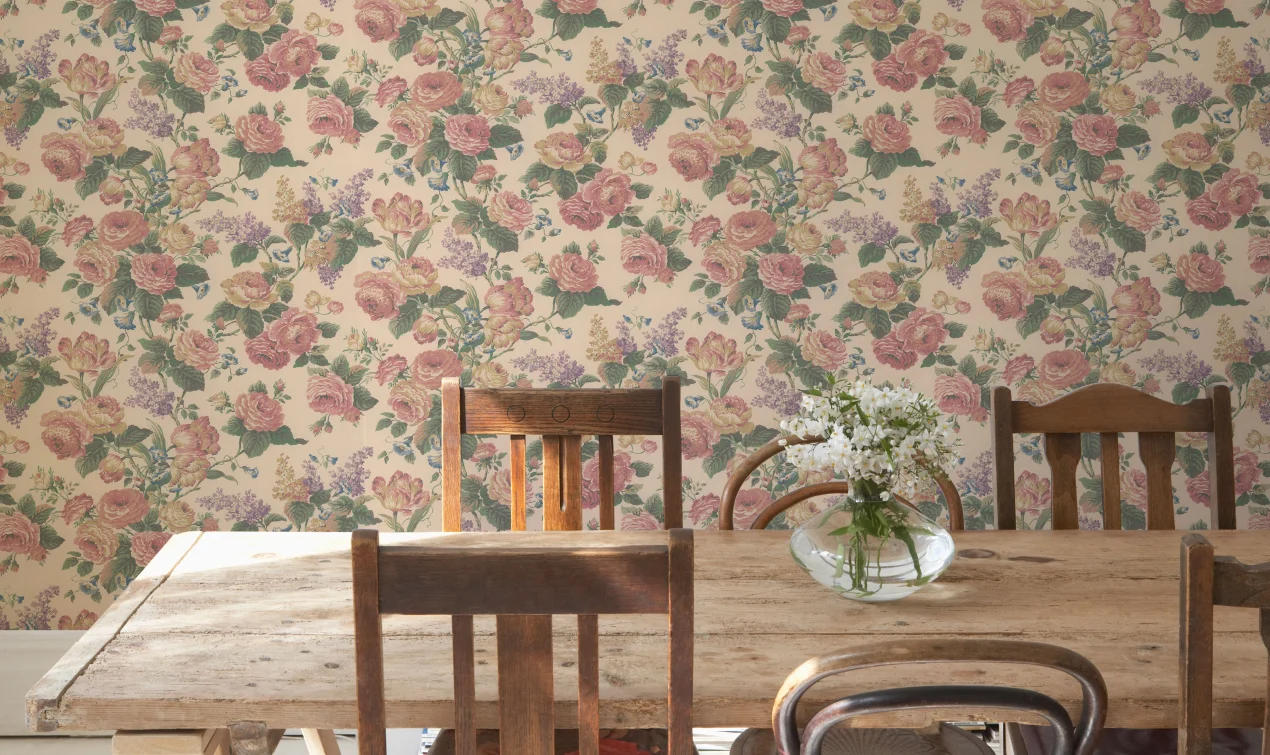 The delightful appeal of cottagecore wallpaper brings the eventful dining room to life. With this cottagecore wallpaper and intricate and charming patterns, you are opening space to combine pastel colors and delicate floral designs harmoniously. The retro look of the wallpaper transports people inside to a simpler era, evoking warmth and nostalgia. With such a compelling setting, meals become memorable experiences. Every occasion becomes a celebration of both charm and style thanks to the blend of rustic aesthetics and sophisticated dining. This style helps you create coziness, making everyday dining a game of elegance for you.
18. Cottagecore Wallpaper Designs for Fireplace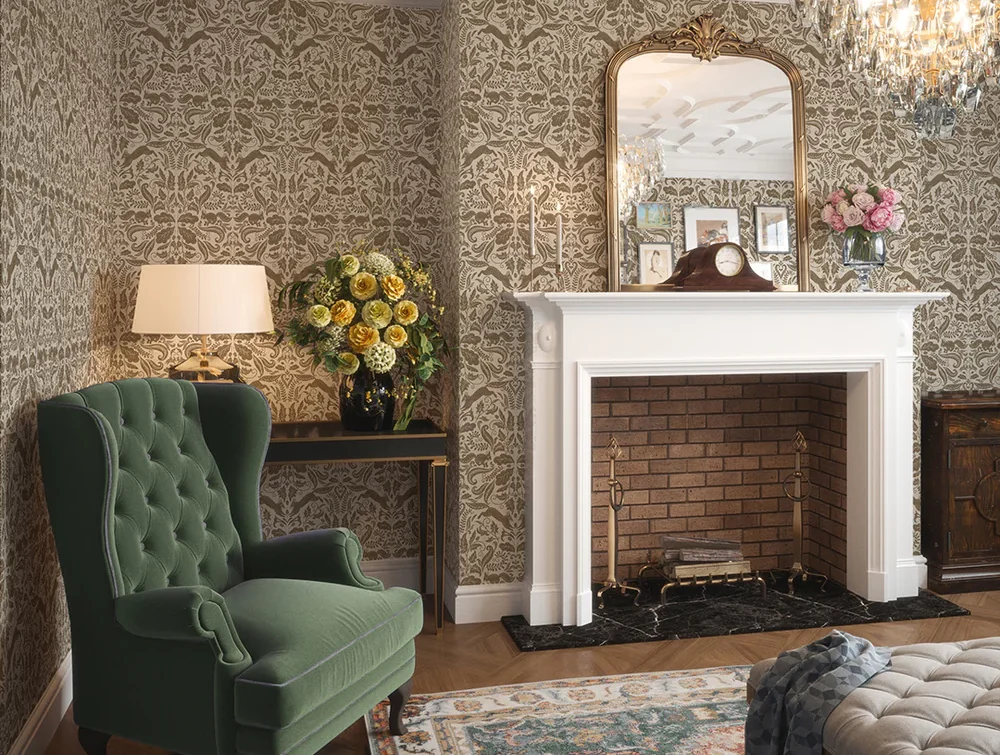 Elevate your fireplace with the timeless elegance of allure and elegance near your fireplace. These patterns help you to evolve in the nature-inspired motifs and transform the hearth into a cozy space. This adoring soft design is in sync with the whimsical woodland elements, besides creating a harmonious fusion of rustic charm and contemporary elegance. Whether you seek a serene countryside atmosphere or have a touch of enhancement, this cottagecore wallpaper breathes life into all kinds of setups.
This infuses well with your personality and the storybook-inspired ambiance. Such styles of decor are a great inspiration for adding warmth to your fireplace, making it a captivating heaven. It makes the best spot for timeless invitations that are a home to savor the delights of plenty of memories at one of the sweetest places in your room.
19. Polka Dots Cottagecore Wallpaper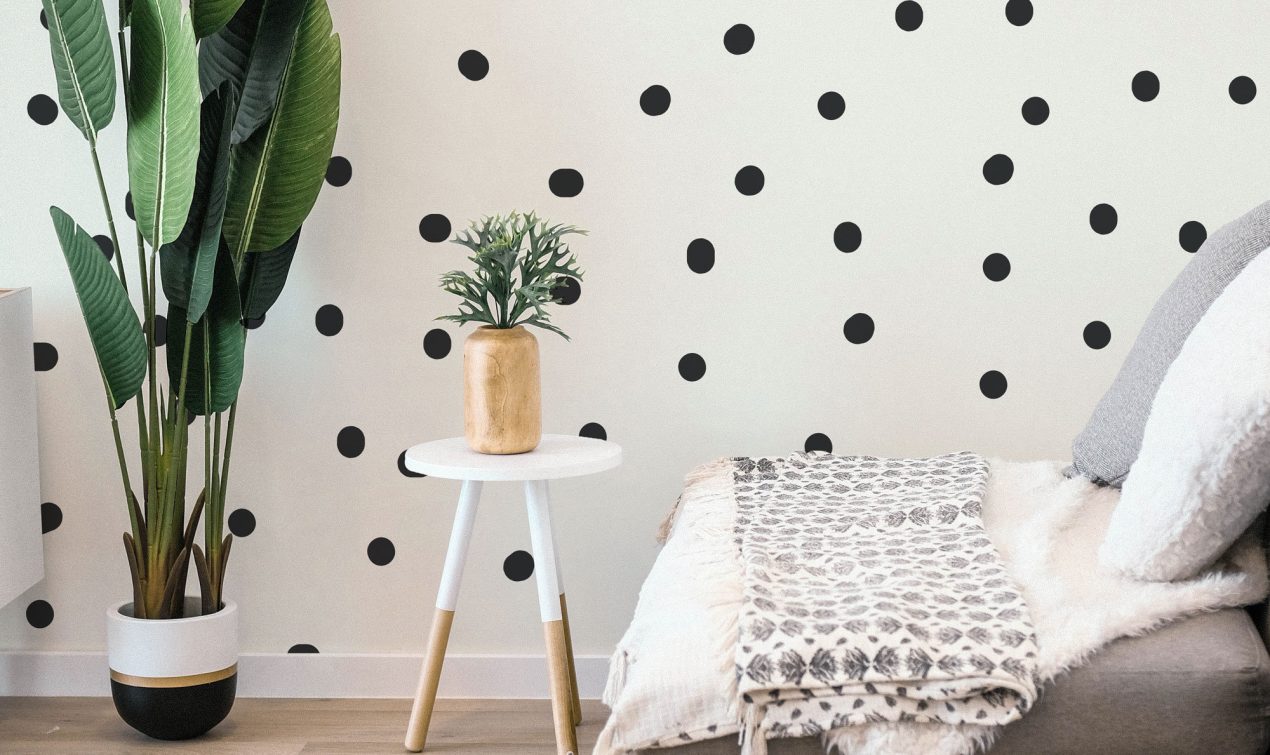 Another timeless idea on the bloc that is well at par with the monochromatic theme, polka dots can never go out of fashion, whether it is about your dressing or enhancing the look of your room. Cottagecore wallpaper of this kind can go in any space of your house because of the volume that it adds to the overall ambiance. However, it is essential for you to know that choosing patterns, even in the polka dot style, widely depends upon the existing theme of your room.
Take, for example, the above image as the idea. The bright interiors help to collaborate with this wallpaper to describe the creativity of the happy and proud owners. Consider adding a couple of lively plants in order to coordinate the overall look of the room in the finest possible manner.
20. Cottagecore Design for Your Bathroom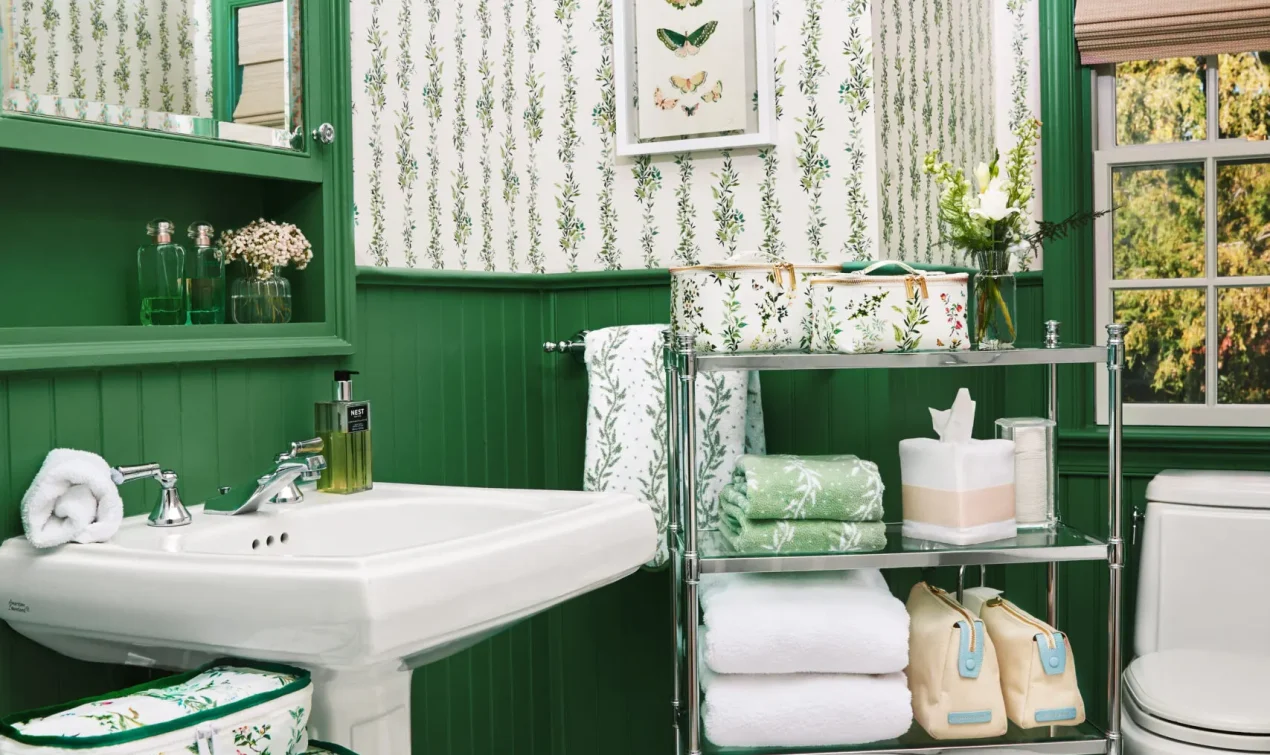 Last but certainly not least, we often forget the importance of beautifying our bathroom spaces; this idea specifically goes for the same. This elegant green theme will never fail to impress or shine with a minimalistic approach. You might change the setting to any color you wish, but its aura is going to remain there forever. The lamp right next to the green framed mirror adds up to the best of the ambiance. At the same time, the wallpaper's adorable floral print creates an inviting atmosphere to the space that we forget most often. Mark about the lighting for sure, as this would eventually complete the overall look.
Conclusion
Giving a touch of nature-inspired charm into your living space has never been easier with these enchanting cottagecore wallpaper ideas. Each design mentioned above captures the essence of a simpler, cozier lifestyle besides adding volume to your interior space.
Besides enhancing peace and tranquility, ranging from delicate floral patterns that evoke a sense of whimsy to muted tones that denote warmth, these wallpaper effortlessly go in sync with any aesthetic. Whether it is about the bedroom, living room, or even any workspace, these options are perfect to breathe life into your surroundings.
Go on to embrace the allure and timeless elegance of cottagecore, where the beauty of the outdoors seamlessly melds with your interior design, fostering a space that not only reflects your personality but also invites you to unwind in its enchanting embrace.
Do let us know in the comments below how well our ideas did go with your planning for installing cottagecore wallpaper.