13 Flower Box Ideas that Capture the Essence of Charleston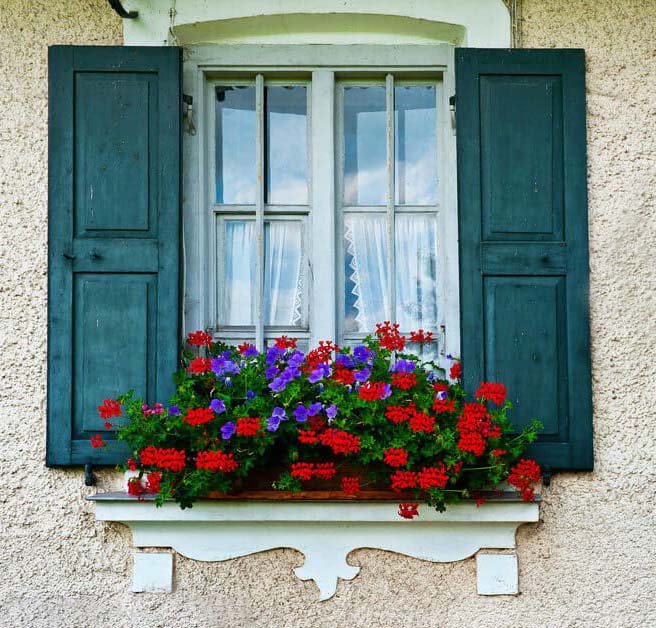 Suppose you want to make your window look attractive and don't know how to make your window more lively and happy, then. We have a choice and idea for you, and that is flower box ideas inspired by Charleston window boxes.
Charleston is a place in South Carolina that is very well known for its historic architecture and lush gardens; Charleston has inspired countless flower box ideas that add a touch of Southern grace to homes and storefronts. So, here we will try to bring a small part of Charleston to your place.
In this blog post, we are going to talk about 13 different types of flower box ideas inspired by Charleston Window Boxes. That allows you to infuse your own space with a bit of low-country charm.
1. Using Thriller, Spillers, and Fillers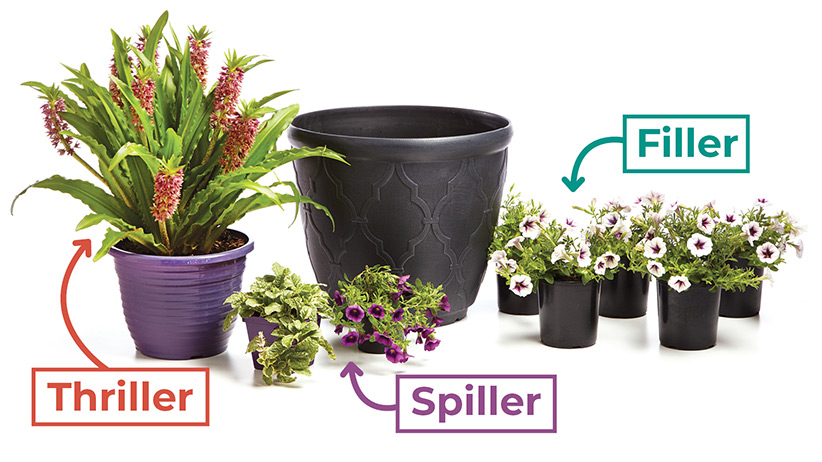 The magic behind the growth of pot plants is the usage of thriller, spillers, and fillers. This is a method that is a common way of creating a balance in all kinds of plants.
Thrillers are plants that have good growth. You can use them as a focal point and can place them at the center of a container, for example, evergreens. Spillers are used to fill the pot but should have weeping or cascading growth habits, for example, Ivy.
Lastly, fillers can be a plant or a mixture of several plants, as the main purpose of fillers is to fill the space between the plants. The best examples of fillers are moss, grass, pants, etc. love your landscape
2. Protection from Sun Rays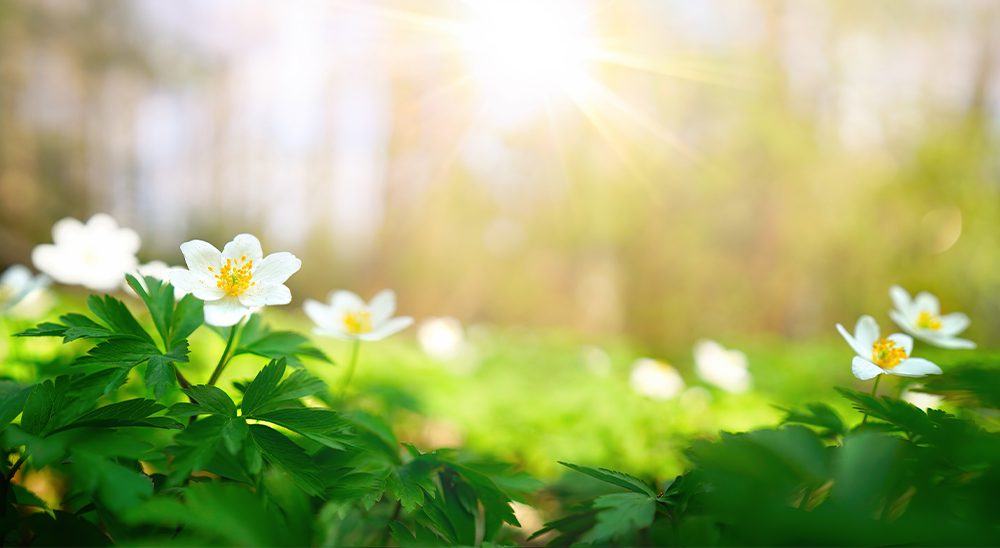 Always remember to keep your window plant in a place with shade and without sunlight. You can provide them with sunlight but remember to avoid direct sunlight as these flowers are really sensitive and have a high chance of getting dried up or dead.
So, if you want your plants or flowers to last longer, then you must keep these small things in mind.
3. Usage of Blue-Shade Flowers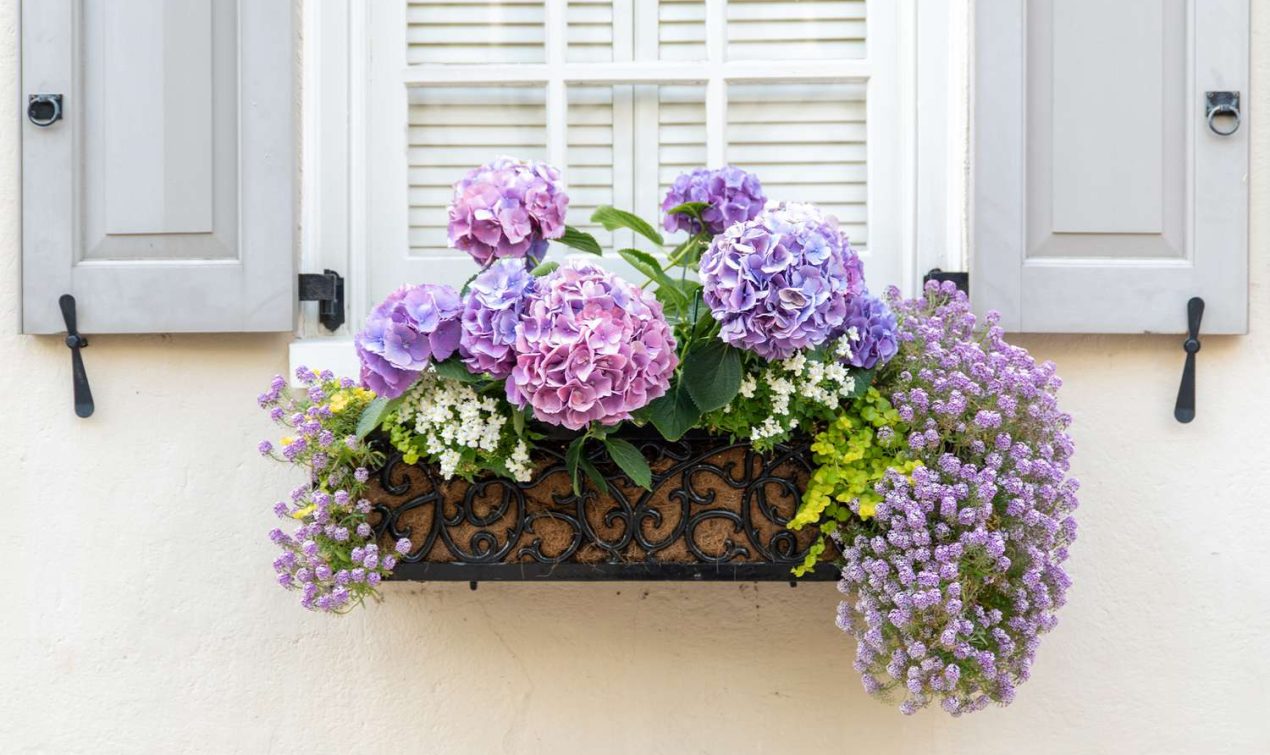 Blue shade flowers can be a great option for flower box ideas inspired by Charleston window boxes, adding a touch of serenity and tranquility to your flower box and evoking the charm of Charleston's coastal landscape.
The inclusion of blue flowers can create a beautiful visual contrast and complement the traditional color palettes often found in city architecture. Some of the blue-shade flowers that you can include in your flower garden are delphiniums, forget-me-nots, lobelia, balloon flowers, salvia, etc.
You can even pair your blue colored plant with complementary colors like white or yellow to create a harmonious and visually appealing display.
4, Usage of Colorful Flowers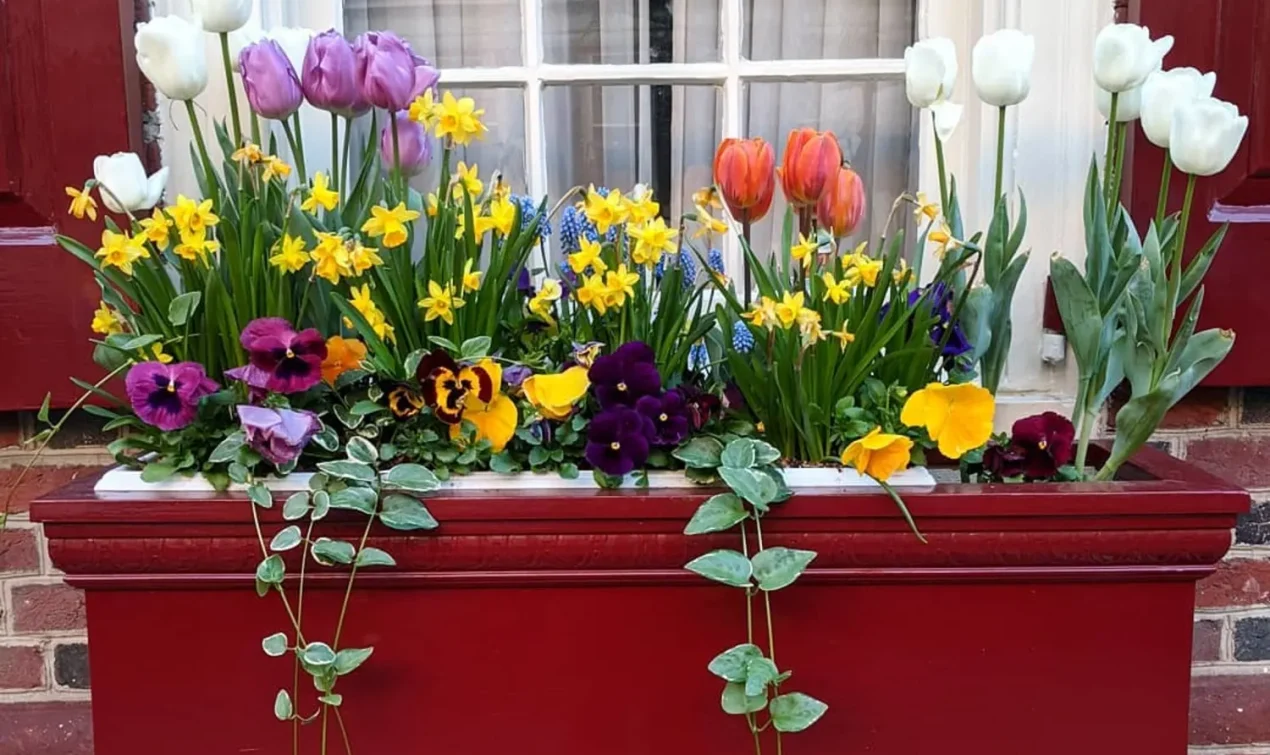 The advantage of flower box ideas inspired by Charleston window box ideas is freedom and abundance of flower usage, as Charleston window boxes are renowned for their vibrant displays that can add a burst of color to the historic architecture of the city.
The usage of colorful flowers not only provides visual appeal but also creates a lively and inviting atmosphere. This is a fantastic way to invite joy, beauty, and a touch of Southern charm into any place.
5. Repetition is a Key
There is nothing bad in repeating the window boxes. Not only boxes you can even use, you can even repeat the flowers and plants the same color flowers and plants. You can also be repetitive in heights, shapes, forms, foliage, etc.
You can create a sense of harmony and continuity by capturing the timeless beauty and allure of Charleston window boxes. You can even experiment with these ideas and show your creativity at your level. You can understand better from the above image.
6. Matching the Color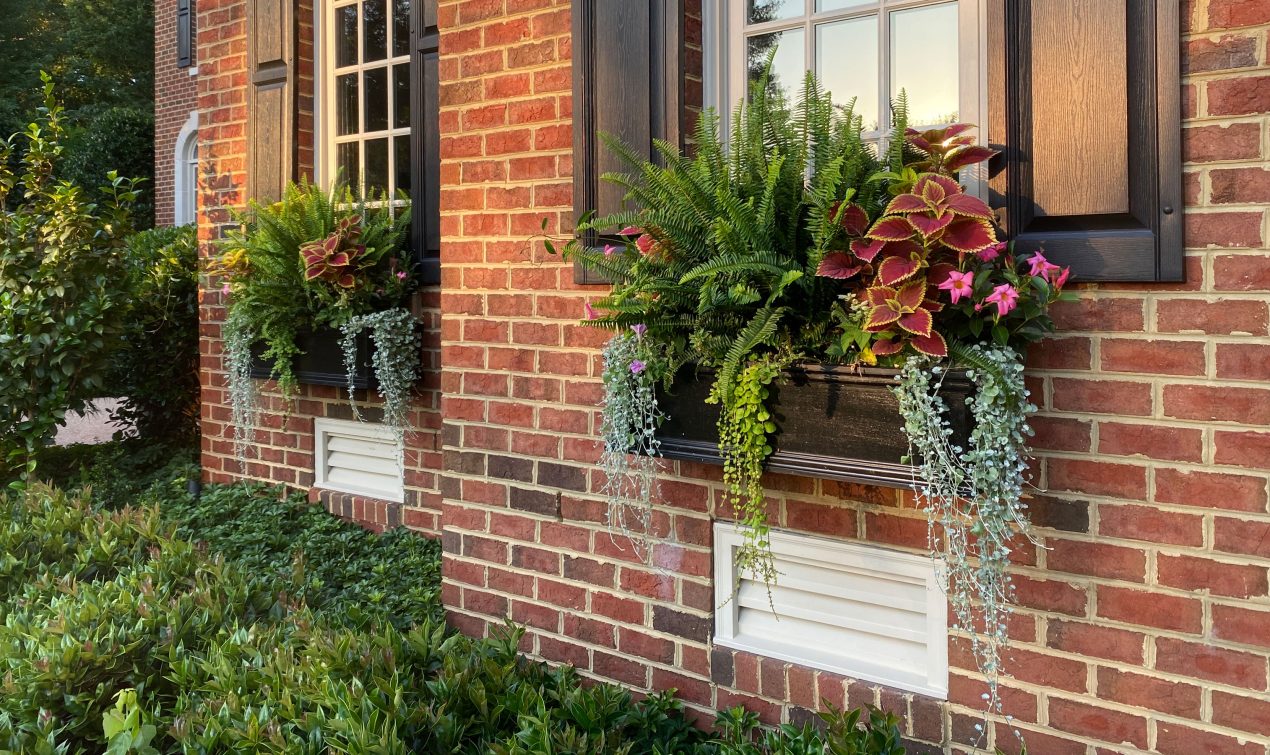 Charleston window boxes are not only known for their beauty but also their clever use of colors. Cause it adds depth, contrast, and harmonious appeal to the overall aesthetic. To help you recreate the charm of Charleston's flower boxes.
Let's explore some color-themed ideas that will bring a touch of Southern elegance to your window box. You can also match the color or vibe with the window or the house.
7. Fragrant Herbs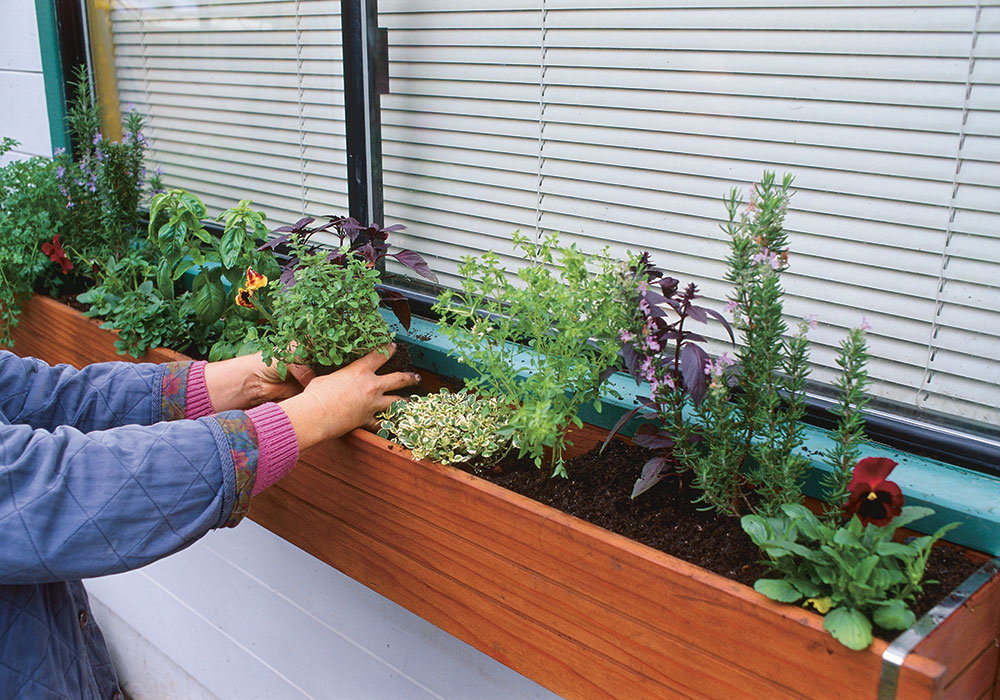 If you are not fond of or allergic to flowers, then this option is good for you. Growing fragrant herbs is a very valuable addition to the space. They offer a range of advantages to your place, like aromatherapy, culinary delights, medicinal properties, pest difference, pollinator attraction, low maintenance cost, and versatility.
Growing these herbs not only adds fragrance and beauty to your surroundings but also enhances your overall well-being and connects you with nature's bountiful gifts. The best of this is Tulsi.
8. Vibrant Rainbow Palette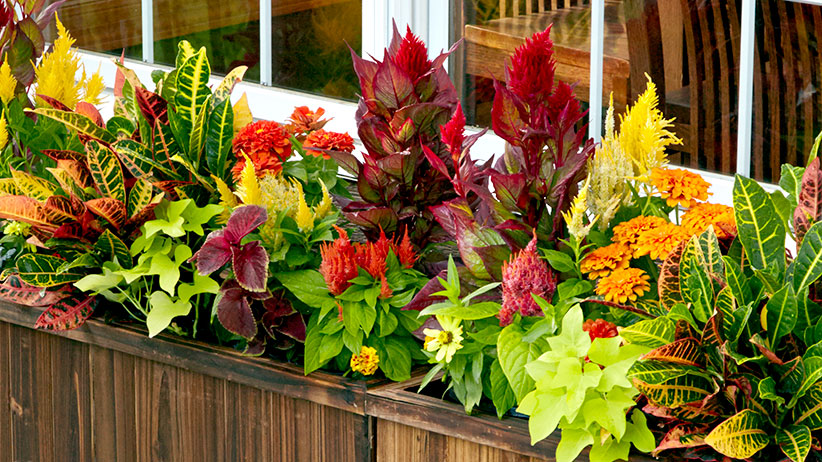 In the vibrant rainbow palette, select flowers of different colors or VIBGYOR colors. Arrange them in order rainbow or the way you want; you can even arrange the flowers the way you want, like in a gradient way, where you can arrange the flowers with the colors like red, orange, and yellow on one side and blues, purples and pinks on the other side.
It will create a breathtaking and joyful display of colors that will undoubtedly brighten up your home and garden.
9. More and More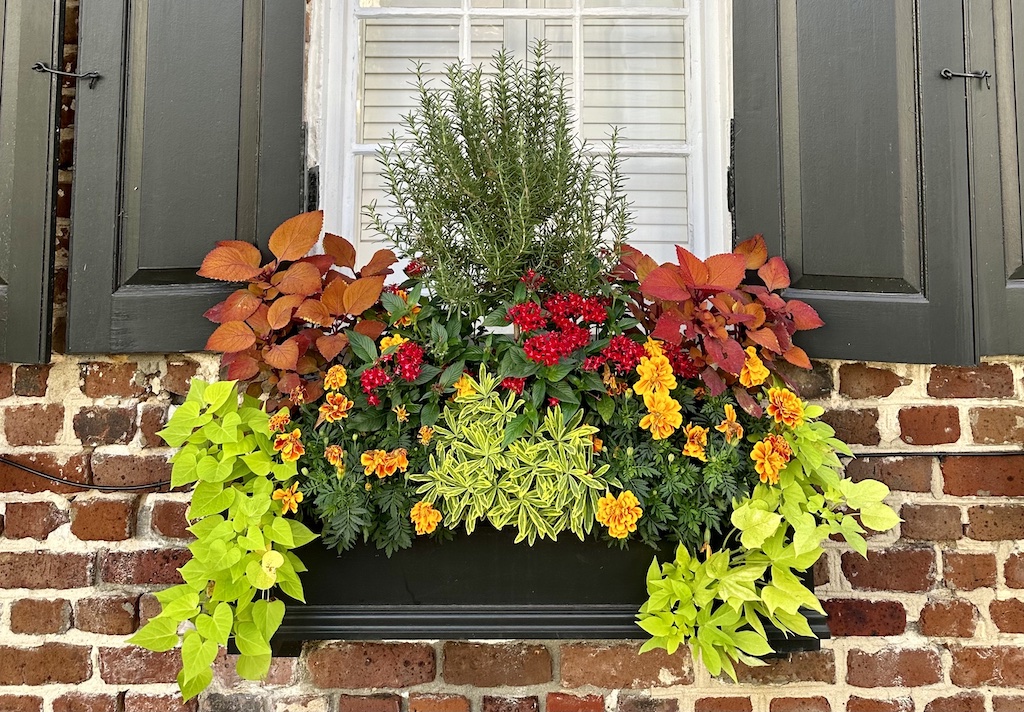 You can have more of the flower and designs. The more flower boxes, the more beauty. But remember to take care of them as flowers are delicate and require a lot of care. Water them daily and make sure they get limited sunlight. Also, don't forget to fertilize them every 14 days or 20 days.
10. Using Perennials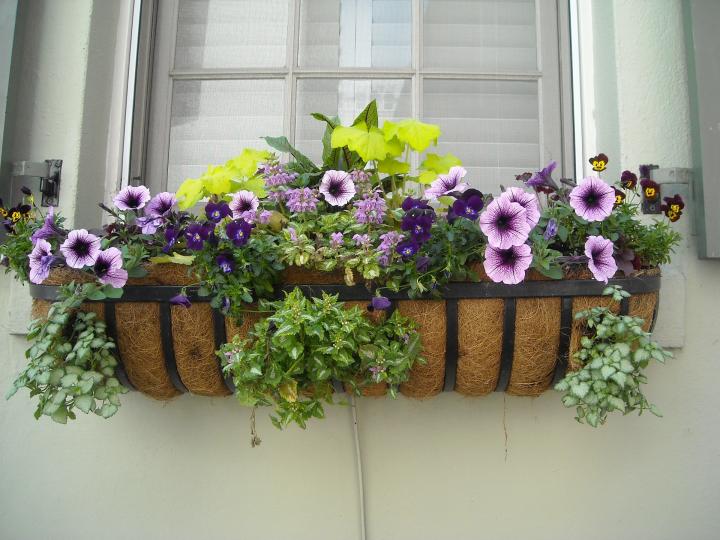 If your love for flowers is extreme, then you can choose perennials for planting. As they are long-lasting plants with beauty and charm to your place every year.
Some of the perennial box ideas are delicate delights, cottage garden beauty, alluring irises, graceful grasses, etc.; by planting perennials, you will not only show the timeless beauty of these long-lasting flowers but will also create the timeless charm of these cute little beauties. Enjoy the beauty of these flowers every year and serve them as a reminder of the enchanting spirit of Charleston.
11. Welcome, Bonsai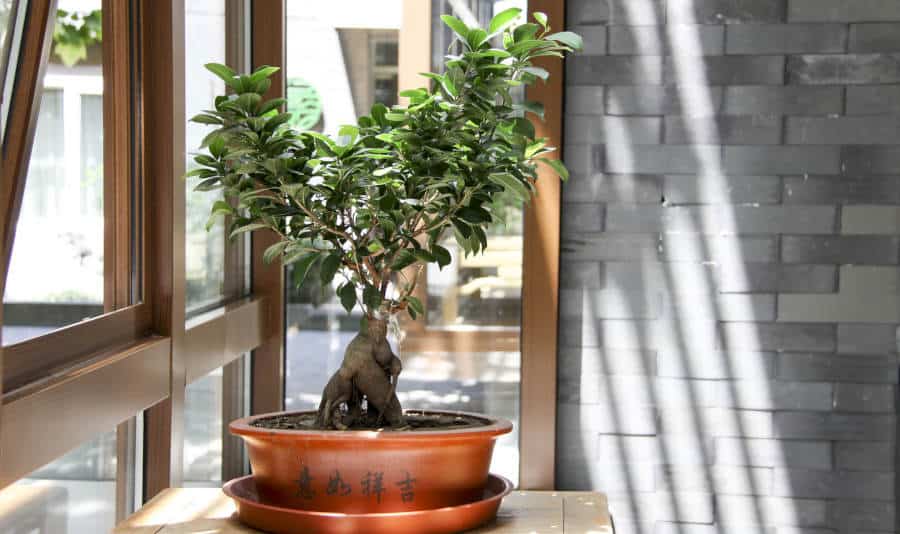 The flower box ideas are not limited to only flowers, but also they are open to even bonsai. This is an experiment that will give a cute and beautiful look to the place. Some of the examples of bonsai that you can use as a Charleston window garden are miniature magnolia, coastal cypress, cherry blossoms, Zen garden box, cascading wisteria, delicate dogwood, mossy forest, oriental red maple, etc.
Bonsai may be one of those out-of-the-box flower box ideas but trust me; it will look not only creative but also gives peaceful vibes to your place. You can even give the shape of your choice and show your creativity to your bonsai tree.
12. Wildflowers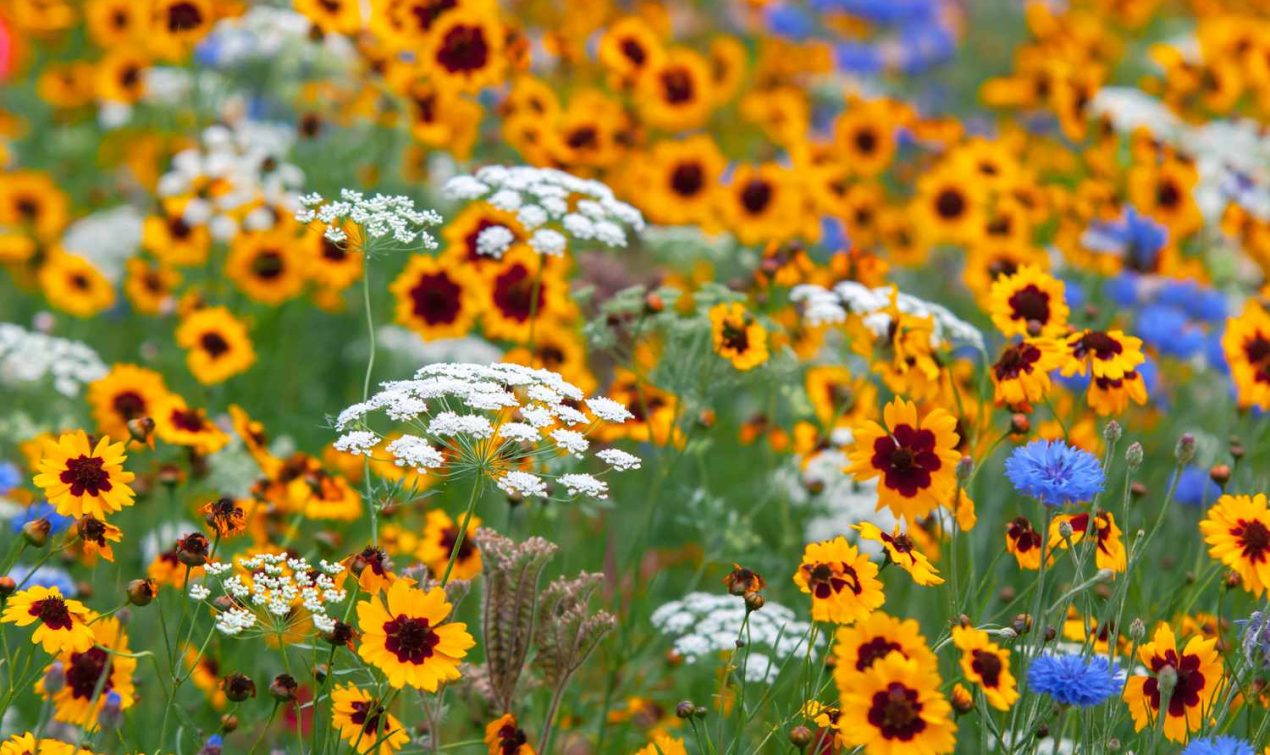 People think that wildflowers are of no use, but that is not true wildflowers have their beauty and features. Some of the wildflowers that you can keep in your one of those flower box ideas are native wildflowers(recommended species are black-eyed Susan's and coneflowers), meadow-inspired, butterfly haven, cottage garden blend, monochromatic blooms, meadow grasses, miniature meadow, pop of color, etc.
These were some examples and recommendations which can be included in one of the flower box ideas. Remember, wildflower doesn't mean ugly.
13. Succulent Arrangement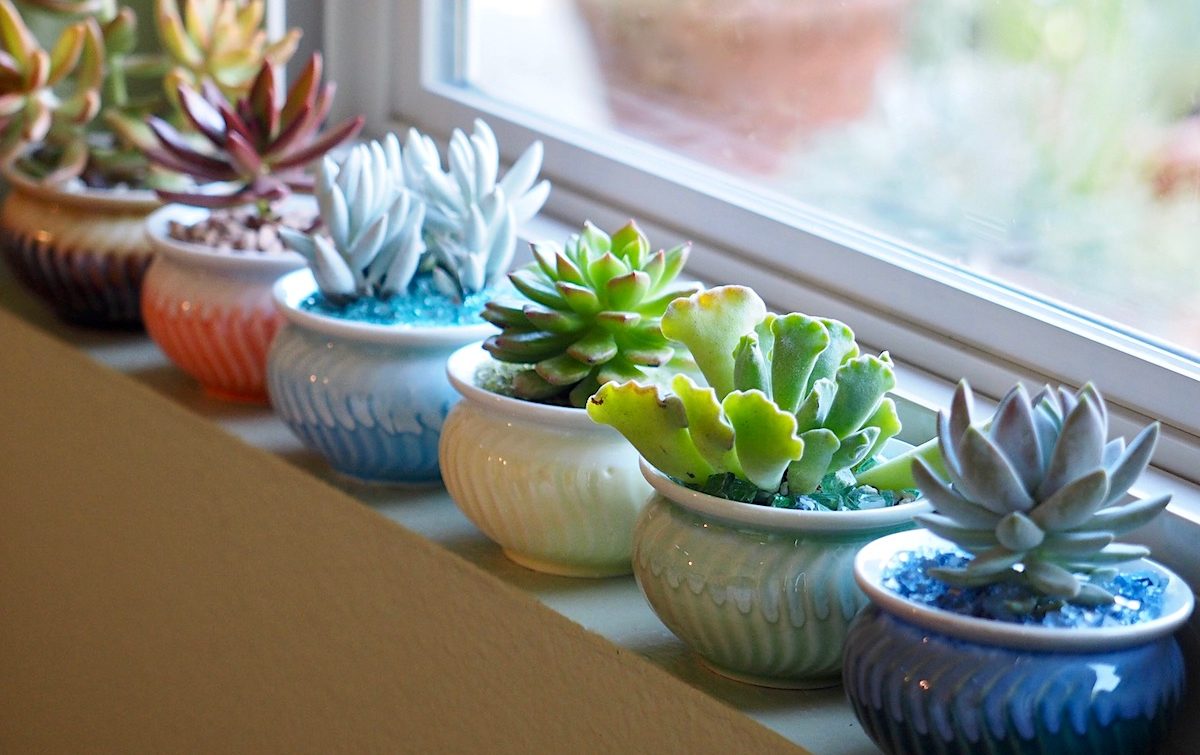 The specialty of succulents is that they can not grow in warm climates and can also add a modern look to your place. There are some succulent flower box ideas that you can use or input into your house, like coastal charm (it is a beach-inspired box which is a decent choice for coastal charm), textured delight, vertical wonder, desert oasis, and monochromatic elegance. Petite and charming, rustic chic.
Succulent arrangements can add both Charleston's elegance and modernity to your so it's like two in one advantage to your place.
Conclusion
These were the thirteen flower box ideas inspired by Charleston window boxes. We Hope these ideas are helpful to you and will be used by you in the future. Charleston window boxes have been admired for a long period; by taking inspiration from these ideas, you can infuse your flower box with a touch of Southern grace and elegance.
Whether you choose vibrant colors or a modern twist, these 13 flower box ideas will help you create a stunning picture display at your place. So go ahead and enjoy the beauty of the flower box at your window. All the best!
Which of the above flower box ideas do you like the most? Let us know in the comment section.
Frequently Asked Questions
Should the Flower Box Be Wider than a Window?
No, a flower box must not be wider than the window as there is a rule for an ideal window box which is that it must not be wider than the window or must fit in the window. So, always use those flower boxes that are either equal to or smaller than the window.
How Deep Should a Window Box Be for Flowers?
A minimum of 8 inches of depth must be there, and 8 inches from front to back is required to have enough room for the selection of plants. Larger or, say, a foot in depth and width is even better, particularly if you want to include a lot of plants and want them to fill out enough to overflow the box.
How to Keep Flowers Alive in a Window Box?
Plants in the window dry out fast compared to the plants in the ground; water the plants daily, and don't forget to fertilize them every two weeks with a water-soluble fertilizer, or you can use a granular slow-release fertilizer.
How to Take Care of a Flower Box?
Just like a flower banquet, you must keep your flower away from direct sunlight. If you get your flower exposed to direct sunlight, then there is a high chance of drying out your flowers. If you want your flowers to live longer, then keep your flowers in a cool place.`