Basement Flooring Guide: 9 Cost-Effective Options To Consider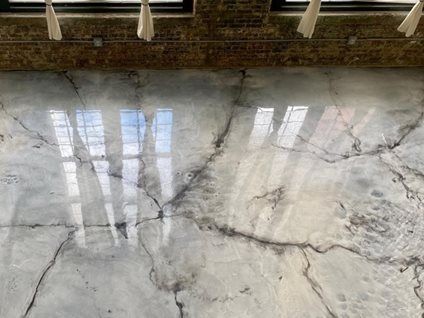 A basement is a place that is usually built below ground level. It is used as a store room or a utility room in most houses. If the house needs to replace some furniture or anything that pertains to the house, the old ones go straight to the basement; and sometimes, when something breaks in the house, you run to the basement and get the tools from there. It is one of the salient features of the house, and it gives good service.
Don't forget that it is also equally important to modify it and enhance the way it looks. One of the major features of a good basement is the flooring. How your basement looks partially depends on the shade you choose for its floor. You do not necessarily have to spend a fortune on it because if you have proper knowledge and ideas, you will end up having a good basement.
Materials & Tools for Good Floors
Types of Basement Floors You Can Consider
Many good varieties of basement floors have the tendency to bring a whole new different look to your basement. But nothing can really beat the concrete type. A concrete basement floor is popular because of its affordability and durability.
It is also strong enough to hold all the heavy work going on in the basement. In case some damage is done to it, you can easily fix it by covering it with a carpet or by simply placing rugs on it. Its low-cost maintenance is a plus for many. And it may also be considered a boon.
There are numerous options for modifying a concrete floor, and some of them are – staining and color treatments, acid stains, etc. The concrete alone does not look so good to look at, so you decorate it by inviting the beauty of color and designs to i
t. Acid stains are permanent, and they create color in concrete through a chemical process.
And just like there are various types of floorings, there is a diversity of concrete floors as well for you to consider. Here are some helpful suggestions for your basement floor.
1. Acid-Stained Concrete Basement Flooring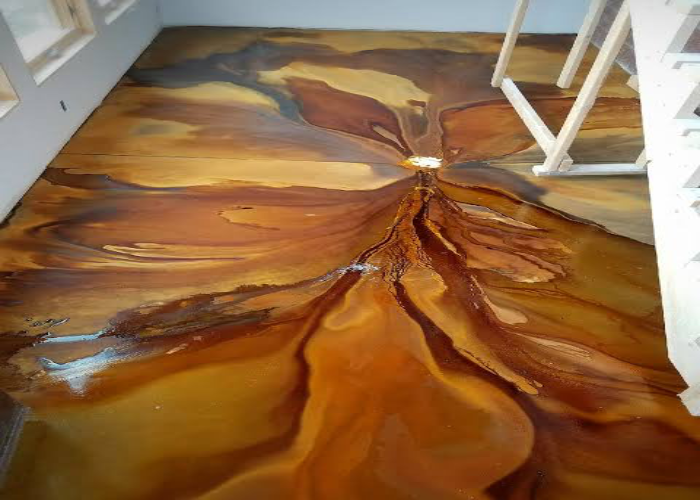 Acid-stained concrete floors are ideal for anyone who is always engaged in rough and heavy work. Minor stains can be easily camouflaged in this type of concrete floor, and you do not have to worry about how dirty the floor will look. To form an acid-stained concrete floor, either hydrochloric or phosphoric acid is mixed with salt and applied to the concrete. These key elements combined will make your basement floor give out a variegated and translucent effect, thus making it look like a special stone or marble.
2. Epoxy Concrete Basement Flooring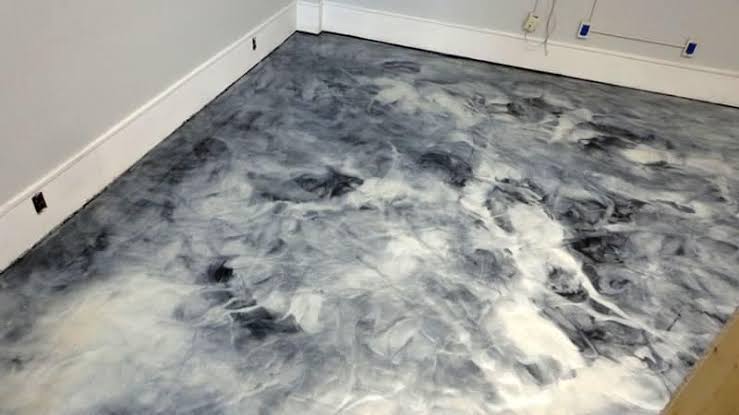 This one is also another popular type for basement floors as they are tough and they are resistant to oil and chemicals. Basement floors are usually exposed to various toxic substances which can easily damage the floor, so it's important to choose epoxy concrete floors for your basement because of their immunity to damage or any kind of stains.
On top of that, their polished look creates a very glossy view of the floor which upgrades its grandeur. Above all, epoxy floors are one of the most stylish-looking floors.
3. Vintage Concrete Basement Flooring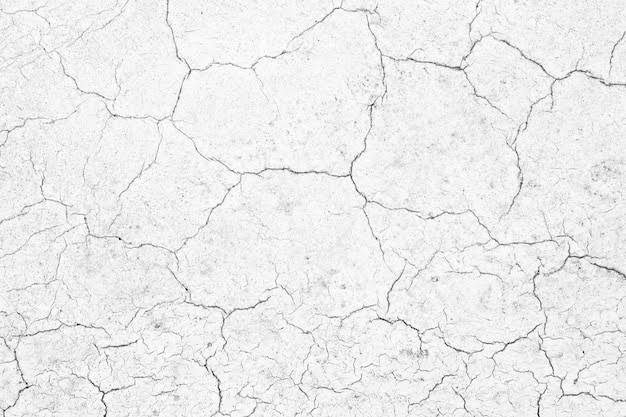 A vintage kind of basement floor is a superb idea because it will totally fit in with the whole surroundings in the basement because a basement is where you keep old stuff. There's a popular method for making vintage floors, and that is by faking cracks with the help of special paint. This process will make the floor look old but valuable. It is also affordable, and not much time is spent in carrying out this process.
And if your knowledge about making vintage-themed concrete flooring is well-equipped, you will manage to bring out a really good one. Never doubt about vintage themes because they will always be in vogue.
4. 'Marbled' Concrete Basement Flooring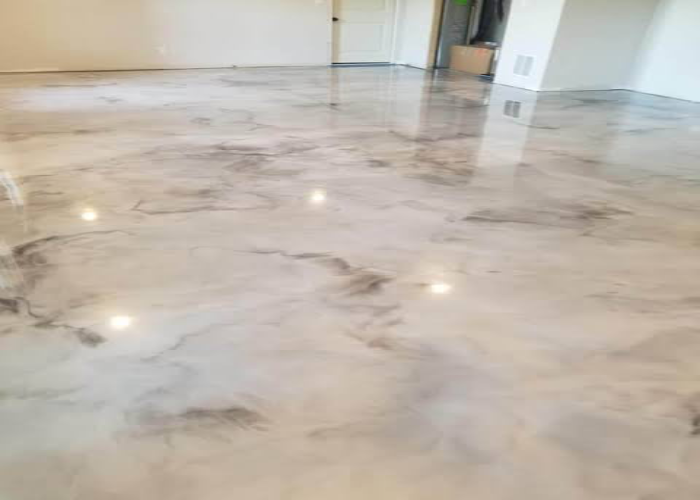 The perk of having a concrete floor is that you can put anything on top of it, for instance, marble, tiles… But if you are on a budget, it doesn't have to be actual marble or tiles. Yes, you read it right! There are marble effect coatings that can give your basement floor a fancy and expensive look, just like real marble does. It's a super budget-friendly and smart technique of bringing 'marble' to the floor and not costing you a fortune.
5. Wooden Concrete Basement Flooring
Wooden floorings are also possible on concrete floors. On the plus side, if any kind of stain falls on it, it can be easily cleaned or removed. It brings warmth and a cozy vibe to the whole space. And the most relaxing thing about a wooden floor is that, later on, when you want to remove it, you can do it without much difficulty and much time.
Wooden basement floors are also preferred because they are not expensive like the other types of layers like marble and tiles. You just have to buy wooden planks, which don't cost much.
6. Terrazzo Concrete Basement Flooring
Your concrete floor needs little bits of decorations because you don't want it to look dull and stagnant. A Terrazzo floor finish is a great suggestion for your basement floor to carry the look of a designed floor. To create a floor like this, decorative color chips are sprinkled across a liquid epoxy pour. Through this process, your basement floor no longer looks boring. The color chips that can be seen on the surface give out a playful spirit from the floor.
7. Painted Concrete Basement Flooring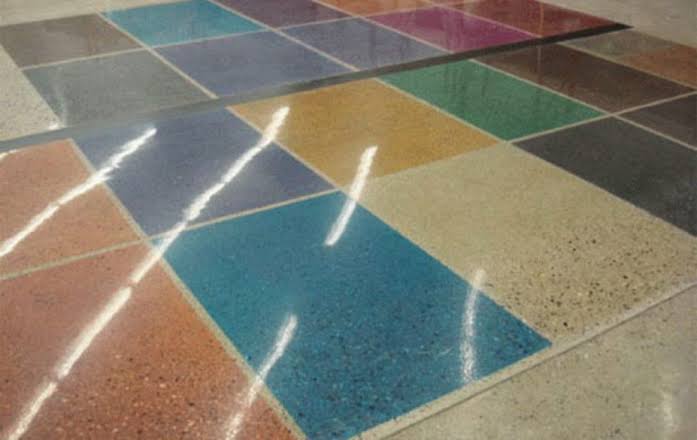 Painted concrete floorings are cost-effective. This method of flooring involves the application of paint to the surface of the concrete. Matt, glossy, and textured finishes are some of the popular floorings. Although a painted concrete floor is prone to peeling and chipping, frequent touch-ups and maintenance will be a lifesaver.
8. Stencilled Concrete Basement Flooring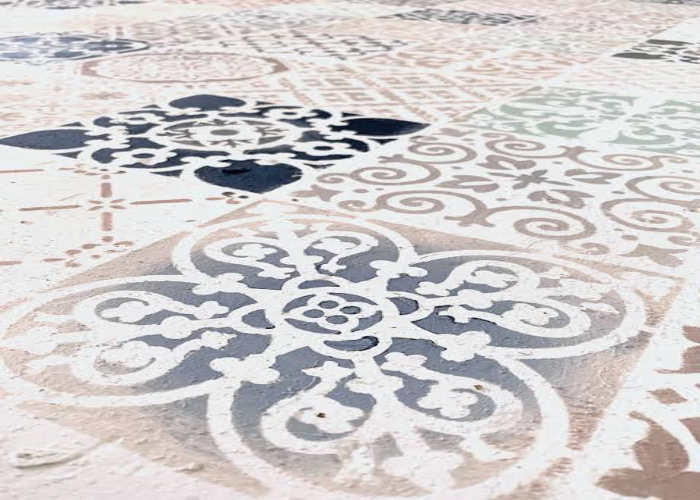 In this type of flooring method, the surface of the concrete is decorated with patterns and designs using a stencil. When the overlay of the stencil is dried, the stencil is removed, leaving gorgeous designs and patterns on the surface of the floor. Through these artworks on your basement floor, a sophisticated look is carried out, and you may want to always stay busy down there.
Stenciled flooring is quite pricey and requires professional hands for installation. There is a tendency for the designs to fade over time, so good maintenance needs to be frequent.
9. Stamped Concrete Basement Flooring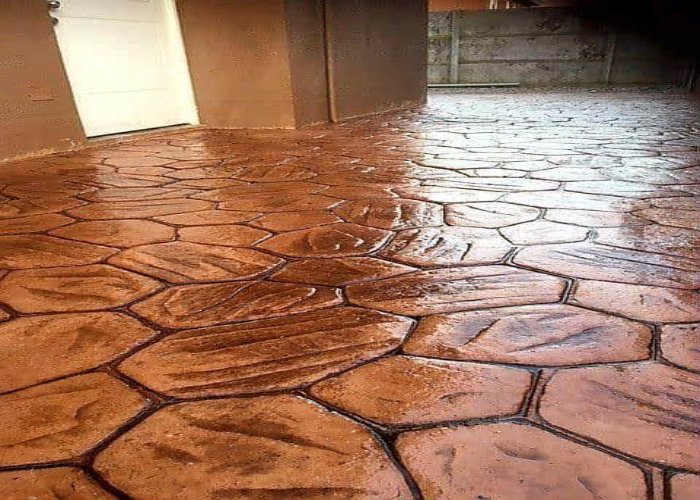 This method is interesting and fun to do as it involves pressing textured patterns/designs on the surface of the basement floor. A layer of concrete is poured first, and after that, stamps are used to bring out the pattern or design you like. To enhance the entire look, you can apply the color of your choice to it. Its durability and low maintenance are the few factors why you should consider it with much eagerness.
Choosing the Perfect Basement Floor is Crucial
The floor is as equally important as the other aspects of the house, and when you choose the type of floor which you think is the ideal one for your basement or the whole house, it has to be done carefully and thoroughly because even the floor makes good statements. To make it short, a good quality floor is crucial.
Due to circumstances, we have been made to believe that the more money we throw into a product, the better and more durable it is, but if you gather useful and productive ideas from genuine sources, less money is spent. DIYs have to be encouraged and promoted as you don't only get useful products out of them, but it also teaches people to practice the art of reusing things.
Because of its low-maintenance nature, concrete is widely favored and demanded. If it gets dirty, you just have to give it a good mop. Another plus is that you can play with the colors and designs without spending much. Dyes are being added to the wet concrete, and the finished look is absolutely gorgeous looks rich, and expensive.
Conclusion
With the existence of more advanced technology, concrete floors are no longer that dull gray in color. Modernity has seeped in so much that we now don't only convert our floors to new and exciting colors but logos and patterns can be created as well.
The evolution of technology also affects the art of designing concrete floors by transforming simple and dull-looking concrete floors into exquisite ones. The only good advice is that, instead of going for something that needs a fortune to be splurged on and later paying a high price for its maintenance, it's never a bad idea to settle for a concrete floor.
Concrete floors still remain to be the all-time favorite of many, and today, you rarely find any house without one. Many new ideas are innovated to boost the style and design options of concrete floors.