30 Unique Basement Bar Ideas for Your Home
Having a cozy and relaxing basement bar at home is a dream for many! Not many people are able to convert a basement space into a bar. It is why basements generally land up becoming store rooms. But for you -not anymore! We have brought 30 epic basement bar ideas that are sure to inspire you. Believe us; you will fall in love with your basement bar.
Step into the elegance of a hidden speakeasy or immerse yourself in the nostalgia – there is a design concept to suit every taste and preference. All of this can be available to you in your basement! So, let's look at the layout design, decorating, and accessories for every bar style.
Wet Bar Or Dry Bar?
Before we move further, it is important to decide whether you want a wet bar or a dry bar. The sole distinction between the two is that a wet bar has a sink. All the ideas discussed in the below article can also be converted into a wet bar. So, you should think about whether you will use a sink frequently enough to justify the added expense.
Basement Bar Ideas to Inspire You
Celebrating a basement bar is an exciting project that can transform your lower level into a hub of entertainment and relaxation. With a wide range of design themes to choose from, you can customize your basement bar to reflect your personal style and interests. So, let's explore basement bar ideas that are trending, easy on the pocket, and effortless to design.
1. Industrial Style Bar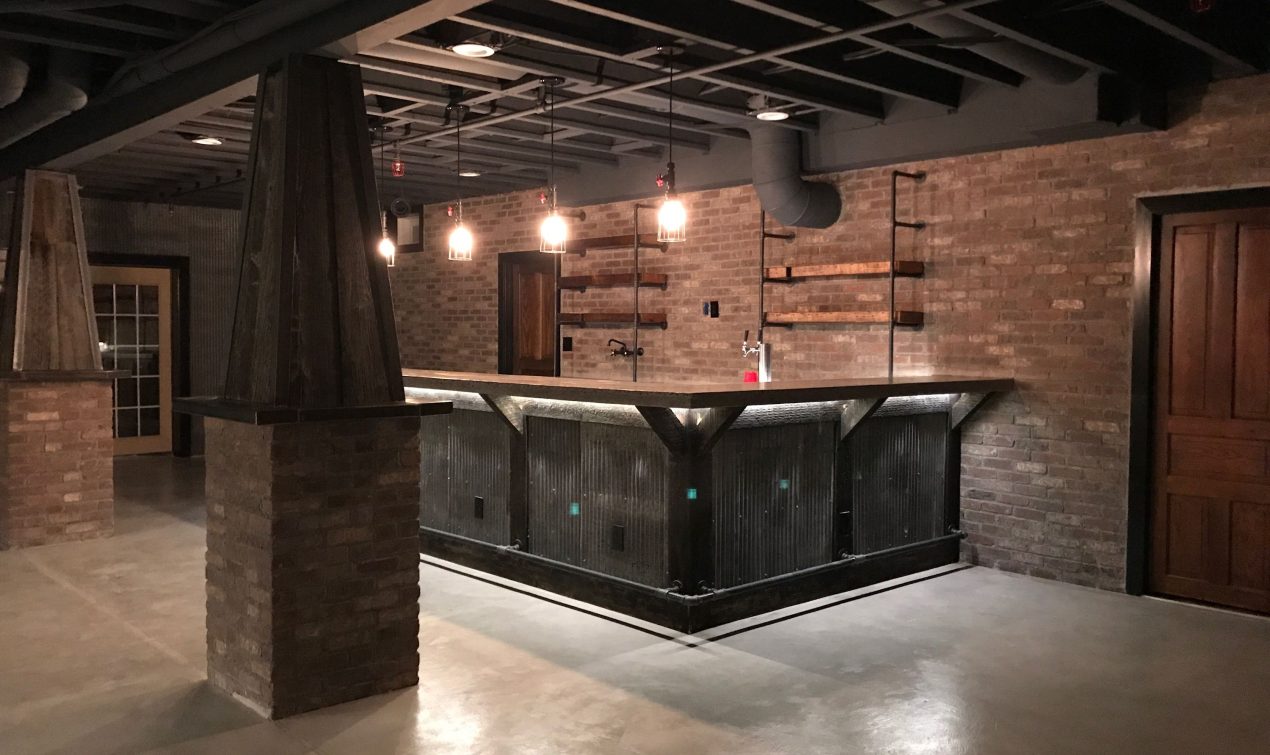 If you love the rugged charm of warehouse aesthetics, an industrial basement bar is the perfect choice for you. Start by exposing the brick walls and concrete floors, creating an urban and raw atmosphere. Add metal accents in the form of bar stools, shelves, and pendant lights. Reclaimed wood shelves and countertops add warmth and character.
Enhance the industrial vibe with vintage signage, Edison bulb lighting, and rustic bar accessories. This style is ideal for those who appreciate the fusion of raw materials, functional design, and a touch of nostalgia.
2.Sports Basement Bar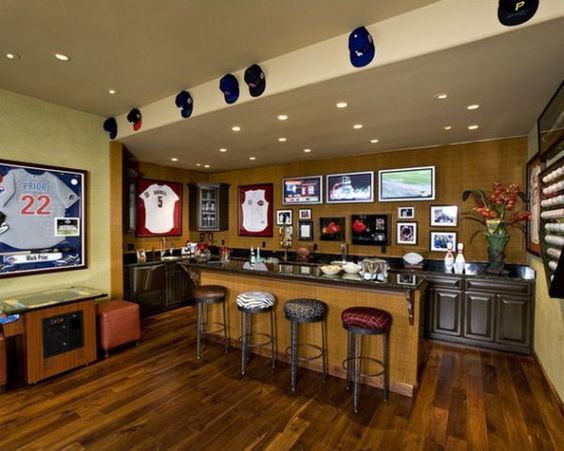 For the ultimate sports fan, a sports-themed basement bar is a dream come true! Begin by incorporating the colors and memorabilia of your favorite team. Display jerseys, signed photographs, and sports equipment on the walls.
Multiple flat-screen TVs ensure that no game is missed, while a comfortable seating area provides a space for friends to cheer on their team. Consider adding a pool table or a dartboard for additional entertainment. This dynamic and energetic theme is perfect for hosting game nights and celebrating victories with fellow sports fans.
3.Tiki Style Bar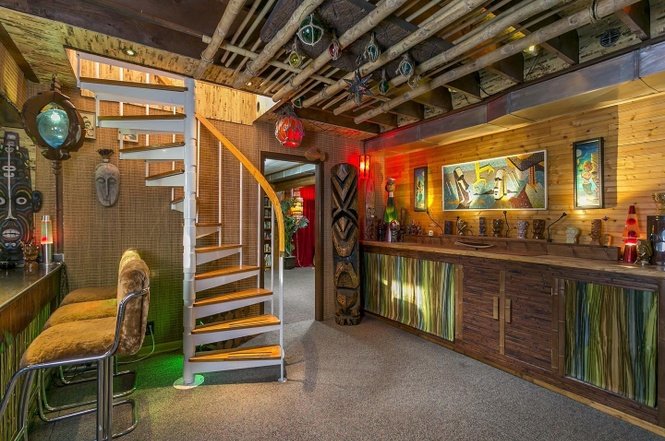 Transport yourself to a tropical paradise with a tiki-themed basement bar. Bring the beach vibes indoors by adding bamboo accents, thatched roof elements, and tropical plants. Choose vibrant colors, such as shades of blue and green, to mimic the ocean and lush vegetation. Adorn the walls with tiki masks, surfboards, and seashells.
Install a bamboo bar counter and stools, and don't forget to create a menu of refreshing and exotic cocktails. This theme is perfect for those who crave a laid-back, vacation-like atmosphere right in the comfort of their own home.
4. Retro Arcade Style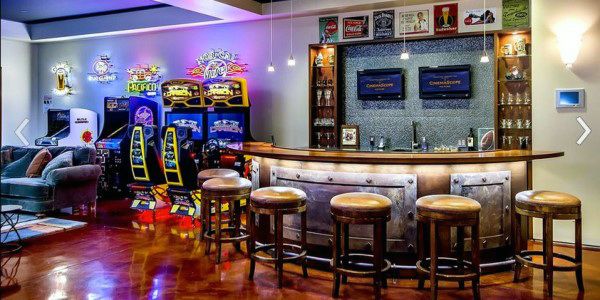 Relieve the nostalgia of classic arcade games with a retro-themed basement bar. Fill the space with vintage arcade machines, such as pinball tables, Pac-Man, and Street Fighter. Adorn the walls with neon signs, vintage posters, and movie memorabilia. Create a seating area with retro booths or funky chairs However, be careful if you incorporate a wet bar in this design since water might be harmful to the gaming section.
To complete the ambiance, use colorful LED lighting and checkerboard flooring. Also, install a jukebox to play the hits of yesteryear. This theme is a haven for gamers and anyone who appreciates the charm of retro pop culture.
5.Wine Cellar
For wine enthusiasts, a wine cellar-themed basement bar idea offers the perfect blend of sophistication and relaxation. Begin by installing temperature-controlled wine storage units or racks to showcase your collection. Include a tasting area with a bar counter and comfortable seating.
Opt for elegant finishes such as stone or brick walls, wooden accents, and dim lighting to create a cozy and intimate surrounding. Consider adding a small cellar decor or archway to give the impression of a hidden gem within your basement. This theme is ideal for those who appreciate the finer things in life and enjoy savoring a glass of wine in a refined setting.
6.Home Theater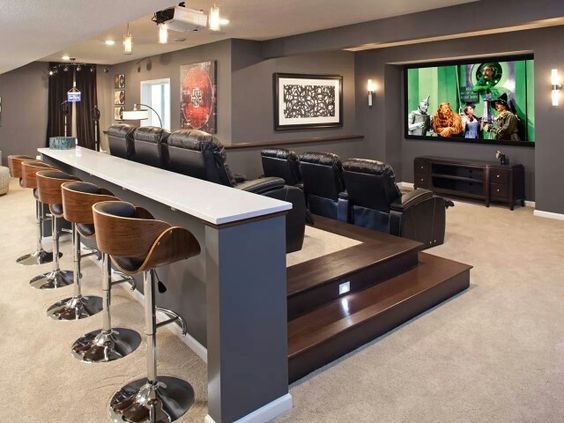 If you are a movie buff or love hosting film nights, a home theater basement bar is the perfect choice for you. Start by setting up a comfortable seating area with plush sofas or theater-style recliners. Install a large screen or projector and surround sound system for an immersive movie experience.
Create a concession stand area with a popcorn machine, candy display, and a mini-fridge stocked with drinks. Dimmable lighting and blackout curtains will help recreate the ambiance of a movie theater. This theme is ideal for people who enjoy the magic of cinema and crave a cozy space for film screenings.
7.Rustic Cabin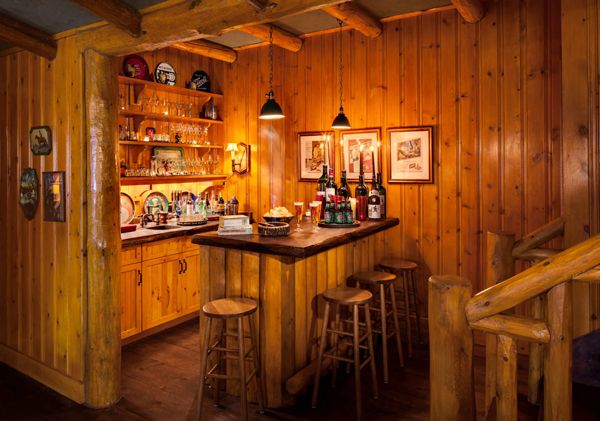 The rustic cabin is the most preferred basement bar idea because of its durability. It is perfect for those who love the charm of nature and desire a cozy and rustic ambiance. For an escape to a cozy cabin retreat, use natural materials like wood and stone to create a warm and inviting atmosphere. Install log walls or add wooden paneling to evoke the feel of a mountain lodge.
How about adding a stone fireplace too? You can also keep some comfortable leather bar stools to complete the look Decorate the space with animal mounts, vintage signs, and cozy textiles. Consider adding a pool table or card games area for additional entertainment. By this, you will have a fantastic rustic-themed basement bar!
8. Contemporary Lounge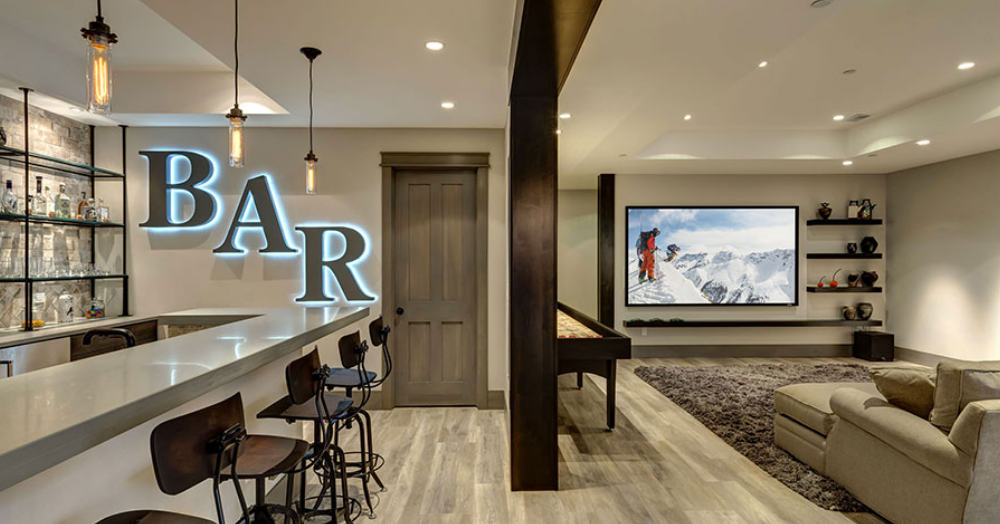 For a sleek and modern aesthetic, a contemporary lounge basement bar is an excellent choice. Focus on clean lines, minimalist furniture, and a monochromatic color scheme. Use sleek materials like glass, stainless steel, and lacquered surfaces. Infuse a backlit bar counter, LED strip lighting, and stylish bar stools. Create a comfortable seating area with modular sofas or statement armchairs.
Display abstract art pieces and contemporary sculptures on the walls. This basement bar idea can also be designed as a wet bar. It is a perfect example of sophistication and minimalist design with a touch of elegance.
9.Whiskey Basement Bar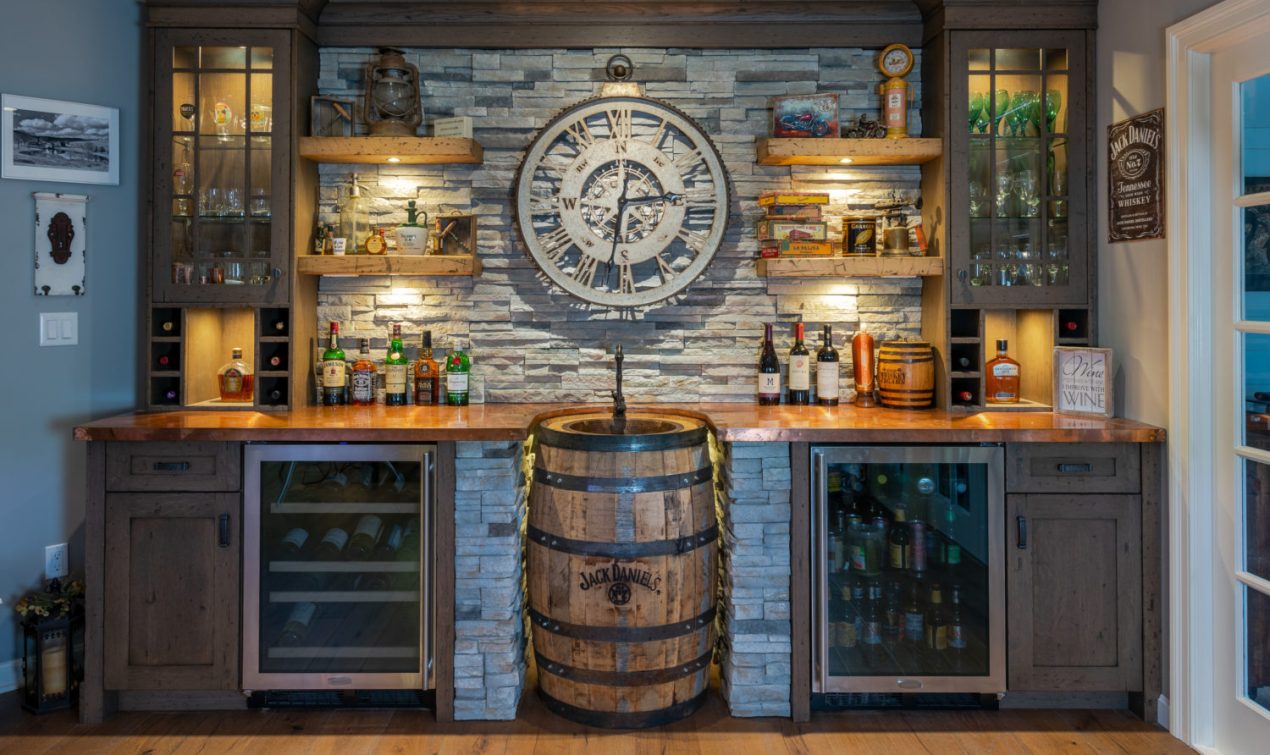 If you are a whiskey connoisseur or simply enjoy the rich flavors of this spirit, a whiskey-themed basement bar will delight your senses. It is a great idea to incorporate a wet bar in this concept, as whiskey generally creates a mess with its fizz, which will be easier to clean with a sink around.
Display your whiskey collection on shelves or in a dedicated glass cabinet. Install a bar counter with various whiskey selections and proper glassware. Opt for dark wood finishes, leather bar stools, and vintage-inspired lighting fixtures. Enhance the ambiance with warm, dim lighting and a cozy lounge area. Consider adding a whiskey-tasting corner with tasting notes and accessories. This theme is ideal for those who love whiskey and desire an intimate space to enjoy it.
10. Beach Basement Bar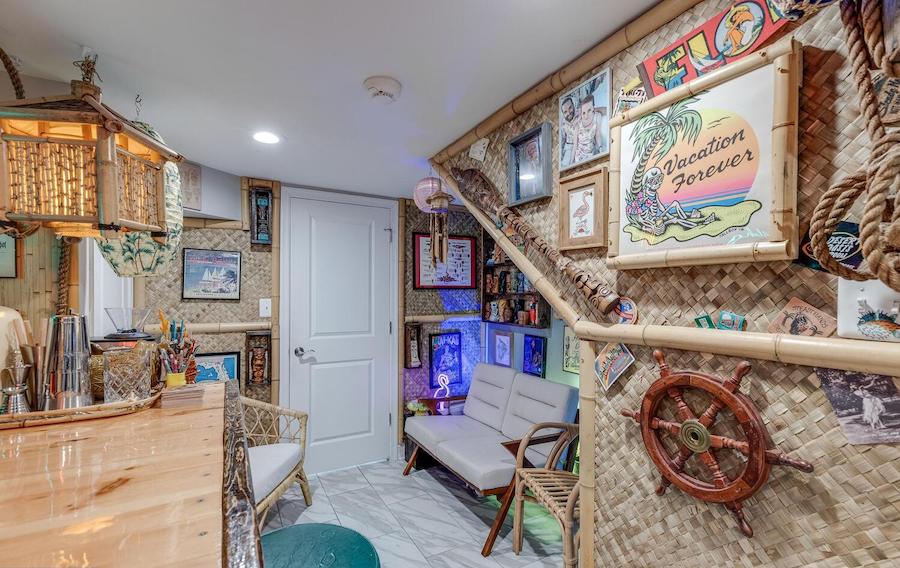 A beach bar is perfect for those who crave a laid-back, summery vibe all year round. In short, you can create a beach oasis in your basement. Adding a wet bar to it would also be a great idea! You can use light, breezy colors like shades of blue, white, and sandy tones. Cultivate beach-inspired decors like seashells, driftwood, and coastal artwork. Incorporate a bar counter with thatched rood or use natural materials like bamboo or rattan for a tropical feel.
Add a mini fridge for cool drinks and a blender for refreshing cocktails. Opt for comfortable seating with beach-themed cushions and throw pillows. Complete the look with beach-inspired accessories like surfboards or nautical elements. With this idea, you can enjoy the beach while sitting in your comfort zone!
11. Game Room Style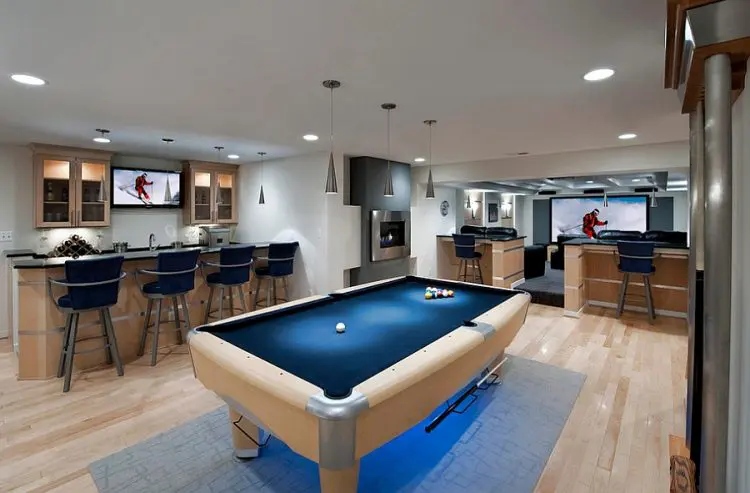 Turn your basement into the ultimate game room with a dedicated bar area by filling the space with popular games like pool tables, foosball tables, dartboards, and gaming consoles. Install multiple flat-screen TVs to ensure everyone can enjoy their favorite sports or video games. Create a lively atmosphere with vibrant colors, neon signs, and playful wall art.
Use comfortable seating and a well-stocked bar with various drinks and snacks. This theme is perfect for those who love friendly competition and want to create an energetic and fun-filled gathering space.
12. Scandinavian Style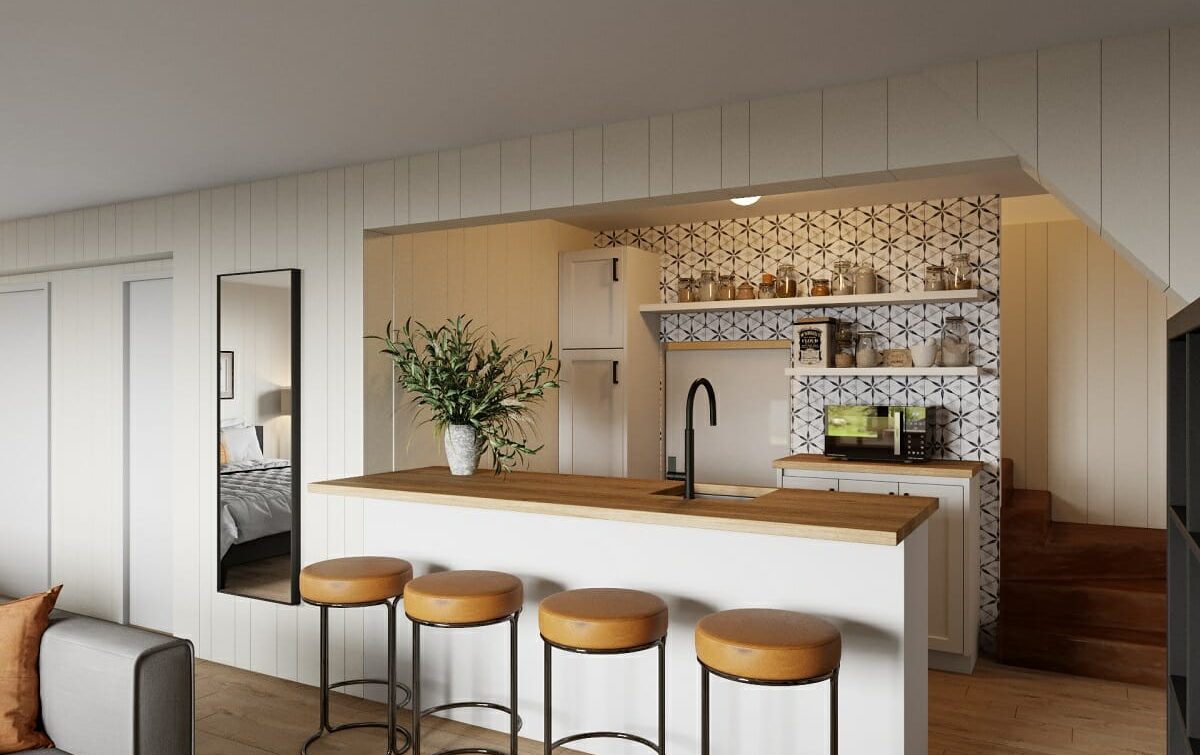 Embrace the simplicity and elegance of Scandinavian design with a basement bar idea inspired by Nordic aesthetics. Opt for a clean and minimalist look, using light colors like whites, grays, and light wood tones. Inculcate natural materials such as wooden bar counters, furniture, and flooring.
Enhance the space with cozy textiles like faux fur rugs and woolen throws.Install sleek and modern lighting fixtures to create a warm and inviting ambiance. If you love minimalism and desire a calm and serene atmosphere, you should go with a Scandinavian bar theme for your basement!
13.Gothic Style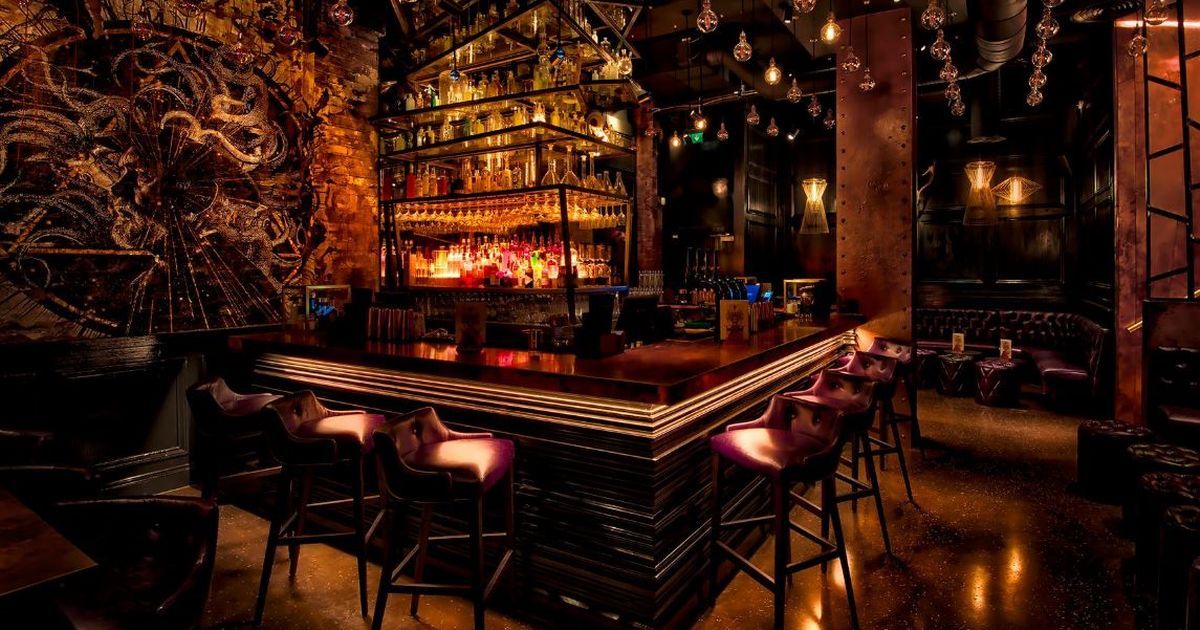 If you enjoy a dark ambiance and want some drama, a gothic-themed basement bar is a sureshot to allure you! Use rich and luxurious materials like velvet, leather, and dark wood. Paint the walls in deep, moody colors such as burgundy, navy, or black.
Use gothic elements like wrought iron accents, ornate chandeliers, and vintage art to create a mysterious and seductive ambiance.This basement bar idea is ideal for those who are fascinated with the romanticism of gothic architecture and desire a bar with a touch of elegance and intrigue.
14. Library Style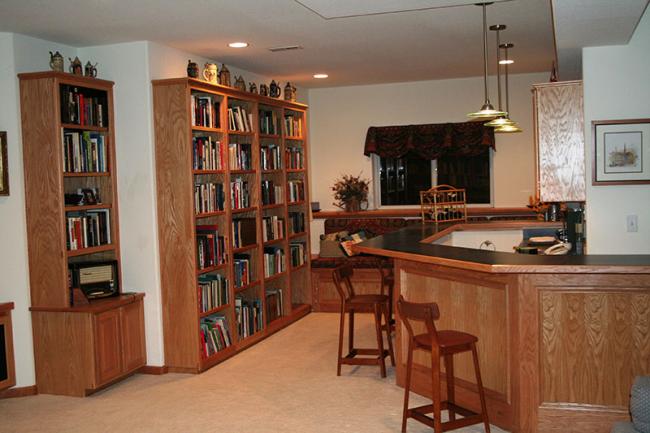 Combine your love for books and drinks by creating a basement bar with a library theme. Line the walls with floor-to-ceiling bookshelves and showcase your literary collection. Install a bar counter made of rich wood and complement it with comfortable leather bar stools. Remember, a wet bar in this theme is a big no!
Create a cozy reading book with plush armchairs, reading lamps,and small side tables. Enhance the ambiance with warm lighting, antique decorations, and vintage-inspired accessories. This style will eventually make your basement a quiet and intellectual spot. Additionally, it will create a space for socializing and solitary reading.
15.Mediterranean Style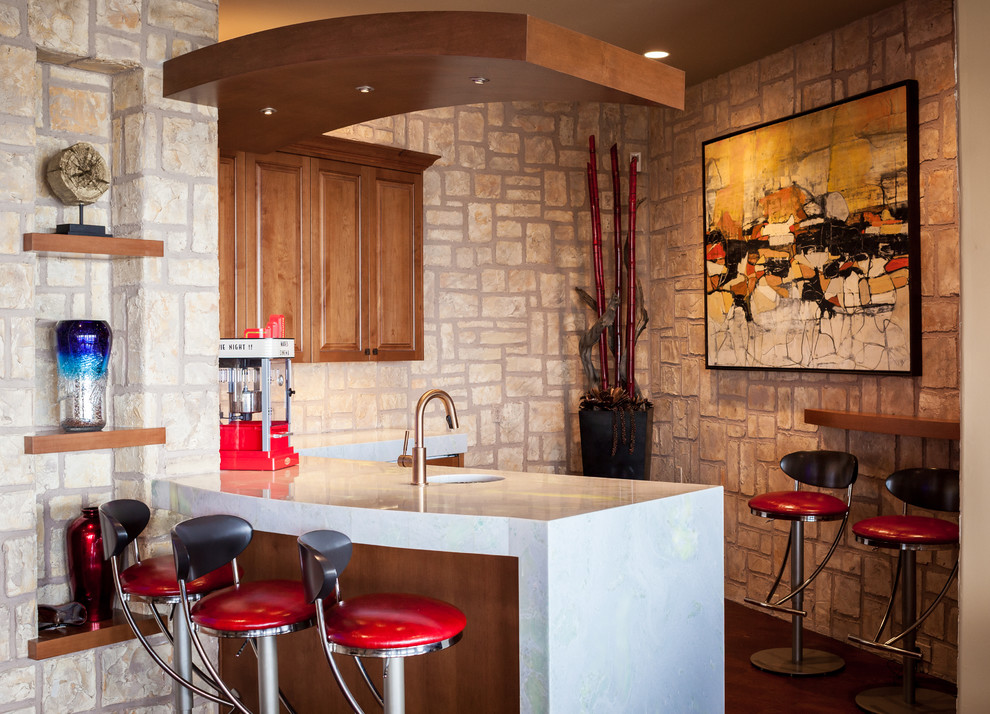 If you want a serene and relaxed atmosphere in your basement bar, the Mediterranean basement bar idea is the perfect option. With this concept, you can transform your basement into a bar that evokes the charm of coastal living. Use warm earth tones like terracotta, sand, and shades of blue to create a relaxed and inviting atmosphere.
Try adding textured elements like stucco walls, terracotta tiles, and mosaic accents for a Mediterranean feel. Install a bar counter with a marble or tiled surface. A marble sink in a wet bar shall also work fabulously! Additionally, add bar stools with comfortable cushions. Complete the look with rustic wooden beams, wrought iron details, and Mediterranean-inspired artwork.
16. Steampunk Basement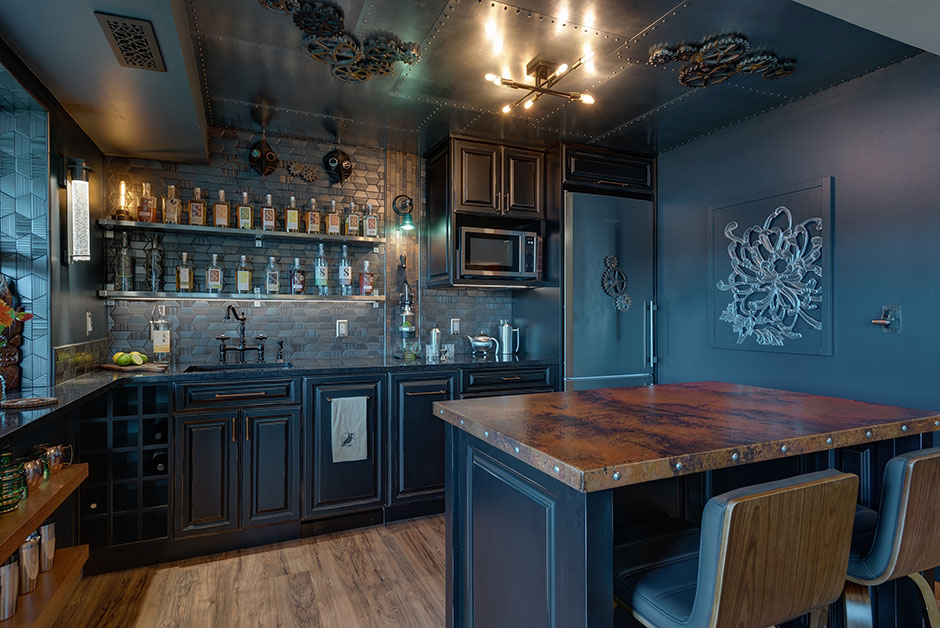 Step into a world of elegance and industrial innovation with a steampunk-themed basement bar. Use vintage-inspired elements like exposed gears, brass accents, and leather upholstery. If you are incorporating a wet bar, you can use a tap of brass to evoke a steampunk vibe. Opt for rich and warm colors such as deep browns, rusty reds, and brass tones.
Install Edison bulb lighting fixtures to create a warm and nostalgic ambiance. Display vintage artifacts, antique maps, and vintage books to enhance the steampunk aesthetic. Complete the look with leather bar stools, a copper bar counter, and vintage-inspired barware. This theme is ideal for people who appreciate the fusion of history, fantasy, and retro-futuristic aesthetics.
17. Neon Basement Style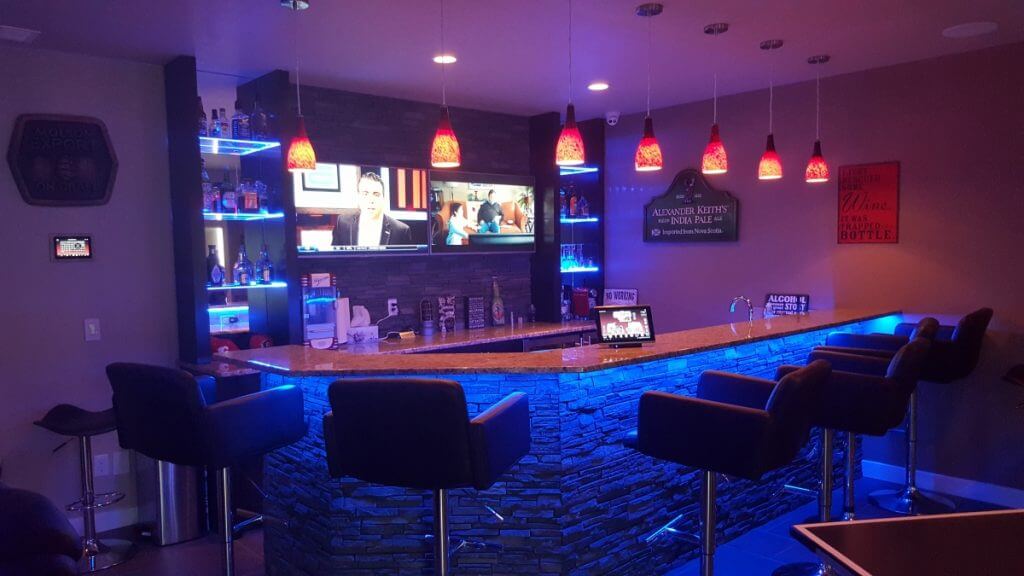 If you are a fan of vibrant colors and a lively atmosphere, a neon-themed basement bar will make a bold statement. Use neon lighting fixtures to create a vibrant and energetic ambiance Install a lighted bar counter to provide a stunning focal point.
Decorate the space with neon signs, retro arcade games, and colorful bar stools. If you love the electric energy of nightlife and desire a visually stunning and high-energy bar experience – the neon style is just for you!
18. Tropical Rainforest Style
Imagine escaping to a thriving, lush tropical jungle. You can achieve this calming effect with a basement bar decorated with unique plants and animals Use earthy tones like greens, browns, and deep blues to create a jungle-like ambiance. Incorporate tropical plants, hanging vines, and natural textures like bamboo and rattan Create a canopy made of thatched roof to give an impression of a tropical oasis.
Enhance the atmosphere with soft lighting and natural materials. Consider adding a water feature or a small indoor pond to complete the rainforest experience. This theme is perfect for those who want to create a tranquil and immersive bar environment.
19. Moroccan-Inspired Theme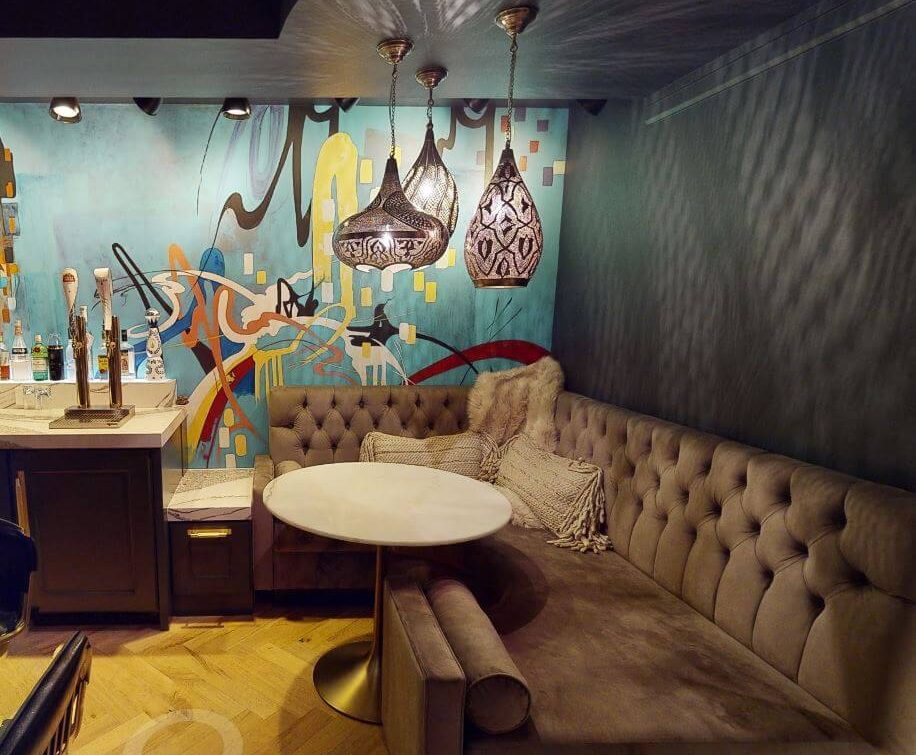 The Moroccan-inspired basement bar idea is for people who love the opulence and beauty of Moroccan aesthetics and desire a bar with a dash of exoticism. Elaborate patterns like mosaic tiles and vivid colors are the essence of the Moroccan theme. By using these, you can give your bar the exotic beauty of Morocco.
Install archways, colorful tapestries, and Moroccan lanterns for an authentic touch. Use plush seating with cushions and poufs for a comfortable and cozy ambiance. Consider adding a hookah corner for an extra touch of Moroccan flair. Trust us; your guests will love being seated in a cozy place full of Moroccan vibes.
20. Mid-Century Inspired Theme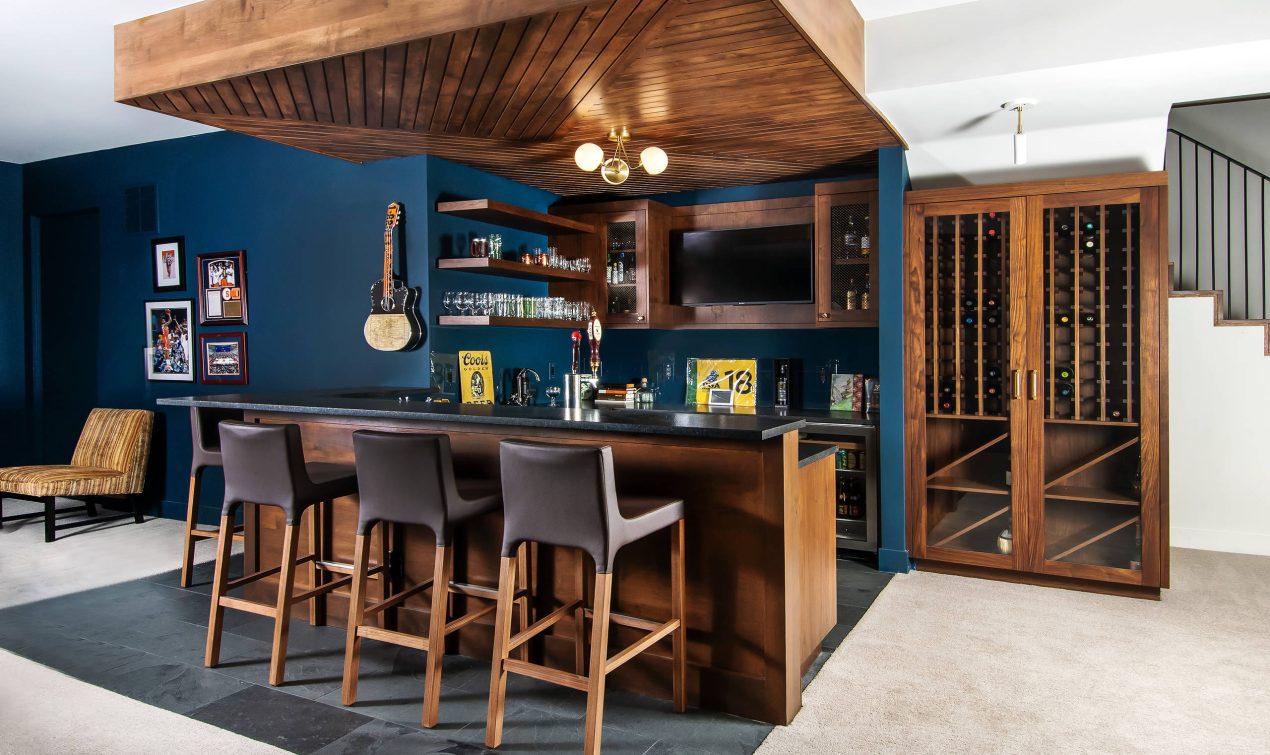 Travel back in time to the retro charm of the mid-20th century with a mid-century-inspired basement, especially if you are a fan of timeless elegance and the iconic design of the mid-century era. Add sleek lines, bold geometric patterns, and vintage furniture. Use warm and earthy tones like teak, orange, and olive green.
Install retro lighting fixtures and incorporate classic mid-century decor pieces like sunburst mirrors and Eames chairs. Complete the look with a vintage-inspired sink for a wet bar, a bar cart, and a record player for added nostalgia.
21. Art Deco Basement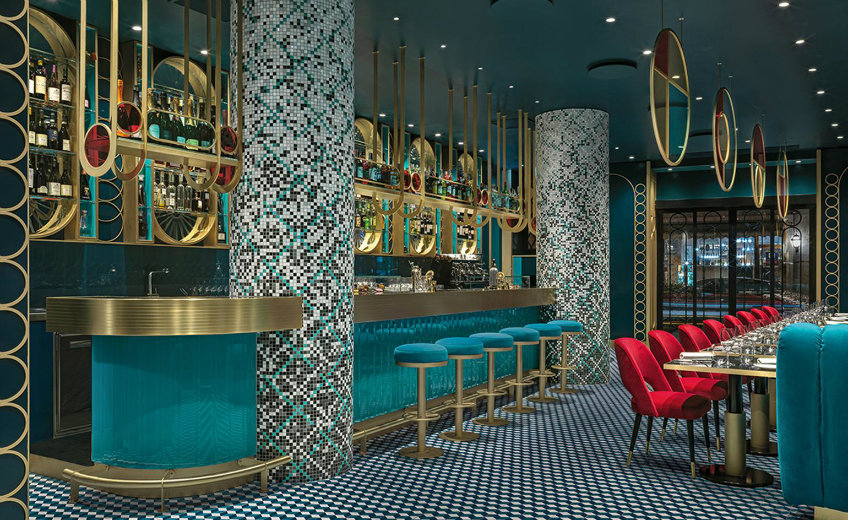 For those who appreciate the elegance and sophistication of the art decor area and would love to step into the glamorous world of the 1920s – go for an art deco basement bar idea along with a wet bar. This style is characterized by geometric patterns, bold colors, and luxurious materials. Incorporate mirrored surfaces, chrome accents, and sleek lines.
Choose rich colors like gold, black, and deep jewel tones. Choose soft furniture with velvet upholstery and add lighting fixtures with an art deco feel. Display vintage barware and accessories to enhance the elegant ambiance and enjoy the beautiful art deco basement bar.
22. Farmhouse Style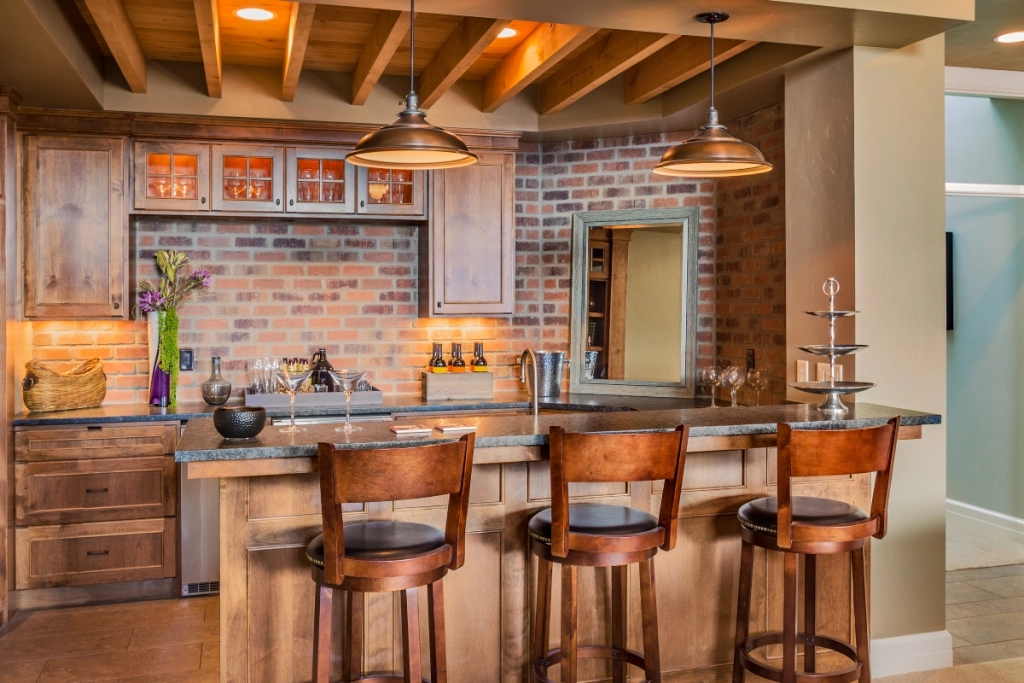 The most loved basement bar idea of all designers is Farmhouse style basement bar. This style can be designed as a wet bar by using appropriate materials for the sink. Embrace the rustic charm by utilizing reclaimed wood, exposed beams, and shiplap walls to create a cozy and inviting atmosphere. Choose neutral colors like white, cream, and natural wood tones.
Install a farmhouse sink and incorporate open shelving for displaying glassware and decor items. Enhance the ambiance with farmhouse-style pendant lighting and vintage-inspired bar stools. This theme is perfect for those who crave a warm and cozy bar setting with a dash of country charm.
23. Ski Lodge Theme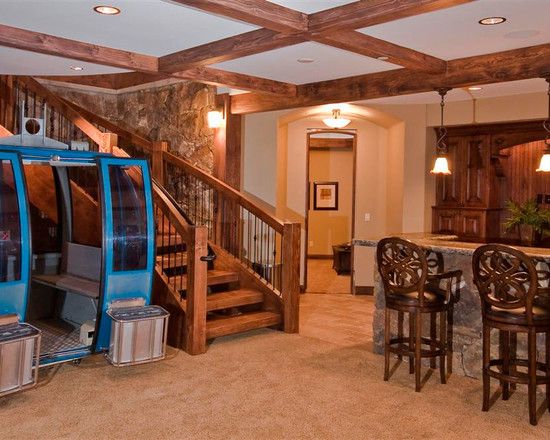 For people who want to create the cozy apres-ski atmosphere right in their own home – go nowhere! Bring the cozy and rustic feel of a ski lodge to your basement by using natural materials like wood, stone, and faux fur to create a warm and inviting atmosphere. Use a stone fireplace as a focal point and surround it with comfortable seating.
Choose cozy textiles like plaid upholstery, faux fur blankets, and knitted cushions. Enhance the ambiance with ski-themed artwork, vintage skis, and snowshoes. This style is definitely going to be the show-stopper of your house, as people would love to experience the mountain vibes while staying in the comfort of their homes.
24. Sci-Fi Basement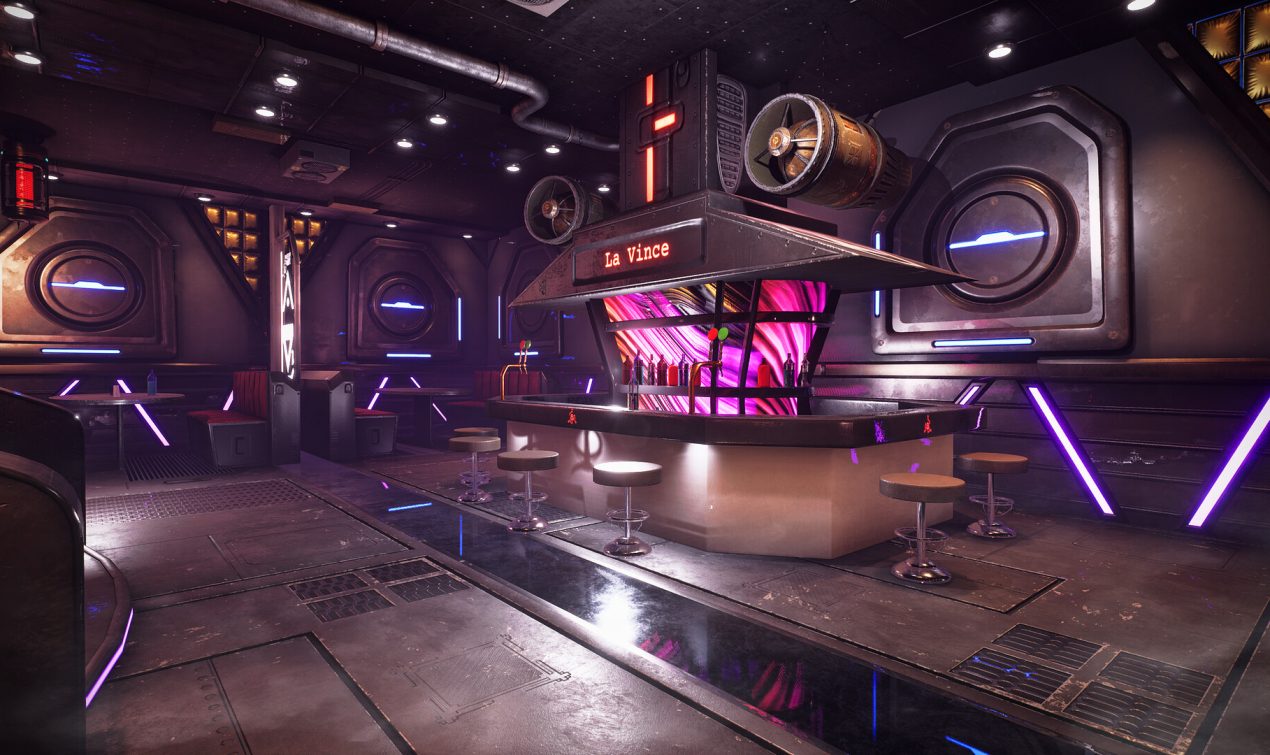 For science fiction enthusiasts, a sci-fi-themed basement bar is a dream come true! Create a futuristic atmosphere with sleek and modern furniture, LED lighting, and metallic accents. Choose a color scheme that includes vibrant neon colors and metallic hues. Use futuristic technology, such as touchscreen displays and voice-controlled lighting.
Display movie props, action figures, and sci-fi artwork to complete the theme. Consider adding a small home theater area for screening your favorite sci-fi movies. This theme is perfect for those who want to immerse themselves in a high-tech and otherworldly bar experience.
25. Zen Basement Bar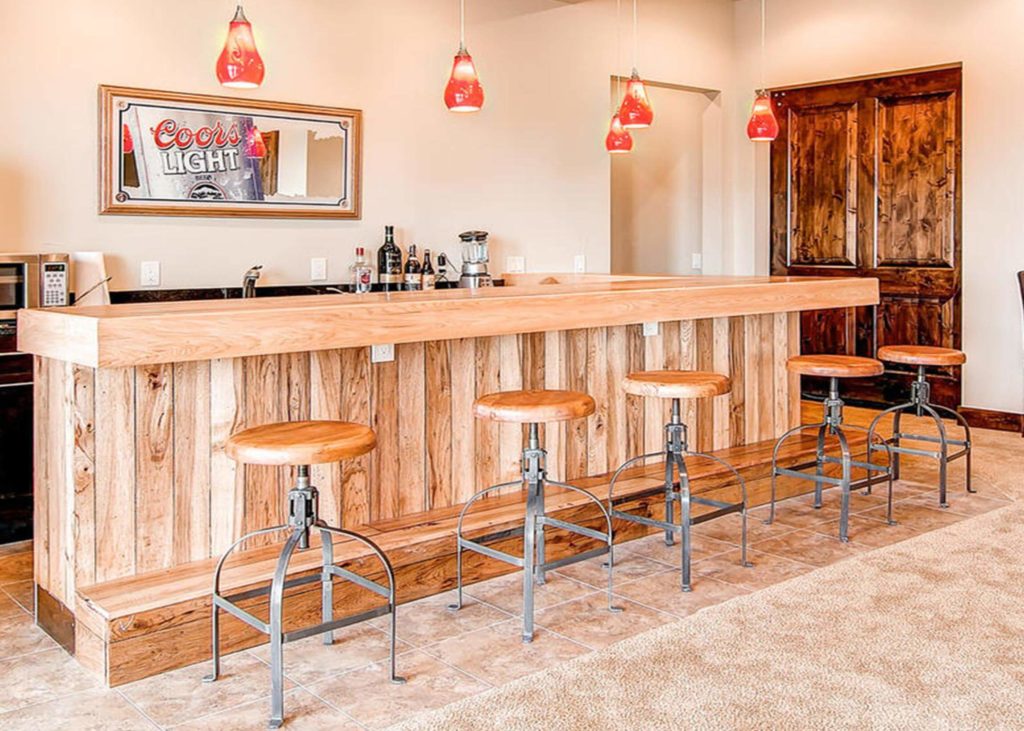 How about going with a peaceful and serene basement bar? Zen-inspired is the most peaceful theme you can have for a bar. Utilize natural materials like bamboo, stone, and water features to create a harmonious atmosphere. Choose a color palette with calming earth tones like beige, gray, and soft greens.
Use Japanese-inspired elements like shoji screens, bonsai trees, and Zen gardens. Opt for minimal furniture, such as low-profile seating and simple bar counters. Enhance the ambiance with soft lighting, aromatherapy, and soothing music. So, if you are seeking for tranquil and meditative space to unwind and enjoy a quiet drink – the Zen theme is worth adding to your basement!
26. Victorian-Inspired Theme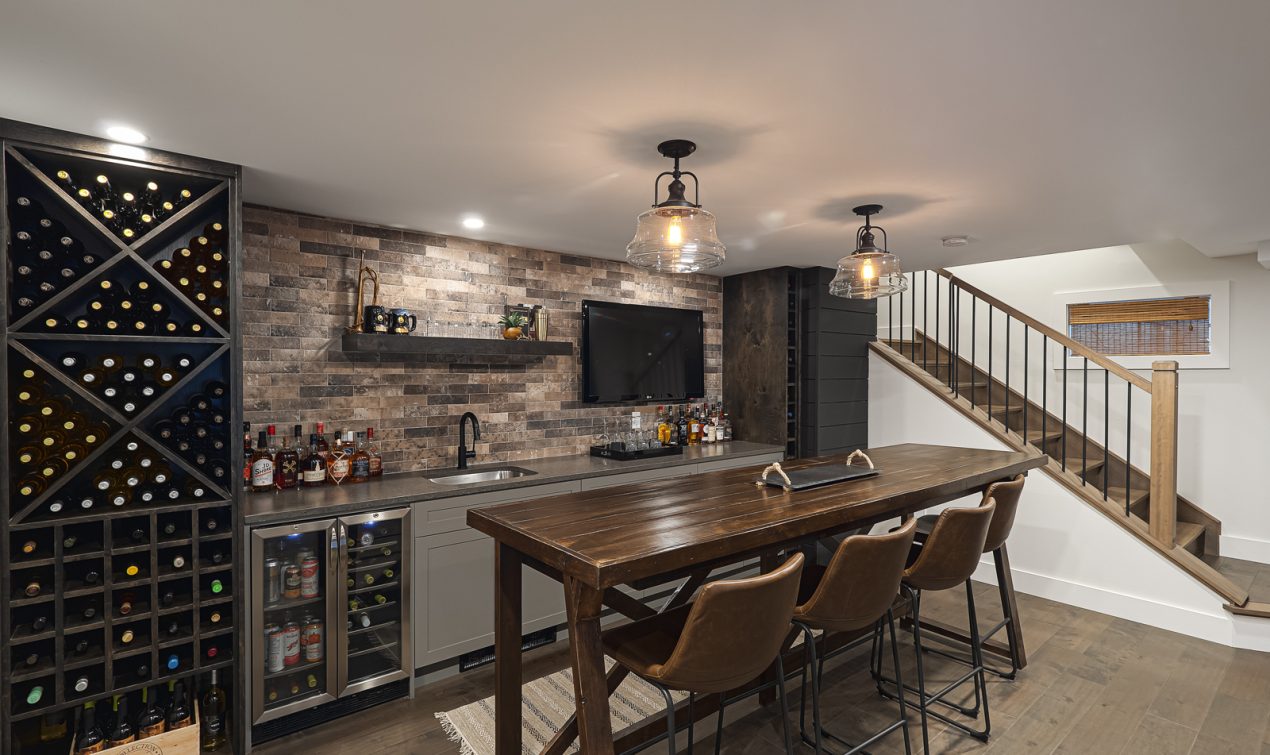 A Victorian-inspired basement bar transports you back in time to an era of elegance and sophistication. Th elaborate features and minute detailing enhance the vibe of the Victorian era.Add rich and luxurious materials like velvet, brocade, and dark wood. Choose a color palette that includes deep jewel tones and muted shades.
Install vintage-inspired lighting fixtures, decorative mirrors, and intricate molding. Display antique glassware and vintage art pieces to enhance the nostalgic ambiance. This theme is absolutely loveable and preferred by people who appreciate the ageless charm of the Victorian era.
27. Home Disco Style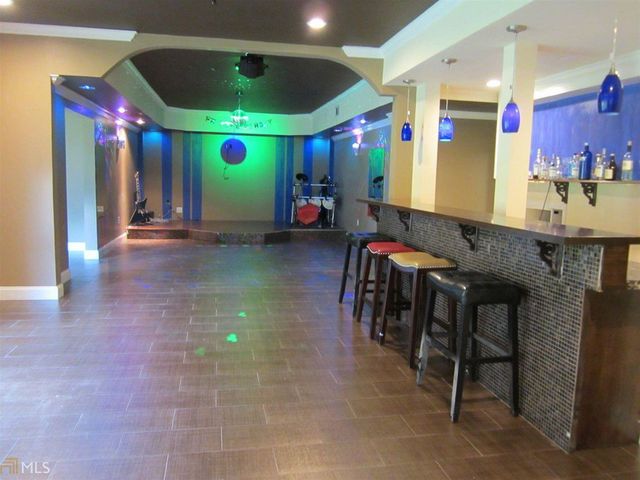 Transform your basement into a vibrant and energetic home disco bar where you can dance the night away. Create a dazzling atmosphere with colorful LED lights, disco balls, and a mirrored dance floor. Install a professional-grade sound system to blast your favorite tunes. You can even use this design as a wet bar wherein the sink can be placed in the corner of the bar counter. Remember, the bar counter should have a wide selection of mocktails and cocktails.
Add comfortable lounge seating and a designated area for dancing. Complete the disco vibe with retro-inspired decor and disco-themed artwork. A home disco basement bar will bring your inner disco diva with this themed basement bar.
28. Speakeasy Theme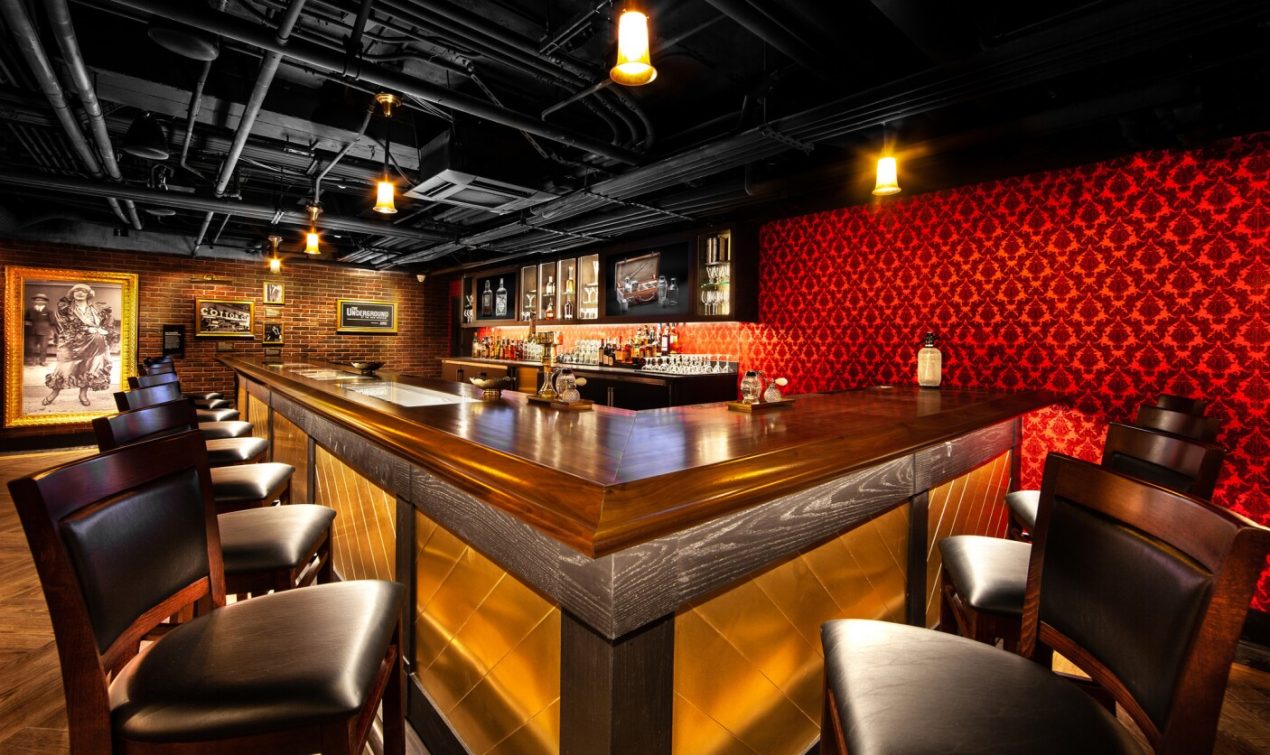 Opt for a speakeasy bar in your basement that resembles the interiors of 1920. This will transport your guests to the long-lost and nostalgic era. You can also create a hidden entrance, perhaps behind a bookshelf or through a secret door. Utilize dim lighting, vintage-inspired decor, and exposed brick walls to set the mood.
Install a well-stocked bar with an array of craft cocktails and vintage glassware. Add plush seating and vintage furniture for an authentic speakeasy experience. This theme is perfect for those who appreciate the charm of a bygone era and want to create a unique and nostalgic bar setting.
29. Vinyl Basement Bar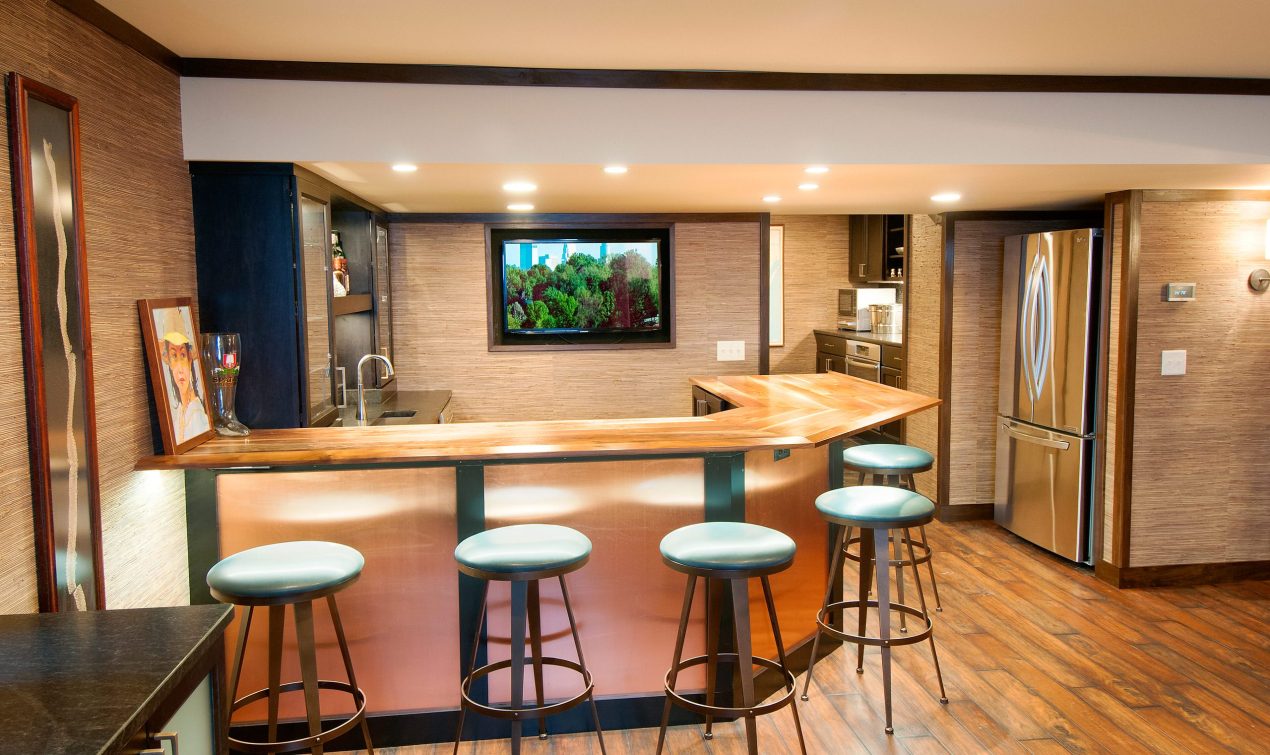 Create a haven for music lovers with a vinyl basement bar that celebrates the timeless charm of vinyl records. You can specially dedicate a corner area for a turntable. Install shelves or display cases to showcase your prized albums. Enhance the atmosphere with vintage-inspired decors, such as retro posters and album cover art.
Set the mood with warm and cozy lighting. Add comfortable seating and a well-stocked bar to create a space where you can relax, enjoy your favorite music, and have a drink. If you are a lover of music, a vinyl basement bar is a perfect retreat for you then.
30. Diner Basement Bar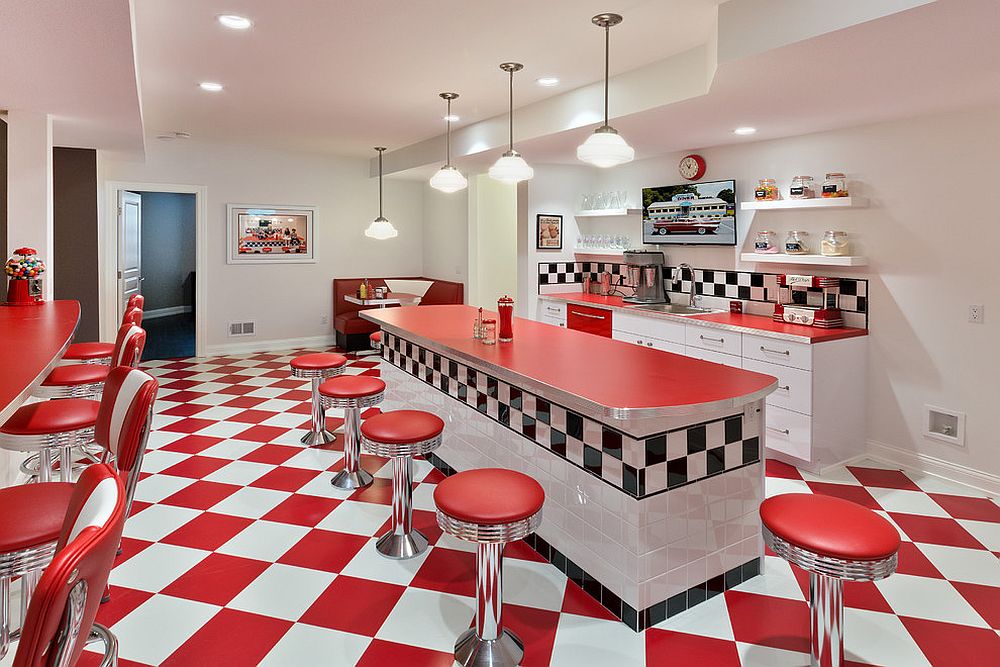 Transport yourself to a retro diner experience with a basement bar that channels the nostalgic charm of classic American diners. Include retro-style vinyl stools. Use vivid colors on the walls and furnishings, such as red, white, and black for the walls and furniture.
Display vintage signage and neon lights for an authentic touch. Serve up classic diner food and milkshakes to complete the experience. A diner basement bar is a perfect choice for those who want to relive the vibrant and cheerful atmosphere of a classic American diner in the comfort of their own home.
Final Thoughts
To conclude, designing a basement bar allows you to create a unique and personalized space for entertainment and relaxation. No matter whichever design concept you go with – the possibilities are endless! Each theme offers its own distinct ambiance and style, allowing you to create a basement bar that perfectly suits your taste and interests.
So, let your creativity soar, and turn your basement into the ultimate epic bar experience with the epic basement bar ideas. All the best, and Cheers to your basement bar adventure!
Frequently Asked Questions
How Much Does It Cost to Build a Basement Bar?
The cost of building a basement bar can vary greatly depending on factors such as the size of the space, the materials used, and the level of customization. On average, a basement bar can cost anywhere from a few thousand dollars to tens of thousands of dollars.
Do I Need a Permit to Build a Basement Bar?
Permit requirements vary depending on your location and local building codes. It is essential to check with your local authorities to determine if you need a permit for your basement bar project. It is always better to ensure compliance with regulations and obtain the necessary permits to avoid any issues down the line.
Can I Install Plumbing in My Basement Bar?
Yes, it is possible to install plumbing in a basement bar. Adding a sink or a small wet bar with a water supply and drainage will require professional plumbing work. It is advisable to consult with a licensed plumber to assess the feasibility of adding plumbing and to ensure it is done safely and up to code.