25 Clever Lego Storage Ideas for Decluttering Your Space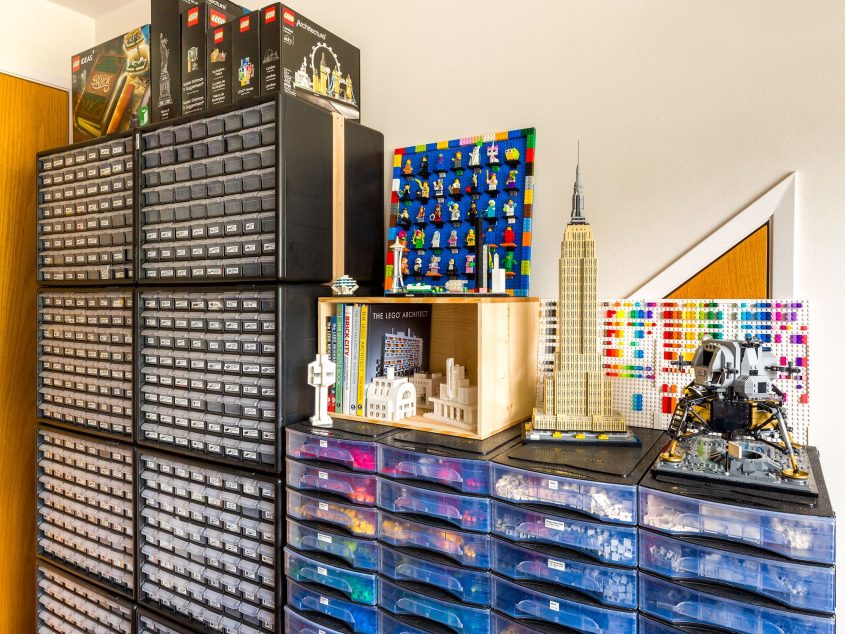 As a parent, are you constantly stepping on Lego pieces? Or are your children always frustrated since they can't find the perfect one for their building sessions? If the answer is a resounding yes to your questions, then this article has been developed to take all your problems away.
Our list of 25 incredibly useful Lego storage ideashas a plethora of storage options that will make your children's favorite bricks organized, neat, tidy, and accessible and will also mitigate your tedious job of organizing things time and again.
Our list contains unique storage ideas that would eliminate any distractions during a crafter's building session. If you are a newcomer to the Lego world or a dedicated builder, using our storage options would make your Lego journey an enjoyable experience onboard with us as we reveal some amazing building block solutions and make your Lego world an eternal bliss.
1. Color Coded Lego Bins<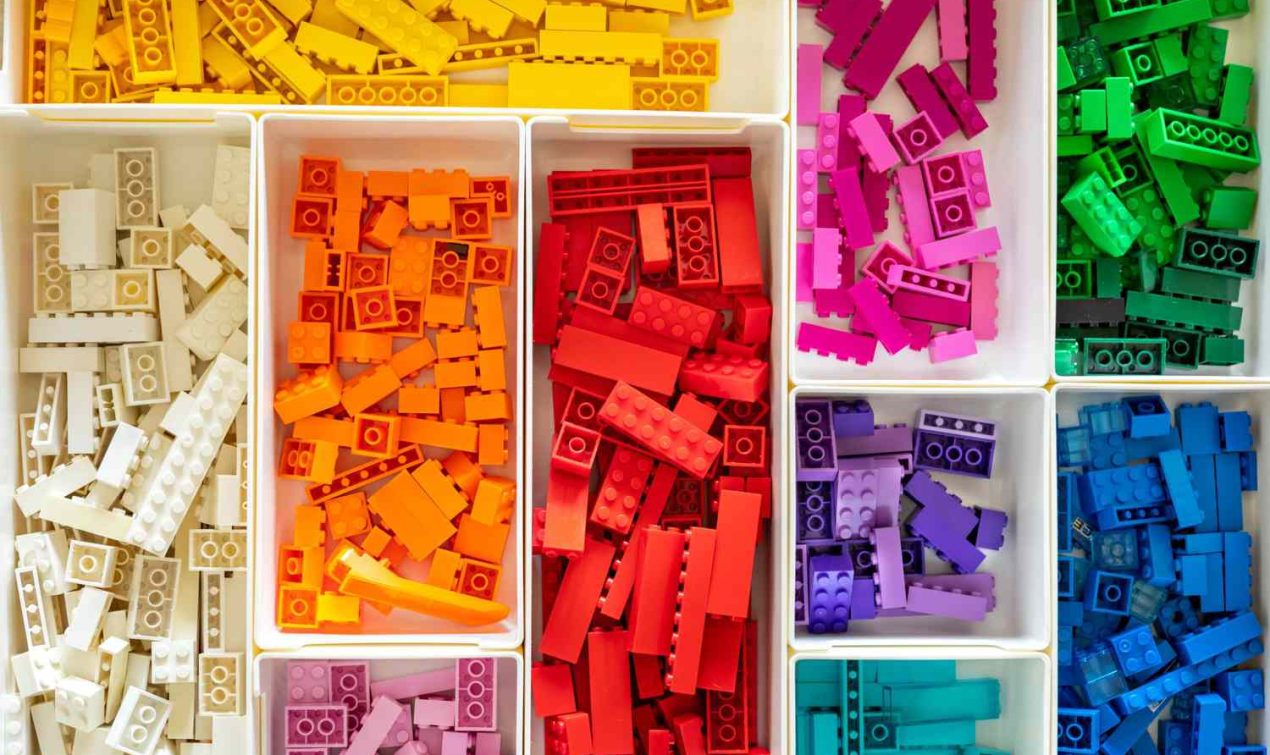 ThisLego storage ideais designed to keep your Lego organized. With the help of color-coded Lego bins, your Lego pieces of different colors will have a separate space, and you can use them for easy access. For instance, the red-colored legos can be kept in red color bins, and so on.
2. Lego Wall-Mounted Display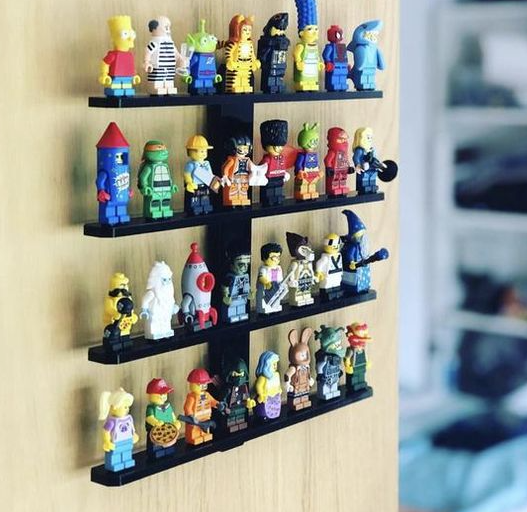 To adopt this particular idea, all you have to do is install shelves on your beautiful wall and place your Lego Minifigures on them. Once done, your room becomes the center of attention for any observer. This makes your room appear bright, welcoming and steals the attention of any observer.
3. Lego Storage Trays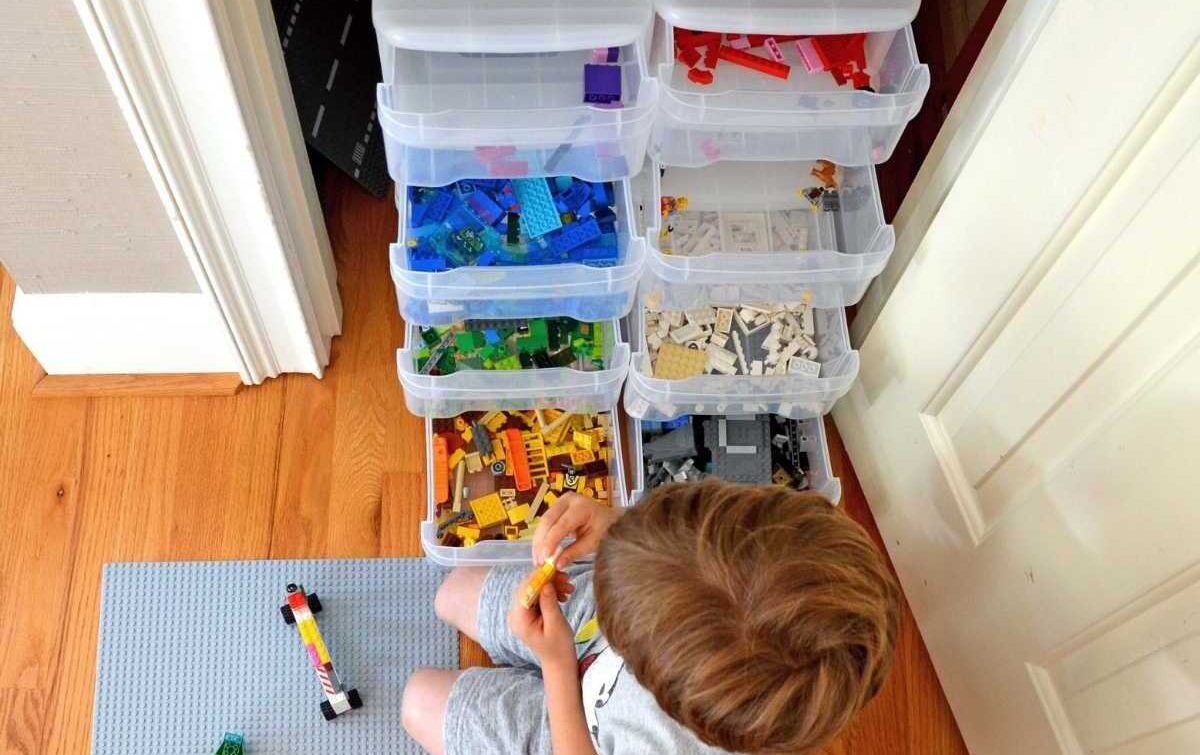 Kids find it extremely challenging to keep their Lego bricks organized. Using these storage trays will keep your variety of Lego bricks neatly arranged and organized. Most of the time, the Lego creator lands up in trouble managing their Lego pieces; with the help of this organizer, everything is available within arm's reach.
4. Lego Magnetic Strips
This Lego storage idea is used by kids who want to display their metal-designed Lego pieces like swords and other tools. With the help of magnetic strips, they can display their unique collection on the cabinet door or as wall art. Using this design idea, you can make your room look stunning, and everyone will appreciate your creativity.
5. Lego Tacklebox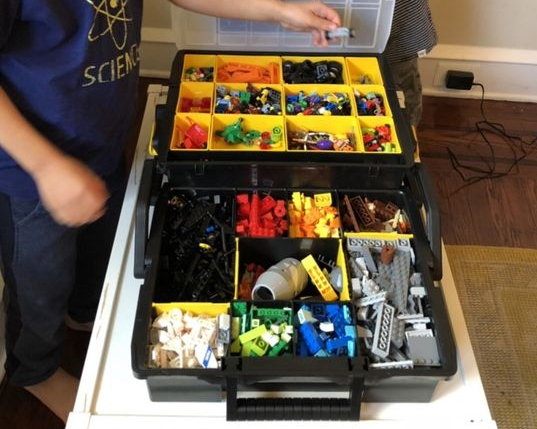 They are used when small Lego pieces need space. Small Lego pieces come in the shape of windows, hinges, and wheels, and thus they need a tackle box that has multiple compartments for storage. With the help of this design idea, you will never misplace your Lego pieces as they are now stored in one centralized unit.
6. Lego Workstation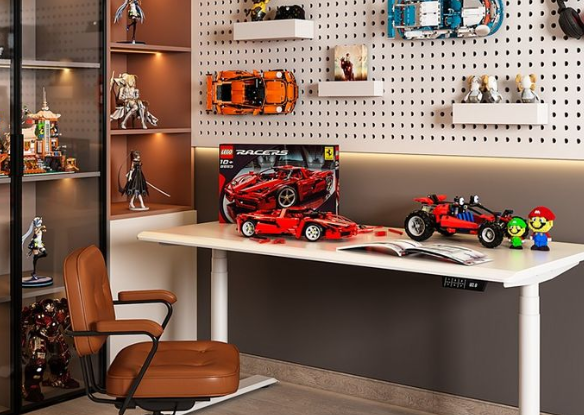 This Lego storage idea is for those creators who are obsessed with their Lego bricks. A Lego workstation having multiple storage systems will ensure that all Lego pieces and necessities are available within arms reach, and hence they would have no hindrance when working on their creations.
7. Lego Wall Buckets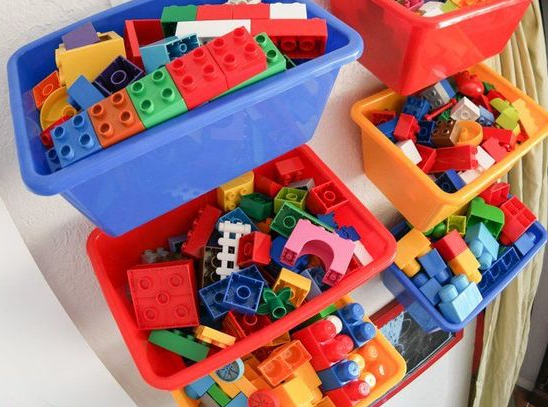 During a building session, creators need Lego tools every minute. Wall buckets would ensure that these Lego tools are easily available during their building sessions, and they would focus on their creations without any hindrance. You can attach multiple Lego buckets, as shown in the picture, to store Lego pieces of different shapes and sizes.
8. Lego Display Cases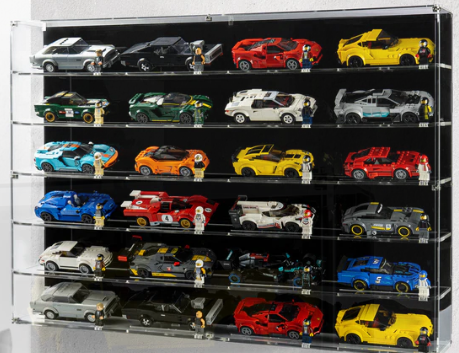 Creating a unique Lego piece is a work of art. Building sessions are time-consuming, and they need your dedicated attention. Once it's done, creators usually want to display their art in front of an observer, and this is where display cases come into the picture. These display cases keep your unique collection organized and add a touch of personalization to your space
9. Lego Movable Storage Cart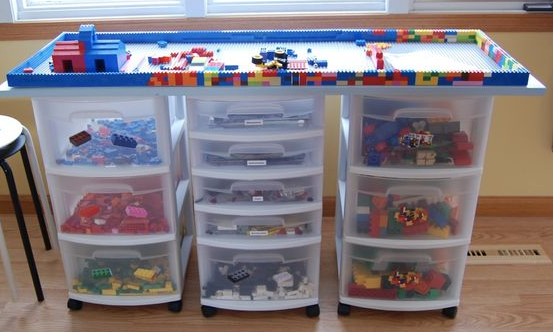 Creators of Lego often move from one place to another during a building session. This is where a movable storage cart comes into the picture. This storage cart comes with multiple storage departments to organize your Lego bricks, and hence your workspace can be moved from one place to another with the help of this storage idea.
10. Lego Movable Storage Containers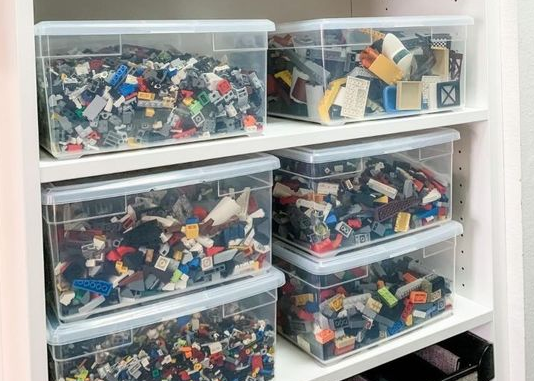 There are multiple Lego meetups, events, and gatherings where Lego creators show their unique creations. To display your design, you need a display case that is movable, and the best fit for this is using movable storage containers. Using this design idea, you can store your precious Lego pieces in a portable container.
11. Lego Shoe Organizer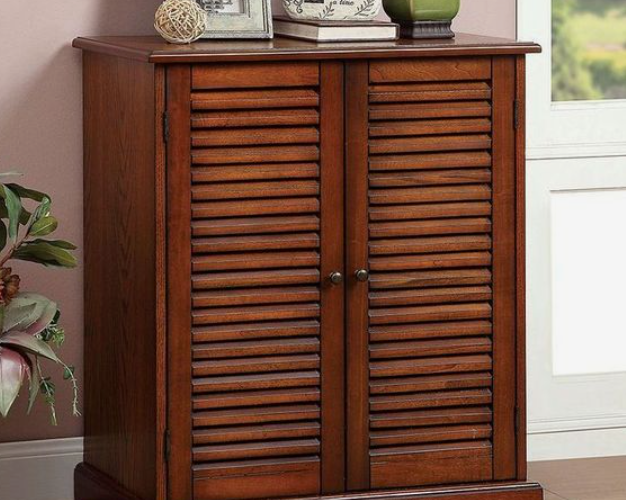 Use a shoe organizer to display your Lego minifigures. To implement this idea, make sure that you have old shoe storage clear compartments. Keep your Lego tools in those pockets to create an organized space. In order to re-create this design, make sure you follow the design structure as shown in the picture.
12. Lego Pegboard Organizer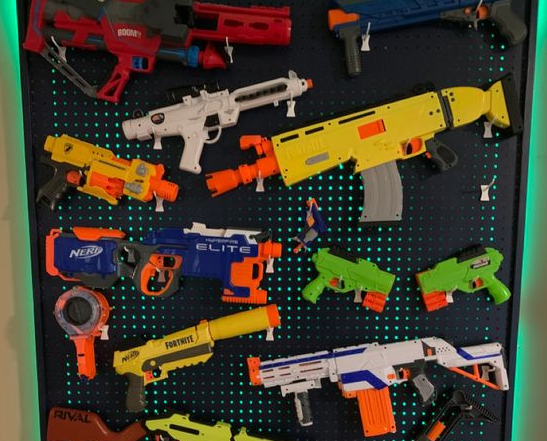 To implement this Lego storage idea, all you have to do is use a pegboard. Use the various hooks that come with the pegboard to hang your unique Lego pieces. Imagine how wonderful your wall will look when you activate this Lego storage idea in your room. The picture serves as proof.
13. Lego Custom Build Cabinet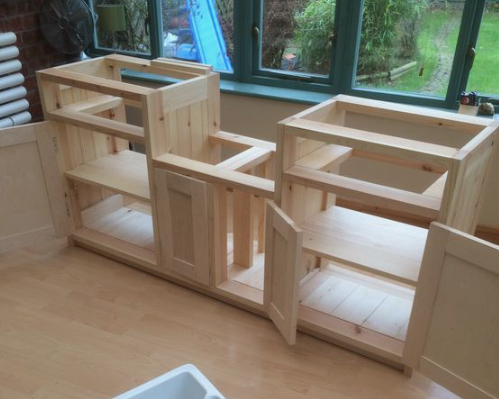 A custom build cabinet would contain drawers that would store all your Lego collection. Contact any local carpenter to build a custom-built Lego cabinet. Take the help of a local carpenter to make this idea come to reality. Show them this picture so that they can create an exact replica of the product as shown in the picture.
14. Custom-Built Lego Table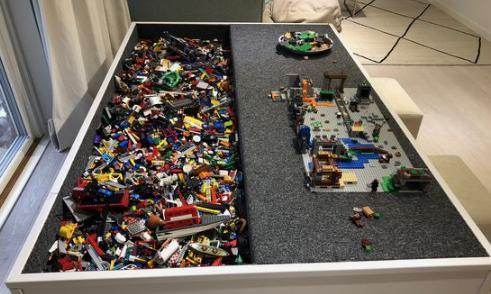 Your Lego building table should have custom-built drawers and compartments. This would keep your Lego bricks neat, tidy, and organized. To implement this design idea, one compartment should be only used to store Lego pieces, as shown in the picture, and the other side can be used by the Lego builder to showcase their collection.
15. Lego Glass Doors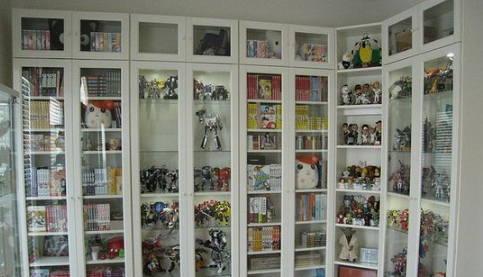 Implementing this Lego storage ideahas an easy learning curve. All you have to do is create display shelves that have glass doors. Now place your Lego minifigures inside them, which would keep them away from dust and untidiness. Make sure all your Lego pieces are fully made when you place Lego minifigures inside this display case, as this idea shows your completed Lego collection.
16. Lego Sliding Drawer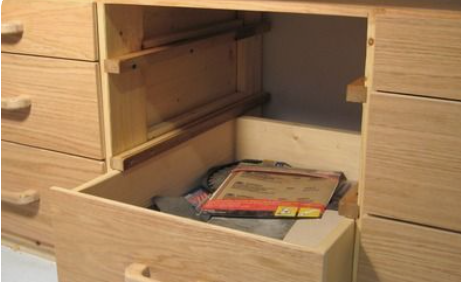 To create this, make sure that you place a drawer system under your workstation. This would allow you to get access to your favorite Lego bricks whenever you need them. When this idea is used, you don't have to move back and forth to fetch your Lego pieces, as this drawer has enough storage in your unit to make your building session provide easy accessibility.
17. Lego Wall Grids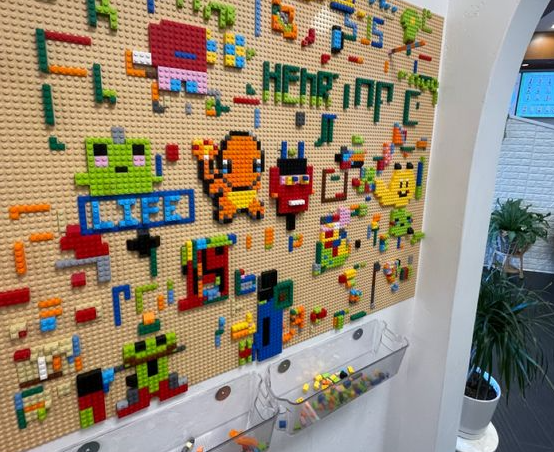 This creation would allow your Lego collection to get rotation and create a perfect viewing angle for any observer. All you have to do is used any kind of grid panels or wire to create a wall grid; once the wall grid is created, use hooks to hang your Lego collection. Make your room appear stunning and creative with this design idea.
18. Lego Labeled Drawers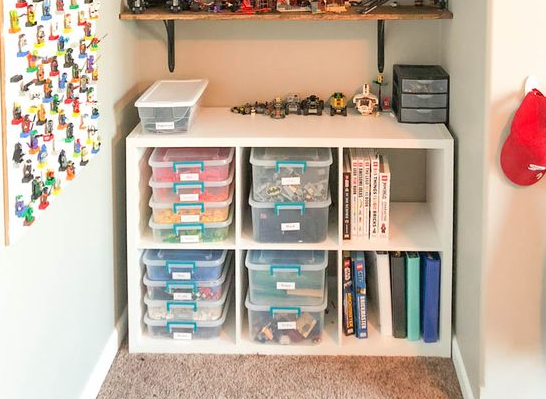 Your Lego storage drawers should have dedicated labels for them. This would help you find different types of Lego pieces when you need them. Lego storage drawers have an easy design curve and will always hello you find the pieces you need for your building session. The picture clearly depicts how you can implement this design idea with ease.
19. Lego Storage Bags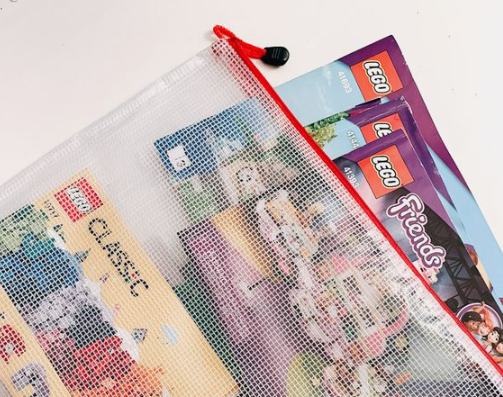 ThisLego storage idea should be implemented when you are about to store large Lego pieces. All you have to do is hang mesh bags in hooks so that Lego pierces become easily accessible to you. This serves as a portable Lego storage idea where you can just pack your Lego pieces and start a collaborative building session at your friend's house.
20. Lego Ottoman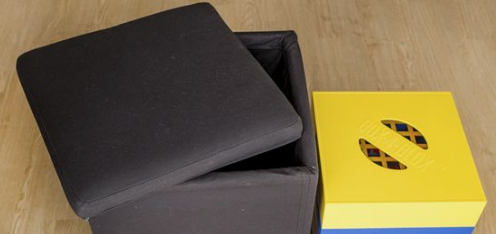 Utilize an ottoman with a sliding lid or a removable compartment to store different types of Lego pieces that you would require during your different building sessions. This design idea makes use of limited space in your room and keeps your Lego pieces in one centralized unit. A well-organized setting like this shows that you are a serious builder who likes to keep your Lego pieces organized. 
21. Lego Candy Jar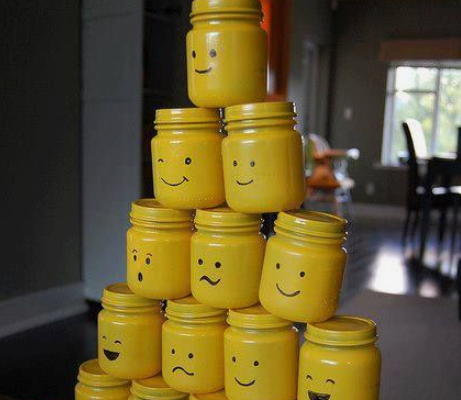 This Lego storage idea will help you keep all your Lego functional tools in one place. Using this idea, you can easily carry all your Lego supplies around the house. This design idea looks super fun to use, as the jars are basically emojis that depict different emotions. When placed in your house they create a cheerful mood. It can be customized in any manner as desired.
22. Lego Storage Head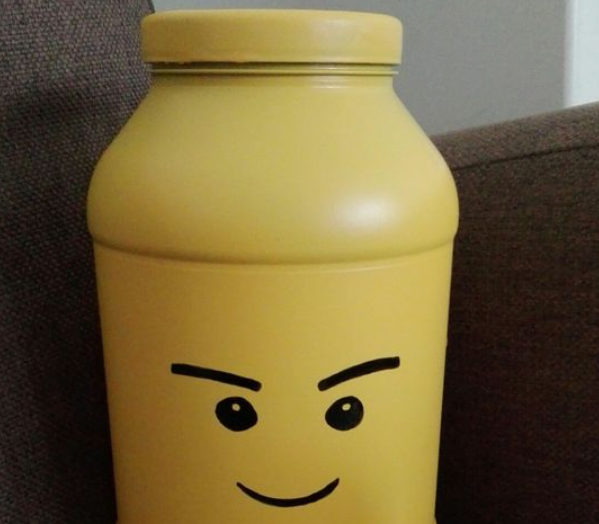 If you want to keep your storage fun and creative, then it's advised that you invest in a Lego storage head. This large storage head would decoratively keep Lego bricks. Now you have one centralized unit to store all your Lego pieces. This will eliminate any hindrance when you are focused on your building session and need your Lego pieces within arm's reach.
23. Lego Suitcase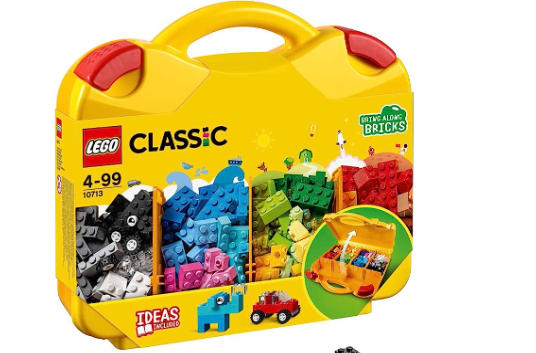 Your Lego suitcase should have dedicated compartments and sliding trays that should have access to get removed whenever required. The suitcase will keep your Lego pieces secure and make portability easy for you. You can travel to different places with this design idea, and using a dedicated travel bag for your Lego collection shows your love for the Lego collection.
24. Lego Mat
Also known as the playmat. This keeps even tiny bits of Lego organized. For instance, let's say that your children are visiting their grandma's place, but you don't want your children to clutter their space when they are playing with their legos. This is where the Lego mat acts of immense importance come into play. Using this storage solution, your children can have as many play dates as they want and never worry about Lego pieces getting lost.
25. Lego Separators
During the building session, there might be some pieces that are stubbornly attached, and the creator doesn't know how to remove them; using a storage solution known as the Lego separator would easily detangle the rough Lego pieces, and the storage session would never stop. Pin the separator on any wall for easy access.
Takeaway
Once you implement ourLego storage ideas, you will be amazed to see how every solution fits your needs seamlessly. It's time you say goodbye to disorganized brick settings and welcome creative solutions that would keep your Lego bricks needed today and accessible.
Using our idea will help you showcase your unique collection, find the missing piece of bricks that are required during building sessions and also keep your Lego tools super organized based on their color and sizes.
Thus it's time that you bid farewell to misplaced Lego pieces and embrace a new era of organized living. When you have a well-organized solution at your disposal, you can generate your entire focus in creating your unique leg collection.
Our list consisted of portable storage solutions so that you don't have to be limited to one area during your building session. You can travel to your friend's house or a fellow creator's place and have a collaborative Lego session.
Frequently Asked Questions
How to Prevent Lego Pieces from Getting Mixed?
The easiest hack to this problem would be using our color-coded bin solution. The color-coded bins will organize and store your Lego pieces according to their color and size. This will make all your Lego bricks accessible during your building session.
Can I Use Stackable Storage Trays for My Lego Bricks?
Yes, you can. Stable storage trays are regarded as the one-stop solution for your Lego needs. These trays can easily store a variety of Lego tools and Lego bricks. In addition, stackable trays allow space optimization, which means you can stack as much as you want without having to worry about space.
How to Display My Unique Lego Collection?
The easiest solution would be to use a glass display. We understand that you have spent long hours in achieving a Lego Minifigure, and so you need a display solution that would showcase your unique collection. This could be achieved by using a display solution that has glass doors. You can keep your favorite mini figures inside them and draw attention from any observer who visits your house.