22 Inspiring Backyard Wedding Ideas on a Tight Budget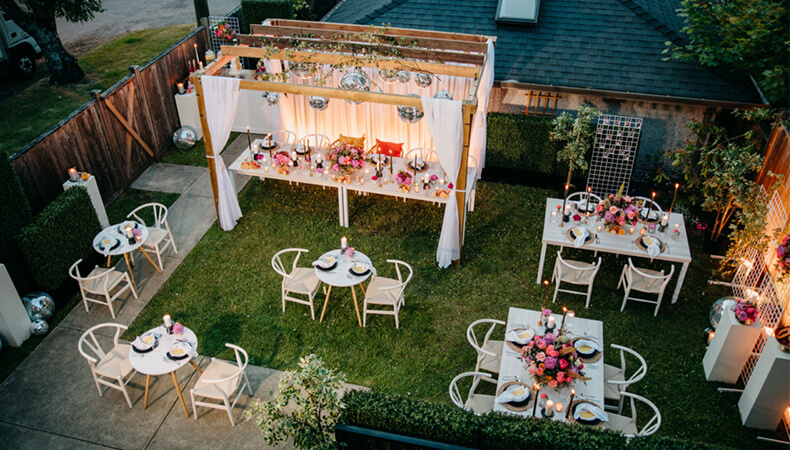 Planning a wedding is expensive nowadays; it can cost someone's whole life savings to conduct a beautiful wedding. It becomes a task, especially if you are working on a budget.
But what if I tell you that you can host a beautiful wedding in your backyard, too, on a budget? This can be a personalized and intimate celebration without breaking your bank account.
The best thing about a backyard wedding is that you can decorate in your way, unlike the expensive wedding providing you with limited options.
In the blog below, we are going to talk about 22 low-budget DIY backyard wedding decorations that help you with a grand wedding without being expensive. And breaking the myth that a backyard wedding can't be beautiful.
1. Usage of Front Yard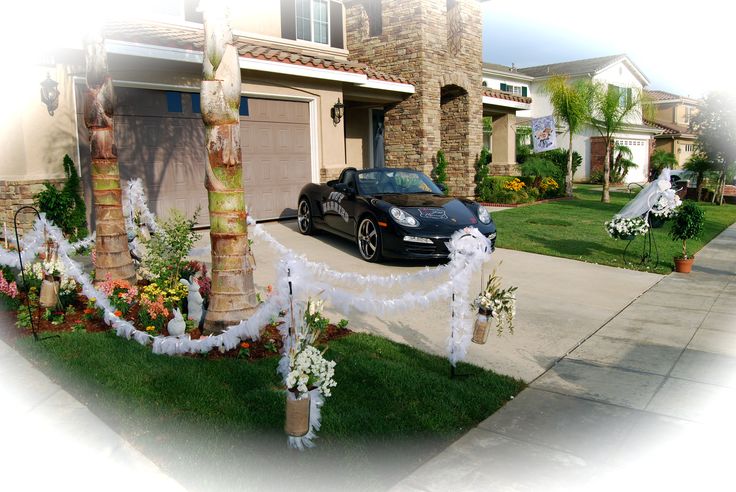 Decorating a front yard for a backyard wedding can be a great way to welcome guests by creating a cohesive and inviting atmosphere. You can use the front yard as entrance signage, pathway decoration, floral accents, lighting, and focal point decoration. There are many ways to decorate or use your front yard for your backyard wedding.
You can consider the size of your front yard and the overall theme of your wedding when you are planning the decorations. With thoughtful and creative decorations, your front yard can become a charming and inviting space for your backyard wedding celebration.
2. Be Flexible with Your Setup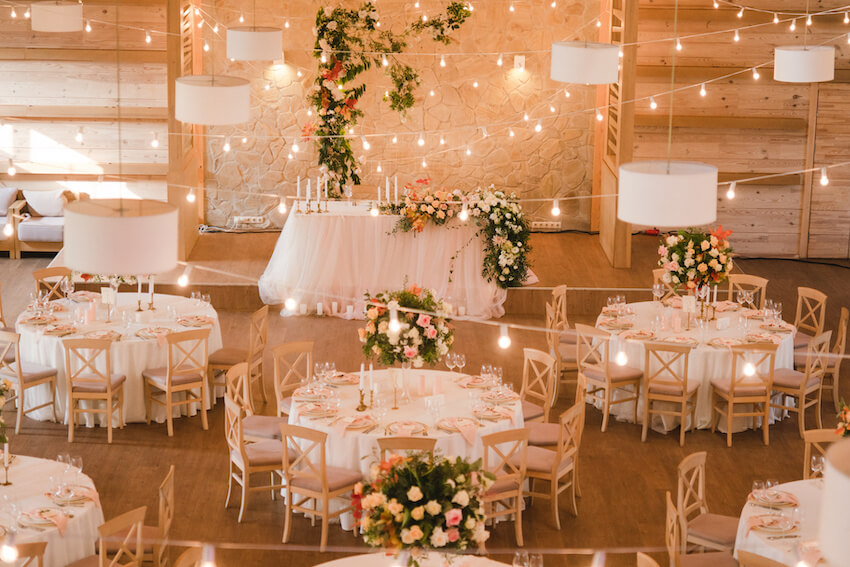 As this is your backyard wedding and not a wedding in a hall with limitations in decorations. Whether it's a minimal or exaggerated, black-colored theme or white-colored theme, vegetarian food is on the menu or not.
You can decorate or choose the setup of your choice and be flexible with everything at your wedding on a budget.
3. Personal Wood Wedding Signs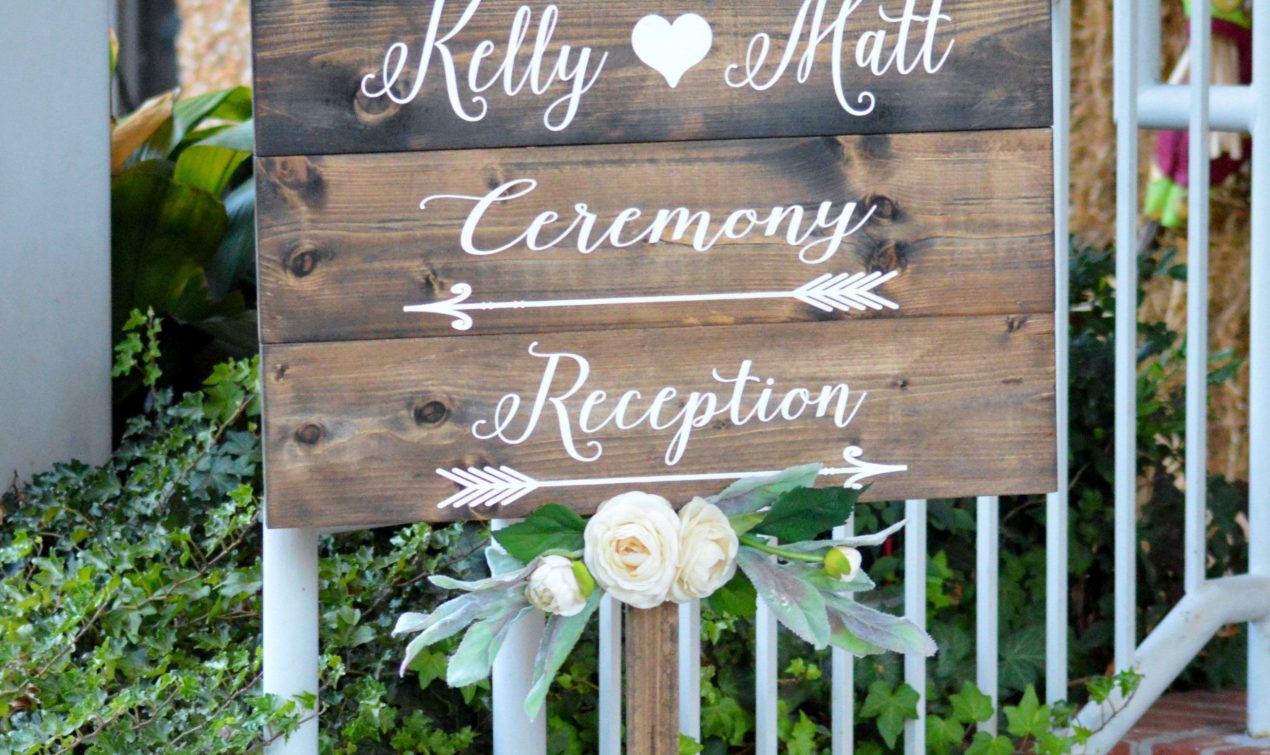 These signs can be used as directional signs, welcome signs, or simply as decorative elements. You can find wooden signs easily in local craft stores that can be personalized with paint. To personalize your wooden wedding signs, you can use markers, and calligraphy pens, to write a message, name, and quote on the sign. You can even add florals, greenery, or ribbons that match your wedding theme.
This is one of the low-budget DIY backyard wedding decorations that can add elegance to your wedding without demanding a lot of money. You can take a reference from the above image.
4. Simple and Casual Wedding Invitations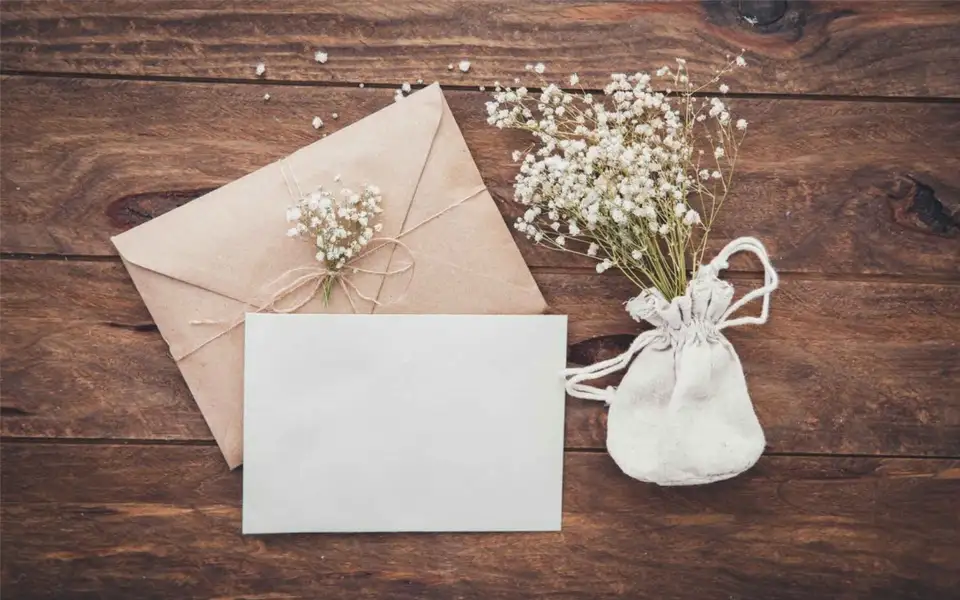 A lot of money is wasted on making fancy and expensive invitation cards, but do you know that invitation cards can look beautiful and elegant if made on a budget? A simple and casual wedding invitation can be full of charm. Casual and friendly words on cards, minimalist design on the cards, using natural elements like flowers for decoration.
You can even spray perfume for the beautiful scent. Also, remember to add personalized details like candid pics of you and your partner, etc.
5. Usage of Lightning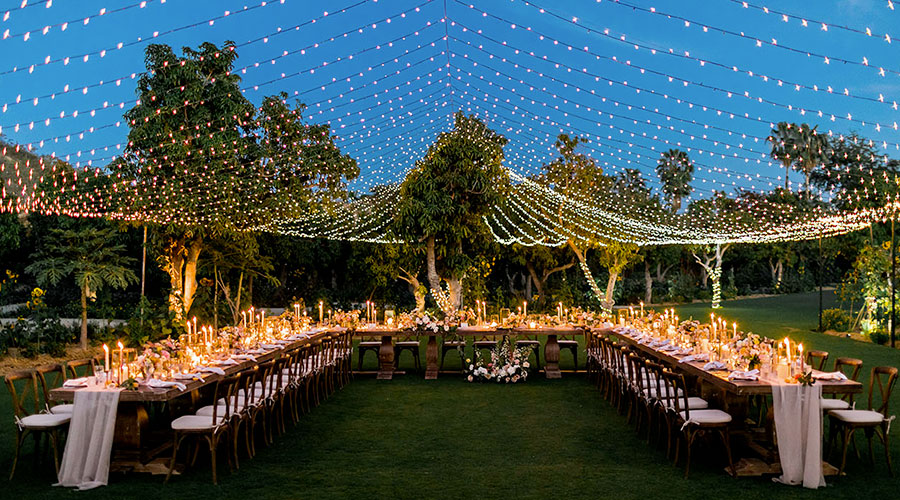 If you are performing your wedding at night, then using lights as a part of decoration can be one of the best ideas among low-budget DIY backyard wedding decorations. For lights, you can use string lights(which are a popular choice among the masses). Lanterns can be hung on trees or decoration curtains, candles, uplighting, spotlights, and fireplaces.
While using fireplaces or any kind of light, consider the safety aspect of your backyard by ensuring that all the connections are safe and secure.
6. Banquet-Style Table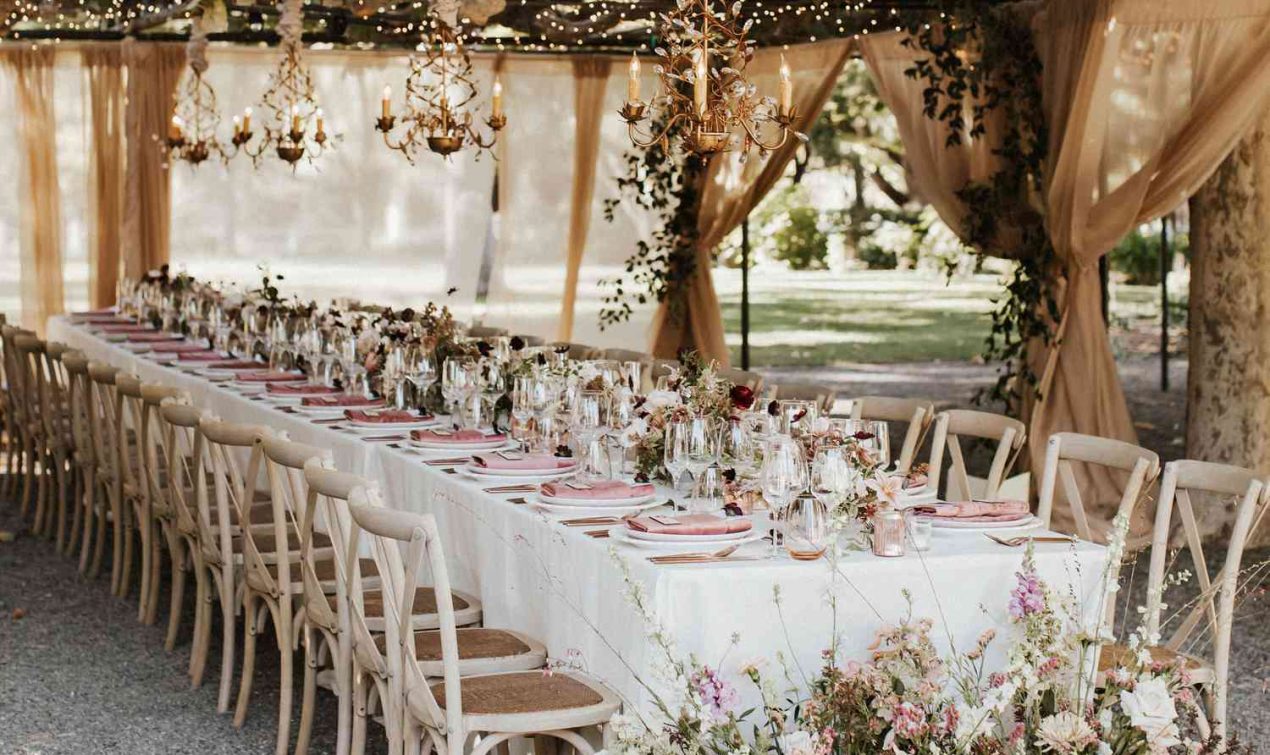 Having a banquet-style table can create an elegant and intimate atmosphere among the people you have called. During these days, people have lost connections, and this idea can bring the guest together and can give a good start to the conversation.
You can borrow or rent the long table or can use multiple smaller tables in your house. You can even decorate your table with a table runner, candles, lights, flowers, and other stuff of your choice. You can explore your creativity through this idea.
7. Creative Photo Display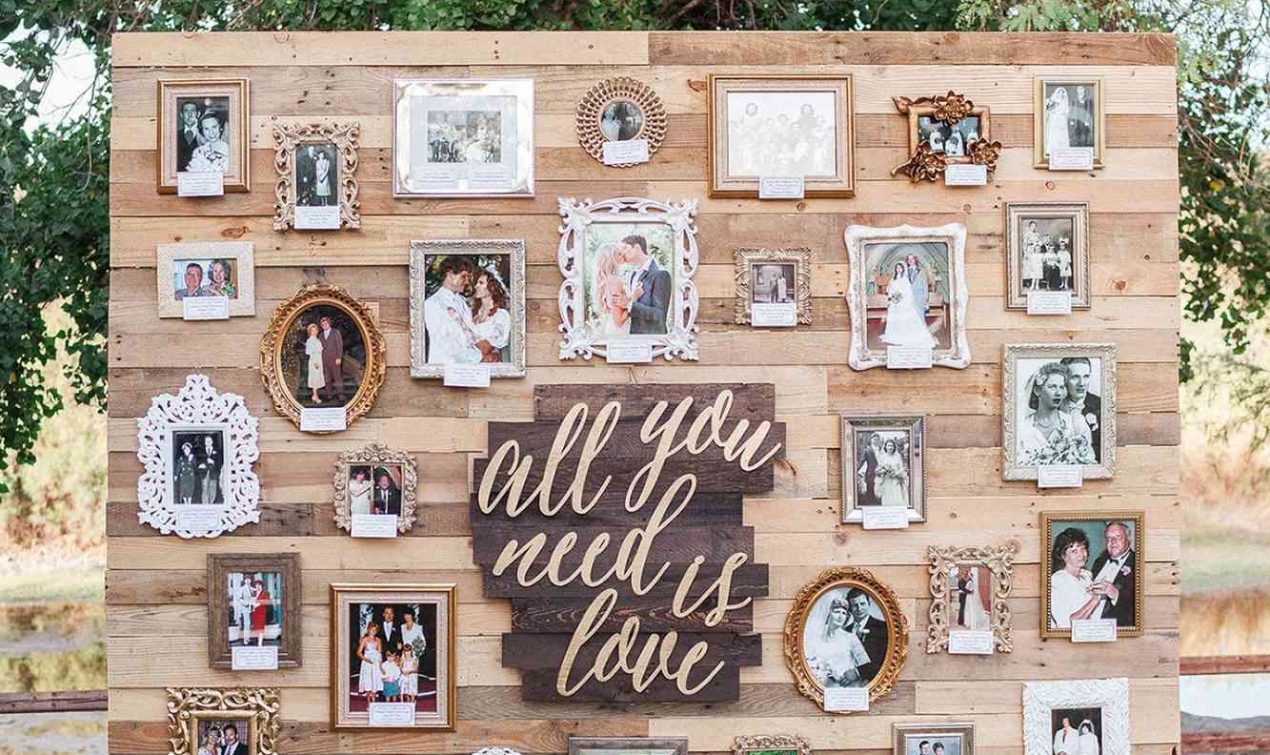 A backyard wedding provides the perfect opportunity to get creative with your photo display. To decorate your photo display, you can use string lights and clothespins, a vintage window frame, a Polaroid clothesline, a photo tree, a DIY photo wall, a vintage suitcase display, a window shutter display, a photo clothesline, DIY photo booth wall, floating picture frames, etc. to your photo display area.
Keep in mind to secure your photo display by looking out for the weather conditions.
8. Campfire Place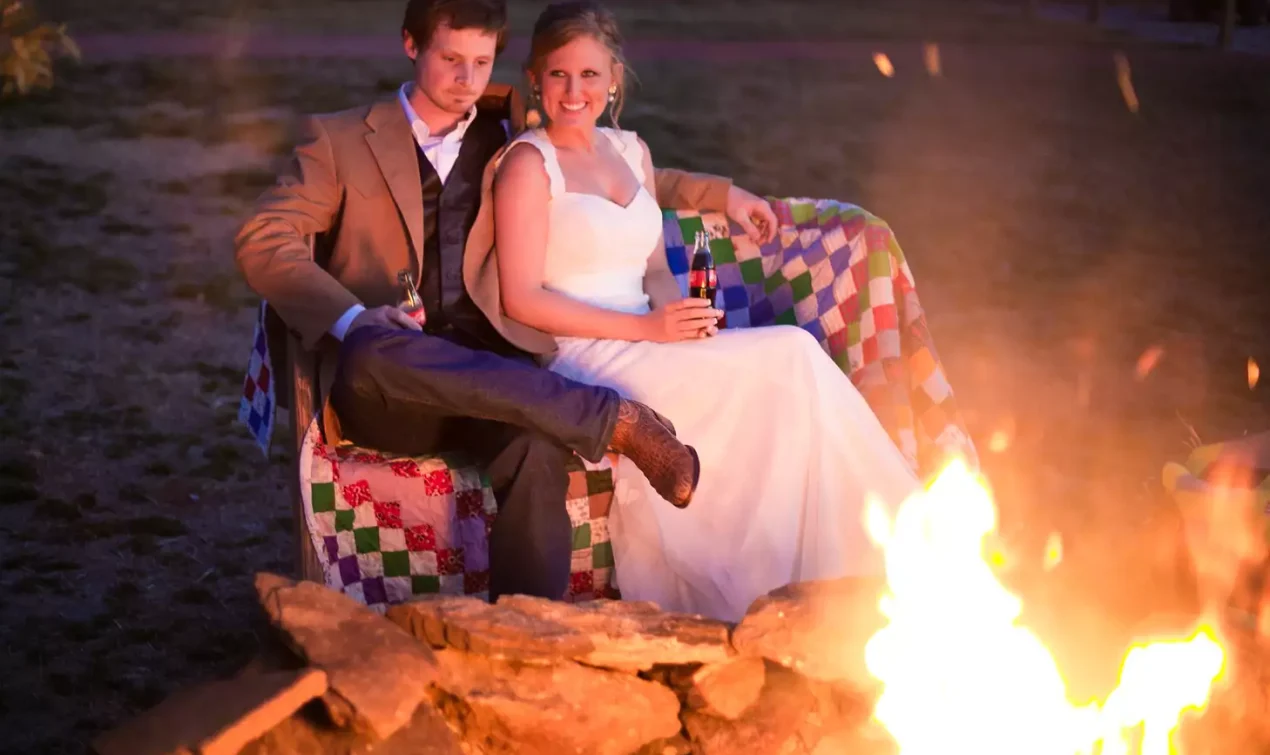 Campfire is a creative idea from low-budget DIY backyard wedding decorations; it can be executed at a backyard wedding if you consider a few things. The first and foremost thing to do is check the place if it is safe and secure from fire or not. If your place allows for a campfire, make sure to place it at a dedicated place away from flammable materials.
Don't forget to provide ample space for seating around, ensuring the safety of your guest. Also, you can give marshmallows and sticks to the guest so that they can roast them.
9. Colourful Wedding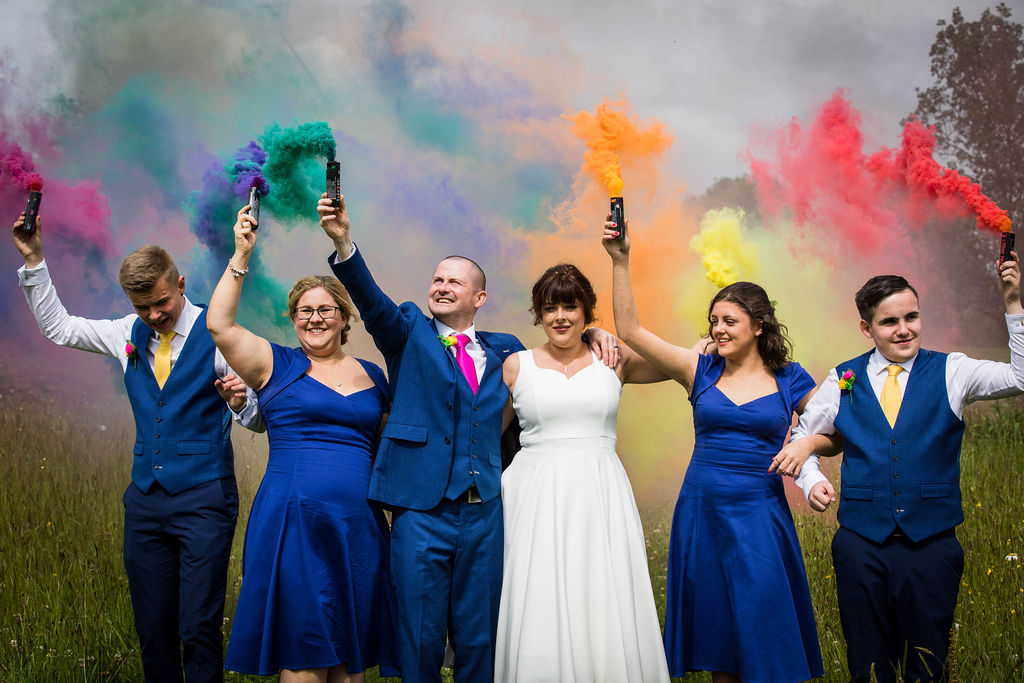 If you are dreaming of a vibrant and lively wedding celebration, why not consider hosting a colorful wedding in your backyard? A backyard wedding offers the perfect opportunity to infuse your special day with a burst of color, creating a festive and joyful atmosphere.
Make your wedding colorful by using fireworks, a rainbow aisle, colorful floral arrangements, colorful food and drinks, a colorful photo display, etc.
10. Lawn Games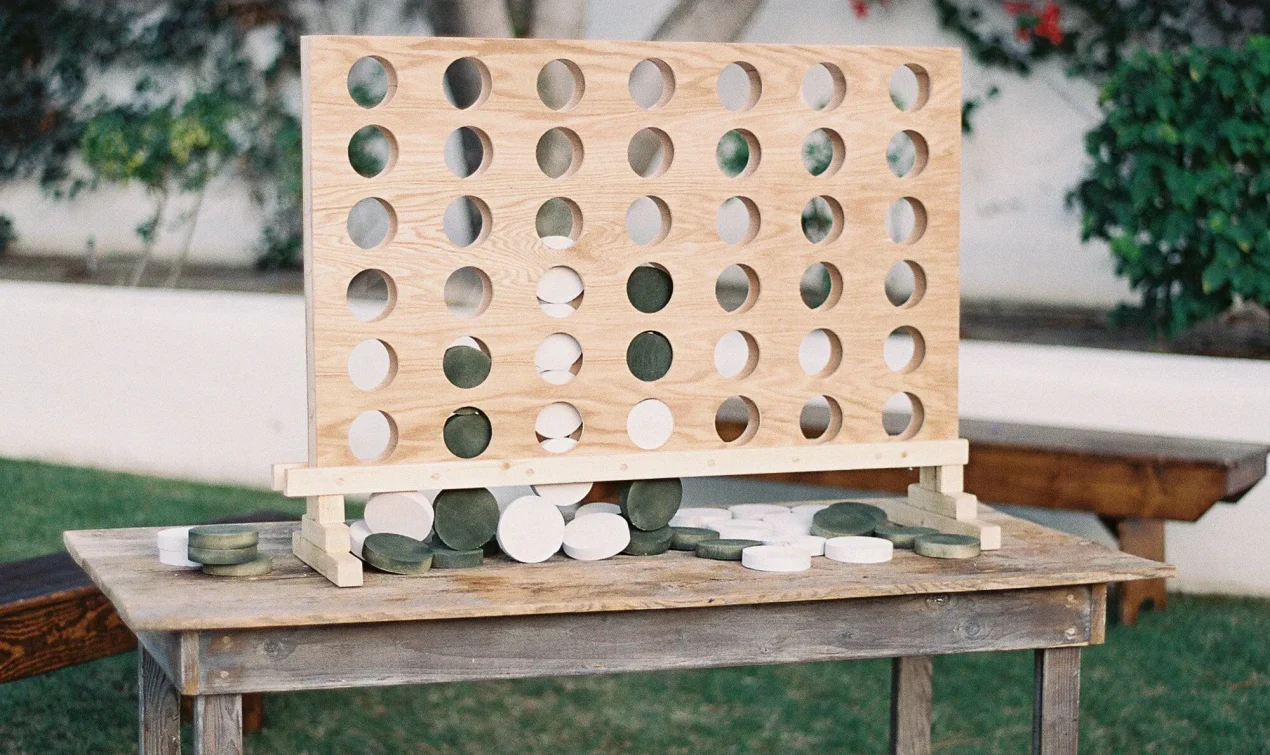 Playing lawn games in your backyard is a creative way to entertain your guests and also create a fun and relaxed atmosphere. There are numerous lawn games to choose from, depending on your preferences and the available space.
Some popular options include cornhole (bean bag toss), croquet, bocce ball, ladder toss, giant Jenga, ring toss, and horseshoes, etc.. games are easy to set up, don't require a lot of space and can be enjoyed by guests of all ages.
11. Wedding Arch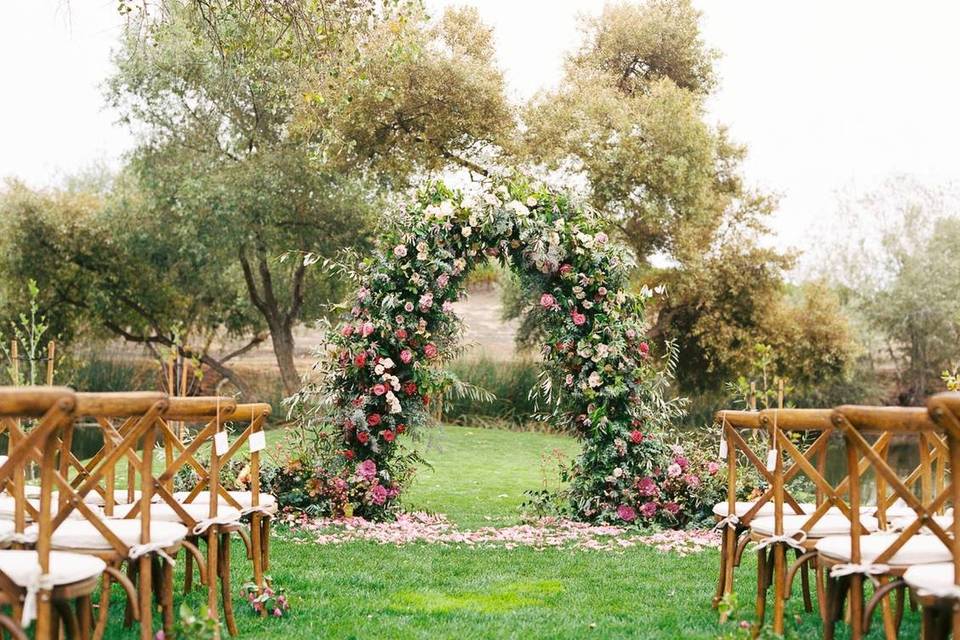 The wedding arch is a focal point and a touch of elegance to any ceremony, including a backyard wedding. There are various types of wedding arches to choose from, depending on the wedding theme and personal style.
You can consider options like wooden arches, wrought iron arches, bamboo arches, or even DIY arches that are made from materials like PVC pipes or birch branches. Select an arch that suits the theme of your wedding and aligns with your vision.
12. Roaming Food Bars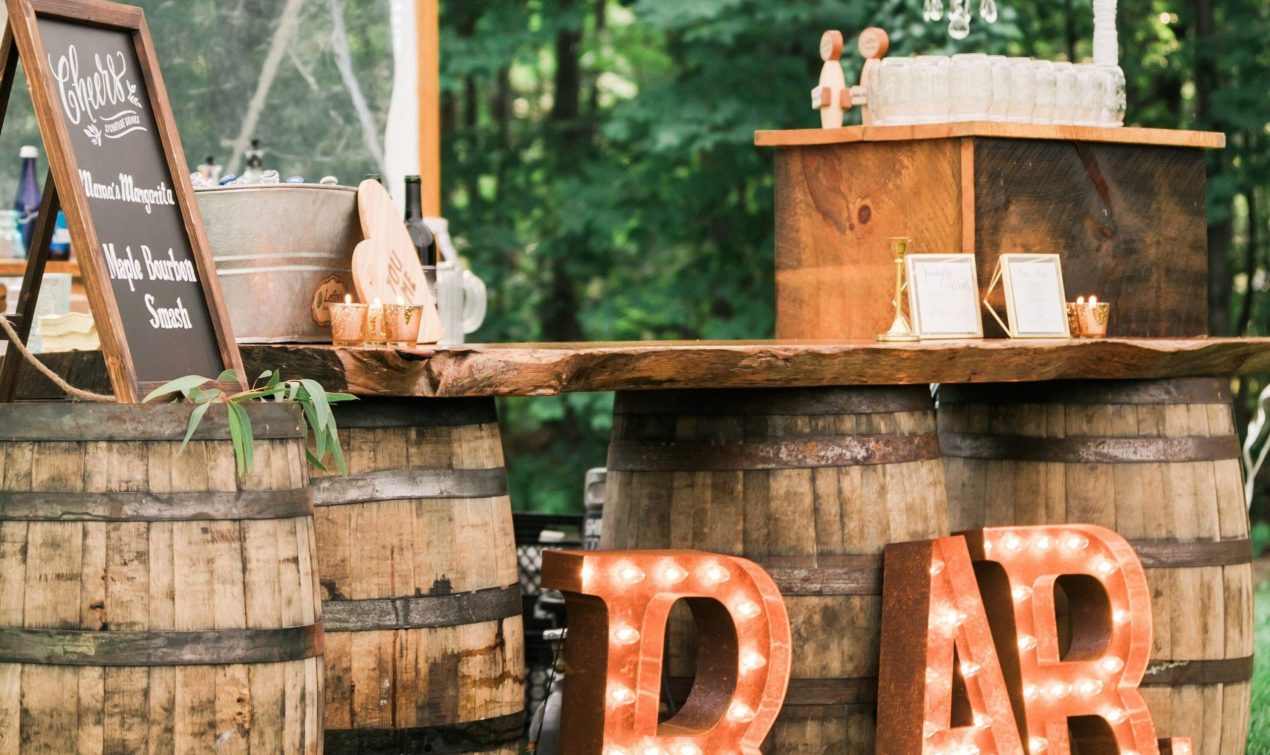 Roaming food bars can add a fun element to your backyard wedding. Roaming food bars are interactive stations where guests can walk around and choose from a variety of food options. This is something compared to a typical wedding buffet; roaming food bars allow one to mingle and explore different food stations, creating a more relaxed and casual atmosphere.
There are endless options for roaming food bars; you can choose themed stations like taco bar, slide bar, sushi bar, or pasta bar.
13. Dancing Floor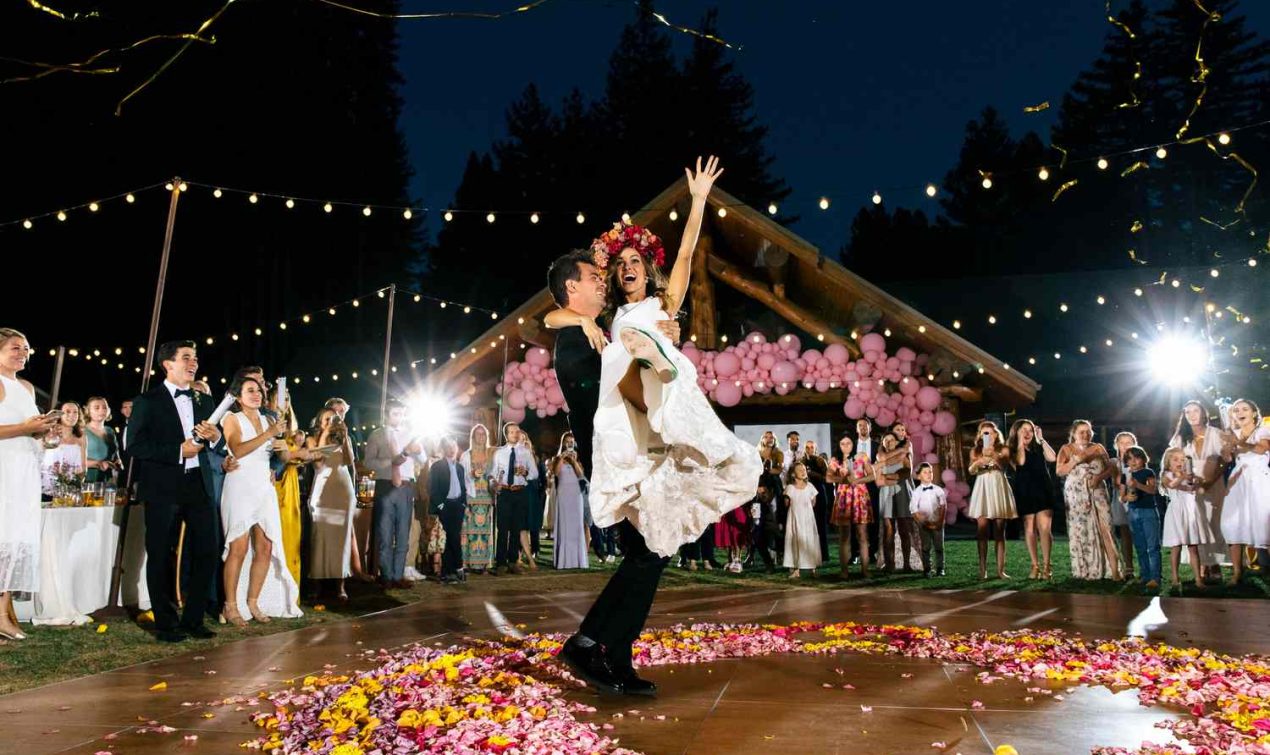 A wedding without a dance floor is like a body without a soul; agree or not, a dancing floor is a need in a wedding. You can make a dance floor at your backyard wedding, which will provide you with all the fun and memorable space for your guest and also will make the place lively and positive.
14. Theme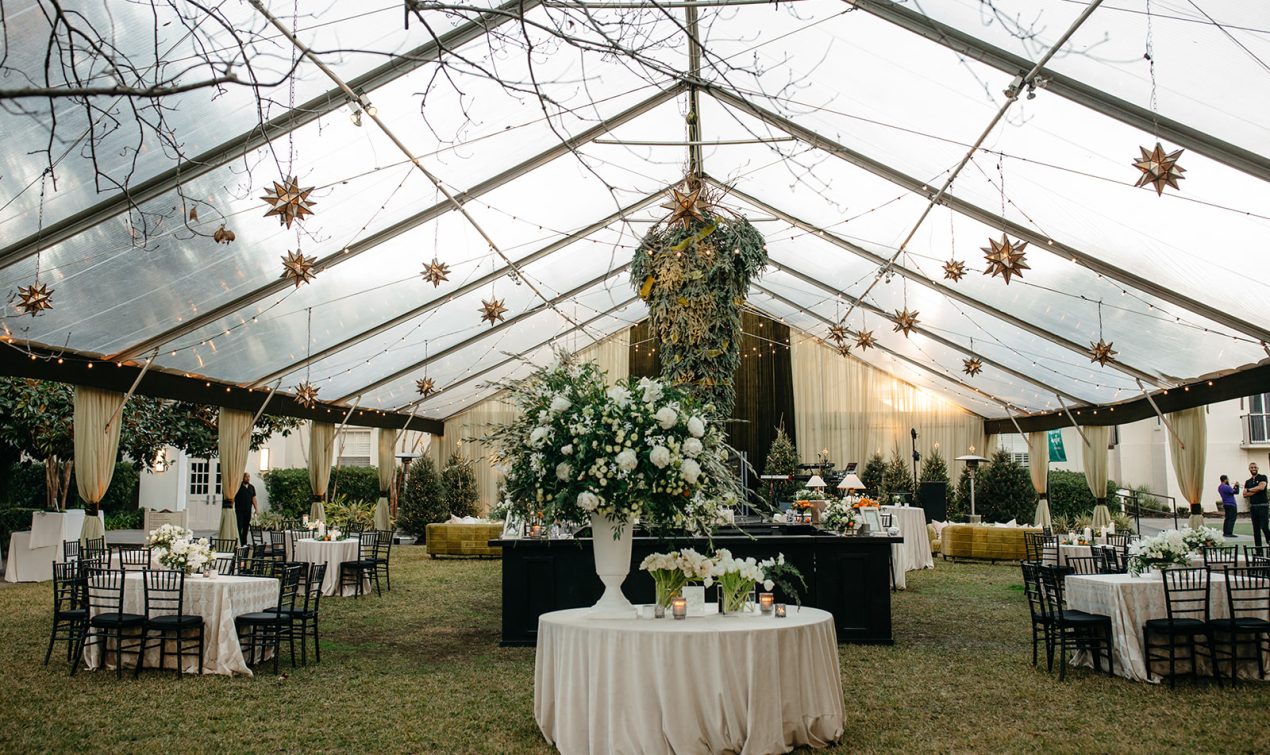 You can even decide on a theme for your wedding; a theme can reflect your style and preferences. Incorporate elements that resonate with you as a couple and create an atmosphere that will make your backyard wedding truly unique and special. Themes that can be kept at a wedding are vintage, tropical paradise. Etc.
15. Use of Patio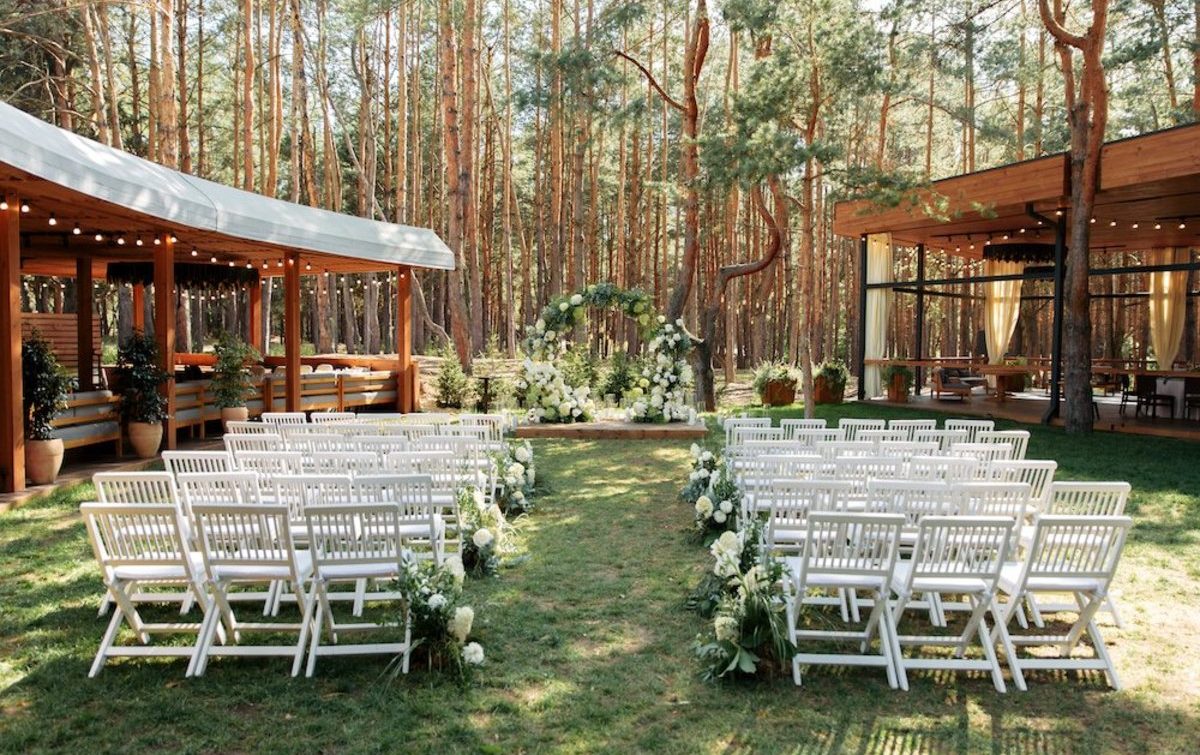 The usage of a patio can be an excellent idea among low-budget DIY backyard wedding decorations. You can use it as a main ceremony location if you have a big patio; if not, then you can transform it into a cozy seating area for guests who can relax and talk during the ceremony. Also, you can use it as a dining area, dance area, bar area, lounge area, or decorative accents(where you can show the theme of your wedding through decorations).
With a well-utilized patio, you can create a functional and beautiful space for your guest.
16. Use of Nature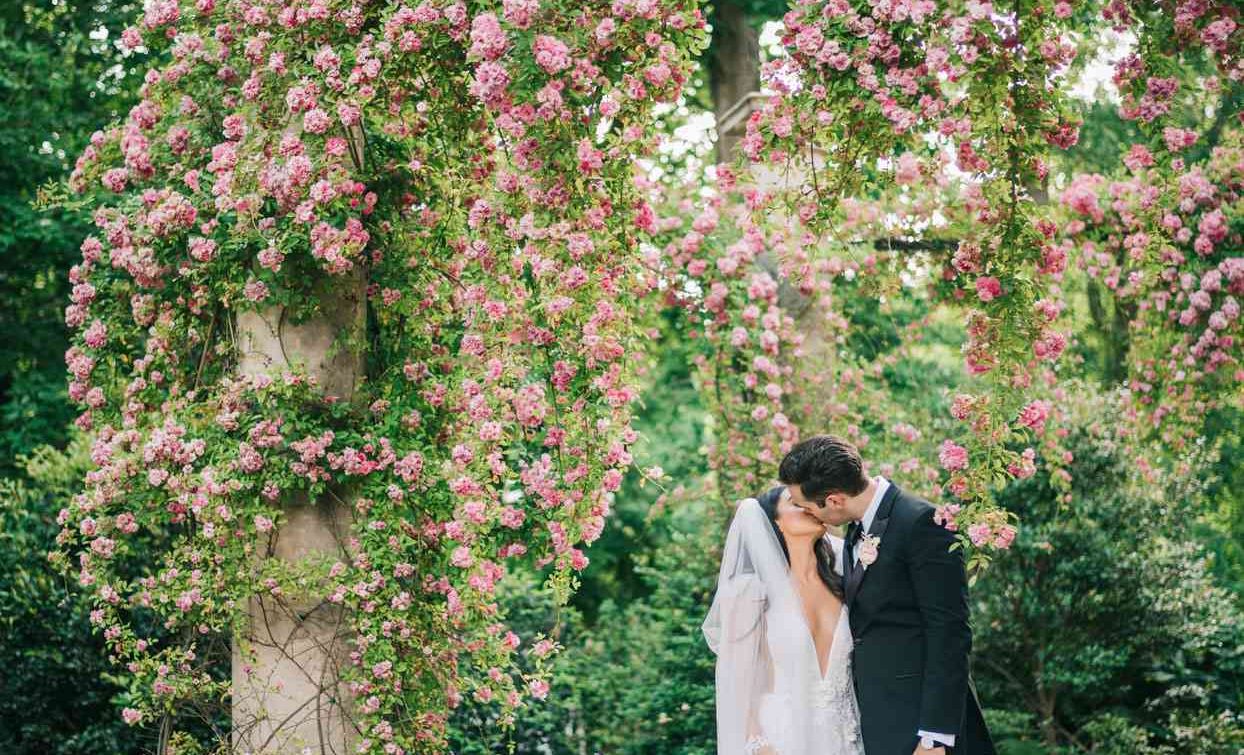 Utilizing the natural elements of your wedding can add a touch of beauty, charm, and tranquility to your wedding. By embracing the natural elements of your backyard, you can infuse your wedding with an organic and serene atmosphere that enhances the beauty of your special day.
It not only adds a personal and unique touch but also helps to create a memorable experience for both you and your guest.
17. DIY Bar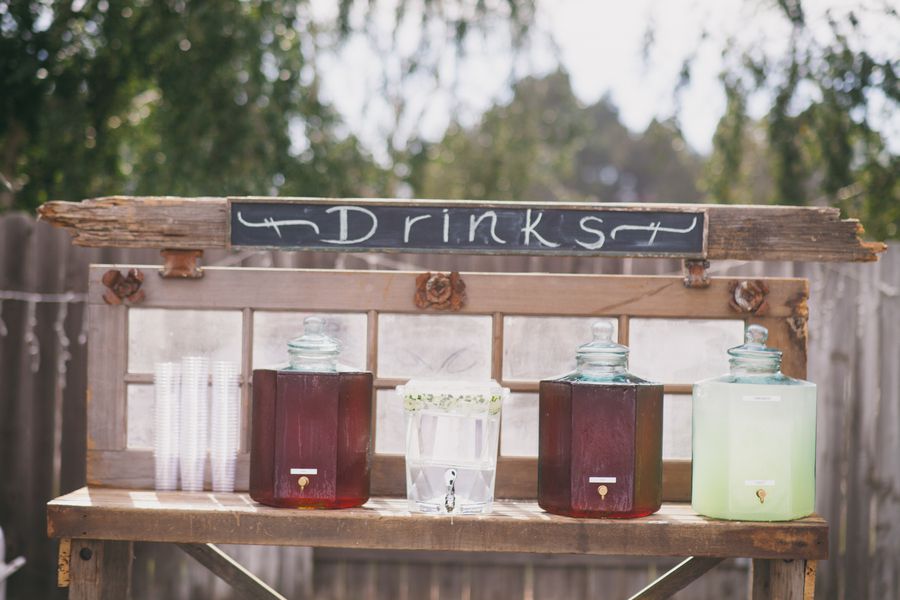 Setting up a DIY bar can be a fun and cost-effective way to provide drinks to your guests. You can take ideas from the internet and youtube videos on how to make a DIY bar. Following the rules given in the video, you can make your DIY bar. And then decorate it with drinks. Be careful if you are serving or including alcohol on your menu cause some people do not drink.
With a little creativity and planning, your DIY backyard bar will be a hit at your wedding, providing a memorable experience for your guests.
18. Don't Forget Flowers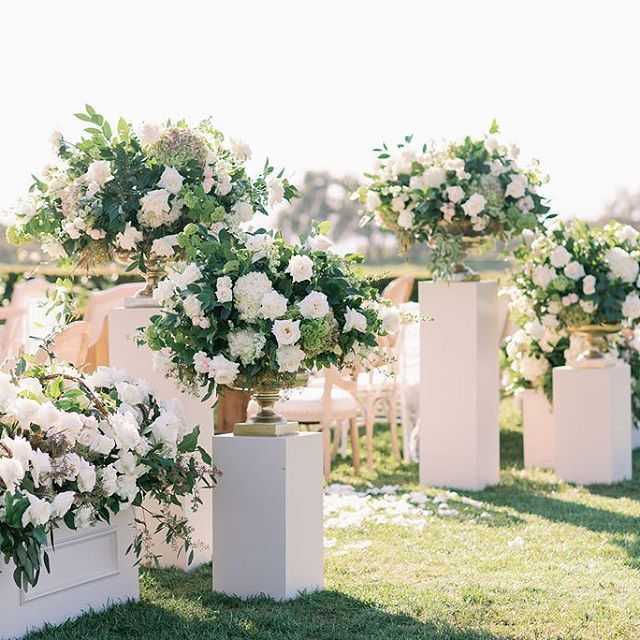 Incorporating flowers into your wedding is one of the best low-budget DIY backyard wedding decorations. Cause it not only adds beauty, color, and a touch of elegance to your wedding but also adds a touch of elegance to the overall ambiance. You can use flower decorations at dining tables, patios, and various places in your backyard.
But remember not to add a lot of flowers, or else it will look exaggerated. If this idea can be used in a well-planned way, then within a budget, you will get a beautiful wedding.
19. DIY Photo Booth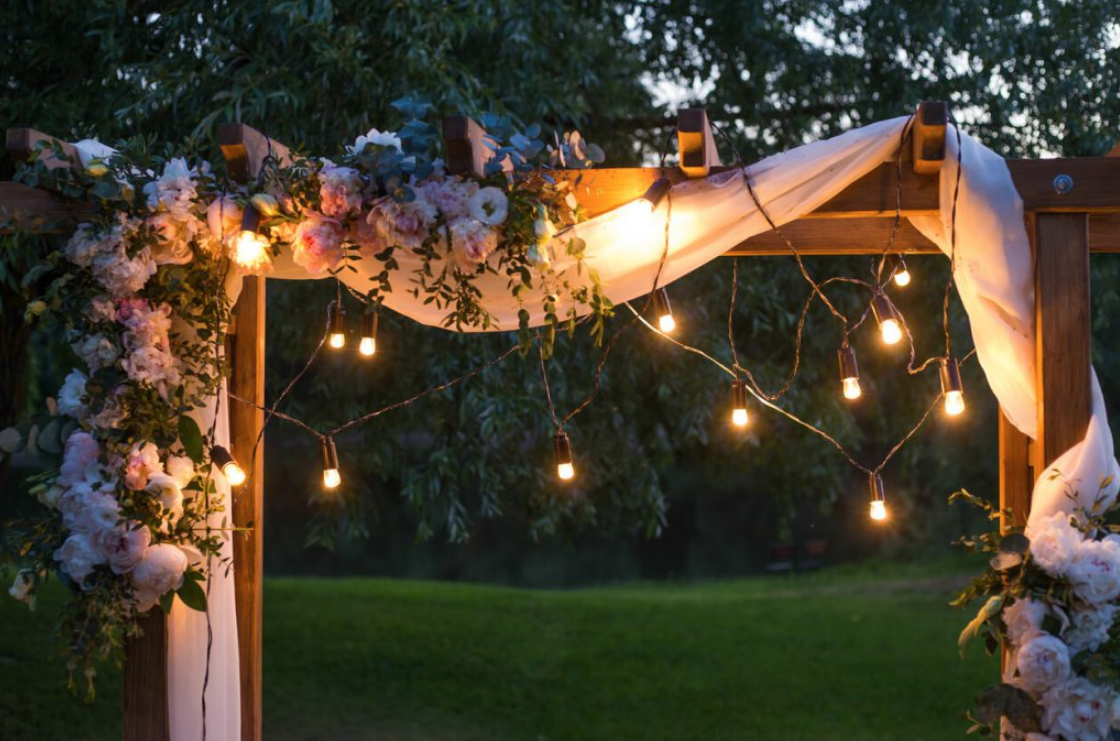 Using a DIY photo booth is also one of the creative low-budget DIY backyard wedding decorations, as it allows guests to take pictures and create lasting memories. You can take ideas from the internet and create your DIY photo booth like you can share your couple photos and make props and accessories.
Make sure that your guest is loose and are enjoying themselves and capturing priceless memories in a playful and personalized way.
20. Wedding Cake
While choosing a wedding cake for your wedding, make sure that it matches your wedding theme or the nature surrounding you. If you are low on budget, then you can even make your cake at your home, but make sure to practice making them beforehand so that it may come out effectively and perfectly on your D-Day. Also, make sure to pick up simple designs in which you are confident.
21. Including Pets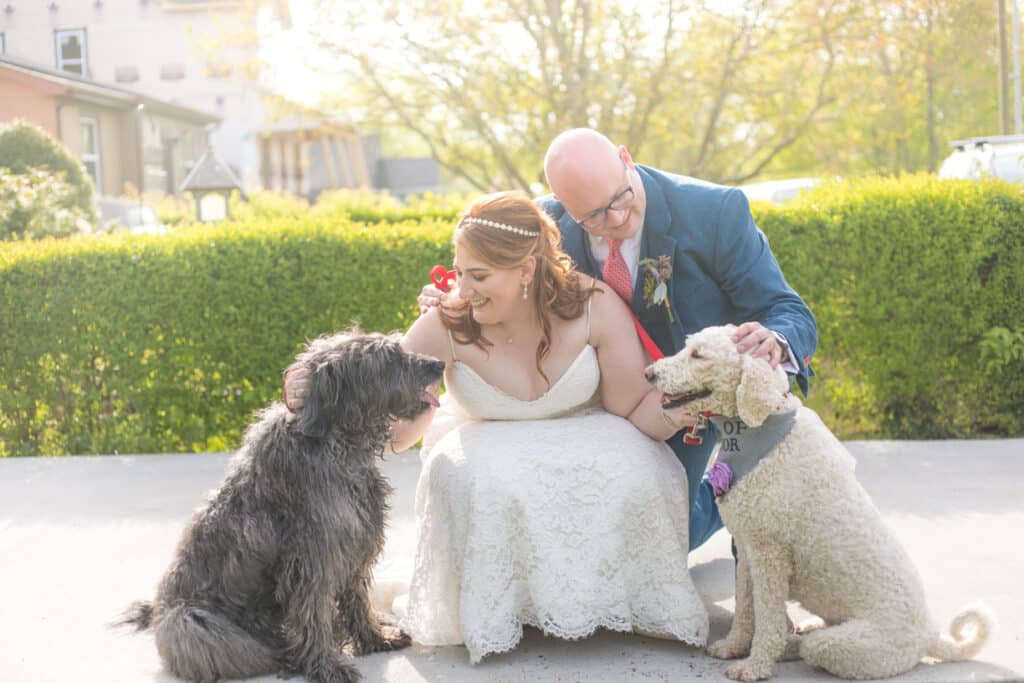 Pets are always the center of attraction as they add joy and happiness to the environment. But before deciding to involve your pets in your wedding, you must take care of their temperament around crowds or if they are comfortable in crowds or with people or not. Their safety and security must be kept as a priority which is not only good for pets but also good for the guest around.
There are various ways to include your pets in your wedding. You can make them walk down the aisle alongside the wedding party or serve as the ring barrier. If your pet is well-trained and comfortable around people, then they can even join the reception and enjoy the celebration. Also, you can make them sit at a dedicated place, for example, a photo booth, where guests can take pictures or videos with them.
22. Usage of Home Furniture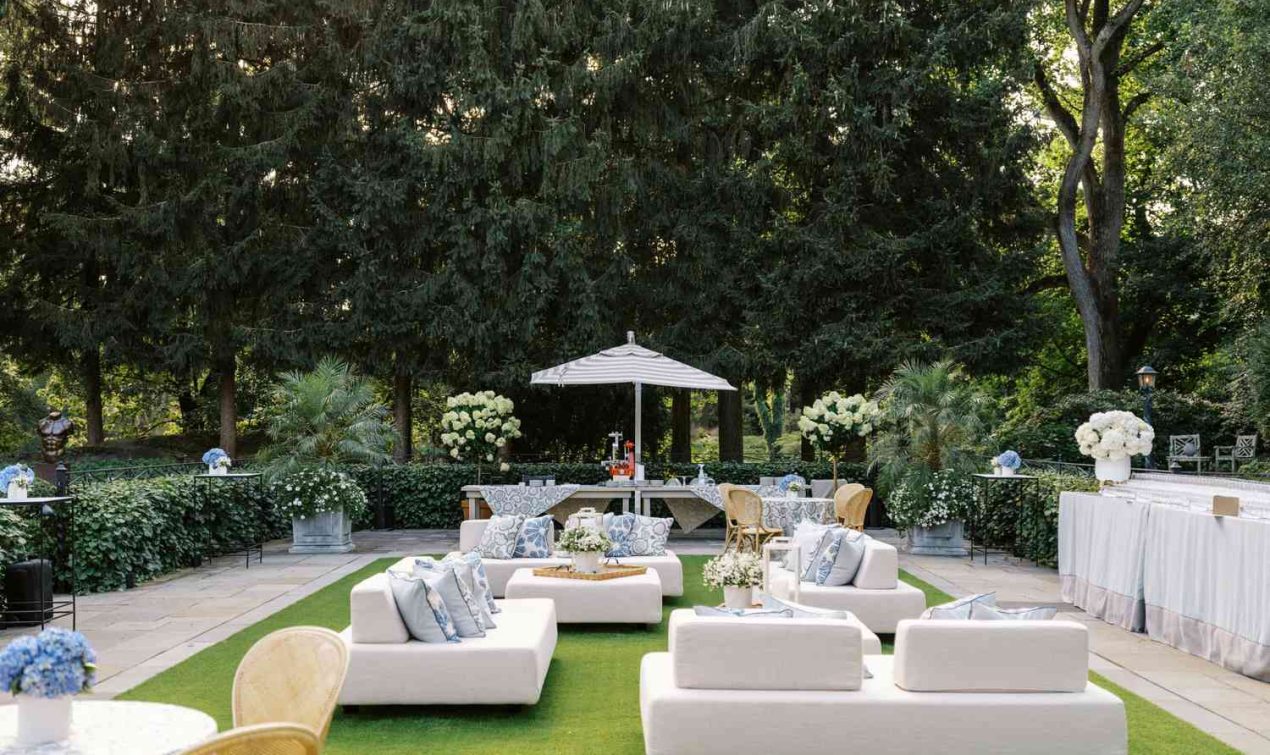 Using home furniture may reduce your budget to a certain level. This is one of those low-budget DIY backyard wedding decorations which is most effective in terms of keeping a budget. If you are using your furniture, then make sure that the weather is clear as outdoor weddings are subjected to elements like rain and sun that can damage or stain your indoor furniture.
You can even rent furniture at a low price for your wedding. Remember to consider the comfort of the guest and make sure that there is enough space for them to sit and enjoy the ceremony. You can even cover your furniture with a beautiful decorative cloth to prevent it from staining.
Wrapping Up
So, these were the 22 low-budget DIY backyard wedding decorations that will not only make your wedding look elegant, beautiful, and grand. Also, it will not disappoint you at your wedding or D-day. Remember that planning on a budget doesn't means that you must sacrifice elegance and style.
The above ideas will give you a beautiful and memorable wedding celebration that reflects your personality, saving you money. Embrace the charm of your backyard, and do not forget to spend time with your loved ones.
Which one of the above 22 low-budget DIY backyard wedding decorations was your favorite let us know in the comment section below.
Frequently Asked Questions
How Many People Do I Need to Invite to a Backyard Wedding?
A backyard wedding is for a small and intimate wedding ceremony. So, remember to keep the guest list small, and the limited amount of guests you can call at your backyard wedding is around 10-50 people. But if your backyard is big, then you can go up to 70 guests.
How Can I Provide Food and Drinks without Overspending?
There are many budget-friendly options for food and drinks. You can opt for budget-style or food station setups, encourage a potluck-style reception, or hire a caterer who can provide drinks at affordable prices. You can also go with the idea of DIY bars or signature-style cocktails can also save your cost compared to hiring a bartender.
What Are Some Affordable Entertainment Options for a Backyard Wedding?
You can play lawn games such as cronhole, providing entertainment to guests of all ages. For music, either you can hire any local musicians, or you can ask your family and friend to perform live singing and dancing. You can create a photo booth or selfie spot, or fun props for the guest.
How Can I Make My Backyard Wedding Feel Special and Unique?
If you are performing a wedding in the backyard of your house, then a personalized wedding is the best thing to make your wedding special and unique. You can add DIY decorations and handmade signage. Use the unique features of your backyard wisely and effectively.
hrewf