18 Creative Desk Pets Ideas that Are Must Try In 2023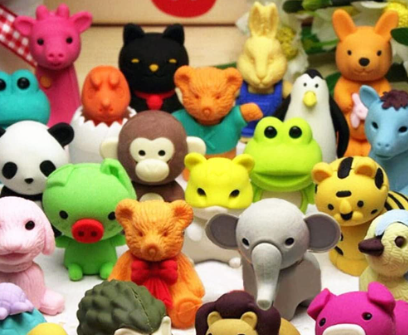 Desk pets were first introduced by Marissa Begay, who took the help of social media platforms like TikTok to introduce a reinforcement strategy among kindergarteners.
Being a kindergarten teacher herself, she pioneered these mini erasers to generate a worldwide craze. Now desk pets are used by classroom teachers as a reward system to help students complete their daily activities in the classroom. This is where desk pet makes their appearance.
We have carefully curated a list of 18 desk pet ideas that would be your favorite companion during your busy schedule of completing your meetings, deadlines, and tasks. With these captivating ideas, we are sure to help you create a vibrant workspace that will help you attain absolute peace. We have divided desk pet ideas into two sections.
One is known as the classroom ideas (dedicated to students and teachers), and the other is known as workspace ideas ( these are for working professionals who want to add creativity to their workspace).
Desk Pets Ideas That Are Ideal for Classroom
1. Magnetic Levitation Desk Pet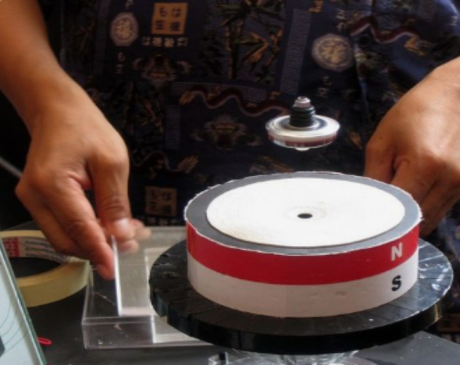 You need small pieces of magnets that would keep your desk pet afloat. This would help in providing an eye-catching visual for any observer. The student in your classroom can earn a point to play with it if they complete their daily operations successfully. Make sure that you restrict your students from overplaying with desk pets, as they can consume a lot of their time and make them lose focus.
2. Fun Container Desk Pet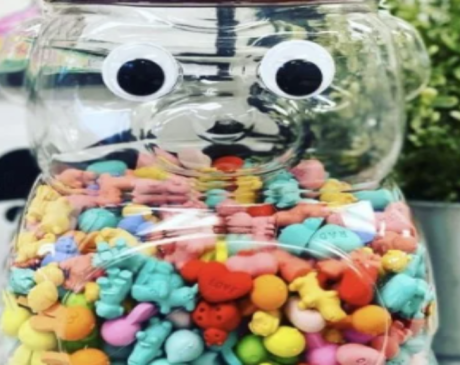 This googly-eye desk pet has been super popular among kindergarteners. The idea is to create an attractive cookie container that has googly eyes. This idea made the students work harder on their daily goals so that they could earn a desk pet as a reward. To complete this project, you would need basic supplies like a glass jar where you could store different types of desk pets in one centralized unit.
3. Max and Mini Home Desk Pet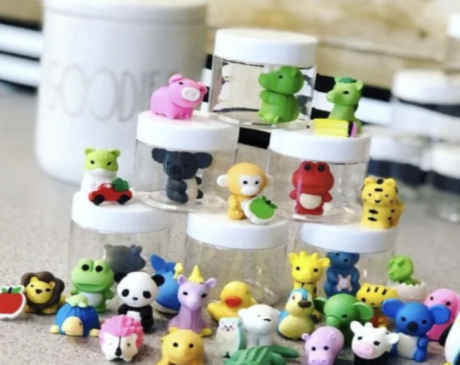 As a teacher, using colorful desk pet erasers can be a good way to engage your students. You need to place Large and small into their respective containers. When a student completes a complicated task, a large eraser is gifted as a reward. Similarly, when mimi tasks were completed in classrooms by a student, mini-erasers were given as a reward system.
4. Behavior Rules Desk Pet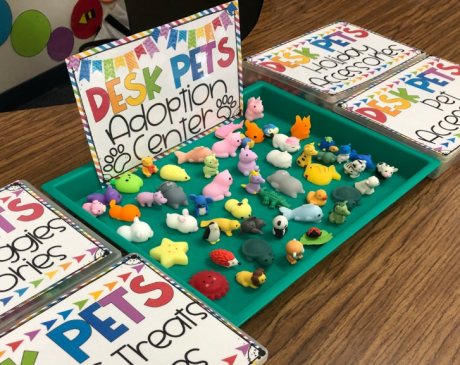 This project involves a behavior note that is created where rules are given regarding how each student should behave in a classroom. This note is sent to the student when they are about to leave the school. When the student follows the behavior rules diligently, the student is awarded a desk pet, if the student misbehaves, the desk pet is confiscated.
5. Adoption System Desk Pet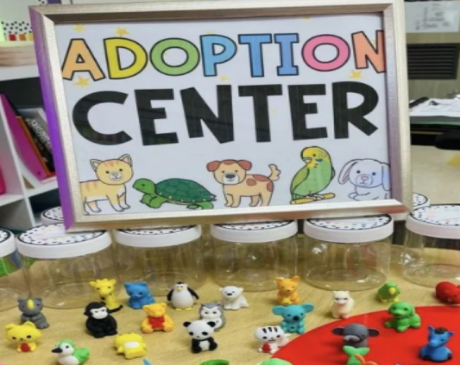 This idea has been super popular among the schools that have adopted desk pets as their reward system and a positive reinforcement strategy. A ticket system was introduced to get a desk pet from the adoption system. A student needs to complete their daily task successfully and earn five tickets in the process. When completed, the student could pick their favorite desk pet from their adoption center.
6. Rocket Launcher Desk Pet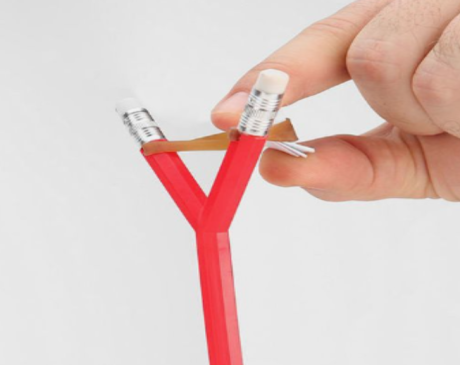 This project was created for students who earn good grades in their classrooms consistently. Student can launch their favorite desk pet with the help of paperclip and rubber bands. Shooting the desk pet into a particular target would give them a satisfying experience. This would give them peace and tranquility in their hearts.
7. Deskpet Clinic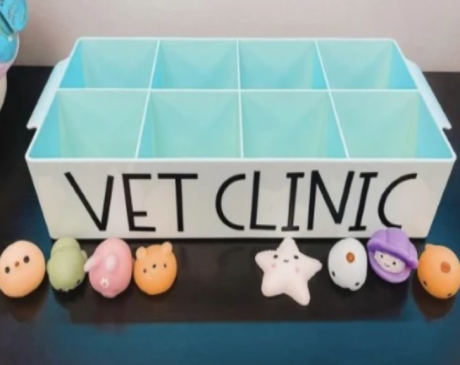 This theory was designed for students who behaved improperly in their classroom. When the students were disrespectful in front of their teachers, their favorite despite was taken away from them and kept in the vet clinic. When the student corrected his behavior, the desk pet was given back to them.
8. Desk Pet Science Project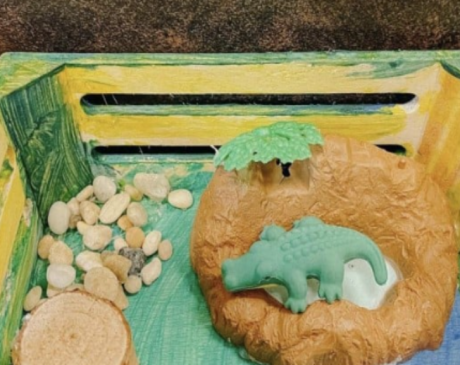 Through this desk pet idea, teachers wanted the students to learn about their pet habitat. In this science project, the student would be given a choice to select their favorite desk pet and create an appropriate habitat for them. Look at this picture above; the teacher wanted the students to learn about the natural habitat of reptiles like dinosaurs and hence created this desk pet as an example.
9. Food Desk Pet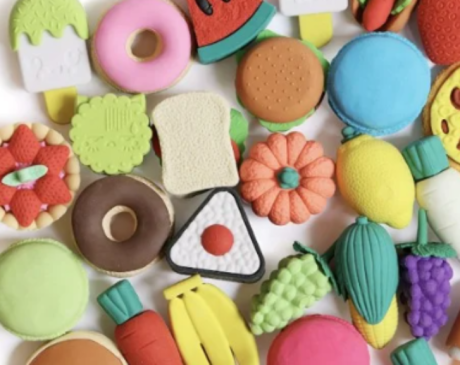 For a desk pet to survive, it would need food. For instance, if a student has a rabbit as their desk pet, then it would need carrots. Similarly, if a student has an elephant as their desk pet, it would need green vegetables. These food accessories are given to students when they act right in their class, as they love feeding their pet the appropriate food it requires.
10. Desk Pet Shop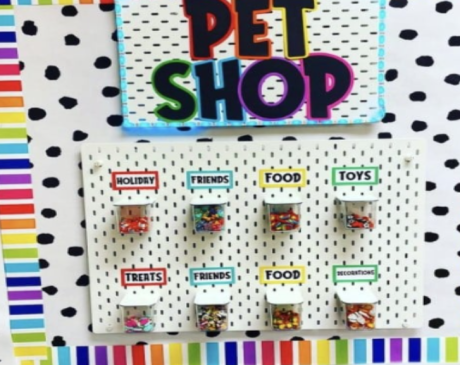 A desk pet shop has been created by teachers to make the students learn about self-disciple and hard work. Whenever a student excels in academics or has perfect attendance, then the student is introduced to a desk pet shop. A desk pet shop contains treats, food, and toys that the desk pet needs, and hence this creative idea has been super popular among kindergarteners.
11. Deskpet Coins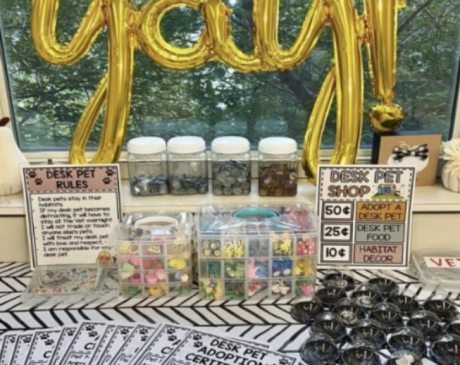 kindergarten teachers introduced a new way of interactive learning. The method is termed " desk pet coins." With the help of this method, Students are taught how to count with the help of coins. When the students reach a specific count, they are given their favorite desk pet. This idea has been revolutionary among kindergarteners as they now have a practical method to count money.
Desk Pet Ideas Perfect for Workspaces
12. Fishbowl Desk Pet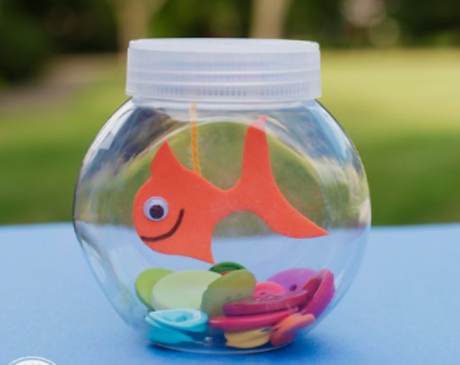 When this idea is incorporated, your desk into a center of attraction. The learning curve of this fishbowl aquarium has an easy learning curve. You would need a few supplies from the stationary store, and you are set to go. Be ready to blow your minds, as this idea is unique, easy, and creative.
13. Deskman Desk Pet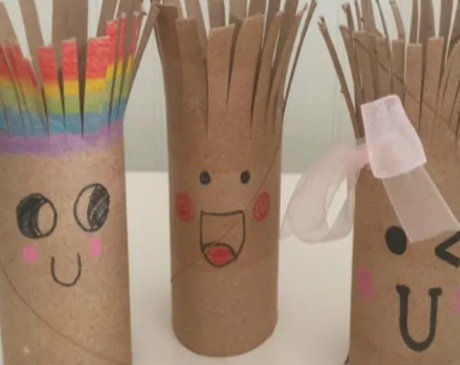 In order to create this, you will need some basic supplies like crayons, an empty toilet paper tube, and some markers. With these supplies, you can create your desk man and add some color and expression to make it more attractive. Just look at the picture and notice how the maker has created this project. Use the same path to recreate this design.
14. Lady Bugs Desk Pet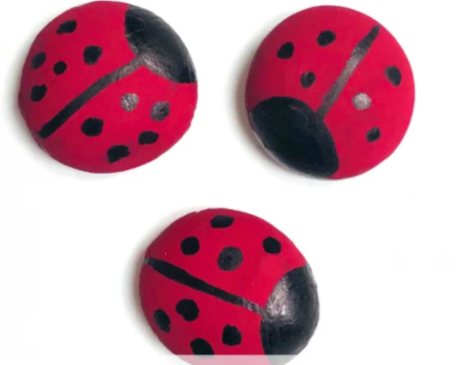 This desk pet idea makes your workspace look super attractive. All you would need is some rocks and paintbrushes. Just paint these rocks to make them look like ladybugs with polka dots. These desk pets look super cute on your desk and create a welcoming atmosphere. Unleash your creative side by making this project and make your work table the center of attraction.
15. Egg Bunnies Desk Pet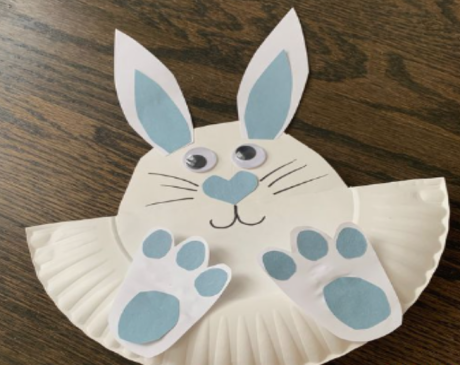 They are regarded as one of the cutest desk pets in 2023. They have a super easy learning curve, and you can decorate them as you like them. All you would need are some pom poms, scissors, plastic eggs, and glue. This cute DIY desk pet would make people appreciate your creativity. You can use this desk pet as a storage organizer, so this project serves creativity and functionality at the same time.
16. Perler Desk Pet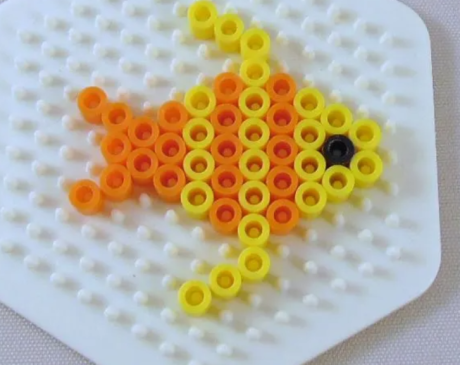 With the help of this desk pet idea, you can create stunning duck faces and beautiful crafts. While using this desk pet idea, make sure that the beads have proper melting, as this idea is extremely fragile in nature. This project will require your time and effort, so it's essential that you spare some of your busy time in re-creating this project.
17. Desk Basketball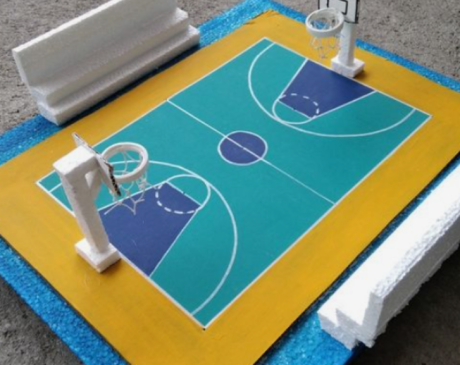 Setting up this desk pet idea is super easy. You will need to create a small hoop using a cloth hanger, a paper ball, and a mini net. Once this idea is placed, you will be amazed at how it opens a room for random conversations.
18. Bowling Desk Pet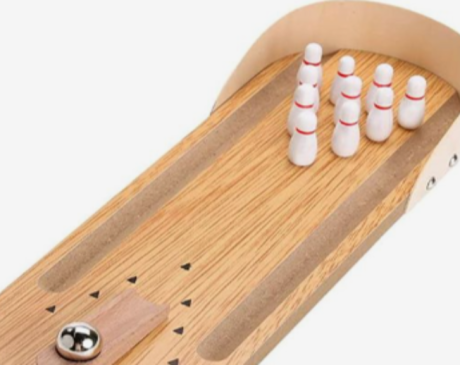 You can create small bowling pins using marbles and then have a mini ball, and your desk pet is created. Once this idea is incorporated, you have successfully created a mini bullying alley at your desk. This will help you get relief from stress and regain focus at work.
Top 7 Benefits of Using a Desk Pet
Stress buster: Deskpet provides good relaxation when you are having a busy workday. They act as temporary relief, which distracts you from the work stress and improves your well-being.
Enhanced productivity: when desk pets are present at your workspace, then they can help you build focus, prevent you from burning out, and help you clear your mind from distractions.
Makes you playful: When these colorful erasers appear in front of your desk, then they bring out the fun side in you. They make you enjoy your life by providing short mental breakdowns and initiating creativity.
Conversation booster: An eye-catching desk pet often acts as a conversation starter among colleagues in the office. It helps you build social interactions and make friends.
Welcoming space: When desk pets are seen in the workspace, they create a feeling of a warm and welcoming atmosphere. People get a sense that you are approachable, and they can interact comfortably with you.
Emotional hand: Some desk pets have been found to support emotionally vulnerable people. So when you feel troubled, a desk pet can serve as a comfort.
Attraction: Desk Pets are known to create a captivating visual environment. This means your personal space can be aesthetically pleasing and create a beautiful environment for your workspace.
Challenges Caused By Desk Pets
Deskpets can have a plethora of benefits, but it also comes with some challenges. Some of them are:
If desk pets are not used in moderation, they could become a huge distraction. Constant engagement with desk pets can destroy your focus and cause harm to your productivity.
Few desk pets, like robotic toys, can use cause noise in work environments. This may disturb your office colleagues during their work hours. Hence always choose a desk pet that can operate quietly.
Some people are allergic to desk pets, so it's essential to check your body sensitivity when you have a shared workspace.
If you have a limited workspace and the majority of the space is taken by your computer, then incorporating medium or large-sized desk pets can be a challenging task. Thus it's very important to choose a desk pet that is small and fits your desk.
Takeaway
Deskpets should always be used in moderation. Studies have shown that using desk pets for a prolonged time has been one of the biggest hindrances to productivity. Knowing when to stop playing with your pet is the key.
With its usage benefits, it can be said that desk pets bring positive reinforcement in classrooms and enhance work productivity in the workspace.
With the help of desk pets, people can handle stressful environments, and desk pets can bring relaxation, joy, and peace during troubled times. However, with these striking benefits, desk pets also come with a certain set of challenges.
They can cause allergies, and extreme use of desk pets affects your focus. Use our list of carefully formulated desk pet ideas to upgrade your work environment and create a happy and content life, and do let us know what you feel about these super cool desk pet ideas.
Frequently Asked Questions
Can I Use Desk Pets to Increase Productivity?
Yes, you can. Desk pets are known to enhance productivity by helping you relax in your troubled times and enhancing your productivity during work hours. Imagine you just had a bad meeting with your boss, and you are upset. Using a desk pet at your desk would make your depression go away and help you focus on your work.
Can My Desk Pet Distract Me from Work?
Yes, if you don't use desk pets in moderation, then excessive engagement can drift you away from your focus. When you use it in an excessive manner, you start to make desk pets your priority and not your work. This means you are bound to fail at every task since this accessory was made to help keep you focused, but you are using it the opposite way.
Will My Desk Pet Give Me Allergies?
There are Certain desk pets that react to body sensitivity; hence always check your body sensitivity when selecting a desk pet. This rule is very important if you have a shared workspace. There have been numerous cases where the allergy rate has spiked due to desk pets.