25 Epic Sunken Fire Pit Designs to Inspire Your Backyard Retreat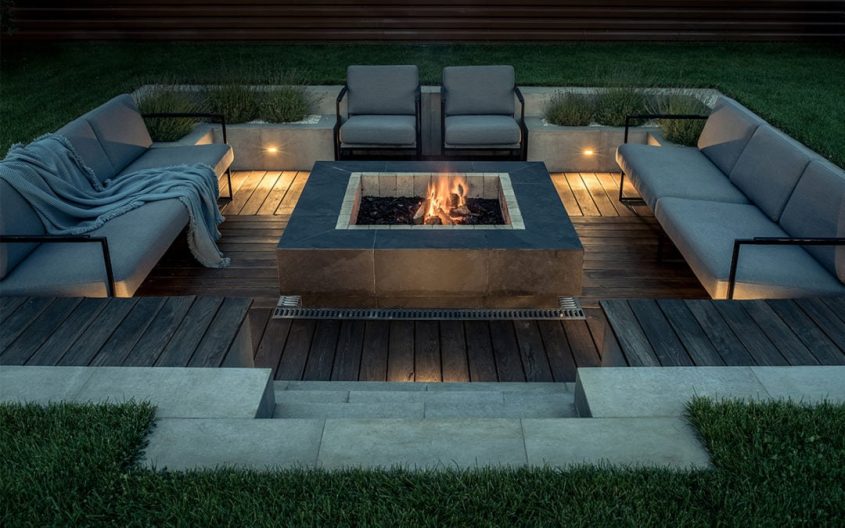 A sunken fire pit is a wonderful addition to your outdoors; it is perfect for a family gathering and makes for a nice cozy place to hang out with your near and dear ones during a cold winter night.
If you are looking to add a design element to your home and have enough space in your backyard, there are ideas that are worth your attention. There are various choices, such as a contemporary fire pit, a rustic and rugged pit, to modern and sleek fire pit designs, that could truly enhance your outdoor experience.
So, get ready to be inspired as we bring you some of the most awe-inspiring sunken fire pit ideas that will ignite your imagination and turn your place into a cozy retreat.
Things to Keep in Mind Before Making a Sunken Fire Pit
A sunken fire pit can undoubtedly become the most preferred spot in your home, but there are a few things to keep in mind while starting this project, such as:
Location- Choosing the right location is the most important factor when making a sunken fire pit. Always make sure that the place that you have chosen for your fire pit is away from trees, your home, or any flammable materials.
Water logging- Ensure that your chosen spot does not collect water. This is especially important for the places which have rainfall throughout the year.
Size and depth- The size of the sunken fire pit should be in sync with your needs and the space available. A large size fire pit in a congested space does not make any sense.
Ventilation- Since we are dealing with fire here, smoke is inevitable, and without proper measures of ventilation, your place could suffocate. So, always make sure to have proper ventilation measures before making a sunken fire pit.
Ideas for Creating a Sunken Fire Pit Place at Your Home
1. Stone Fire Pit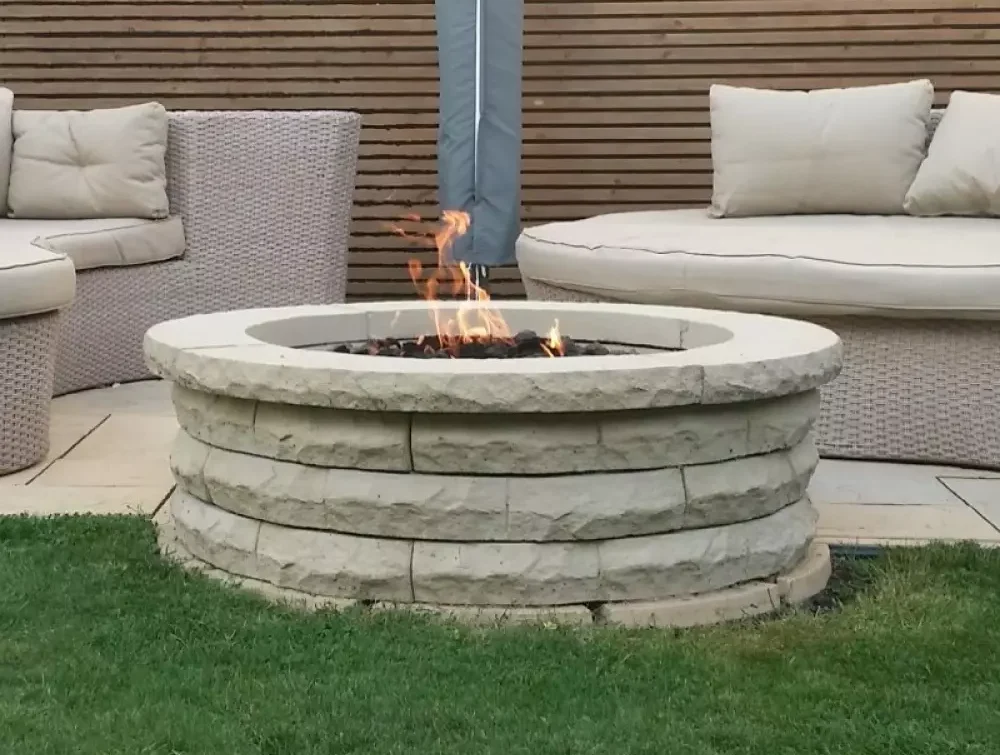 An all-stone fire pit is what you need to create an eye-catching outdoor. Add complimentary display lights and some decorative elements, and you have got yourself a well-built fire pit place to entertain your friends and family. A stone fire pit is strong and sturdy and keeps you warm for a longer time while also giving your place a rugged look.
2. Metallic Fire Pit with String Lights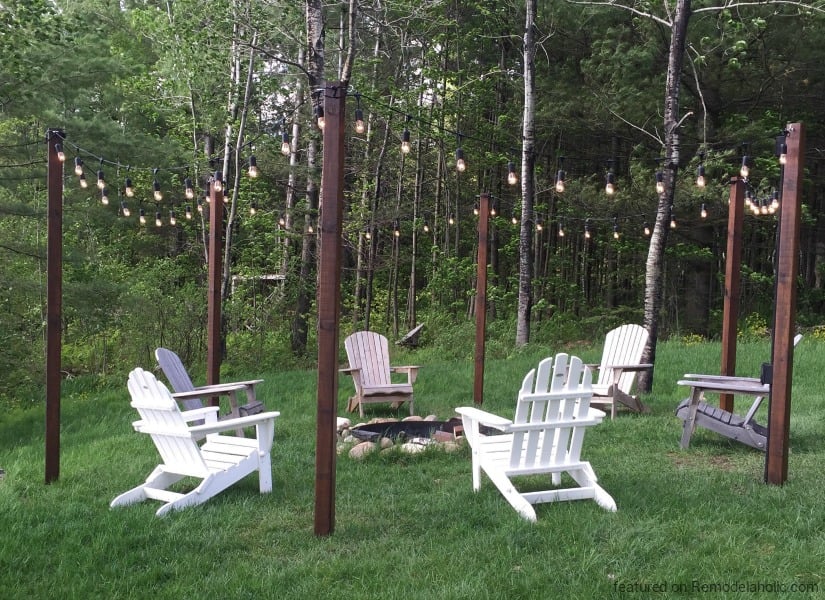 A budget-friendly and absolutely charming sunken fire pit is the idea of a metallic fire pit with wooden seatings and string lights as decoration. This kind of fire pit is perfect for a contemporary home outdoors, where it serves as a focal point and provides a captivating ambiance to the overall home decor.
3. Fire Pit with Wooden Seating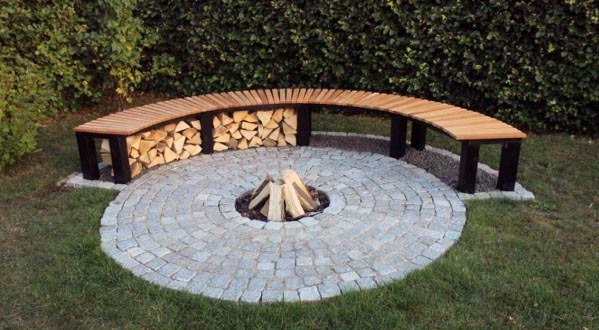 There is a lot that can be done with wooden seatings. Create a modern and sleek seating area with a concrete fire pit. Throw in some colorful pillows, designer lights, and decorative plants to complete the look.
It can be customized on the basis of your requirements and budget. It gives you a neat-looking and flexible seating place that could incorporate other elements as and when needed.
4. Sunken Fire Pit within Your Pool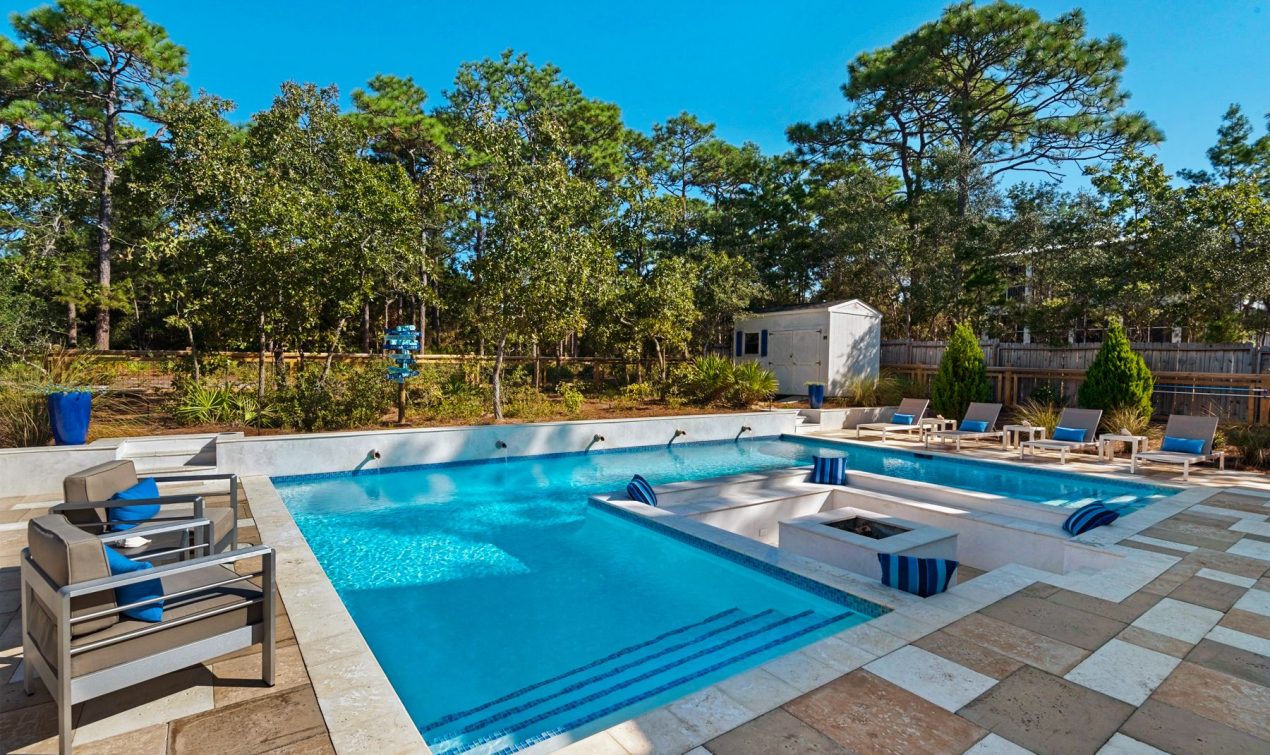 Nothing says luxury than having a fire pit right within your pool. Create an inviting aura by having a gorgeous designer fire pit right in the middle of your pool.
Contrasting color furniture and a few sophisticated pillows will bring out the beauty of your poolside fire to a great extent. It makes for a great place to have a party right in the middle of your pool during a cold winter night.
5. Cement and Wood Fire Pit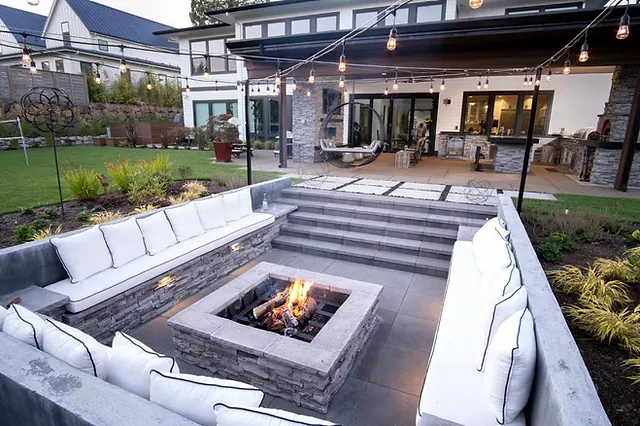 Cemented walls with concrete flooring and a fire pit in between that's all you need to create a minimalistic and sophisticated place to have a get-together on a cold evening.
A blend of modern and traditional, this kind of sunken fire pit is perfect for small spaces. It is an example of how meticulous use of materials and space, even in a small space, can truly bring out the beauty of your space.
6. Elegant Rectangular Sunken Fire Pit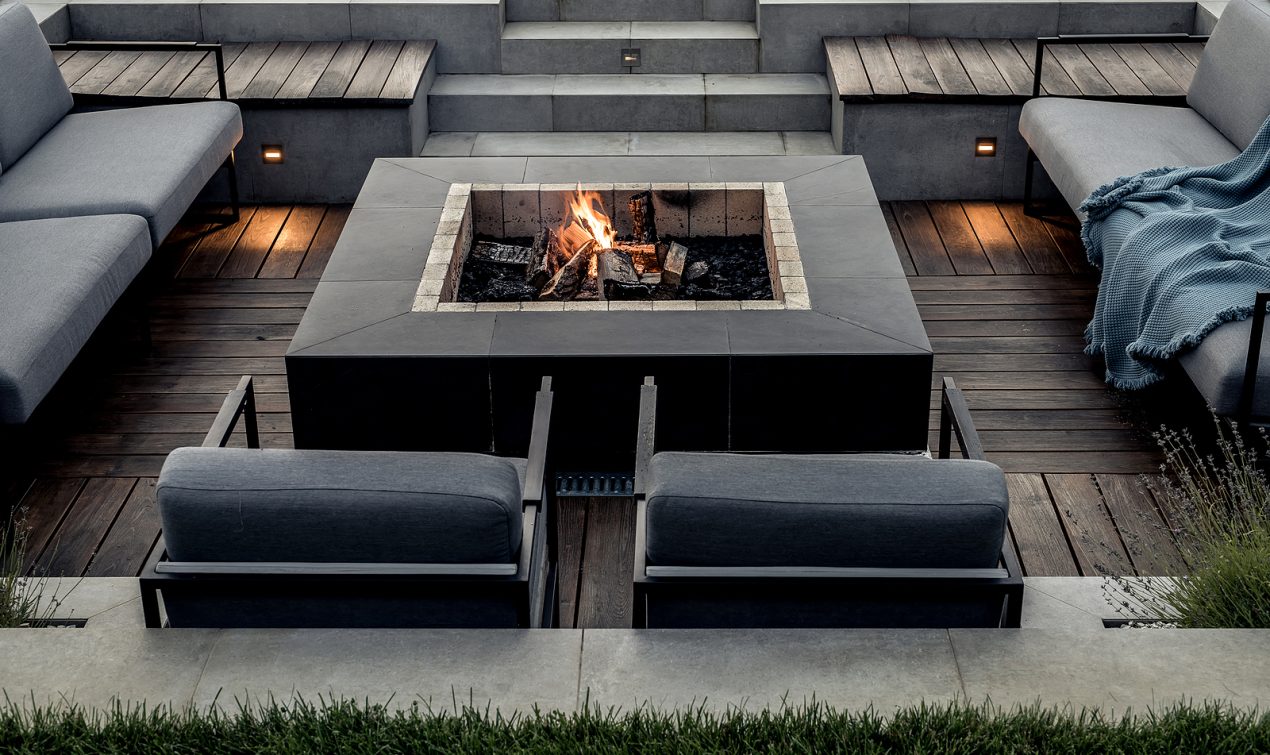 Create an elegant outdoor place with a rectangular fire pit and seating area. A must-have design for entertaining a large gathering and perfect for people with bigger areas in the backyard.
Decorate it with modern lighting and pillows. Having a monochromatic theme at this place can make it appear bigger and makes for a refined look.
7. Timeless and Cozy Fire Pit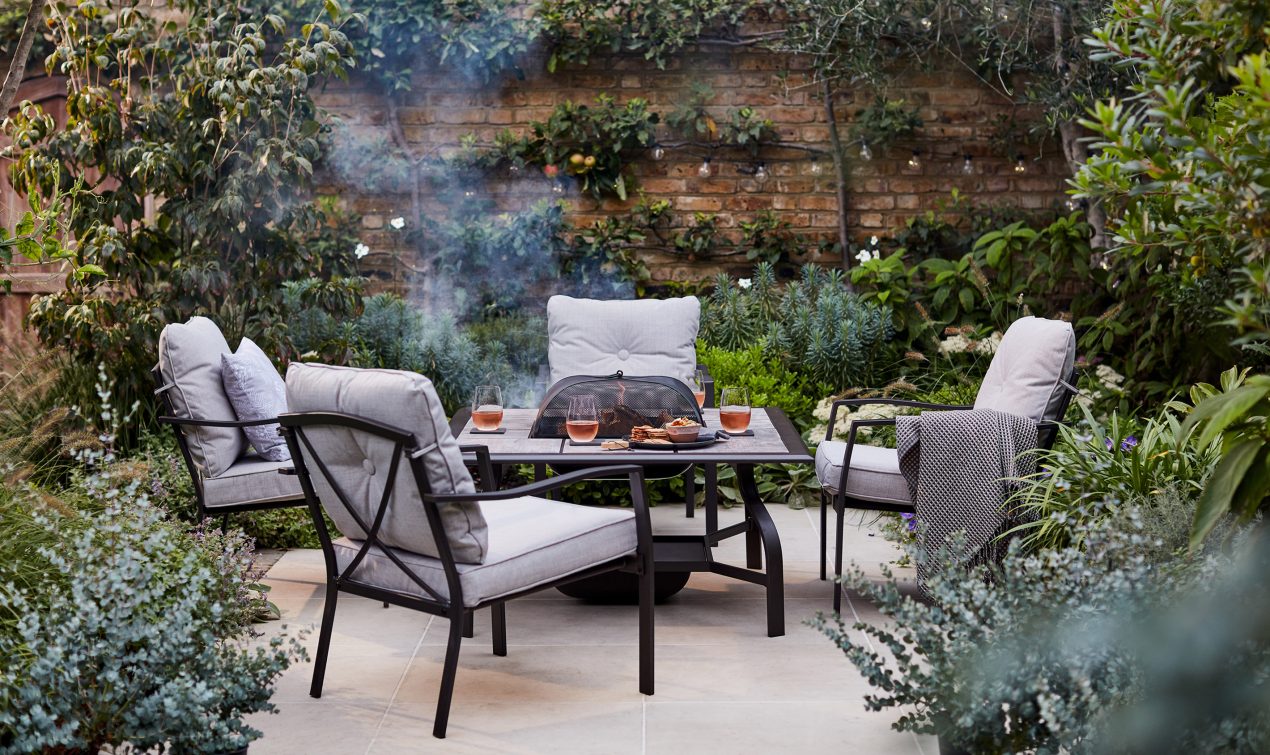 A cozy fire pit design that is versatile and evergreen is definitely worth considering. With new innovations each day in the world of architecture, creating a timeless fireplace can be tricky.
However, you can create a truly inviting ambiance with a built-in firewood place, a large seating area, and a centerpiece as your fire pit.
8. Colourful Sunken Fire Pit Outdoor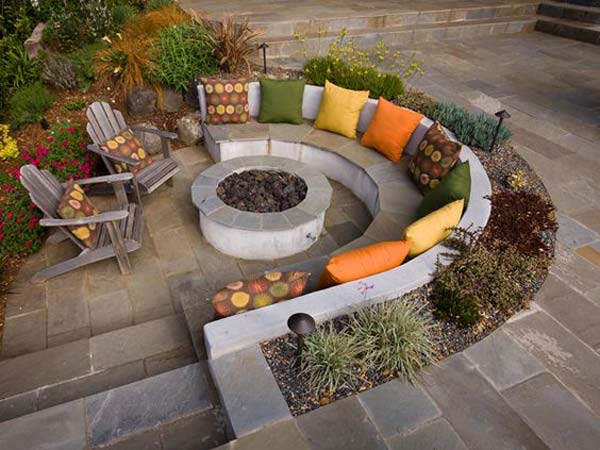 Why should your sunken fire pit area be wary of your home decoration style? If you have a great color scheme for your home interior, try bringing it into your outdoors as well.
Create a place that is filled with colors of joy and warmth. Red, green, and blue cushions with chairs and fancy lights are the way to create a vibrant outdoor space.
9. Minimalistic Fire Pit Idea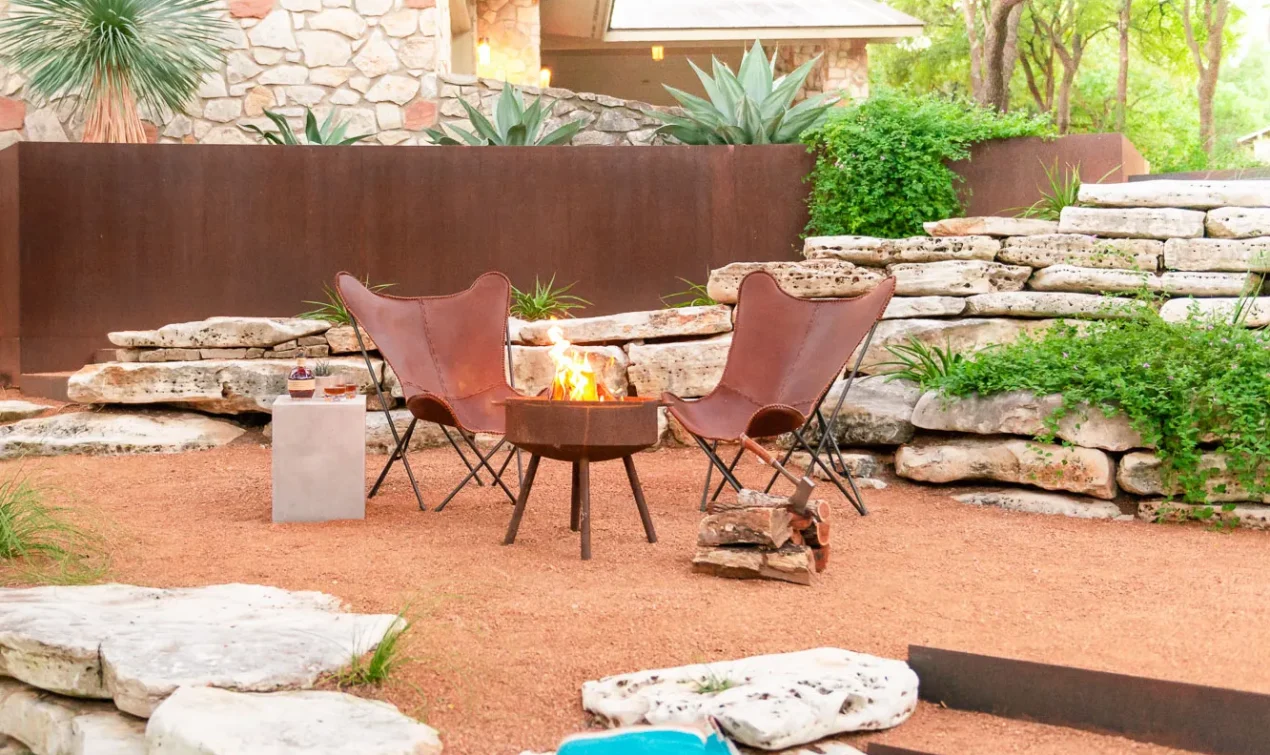 If you want to keep it simple yet elegant, a minimalistic sunken fire pit is a great addition to your outdoors. Place a removable fire pit in between your sitting space that could be made with floor tiles and wood, or place a few chairs and a small tableon the side to serve snacks. When it comes to making a minimalistic fire pit, a seamless appearance is the key.
10. Luxurious Square-Shaped Sunken Fire Pit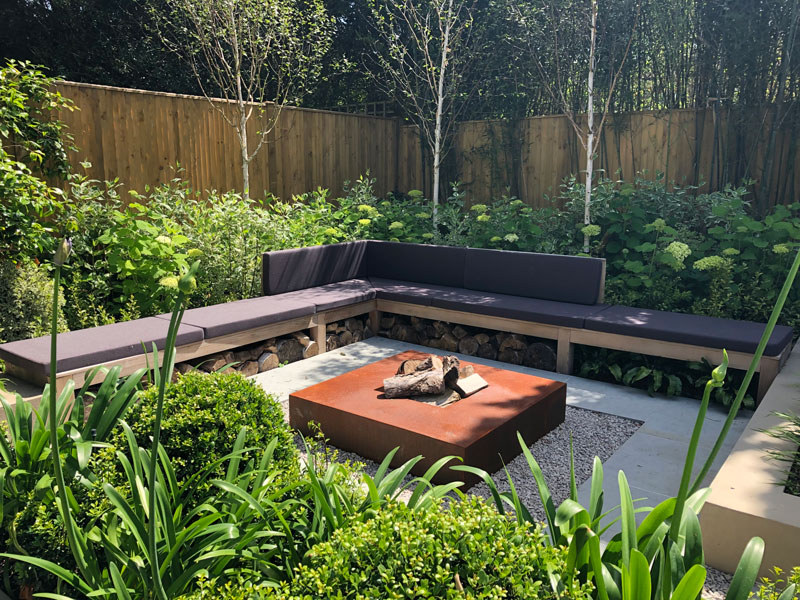 Create a luxurious sunken fire pit with square shaped pit as well as a seating area. Made with stones and surrounded by a garden filled with beautiful flowers, this could be a wonderful escape from the hustle of life and enjoying a drink with friends and family. During the summer, you can use this place for a get-together without the fire pit.
11. Camp-Style Sunken Fire Pit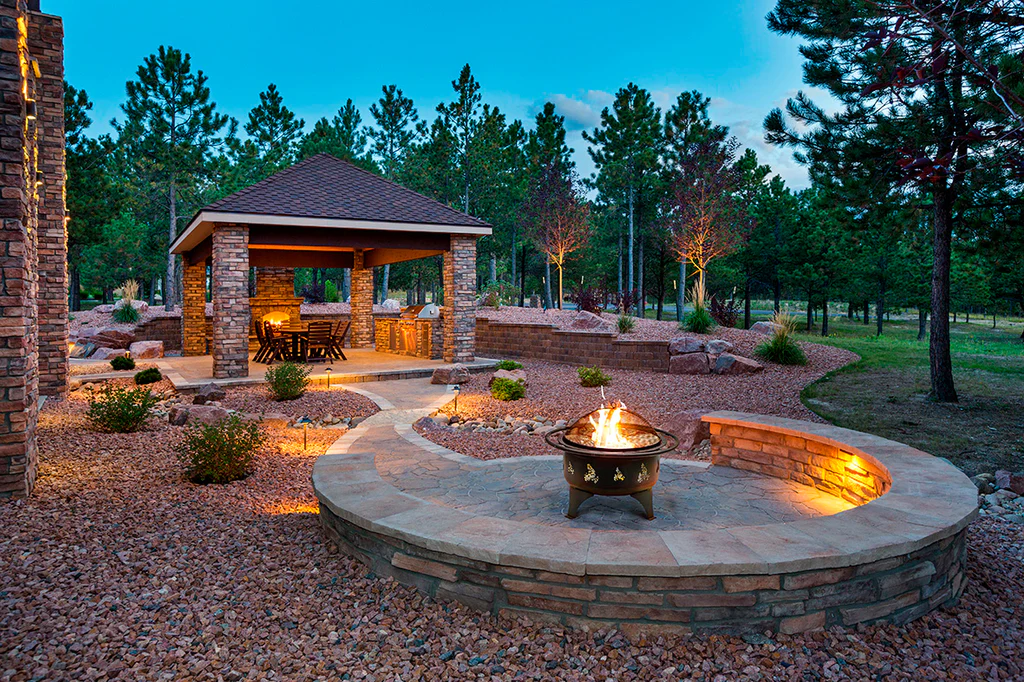 Plan your next adventure in your outdoors with a camp-style fire pit. Have a makeshift camping fire pit with a semicircular seating area. You can use a portable fire pit that matches the overall appearance of your fire pit place. A combination of the rustic fire pit with furniture, cushions, and lights gives out a beautiful camping vibe while maximizing your comfort.
12. Gravel and Stone Fire Pit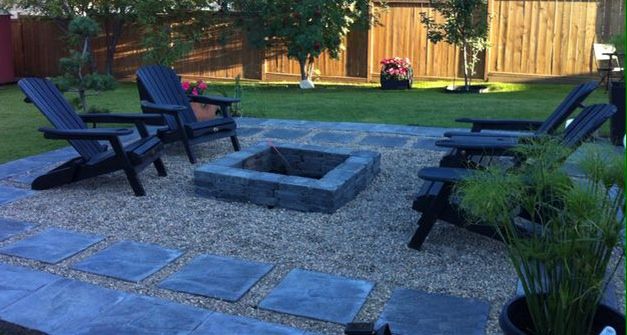 Create a unique sunken fire pit place with a rectangular fire pit surrounded by a floor of pea gravel where people can sit bare feet. Hanging by this fire pit is just the perfect way to relax on a cold winter evening. Gravel and stone fire pits also provide a rustic and natural aesthetic to your outdoor space and make for an attention-grabbing outdoor space.
13. Round-Shaped Sunken Brick Fire Pit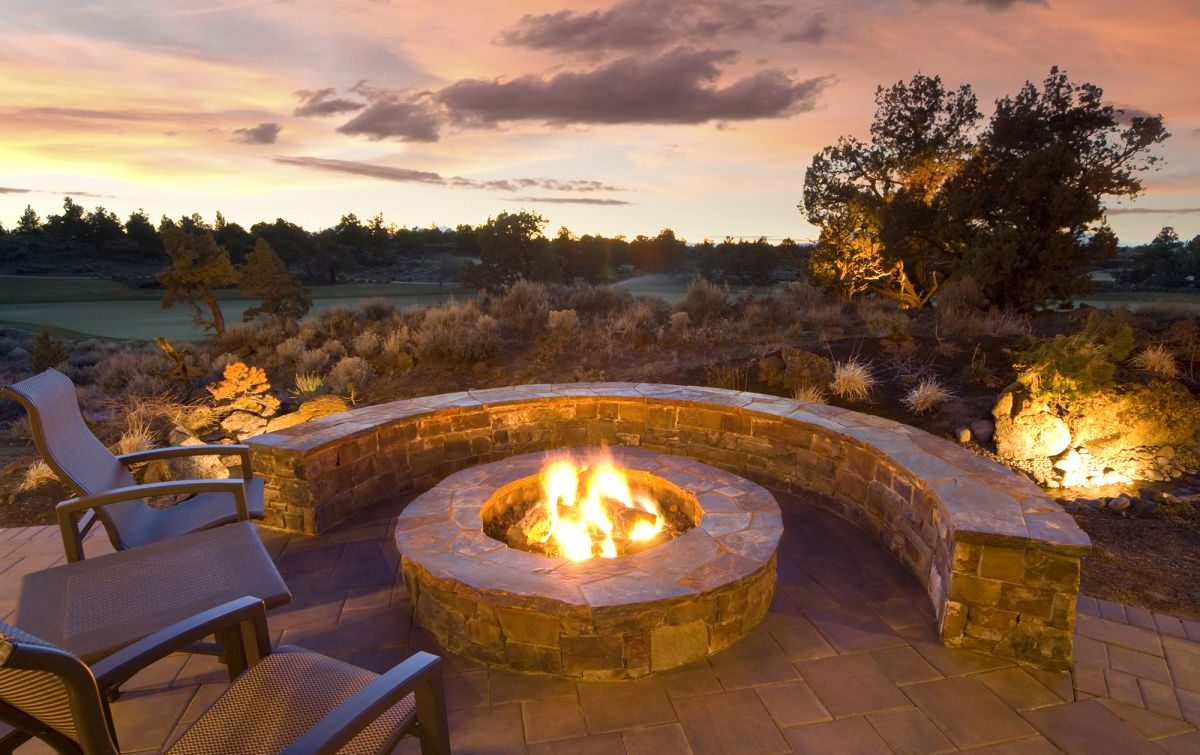 One of the most versatile and classic designs for a fire pit is your regular round-shaped fire pit. This one is easily available online, or you can DIY it with some materials by yourself. It is even fit for a small outdoor area, just add a few chairs surrounding it, and you have got a place to hang out with your friends and family.
14. Blaze Wall Fire Pit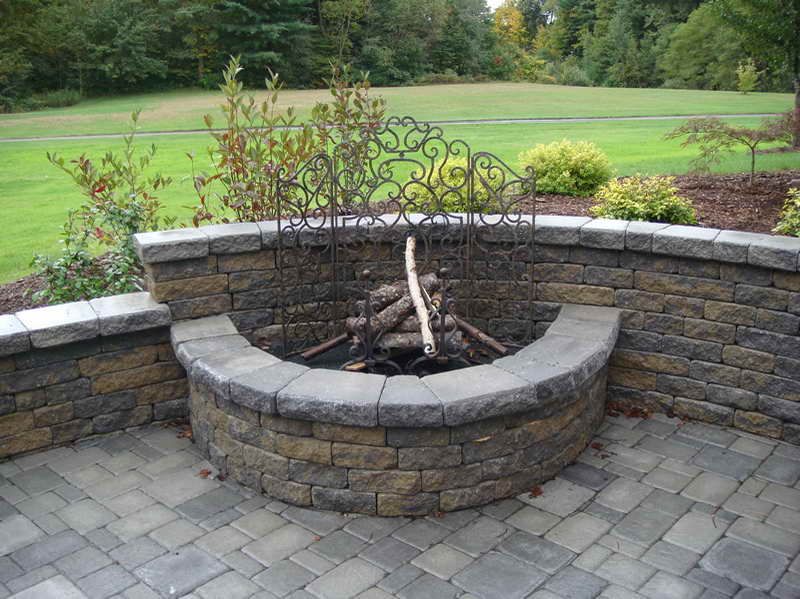 A wall fire pit is a great idea for a space that can be used two ways, first as a regular wall in summer while also being available for a get-together by fire on those cold nights. If you don't want to create a built-in fireplace, you can buy one of thosecamping fire pits and attach it to your wall. Have a few foldable chairs and a table to serve snacks and drinks surrounding the fire pit in a semi-circle.
15. DIY Sunken Fire Pit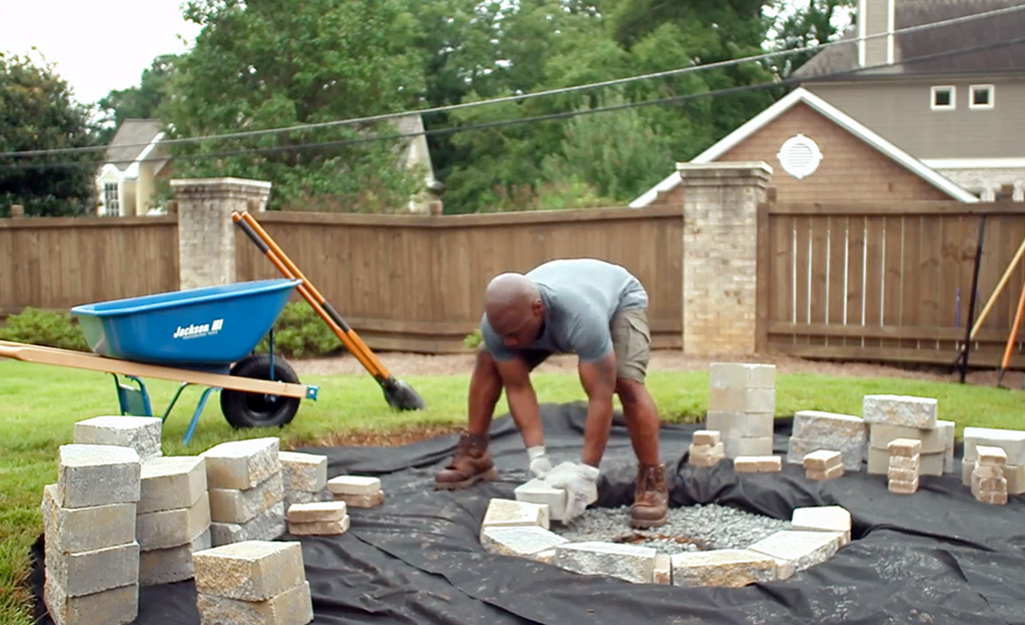 Creating a sunken fire pit is not that big a deal. You can totally DIY it and personalize it to give your own unique touch. People nowadays are becoming easily attracted to DIYing their own places to show the world their creative side. If you are one of those people, just read a few tutorials, collect the materials, and start building your very own fire pit that can easily become the talk of the town.
16. A U-Shaped Sunken Fire Pit place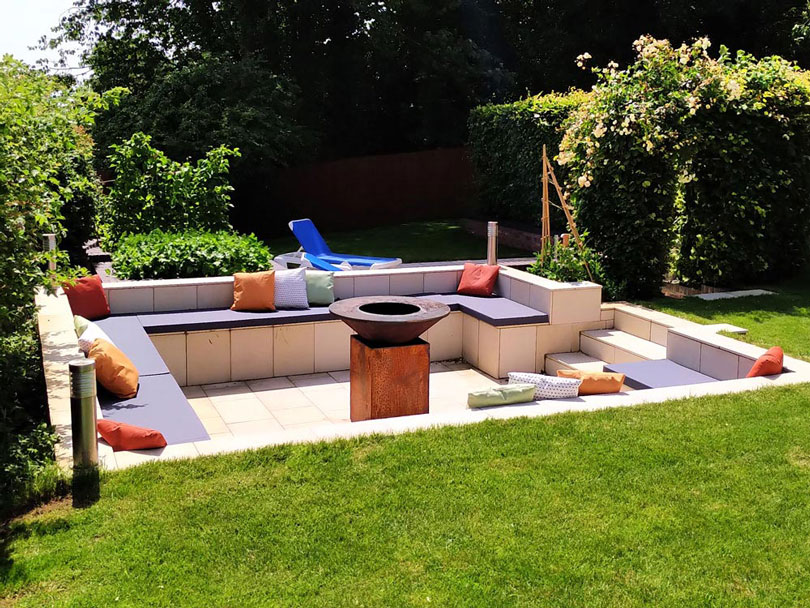 A U-shaped firepit place contains a fire pit in the middle, a surrounding seating place, and only one entry or exit. It is best for places with a narrow build. Incorporate the seating area into the walls and decorate it with colorful cushions, lights, and ornaments. A U-shaped fire pit place offers a more inclusive and interactive environment as it allows people sitting at every angle to interact with each other while providing your outdoors with a visually striking appeal.
17. Rustic Sunken Fire Pit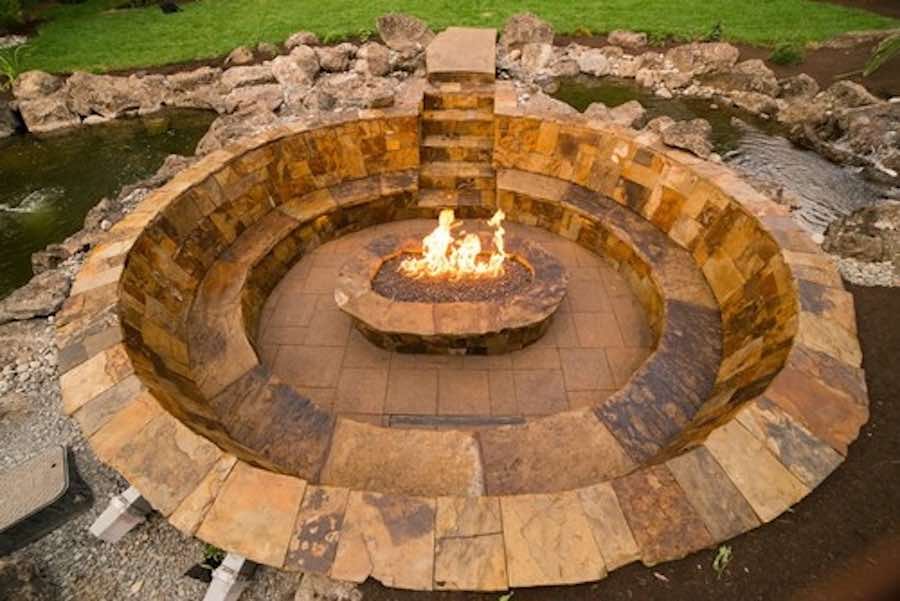 A rustic sunken fire pit that can bring alive the warmth and simplicity of nature is worth building for your outdoors. The characteristic feature of a rustic sunken fire pit is that it is built in the ground in a relatively lower area than the seating place in a rural appearance. It can give your space a rugged and organic look.
Decorate this place with a rustic wooden chair and table, and use earthy lanterns or candles to complete the look.
18. A Small Stone Sunken Fire Pit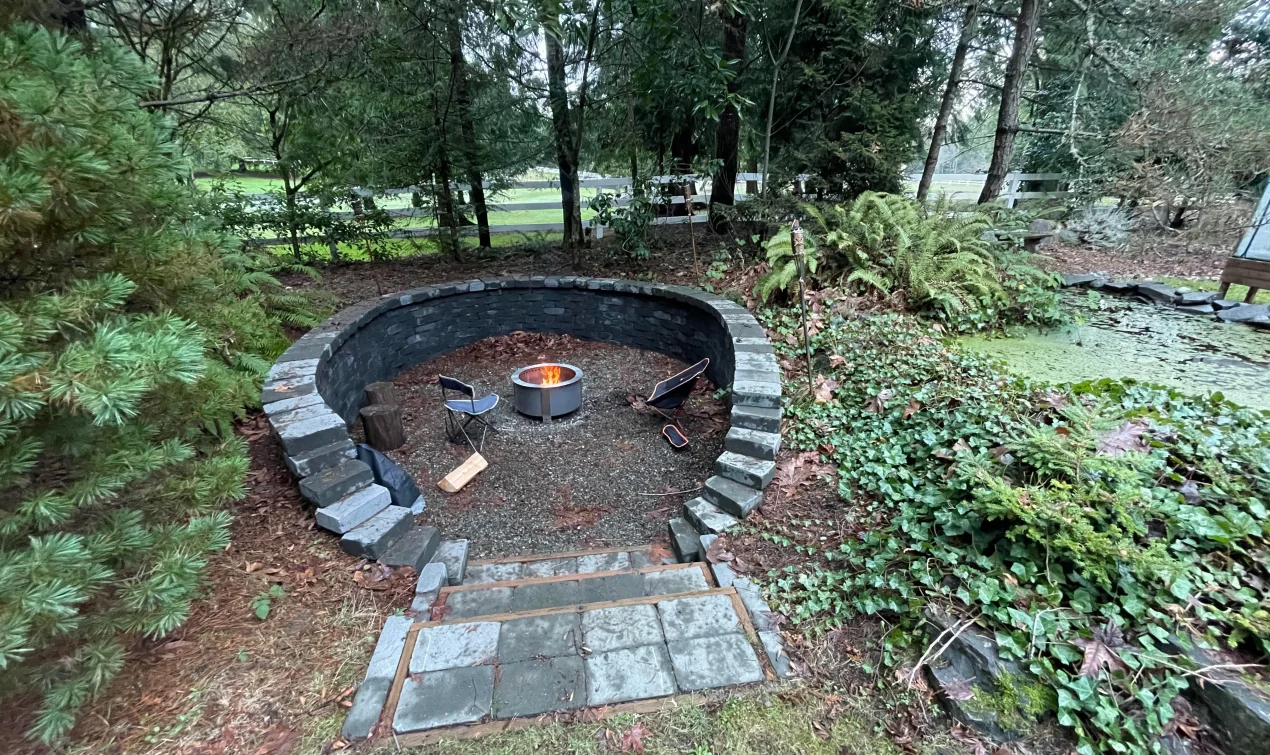 The size of your space doesn't matter if you know how to present it well. Create your small stone fire pit adjacent to your garden area in such as way that it blends in. Stone fire pits stand out due to their unique look and minimalistic vibe. Consider adding a few minimalistic elements, such as chairs or stone benches, to complete the look.
19. Metallic Fire Pit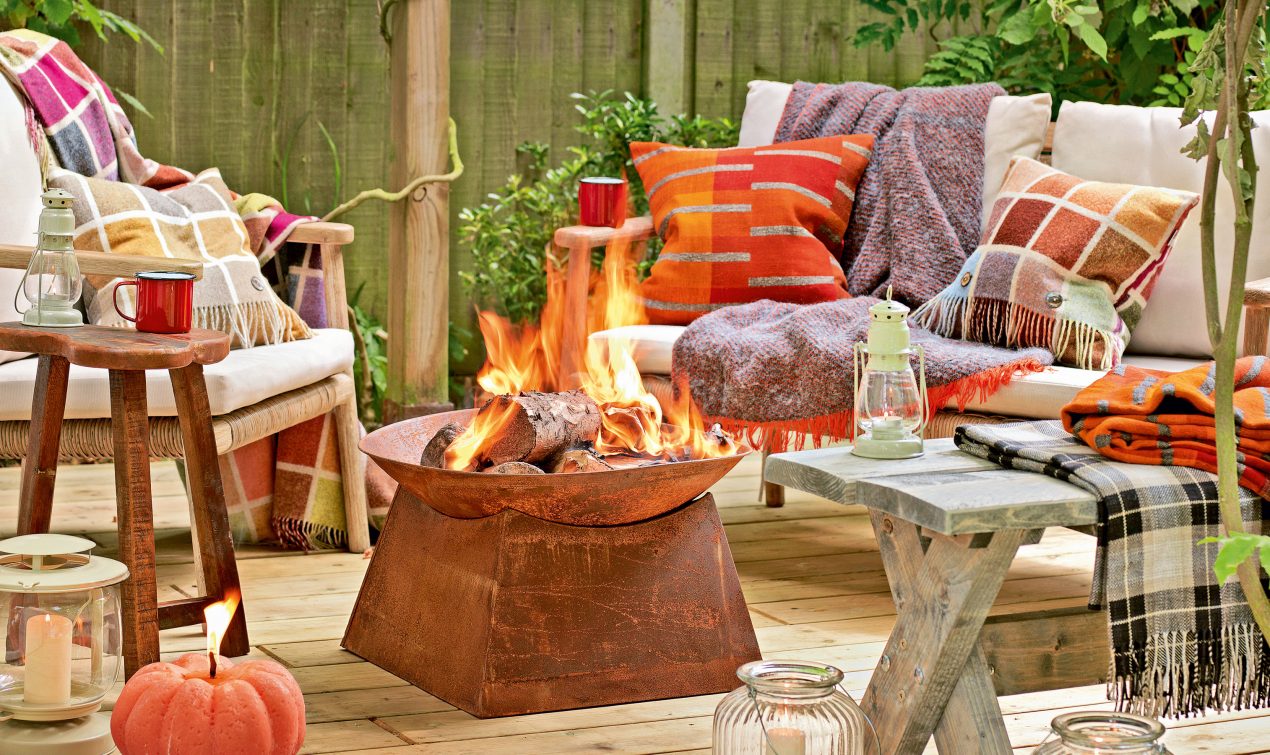 Make your cozy place with a built-in metallic fire pit in between and a seating place surrounding it. A sunken fire pit that sets in a lowered ground while contrasting with the surrounding area will give your outdoors a wonderful countryside look. Metallic fire pits are quite popular owing to their affordability and ability to withstand high temperatures.
20. Contemporary-Style Sunken Fire Pit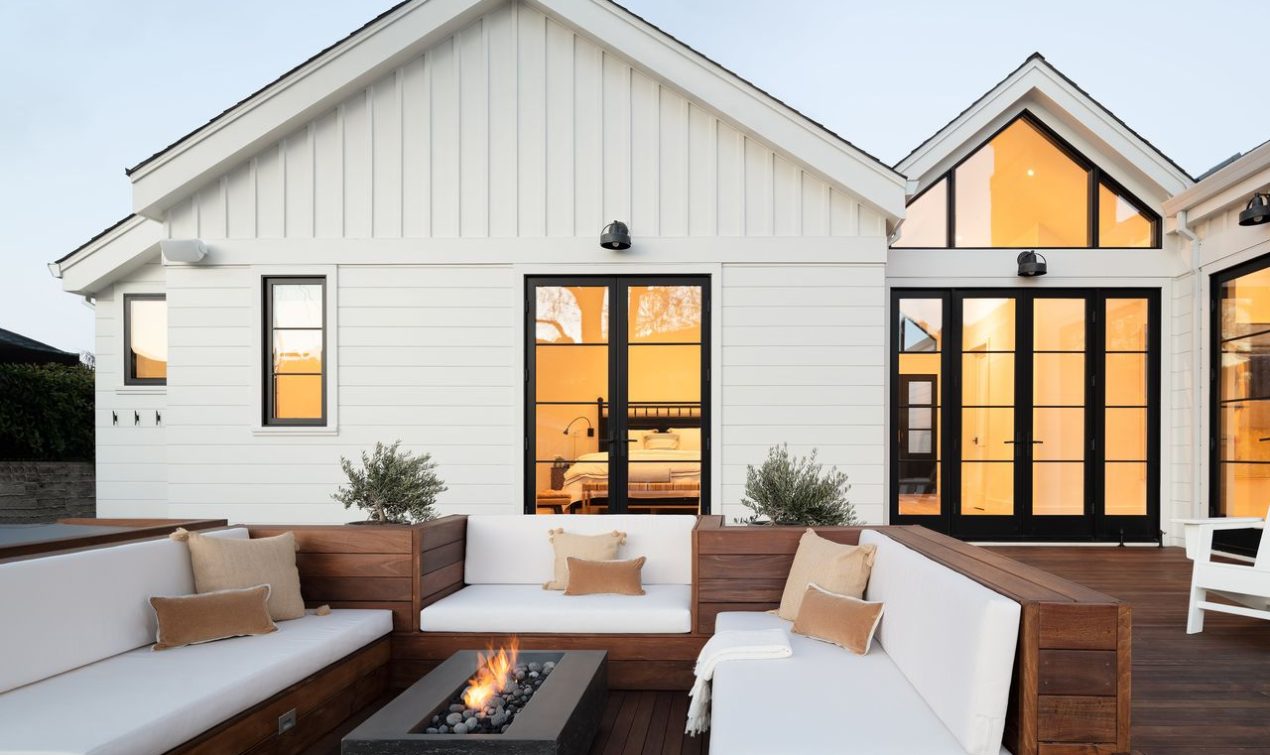 Carrying modern design elements, this kind of fire pit is perfect for a functional and attractive place for your guests. A contemporary-style fire pit gives a clean and subtle appearance to your place and is made with high-quality materials. You can mix and match your contemporary-style fire pit place with various kinds of designs and customize it according to your preferences.
21. Farmhouse Sunken Fire Pit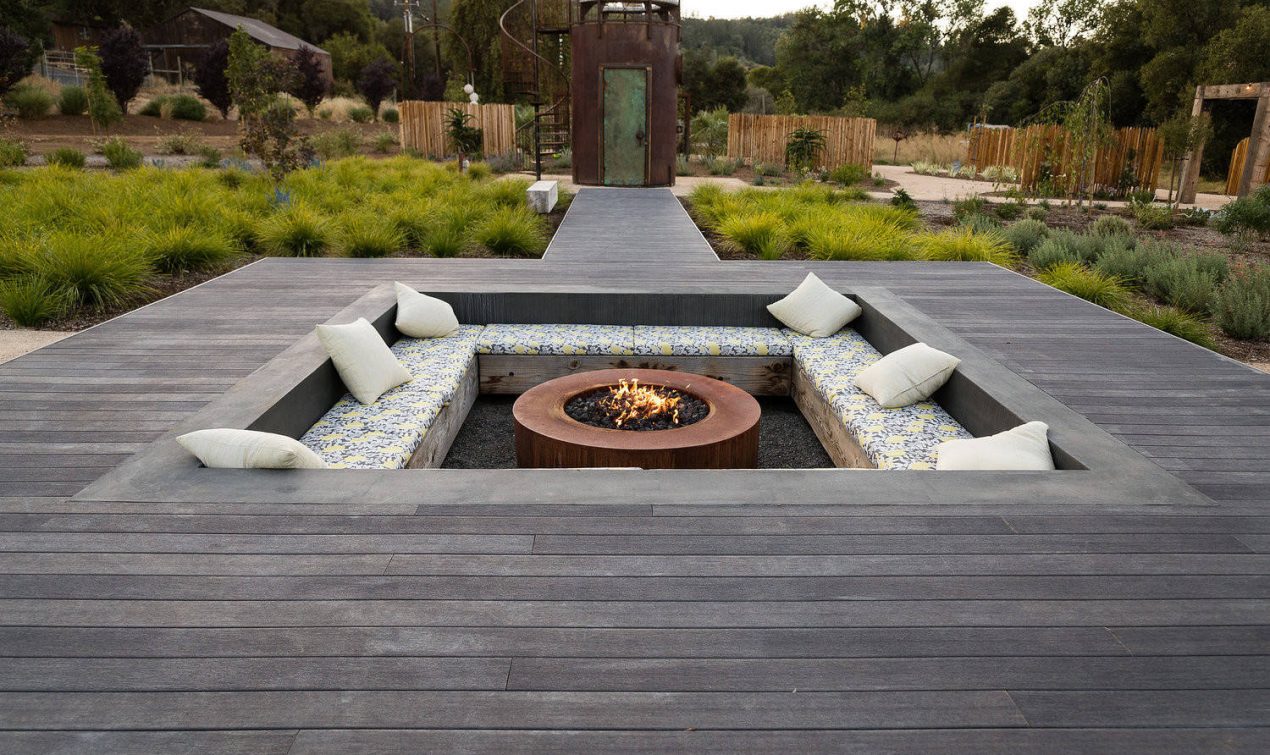 Create a fire pit place in your deck by increasing the seating area and placing a fire pit in between. A shallow fire pit gives you the flexibility to store and clean up easily. Use stones to create the flooring and add in some ornaments to make it stand out. Throw in some color-coordinated cushions and seating mattresses to give it a sleek and clean appearance.
22. Relax and Unwind with a Wood and Stone Sunken Fire Pit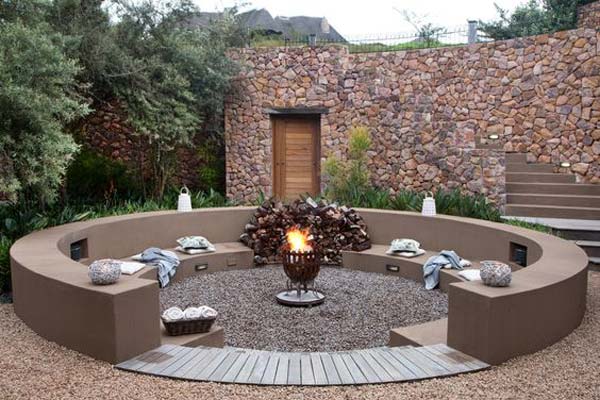 Step into the world of luxury with an unconventional wood and stone sunken fire pit. Make the seating area with stone sheets and wooden panels, and use a portable fire pit. Add a few decorative elements, such as hanging lights and decorative bowls, to add a touch of elegance to the place. Use cozy pillows and mattresses for the seating area to make it a nice place to relax.
No products found.
23. Recycled Fire Pit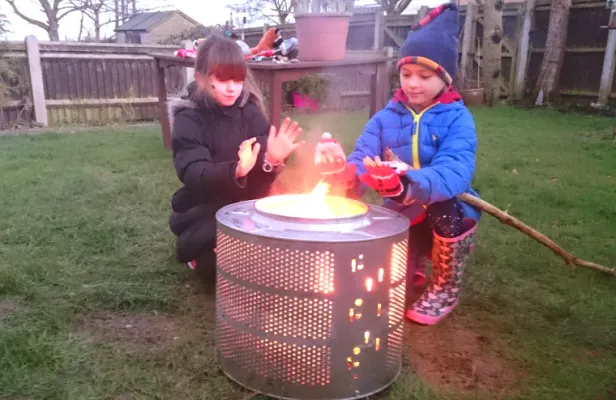 Make an eco-friendly choice by tuning your old washing machine into a fire pit. Use the washing machine drum to burn wood and create the cheapest and best fire pit of all easily. The greatest thing about this fire pit is that you will be contributing to the betterment of the environment without going the extra mile. It is also one of the safest fire pit ideas.
24. Tribal-Style Fire Pit with Rocks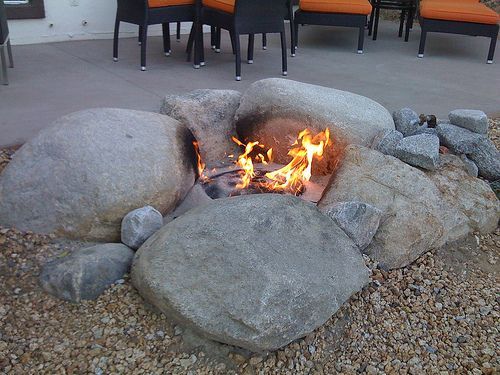 Collect a few kinds of rocks in all shapes and sizes and make them into a pile, burn your woods in between, and you have got your very own tribal-style fire pit. Ensure that the rocks are placed in a compact manner, and do not shake them while burning the wood. Complete it with a few lights and foldable chairs.
25. Concrete Sunken Fire Pit within the Garden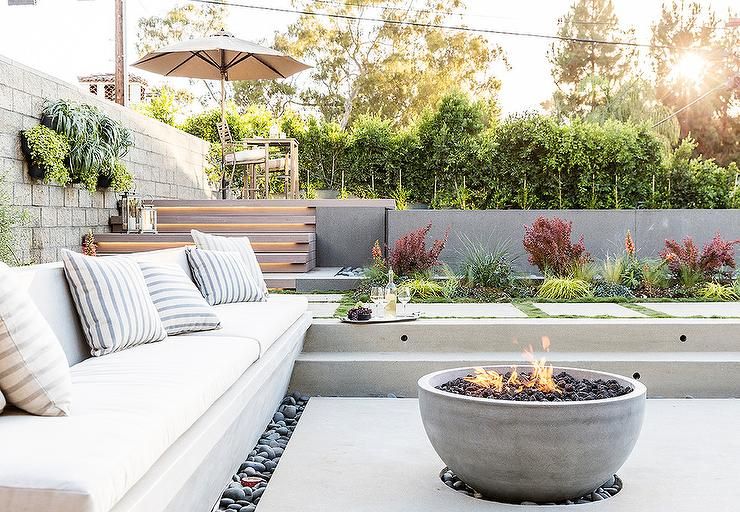 Aconcrete fire pit placed between a garden is a beautiful idea. Just make sure to choose an area that is away from the plants grown, and only choose this kind of fire pit idea if you have a large garden space. You won't need any artificial decoration to enhance its look; just use some chairs to entertain your friends and family and enjoy a cold winter night right in the vicinity of nature.
Conclusion
In Conclusion, there are various ways in which you can include these ideas depending on your preferences and requirements.
Choosing a fire pit mainly depends on its practicality, appeal, and adaptability to a particular home. From a small stone sunken fire pit to a luxurious modern fire pit that requires a larger space, there is a fire pit for every need. However, you should always remember to choose a fire pit that easily blends with the overall appearance of your home decor.
So, if you are looking to uplift your space or hoping to create a nice place to entertain your guest during the cold weather, making a sunken fire pit is certainly an idea worth exploring.