25 Gorgeous Ideas to Transform Your Home's Front Decor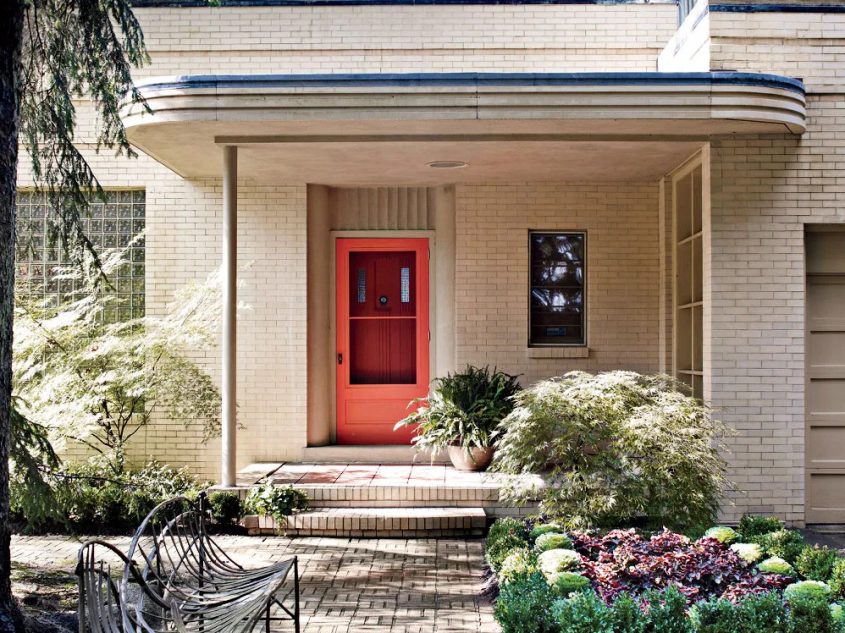 If you are one of the many people looking to uplift the impression of their home but don't know where to start, you're in the right place. While the interiors of a house speak extensively of its owner's taste in aesthetics, an inviting front door decor simply elevates the game even before guests enter the room.
Moreover, decorating the front door area not only beautifies the house but also uplifts one's mood when one enters the house, thus ensuring that only positive vibes enter your sacred space.
When it comes to ideas on how you can decorate your front door entrance, in this article, we will share 25 stunningly creative front door decor ideas that are far from bland and simple to use yet super attractive to the eye.
25 Designer Front Door Decor Ideas
1. Paint Your Door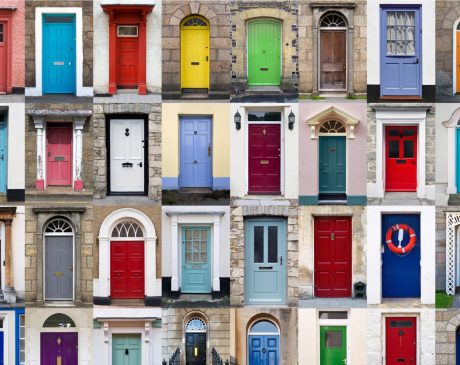 Nothing uplifts the look of your front door as instantly as a coat of fresh paint (of an attractive color, of course!). Use your imagination and let your personality shine through the color of your choice to liven up the entrance to your home. You can use bold pastel shades or arouse the artist within you to give your front door entrance a unique gradient. When using just one shade, you may select bright colors so it does not feel monotonous when it has been there for long. If not, you can try darker shades of bright colors.
2. Floral Garlands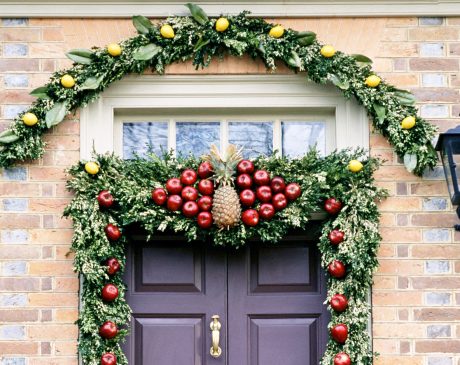 These make for a striking front door decor for both small doors and larger ones equally. Be they made of fresh and colorful flowers handpicked from your garden or faux floral garlands, they are sure to catch the attention of passers-by and guests! Roses, orchids, tulips, chrysanthemums – there is a plethora of flower choices for you! Use seasonal flowers, fresh blooms, or even flowerless shrubs for a distinct addition to your front door decor. Not only do they serve a decorative purpose, but they also present a vibe of freshness every time you and your guests enter the house. 
3. Flower Baskets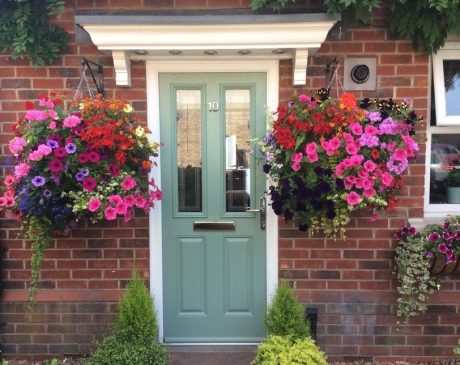 Install a jute basket at your front door entrance. Put in a bouquet or hanging floral shrubs, and voila! You've just upgraded your front door decor in the simplest yet most attractive manner. Include plants having small bright flowers to highlight the setup and the minimalistic decor. Using seasonal blooms and hanging shrubs in combination with flowers will maximize the decoration of your front door.
4. Macrame Hangings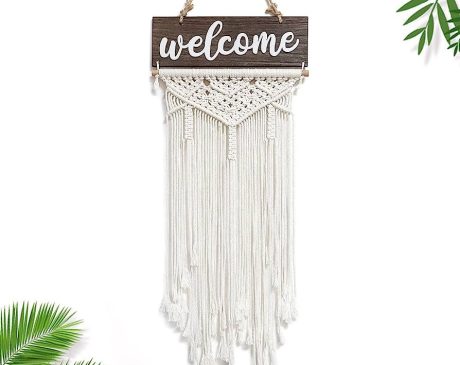 These beautiful art pieces, which involve creating patterns and textures by tying knots with cotton cords in a specific manner, are one of the best front door decorations to use. Minimal yet eye-catching macrame hangings add subtle sophistication to the look of your entrance. Depending upon your choice, you can use elaborate macrame hangings or medium sizes for decorating your front door. You may knit DIY macrame hangings for a personal touch to the home of your dreams. 
5. Door Hangings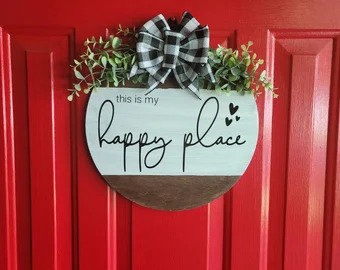 You can use simple monograms, decorative monograms, signs, stockings, lucky charms, and dreamcatchers as door hangings. These creative forms of front door decor reflect one's taste in aesthetics. Although very minimal, they are far from bland! Oops, also, we just forgot, you can also hang up a piece of art (created by you or your loved ones) to make for a beautiful door hanging!
6. Windchimes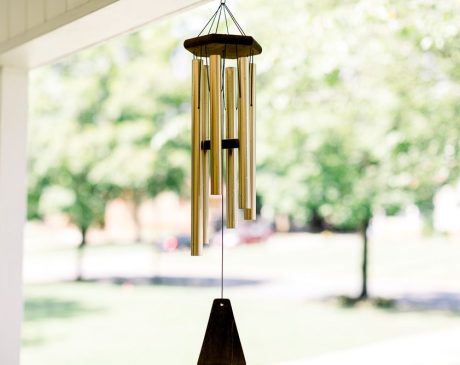 Wind chimes not only beautify your main door but are also said to usher in positive energy to your home. Thus, setting up a wind chime on your main door entrance can bring luck and prosperity and uplift your mood. The soft sound it makes against a breeze adds calmness and refreshes the mind. Perch it on the door bracket or as a door hanging. Use elaborate but not too long windchimes as your front door decor, as it may create a fuss by coiling in the hairs of the ones trying to enter.  
7. Name Plate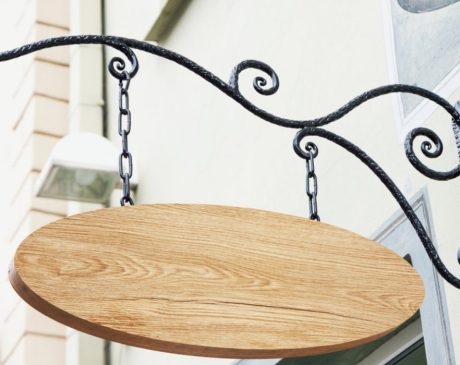 A cursive pattern engraving of your family name on a metallic or wooden nameplate can be a great addition to the front of your door. You can also experiment with the writing patterns and or the board plate. It not only acts as a decorative piece but also builds authority. If it feels too vintage an idea for you, you can put up signs like "Welcome" or quirky statements like "How you doin'?" Let people see through your humorous personality even before they meet you face-to-face!
8. Door Knobs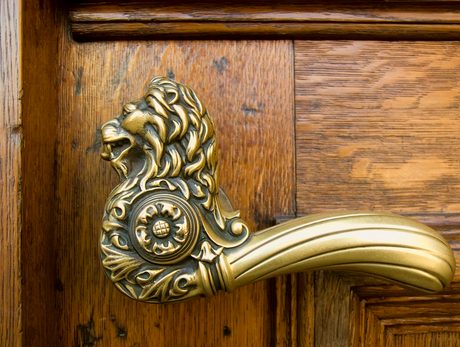 DRAMATIC and BOLD door knobs are the key to stunning front door decor! Install a door knob that stands out by itself and is the first thing that guests notice when they wish to knock. Rustic, vintage, or metallic pieces – choose the one that suits you and watch it become the center of attraction every time people come into your house.  It is the perfect style statement for your house. Pair it with an equally classy doorstopper, or let it take center stage – again, your choice!
9. Tassels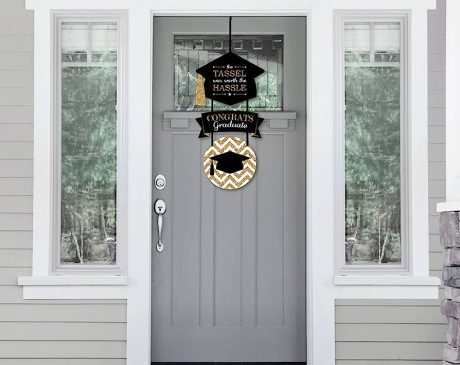 You can use gorgeous and intricate rope tassels hanging from door knobs for decorating the front door. As simple as it sounds and looks, it is a front door decor idea that tones down unnecessary extravaganza. Instead, it enhances the charm of minimalism and gives your main door a cozy feel. But if you are looking for extensive decor, you can also use large and elegant doorknob tassels or tassel bells.
10. House Numbers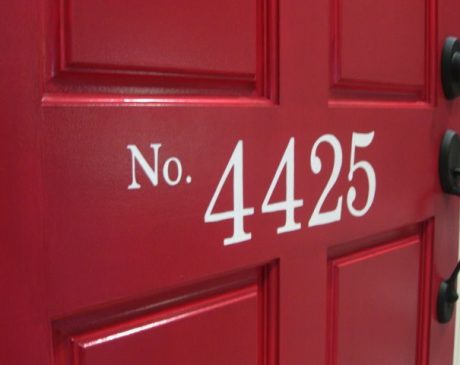 Not only are they important for locating your house, but they also act as a delicate decorative item for the main entrance. You can choose from customized wrought iron pieces or large stencil outlines of your house number. You can either put up only your house number or the entire address. A combination of alphabets and numerals offers an enhanced front door decor. You can also put up your family name carved in giant stencils as an alternative to house numbers.
11. Wreaths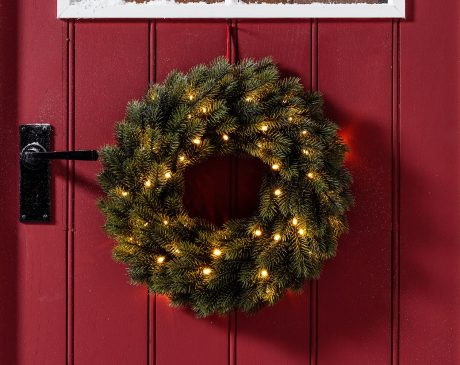 Wreaths are widely popular for their ornamental value. Use a wreath of dried leaves, fresh flowers, seasonal shrubs, or a custom mix of your choice for decorating your front door. You can also use faux wreaths that last long. Adding a stocking as a wreath hanging will enhance the look of your front door.
12. Door Lights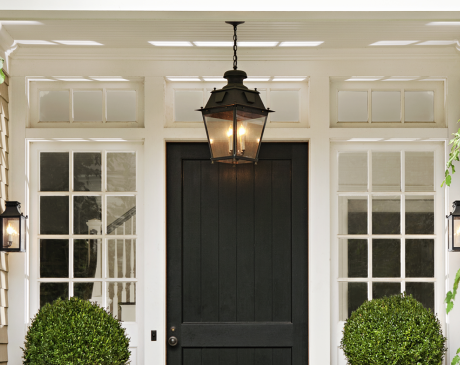 Door lights are a great way to up your door decoration, provided you place them correctly. Hang up a pendant light at the center of your front doorway and door lights at the sides of your door. This is one of the easiest and sure ways to decorate your entrance, and with lights, you can never go wrong. P.S. Want to add a slight tinge of distinctiveness? Go for vintage hurricane lanterns for door lights!
13. Clamshell Decorations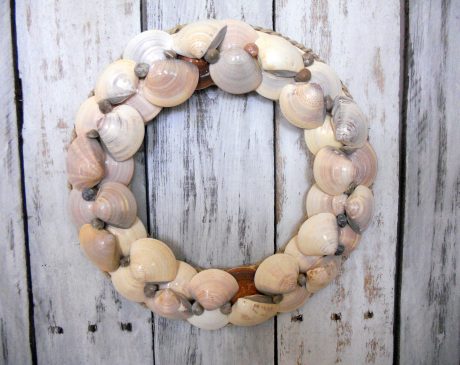 We all love the beach vibes, don't we? Why not experience it at your own home? Put up clamshell decorations not just to reminisce your beach memories but also to liven up your front door area. Clamshell wreaths and different seashell crafts are great front-door decor item that is pleasing to the eye and also to the ears.
14. Picture Frame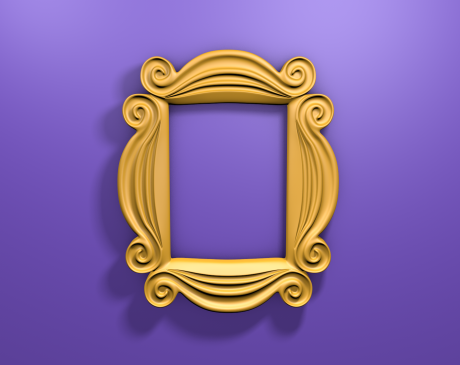 Thinking of something unique that is not too formal and bold? Yes, we heard you! That is why setting up a picture frame around the eyehole of your door is our suggestion for you! It can be a simple yet significant style statement for your main entrance – explore patterns, shapes, and colors.
It looks simple and cute on the front door without looking too childish or too formal. You can still place a picture frame on your door without an eyehole. Take a cue of the front door decor at Monica's house from FRIENDS. It looked cute, didn't it? 
15. Brackets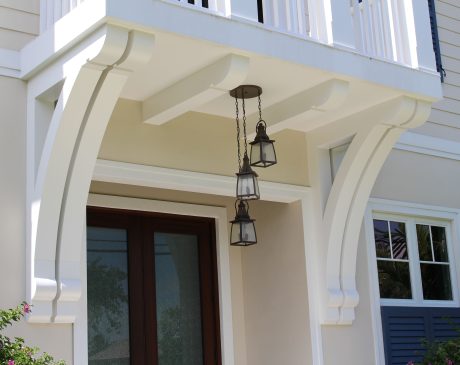 Although uncommon, brackets are timeless front door decor. Intricately carved brackets placed on either side of your home entrance add precise charisma. Add a vintage church bell beside it for that extra taste of elegance. You can also perch door hangings from the brackets. Adorn it with floral garlands for a brighter look.
16. Awnings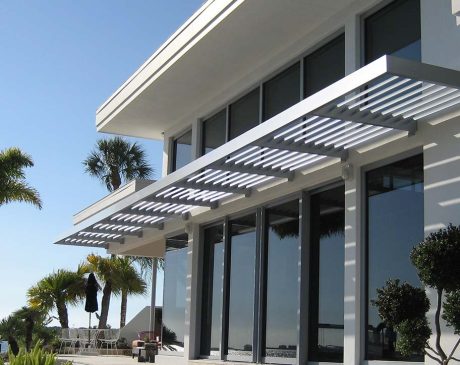 Sounds odd for a home door? Trust us; it doesn't look like so! In fact, there is so much you can add to an awning for stunning front door decoration! Floral patterns, stripes, animals, solid colors – there's a plethora of choices for you to customize from. Apart from its fancy feature, it also protects your door from direct sunlight, so your door paint lasts longer. 
17. 3D Moldings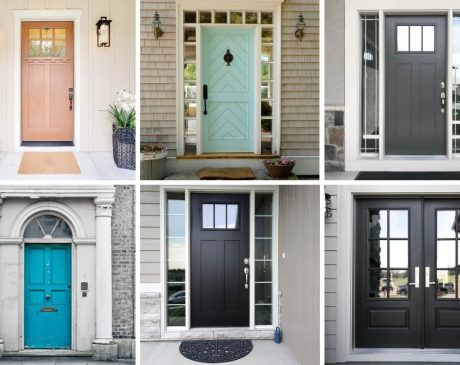 3D moldings are a great and unconventional choice in front door decor items. Keep it simple or elaborate for a classic feel to your front door aesthetic. Spread it across the different parts of your door or highlight a single patch – play with the detailing of the carvings and the finishing touches. Accentuate the vibe of your entire house with these decorations. 
18. Vintage Grill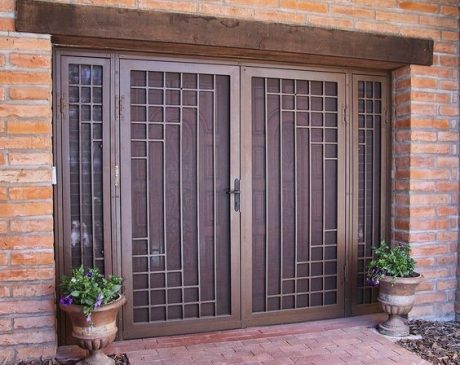 One of the least used front door decors, a vintage grill amplifies the persona of your house. You can either design it precisely or use thick bars for a medieval look. A vintage grille outside your front door also increases security, apart from changing the shabby look of your otherwise plain front door. 
Do not use both vintage grilles and 3D moldings for decorating a single door. They will outweigh one another, therefore ruining what would otherwise be a masterpiece. 
19. Accents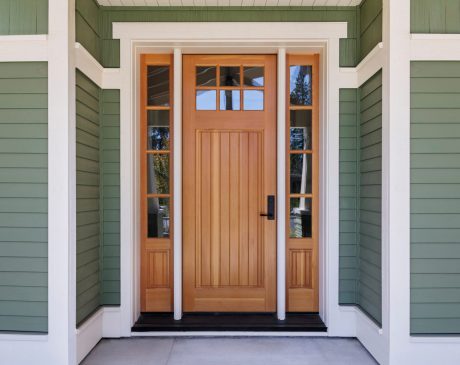 Combine a variety of textures and decor pieces to bring out one of the most illustriously decorated front doors. Here, we mean a combination of glass, nude door paint, grilles, doorknobs, tassels, metal, mirrors, and other decorative items – permute and combine different structures in different panels of the door. Let your creative juices flow. Let nothing hold back the artist in you. 
20. Painted Glass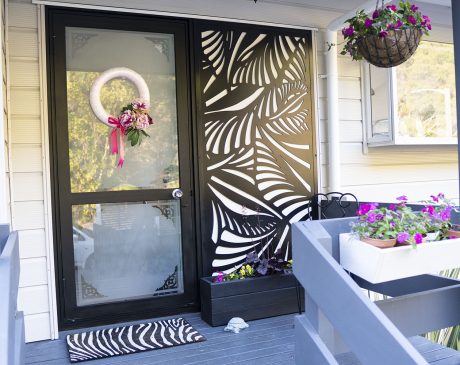 Placing painted glass on the front door gives a kaleidoscopic appearance that exudes a certain boho vibe. It has an artistic appeal, to say the least, and gives off a certain old-world charm. While it may not be the first choice of the majority, it is sure to turn your eyes toward your home if you are willing to take a chance. Try glass painting yourself for a touch of personalization!
21. Faux Antlers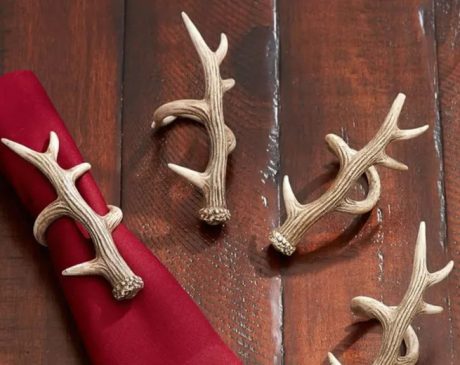 The perfect front door decor choice if you wish to portray a dignified yet soft home personality. The polish gives it a smooth and shining appearance that highlights your sense of style without being too flashy. With a variety of options to choose from, you can either put up short and curved antlers or longer ones. The short antlers are best paired with a tiny centerpiece in the middle of the front door. The long faux antlers cover the major length of the door and usually look good alone.
22. Doormat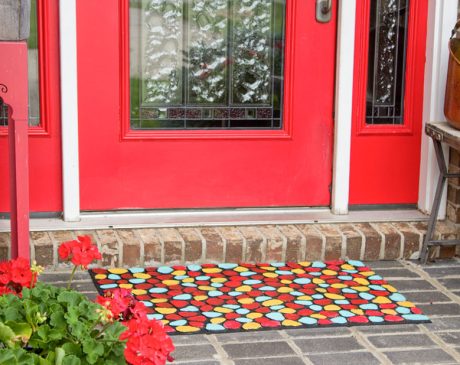 Inarguably, the simplest way to decorate your front door area is by placing an attractive doormat in front of it. You can either match the color with the color of your door or go for a contrasting appearance. Choose custom prints like "WELCOME" or "SMILE BEFORE YOU ENTER" for elevated ornamentation. You can also print your favorite pattern or design on a doormat of your choice.
23. Potted plant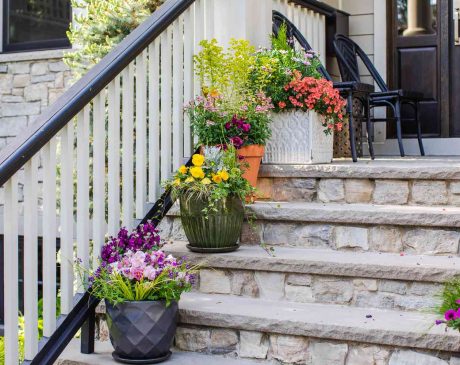 Talking of simplicity, there is no better choice than this. Place one or two large and flourishing potted plants on one or two sides of your front door. A classic and minimal front door decor, these have functional values as well – they purify the surrounding air and the environment. You can also place small to medium-sized potted plants on potted stools. Garnish by placing flowers around the pot or vase. 
24. Wallpapers or Decals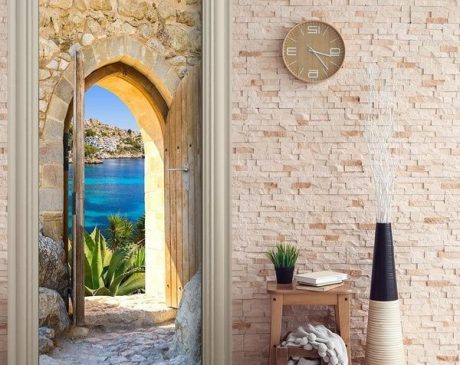 Just in case you didn't know, you can use wallpapers or decals to beautify your front door as well! They can be modest or glamorous front door decor, depending on how you choose to style them. With a wide range of themes and colors to choose from, decorating the front door just got more fun with these! Flowers, geometric shapes, motifs, and writings – remember, there is no limit to choosing the right one for your front door. 
25. Stickers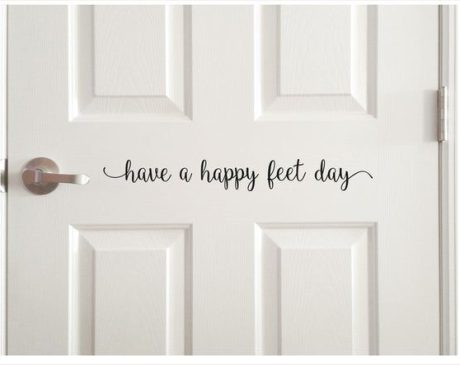 These can rightly be called miniature versions of wallpapers and decals. If the front door is small and or you prefer keeping the decor a bit toned down but not boring, these can be a great option for you! What's even better is that you can get custom prints of your favorite pictures on both stickers and wallpapers, so your memories are treasured in the most beautiful way! Stick multiple small stickers on your door or just one bold sticker.
Conclusion
Front door decor is not too tricky, even for novice house owners. You can mix and match the above-mentioned front door decor ideas for a well-furnished appearance. Or, you can use your own ideas for setting up your front door in a way that looks welcoming and infuses a fresh vibe.
The above listicle acts as a guide for creative front door decor ideas for you so you can come up with new and exciting creatives for lighting up your entrance.
You can decide on a theme for your front door decor and can change it according to the seasons. For example, you can set up a floral front door decor theme during the summer and change it with Halloween pumpkin lights and decals during that season. 
Feeling confident now about working on your new front door decor? Then what are you waiting for? Let's get started! Which one among the above did you like the most? Let us know your pick when decorating the outdoor front door for your house. Liked the front door decor of your neighbors and friends? Tell us how they revamped it; we'd love for our audience to know about it as well!
Frequently Asked Questions
How Can I Decorate My Front Door Entrance?
You can decorate your front door entrance as gaudily or as minimally as you would like to. Despite reading several articles on the best and most stunning front door decor ideas, we know that choosing the right one for yourself becomes a bit tricky. 
Any Tips for New House Owners for Decorating Their Front Door?
The only tip we have for you is just go with your sense of aesthetics. However, suppose you are willing to try something different. In that case, you can always start with something basic and simple, like surrounding it with greenery – hanging plants, floral garlands, wreaths, or floral baskets. 
Is Front Door Decor Expensive?
Front door decor is not expensive. However, given the wide range of choices, you can spend either on a budget or lavishly. There are DIY ideas that are easy to create and light on the pocket. For other decorative items that you buy, you can choose simple budget-friendly pieces or even a fortune for elaborate decorations.