18 Frosted Glass Pantry Doors for Your Home Décor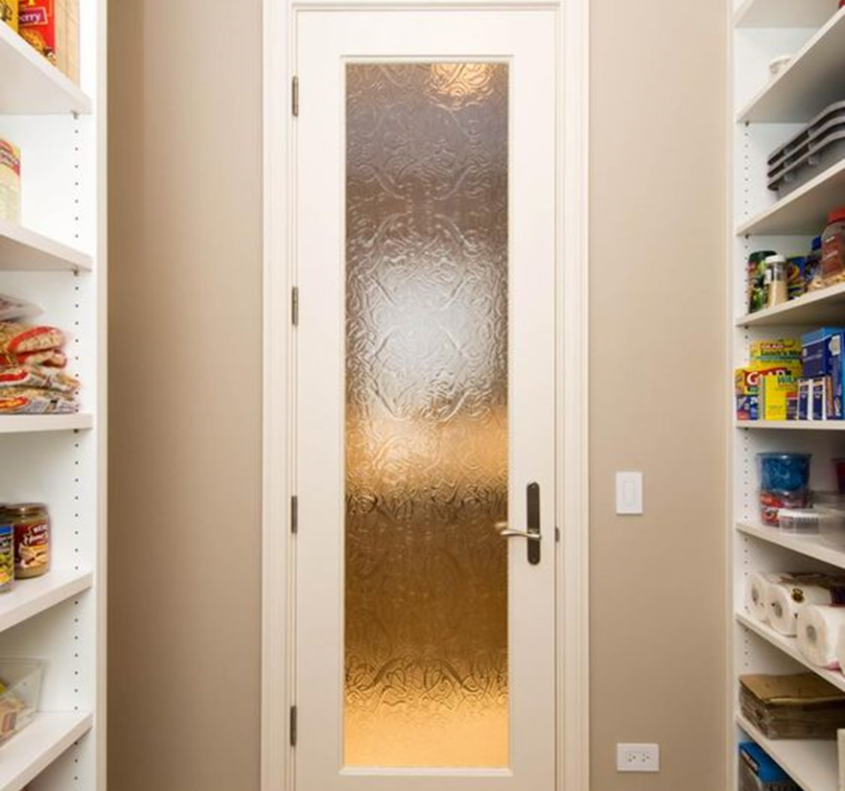 Do you want to make your kitchen more stylish and upscale? An innovative way to accomplish this is with a frosted glass pantry door. It is adaptable to diverse settings and comes in different sizes and shapes.
It gives your space a distinctively stylish touch because it's not completely transparent. This quality of frosted or ground glass creates a soft, shimmering glow, thus enhancing the brightness of your cooking and pantry area. It lets in daylight without risking your privacy.
This year we can see the arrival of too many new frosted glass trends and designs. You may choose a larger door with striking colors or patterns to add interest to your home. Customize your closet style following your privacy requirements and aesthetic preferences with ground glass.
We've compiled the finest 18 frosted glass pantry door designs in this post that will inspire your creativity. Let's look at that!
1. Pre-Hung Pantry Door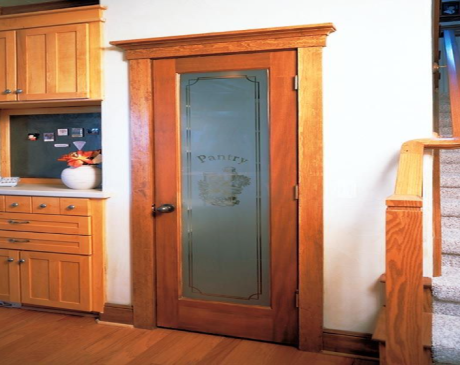 As your kitchen pantry with a frosted glass door will maximize every square inch of even a tiny area by bringing natural light into the window-less room of your home, choose a pre-hung door for your pantry area.
A pre-hung door is attached to a frame and is handy to install. It comes in numerous designs and sizes, including pantry doors. It is readily available in the marketplace and online.
The door jamb and the hinges are part of the frame. Hence you don't have to worry about securing the hinges to it. Installing the door is pretty simple. You need to fasten the doorframe to the wall before hanging the door.
2. Black Pantry Door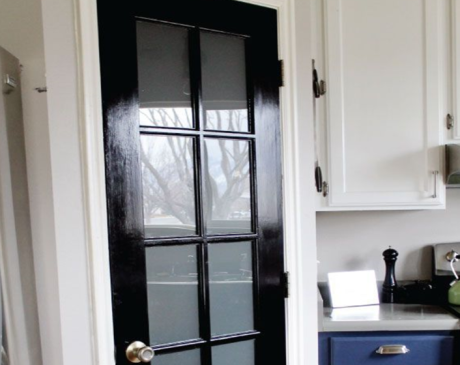 There is a door idea for everyone, whether you adore farmhouse-style pantry openings or prefer something more contemporary. A black pantry door with translucent glass can look very nice and up-to-date. It can give your kitchen a dash of elegance.
Look at the door for inspiration. Polished wood makes this space-saving narrow single door. The ten panels of frosted glass in the door allow plenty of natural light inside the pantry. The golden-hued metal knob looks nice. The elements used for decor are minimal. An in-built white cabinet on one side of the door and the blue color of the cabinet placed under the light-hued countertop are eye-catching.
However, when selecting a door, keep the measurement and layout of your storage area in mind.
3. Uniquely Designed Pantry Door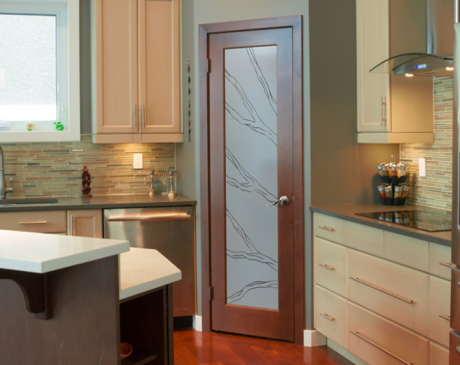 Here's a quick and easy way to jazz up your pantry opening while keeping everything inside it hidden. A pantry door with etched glass augments the look of the room. While etched glass has an appealing resemblance to frosted glass, it places more emphasis on the decorative element. As you can see in this image, the etched glass door has decorative patterns on its surfaces.
The front side displays an exquisite design. The layout of this closet door is versatile due to its narrow cut, distinct accents, and etched glass panel. It can complement any kitchen and larder design.
The brown panel blends in with the room's other soft hues. The mini-lighting arrangements beneath the beige-hued in-built cupboards on the door's sides enhance the glass.
4. Barn-Styled Pantry Door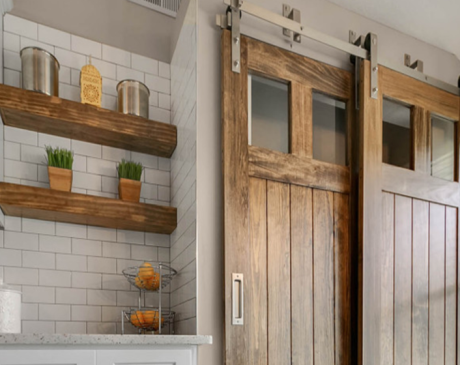 As there are plenty of options, it's not the case to choose between glass pantry doors or none of them. Pantry doors in the barn style are elegant. If you believe it requires more room to fit, you could construct a closet door in a sliding fashion.
Since the sliding doors don't occupy vital kitchen or pantry square footage, they are perfect for smaller areas. You get the ideal combination of both perspectives through these double sliding glass doors because they have frosted glass, which lets light in but reduces exposure.
This sliding barn-styled larder door features full-height glass windows and a timber panel arrangement downward. The design of the pantry door lets light into the dim pantry area. Nevertheless, the sufficiently raised windows keep visitors from looking into your pantry.
5. Comfy Pantry Door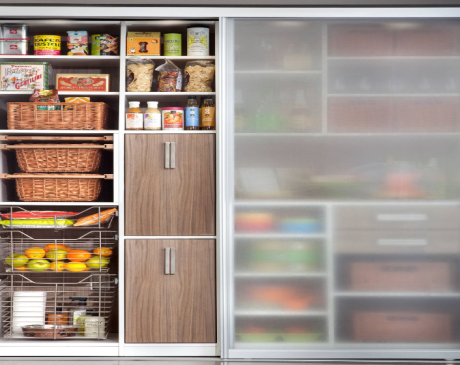 Do you want a super trendy 2023 idea for your closet space? Well, what about an aluminum sliding translucent pantry opening? It looks chic as well as saves space.
In this picture, designers fitted metal-trimmed sliding frosted glass into the frame of this readily accessible pantry. There is only a minimal threshold structure to produce a neat and aesthetic look since this light frame of metal is sturdy and can support a sturdy glass panel.
Therefore, if you want to renovate your cooking space, replace your old pantry doorway with a sliding shed door to give your kitchen a more contemporary feel. Depending on your storage requirements, you can add other functionality like roll-out trays or embedded spice shelves.
6. Wooden Lattice in Pantry Door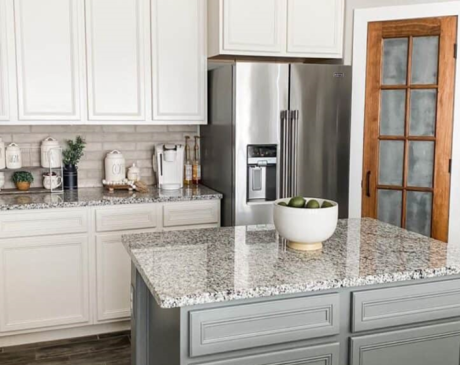 Frosted glass panels look great in a wooden door frame with a lattice pattern. As we see in this pantry door, its brown wooden frame and frosted glass combine well, creating an impressive larder opening. Moreover, the frosting harmonizes with the refrigerator's silvery finish.
The beige-hued cabinets and grey-black countertop lift the charm of the room. You may select from engineered or natural wood frames. Additionally, you can use a time-honored design with top-to-bottom glass panes or a glass panel on top and a wooden panel below.
7. Intriguing Slim Pantry Door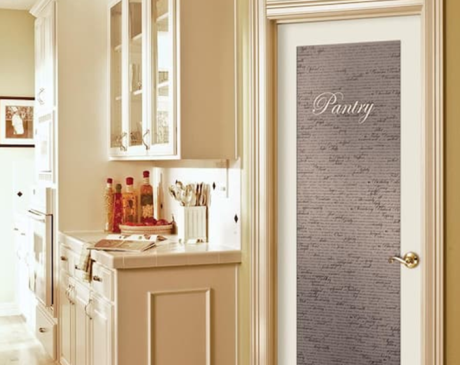 Take advantage of your kitchen's nook to create a narrow pantry door that may open to a large or compact storage area. Your kitchen's seldom-used corner will be the ideal location to design your pantry door, and by selecting a slim door, you can free up space in the entryway.
Slim pantry doors are suitable to keep your cooking space from becoming cramped or disorganized. It can work on other pantry designs as well. The market has plenty of options. Installation is quite simple, and it looks fantastic! The larder door in this picture is intriguing and distinctive. The opening has frosted glass on the inside and an exterior metal screen.
8. Large Pantry Door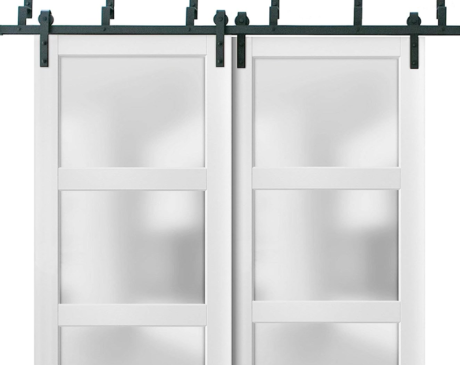 People tend to overlook pantry doors while designing or renovating their dwellings. However, closet doors are essential in storing provisions for homeowners and visitors. Hence they need a proper layout and design to store kitchen essentials uncluttered and hygienically.
The wall-mounted frosted glass door arrangement creates an encoring striking function. Doors open precisely where you desire, owing to the separate motion of the gliding door sections. Fully retractable moving pocket gates have broader entryways for easy access. These sliding doors slide without a glitch and shut softly due to their functional and compact hardware.
9. White Pantry Door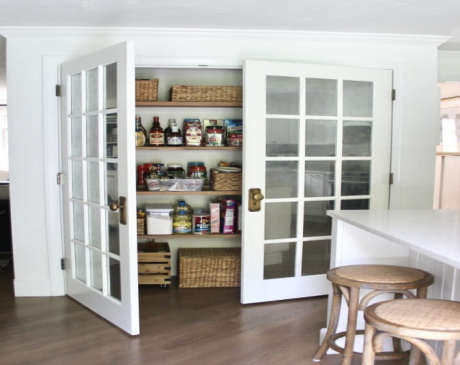 White appeals to many people because it is subtle. Your kitchen zone appears elegant and classic with this color scheme. If you value tranquility and simplicity, you can opt for a white translucent pantry opening.
In this picture, a white pantry door with ground glass panels in a French grid design complements the wooden racks well. It adds the right amount of light and tenderness. White is frequently used in layouts to represent quality, integrity, apart from making a room appear larger. You can also add light contrast to give your space a classic setting.
10. Calligraphed Pantry Door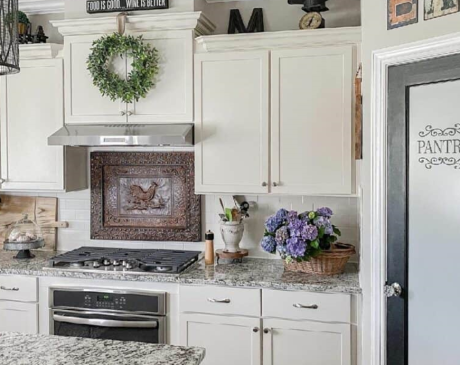 The inscribed word 'pantry' on the frosted glass panel of the pantry door is a noticeable element. You may personalize your expression with black or any vibrant color and add warmth to the décor. It will give your door a new dimension.
The homeowners have applied a unique color scheme to enhance the appeal of their kitchen and pantry space. An off-white countertop with gray and black tiles sits atop these shaker-style kitchen drawers. Next to the drawers is the black-framed pantry door has a crystal knob looks outstanding. Moreover, the flower arrangement in a wicker vase and the engraved copper plate artwork give the room a vibrant texture.
11. Pantry Door with Palm Tree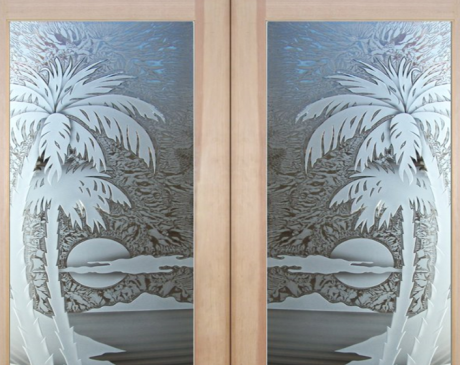 Would you like the pantry door to have a coastal theme? You can create the ambiance with some imagination while blending the texture of the frosted glass. The coastal-themed door is available in the marketplace with multiple designs.
You could choose a ground-glass door resembling the misty waves and spray coming from the sea or the sight of the seashore with rows of palm trees.
As you can see, this door imparts a calming coastal atmosphere by subtly linking the shoreline and giving the room the same feeling. Through the pantry door, the serene beauty of the coast comes to life. The setting sun, the fragments of clouds, and the beauty of nature all rest in the door panel. The beige-hued frame augments the beauty of the larder door.
12. Chocolate Pantry Door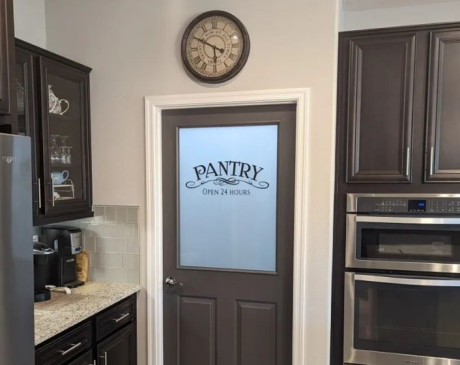 A pantry door with a frosted glass section on the upper half and wood on the lower is a good option for your closet space. It is an excellent strategy to increase solitude while maintaining light exposure. Wooden pantry doors with half-frosted glass are available in many designs and patterns.
Using creativity, you can add aesthetic value to the setting. As you see, the chocolate color played a decisive part in the color scheme. The in-built cabinet on the left side of the door has a transparent glass opening contrasting the etched frosted glass of the door.
Your pantry door can become an attractive spot for your guests. The metallic grips of the door and drawers are tasteful, complementing the interior.
13. Bi-Fold Pantry Door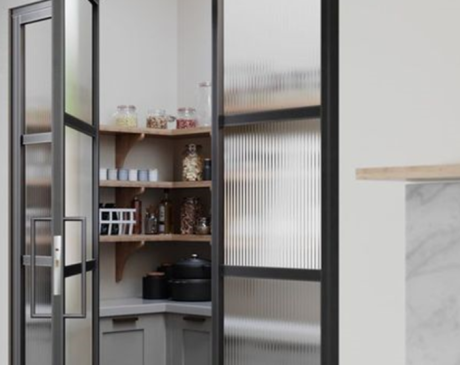 Do you want to capture the atmosphere of your favorite eatery in your closet opening? You can integrate unique architectural concepts into your pantry doors, like the iron and ribbed glass wall and door combo displayed in the image.
A bold element like this gives your pantry space a distinct character. Moreover, this makes it possible stylishly and effectively conceal all your daily essentials stored in your pantry. This pull-out cabinet cleverly utilizes the kitchen's limited space by having space for countertop equipment, pottery, and frequently used condiments.
14. Customized Pantry Door
A personalized pantry door that you design employing a variety of patterns, edges, colors, hardwood, and glass can help you realize the kitchen of your dreams. Do you need some motivation?
The pantry door in this picture gives the kitchen or pantry area a splash of color. The homeowner customized the door with a "ribbon reflection moons design," made with a flat embossed appearance using the sandblasting technique on acid-etched frosted glass.
The alluring design will give your kitchen a fresh new look and inspire you to show off your suaveness with elan.
15. Beige Pantry Door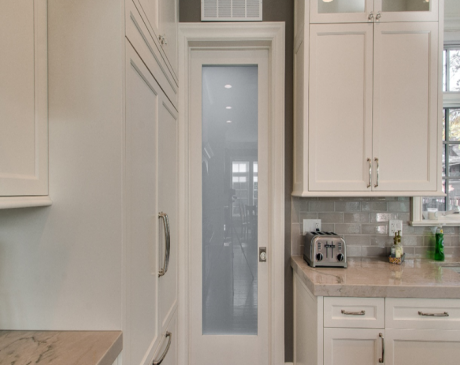 Is your kitchen or pantry space inadequate and in need of renovation? A modest, confined kitchen area will not benefit from dark colors. The pantry door is not an exception to the rule.
Interior experts say soft, lively colors make confined spaces appear spacious. Use light-colored or lightly stained timber for the pantry entrance in an inadequate room. Look at the image for an instance to understand how the soft color affects the layout of a room. The beige-hued translucent door offers an incredible sight. Homeowners used beige for cabinets and drawers. Granite countertops also carry a similar shade.
Pick a subtle color and run your imagination to boost the appeal of your pantry door.
16. Functional Pantry Door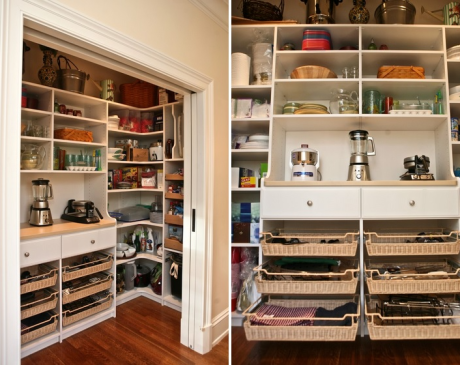 You may need to take an uneasy back step, drag your feet, or make an angle to open the closet door, considering its position so that you can reach the shelves. You want to make some changes to improve the situation. Consider remodeling your door design.
By replacing the single entryway with a double or French door, you can make a significant difference in your cooking area's functionality. Although the pantry has inadequate space, the rustic double door with translucent glass is easy to unlock since the owners don't have to shuffle or angle to open or shut the door.
You can easily open one door at a time. You can easily bring in bulky items like rice, flour, or cornmeal bags due to the double door. Moreover, it allows adequate light to the window-less pantry. The pantry has in-built open cabinets extending to the ceiling; the wooden ladder makes it easy to reach the top rack.
17. Dutch-Styled Pantry Door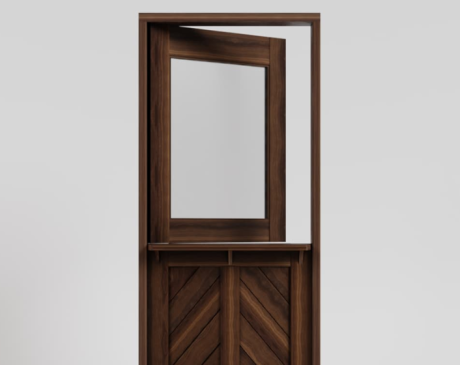 The Dutch-styled pantry door looks distinct and creates a breathable atmosphere. The lower section has a solid wooden build-up, while the upper section has a frosted glass window. It is similar to a half-glass pantry door, but the glass pane on top can open separately while the bottom wooded panel remains closed, giving it a Dutch-style appearance. The closet door's wooden structure looks vibrant with its neatly arranged geometrical pattern.
You can choose glass kitchen pantry doors to add style and elegance to your interior while creating a functional pantry area. This Dutch door gives any kitchen space an instant wow factor due to its solid wood construction and insulated glass.
18. Aesthetic Pantry Door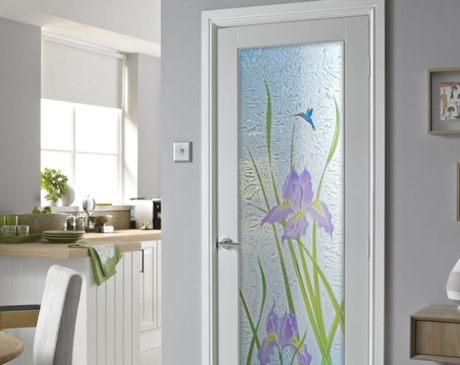 The frosted glass designs can transform regular glass into works of creativity. They give your home a luxurious feel while at the same time granting you the level of privacy you require.
The 3D etched glass design is a functional art that spreads light and reduces glare while boosting the appearance of your dwelling with a distinctive, visually appealing, personalized design.
Conclusion
We hope that this article will boost your confidence to add a frosted glass pantry door to your house and the motivation to make something authentic and practical. A stylish, classy pantry door can make your cooking experience hassle-free.
Not only do they have a lovely appearance, but they also provide privacy and conceal the groceries in your pantry. Your interior design can change with diverse contemporary glass pantry door ideas and the space you have.
We are excited to know your thoughts. Please share your experience in the comment box.