20 Must-Have Evergreen Ground Cover Plants for Your Garden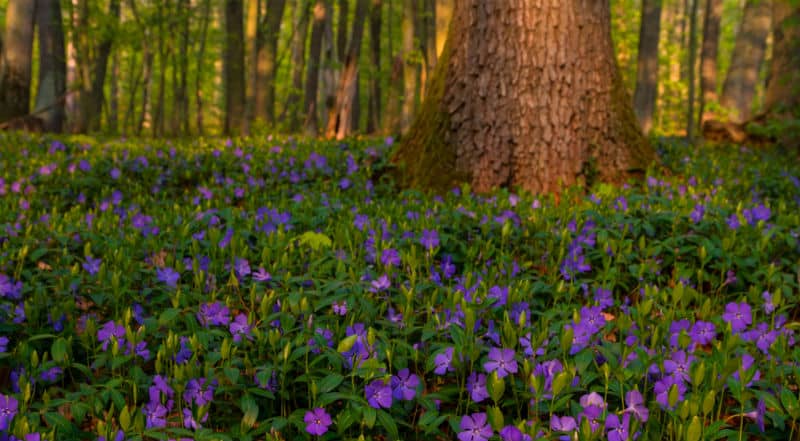 Evergreen ground cover plants are a great way to add color, texture, and interest to your garden all year round. Growing ground cover plants help suppress weeds, prevent soil erosion, and reduce maintenance.
From filling gaps in your borders, covering slopes or banks, or creating a living carpet under shrubs and trees, there is an evergreen ground cover plant to suit your preference and budget.
In this article, you are going to explore some of the best evergreen ground coverplants for your home garden and give tips on how to grow them successfully.
Evergreen Cover Plants for Your Garden
1. Aubrieta
Aubrieta brightens up your garden with a burst of color in spring. The perennial plant produces masses of purple, pink, or white flowers that cover the ground like a carpet.
The evergreen ground cover plant, Aubrieta is ideal for rockeries, slopes, walls, and borders, where it can cascade over the edges to create a stunning effect.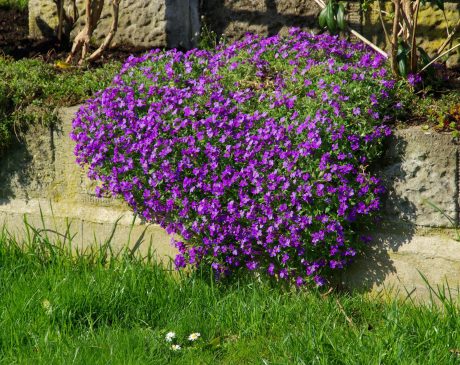 The perennial plant is drought tolerant and prefers full sun, so it can cope with dry and sunny conditions. You needn't worry about the maintenance of the plant because it's easy to grow and maintain as it doesn't need much pruning or feeding. Add charm and beauty to your garden by planting the Aubrieta plant.
2. Forget-Me-Nots
As the name speaks for itself, Forget-Me-Nots symbolizes true love and remembrance and add a touch of romance and nostalgia to the garden.
These delicate and charming flowers are a delight to see during late spring. If you're blue, pink, or white, then these ground cover plants can add beauty to your garden to your liking.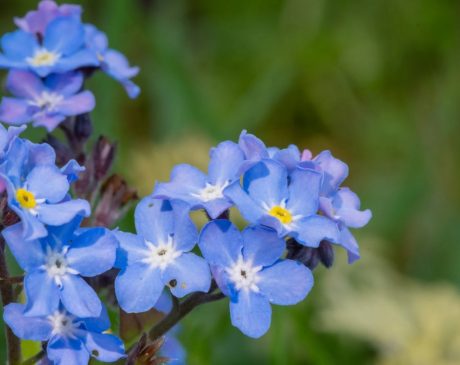 Forget-Me-Nots are perfect for edging paths and patios or as a backdrop for taller bulbs and shrubs.
These plants grow easily from seeds, and the self-seeds are readily available in the market. They grow well in shaded or partly shaded spots, where they can thrive in moist soil.
3. Creeping Phlox
Third on the list comes the star performer in the garden, as it forms a mat of evergreen foliage and star-shaped flowers in shades of pink, purple, white, and red. Creeping Phlox blooms from April to June and is known to attract butterflies and bees with its nectar rich flowers.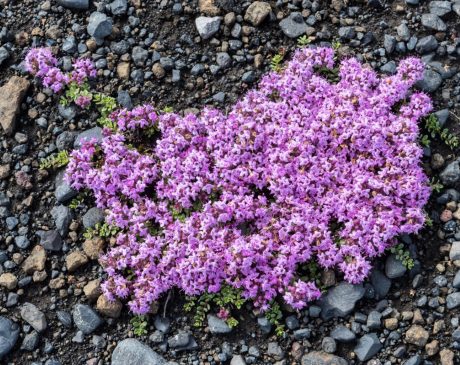 The plant requires full sun and well-drained soil to flourish. From rockers, borders, and slopes, Creeping Phlox is a beautiful plant adding some color and texture.
4. Flower Carpet Roses
Don't let the term Rose make you believe it's the actual Rose flower plant. As the full name suggests, Flower Carpet Rose is grown as ground cover, creating a carpet of flowers as the name suggests.
The carpet rose plant has semi-double flowers and semi-evergreen foliage that provides interest throughout the year. They come in various colors, such as white, coral, pink, and red, so you can choose the one that suits your style.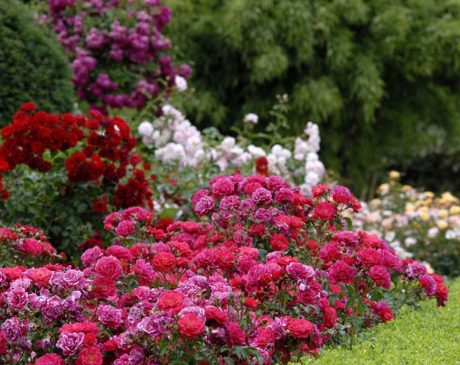 You can use this ground cover plant to cover your slope or front of a border, where they can add some elegance and fragrance to your garden. The plant requires a sheltered, sunny spot and well-drained soil to thrive.
Flower Carpet Roses are known for their low-maintenance nature; as a bonus point, this plant is disease resistant, making them ideal for busy gardeners.
5. Bellflower
Look No Further if You Are a Fan of Bell-Shaped Flowers that Bloom in Blue, Purple, Pink, or White that Can Look Lovely in Your Garden. This Ground Cover Plant Is Best to Fill Gaps in Borders, Under Shrubs and Roses, or On Walls and Banks.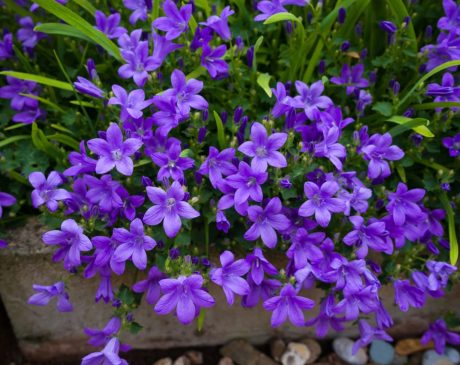 Bellflower Flowers from Late Spring to Early Autumn and Attracts Pollinators with Its Nectar-Filled Flowers. The Bell Shaped Flower Prefers Sun or Partial Shade and Moist Soil to Row Well,
This Versatile Plant Can Suit Different Styles of Planting, from Cottage Gardens to More Contemporary Schemes.
6. Oregano
If Your Choice of Evergreen Ground Cover Plant Is Edible, Aromatic, yet Ornamental, Then Oregano Is the Best Choice. The Herbaceous Plant Has Green Leaves and Clusters of Pink or Purple Flowers in Summer that Can Be Used to Flavour Dishes or Make Herbal Teas.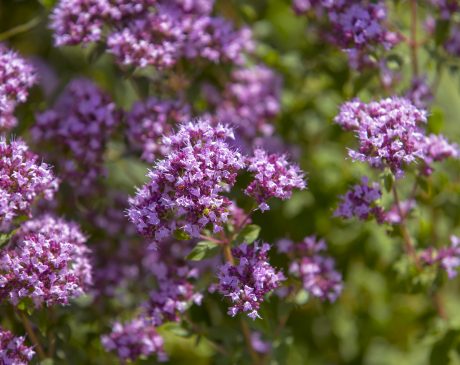 Oregano is Best for Covering Bare Soil, Edging Paths, or Growing in Containers. The Herbaceous Ground Cover Plant Likes Sun and Well-Drained Soil for Its Growth.
This Ground Cover Plant Also Best Suits Wildlife Gardens, as It Attracts Bees and Butterflies with Its Aromatic Flowers.
7. Lamb's Ears
Lamb's Ears is a Fuzzy Plant with Silver-Grey Leaves and Spikes of Purple Flowers in Summer that Add Some Softness and Texture to Your Garden.
This Ground Cover Plant Is Very Soft to the Touch and Can Be Used to Create Contrast with Other Plants You're Growing. The Plant Is Good for Borders, Rockeries, and Containers, Where It Can Provide a Contrast Look and Colour.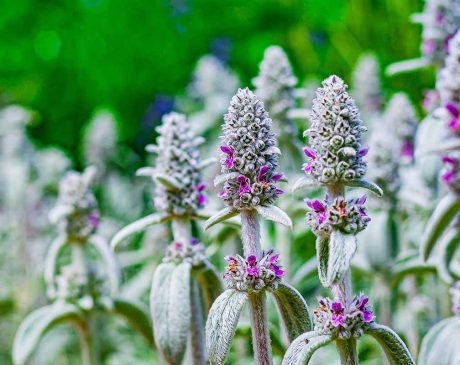 Lamb's Ears Ground Cover Plant Is Drought-Tolerant and Needs Sun and Dry Soil to Grow. This Plant Even Suits Wildlife Gardens, as It Also Serves as a Shelter and Food for Insects and Birds.
8. Hebe Pinguifolia
Hebe Pingufolia is a Shrubby Plant with Evergreen Leaves and White or Pink Flowers. This Groundcover Plant Blooms During Summer and Requires Very Less to Zero Maintenance. The Plant Is Also Known as Veronica Pinguifolia.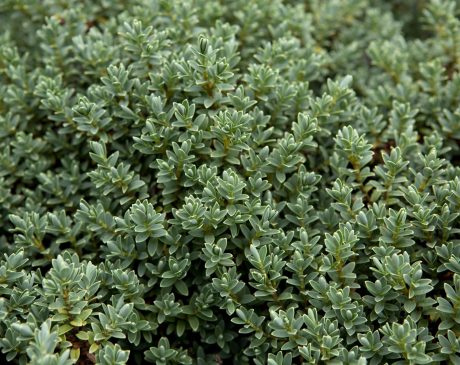 Hebe Pinguifolia Can Be Used to Cover Large Areas, Such as Slopes or Banks. The Plant Either Requires Full Sun or Partial Shade and Moist Soil to Grow. If You're Living in Cold Areas, This Plant Serves Well. Because Hebe Pinguifolia Is a Hardy Plant Which Can Cope Even with Windy and Cold Conditions. This Versatile Plant Can Be a Lovely Addition to Your Garden All Year Long, Regardless of The Climatic Conditions.
9. Vinca Minor
Vinca Minor flowers During Spring with Glossy Green Leaves and Star-Shaped Blue Flowers, Creating Stunning Effects in The Garden. the Ground Cover Plant Can Be Used to Cover Shady Areas Like Under Trees or Shrubs.
Vinca Minor Is the Scientific Name for Creeping Myrtle.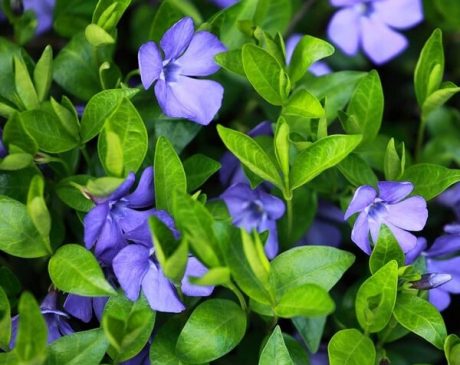 Vinca Minor Serves as an Excellent Ground Cover Choice if You're Looking to Prevent Soil Erosion on Slopes. Though the Plant Adds Looks and Prevents Soil Erosion, It Comes with a Catch; Vinca Minor Spreads Quickly and Can Be Invasive, so It Needs to Be Controlled by Pruning or Removing Unwanted Shoots.
However, This Is a Resilient Plant that Can Tolerate Poor Soil and Dry Conditions.
10. Bergenias
Bergenias is a Clump-Forming Plant with Large; Leathery Leaves that Turn Red or Purple in Winter, Adding Colour and Drama to The Garden. the Ground Cover Plant Has Spikes of Pink or White Flowers in Spring that Contrast Nicely with The Foliage.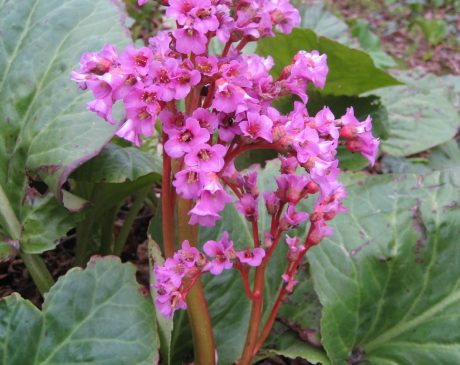 The Plant Is Evergreen and Can Be Used to Cover the Ground Under Shrubs or Horses or Along Paths and Borders. The Plant Grows in Sun or Shade and a Moist Soil to Grow Well. Bergenias, Being a Tough Plant, Can Easily Withstand Frost and Drought.
11. Creeping Thyme
Creeping Thyme is a Fragment and Edible Herb by Nature, Which Can Also Be Used as a Ground Cover. The Ground cover Plant Has Small Green Leaves and Tiny Pink or Purple Flowers in Summer, Attracting Bees and Butterflies.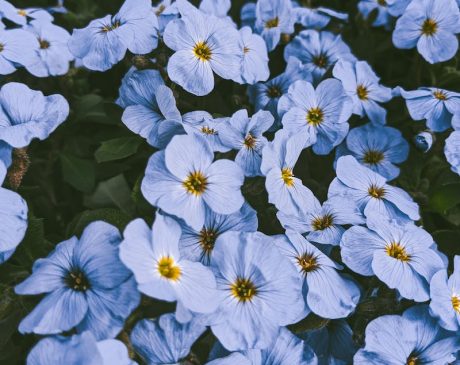 You Can Grow Creeping Thyme for Rockeries, Paths, Borders, and Containers to Create a Carpet of Colour and Scent. The Plant Requires Sun and Well-Drained Soil for Its Growth.
Being a Drought-Tolerant Groundcover Plant, Creeping Thyme Is Also a Low-Maintenance Plant that Oesn;t Need Much Pruning or Feeding.
12. English Ivy
English Ivy is a Climbing and Training Plant that Can Cover Large Areas with Its Evergreen Foliage. The Evergreen Cover Plant Has Dark Green Leaves that Can Be Variegated or Lobed and Small Greenish Flowers in Autumn that Are Followed by BlackBerries.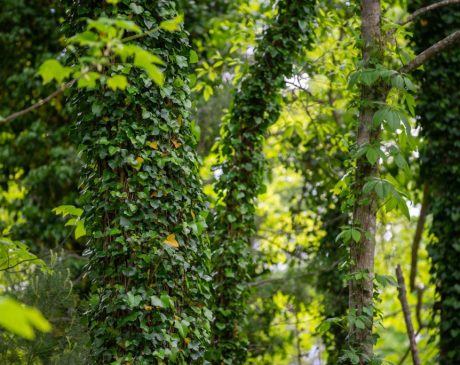 English Ivy Is Good for Covering Walls, Fences, Trees, and Shady Spots, Where It Can Provide Some Wildlife Value. The Cover Plant Helps with Soil Erosion and Air Quality.
English Ivy Needs a Shaded Area or Partial Shaded and Moist Soil to Grow. This Is One of The Invasive Vigorous Plants; It Needs to Be Controlled by Pruning or Removing Unwanted Shoots.
13. Japanese Spurge
As the Name Speaks for Itself, Japanese Spurge is a Well Known Ground Cover Plant in Japan, Even in China. The Plant Has the Ability to Form Dense Mats of Green Foliage to Give Your Garden a Luscious Look.
The Plant Has Glossy and Dark Green Leaves with Upright Spikes of White Flowers, Adding a Touch of Elegance to The Plant. This Ground Cover Plant Is Highly Adaptable and Can Thrive in Diverse Growing Conditions.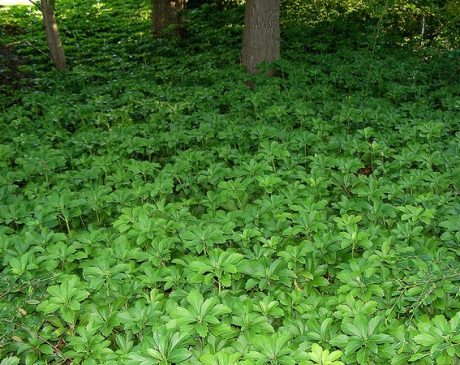 The Plant Requires Shade to Grow. However, It Can Take Some Sun During Sunny Weather Conditions. The Plant Covers Large Areas Under Trees or In Shady Green Beds Where Many Cover Plants Might Find It Difficult to Grow.
The Plant Has a Nature to Outcompete Native Plants. Hence It Is Required to Take Care of Its Growth and Look for Its Invasion Plant Shoots.
14. Black Mondo Grass
An Ornamental Grass that Has Black-Purple Leaves and Purple Flowers that Grows in Summer Is Black Mondo Grass. The Groundcover Plant Would Look Like a Blast in Your Garden when Paired with Lighter Colour Other Ground Cover Plants.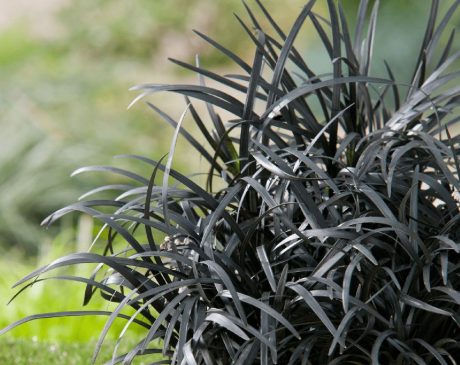 The Plant Needs Sun or Partial Shade and Moist Soil to Grow. Since Black Mondo Grass Is a Slow-Growing Plant, It Doesn't Need Much Pruning or Feeding.
15. Angeline Stonecrop
This Plant Is a Succulent Plant that Has Needle-Like Green Leaves that Turn Orange-Red in Winter. It Also Has Yellow Flowers in Summer that Attract Bees and Butterflies. It's Good for Rockeries, Walls, Borders, and Containers, Where It Can Add Some Texture and Colour.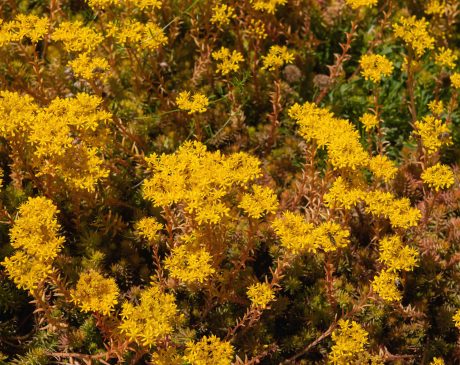 It's Drought Tolerant and Needs Full Sun and Well-Drained Soil to Grow Well. Angelina Stonecrop is Also a Low-Maintenance Plant that Doesn't Need Much Pruning or Feeding.
16. Spotted Dead Nettle
It's a Perennial Ground Cover Plant that Has Silver-Spotted Green Leaves and Pink, Purple, or White Flowers in Spring and Summer. Spotted Dead Nettle is a Known Ground Cover Plant for Weed Suppression and Moisture Retention.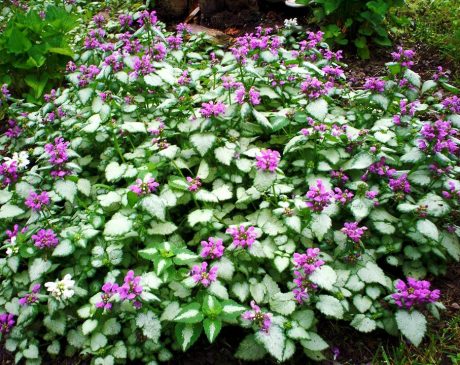 This Ground Cover Plant Doesn't Require More Maintenance Like Pruning or Feeding. Spotted Dead Nettle Does a Good Amount of Coverage of Shady Areas, Such as Under Trees or Shrubs, Brightening up The Space with Foliage and Flowers.
17. Dianthus Deltoides
Dianthus Deltoides is a Perennial Plant with Narrow, Greyish Green Leaves and Pink or Red Flowers with White Edges in Summer. the Evergreen Ground Cover Plant Is Also Known as Wild Pink or Maiden Pink.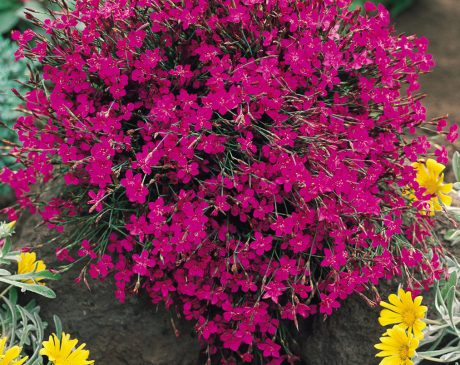 Dianthus Deltoides Flowers During the Summer Months of June to August. Their Flowers Attract Bees and Butterflies Too. This Plant Is Easy to Care for And Can Thrive Well Even with Minimal Watering and Tolerate Dry Conditions.
18. Nasturtium
The Annual Plant with Round Green Leaves and Bright Orange, Yellow or Red Flowers in Summer. Nasturtium is Also an Edible Plant that Can Add Mouthwatering Flavour and Colour to Your Salads and Dishes.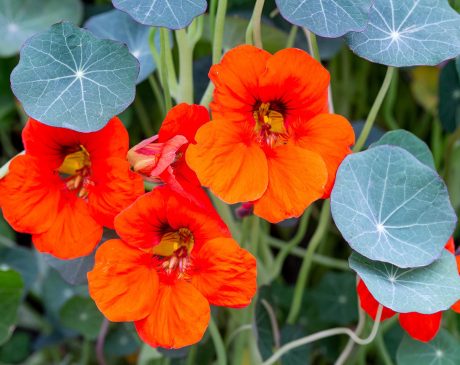 The Nasturtium Flowers Are Nectar-Rich, Attracting Bees and Butterflies. The Ground Cover Plant Is Known for Its Fast Growth Phase that Also Produces Self-Seeds.
The Flowers Grow in Partial Shade and Moist Soil Over Walls or In Containers.
19. Sedums
Sedums are Kind Succulent Plants with Fleshy Leaves and Star-Shaped Flowers in Various Colours, Such as Yellow, Pink, Red, or White. Sedums Are a Diverse and Versatile Genus of Plants with Different Growth Habits. Some Sedums Are Low-Growing and Form Dense Mats, While Others Are Upright or Trailing Habits.
Sedums Grow in Part Shade and Moist Soil, Including Sandy and Rocky Soils. If Your Garden Has Poor Soil Quality, They Grow Sedums Along with Other Plants to Give the Rock Garden a Better Look.
20. Common Bulge
Well Known Scientifically as Ajuga Reptans, it Has Oval-Shaped, Dark Green, and a Glossy Texture. They Often Grow in a Rosette Pattern at The Base of The Plant.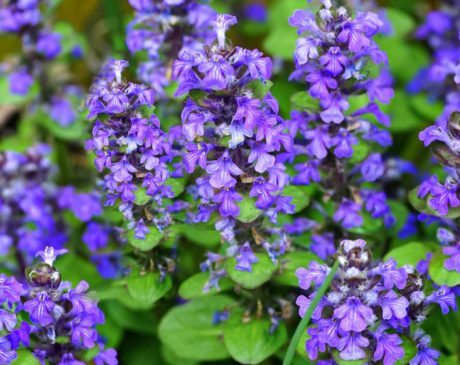 The Common Bulges are Small, Tubular Flowers that Can Also Be in Pink, Purple, or White, Based on The Cultivar. The Flowers Often Grow on Upright Spikes During the Summer Season.
When Newly Planted, the Common Bulge Requires Regular Watering; However, the Plant Can Thrive Even in Dry Spells.
Conclusion
From Classic Choices Like Vinca Minor and Japanese Spurge to Lesser Known Gems Like Sedums and Common Bulge, the Above Mentioned 20 Evergreen Cover Plants Offer a Multitude of Benefits.
All the Discussed Plants Are Adaptable to Different Growing Conditions, Including Shade, Sun, and Various Soil Types, Making Them a Versatile Option for a Range of Garden Settings. Furthermore, Evergreen Cover Plants Are Low-Maintenance in Nature Which Makes Them Perfect for Busy Gardeners Who Want to Enjoy a Lush and Vibrant Garden with Constant Upkeep.
Embrace the benefits of evergreen ground cover plants and watch your garden flourish with year-round charm. Happy Gardening!