22 Inexpensive Desert Landscaping Ideas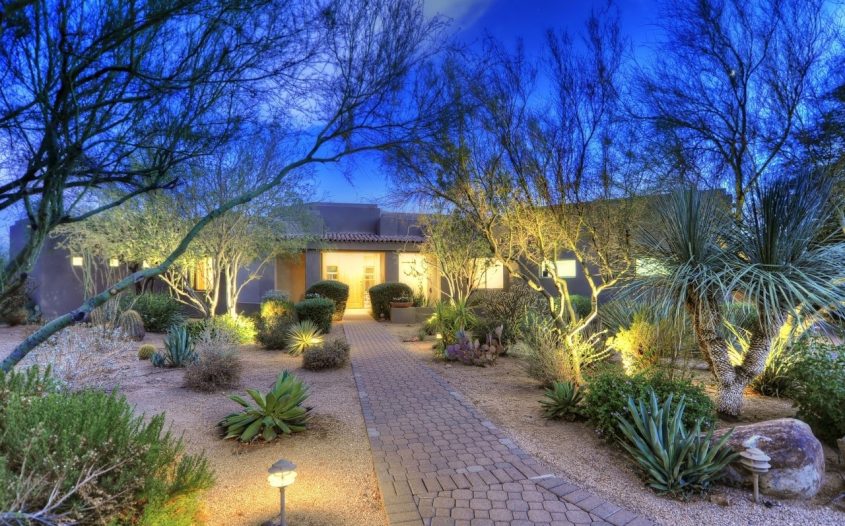 Why should a garden always have to be green and lush to look beautiful? The distinct desert color palette: golden sand to gray rock formations, subtle green succulents to cool blue and purple leaves, makes desert landscaping a very intriguing and illuminating spot in your home.
In this blog, we will talk you through some budget-friendly desert landscaping ideas tailored especially for those who live in drought areas. In a place where water is precious, drought-tolerant plants thrive against all odds to make your garden beautiful and sophisticated.
From colorful native wildflowers to ornamental plants, we will introduce you to beautiful plants and trees that can survive with fewer resources.
Get ready to be inspired!
Desert Landscaping Ideas for a Drought-Tolerant Garden
1. Cactus and Succulent Desert Landscape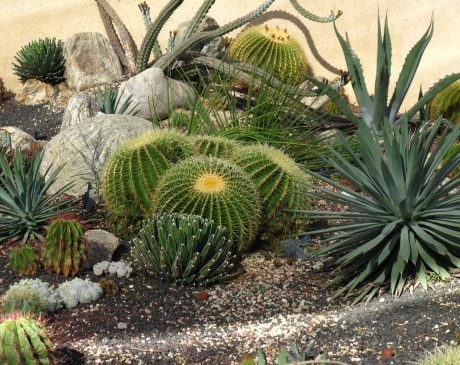 Are you someone who loves plants and lives in dry regions? Then Cactus and Succulent Desert Landscaping is the perfect choice for your garden. They are well-known as Drought- tolerant plants which can survive with less water and minimum maintenance. Here's how you can create a desert landscape using cacti and succulents.
Choose the right plant – There are a wide range of cactus and succulents that you can choose from. The most popular choices are Barrel Cactus, Prickly cactus, Hedgehog cactus, Aloe Vera, Jade plant, sedum, etc.
Choose the right location – Cactus and succulents need full sun and well-drained soil, so choose a location in your yard that gets at least 6 hours of direct sunlight.
Plan the patterns – This is where your imagination comes into the picture; design a layout with the desired patterns, considering the size, shape, and color variations. You can choose gravel, pebbles, rocks, or sculptures as decorative elements.
Planting & Landscaping – Plant the cacti and succulents according to your design and install the hardscape features like pathways and borders using stones, rocks, bricks, and pebbles; you can even add yellow lights to enhance the overall aesthetics of the garden at night.
Though drought-tolerant plants need little maintenance, do not forget to water at least once a week and mulch.
2. Dry Creek Bed Landscaping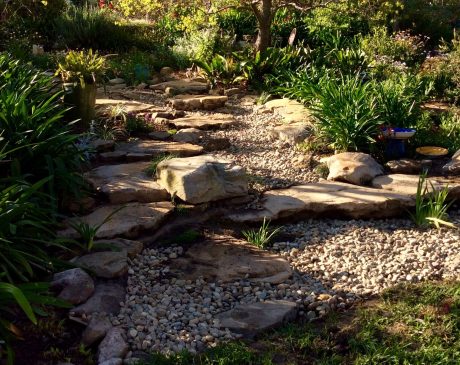 Dry Creek bed is a unique landscaping technique in arid regions, which creates an illusion of dry riverbeds or creeks with features like stones, boulders, gravel, and very few plants. Here are the steps to build a Dry Creek Bed in your garden.
Choose the layout – After choosing the location, choose the layout you want to build. It is suggested to choose a curvy path to create a rustic and aesthetic look to the garden.
Preparing the land: Mark the trench and dig the soil to a depth of 12 inches; you can even make a downward slope while excavating the trench.
Landscaping – Add landscape fiber along the trench. Usually, landscape fiber is environmentally friendly and can last up to 30 years. It helps in preventing weed growth and water retention and keeps the soil warm. Fill the trench with gravel and sand, place boulders along the edge of the layout, and add some native plants to add texture and color to the plot. Add small stones and large stones alongside the outer layer and fill in the extra space with river stones, pebbles, and gravel and trim the extra fabric.
You can add plants of your choice, and a creek bed with a slope is of great use in the rainy season to retain water.
3. Drought Tolerant Flowering Perennial Landscape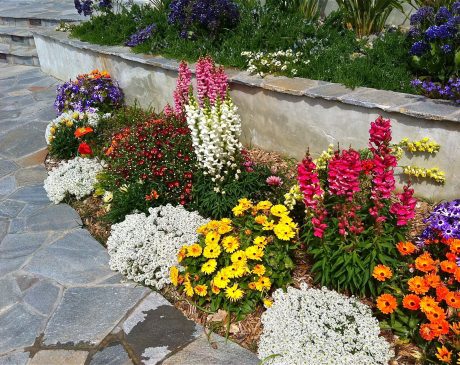 Nothing can beat the vibrant colors of flowers, and the wildlife (bees, butterflies, etc.) attracted by these flowers makes the garden livelier. There are many Drought- Tolerant Flowering plants that you can choose from. These perennial flowering plants are easy to plant and maintain, but one should be careful and well-informed while selecting plants for the garden.
Choose the plants– The popular choices are lavender, Kniphofia, Yarrow, Verbena, Santa Barbara Daisy, etc. It is important to choose native plants and plants that are suitable to the growing conditions in your region.
Prepare the land – Drought-tolerant perennials are hardy plants; they can produce more with fewer resources. Make sure the land is free from weeds and stones before fertilizing.
Landscaping & Planting – Plant the perennials in groups or in a desired color pattern and mulch with pebbles, pea gravel, organic matter, etc., to help the plants retain water.
4. Artificial Turf Desert Landscaping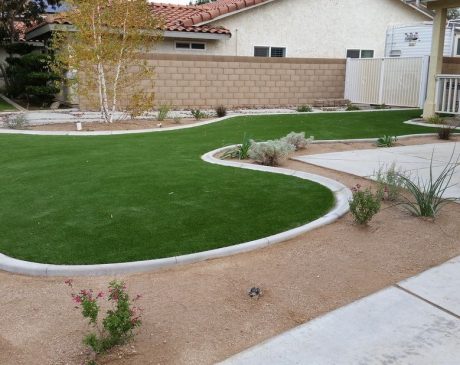 Artificial turf is a synthetic fiber surface that looks like natural grass, which is commonly used in landscaping. It is installed on various surfaces like sports fields, lawns, and commercial landscaping. Artificial Turf doesn't need any maintenance while giving a year-round green appearance, but the installation process needs little patience. Here is a step-by-step process to create Artificial turf desert landscaping.
Prepare the land – Clean up the weeds and level the location.
Landscaping – Create a 2 -3 ft. wide border around the garden and fill it with soft rocks, pebbles, and river rocks; it is recommended to add succulents or native flowering plants for a colorful look in the garden. Install artificial turf in the remaining area; you can also add a seating area or an entertainment area to make it livelier.
Artificial turf retains heat, making it uncomfortable to walk and play on in high-temperature areas. There are some artificial turf products available in the market which use heat-reducing material.
5. Colorful Drought Tolerant Plants Landscaping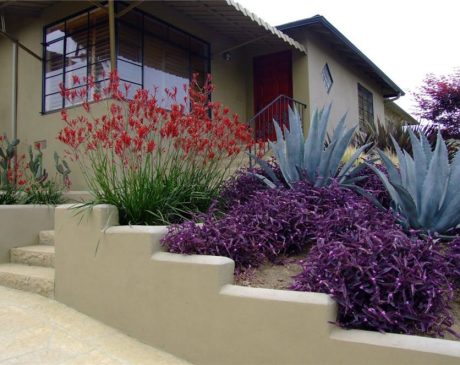 It's not just the flowers; even vibrant leaves can make the garden cheerful.
Choose the plants – There are many succulents with colorful foliage that make your garden look beautiful. You can either plant them in pots or directly in the soil.
Landscaping & Planting – Plant the succulents alongside the pathway to give texture to the garden, and add rocks and stones as mulch. Succulents like Echeveria, Black Rose Aeonium, Bora, Debbie, Mangave, Mystique, etc., create an attractive garden at any time of the year.
You can also add features like borders with red and gray bricks and colorful ornamental plants like purple fountain grass, switchgrass, etc.
6. Native Wildflower Landscape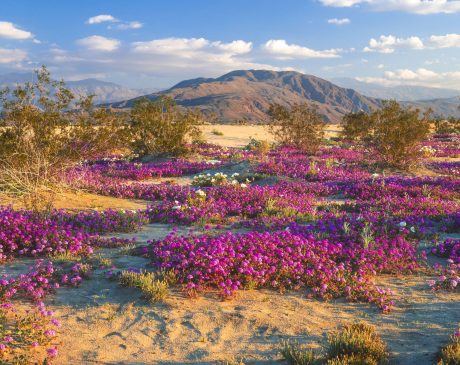 Native-grown wildflowers are a perfect way to improve the aesthetics of your garden by attracting pollinators. Wildflowers come in a variety of colors, sizes, and shapes, which can be easily grown and maintained with less water.
Choose a layout – Create a desired pattern, either a small, fenced zone or a border pathway.
Planting & Landscaping – Add wildflower plants of your choice in the desired locations. To improve the look, mulch with soft gravel, pebbles, etc.
7. Vegetable Beds for Landscaping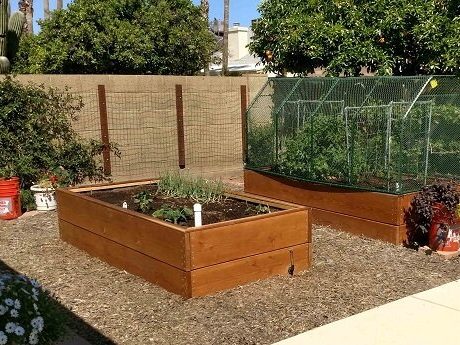 Raising vegetable beds in desert gardens not just improves the beauty of the garden but also improves the quality of the soil and reduces soil erosion caused due to strong winds. All you need is wood, soil, and plants of your choice. Here's how you can create Vegetable beds in your garden.
Prepare the area – Choose a location that receives adequate sunlight. Clear the area and determine the size and shape of the beds.
Prepare the beds – Once you mark the bed, install edges and borders using wood, stones, bricks, or even plastic. But it is recommended to use wood or stones. Fill in the beds with soil and set the soil using fertilizers and organic matter.
Planting & Landscaping – Choose drought-tolerant vegetable plants like Peppers, Eggplant, Cabbage, Okra, some varieties of tomatoes, Zucchini, Kale, Swiss Chard, and some herbs like rosemary, sage, and oregano, which are naturally drought-tolerant and can survive in fewer water conditions. Mulch uses organic matter and stones to retain water and add texture to the bed.
Enjoy your own produce while saving water.
8. Desert Landscape with Seating Place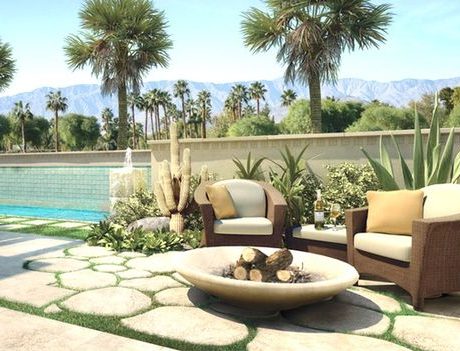 Create a serene and welcoming outdoor space by just adding a small seating area in the garden. To make this place more aesthetic and comfortable, add features like umbrellas, shade sails, and a canopy, or you can install a trellis with vines for additional shade.
Choose the layout – You can start by paving pathways and covering the edges and layout for small plants and rocks.
Planting – Choose plants that well suites your
Landscaping – Add a seating area or a fire pit surrounded by benches; it is recommended to opt for furniture that is drought resistant; go for teak wood, iron, and rust-resistant chairs and tables.
If you love to be surrounded by greenery, you can add artificial turf along with flowering plants around the seating area.
9. Pergola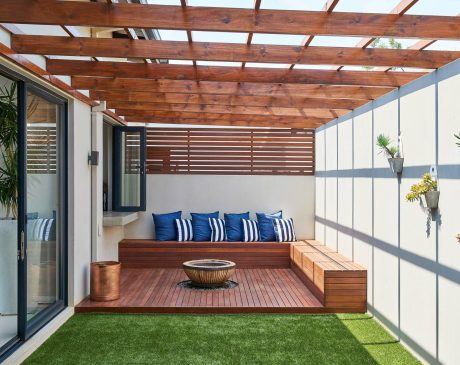 Pergola is an outdoor gardening feature that provides shade in pathways, seating areas, and patios. Pergola is built on posts and covered with vertical beams; you can choose the material depending on your budget and region.
To build a pergola, you need plywood, hardwood, metal, beams, rafters, and wood glue. You can either seek help from a contractor, or you can do it by yourself. Here's a step-by-step process to construct a pergola.
Choose the location- Consider factors like sun exposure, wind, and existing features in the garden.
Prepare the area – Clean the surface and gather the tools you need. Determine the size of the pergola and measure the surface to install the posts.
Landscaping – Dig at least 2 ft depth and width enough to accommodate the posts. After installing the posts, fill it with a concrete mix. Once the posts are strong enough, place the rafters and horizontal beams as cover. You can add additional features like plants, vines, lights, etc.
Now that the pergola is built make this a nice seating area or a lounge area to make it cozier and more comfortable; add a small fire pit.
10. Make Arid Trees Stand Tall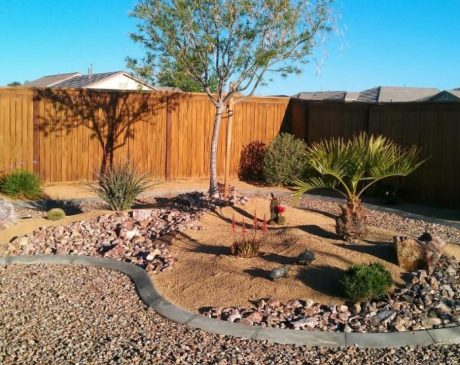 Arid trees give aesthetic desert vibes to your garden. Arid trees are those that are grown in desert areas with no or very less water and yet stand tall. If you are someone who loves minimal yet elegant landscaping, then planting arid trees is the right option for you.
Choose the plants -You can opt for flowering or non-flowering plants that can thrive in dry desert conditions. There are a variety of arid trees that are suitable for desert gardens.
Choose the layout – Choose a location considering sunlight and the layout of the garden. Choose a corner spot or in the middle of the garden, which makes the trees stand out.
Landscaping – Arid trees, along with gravel, stones, and small succulents, make the garden look aesthetically simple.
11. Drought-Tolerant Grass Landscape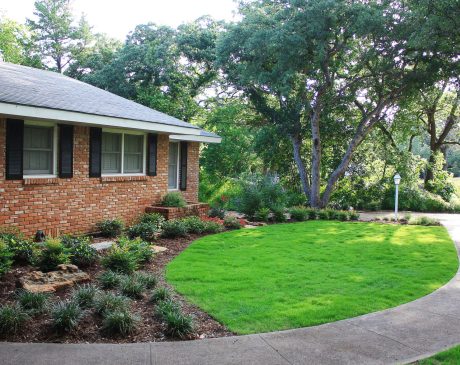 Do you love lush green gardens in the desert and dry conditions? Then you should have a look at drought-tolerant grass gardens. Grass gardening is all about selecting the right grass species and utilizing the space wisely. Here's how you can create a drought-tolerant grass landscape.
Choose the location – It is recommended to design a layout that includes pathways, borders, and small plants.
Choose the plants – Research local grass species that are suitable for your needs; the most common choices are buffalo grass, blue grama grass, and Bermuda grass.
Prepare the soil – As desert soil lacks the organic matter and the fertility required for the plants to grow healthily.
Planting – It is advised to plant the grass with proper spacing to avoid overcrowding and to ensure air circulation. Ensure regular maintenance and cutting the grass to the desired height but avoid cutting the grass too short.
Landscaping – To improve the look of the grass garden, add stones, bricks, and gravel as borders. You can also add features like a small fire pit and large arid plants mulched with stones and pebbles in the middle of the grass lawn.
12. Ornamental Plants Landscape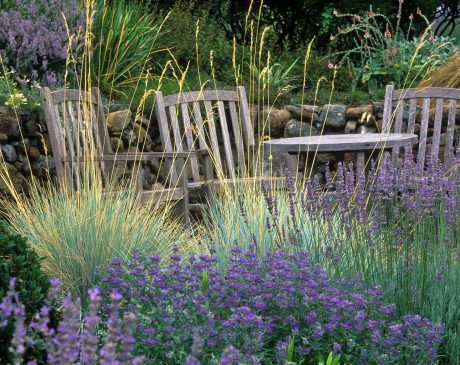 Ornamental grass landscapes add interest and texture to the garden without disturbing the existing features.
Choose the plant – Ornamental grass comes in different colors, shapes, sizes, and textures; the key to a beautiful and colorful garden is choosing the right grass variety. The distinct & colorful characteristic of ornamental grass is the colorful foliage.
Landscaping – Ornamental grass can be used as borders for pathways and can also be used as a special feature in creek beds, gravel beds, and water fountains if you are someone who loves to create an eco-friendly and sustainable garden that helps other living beings like bees, butterflies, hummingbirds, and other small insects.
13. Landscape with Multiple Entertainment Areas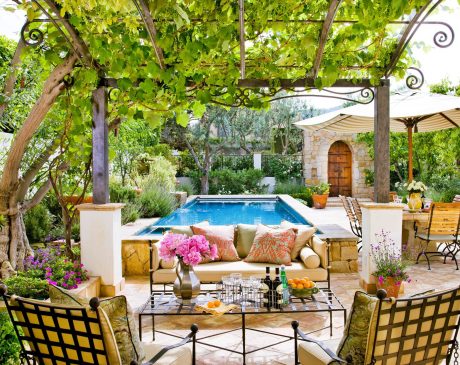 Enhance your garden with multiple entertainment areas to spend quality time with your friends and family.
Landscaping – You can add features like a comfortable seating area in the garden, a cozy firepit, yellow lights that illuminate a rustic vibe, and a small pool. Fill the remaining area with gravel, small drought-tolerant plants, and a couple of large arid trees.
Choose the Layout – Designing a layout that has the perfect composure of pathways, plants, and a pool (if possible) makes an ideal option to lounge and spend quality time with family together.
If you have any extra space, you can install an outdoor barbeque area!
14. Minimalistic Desert Landscape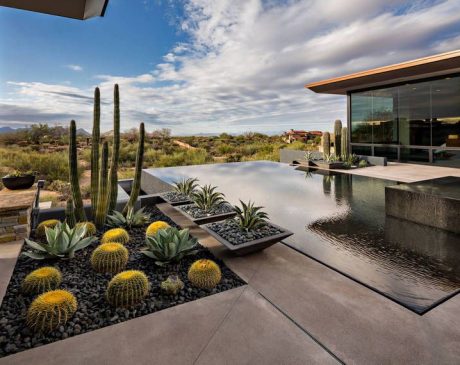 If you have a small garden, then go with minimal landscaping with just boulders, Cactus, and succulents to create a serene, low-maintenance look.
Choose the layout – Determine a layout that is simple and has clean border lines. Consider small defined spaces.
Choose the plants – Choose desert-friendly plants that are low maintenance, like cactus, succulents, agave, yucca, etc.
Landscaping – Incorporate boulders and rocks for minimal hardscaping; if you have a large garden, then you can choose stone pathways with seating areas, water pools, firepits, etc. Plant the chosen plants as borders, alongside the pathways, or in the small defined plots. Focus on earthy colors and minimal decors like sleek sculptures and yellow lights for rustic desert appeal.
Mulch the plants with pebbles and pea gravel to create texture for the garden.
15. Cactus Valley Landscaping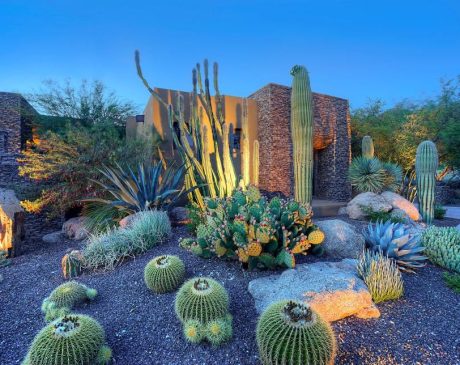 Cactus is the most common drought-tolerant plant that can be grown and maintained easily. A garden full of varieties of cacti not just adds texture but also an exotic touch to the garden.
Choose the plants – Add a large cactus-like Saguaro Cactus, Candelabra cactus, organic pipe cactus, and other small cactus-like golden barrel cactus, columnar cactus, etc.
Landscaping – You can add boulders along with some small ground cover flowering plants and mulch the area with pea gravel or pebbles.
16. Potted Garden Landscaping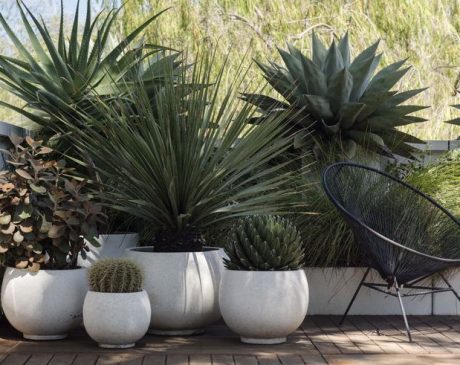 Desert soil is notoriously hard to dig in and lacks nutrients. If you are someone who does not want to put in much effort and time, then opt for a potted garden.
Choose the plants – You can choose from a wide variety of drought-tolerant plants that can grow easily in pots. To maintain an aesthetically pleasing desert environment, go for Aloe vera, Agave, barrel cactus, etc.
Choose the location – For a potted plant landscape, it's the right corner that enhances the beauty of the garden.
Landscaping – Plant the selected plants and mulch with organic matter, pea gravel, or pebbles. For an aesthetic and modern look, you can paint the pots with your choice of colors or murals.
It would be great if you could use marble pots for a chic and elegant look in the garden.
17. Rocky Pathways Landscaping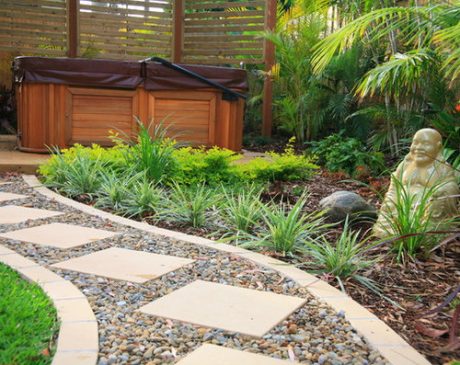 If you do not know what vegetation to choose and do not want to spend time in the garden, then rocky pathways are your thing. Rocky pathways are easy to install and budget-friendly.
Choose the location – Once you find the right location, design the paths.
Landscaping – Make broader paths and install cobblestones to cover more space. To make the path vibrant and visible during the night, install colored lights of your choice.
Planting – Fill the rest of the garden with artificial turf, droughts-tolerant grass, stones, pea gravel, and some small ornamental plants and succulents of your choice.

18. Reusing Old Things for Landscaping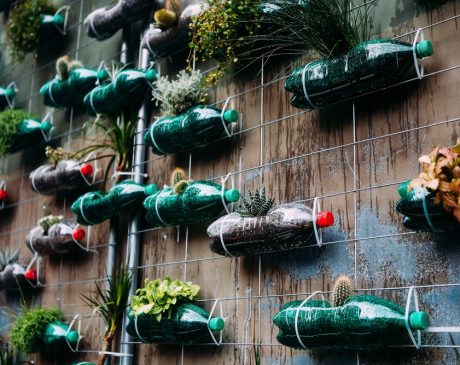 Landscaping need not be pricey and time-consuming; all you need is a creative vision to transform your garden. You can use old tires, barrel wheels, old bicycles, old water cans, etc., to turn your garden into a desert oasis.
Landscaping – Gather products like tires, plastic bottles, wires, plastic ties, etc. to plant your desired plants. You can also paint the reused products to add texture and color to the garden.
Choose the plants– Based on the size of the recycled products, choose the plants. You can go for small succulents, cacti, ornamental grass, and small wildflower plants.
Planting- Fill the reused products with soil and plant the desired plants. Mulch the plants with gravel or pebbles.
19. Colorful Succulents Landscaping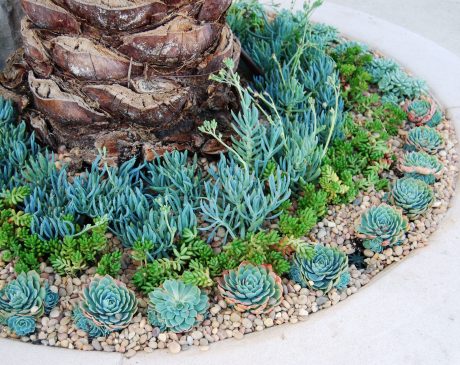 Succulents are known for their water-retaining and drought-tolerant nature.
Choose the plants – Succulents are available in various colors and can improve the beauty of the garden while conserving water.
Landscaping – If you have a small garden, choose small circular plots and add succulents to the space. Add rocks alongside the edges of the plot and mulch with gravel to add texture to the plot.
20. Mural Walls for Landscaping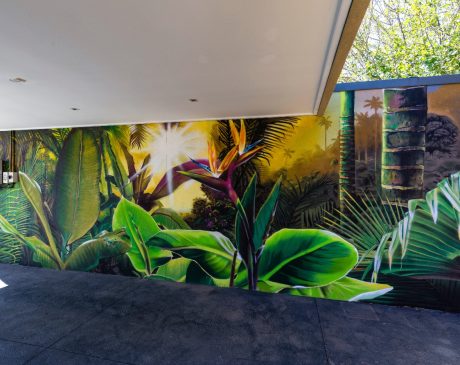 The desert landscape is not just about plants; you can improve the garden area by just painting the walls and minimal plantation. Murals are a great way to bring out your personality and vision with just a pop of color.
Choose the Location – It is important to choose the right wall, depending on the light and the size of the garden.
Choose the Design– There are many creative ways and themes to paint the wall. You can choose from themes like plants, desert sunrise and sunset, cactus landscape, or any desert theme you choose to have.
Landscaping – For a mural to shine out in a desert garden, the minimal landscape is the key. Make pathways alongside the wall, and you can go for small water fountains, fire pits, or small water pits to enhance the mural.
21. Palm Tree Landscaping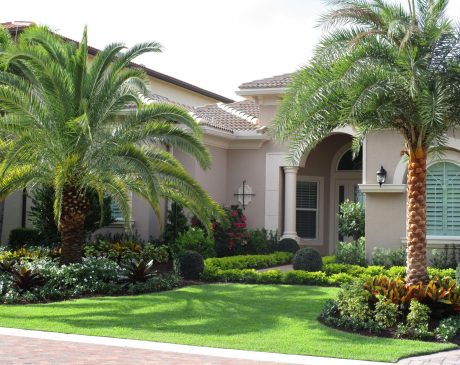 Palm tree landscaping is a great idea to create a welcoming front lawn.
Choose the plants – There is a wide range of palm trees that you can choose from, like Pygmy Palm, Pindos Palm, Triangle Palm, Mediterranean Dwarf Palm, Bottle Palm tree, etc.
Choose the location – You can choose to make the Palm tree stand alone in front of your home, or you can have a series of trees planted equidistant on both sides of the pathways.
Landscaping – Add palm trees alongside the pathway on both sides; to make it more vibrant and prominent, add spotlights. Mulch the trees with white pebbles and gravel, which brings out the aesthetic desert vibes.
22. Firepits for Landscaping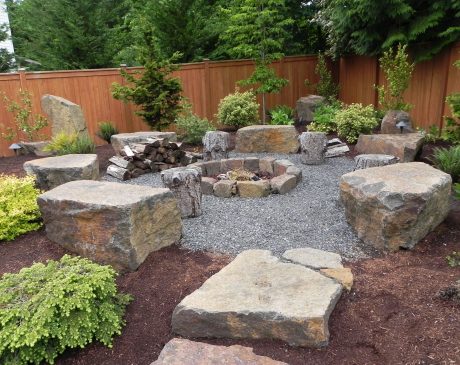 Firepits and large fire bowls blend really well with desert scenery.
Landscaping – You can customize the shape of the firepit to a circle, square, or rectangle, and for the outlook of it, you can choose whether stone, brick, or granite. You can also choose between a gas and electric-powered fire pit instead of wood.
Choose the plants – To elevate the beauty of the firepit, and you can plant small to medium-sized plants around the firepit, like organ pipe cactus, Yucca, Joshua tree, Agave, etc.
Planting – Plant the desired plants around the firepit equidistant from each other and mulch them with organic matter to keep it simple and aesthetic.
Enjoy the cold weather with the cozy fire pits in the garden. You can add additional features like gravel beds, plants, water pits, pathways, and string lights to make the garden visually appealing.
Conclusion
Transforming your garden into a visually appealing desert garden doesn't have to be expensive. Drought- Tolerant landscaping can be both stylish and affordable; we a creative eye and careful planning, you create a stunning low-maintenance garden.
We hope that these budget-friendly desert landscaping ideas will help you create an affordable garden that enhances the overall look of your front yard. From choosing native plants to colorful succulents that conserve water, there are numerous options one can choose from.
Incorporating elements like pathways, a seating area, and a fire pit improves the artistic accent by adding an interactive touch. Embrace the beauty of your garden with ornamental grass, wild flowering plants, and cacti while conserving water and saving a few bucks.
So, roll your sleeves up and gather all your thoughts to create a drought-tolerant oasis.