Transform Your Basement:15 Charming Laundry Room Ideas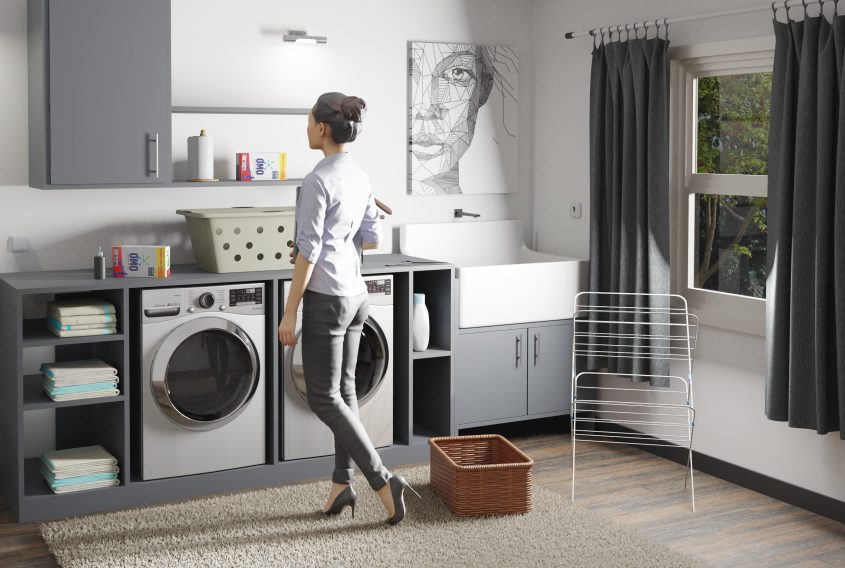 Doing laundry brings a lot of stress! The process of washing, drying, and ironing takes a lot of time and effort. Working for hours is too monotonous and tedious, especially when your laundry room is in the basement. How about bringing some life to your basement laundry room? A place where you can feel happy and find interest in working! Yes, the chore of washing laundry can be made more delightful by converting an old uninvited basement laundry room into a warm and cozy haven.
Adding different design elements can create a comfortable and helpful setting that makes doing the laundry a pleasurable experience. Imagine how beautiful it would be! So, let's look at 15 fantastic basement laundry room ideas to add warmth and charm to your space. These suggestions can assist you in designing a room that is not only visually appealing but also functional. You can alter these styles and fit them per your needs, whether your basement laundry room is tiny or large.
Basement Laundry Room Ideas
We all know how mundane laundry can get in a basement. But not anymore! Laundry in the basement can be made more fun by designing a cozy and welcoming space. With little imagination, you can make a laundry room that you will adore spending time in. Here are 15 ideas for making your basement laundry room comfortable and valuable.
1. Suitable Lighting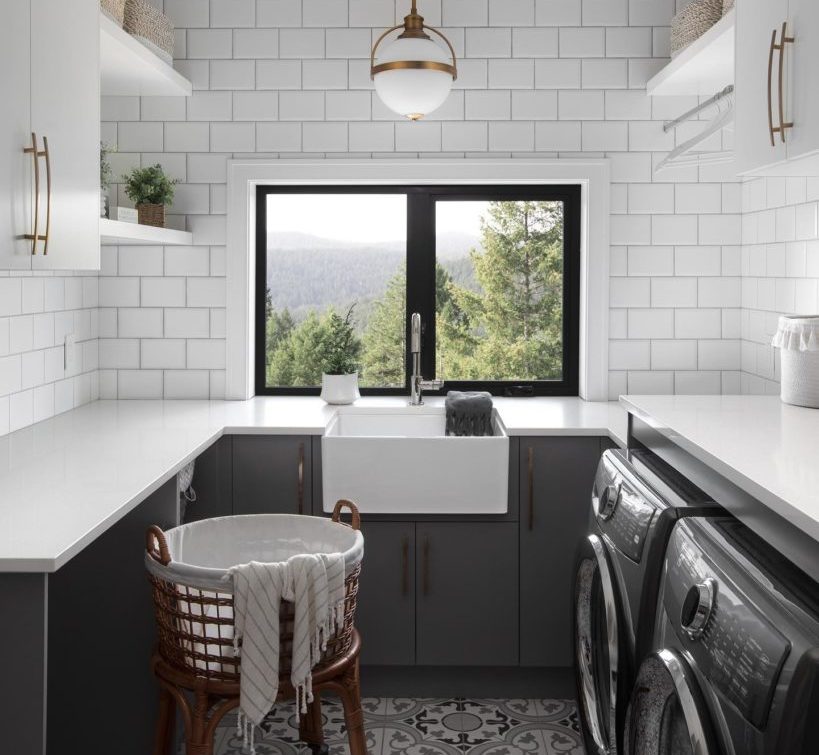 Guess what is most important when your laundry room is in the basement? The lights! If you don't add proper lighting in your basement laundry room – it ain't going to be fun doing laundry in a dark room. Therefore, install bright overhead lighting fixtures to provide adequate illumination. It will also help you create a warm and inviting area.
If possible, use LED lighting to stimulate natural sunshine since it creates a fresh and warm space. For specialized chores like sorting and folding, add tasking lighting to the space surrounding the laundry. The area may become more practical and aesthetically pleasing with this focused illumination.
2. Painting The Walls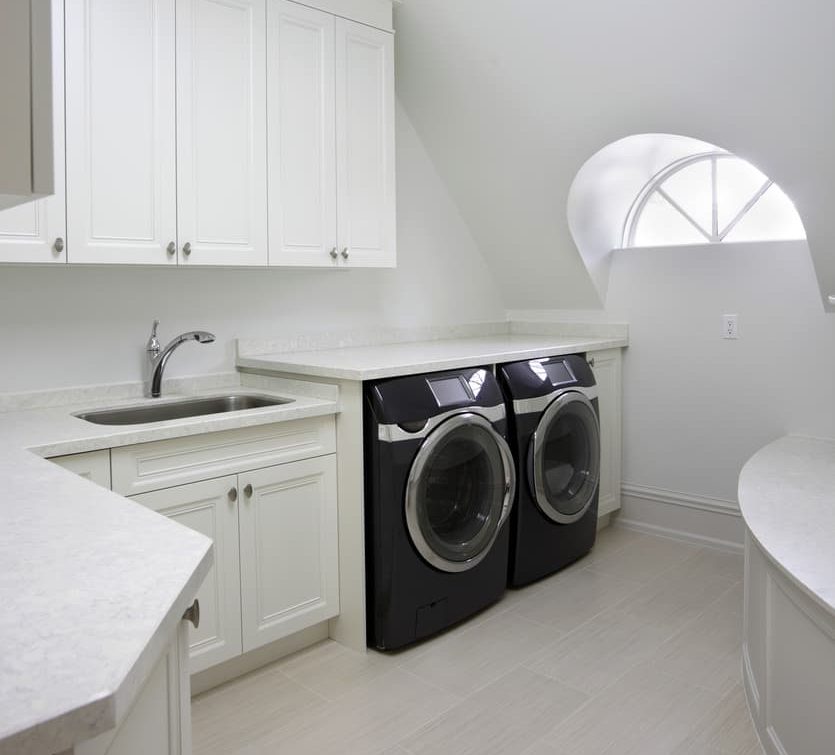 Similar to lighting, the color of the walls dramatically affects how a space feels in general. Choose warm and calming colors to create a friendly atmosphere in the basement laundry room. Light gray, beige, or delicate pastel hues effectively create a chilly basement. Additionally, it gives a sense of a larger space.
On the other hand, darker hues give an illusion of a compact space. The idea of adding a nice color to the wall is to offer a plain background so that other design components pop out.
3. Flooring Choices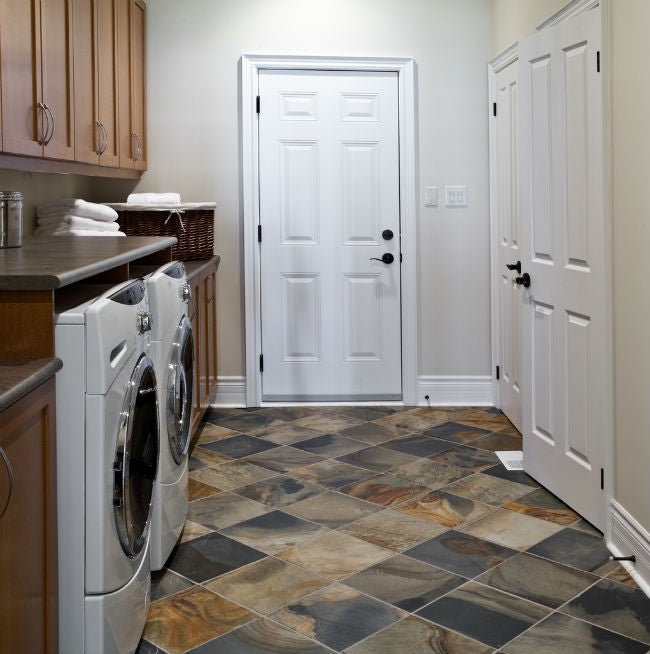 Choosing the right flooring is the most crucial among all basement laundry room ideas. It makes the room look cozy and inviting. Consider putting in laminate or vinyl flooring with a stone or hardwood appearance. These choices enhance the room's warmth and sophistication. Additionally, they are easy to maintain.
And the best part about these flooring is that they offer a softer surface underfoot. Also, if you want to add more comfort and aesthetics to your laundry flooring – think about strategically placing rugs or mats. This shall look fabulous!
4. Storage Options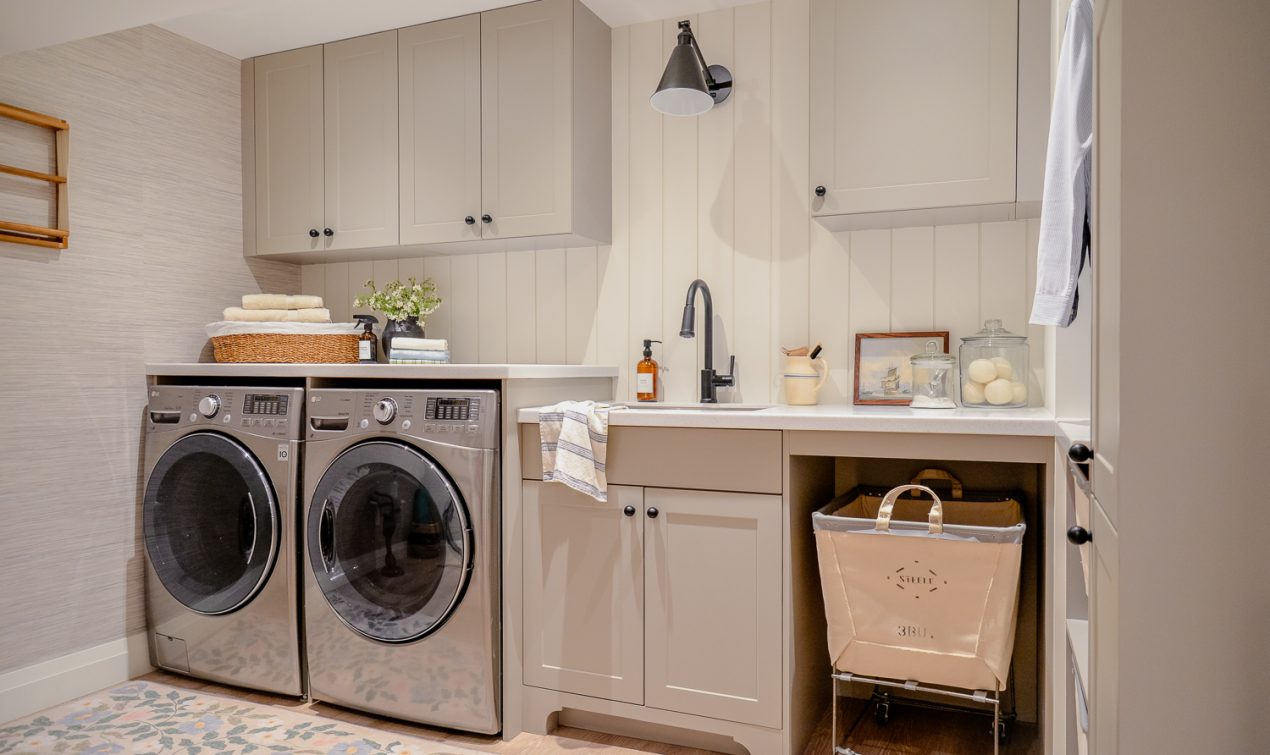 Laundry and storage go hand in hand! The organization enhances the cleanliness and usefulness of the laundry room. Therefore, make the necessary storage purchases to keep the basement laundry area sorted and clear of clutter.
Install cabinets or shelves fixed to the wall to store essentials like cleaning supplies and laundry detergents. You can even use storage containers or baskets to keep comparable goods together and nicely arranged. Storing solutions in the laundry ensures that everything is in the proper place. Also, it reduces visual clutter and makes the area seem cozier.
5. Folding Station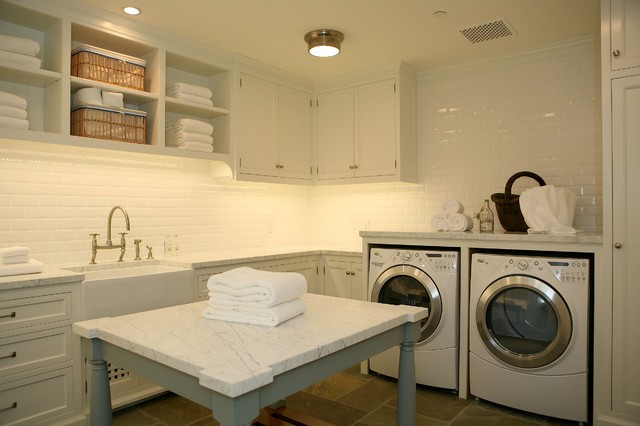 Another monotonous task involved in the laundry process is folding the dried clothes. Folding and ironing so many clothes at one time can be pretty tedious. Phewww! But this can be made easier and more pleasurable by designating a specific location for sorting and folding.
How about installing a countertop or table for this purpose? Designating a specific area for folding will sort your work. It will also keep the room organized and clean laundry from accumulating dust and dirt.
6. Hanging Rods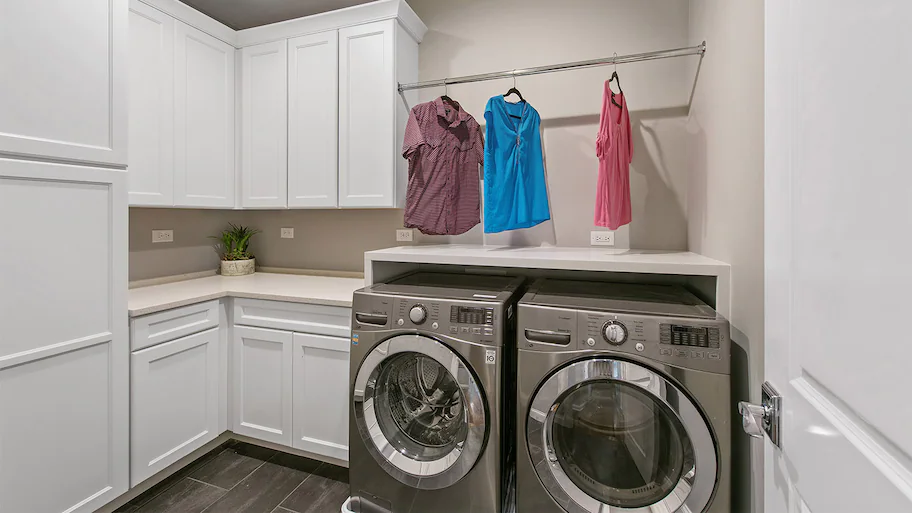 By including hanging rods, you may make the most of the utility of your basement laundry room. Install a robust rod or retractable clothesline for hanging recently washed clothing. This aids in preventing wrinkles. In addition, it offers more drying area.
Hanging rods enables clothing to stay nice and orderly. If feasible, consider positioning the hanging rods close to a window to benefit from the airflow and natural lighting.
7. Area for Seating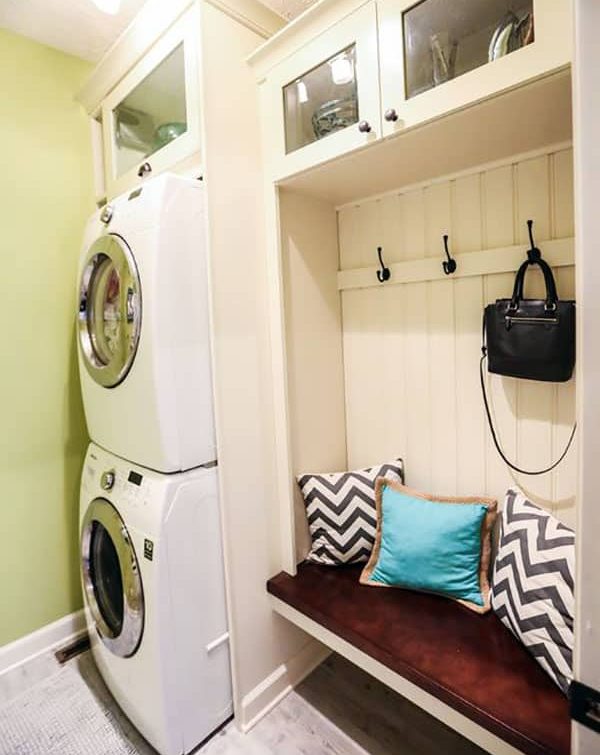 Ever thought of what will you do when your clothes are drying in the machine? You obviously cannot stand ideal for hours. Thus, a seating area in a laundry room is much needed! Of all basement laundry room ideas,adding a seating area is essential.
Think of adding a small seat, bench, or chair so that you can rest while the clothes are in the machine. An inviting seating space offers a relaxing setting where you can have some 'me time.' Also, you can enjoy reading or watching your favorite series. However, ensure that the seating you select should complement the room's interiors to be practical and visually pleasant.
8. Decor Touches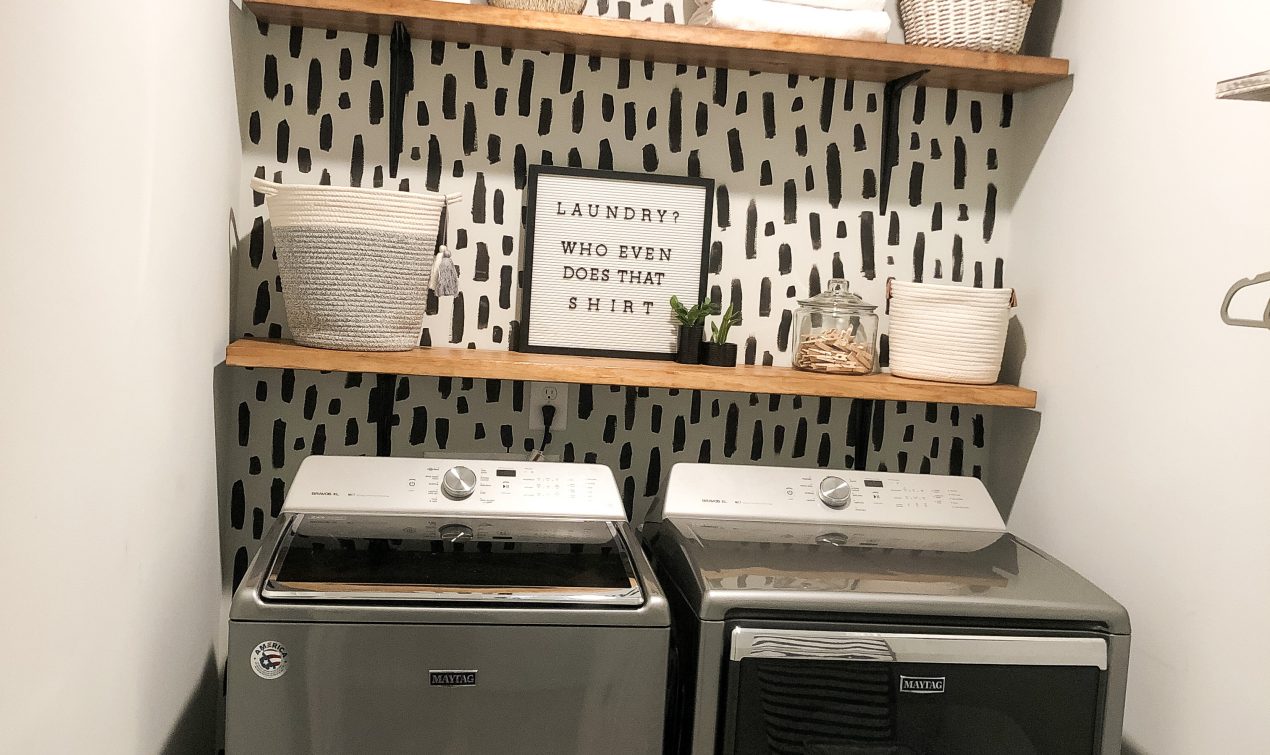 Imagine having a basement laundry room full of ornamental features. Isn't that lovely? You can transform your basement laundry space into an aesthetically appealing venue by adding some decorative features. For instance, you can hang ornamental items such as art, mirror, and signage from the ceiling.
Select items that fit your interests and style. With these decor ideas, the room may appear less functional and more like an extension of your house's general design style.
9. Window Treatments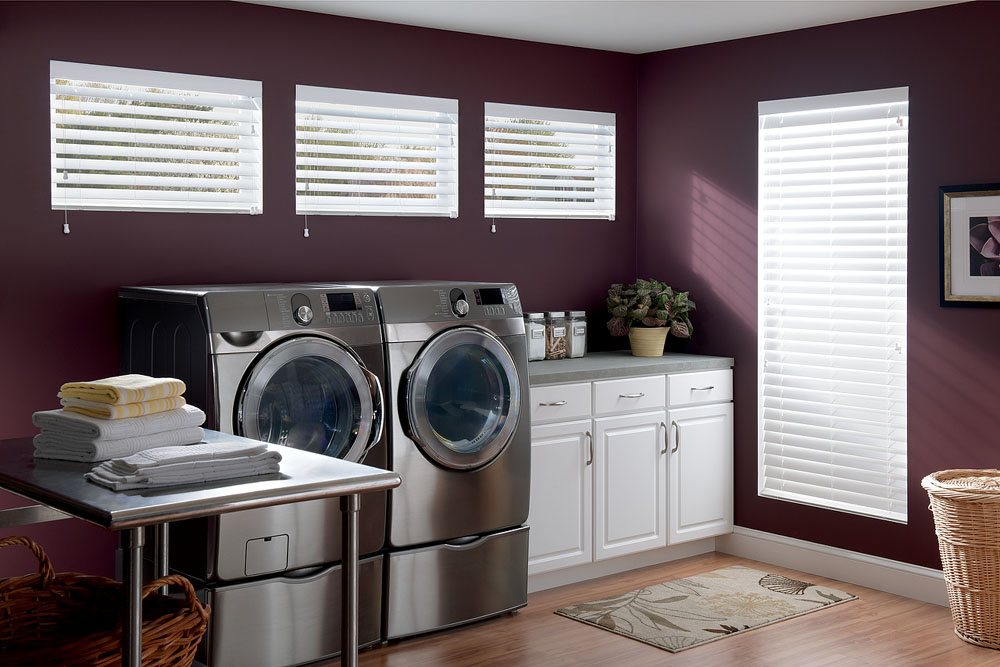 Do you have a window in your basement area? If yes, then this basement laundry room idea is just for you! Windows makes a lot of difference to any room. The type of treatment you do will affect the basement laundry's visual appeal. Consider adding window curtains to increase comfort and warmth in the laundry area.
You can even install shades or drapes that match the room's color scheme and design. Window coverings provide you with the chance to add texture and aesthetic appeal. Therefore, consider your basement's humidity and moisture levels when choosing textures and materials.
10. Inspiring Quotes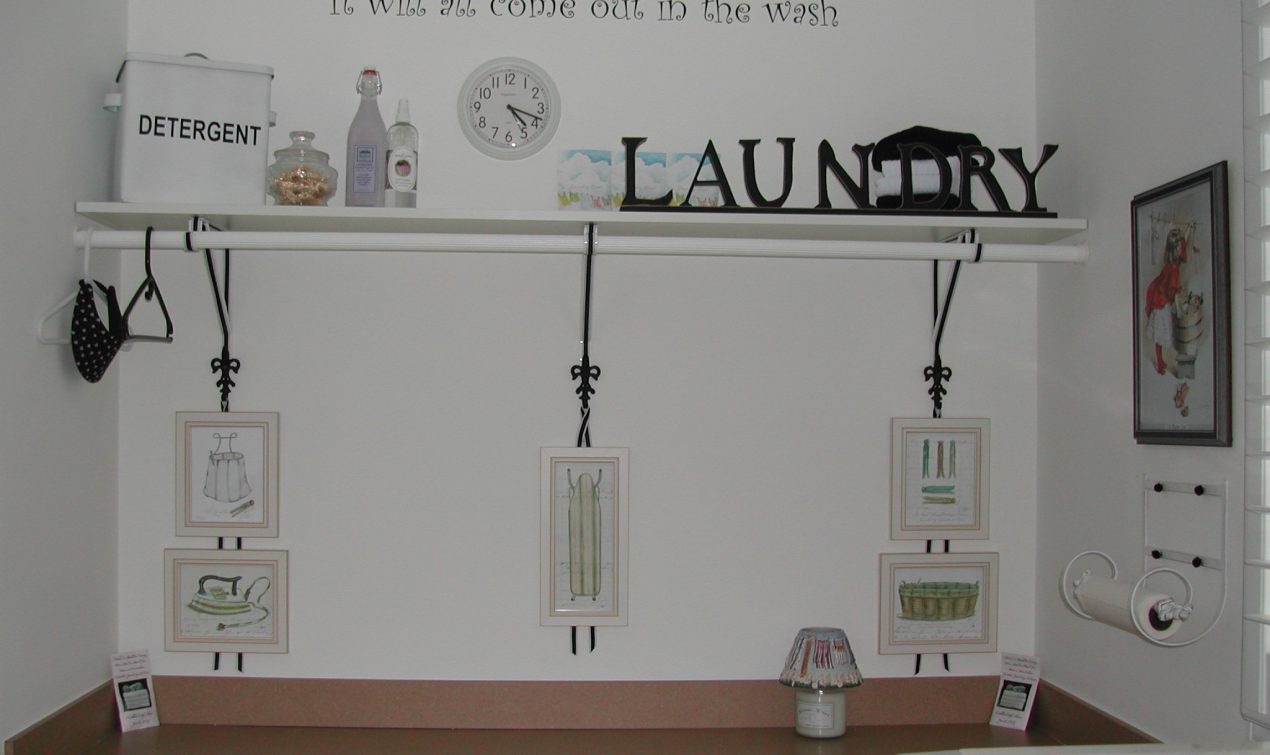 Inspiring quotes are a great way to keep people moving! Adding motivational phrases can enhance your mood and create a positive attitude. Use vinyl wall decals, framed posters, or chalkboard-style signage to affix inspirational or motivating statements to the walls.
Pick sayings that encourage optimism while washing the laundry. Small details like these will add a sense of personality to the room. Additionally, it will promote a cheerful attitude toward housework.
11. Add Air Fresheners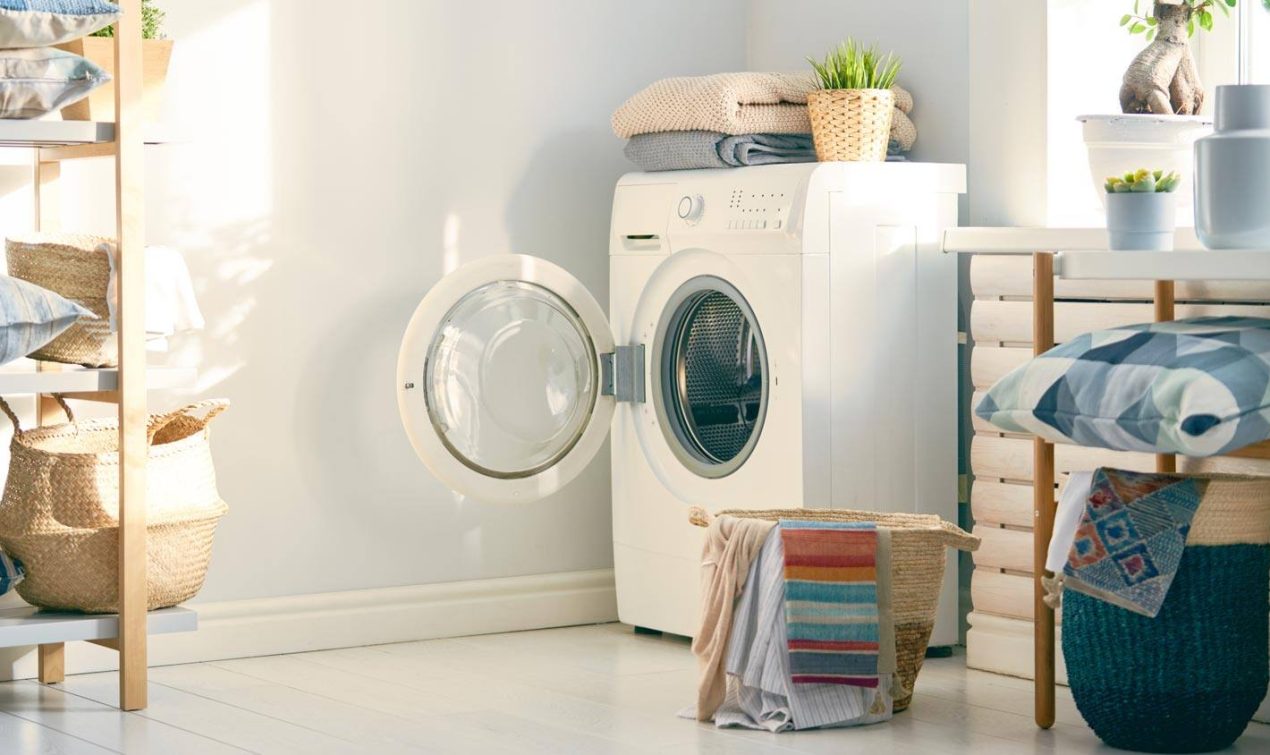 How does it feel to enter a room that smells like flowers? Pleasant, right? Keeping your basement laundry room smelling clean and appealing is crucial to create a cozy atmosphere. Use fragrant air fresheners like candles, diffusers, or sprays to fill the room with enticing scents.
Choose aromas that are calming and soothing. For example, vanilla and lavender would work best! However, you should be very mindful of the allergies and sensitivities of the family members. Maintain ideal humidity levels by regularly ventilating the space to minimize musty odors. Also, install a dehumidifier if possible.
12. Ironing Station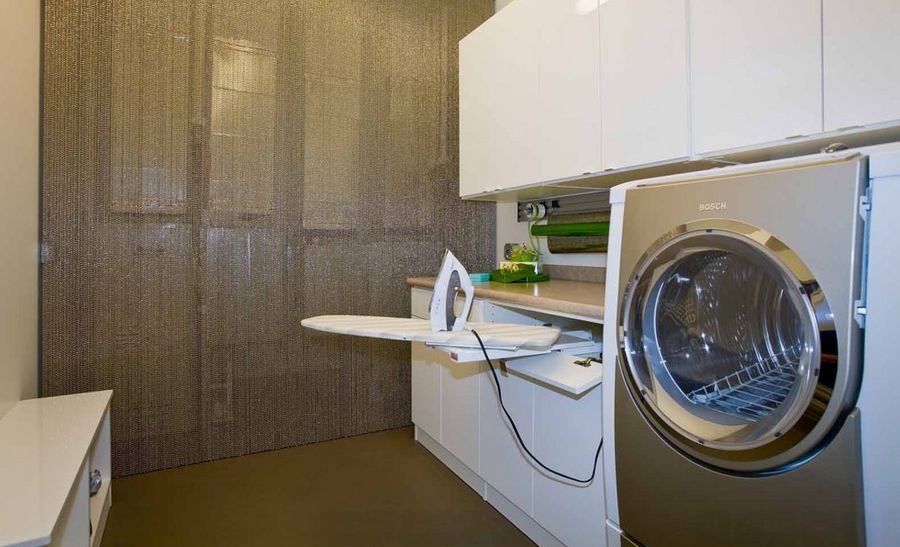 Having an ironing station inside a laundry room is excellent so that you don't have to work twice folding clothes. Setting up a dedicated ironing station also reduces clutter. However, when you install one, ensure enough room to walk about comfortably and set up an ironing board.
Ironing and steaming garments in this designated area is more accessible and practical. For further space savings, think about putting in a wall-mounted ironing board. It will save space too!
13. Laundry Hamper Baskets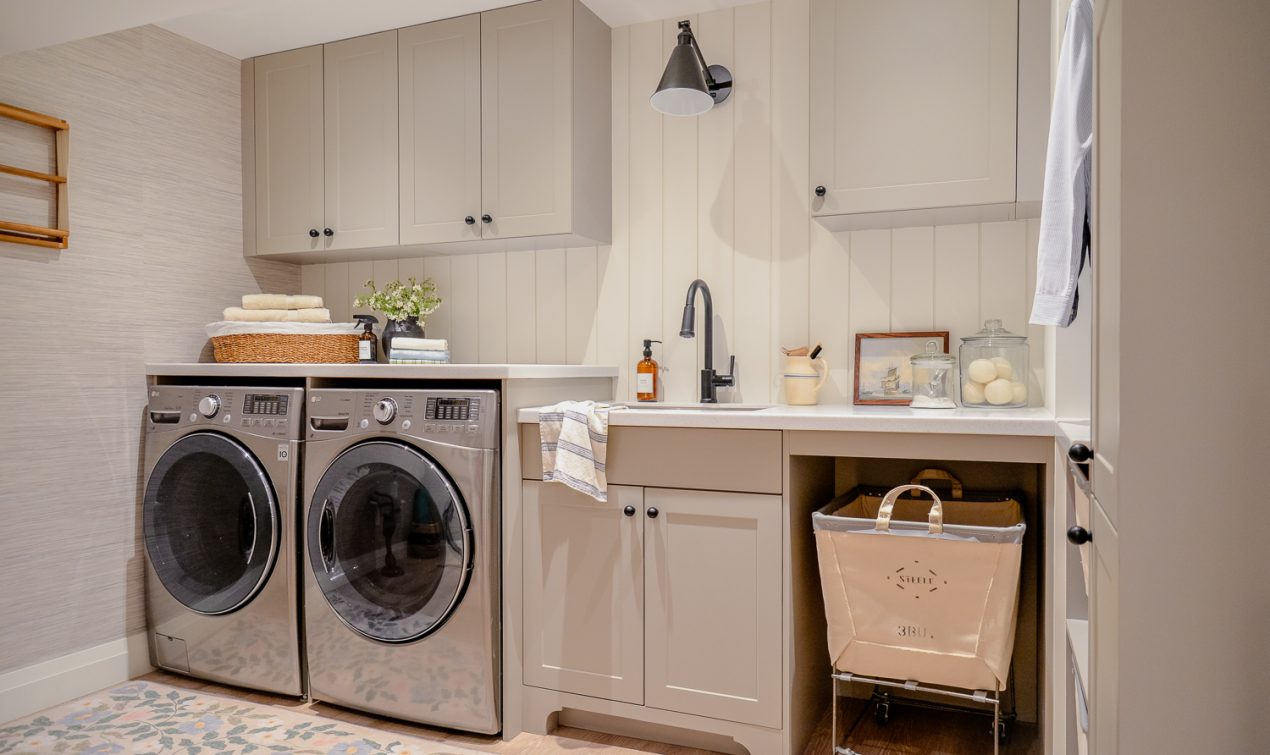 Putting attractive and functional washing baskets or hampers in your basement laundry area adds beauty to the space. These hampers make the place appealing and allow one to store and gather items until washing day.
Choose hampers with lids or liners to retain smells and keep things looking tidy. You can also sort laundry by color or kind by purchasing baskets of several sizes. This straightforward approach to organizing keeps dirty items off the floor and streamlines the laundry process.
14. Hidden Appliances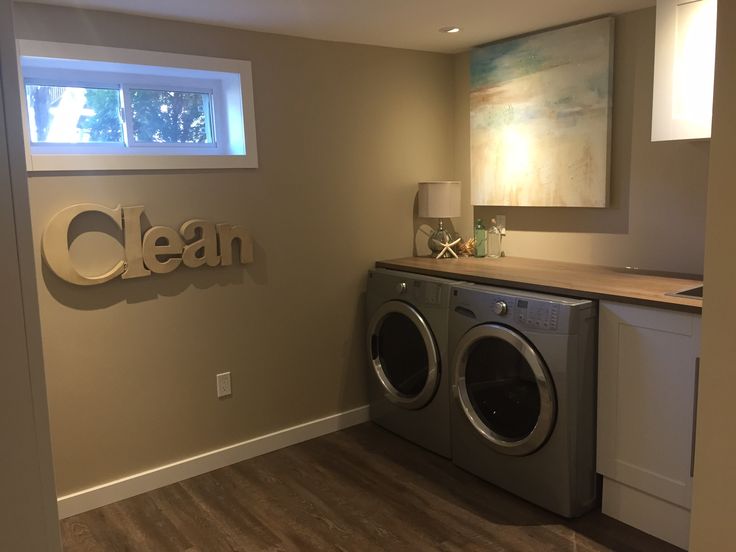 How about keeping all your appliances shut in a cupboard? It shall make the laundry room more compact. Also, it can be utilized for many other things except on washing days! A more organized and aesthetically pleasing basement laundry room idea can be achieved by concealing your washer and dryer.
Consider putting cabinets or curtains to hide the appliances when not in use. It gives a neater appearance. Pick cabinet doors or drapes that go with the room's general design and color scheme to preserve a uniform appearance.
15. Decor For Walls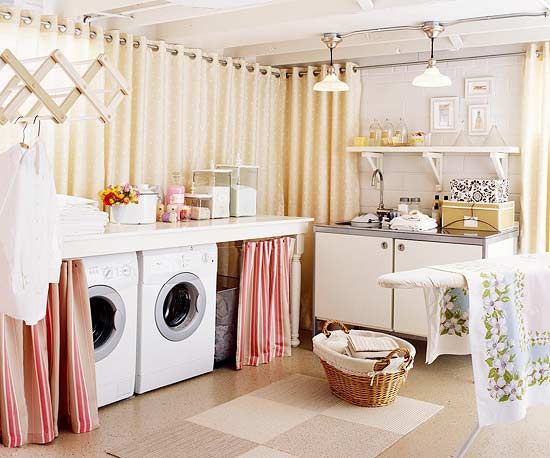 Make the most of the space in your basement laundry room by adding pegboards, hooks, and drying racks to the walls. These additions offer valuable options for ironing boards, laundry accessories, or hanging items. Drying racks that are installed on the wall are particularly helpful for air-drying fragile things.
Pegboards and hooks are adaptable solutions for storing things like cleaning supplies or laundry bags. In addition to saving space, these useful wall decor items improve the efficiency and organization of your washing process.
Conclusion
So, are you ready to have an awesome laundry experience? With the help of these 15 basement laundry room ideas, you can turn your drab area into a cozy haven. You can create a lovely space that makes washing laundry more enjoyable by concentrating on lighting, colors, storage options, and practical design aspects.
Don't forget to include aesthetic touches to make the room beautiful. Also, incorporate useful elements to improve the functionality. Believes us; your basement laundry room will become a cozy and helpful place you will surely love!
Frequently Asked Questions
How to Improve Ventilation in a Basement Laundry Room?
A basement laundry room should have good ventilation to avoid moisture accumulation and foul odors. Installing an exhaust fan or venting system to remove stale air will enhance ventilation. Dehumidifier use or opening basement windows can also aid in lowering humidity levels and improving ventilation.
Are There Any Safety Issues with The Laundry Area in The Basement?
Safety is crucial in any laundry room. Ensure that all appliances are installed and maintained with safety regulations. Also, install smoke detectors and fire extinguishers in case of emergencies. Remember to keep cleaning supplies and dangerous items out of reach of children and dogs to prevent mishaps.
What Are Some Space-Saving Storage Options for a Little Basement Laundry Room?
A small basement laundry room must be as space-efficient as possible. Utilizing storage racks over the doors, installing small and folding ironing boards, or employing stackable storage bins are a few examples of space-saving storage solutions.
h