16 Creative Small Patio Decorating Ideas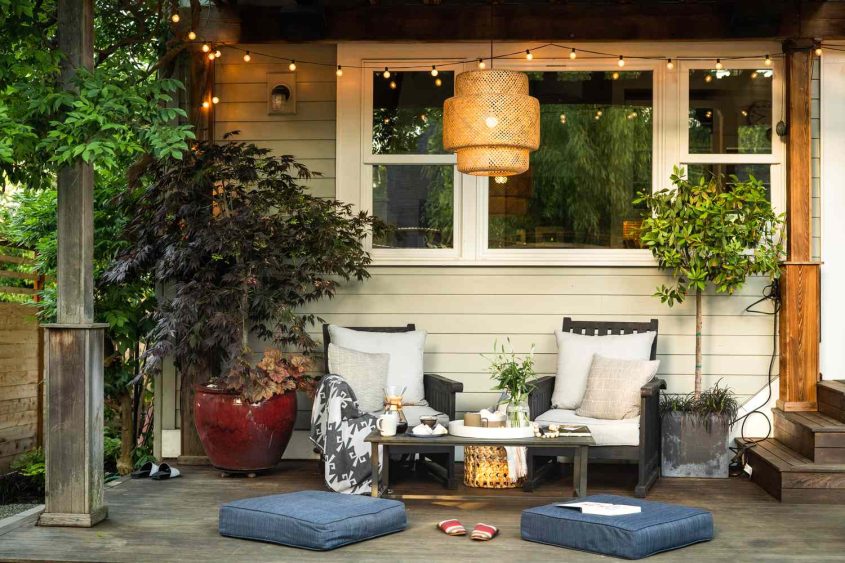 Selecting the right accessories and furniture and strategically placing them on a small patio can be as visually appealing and functional as a big one. The right usage of a small space can work wonders and allow you to have the most wonderful time with your friends and family.
By executing the right patio decor ideas, you can transform a patio into a rustic garden space or a contemporary one with a concrete industrial appearance.
The size of a small patio can be somewhere between 6 to 10 feet by 8 to 12 feet which is just enough to host 4 to 5 adults. Therefore, every item must be placed and selected wisely for the best results.
For those who think that style and comfort cannot go hand in hand, Here are the 16 best patio decor ideas for those looking for something different to make the most of their small outdoor space.
1. Benches for Seating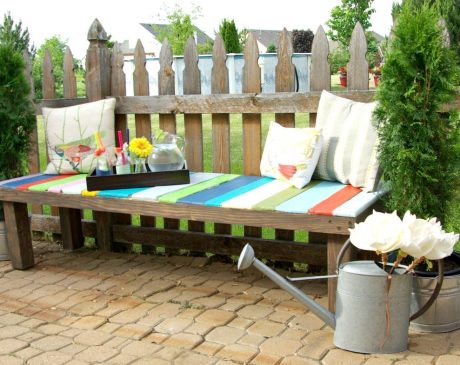 Strategically placed chairs or sofas can make a world of difference when it comes to opening up a patio. To make your small patio as spacious as possible, place your chairs on the edges of the patio. If you are planning to opt for sectional outdoor sofas or hand-woven wooden benches, make sure you do so on the outer edges of the patio and keep the center clear. If you are fond of chairs, make sure that you place them in a diagonal position.
2. Outdoor Living Room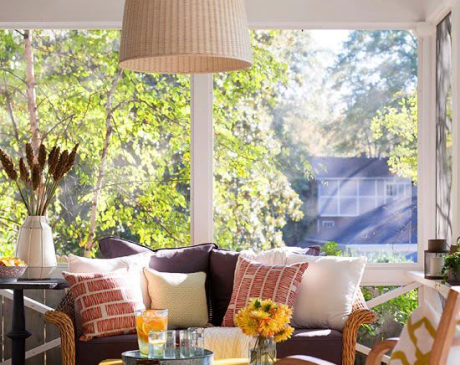 Outdoor spaces can be as comfortable and functional as an indoor living room. To create the same vibe outdoors, you can cover your small patio with a temporary waterproof cover or permanently with wooden planks. The seating should be very comfortable as you try to replicate your living room outside; therefore, make sure to place bean bags or glider sofas outside with a center table for maximum comfort and convenience.
3. Place Dual Purpose Tables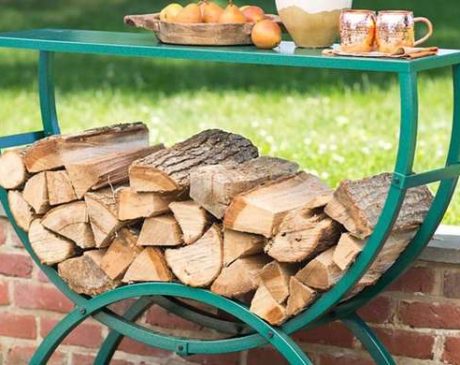 Outdoor games with friends can be great fun. However, if you are fond of playing table games, then you can place a pool table in the center of the patio, which can get converted into a dining table. Placing a lot of pieces on a small patio can make it look cluttered. Therefore, the placement of certain multi-purpose chairs and dual-purpose tables can save you space but make it convenient for you at the same time.
4. Table with Umbrella Stand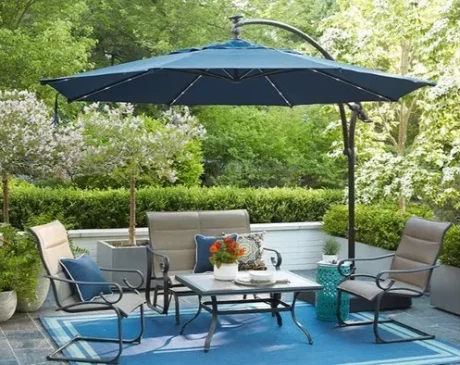 A table with an umbrella stand is one of the most functional outdoor accessories. If you want an open patio but want to save yourself from the sun's scorching heat, then such an outdoor folding patio set is ideal for you. You can purchase a steel set with a wrought iron finish or even a plastic one. Make sure that it matches well with the rest of the interiors of the house so that it does not look out of place.
5. Surround the Patio with Plants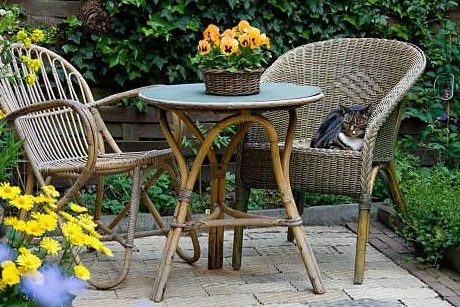 Among many other interesting patio decor ideas, introducing foliage is the best. To make your patio look like an oasis, make sure that you introduce enough greenery around it. Your small patio will look larger if you plant trees or place pots on the outer edges of the patio. It will look visually appealing, have a calming and soothing effect on the eyes, and even add some drama. Flowering plants like hydrangeas, hollyhocks, arteries, and leafy plants like Hosta plants or canna lilies can be some of the best picks.
6. Use Outdoor Curtains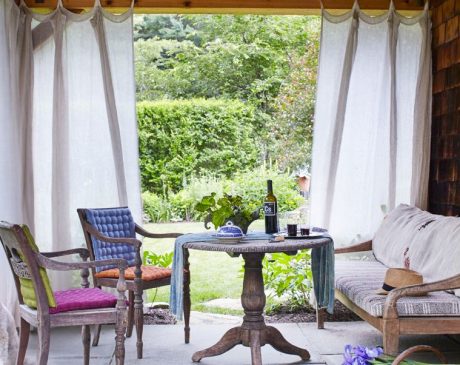 White curtains can give your small patio a Mediterranean vibe. Curtains can enhance the privacy of your patio, making it more intimate and romantic. If your patio looks spacious, hang your curtains from drapery rods. During winter, you can opt for waterproof curtains made of heavy fabric to stay warm and cozy. However, these curtains can also prove to be equally useful in summer.
7. Outdoor Bar and Grill
A patio with an outdoor bar is one of the best features, as it can be used to entertain guests privately and even enhance the seating capacity. If your outdoor oasis looks modern and chic, place high bar stools with metallic accents that will go well with black and white floor tiles. You can even install a grill and a mini fridge behind the bar for a complete culinary experience with friends and family.
8. Vertical Kitchen Garden
A kitchen garden in pots that are installed on the walls will not only make your patio visually attractive but will also add some greenery to your space. You can either introduce greenery by inserting a trellis on the outer walls of a house or by placing pots directly on wooden slabs. However, make sure that there is some distance between the trellis and the wall to ensure proper ventilation. One of the other interesting patio decor ideas along the same lines is to showcase your plant collection on old redundant wooden ladders. This will allow you to maintain the wall as it is and allow your green fingers to do their job.
9. Garden Mirrors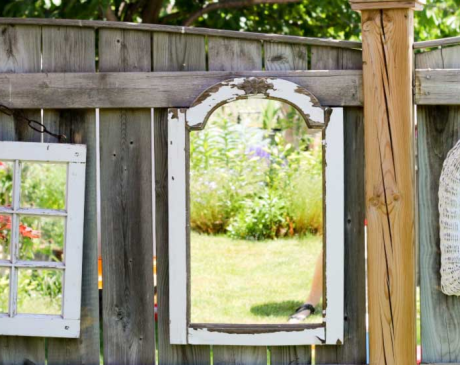 A garden mirror is the latest trend in the world of interior design that the experts swear by. Garden mirrors make a space appear bigger and add drama to a place effectively. You can place a free-standing mirror in the corner of a patio with a golden frame to add some character or even install one on the wall to fill up an empty space. If you are a minimalist, go for mirrors that have simple and sleek metallic frames. Such unconventional patio decor ideas can make your backyard stand out in the neighborhood.
10. Simple Palette Exteriors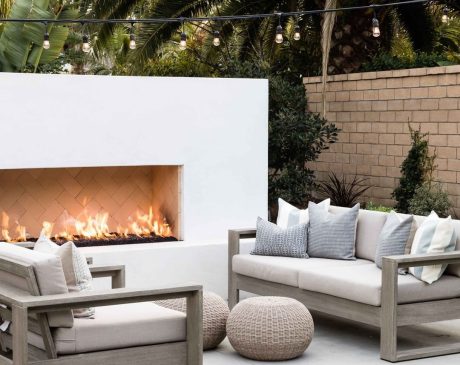 Since your patio is not big, keep the color palette as simple and monochromatic as possible. Placing multiple accessories and various kinds of textures and hues in a small space can compromise visual balance. Since your patio is a small open space, keep your sofas or chairs far apart, of a similar color scheme, and tone down the shades. If you wish to add color, plant bright flowers or paint the walls of the house and install a colorful railing for more playfulness.
11. Minimal Furniture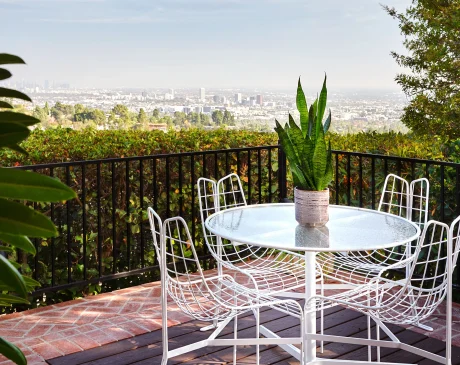 All-weather synthetic wicker chairs and tables are durable, versatile, and practical pieces of furniture. You can adorn your weather-resistant chairs with cushions for better comfort and style. For sitting, egg chairs, whether stationary or swinging, hammocks, or a daybed can allow you to relax on your patio on a sunny day. For more relaxation and betterment of aesthetic appeal, introduce a water feature nearby.
12. Create a Feature Wall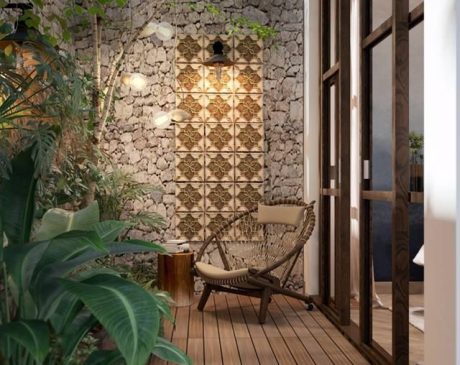 Feature walls can be made out of multiple materials like plants, timber, metal, and stone. Simply painting a wall can also turn the space into the focal point of the house. If the backside of the house is hit by bright sunlight at some point during the day, paint the wall with bright colors and hang plants for better effects. If you want your backyard to look contemporary, go for indirect lighting to accentuate the corners of your house. Among many eccentric patio decor ideas, a combination of fresco wall tiles with a stoney background can be the most eye-catching feature and is enough to make your patio stand out from the rest of the features of the house.
13. Hang Hammocks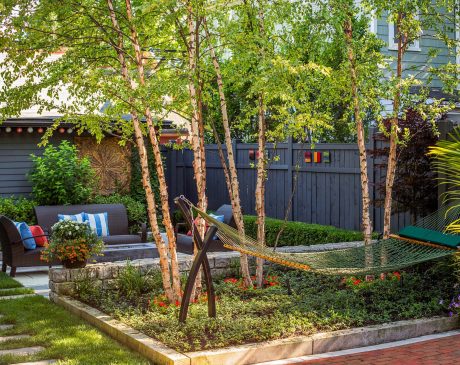 Hammocks are super comfortable and super fun. For an oasis-like backyard, go for a freestanding rainbow hammock that is bang in the middle of your herb garden under the shade of the trees. However, a white or cream-colored boho hammock with colorful pillows and blankets can look equally interesting and add a pop of color. If you have a pergola or a gazebo on your patio, hang your hammock under it and enjoy yourself.
14. Rustic Roof for Warmth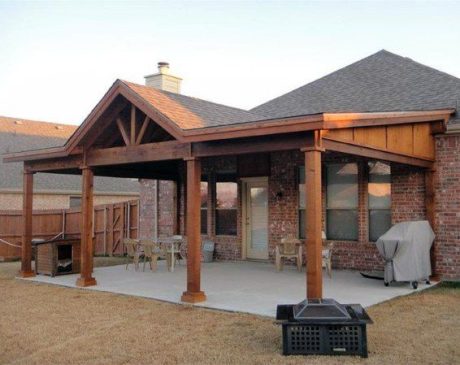 Even patios need a little shelter, especially during summers when an umbrella can prove to be useless. For a rustic appearance, make your patio roof out of wooden blocks and give it some warmth. To enhance rusticity, you can even use black wrought iron brackets on heavy wooden beams, which will match well with stone pillars. However, for an industrial outlook, use vinyl as your building material as it requires less maintenance and is practical. Rugs play a significant role in enhancing the rusticity of a space.
15. Patio with a Fire Pit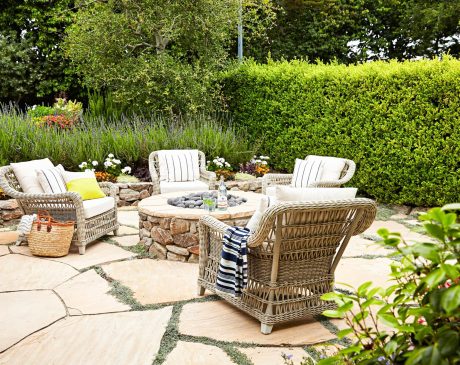 Having a small fire pit in the middle of your small patio can make your small space look cozy and the ideal place to hang out with your friends. The seating arrangement should be around the fire pit, and the corners must remain empty so as to make the place appear larger and more spacious. By planting creepers like Desert Cassia, you improve the privacy of the outdoor nook and enjoy yourself.
16. Natural Patio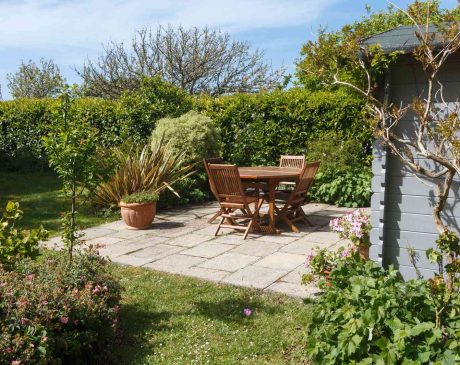 Instead of having a conventional patio in your backyard, consider planting boxwood hedges as the boundary and planting small trees around it for the shade. You can use stones or pavers for flooring and place bright, modern chairs and tables for a more dynamic effect. This will be a cost-effective way of introducing useful elements in your backyard.
Conclusion
The area designated for a patio does not specify how interesting it will look. From a compact fire pit with metallic accents and a bar in the middle to a rustic one with a wooden finish accessorized by hammocks and egg chairs, a patio must match your personality as it is an important part of the house.
By experimenting with the right colors and textures, you can transform your small patio into a spacious one and turn it into one of the best corners of your house.
Whether you are looking for rustic patio decor ideas or modern industrial ones, embrace the space that you have and work smartly. Share your ideas in the comments section, and let us know how you have made use of your patio.
Frequently Asked Questions
How Can I Make My Small Patio Inviting?
Use light and neutral colors to make a small patio look more appealing and inviting. Bright green foliage, rugs with bold patterns, and properly balanced accessories can transform your space into something amazing in no time.
How Can I Make My Small Patio More Comfortable?
A patio can appear more comfortable by placing the right sofa sets, dining chairs, and a water feature, installing waterproof flooring and roofs, selecting a theme, and incorporating storage wherever possible.
How Can I Introduce Color to a Small Patio?
Since your patio is going to be a small, compact open space, stick to neutrals for decor. However, to make it interesting, you can place a brightly colored statue on the patio, hang a shiny windchime, purchase a single bright wooden chair in the corner, or have an accent wall in the backyard.
What is the Best Shape for a Patio?
Rectilinear patios are the most common patios seen today. Since the pavers have a rectilinear design, it is the simplest shape to form and is also the most contemporary shape, as it goes well with a house that has modern interiors.