30 Unique Fall Coffee Table Décor Ideas for a Warm Ambience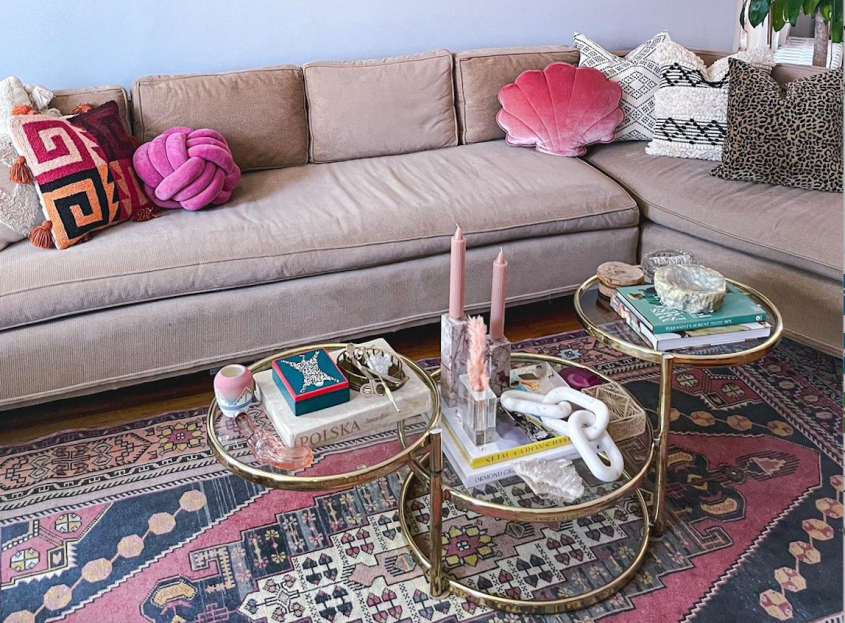 Welcome the fall season with the subtle hues of your coffee table! Coffee tables, being the centerpieces of the living room, can not be avoided. Decorating coffee tables is easy if you know how to find the right decorative items for your coffee table.
Coffee tables give you an opportunity to unleash your creativity and add a pinch of your style to your home decoration. Limited space, cleaning, balancing height & color, and still managing to attain functionality of the coffee table can is definitely not easy. Even finding the right ways to add a personal style and expression to a coffee table can be challenging.
To assist you in building an exquisite coffee table, we will provide different ways to try, experiment, and adapt the best coffee table décor ideas for your home.
The ideas are simple and easy to build, yet they will make your coffee table stand out.
Now, let us start with this blog! Here is our list of 30 fall coffee table décor ideas to help you make an outstanding coffee table.
1. Decorate with Natural Materials This Fall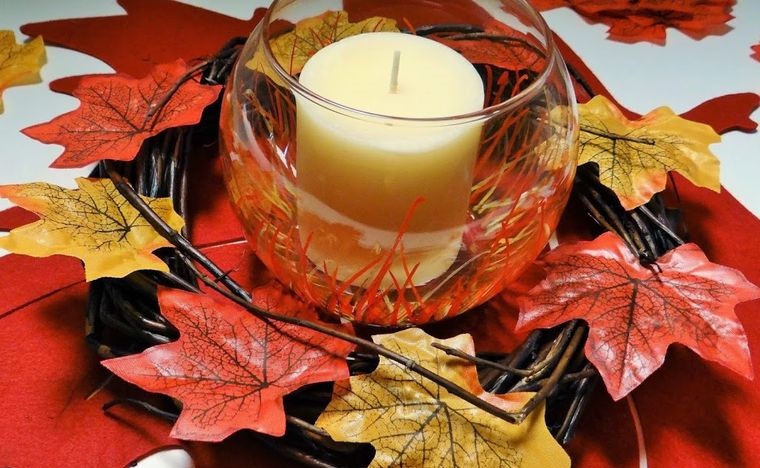 Saving the money and still getting the best coffee decor, who wouldn't love it? For dreamy coffee table decor ideas, the use of natural materials is the best way to curate a budget-friendly table decor idea. Collect decor items like autumn leaves, pine cones, acorns, tree branches, fall flowers, chestnuts, and colorful leaves, and renovate your dull coffee table.
With creativity, you can build a unique coffee table for your home. Place candles along with these decorative items to add an exceptional atmosphere. You can also build a layered decorative arrangement that will make everyone visit your home for a cup of coffee for sure!
2. A White Theme for Fall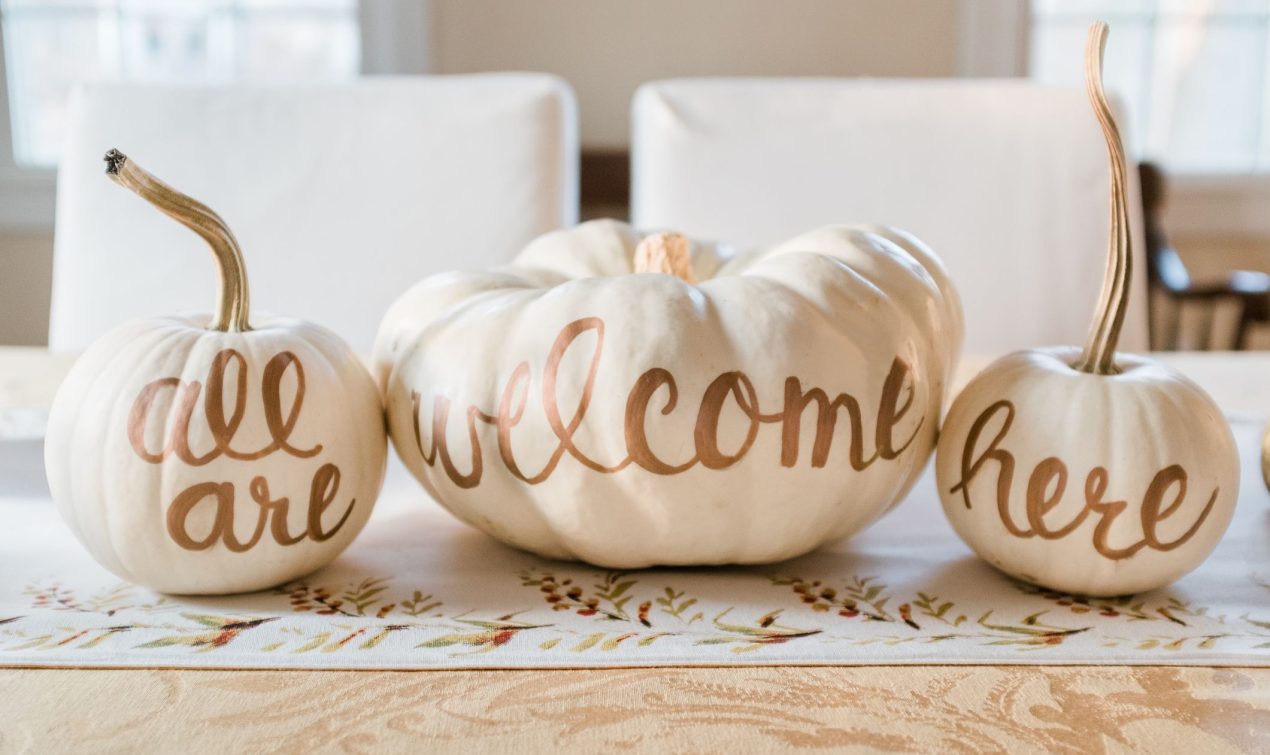 White shades are elegant and will make your coffee table stand out. Fall has all the bright colors you need, so choosing calmer and more sophisticated coffee table decor ideas with white is wise.
You can add a basket of white pumpkins on a white knitted blanket to give a cozy look. You can add colors by placing a few green plants to make it more appealing. Use pine cones and antlers, in their natural shades or colors in white color, to enhance the decoration. A centerpiece of a white theme is another great idea. You can easily make a centerpiece using white pumpkins decorated with vines, flowers, and small plants.
3. The Shades of Fall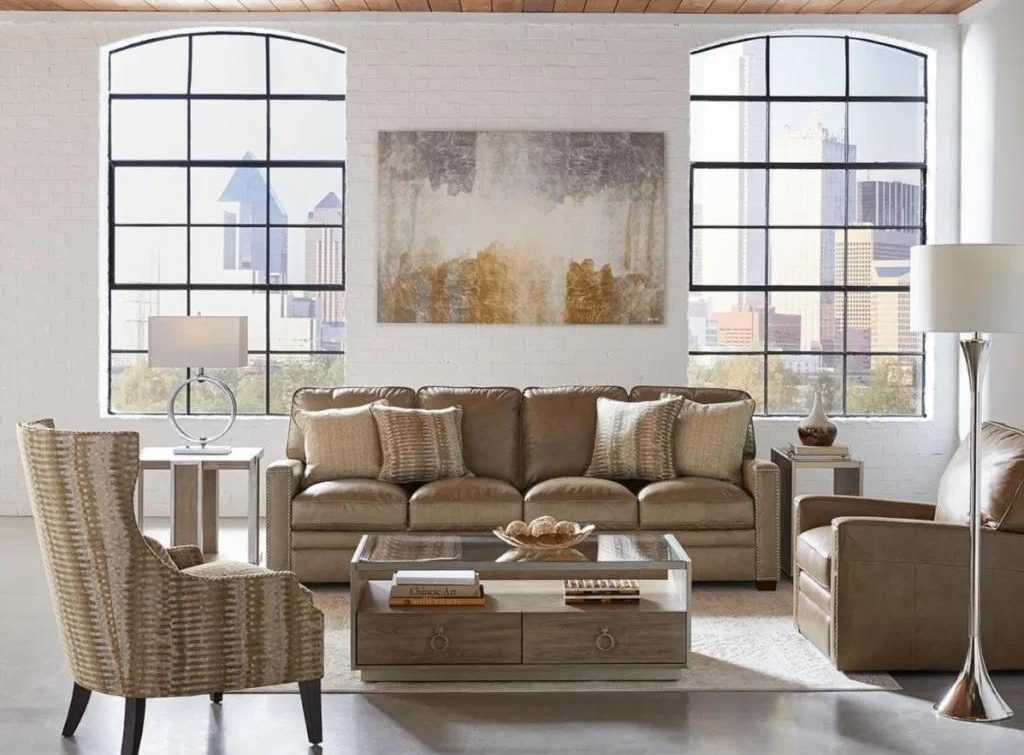 What can be better than choosing a fall color for fall coffee table decor ideas? Fall colors are colors that symbolize the color change of leaves. The most important fall colors are orange, yellow, brown, and red. Introduce fall shades to your coffee table this fall to impress your guests.
For choosing a fall color palette, you can go for a mix of fall colors or stick with a monochromatic decorative pattern. For example, you choose a blend of brown, yellow, and red shades. At the same time, you can go for a monochromatic color palette with brown color or any other fall color.
4. A Multilevel Arrangement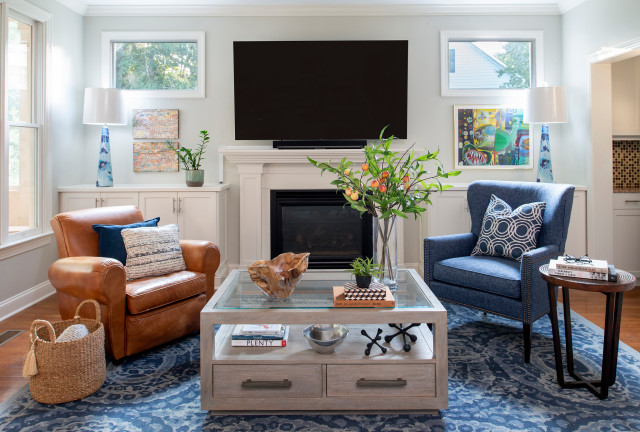 Creating a multilevel arrangement and simultaneously showcasing your style, collections, and art pieces is one of the greatest decor ideas. The multilevel arrangement is one of the best ideas because creating this visual detail is extremely easy. It can be created by placing decorative items with varied heights on your coffee table. You can use items like vases, baskets, a stack of books, etc.
Here is how you can do it. Place items like a vase holding a plant or faux decorative items. Now, place baskets that can be used to display a particular item of your interest. For example, you can use cones as decorative items or simply your fruits. Books are additional items you can add to add another level to your coffee table. The bottom shelf of the table can display a collection you love or any other decorative item.
5. A Candle Centerpiece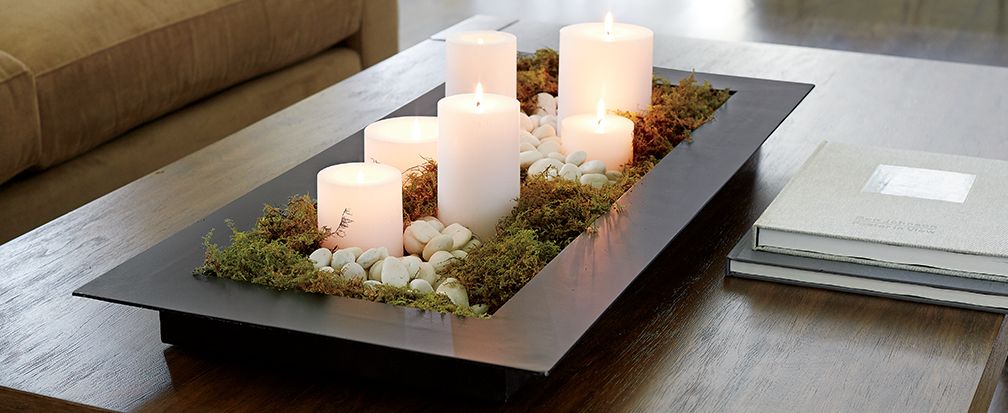 Coffee table decor ideas with candles are never outdated. Their warm, soft, & welcoming lights will definitely flatter your guests. With candles, the choices for enhancing your coffee table are too many. You can use a symmetrical; pattern using identical candles. Go for candles of different sizes to create a distinctive pattern.
Adding variety in candle heights will provide a dimension to your coffee table. For an innovative and unique idea, fill a big bowl with water and let miniature-sized candles float. Alternatively, you can use small containers filled with water to place a floating candle individually.
6. Creativity with Candle Holder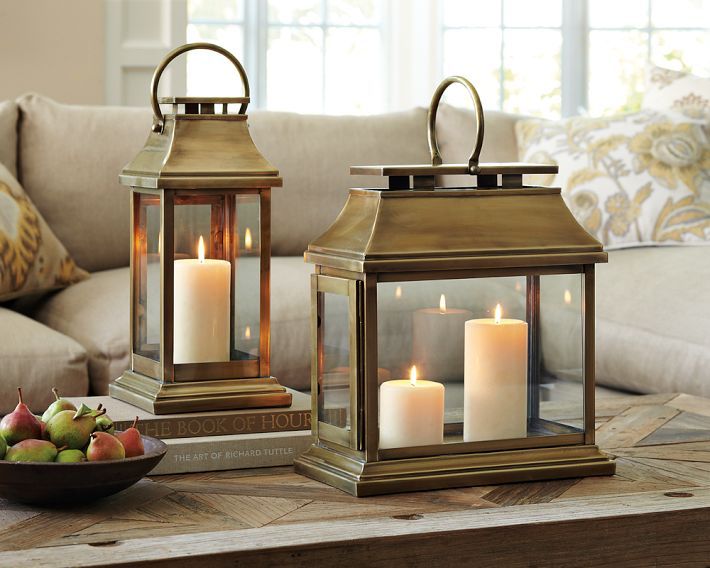 A generic candle arrangement with candle holders can make your home boring. It is time for you to change the decoration of your house by incorporating the following coffee table decor ideas. Using lanterns as candle holders is a different idea to try with candle decoration. If sustainability is your thing, a mirror that you have never used can be used as a candle tray.
With reflections of the mirror, the lighting in your room will be significantly elevated. Wine glasses are fancy, and with the soft radiance of candles, the light is reflected in the area and provides a glittery twinkle that will fascinate your guests. Mason jars, glass trifles, and glass cubes are a few other options that will save you from a boring coffee table.
7. A Fall Coffee Table using Gourds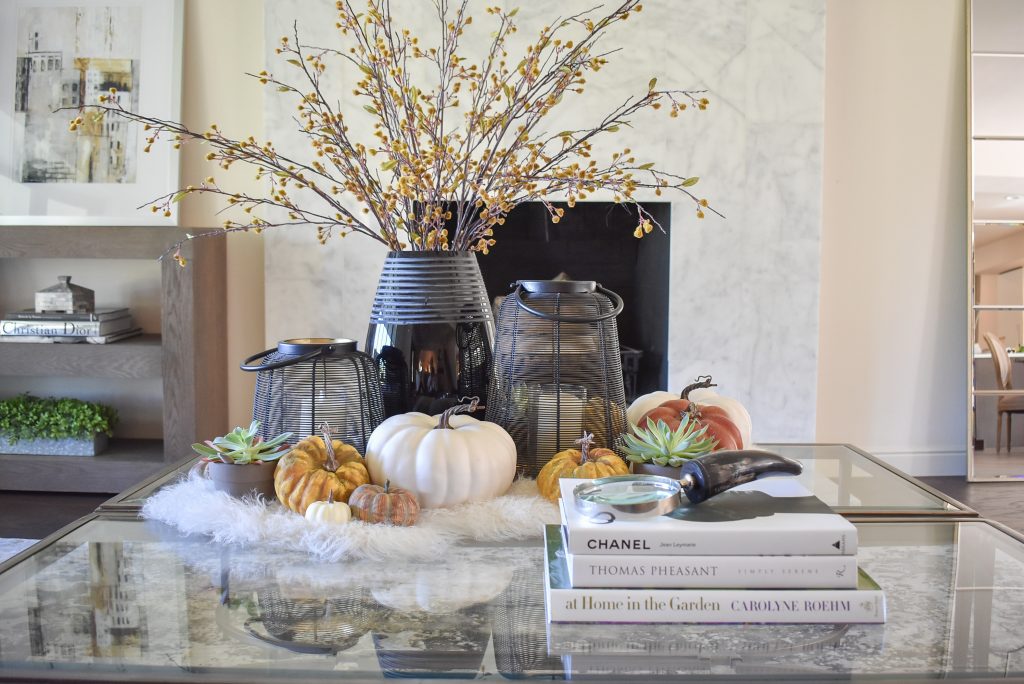 If you want to save your expenses, you can use natural items to decorate a coffee table. For fall, coffee table decor ideas with decorative gourds are a perfect choice. You can either cluster together the gourds or line them up on your coffee table.
For a pattern, you can take different sizes of gourds. Along with gourds, you can place leaves, faux plants, etc., to make your coffee table extraordinary.
8. A Basket of Pumpkin
This fall, add warm hues to your coffee table decor ideas by placing a basket of pumpkins on your coffee table. You can replace pumpkins with gourds as well, depending on availability and preference. The real pumpkins and gourds can be replaced by faux ones to create a similar decoration for your coffee table.
Complementary addition of plants, vases, and other ornaments can be used as well. If you are choosing a white theme, a touch of greenery along with the pumpkins will enhance the decoration. Because of its minimal design, it is best for people looking for minimal coffee table decor ideas.
9. Decorate with Succulents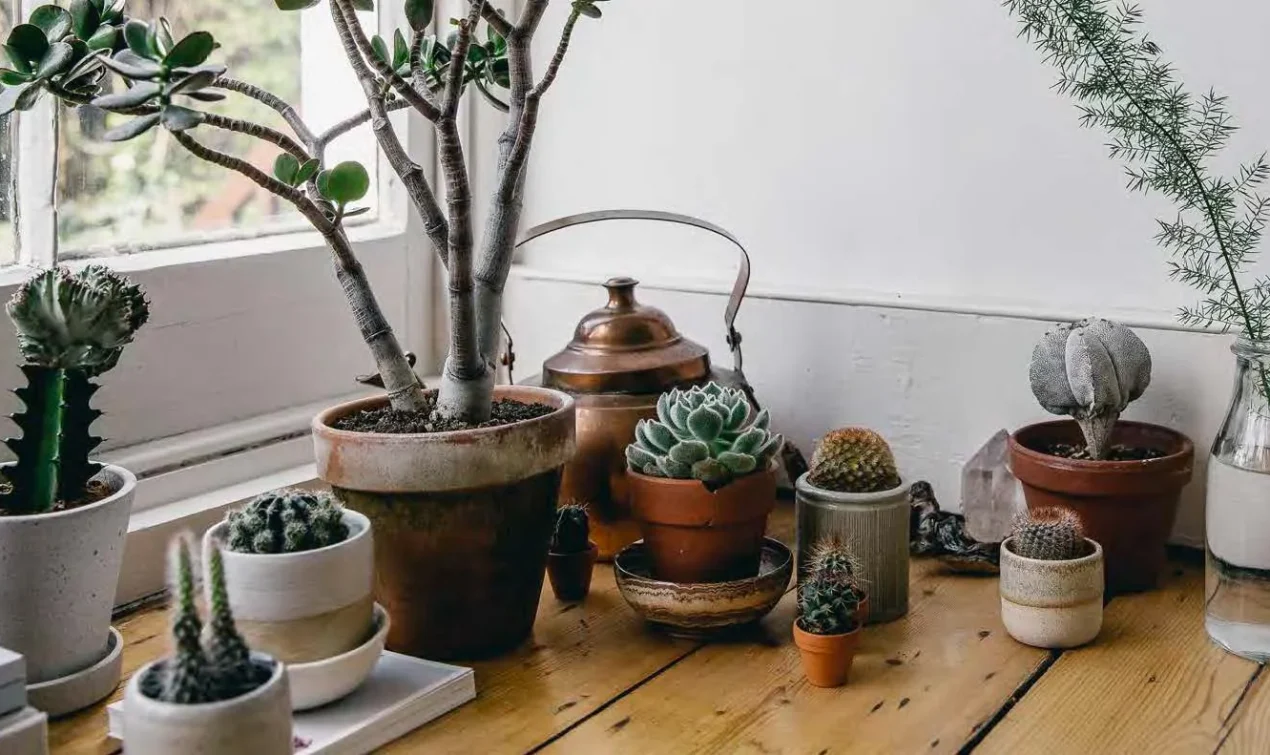 A dash of greenery on your coffee table will add a contemporary style to your coffee table. Succulents are the best ways to add natural texture to your coffee table. One of the coffee table decor ideas is to plant succulents in a scattered pattern.
For this, you need to get similar or different-sized pots to plant an individual plant. The regular pots can be replaced with glass pots to elevate the aesthetics of the coffee table.
10. Succulents with Moss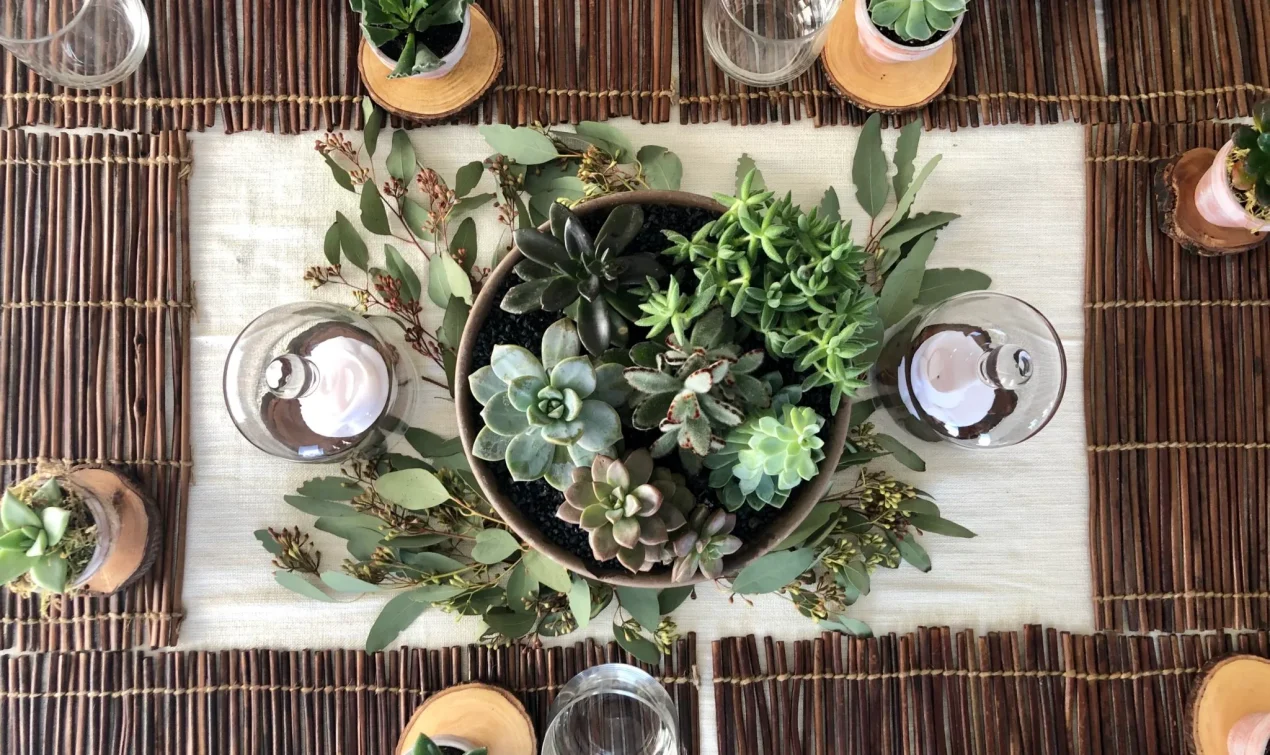 Succulents can be used as table runners when their cuttings are integrated with moss. Here, rather than whole succulent plants, only succulent cuttings are used. Other than moss, Eucalyptus can also be used for creating this centerpiece for your coffee table.
Although this provides a stunning outlook to your table, it has one drawback. Coffee table decor ideas using succulent cuttings are only meant for short-term use and are thrown off after their use. So this coffee table decorative idea is best for decorations at events, parties, or special occasions.
11. For Fall, Pumpkin is a Must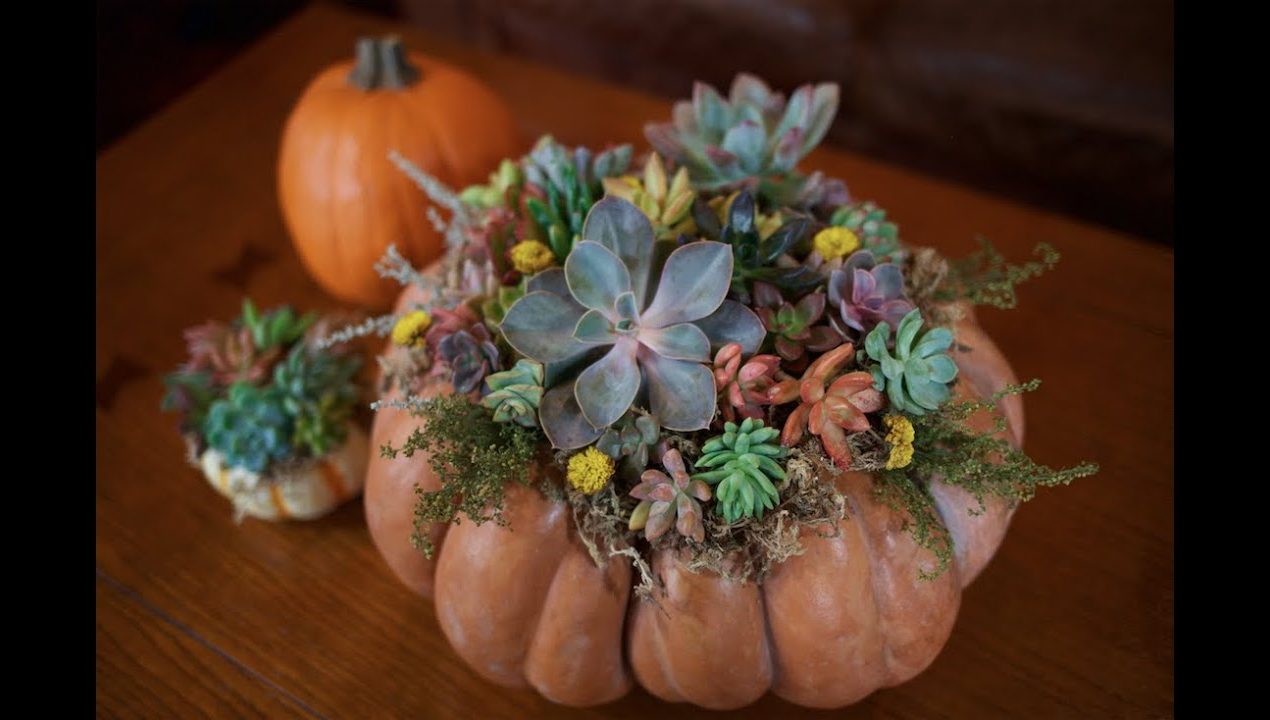 Pumpkin decorations for the coffee table for fall are breathtaking. One of the coffee table decor ideas that integrate pumpkins into your decoration is creating a centerpiece using both pumpkins and succulents.
There are two ways to do so. You can either decorate succulents and pumpkins by placing them in close proximity and creating a structural decoration for your coffee table. Another way to do so is by placing moss on top of a pumpkin and later planting the succulents on the pumpkin. Centerpieces created both ways are equally incredible.
12. Coffee Table with Cacti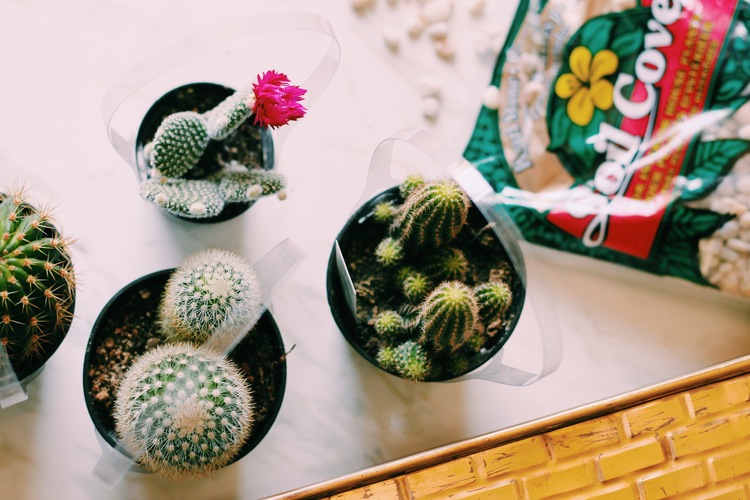 Cacti are an interesting green element of coffee table decor ideas. Depending on what type of decoration you require, they can enhance the decoration of your coffee table. For a subtle design, you can place all green shades of cacti in plant holders of white color.
If spare mugs and jars are taking extra space, place your cacti plants on them. For a detailed decor idea, you can hand-paint the pots or enhance the beauty of cacti by using a glass florarium. A cacti centerpiece can easily be created by placing numerous cactus plants in a single pot.
13. Add Hues Using Flowers
Small potted plants make an excellent choice for indoor decoration, so let's explore their use for coffee table decor ideas. Flowers with soft & light fragrances are best for seating areas. Some of the plants you can go for are Lavender, Lemon Balm, or rosemary. Bonsai is another flower that is a great choice for a coffee table.
The simplest way to use plants for coffee table decoration is by choosing a combination of multiple planters with different colors. The corners of the table can be covered with trailing plants like Pothos. For reusing cups, you can creatively paint them and plant small potted flowers to upgrade your coffee table. Another interesting idea to provide aesthetics to your coffee table is by covering your pots with knitted fabric.
14. Add an Ottoman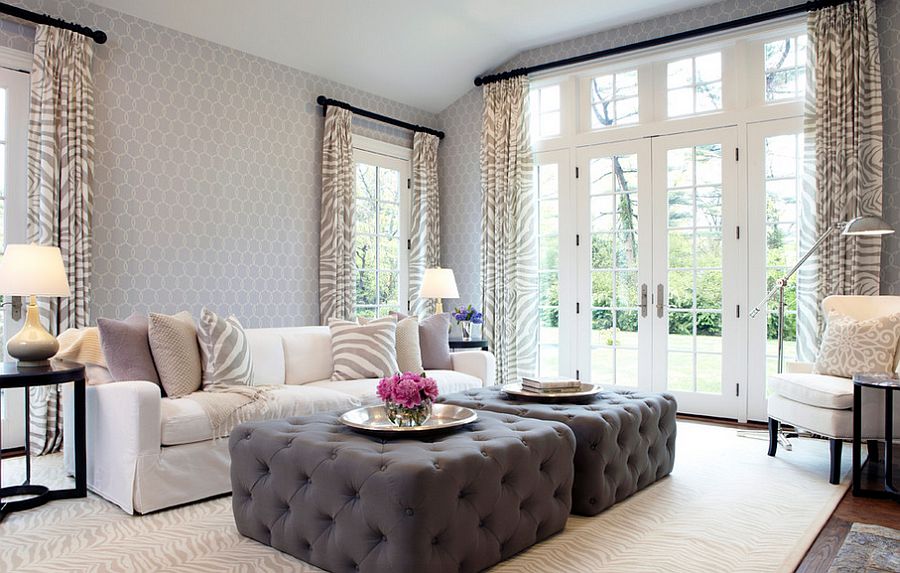 Are you in search of decorative items that also have functionality to serve? Ottomans, when added to your coffee table, offer functionality along with providing elegance to your home. An ottoman can act as extra seating, a place to put down the accessories when having your cup of coffee, or simply add aesthetics to your room. For minimalists, neutral shades can be used to complement the other decorative items. But you can also boldly choose a lively print.
For finer details, you can decorate your ottoman with accessories. You can also place your collection of favorite books or flowers. Styling an ottoman with a tray, too, is a hit. Add antique bowls & dishes, or simply add a personal touch by adding a photo frame.
15. Decorate with an Interesting Bowl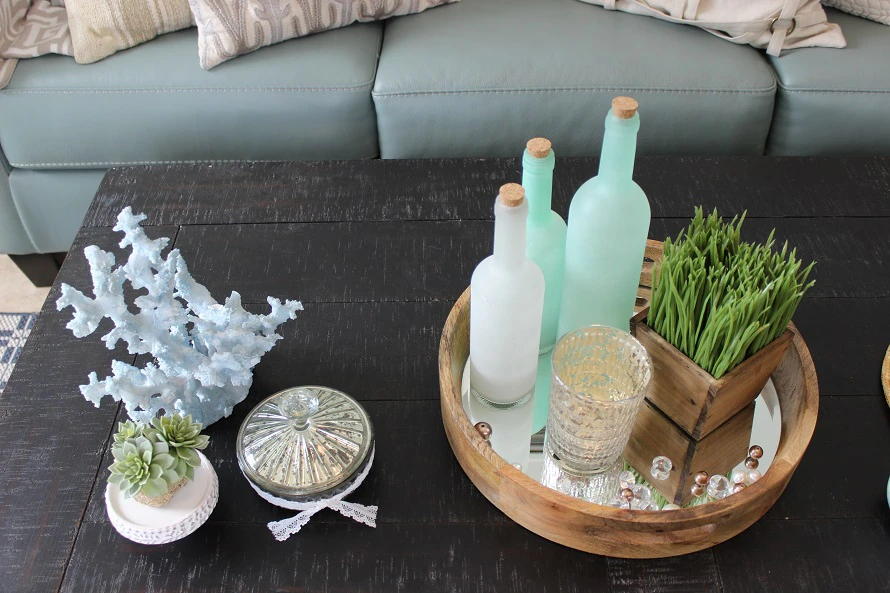 Bowls offer the greatest versatility for table decorations. They give a dimension and an extra personality to the table they are placed on. Let us learn how to use bowls for our coffee table decor ideas. The manufacturing of creative designs has made the use of bowls for decoration easier. For minimal touch to your coffee table, add bowls with minimal designs.
But you can choose boldly and choose bowls with creative patterns and designs. You can also stick with a single theme for a sophisticated look. Once you have placed a bowl of your choice, make it a centerpiece by putting decorative items like pumpkins (best for fall), pine cones, marbles, art pieces, or simply fruits.
16. Choose a Round Coffee Table
While you can experiment with the design of your coffee table, a round coffee table effortlessly adds sophistication to your home. If your round coffee table is wooden, the combination with wooden platters will make it look astounding.
With round tables, space is a bit compromised as compared to square or rectangular tables. So decorating round tables should be carefully done. Rather than randomly placing the decorative items, purposely choose items you will display on your round coffee table. Similar objects can be placed as a cluster or by creating a space between them depending on the size of the table.
17. Display Your Book Collection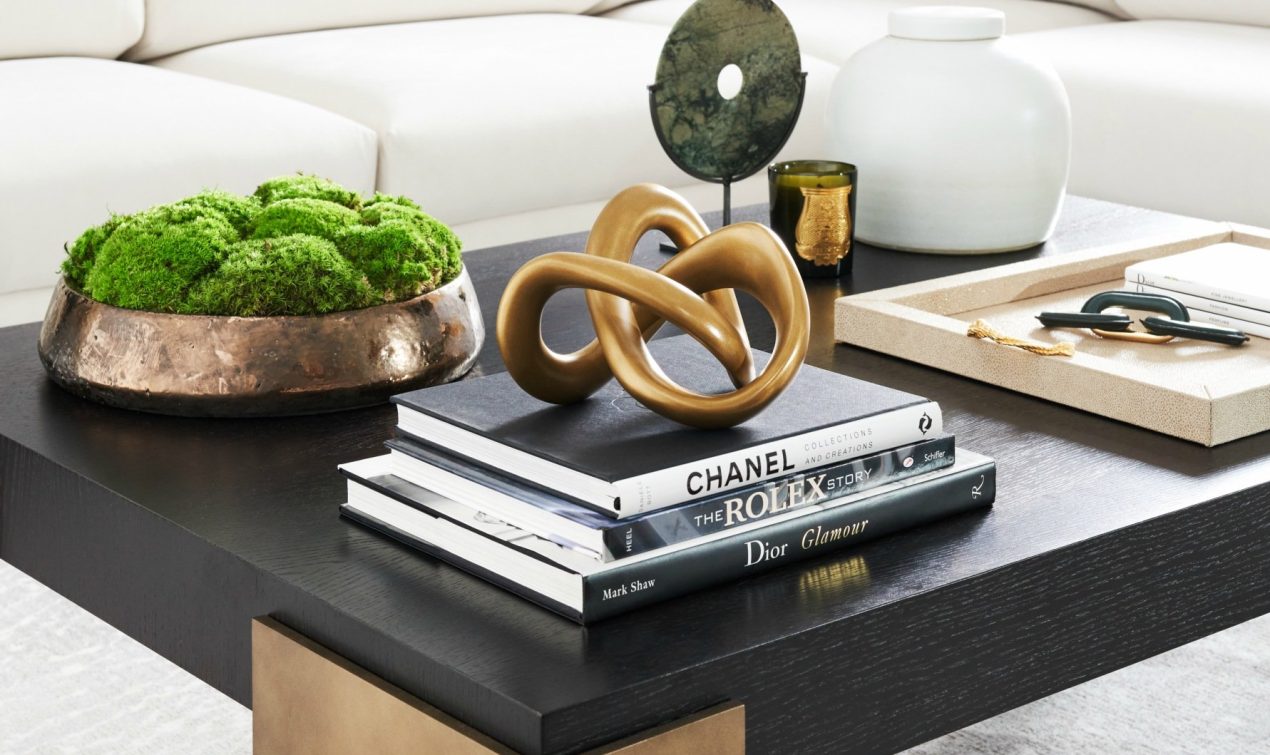 Coffee table decor ideas, utilizing books elevate the whole concept of table decoration. When choosing the books for table decoration, pick thin books only if you want to put magazines on your table. Otherwise, thicker books are preferred by the designers that provide an eye-catching setup. The selection of a book for decoration will also depend on the type of content.
Choose books that the guests or visitors might want to read. The best books for this purpose are Encyclopedias, prose books, famous painting books, etc. Another criterion for selecting books can be based on your interests. Here, showcase your style and interest by displaying your favorite collections.
18. A Centerpiece Using Dried Grass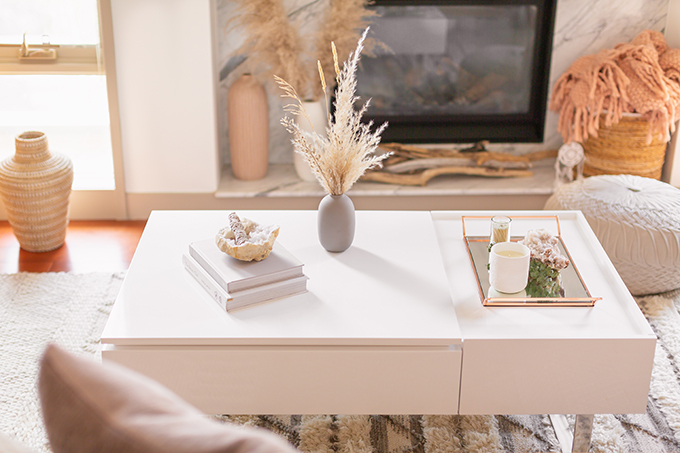 Dried grasses provide a minimal outlook to your coffee table without compromising the aesthetics. Among different types of dried grass, pampas grass is widely used for decoration. Dried grasses can be used both as a filler and as an individual decorative piece. For using dried grass as filler, you can add it along with other potted plants or decorative items.
For solely using the dried grass, you can create a focal point for your coffee table with coffee table decor ideas involving dried grass. You can place it in small bundles and put it on your table. If you are using Pampas grass, it can last up to 3 years if you are providing optimum care. Dried faux grasses are easily available as well, which will enhance your coffee table decoration.
19. Aesthetic of Driftwood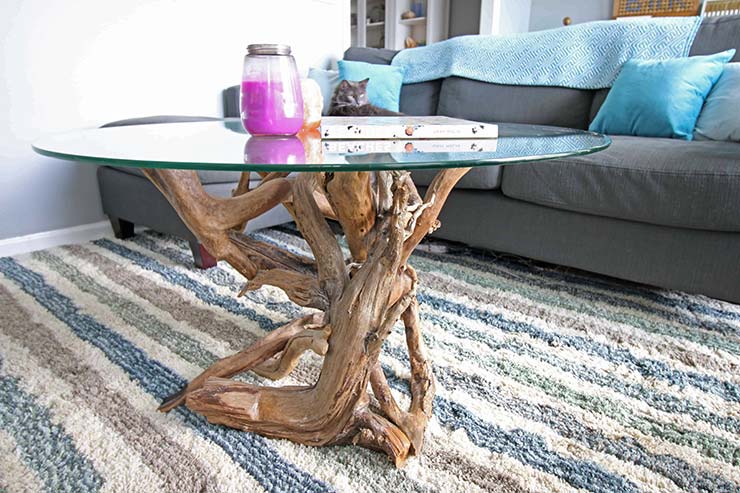 For people looking to make their coffee table look absolutely natural, adding a piece of driftwood would do the task. The best part about placing driftwood on your coffee table is that the functionality of your table is not affected.
This is so because decorating with driftwood can help you in styling your table but also leave space for the essentials. You want to keep a mug on the table; you have the space. You want to keep a book on the table; you have the space. The benefit of coffee table decor ideas with driftwood is that it has more durability than flower arrangements. Alternatively, to create a unique coffee table for your home, you can build the whole table using driftwood.
20. Be Innovative with Your Tray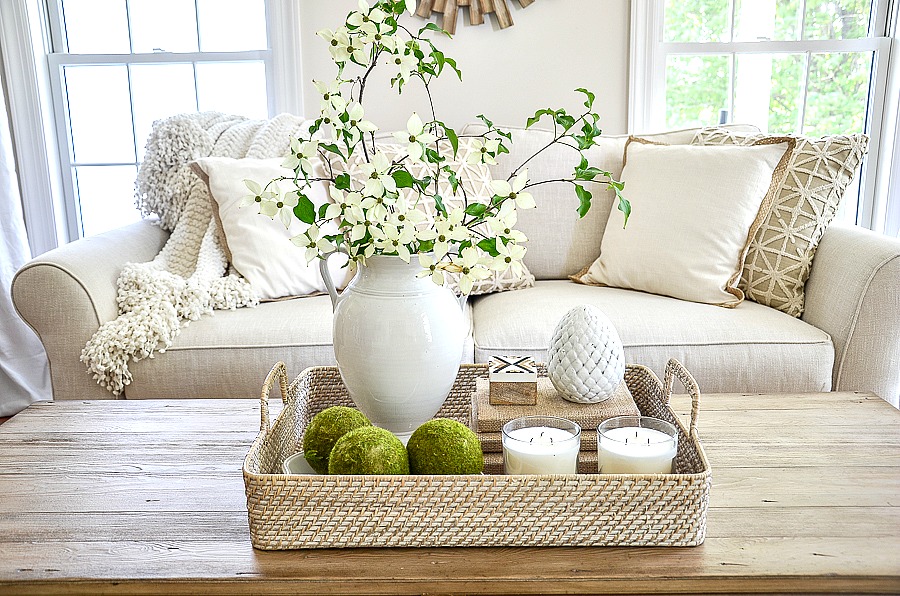 Are you struggling to add color and texture to your coffee table? You can do so by investing in the right trays to accent your coffee table. The size of the table is an important factor when placing a tray. If your coffee table is large, placing a large tray relative to the size of your table will make it easier for you.
Placing larger trays on your coffee table will not only provide it with an elevated look but also help in keeping the table tidy. For smaller tables, use round trays as they take up less space. Make sure to use the right texture and color that coordinates with the room and other decorative items.
21. Coordinate With the Rest of the Room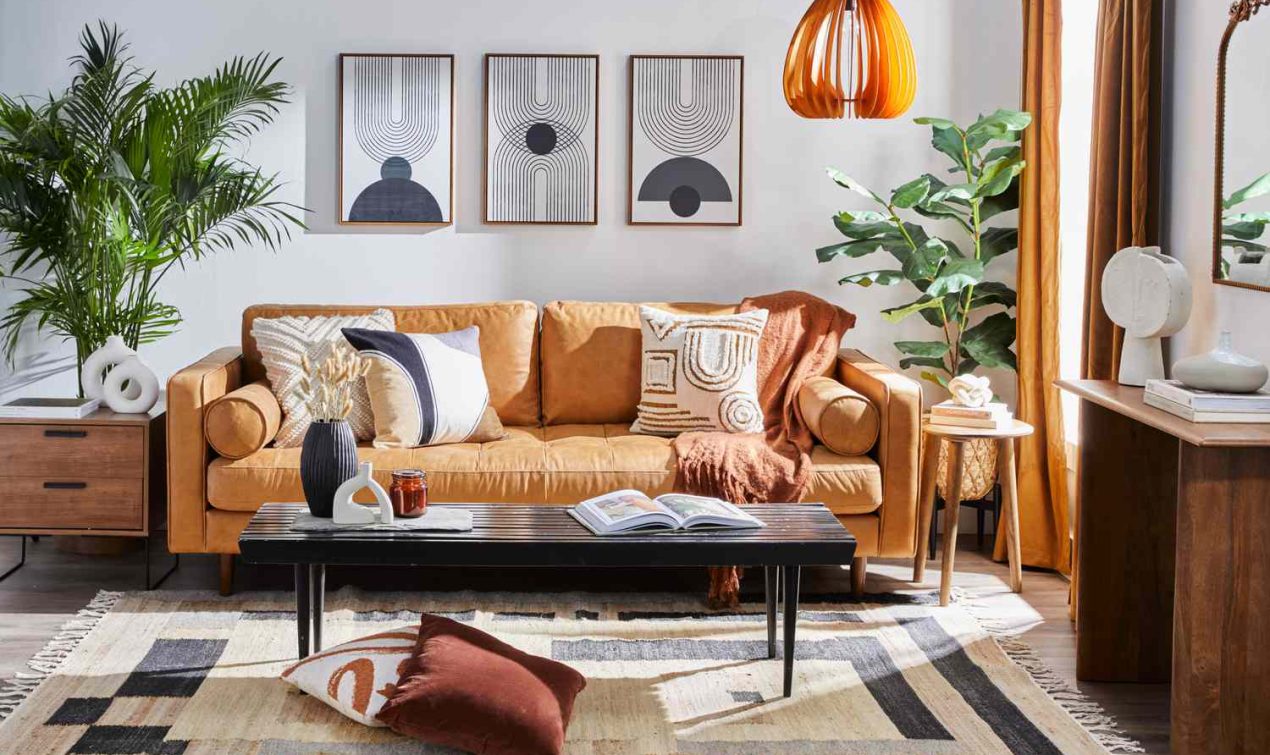 You put all your effort and hard work into filtering the best coffee table decor ideas to curate the finest coffee decor. All your hard work can go in vain if it does not match the room's interiors. Hence, it is necessary to match your coffee decoration with the interiors of the house.
Color coordination with the room interiors, including the flooring, wall decoration, and seating area, is essential. Whenever you choose any of the decorative pieces for your coffee table, it is crucial to make sure that every decor item you choose goes along with the interiors.
22. Add a Structure with a Bottom Shelf
If your coffee table has a bottom shelf, it gives you another chance to test your creativity. Do you have decor items you so much wanted to put on the top shelf but had no place left? The bottom shelf is where you can display your favorite pieces.
The fun part is that you can switch the bottom and top decor items whenever you wish! Place your favorite lamps, books, smaller plants, trays, or candles, and make the bottom shelf an intriguing part of the coffee table.
23. Decoration with Cloche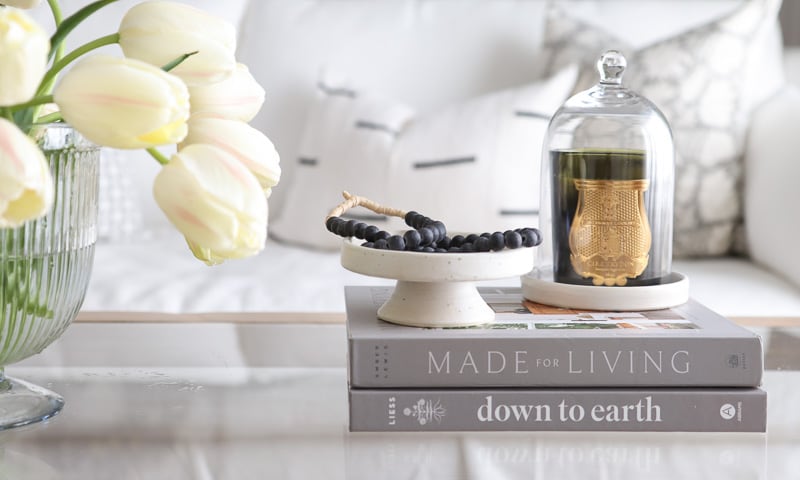 Cloche, if used efficiently, can turn out to be a great decorative piece in coffee table decor ideas. Cloche can be used in a variety of ways. If you are fond of the collection, display your collection and create a focal point on your coffee table.
To create a decorative item for your coffee table, you can place another ornament to enhance the beauty. You can use a cloche to elevate the adornment by using plants. The addition of cloche to faux plants, too, will make your coffee table stand out.
24. A Coffee Table with a Photo Gallery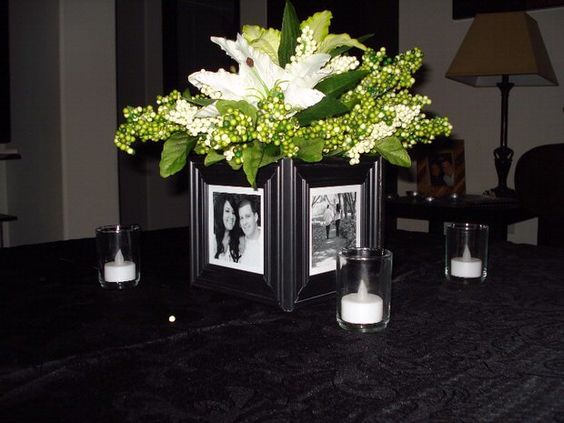 Accessorizing a coffee table with photos can make it unique and add a personal touch. For decorating a coffee table using photos, you can put frames depending on the size of your table. Do not overcrowd the table; add fewer photos so that the table does not look messy. With fewer images, attention to a single photo is increased.
Choosing an odd number of photos is advisable. The frames should complement your room's interior. When choosing photos, make sure you select zoomed-in photos rather than a photo where you can not be seen. Other accessories like candles, lamps, or vases can be added as well that matches the photo decoration. When other decorative items are added, it is advisable that the photos are placed in a group.
25. Add Fun Elements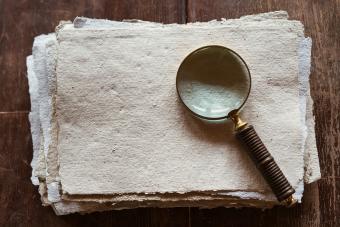 Books on a coffee table are elegant, but why should you not add a few fun elements to your coffee table? It can be an antique decorative item that gathers everyone's attention or a pair of binoculars. There is no limit to what you want your coffee table to be.
Do you want to add intriguing decorative busts and turn them into a museum? Well, go on; that is one of the best coffee table decor ideas. A magnifying glass is another way to make your coffee table intriguing.
26. Experiment with Vases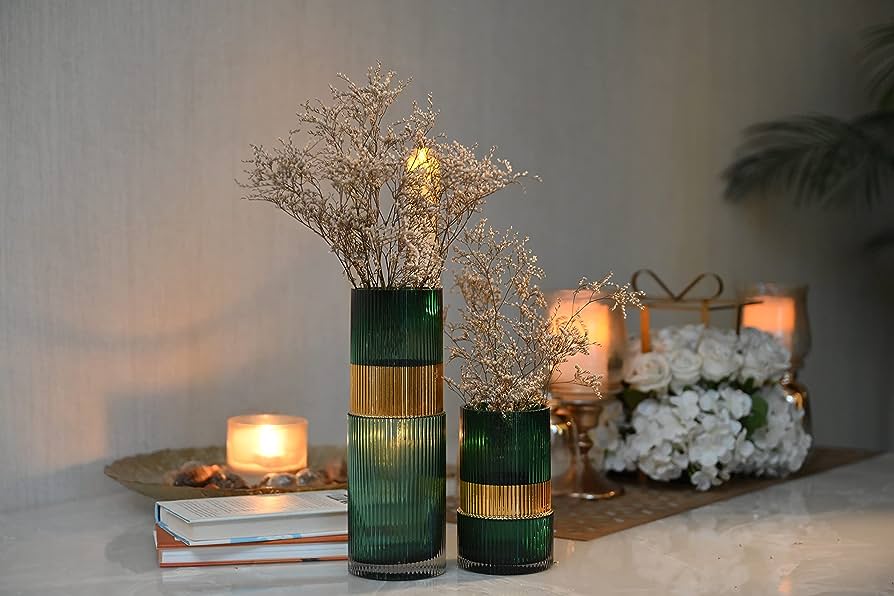 Vases form an integral part of decor ideas, so here we are with the vases for the best coffee table decor ideas. Vases can be used in various ways. Do you have plants? Use vases to adorn the beautiful blooms. Do you have faux plants? Again, place them in beautiful vases to make them look exceptional!
Even if you have no plants, vases can be used alone, and they will still be visually appealing. Vases can be adorned in different ways. You can paint them, cover them with knitted decorative clothes, or add beads; all the ways of decorating with vases turn out to be extraordinary.
27. Pebbles for Coffee Table Decoration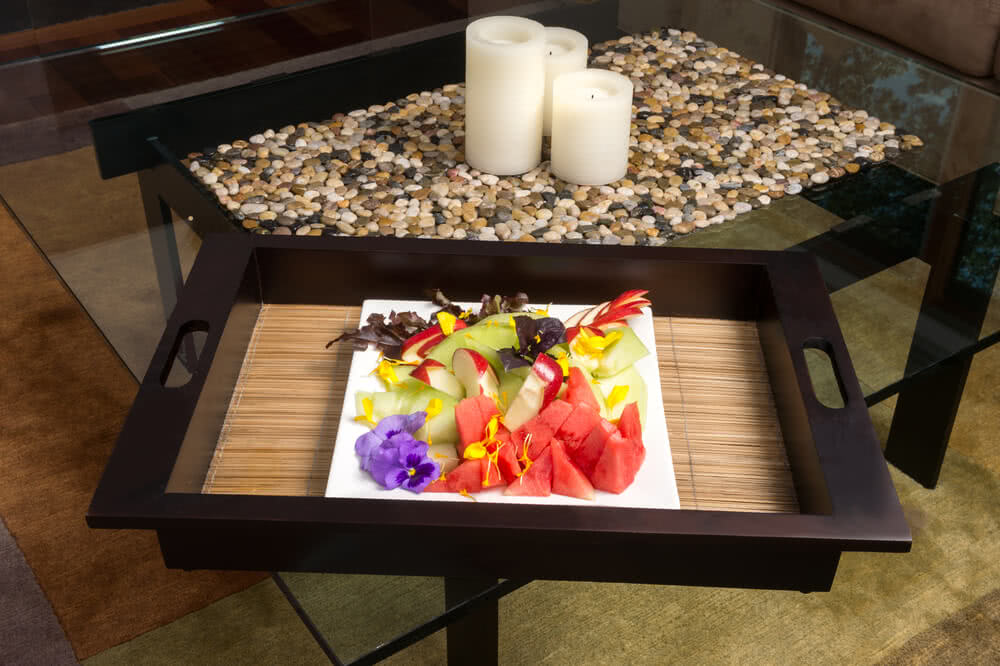 If ordinary centerpieces for coffee tables don't intrigue you, we bring you an interesting yet natural & simple decor idea. Creating a centerpiece by using pebbles provides a minimal decor pattern for your interiors.
This rustic coffee table idea is great because decoration wit pebbles complements almost every decor pattern. And with pebbles, the beaches have been blessed with a great variety. Pebble decoration goes best with plants, shells, vases, flowers, and almost every ornament we use for decoration. The natural hues present with each pebble make every pebble centerpiece unique.
28. Empty Your Table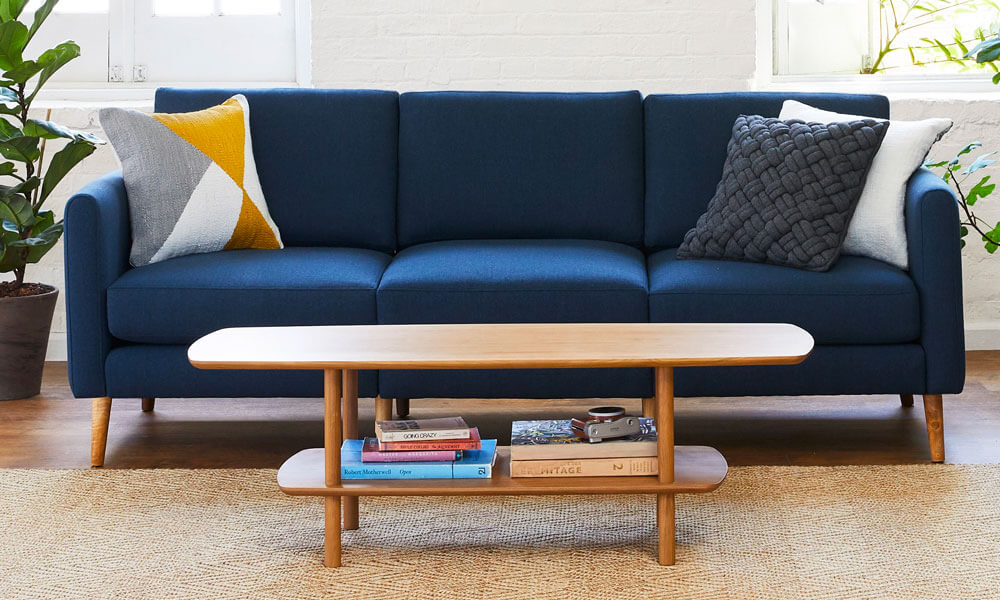 Does this decor idea confuse you? Let us help us understand why this is also one of the coffee table decor ideas. Imagine you have a small setup for a coffee table. Adding multiple ornaments will make it look messy. Or if your table plays multiple roles throughout the day, decorating it would take a lot of your effort.
Hence, for smaller apartments, coffee tables, if left bare, can also be aesthetically pleasing. But the condition here is that the space, in proximity to your coffee table area, is well decorated. Place a comfortable couch, a floor lamp, and a few decorative plants, and you are good to go with this minimal coffee table decoration.
29. Place a Game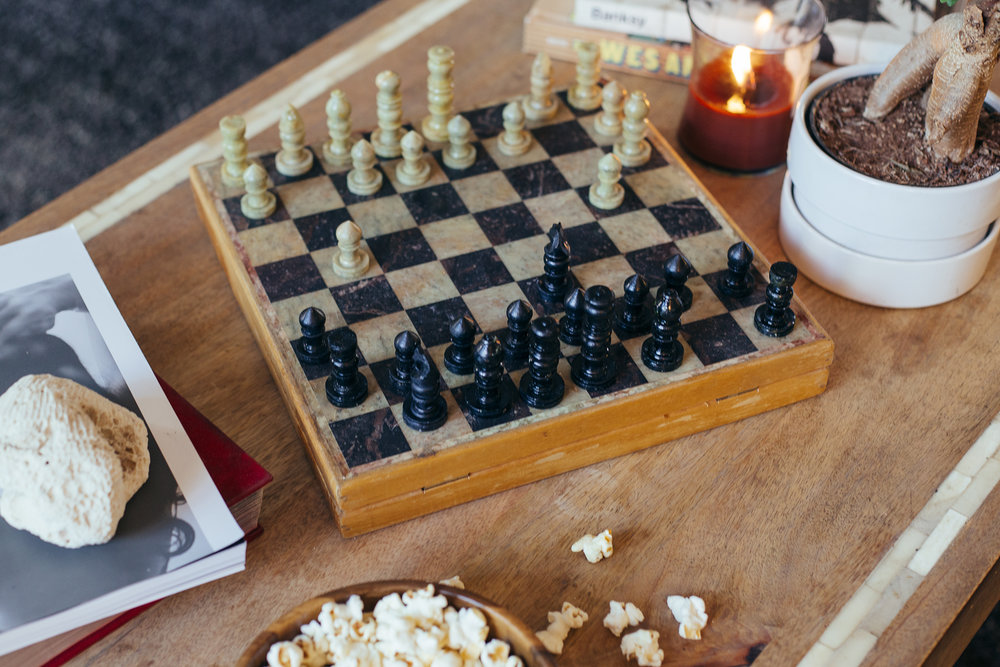 Just talking about your lives and snacking can be a little monotonous. To kill boredom, you need to find ways that will entertain your guests. You can do this by placing games as decorative items on your coffee tables. Chess, Quarto, Cathedral, Pylos, and Monopoly, are a few games that will provide aesthetics to your coffee table setup. A puzzle to put together or playing a board game together will provide a sense of relaxation and make your coffee table unique.
30. A Vintage Coffee Table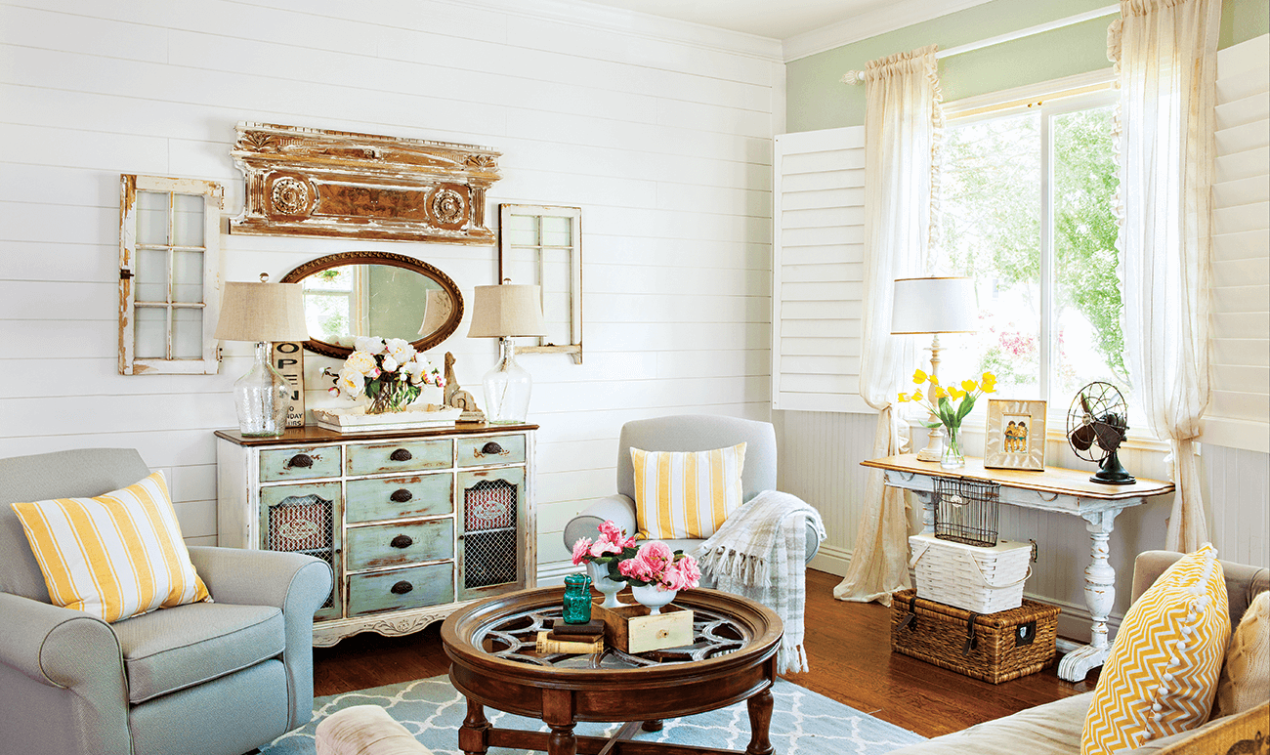 If vintage themes are one of your inclinations, coffee table decor ideas will definitely fascinate you. For a vintage look, use furniture that gives a vintage vibe. Use colors for painting furniture that fall under vintage shades.
Adding a collection of old leather to your seating area is another way to enhance the desired outcome. Walls and ceilings of white color create the best vintage look. And to enhance the overall vintage look, bring out all vintage decorative items like old lamps, candlesticks, etc.
Conclusion
Falls are incomplete without pumpkins, so for a fall coffee decor idea, pumpkins can not be missed. How you decorate your coffee table will depend on your personal choice. For natural touch, plants, succulents, and potted flowers can be used. Faux plants are an alternative here if you want to skip the maintenance of the plants.
You can add interest to your coffee table by displaying a few games like chess. Decoration of the coffee table is possible with a great variety of items like pebbles, candles, art pieces, cloche, or bowls.
In this blog, we tried to cover coffee table decor ideas that will astonish you! If you have any decor ideas for a coffee table, let us know in the comments below!