24 Amazing Entryway Bench With Storage Ideas To Love
Thinking of a stylish home that makes your homecoming worthy?
It all starts with the entryway. Often overlooked, an entryway can be made an unmistakable essential while curating a stylish home. If you wish to cast an everlasting first impression, an incredible entryway is the key. It should demand a second glance while being purposeful, and it should welcome people in style while providing warmth.
The solution to achieving a perfect balance between a purposeful and aesthetic entryway is an entryway bench with storage. You are all set to welcome your guests in style without compromising on functionality.
Read on to learn how to heighten your home with an entryway bench with storage that is practical and stylish.
Why Do You Need an Entryway Bench with Storage?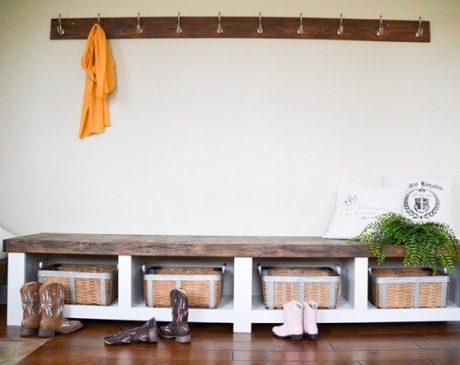 Who doesn't love multi-purpose furniture? An entryway bench with storage is the most versatile piece of décor you can hope to have in a foyer. So, if you had never thought that you needed one, let me convince you otherwise.
They anchor the aesthetics to your home right from the entrance.
They serve as storage cabinets for shoes, supplies, bags, etc., to keep your entryway clutter-free.
An entryway bench with storage allows you to sit and leave delivery packages when it is outdoors.
Another way to use outdoor storage benches is by using them for storing gardening supplies.
You can sit down and tie your shoelace in peace without wobbling and losing balance. Helps when you are old or have back pain too.
You can put your keys and wallets on the bench to easily grab them on the go.
It will help you keep your things organized at the entryway so that you don't scramble for things when you need them.
These uses don't seem much. Trust me; they make a lot of difference in practical living.In conjunction with elegant decoration, they add a visual interest too.
Here Are Some Things You Should Consider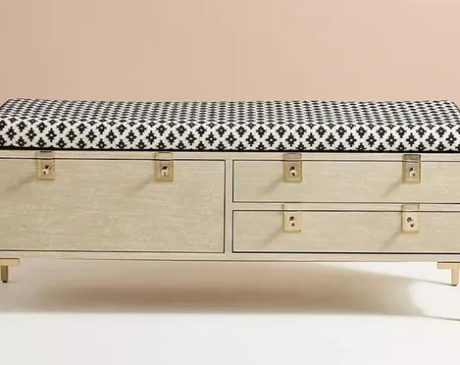 Building a new home, redesigning your entryway, or just buying a new bench, you need to consider the following things for the transitional space.
Budget – It will have the most impact on the outcome and will drive your plan. You cannot give in to your whims on a tight budget. In that case, lean towards DIY benches. The flea market is another wise option. However, if you have an unlimited budget, you can get your hands on the best designer storage bench. Just as how it is not ideal for splurging on your shopping and exceeding budget, it is also unwise to invest in a substandard product that won't last long. Take your time, research, and save up to create a delectable entryway.
Who is planning – Are you doing it yourself or hiring a decorator? It really matters when it comes to the quality and designs.
The size of the entryway – It will allow you to plan well by assessing the ratio of the room to the bench and help in picking an entryway bench with storage of the appropriate dimension.
The architecture – The architecture decides the shape and type of bench if it should be L-Shaped, circular, rectangle, or square. The amount of space available will decide if it can be a big bench or a built-in one and determine if a high or a low bench fits best. For example, A low bench will adapt well under a staircase.
The main purpose – It's your home. So, you decide what is your primary need for an entryway bench with storage. Is it only for aesthetics or functional benefits, or both? This will help you figure out what type you need for your entryway.
Efficient lighting – Well, lighting may be a key factor in designing any room, but it's most important for an entryway that has to be well-lit all day long. As entryways tend to be long and narrow mostly, they require more lighting to increase the perception of space.
Homedécor – An entryway can be visually appealing only when matched with the overall interior décor of the house. Identify the style and stick to it. Understand the color tone used throughout the house and play along.
Keep the Pathway Clear – In enthusiasm to buy a bench that you love, make sure it doesn't block the way.
Where to Buy or DIY?
The market is flooded with plenty of options, and there is an entryway bench with storage for every type of home. You will definitely find something that you love.
You can choose from a variety of woods like oak, mahogany, teak, maple, walnut stained, or, you know, plywood that matches your wood trim. There are bamboo or rattan storage options too, which are sustainable. You can go for combinations like metal legs with leather cushions. You can choose between different textures and colors; there are endless options to suit the style of your home.
For elaborate designs, check out IKEA, Pottery Barn, West Elm, Crate and Barrel, or Maiden Home, starting from 200$ and more, based on the design and the retailer. But budgeted shopping needs elaborate research. Check out aggregator websites and Keep your eyes open for offers.
There is another option. If you're crafty, you can make a simple DIY bench starting at around 50$.
Ideas that You'll Absolutely Adore for An Entryway Bench with Storage
Looking for ideas to streamline your entryway? Whether your foyer is formal, heavily trafficked like a mudroom or a narrow hallway, you can scoop your choice from the below list. Here are 24 ideas that will talk about all things modern about entryway benches with storage.
1. Faux Leather Flip-Top Storage Bench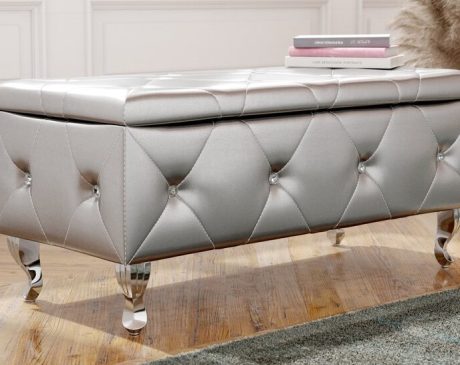 This will be the envy of every homeowner around the world. This faux leather piece with a silver finish is an eye-catcher, not to miss the matching legs. Flip up to reveal a hidden storage that strikes a balance between functionality and aesthetics.
Something about the slick, tufted leather design feels so royal.
2. Velvet: The Miracle Fabric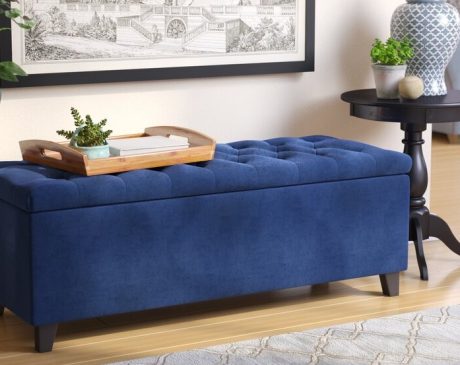 If leather is not your style, how about velvet? This simple design relies on the fabric and functionality offered by concealed flip storage to make it unmissable. The side table enhances the otherwise minimalist bench, and the décor adds more depth.
3. Level up The Velvet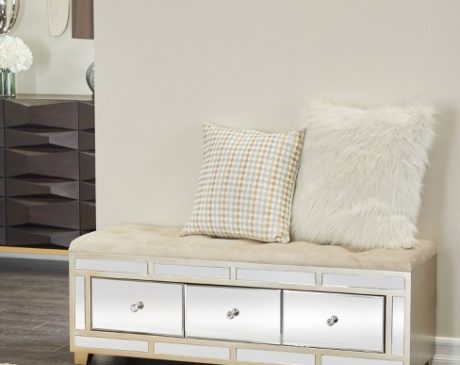 If the velvet is too sophisticated for you, turn up the glam statement with mirrors. This texture change makes a different ball game for your bench altogether.
This piece is totally glam-inspired with a luxurious combination of sleek finishes made of Chinese firewood, glass mirror, and velvet. It is the perfect entryway bench with storage for a glamorous home.
4. Fur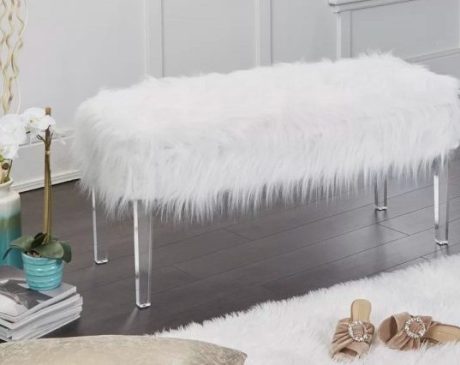 Fur storage benches enhance your entryway with a touch of luxury. It reflects glitz and glamor. And the glass legs give Cinderella vibes, don't they? Sure, you give your home a 'straight out of fairytale' look with this piece of furniture.
The storage space is so well concealed, making it good for a practical living while being in the 'A' game when it comes to aesthetics.
5. Sleek Game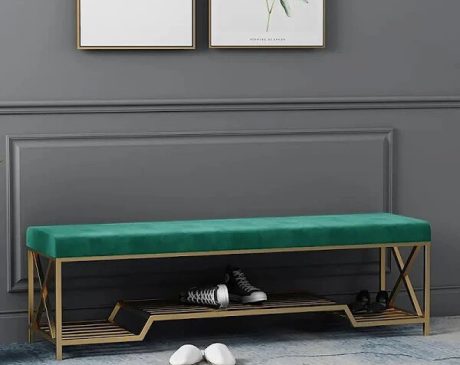 Ramp up the sleek game with this modern entryway bench idea.
The metal base ensures durability, and the color combination makes it an ornate piece. It's so gorgeous and stylish. But you have to compromise on the storage with a simple slab.
6. Contemporary All the Way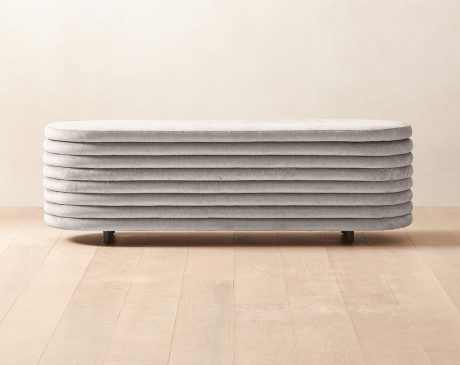 This design shouts contemporary. Right from the material to the color and the design, everything is modern. And do you see the storage space? That's right. It is very deep and ample, yet it's very well masked, making it a vision to behold every day.
7. Keep it Simple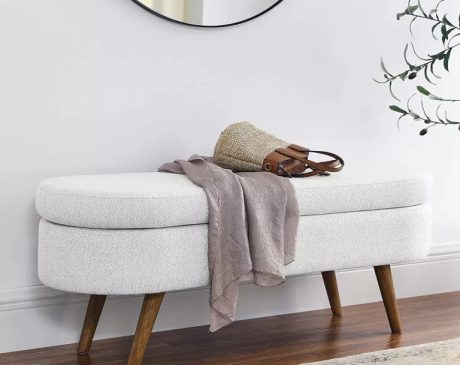 Are you a minimalist? Do you always prefer clean and simple designs? This entryway bench with storagewould be ideal for you. This unique shape makes it chic and will not detract you from your existing décor.
8. Wooden Storage Bench Drawers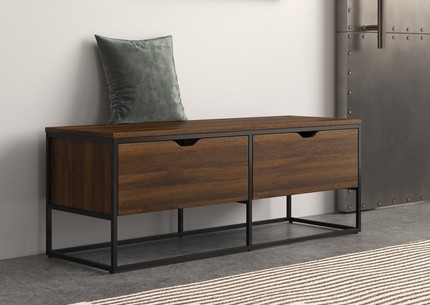 Wooden benches are classics. Brown and black furniture go well with neutral shade paints and cool tones. So this particular piece would be a perfect choice for such houses.
This design gives easy access for cleaning underneath, and the black powder-coated steel legs speak of durability. It is minimalistic and chic.
9. The Traditional Bench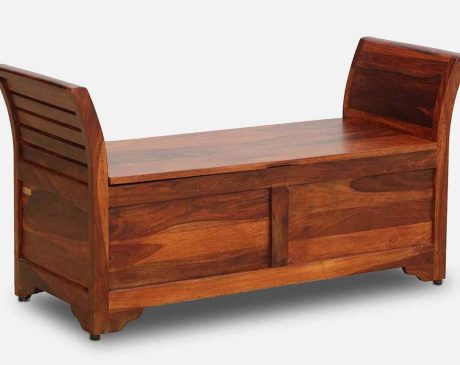 This traditional design is versatile and will make a great addition to the entryway. Durable cushions that suit the style of your house and nickel handles will blend in, adding to the traditional essence. Add a pop of colors by throwing in some cushions.
You can also introduce coat hangers nearby to complete the ensemble.
10. Open and Closed Storage – The Combo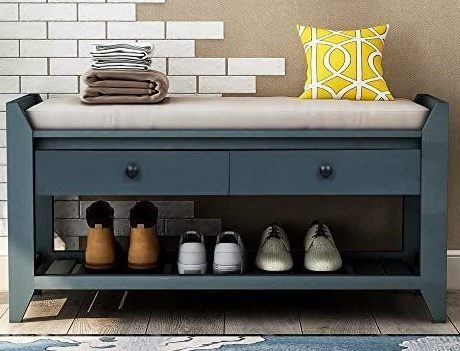 This simple bench is a combination of a cushion top, small drawers, and an empty slate. This small bench gives room for one person to quickly perch before making their run.
This combination bench works best for small spaces when the storage space requirement is less. You can also add baskets to the slate to provide more organized space.
11. Slide it Out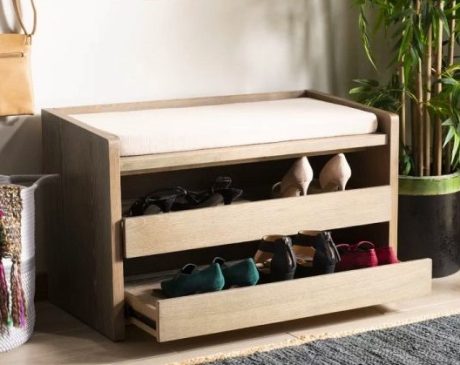 Yet another entryway bench with a storage idea, but with slide-out drawers. The cushion is upholstered in linen for easy upkeep. The simple and basic colors make it versatile, and it goes well in a warm room.
12. Pull-Out Shoe Cabinet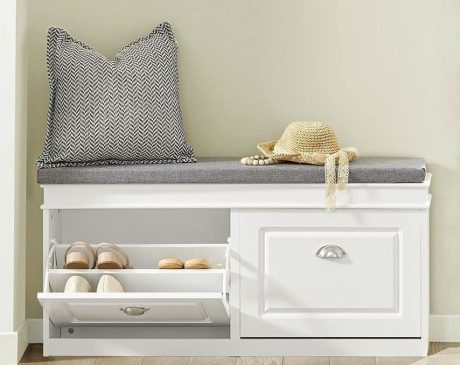 The particular piece shown in the image is suitable for a wiggle room. Reduce visual clutter using simple colors. It has an upholstered cushion and pull-out shoe cabinets, which allows easy grabbing of desired footwear.
When someone thinks of shoe cabinets, they think of the pull-out style.
13. Bohemian Style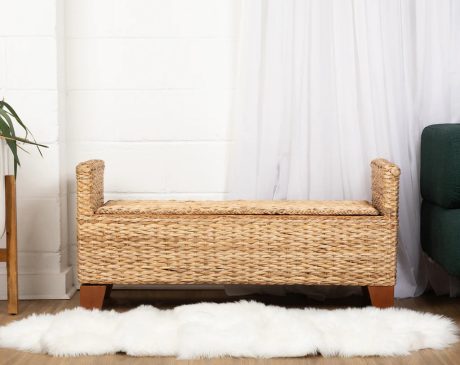 Tune in the Boho-style with rattan benches. You can opt for entire benches that are wicker, a combination with wood, or only use rattan storage baskets with a different bench.
These are perfect if you have a hygge home too. The natural texture and durable material add charm to your entryway.
14. Perfect for The Corner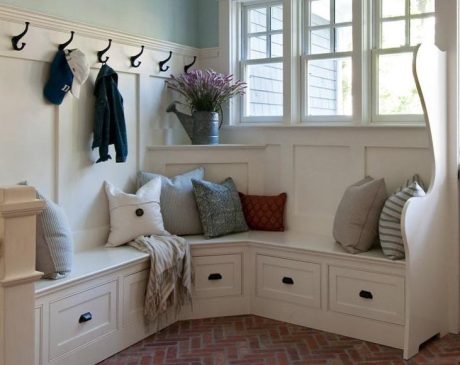 If a small corner is all you have for an entryway bench with storage, the designers have you covered. You can add cushions and pillows to make it comfortable. Run your imagination wild and make it your favorite corner.
15. For The Smallest Corner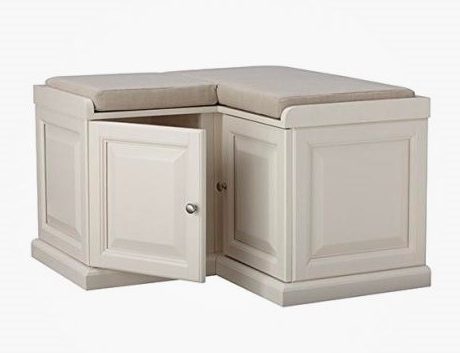 Okay, if you really think you couldn't fit the previous design in your entryway corner, you need to think again. From a single-seater bench to your number, there is a bench out there to fit your entryway size.
This design offers ample storage space while it can be conveniently tucked in a tiny corner. It can easily camouflage in a gray or white room.
16. Try an Entryway Stool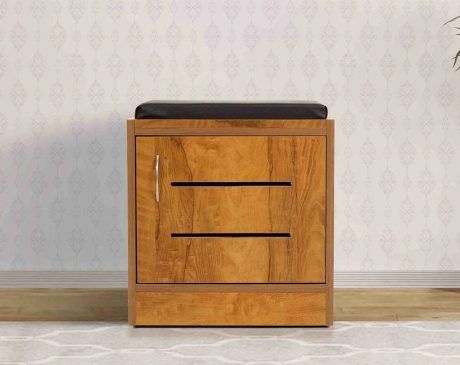 Why Always a Bench? Why Not a Chair or a Stool? Well, if You Have Space Constraints or Would Love to Have More Negative Space, a Storage Chair Is to Your Rescue.
This Classic Wooden Bench Is so Small and Is Close Enough to Pass Off as a Stool. You Can Also Opt for Lighter-Weight Stools that Can Be Easily Carried Around the House for Multipurpose that Are Available in Different Materials and Styles that Fulfill the Purpose.
17. Customized Circular Benches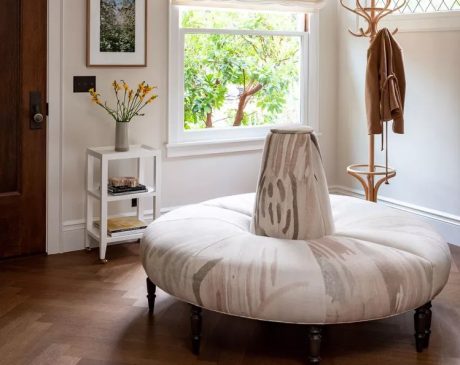 If You Are Blessed with a Big Entryway with Lots of Negative Space, or If You Are Considering Having Your Storage Bench Outside the Door, Consider Circular Benches with Concealed Storage Space to Stay Unique.
This Will Definitely Make Your Guests Envy You. Unfortunately, They Have to Be Customized for Concealed Storage Space. But, It Will Be the Centerpiece of Your Entryway and Garner Compliments.
18. For All Shoe Hoarders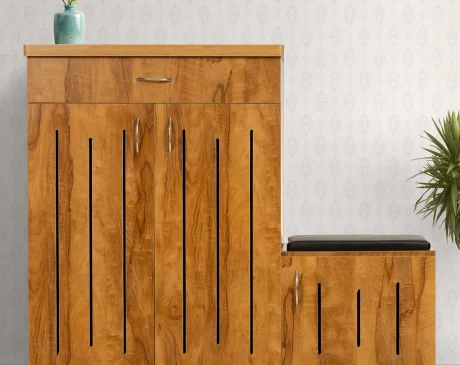 Shoe Hoarders Assemble! if You Just Love Shoes Way Too Much and Are Worried if You Can Fit Every Pair In, There Are Two Entryway Benches with Storage Ideas for You to Consider.
The Big Bench – a Simple Solution. But Your Entryway Architecture Should Favor This. This Gives You a Lot of Space for Your Innumerable Shoes. Another Option Would Be an Ensemble. That's Right. If You Are Unable to Fit Everything in a Small Storage Bench, Just Add a Big Shoe Cabinet Near It, Ensuring There Are All Aligned with The Design Scheme. Problem Solved!
19. Kids' Storage Bench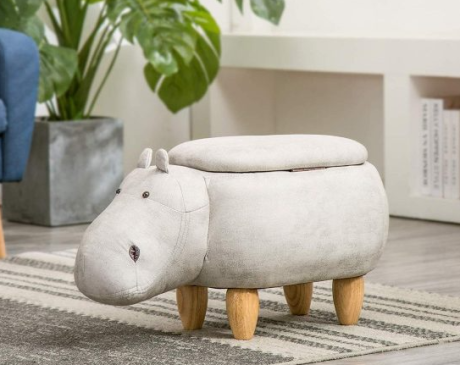 When your family grows, and you are looking to upgrade your entryway bench, why not consider adding one for your kid?
Obviously, this demands additional space, but how cute is this animal-themed storage bench? Your kid will definitely adore it and will want to carry it around the house. If you don't want that to happen, there is a huge range of kids' options in the market. Do check those out.
20. Turn Your Alcove Into an Entryway Bench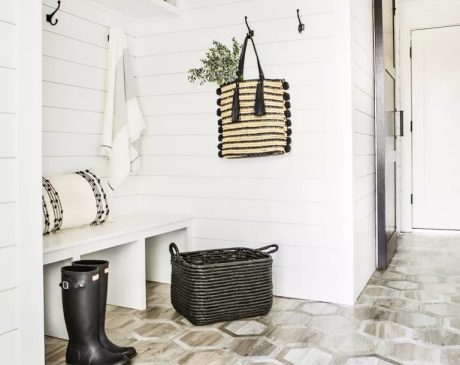 You Need Not Add an Individual Piece of Furniture for a Bench. Blend It in With the Walls for a Completely Minimalistic Approach to Your Entryway. Create Modular Storage Space Alongside, and The Job Is Done.
This Floating Bench Would Make a Great Idea for a Modern Home, Making It an Impeccable Entryway Bench with a Storage Choice.
21. Tuck Your Bench Under the Stairs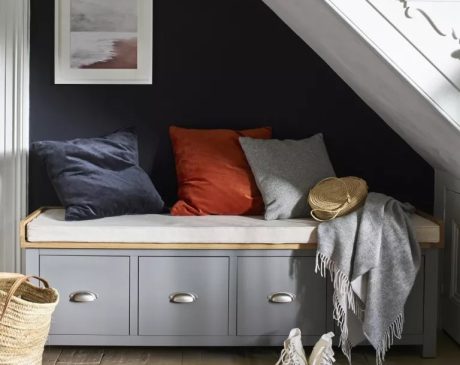 If Your Entryway Is Essentially a Narrow Hallway with Stairs, Then Make Use of The Ultimate Hallowed Ground for Storage. Tucking a Bench Under the Stairs Makes the Most of This Space, and Adding Storage Makes It Even More Ingenious.
Make It Cozy by Upholstering It with Cushions.
Diy Entryway Storage Benches
To All Skilled Craftspeople out There, Presenting to You a Few Diy Options as Well. Talk About Repurposing and Sustainability, These Ideas Are Rightly the Ones for You.
22. Bookshelf Turned Storage Bench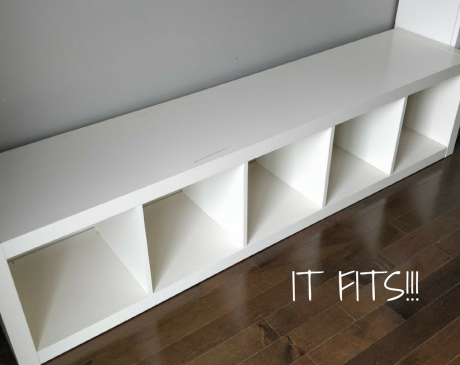 Give Your Old Bookshelf a New Purpose at Your Entryway and Redesign It to Match Your Interiors. You Can Add a Cushion on Top in Your Preferred Texture and Color to Perch Yourself Comfortably and Layer It with Some Cushions to Bring in The Vibe. Add Doors or Storage Baskets to Make a Fully Functional Modular Bench.
23. Custom Faux-Built Entryway Benches from Scrap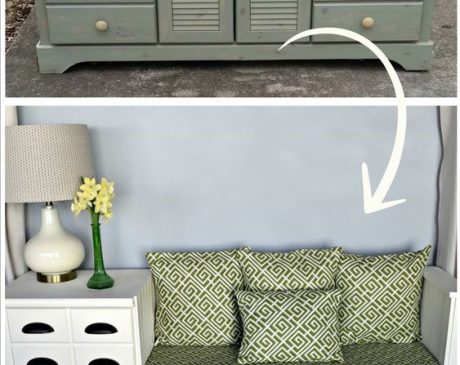 Are You Remodeling Your Home and Have Some Stuff to Dispose Of? how About Upcycling some of Them Into an Entryway Bench with Storage?
Say You Have an Old Door; You Can Turn It Into an Antique Bench with Coat Hangers. Or, if You Have a Headboard that You Are No Longer Using in The Bedroom, You Can Give It a Twist. Another Fab Idea Would Be to Convert a Dressing Table Into a Vintage Bench.
There Are Limitless Ideas. Get Creative!
24. Convert Your Clever Coat Closet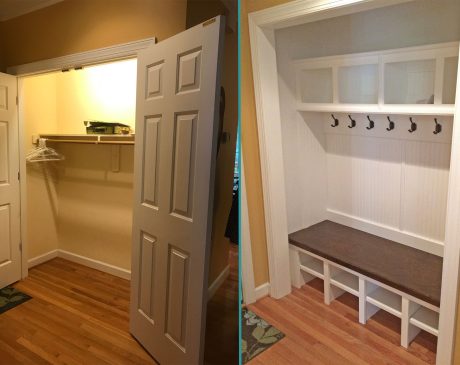 If You Are Refurbishing Your Home that Has a Coat Closet, You Are Lucky. Turn It Into an Entryway Bench Nook for a Compact Entryway. It's Very Effective When You Have Limited Space Considering It Can Be Used as a Bench, Storage Unit, and Coat Hanger All in One, Despite the Space Crunch.
Imagine the Space in The Above Image Decorated! Now Go Ahead and Do It.
Conclusion
Are You Persuaded to Get an Entryway Bench with Storage?
We Hope the Blog Gave You Some Insight Into What to Consider if You Are Looking for One. Whether You Have a Big or Small Entryway, Your Style Is Modern or Vintage, Your Storage Needs Are Big or Small, or You Favor a Particular Texture, Design, or Color, We Hope You Found Something that Resonated with You from The 24 Entryway Bench with Storage ideas.
Now you know where to look for the perfect entryway bench for your home, or you have planned to DIY, whichever works. It's your turn to impress your guests. Make folks gawk at your choice while making them feel at home with your striking entrance with a statement entryway bench. Comment in the box below which one of these doors you will install in your house.