22 Amazing Home Office Wall Decor ideas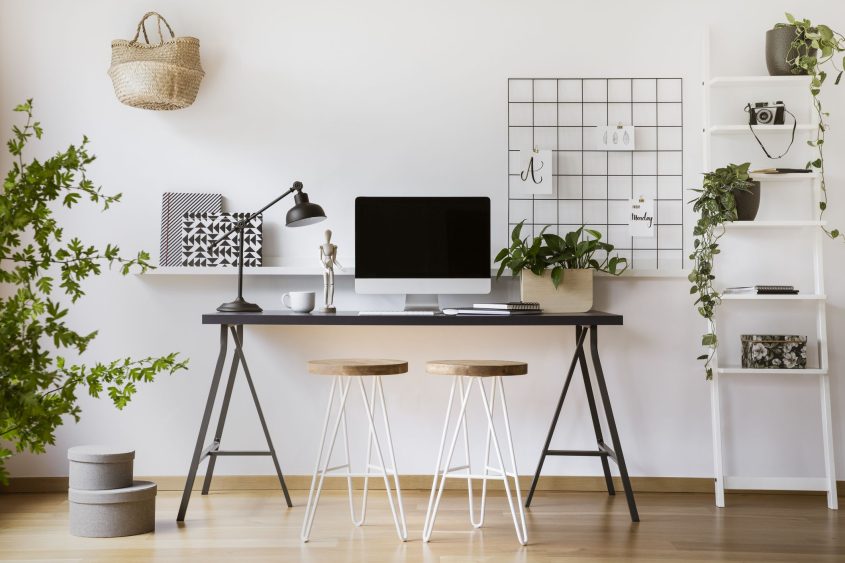 A home office has become an essential space in modern homes as the culture of remote work has been adopted all over the world by many organizations after the pandemic. A home office should be a space that creates a motivating and inspiring environment while also contributing to the aesthetics of your home.
A cool home office wall decor can boost your productivity by simply uplifting your mood. Whether you have a luxurious space to make a separate home office or just a corner of the room to comfortably sit with your laptop and work for an hour or two, your home office walls can effectively contribute towards your efficiency.
Join us on an amazing journey where we explore various office wall decor ideas to transform your home office space into a stunning workspace.
Let's get started.
1. A Simple Wallpaper to Elevate Your Workspace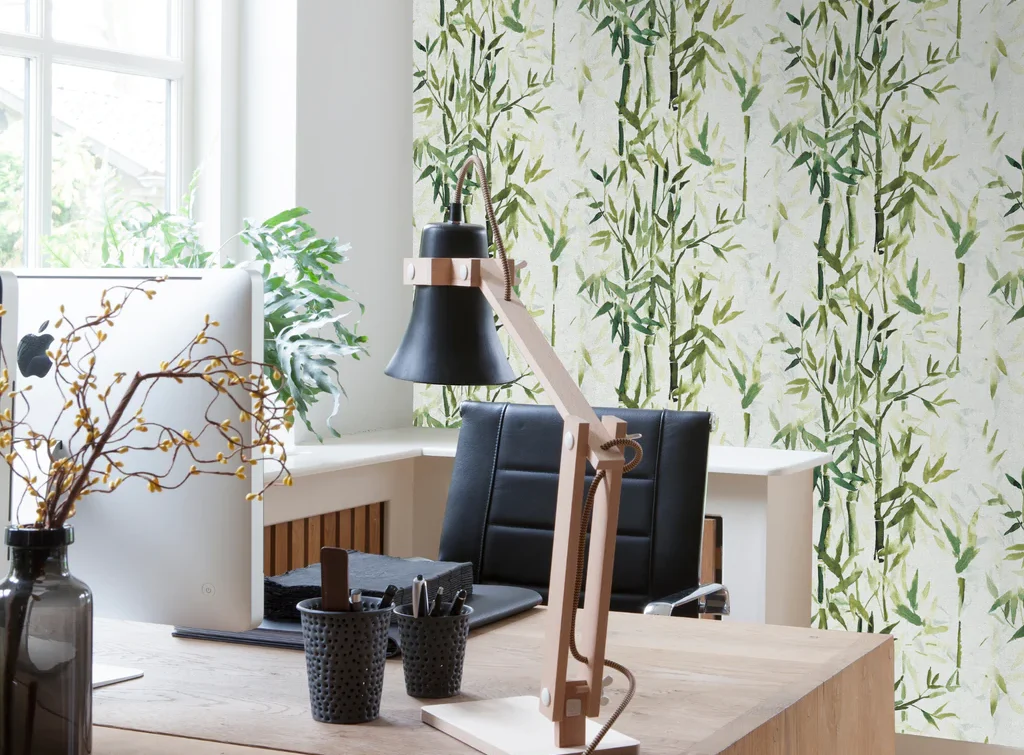 Choose a beautiful wallpaper that complements your office space to enhance your wall decor. Look for a wallpaper that is in sync with your workspace's color scheme, style, and design.
There are various options available online for both temporary and permanent wall decor. They are very easy to install and don't require any special tools. It is one of the easiest and cheapest solutions that can give your office wall decor a lift.
2. Display Your Artwork and Office Supplies on a Ledge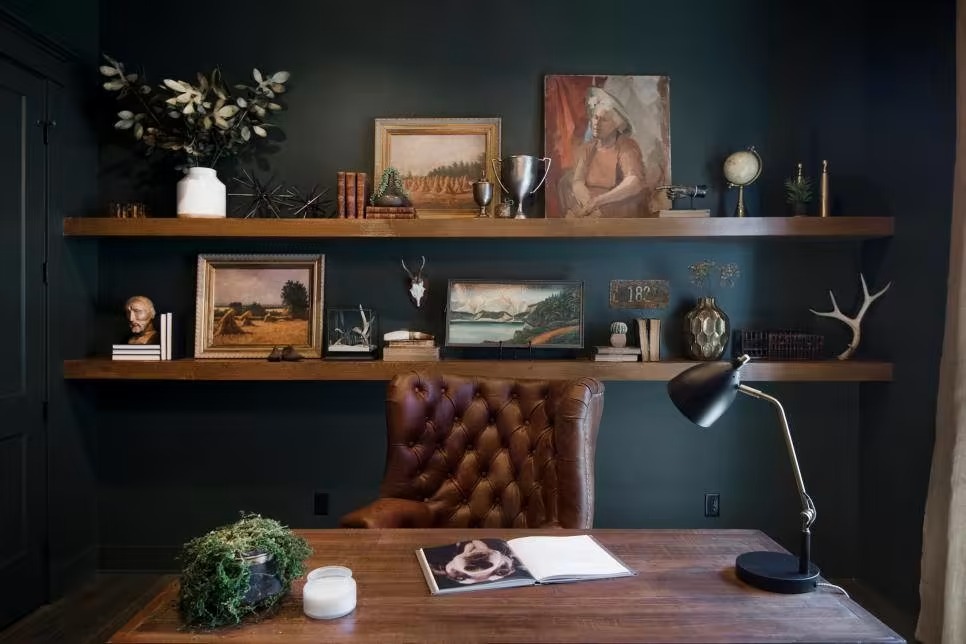 You can get various office-related artworks and supplies and display them on a ledge to give a wholesome and stunning look to your home office. It is visually appealing as well as a practical option to keep things away from your office table. It gives out a neat and gentle appearance to your home office.
Although you may require a professional's help to install your ledge, it's worth all the fuss, as the end result is quite mesmerizing.
3. World Map on Your Wall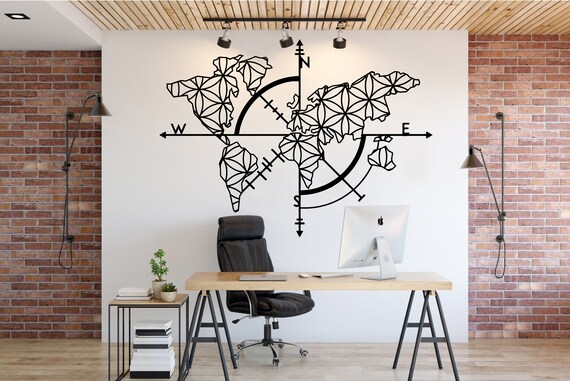 One of the most sophisticated and contemporary approaches to beautifying your workspace is using the world map on your home office wall. It's stunning, it's easily available, and it covers your whole wall space. A large size world map wallpaper can easily draw attention and adds a vintage charm to your space.
You can also personalize it by adding a few pins to the places that you have explored, your favorite places or dream destinations, or adding LED light to your own country. There are various options to give your personal touch to your world map wallpaper.
4. Wall Hanging Above Your Desk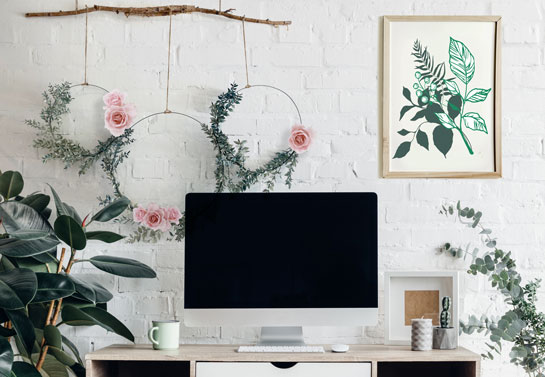 Create a focal point for your home office wall by adding a large-sized wall hanging just above your desk. Just remember to keep in mind the design and ambiance of your home office. Choose a wall hanging that resonates with the theme of your overall home decor.
Don't go for a flashy wall hanging; instead, select a simple and sophisticated wall hanging that enhances the overall appearance of your home office.
5. A Quirky and Cheerful Workspace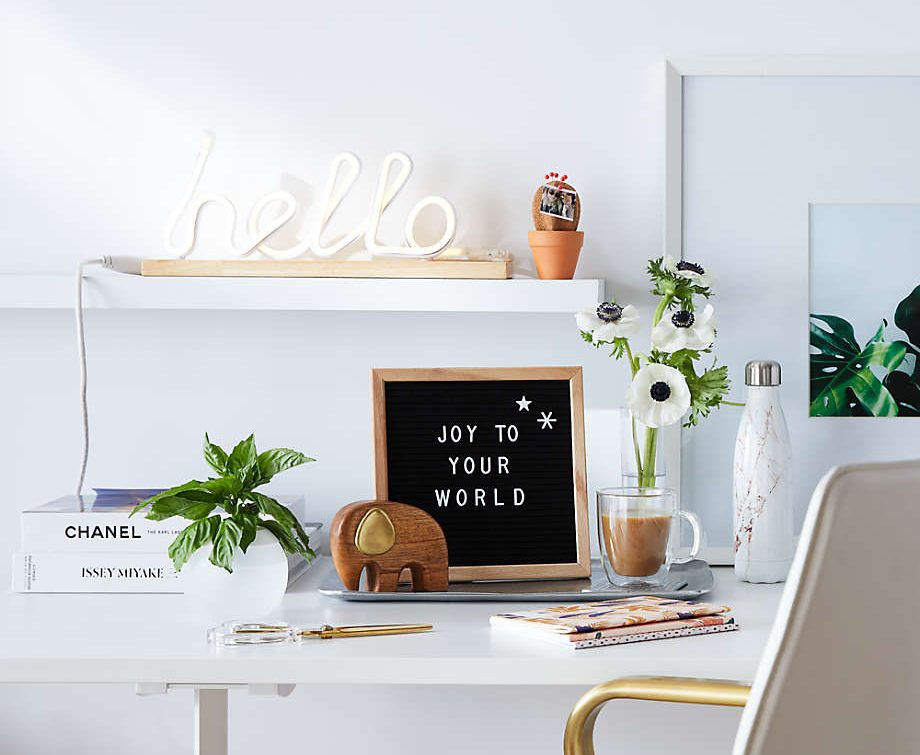 Who says your home office has to be simple and boring? You can create your own cheerful workspace by adding fun elements to it. Use some quirky quotes for your walls, some colorful paintings, and a few ornaments to enjoy your work time.
Modern work environment boasts of a happy and balanced environment. Your home office is the perfect way to showcase your healthy work environment.
6. DIY Modern Office Wall Decor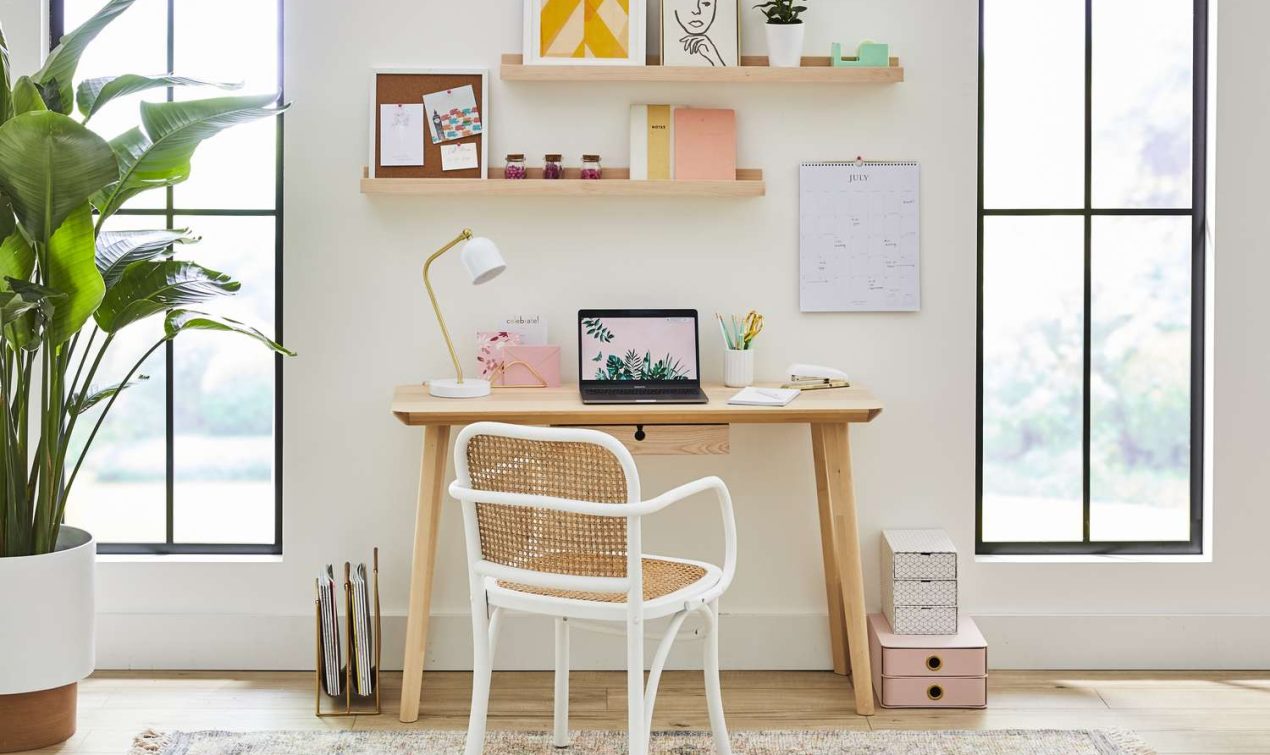 You can create your own office wall if you are a bit creative. You can paint the wall, add a few designs, hang some pictures, or display your achievements on the wall. There are innumerable options for a DIY, and each one is different from one another. You can also look for DIY inspirations online or from magazines.
The great thing about DIY is that you can create your own unique personal space on the basis of your preferences and resources and have fun with it.
7. A Cork Wall to Display Your Pics, Notes, and Artwork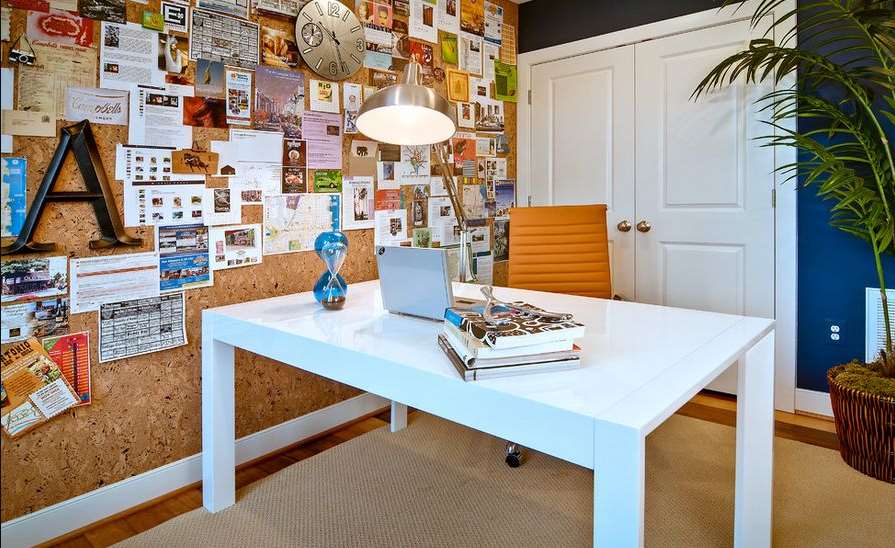 Cork walls can be a versatile and practical option for office wall decor. Not only do they enhance your wall with their rustic appearance, but they also offer you a whole wall space to display your pics, notes, or artwork. It could serve as a blank canvas for you in which you can add whatever you like.
You can hang some ornaments on it and also use a few wall art to decorate it. It can serve as a wonderful insight into your life.
8. A Monthly Planner on Your Wall as Your Office Wall Decor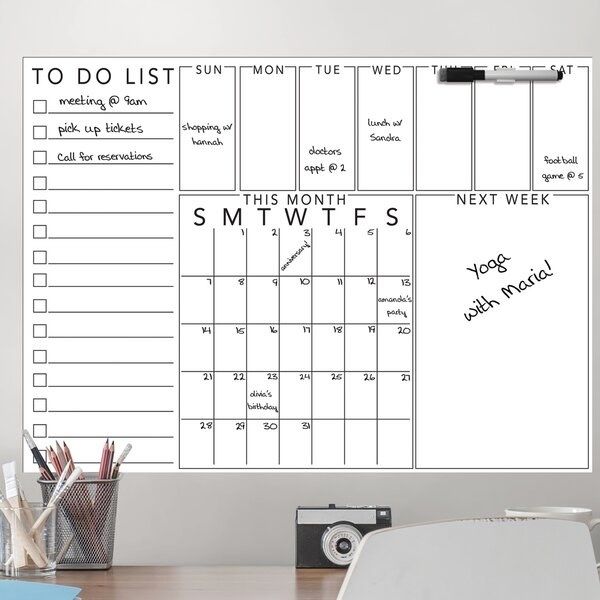 If you want to create a more professional and neat-looking office wall decor, go with the idea of creating a monthly planner on your walls. You can get those acrylic wall calendars and use them in front of your workstation. It is a nice way to keep yourself motivated and highlight any important dates coming in.
Pair it with a few motivational quotes and designer office clocks, and you have got yourself an inspiring and beautiful wall decor idea.
9. Modern-Style Shelf to Transform Your Home Office Wall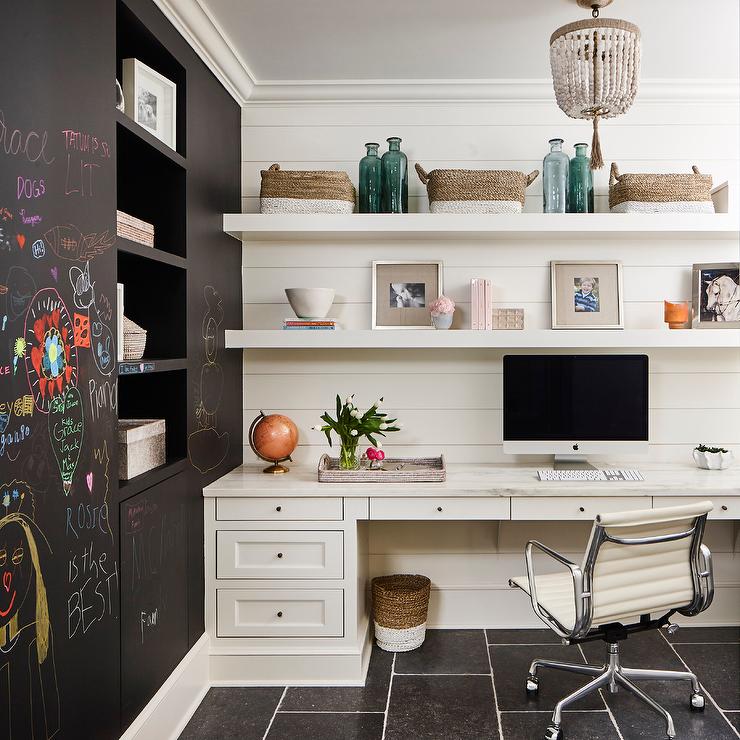 There are various sleek and stylish hanging shelves available that could enhance your home office wall in no time. You just need to install them on your walls, and they will change the overall decor game of your home office walls. A hanging shelf can provide ample space to store all your things and also provides a way to save space on your desk.
Just make sure that the hanging shelf that you select is large enough for storing your office supplies and also does not look out of place as per your home office space.
10. Go Green with Wall Planters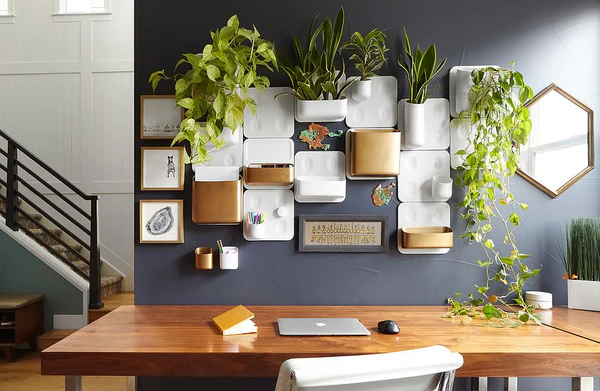 Wall planters are a great way to add a touch of greenery to your home office space. They can enhance the beauty of your home office effortlessly. Looking at them while working can create a soothing aura. It will also improve the air quality around you and project a sense of tranquillity.
Although you need to carefully consider the requirement of your plant while choosing to use them for your home office decor, make sure that you can provide enough light and water according to its need.
11. A Wall Collage to Color Your World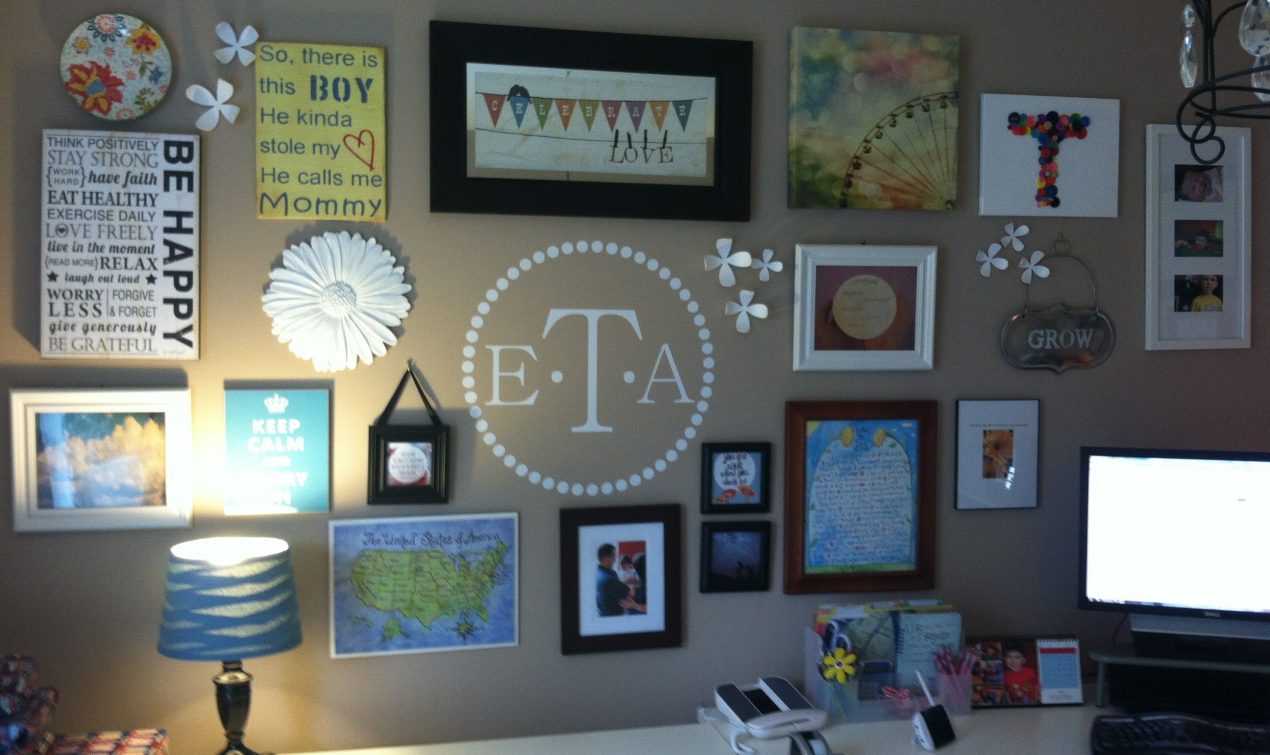 A great way to add a bit of artistic element to your home office wall is to cover your whole wall with a collage of various pictures. Paste your pictures carefully so that they remain free of smudges and are glued beautifully. You can make patterns in collages to make them more visually appealing.
The collage could be of your own pictures displaying the journey of your career, your family pictures, or just any picture that can amplify the look of the wall.
12. A Whole Chalkboard Wall to Make Your Own Artwork Daily
The Chalkboard wall is a great idea for creative enthusiasts. It lets you paint your own imagination on the wall. A lot can be done on this wall, such as making cute doodles, making a to-do list of important tasks, and making motivational quotes; the possibilities are endless. It especially works for the people who love to doodle every now and then.
If you have this wall, you don't have to run for the paper if you have to note down an important piece of information during a meeting. The greatest thing about it is that you get to make a whole new wall art daily.
13. Decorative Mirror to Revamp Your Office Space Wall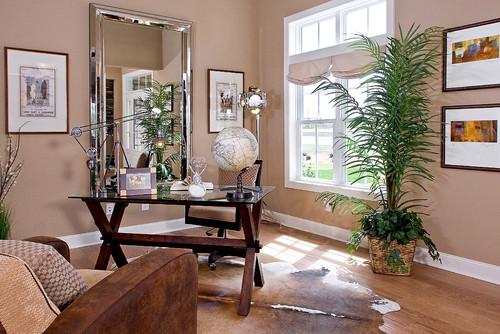 A mirror is something that can truly bring out the ambiance of your home office by giving it a luxurious and refined look. Get a vintage artsy large-sized mirror, hang it in front of your workstation table, and watch your office space glam up. You can hang your pictures on the corners of the mirror or add designs to it to give it a personal touch.
14. Vintage-Style Home Office Wall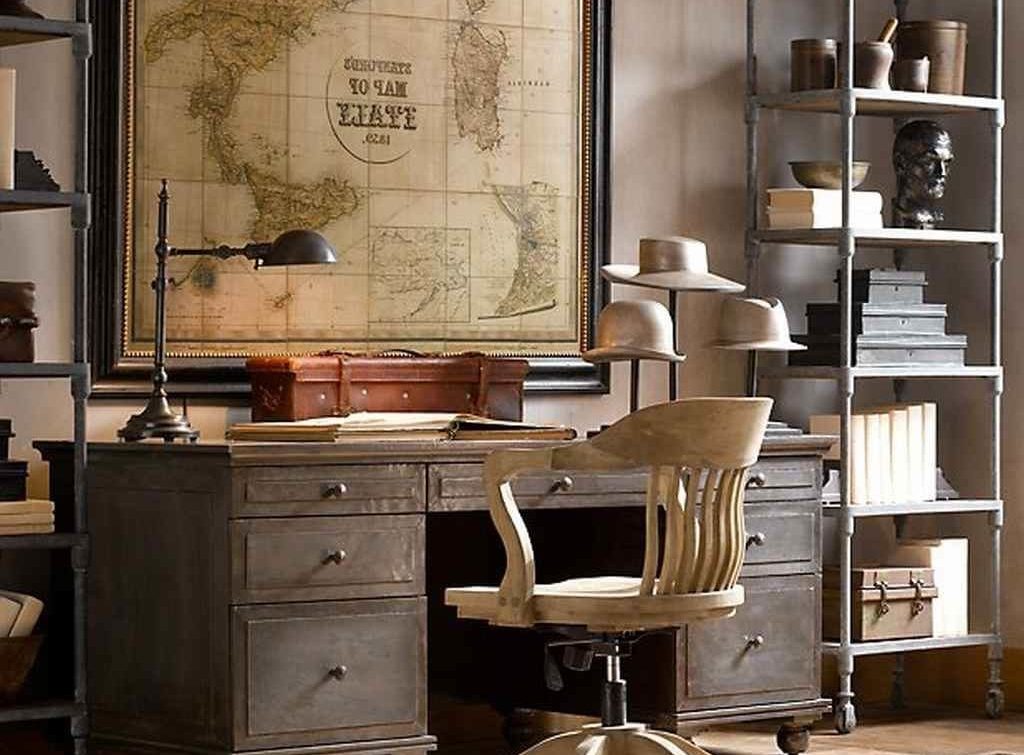 Add some vintage design elements to create a retro vibe in your office wall decor. Retro designs are back with a bang. Nowadays, vintage-themed homes and furniture are quite popular. Extending it to your home office is definitely a brilliant idea.
To make a vintage-style office wall, add vintage decor items such as dark wood cupboards, black and white paintings, table lamps, flowers, or paisley wallpapers. It makes for an eye-catching spot for your home and is truly a fun and creative project that you would enjoy doing.
15. Display Paintings for a Creative and Thought-Provoking Wall Decor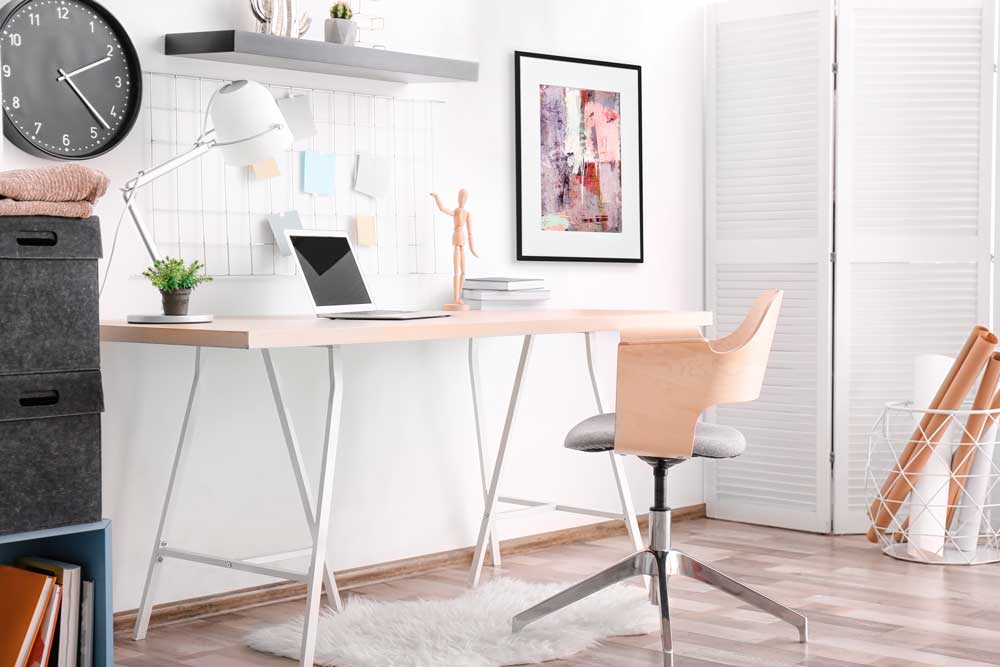 Get some modern-style paintings such as abstract geometry, nature-inspired or pop art to display on your home office wall. The paintings have a tranquil charm to them. They tend to make you inspired, spark your imagination and encourage new ideas. They are a constant source of motivation.
Art is a form of expression, so choose an artwork that suits your personality, interests, or values. Furthermore, paintings can also induce a stress-free environment; just looking at them can promote relaxation and are particularly helpful when you are tired of working long hours.
16. Colorful Floral Wall Decor to Energize Your Workspace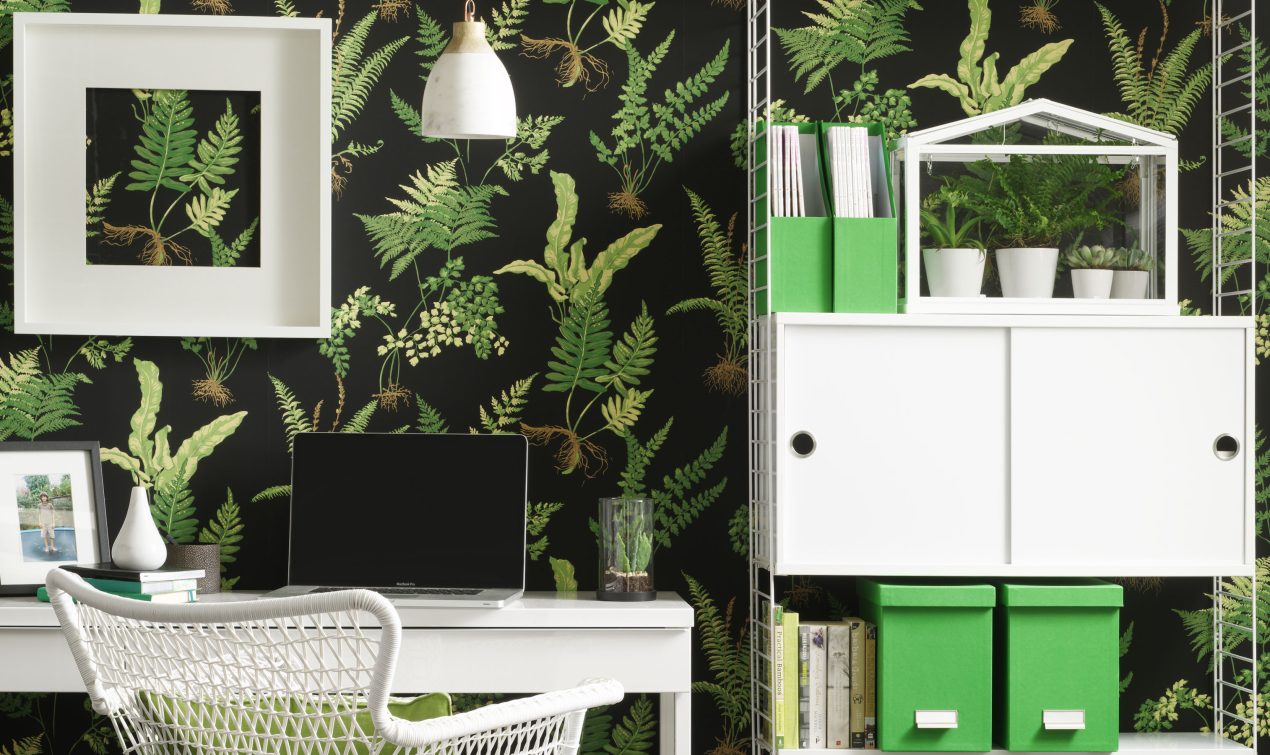 Floral wall decor is a great way to bring beauty, freshness, and nature close to your home office. Create a mix of floral wallpaper and planters for your desk and use some large-size vases for bigger-size flowers near your workstation; a combination of all these materials will brighten up your space with a beautiful all-floral display.
It will give you an illusion of working in the lap of nature and bring a cool and fresh vibe. It is one of the cheapest yet best options for creating a wonderful home office.
17. Create a Booklovers' Paradise with a Wall of Books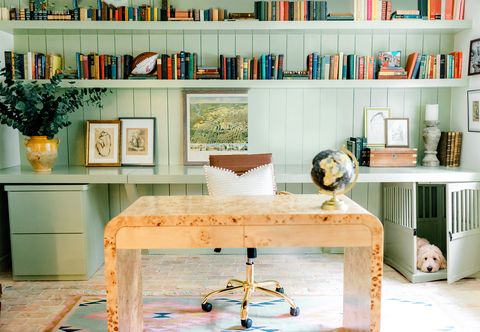 This kind of wall decor is perfect for people in creative fields, such as writers, journalists, photographers, or designers. You can display your books, journals, and important documents in a whole wooden cabinet made for your wall of books. Get a large-sized custom-made cabinet for your wall or buy the ones available online and display your precious books neatly on it.
On top of it, you can place a few ornaments such as a globe, a pen stand, a small plant, or any other decor item as per your wish.
18. Simple and Sophisticated Office Wall Decor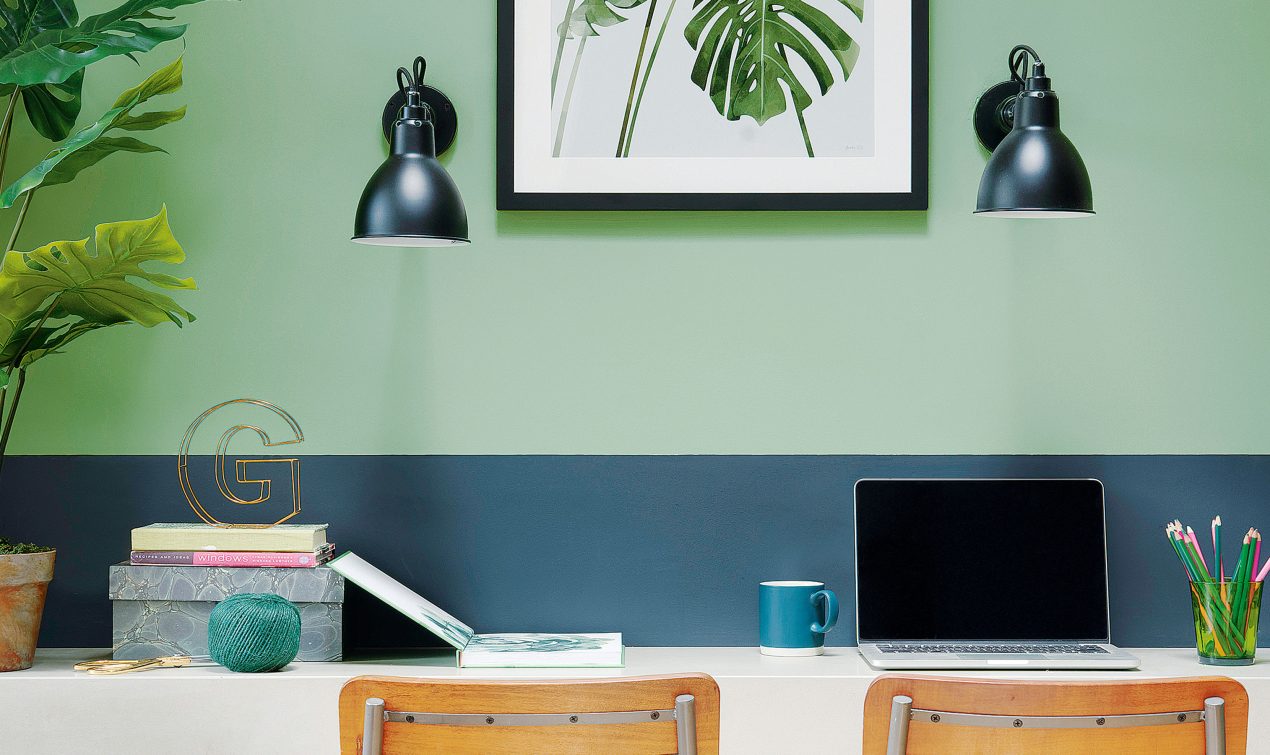 A minimalistic and simple office wall decor is never out of fashion. Choose a few elements such as a motivational quote, stationary holder, and minimalistic lamp to display on the front side of your desk.
This kind of home office wall decor is an example of how a few elements can enhance your decor beyond your imagination. You don't need flashy artwork and a lot of money to bring out a look, neat and well-made wall decor is enough to create a great home office.
19. Create a Black and White Themed Wall Decor for Your Home Office
An all-black-and-white theme makes for an elegant and beautiful office wall decor. Its calming aura is perfect for creating a beautiful work environment. You can use some abstract art, a few paintings to display on your wall, and hang some photographs for your back and white-themed decor.
Use geometric pattern wallpaper in black and white for your wall so that it can blend with your theme and gives it a bold look. Make sure that you don't get too monotonous with this theme; use the theme in a way that looks sleek and modern.
20. A Chic and Feminine Space for Lady Bosses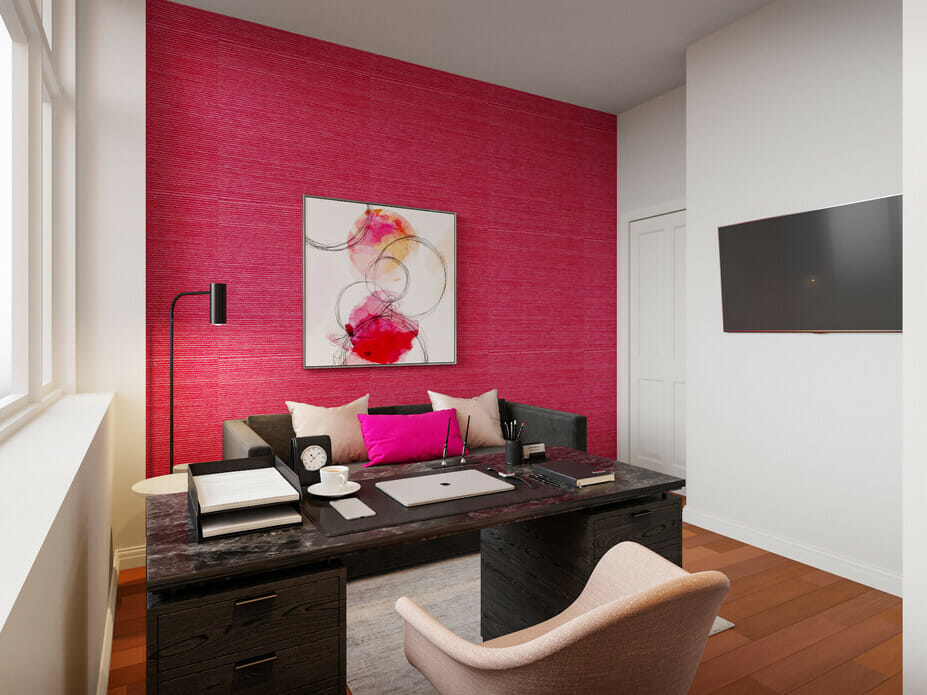 Your workspace should reflect who you are, and if you are a woman, it makes perfect sense to decorate your workspace wall in a light and feminine tone. Use floral prints and soft pastel colors for the wall paint and paste a few motivational quotes; use small sculptures and small vases in the corner of the table to bring out the feminine vibe.
You can also use bulletin boards to pin up your work for the day. Use some artwork focusing on women, such as a magazine cover of the top 50 women in business, some fashion illustrations, or some paintings in soft hues of pastel color.
21. Grid to Display Your Achievements, Thoughts, and Photos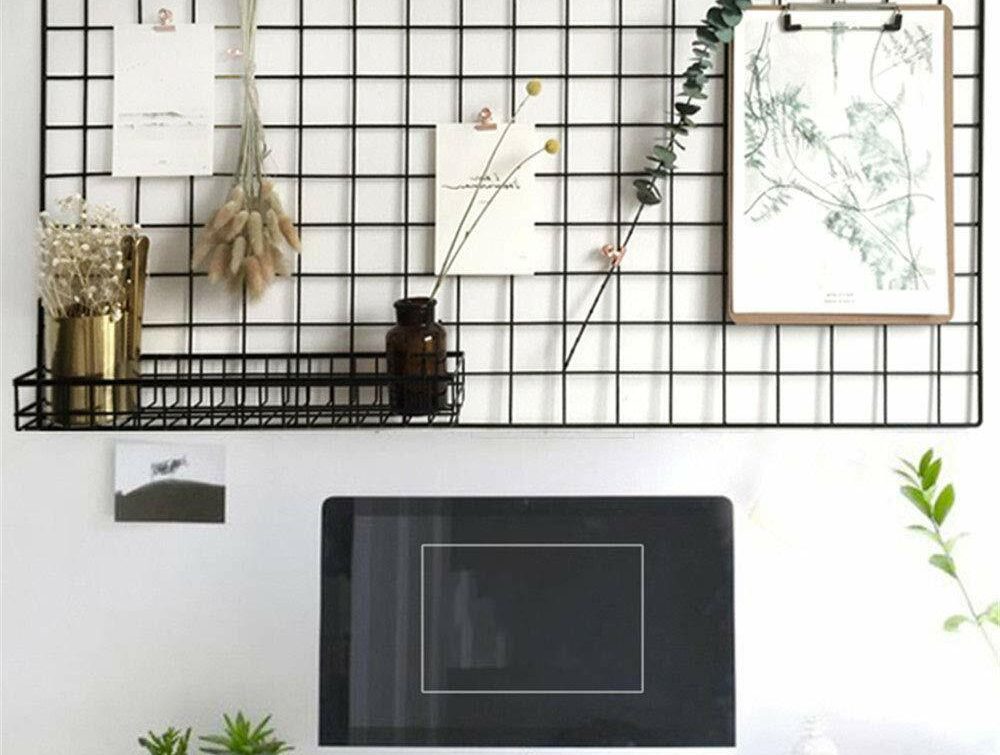 Use a metallic grid to clip on your favorite photos, your to-do list, some documents, or even small planters. It's a stunning display of your favorite memories and creates a wonderful focal point for the home office. You can hang your thoughts daily on this metallic grid and access your documents and to-do list easily through this metallic grid display on your wall.
They are also one of the easiest options for your office wall decor and do not require much attention to bring out the aesthetics of your home office.
22. Personalised Wall Decor for Your Home Office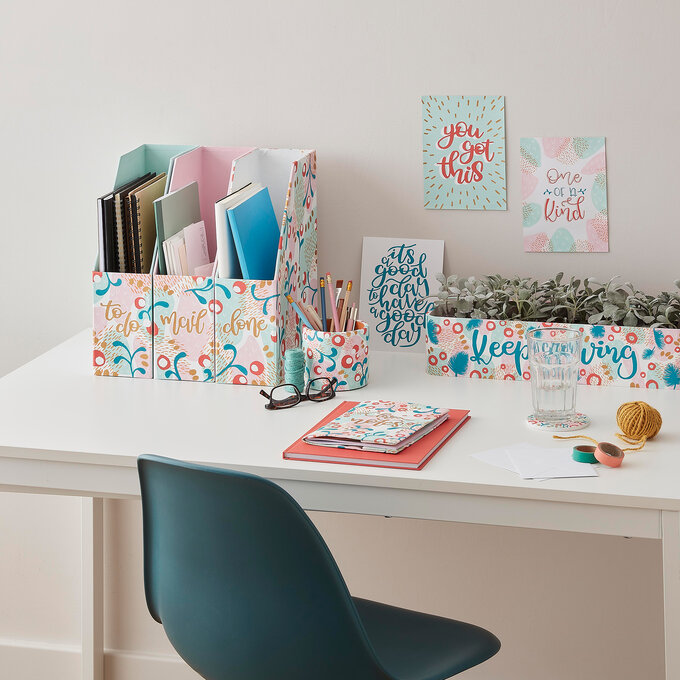 Apart from all these options, you can always go for personalize your home workspace wall so that it truly reflects who you are. Gather up all the elements and add your personal touch to it. Decide on a theme and work from top to bottom on it. E.g., If you are going with a contemporary theme, choose a few design elements that complement your space.
Give your personal touch by displaying a collage of your photos, showing the journey of your career, and using a vision board to show what you want to do with your life. It should reflect your goals and aspirations in life.
Conclusion
We hope that you loved our suggestions for a wonderful office wall decor. There is no right or wrong way to decorate your workspace; it totally depends on your personality and choice. Each home office is unique; you just have to look for the one decor idea that works for you and creates a nice working environment for you.
If you prefer a colorful work environment, you can choose your artwork and a few funny quotes for your wall and make a vibrant color choice for your wall; however, if you prefer a sleek and sophisticated look, you can use a minimalistic theme for your office wall decor. You just need to find an idea that resonates with you.
So, go on exploring your best home office designs and embrace your creativity to make your workspace lively and cheerful.