24 Gorgeous Modern Nursery Ideas for Both Boys and Girls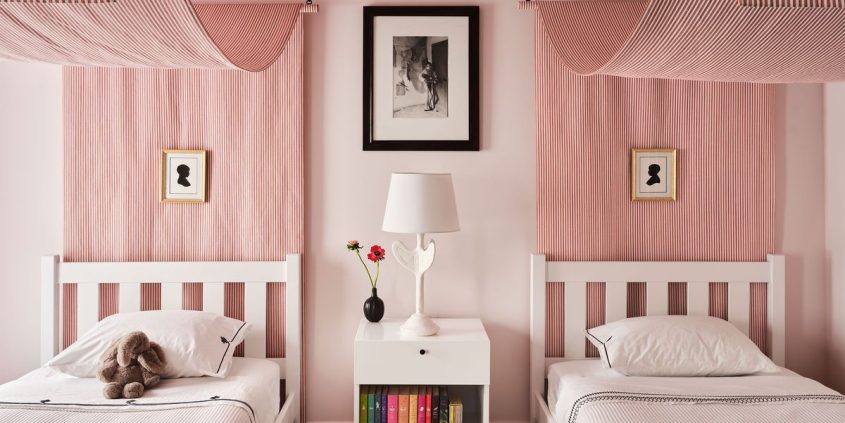 A modern nursery is a combination of imagination and functionality. As a parent, when you decide to onboard a journey of creating modern nursery themes for your child, then it is essential to gear up for endless possibilities and imagination.
However, that is an uphill task and requires detailed research to finally meet the interest and set things based on the budget and availability of resources.
As we reveal captivating ideas around construction zones, space exploration, and fantasizing about the aspects, we guarantee this specially dedicated segment will help you transform your child's room into a realm of magic and wonder.
Our carefully designed 24 modern nursery themes will make you enjoy your designer journey as a parent and install creativity, learning skills, and social collaboration within your child effortlessly.
1. Airy Blue Theme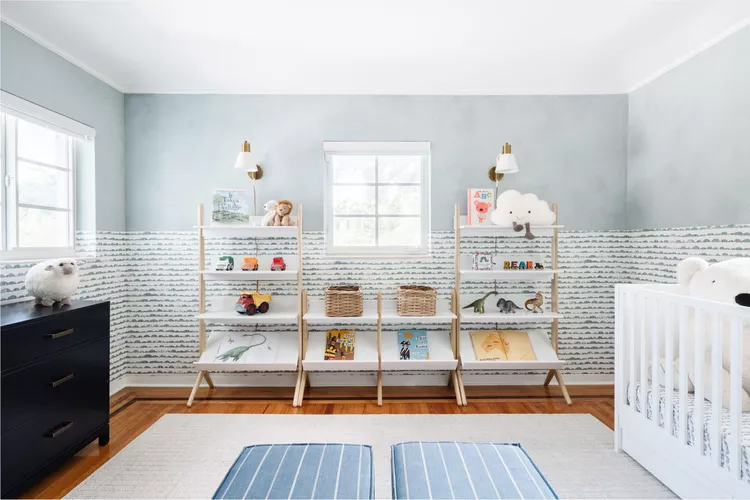 People often overdo their modern nursery themes, which makes the baby's room crowded with lots of furniture and color texture. Try using an airy blue theme which brings elegance and sophistication naturally. Light blue should be selected as the backdrop color, and furniture and accessories should have neutral white. This will make your baby's room appear purposeful and clean.
2. Relaxing Theme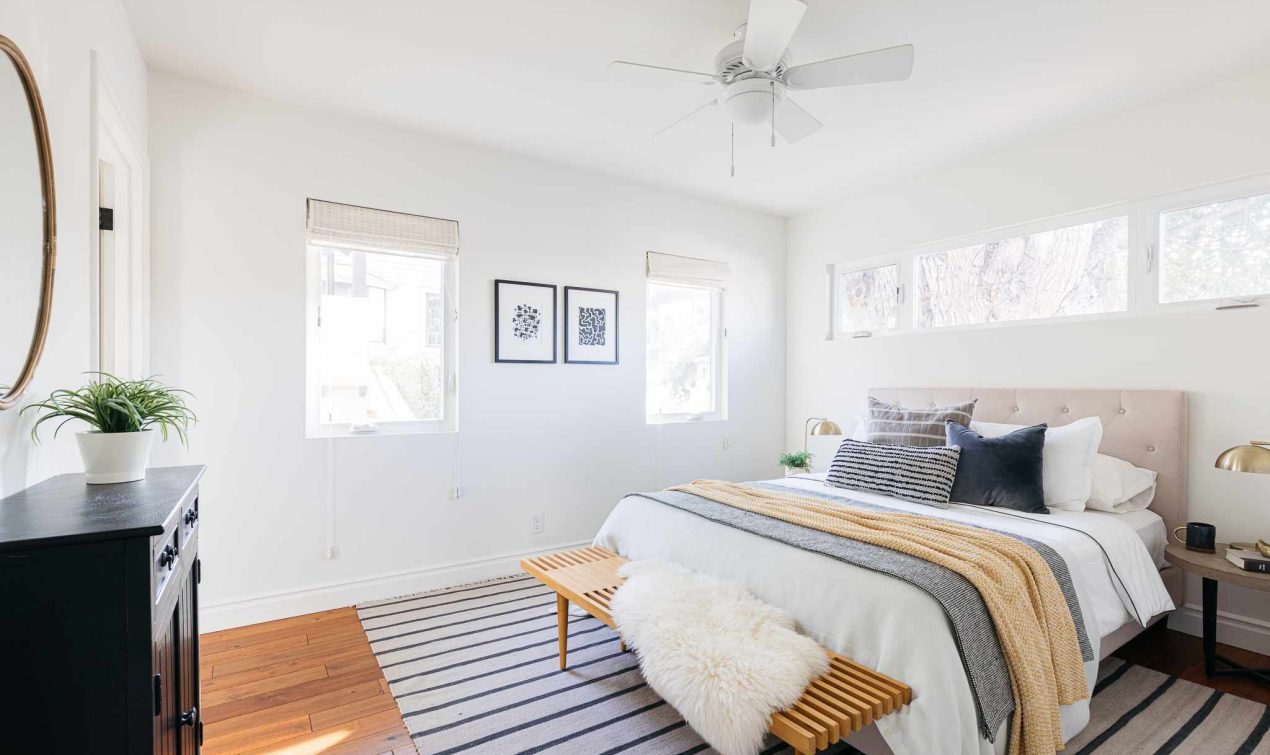 To create this modern nursery idea, implement design elements like black and white prints and good-looking wallpapers, which will create an atmosphere of relaxation and tranquility. Take a look at this picture; the gentle green shade provided here gives a calming impression, while the other mixtures in the room bring elegance and peace.
3. Natural Beechwood Theme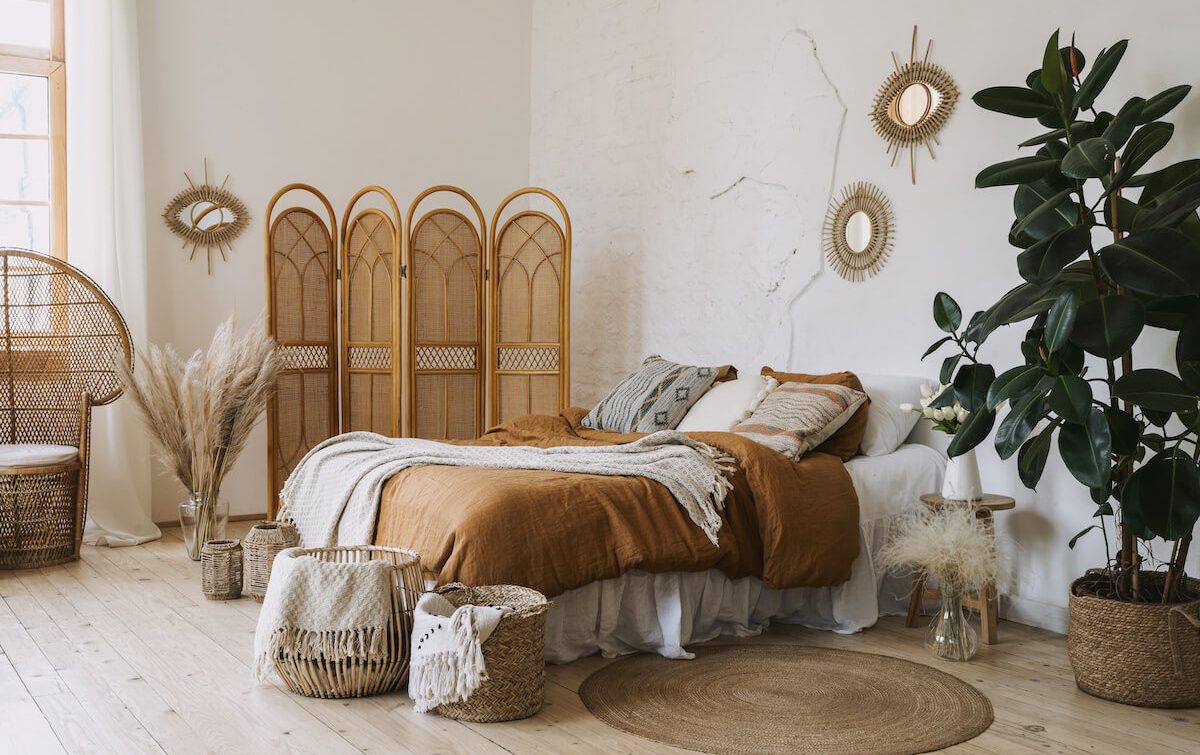 In this modern nursery design, the theme is regarded as a "playful decor" theme which makes your baby's room the center of attraction for any observer. Make sure that you use a natural beechwood crib, as shown in the picture, to create a captivating heaven that will give a soothing appearance besides enhancing the overall ambiance of the room.
4. Bohemian Theme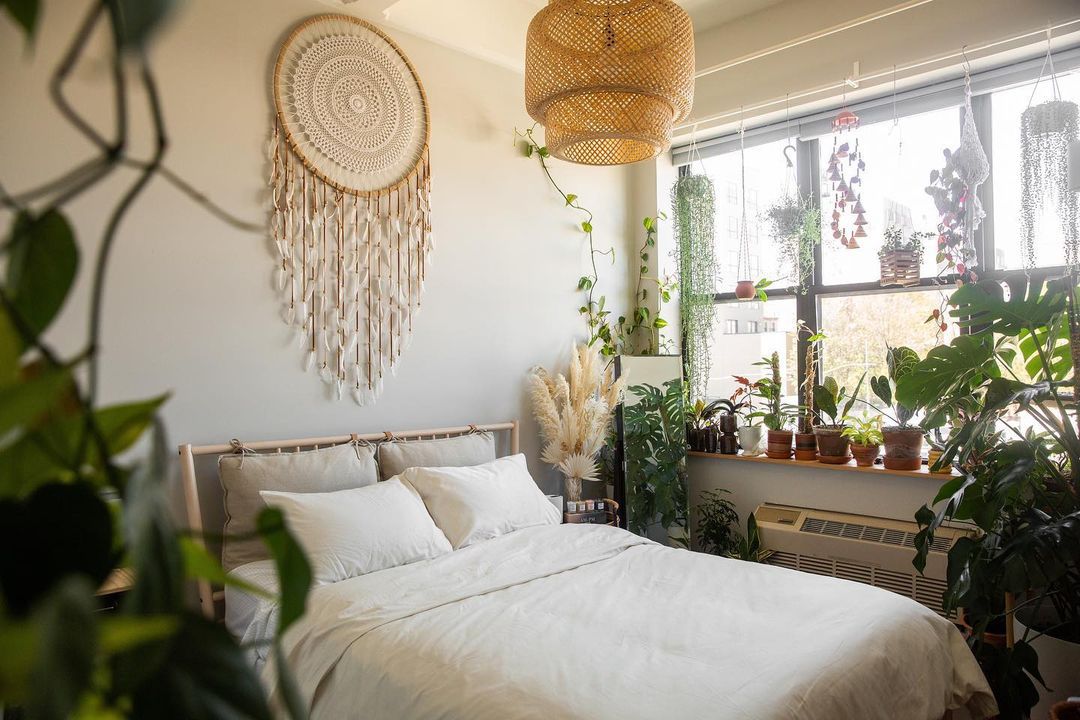 Creating this theme has an easy learning curve. To implement this idea, all you have to do is select accent chairs, transitional rugs, and large plants, which together create a bohemian vibe. Take a look at the picture above for a detailed understanding.
5. White Crib Theme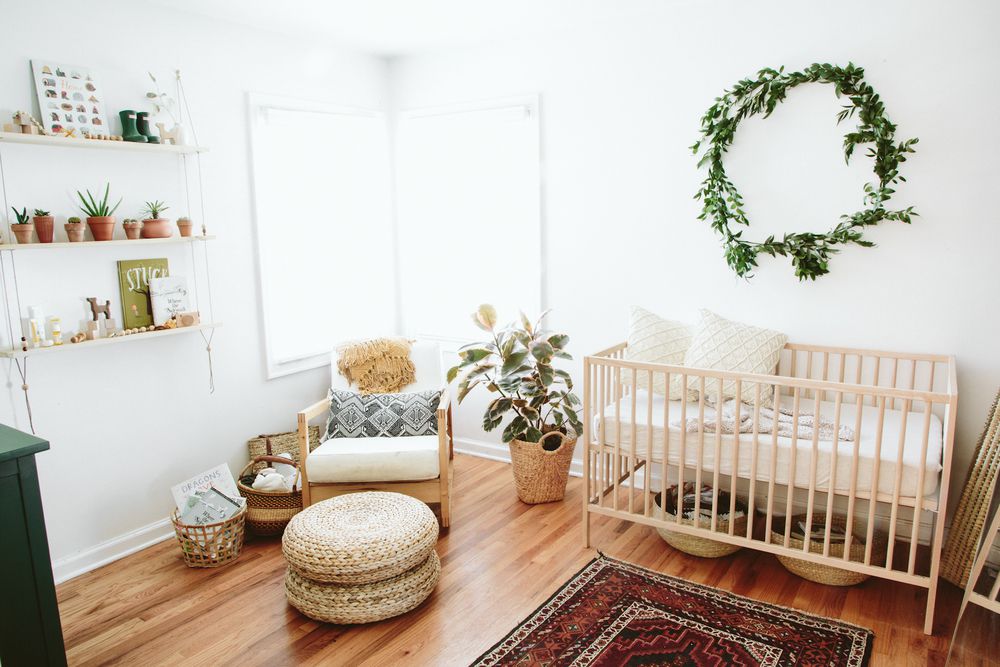 For your baby's room to appear modern, selecting the right kind of furniture would do the trick. You will need a few things to make this theme a reality. You will need geometric wall art and floor pillows. Oversized rug, small wall ladders, and a white frame crib. This would create a simple and comfortable atmosphere around the room.
6. Geometric Pattern Theme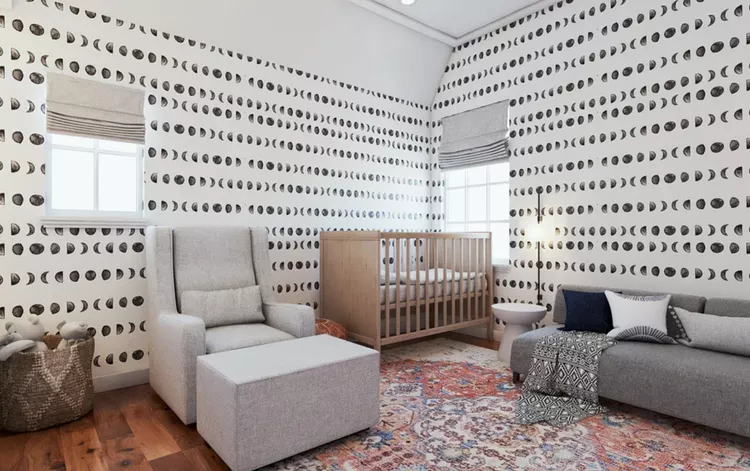 Look at this picture. You will be amazed at how geometric patterns can fill up the room. While geometric patterns create an illusion of cohesion, the minimalistic colors on accessories like the sofa and traditional rug create a playful palette. The natural crib present brings a warm vibe.
7. Inviting Theme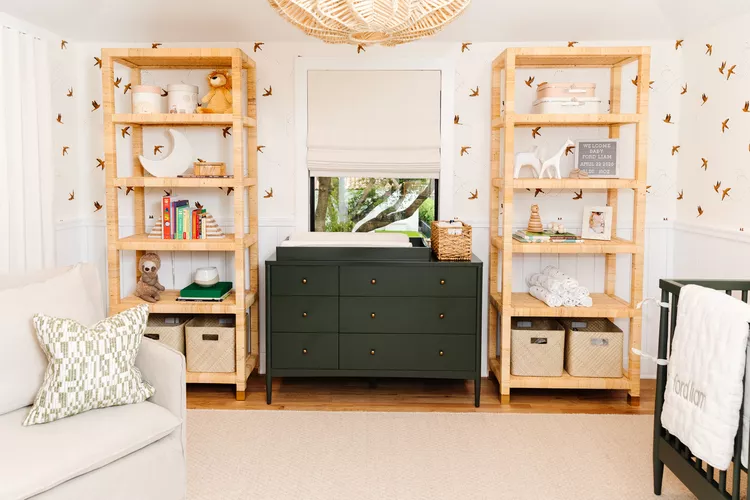 This modern nursery idea incorporates patterns that provide an airy feeling to the atmosphere. The shining birds present on the wall, combined with natural wood furniture, generate an inviting atmosphere. The black drawer present in the middle creates a pop contrast for functional storage, while the black crib keeps the room set with a light fixture.
8. Sports Theme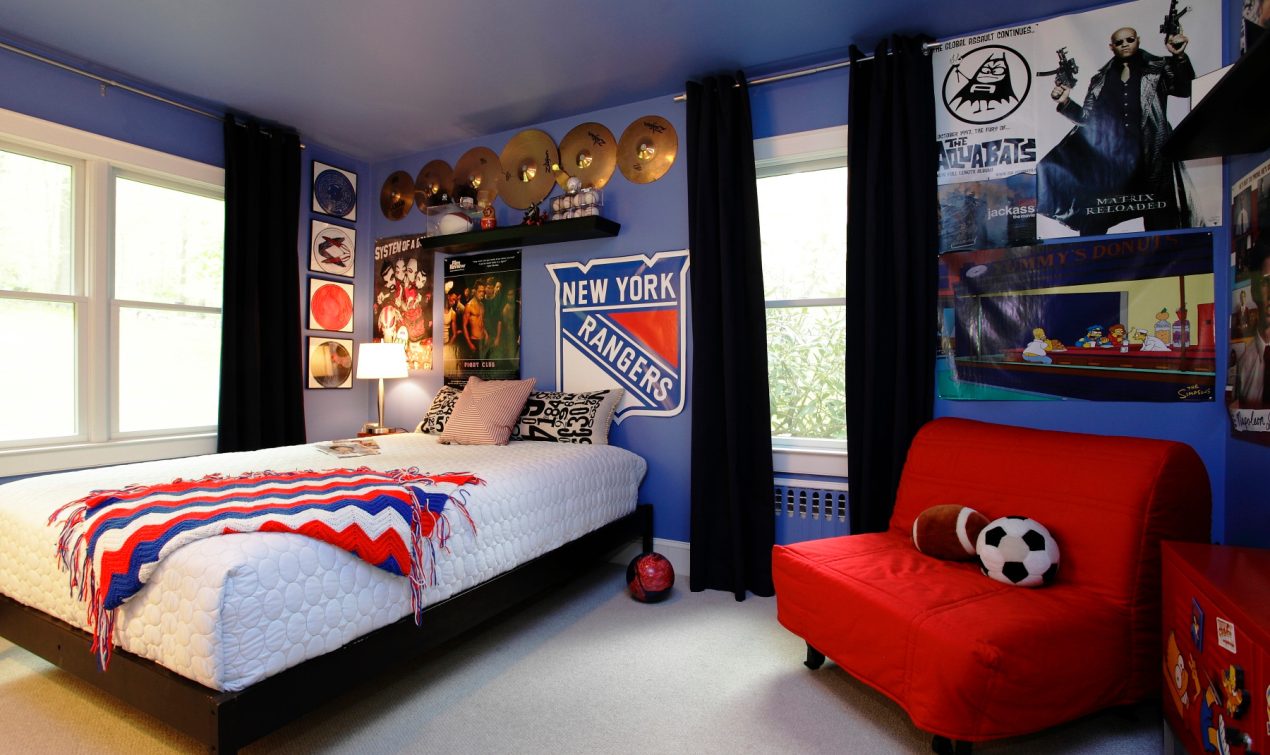 If you are into sports and want your baby to follow your passion for sports, then creating your baby's room with sports decor is the best possible choice. For doing this modern nursery theme, you would need to fill the room with sports equipment. Sports wallpaper and sports jerseys.
9. Farm Theme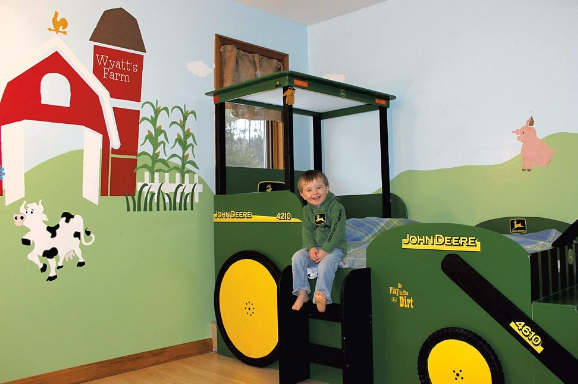 To create this modern nursery theme, you would need ban-shaped bookshelves, farm animal decor, and accessories that are tractor themed. This would create a cute nursery for your little darling. Take a look at the picture and see how the maker has created a beautiful farm theme for their children. Use the exact design to create a replica.
10. Wonderland Theme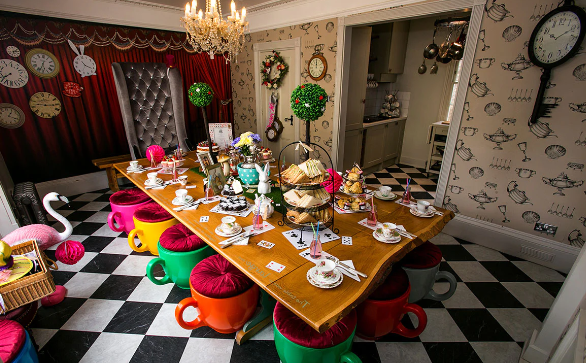 This theme is also known as " dreamy wonderland." For this, you have to use rainbow-colored walls, fairy tale mini figures as accessories, and floating clouds on the ceiling. The maker of this theme has carefully selected themed wallpaper to be placed on the walls to create a stunning visual.
11. Superhero Theme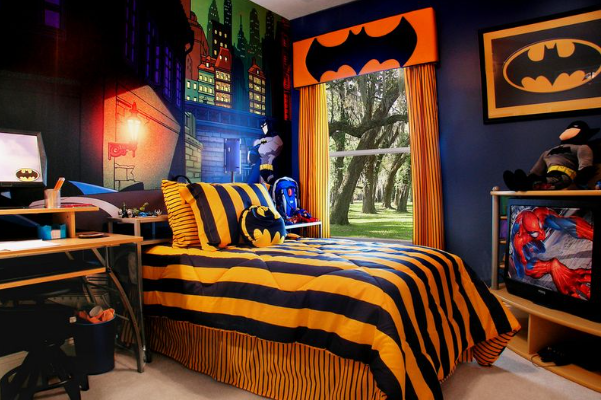 This requires effort, but your precious baby would love it. A superhero-based nursery would include a personalized superhero outfit for your baby, artwork on the walls should be inspired by superhero movies, and minifigures should be inspired by multiple superheroes.
12. Dinosaur Theme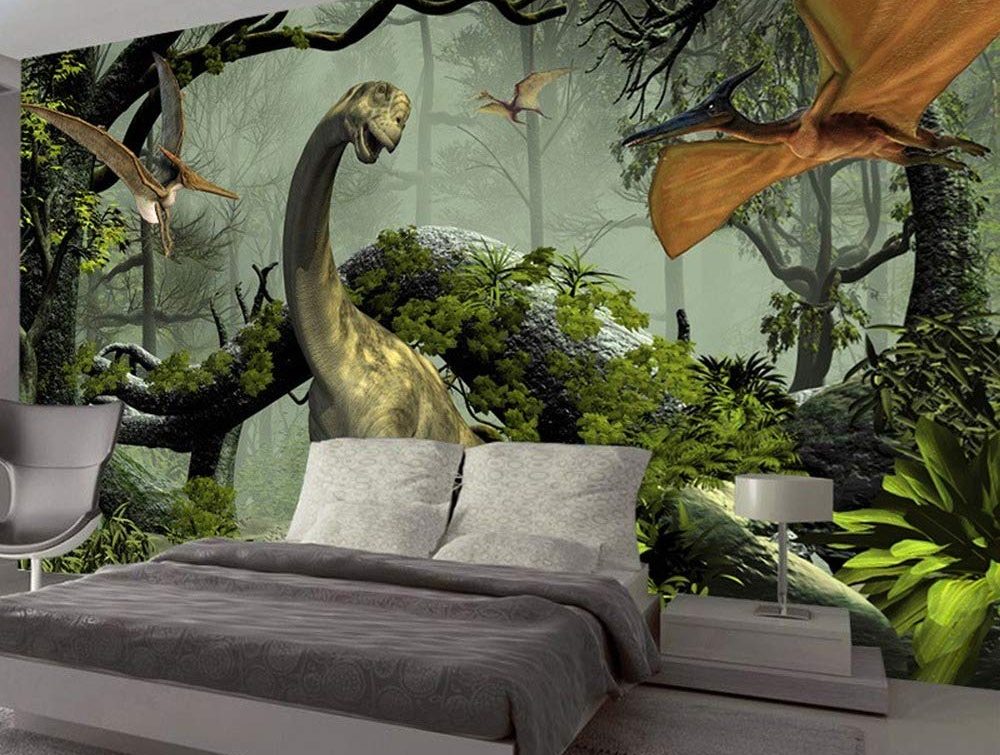 This nursery theme would create a prehistoric paradise for your precious one. The room should be filled with fossil prints and dinosaur accessories, and the entire wallpaper on the walls should be dinosaur themed. Please note that the furniture should be selected based on the wallpaper on the walls.
13. Circus Theme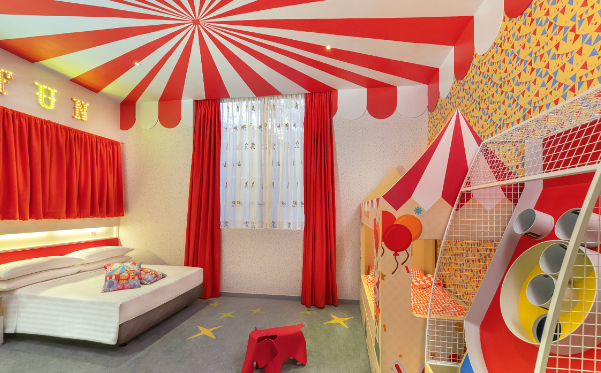 A fun and vibrant nursery theme can be created when circus-theme decorations are implemented. A circus tent and other circus accessories should be filled around the room, which would provide a circus vibe. The maker of the theme has put extra effort into the ceilings; make sure you follow the same design to create an exact replica.
14. Space Theme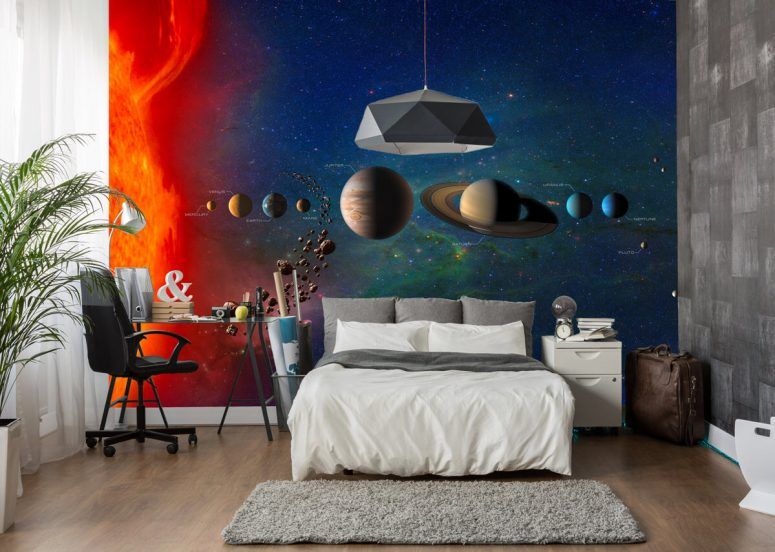 Three things are needed for your little astronaut. A galaxy-themed wallpaper, shelves that are rocket-designed, and space accessories like space globes, space astronauts, and space desks. First, the wallpaper needs to be selected, and then the furniture should complement it.
16. Rainbow Theme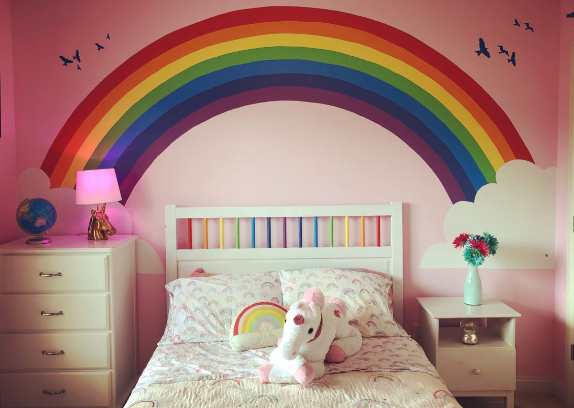 Considered a cheerful nursery design. This rainbow theme should involve entirely multicolored decor. The rugs used should be rainbow-shaped and the rainbow mobile should be placed above the baby's crib. Make sure you connect with an interior decorator to create an exact replica as shown in the picture.
17. Construction Theme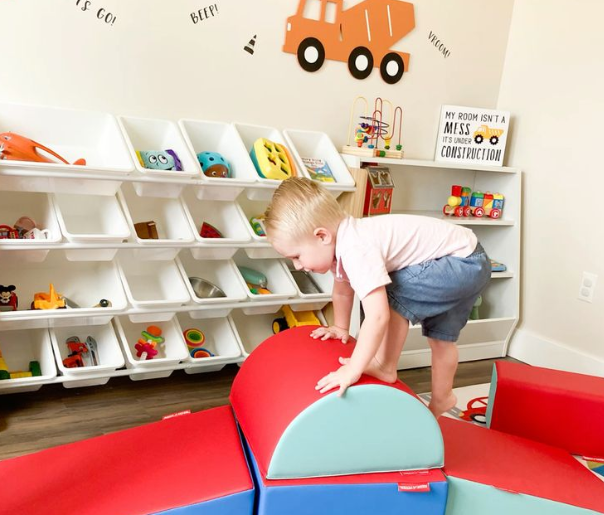 Some of the must-have accessories for this design would be caution signs that are used in construction, construction tools, and construction artwork on the walls that should be vehicle inspired. The maker of these themes has put a lot of effort into selecting the stickers that are placed on the walls. Make sure you follow the same way.
18. Transport Theme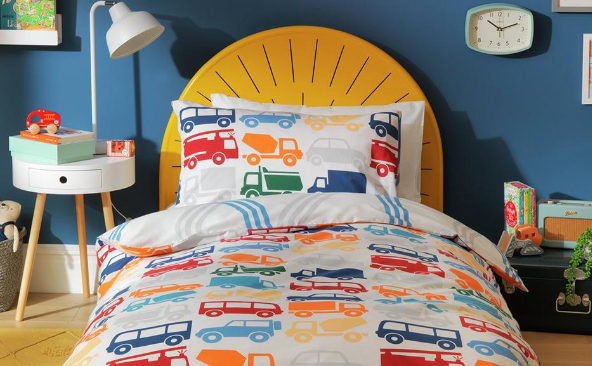 Making this modern nursery theme is super easy. Take different types of cars, trains, and planes as accessories and place them inside the room. Make sure the wall has wallpaper based on transportation. The crib has a white selection to compliment the theme. Hence always go for a white crib if you are planning to incorporate this theme.
19. Princess Theme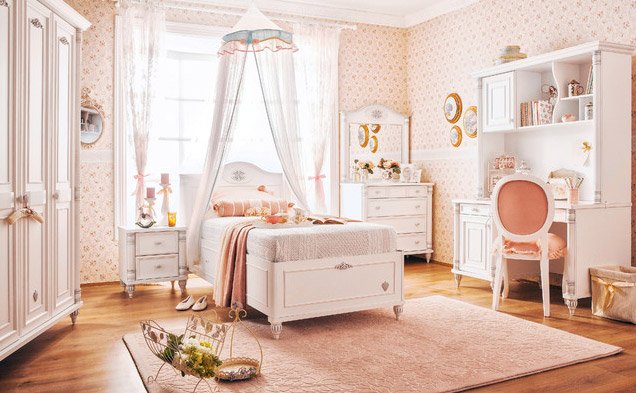 Three things would be required to design a princess theme nursery. The wall art should be princess inspired, a castle for the princess should be made, and a sparkling chandelier should be added to complete the room design. The initial of your child should be placed at the center of the wall, as shown in the picture, to create a stunning visual.
20. Pirate Theme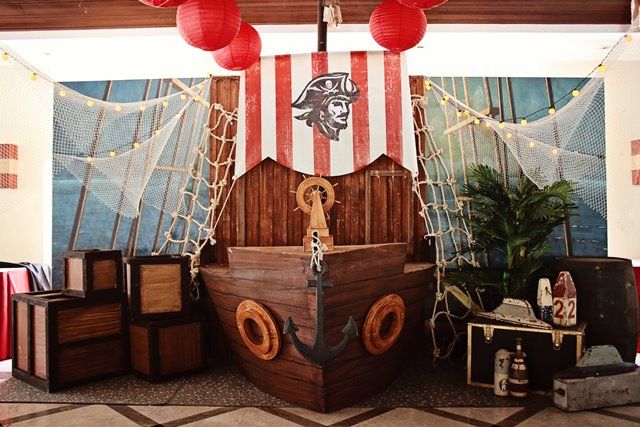 The first that you need to note in this design is using a pirate-shaped wallpaper. All the toys of the little one need to be stored in a treasure chest, and the surrounding accessories in the room should be pirate-inspired. The room furniture should complement the wallpaper used in this theme.
21. Garden Theme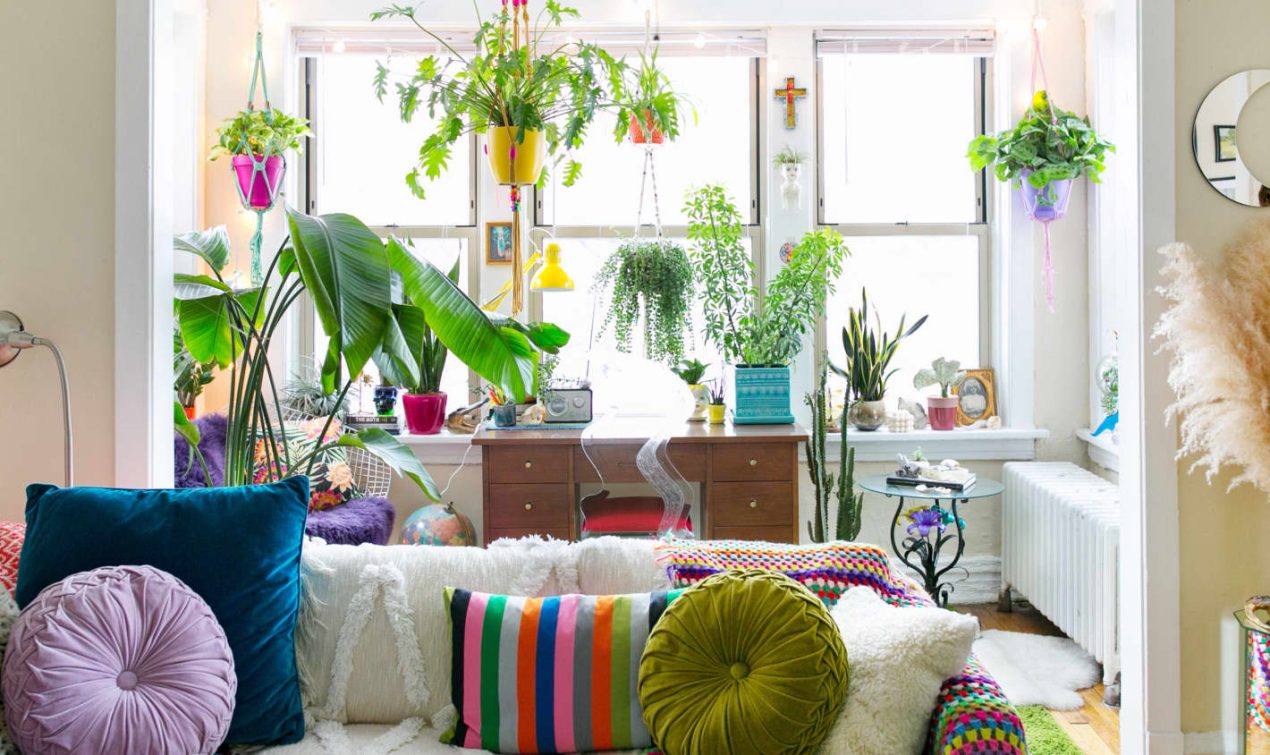 This theme ensures that your child's room has a natural atmosphere that portrays a calming effect. Here potted plants need to be placed as accessories. The wall needs to be filled with flowers, and garden theme accessories should be present to complete the room.
22. Marine Theme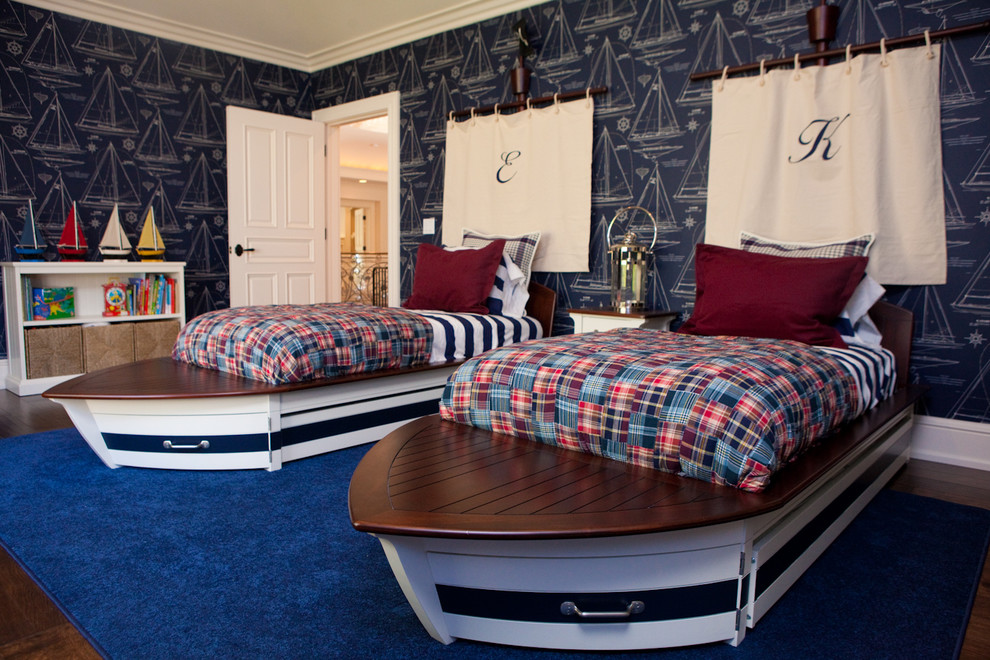 To incorporate this theme, make sure the wall art is ocean inspired. Seashell decorations should be present all around the room, and lastly, fish-shaped accessories should be present all around the room. Take a look at the clean and minimalistic look achieved with this theme. In order to create an exact replica, make sure every detail, as shown in the picture, is followed.
23. Teddy Theme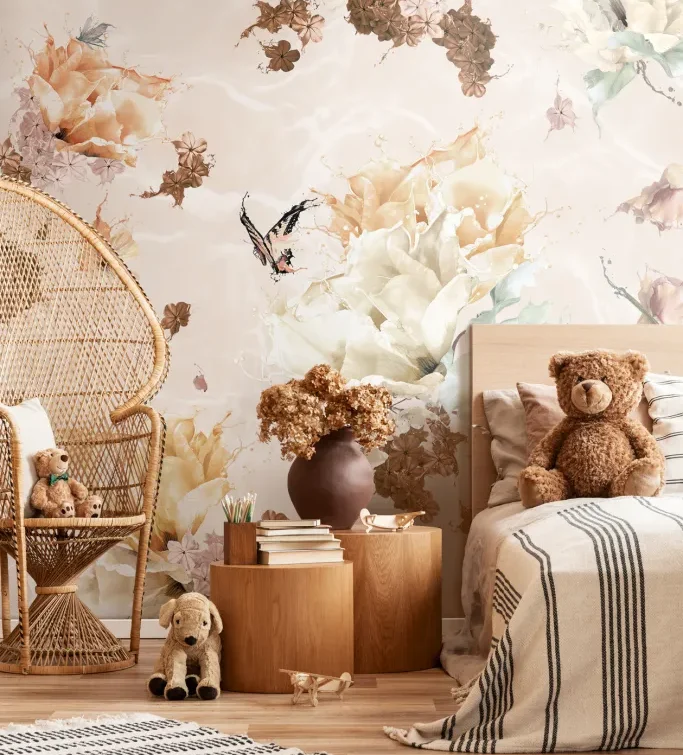 This nursery design can be created with minimum effort. All you have to do is bring in plenty of teddy bears to decorate the room and use any teddy-themed wallpaper for wall decor, and you will have the room completed in no time. Connect with an interior decorator to achieve the wall design present in this theme.
24. Time Travel Theme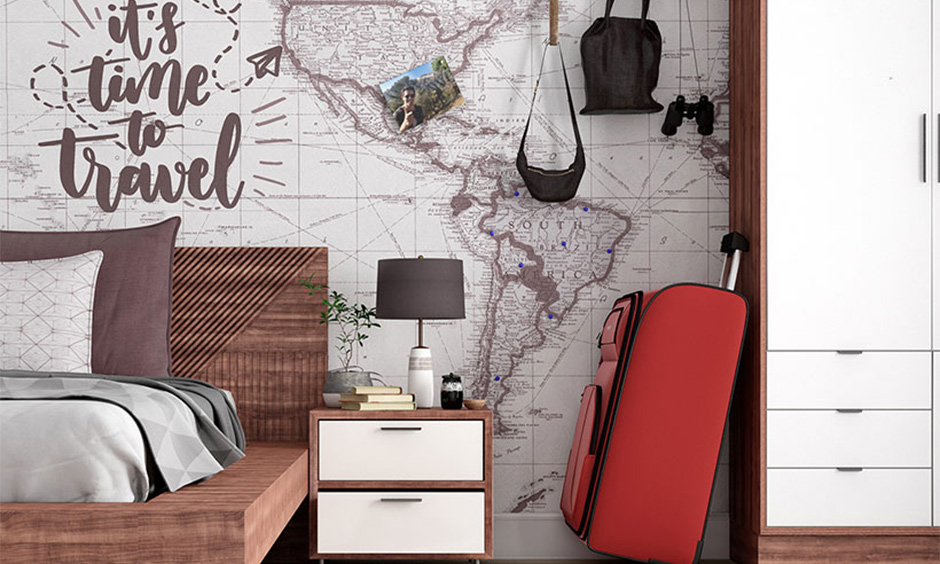 Your little hero has no clue what things you loved during the time of your youth and childhood. Hence time travel would let them showcase all the pictures during the era, and they would get to know the things that they liked. All your vintage accessories should be placed around the room, and the wallpaper should be time-travel-themed.
25. Beach Theme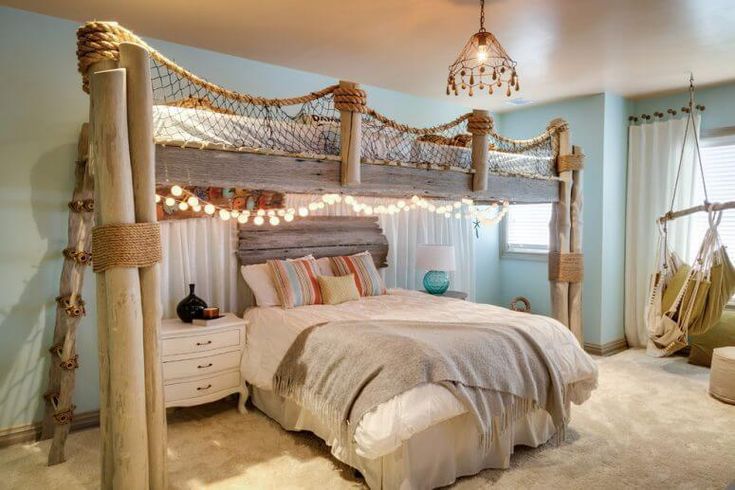 If you have always wanted a beach house but did not have the opportunity to have it, then now is your time. Bring the comfort of the beach into your baby's room. Make sure the beach inspires the wall art, and all the accessories that need to be present outside the room should be seashells and nautical accents.
26. Futuristic Theme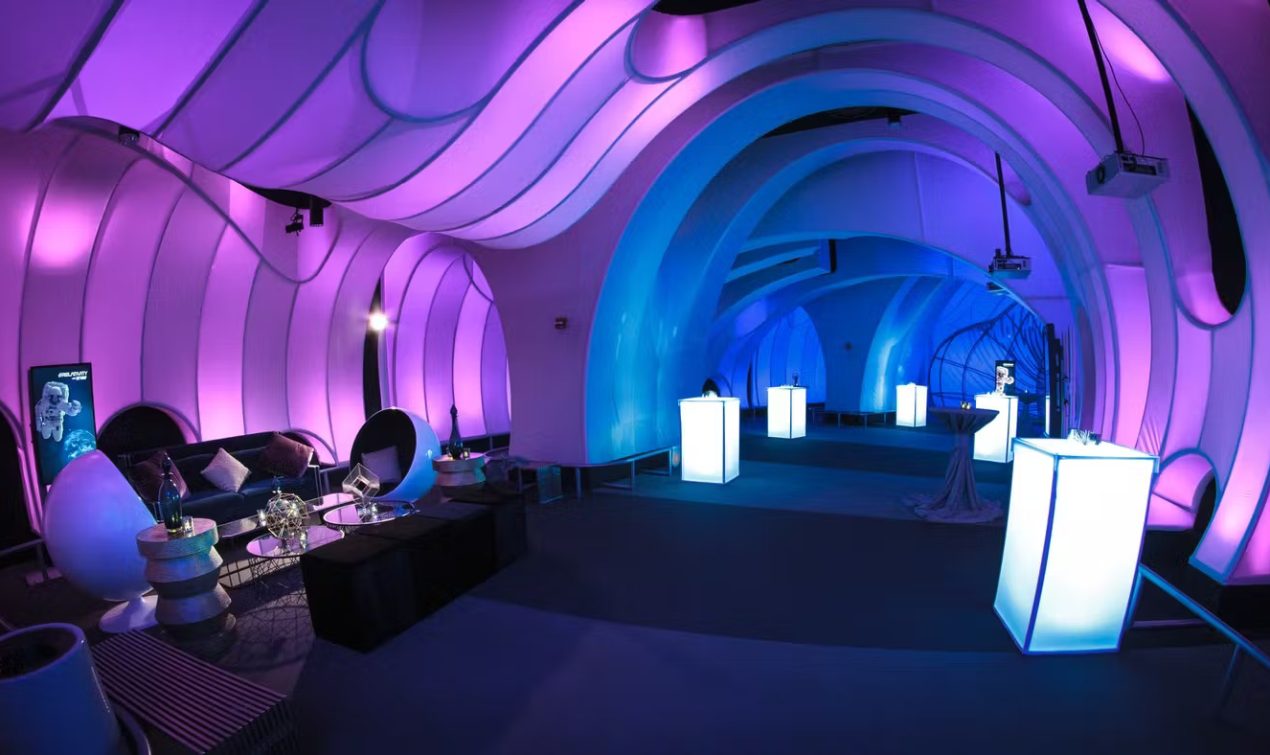 This nursery theme should include space robots, flying cars, and AI machines that are futuristic. They will make good accessories for the room, and the room's wallpaper should look futuristic and include a spaceship. The key here is installing a comfortable sofa that would complement the furniture in the room.
6 Benefits of modern nursery themes
The colors, textures, and patterns that are installed while making a nursery theme invoke visual stimulation in children.
When the child has a nursery theme then, that installs cognitive development inside them. The concepts, themes, numbers, and letters shapers that are used to make the nursery theme have massive educational benefits.
A good reason for selecting a nursery theme is the fact that it provides emotional comfort to children. When a child gets a familiar environment through a nursery theme, they have reduced anxiety and fewer mood swings.
When different shapes and sizes are used to decorate a nursery, then that provides language development. When words and pictures are used, then it automatically compels your child to learn through visuals.
Every nursery theme inspires creativity in your child. By presenting scenarios of storytelling and introducing new characters and figures in the room, your imagination of your child gets a boost.
Nursery theme rooms are extremely organized. Every Minifigures and other accessories have a dedicated space. Your child sees these storage ideas and spaces present for other room decor installs a sense of responsibility and tidiness inside them.
The social skills of your child get multiple. When you have a themed nursery, then other children visiting your child's room get a common ground to begin their chat. This automatically makes your child involved in encouraging relationships and fostering collaboration.
Challenges Associated with modern nursery themes
Likes change as people age. So the nursery theme that your child found interesting might not be suitable as they grow and preferences changes.
In order to incorporate a nursery theme, a high cost is involved. The wall art and the accessories to suit the room decor can be very expensive.
Remember that when a nursery theme is selected, then that room becomes irreplaceable. Changing the entire decor and converting the room for other activities can be a very challenging task.
As your child moves from nursery to preschool, it will be very hard for your child to leave the room and settle in some other room. As the child is so strongly connected with the room, appreciating a new room and new design can be a difficult task.
Takeaway
Incorporating a modern nursery theme can be the best decision as a gift to your child as a parent. When a modern nursery design is implemented, then you open the pathway to enhanced learning, creative imagination, improvement of social skills, fostering relationships, and exploration.
Use our comprehensive listicle to design the best nursery theme according to your budget constraints and personal preferences. These nursery ideas can be customized according to your convenience, and hence it opens a pathway to add your creative touch.
All these ideas are gender neutral, so whether you are having a precious or a king baby boy, these ideas will fit your room seamlessly. Before making a room theme based, it's always advised that you create a plan chart. The planning chart should consist of the furniture you need, the color palette that you are going to use, and the accessories that you are going to use to decorate the room.
Once done, you can contact any interior designer to make your vision come to life. So what are you waiting for? Grab an idea that loves from the list and transform your child's room into a captivating heaven.
Frequently Asked Questions
Is a modern nursery Theme Suitable for Any Gender?
Yes absolutely. Our list of themes is not gender specific. We have included color choices, furniture, and sleek design that would suit any gender. You can also include your unique choice of personalization to create a theme according to your needs.
How Can I Make My modern nursery Theme Organized?
The process is incredibly simple. All you have to do is choose wall colors that are neutral in nature and then complement the furniture that suits the decor. Once done, use hanging and vertical organizers to maximize the room space. This will make your room look super tidy and organized.
Can I Incorporate Traditional Design in a modern nursery Theme?
The answer is a resounding yes. Mixing traditional elements with modern design would make your room appear contrasting. You can use a traditional rocking chair with a modern crib to achieve the nostalgic effect. Another great alternative is pairing modern curtains with traditional rugs, which would create a stunning visual.