24 Smart Shelving Ideas for Bathroom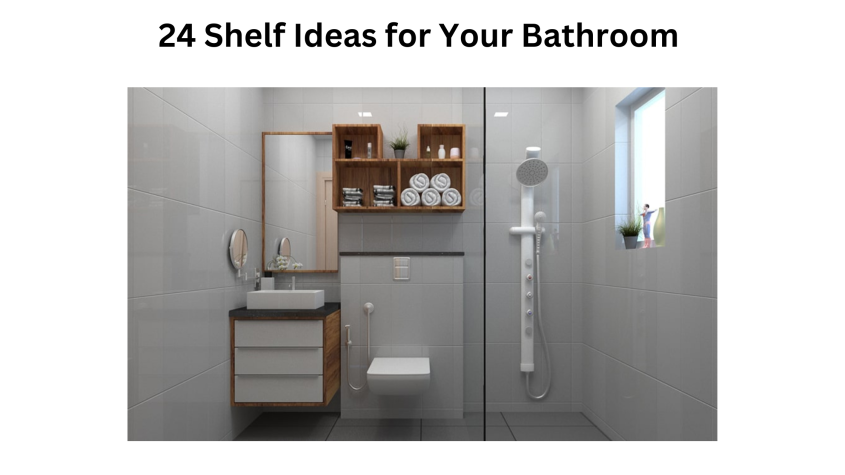 Bathrooms are often the smallest room considering every other room in the house, yet holding most of the inevitable items, from toiletries and towels to decorative items. Having a stylish bathroom requires a little bit of planning into the shelving ideas to make the most out of your bathroom and make it more pleasing.
Whether you have a small or large bathroom, there are numerous ways you can add a shelf, not just to hold your toiletries but also to make them aesthetically pleasing. The blog focuses on 24 shelf ideas for bathrooms. Let's get started.
1. Trendy Round Shelf
A trendy and chic way to add some storage and display to your bathroom wall is to add the trendy round shelf. From storing small items like cotton balls, soaps, or candles, you can showcase some plants, art, or even photos with the round shelves.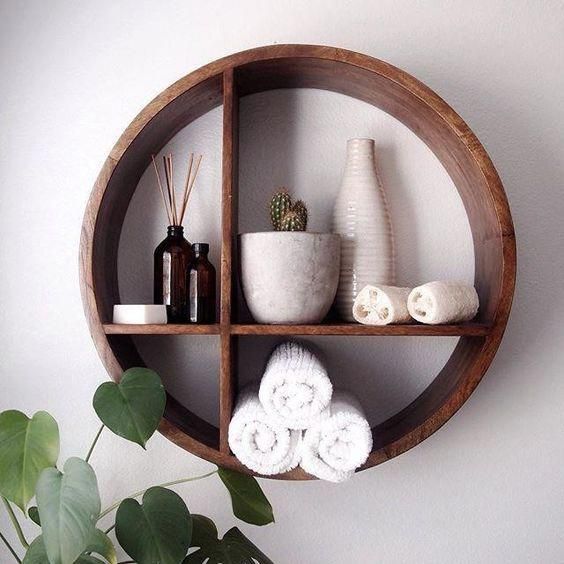 A touch of modernity into your shared bathroom, a stylish round shelf effortlessly breaks the monotony of rectangular or square designs, infusing an intriguing and captivating element. You can find round shelves of different materials, colors, and sizes to match your bathroom theme.
2. Simple Floating Shelf
An enduring and adaptable solution to your bathroom is the simple floating shelf. This shelf serves as a timeless option that seamlessly complements any space, offering both functionality and elegance. You can place the floating shelf anywhere on the wall or above the toilet to below the mirror, and it can hold anything from toilet towels, toiletries, books, and baskets.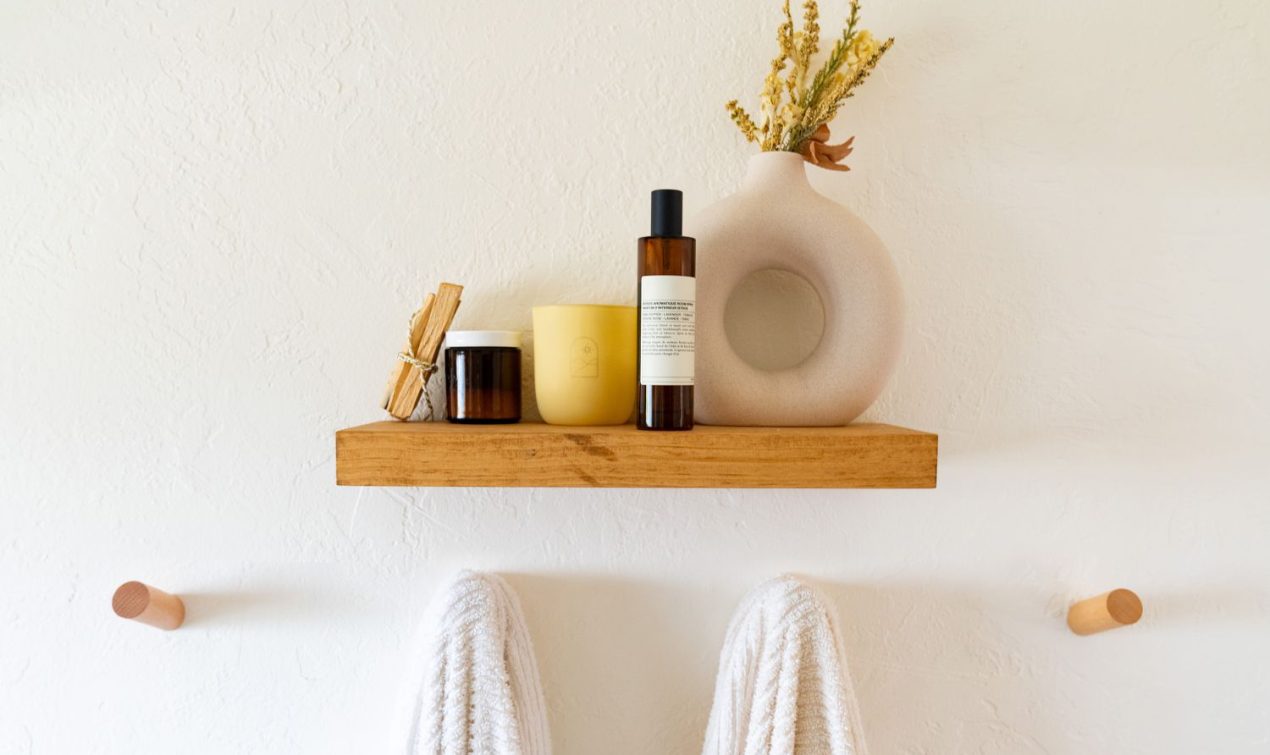 If you're a lover of minimalist design in your bathroom, then choose the simple floating shelf, which adds to the modern look of your bathroom that doesn't have any visible brackets or supports.
3. Series of Floating Shelves
As we discussed earlier, floating shelves are one of the modern trendings looks to add to your bathroom. However, if one floating shelf is not going to help bring the look you envisioned, then you can try a series of floating shelves.
A well-curated arrangement of a series of floating shelves amplifies your storage arrangements and creates an ample display space. You can always get creative with the floating shelves by arranging them at different heights, angles, or opposite walls in your bathroom to create a dynamic and eye-catching look. As fixing the series of floating shelves adds more space for storage, you can try adding aesthetic pieces like plants, candles, or any other bathroom decor you'd like.
4. Metal Accent Shelf
Metal accent shelves add texture and shine to your bathroom wall. You can find different styles and sizes of metal accent shelves that fit your bathroom aesthetics. Depending on the style and finish of the shelf, it adds an industrial to glam look to your bathroom.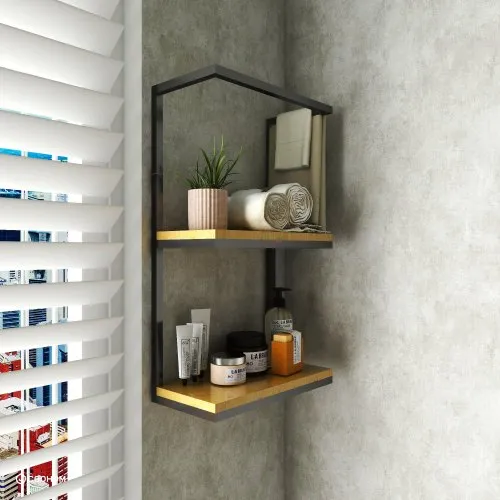 While selecting a metal accent shelf, you can also look for shelves with details such as mirrors, frames, vases, or bottles. If your bathroom already has wood and stone elements, then a metal accent shelf will add a nice contrast.
5. Craft Crate
Craft, as the name of the shelf speaks for itself, is creative and budget-friendly because it's a DIY shelf. Craft crate shelves can be painted or stained of any color and then hung on a wall with some nails and hooks.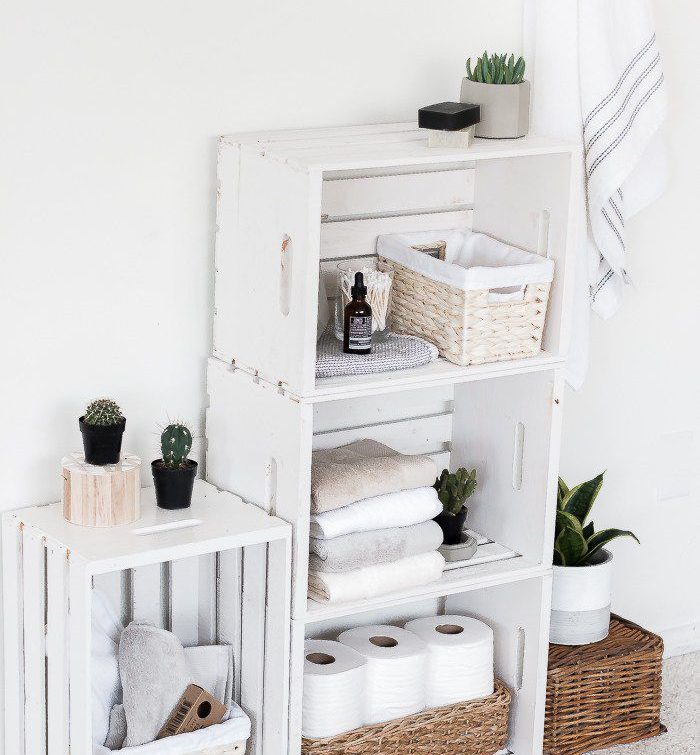 Craft crate shelves help store and display a rustic or farmhouse vibe in your bathroom. As a decorative item that should go along with your craft carte, you can add mason jars, baskets, candles, or flowers to add warmth and charm to your bathroom.
6. Aesthetically Matching Shelf
It's a no-brainer; an aesthetically matching shelf is selecting sleeves that blend with your bathroom's color or the material of the tile or wall. Adding shelves that match your bathroom aesthetics can help bring out a sleek and seamless look while also making your space look bigger and brighter.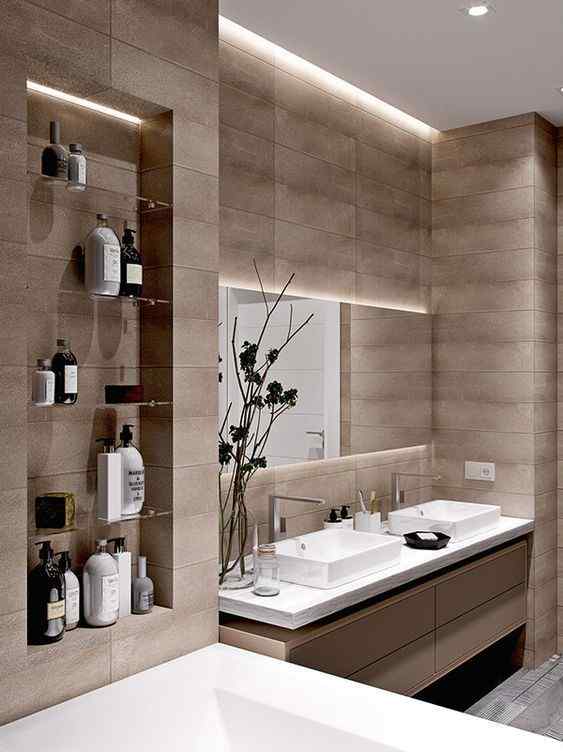 Aesthetic matching shelves automatically highlight the items you store and display on them, such as plants, art, or accessories. These shelves are available in different shapes and sizes to fit your budget and preference.
7. Mirror with Attached Ledge
Having a small bathroom space and looking to add shelves that don't take too much space or look cramped upon adding is a big task to achieve. A mirror with an attached ledge is a win-win and does two functions at once, saving the wall space while saving your daily essentials.
The ledge can easily hold your toothbrush, soaps, makeup, or skincare products. Add decor items to the shelf by adding an extra layer of character and charm to your bathroom space.
8. A Recessed Mirror
Recessed mirror means setting the mirror into the wall instead of hanging on the wall. You can further go ahead and add hidden storage for your essentials and access it by sliding or opening the mirror.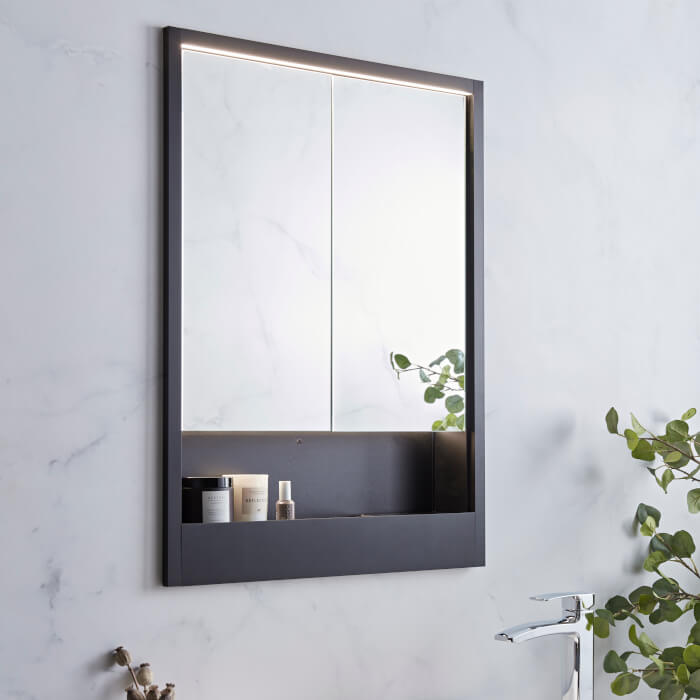 Though showcasing toiletries and other bathroom decor is the most unsaid rule followed by many, a recessed mirror and its hidden storage can help you access your medicines, cleaning products, or even extra toiletries.
Hiding most of the items inside the storage can help bring a clean and elegant look to your bathroom.
9. Shelf Between or Above Sinks
Having a double sink vanity in your bathroom should open doors for the shelves to add above and between the sinks. Adding shelves above or between the sink creates convenient and accessible storage for you and your partner, as well as a shared display space for some decor items.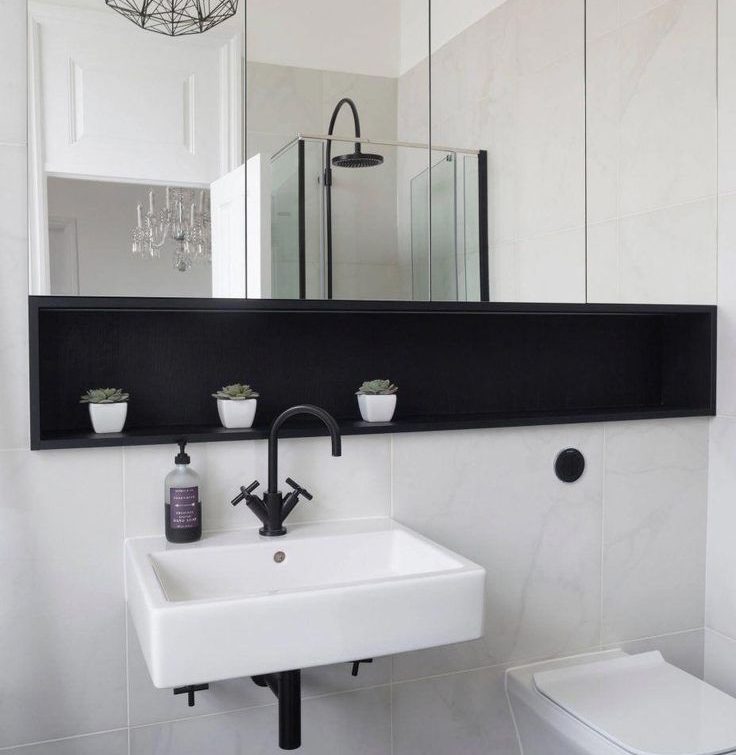 Now with the extra space, you can either make a partition and decorate your own spaces or together come up with plans to fill with plants, candles, other decorations, or no decor at all.
10. A Wall Mounted Cabinet
A wall-mounted cabinet can be placed anywhere in your bathroom, from above the sink, to the sides of your shower, or above the showers.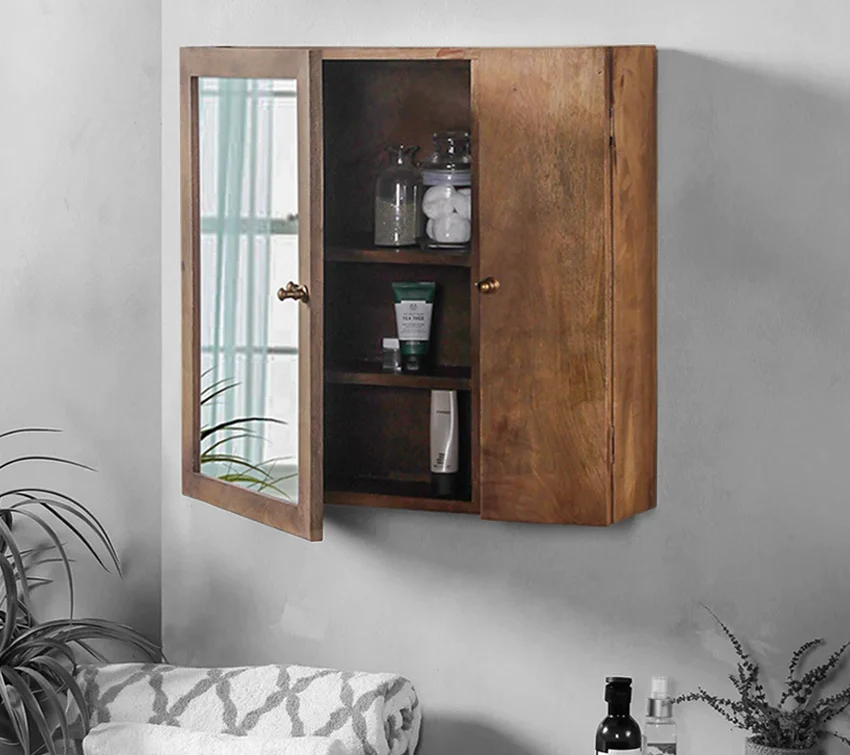 Wall-mounted cabinets can hold a lot of items in storage. You can design it with different materials like glass and wood. You can also buy or design a small wall-mounted open cabinet to hold decorative items in your bathroom.
11. Barely There Glass Shelves
Barely their standing shelves create a minimalist and modern look in your bathroom. Usually, barely there glass shelvings are thin and transparent that are attached to the wall with metal brackets and supports.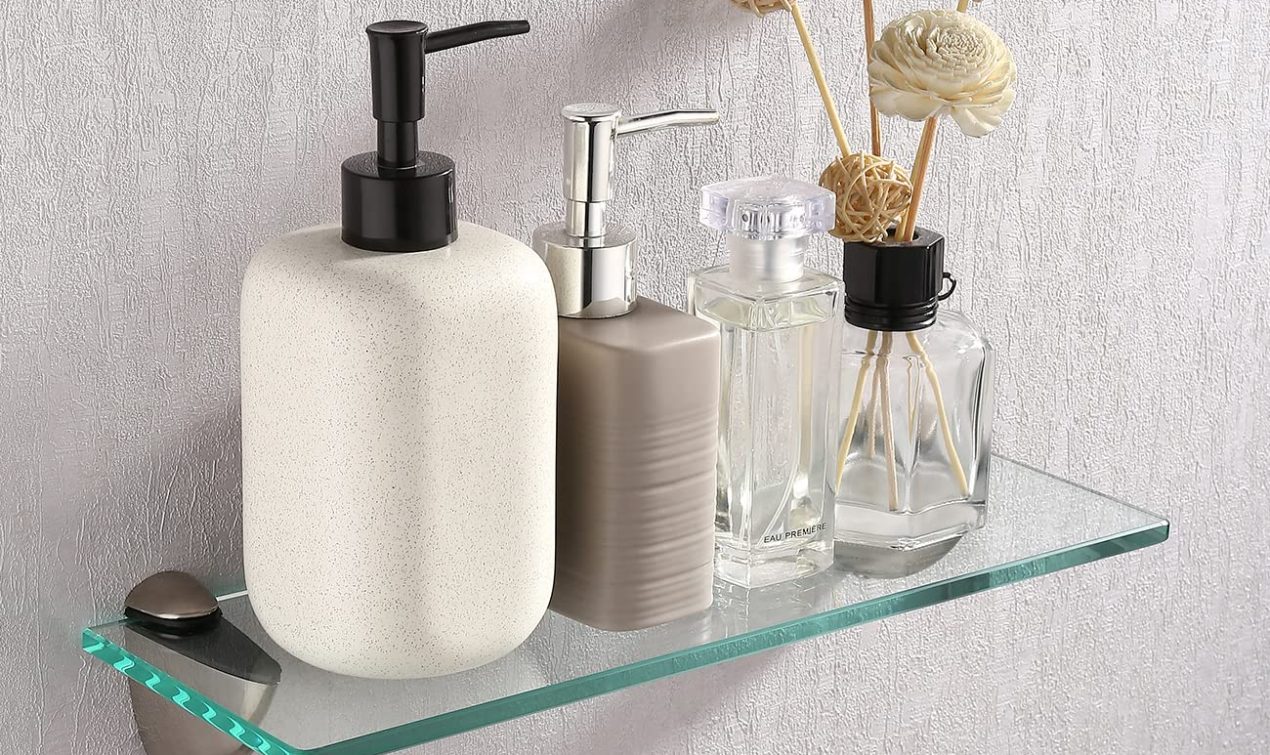 You can use these transparent shelves to showcase items you want to display as a stand-alone piece, store your toiletries, or as an addition to the present shelves in your bathroom.
Being transparent glasses, these shelves don't block light into your bathroom and bring a brighter look.
12. Freestanding Shelves
Freestanding shelves are easy and flexible to use. Basically, freestanding shelves stand on their own legs or base and don't need any wall support. The biggest advantage of selecting this freestanding shield idea for your bathroom is that you can move it anywhere in your bathroom.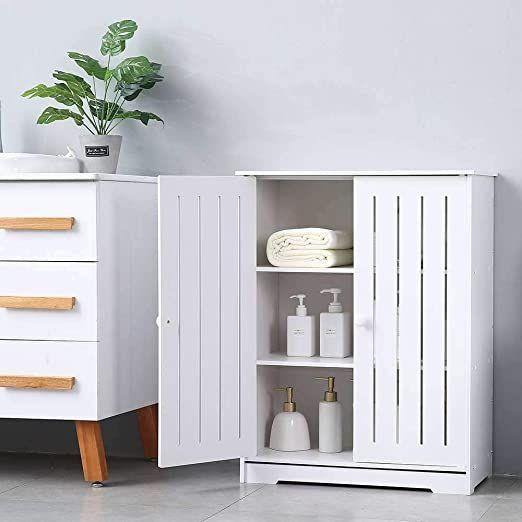 For instance, if you are a kid or toddler to give a bath to, you can use a freestanding shelf to move near the bathtub instead of carrying the toiletries and crowding the floor.
13. A Bath Rack
Adding luxury and convenience to your bathtub goes well with placing a bath rack nearby. Bath racks can be either wooden or metal, and they are available in different sizes for you to find the best that fits your bathroom.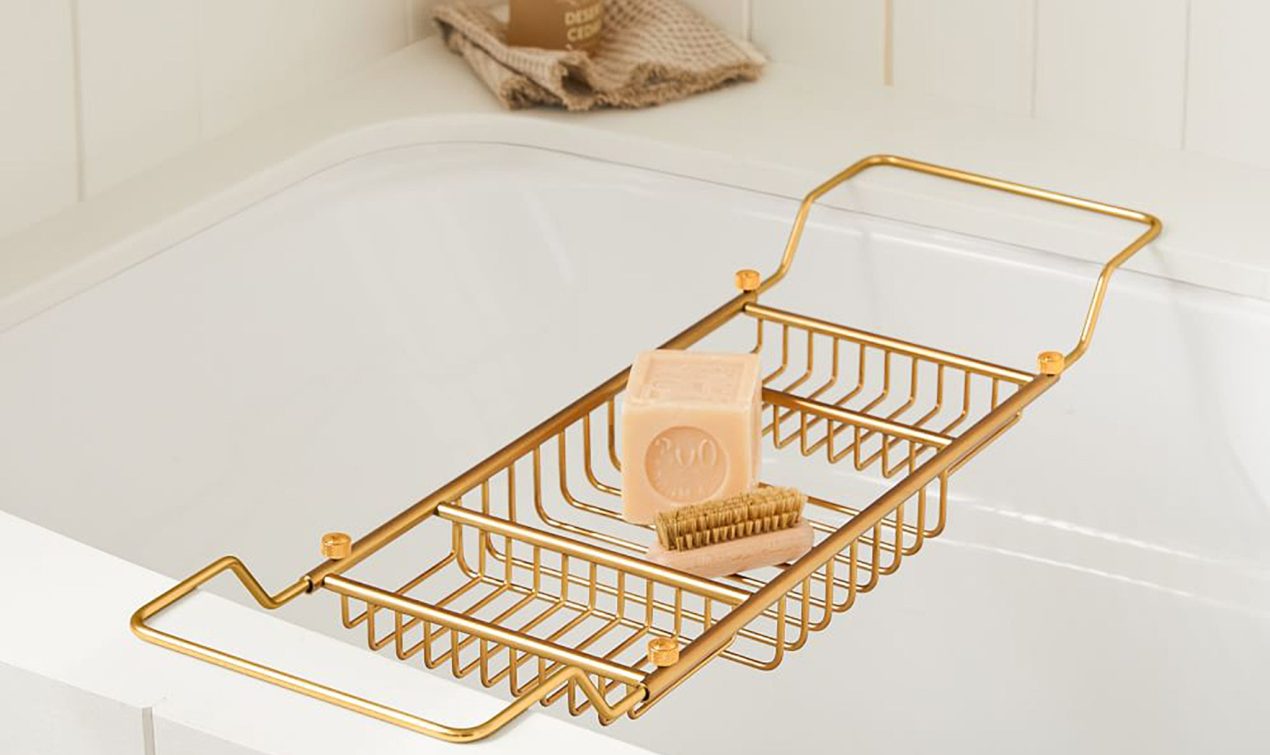 Placed on the edges of your bathtub, a bath rack can hold multiple items like toiletries, towels, candles, speakers, champagne bottles, razors, and more.
14. Built-in Shower Alcove
Just as a recessed mirror is embedded itself into the wall, a built-in shower alcove does the same. The built-in shower alcove uses the space inside the shower wall.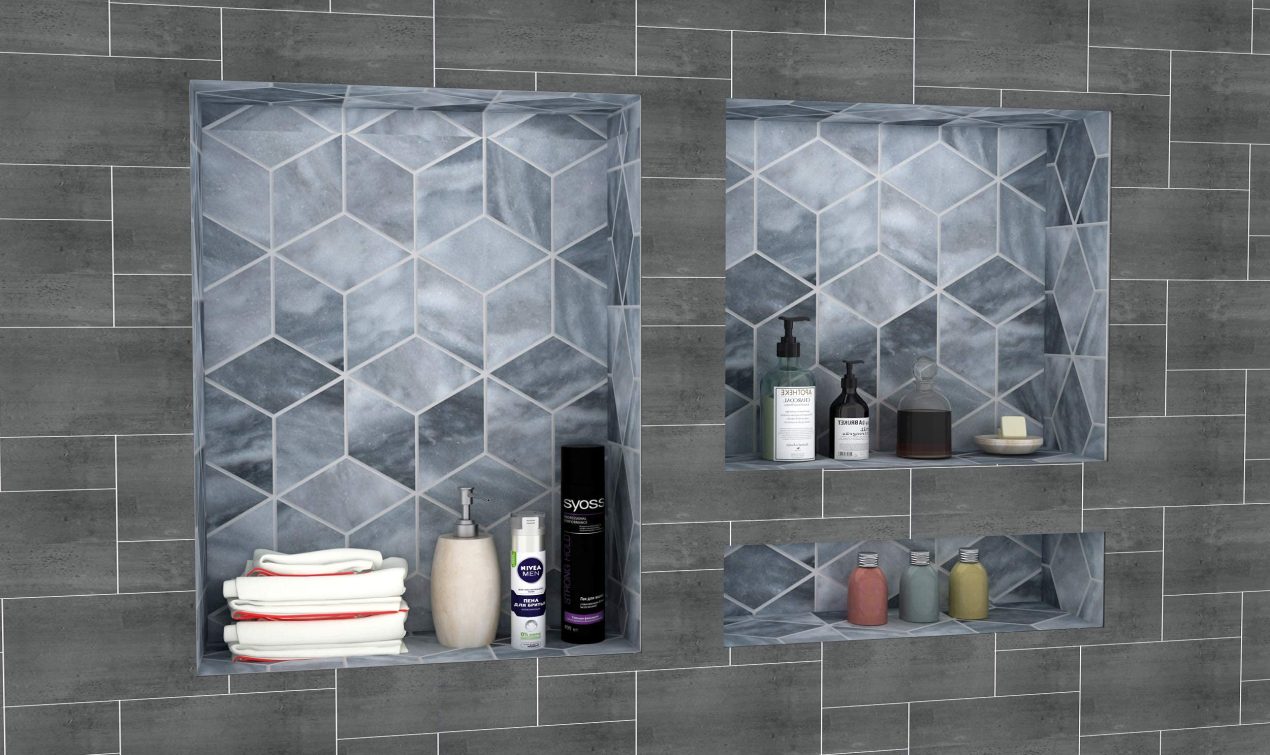 These shelves and alcoves usually are built in a way to hold almost every essential for your bathroom, from toiletries, medicines and extra supplies. In addition to saving a lot of space in your bathroom, built-in shower alcoves make your bathroom look more organized and tidy.
15. A Vanity with a Shelf
Vanity with a Shelf is one of the best shelf ideas for a bathroom that combines storage and style. Vanity is yet another shelf idea for the bathroom that makes it easy for your storage and decoration purposes.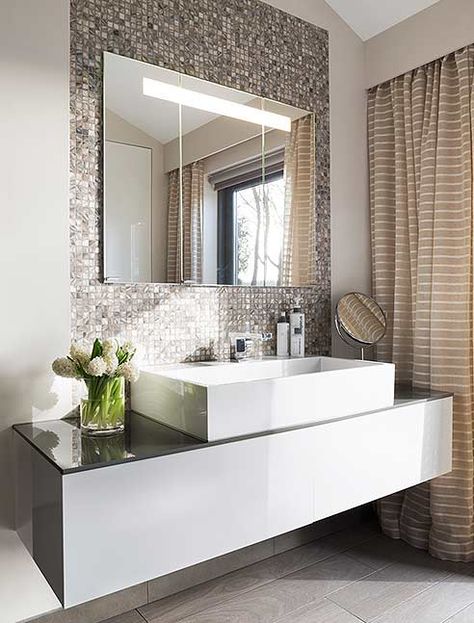 You can store your essentials while taking a step towards making your bathroom and the vanity shelf go hand in hand in terms of style. Explore the offline and online stores to find vanity shelves of different styles to match your bathroom theme.
16. A Small Cabinet
A tight space bathroom might find it difficult to squeeze in all the bathroom needs or toiletries. With the limited storage, you may have to bring a toiletry bag with you each time you use the space.
To save such instances, small cabinets come as a savior. While the storage of the small cabinets is less compared to other shelf ideas discussed till now, it still does justice in holding the primary items for you in the bathroom.
17. A Windowsill
Windowsill brings the most ventilation and light into your bathroom, unlike any other shelf ideas for the bathroom. Since the windowsill brings the most light, you can add plants or flowers, bringing a pleasant vibe to your space.
Windowsills add a freshness to your bathroom like no other allowing you to enjoy your bath time.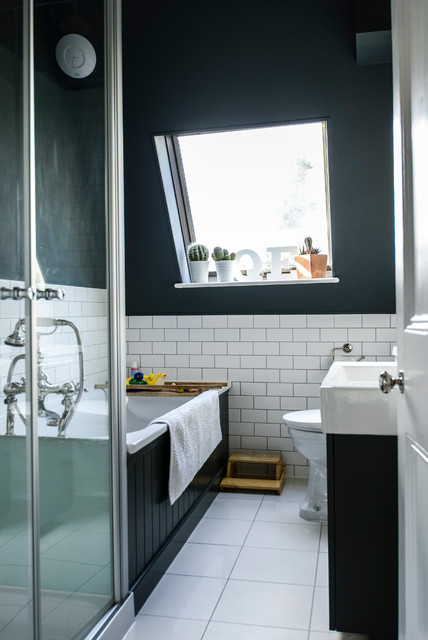 You can decorate your windowsill with plants, flowers, candles, or trays to make a beautiful shelf.
18. A Bath Tray
If you have a compact bathroom with minimal space dedicated solely to the faucet and shower, a bath tray presents itself as a wonderful option to enhance your bathroom experience without overcrowding the space. A bath tray can either be wooden or metal, sometimes even plastic.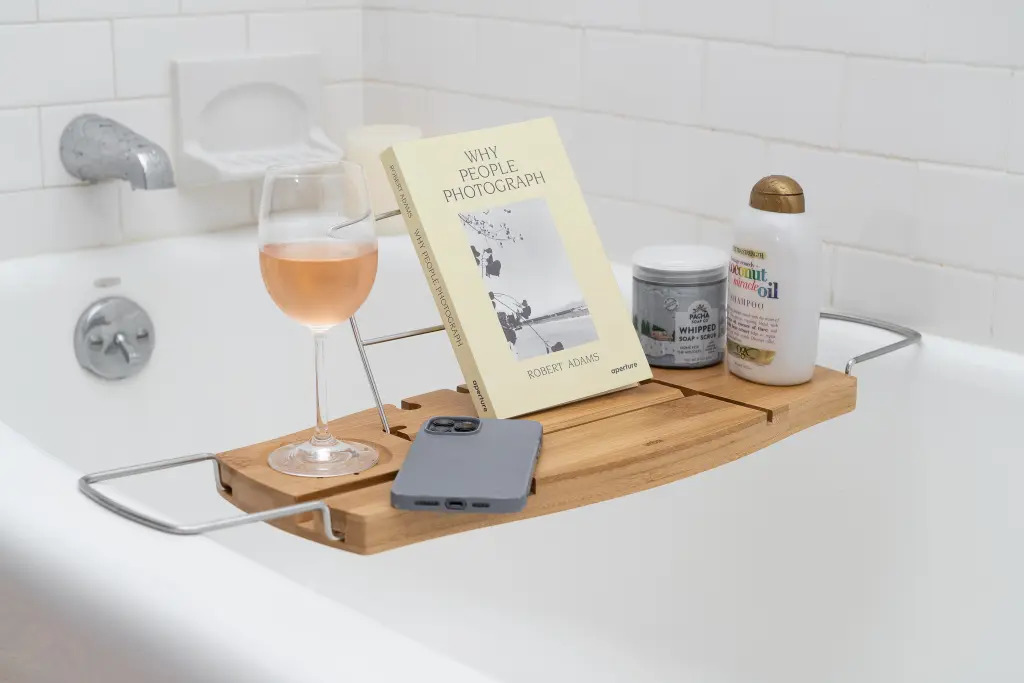 You can use it to hold your must-haves like shower gel, shampoos, and conditioners. Else, if you'd like to have snacks or a drink while enjoying in your bathtub, then bath trays are a minimal yet efficient option to use.
19. A Bench
Though the most underrated option for shelf ideas for bathrooms, a bench can serve as a seating space and a shelf. You can place the bench near the bathtub or opposite your shower space to hold an array of your toilet essentials.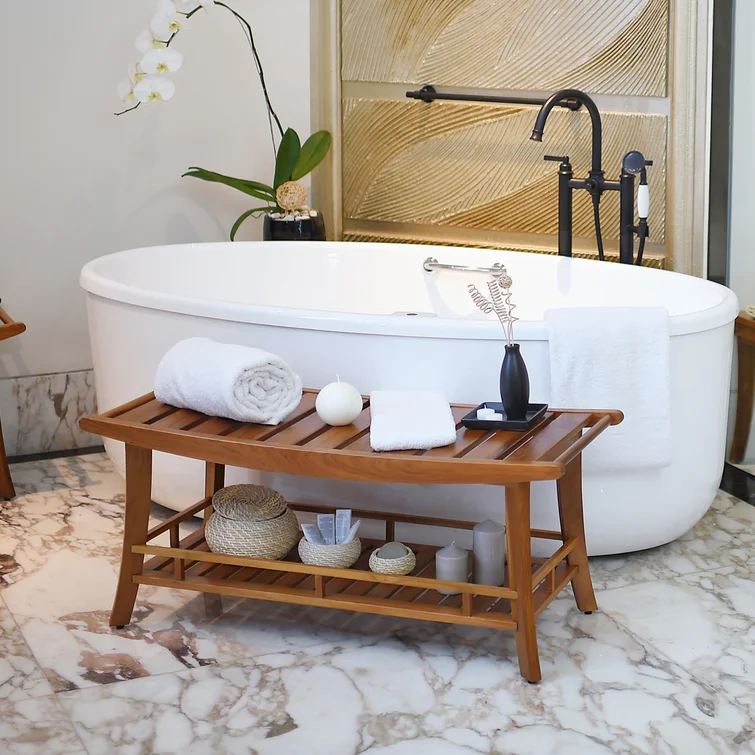 You can even use the bench to place all the decorative items and speakers for your bath time.
Benches are meant to match any aesthetic form of a space. You can either buy a customized bench to match the vibe or paint a bench to match the bathroom's appearance and your preference.
20. A Stool
The stool is the short version of the bench. However, a stool cannot hold as much as a bench or any other shelf in a bathroom can hold. You can still use the stool to hold your plant, candle, or speaker.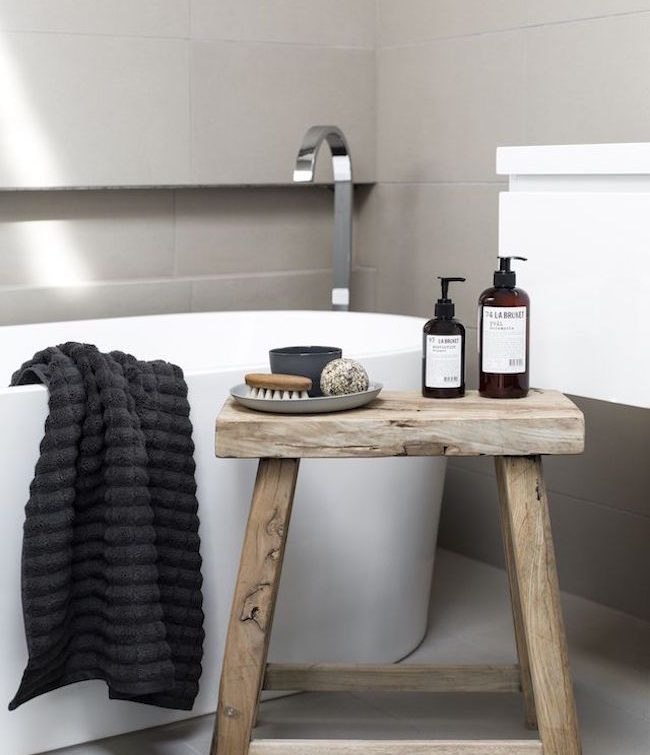 You can also use the stool to hold your shampoo, conditioner, and shower gel. You can move the stool as per your liking during your bath time, and it wouldn't take much of your space and maintain the vibe of your bathroom very minimally.
21. Central Shelving Unit
Central shelving unit makes partitions in your bathroom like a sink area and bath area creating a focal point. Central shelving units are tall and large that can store and highlight the items in your bathroom.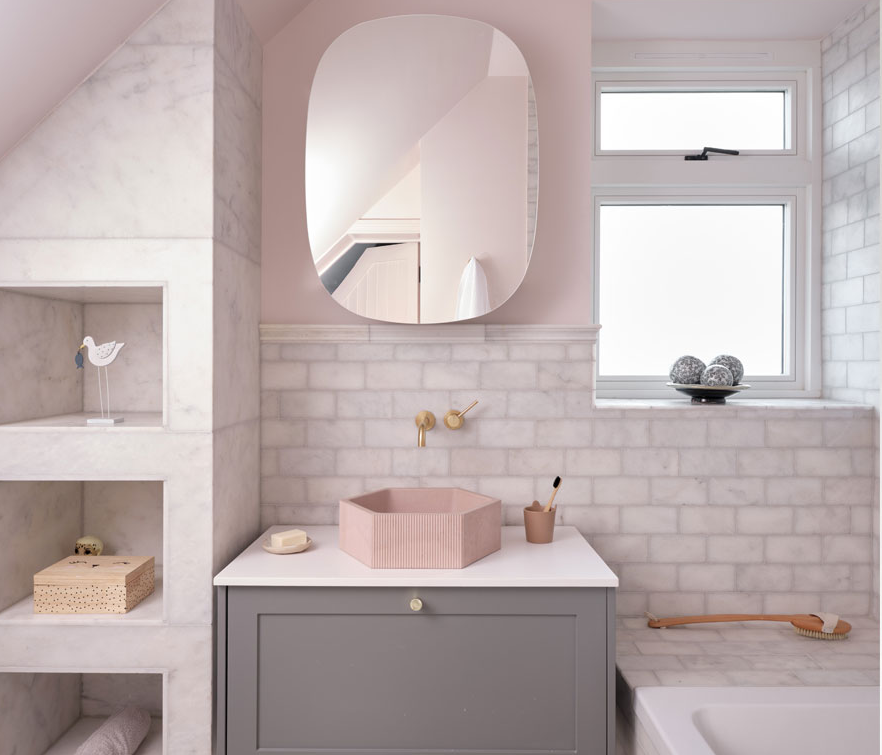 You can find it easy to find central shelving units of different shapes and styles.
22. Lower Shelving Designs
Lower shelving designs take up the lower part of your bathroom wall. You can use the lower shelving designs to save all your extra supplies and toiletries.
These kinds of designs hold the most storage and give a clean and spacious look in your bathroom. You can place the lower shelving designs below the window or sink or alongside the baseboard of your bathroom.
23. Modular Shelving Units
Heard of modular kitchens? The same goes here. Modular shelving units allow you to customize your storage space according to your needs and preferences.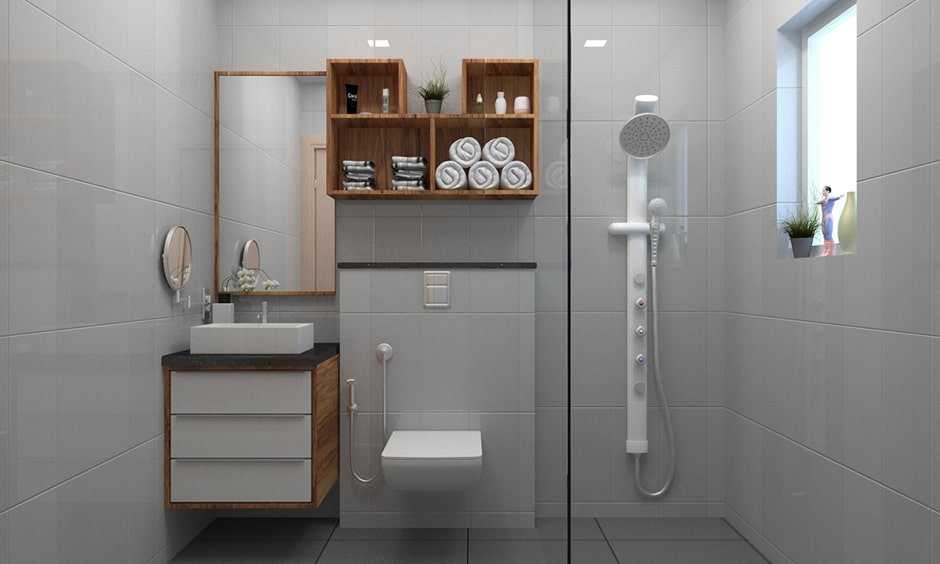 Modular shelving units aren't single units but multiple different styles that can be placed based on your bathroom layout. Whenever you remodel your bathroom or buy extra items, you can replace the shelving unit as per your needs.
24. Small Shelving Units
Where there are narrow spaces or corners in your bathroom, you can always use small shelving units. They add some charm and character to your bathroom, also making the space look more organized and tidy.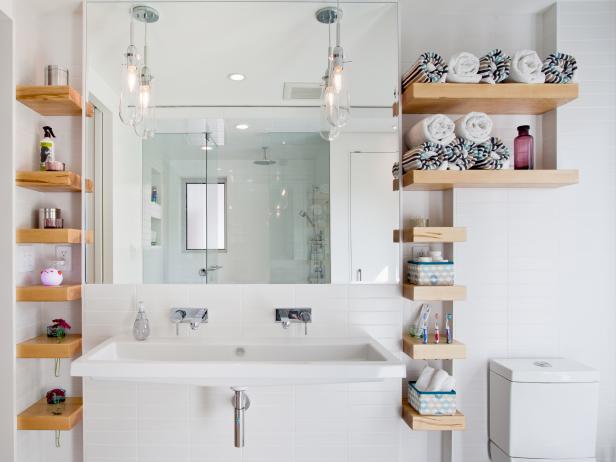 You can place the small shelving units on the floor or even hang them on a wall based on the availability of space in your bathroom.
Conclusion
Always remember, a bathroom should be a sanctuary – a place where you can unwind and pamper yourself. Incorporating these shelves, you can declutter the bathroom space, organize your essentials, and create a more pleasing environment.
With the above-mentioned versatile shelf ideas for your bathroom, you can easily transform your bathroom space into a more functional and beautiful space, enhancing your daily routine.
These shelves serve as a blank canvas on which you can display decorative items that reflect your personal style. The shelves are for you to nurture your inner senses in addition to meeting your practical bathroom needs.