5 Chic Grandmillennial Decor Ideas To Transform Your Space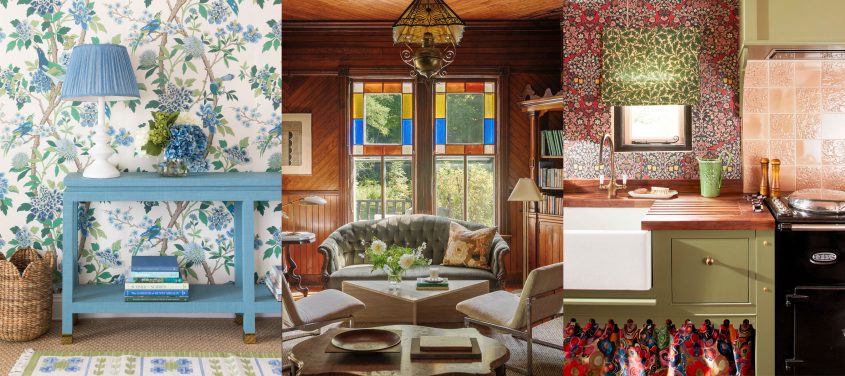 The grand millennial decor has been the talk of the town lately. It has been catching the eyes of interior designers in the last few years. Many interior designers have already embraced it, and many are exploring it ardently.
So, what's the big fuss about this "grand millennial decor"?
The grand millennial decor is a beautiful blend of nostalgic past trends with a modern hint. It is a fusion of the best of past designs with contemporary trend. In simpler words, the grand millennial decor is a celebration of classic styles and an attempt to incorporate them into modern home decor.
So, if you have an inclination towards vintage style and are looking to give your home the perfect grand millennial look, put your reading glasses on, as we bring you some amazing grand millennial decor ideas that will surely make your neighbors jealous.
But first, let us understand a bit more about the grand millennial decor trend.
The Origin of Grand Millennial Decor
In the year 2019, Emma Bazilian coined the term "grand millennial" in the article House Beautiful, to refer to a style that explores past design elements into modern decor. The grand millennial decor is also known as 'granny chic' or 'grandma chic.'
She further described the grand millennials as someone who is in their late 20s or 30s and has an inclination towards design trends, which are usually considered outdated.
The grand millennial decor is about giving a twist to traditional decor by merging it with modern elements and creating a fresh and youthful interior.
The Main Elements of a Grand Millennial Decor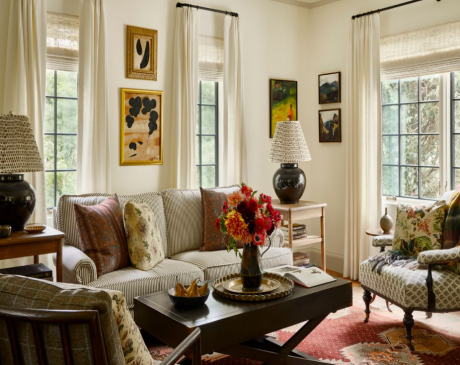 Your grand millennial decor is incomplete without a few major "granny" design elements, such as color patterns, dark woods, handcrafted textiles, flowery designs, and laces. You just need to find the correct mix of these elements with your modern style home.
A few antique and vintage art pieces are necessary to give your home a complete traditional feel. Choose the table clocks, paintings, and a few vintage collectibles to display on your walls or tables.
Lights are an essential element of the interior, incorporate antique style lightings, lamps, and pleated lampshades into your living room and complete the look with floral printed curtains and cushions. For a modern grand millennial decor, try using light shades of vibrant colors such as pink, blue, brown, green, etc.
One of the most important features of grand millennial decor, which leans more towards the 'millennial' side, is the use of spaces properly. Don't overstuff your rooms; try using your spaces meticulously; place the furniture in a way that each and every element of your interior stands out.
When you stuff a lot of furniture pieces in a small room, it looks cluttered, and all of your design elements are lost. You need to keep it tidy and make sure there is enough space to walk around easily.
Grand Millennial Decor Ideas to Try for Your Home Interior
1. Play It Cool with Patterns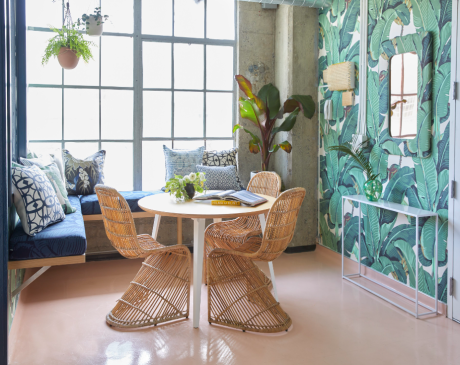 The classic style of home decor was all about patterns. Patterns provide you with a sense of individuality and are an excellent medium of expression. They give warmth and visual appeal to your place.
You can give your interior a modern touch by meticulously adding prints and patterns to your decor and blending it with modern-style furniture and carpets. The grand millennial trend is all about combining different textures, colors, and designs of the vintage era with the playfulness and freshness of modern times. You just need to choose the best of both and combine it carefully.
Most interior designers choose to go with readymade vintage wallpapers to get the look they want. They are easily available and fit right within the budget. Experiment with different kinds of wallpapers, textiles, and furniture to complete the look.
2. The Flower Power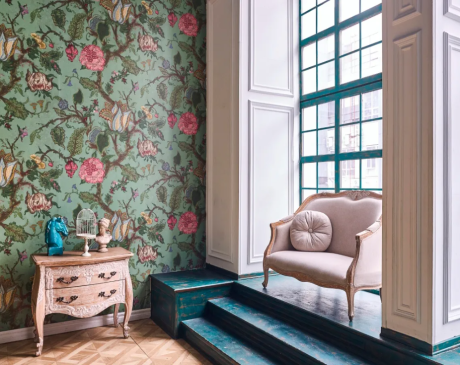 Remember those days when your granny used to make those flowery sweaters for you? Well, flowers were an essential design element back in those days. No wonder the floral prints are making a comeback. They are extremely beautiful and exude a feminine charm, which makes for a more alluring environment.
The floral pattern gives your home a chic and inviting aura and is perfect for a modern home. However, you would not want to overdo it with the floral pattern; choose only one design element in the floral pattern, e.g., if you are using floral furniture or flower prints in textiles, you might want to avoid using it on your walls and vice versa.
3. Bring Back the Embroidery and Crafts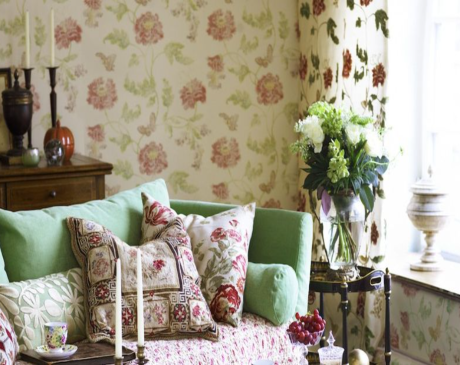 An important element of the grand millennial decor trend is detailing. Embroideries are the perfect way to add a hint of detail to your interior. Using laces in textiles such as tablecloths, cushions, bedsheets, and pillows was an essential ingredient of the traditional era.
You can use handcrafted textiles to bring out the granny chic vibe perfectly. Although there is no harm in doing a little embroidery every now and then, don't panic if you are a total newbie in this area, you don't have to make them by yourself.
They are quite easily available online, and there are a plethora of options to choose from.
4. Show Off Your Textiles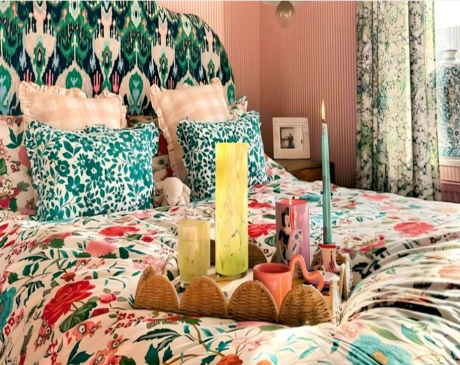 Textiles are an essential part of your interior; they can truly change the game. If you don't have enough time and money to bring on the full grand millennial decor style, start with changing your bedsheets, cushions, covers, curtains, and towels, and then move on to furniture.
Contrasting colors and patterns in textiles are the basic elements of the millennial trend. Try to create a balance between contemporary design elements, such as using elegant designer vases on the traditional tablecloth. Mix and match with various options and choose what suits your interior.
5. The Trendy and Traditional Wood Pieces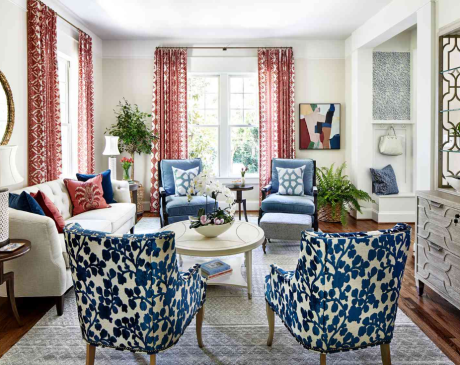 There has been a paradigm shift in the way we use furniture. Modern furniture pieces are totally different from traditional designs. While traditionally, darker woods were the main constituents of the furniture; the recent furniture trend is more about the use of subtle and sophisticated looks.
However, bringing back the days of the richness of color and patterns, the grand millennial trend has taken the furniture world by storm. Grand Millennial decor incorporates major traditional elements such as rattan furniture, the usage of brown, beige, and pastel greens in the furniture, and the usage of fabric in furniture.
The Balance Between "Granny" and "Millennial" in The Grand Millennial Trend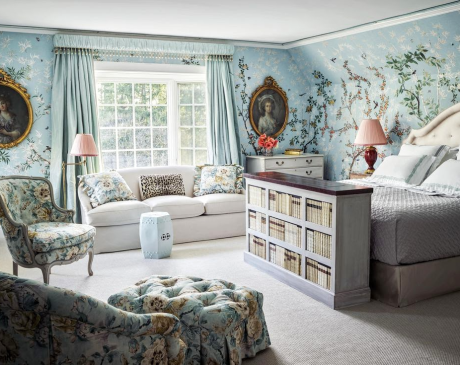 The grand millennial trend combines the traditional or vintage styles of the past with modern interiors. Creating grand millennial decor is not as easy as it sounds; there are a lot of things to be kept in mind while going for this particular design trend.
To put it simply, if you have to understand grand millennial decor, think about entering a 1950s room with all the distinctive pattern upholstery, dark wood furniture, floral walls, and textiles and merge it with the modern, fresh elements.
One of the most important features of grand millennial decor is keeping it simple and sophisticated. Remember not to stuff design elements in such as way that it looks suffocated. It is basically about taking the best of the past and merging it with the best of the modern to create an amazing interior.
Conclusion
The grand millennial trend that arose somewhere in 2019 has been offering some serious home decor inspirations and has been catching the eyes of interior designers lately. The grand millennial trend is all about involving traditional design elements in modern homes. It's about keeping the spirit of the 50s alive in the heart of modernity.
The grand millennial trend is not just about adding vintage or antique furniture or other home decor items; it includes all the aspects of home decor that were popular in earlier times and using it meticulously in today's homes. The most popular grand millennial elements include the involvement of floral patterns on walls, the usage of patterned textiles, fringes, laces, chandeliers, and many other such elements.
So, what do you think about these grand millennial trends? If you like these suggestions, don't hesitate to enhance your home decor with them.
Frequently Asked Questions
What Age is Considered the Grand Millennial Age?
By definition, anyone who was born somewhere between the 80s and 90s can be considered a grand millennial. However, the grand millennial design trend is not bound to any age group; anyone can celebrate this style and incorporate it into their homes if they like vintage or classic style home decor.
How to Incorporate Flowers in Your Grand Millennial Home Decor?
Flowers are a rather significant part of the grand millennial decor style. It would not be an exaggeration to say that flowers are the heart of the grand millennial design trend. Apart from having floral printed textiles, walls, and upholstery, you can use fresh or artificial flowers too on your dining tables or side tables to enrich your home decor.
Are China Cabinets a Part of the Grand Millennial Decor?
Yes, indeed! China cabinets are an integral part of the grand millennial decor. You can use a china cabinet to display your dishes, plants, or silverware, such as teacups, saucers, or your personal collections.