30 Unique Wedding Arch Concepts to try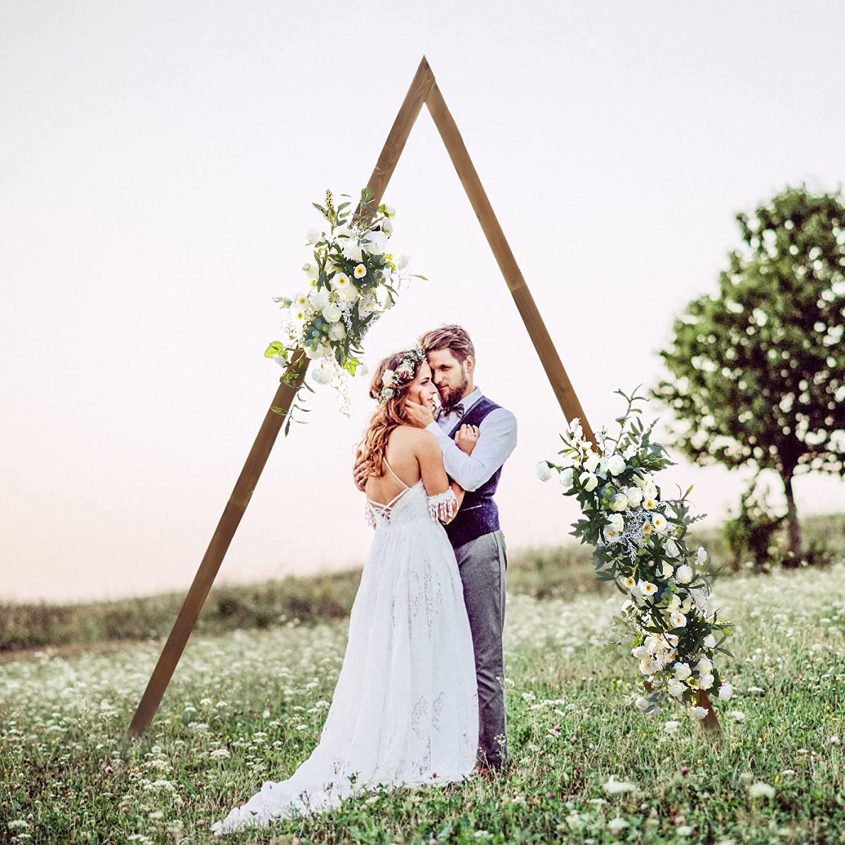 A wedding arch serves as a beautiful focal point and backdrop for exchanging vows and creating lasting memories. Numerous gorgeous wedding arch designs are available to match your style – whether you envision a rustic outdoor party, a whimsical bohemian occasion, or an exquisite interior ceremony. The options are endless!
Imagine walking down the aisle framed by a romantic floral arch with cascading blooms and greenery, creating an ethereal atmosphere. Or perhaps a bohemian macrame arch adorned with wildflowers and vines perfectly captures your free-spirited vibe. Both these options are lovely and add a contemporary touch to the entire wedding.
These 30 stunning wedding arch ideas will inspire your special day planning. Each arch design holds the power to transform your ceremony space into a breathtaking view, setting the stage for an unforgettable wedding celebration.
Lovely Wedding Arch Ideas to Inspire You
Get ready to be inspired by the beauty of amazing wedding arches. The stunning arches will create a captivating backdrop that will leave you and your guests in awe!
1. Rustic Wood Arch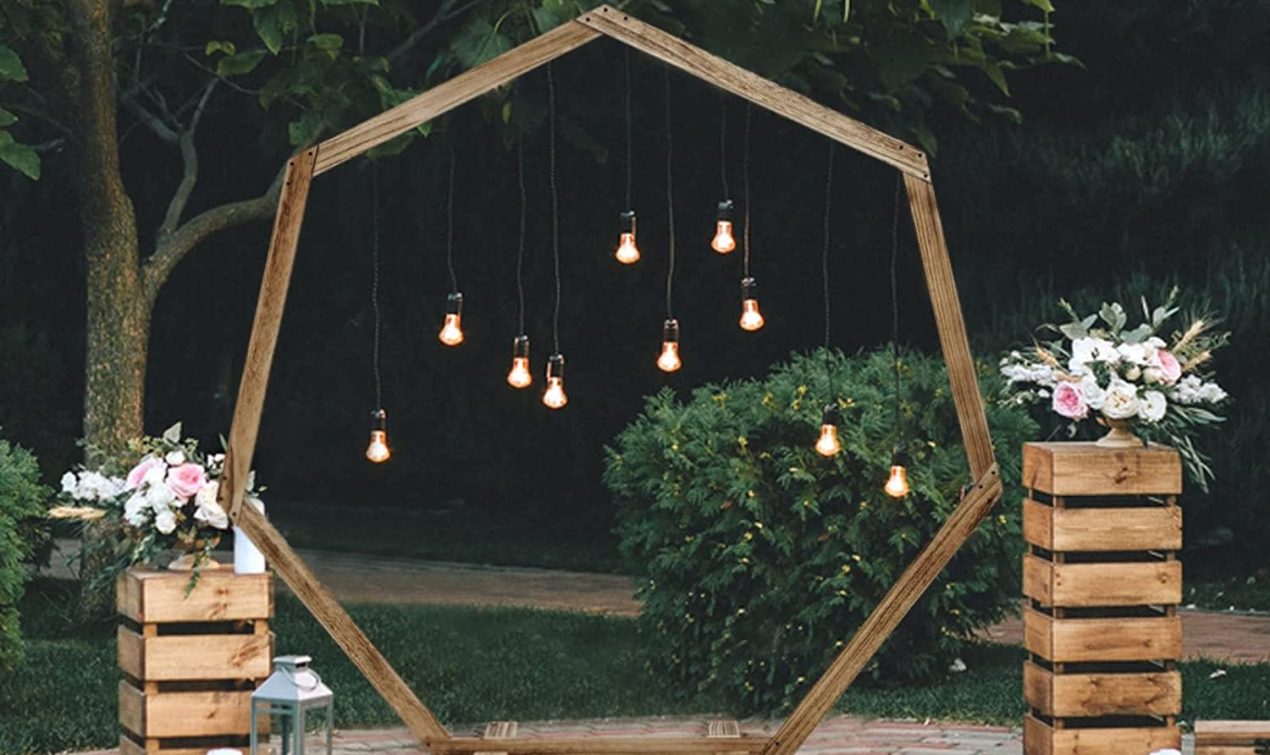 Embrace the charm of a rustic wood wedding arch that exudes natural elegance. Crafted from weathered timbers or reclaimed barn wood, this arch creates a warm and inviting atmosphere. Adorn it with lush greenery, cascading vines, and soft blooms to add a touch of romance. The simplicity and organic texture of the wood enhance the rustic ambiance, perfectly complementing outdoor or country-themed weddings.
A rustic wood wedding arch provides a classic and beautiful backdrop for exchanging vows, whether it is tucked away in a field, garden, or forest location. It brings a sense of authenticity and rustic beauty to your special day, creating memories that will last for a lifetime.
2. Bohemian Macrame Arch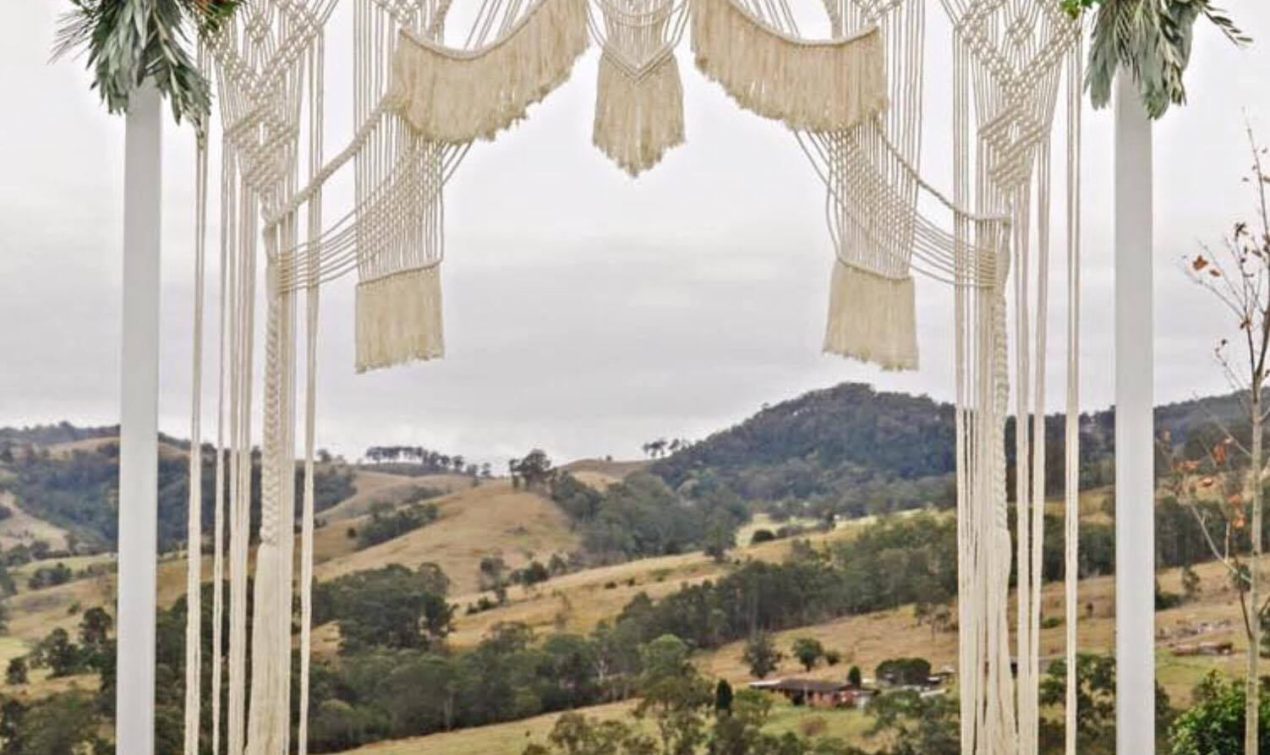 Transport yourself to a world of bohemian whimsy with a stunning macrame arch that displays the art of knotting cords. This unique wedding arch portrays a touch of free-spirited charm to your special day. Intricate macrame patterns crafted from natural fibers create a visually captivating background.
Paired with cascading vines, wildflowers, and dreamy fairy lights, the bohemian macrame arch sets the stage for a romantic and ethereal surrounding. This arch style effortlessly blends modern trends with nostalgia and is perfect for outdoor or boho-themed weddings. So, let the beautiful textures and earthy tones of a bohemian macrame create an enchanting ambiance to your wedding ceremony.
3. Romantic Floral Arch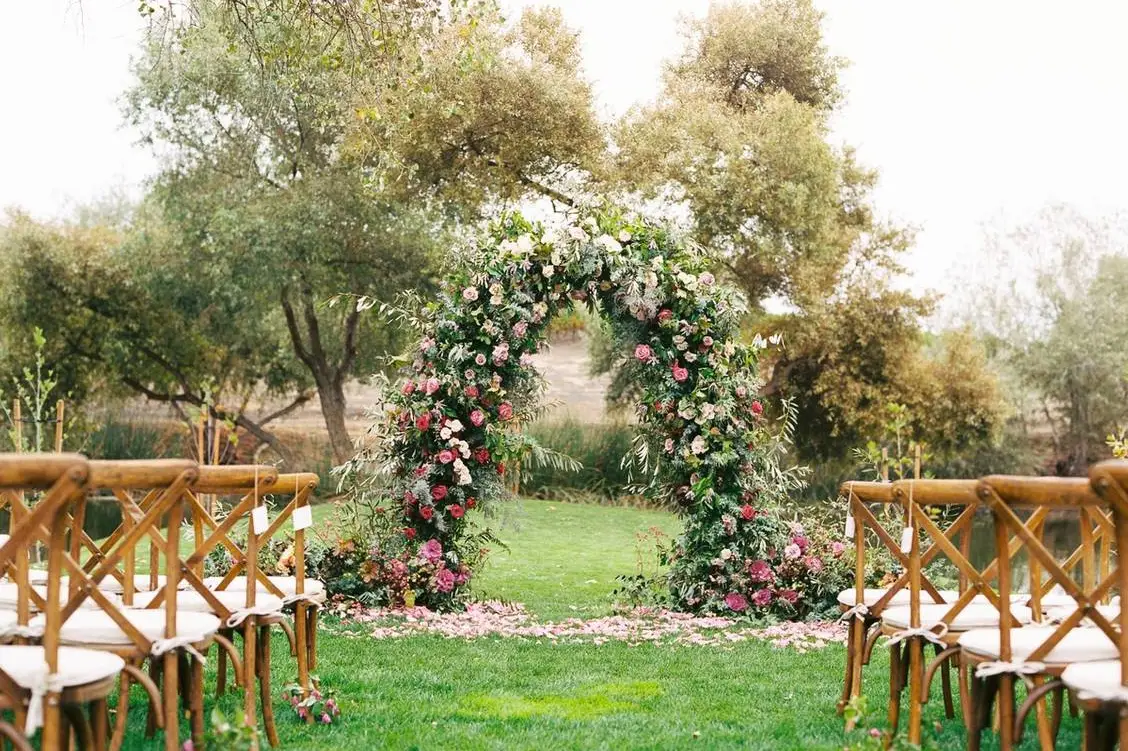 Step into a fairytale romance with a breathtakingly romantic floral wedding arch. This arch design for your D-day provides an appealing ambiance – all thanks to its profusion of beautiful blossoms and lush vegetation! Imagine walking down the aisle beneath a canopy of fragrant roses, alluring peonies, and delicate blossoms. The vibrant colors and soft textures of the flowers create a sense of dreamy elegance, perfect for a classic or garden-inspired wedding.
The romantic floral arch serves as a stunning display for exchanging vows, capturing the essence of love and beauty as you embark on your journey of being together.
4. Whimsical Balloon Arch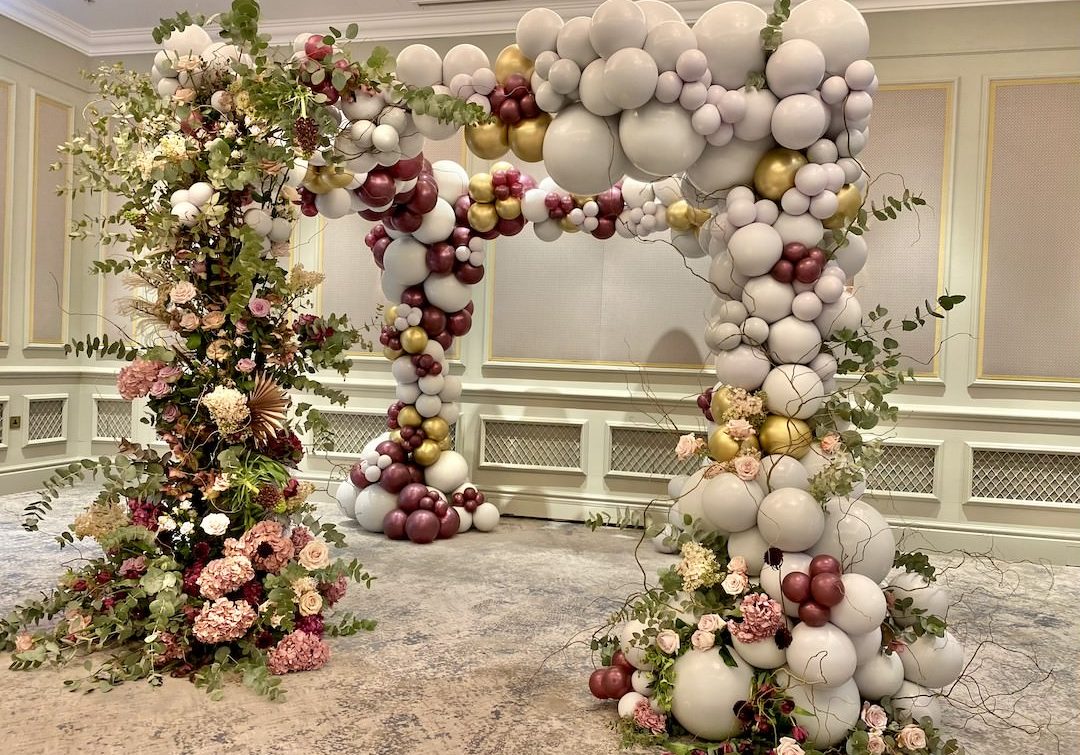 Elevate the whimsy and playfulness of your wedding with a stunning balloon arch. It is one of those wedding arch ideas that has a burst of vibrant colors. As the balloon float in the air, this arch idea brings a joyful and celebratory vibe to the wedding day.
You and your better half will look absolutely stunning walking down the aisle covered with swirling balloons. Have you already started imagining it? From soft pastel balloons to bold and bright hues, you can customize the colors to match your wedding theme. The balloon arch serves will be perfect for your ceremony and shall be a delightful photo opportunity for you and your guests. So, get ready to have a wedding ceremony that is full of fun and whimsy with a stunning balloon arch.
5. Minimalistic Geometric Arch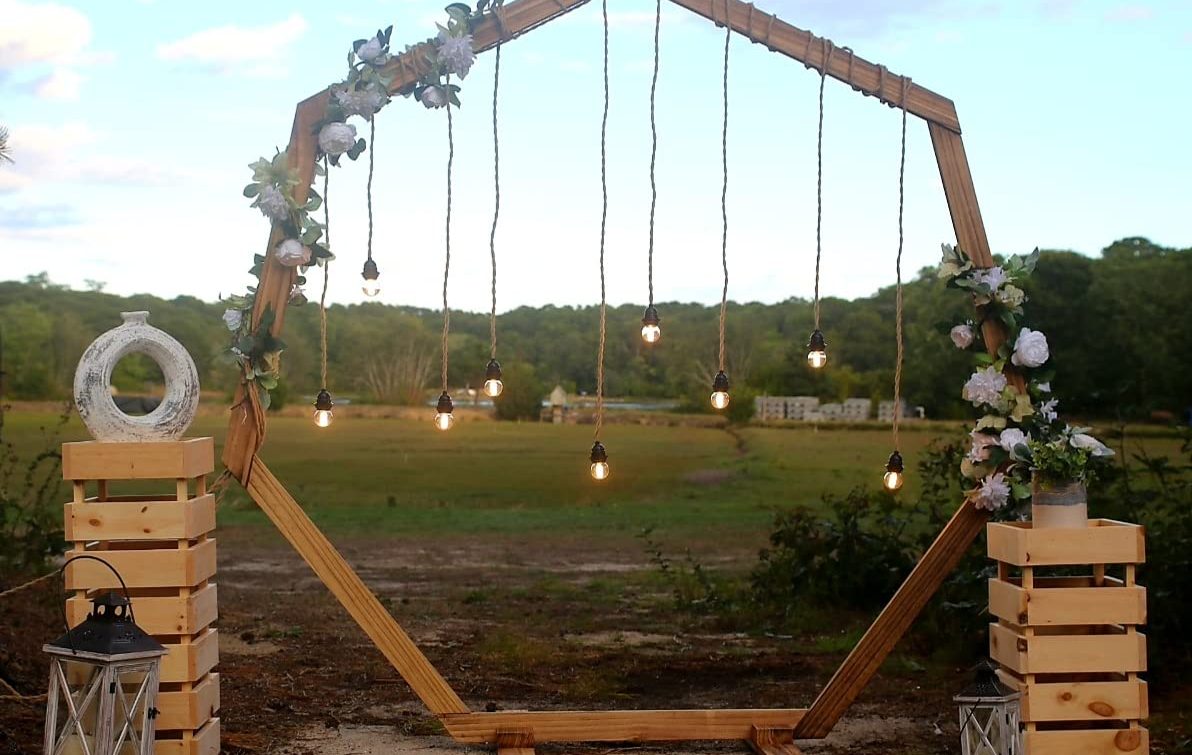 With its understated elegance and geometric precision, a minimalist geometric arch is a perfect choice for couples seeking a modern and stylish touch to their special day. This architectural wonder blends straight lines and geometric forms to produce a modern and striking background for a wedding. It is crafted from metal or wood and adds a touch of sophistication to any setting.
This arch can be adorned with a few strategically placed flowers or kept as a standalone statement piece. This modest wedding arch design focuses attention on the couple and the surroundings, making it great for outdoor and industrial-chic weddings.
6. Beachside Driftwood Arch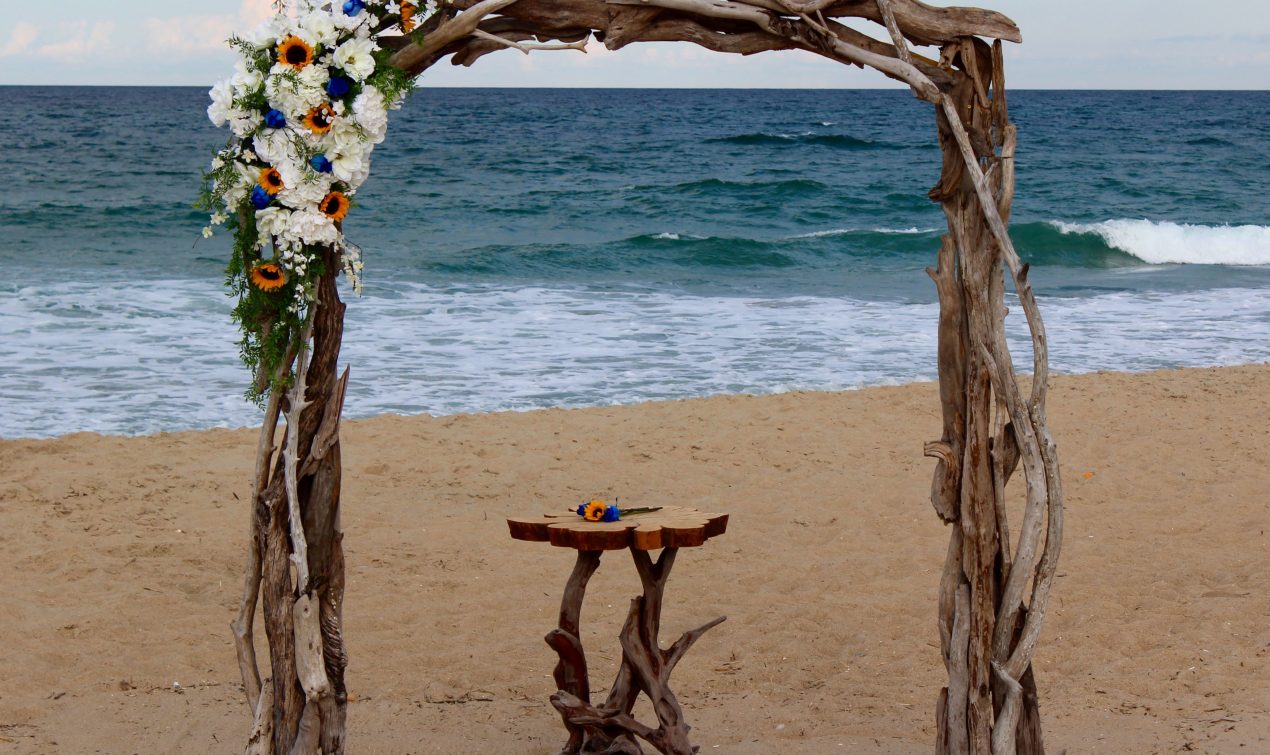 Immerse yourself in the beauty of nature with a beachside driftwood arch. Crafted from weathered pieces of driftwood, this arch brings a touch of coastal charm to your wedding ceremony. Adorned with seashells, delicate white fabric, and cascading vines, it creates a romantic and serene atmosphere.
Set against the display of crashing waves and soft sand, the beachside driftwood arch adds an organic and rustic element to your beach wedding. It captures the essence of the seaside, which allows the guests to relax and enjoy.
7. Garden Vine Arch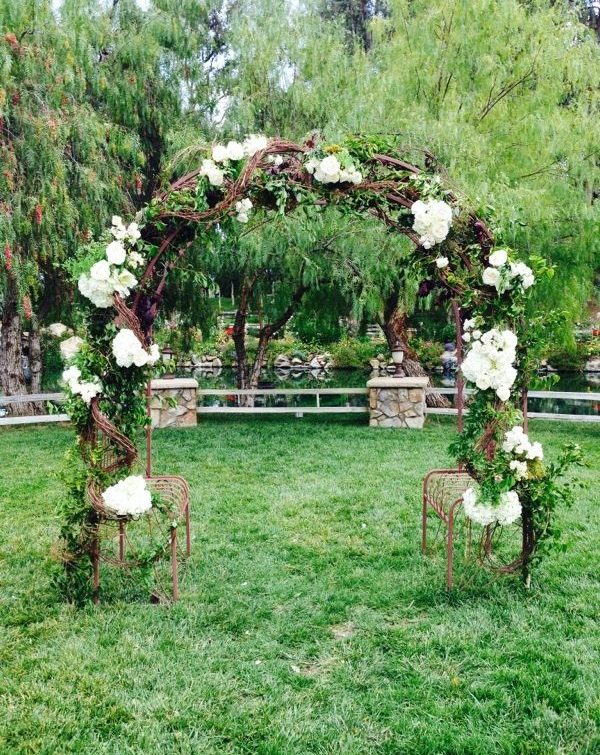 Imagine a wedding arch covered in lush climbing vines, delicate flowers, and verdant foliage. Isn't it wonderful? With this wedding arch idea, you can step into a botanical paradise. This arch creates a whimsical and enchanting atmosphere overall. It brings the beauty of nature to the ceremony. Additionally, it shall evoke a sense of romance and tranquility.
The garden vine arch will transport you to a fairytale-like setting, no matter if it is nestled in a blooming garden or a manicured outdoor space. With its natural elegance and organic charm, this arch style complements garden-themed and outdoor weddings perfectly.
8. Fairytale Arch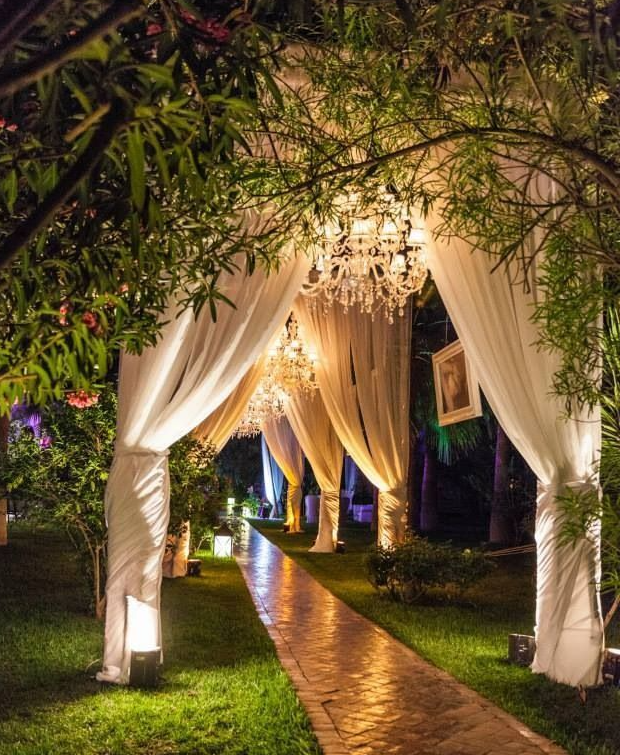 Step into a realm of enchantment with a fairytale arch adorned with beautiful flowers, lush foliage, and twinkling lights. This creates a magical and dreamy atmosphere for your wedding. Inspired by storybook romance, the fairytale arch will transport you and your guests to a world of fantasy and wonder. Isn't it lovely to exchange vows the same as in Disney movies? It must feel like characters in your own love story!
With its majestic beauty and whimsical appeal, the fairytale arch is ideal for couples wishing to create a fantastic and unforgettable wedding experience.
9. Vintage Door Arch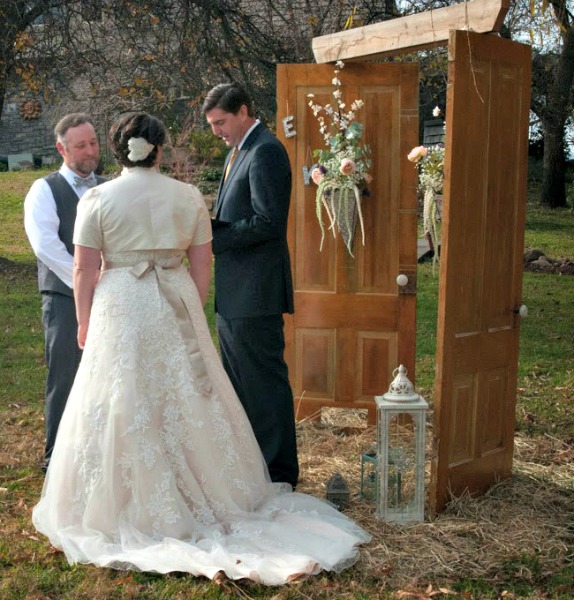 Add a touch of a nostalgic charm with this one of the best wedding arch ideas. This vintage door arch is repurposed with doors that are adorned with floral arrangements, ribbons, and rustic accents. All of this creates a romantic and shabby-chic ambiance.
This arch style exudes a sense of history and character, perfect for couples who appreciate vintage aesthetics and want to infuse their wedding with a touch of old-world charm. The vintage door arch serves as a unique and eye-catching backdrop, adding a sense of warmth and nostalgia to your special day.
10. Tropical Palm Leaf Arch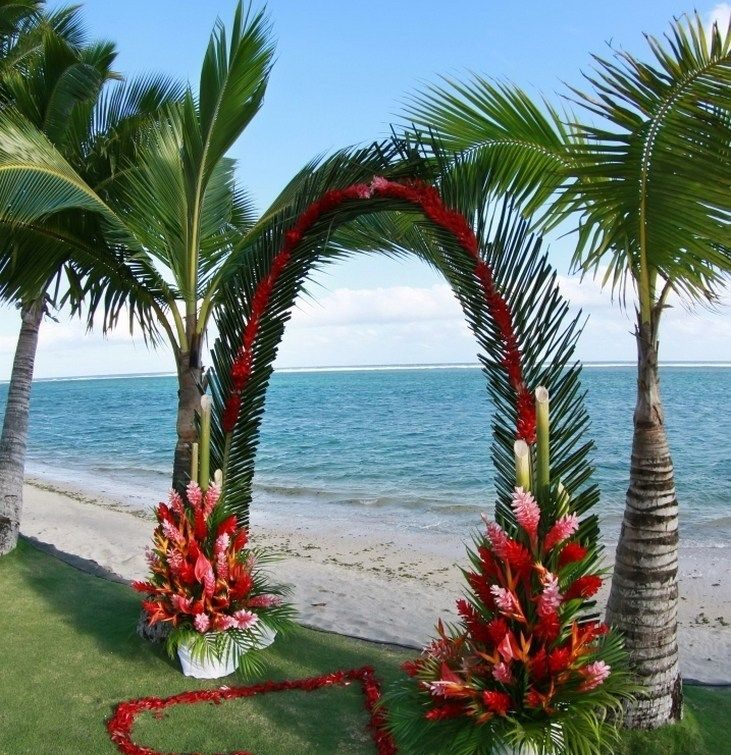 Let the palm lead arch be a reminder of sandy beaches, swaying palm trees, and the blissful feeling of being in a tropical paradise with this unique wedding arch idea. Crafted from lush palm fronds and enriched with exotic flowers, this arch creates a vibrant and exotic surrounding.
The tropical palm led arch is an excellent choice for a destination wedding wherein you wish to add a touch of the tropics! It adds a sense of adventure and relaxation, creating a breezy and laid-back ambiance. This themed arch will transport your guests to a tropical paradise!
11. Floating Floral Arch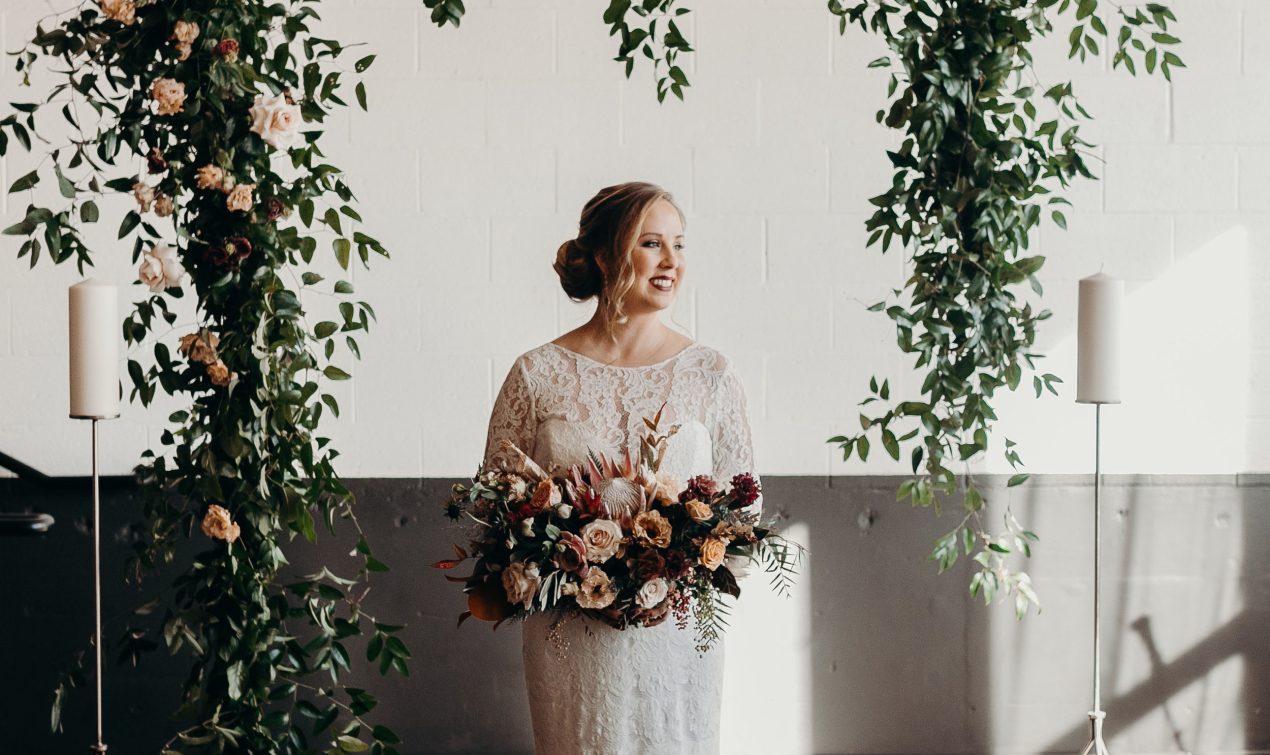 Elevate your ceremony with a floating floral arch that exudes ethereal beauty. Suspended flowers create a breathtaking and romantic effect, as if the blooms are magically floating in the air. This arch adds a touch of whimsy and enchantment to your wedding which will surely captivate the attention of your guests.
Whether you choose delicate baby's breath, vibrant roses, or cascading orchids, the floating floral arch creates a striking and unique backdrop for your vows; It is a stunning choice for couples who want to infuse their wedding with magic, leaving a lasting impression on everyone in attendance.
12. Industrial Metal Arch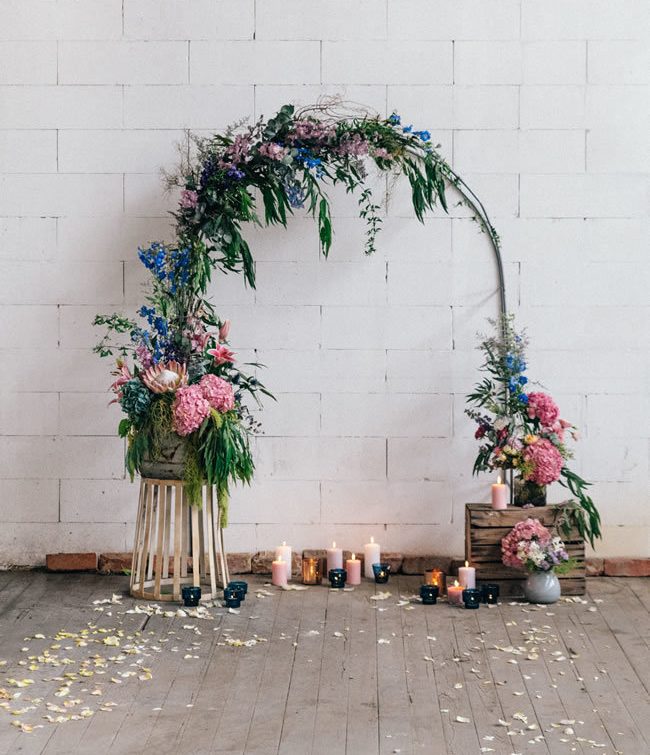 If you are someone who is up to make a bold choice and statement – the industrial metal wedding arch idea is just for you! This arch showcases modern sensibilities and embraces an edgy aesthetic. Constructed from sleek metal pipes or frames, the arch will add an urban and modern touch to your wedding ceremony. The industrial metal arch is minimalist in design and brings a clean and refined background that can be customized to suit your style.
Pair it with geometric shapes, Edison bulb string lights, or minimalist decor to enhance the industrial chic vibe. The industrial metal arch will add a distinctive and sophisticated aspect to your special day. It is ideal for warehouse themes, loft spaces, or urban-inspired weddings.
13. Hanging Hoop Arch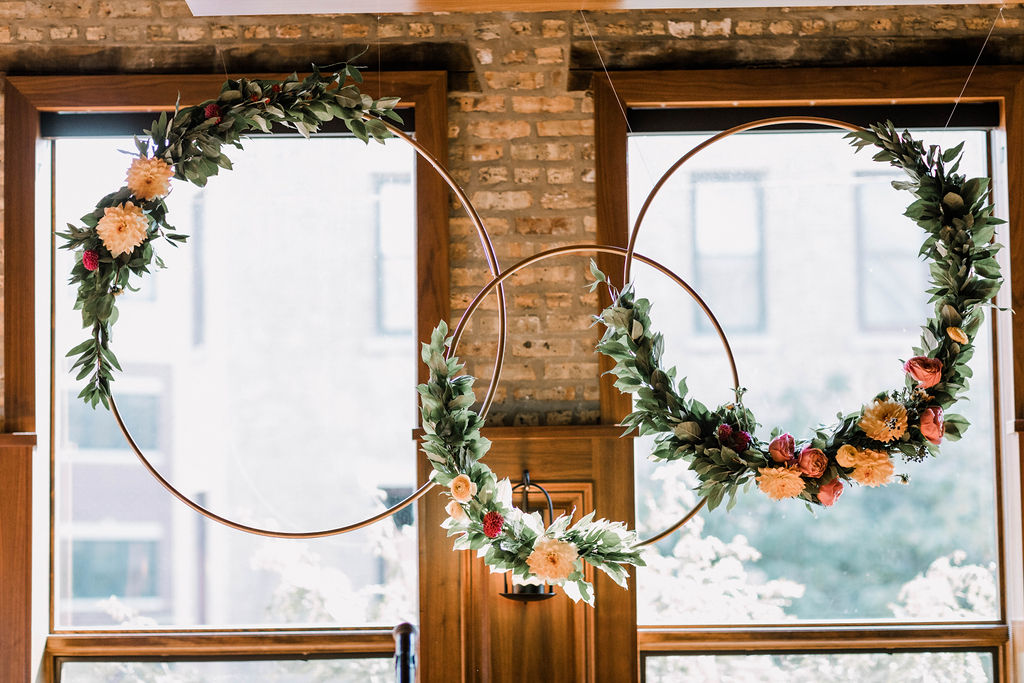 Create a contemporary and whimsical atmosphere with a hanging hoop arch which has suspended metal hoops adorned with greenery, flowers, and fairy lights to create a captivating and unique wedding backdrop. The floating hoops add a sense of depth and dimension, while the lush foliage and blossoms bring a touch of nature.
Additionally, the floating hoops bring modern elegance, while the enchanting florals bring a romantic and ethereal feel. This arch style is perfect for couples looking to infuse their wedding with a trendy and artistic touch.
If you are more into customization – you can have your hands at it with this arch!
14. Industrial Greenhouse Arch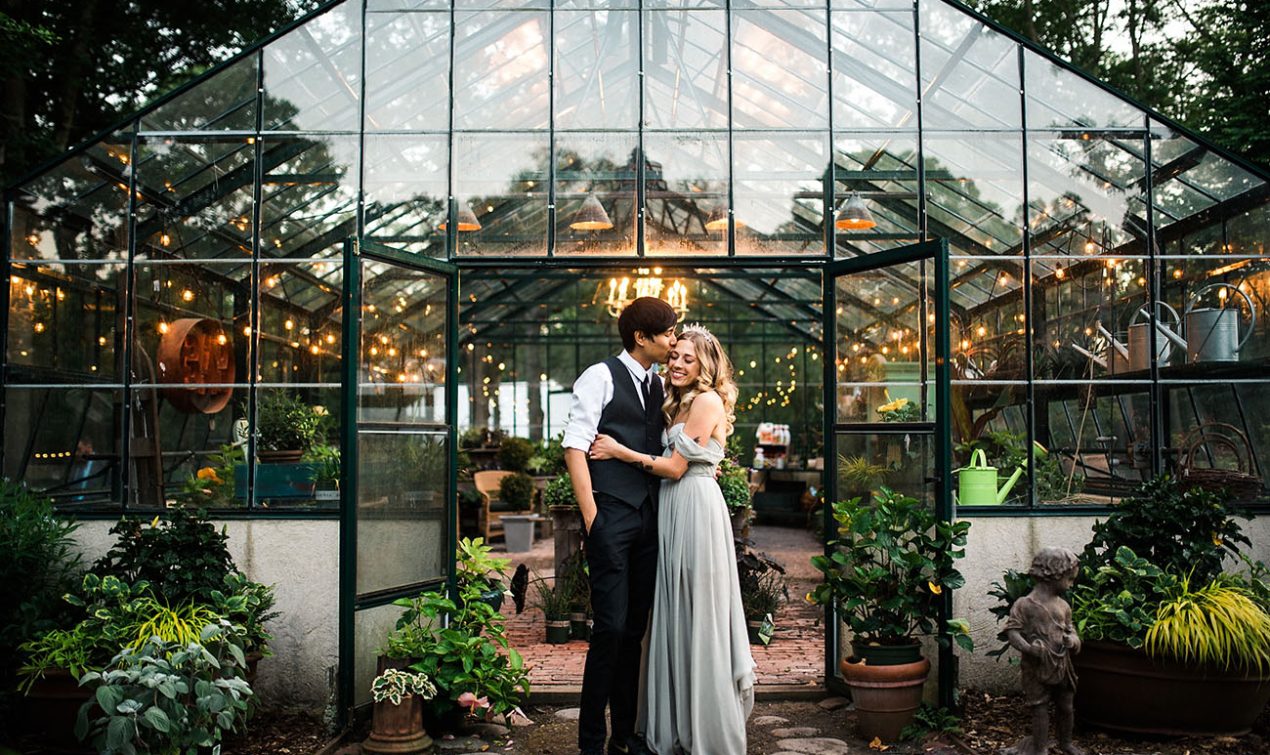 Embrace a modern and unique aesthetic with an industrial greenhouse arch. Constructed with metal frames and glass panels, this arch style evokes the charm of a botanical greenhouse.
It is adorned with lush greenery, trailing vines, and vibrant blooms. Imagine what a mesmerizing backdrop it would create. This wedding arch idea is ideal for couples who appreciate the juxtaposition of nature and urban elements. It adds a contemporary and chic vibe to your wedding, bringing the outdoors inside while providing a stylish and visually stunning setting for your ceremony.
15. Floating Candle Arch
The floating candle arch is like a dream come to reality! It creates a serene and dreamy atmosphere, allowing you and your guests to bask in the soft flickering light as you exchange your vows. The delicate glass vases with or without transparent orbs filled with water in it and floating candles create an enchanting and fantastic effect. The soft glow of the candlelight reflects on the water, casting a war and intimate glow.
It is one the most used wedding arch ideas because it seems like magic and brings elegance to evening or indoor weddings especially. So, create a mesmerizing and romantic ambiance with a floating candle arch!
16. Art Deco Arch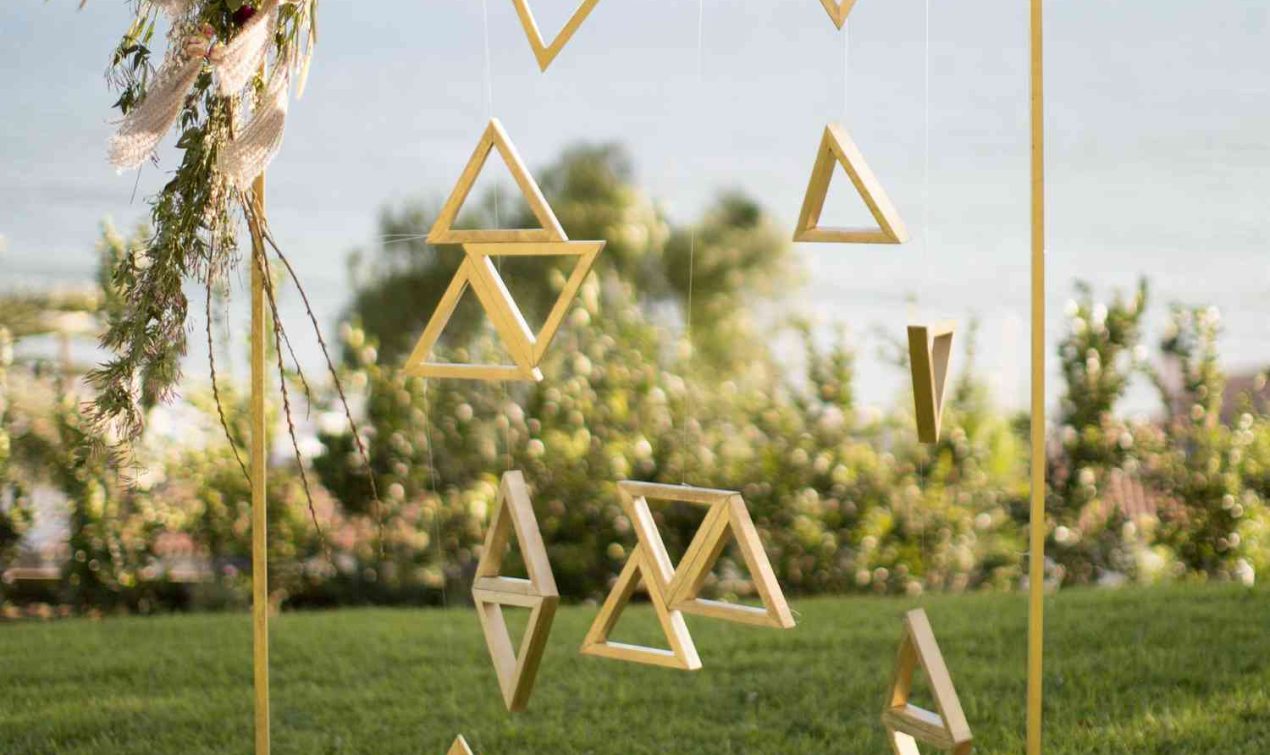 Step back in time and indulge in the glamour of the Roaring Twenties with an art Deco arch. Inspired by the iconic style of the Art Deco era, this arch exudes sophistication, luxury, and geometric elegance. With its sleek lines, bold shapes, and opulent details, the art deco arch creates a stunning backdrop for your D-day.
Adorned with metallic accents, mirrored surfaces, and intricate patterns, it captures the essence of the Art Deco movement. This wedding arch idea is perfect for couples who love the allure of vintage aesthetics and want their special day to have a vibe of Hollywood.
17. Rainbow Balloon Arch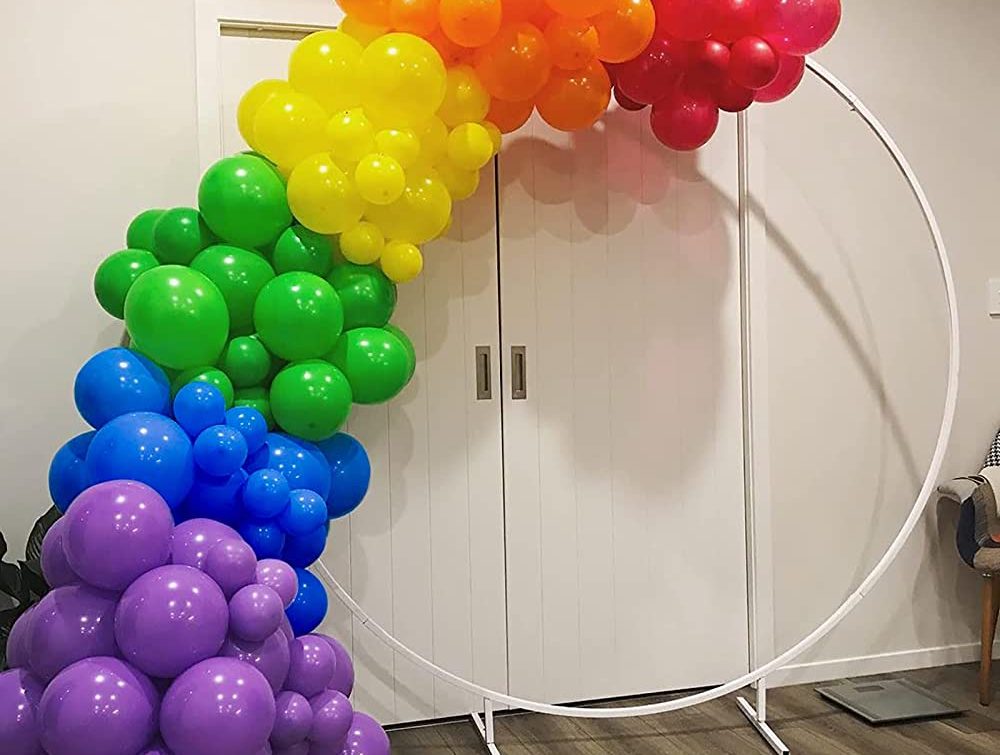 Let the vibrant colors of the rainbow balloon arch symbolize love, happiness, and a lifetime of colorful memories. But how? By adding a rainbow balloon wedding arch to your list! This eye-catching arch features an array of balloons in a spectrum of colors, creating a magical and festive atmosphere. The rainbow balloon arch is a playful and celebratory backdrop that will instantly uplift the mood and bring fun to your special day.
Whether you are having a beach wedding, outdoor celebration, or indoor reception, this arch style will create an interesting focal point and provide a delightful photo opportunity.
18.Hanging Garden Arch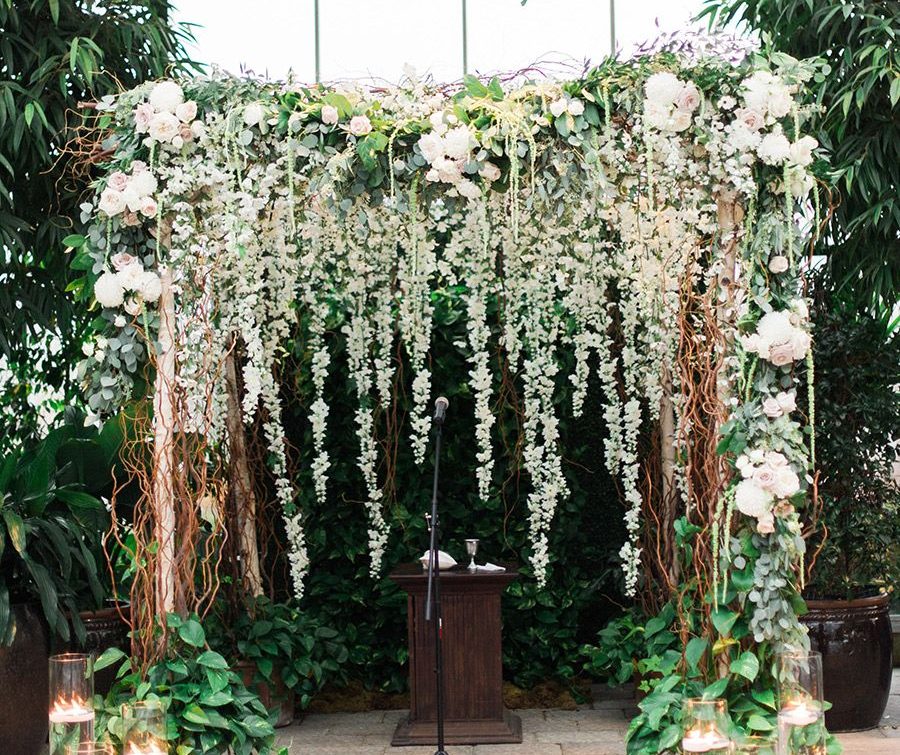 Create a dreamy and enchanting surrounding with a hanging garden arch. This lush garden aspect of this arch adds freshness and greenery. You can do so by suspending planters filled with greenery, blooming flowers, and delicate foliage. This arch creates a captivating and unreal background that adds a touch of natural beauty to your wedding ceremony.
It is perfect for outdoor venues, garden-themed weddings, or bohemian celebrations. The suspended flowers and plants create a sense of movement and bring a whimsical and romantic feel to the space. So, let the hanging garden arch be a lovely centerpiece that will leave your guests in awe of its beauty and charm.
19. Garden Gate Arch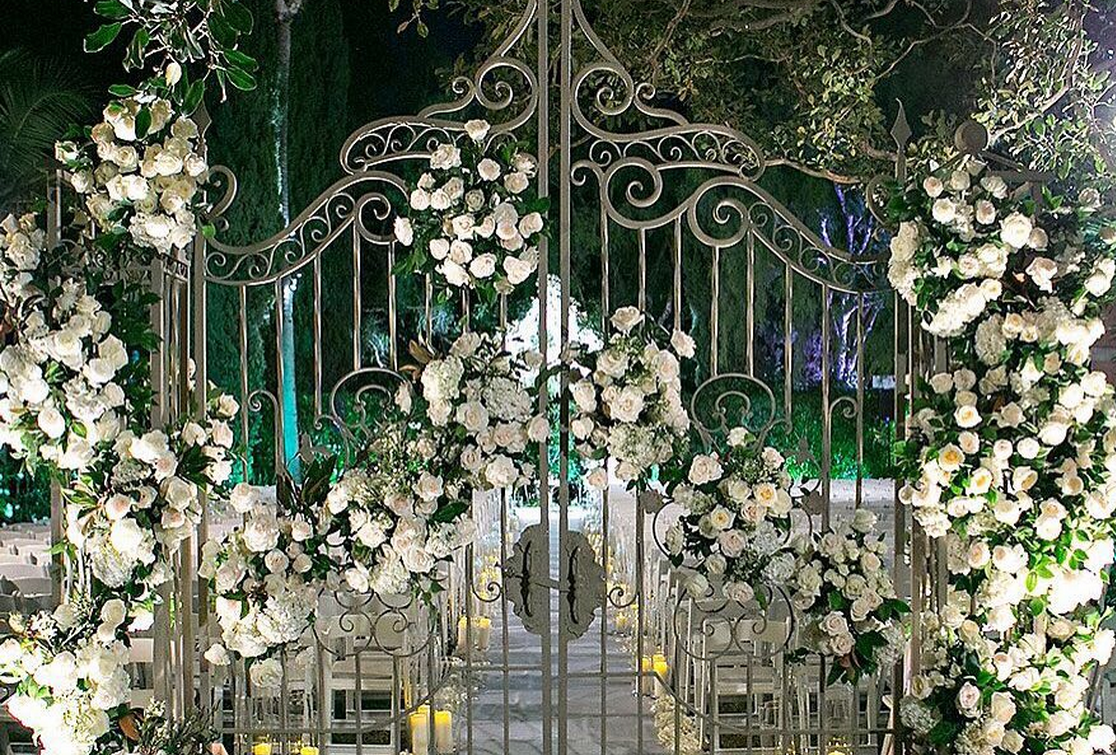 Do you know which is the most viewed wedding arch idea on the Internet? It is the Garden Gate Arch! Inspired by the elegance of a decorative garden gate, this arch style creates a picturesque and enchanting backdrop for your wedding ceremony. It is adorned with climbing vines, delicate lanterns and evokes an old-world allure.
The garden gate arch spreads a magic of vintage elegance to your celebration and beautifully complements outdoor or garden-themed weddings. So, let this gorgeous arch serve as the entrance to your love story. Believe us, with each stride down the aisle – you will feel stepping like a voyage of a magical garden.
20. Autumnal Foliage Arch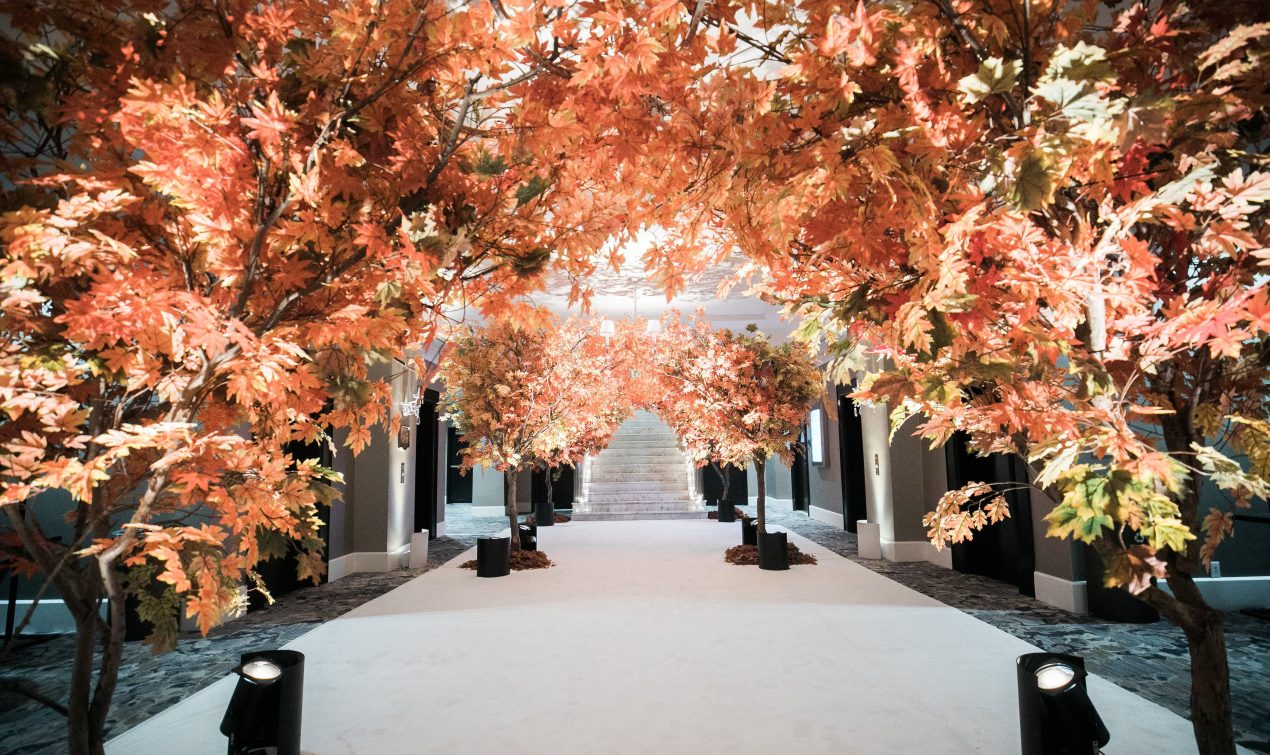 Let's embrace the warmth and beauty of the autumn season with an autumnal foliage arch. It is decorated with vibrant leaves in shades of red, orange, and gold, which captures the essence of fall. In a nutshell, it gives an autumn vibe and brings the beauty of the season to life.
The rich colors of the foliage add a touch of warmth and create a cozy and romantic atmosphere. Whether you are exchanging vows in an outdoor setting or bringing the outdoors inside, the autumnal foliage arch brings a rustic and organic charm altogether.
21. Modern Acrylic Arch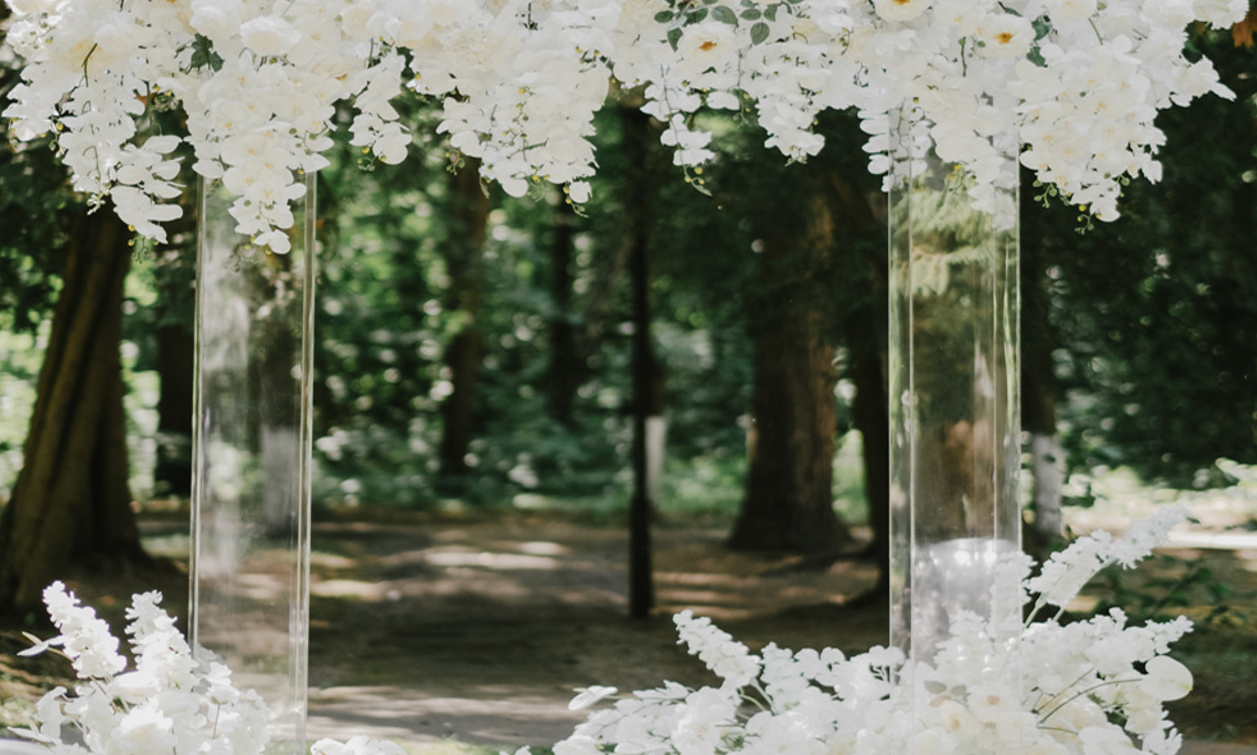 Embrace contemporary elegance and sleek sophistication with a modern acrylic arch. Crafted from transparent acrylic panels, this arch style exudes a minimalist and modern aesthetic. Its clean lines and transparent design create a sense of openness and allow the surrounding space to shine through. The sleek acrylic arch, whether covered with minimalist flora or left barren, offers a hint of modernity and elegance.
Perfect for both indoor and outdoor weddings, this arch style is a statement piece that will effortlessly complement any wedding theme while providing a striking and visually attractive background.
22. Nautical Rope Arch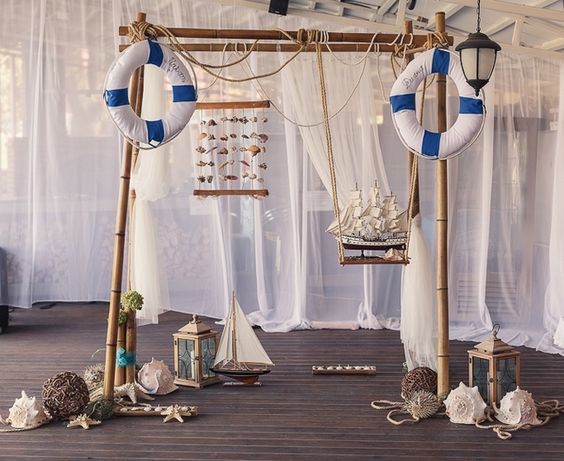 Infuse your wedding with coastal charm and a sense of adventure with a nautical rope arch which is crafted from thick, natural ropes. This arch style evokes the spirit of the sea and creates a maritime-inspired ambiance. Enriched with seashells, starfish, and beach-inspired accents, it brings a beachside vibe.
The nautical rope arch is ideal for beach weddings or waterfront celebrations, adding a rustic touch to the ceremony. So, let it serve as a reminder of the soothing waves, salty sea breezes, and the timeless allure of the ocean as you exchange your vows in its embrace.
23. Country Barn Arch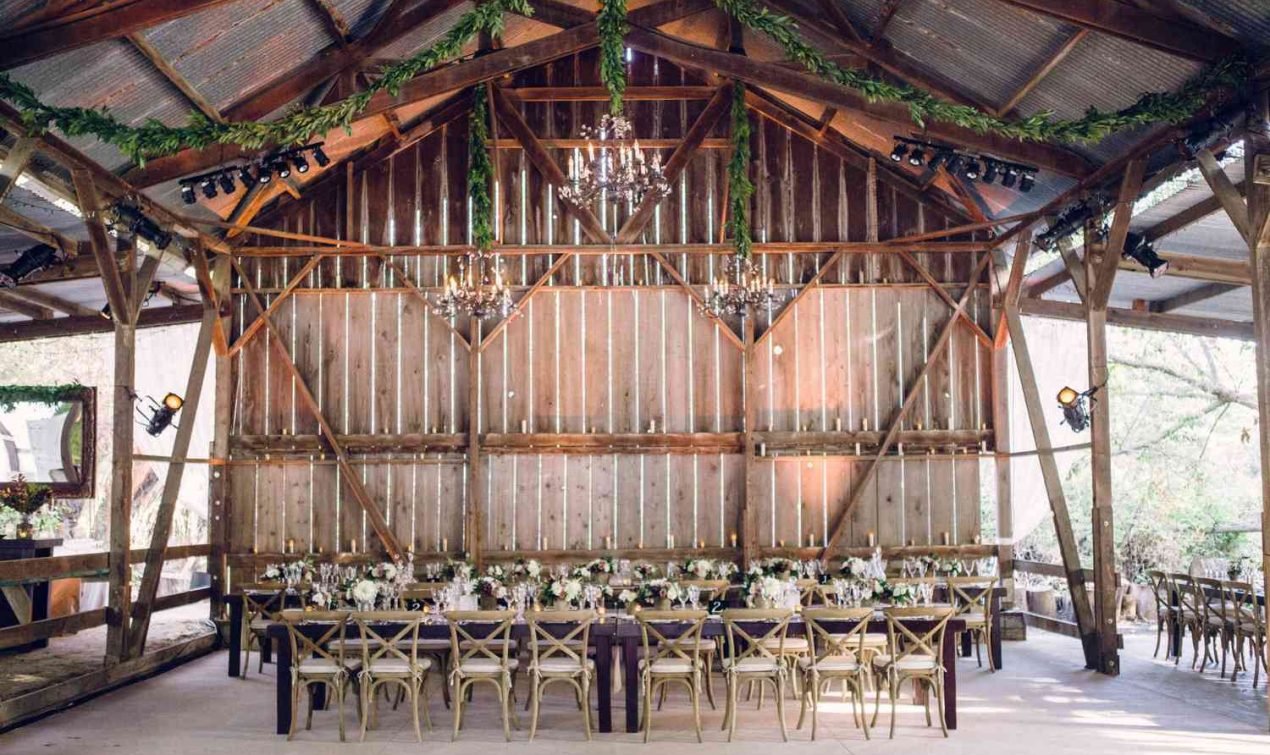 Constructed from weathered wood or reclaimed barn doors, this arch style captures the essence of a countryside wedding. Let it be a symbol of simplicity, comfort, and the timeless allure of rustic elegance as you say 'I Do' in the heart of the countryside.
This arch is made with burlap, sunflowers, and mason jars filled with wildflowers. It brings a warm and inviting atmosphere! The country barn backdrop is truly perfect for outdoor weddings. The picturesque and natural things exude a fresh vibe. In short, a cozy country barn ambiance can never go wrong!
24. Industrial Pipe Arch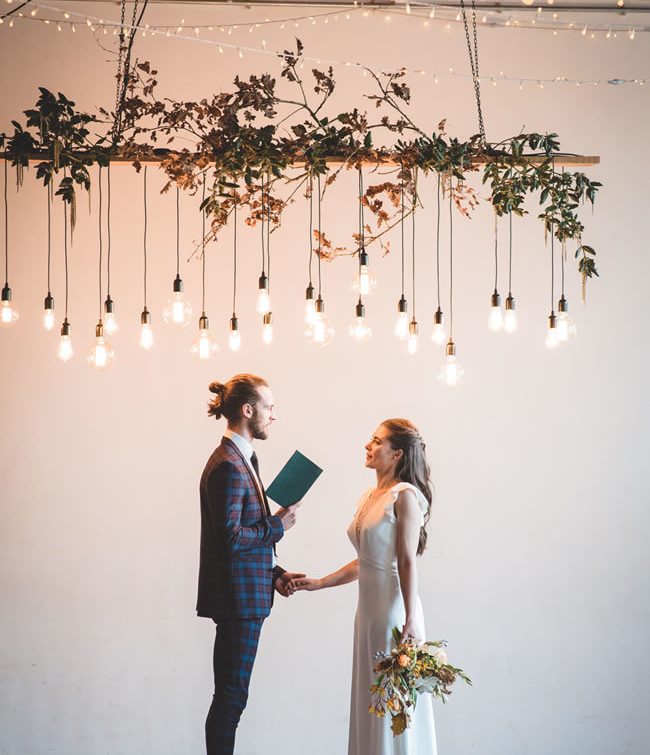 The industrial pipe arch is for couples who appreciate the fusion of raw materials, sleek lines, and unique design, making a statement and showcasing their modern sensibilities as they embark on their journey together. If you are looking for something like this, infuse your wedding with a touch of urban flair and modernity. Crafted from metal pipes and adorned with minimalist decors, such as geometric shapes – this arch adds an edgy and contemporary element to the ceremony.
Bulb lighting, greenery, and florals can also be customized with this. This arch creates a bold and visually striking area that complements modern veneers or industrial-inspired weddings.
25. Moroccan-Inspired Arch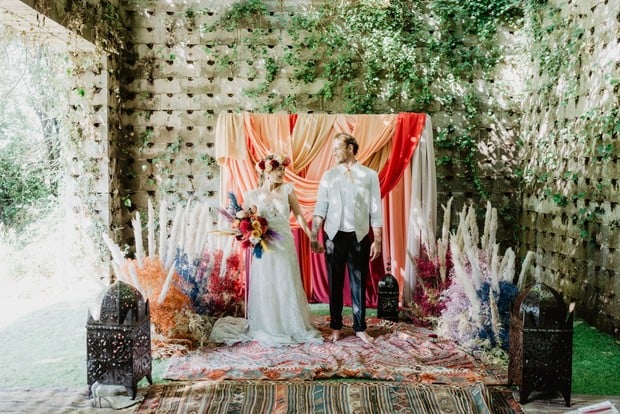 Let's transport your guests to an exotic oasis with a Moroccan-inspired arch. Intricate patterns, vibrant colors, and luxuriant textiles adorn this arch style, creating an attractive and bohemian atmosphere. Whether embellished with ornate lanterns, colorful fabrics, or vibrant tiles, the Moroccan-inspired arch adds a touch of cultural richness and a sense of wanderlust to your wedding.
It is great for couples seeking a fusion of Eastern charm and eclectic appearance, creating a unique and enchanting background that will transport you and your loved ones to the vibrant streets of Marrakech.
26. Winter Wonderland Arch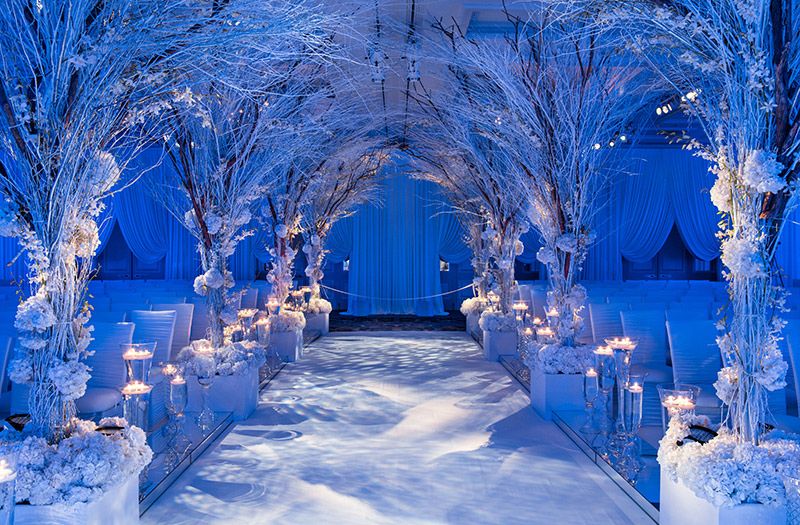 Step into a magical winter wonderland with a snow-covered arch adorned with silver ornaments, frosted branches, and white flowers. This wedding arch idea captures the ethereal beauty of a snowy landscape, creating dreamy and enchanting surroundings. It is an excellent option for winter-themed weddings. In short, it adds a touch of elegance and romance.
The Winter Wonderland is one of those wedding arch ideas that serve as a dazzling focal point, reflecting the serene and magical ambiance of the season. So, let it be a symbol of love and the beauty that be found in the quiet stillness of winter as you lock yourselves for life!
27. Paper Flower Arch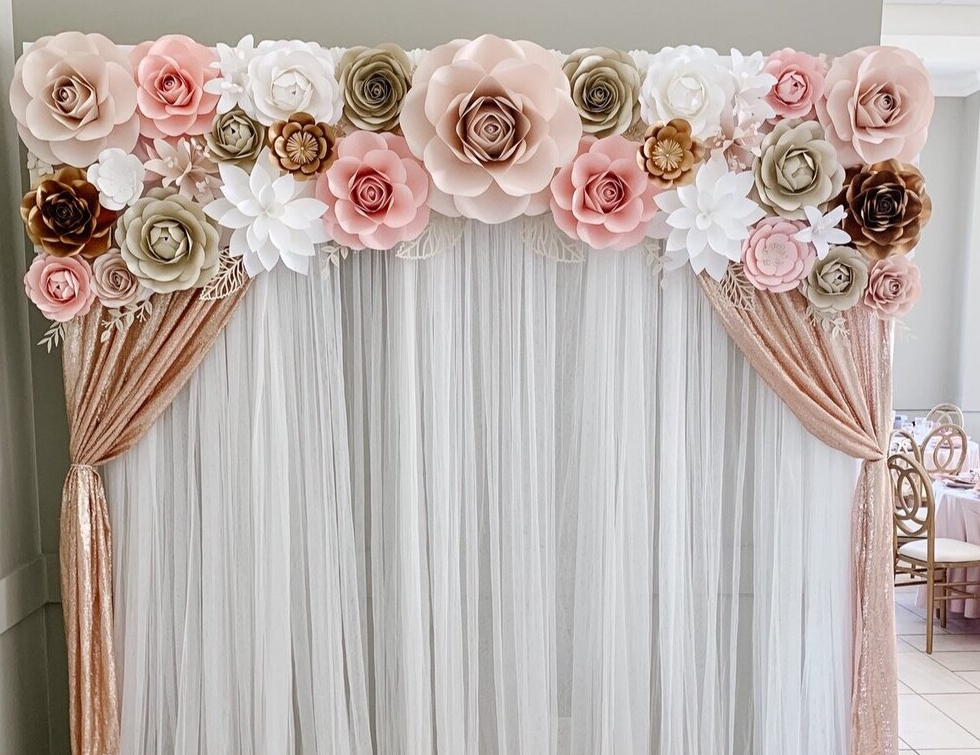 Immerse your wedding in a world of whimsy and delicate beauty with a paper flower arch. Crafted from intricately folded paper blooms in an array of colors, this style offers a unique and artistic twist on traditional floral decor. Each petal and blossom is carefully created, bringing a stunning and unrealistic backdrop for your ceremony.
The paper flower arch allows for endless creativity and customization, with the ability to choose from various shapes, sizes, and colors to match your wedding theme. It adds a touch of handmade charm and serves as a lasting keepsake for your special day.
28. Draped Fabric Arch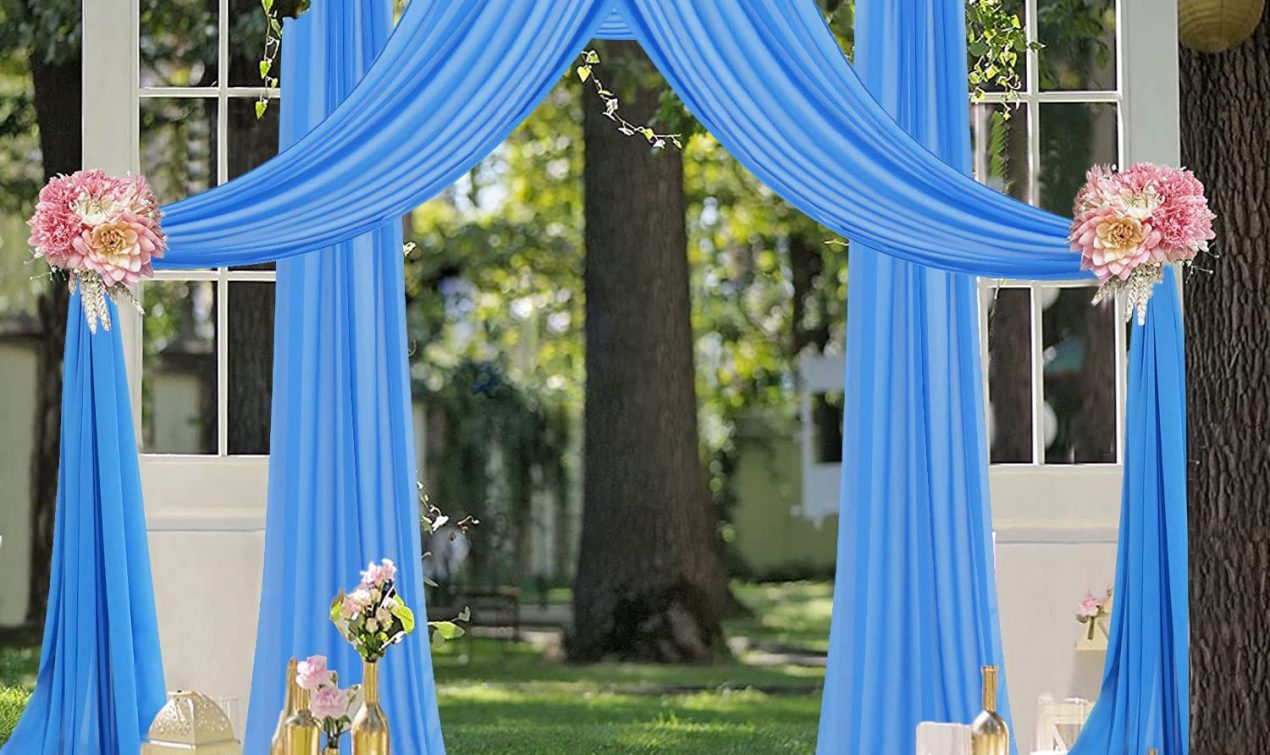 Soft, flowing fabric in many hues cascades gracefully from the arch, creating a dreamy and mesmerizing ambiance. This arch style is perfect for indoor or outdoor weddings, bringing a sense of softness and romance to any setting.
The draped fabric arch, whether made of translucent chiffon, delicate lace, or rich satin, gives the event a touch of elegance and grace. It creates a beautiful background for exchanging vows and photos, symbolizing the joining of two lives in a seamless union.
29. Enchanted Forest Arch
Step into the magical realm with an enchanted forest arch inspired by the mystique and allure of a hidden woodland. This arch style is adorned with lush greenery, cascading vines, and whimsical flowers. The enchanting forest arch creates a fairy-tale-like surrounding, where dreams come true and love blossoms.
It shall transport you and your guest to a world of wonder and romance, surrounded by the beauty of nature. If you wish to create an unforgettable experience for you and your guests, this enchanted forest vibe exuding arch will be best for indoor and outdoor weddings.
30. Regal Garden Arch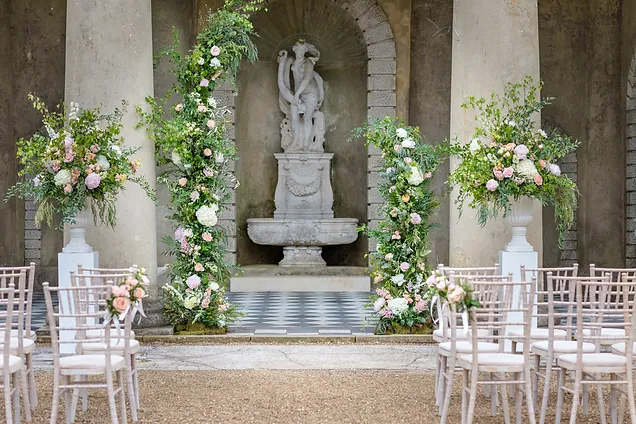 Create an atmosphere of regal elegance with a garden wedding arch fit for royalty. This arch style exudes refinement and grandeur, featuring lush floral arrangements in rich colors, such as deep purples, burgundies, and royal blues. The arch is adorned with cascading greenery, opulent blooms, and luxurious drapes that set the stage for a majestic celebration.
The regal garden wedding arch idea is perfect for outdoor or garden weddings as it adds a breeze of extravagance and creates a captivating focal point.
Final Thoughts
In conclusion, these 30 stunning wedding arch ideas offer a wealth of inspiration for creating a truly unforgettable ceremony backdrop. No matter what type of wedding you are planning – there is a style to suit every couple's unique vision and wedding theme. The options are endless!
Each arch style brings its own charm, elegance, and personality, elevating the ambiance and creating a focal point that will leave a lasting impression on your guests.
So let your creativity soar, and choose an arch that reflects your love story and makes your D-day even more memorable.
Frequently Asked Questions
What is a Wedding Arch?
A wedding arch is a decorative structure typically used as a center point during wedding ceremonies. It serves as a background for the couple as they exchange their vows and symbolizes the unity and commitment of their love.
How Do I Choose the Wedding Arch Style for My Wedding?
When choosing a wedding arch style, consider the overall wedding theme, venue, and personal style. Think about the ambiance and surrounding you want to create and select an arch that complements that vision.
Can I Customize My Wedding Arch?
Wedding arches are highly customizable. You can incorporate elements such as flowers, greenery, fabric, lighting, and personal touches like monograms or signage to personalize your arch and make it truly unique to your wedding.