9 Cozy Boho Bedroom Decor Ideas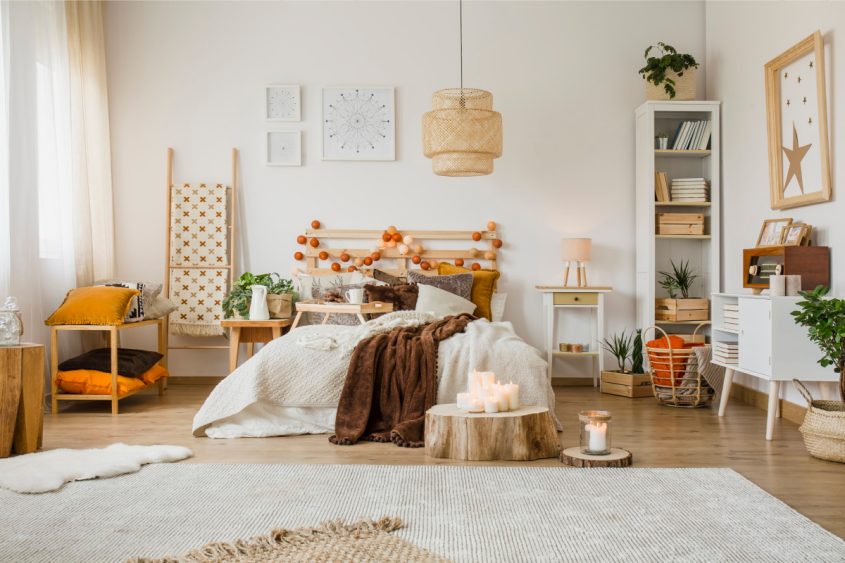 Your bedroom is the place you want to escape after all the day-to-day activities. It is a place for relaxation. It is the place where you recharge, refresh, and prepare yourself for a long day in your outside world.
Many renowned interior designers of the world are of the opinion that our bedroom reflects our character or predominant mood. Some of them believe that we should decorate our bedrooms to match our character, passions, and vibe.
Suppose you are a person who already leads a bohemian way of life or just started your boho journey. In that case, this blog on cozy boho bedroom decor ideas you'll want to steal will surely guide you through creating your beautifully stylized room.
What is a Boho Style?
In this modern world, when considering ideas for interior room decorations, going boho is the best option. Now, what is the meaning of the word boho? Boho, in short, denotes bohemian. The roots of the Bohemian style are from the Eastern part of Europe. It was highly popular in the 60s and 70s and then again in the 90s.
The Bohemian style is a fashion that is strongly related to the hippie style. Here, natural fabrics, retro patterns, neutrals, and warm patterns are given prominence. This style is all about a laid-back, carefree, or comfy and casual vibe. There is no prescribed set of rules to style anything in a Bohemian way.
It includes warm and earthy tones. The most common trait of Boho interior design is its lack of structure. Importance is given to layers of color, texture, and pattern and thus creates a completely unconventional, quirky, out-of-the-box room that you dreamt of.
It is a special kind of design that incorporates lots of textures and natural materials like wood, fur, hemp rope, linen fabric, and much more. Warm colors such as hues of green, brown, and orange are used to create a cozy feeling.
If you are searching for cozy Boho bedroom decor ideas to make your space a beautifully stylized room, then read further; this one's for you. Dreamcatchers that suit the chosen styles also can be incorporated.
1. The Touch of Elegant Wooden Show Pieces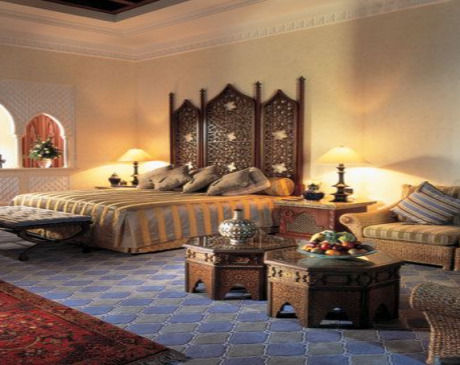 The idea suits the best when all four walls of your room are painted in white paint. It gives the room a simple yet elegant tone. This wooden accent is the epitome of bohemianism. Even the curtain rods can be given this wooden finish. The wooden shelves, big to small, the wooden chairs, the wooden mirror frame and photo frames, the small wooden baskets, and even the smallest minute wooden detailing add to the grace of the room and give the room a dignified look.
Wooden pieces, along with this set of four wooden shelves, can make your room look bohemian. These kinds of bedrooms with an antique wooden touch will be the cozy Boho bedroom that you'll really want.
2. Position of the Bed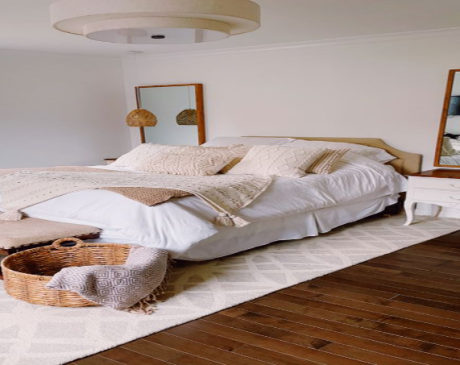 If you want the Boho style, trivial matters like the positioning of the bed are also important. The bed should be placed in the middle of the room. Yes, this might reduce the free space in the room. However, the two sides of the bed can be used for many purposes according to one's thoughts, creativity, and ideas. This might be one of the best cozy Boho bedrooms.
3. Adding Lush Green or Tropical Accents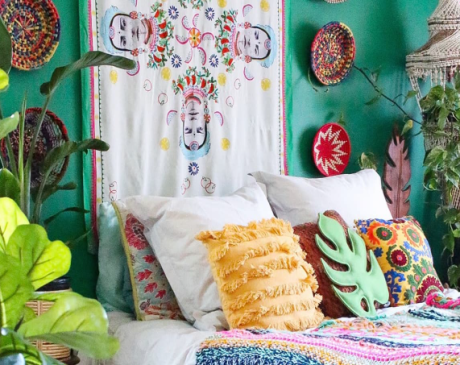 Adding a lush of greenery to your room is really pocket-friendly or economical, but it gives the room the best Boho look and makes your room a beautifully stylized one. Here, the color of the walls depends on your choice. You may add hues of yellow or orange, or beige. However, the best Boho bedroom decor idea you'll want to steal will be the beauty of white which is the most chosen idea.
By choosing this idea, you will have the feeling of waking up in the middle of a farm or woods, and it will make you feel that you are in the midst of a tropical vacation. There are many bedrooms or indoor plants around you, among which we can find this collection of bedroom decor plants.
4. Leafy Wallpapers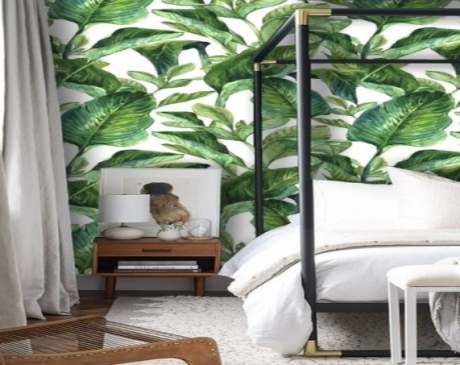 Adding leaf-print wallpapers to one of the walls also might add to the tropical look of the bedroom. Along with leafy-printed wallpapers, beautiful photographs of palm trees or natural vegetation adds to this serene climatic beauty of your room. This is one of the cozy Boho bedroom decor ideas you'll want to steal, which not only beautifies your room but also purifies the oxygen or the airflow inside your favorite place.
There are different varieties of leaf-printed wallpapers available. This one is also eco-friendly in the collection of cozy Boho bedroom decor ideas that you'll want to steal anyway.
5. The Vintage Taste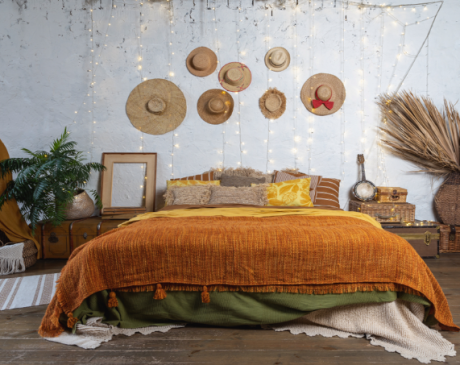 There are people who long for the old chimes rather than the noisiness of the new modern times. Then, this space belongs to you. As the title suggests, adding this vintage taste to your bedroom takes you to the times of the vintage aura, and your bedroom might look like those in Alfred Hitchcock's movies. In this style, a large bed, shelves, a small coffee table and chairs, and photo frames with pictures in mono can be placed. Curtains and a rug are the mandatory artifacts that add to the vintage beauty of the room. Wide varieties of rugs add a vintage mood to the room. You'll love this cozy boho bedroom idea.
6. Going Modern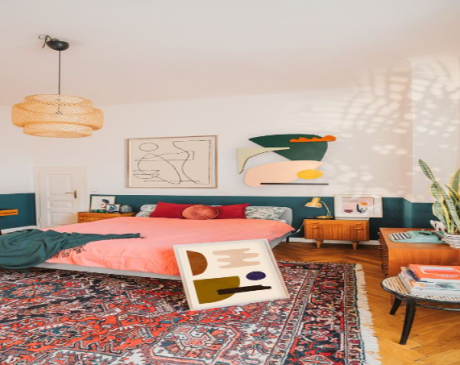 Like setting a vintage mood, why can't your bedroom be completely modern if you think that you are a person who adores modern tastes? Instead of the dull or pastel shades used in vintage styles, bold or bright colors can be used for the walls. White walls also add an extra finish. Curtains can be of bright colors like hues of yellow, orange, or green. Rugs with absurd modern designs can be used. Absurd drawings or asymmetrical showpieces can be included. Many asymmetrical showpieces are available for you from various sources. This one can also be considered while you search for cozy Boho Bedroom decor ideas.
7. Retro Design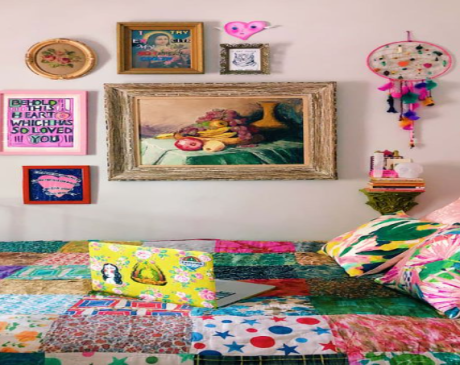 People sometimes confuse the vintage style with the retro mode. Both are not the same. The vintage style is something that belongs to an era that was at least thirty to forty years ago. Retro, even though first meant about the clothes of the 1970s, is rather an imitation of the history or the past. As vintage itself refers to the old style, it is not an imitation.
Here, more than drawings, colorful paintings, especially that of famous painters like Pablo Picasso, are the things that reign in a retro setting. In a nutshell, flashy, vivid colors should rule the rooms in a retro style. Many colorful paintings which are very attractive to the eyes are available. This one is a crazy idea for a cozy boho bedroom.
8. The Complete Heaven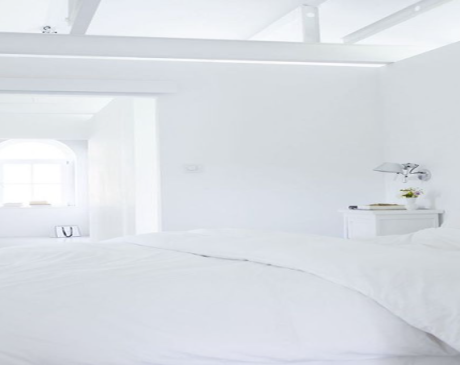 This one is for peace lovers. Peace and the color white have bonded with each other. The color white gives a heavenly ambiance. Of course, without a second thought, anyone can answer this to be white. Now, the picture is clear. A complete white ambiance is an idea that is meant here. Everything that is white gives a heavenly aura to your room. In this type of cozy boho bedroom, the accessories must be minimal.
9. Let's Try Mono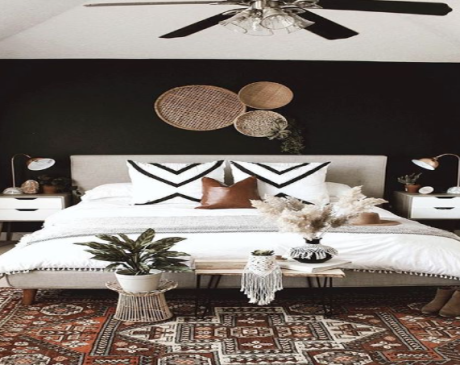 Monochrome means the dual play of black and white. Thus everything in this cozy boho bedroom should be black and white. Black accents, including dark wall hangings to create a minimalist boho-style vibe, can be used. According to your choice, the walls can be painted black. A black framed mirror can be hung inside the room. This monochromatic style adds a different look to your cozy boho bedroom.
Wrapping Up!
Now, it is clear what a boho room is. Sometimes, you might think that too much bohemianism in your bedroom interior might make your room look untidy. This is just a myth. It is simply a free-spirited room. It is a mix of different cultures and aesthetic expressions. Sometimes, we just have to go back to nature. It is not a difficult task.
You can restyle your room with your own imagination. You don't have to seek the help of any builders or interior designers. If you are an adventurous person, styling your room in a bohemian manner might thrill you. You can do this without much expense. You can create a boho room with the minimal accessories that you already have. All you need are 5 things.
A dreamcatcher, some indoor plants, cozy blankets and throws, string lights, and a rug. Your boho room is ready with these five things.
Frequently Asked Questions
What is the Simplest Way to Create a Boho Bedroom?
The white boho bedroom is the most simple and pocket-friendly idea. As it has the most minimalist style, the accessories to be included are very few. Just furnish your room with a white bed sheet, white rug, and white curtain. Your room is ready.
How to Design a Rich and Classy Boho Room?
Here you have two options. The first option is the wooden finish. Have you noticed it? Wooden antiques or accessories always add elegance and richness to the room. If you want something more, you can choose the vintage style. The old-styled rug, curtains, and bed, everything adds to the richness of the cozy boho bedroom.
What Are the Common Factors in Any Cozy Boho Bedroom
There are no prescribed rules for a bohemian style. Still, if you want a common factor, choose a good dream catcher that suits your bohemian style. If you really wish for some common elements, go green. That is, add some indoor plants to your bedroom. Get some wall hangings that match the interior of your bedroom.