25 Clever Small Front Porch Designs to Impress Your Guests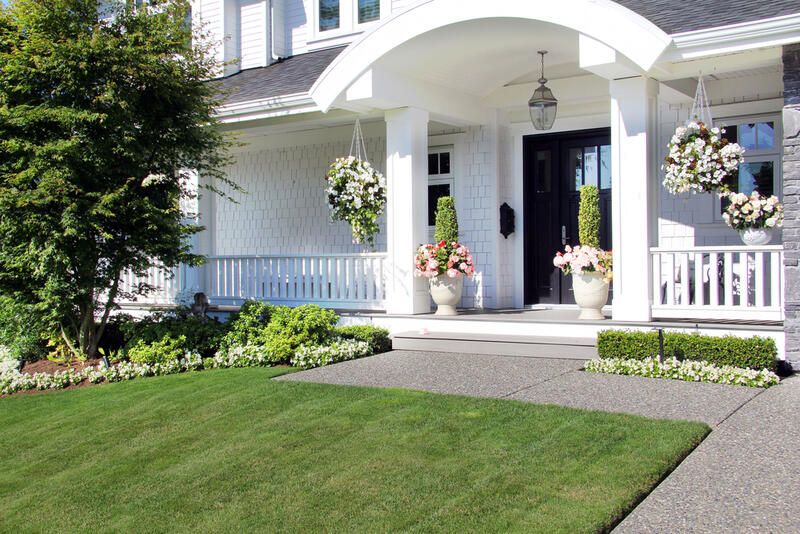 The front porch of your house is the point that creates an impression of the house. It is not just an entryway because it can bring a long-lasting fancy to your guest.
Hence, it may not matter how big or small your front porch is, but what matters is how beautiful and welcoming it appears. Initiating small front porch ideas can be beneficial to enhance the elegance of your house's exterior.
Therefore, your front porch deserves more attention than it gets despite being an essential part of the house's exterior. It is the first point that attracts passersby or visitors to your home regardless of its functionality. Hence, your front porch deserves more decoration and styling to please the eyes of the guest.
No matter what your taste is, whether you prefer more of a rustic, vintage vibe or you prefer having modern styles, there are many options to choose from. In this comprehensive guide, we will explore 25 gorgeous ideas to create an impression for your front porch.
Importance of Having a Beautiful Front Porch
Having a beautiful porch is not only a subject to enhance the aesthetic appeal of your house. There are many other significance to look at before you decide to design your house porch.
The small porch of the house creates essence to inviting the guest as a welcoming space with its beautiful appearance. Moreover, it displays a positive space to make you feel dignified and set the frame as an overall aesthetic appearance of your home.
It is vital to design a well-maintained porch that provides people with a feeling of relaxation and makes social gatherings. The front curb of the house is the place that connects you to your neighborhood and surroundings. Moreover, this will help your home with an increase in value and gives a sense of contribution to your self-esteem.
Ideas to Make Your Front Porch Look Gorgeous
These days having a guest over to the insides of your house can be a stressful event for the host. Hence, many people nowadays opt to have their events outside their homes. Therefore, you might have the dream of shifting your guest visits outside your front porch to enjoy the space. Here is a list where you explore different small front porch ideas to make your exterior look pretty.
1. Benches on The Front Porch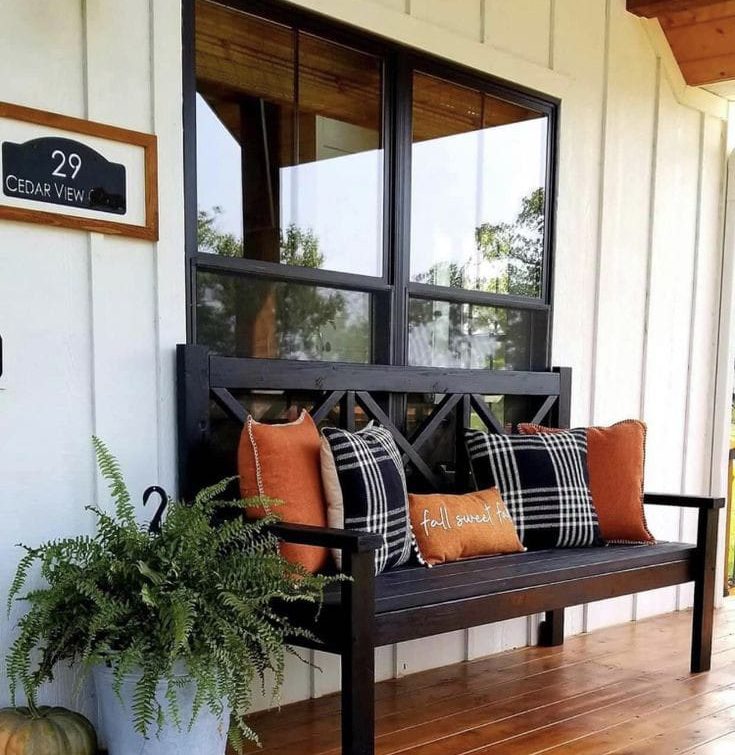 Designing the exterior of your house with these small front porch ideas can appear daunting to newbies. Hence, you can start with an easy decorating option, which includes benches on your front porch. Therefore, you can choose bars according to your preferences, such as aesthetics, maintenance, and other essential things.
Styling benches into your front curb is a thoughtful process that needs your attention. Hence, create a space that feels inviting and compact. For instance, opt for in-built storage benches in a limited space to maximize functionality. Hence, this will create a cozy ambiance at the front exterior of the house.
2. Mini Victorian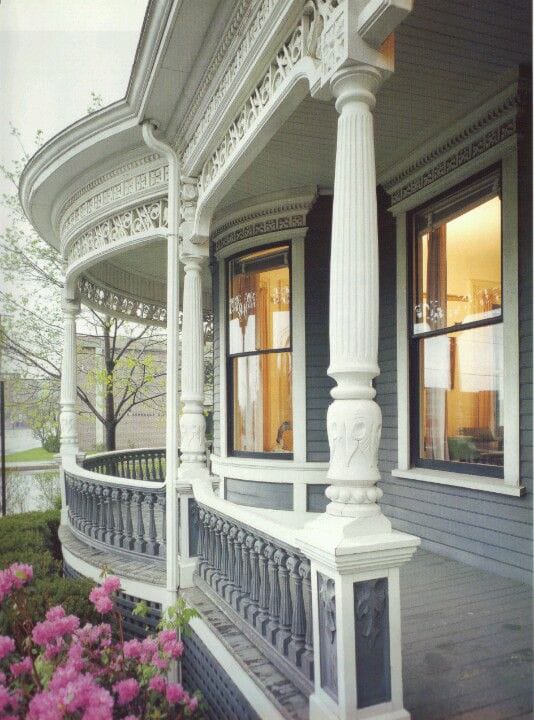 To style your small front porch, ideas are endless that you can use for your house's exterior, and one of them is a Mini Victorian design style. To initiate this style into your front curb, you can associate Victorian styles pieces of furniture, floral accents, lighting, and fixtures.
For instance, you can choose a Victorian color palette to enhance the feel of it your front curb. Moreover, you can also install decorative architectural patterns that create a romantic ambiance. Hence, incorporating a beautiful vintage Victorian theme can make your front curb look gracious.
3. Swings on The Front Porch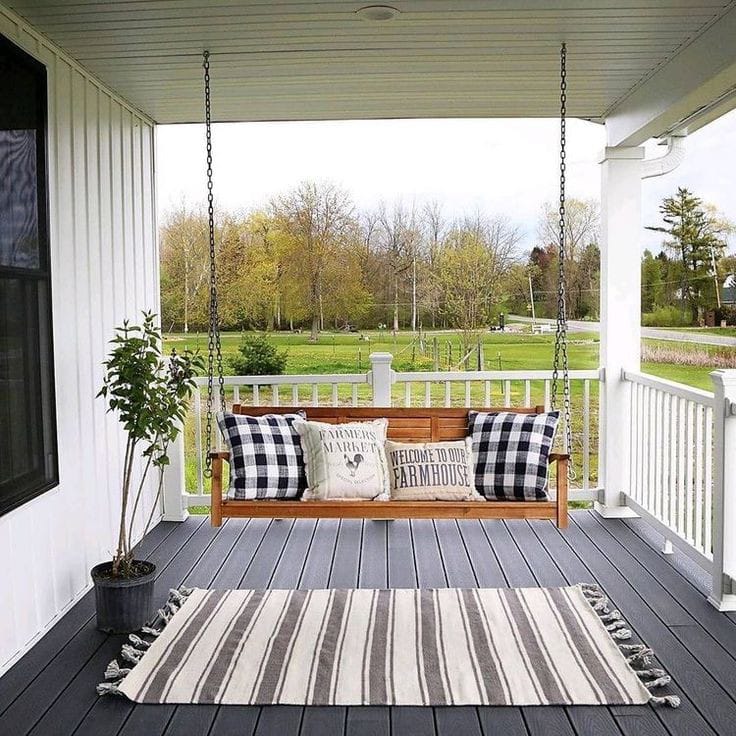 If you are looking to incorporate aesthetic pleasing into your home, you can associate swings to enhance the looks of it. Swings can create different small front porch ideas for your curb to beautify its essence and look.
For instance, you can style a mini garden into your frontside to make it look prettier to the eyes. Moreover, you can also keep small pots on the staircase if you have any of them on the front curb. Remember to take charge of the ceiling height, measurements, and other considerations before you incorporate the swing in your front curb.
4. Asymmetrical Front Porch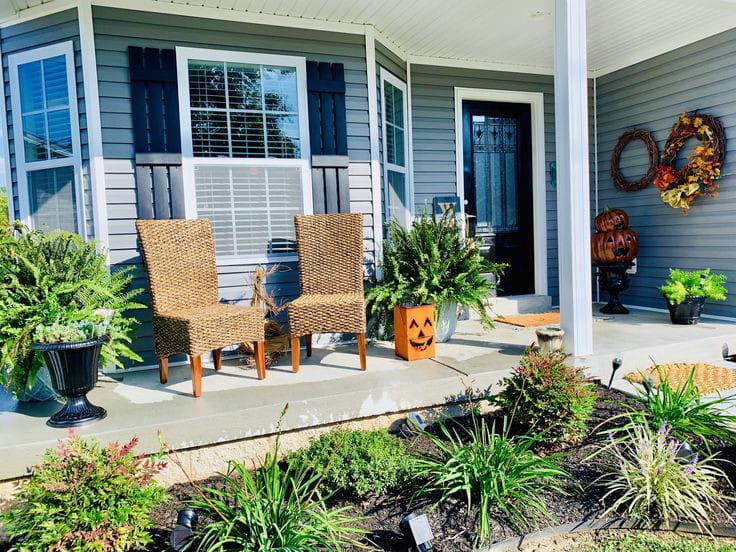 Associating the curb with asymmetrical small front porch ideas can add a unique elegance to your house exterior and make it appears immensely bright and beautiful. Hence, this style adds an eye-catching embrace of beauty to the front curb. Therefore, to maintain asymmetry, try adding different elements with varied shapes and sizes.
You can play with different placements of windows that hold contrasting materials and look great against a beautiful front porch. Hence, you can play with architectural details on the porch to enhance the looks of your front curb.
5. Use Contrasting Colors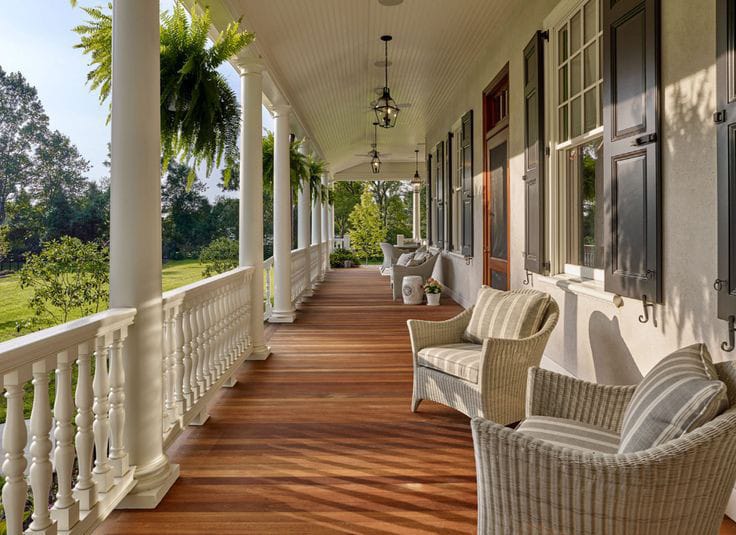 Small front porch ideas with contrasting colors are one of the most eye-catching combination and mix that grabs the attention of your passersby. Incorporate different shades altogether into your front porch creating various styles of your choice.
For instance, you can turn up a few polka dots with a deep blue color on the surface of pink to create a unique texture on the front porch. Moreover, you can also use a facade for your front door pink in contrast to a blue or green colored curb. Hence, this will elevate the looks of your exterior to make it gorgeous.
6. Adding the Essence with Warm Lightening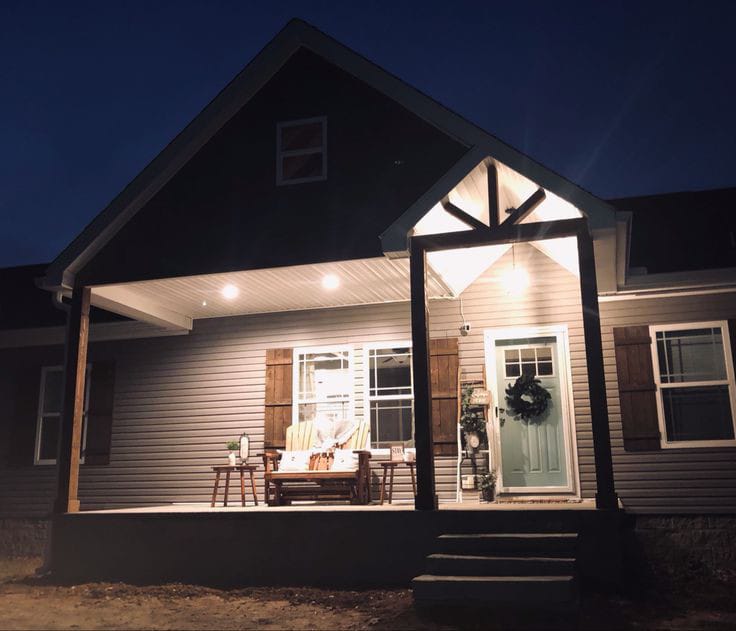 Whenever you decide to decorate your front porch to make it feel welcoming, the size of the front porch often plays a vital role. However, small front porch ideas like this can grab the attention of passersby. Adding up different lighting will make your porch look beautifully wrapped and comfortable enough for your visitors.
Therefore, to decorate the front curb of your house, try using warmer lights rather than cooler lights to make the surroundings feel relaxing for your guests.
7. Planting Indoor or Outdoor Gardens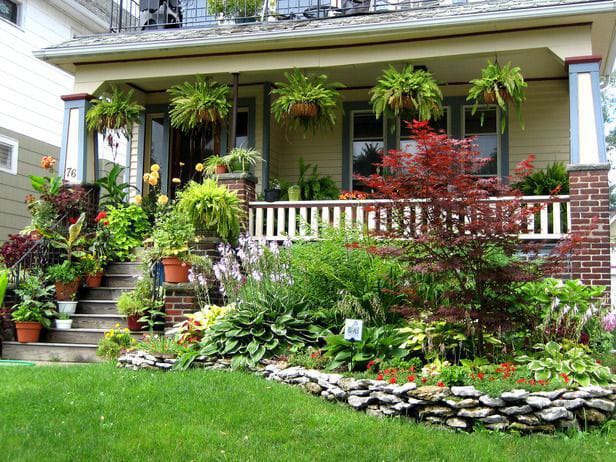 Decorating your space with small front porch ideas that involve planting can never go wrong. Indoor or outdoor planting can carry a surreal elegance to your front porch. Moreover, you can follow many gardening ideas and combinations to create looks per your aesthetic appeal.
If you are decorating your front curb with an outside garden, then you can try bigger plants and flowering shrubs to create the aesthetic of the front curb. However, if your front curb does not have much, opt for indoor gardening themes.
8. Chilly and Airy in The Mountains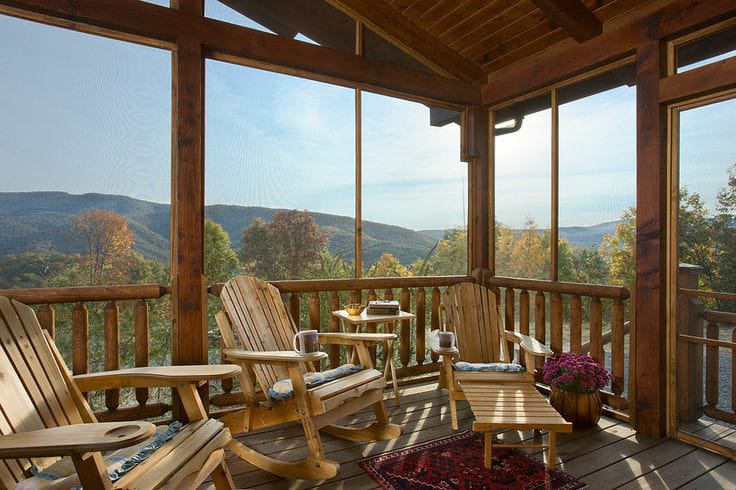 Decorating the curb with small front porch ideas sometimes feels compact and congested if not designed thoughtfully. However, even if your front curb feels small, you don't have to settle down with anything that doesn't suit your taste.
Associating different kinds of textured furniture at the outsides of the house can elevate the looks of your exterior. Therefore, to make the porch look cozy and more suited for any time of the year, it's best to add a rolling cart beside the seatings of the curb.
9. Constructing a Utility Space for The Beauty of The Porch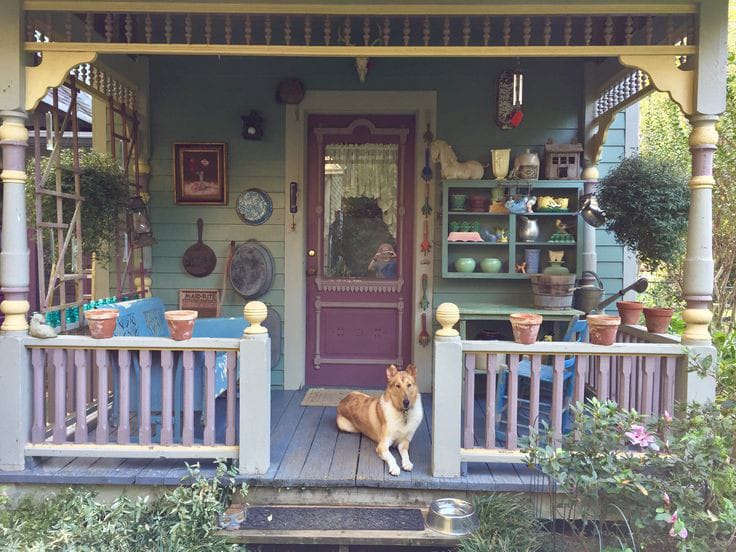 Thinking out of the box can help you determine what's best suited for your small front porch. Hence, installing a stunning sink can turn your front porch into a beautiful utility space.
Small front porch ideas like these can instantly turn your boring curb into something extravaganza. Therefore, no matter if you are a garden person or someone with kids, keeping the dirt out is now going to be easy.
10. Landing Space Made Into Patio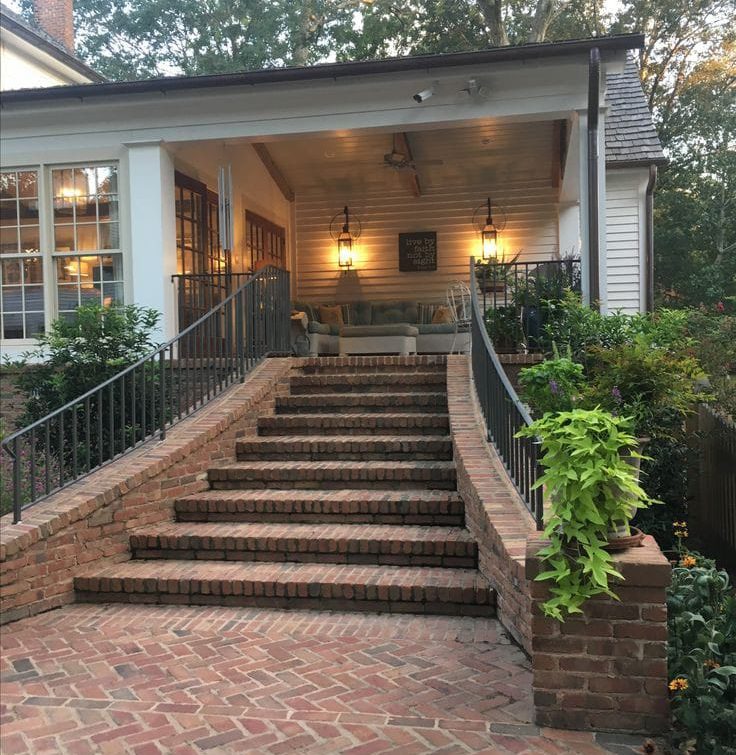 Transforming your front curb into a small landing can be effortlessly done by adding a few pieces of inviting decor items. Hence, you can add an outdoor mudroom to incorporate a designated area for your bikes and tools.
Small front porch ideas like these will increase the functionality of your small front space. You can also keep containers so that you can relocate them at your convenience.
11. Paint the Furniture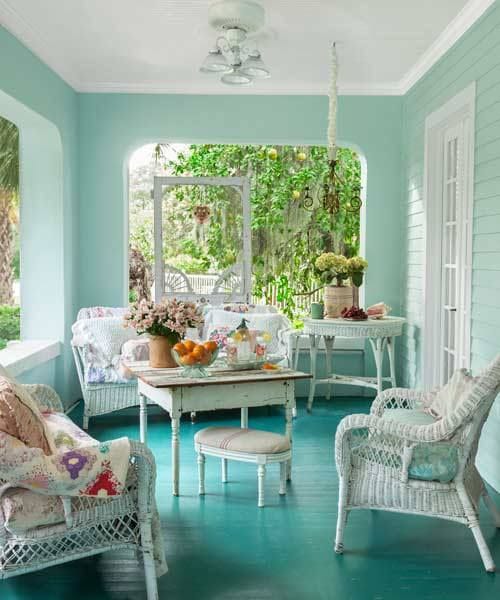 Adding a range of vibrant colors to your furniture can exaggerate the looks of your front curb. Hence, try to incorporate different contrasting shades that match the pave way to get the attention of the passersby.
You can also associate a small painted bench around the front with shades of navy blue or maroon that accentuate the light-colored background. Therefore, these small front porch ideas will enhance the overall look of the front curb.
12. A Stone Path on The Front Curb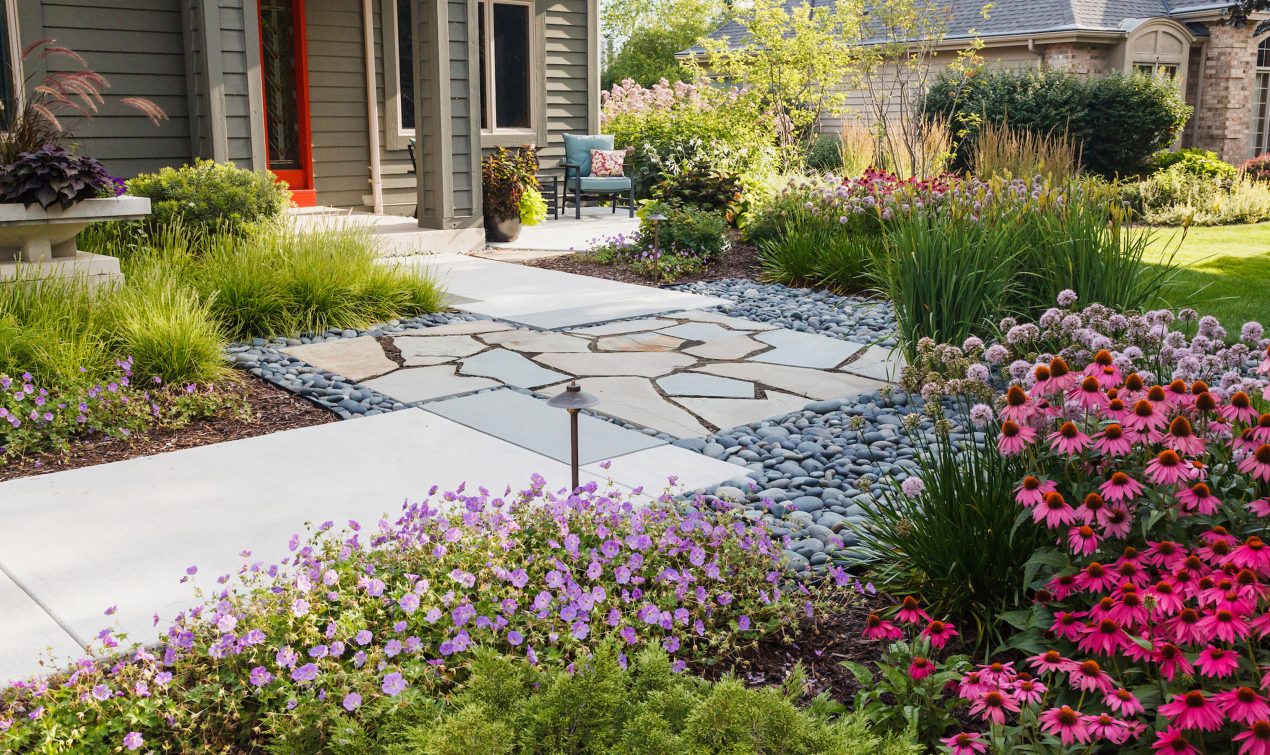 Upgrading the looks of your exterior with these small front porch ideas is one of the best things you can settle down for to create an elevated patio. Therefore, this beautiful stone can create a lead path for your home and make a good entrance while standing out from others.
You can use different stone types and marbles to create a distinct look for your porch. Moreover, this design creates something that makes it look elegant and gives the curb a neat look.
13. Add Plenty of Seats for Your Guest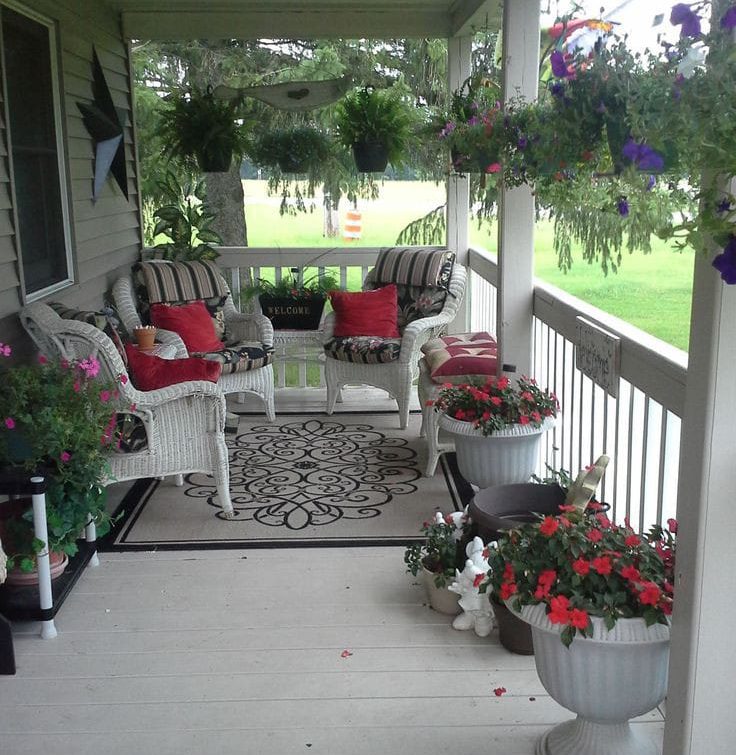 Adding a dueling porch swing leaves you with plenty of options to decorate your sitting area for your guests. You can also add colorful pillows and showpieces in your seating area to make the porch look gorgeous.
Moreover, you can also add up some lighting or a center table to make it more convenient for your usage. Hence, this will elevate the looks of your front porch with its elegant appearance.
Sale
14. Lantern Lighting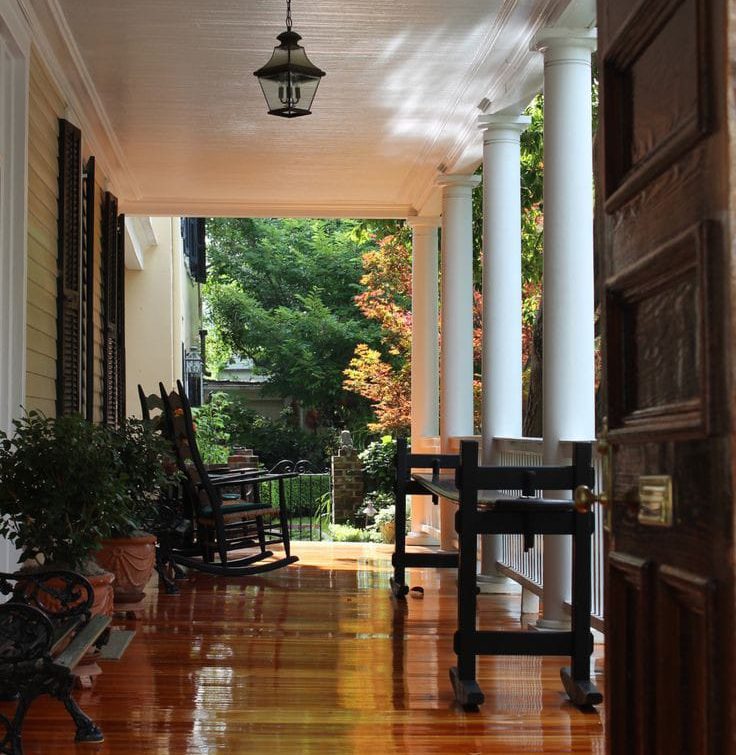 To add a focal point at your front porch, you can rely on lantern lighting to make it happen. Styling the curb with these small front porch ideas can elevate the elegance of your exterior with its charm.
Place the lantern to enjoy the space at night as well, such as enjoying a clear sky on a summer evening or reading your favorite novel at night. Moreover, you can also add a touch of pretty antique items to make the porch look prettier.
15. Words on The Exterior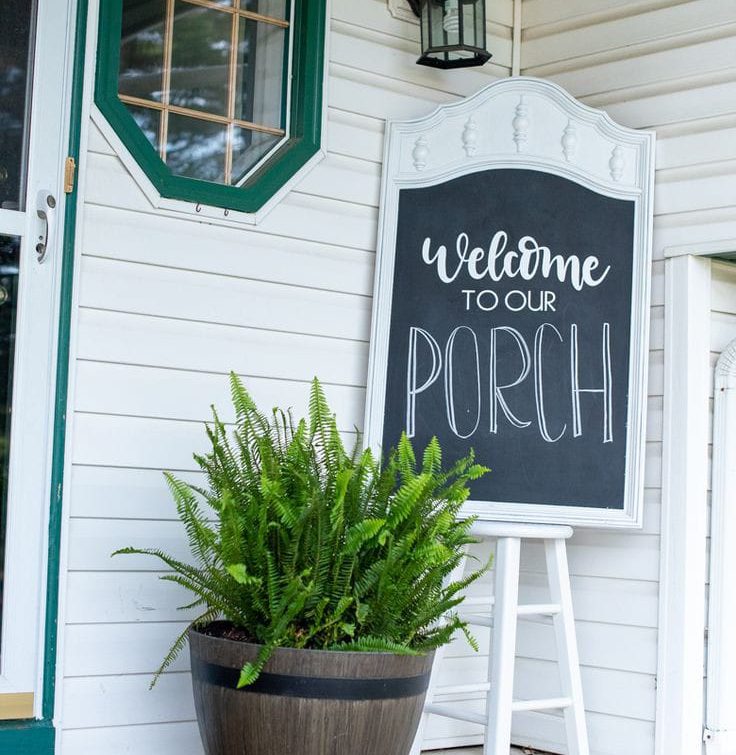 The personality of your house is displayed at the curb and the exterior of your house. Hence, you can add more dimensions to your home by adding words of welcome or phrases with some decor items to make it look classical.
You can add a few words on the staircases with different fonts and colors according to your aesthetic appeal to make it look gorgeous. Hence, this will be gue your home the vibrant nature that goes well with plain-looking homes.
16. Vintage and Modern Front Curb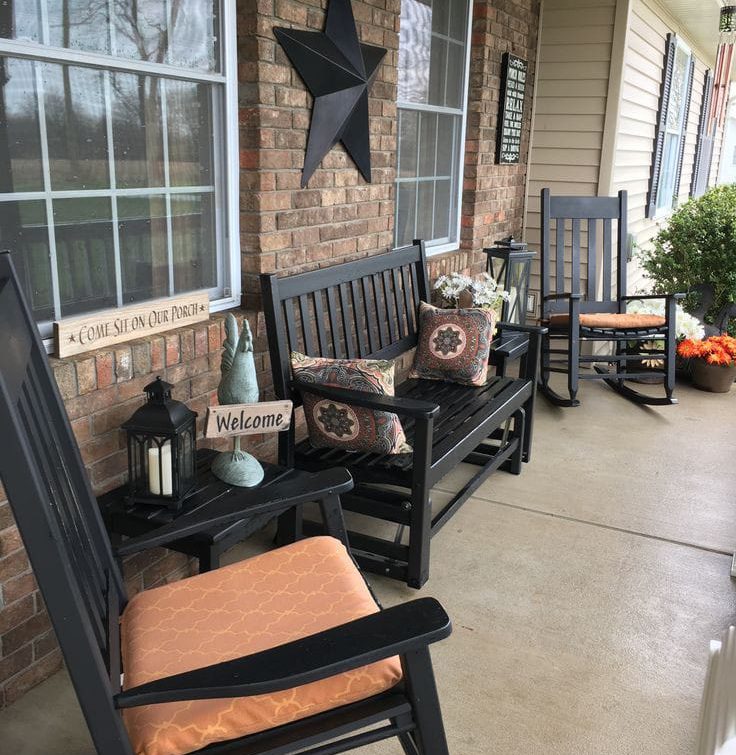 A vintage curb with a modern sitting system can elevate the beauty and presence of your house. Moreover, you can also use rattan chairs associated with hanging swings or sitting positions with pillows over them for a better appearance.
Hence, this will give the area an easy, inviting feeling to the visitors or guests that come to your home. You can also plant some small pots with flowering plants that look awesome if positioned properly.
17. Reading Room at The Front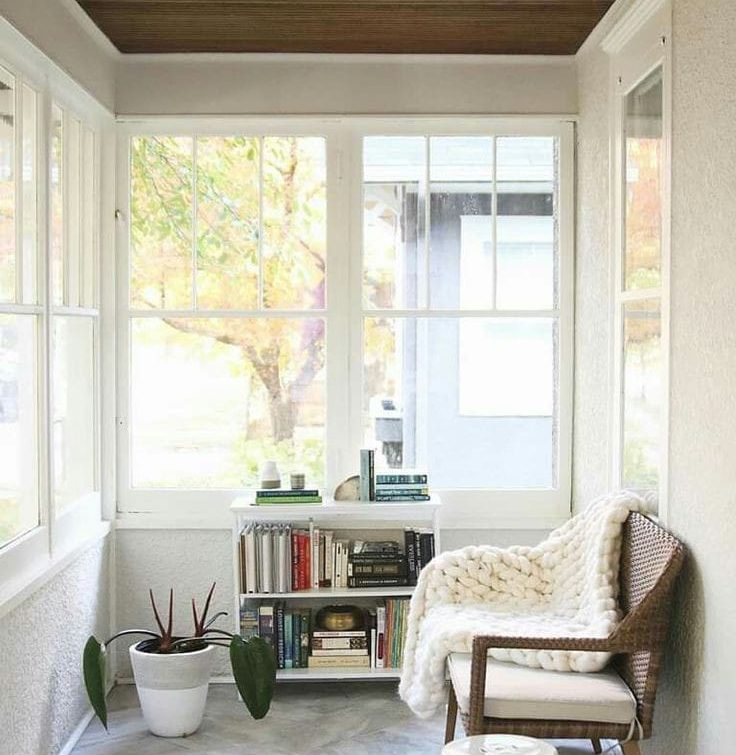 Adding a reading room to your front porch can be very helpful for you and your family. If you are someone who loves to read books or have children, then it's best for you to have a designated space for studying.
Moreover, you can furnish your room with rocks on the floor, a table, and chairs scattered around it. Hence, this will give the ambiance a look of comfort and convenience.
18. Purple for The Charm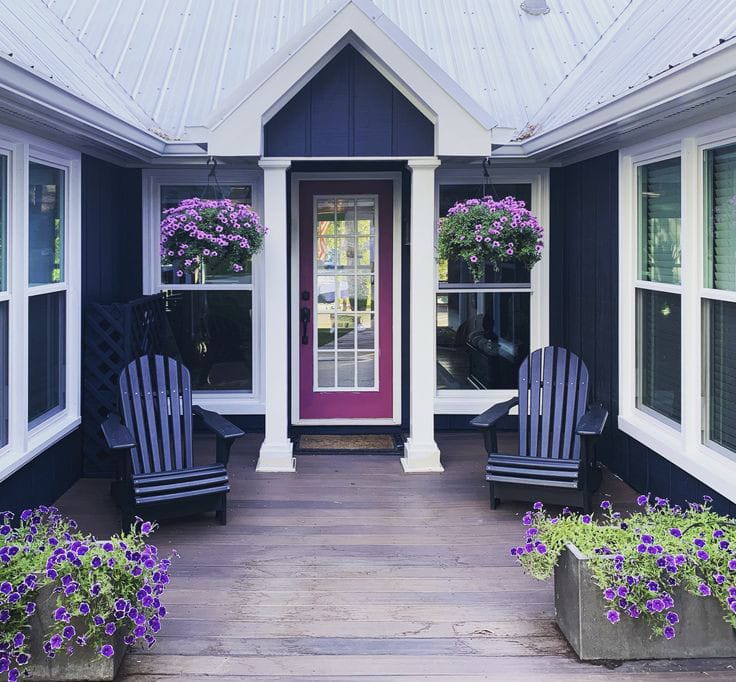 If you are more of a color enthusiast and like to accentuate color palettes into your exterior to make it look prettier. Introducing purple to your small front porch ideas can brilliantly bring out the charm of your curb with its versatile and vibrant nature.
Furthermore, you can embrace symmetrical features to your front curb with purple or deep pink flowers to make it look bold and tropical. Hence, this will make your guest feel welcomed and in awe.
19. Black and White Front Curb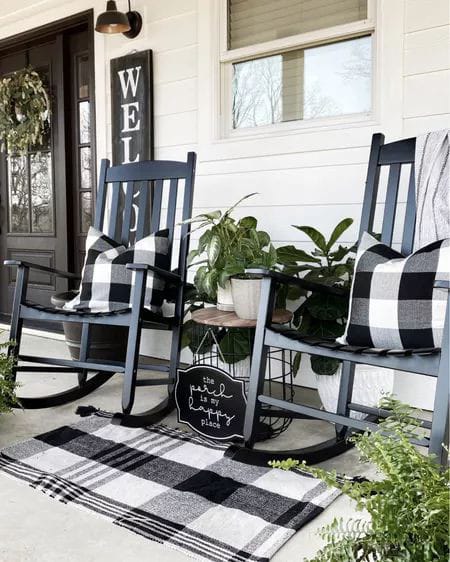 The combination of these two colors can always go right with its association as small front porch ideas. Black and white never goes out of the trend list because of its versatility and subtle nature that looks well with the shimmery background if you opt for a more relaxed girly tone. However, if you want to set more of a formal tone in the combination, then it is better to give a crisp look to your front exterior. Hence, this will make the guest that visits your house feel like the owner is some sort of professional official.
20. Suburban Front Porch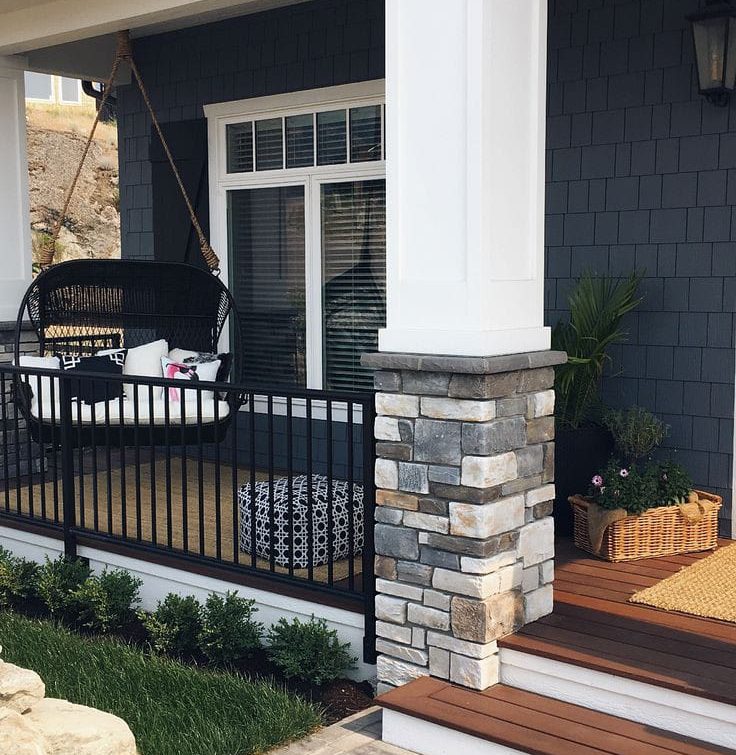 To give your front porch a sense of grandeur and a polished look, you can add a sense of suburban-style to it. Therefore, you can add a small sitting area to your front porch and give it a suburban or countryside style to make it look elegant.
Associate contrasting colors to the background while styling your wall with different paintings and showpieces to make your small porch look comfortable. Therefore, this will make the area look beautifully elegant.
21. Keep The Front Porch Open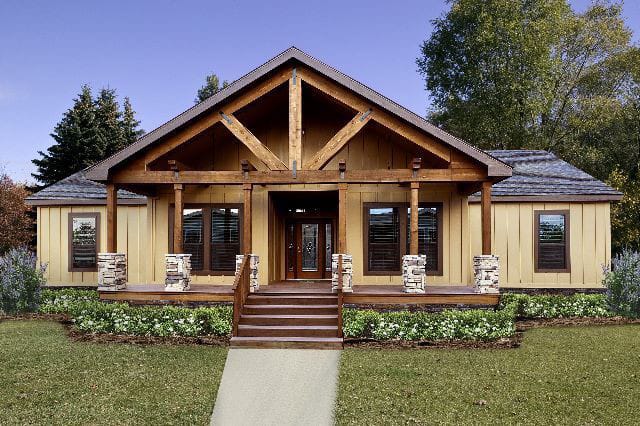 To make your small front porch look elegant and classic, you can associate a front porch style with the exterior of your house. Create an ambiance of a white background with traditional furniture that makes the front porch look fabulous.
Moreover, some people like to add some specks of greenery to their front porches to make them look gorgeous and classic. You can also add a fountain in front if you have a garden to make the passersby give their attention to it.
22. Grapevine Designs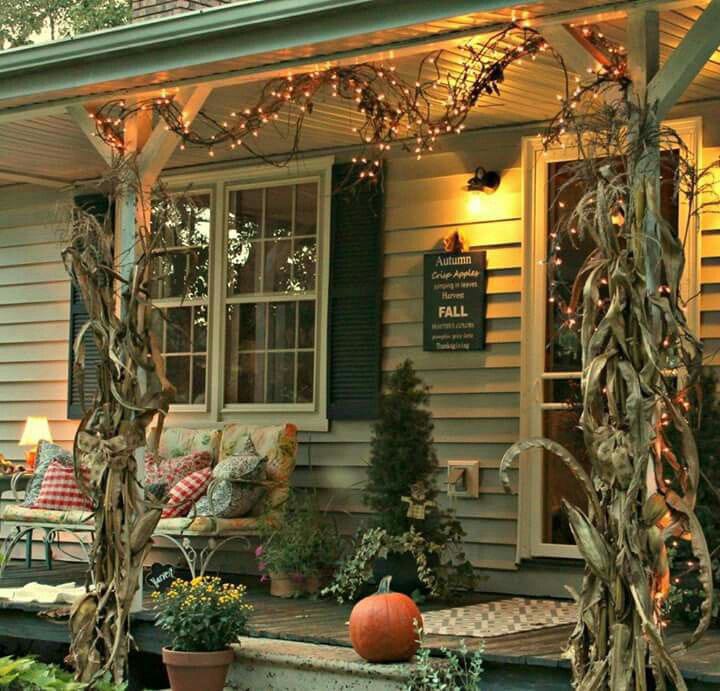 The options that Grapevine Wreathes provides as small front porch ideas are drastically vast. Hence, you don't have to wait for the festivals to style your grapevine wreaths against a solid-colored background to make them look elegant.
Moreover, you can use different accessories made out of grapevine to associate on the front porch. Try adding different sizes of wreaths on the wall to add distinct dimensions to the front curb.
23. Graphics on The Front Porch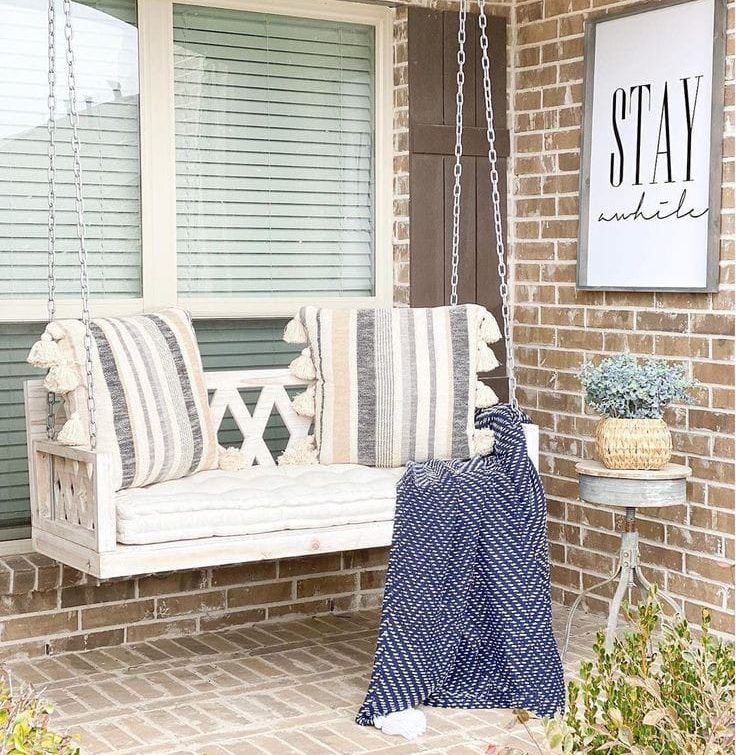 Adding graphics instantly elevates the looks of your front curb and makes it feel royal yet modern to visitors. Associating furniture that has graphics in it makes the surroundings look more lively and energetic.
Adding graphics and designing the front porch according to it may look daunting to an amateur. However, it is effortless to style your front porch with graphics, even for a newbie. Add various pillow covers that define graphics and styles to create amazement in the guest that visits you.
24. Symmetrical Front Curb for The Attention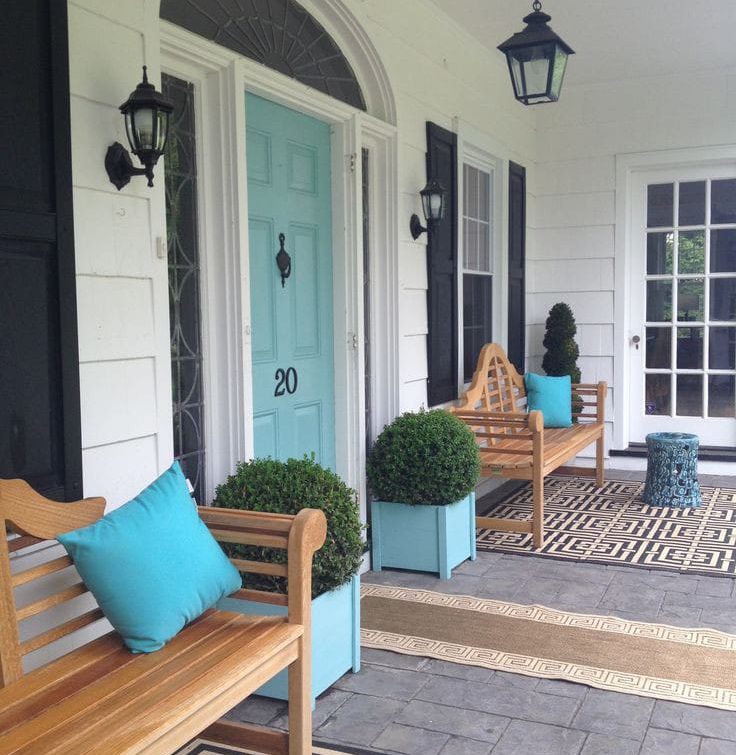 Symmetry in anything can bring a sense of formal tone. Associating it with small front curb ideas can set some fresh looks for your exterior. Try to put two seatings on the same angle and position to create symmetry near the door.
Moreover, you can set positions and angles for the front curb to style it more with sequences and themes. For instance, you can add swings on two sides of the front curb against the blue background. Hence, this will make the front curb look gorgeously beautiful as per your aesthetic appeal.
25. Herbs Gardening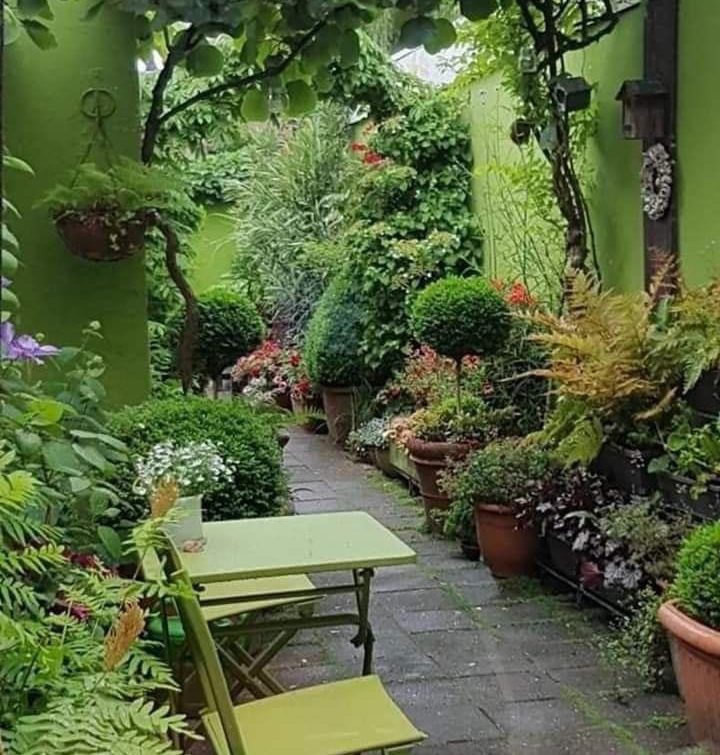 Setting up a herb garden on the front porch can be beneficial for both your kitchen and the exterior of your house. Many people love to set up an herb garden in small pots to make use of it in cooking and making tasty dishes.
However, some folks use it as a decorating item for their interior or exterior. If you have a garden, you can use it to provide a designated space for the herb garden after you grow in the pot for decoration on your front porch.
Conclusion
Everyone wants to create a gorgeous exterior with small front ideas that will give a boost to the appearance of their house. Therefore, in this blog, we discussed 25 different front porch ideas that you could use as per your aesthetic appeal. Designing your front porch may feel like an exaggeration at some point, but it is all worth it once you see the amazement in your guest.
In this article, you can find ideas that are versatile, variant, and formal. You can choose any of them as per your preference and even combine them as you find pleasing. Check out the blog if you want more ideas related to the small front and exterior.