25 Creative Solutions for Baby Girl Nurseries in Small Rooms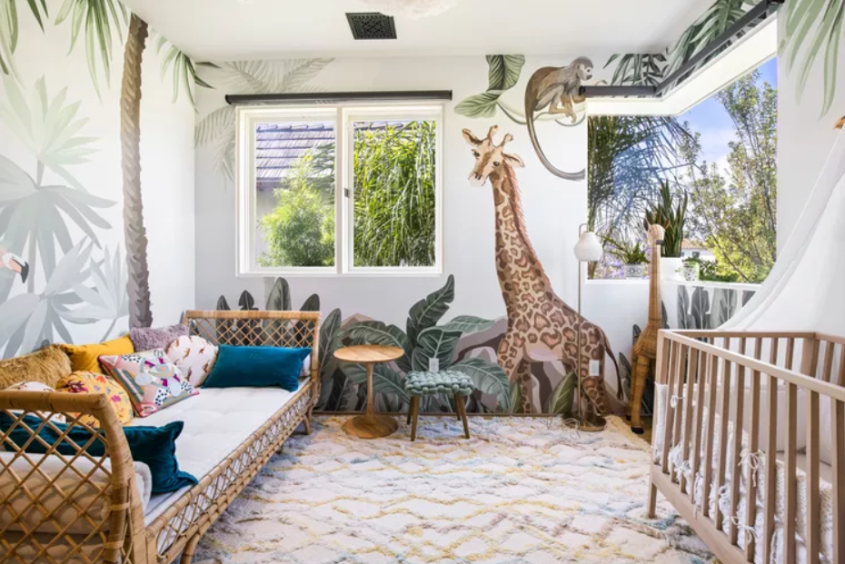 Planning to design a beautiful nursery for your child but need more room? Do not worry! You may go through these 25 baby girl nursery ideas in small rooms that are incredibly stylish and attractive. Who said little couldn't be fashionable? The room size allows the originality and attractiveness you can bring to a nursery design. 
Having a little space gives you a chance to be innovative and enjoy the most out of every inch. These modest baby girl nursery ideas in small rooms will motivate you to think creatively and design a serene haven for your new baby, from clever storage options to inventive furniture configurations. 
Learn how to turn a little nursery into a space where style and functionality coexist, where every square inch is used carefully to create a sanctuary you and your child will adore. Let's start now!
1. Nursery Nook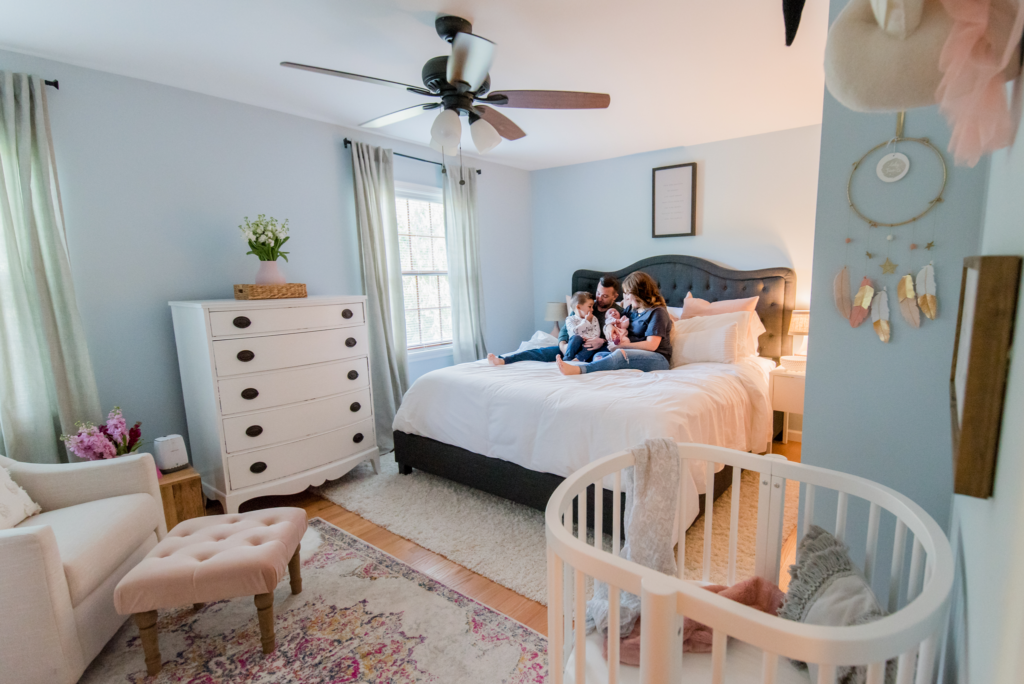 Make the most of your tiny bedroom's space, and create a cozy baby enclave. Use curtains or a room divider to create a separate space for your child's cot, changing table, and storage. Doing this allows you to create a nursery-like setting without requiring a separate room. 
You can blend the nursery area smoothly by selecting furnishings and accents with your bedroom's design. Embrace the convenience and sensitivity of a nursery nook to give your child a caring environment while utilizing most of the space in your house. 
2. Floating Shelves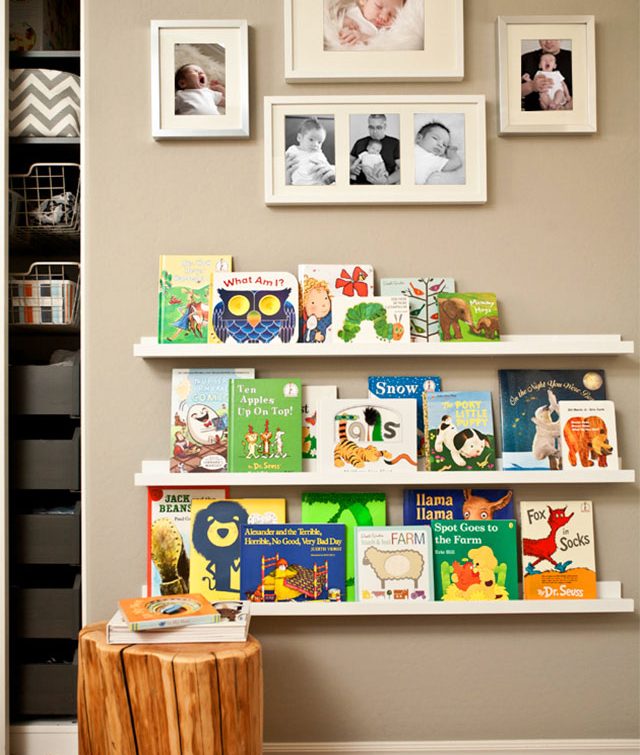 Floating shelves are the best friend of your baby girl's small room nursery. These streamlined, room-saving storage options offer a practical way to keep necessities close at hand and give the area a fashionable touch.
Floating shelves are excellent display areas for attractive accessories, books, and toys using vertical space. Whether you choose contemporary acrylic shelves or rustic wooden ones, floating shelves offer flexibility and functionality, enabling you to maximize storage in your tiny nursery sanctuary without sacrificing aesthetics. 
3. Stacked Crates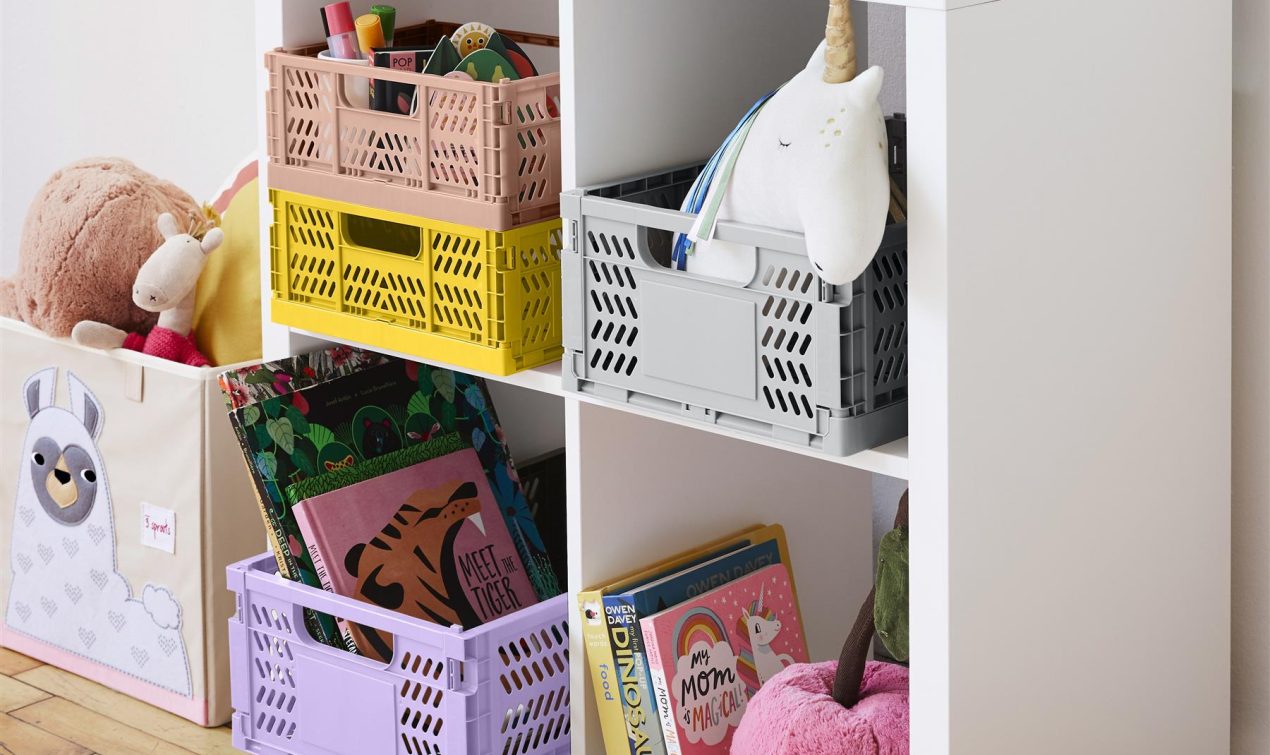 Stacking crates will give your small nursery some rustic character and valuable storage. You may stack and arrange these wooden crates to build a personalized storage solution that fits your space. Use them as showcase spaces for charming décor, toy organizers, or bookshelves. 
The nursery's open layout makes accessing items simple while adding a fashionable and quirky touch. In addition to being practical, stacked crates are a cost-effective choice that improves the design of your small nursery. 
4. Under-Crib Storage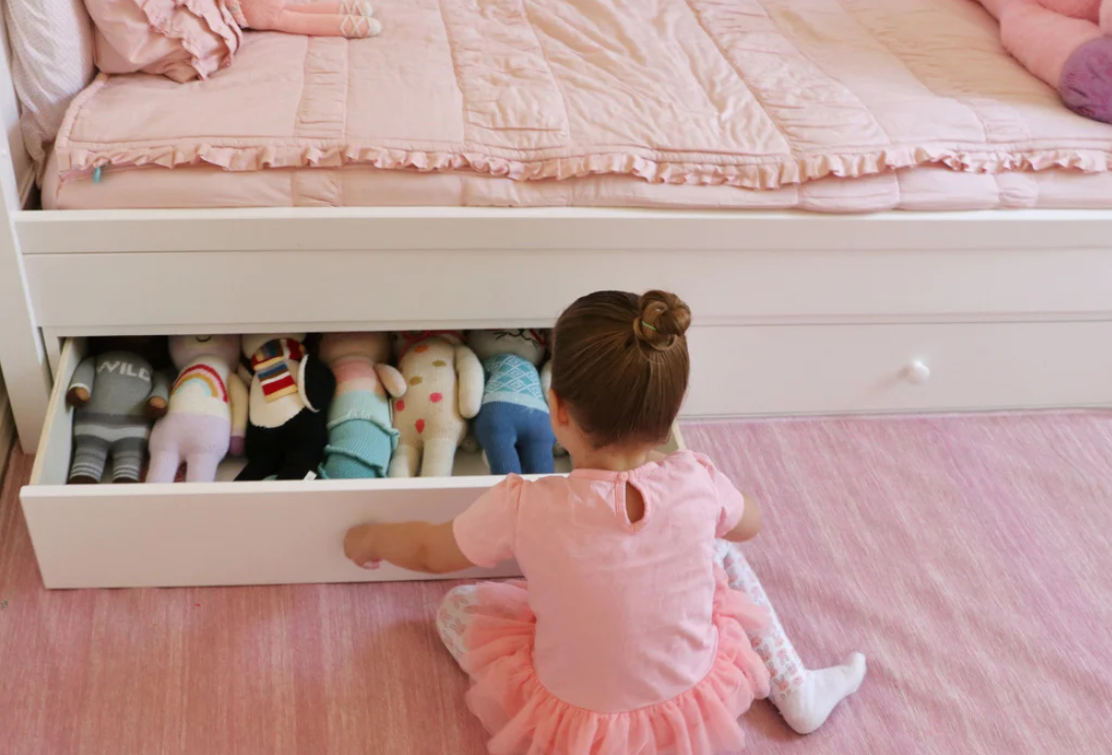 Utilize every inch of your compact nursery with Under-crib storage. This ingenious concept uses the frequently disregarded region under the cot to create a practical and covert storage room. Invest in under-crib storage bins or baskets, or pick a cot with built-in storage drawers. 
These spaces are ideal for storing additional blankets, bedding, or infant necessities. This underused area will help keep the nursery clutter-free and increase storage space. Thanks to the ingenuity of under-crib storage, say goodbye to unused space and hello to a near and organized nursery.
5. Window Seat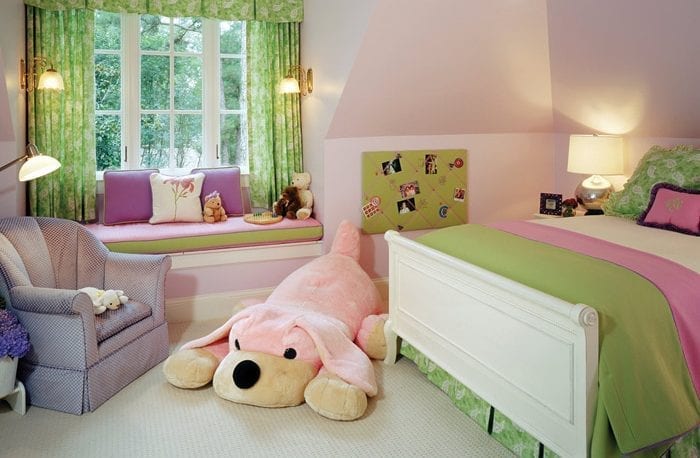 You can turn your tiny nursery into a comfortable sanctuary with a window seat. Create a cozy seating area in the space underneath your window. Install a storage bench with cushions so that you and your child have a comfortable place to unwind, read, or take in the scenery. 
Create a peaceful and inviting area by adding cozy pillows and blankets to the window seat. Your baby girl's small room gains a versatile and fashionable feature from the window seat that maximizes both usability and comfort. 
6. Miniature Gallery Wall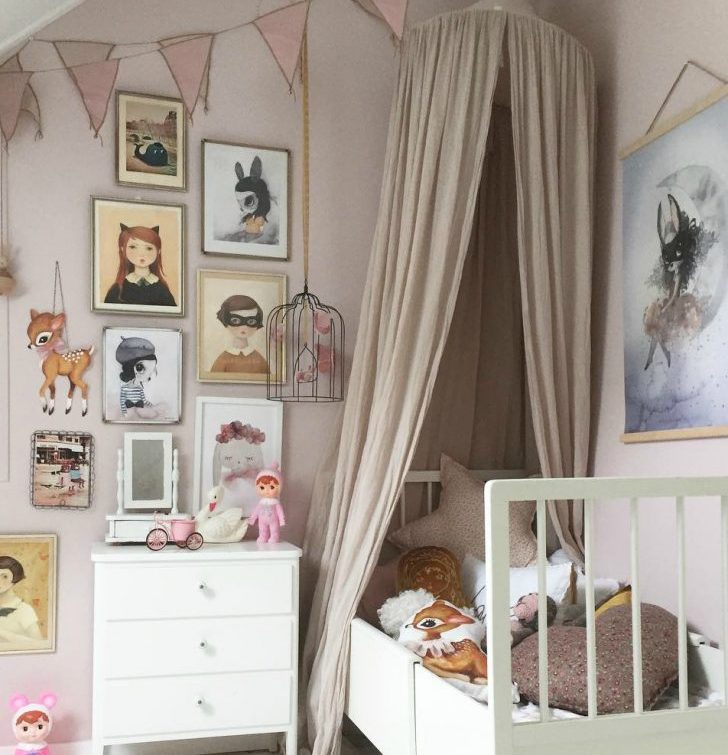 Create a little gallery wall to enhance the charm of your tiny nursery. You may put up a compelling exhibition of priceless memories and exquisite artwork, even in a small area. Choose compact frames, then arrange them on a specified wall in an attractive composition. 
Each frame provides warmth and uniqueness, whether it contains adorable baby images or whimsical illustrations. The small gallery wall fills the nursery's center point with love and enthusiasm. It's a unique and space-saving approach to highlight your child's trip and produce an excellent visual focal point for the space.
7. Dual-Purpose Seating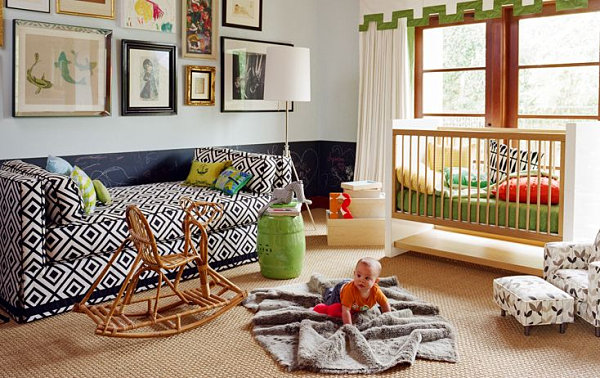 Opt for dual-purpose seating for your baby girl's small room nursery. Choose a rocking chair or glider with integrated storage instead of purchasing separate sitting and storage options. These creative layouts include concealed drawers or compartments where you can put blankets, toys, or books while keeping them easily accessible. 
Dual-purpose seating offers convenience and functionality in addition to saving valuable space. It offers a clutter-free atmosphere while enabling you to create a cozy space for breastfeeding or bonding moments. 
8. Floor Poufs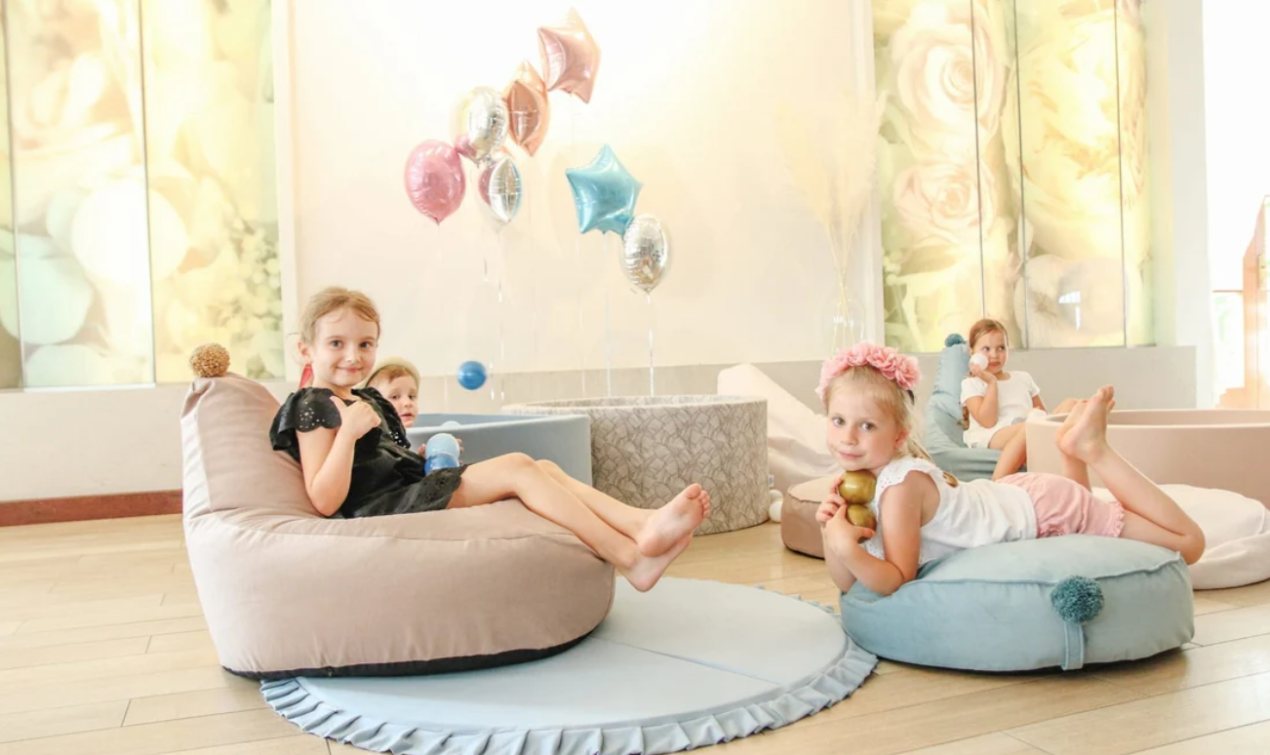 Add a little comfort and adaptability to your little nursery with floor poufs. Create comfortable reading nooks or play spaces with these light, airy seating alternatives. Because of their small size, floor purchases can be conveniently relocated and stored when not in use, saving space. 
Pick poufs with vibrant designs or hues that go well with the nursery's furnishings to give the space a whimsical feel. Floor poufs are an essential component of any compact nursery because they may be utilized as additional seating or as a place for your child to unwind.
9. Multi-Functional Dressers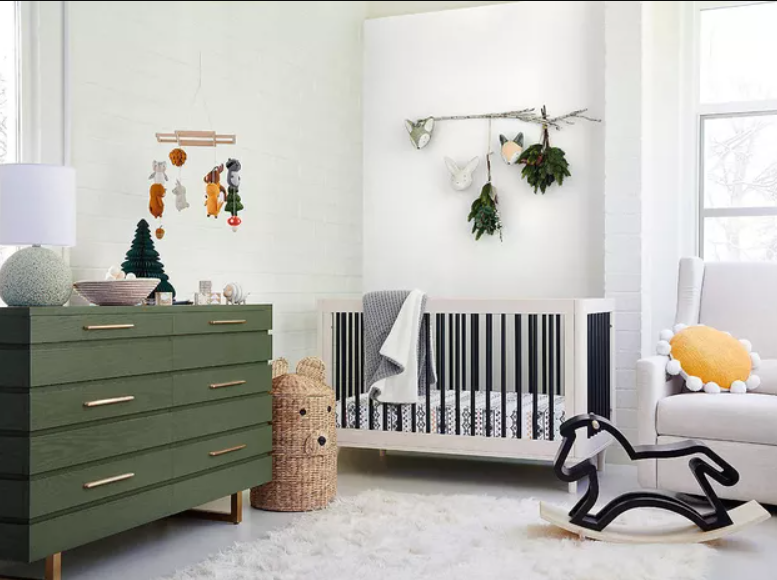 For tiny nurseries, multi-functional dressers are a game changer. These ingenious pieces of furniture double as functional changing stations and provide plenty of storage for clothing, diapers, and other necessities. Seek for dressers with an easily attachable and detachable changing pad top that may be used as needed. 
Thanks to this dual-purpose design, you can save room by doing away with the requirement for an independent changing table. Select a fashionable dresser that matches the design of your nursery to provide both usability and aesthetic appeal. Accept the effectiveness of multipurpose dressers to make the most of your small nursery's space with sacrificing flair. 
10. Canopy or Tent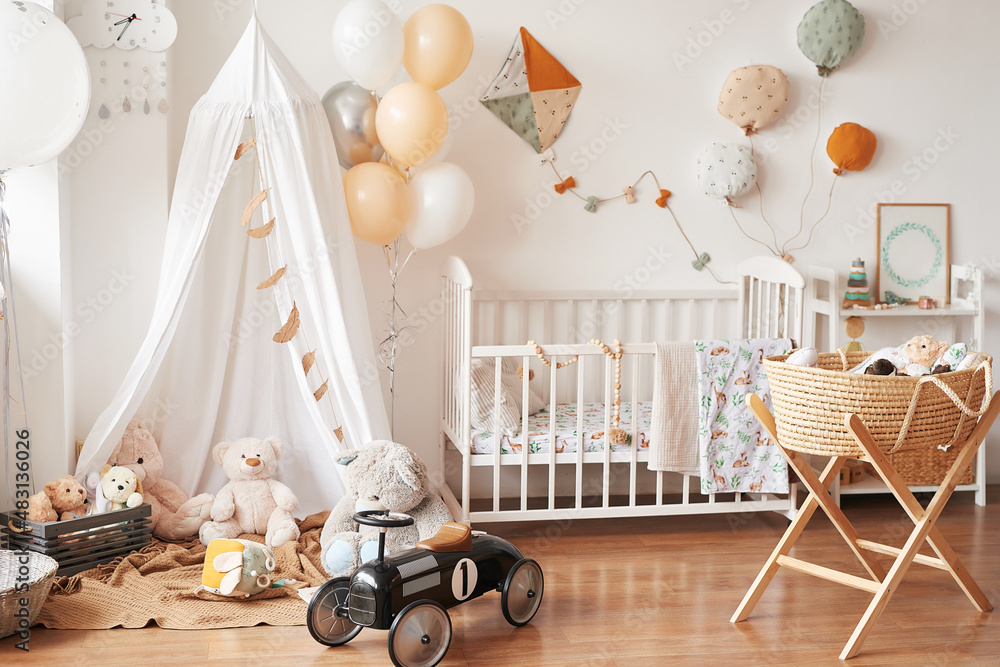 Use a canopy or tent to turn your tiny nursery into an enchanted retreat. These charming additions turn a little room area into your child's comfortable and creative haven. Select a tent with colorful motifs or a canopy covered with sparkling lights. 
Your baby girl's small room nursery turns into an ideal location for making up stories, playing pretend, or taking some quiet time to unwind. The canopy or tent gives the nursery elegance while giving your child a place to enjoy in privacy. Use a canopy or tent's enchantment and inventiveness to transform your tiny nursery into a paradise from a storybook. 
11. Statement Lighting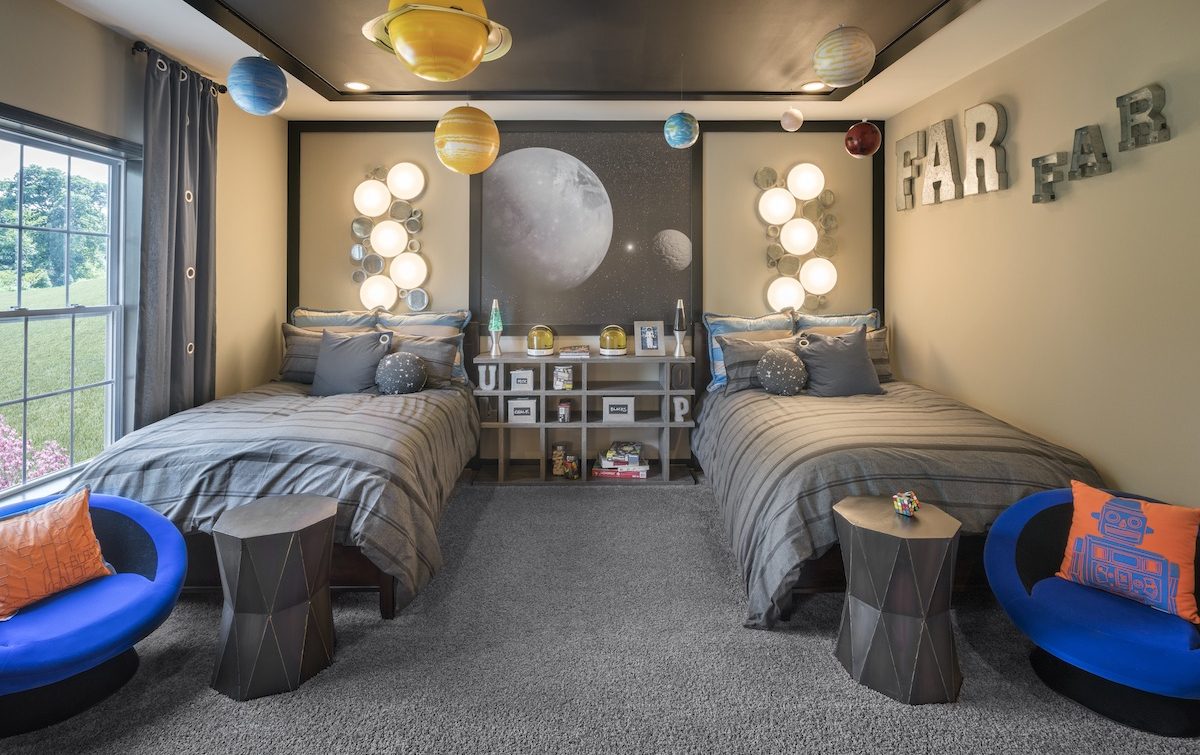 With eye-catching statement lighting, your modest nursery will make a big impression. Select a chandelier or pendant light that brightens the space and makes a striking focal point. Choose patterns matching the nursery's theme or add a little whimsy and elegance. 
In addition to essential lighting, statement lighting gives the nursery a little flair and individuality. It becomes a focal point that improves the aesthetic, resulting in a delightful and visually appealing atmosphere. 
12. Hanging Baskets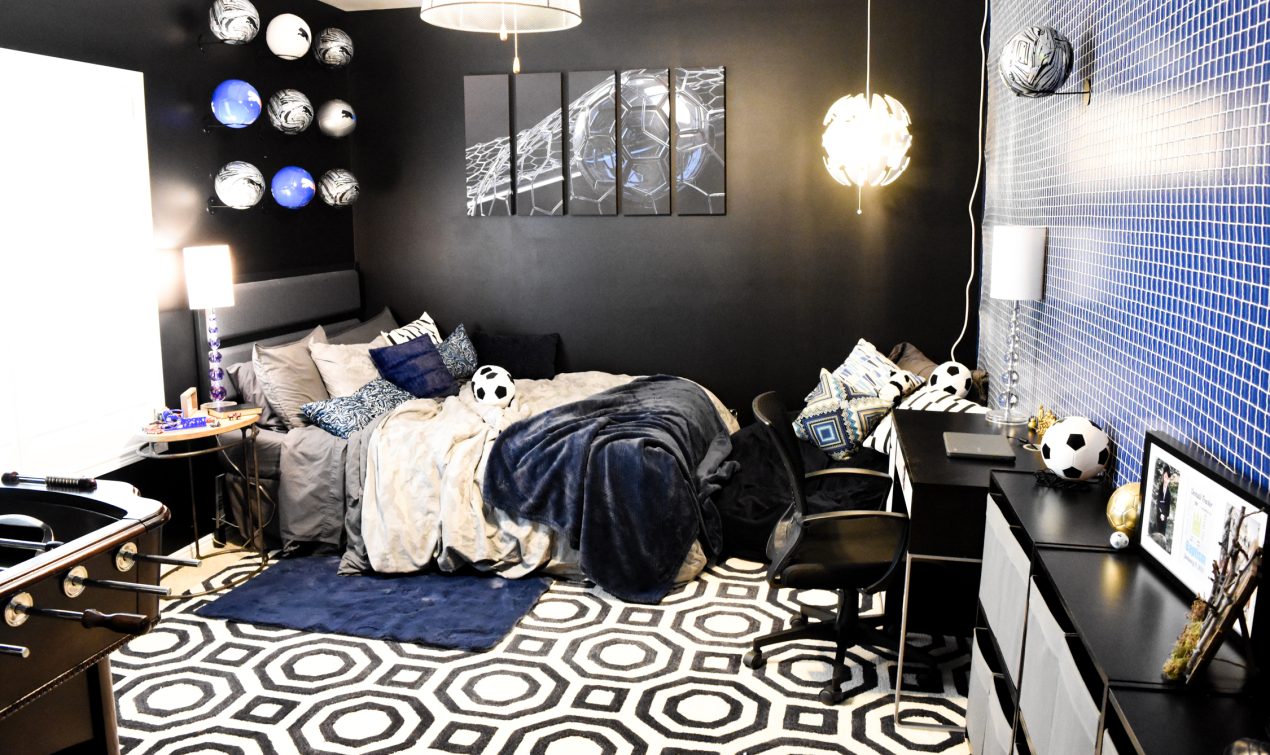 Utilize the vertical space in your compact nursery to its fullest potential by adding hanging baskets. These flexible storage options allow the area more wall space while adding a lovely decorative accent. Toys, diapers, blankets, and other nursery necessities can be kept in baskets that you can hang from the ceiling or the walls. 
Choose baskets made of woven or cloth that go well with your nursery's design. Hanging baskets make an attractive show in addition to serving as practical storage. Utilize hanging baskets' functionality and aesthetic appeal to maintain organization and clutter-free space in your tiny nursery. 
13. Wall-Mounted Bookshelf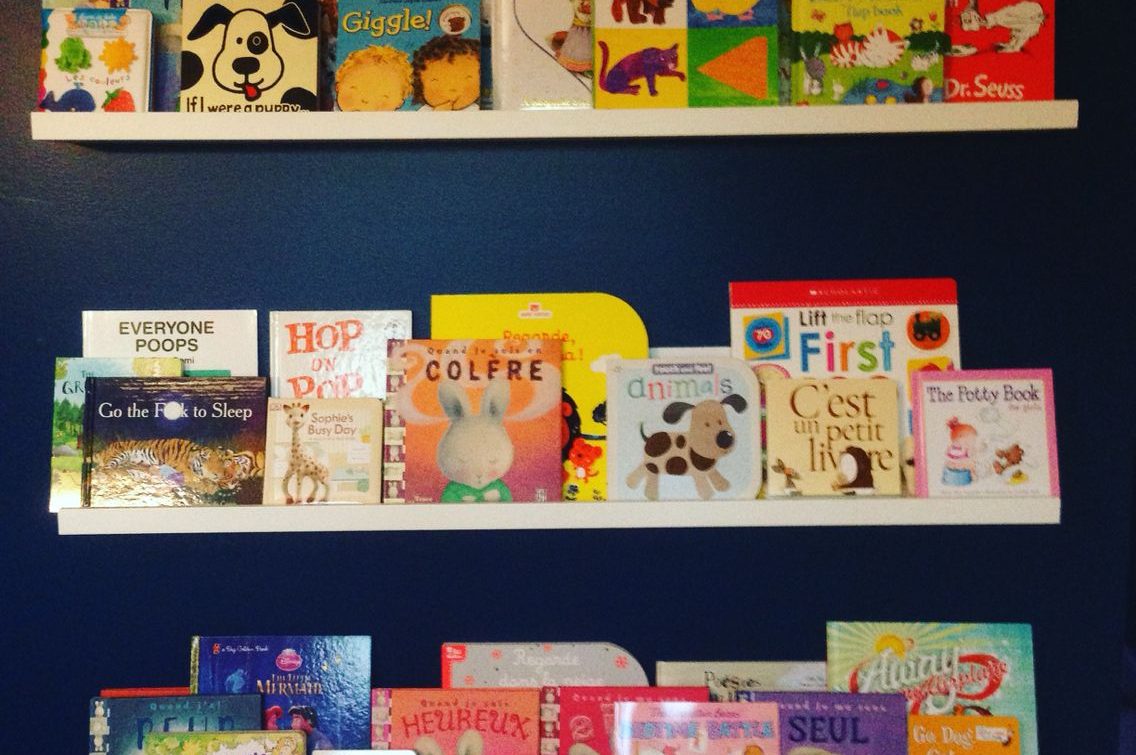 A wall-mounted bookcase will improve the organization and appearance of your nursery. While preserving crucial floor space, this storage option keeps toys, books, and décor within close reach. Pick a sleek, reliable design for your baby girl's small room nursery that goes with the overall décor of your nursery. 
Select movable shelves to accept things of various sizes and provide versatility as your youngster develops. You can fill your baby girl's little room with a colorful display of treasured keepsakes and wall-mounted bookshelves, giving usefulness and aesthetic appeal.
14. Monochrome Palette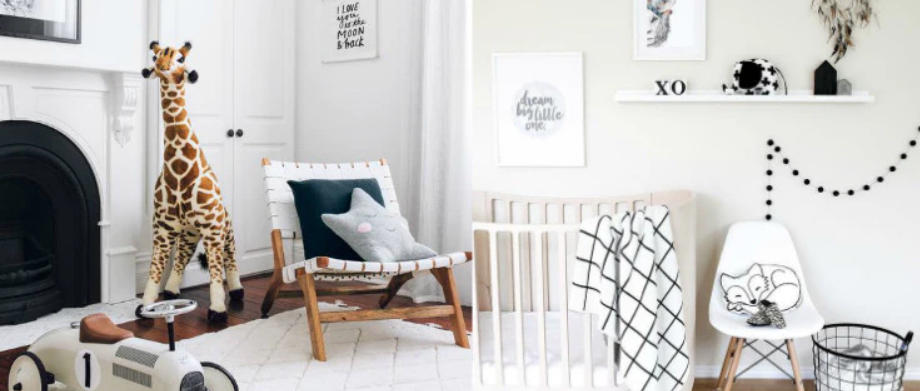 Adding a somewhat consistent palette to your baby's nursery will give it a composed and refined appeal. To achieve the sleek modern aesthetic, a monochromatic look works well, featuring a single color or similar hues in the same family. Consider intense colors such as black and white, muted versions of grey, and even pastels for that subdued touch.
The nursery looks more prominent and more serene because of the nursery's monochromatic color scheme, which gives it a sense of cohesiveness and simplicity. Use patterns, textures, and various hues of the selected color scheme to highlight the space. Create a visually attractive little nursery by embracing the timeless beauty of a monochrome color scheme. 
15. Mirror Magic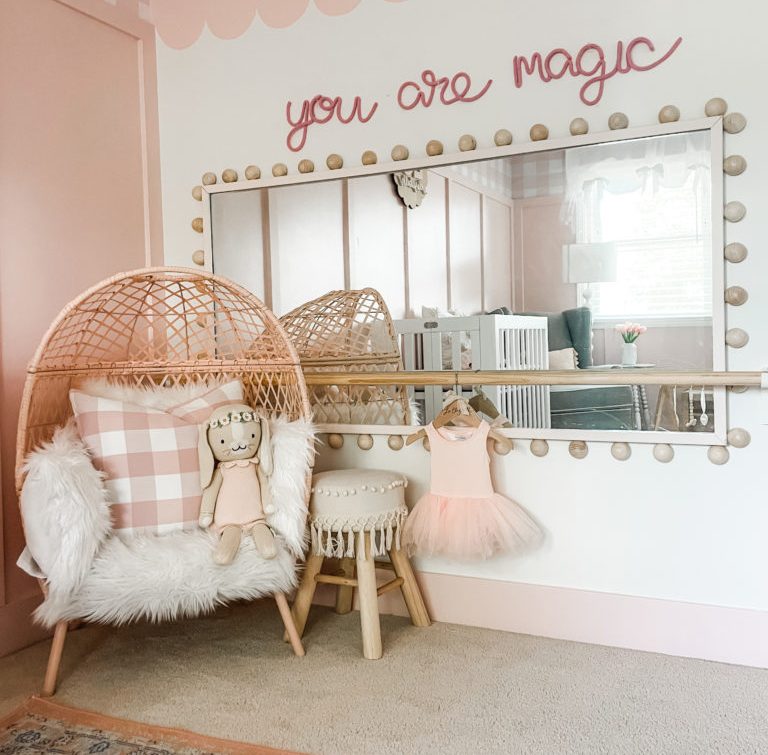 Take advantage of the reflective power in your tiny nursery. A big mirror on the wall instantly gives the impression of a more fabulous room and light. Mirrors enlarge the room's appearance and brighten it by reflecting natural and artificial light. Select a stylish frame for your baby girl's nursery that accentuates the nursery's design while adding a touch of class. 
While performing a proper function, the mirror becomes a focal point in the space. It deepens the composition, improves the overall aesthetic, and produces an arresting visual result. Utilize the beauty of mirrors to turn your tiny nursery into a stunning and magical retreat.
16. Wall Decals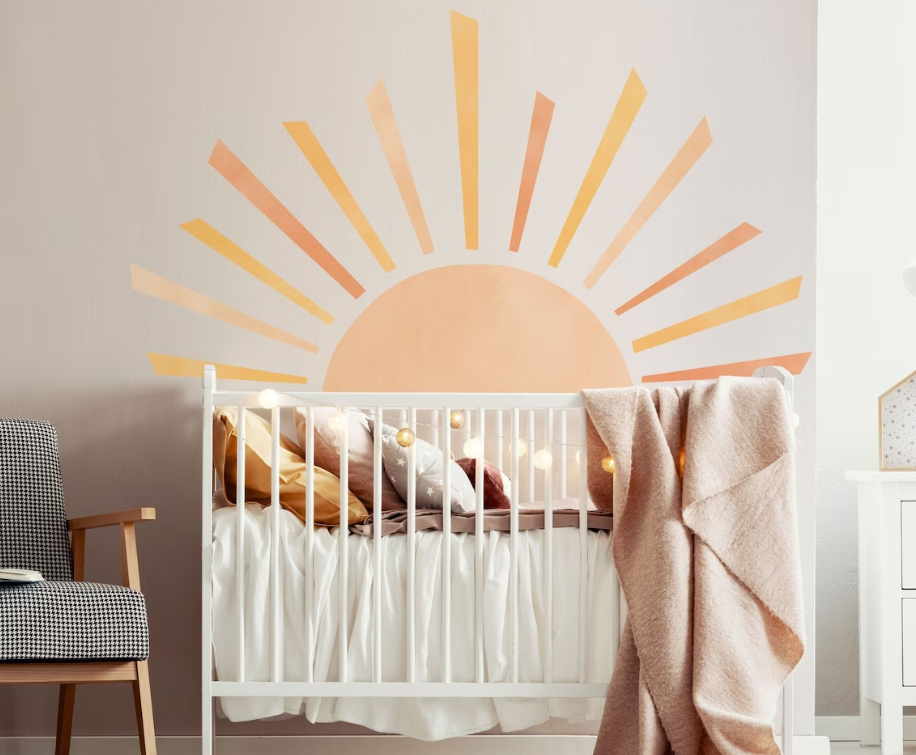 The hidden weapon of small nursery design is wall decals. There are endless options with these reusable stickers, which instantly give any area charm and personality. Wall decals make it simple to personalize your nursery's walls without making the commitment of painting or installing wallpaper, and they come in a variety of cute animal themes, humorous slogans, and vivid patterns. 
They are a cost-effective, temporary solution that can be quickly modified as your child develops. You may turn a boring wall into a stunning backdrop that captures your child's imagination with a quick peel-and-stick application. The ideal approach to add some charm and beauty to your tiny nursery with little work is using wall decals. 
17. Custom Artwork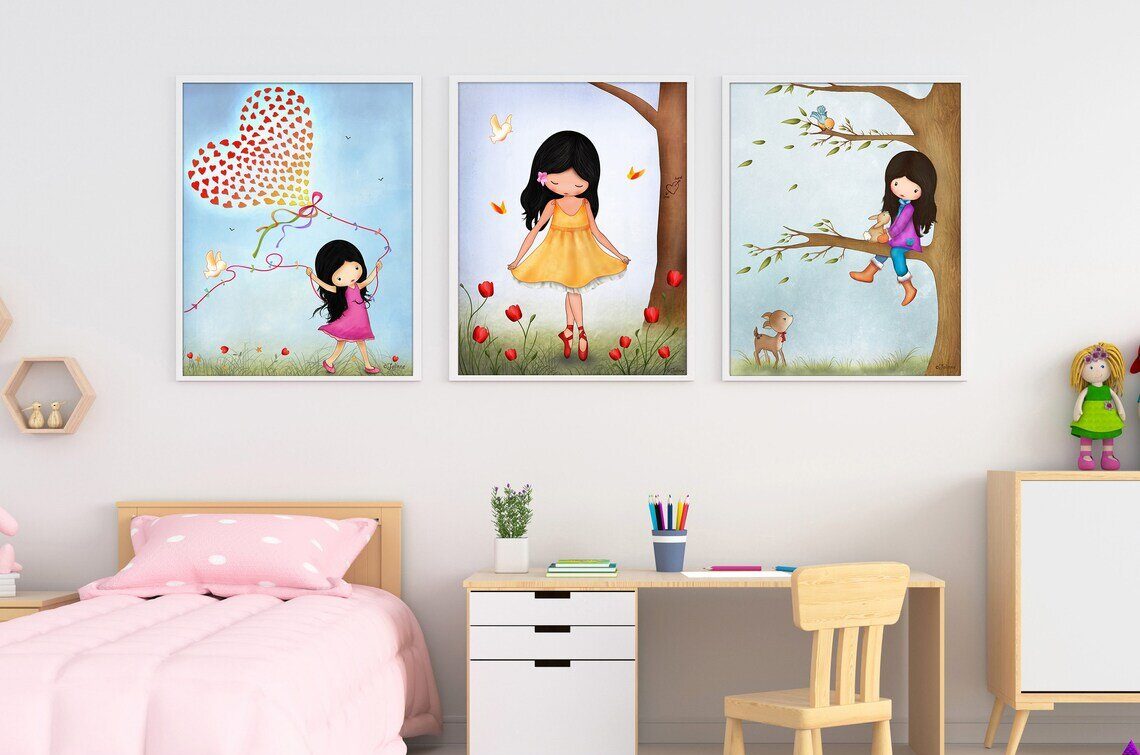 A small nursery for your newborn girl can be given a personalized touch by adding original artwork. To decorate the walls, commission a nearby artist or produce your works. The unlimited possibilities include unique paintings and graphics to personalized name signs. 
Custom artwork makes the special and one-of-a-kind by reflecting your family's culture and adding a memorable and nostalgic touch. You can choose from a fanciful mural, a handmade mobile, or a framed print. All these custom artwork adds a touch of fascination and uniqueness, giving your nursery a unique and unforgettable look.
18. Soft Rugs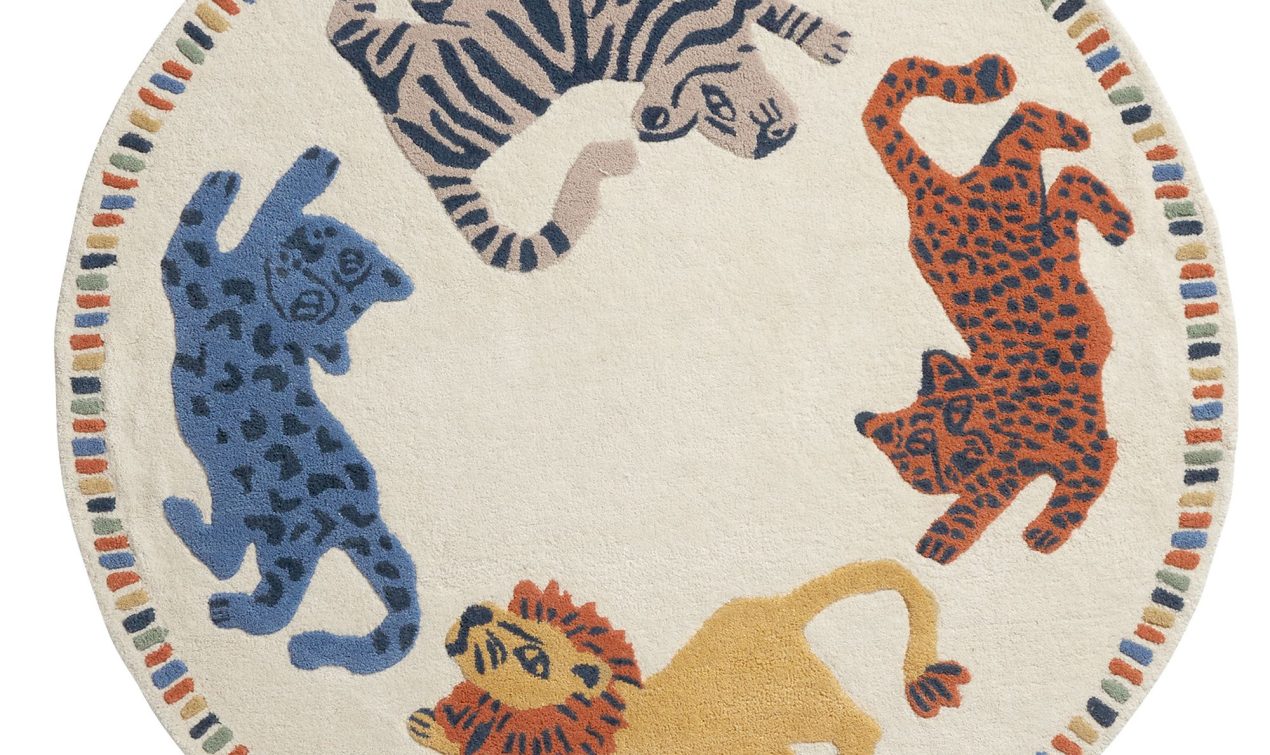 Soft rugs can increase the comfort and coziness of your tiny nursery. Your child will feel welcome to crawl, play, and explore on these soft and tactile floor coverings. Choose rugs for your baby girl's nursery that are mild on sensitive skin by virtue of their soft and delicate texture. 
Pick patterns that complement your nursery's theme or give the space a splash of color and pattern. Soft rugs offer a pleasant surface, aid in sound absorption, and help to create a pleasant and inviting environment for your child to play and unwind. 
19. Convertible Furniture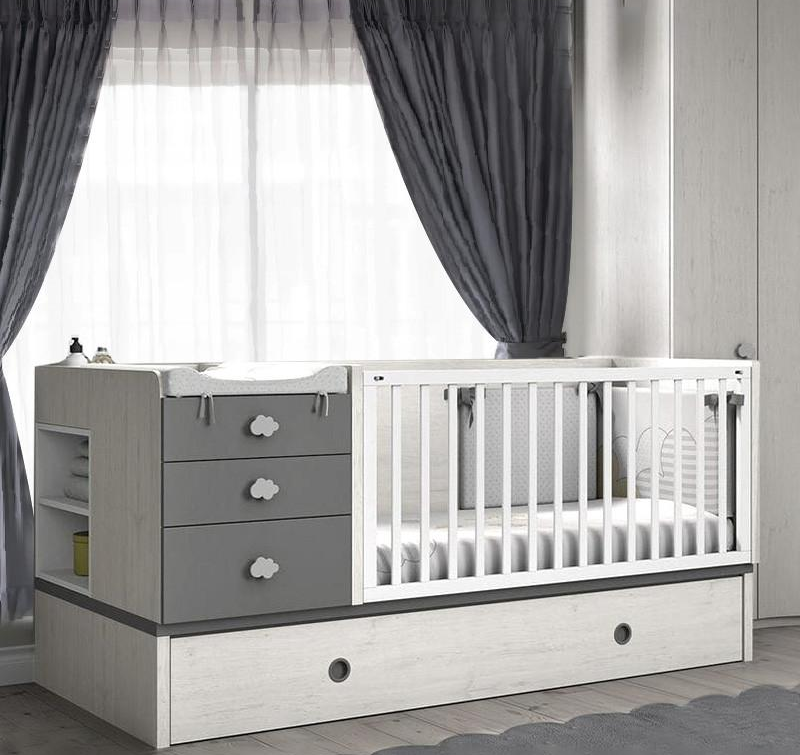 For small nurseries, convertible furniture is a game changer. The space and functionality of these multipurpose items are maximized as your child grows. With a convertible cot, you may avoid the inconvenience and cost of buying additional furniture by turning it into a toddler daybed or bed.
The same applies to a changing table that may serve as a workstation or dresser. Convertible furniture pieces are cleverly designed to mix aesthetics and functionality, making the most of every available space in your small nursery. Utilize the adaptability of convertible furniture to design a nursery that will develop with your kid without sacrificing design or area. 
20. Wall sconces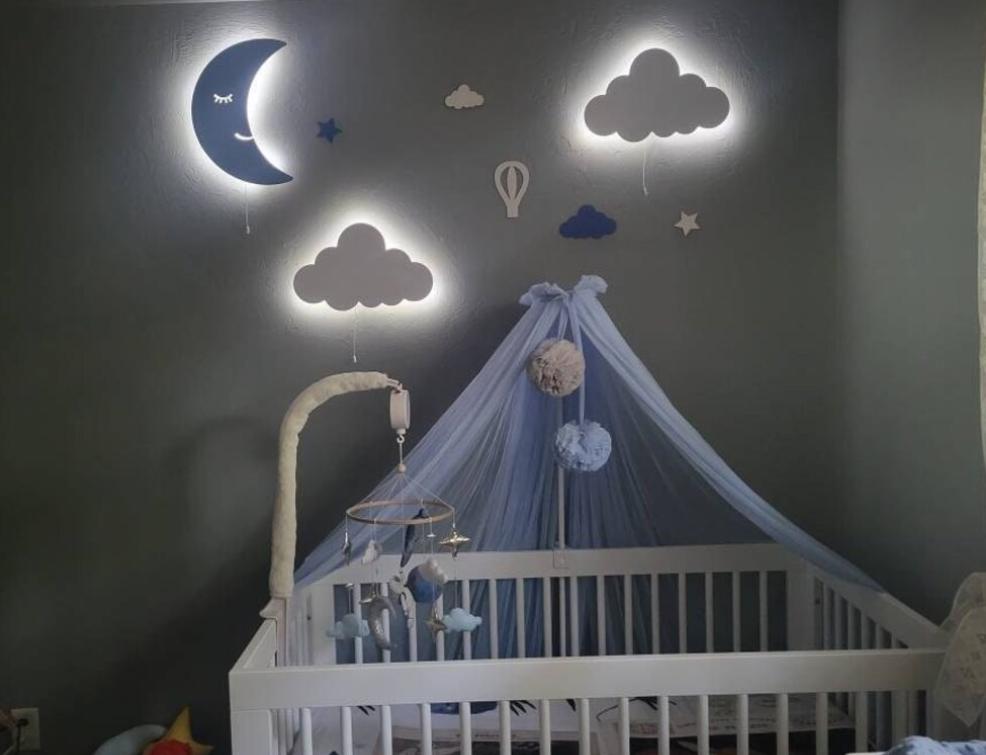 Wall sconces may add a touch of class and practicality to your compact nursery. These chic lighting fixtures are wall-mounted, saving valuable floor and surface area. Choose sconces with warm and soft illumination to create a relaxing atmosphere for bedtime rituals or storytime.
They provide a decorative touch to your space and provide job lighting near changing tables or reading nooks. Wall sconces may match any nursery style and bring a touch of refinement and appeal to your small nursery environment thanks to the variety of designs and finish they come in. 
21. Hanging Planters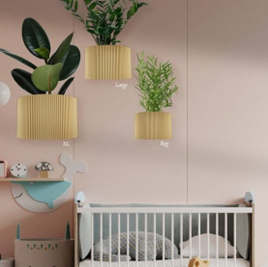 Using hanging plants will help your small nursery feel more natural and fresh. These hanging plant hangers enhance the visual and encourage a calm, nurturing atmosphere. Pick indoor-thriving houseplants that require little care, such as pothos or spider plants. 
To add aesthetic interest and use the available vertical space in your baby girl's small room nursery, hang the planters at various heights throughout the nursery. Your little nursery will feel like a peaceful retreat for you and your child since the planters add a splash of color, clear the air, and calms the environment. 
22. Magnetic wall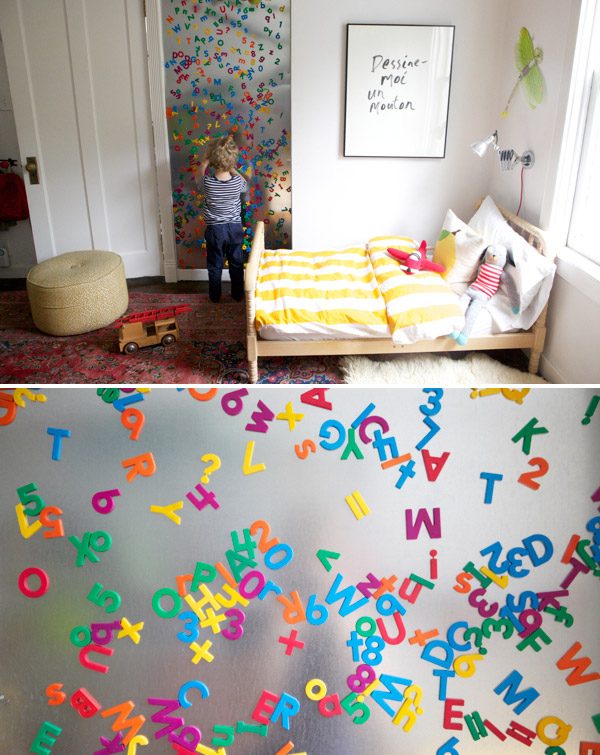 Utilize a magnetic wall in your compact nursery to encourage your child's imagination. Paint one wall with magnetic paint to make it a playful surface. This fantastic feature lets your child easily show their creations, pictures, and magnetic toys. 
Magnets may be rearranged, encouraging creativity and fine motor abilities. The magnetic wall takes on the mesmerizing focal point, giving your nursery a fun and unique touch. In this magnetic wonderland of limitless possibilities, embrace the magnetic wall and witness your child's creativity flourish.
23. Patterned Curtains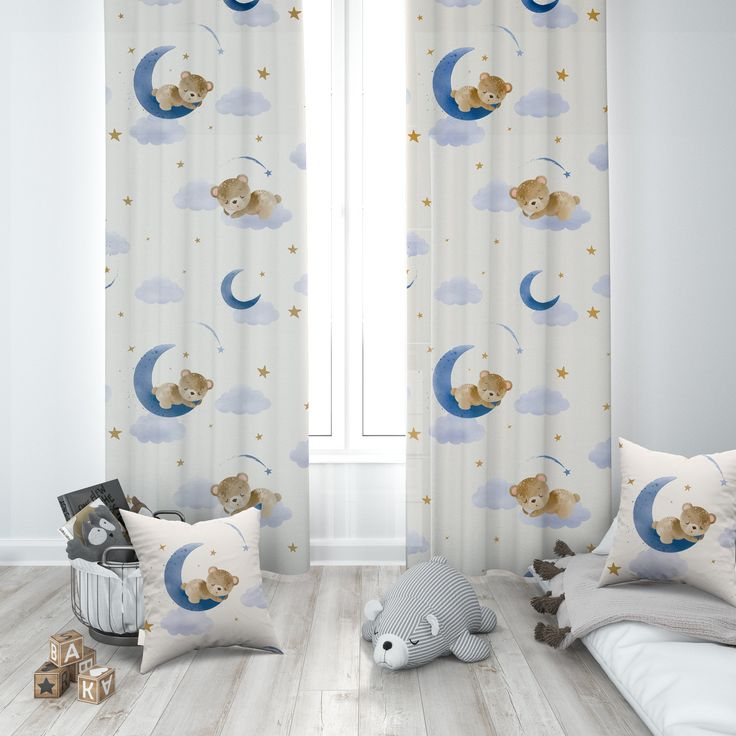 Put patterned curtains in your small nursery to improve its aesthetic appeal and elegance. Pick drapes with vivid patterns or delicate pastel motifs that go with the overall tone of your nursery. The inclusion of patterns gives the space dimension and visual intrigue, which makes it feel more energetic and welcoming. 
Patterned curtains create a focal point that improves the room's style, whether you choose playful animals, exquisite florals, or geometric prints. Your baby girl's nursery idea small room gets a little charisma and personality in addition to offering isolation and the ability to control sunlight. 
24. Wall-Mounted Changing Table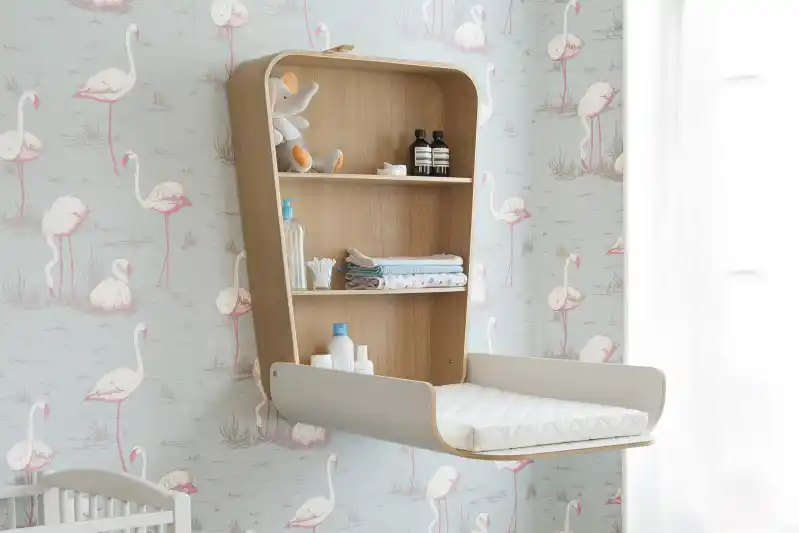 With a wall-mounted changing table, your compact nursery will be more organized and save space in your room. These creative ideas have made changing diapers simple and convenient. You can mount the changing table on the wall, freeing up necessary floor space and creating the impression that the nursery is larger and more open. 
Look for versions with integrated storage shelves or compartments to keep diapers, wipes, and other necessities close at hand. In addition to being practical, wall-mounted changing tables give your compact nursery a sleek, contemporary look, maximizing both comfort and fashion.
25. Blackboard Wall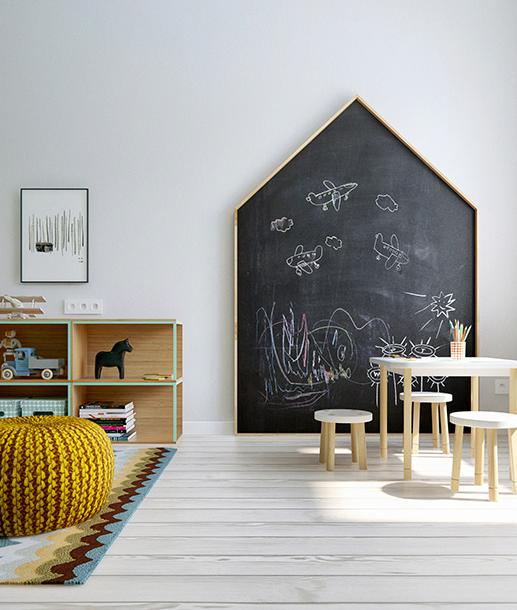 With a blackboard wall, you can encourage learning and unleash your child's creativity in a small nursery. Create a blackboard surface in a portion of the space to encourage infinite artistic expression and learning experiences. As they doodle, write, and learn on the wall, allow your child's imagination to run wild. 
The nursery's blackboard wall transforms into an exciting, engaging feature that presents a playful and instructive touch, from drawings to letters and numbers. Take advantage of a blackboard wall's adaptability and enjoyment, transforming your little nursery into a blank canvas for infinite inquiry. 
Factors to Consider Before Choosing the Baby Girl Nursery
There are various points to consider while selecting from all the perfect and cute baby girl nurseries to ensure a functional and beautiful space:
Space Preparation- Measure the space's measurements and carefully consider how to arrange the furniture and other components to make the most of the area. To maximize functionality, consider where to put the cot, changing table, storage, and seating places. 
Storage alternatives- Look for innovative storage solutions to hold all the baby's necessities while reducing clutter. Use floating or wall-mounted shelves to make the most of vertical space. Use hanging organizers, under-crib storage, or multipurpose furniture, including dressers with embedded changing tables. 
Size and proportion- When choosing furniture for your baby girl's nursery, consider how it will fit into the space. Avoid essential things that might enlarge the feeling of the room. Choose furniture that suits the room's size, such as tiny cribs, slim bookshelves, and streamlined pieces of furniture. 
Light and color- Choose an airy and light color scheme to provide the appearance of more space. White, neutral colors or soft pastels might give the image that the space is more extensive and brighter. Include natural light using window coverings that maximize light transmission while preserving privacy. 
Safety concerns- Put safety first by ensuring that all furniture is firmly fastened, all cords are safely tucked away, and all electrical outlets are childproof. When choosing materials and coatings for furniture and décor, avoid hazardous substances. 
Functional arrangement- Create a logical flow in the nursery's design to make accessing and arranging goods straightforward. Keep the cot close to the door for easy access, and place the storage and changing table nearby. Create separate zones for sleeping, changing, and playing to ensure a well-organized and functional area. 
Design Your Dreamy Nursery in a Petite Space
It takes careful planning to create a baby girl nursery in a compact space that balances aesthetics, usefulness, and available space. You may choose any of these baby girl nursery ideas small room that makes the most of every square inch of the area by using clever storage solutions, vertical space, and choosing multi-functional furniture.
Remember to add touches to the nursery that are unique to you to make it feel warm and comforting. With careful planning and ingenuity, you can turn any space into a lovely and delightful sanctuary for your baby girl. 
Frequently Asked Questions
How Can I Make the Most Storage Space in a Tiny Nursery?
Use hanging organizers and wall-mounted shelves to make the most of vertical space. Choose multipurpose furniture with built-in storage, like dressers with changing tables or cribs with drawers. 
Can I Use Dark Colors in My Small Nursery?
It is advisable to keep light and neutral colors to convey a feeling of openness and brightness. Dark hues can give a room a more minor, more cramped feeling. Soft or pastel colors can open up a space and make it feel more welcoming, improving the atmosphere.