18 Comfy Brown Leather Couch Living Rooms You'll Love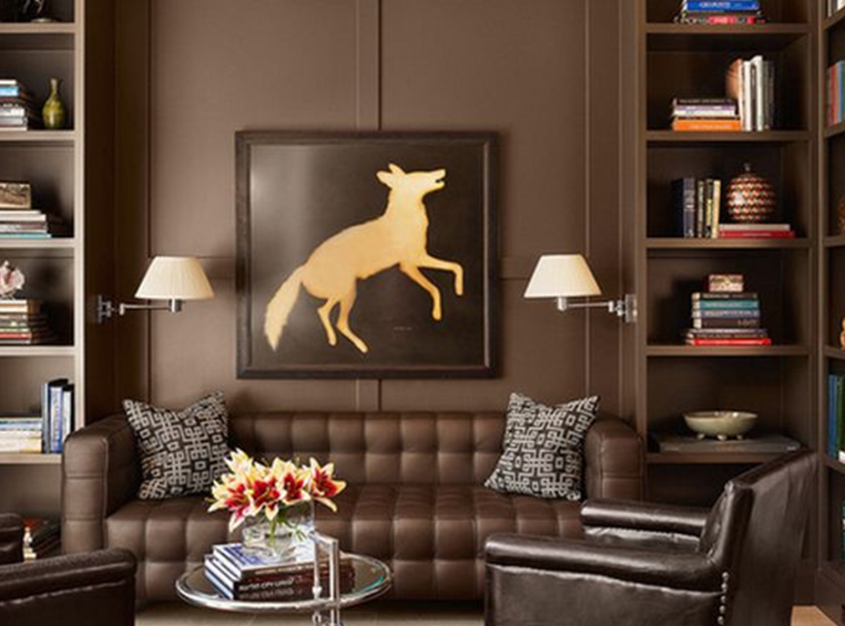 It can be tricky to figure out where to begin when you want to design your living area with a brown leather couch. Although brown couches are a conventional and everlasting option for a living room, many homeowners still avoid them. They perceive the brown shade of leather couch as too bold or stocky.
It, however, can become the focal point of a warm and welcoming family room with appropriate interiors. Recently it has become more popular because if treated skillfully and creatively, a brown sofa can transform a drab living room into an elegant and vibrant space.
There are numerous options for designing a cozy living space with brown seating. You may create a matching color palette or introduce accents complementing your brown couch.
Let's explore these 18 brown couch design suggestions to inspire you to create an attractive interior for your living room.
1. Padded Wall Panel and The Brown Leather Couch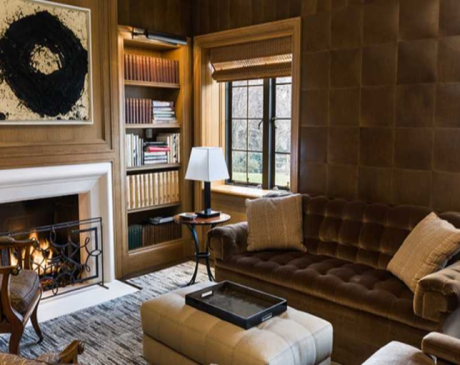 A couch is a valuable addition to your living room, so choosing a color that goes with everything is a wise option. Brown is available in different hues and shades, so you can choose the one that best suits your living area or your taste.
Combine it with muted shade accents such as hand-weaved jute rug or wicker. Moreover, personalized wall décor adds distinct value to the space. Brown-hued wall panel behind the leather couch transforms the living space set-up into a vintage-style space.
Besides, the light shade of the accent pillows, ottoman center table, and wooden wall with the abstract painting harmonize the living room's color arrangement. The blazing fire spreads warmth and welcome vibes.
2. Blended Sitting Arrangement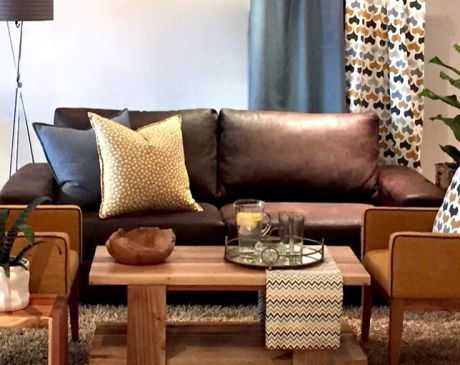 If you want to decorate your living room with brown couches, you may incorporate more seating places to nurture the welcoming vibe of the space. However, it's not a hard-and-fast rule to do this using the same material, 'all that leather.'
You can add a couple of wooden-hued chairs with leather sofas for creative diversity. Pick up the chairs with vibrant shades of crimson and yellow to add a touch of warmth to the living room environment.
You may add a wooden or rattan chair or a reclining seat and place a color-coordinated coffee table for a cohesive look. Create a green corner with an ornamental plant. These simple decoration ideas are functional for any size of the living room.
3. Matching Accents with Light Brown Couch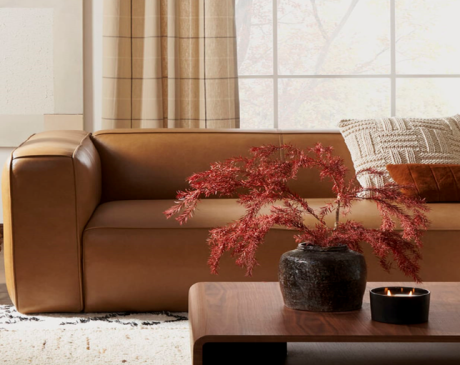 You can offer an organized and intriguing appearance by incorporating decorative elements with your light brown leather sofa in the living room. Use various kinds of accents creatively. The living room in the image displays a beautiful brass vase with a red foliage plant.
The burning candles are on the decorative wooden bowl in the middle of the room, creating an inviting setup. You can also use a wooden tray to display candles or books.
The idea of adding white and brown throw pillows is innovative. The curtain of contrasting shade and a white lampshade on a brown wicker stool enthralls the visitors.
4. Homogeneity in The Color Scheme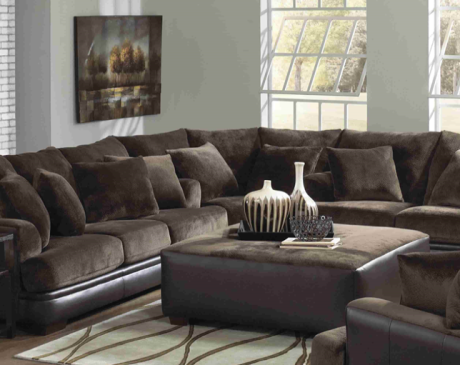 A beautiful deep brown leather couch is one of the most-liked options to decorate a living room. Furniture made of brown leather promotes elegance without coming off as phony or stuffy.
What about creating uniformity in the color palette of your living room's seating arrangement? It's not hard to fathom how homogeneity creates a comfy vibe in your living space.
Look at the living room color alignment in the image. The visual appeal of an L-shaped set of brown sofas boosts by the presence of soft throw pillows. Two beautiful hand-painted decorative glass bottles sit on the square brown ottoman center table. The minimalist designed rug in the center matches the beige-hued wall and windows.
5. Pair with a Fireplace
Do you live in a cold region? A fireplace in the house is essential for those living in colder zones. It is also an excellent choice for your living room, with dark leather sofas that look opulent, welcoming, and comfy.
You may see how the homeowners have converged minimal accessories to create a cozy atmosphere. You can add velvety accent pillows in neutral colors, along with a subtle area rug. To make your fireplace look radiating, you can add wooden borders. The Silver Ragwort plant with shimmering leaves creates an attractive sight near the fireplace.
The feeling of fireplace warmth in the chilly evenings with your family lying on the fluffy couch can make you delighted. When combined with attractive leather couches, the fireplace becomes the focal point. The mirror on the wall accentuates the brightness and warmth of the place.
6. Throw Pillows to Beautify the Living Zone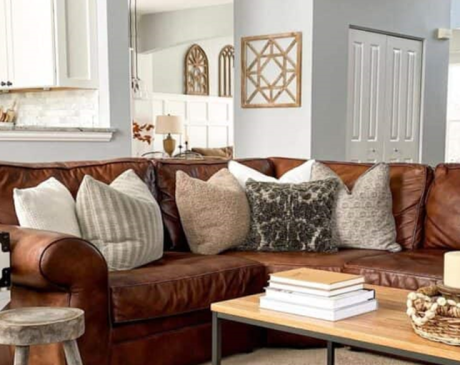 You can transform the environment of your living room with some creative ideas.
A brown sectional couch with light gray walls stands out. Multiple throw pillows in neutral and gray hues add desired charm to the living room. The appeal of decorative white plants on the black vase and the candle in a wooden holder on the table is attractive.
The wooden showpieces on the wall fit beautifully. Consider the interior decoration of this family room when renovating your space.
7. Decorating a Spacious Living Room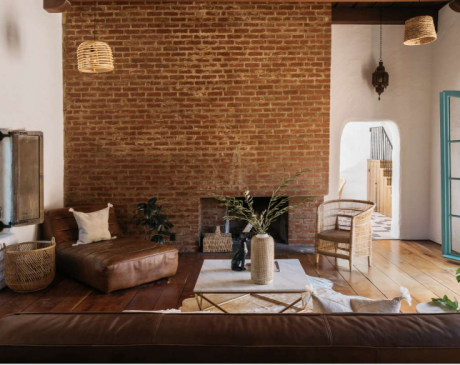 This decorating idea will work well if you have a spacious living room. You can rejuvenate the family room with a warm, homely, and luxurious setting. You may feel that it is undoubtedly the most basic brown couch prettifying idea for a large living room. In addition, the price will be within your means.
If you combine the principal couch with identically colored upholstered sofa sets, it will look fantastic. Additionally, multiple shades of brown leather can be mixed and matched in a single space. All you need to do is put together the couch pillows showing different patterns and hues of brown leather skillfully.
You can cover the floor with a soft light-colored solid rug to highlight the sitting arrangement. Place a tall green plant in a corner to use the space of your large room.
8. Incorporate an Artwork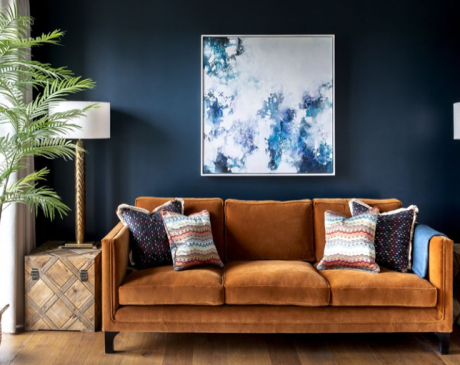 Brown leather couches create a perfect setting for displaying beautiful paintings in your living room. Thus, if you hang a large artwork on the wall behind the brown sofa, you will find how the look of the living space augments.
You can make the hues and patterns of artwork stand out by setting pieces of art close to and on the top of the sofa. Use wood-based artwork or darker-hued frames with a brown leather sitting arrangement to provide additional depth. Hang a large painting just above it to complement rather than detract from it.
In this image, the bluish-gray wall perfectly shows off an impressive artwork. Moreover, the wooden floor and rustic lamp base reflect the homeowners' tasteful choice.
9. Eye-Catching Accents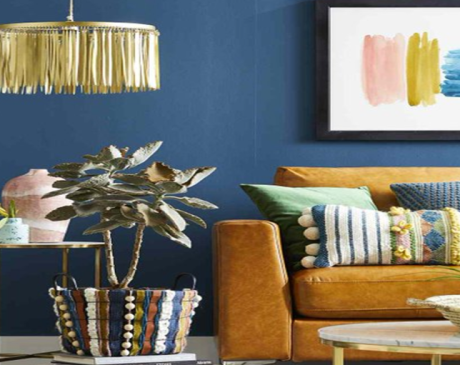 Do you need help finding the perfect jumping-off point for decorating your living room?
Make the mega piece of furniture the focal point of your living room. Use the brown-hued leather sofa as the foundation for your living room layout.
This living room presents an assorted character due to the combination of bright colors, warm textures, and contemporary design elements. The coating on the walls, the pieces of art, the decorative elements, and the plush rug have impressive tuning. They complement the hues and patterns of the decorative cushions on the brown sofa. A tasseled hanging light brings a one-of-a-kind, artistic feel while adding a cozy temperament to the space.
10. Olive Green Wall Color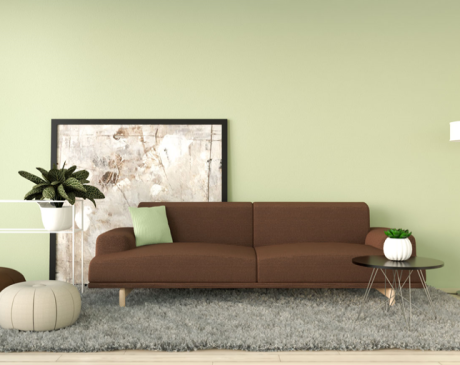 You can balance the brown furniture by painting the walls with warm colors like olive green. This shade will make the living space look more cohesive and not packed. Additionally, this distinct shade contains a hint of yellow, so unlike other green hues, it can create a cozy atmosphere that will counteract a dark, profound brown sofa.
The family room displays a more sophisticated and comfy vibe with coordinating decorations like fluffy white and black ottomans and the snuggly gray woolen rug. The plant decoration is effective since it combines white accents and blends nicely in this color plan.
11. Classic Style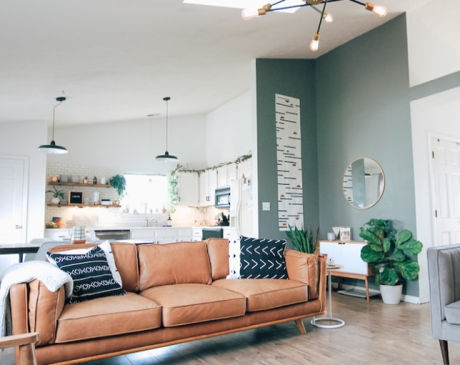 A living room becomes eye-catching when you pair a light-brown couch with a simple grey-hued sectional sofa. You can jazz up the appearance of your space with one-of-a-kind décor by combining elegant vintage and used furniture efficiently.
You will find attractive and creative décor ideas in this category, with patterns of both modest and flashy elements. The shade of brown that resembles wood's natural hue complements grays, greens, and other rustic colors.
Here, the wood-hued brown couch adds warmth to a spacious living space. Its toasty color contrasts dramatically with the room's several colors and looks stunning alongside various mid-century furnishings.
12. Choose a Bright Spot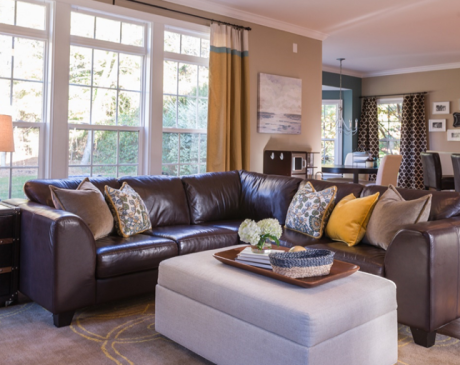 Many homeowners feel that brown furniture dominates other decorations in their living room, making it dull and less appealing. People often overlook the significance of furniture placement while decorating their living room, thus creating a design mess.
A relatively simple re-organization of furnishings can make your room less chaotic and make it more comfy. The bright sun rays in the living room, seen in the image, come from that large, open window. It harmonizes beautifully with the dark-colored rug and brown sofa.
If the draperies around your windows fully obscure the sunlight from entering, take down the drapes or open your curtains and let the light in. The brown couch in the room may appear less overwhelming with just a little of it.
13. Integrate with Multiple Accents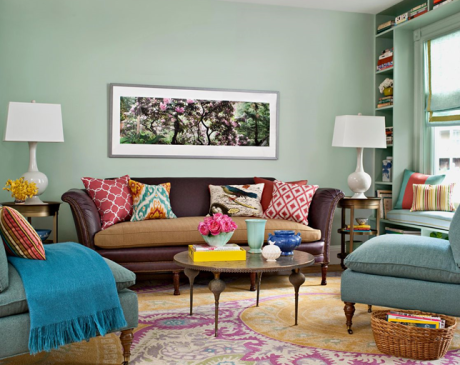 The family room features a brown leather sofa integrating multiple patterns, colors, and textures. Most homeowners are afraid to try something like this for reasons such as utterly ruining it.
You may confidently apply various colors and designs to add eye-catching appeal to your environment. The color and pattern combinations used for the living room will attract visitors. A pair of all-white stylish lamps and the rug with floral patterns look terrific.
Both complement the brown sofa amazingly well. The best feature of the space is it does not have a single point of attraction. The brown couch appears to be a decorative component rather than the primary accent.
14. Pick a Colorful Rug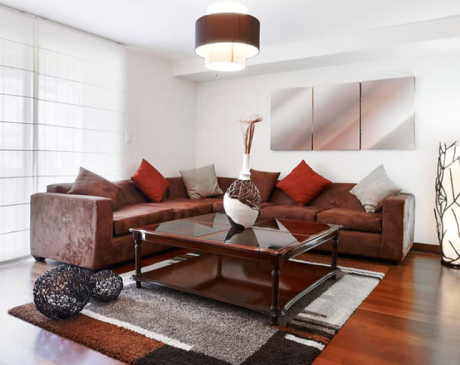 Brown is an easy color to update your family room if you have already visualized the renovation pattern with a desired outcome in your mind. A colorful rug with multiple layers of brown and gray shades is an appropriate option for an intimidating and cohesive appearance.
You can make a warm and inviting space surrounding your auburn leather couch by selecting a rug with rich brown color and linear or loop sequences. To complete the look, pair it with chestnut-hued wooden flooring.
Additionally, if the space has a steady layout theme, you can ascertain the area rug you choose incorporates those shades and has a distinctive pattern. An aesthetically pleasant lighting arrangement works well for the space.
15. Go with a Gray Rug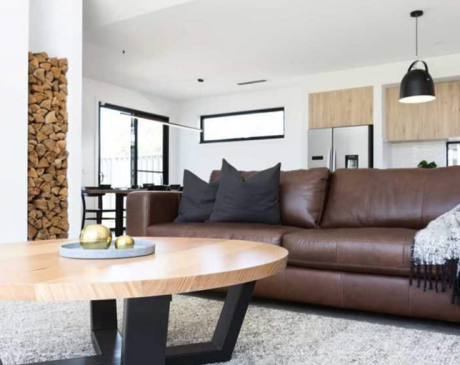 Consider using a shade of gray in your living room to increase warmth. A chocolate leather couch and a gray floor covering make a cozy and modern living space.
The chocolate leather couch complements the area rug and the more subtle brown hue of the tabletop. Moreover, the other decorative shade in this instance is black, which looks great in this setting.
The black cushions, along with the black-legged coffee table, add to the couch's opulence. The pile of firewood in the corner adds a touch of rustic flair and enlivens the memory of a winter evening. This layout would not necessitate fancy decorations.
16. Incorporate Neutral Color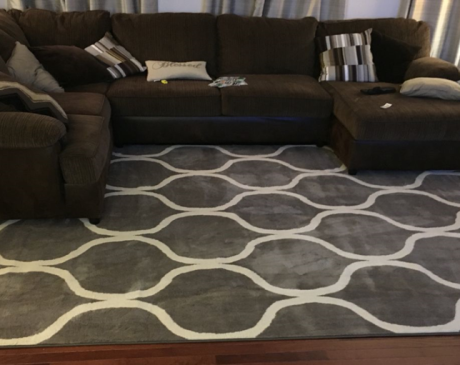 If your couch is voluminous and covers a significant space of your living room, consider installing a gray-white geometric pattern rug to boost the room's vibrancy and create a strong visual contrast against the dark brown sofa.
You can see that the neutral shade makes the living room orderly and serene in this setting. The color arrangement is functional for small living rooms. It makes them appear spacious and open.
Furthermore, you may use a variety of decorative pieces in specific hues of the rug. It can transform your place effectively. Similarly, in the living room in the picture, the decorative cushions and blanket nicely match the area rug.
17. All-Brown Layout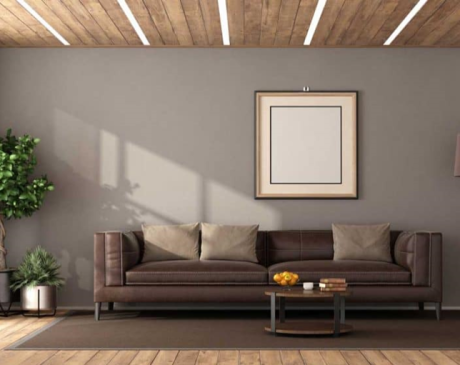 Do you believe that a living room with an impressive leather couch requires prominent contrasting colors to enhance the appeal of the space? Not always!
The carpeting, accent pillows, center table, lighting feature, and even the picture frame are all, in fact, shades of brown. They offer a warm and welcoming appearance. The throw pillows are a light shade of color, as is the lampshade. The 3 indoor vegetation in the corner provides a natural vibe and color. The artwork is unusual because of its blank, white surface. Even the outermost border blends in with the room's same color arrangement.
18. Combine with Wood-Effect Wallpaper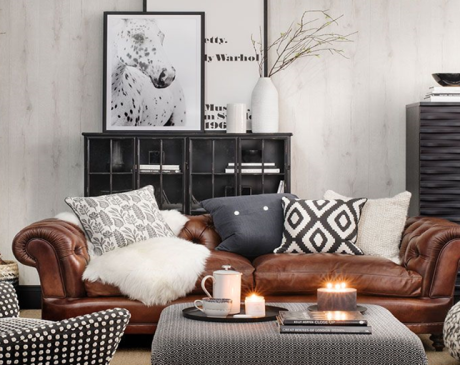 Chesterfield sofas are timeless furniture, but they can also look fantastic in today's settings when paired with sleek, trendy, and mid-century-inspired furnishings. To make a room feel cozier, attempt a wood-effect wallpaper, an alternative to plain white walls, which may appear cold and grim. Contrary to boldly designed patterns, the wood-effect wallpaper has a more distinctive appearance than simple wall paint.
Accent pillows on your brown leather sofa add visual interest and texture to the room while also helping to create an inviting and comfortable environment. Pick throws that match the sofa's fabric and shade, for instance, a white wool blanket or a designed cotton blanket in a striking hue. The square pouf ottoman serves as the center table. Placing the black and white upholstered sofa facing the impressive cinnamon-hued couch is a unique concept.
Conclusion
Finally, there are a variety of imaginative and unique ways to decorate the living area with a brown leather couch. There are numerous options, from experimenting with natural and warm hues to adding contrast with bright color accents and rugs.
You can design an attractive and fashionable living room that strikes the right chord between convenience, utility, and sophisticated style by using the decorating advice and ideas presented in this blog. Moreover, a brown sofa may provide an attractive focal point and builds harmony, no matter if you choose antique or contemporary décor. Create a warm, welcoming living area that embodies your style and personality using a little imagination and blog tips.
Please share your experiences in the comment box.