20 Stunning Wood Drum Coffee Table Ideas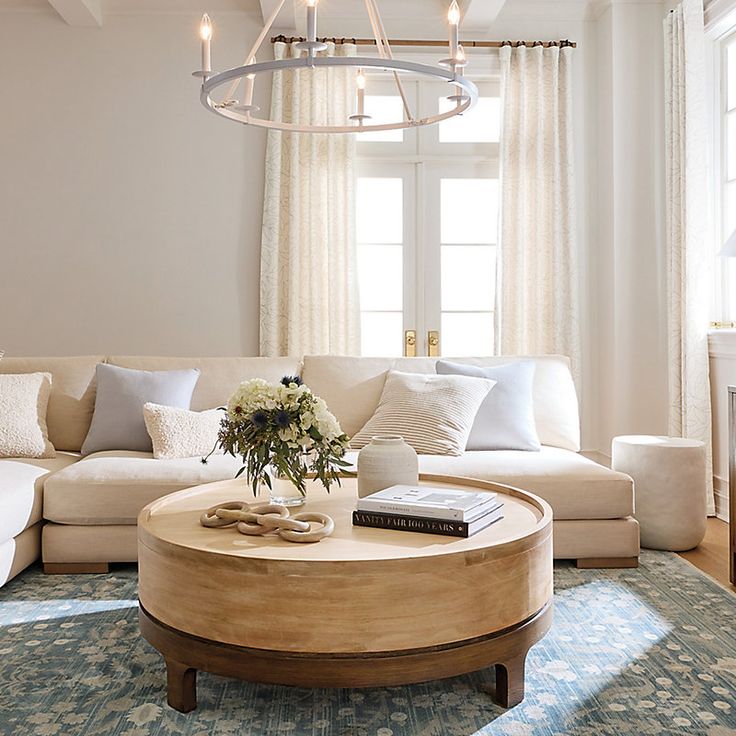 A wood drum coffee table is a type of table that is round, that is, a heavy circular table with central support, which was introduced to the world in the 18th century. There are many advantages to wood drum coffee tables.
They add interest or beauty to your space or living room, creating a great atmosphere to relax and chill; they are beautiful and storage and space-saving. The shape and design of the table and the natural materials that are used to manufacture it make it unique in its way and can create a focal point for your place.
There are many ways to set up a wooden drum table, and today in this blog are going to discover or explore 20 wood drum coffee table setups that will anchor your space and will add elegance and charm to your living room.
1. Round Wood Drum Coffee Table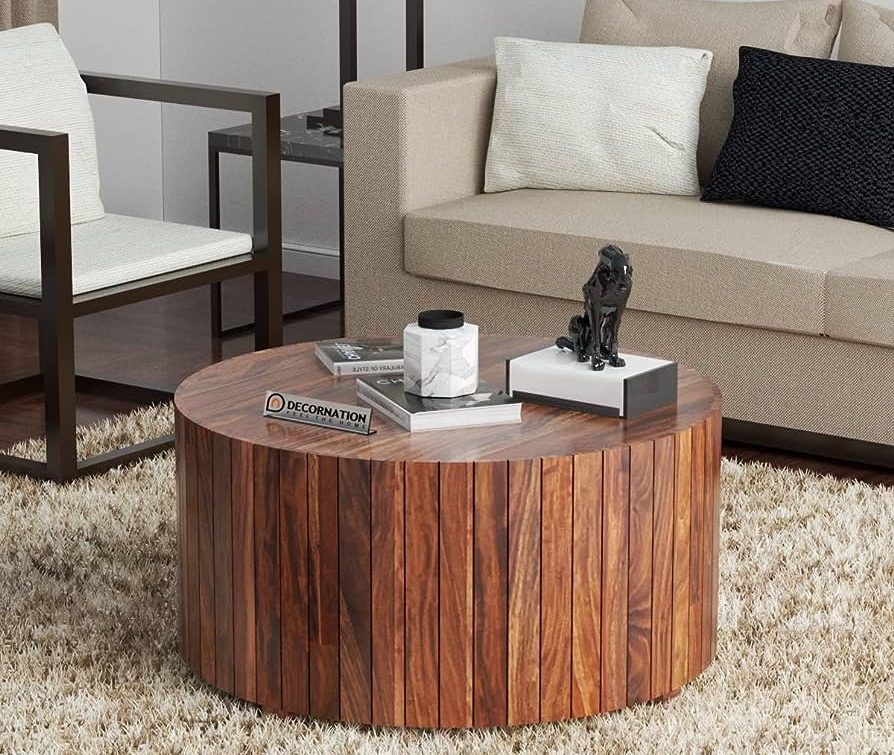 This is the basic design of a drum table, or you can say a traditional wood drum table; this setup includes a wood drum table that is standing on a beige rug and is surrounded by a sofa. The best place for this setup is the living room. The table is made up of traditional material like wood and provides a round table surface to place drinks, snacks, books, or decorative items. You can even cover the book with a beautiful cover or cloth to protect it from staining.
If you are a fan of simple things, this setup is a good option.
2. Living Room with Round Wood Drum Coffee Table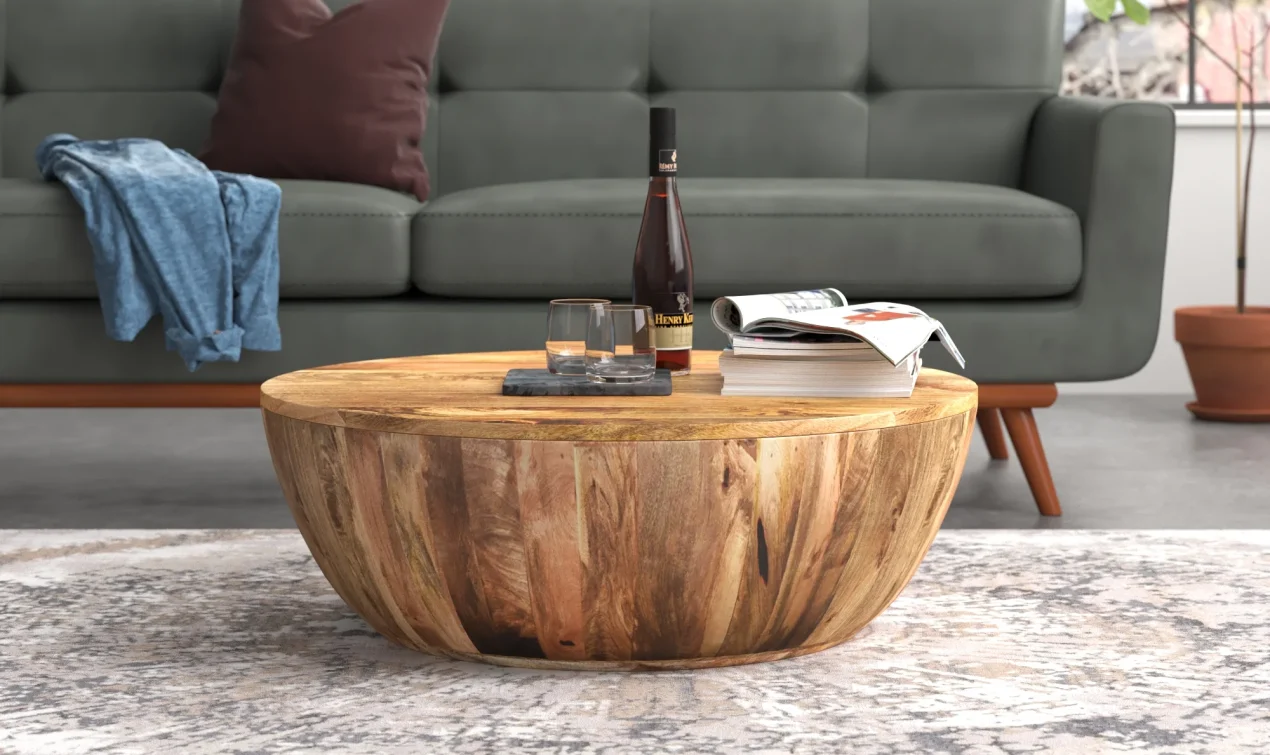 A living room round wood drum table is a piece that is stylish and charming and adds warmth and character to the room. The round table adds visual interest and softens the overall aesthetic of the room. It also creates a great inviting space for the guest of the house and is convenient for everyday use. You can pick the color and style of the table, either matching your taste or matching the style of your living room.
This wood drum setup is a great option to make the living room lively.
3. Beige and Blue Patterned Area Rug Living Room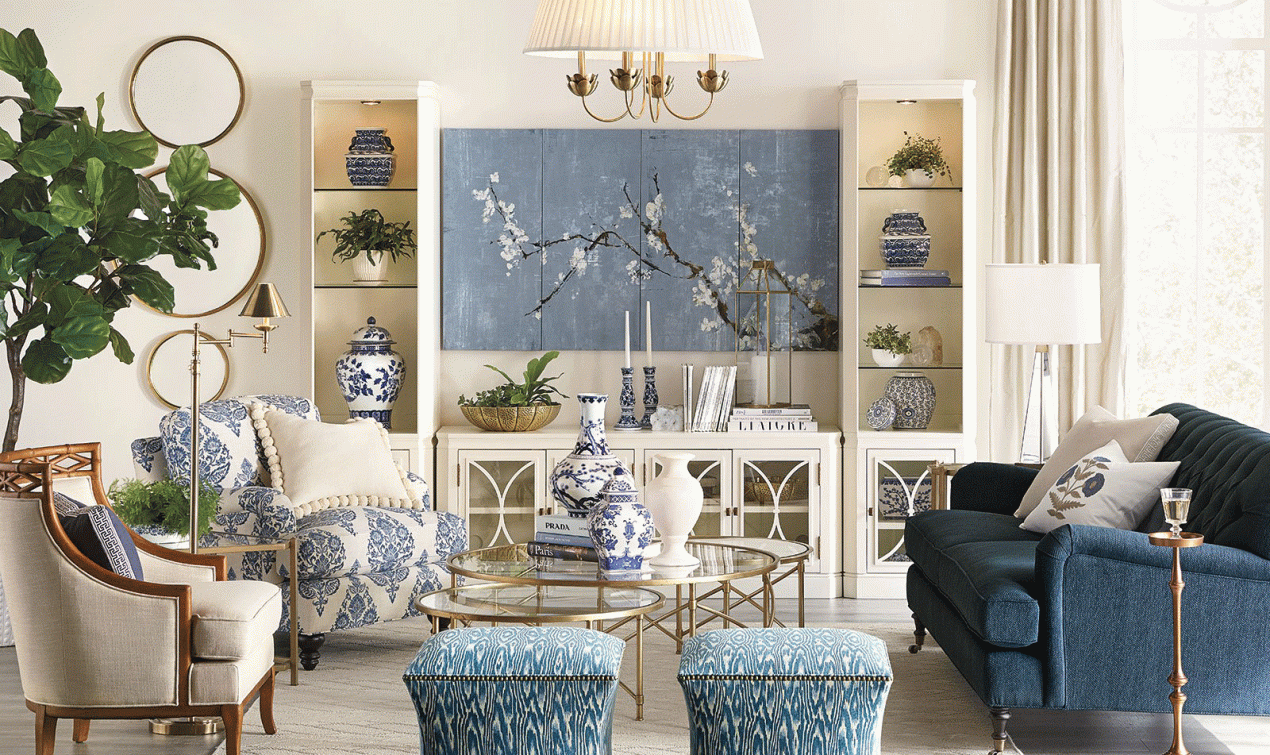 This is a rug that features colors like gray, blue, and beige; here, you have to be careful while choosing the color and style of your round table. A black-colored drum table can be a good option; you can even go with dark blue. The combination of beige and blue colors creates a calming atmosphere in the room, where beige being a neutral color, adds a warm and comforting backdrop, while blue adds a cool and soothing environment.
This is the perfect choice for those who want to create an inviting and aesthetically pleasing atmosphere at home.
4. Fluted Wood Drum Coffee Table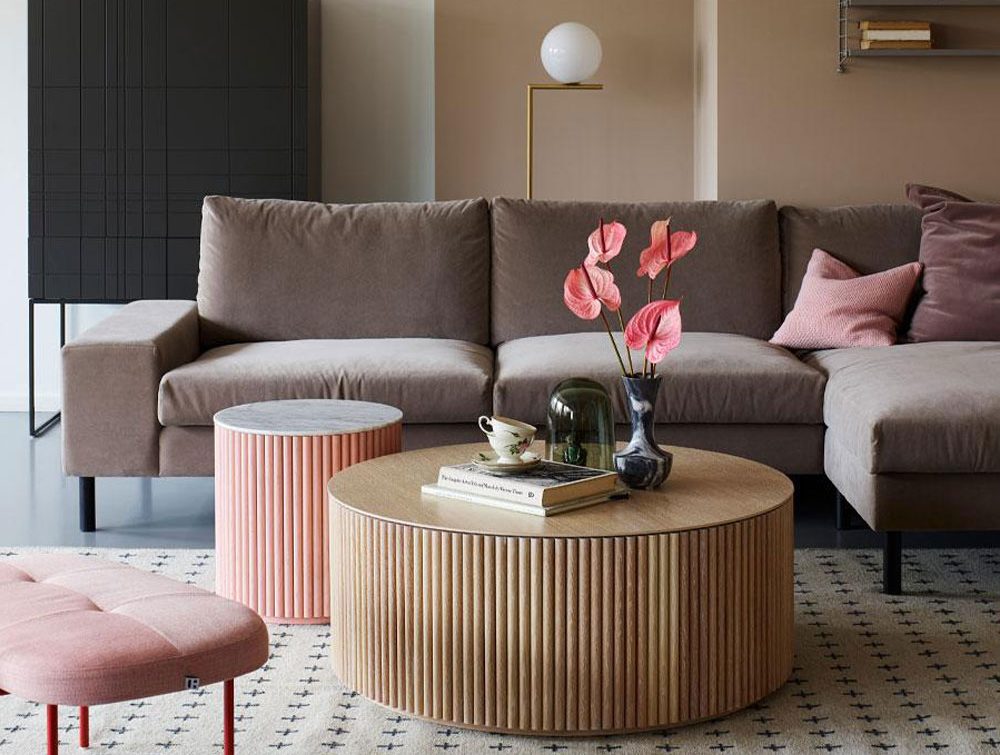 A fluted wood table is quite an impressive design that is known for its impressive texture; the texture goes like half-rounded wooden rods attached to the table from top to bottom to create a whimsical interplay between light and shadow- a striking contrast to silky smooth oak veneer tabletop. Besides the texture and design, the functionality of this table is the same as other wood drum coffee tables.
The material that is used to make other coffee tables is also used to make this table. The only difference is the design.
5. Light Wood Drum Coffee Table with Beige Sofa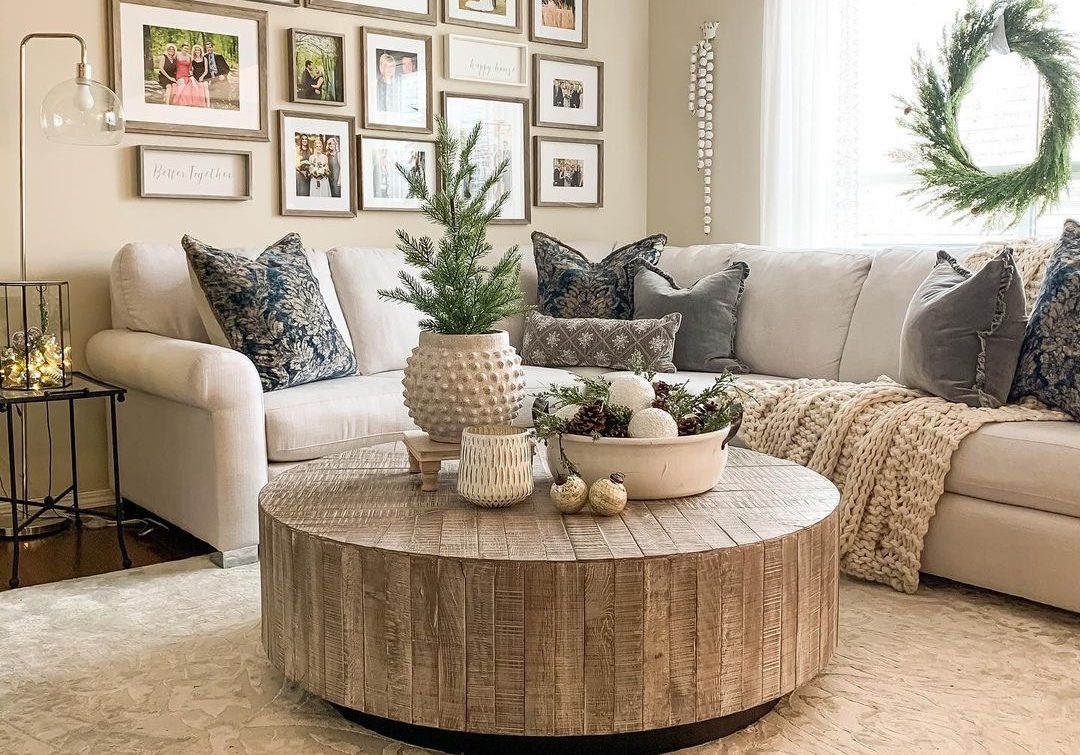 In this setup, the wood drum table is of light colors, like white or gray. This type of table is good to suit a beige-colored sofa or a living room that vibes with the wood drum table. The setup brings together the natural beauty of light-toned wood with the soothing elegance of a neutral sofa color. The light tones of the wood add brightness and a sense of fairness to the room.
This complements the beige sofa, creating a cohesive and harmonious aesthetic. You can go with this option if you are fond of light colors.
6. Wood Drum Coffee Table with Storage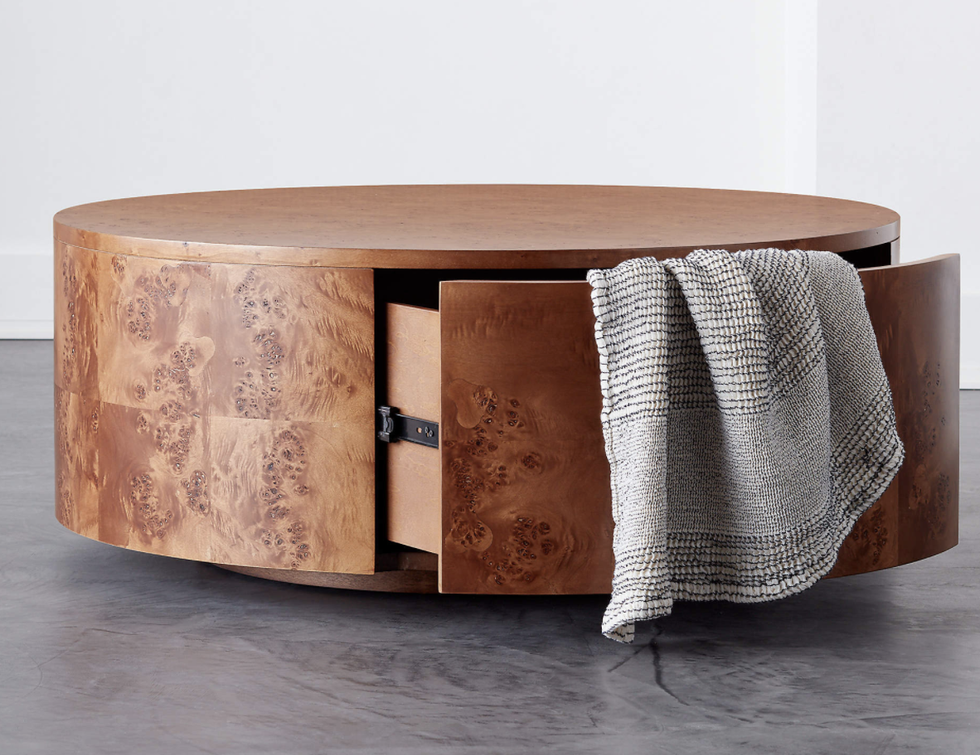 As the name suggests, this setup provides you with storage where you can store your various stuff like old or fresh newspapers, books, or some of your documents. There is no wrong in saying that this table performs multitasking. As not only it increases the beauty and charm of your living room but it also keeps your room organized and clutter-free.
Storage can be in the form of drawers, internal storage, shelves, and open compartments.
7. Hexagon Wood Drum Coffee Table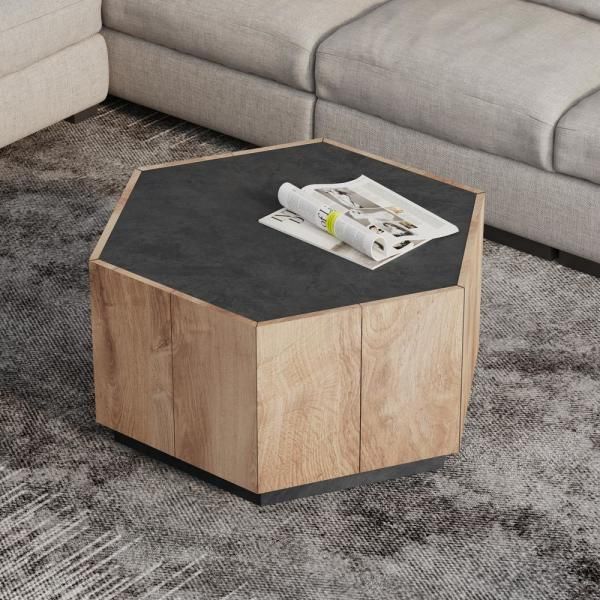 Everything in this table is traditional, just like a coffee drum table; the tabletop shape is hexagon in shape. The functionality and material of this table are the same as a regular wood drum coffee table, which is providing a convenient space for placing drinks, snacks, books, and the item of your choice. Compared to a regular tabletop space, it provides more space, which allows easy organization and display of various objects.
You can also use this coffee table as a standalone centerpiece or can be grouped with other hexagon tables to create a modular arrangement.
8. Family Room with Solid Wood Drum Coffee Table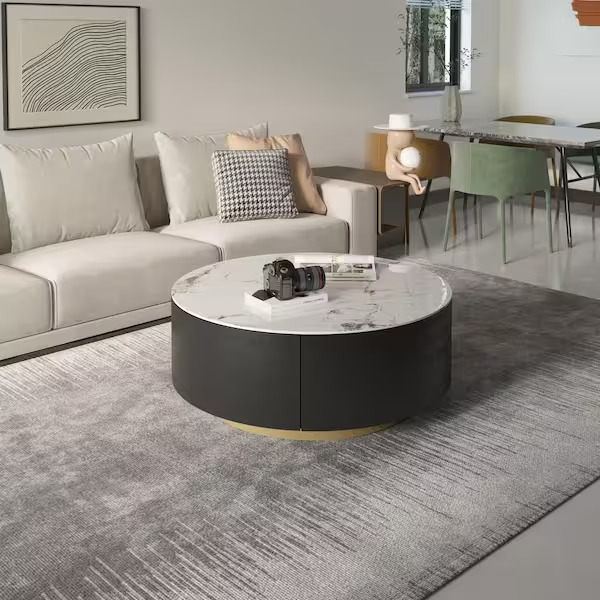 This wood drum table is best for a family room, where the whole family can come together, relax and spend quality time together. With its durability and advantages, the table ensures that it can withstand the rigors of daily family life. This table can also serve as a focal point of your living room that draws attention and anchors the space.
If you are willing to spend quality time with family and want to relax, bond, and create lasting memories, then a solid wood drum table is an ideal choice.
9. Black Wood Drum Coffee Table with White Living Room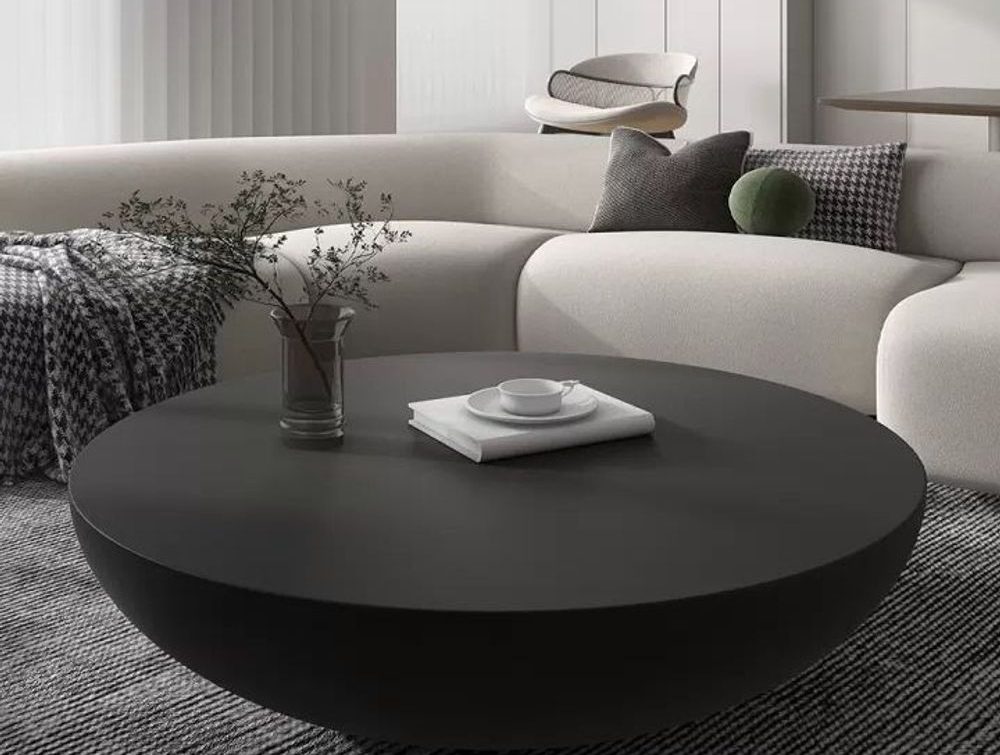 The combination of black and white color always results in a classy combination. If you want to give your living place a classy and rich look then you can go with a black table with a white living room or vice-versa. This is bold contrast that always draws attention from the people, becoming a focal point of the room.
With this setup, make sure that you balance both colors, as colors play the main role in this setup.
10. Outdoor Wood Drum Coffee Table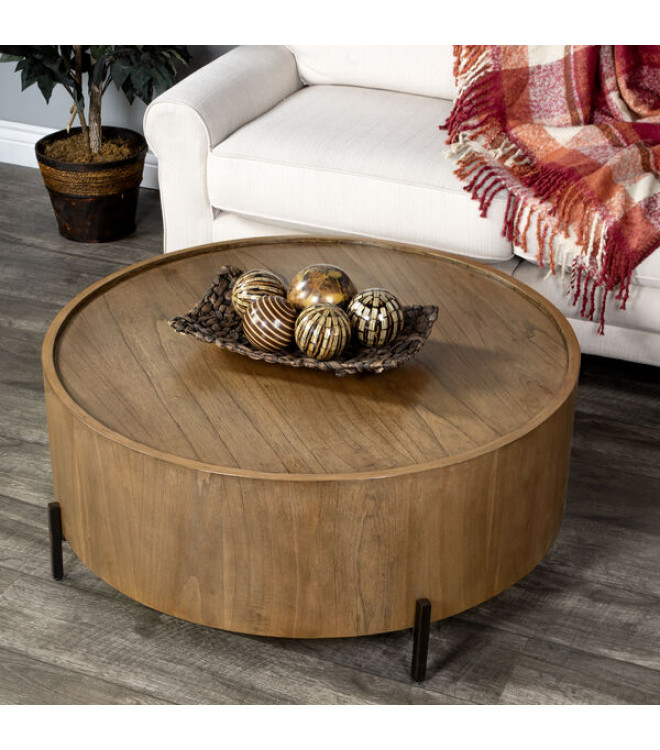 Till now, we have discussed wood drum coffee tables in indoor spaces; now, we will talk about wood drum coffee tables in outdoor spaces. A wood drum coffee table can be a wonderful addition to your outdoor space. The outdoor space can be the front yard or backyard. This combination can increase your experience with its aesthetic, versatility, durability, functionality, and ability to create a gathering space.
The main advantage of this setup is that you can enjoy the beauty of nature and can have peace of mind to you. You can even show your creativity by decorating the outdoor space of your choice.
11. Square-Shaped Wood Drum Coffee Table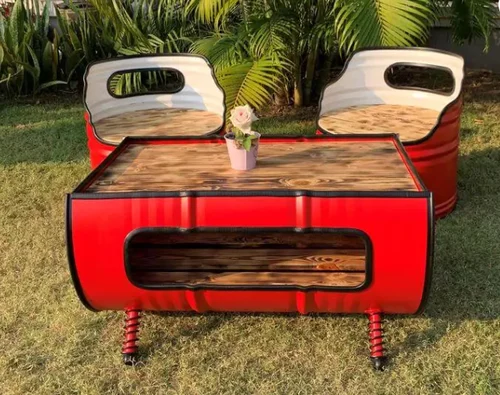 After talking about hexagonal-shaped wood drum tables now, we will talk about square-shaped wood drum tables, which makes them unique from other wood drum tables. A square-shaped wood drum table can be crafted from various woods just like a traditional coffee table. The unique design, space optimization, versatile functionality, and adding visuals to the place. This table is called versatile as it can be kept anywhere irrespective of the place, for example, an indoor place, outdoor place, family room, etc.
Also, it adds a modern touch to the place and perfectly complements your interior or outdoor space, and enhances the overall ambiance of the space.
12. Wood Drum Table with Glass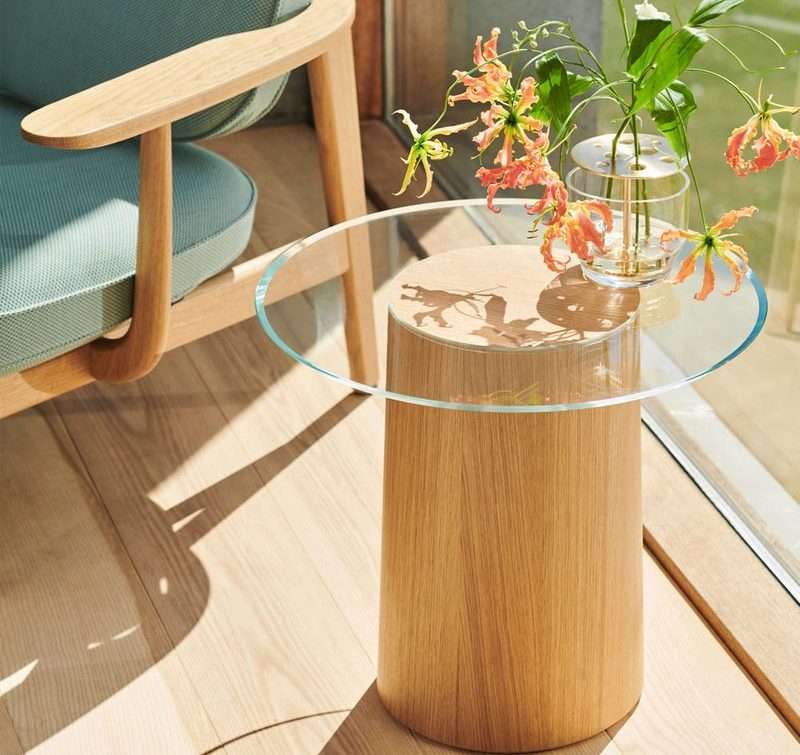 A wood drum table with glass is a type of drum table where the table top is made up of glass; in some glass drum tables, you can lift the glass part and use it to keep storage, while some use the glass just for design purposes. This table comes in unique shapes (for example, hexagons, squares, circles, etc.), sizes (big or small), and sometimes materials. There are many advantages of a wood drum table with glass that it is easy to maintain because glass surfaces are easy to clean.
Make sure to be careful with the glass part of this table as it can cause some serious injuries if broken.
13. Wood Drum Coffee Table with Lattice Design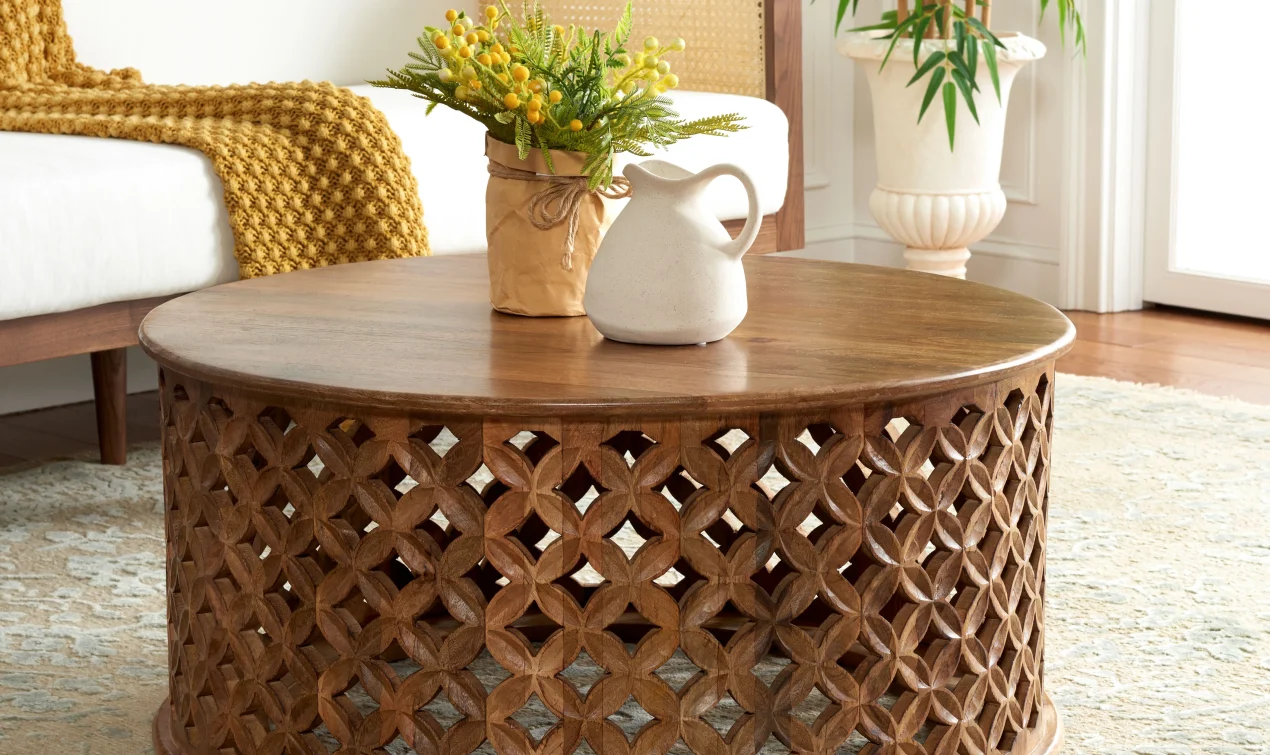 The wood drum coffee table with lattice design is a unique and visually striking piece of furniture. This design features a cylindrical shape with an openwork lattice pattern on the sides, creating a beautiful interplay of light and shadow. There are many advantages of lattice design wood table tables. Still, the main one is that it provides airflow, which can be beneficial if you plan to use the table for serving hot beverages or displaying items that require adequate airflow, such as potted plants.
A wood drum coffee table can easily blend in and can become the main point of attraction for your place.
14. Hand-Carved Wood Drum Coffee Table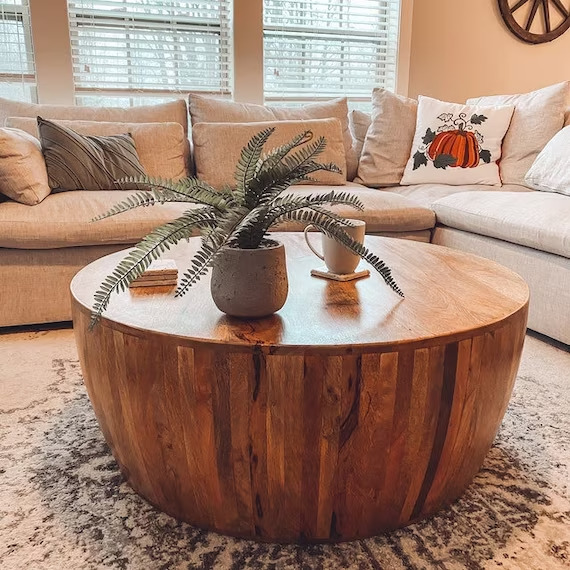 This kind of wood table is carved by hands from solid wood, with intricate designs and patterns meticulously carved into the surface. The process of hand carving provides special tools and techniques to create detailed patterns and designs. It can come in various designs like lattice, vintage-inspired, culture or heritage-inspired design. Else you choose the design of your own. It requires regular dusting and polishing with wood-specific cleaner or polish to maintain its beauty.
Also, avoid placing hot or wet objects directly on the surface to protect the wood.
15. Gray-Colored Coffee Table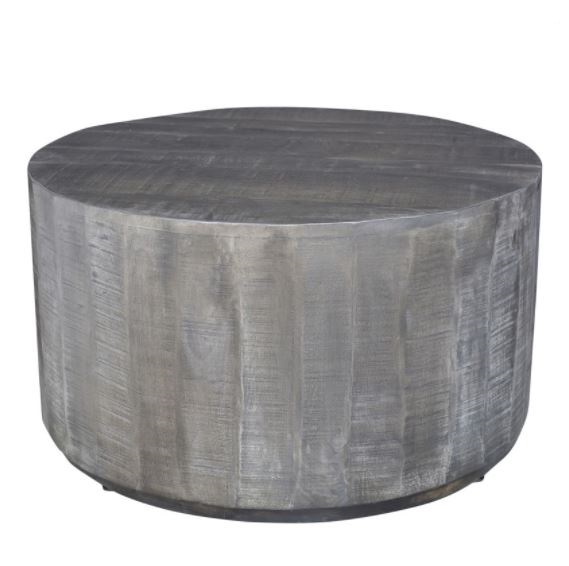 Many people have a myth that gray color coffee table limits the room or place choice where it must be kept. Gray is a neutral color and can complement various designs and color schemes, making it versatile to place. Also, it is easy to maintain cause the gray color is less prone to showing stains; it offers a forgiving surface that can withstand everyday use and still maintain its elegant appearance.
At last, going with this option can be a wise option.
16. Two Tables in a Room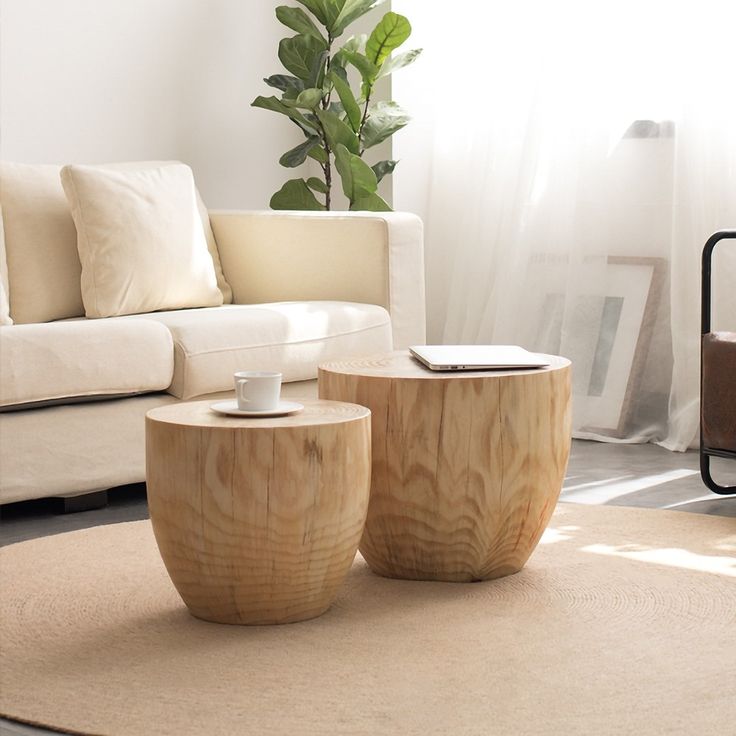 If you have a bigger space or room so this setup can work for you, as it can create a dynamic and balanced design. You can choose the way you want to place the two tables in your room. For example, if you want to create a symmetrical placement, then put the drum tables at the opposite ends of the sofa. This is one of the most common arrangements; you show your creativity and arrange the two tables of your choice.
You can even add table lamps or decorative items on each table to create a beautiful place to spend quality time.
17. Gold-Colored Coffee Table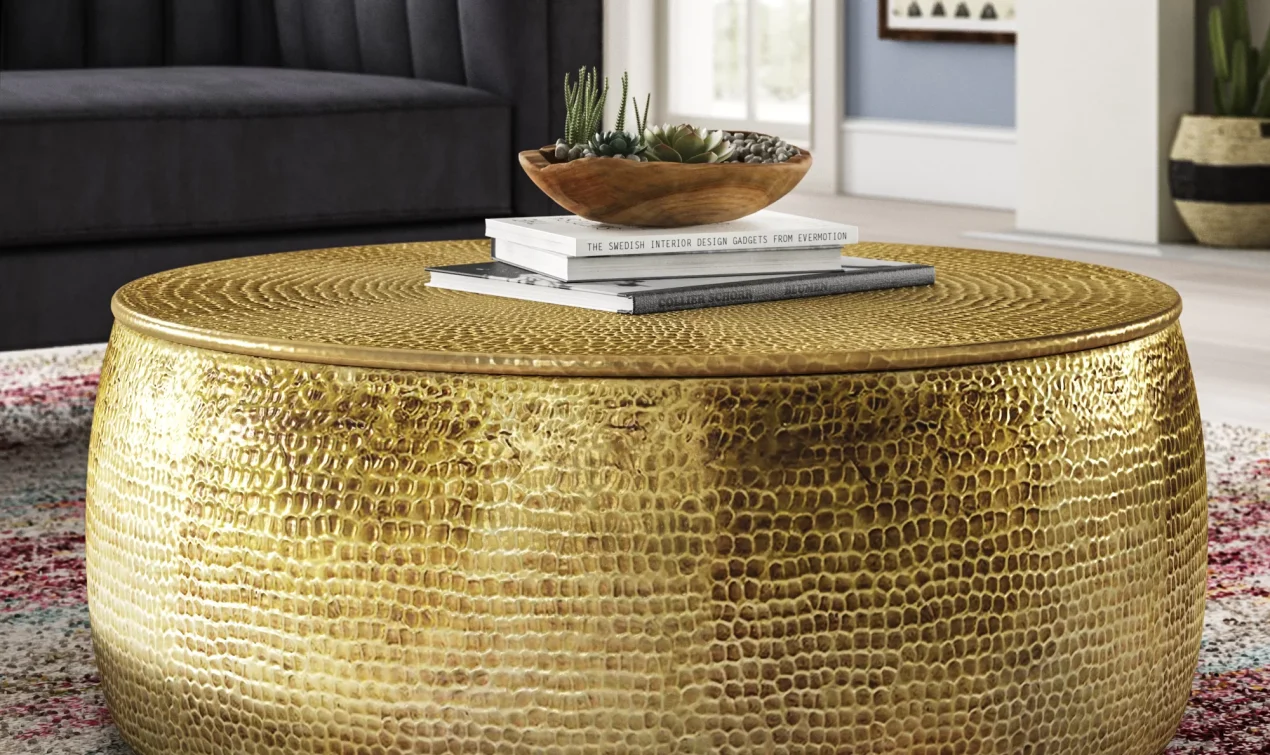 Gold always represents richness and luxury, but if your budget is low and you want to include a gold-colored wooden table, then just you can do is paint your wooden drum table into gold color.
This will make your place from aesthetic to glamorous, but make sure that the golden color vibe with your space or room.
18. Wood Drum Table for Small Area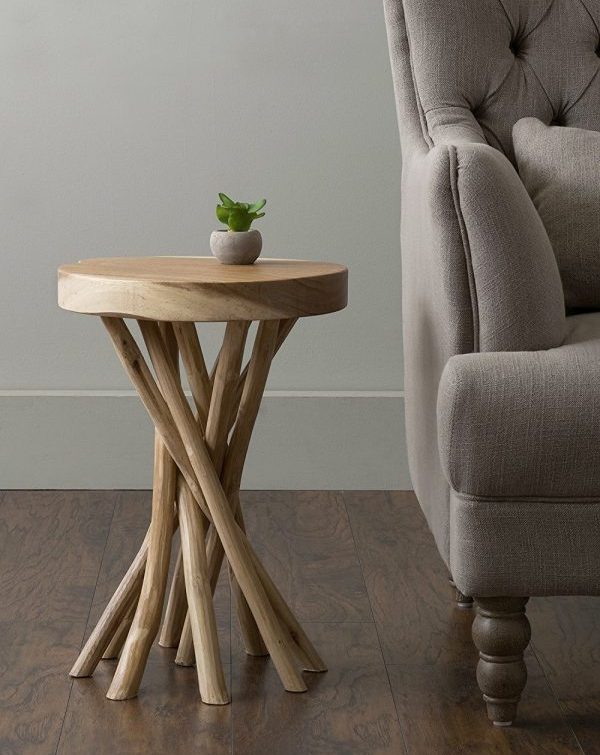 After the larger area, we will talk about how you can fit a wooden table into a small area. A wood drum table with a small bottom is an excellent choice for a small area cause its shape and compact footprint make them easier to adjust in a small area. These designs allow them to fit into tight corners or small nooks, optimizing available space without overwhelming the room.
Also, they are easy to carry and flexible in placement.
19. Design a Wood Drum Table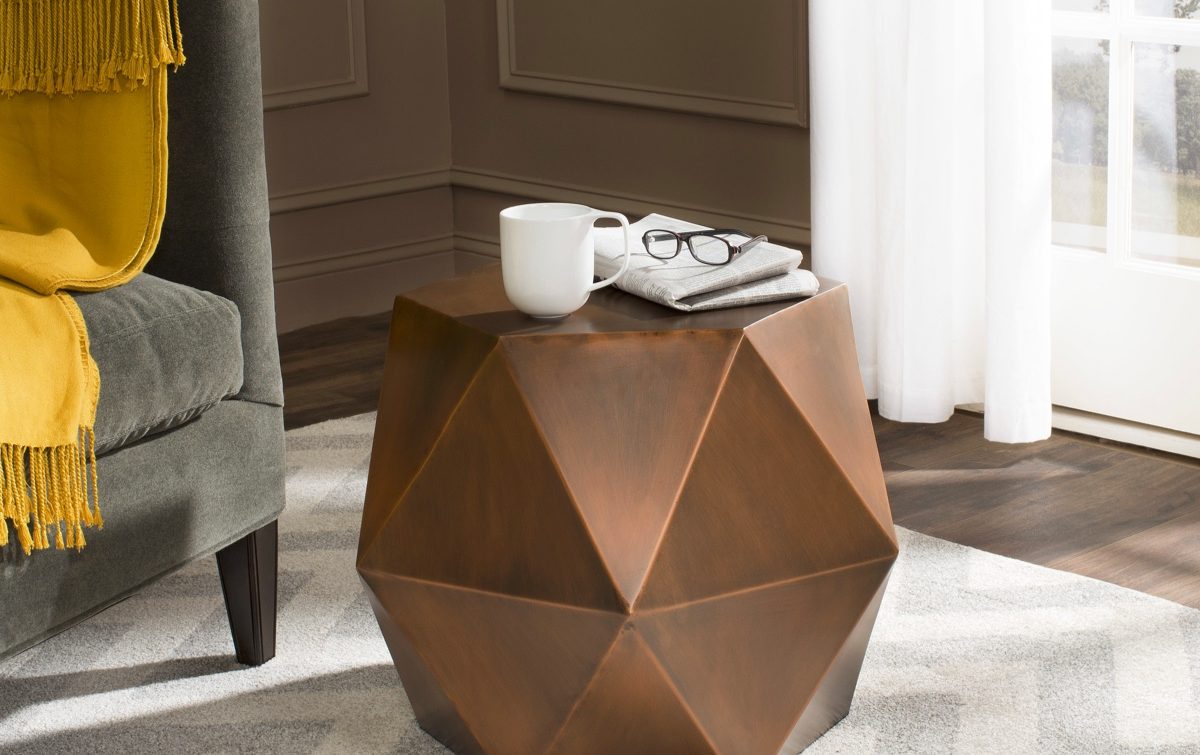 Let's talk about designing a wood drum. We include all the perspectives like shape and size of the table, material, surface design, etc. designing a wood drum table is always a thoughtful approach to ensure it not only functions well but also complements the overall design aesthetic to the space.
By considering this perspective, you can make or create a wood drum table of your choice that will make your place lively.
20. Theme-Based Coffee Table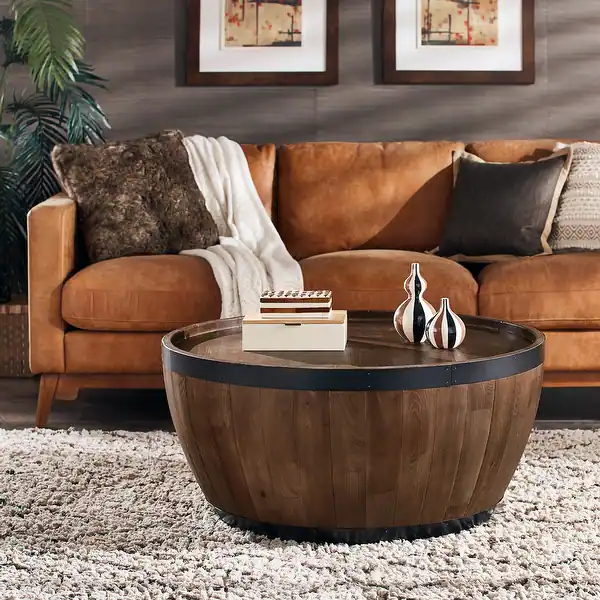 You can choose a coffee drum table of your choice that suits the theme or vibe of your space or room. If you don't have a theme-based room, then you can create your room with the theme of your choice and then match that theme; you can buy or opt for the wood drum coffee table. For example, a light-colored wooden table will be a good choice for the coastal or beach theme.
Conclusion:
At last, a wooden table is a beautiful and charming piece of furniture that can anchor your living space and elevate your interior design flaws.
With these 20 wood drum coffee table ideas, you can not only style your living room into a reflection of your style and functionality but will also provide a convenient surface for placing drinks and snacks like chips, coffee, tea, etc.
You can even go ahead and explore endless possibilities of wood drum coffee table setups to create a space that suits your personality and space.
Which of the 20 wood drum coffee table ideas do you like the most let us know in the comment section.
Frequently Asked Questions
What Type of Wood Is Used to Make a Coffee Drum Table?
Many kinds of wood are used to make this masterpiece, but the main woods are white oak, red oak, hard maple, cherry, and walnut. They are some softwoods that are used to make kitchen and coffee tables pine that are cost-effective but are susceptible to damage due to being less durable.
What Are the Advantages of a Wood Drum Coffee Table?
There are many advantages of wood drum coffee tables; they can add beauty to your space, and they can create a great environment to relax, chill and have a great family time with your family and loved ones; they are best for small space cause of storage and space-saving capability, and they are visually appealing.
What is a Wood Drum Table Used For?
A wood drum table can be used for various purposes; talking the main reason is that it provides a convenient surface to place stuff like drinks, snacks, books, and other items within easy reach. It also adds a touch of beauty and charm to your living room and is space-saving.
How to Take Care of a Wood Drum Coffee Table?
To take care of your wood drum coffee table, dust it weekly with a soft cloth, and make sure to polish the entire wooden surface every month to protect the shine of the table. Be careful with the hot stuff, and do not put them directly on the table as marks are probable on the table that can be a little challenging to remove.