25 Inspiring Mudroom Bench Ideas You Cannot Miss Out On
Do you also plan to customize your Mudroom but end up getting confused about where to start? However, now not anymore. The Mudroom is one of the most practical and useful rooms in our houses that we often ignore or forget to customize.
The very first glimpse that our guests or we receive upon entering our houses is that of the Mudroom. An aesthetically pleasing mudroom is what gives your house a good first impression.
However, along with the aesthetics, it is also important to make it look practical. Obviously, it is not just the look that matters. The Mudroom is the perfect place to store items of everyday use to have easy, easy access. Thus, roceeding on that very note further, we have curated a list of a few ideas that will help you drive up the purpose just by having a useful mudroom bench.
Incredible Mudroom Benches with Storage Options for You
1. Upholstered Seat with Drawers and Shoe Storage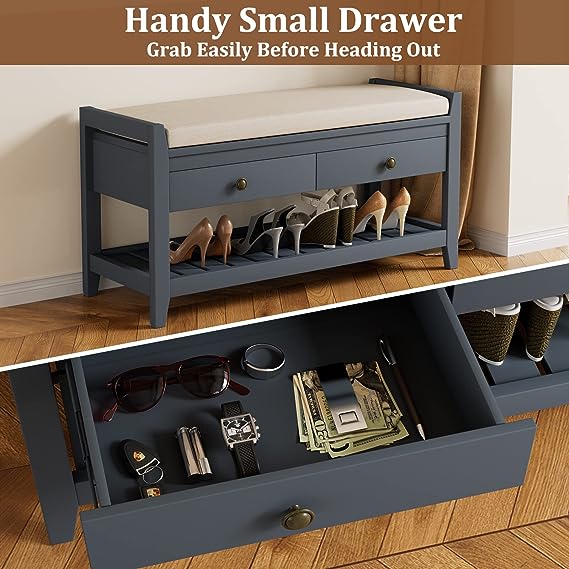 If you are looking for a basic yet elegant bench design for your Mudroom, this might be the option for you. The mudroom bench offers comfortable upholstered seating that can accommodate up to 2 people, along with drawers and shoe storage.
The frame is metallic and painted blue, which gives quite an exquisite look. It also has 2 drawers to keep your everyday small items handy.
2. White Storage Bench with 2 Doors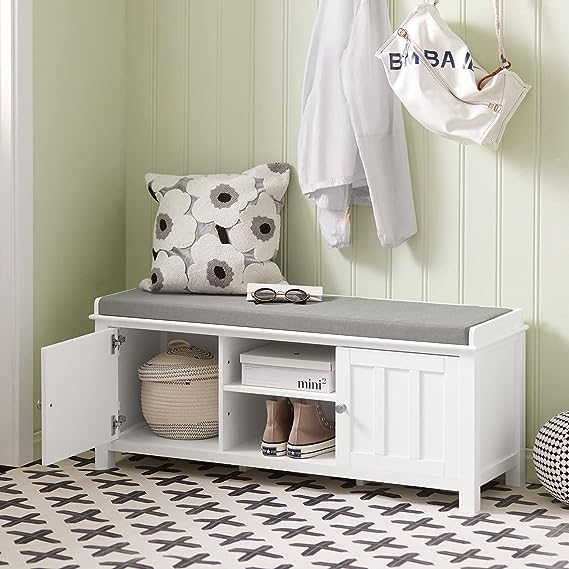 As the name suggests, the color of this particular bench is white. It has a lot more to offer and is more accessible. The seat cushion is removable, which gives you the added option of cleaning it when it gets dirty. It offers a shelf for you to keep your pair of everyday footwear and offers two-door cabinets to keep other important stuff.
3. Shoe Storage Bench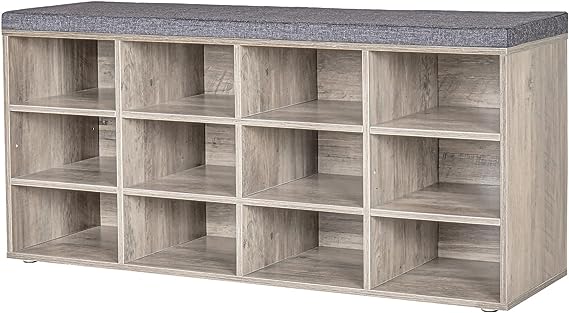 This storage mudroom bench is for those people who prefer to have all of their shoes stored in one place, with the option of storing 12 pairs of shoes. You can also adjust the shelves of all the cubbies according to your requirement. The bench also offers a cushion on top for you to sit.
4. Bench with Shoe Rack and Hooks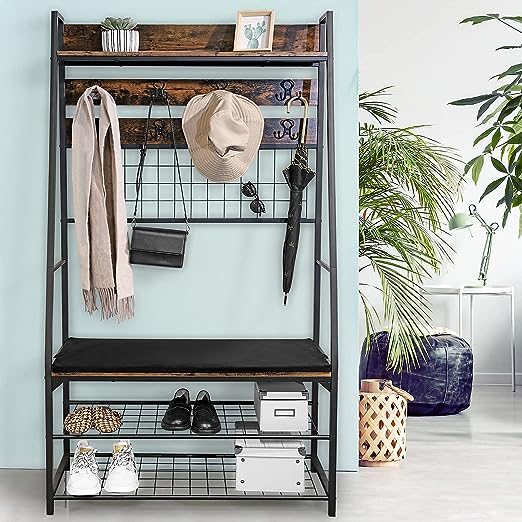 This bench offers more practical and essential things that one might need in their mudroom bench. The bench offers a seat for two people and has shoe storage below, along with hooks for clothes.
If you are someone who always takes your overcoat or jacket with you while stepping out, this might be the one for you. It also offers flat storage on top for you to keep items like keys, books, and more.
5. Wooden Bench with Shoe Storage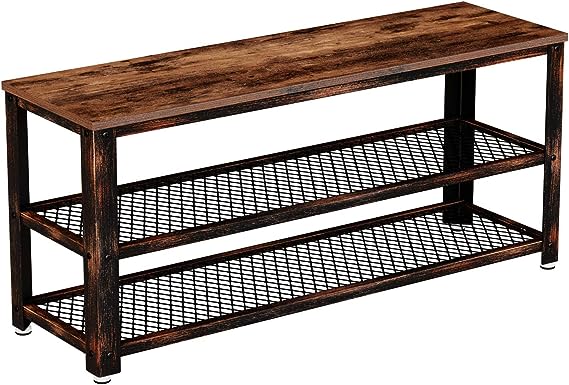 If you are looking for a simpler and more sober option for your mudroom bench, this one might be a match for you. It has a basic wooden finish look, and the seat is without a cushion. It offers sufficient space below for your shoes, and it can look good if you have a lot of brown wooden finished furniture in your house.
6. Vintage Brown Mudroom Bench with Multiple Storage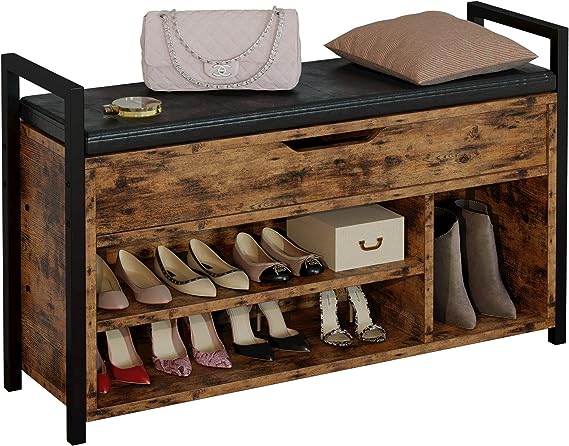 Yet another brown wooden finished bench. However, this one is different and can cater to multiple storage needs. It comes with a cushioned seat and a drawer just below to keep your belongings. It also offers a shoe rack with a shelf in between, which gives you two compartments to store your shoes.
There is a single bigger column right next to it to store bigger footwear like boots or simply any other thing you want in there. It comes in a vintage brown color which gives it a very authentic look. Definitely, an option to look into.
7. Sitting Bench with Coat Rack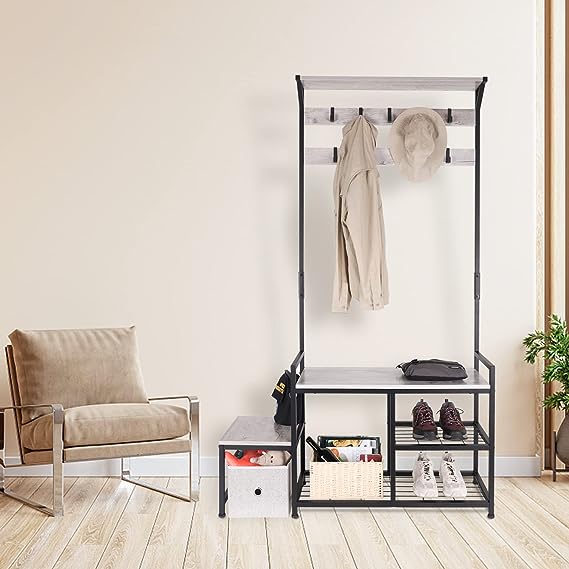 This mudroom bench offers multiple storage options, along with a few hooks to hang your coats or jackets. The bench does not have any cushion, but the platform has a design finish to it which looks very good.
It offers a shoe rack that can store two pairs of shoes, along with cubby spaces to store other items. The design of this bench is often, and thus most of your items on it will be easily visible to you.
8. Lift the Top Bench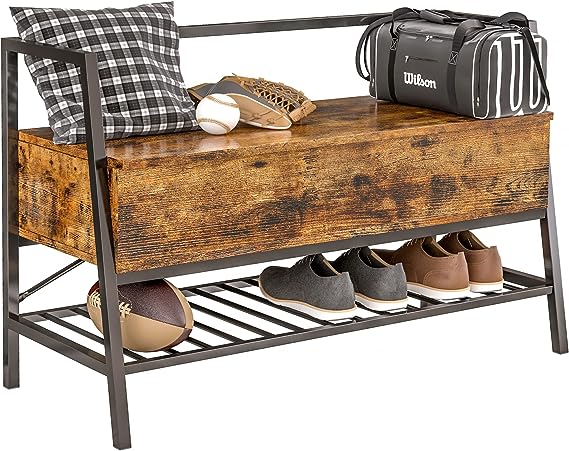 This bench is a little unique. The whole top on which you sit can be lifted, and it reveals a storage space right beneath it. It is a perfect choice for you to keep things that you don't want a lot of people to see.
The bench does not come with cushion seating. However, it does offer an armrest and backrest as the frame goes a little above the bench. It offers a shoe rack below to store your footwear.
9. Lift the Top Bench with a Cushion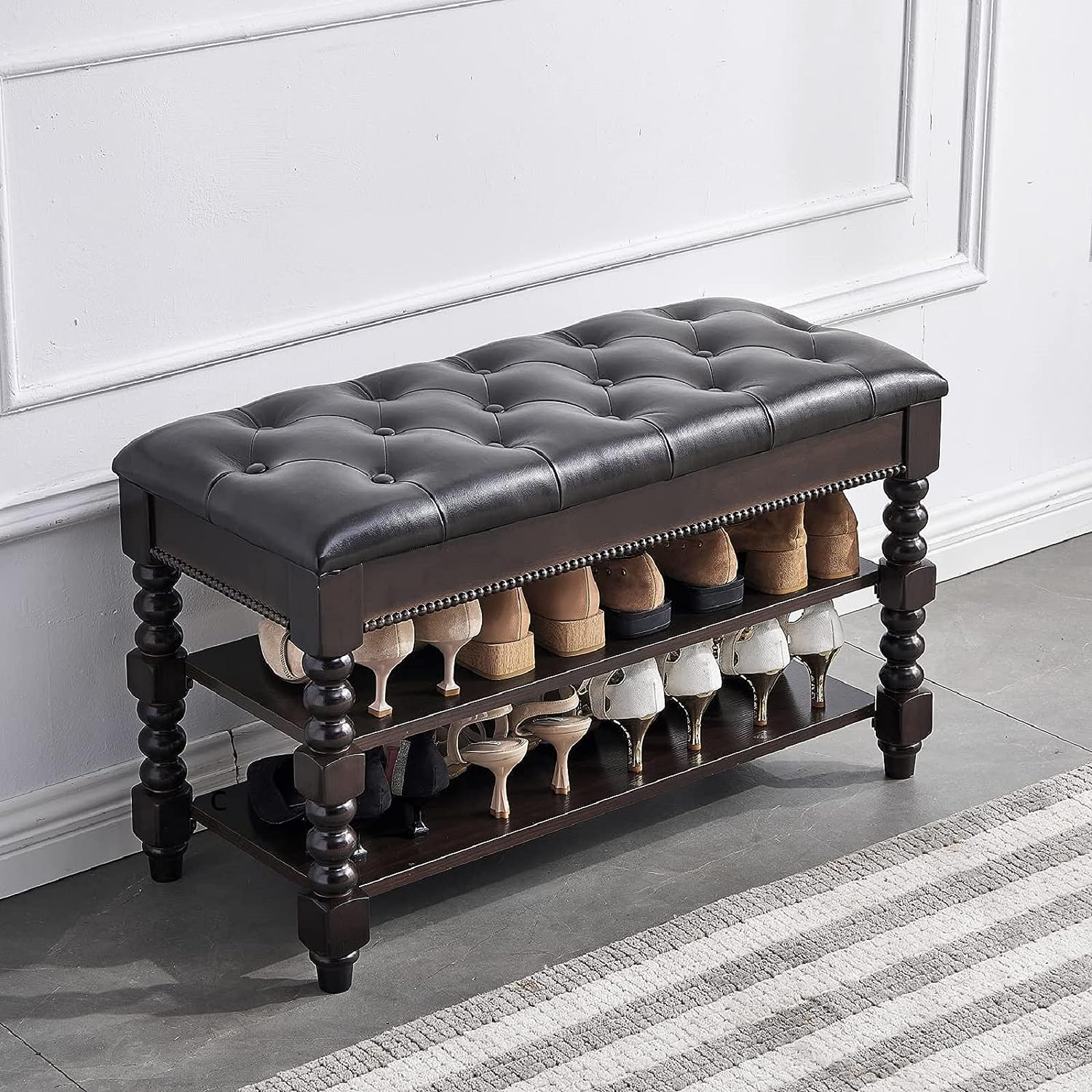 As the name suggests, this bench is the same one as the previous one, with just one addition. It offers a leather cushion on top, which can seat two people at once. You can remove the cushion and lift the top to access your hidden storage space.
The shoe storage is a simple one, with a simple rack on which you can place your shoes. There is no exposed storage as such. However, the hidden storage solves the purpose of keeping a few small household items.
10. White Bench with Shoe Racks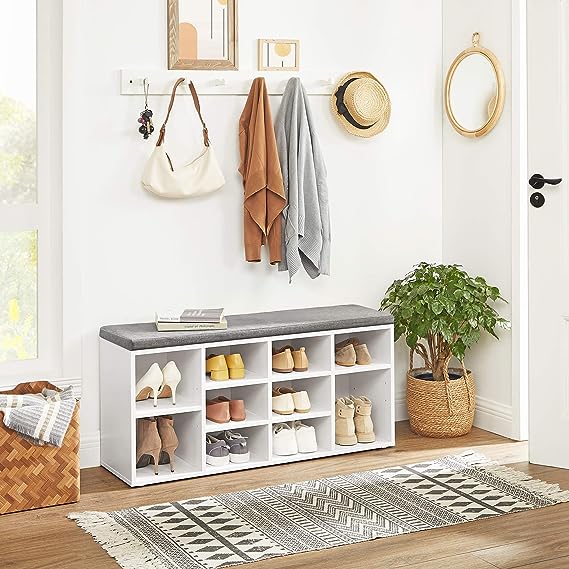 This is a simpler option for you to choose if you are looking for a bench with just shoe storage options. This mudroom bench offers a cushion top which is in contrast to the color of the bench, making it look quite elegant. If you are fine with an exposed shoe rack and looking for a simple design, you should go for it.
11.Antique Storage Bench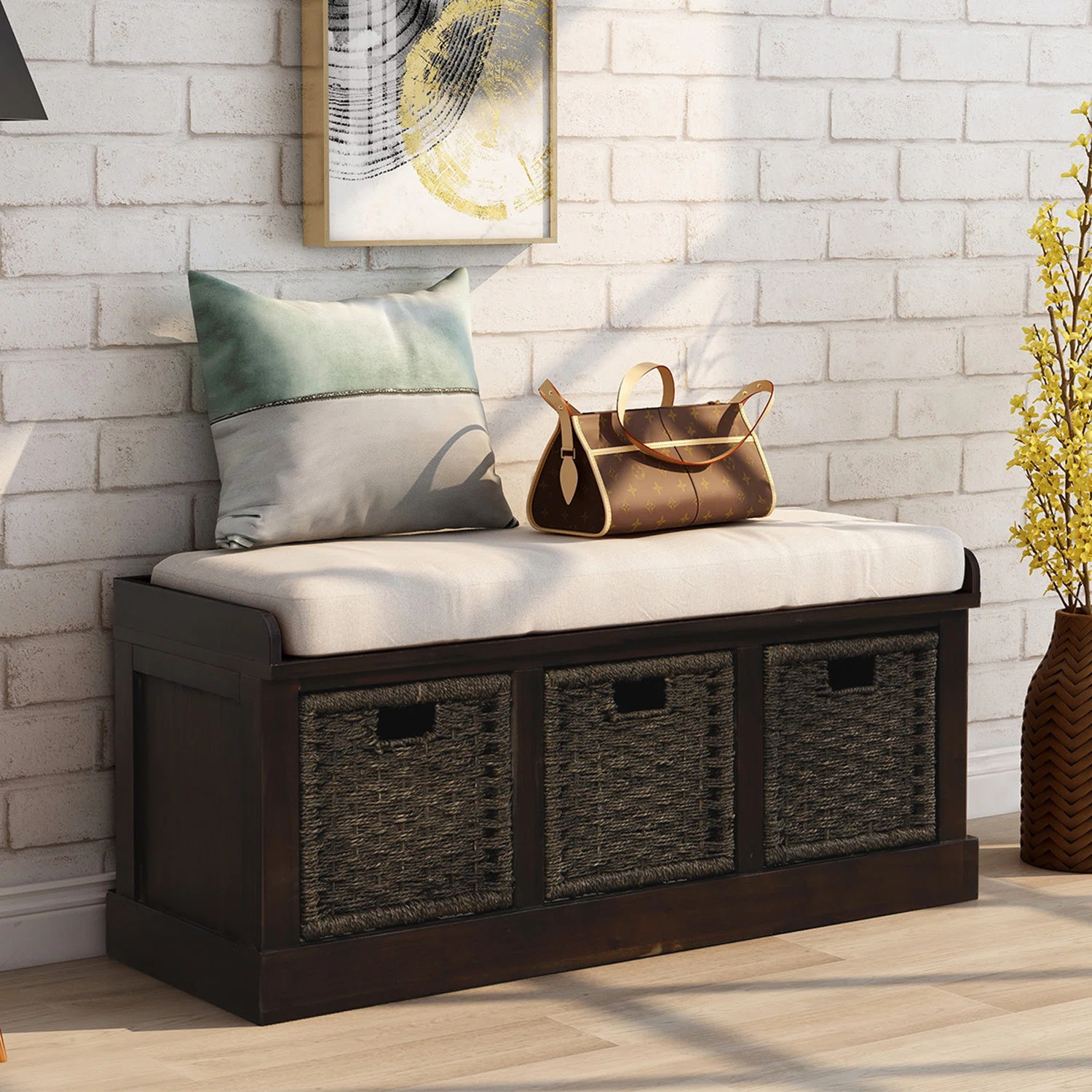 This might be one of the most simple and antique-looking benches we have listed till now. It comes in light brown and does not offer any cushion for sitting. The storage space below is closed, and the doors are slid open. A perfect choice if you do not want your shoes to be exposed. You can also store some smaller items in the storage below.
12. Shoe Bench with Door Cabinets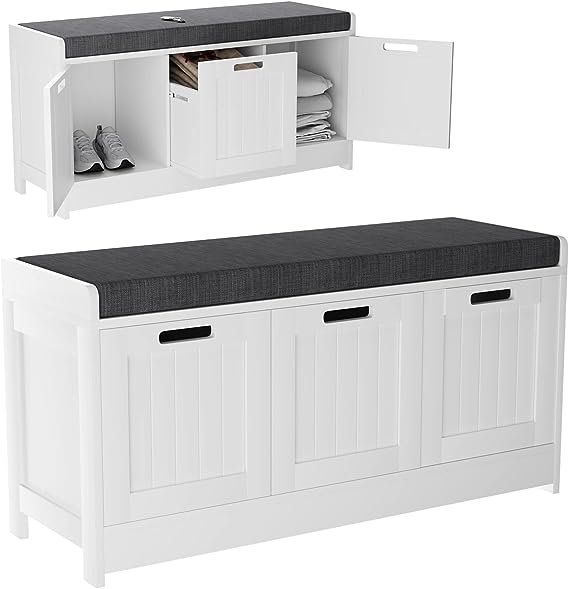 You cannot miss out on this stylish yet elegant bench with a removable cushion option. It also features three-door cabinets, which can be perfect for storing your everyday items or even shoes that you wear on a daily basis. The cushion is comfortable and spacious enough to seat three people at one time.
13. Embossed White Bench with Storage and Hooks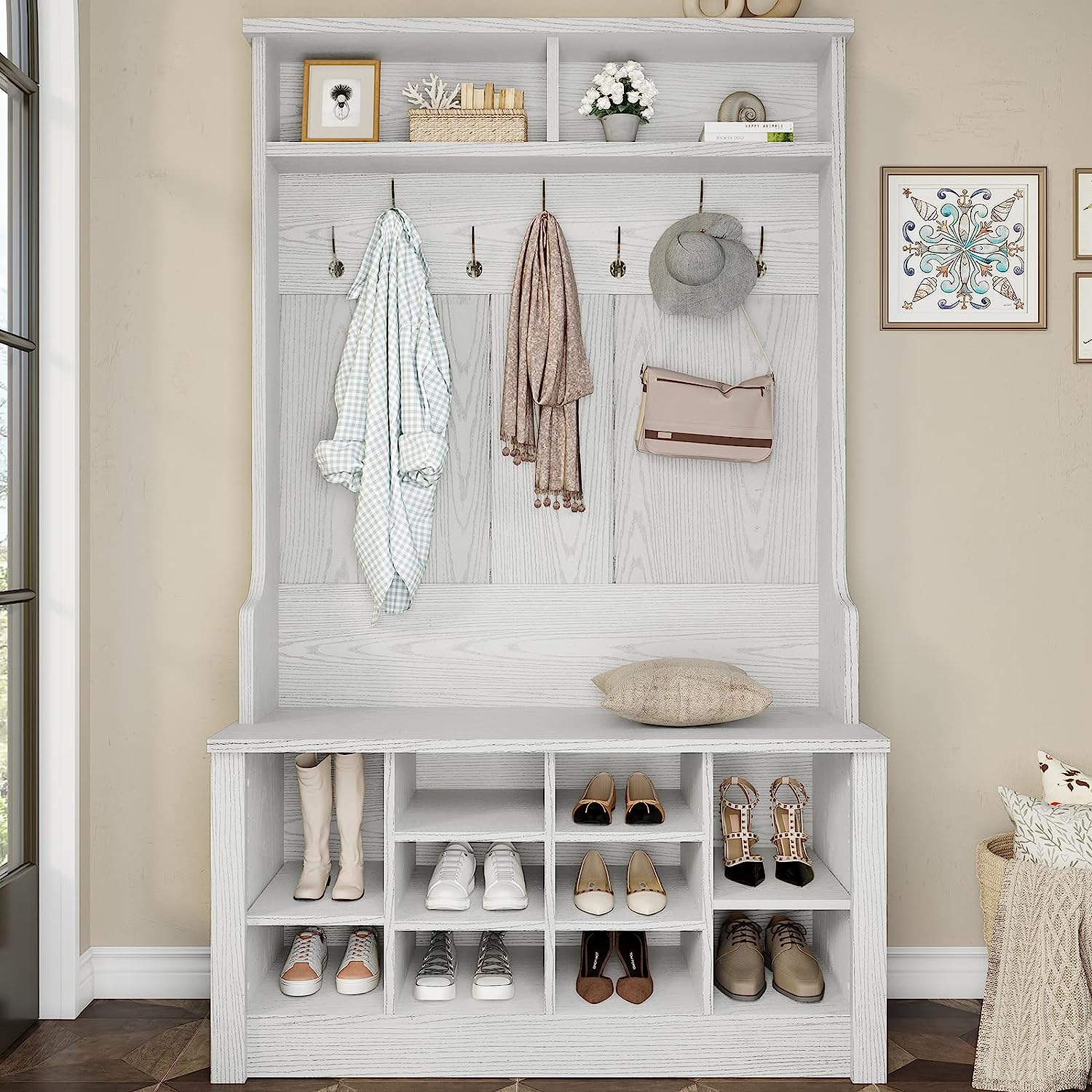 This all-in-one Mudroom Bench with storage might be the one that you are looking for. It offers a seat along with storage options for shoes which are adjustable, so you can choose to keep other items there as well.
It also offers multiple hooks to hang your coats and jackets and keep them handy for everyday usage. There is also extra storage space on the top which can be used to keep showpiece items or simple everyday household items. This one is definitely an option to look up to.
14.Bench with Shelves, Shoe Racks, and Hooks
This one features a more open design. With no closed compartments and no back wall, the design looks very simple and transparent. It might be difficult to sit on this bench as it offers no cushion, and the seating space is quite narrow.
It offers hooks to hang your clothes and adjustable shelves on the sides to keep show pieces or everyday items. The shoe rack is also exposed, and all the footwear you keep here will be exposed.
15. Metal Frame Mudroom Bench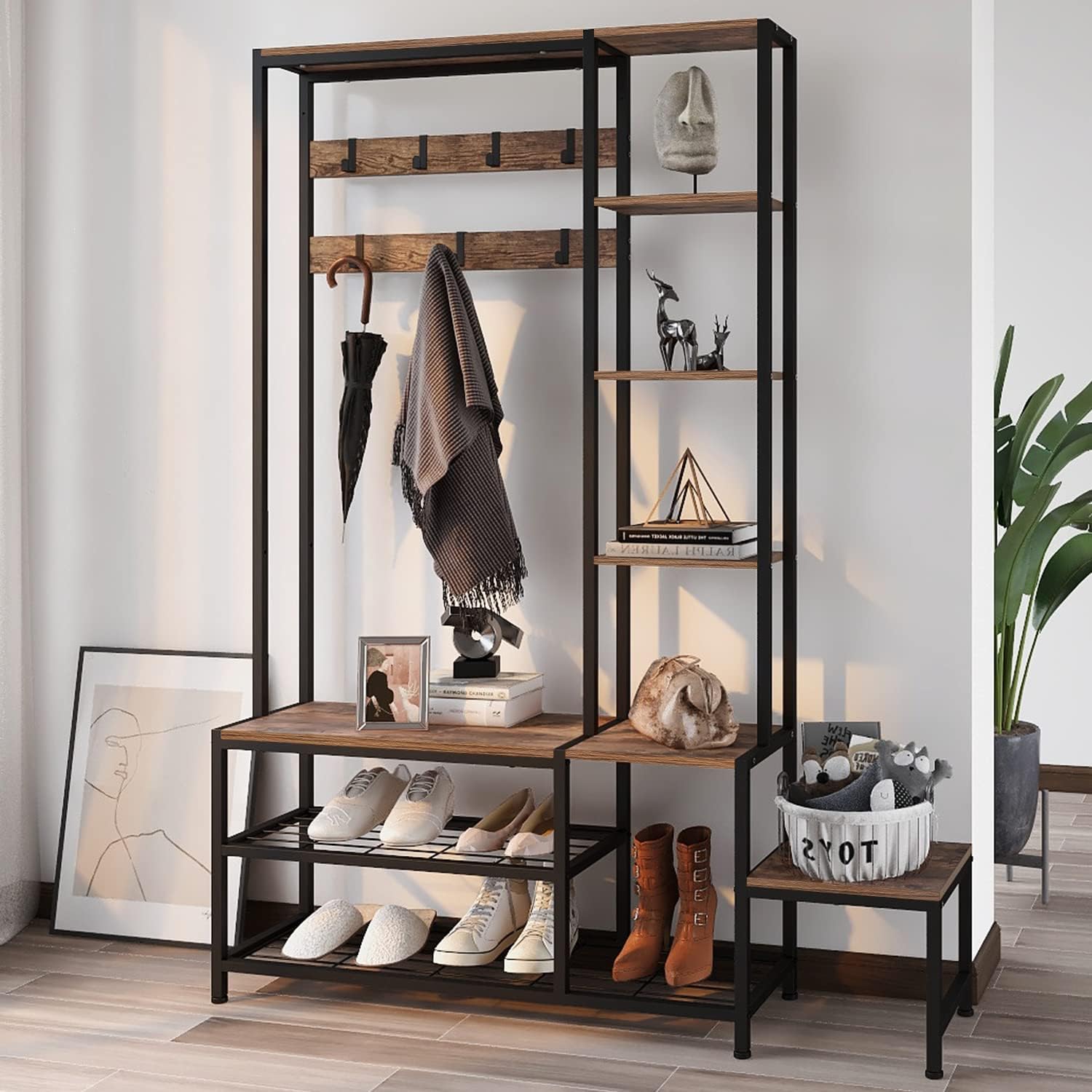 This offers a simple yet stylish look to the whole unit. The frame of the bench is exposed, and the shelves and seat are used to give a marble-type texture to it, which looks very stylish. There is not a lot of storage for shoes, but you can fit in 4-5 pairs easily, depending on the size.
There are multiple hooks offered for your coats and jackets. Along with this, there are shelves that can be used to keep items for decoration purposes or other useful day-to-day items.
16. Wooden Look Metal Frame Bench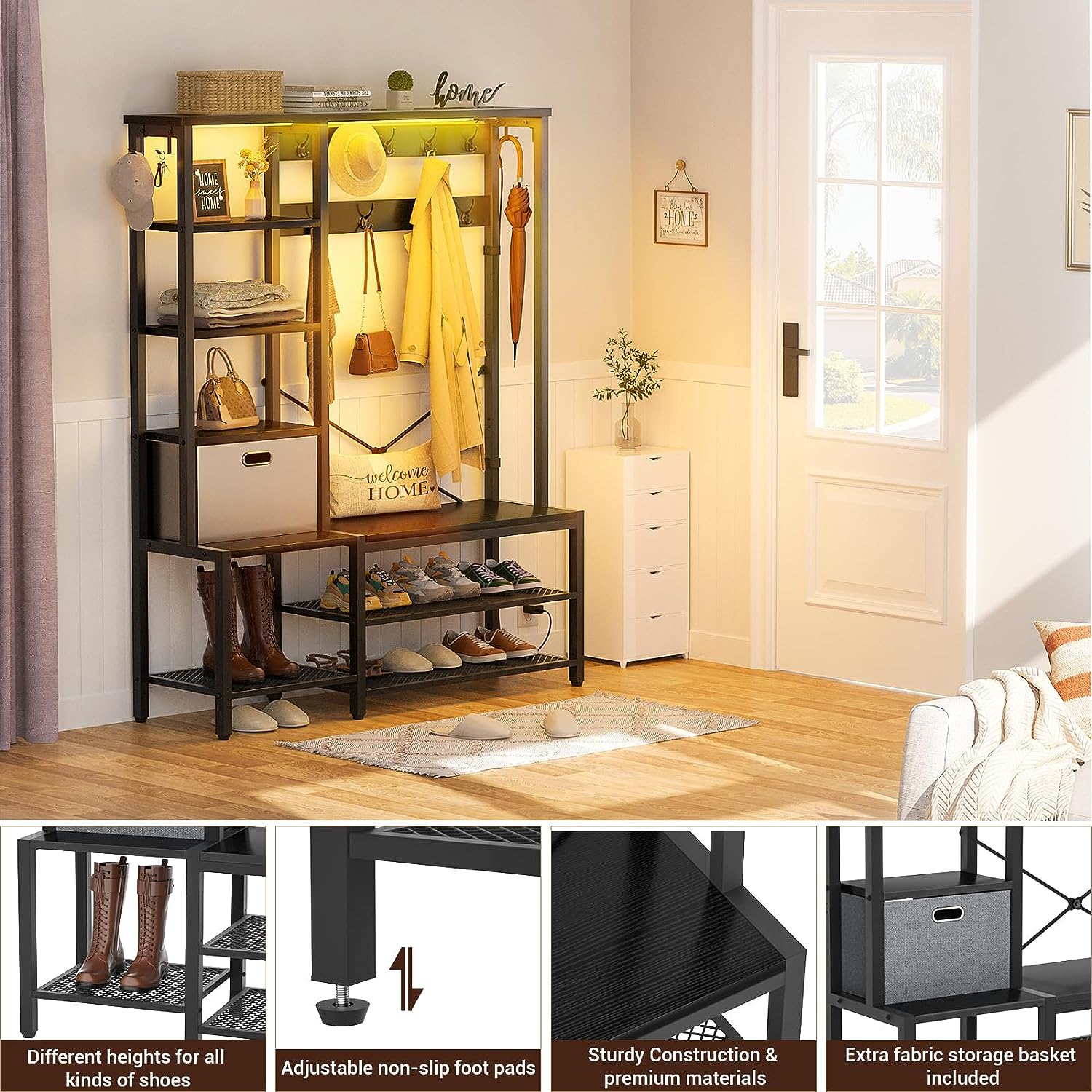 This bench is similar yet different, with one key factor to it that we will tell you in the end. For starting, the design is open with an exposed metal frame. It offers two compartments below the bench which you can use as shoe racks. There are shelves on the left side to store items and clothes. There is also a retractable box that can be used as extra storage for storing items to keep them covered.
Obviously, there are hooks to store your coats and jackets. Now the key factor is you can also opt for the option of RGB led lights which are hidden and give a very good look to the whole bench. Definitely, an option to go for if you are into creating a nice ambiance for your mudroom.
17.White Storage Shoe Bench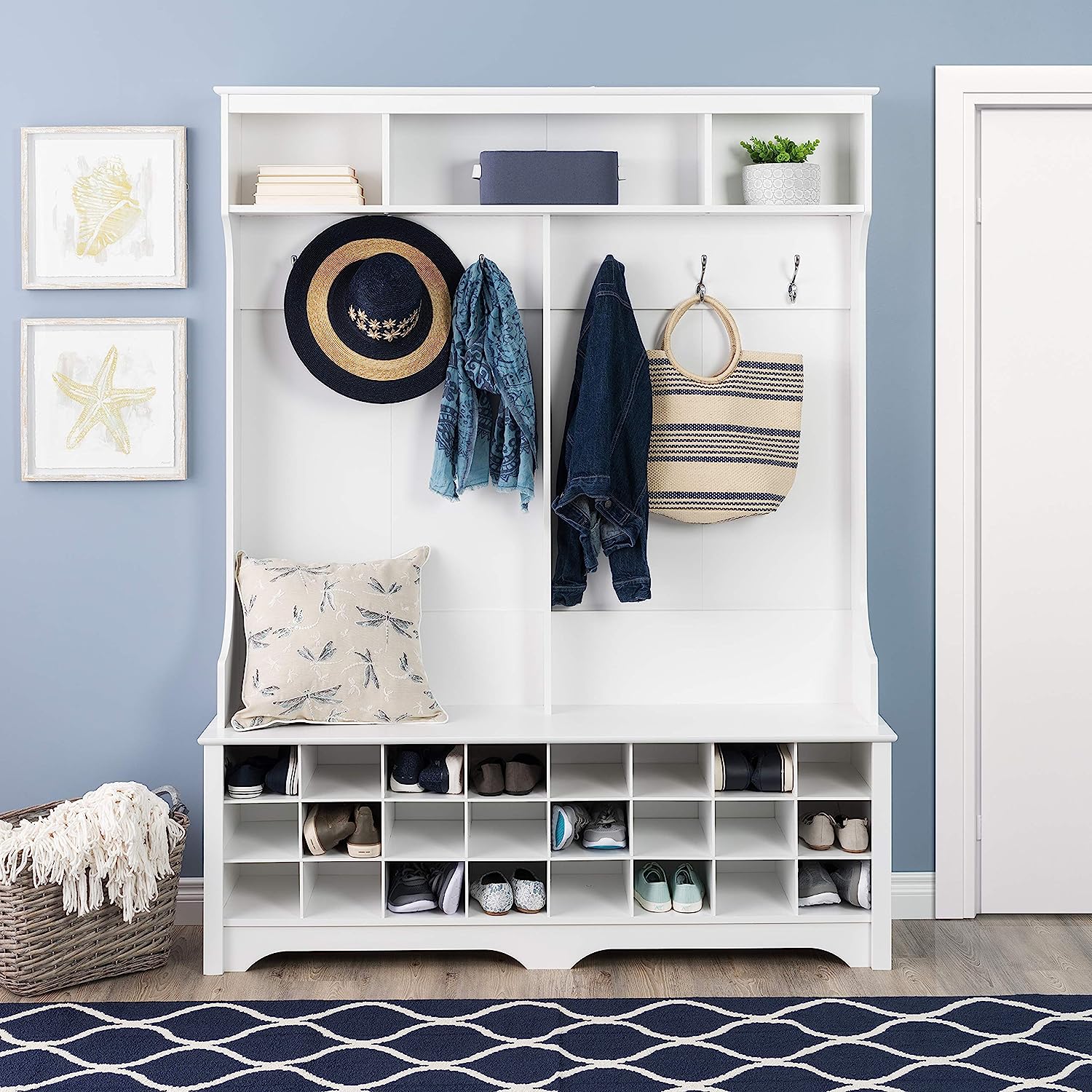 As the name says, this mudroom bench has multiple storage spaces to offer. Not just storage; it looks good too. It has individual cubbies for your shoes. The bench is divided into two parts. Both of these parts offer hooks for hanging clothes. There are 3 bigger cubby spaces at the top for storing everyday household items, and you can also keep some stuff right on top of the bench.
18. Entry Bench with Door Storage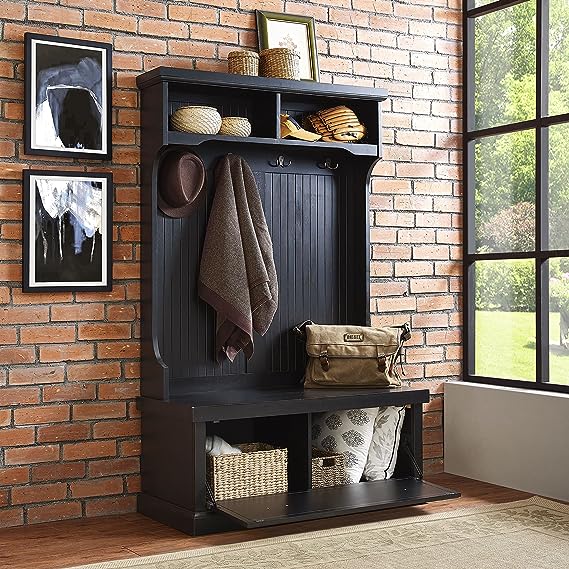 This bench offers a seating bench without any cushion with two cabinets underneath, which can be used to store shoes or everyday items. Hooks are provided to hang clothes. 2 big cubby spaces are offered on top, which can be used to store big items. It comes in multiple colors, which you can choose accordingly based on the interiors to match the overall theme of the room.
19. Shoe Bench with Adjustable Shoe Racks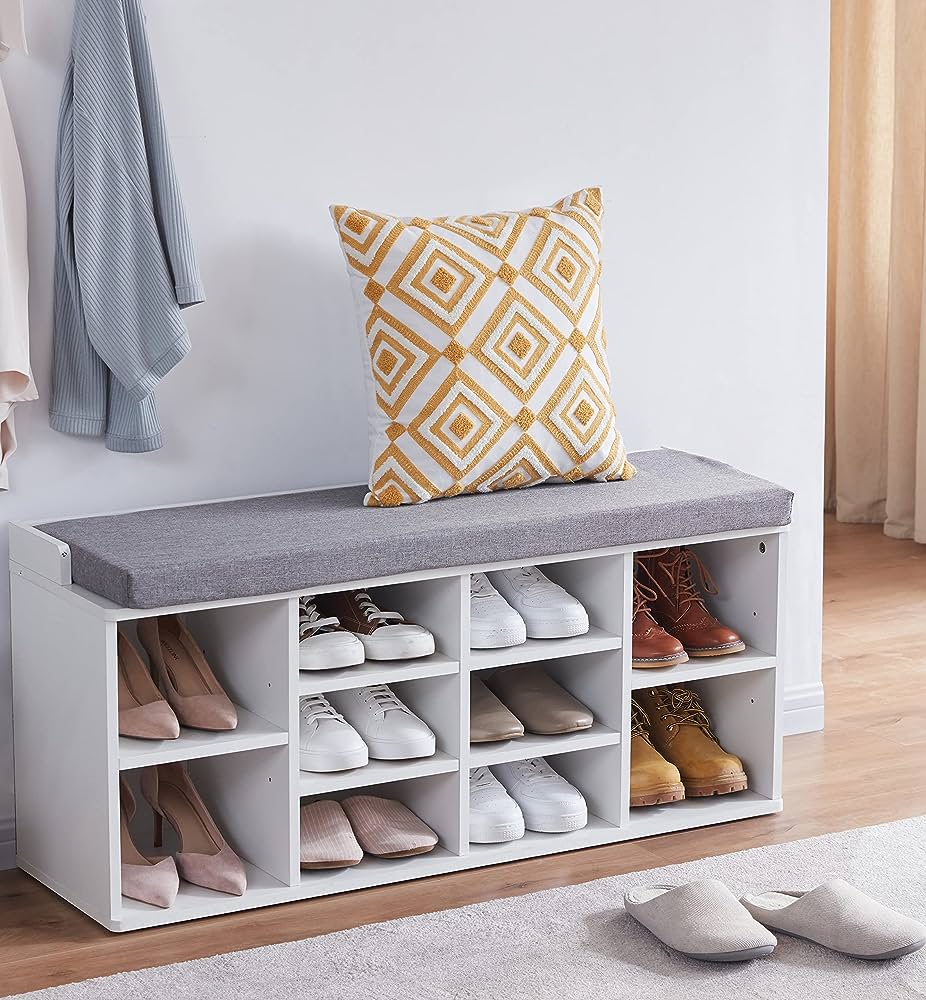 This mudroom bench offers adjustable shelves which are placed underneath for storing shoes. The design is quite simple and minimalistic. There are hooks offered with no storage options on the above or on either of the sides. A design like this might be too simple for some people. However, one should keep in mind that this solves the purpose without standing out too much in the mudroom.
20. Sliding Doors Mudroom Bench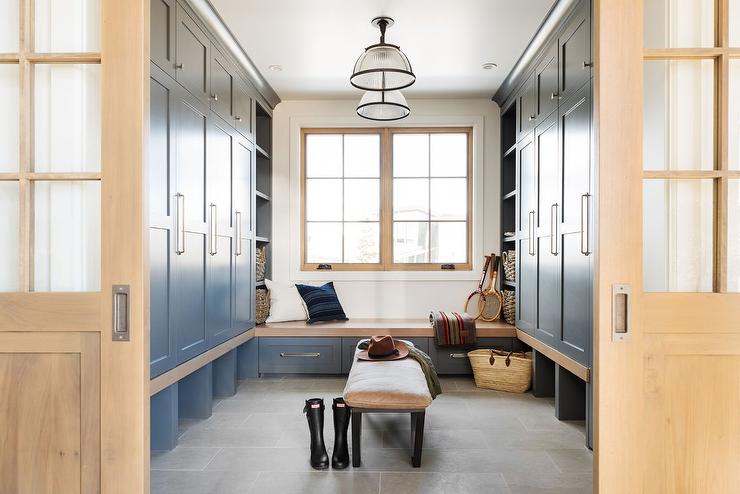 This might be the perfect solution for those who prioritize storage but also need a good-looking mudroom bench. Two big sliding doors run from up to down, with shelves inside to store items. The area underneath the bench also offers two sliding doors, which can be used for keeping footwear. When the doors are closed, you can hook your coats and jackets as well. There is storage on top as well, which can be used to keep decorative items.
21. Bench with Tall Cabinet and Shelves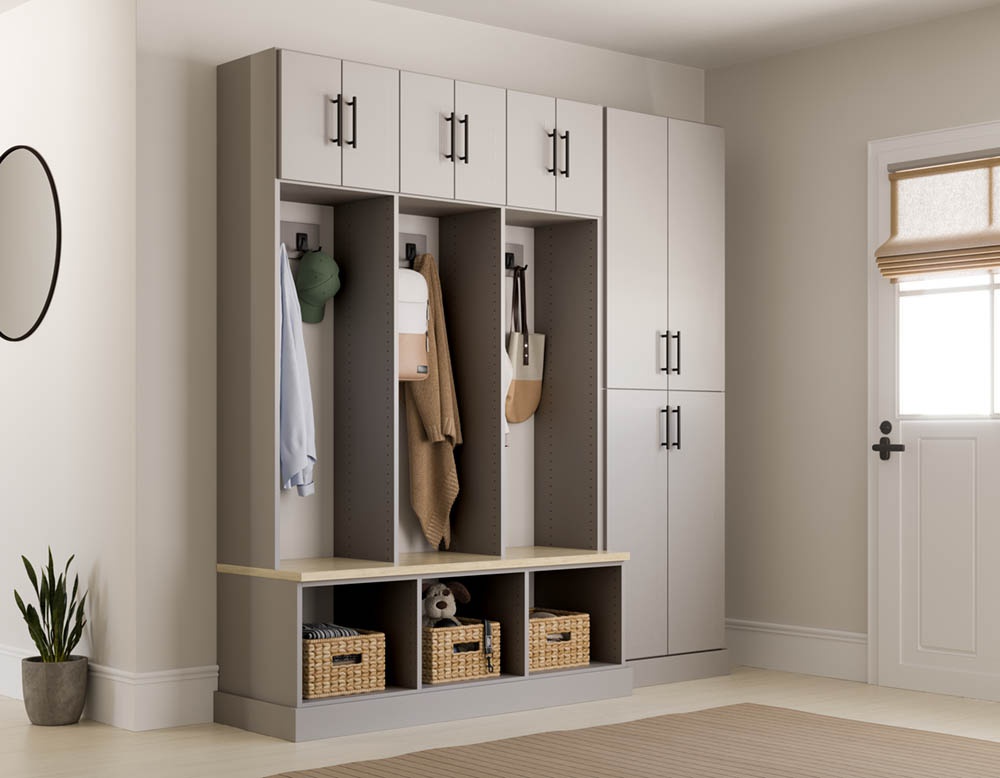 This one has a unique style to it. Half of the whole unit is just a cabinet that is covered with a door, and it offers adjustable shelves inside. On the other half, there is a cushioned seat for one person, which comes with a footwear space below. You can only store 1-2 pairs of shoes. There are racks for you to hang clothes and other items.
22. Storage Grid Bench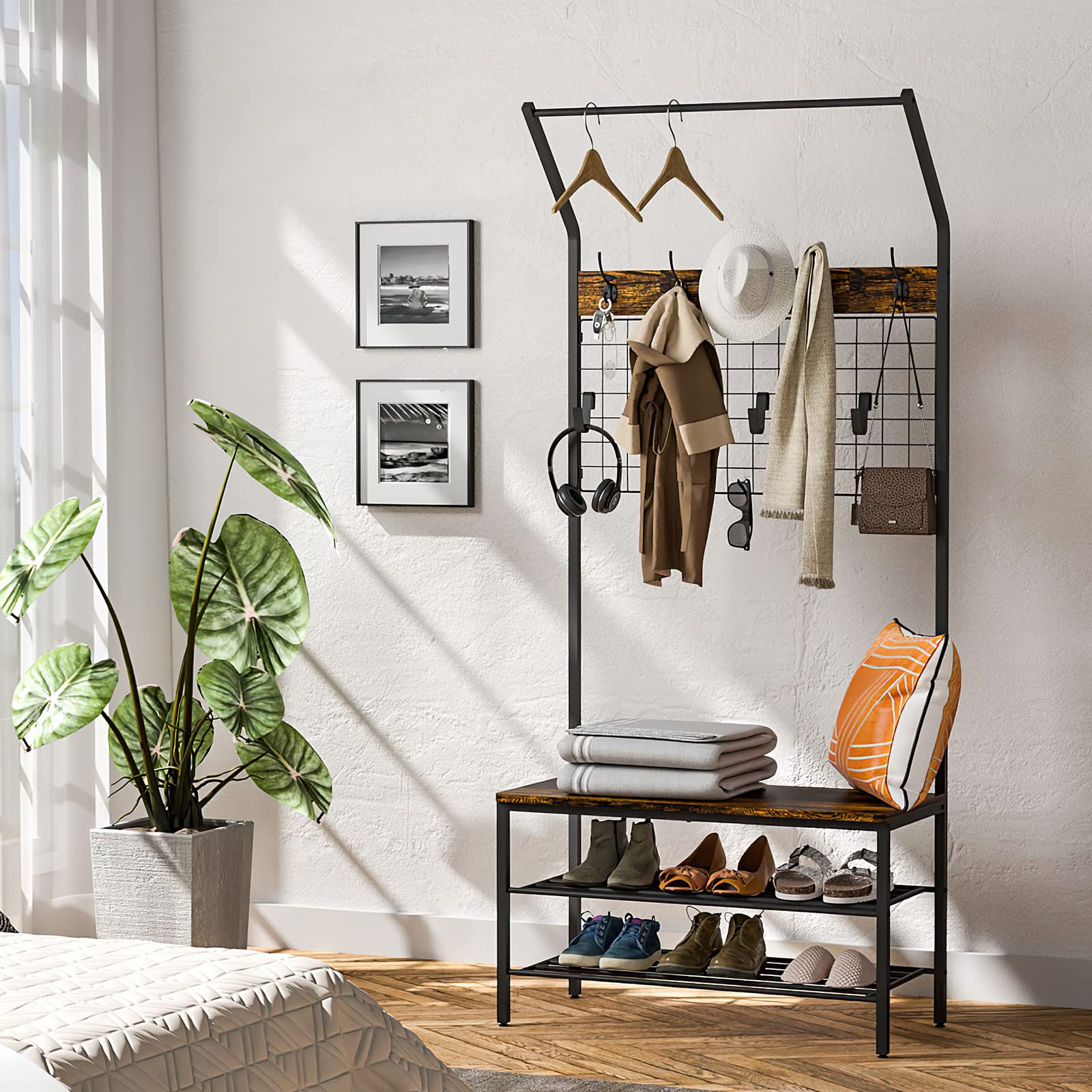 This bench offers plenty of cubbies for storage of items like shoes, handbags, and decoration items. This Mudroom Bench prioritizes both storage and looks. The looks are simple, and the functionality is plenty. There is no cushion seat offered, but it offers plenty of storage.
23. Bench Set with Wall-Mounted Hooks and Cubbies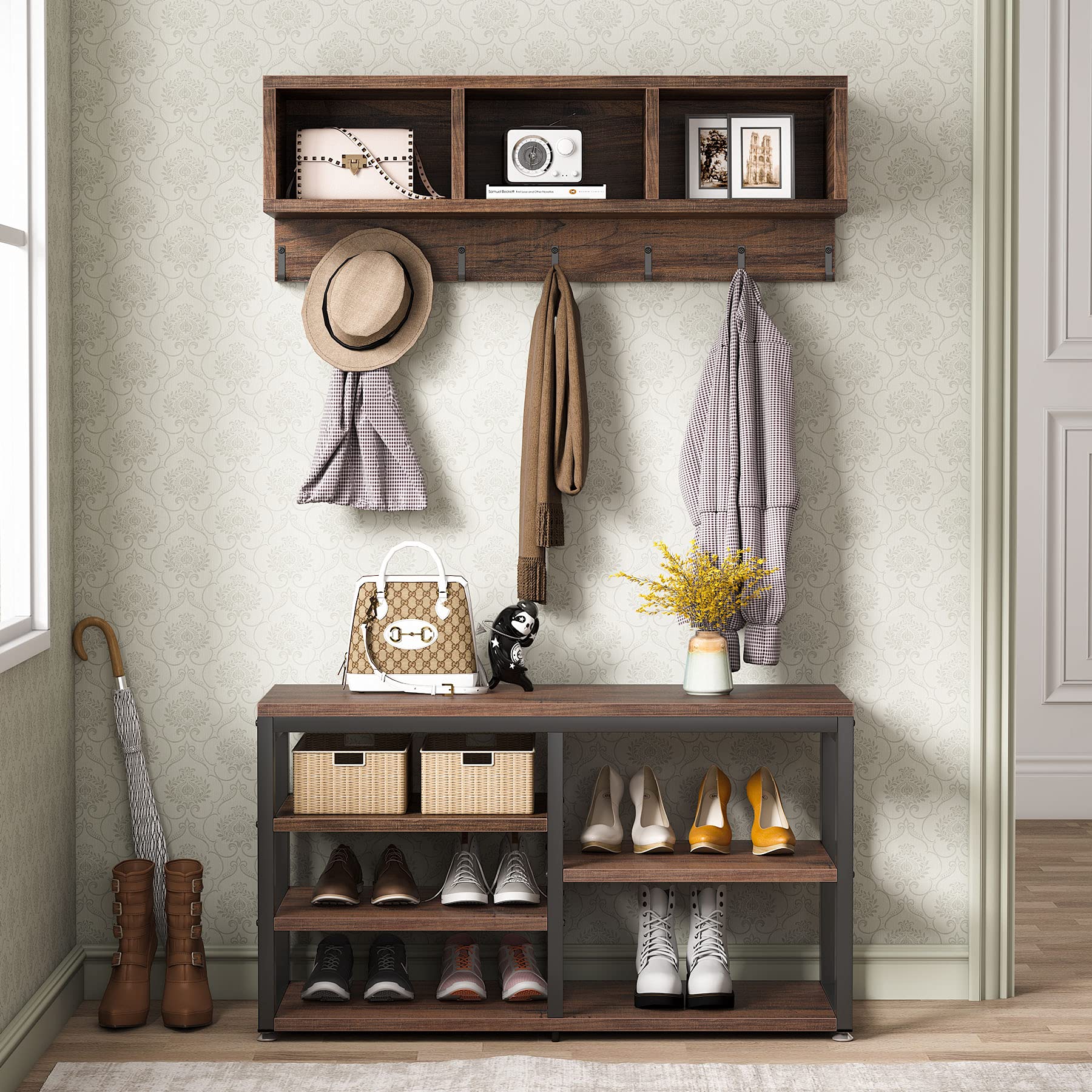 As the name suggests, this is not one whole unit; rather, it has two pieces that make it a set. For the bench part, the seat does not have a cushion, and the storage underneath has adjustable shelves, which can be used to store shoes or other items.
For the second part of the unit, the hooks and cubbies come as one part which can be wall-mounted. This is definitely a unique design, and people will ask you about this one.
24. Bench with a Top Shelf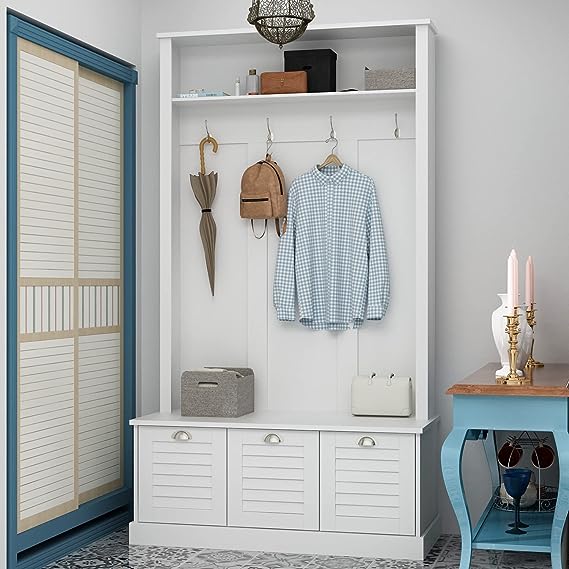 This mudroom bench has a single top shelf that can be adjusted. The top can be used to store bigger items. There are hooks offered to hang clothes. The seat has no cushion on it, and the store beneath is closed by three doors. The same can be used as shoe racks or even storing other items.
25. Four-in-One Storage Bench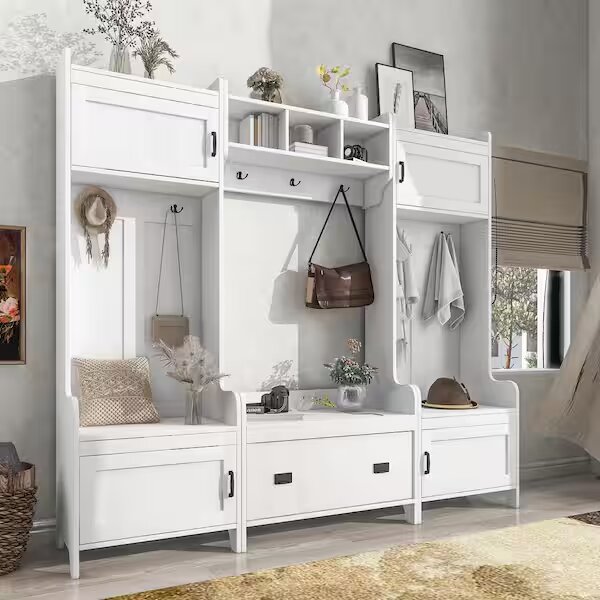 We saved the biggest unit for the last on the list. This massive bench for the mudroom has three big portions and offers a ton of storage. It offers hooks on all three of its sides, which can be used to hang plenty of clothes here.
Below, there is a sliding drawer in the center for you to keep your shoes or other items, and on both sides, there are door cabinets for storage. On the top, the center part has cubbies for you to keep items on display, and on the other side, there are door cabinets for storage.
Conclusion
As you have already seen in the list above, the mudroom benches offer more than just storage. There is no way that you can leave the mudroom unattended. Even a simple bench can change the way your Mudroom looks and feels.
Thus, it is important to make it look good. Making the right choice for your bench can automatically change the overall aesthetic and ambiance of your place. It is important to have enough space for storage, which is required for storing other little belongings.
We have provided ample options for your next renovation project with no shortage of styles or options to look into. There is something for everyone's needs to find a perfect bench for your mudroom ranging from fancy to practical to a blend of both.
We firmly believe that this will help you in choosing the right Mudroom Bench for your home that meets all the prerequisite needs, and do let us know which idea you are going with for your next mudroom renovation project.