24 Creative Garden Edging Ideas to Elevate Your Flower Beds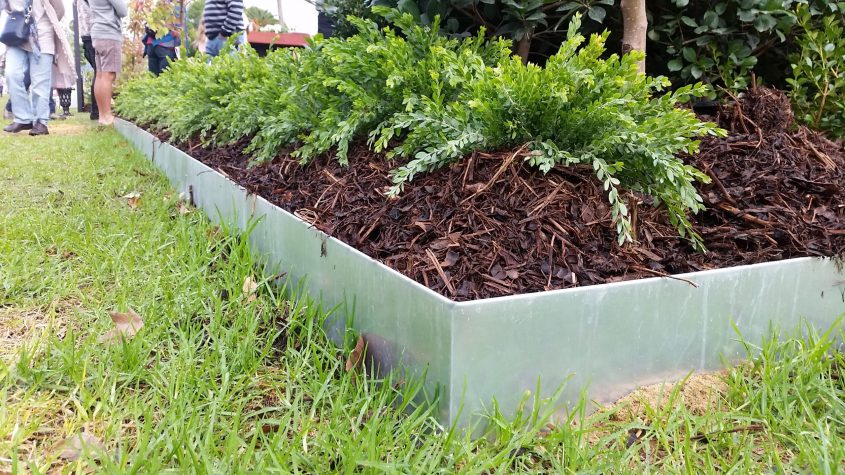 Garden designing is an integrated art of innovation, understanding of outdoor spaces, and knowledge of plants. A simple garden can be transformed into a captivating space by adding the finer details of edges for flower beds. The purpose of a garden edge is to provide a structure to the various zones and define spaces for individual garden features. Additionally, it also prevents the flowers from weed habitation.
From material selection for choosing a flower bed fence to not knowing how tedious its installation will be, even a minor aspect will determine the durability and aesthetics of the garden. But we all can not be experts, right?
To solve your problems, we curated a list of top edging ideas that will help you to renovate your garden with the best flower bed edging ideas. For crafting an extraordinary space from your garden, here are 24 innovative flower bed edging ideas that will enhance the beauty of the garden!
1. Shovel Edging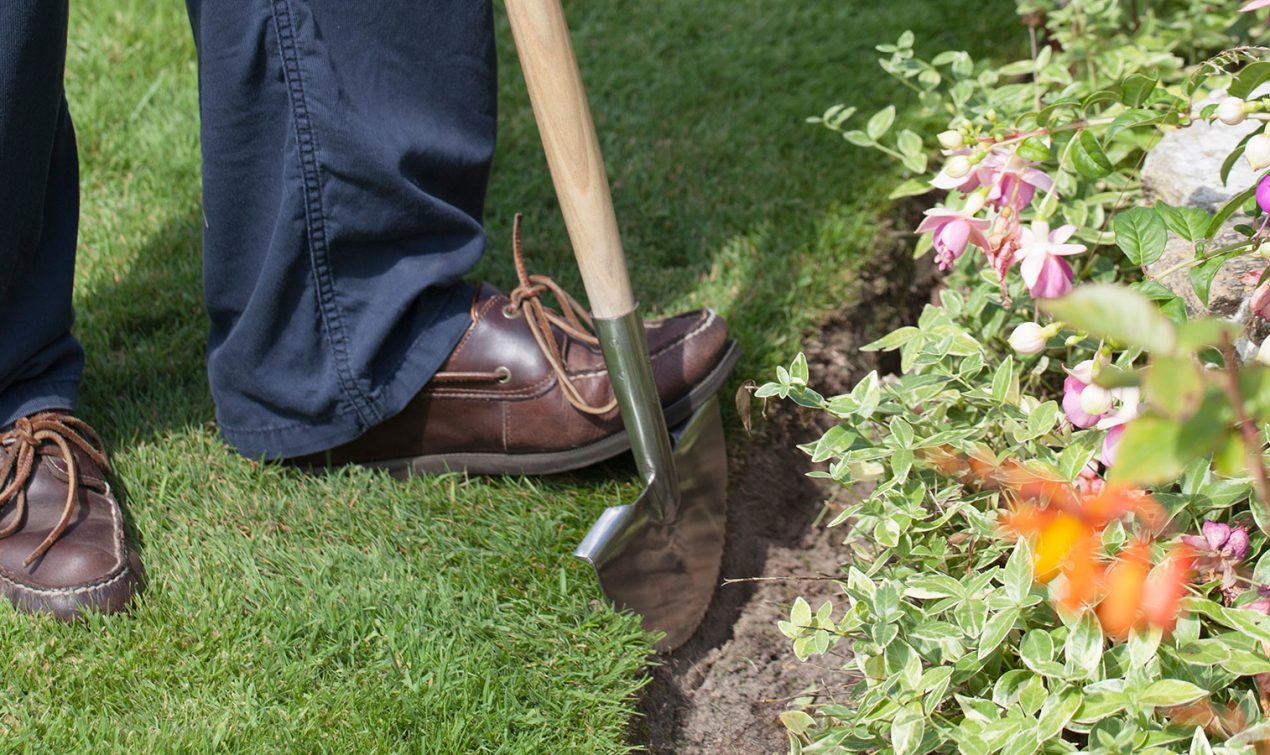 Creating perfect and well-defined lines in easier ways is something every garden enthusiast is looking for. You can provide a structured edge to your garden by clearing the garden bed from the sides. Garden edging ideas for flower beds include creating defining spaces that act as edges using shovels. To build an edge, mark lines and remove the garden bed from that area.
The addition of Mulch follows this. The addition of mulch is beneficial because it suppresses the growth of weeds at the edges. Additionally, it provides a rich & dark texture to the edges. This way, you can create clarity and sharp edges to the flower bed of your garden.
2. Use Brick for Edging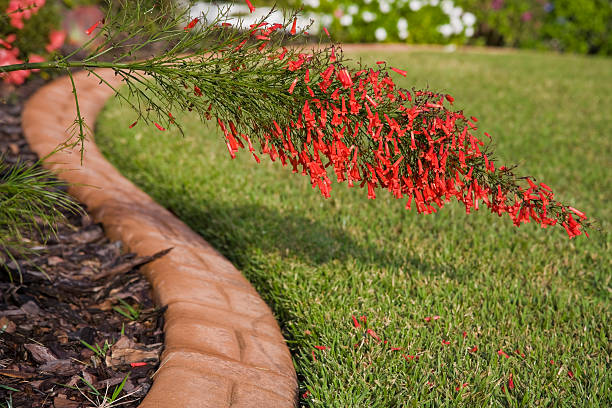 Using bricks as one of the garden edging ideas for flower beds is an inexpensive way to decorate your garden. It offers rustic features to your garden, providing a finished and well-structured look to your garden. Bricks will help in giving finer details to your flower beds while keeping the edges intact.
Different shades of bricks are available, so bricks that complement the backyard and house exteriors can be chosen. For creating a garden edge using bricks, dig out the topmost soil layer and fill it with paver base and stone dust before laying down the bricks. This prevents the sinking of the bricks used for garden edging over time.
3. Diagonal Brick Edging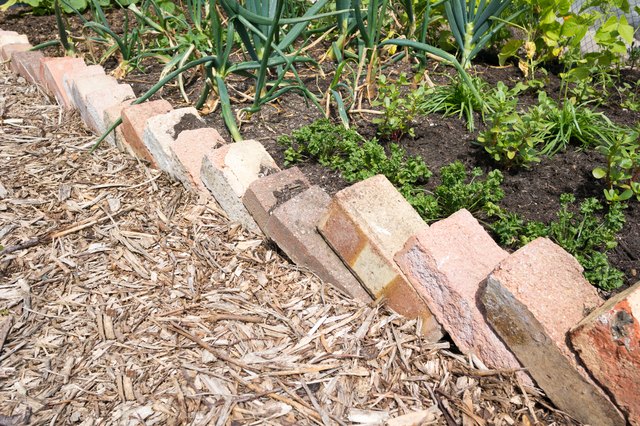 One variant of garden edging ideas for flower beds using bricks is to lay the bricks diagonally. Similar to the previous design, add sand to provide proper drainage conditions to prevent the heaving of the edging. The angled bricks give a defined structure to the flower beds and the garden. From the different types of brick, choose bricks that will tolerate exposure to weather conditions.
Place your bricks at an angle of 45 degrees, while at the ends, the brick should be placed at 90 degrees. To enhance the overall outlook, you can build patterns by using colored bricks. Among different garden edging ideas for flower beds, this is suitable for both straight and curved areas for edging.
4. Metal Edging with Pebbles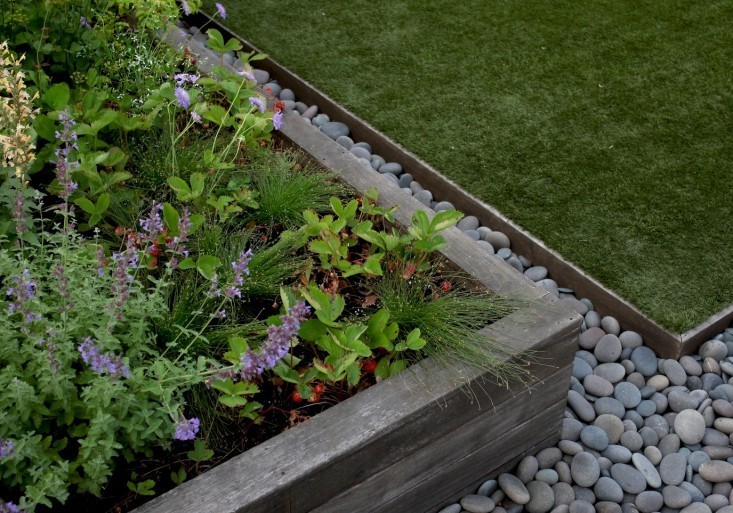 If you are looking for dreamy and durable garden edging ideas for flower beds, pairing pebbles with metal edging is one option for you. Steel and Aluminium are two types of metals used for edging, featuring their characteristics. Using steel will provide more durability but will make installation tougher because it has more strength.
With Aluminium, installation becomes easier because it has more flexibility conferring easy bending around the corners. Dig the soil and place sand to facilitate drainage and water pooling. The boundary with metal can be easily created and filled with pebbles. Soften the edges of the metal, as it may lead to injury.
5. Structure with Timber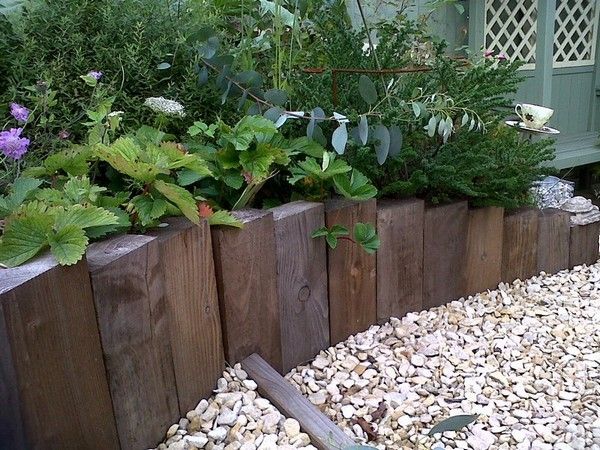 Out of all the flower bed edging ideas, the use of timber is a minimalist approach to create the desired result. Tidying up the garden edges with Timber wood provides a fascinating appearance to your garden. If your hands are acquainted with the basic machinery of the garden, you can easily add a structure to your garden with timber.
To prevent the rotting of the wood, the wood is sometimes treated with high-pressure conditions. One concern with this idea is damage caused by exposed weather conditions. To prevent it, apply coats of weather-resistant oils and paints for the longevity of your project. To enhance the outcome, you can paint the timber woods that will complement your garden and the house exteriors.
6. Create Edges with a Rock Garden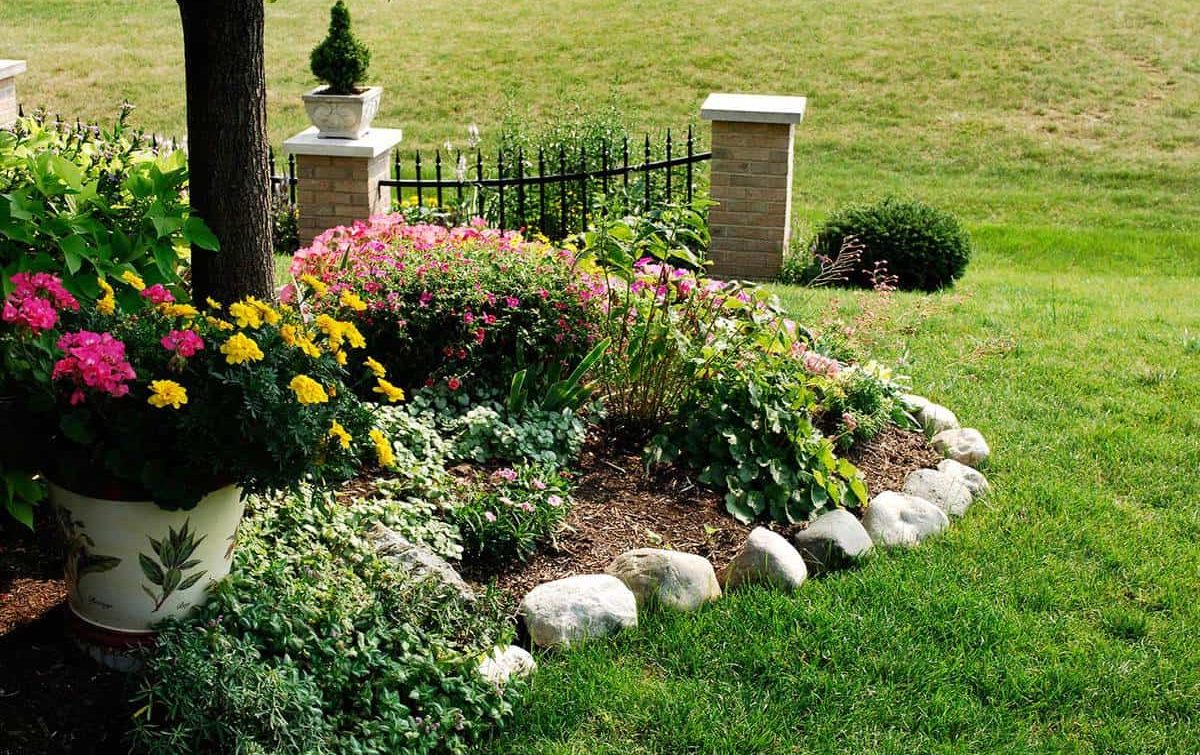 A border created with rocks to give a structural outline to the garden beds is an extravagant way to style your garden. Natural rocks can be collected and used to create a pattern. The rocks, with their natural hues, can be used to get innovative and generate one of the best flower bed edging ideas. For creating a specific color palette for the garden, you can even add colors to the stones you use.
Place irregular sizes of stones in a pattern your plants are planted in the garden. Avoid leaving any gaps in between, and lay them as closely as possible. Planting Sweet Alyssum on the rock edge will make your garden look luxurious.
7. Building Edges with Recycles Plastic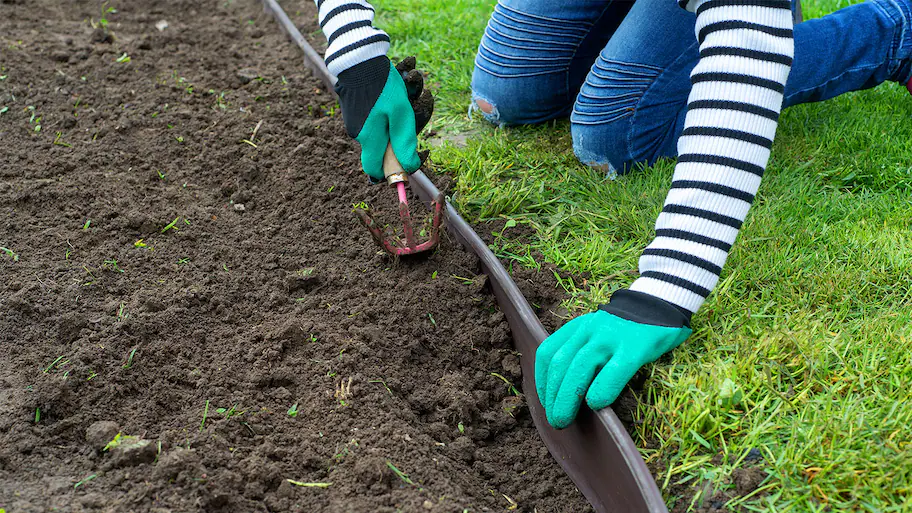 The use of plastic is a very common way to create an edge for garden beds. When compared to other flower bed edging ideas, this idea requires minimal effort for its installation. For a sustainable idea, get to know about recycled plastic for use.
Plastic is the best for temporary gardens because it does not offer longevity. It is best for a DIY project because its installation is pretty easy. The flexibility offered by plastics makes it one of the easiest garden edging ideas for flower beds.
8. Cobblestone Garden Bed Edges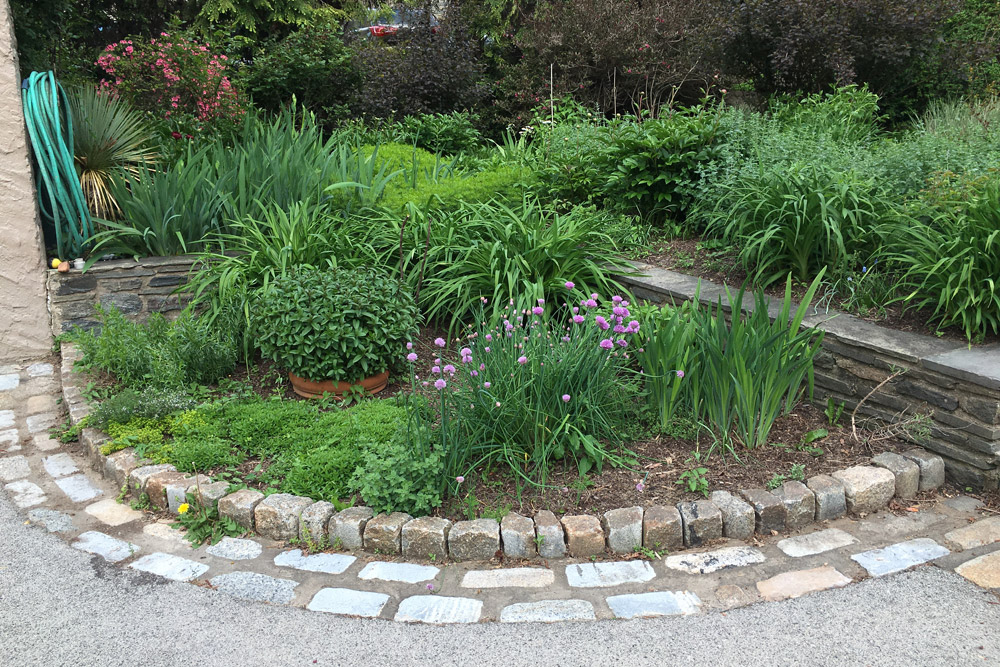 Flower bed edging ideas with cobblestone helps highlight your garden. Borders built with cobblestone have the advantage of providing a thick border for the flower beds. This ensures that the garden can be securely mowed with no damage to your plants. The bed garden, built using this idea, offers no to little maintenance after its installment.
The limits of cobblestones in building a garden bed edge offer numerous choices of patterns. Cobblestones can be purchased in different hues that match the color palette of your house. Build a single layer of the edge with cobblestones or make an impressive pattern using multiple layers with cobblestones and make your garden stand out.
9. Flagstone Flower Bed Edge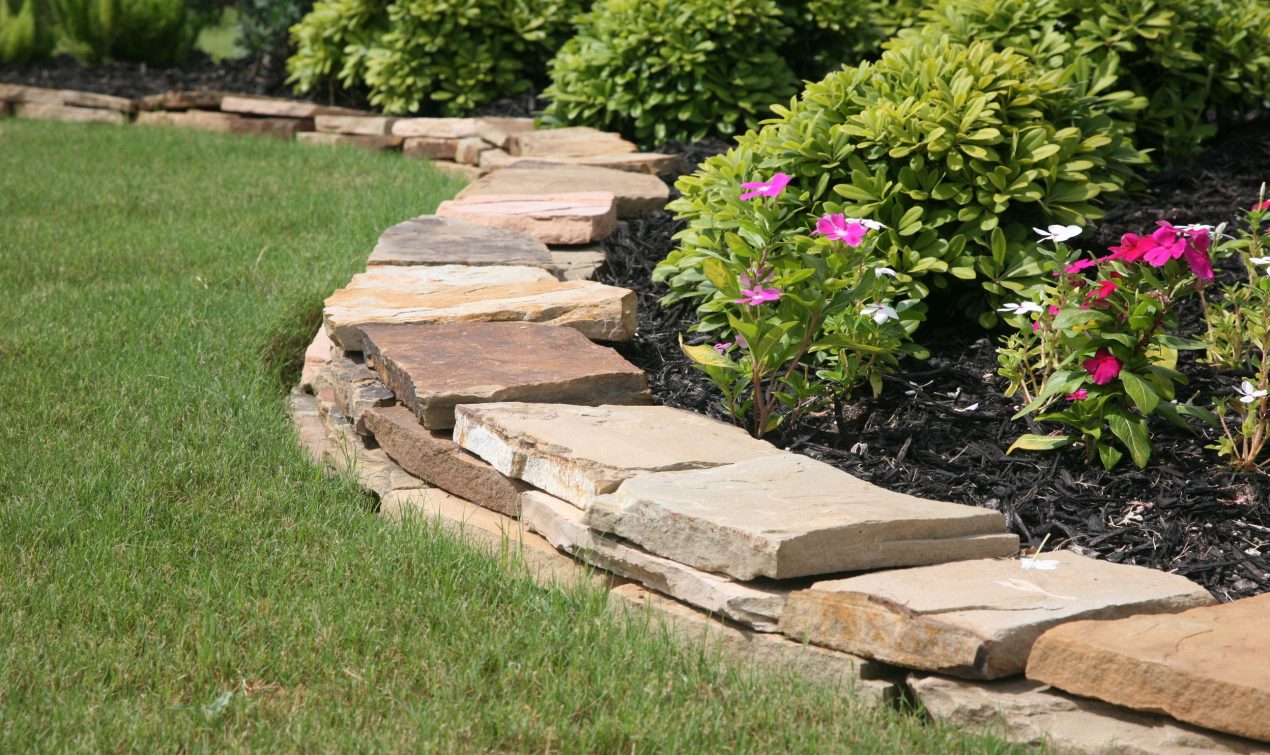 Are you planning to adorn your cottage-themed garden with the best flower bed edging ideas? We recommend the use of flagstones to accessorize your cottage-themed garden. Flagstones can be used in a garden in so many ways, out of which one use is building a flower bed edge. Varying thicknesses of the stone can be used to ornament a flawless garden.
The stones are also available in different shades, which liberates you to choose a color palette for your house. Flagstone differs from cobblestone because of the bigger size of the stones. The uneven edges of the stone will embellish your garden with a rustic and natural appearance.
10. Border with a Plant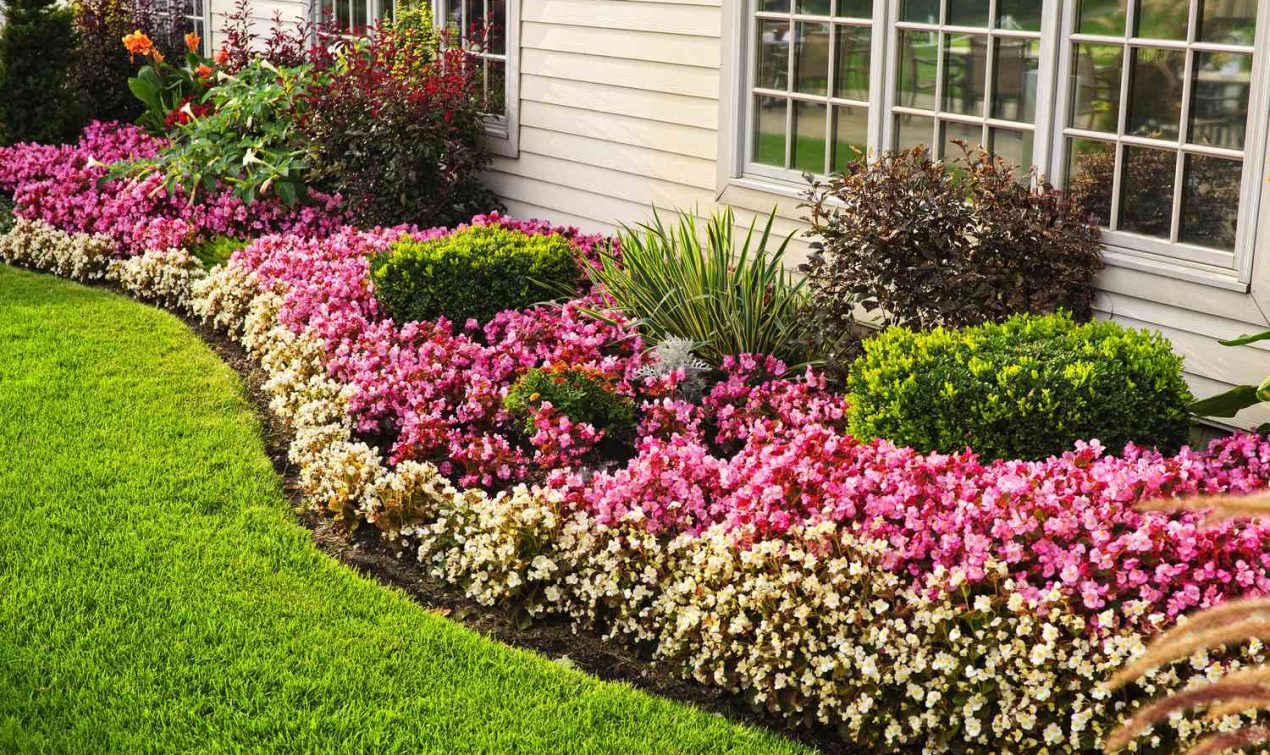 A living edge on your flower bed can never be a failure when it is concerned with flower bed edging ideas. The natural appearance of the plants can achieve the details of adding a garden edge. Using drapes of low-level plants can add motion and invite wildlife, providing a unique look to your garden.
It will also invite wildlife to your garden, which adds a natural vibe to your garden. Choosing flowers wisely will also elevate the look of your garden by adding colors from blooms every season. Autumn fern, Monkey Grass, oral Bells, Hosta, Hydrangea, etc., are some of the popular choices for a natural edge for your flower beds.
11. Wine Up Your Garden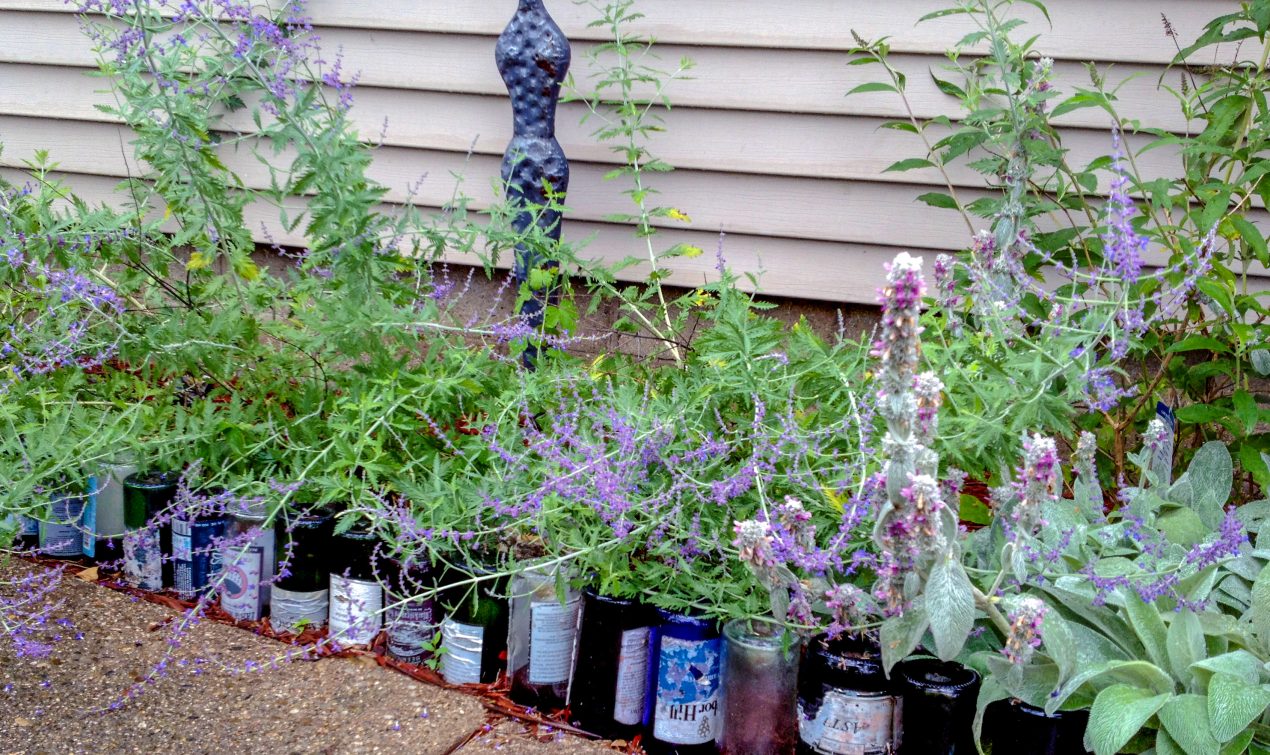 Wine bottles, upon emptying, are thrown away in the dustbin. Start collecting your wine bottles to construct a whimsical garden edge idea. This is one of the unique flower bed edging ideas that gives an expensive look to your garden. The colored wine bottles will infuse intricate detail into the garden bed, making the garden an exceptional part of the house.
You can either bury the wine bottles as a boundary to the flower beds. You can also mix the bottles with the poured concrete so that the bottle ends are visible. This flower bed edging idea will also keep your flowers away from weed growth.
12. Bloom in Every Season
Flowers typically bloom for a particular time of the year, and their bloom can be used to grab attention in your garden. Flower bed edging ideas using seasonal flowers will create a structure in the garden with their colorful blooms. The garden edges should be planted with seasonal flowers to create a better visual of your garden.
Upon their blooming season, they will provide colorful foliage that also will act as an edge. Once one batch of seasonal plants dies, the space can be covered by plants with different growing periods after deadheading. For a consistent color theme, you can choose one single type of flower. For a bolder choice for the garden, you can pick contrasting shades of blooms.
13. Go Green with The Edges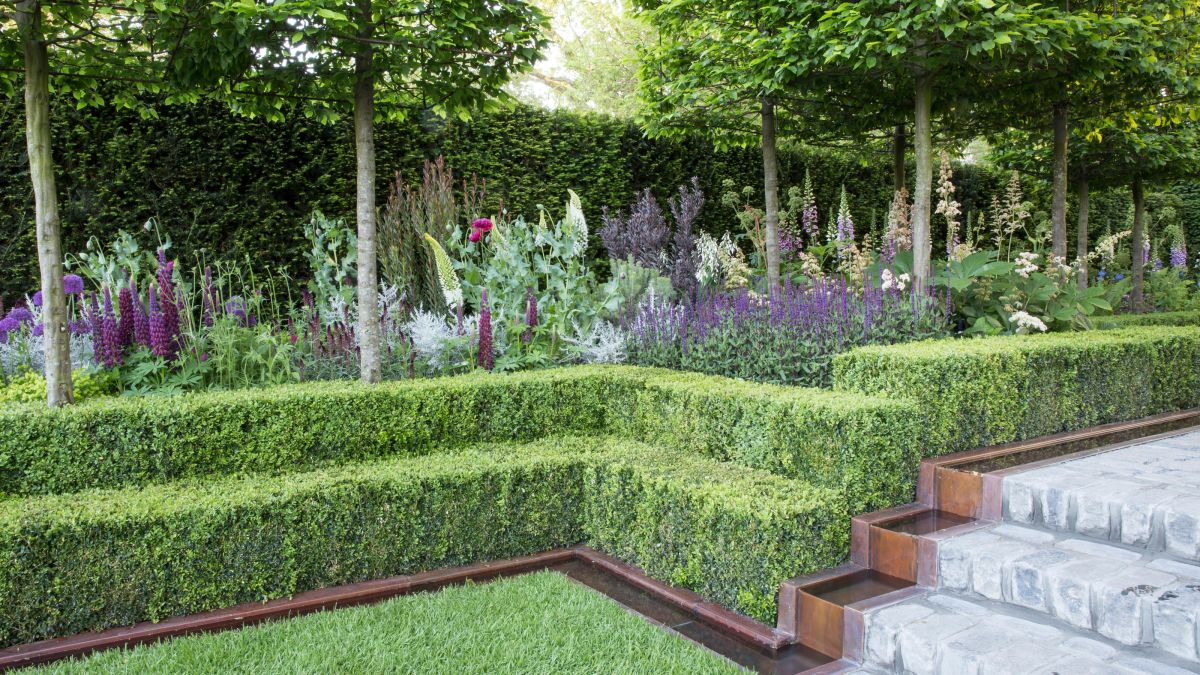 Natural elements of the garden, if used efficiently, will eliminate the need for any other decorative items. Flower bed edging ideas integrating hedges as an edge is a perfect example of this. The hedges can be used to provide a boundary to the flower beds of your garden by providing defined edging.
This idea can never go wrong because the natural shades of the hedges and flowers will create a natural color contrast with no additional effort. Hedges can be used to create a boundary or a barrier among different garden zones to give a neat outlook.
14. Decorative Metal Fence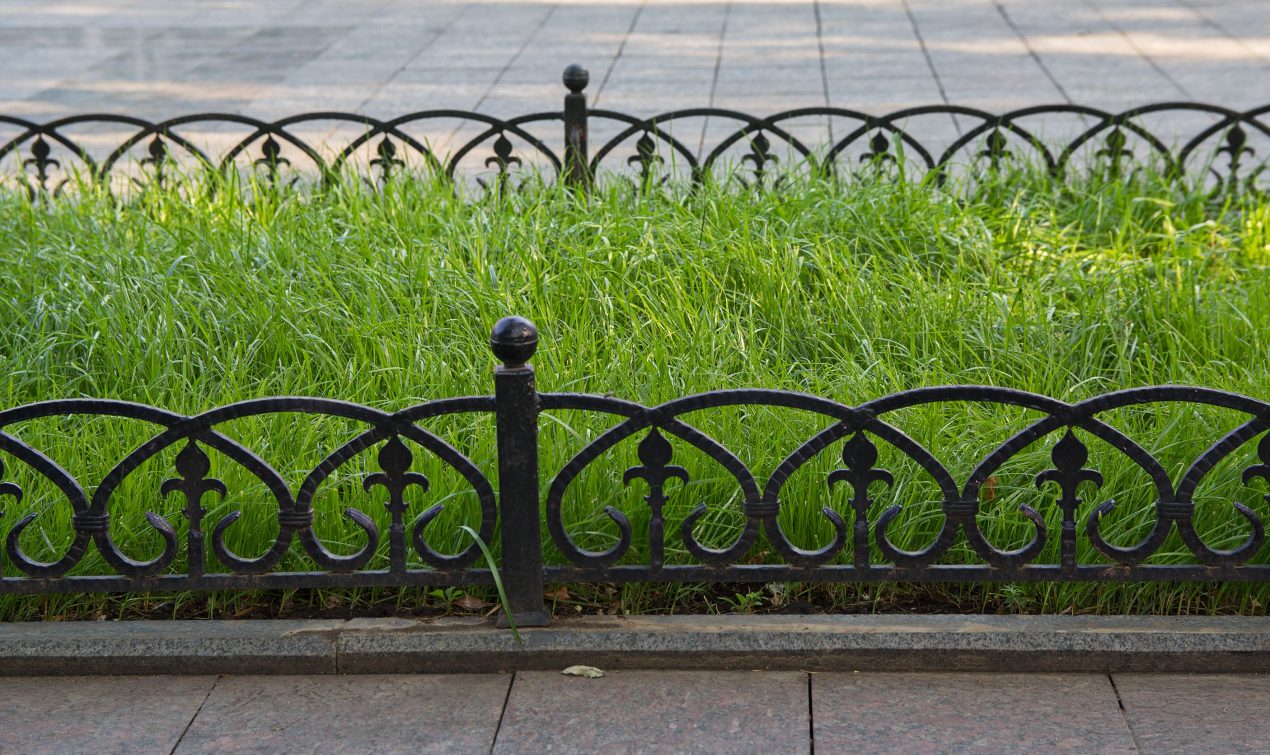 Garden fences make one of the best choices for flower bed edging ideas due to their longevity. The fences made of metals are resistant to weather and its damage outdoors. With fences, one limitation is that they only can be used in garden beds with straight-line areas of the garden.
Metal fences will be a failure for flower bed edging for gardens that have curved boundary. Border fences for your garden offer a variety from which the best pattern can be picked that refines the garden boundaries. Installation of metal fences is simple that saves you from tedious ways of building a garden bed edge.
15. A Wooden Garden Bed Edge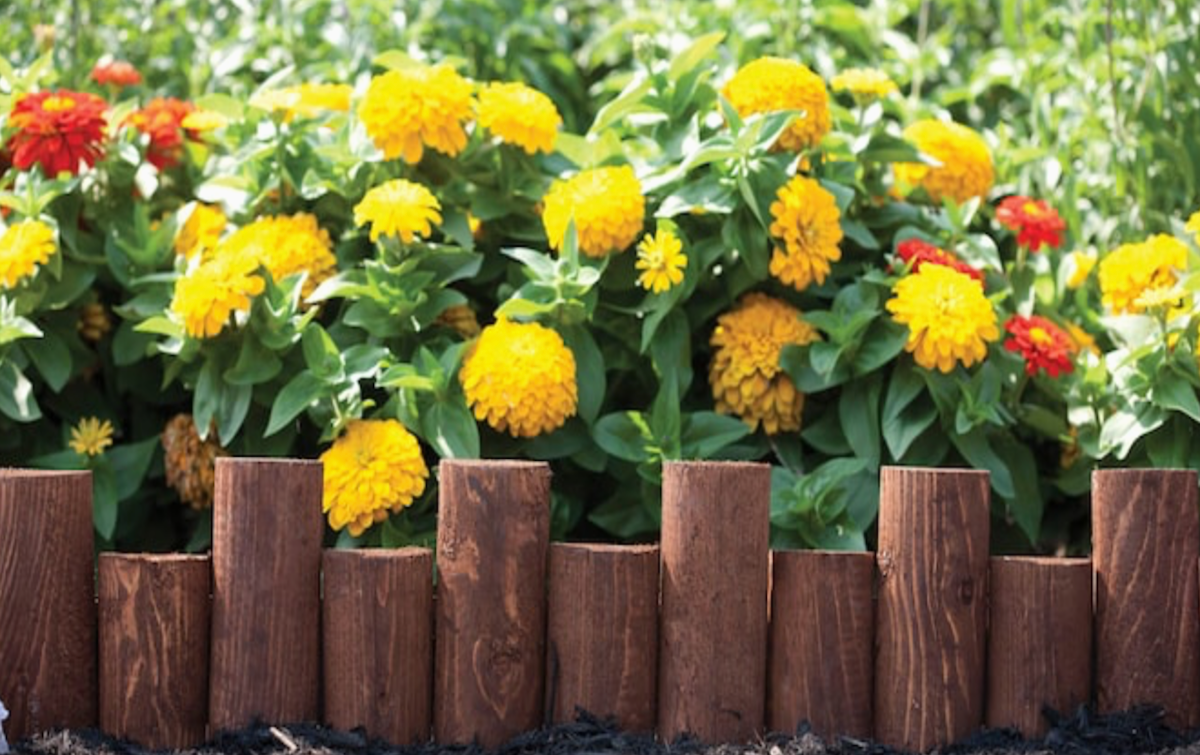 Working with wood welcomes affordable and easy-to-install flower bed edging ideas. By furnishing wood with resistant paints, the garden edge can stand for a few years. For a sophisticated garden look, you can create a symmetrical edge using uniform patterns and lengths of the wood.
Asymmetrical patterns, which look informal yet classy, can be used by the irregular placing of wooden logs or pieces. When using wooden pieces, a pointed end will make the edge building easier. Because the wood is susceptible to rotting, take proper measures for its prevention. For insect infestation of wood, use insect-resistant varieties of wood.
16. Rubber Flower Bed Edge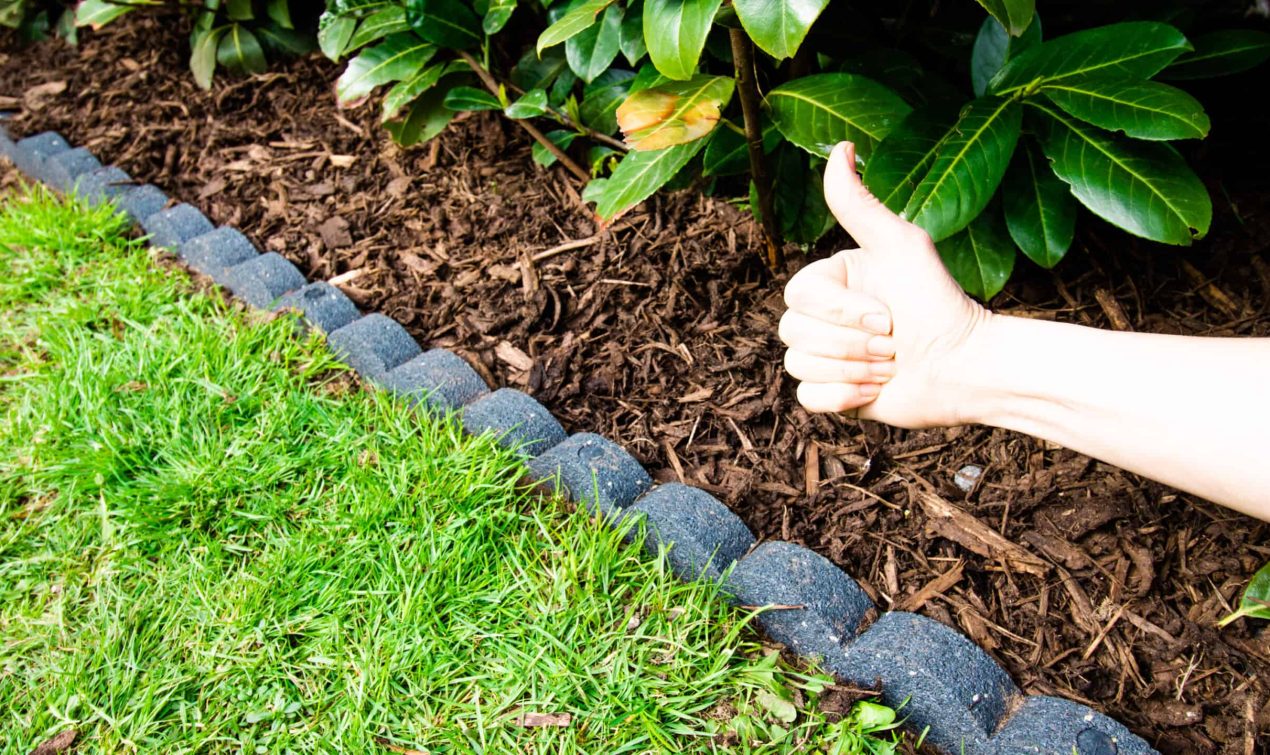 Flower bed edging ideas using rubber aid in the sustainability and durability of the edges. This way, the recycled materials can be efficiently used to build edges for gardens. The installation is easy, which makes it an optimum choice for a lot of people.
The flexibility of the item also makes it possible to build an optimal layout of the garden bed edge with curvy outlines. The recycled rubber material for edging can come in different forms. So you can either choose rubber bricks or stripes to join together and create a unique flower bed edge for your garden.
17. Be Creative with Bamboo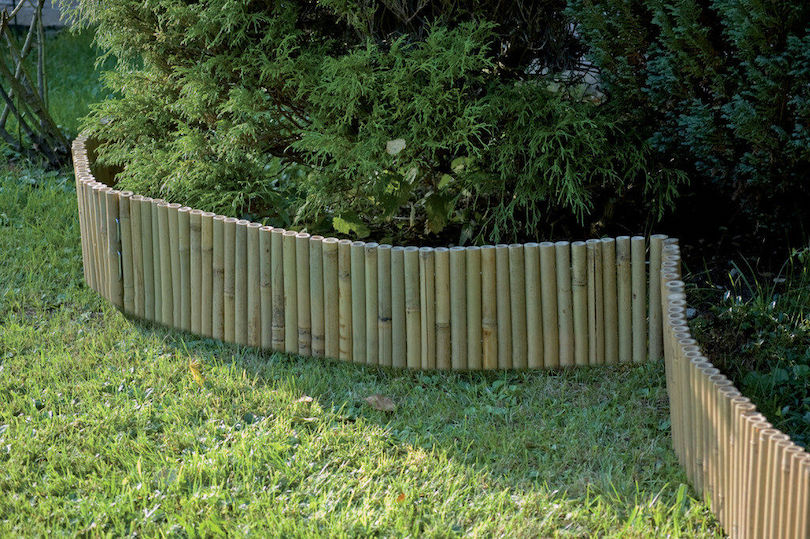 For flower bed edging ideas that are minimal, cost-effective, easy to install, & yet will make your garden stand out, incorporate bamboo in your flower bed edges. You can directly purchase a bamboo edge and install it. On the other hand, you can also make a DIY project for building a homemade bamboo garden bed edge.
Trust us, creating it is easy and just so much fun! It will add no extra feature to the garden, but the minimal approach used is no less than a luxury. Mix the patterns and add some hues with bamboo, and build a perfect garden landscaping idea.
18. Pouring Concrete Garden Bed Edge
The use of concrete for creating a bed edge offers durability. Because of the versatility of concrete, you can match it with the house exteriors and the garden themes of your yard. The best part about concrete is that it is tolerant to weather extremes and requires minimal maintenance once you have created a flower bed edge.
So unlike other flower bed edging ideas, concrete edges will last longer. If you are not acquainted with concrete, it is advisable to hire an expert because DIY projects with concrete welcome a lot of mistakes.
19. Make Durable Edges with Concrete Paver Stones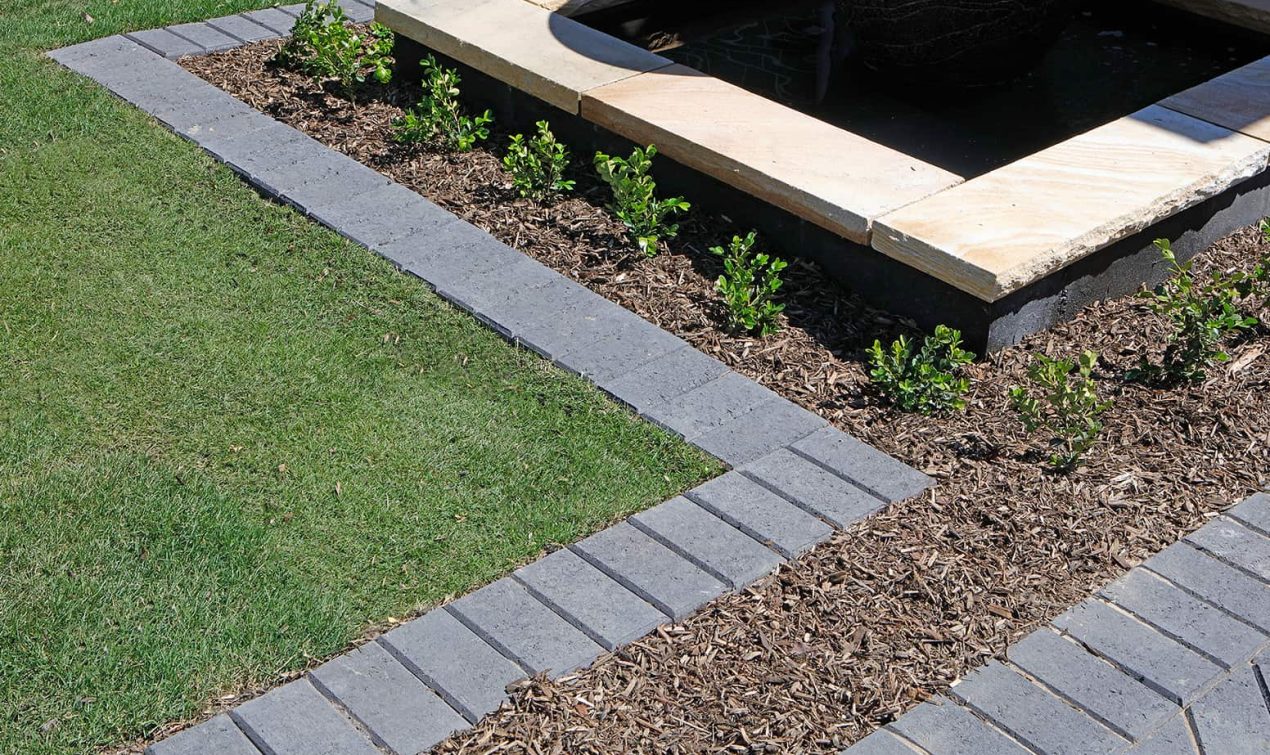 The use of concrete to build a garden bed edge is a durable and long-lasting option, and we already know that. Rather than pouring down concrete, bricks made of concrete can be used to smarten up the look of the garden. The use of concrete bricks provides a definitive structure to the garden.
The bricks, on the other hand, can also help in making innovative patterns to make the edges the focus of the garden. One drawback with concrete paver stones is that they are heavy, which makes working with them difficult.
20. Weave the Willows
Weaving of willow strands can create extraordinary ornaments to level up the appearance of your home. The natural edge, created by weaving the strands, is one way to adorn your garden with the simplicity of nature. If you are familiar with weaving willows, you can create your masterpiece for garden edging.
Flower bed edging ideas with willow weaving are never a defeat because a lot of faux woven willows can be purchased as well. This saves you from the hassle of weaving the willows yourself.
21. Tree Edging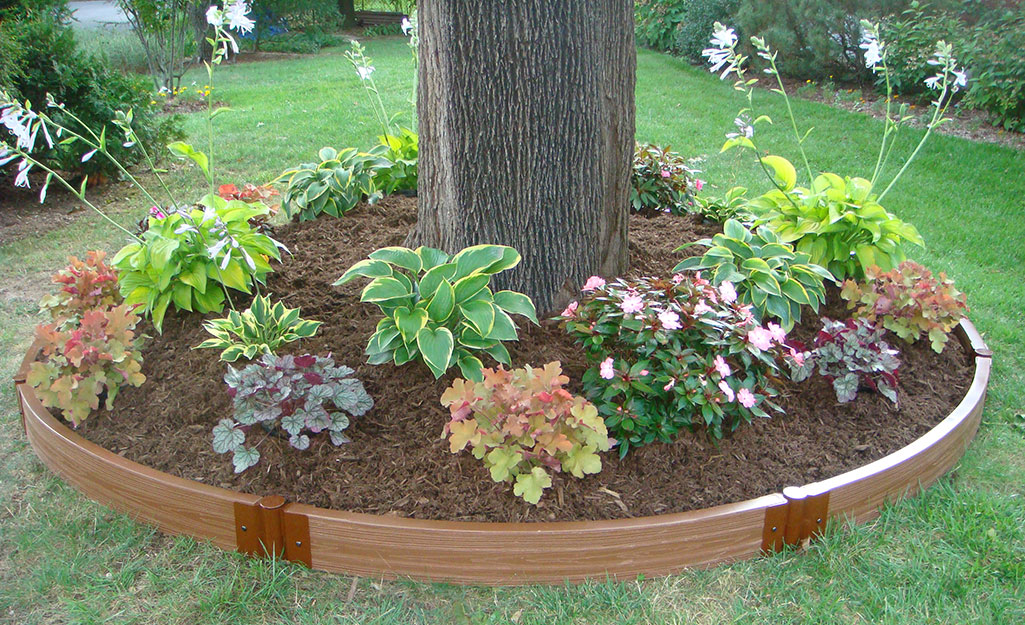 If your garden features trees, focusing on tree edges can help you establish a flawless and structured garden. Other than tree edging making your garden visually appealing, it has other benefits as well.
Fencing tree prevents the growth of weeds and the spreading of mulch. This furnishes a tidy appearance to your garden with a perfect finish. A tree edge can be built using different materials. A tree ring is the easiest of all.
22. Edging with Scalloped Stones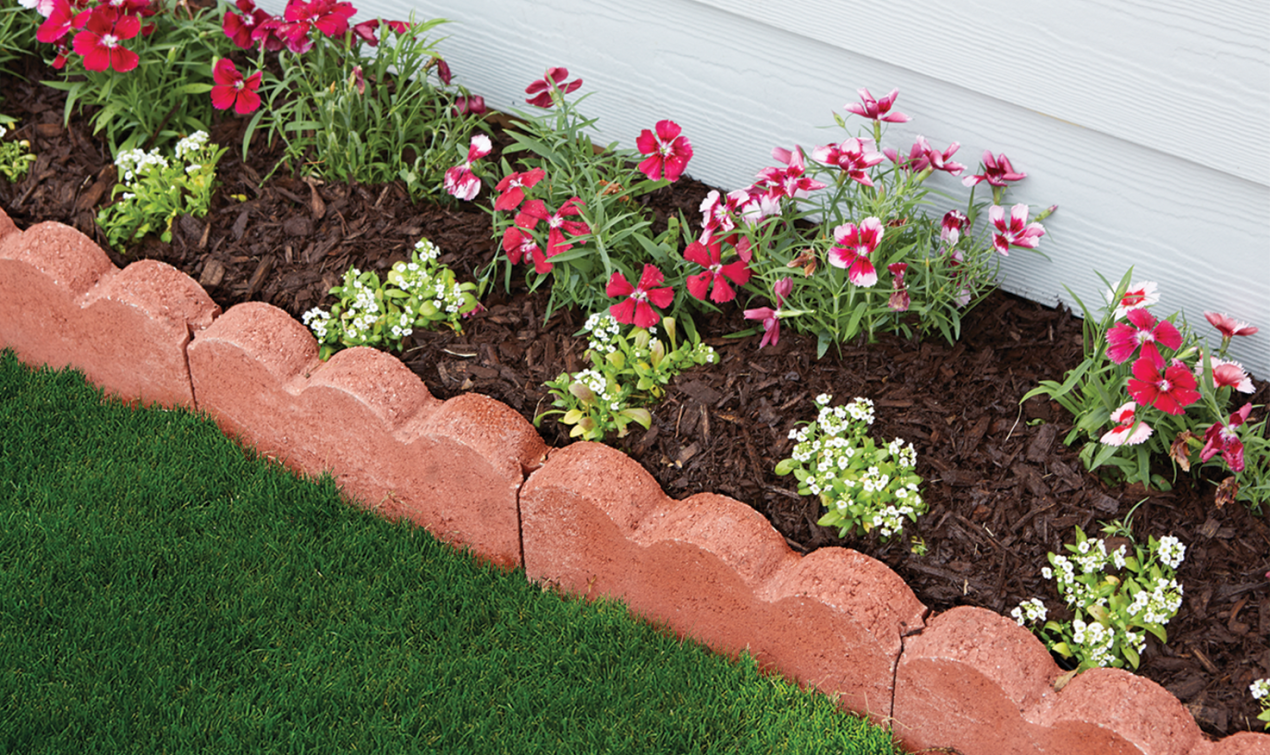 If you are looking for budget-friendly flower bed edging ideas, scalloped stones are definitely a hit. The vintage scalloped stones provide an efficient flower bed edge that never fails to impress. With this minimal edge building, allow your garden to feature its patterns.
The scalloped shape of these stones goes along with contemporary and modern garden designs. The minimal details of the stones help in giving a structure for your garden. The stones are available in different shades that can help in enhancing the color palette of the garden.
23. Do Nothing But Place a Weed Mat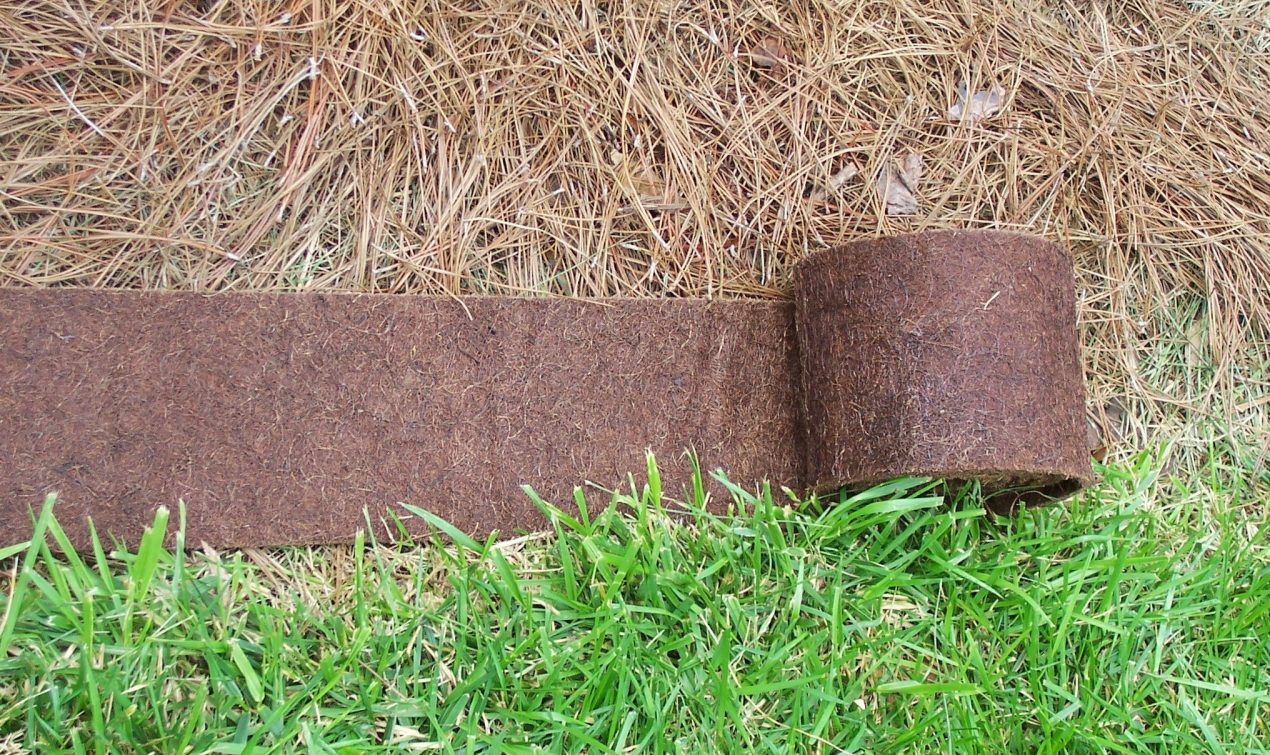 Do you want an edge for the garden but don't want to get occupied with installation and maintenance? Here's one of the easiest flower bed edging ideas. Add a weed mat that will also serve the purpose of an edge.
The weed mat is cheaper and will save you time. Its primary function is to prevent weed growth near the desired plants. So altogether, you get a cheaper & easier edging alternative with protection from weeds in your plants. Not a bad deal!
24. Add Height to Your Garden Bed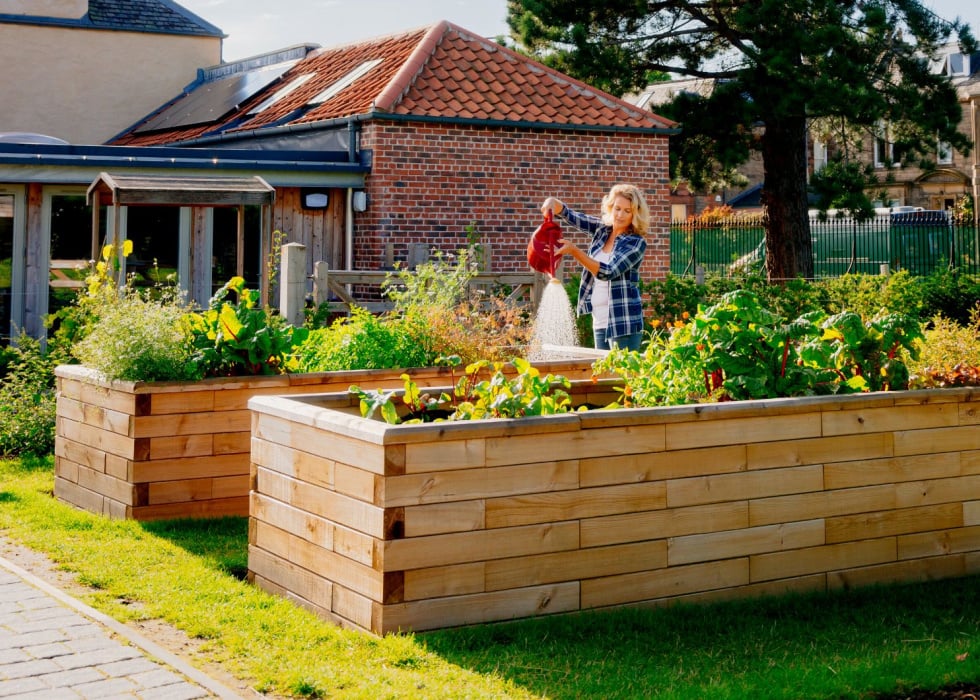 To skip the hassle of flower bed edging ideas that utilize different raw materials and their tedious installment, here's an innovative way to structurally define your garden beds. Adding height to your flower beds will eliminate the need for an extra edge to define the borders.
The flower beds, using this strategic placing of garden beds, are separated from the rest of the garden zones. This garden edging idea not only improves the visuals of the garden but makes cutting flowers and vegetables easier by allowing greater access.
Wrapping Up
The incorporation of flower bed edges can enhance the elegance of your garden. There are numerous ways to add an edge to your garden. We discussed the best flower bed edging ideas which focus on different features of the garden.
Edges in the garden can be introduced naturally by planting hedges or with tiny plants. The use of wood for building edges is a cost-effective idea, which reuses woods. Bricks can be added to give a minimal design to the garden. Elements like rocks and fences can also provide a structural outline to your garden. Comment down on the garden bed edging ideas we missed!
Frequently Asked Questions
What Will Decide the Longevity of The Edges?
The longevity of the flower bed edging ideas will be determined by the type of materials you will use and the accuracy of the installment techniques. If longevity is your concern, opt for concrete pouring, stones, or metal edges.
Is Edging of Flower Beds Too Expensive?
For budget restrictions, cheaper alternatives to create an edge for your flower beds are available. Some of them include the use of wood, bamboo, rocks, using old bottles, etc.
How Difficult is the Garden Bed Edge Installment?
The difficulty level of installing edges will depend on the type of edge you prefer. For example, edging with paver stones and concrete may be a bit difficult. But edging with wood, flowers, or rocks can be a DIY project.