20 Easy Office Organization Hacks for a Clutter-Free Desk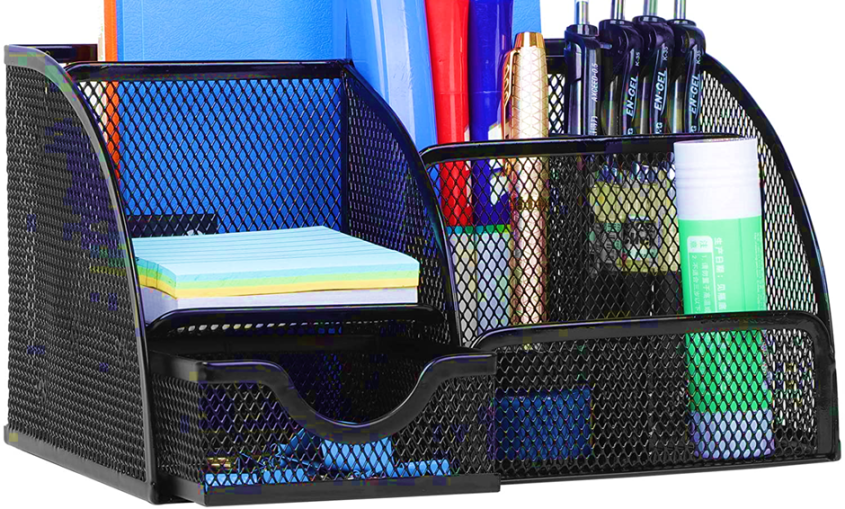 What does your place of work look like on a typical day? Is it disorderly or messed up? Or is everything organized neatly into its appropriate measurements and types? An individual's workspace suggests a lot about them. A tidy office space can increase efficiency and reduce stress.
We've collected 24 innovative office organization ideas in the blog post to help you organize your workspace and make it more practical and motivating. We have everything you need to create your space spick and span. These pointers tell you about storage bins, wall-hanging storage units as well as furniture to assist you in creating a clutter-free space.
You can boost your efficiency and concentrate on your task whether you work from home or in an established office. Consequently, let's embark on an office organizing trip and make your work environment a clutter-free and happy work universe!
1. Fabric-Made Storage Unit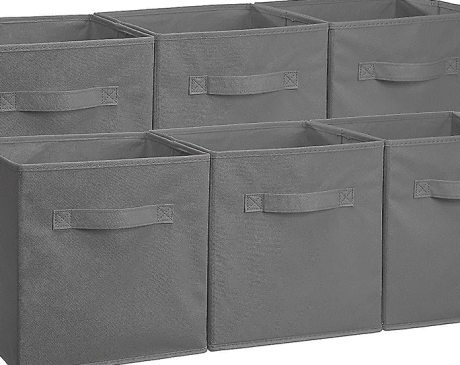 The best office storage solutions include using boxes and bins to organize the office supplies that frequently overcrowd your workspace.
Everyone loves utilizing these non-woven fabric storage containers with handles to store office supplies, from paper to markers, calculators, and hard-to-categorize stationary. Select fabric storage units as per your needs, and insert a label on each box for locating office supplies in no time.
You can buy storage containers with label holders to quickly get the item you're looking for. These are environmentally friendly because of the materials used in their creation. Additionally, these boxes or bins have handles attached on two sides. You can easily lift the fabric boxes from storage spaces and carry them to your desk.
2. Fabric-Made Wall Organizer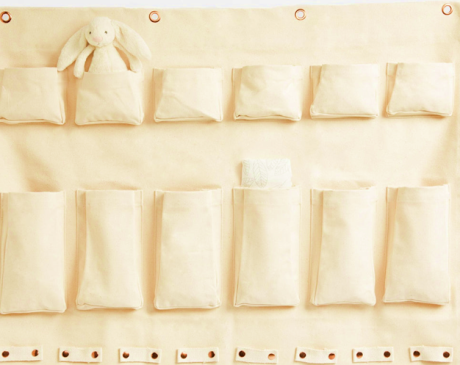 Select a wall organizer for a clutter-free workspace. If your work table is by the wall, this yarn-made wall hanging's mushy and handmade design is perfect for those who favor a modest-looking place of work.
Your smaller items or office essentials can fit in various-sized pockets. They are easy to clean thanks to their waterproof covering. These are available in stores and online in a variety of hanging styles.
It maintains order in your workspace with holes to fix on the back of a door or wall. To keep your small items organized and easy to store, they are also accessible in a hook-and-loop design.
3. Peel and Stick Organizer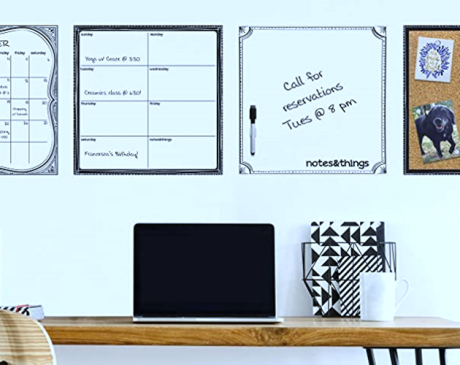 Whether you work from a home office or an outside office, you can use walls for various office organization devices. This organizer set is perfect for those who want a space-saving organizer that leaves no traces when removed.
The adhesive backing makes mounting it to a surface simple and helps keep your workspace tidy and organized. Peel and stick organizers are available in different sizes and shapes and are handy in storing anything from paper clips and sticky notes to pens and pencils.
They have four sections a corkboard, an entry section, monthly and weekly schedulers, and a calendar section. Super convenient to handle, affix to the wall, and move around when necessary. No nail holes will be visible when it's time to relocate!
4. Pin Board Wall Organizer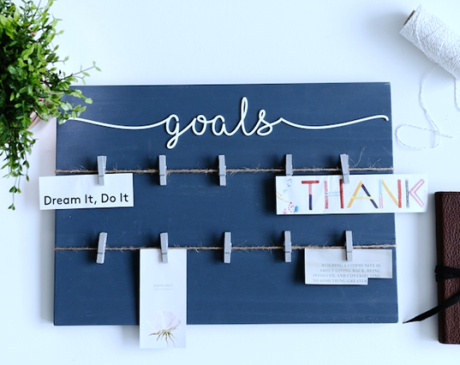 For keeping tabs on important information, use a pinboard. Hang it on the wall to make your thoughts and assignments visible and organized. In an office or home setting, it is a practical way to arrange notes, photos, letters, to-do lists, and numerous other things.
The market offers pin-board wall organizers in various sizes and configurations. Some of these items include both a whiteboard and a pinboard, which are highly useful for affixing to-do lists, brief notes, and doodles!
Pro Tip: Select a pin board with a calendar feature that makes it worthwhile.
5. Acrylic Wall Organizer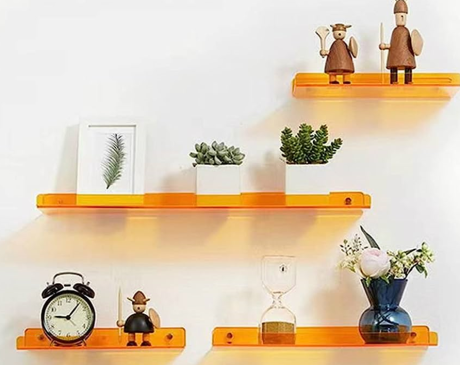 Who says an office space should not look fashionable? Besides, your choices reflect your personal traits. The acrylic wall organizer looks elegant.
So, if you love stylish and creative office organization ideas and designs, this one is for you. This storage equipment is no less handy than simple-looking ones. It has all you need to make your workstation well-organized and keep your spirit high.
The different sizes of clear bins can accommodate notebooks, post-it notes, pens, and other items. The elegant acrylic wall organizer holds various-sized compartments for post-it notes, publications, planners, and other tiny stationary items.
6. Cube-Shaped Office Organizer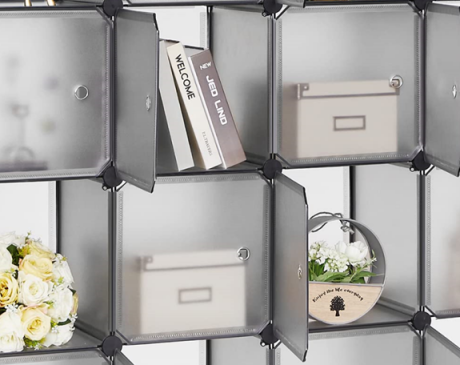 If you have a bunch of trivial items to store, using a cube storage unit is one way to organize everything into tidy zones. They look simple and make it easy to tell what belongs where.
These organizers are customizable and convenient for different kinds of storage stuff. Easily bought from stores and even come with inserts you can use to build drawers, cabinets, or bins based on what you want to store.
The best thing is you have plenty of options since cube-shaped organizers are available in multiple materials, including clothes, wood, plastic, and powder-coated steel cables.
7. Floating Shelves Organizer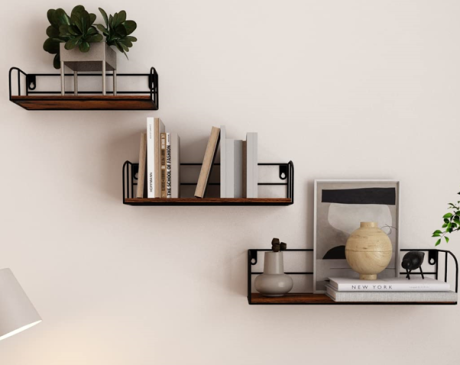 The term "floating shelves" refers to wall-mounted shelves that do not have visible support brackets. They consist of a single cleat fastened to the wall straightaway and an empty box that fits over the cleat.
Floating shelves can either have concealed brackets or brackets placed deliberately. The authentic floating shelves have mounting hardware invisible behind them for an entirely clean appearance. They are a simple, functional way to store anything, from your eyeglasses to office supplies and planners.
Pro Tip: Place the floating shelf approximately 2 to 3 feet above your desk.
8. Transparent Storage Box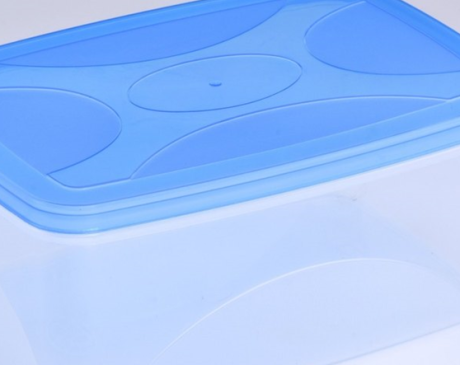 Assuring that everything has a place ensures that cleaning up becomes a habit. Transparent containers, like those made of glass or plastic, let you peek inside before opening them. They are useful for keeping small things that are important to you.
Keep pens, office supplies, and other small items in transparent plastic boxes. These are available in a variety of sizes and stack aesthetically. Desk organizers are helpful if they fit your stuff, but not if they are too small and difficult to use.
9. File Storing Office Organizer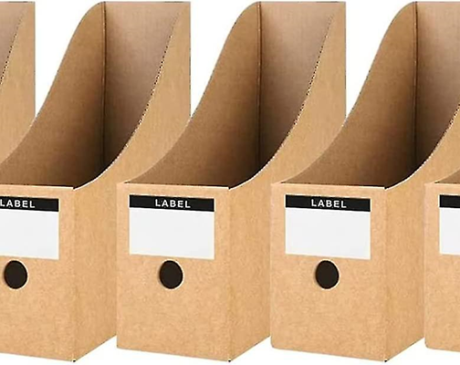 One of the less complicated issues with office storage is how to store documents. The traditional file cabinet and all its new iterations, such as containers with suspending file folders and wall-hung record holders, are examples of file storage solutions.
Magazine cases and paper trays are both viable options for storing files. Since the days of simple buff paper, folder layouts have evolved significantly. You can apply color coding and arrange your documents in your filing cabinet in attractive printed folders. Additionally, they help to liven up an otherwise dull and lifeless office environment.
10. Wooden Mounted Office Organize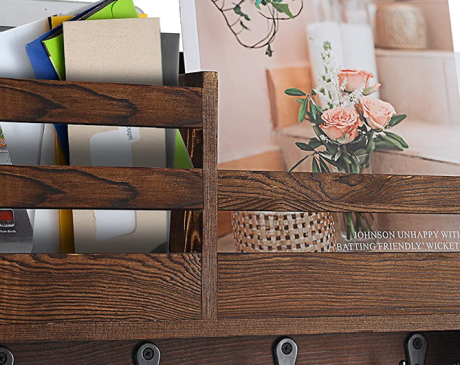 You need to start looking upward if you run out of space on the floor for a file cabinet or drawer space. De-clutter your work desk with a set of wall-mounted organizer racks. This wooden organizer will add enticing rustic décor. Moreover, the racks are simple to install on most wall spaces with the right fixings, and they are certainly an effective storage solution.
This organizer is ideal for utilizing unused space on the wall while keeping postal mail, documents, and files in order. You may pick up an organizer with a set of connectors for hanging keys and other accessories, visible in the lower section.
11. Tiered Trolly Office Organizer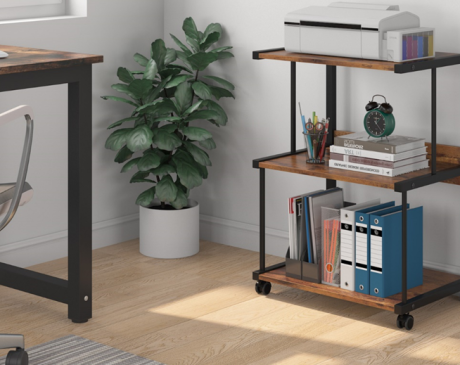 Now you don't have to feel embarrassed whenever your boss comes to your working space due to its shabby appearance. Use a portable storage cart to prevent your belongings from becoming cluttered.
Choose a desk-compatible rolling cart with tires so you conveniently move it out of the way once you have finished the day. To keep everything in it arranged, pick a multi-tier trolley. You can segregate small-sized items, such as pins, erasers, or paper clips, using plastic cases and trays with shallow sides inside each tier as dividers
12. Versatile Office Organizer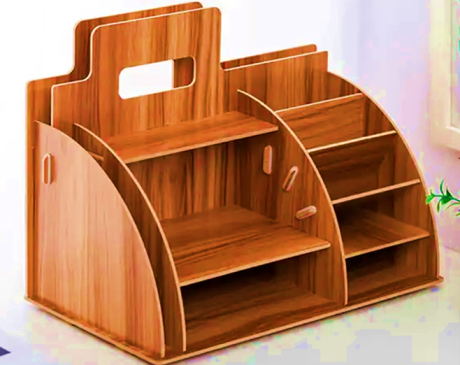 Before deciding onan appropriate desk organizing equipment, you should consider your need and the size of your workspace. It is crucial for your selection, irrespective of its physical location. It could be your remote work setup or your company's office. A Versatile office organizer can change your disorganized desk's appearance to a clean and tidy workspace.
This desk storage organizer, which targets cluttered desktops and office desk supplies, is well-built and decorative in appearance while offering a secure location for your forthcoming or finished project files. Maintaining a clutter-free workspace is made easy with this space-saving office desktop organizer.
A bright wood finish tool with several compartments offers a stylish way to maintain orderliness in your space. This clutter-free setup has room for everyone. There are various compartments for keeping paper documents, letters, cards, markers, and other items. You'll easily and quickly find your required items during your daily work.
13. Metal Mesh Desk Organizer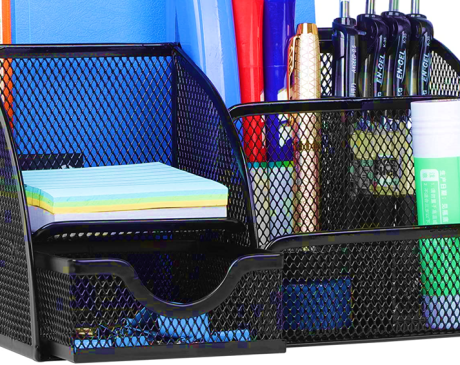 Decorate your space in style with this all-in-one chic organizer. This mesh desk storage device offers a practical way to store your items and includes removable file trays for sorting and storing. The detachable drawer is ideal for rulers, pencils, erasers, scissors, tape, staplers, paper clips, elastic bands, markers, glue, keys, and even for your cell phones.
It's an ideal desk organizer because of a specific section for pens and stationery. It combines elegance with the toughness, adaptability, and functionality a contemporary office demands. Small desk supplies will stay to the hilt where you keep them because of its segmented option.
14. On-Wheel Office Organizer
Are you self-employed and run your business from your home? When working from home, you need more office organization tools; a mobile storage device is a genius idea. It helps keep everything you need put together and in one spot, allowing you to move it as needed.
It's perfect for turning your dining table into a working surface or converting a space into an office. Furthermore, the device's lean structure is appropriate to place under your desk when you finish your work. A cabinet on the wheel is a fantastic way to arrange your office space.
Due to their adaptability, they can store a wide range of items, for instance, office supplies and documents. Because it is portable, you may alter it to meet your requirements. They are accessible in multiple sizes and designs to cater to your specific organizing needs. You can design a practical and fashionable workspace with mobile storage units. Believe us; they can make your things organized and make you productive.
15. Pedestal Office Organizer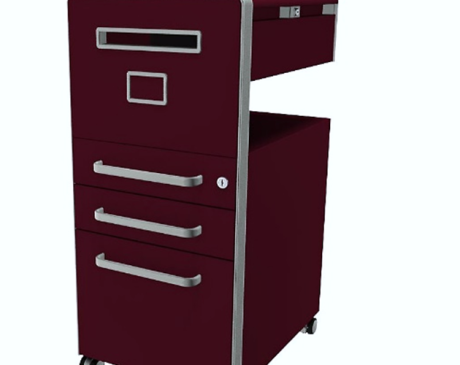 Keep your office desk organized in the presence of the pedestal office organizer. It is a space-savvy option. The number of drawers placed on a stand or pedestal is highly applicable for maintaining an orderly workplace look.
You can easily keep your stationery items, and files, and important postal mail. They have built-in locks to protect confidential files. Pedestal workspace organizers are available in various designs and sizes to fit your need and office space.
It is also available with additional storage space and attachments connecting a table beneath or over. It enhances the usability of the conventional pedestal. The left- and right-handed units come in many hues and arrangements. You may buy one or both side units for your desk in stores and online. The mobile organizer seamlessly fits into the current office environment. It offers specific room for storage at work and versatile storage options.
16. Wooden File-Storing Office Organizer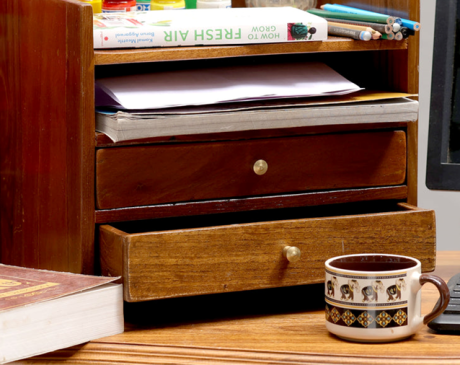 Using a dependable and sturdy filing device can help you work efficiently and concentrate on your work without feeling overwhelmed. Wooden file office organization ideas are beneficial for all types of workstations.
It is undesirable to scatter documents, papers, and folders on open-mounted shelves, in storage bins, or even on your desk. In order to prevent disorganization and make your file inaccessible to undesirables, a wooden file drawer or cabinet with a lock system is the best option.
Use this organizer in your house or office to organize your documents. It has enough storage for a variety of uses. The wooden compartments can hold your charging cords, writing instruments, and other items, additionally serving as a space-efficient paper sorter, file, or letter organizer.
17. Open-Shelf Office Organizer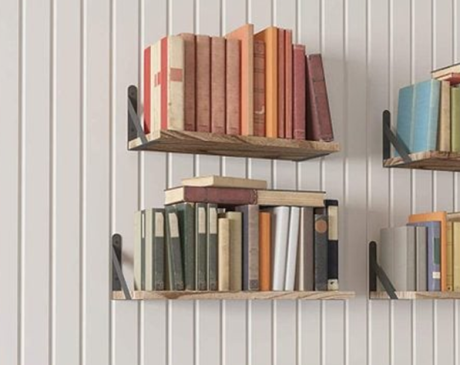 Utilizing wall space is one of the simple workspace organization ideas. Open shelving is a straightforward, inexpensive wall shelf arrangement that ensures documents and office supplies are adjacent to you but not at your desk. Handy, infinitely customizable, and durable, they are available in a variety of colors to match any type of office.
However, your choice of installation method ultimately determines the durability and dependability of your shelves. Rigidly attaching the racks to the wall using special fittings is the most reliable and recommended method for fixing them securely. You may traditionally attach them with the brackets looking either upward or downward to give the appearance of a floating shelf.
To make your open shelves look less cluttered, arrange office supplies with a scheduler, mini figurines, or other small decorations.
18. Wooden-Cubed Office Organizer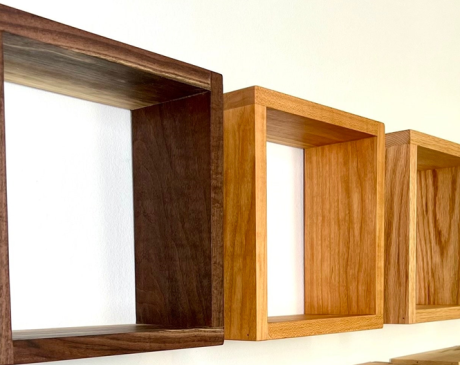 The wooden cubed shelve boxes are appropriate for a functional room and an office similarly. They are versatile, so you can use them as per your need and available space.
Maximizing shelf space is an excellent organizational idea to display your professional accomplishments, medals, or mementos hidden either inside any cabinet or gathering dust outside.
This floating box shelf adds instant style to otherwise plain office walls with spaces for notepads, photo frames, and brochures. Be diligent in installing the shelves properly because they will hold the weight of your awards.
Fixing the wall nails and placing shelves to support brackets securely ensure the mounted boxes endure long-time use.
19. Industrial-Style Office Organizing Ideas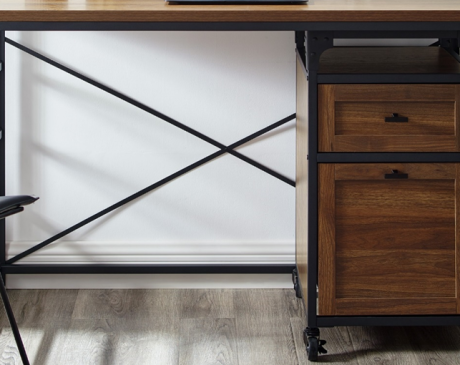 Industrial-style storage solutions for offices give the place a formal feel as they appear durable and resilient. This office furniture is available in stone, wood, and metallic materials. Deeper shades of color are more prevalent, and black is a favored choice of paint for industrial organizers and shelving.
You can recycle old furniture in industrial storage bins. You may upcycle an old chest into a filing cabinet to create a retro-industrial storage solution. Swap the sturdy cabinet front part with metallic black mesh screens and the drawer kit with pipe-style metal grips. Set old metal plates inside the upper drawer to create separate units.
20. Customized Office Organizer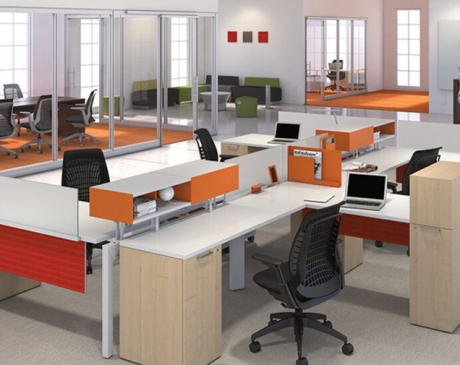 Off-the-rack workstations, or cubicles, are part of a modular office. Typically short walls wrapped in fabrics or any other elements segregate the cubicles. Numerous modular products include built-in storage features such as wall-mounted storage cubbies or baskets.
If you're looking for a quick and affordable way to set up a usable workspace, in this case, modular storage is a fantastic option. They may, however, appear icy and unwelcoming. You can make your modular office neat and appealing by including some decorative items along with your office supplies and files. Add some organic elements, like an oak floating shelf over the workspace adorned with framed motivational quotes and rattan storage bins.,
21 Space-Saving Office Organizer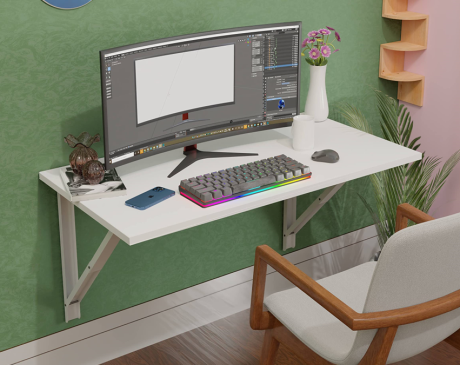 When the surface area is at a premium, innovative space-saving techniques are required to maximize every square inch to organize your things. A folding workspace gives you room for your laptop and paperwork.
You can tuck it away into the wall at the end of the working day. It's the perfect storage option if you want to utilize the area during the day for something else. You may add the number of hidden drawers in your work area. Consider purchasing an organizing ottoman or seating area.
When you don't know where to put everything, multipurpose items can help you. If there isn't much room on your desk, use a bowl to keep your pen settings, markers, clippers, and other small items.
22. Built-In Office Organizer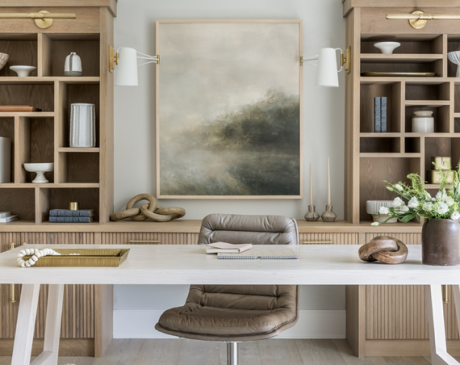 Consider installing a desk and storage area to make the most of your space and encourage organization. These built-in desk concepts and styles can include filing cabinets and shelves with more organizing units and hidden cubby slots for your documents, based on the available space requirements.
They are superb additions to a functional and modest home office. You won't be facing a shortage of places to store things if you have integrated shelving that spans the entire wall of your home office.
23. Cabinet Office Organizer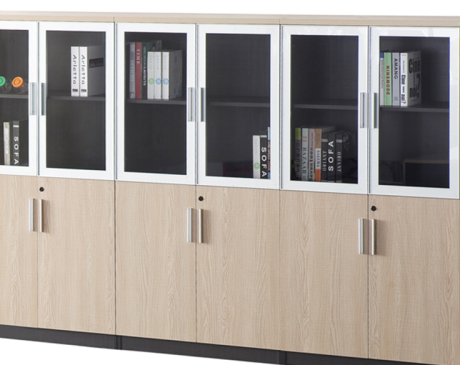 If your workspace has a room, a storage area or unit is necessary to keep things organized. Closing the door on supplies and paper piles is the fastest way to tidy an office.
If you have a home office in a common area of your dwelling, like the living or kitchen area, a table with a cabinet is the ideal storage option. In addition to storing supplies, cabinet doors can enhance the design of your workplace. Use latticework or carved tin frames in place of plain ones.
Cabinet fronts are valuable wall space for hanging items by adding corkboard. For storing bottles full of staples, elastic bands, and office supplies, hang small shelves inside the cabinet's doors.
24. Cable Box Office Organizer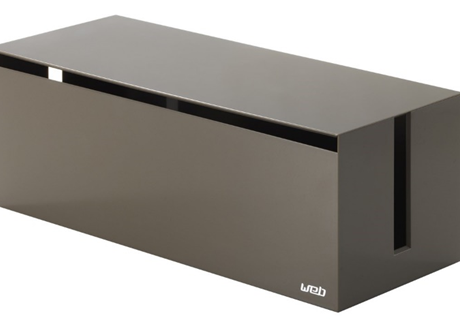 Suppose you have organized your workstation, but the back of your desk is cluttered with cables, and you hate the sight. Not to mention, you can do away with it, too. Set up a cable box for safety and include the laptop, power plug, and extension cables. Choose a socket that enables multiple cords to enter and exit while remaining organized.
The box serves a dual purpose by organizing tangles of cords into one stylish container, which will both organize the flooring and desk and make it easier to find and identify cable cords when you require a replacement for any one of them.
Conclusion
The blog post discussed office organization ideas that can reduce clutter and get your act together. It includes advice on organizing your office supplies, making a filing system for your paperwork, and using storage bins to keep everything organized.
There are many benefits to an organized workplace beyond aesthetics. You simply waste time and become less productive when looking for files in an untidy workspace.
We sincerely hope the tips and suggestions you read here make you confident to tackle the issue efficiently. Please share your experiences with us in the comment box below.