15 Amazing Board and Batten Wall Ideas
Do you get cold feet while deciding on adding a little more substance and dimension to your bedroom and living room walls? Consider board and batten designs instead. By attaching upright boards to your wall and covering the joints between the panels with small wooden stripes or battens, your wall acquires a textured appearance.
You may color with whatever shade you choose. You will get several choices for deciding the best aesthetic for a board and batten wall. You can learn about elementary designs, uniformly spaced symmetrical patterns, or more complex geometric shapes are just a few examples of diverse wall patterns. Moreover, they will offer you modification and customization options.
This gallery of board and batten wall ideas, displaying traditional to cutting-edge style, motivate you. These stunning designs will give new life to your home's walls while adding a touch of charm and personality to them.
1. Board and Batten Classic Wall Ideas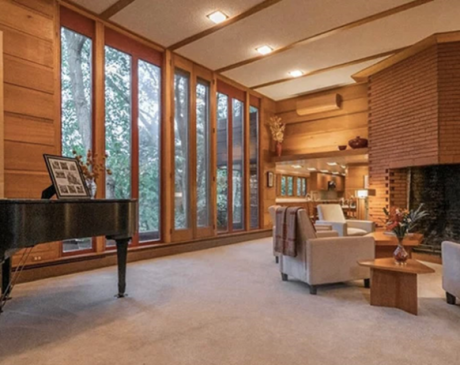 The board and batten living room design is classic and timeless. An open flame with brick surround jazz up the house's main living space. The aesthetically pleasing combination of supplies and the effortless transition between indoors and outdoors demonstrate the room's construction brilliance.
The abundant sunlight comes in from the impressive big openings illuminating the interior organically. It also enhances the home's naturalistic construction design. Additionally, you may combine natural board and batten to make an ornamental headboard for your bed.
For an older-fashioned appearance, apply a board and batten pattern for the outside of your house.
2. Board and Batten Wall with Crown Molding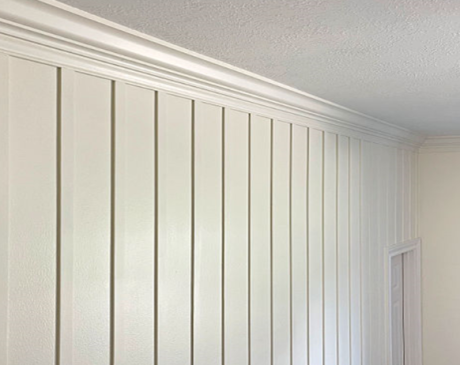 Board and batten with crown molding combine the sophistication of crown molding while maintaining the timeless appearance of board and batten. On the very top of the battens, you should add crown molding after affixing the battens to the wall's frame with horizontal board rails. They will have identical spacing on top and bottom.
While installing crown molding, you may feel it, a slightly trickier than a typical board and batten pattern, superior outcome can make you delighted and excited.
Almost all kinds of wood will work for a home's board and batten wall. Widespread options involve expensive poplar as well as pine and wooden components. Hardwoods like oak and maple are excellent choices for board-and-batten walls that do not require coloring.
3. Board and Batten Wall with Geometric Accents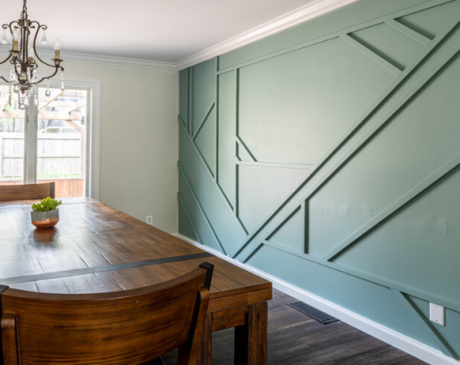 Imagine entering a contemporary space where elegance and style blend seamlessly to create a setting that exudes a cozy yet chic charm. A wall with geometrically designed panels is a stylish and contemporary way to give the interior a visual interest.
You may coat the boards in various colors or use geometric peel-and-stick wallpaper to create a geometric pattern. If choosing a grid pattern, in this case, arrange the board in a rectangle or square sequence. The family room, sleeping areas, dining space, or even your kid's room are ideal spaces for this style of highlighted wall.
The decoration of the interior of the room in this image completes with an impressive gray abstract wall. The gray tones of this geometrically styled wall beautifully contrast with the friendly vibe of the space, adding an intense sense of profundity and character.
4. Board and Batten Checkered Buffalo Plaid Wall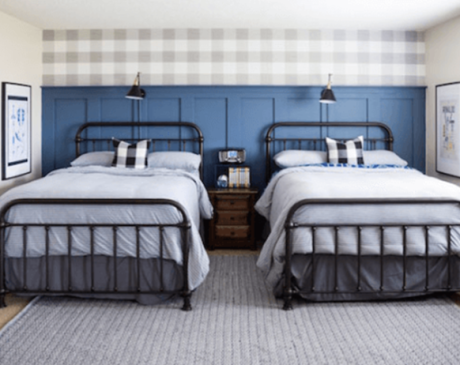 Walls made of board and batten are an elegant and adaptable way to give any space personality and attention. Buffalo plaid wallpaper with a checkered pattern can add a comforting and familial appeal to any room. In the picture, the wall idea is innovative.
Paint the wood panels with an impartial hue to get the desired effect. Next, cover the upper half of the partition with textiles or wallpaper with a buffalo check pattern. This type of accent wall is ideal for a bedroom or living room decorated in a barn house style. It's a creative concept for young adolescent children's bedrooms.
5. Board and Batten Design for Staircase Wall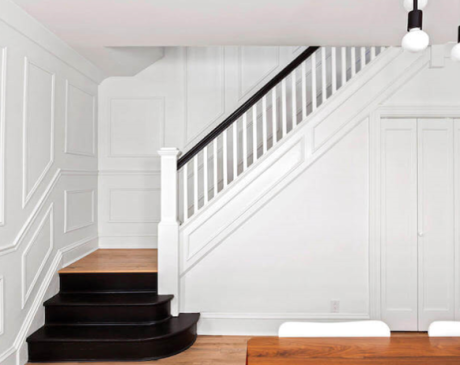 Want to liven up your stairs at an affordable price? How about merging the decorations in pure white, black, and a wooden layout with a board and batten pattern? They are widely used for staircases since they tend to break up massive sections of walls, adding visual interest.
You may color or stain a grid-like pattern and paint whatever shade you wish. The final product has a stunning, personalized appearance. It can be modified to match any type of interior design. Besides, you can convert the space under the stairs into a closet. It makes room for the things you intended to retain but lacked a suitable location to use.
Create a concealed or semi-hidden door with a board and batten accent instead of a standard door.
6. Board and Batten Design for The Bedroom Wall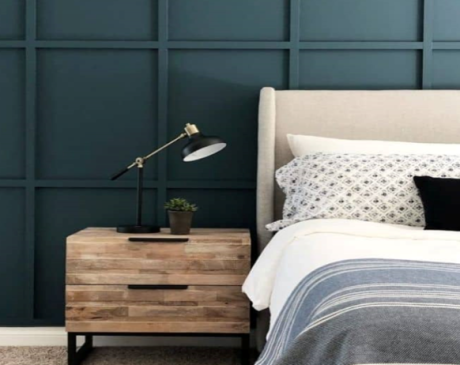 Why settle for plain walls if you can add a personalized and innovative touch to the space you call your bedroom? A dark-hued board and batten wall behind the bed blend beauty and interesting architecture in this cozy bedroom.
Likewise, a modern upholstered bed with soft pillows and a smooth throw blanket will help you design a chic interior. To make a stylish impact pick up accent rugs or pillows that complement your uniquely designed wall color. Add shade plants and lamps for an intriguing look.
Sale
7. Board and Batten Idea for The Family Room Wall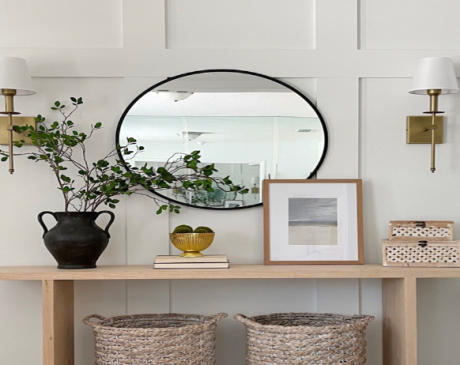 What kind of person are you? A minimalist! Then, you should read it to get an idea to renovate the living room with some straight-from-the-heart look!
Those who like sophistication with poise for their living room wall will love this accent wall idea. Your wall can have carb appeal without being ornate. The half-wall with decorative panels and white paint is an outstanding option if you want your walls to appear as though they belong in a modern art gallery. People might assume that it costs a pretty penny. You should fix the board to cover the wall's lower half. The upper half can be painted or wallpapered.
The beauty of the beige-hued accent wall enhances due to the centerpiece – a round mirror with black trims. Mounted decorative lamps on golden holders on both sides of the mirror look splendid. Modest decorative items such as a black vase and a few wicker baskets can transform a rustic table into a stylish piece of furniture
8. Angled Board And Batten Accent Wall Style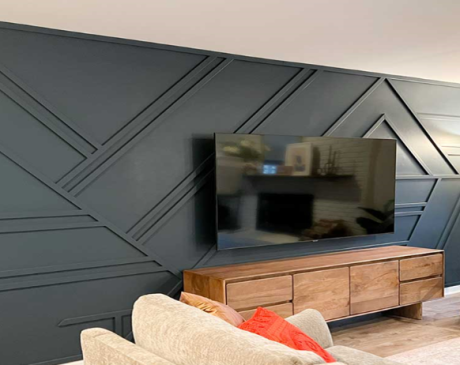 The earthy grayish-green abstract board and batten wall elevate the living room by adding a contemporary and artistic touch. While the grayish-green hue adds an earthy atmosphere, the angled design adds texture to the interior.
It compels visitors to be enthralled and appreciate the whole arrangement. It is the ideal wall accent to give a room an elegant feel. The comfortable sofa and chairs in the image are for guests to chill on and remove their shoes before entering.
The room amalgamating diverse patterns and aspects, including a cozy rug, cushions in vibrant colors, and an antique wooden cabinet, is filled with warm sunshine. The décor is spruced up by the greenery leaning up against the screen.
9. Board and Batten Wall for Mudroom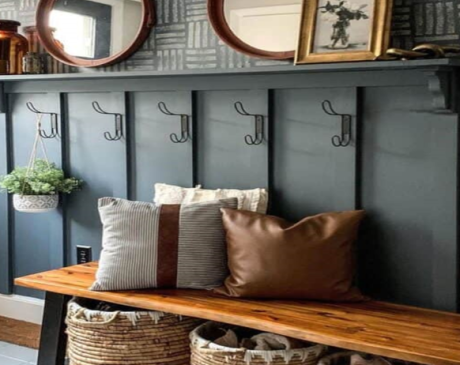 Do you want to give your mudroom an identity simply and quickly? Also, you must have a marked place in your home for dumping all of your filthy equipment. Look at the board's design. It offers what you need to design the family mudroom.
Choose a striking pattern or a cheery color; the options are endless! Don't be concerned about the mess; a mudroom is for just that. Applying a wall design with black iron pegs creates a contemporary mudroom.
The homeowner placed a gilded-frame artwork, two round mirrors in wooden frames, and an antique brass vase on the top rack. A grayish-black wallpaper decorates the wall above. A wooden bench with black-painted legs and several handmade storage baskets complete the room's décor.
10. Board and Batten Wall in Nursery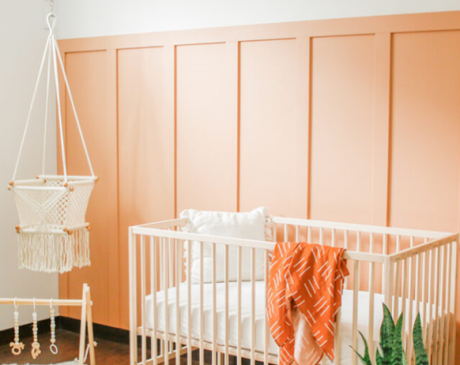 Why shouldn't your baby's room be stylish? Select a board and batten accent wall design with soft color—a fantastic way to make their room more attractive.
Parents frequently ponder how to fill the empty wall since they do not want to add anything or hang a lot of stuff above the baby's crib. An outstanding alternative is to use the board and batten layout on the wall in the nursery closest to the crib.
The patterned wall in the infant's room gives it a lovely, gentle touch. You can buy a baby recliner for your child. The soft textiles and large base allow young children to nap in a secure and comfortable environment. Green plants can also enhance the organic beauty of your kid's room.
11. Board and Batten Style Entryway Wall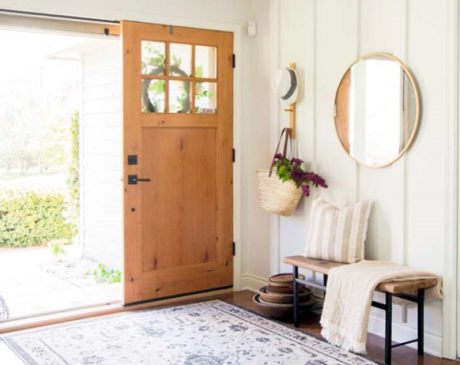 You never get a second chance to make a first impression. The first thing your friends, relatives, or in-laws notice when they visit your place is the exterior and the entranceway.
Design an inviting masterpiece instead. Using a few boards and battens, even a plain wall can become fashionable.
For instance, a white-hued board and batten wall in the entryway can serve as a dazzling accent wall for the seating area. You adore how everything fits in the right place. It gives way for hanging art on the wall and putting overcoats in the anchors. You can construct an entranceway with a modest ground-to-top board and batten design effortlessly!
12. Board and Batten Wall with Wallpaper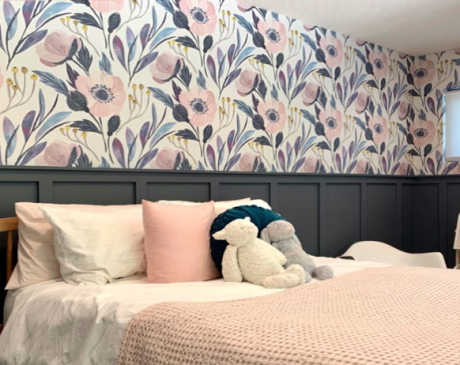 A terrific way to add definition and structure to an existing room is with a paneled wall covered in wallpaper. You can add wallpaper to the upper half of the wall after installing the board and batten on the bottom half to create this appearance.
Any part of your home, either the sleeping space, living room, or dining room, is appropriate for this accent wall setup. Board and batten walls are established fixtures for any house and can fit any architectural style.
You can make a distinctive and customized decorated wall by combining various materials, hues, and patterns. Add some matching accents to give a high-end look to the room.
13. Board and Batten Wall with a Diamond Grid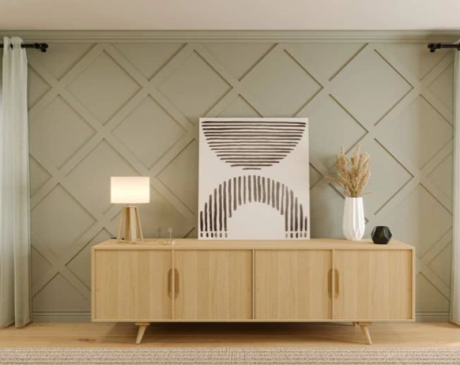 You may design your interior with an elegant and distinctive diamond board and batten wall. The layout gives the room additional depth and visual appeal.
The crisscrossing, geometric setup of the board and batten creates striking diamond shapes. A uniform color scheme provides a better impact on the entire arrangement.
In the above image, the beige color on the wall creates a lasting impact with the neutral-hued cabinet. The selection of abstract artwork is a hit. The room's big windows, adorned with plain white curtains, let in plenty of light from the outside, emphasizing the accent wall's ornamental elements.
14. Board and Batten Style Wall Headboard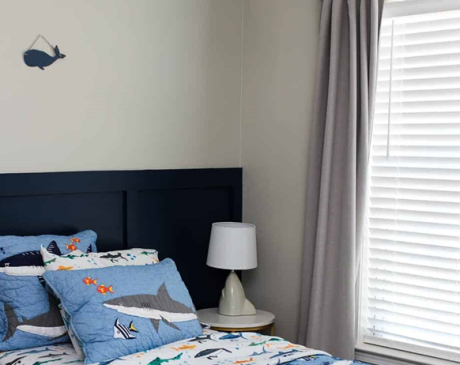 Do you dislike your plain, outdated headboard? Want to add some flair to your bedroom on a budget? You have come to the right place, then! This time-tested method of home improvement can also serve as a stylish and beautiful headboard.
In order to harmonize with your interior design, attach wooden boards to the wall in a grid-like pattern. The dark blue headboard has produced striking contrast against the beige-hued wall. The marine life-themed cozy blue pillow covers and runner complement the setup.
15. Board and Batten Wall in The Dining Room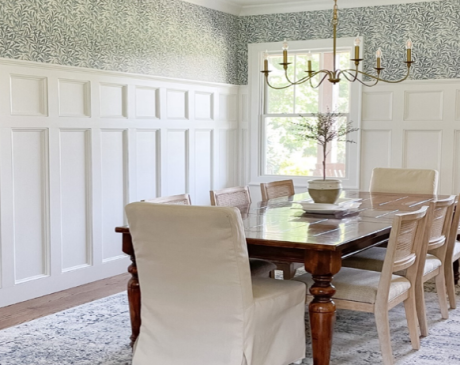 If you are looking for a design idea for your dining room slightly opulent, this one can be inspiring. You can build a separate structure above with space for wallpaper by stacking two layers of board and batten above one another.
This design, which appears admirable and quite favored in old houses, is ideal for the dining area in your home. The cream-colored set of chairs and a dark-brown wooden dining table create a cozy environment for family meals and gatherings. Moreover, the potted plant on the dining table adds greenery to the room.
Conclusion
We hope that learning how to build a board and batten wall ideas was informative to you. Due to its variety of styles, this classic style has gained popularity once again.
Board and batten is an affordable way to add character to your starter home while giving it a dashing look. It can be a lot of fun to work on as a family and add a bit of appeal to your house. You have plenty of options to renovate your entranceway, living room, bedroom, or nursery. Which style do you prefer, then? Is it the entire wall or just a portion of it?
Would you like to attempt installing the board and batten yourself, or would you prefer to hire a professional? Please comment on this post