24 Creative Ways to Decorate Your Kitchen Walls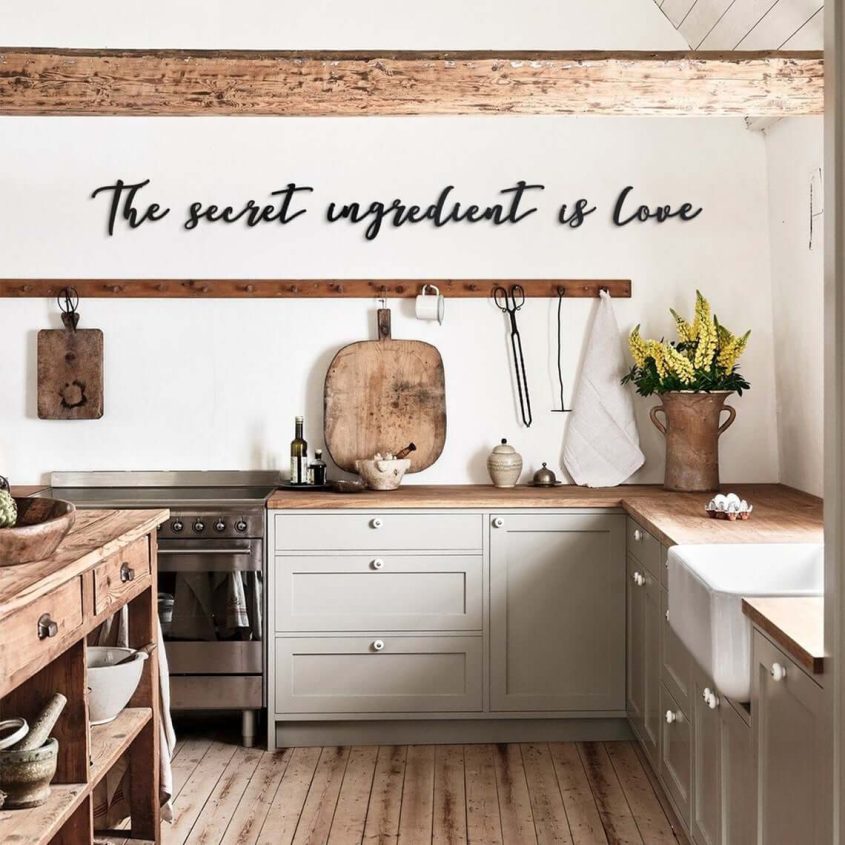 When it comes to Kitchen, it is one of the most precious spaces in your house because of its functionality. Not only do you prepare your favorite meals here, but you also have a good time which makes it more important to beautify this particular space.
There are several ways in which you enhance the look of your kitchen space, and wall decorations are one of them. A cool and funky wall decor can change the whole look of your place, be it any space, including bedrooms, bathrooms, or kitchen.
By using several unique wall decor ideas, you may make your place look more appealing while also enhancing its practicality. However, if you're confused about how to go ahead with these wall decorations, then worry no more because here, in this article, we have handpicked 24 amazing wall decoration ideas to renovate your kitchen.
1. Plate Decor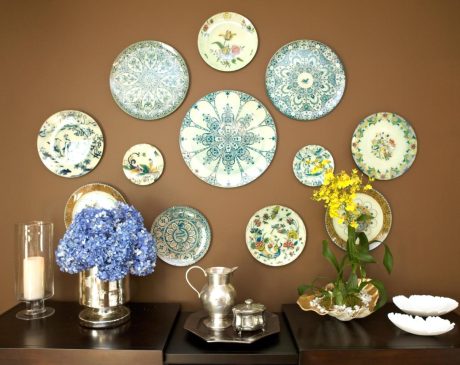 Plates have a very basic yet major use in the kitchen. They help you serve and present your dishes, but what if someone tells you they can do much more than that? Yes, you heard it right.
Using beautifully decorated plates for wall decorations can completely add a new look to your kitchen walls. You may add plates of different sizes, shapes, and colors to create a more vibrant background.
You may also use these to display your family heirlooms.
2. Mirror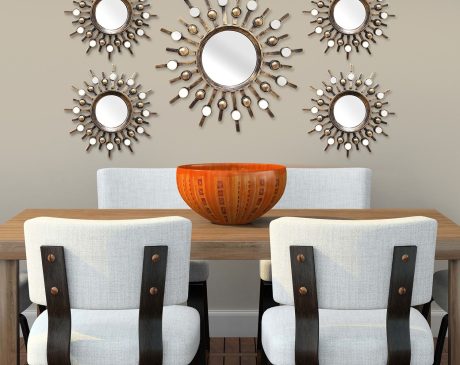 A mirror is one such object that can truly revamp the look of any space. The best part about using mirrors for wall decor is that you may place them any way you want plus, they don't require any maintenance.
You may use any kind of mirror for decorating your kitchen walls, including Modern frames or Vintage designs. However, be careful to choose designs that complement the whole background and accentuate the beauty of it.
You may use different-sized mirrors for this purpose. Consider understanding the area and your budget to pick the perfect purchase.
3. Thematic Background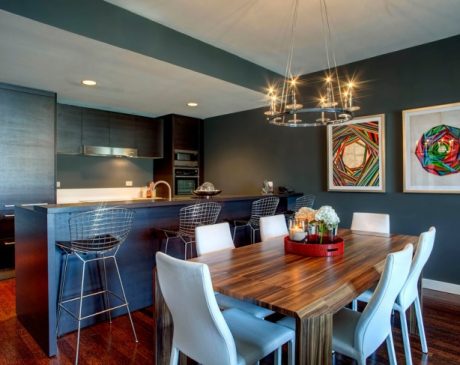 Want to give your kitchen a specific look? Then adding particular themes to your kitchen wall decorations can be the best way to do the same.
If you have several wall frames showcasing different themes like modern art, landscape, Vintage art, or more, you may consider displaying those on your walls. Landscape and Vintage themes can make your kitchen space look calmer and more composed. Similarly, modern art can make your kitchen area look luxurious and sophisticated.
These are one of the best and quickest ideas to catch your guest's attention, so get crafty with your theme boards.
4. Colour Play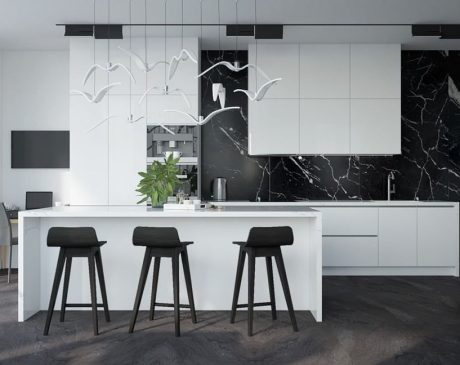 The importance of good colors in accentuating the look of any place can't be simply ignored. Be it your bedroom, bathroom, or your kitchen; you can create a new look using suitable colors.
If you want to create vibrant-looking colors, then go for bold colors. This can also help you create a retro vibe. Simply complement the colors with some essentials like CDS, frames, and more.
Alternatively, using subtle colors can help build a calm and luxurious design. You may experiment with these colors for your kitchen walls, cabinets, shelves, and other areas.
5. Floating Shelves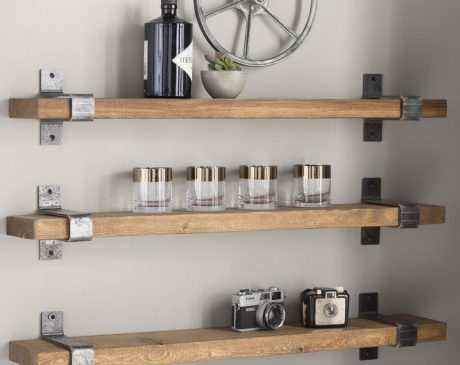 Want to make your kitchen walls look stunning while also adding practicality to them? Then introducing Floating shelves can be a great option for you.
These can be positioned on walls making them look attractive while also adding extra storage area for you. If you have compact space in your kitchen, then consider using accessories like floating shelves and cubes. From jars to small planters, you can rack everything on these shelves.
You may position them on any wall and also decide on their spacing following your decor inspiration.
6. Abstract Art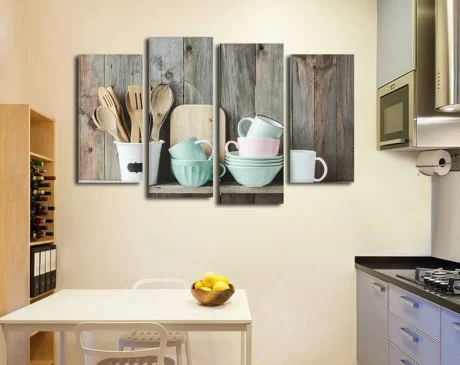 Using Abstract Art for your kitchen wall decorations can help beautify your space in just a few seconds.
The beauty of these art pieces is that they stand out everywhere, no matter where they're placed and no matter what style your kitchen is designed. Be it vintage, modern, or any other style, Abstract Art goes perfectly well with everything.
As these art pieces come in different patterns and sizes, and one can choose the best pick considering their kitchen theme and background.
7. Gallery Display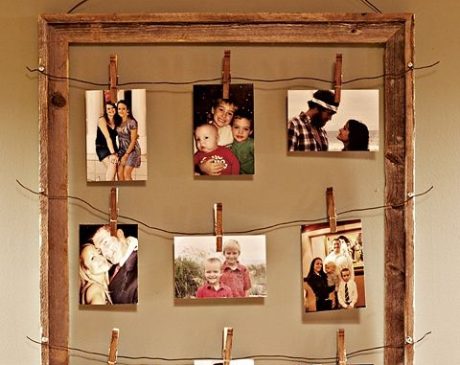 A gallery display is one of the best ways to cherish your memories while also adding beauty to the kitchen wall decorations.
You can showcase different pictures for display, making a whole picture wall including real-life pictures or casual artwork to make the space look richer and more layered. Additionally, picture walls can also add a lively vibe to the space.
Not only do they catch everyone's attention, but they can sometimes also be used as conversation starters. Make your kitchen gossip more interesting and memorable with this gallery display idea.
8. Prop Decor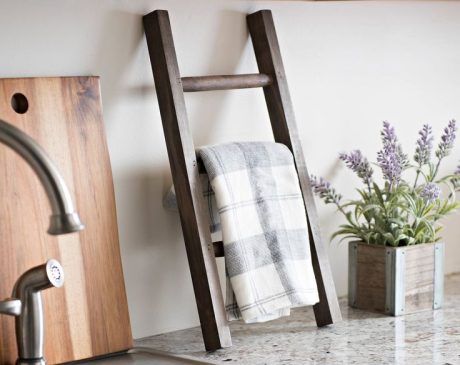 A little experimenting with props can do a lot to make a space look more cool and funky. Several types of props can be used for decor in different ways. For instance, some of them come with hanging designs while others are leaning props.
Hanging props are considered ideal for large spaces and are suitable for those who are looking for more permanent solutions. Alternatively, if you want something that can be easily moved so that you may change the style now and then, Leaning props are ideal solutions for you. They are perfect for compact spaces making it look like a visual treat. Additionally, you don't need any nails or hammers to fix these props.
9. Lighting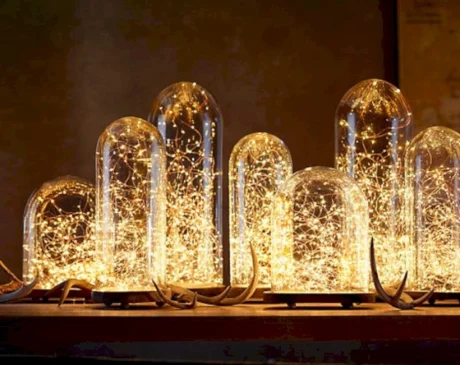 Lighting plays a crucial role in determining the mood and vibe of any place. It means you cannot simply ignore the kind of lights you want to put in your kitchen space.
Using fairy lights can help add some warmth to your kitchen space, making it look cozy and comfortable. The best part about using these wall decorations is that they can easily be used for limited spaces as well.
These lights can be hung around anywhere in your kitchen, including your kitchen cabinets, windows, open shelves, and other areas as well.
10. Baskets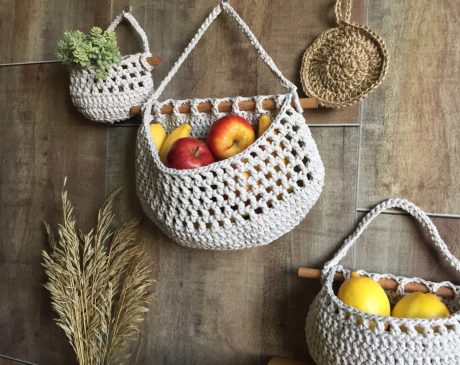 Want to add some natural elements to your kitchen decor? Then consider adding some baskets to the wall decorations. They give your space a natural look and are environmentally friendly as well.
You can experiment with different-sized baskets to make them look more quirky. Additionally, some baskets also come with different prints, which can further enhance the beauty to another level.
You may design the wall using all your unused baskets, and the best part about this decor is that you may remove the baskets anytime you feel like it.
11. Portraits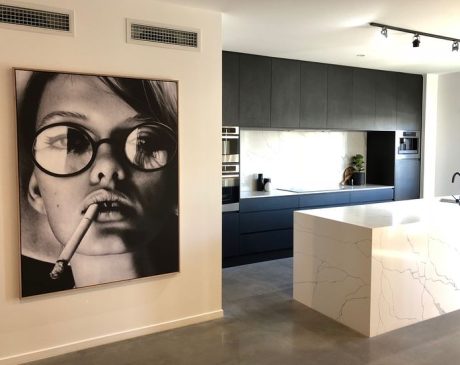 Love showing your artistic skills? Then consider making a portrait to display on your kitchen walls, or you get one from local stores, thrift finds, or online platforms as well.
Portraits can help create an intriguing vibe to your kitchen space while also making the space look luxurious. You may hang these portraits or use them as learning art as well.
The beauty of these lively portraits catches everyone's eye and is one of the head-turning pieces.
12. Recipe Frames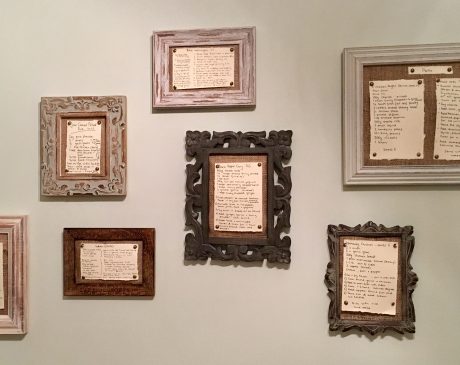 Loved your grandma's recipe? Then why not cherish it by getting it framed for wall decorations in your kitchen?
These frames allow you to easily take a look at your favorite recipe eliminating the hustle of always turning the pages of your recipe book.
What makes these wall decorations stand out among other designs is their uniqueness and newness. These recipe frames look quite quirky and are something that isn't so common which makes them quite distinctive.
13. Jars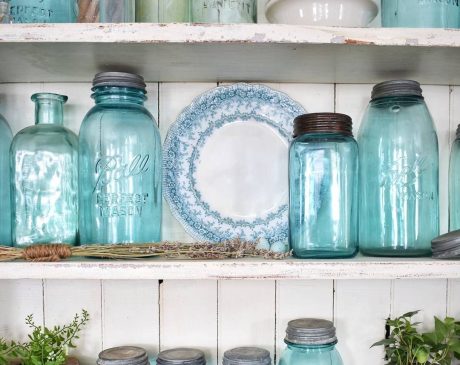 You can also use your old jars to renovate your kitchen space and make it look brand new. By decorating your walls with the placement of jars, not only do you boost the aesthetics but also make your place look more organized and tidy.
Using glass jars is the best way to add a minimalist design to your space. The air-tight jars can also help keep the stored content fresh for extended periods.
14. Hanging Essentials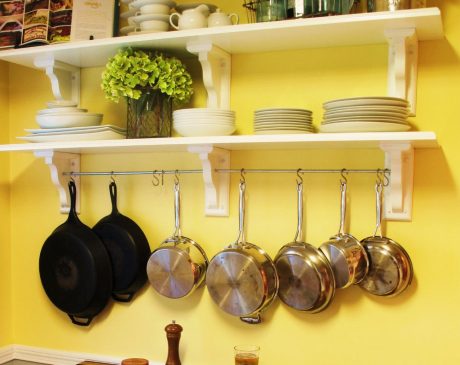 Worried about where to keep your extra pots and other dishes? Then why not use them for styling your kitchen in a quirky way? Yes, you heard it right. If you're short on storage space, then hanging these essentials and other appliances could be a great way to go forward with your kitchen wall decorations.
You may further level up their beauty by matching them with your background or wallpaper. Put your extra dishes to use now to create an amazing display.
15. Plant Decor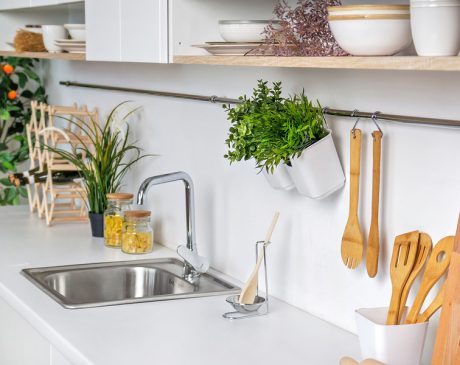 Introducing plants is another easy and effective way to liven up your home decor. And your kitchen is no different.
You can hang these pots or place them on wall racks to introduce some greenery and calmness to your kitchen area. There are several types of plants that you may consider for the kitchen. For instance, Aloe vera, Viola, Ornamental grass, and more.
Consider introducing plants that can survive in extreme environments as well.
16. Tiles decor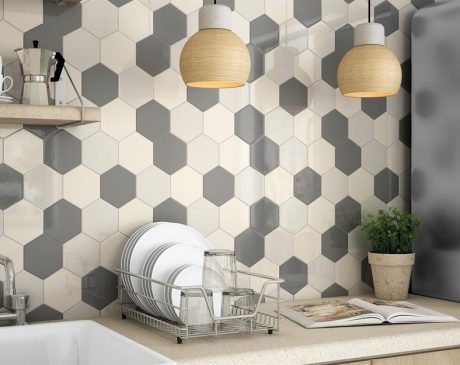 If you want to change the old look of your kitchen completely, then playing with tile decor can prove quite an effective idea.
There are different varieties of tiles available that come with different prints giving you an abundance of options to pick one that best matches your style.
You may go for mosaic tiles by fixing them on your own or get them done by a professional. Additionally, you can also use adhesive tiles which are quite easy and quick to fix without compromising their sturdiness.
17. Metallic Look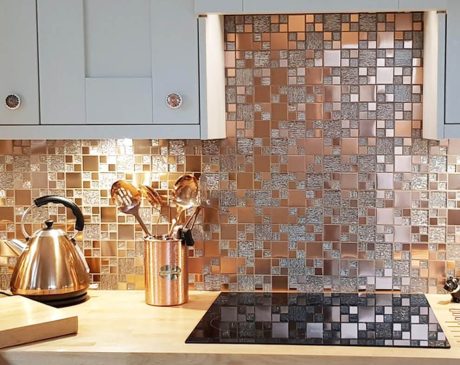 Want to make your kitchen look more classy and sophisticated? Then consider employing a metallic look for the space.
You can install metal sheets in different kitchen areas to renovate your space on a budget. Metals like brass can help bring warmth. Alternatively, if you prefer an industrial sort of look, then consider going with steel.
These sheets can be fixed above kitchen cabinets, sinks, and several other places. What makes them more preferred wall decoration options is that they are super easy to maintain.
18. Wallpaper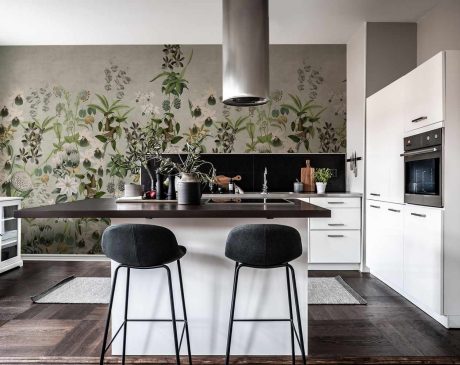 Wallpapers are one of the easiest ways to add a new look to your kitchen walls without going harsh on your budget. Also, they are super easy to fix and remove.
You may get these wallpapers in several patterns to add a fresh look to your kitchen. Several home designers also suggest that using wallpaper can make a place look more neat and organized. You can choose from various designs, ranging from modern to classic.
So wait no more, and level up your kitchen wall decorations with these effective solutions.
19. Built-in Cabinets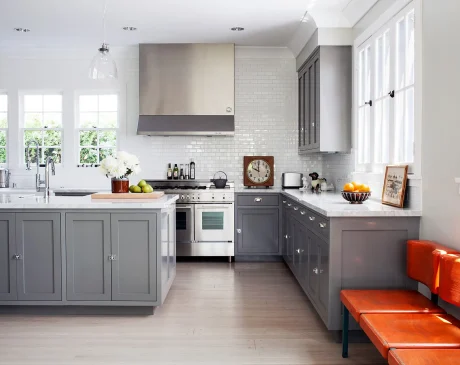 Want to showcase your favorite dishes and other accessories? Then consider showing off them using display shelves. You may further experiment with these cabinets by making them in built-in designs.
Built-ins are not your regular styles making them unique showcases. Additionally, you get an extra storage option in your kitchen area, making them more functional and preferred as well.
20. Kitchenware Decor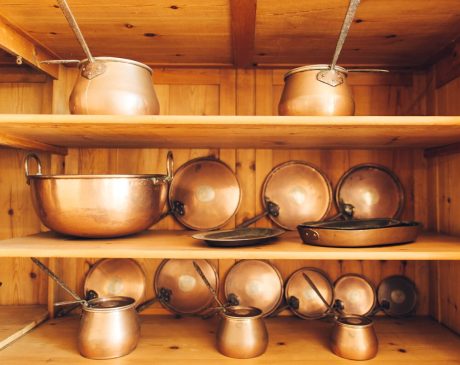 There is no denying the fact that beautiful kitchenware can automatically enhance the aesthetics of your kitchen area.
The best part about adding kitchenware for decorating the kitchen space is you infuse practicality while adding beauty. These essentials are available in different sizes, shapes, and colors, allowing you to play with several designs. You may decorate walls using kitchenware essentials by clipping them with hooks or hanging them using holders, shelves, and more.
21. Vases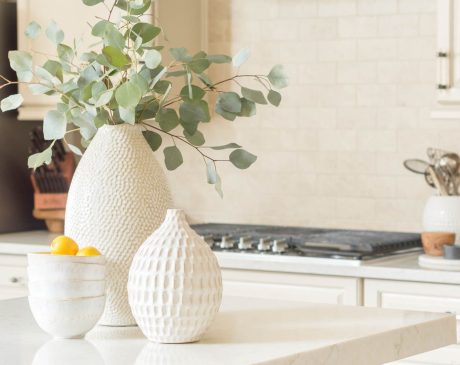 If you also think that vases can only be used for bedroom or living room decor, then you might be wrong. Home decor enthusiasts claim that vases can enhance the beauty of any space, including the kitchen as well.
The best part about using vases for wall decorations is that you get to level up the beauty of your place without going harsh on your budget. These vases come in different shapes and sizes, and any shape is good enough to catch your guest's attention.
You can style these vases as it is, or you may put in some flowers to add a more natural vibe to your kitchen.
22. Ornamental Look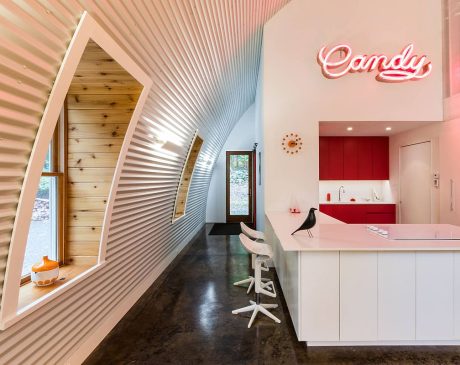 Adding big decorations can surely make your kitchen look more appealing. However, you can also make a difference using small ornaments. Yes, you heard it right. Using small ornaments like neon lights, chopping boards, posters, and so on can quickly help you level up the aesthetics of your kitchen walls.
Neon lights are made with some sort of message or quotes, which can make the overall design more funky and catchy.
23. Rustic Display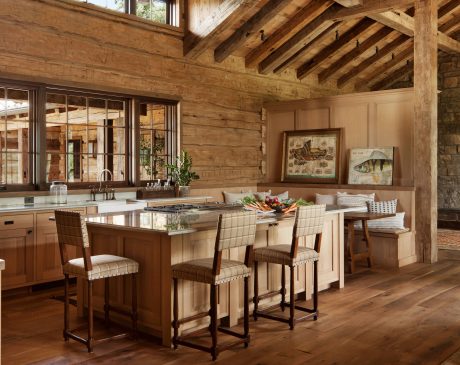 Adding rustic accessories to your kitchen walls can give it a vintage, classy look. The brownie point of using rustic displays for any space is that they never go out of style; they have remained the classics for a long period and will continue to be the same.
You may add rustic elements in several places. For instance, you may give your cabinets a rustic wooden look; your chopping boards can be of rusty look as well.
Keep it simple yet catchy with these elements.
24. Chalkboard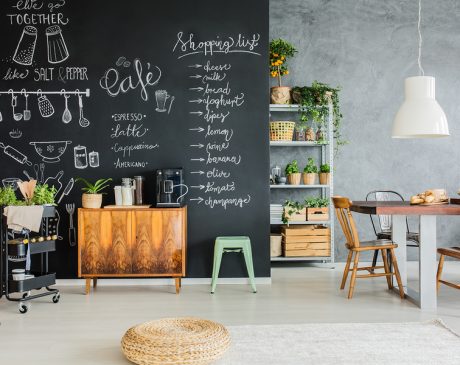 Want to make your kitchen area more personalized? Then using Chalkboards for wall decor can be an ideal solution for you.
The best part about adding this accessory to your space is that they are fun, and you can easily erase the content written on it and change it to whatever you want, following your mood and vibe. They can be used to deliver short, sweet messages, write recipes, menus, your shopping list, kid's drawing, and whatnot.
Let your creativity go wild with these options.
Conclusion
A kitchen is quite an important space in your house; thus, you cannot ignore its decor if you want to make your whole house look pretty.
The easiest and fastest way to liven your kitchen decor is by using wall decorations. This article hones 24 such wall decorations that can make any kitchen space look stunning. However, while employing these ideas, you must also allow your creativity to take the front seat.
While adding these elements, understand your needs and the compatibility of your kitchen to bring the best out of these designs. Go for a practical and stylish design with these ideas.
Also, comment below and let us know what ideas best suit your kitchen decor.