30 Incredible Outdoor Barbecue Spaces for Your Perfect Cookout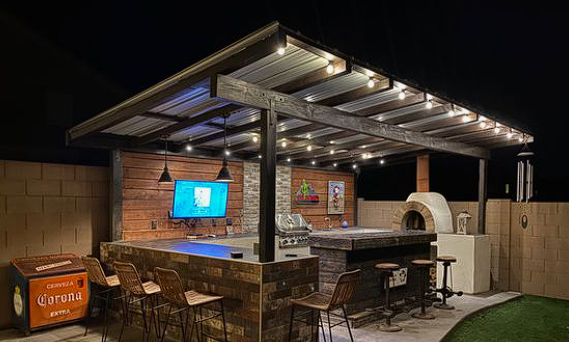 Every avid grill master knows that the Barbeque area is not only about grills. It involves other necessities like storage cabinets, wine coolers, built-in refrigerators, and knife stacks.
In short, every refreshment that your guest needs have to be within arm's reach. Having an outdoor BBQ space unchains you from the limited space in your home. It creates a space for relaxation and enjoyment.
An outdoor BBQ area is not only limited to BBQ parties, but it can also be your happy place where you can enjoy your time alone. A dedicated BBQ area makes your outdoor living space a centerpiece of attention, which is a dream of many.
However, it can be turned into a reality through our ultra-fascinating BBQ area ideas. We have curated a list of some useful and enchanting ideas that you can design your home with to enhance your home's overall serenity and aesthetics.
1.Grill and Cooktop BBQ Area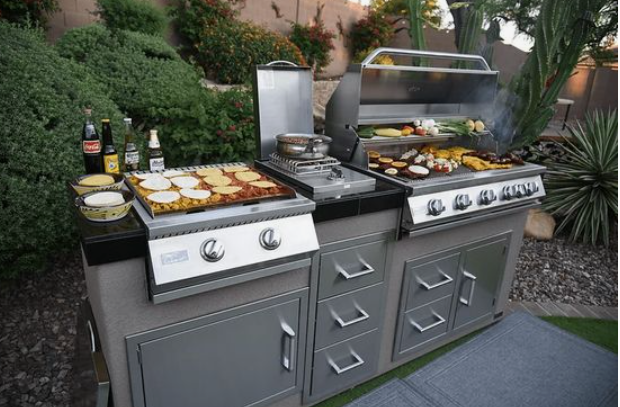 A well-decorated cooking space creates a pathway for patio space and also provides room for entertainment. It makes your outdoor kitchen look captivating and creates a warm and welcoming atmosphere. You have enough space to keep your BBQ essentials and enjoy a good time.
2. Personalized BBQ Area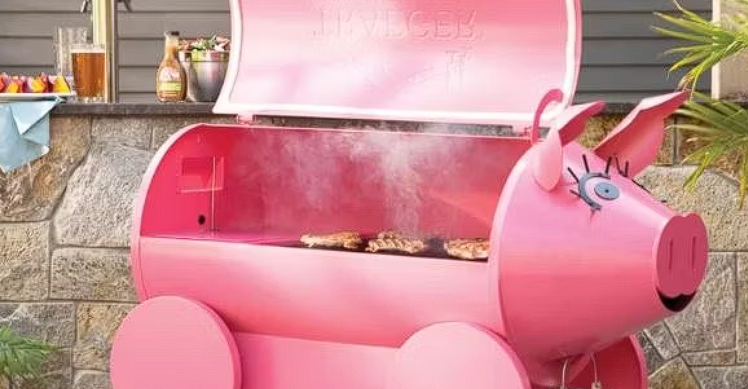 One of the best ways to enjoy your cooking space is by making it personalized. Personalization will make your BBQ a central attraction point. Look at this awesome piggy wood personalization which creates a fun vibe and also gets your cooking done seamlessly.
3. Poolside Oasis BBQ Area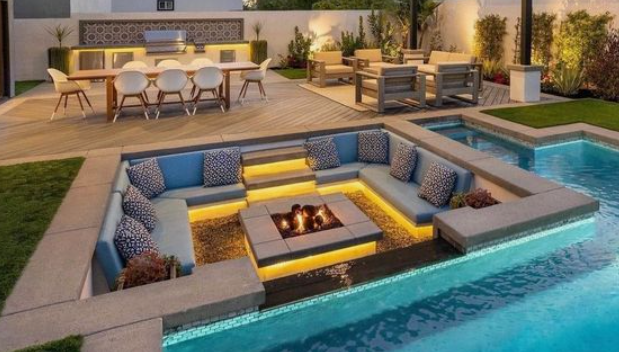 This idea provides a brilliant sitting area where you can enjoy your great family time while you create delicious dinners for them. Ambient lighting and proper furniture would make you create a captivating BBQ area. In addition, using this theme, you will also get ample cooking space to keep your BBQ essentials right where you want them to be. 
4. Limited Space BBQ Area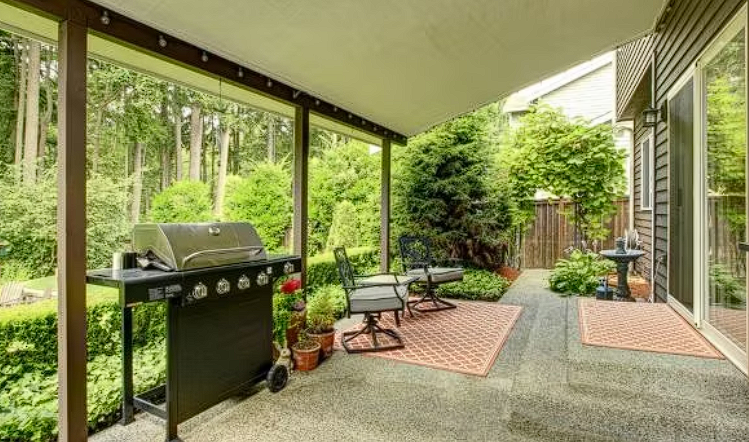 The majority of households don't have enough space to create an outdoor cooking space. This design can be created in your backyard just by creating a  minimalistic patio design that gives a look stunning and creative look. A well-designed cookout fosterers communication between friends and family.
5. Portable BBQ Area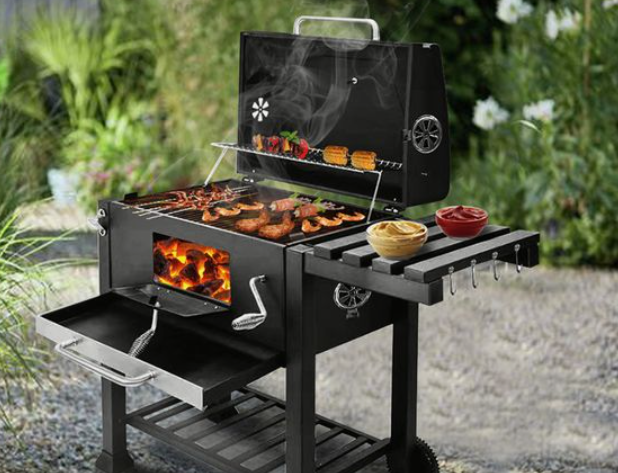 If you don't have a huge outdoor property or a limited budget to create a BBQ grill in your outdoor space, this idea comes as your best fit. This portable solution is for those people who are always running late on propane and charcoal.  This idea serves as a great fit if you are a camper.
6. Furniture BBQ Area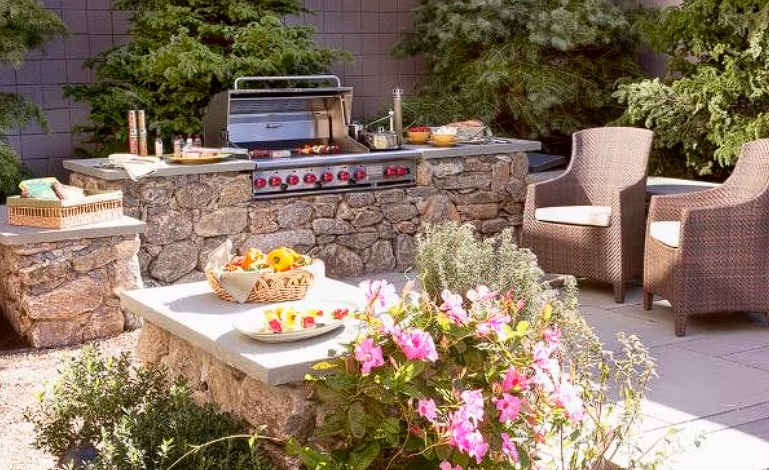 As a BBQ lover, if you don't want to buy any appliances or furniture for your outdoor use, then this idea is just designed for you. Using this solution, you could include your indoor furniture in your outdoor space and create a captivating atmosphere.
7. Walkout BBQ Area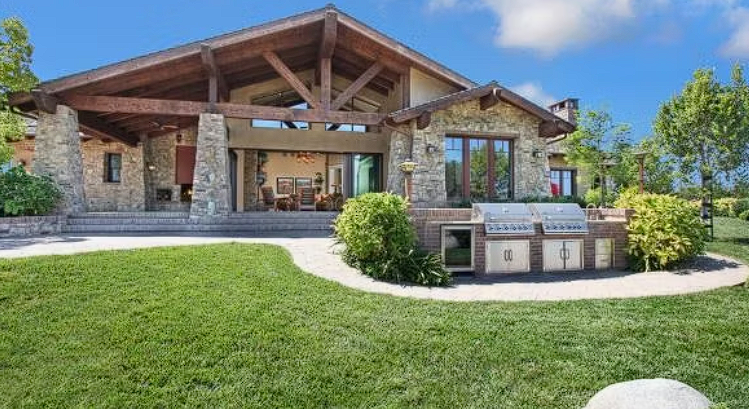 If your property is large, then your grilling spaces can be set at your walkout space which makes your BBQ area creative and entertaining. Creative designs like these are known to give your guests an unforgettable BBQ experience. Throughout the event, it paves the way for joy, laughter, and deep conversations.
8. Lightning BBQ Area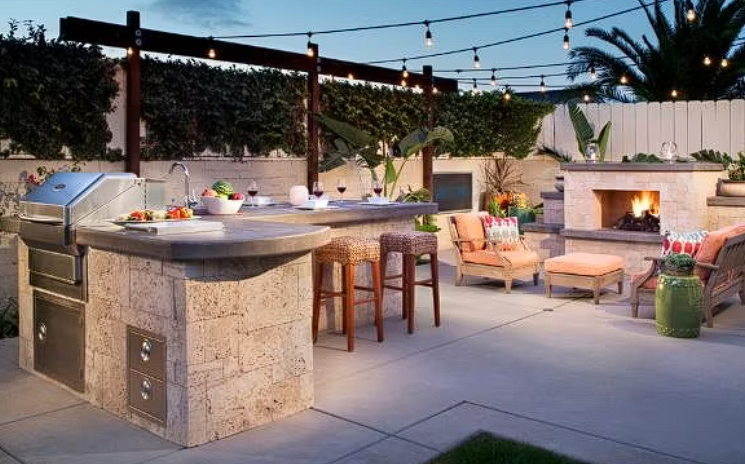 Set up your ambient lighting conditions to create a BBQ area that would create a striking image in any observer's eye. The use of proper furniture and architecture can have a magical effect on your guest since it puts forward your personality and traits in a configured way. When such a setting is created, an eclectic atmosphere is generated, which gives the guest get a fine dining experience.
9. Romantic BBQ Area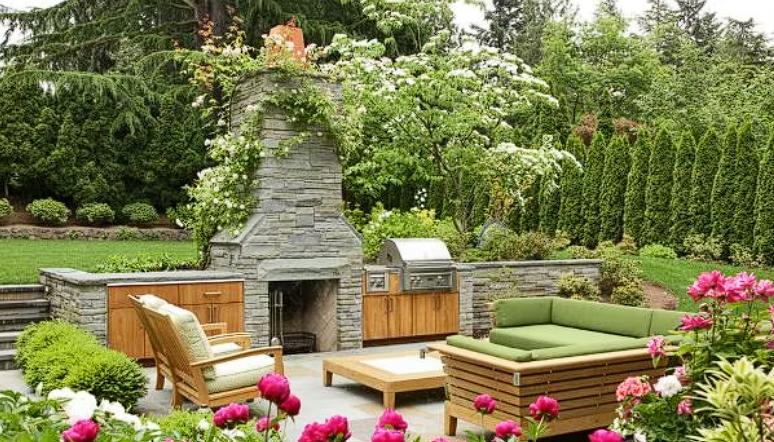 Regarded as the love-themed BBQ setting, you can use this concept to create a romantic vibe. By using simple architectural techniques, you can create a well-decorated feast and give your guests an unforgettable fine dining experience. Create the BBQ area of dreams and let your guests resonate with the love you have for your partner.
10. Balcony BBQ Area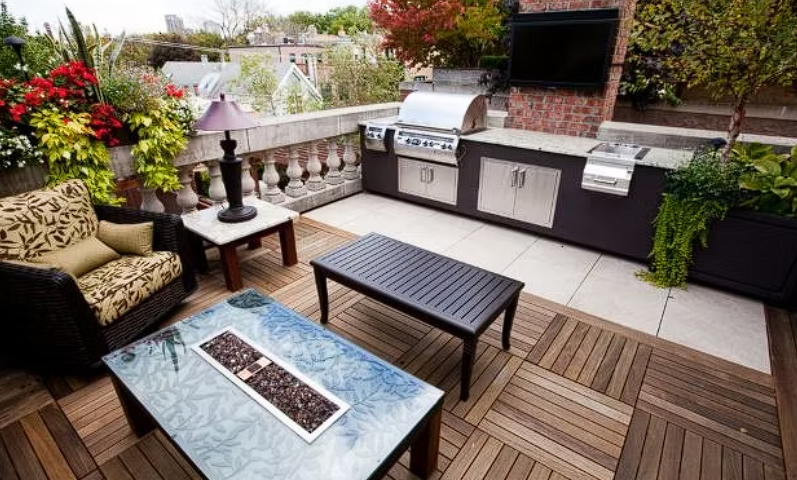 You don't always need a large BBQ space to create a cooking area that is enjoyable; you can utilize your small balcony and take advantage of simple extensions that would create a decor that is creative and peaceful. By selecting same color pallette as shown in the picture you can create an enhancing atmosphere for your guests.
11. Wood BBQ Area
Near about half of the population of BBQ lovers prefers a wooden cooking area for preparing their delicious veggies and meat. This setting is created to build an atmosphere that is cozy, chill, and welcoming. With the utilization of proper resources and architecture, you can provide your guests with a food carnival that they will enjoy.
12. Drinks BBQ Area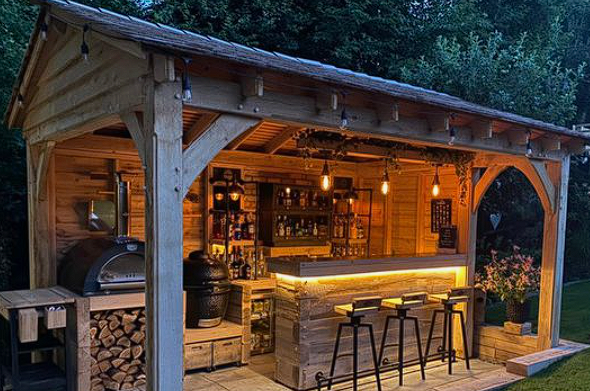 This modern solution will open up a pathway where you can relax with your friends and enjoy some juicy chicken fresh from the BBQ. Nobody would want to be left around when you have such a beautiful cooking space. Please make sure  you follow every detail in this picture to create a replica. 
13. Compact BBQ Area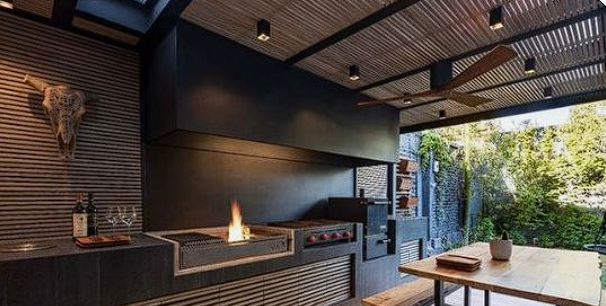 This design will eliminate major movement that lets you back and forth from your outdoor BBQ space. This version will set up your outdoor cooking space in such a way that all your cooking elements will be available at your hand's reach. Make sure the furniture is selected according to the BBQ colors in order to complement the overall space and the aesthetics.
14. Concrete BBQ Area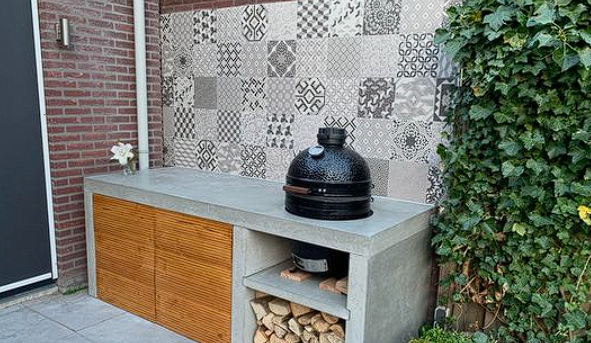 This modern design has been super popular among its consumers because it's easy to maintain and comes with a satisfying finish and a sleek look. The meal preparation time using this BBQ grill is quick, and the space provided could easily manage all BBQ necessities.
15. Secret BBQ Area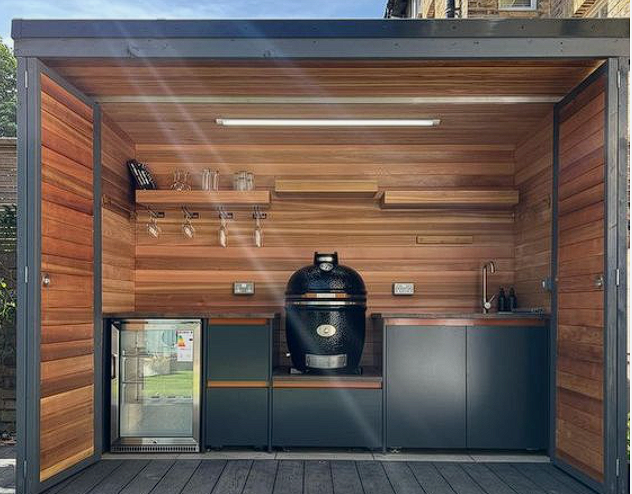 A secret cooking space is designed for people who love privacy and deep conversation. You and your boys can have a peaceful time away from your family and kids once this setting is created. You can create your own secret by utilizing your storage room.
16.Vegetation BBQ Area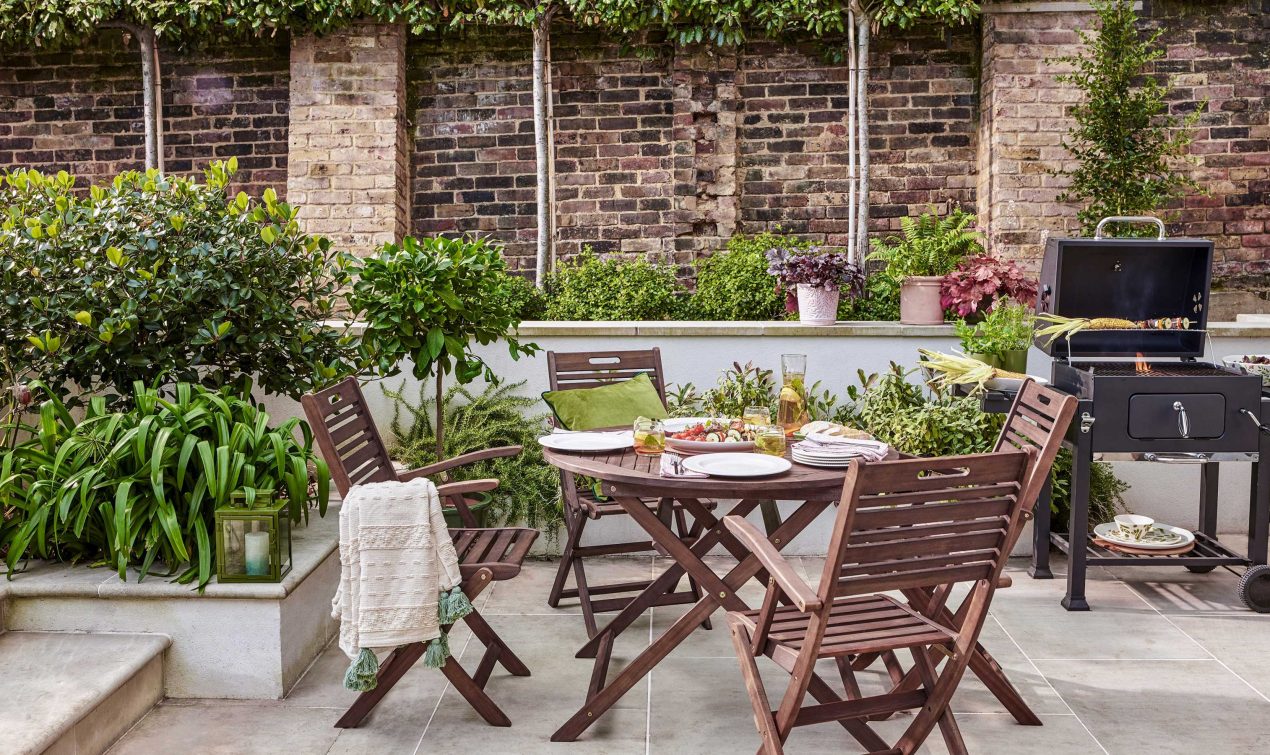 Enjoy a great BBQ area with some rich vegetation. When plants, wood, and proper lighting conditions are added, they can transform your boring space into a captivating heaven. A well-decorated cooking space like this can amplify the aesthetics of your outdoor cooking space.
17. Shed BBQ Area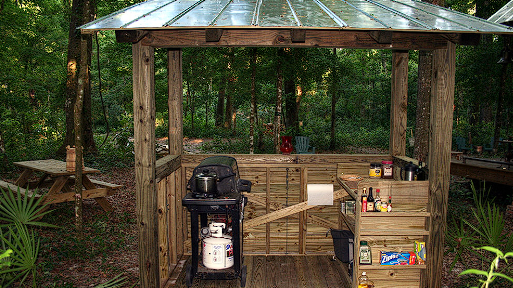 As a BBQ lover, if your intentions are to enjoy drinks and chicken at all times, no matter the weather conditions, then Shed BBQ is your ideal choice. Take a look at this picture; it looks so satisfying and comforting. The maker has kept all the BBQ essentials on one rack, and a sitting space is created outside of the cooking space. 
18. Brick BBQ Area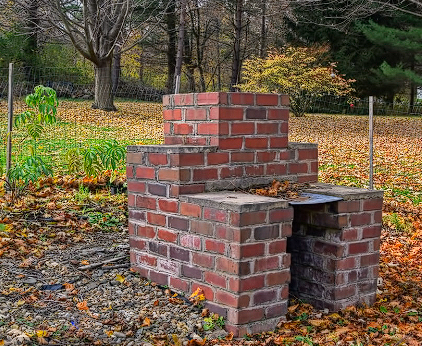 These are made for people who want to add a creative touch to their cooking space. They have an easy learning curve and look absolutely stunning to the eye. This creative idea would make people appreciate your creativity.  When you incorporate this BBQ idea, make sure you select furniture according to the BBQ color.
19. Stone BBQ Area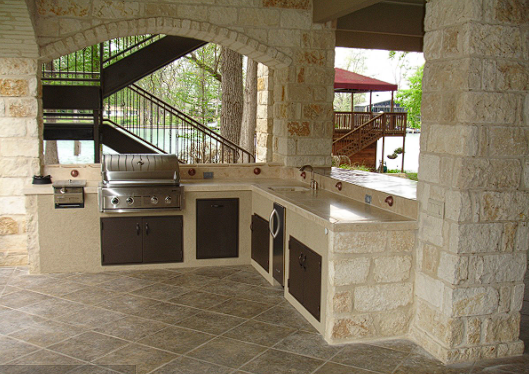 The usage of stones brings about a durable BBQ area. This is because they are durable in nature and look extremely comforting. Please make sure that you add a sink when using this BBQ design so that you can wash and clean cooking elements.
20.Fireplace BBQ Area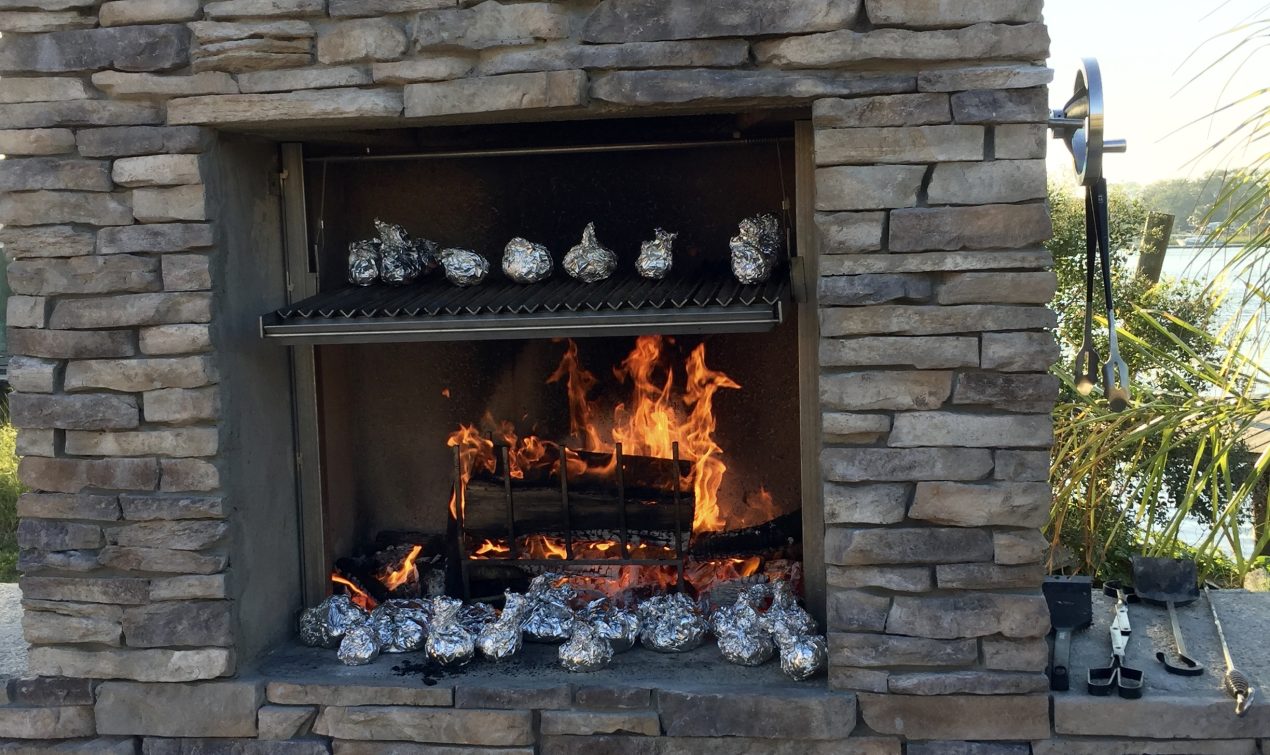 Only if you live in a country that enjoys cold weather at all times, then this BBQ area is your ultimate choice. A dedicated fireplace with a BBQ area would keep your friends and family warm at all times while you enjoy delicious chicken and veggies during your food carnival.
21. Refrigerated BBQ Area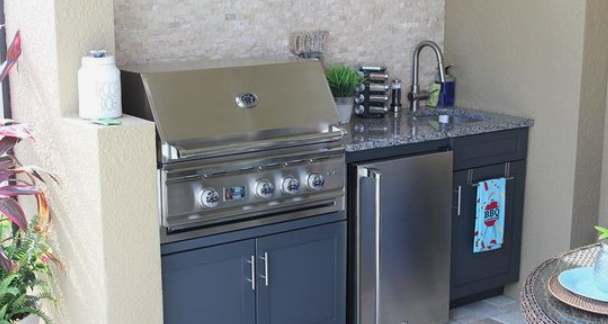 Keep your drinks cool at all times by including a mini refrigerator in your cooking space. Install proper lighting conditions and a cool color theme, as shown in the picture, to make it appear beautiful and shiny.  The maker has kept a stainless theme color to appear stunning and elegant. Please make sure you follow the same designed structure if you want to recreate this setting.
22.Kitchen-Themed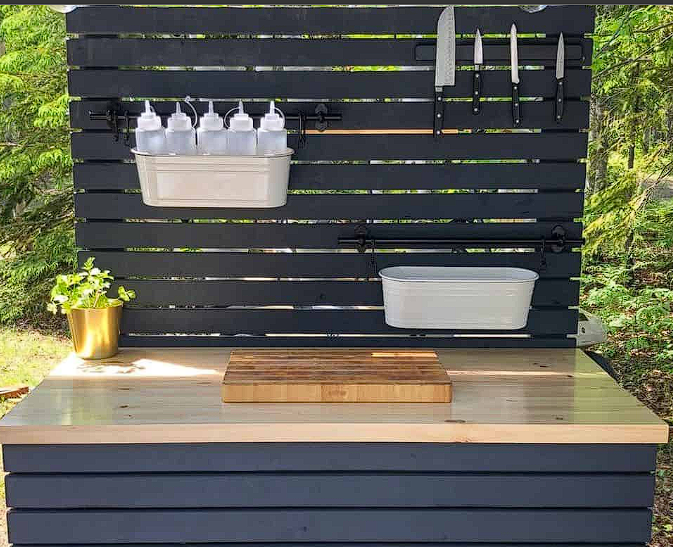 Only a few have the budget and space to build an expensive BBQ area, but that doesn't mean that you should limit yourself from enjoying a good barbecue. This idea uses all cooking essentials, like a knife rack and sauce bottle holder, in an organized form.
23.BBQ Area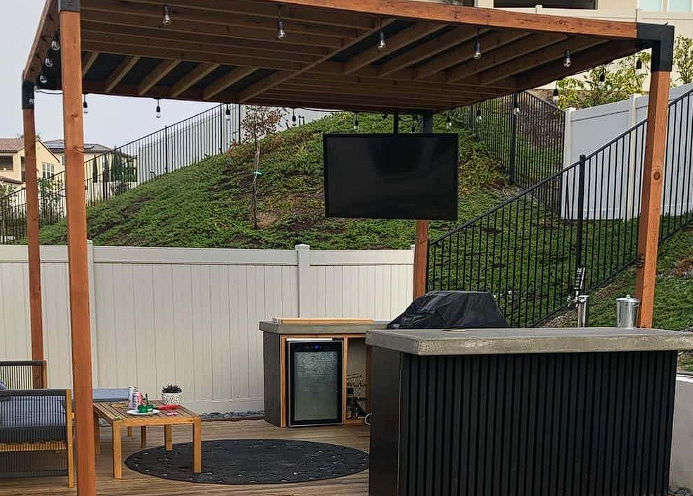 For this design, you would need a large Tv, and your cooking space should be built with sturdy materials that could withstand any weather conditions. Enjoy a game of sports with your precious friends with roasted chicken by your side.
24. Pizza-Themed BBQ Area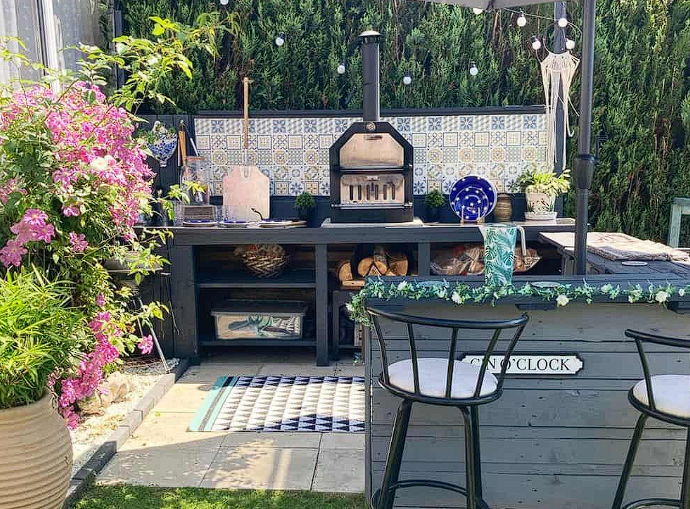 For this design to get implemented, you would need a customized grill that is shaped in the form of a pizza oven. Make sure that you have enough storage space to keep your BBQ essentials in an organized manner.   Just look at the details and check how the maker of the theme has kept the furniture and grill color together to make it appear stunning.
25. Neat-Fitted BBQ Area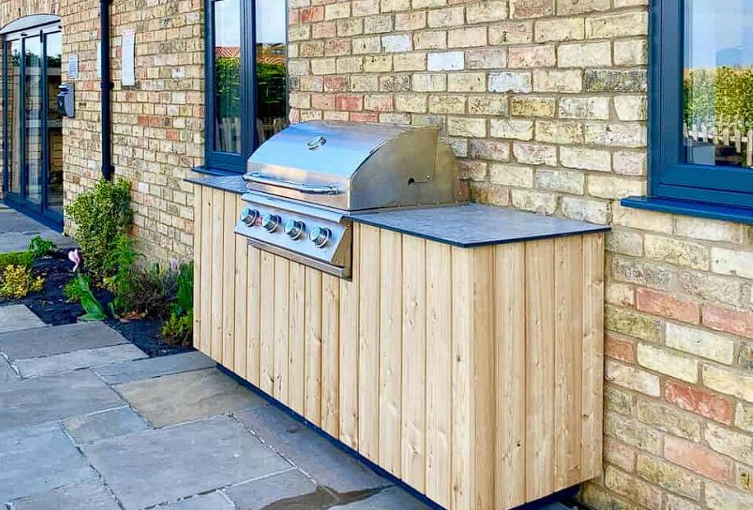 This idea would take little floor space but will allow you to store all your cooking essentials in a centralized workspace. Look at the picture, the slate provided at the top and the wooden panel that compliments it give it a splendid finish.  This BBQ theme  provides a pleasant viewing experience. 
26. Chalkboard BBQ Area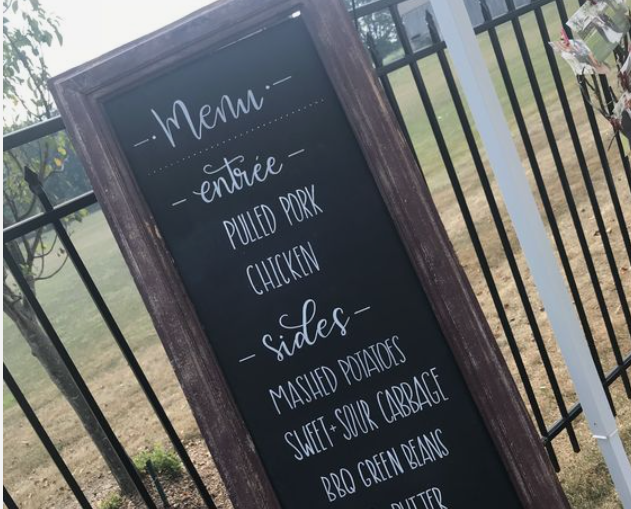 Your guests will fall in love when they witness 7 feet chalkboard displaying the menu of the cookout. They will be impatient to taste delicious food and would be delighted to get a fine dining experience. A thoughtful outdoor cooking space like this gives your guests an unforgettable experience.
27.BBQ Area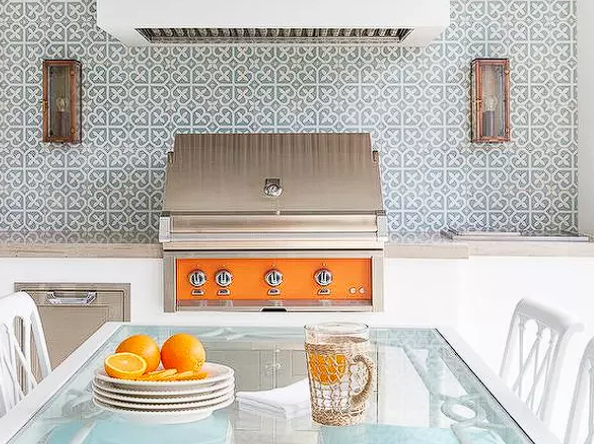 This theme focuses on your BBQ grill entirely. When you give your BBQ grill an orange punch, then you add color and texture to your outdoor garden area. A well-decorated cooking area like this is known to amplify the aesthetics of the room and foster communication, love, and admiration for your taste and style.
28. Teak-Themed BBQ Area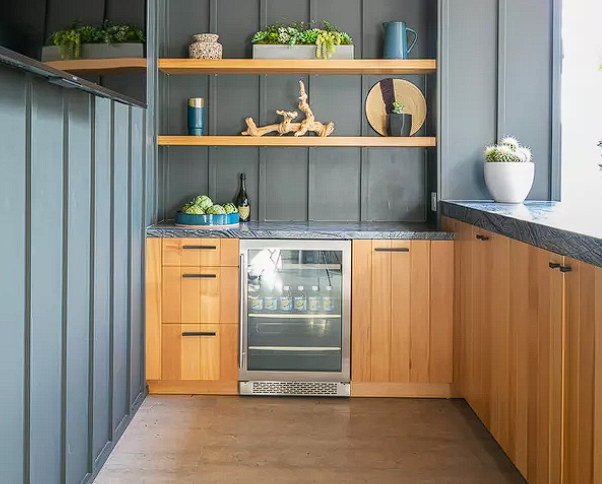 In order to incorporate this theme, make sure that all your cabinet is teak made. Once done, you will witness how beautifully it adds warmth and contrast to your outdoor garden space. Combine it with a light grey BBQ grill, and you have just created a stunning visual for your audience.
29. Curtain-Themed BBQ Area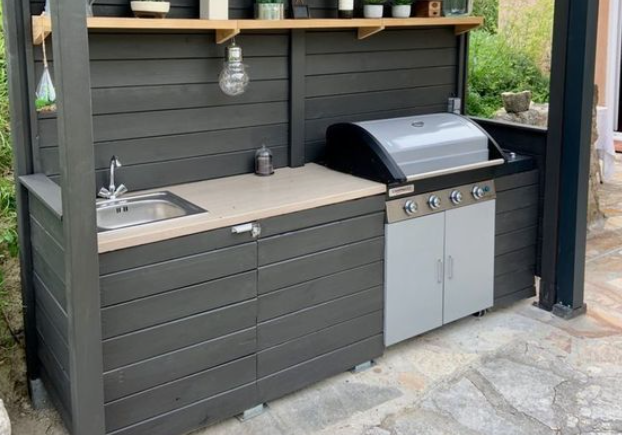 In order to incorporate this theme, you would need light grey cabinets and a stainless mini fridge to store your beverages. Once done, complete the look with a BBQ grill. Place a curtain for privacy and complete the look.  Please notice how the maker of this  has organized different drawers of BBQ cooking essentials. Make sure you follow the same way.
30. Graphic Tiled BBQ Area
Never look down upon graphic-style bbq settings, as they can bring a lot of attention to your outdoor space. With proper architecture and organization, this setting can provide an eclectic atmosphere in front of your guests. In order to infuse class and sophistication into your outdoor cooking space, you can add tall chairs to complete the look.
Takeaway
Barbque areas create unforgettable memories. Cooking up your meat while intaking its aroma, coupled with fresh air, good company, and chilled beer, could elevate any gathering. In addition, BBQ areas are not limited to functionality only.
They are considered places where people connect with nature and enjoy peace and tranquility. Enjoying a quiet and delicious meal with your family can bring a lot of joy to you. These 30 cool BBQ area ideas would transform your outdoor living space.
Using any of our solutions provided in this comprehensive listicle, you can enjoy cooking and entertainment at the same time. Our ideas cater to every home, and hence every design provided in this list gives endless options for customization, which is a key factor in creating a BBQ area according to your needs and personal interest.
Gather your loved ones and create a vibrant atmosphere with our design ideas. Transforming your garden area into a warm and welcoming space would create moments of joy and happiness that you would cherish forever.
Frequently Asked Questions
Do I Have to Plan My BBQ Area according to My Weather Condition?
Yes, the best solution is to add a shed to your BBQ area; this would protect you from rain, extreme weather conditions, and wind. However, if you want to have an outdoor BBQ area that doesn't have a shed and enjoy cooking under the weather, you can do that too.
Is Maintaining the BBQ Area a Tough Job?
Not at all. Maintaining a BBQ area is easy maintenance. All you have to do is take care of the essentials. For instance, after each BBQ, make sure that grill grates are cleaned with a wire brush and that stains are removed with soap water. In addition, make sure the countertop and the cabinets are cleaned since grease can harm them and make them useless.
Are There Any Precautions While Setting up a BBQ?
Not really. You just have to follow the instruction manual while setting up a BBQ area. In addition, keep a fire extinguisher if a hazard occurs. There are some other BBQ precautions, like making sure that the control knobs are off and BBQ is placed in a well-ventilated area.