10 DIY Waterproof Pergola Cover Ideas To Keep Your Patio Protected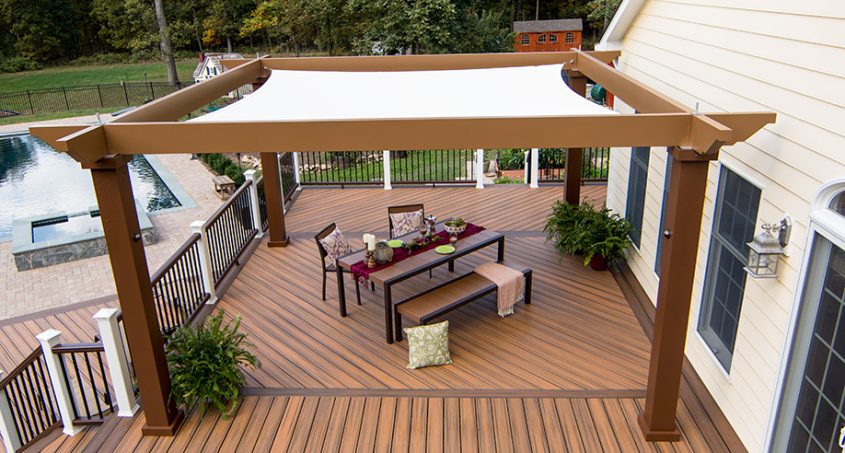 A pergola is a wonderful addition to any outdoor space, providing shade, comfort, and a touch of beauty to your place. It can be a great place to spend your me time; now, just imagine that you are spending some quality time, but then some sunlight rays and rainstorms interrupt you from doing that.
To fix this issue, we brought you a solution that is a homemade or DIY waterproof pergola roof idea. These waterproof pergola roof ideas will not only protect you from sunrays and rainstorms but also give you quality time for yourself.
With these waterproof pergola ideas, you will be able to turn your pergola into an inviting space that adapts to changing conditions while maintaining its beauty.
In this blog, we are going to discuss 10 such waterproof pergola roof ideas which will protect your pergola and its functionality.
1. Growing Vines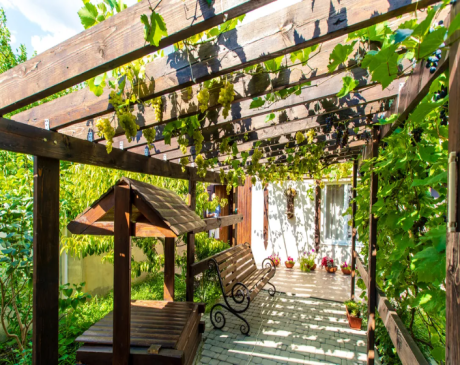 Growing vines as pergola covers are one of the best waterproof pergola roof ideas cause vines can not only create a lush and inviting atmosphere but also can provide shade and privacy. Whether the pergola is traditional (made up of wood) or metal, vines can add a natural touch to any element.
Make sure that the climatic conditions are supportive of growing vines. Some of the popular choices for pergola vines are grape vines, wisteria, honeysuckle, and climbing roses. Vines can be low-maintenance but do require some care, like watering regularly (especially during summer). Also, the addition of a mulch layer at the base of the vines can help regain moisture and suppress weed growth.
The lush green foliage, fragrant flowers, and dapple shade will create a soothing and beautiful ambiance. Inviting you and your guest to enjoy the natural beauty around you.
2. Retractable Canopy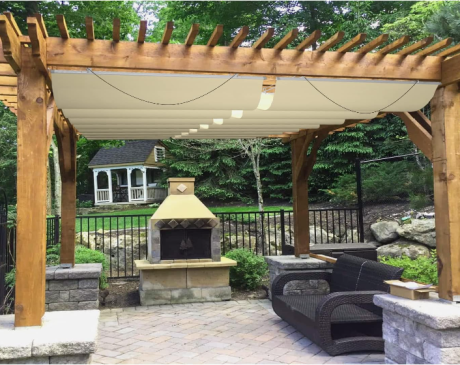 A retractable canopy is a type of covering that can be extended and retracted as needed. It is typically used to provide shade and protection from sun and rain for outdoor spaces like pergolas; they are mainly made up of fibers. The main advantage of a retractable canopy is that it supports all weather conditions.
Another advantage is that it can control sunlight and shade; by adjusting the canopy position, you can regulate the amount of sunlight that enters the pergola. It also allows you to enjoy the warmth of the sun during winter seasons by retracting the canopy. It comes in various colors, sizes, and materials, allowing you to choose the one you like or the one that suits your aesthetics.
A retractable canopy is one of the best waterproof pergola roof ideas for covering a pergola cause of convenience and versatility.
3. Polycarbonate Sheets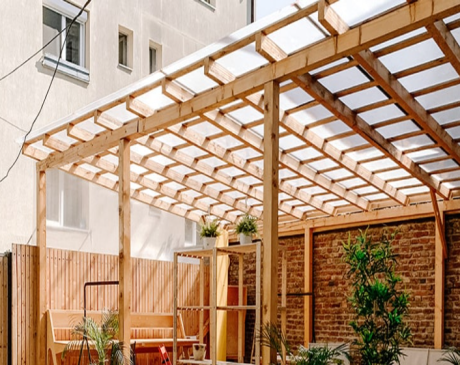 Polycarbonate sheets are a type of transparent and translucent material that is known for its exceptional strength, durability, and versatility. Because of these properties, polycarbonate sheets have gained little popularity among the masses. One more advantage of this sheet is that they are durable and lightweight.
Their strength can make them withstand various harsh weather conditions such as hailstorms or heavy rains. They also have a good transmission property, allowing natural light to block harmful UV rays. Another advantage of polycarbonate sheets is that they are low-maintainable and do not require a lot of money or care for them.
The energy-efficient properties can help reduce cooling costs by providing shade while allowing natural light to enter.
4. FibreGlass
Fiberglass, also known as glass fiber, is a reinforced plastic material that is made up of fine fibers of glass. It is composed of a matrix of resin, usually polyester, epoxy, or vinyl ester, reinforced with glass fiber. They are a good choice for a waterproof pergola roof cause of their various properties like strength, durability, and aesthetic appeal.
Fiber can serve as an excellent cover material, providing numerous advantages for outdoor space. Like polycarbonate sheets, they are also durable, low-maintenance, and aesthetically beautiful options for pergola covers. Its ability to provide diffused light, UV protection, and design flexibility makes it an excellent choice for creating comfortable and visually appealing outdoor spaces.
Fibreglass is a combination of the strength of glass and the flexibility of plastic resins. Consider using fiberglass to enhance your pergola and enjoy the benefit it brings.
5. Shade Sails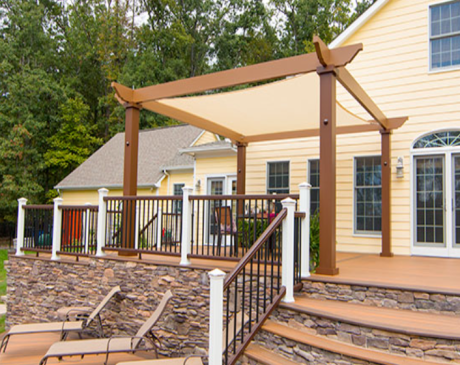 Shade sails are another one of the waterproof pergola roof ideas that can make your place look good. These versatile and stylish fabric structures offer a modern and elegant solution to enhance outdoor spaces while protecting from the sun's harmful rays. They have various benefits like protection from sun rays, design of your choice, versatile installation(they can be attached to various configurations), breathable and durable(they allow air to circulate and prevent heat buildup), and cost-effectiveness.
Besides advantages, they also have some disadvantages, like providing limited rain protection, challenges faced during installation, maintenance requirements, limited longevity, design limitations, etc.
Despite these disadvantages, shade sails remain a popular and effective choice for many homeowners due to their affordability, versatility, and aesthetic appeal. Shade sails also offer an attractive, functional, cost-effective solution for covering a pergola.
6. Tin Roof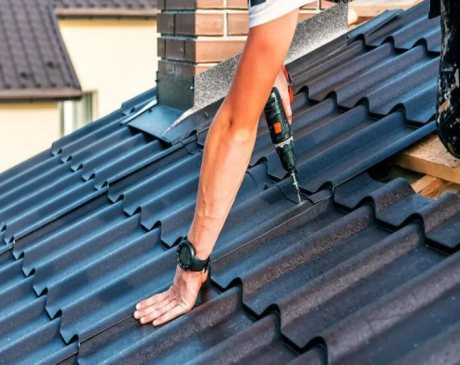 Tin roof is another popular choice among waterproof pergola roof ideas cause of its good properties. A tin roof enhances the functionality and visual appeal of the pergola. It is a type of roofing that is made up of a material called tin or a similar matter alloy. It is commonly used to cover the roofs or the outdoor space of the house, like a pergola.
Tin roofs typically come in the form of large, interlocking panels or sheets that are attached to the roof structure using nails or screws. They can have different profiles, such as corrugated or standing seam, which not only adds to their aesthetic appeal but also provides functional benefits. Tin roofs previously used to be made up of pure tin, but nowadays, they are made up of galvanized steel that is coated with zinc to avoid corrosion.
Tin roofs provide benefits like durability, versatility in design, effective shade, and low maintenance is a decent choice for pergola roofs.
7. Bamboo Roll Up Shades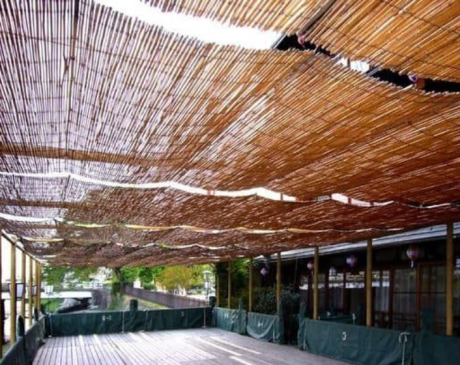 A bamboo roll-up shade, also known as bamboo blinds or bamboo window sheets, is a window covering that is made up of bamboo woven together, creating a lightweight yet durable material that can withstand various weather conditions. And they can also be used as pergola roofs. It have many advantages, like they are fully organic and do not require any artificial material to make them.
Secondly, they provide shade and privacy. Another merit of it is that it allows natural light and airflow inside the shade; this is because of the gaps between the bamboo slats that allow a gentle breeze to pass through, keeping the area underneath cool and well-ventilated. This makes them ideal for outdoor spaces to create a comfortable and well-ventilated environment.
It is an attractive and good choice for covering a pergola with its natural beauty, versatility, and functionality.
8. Wood Planks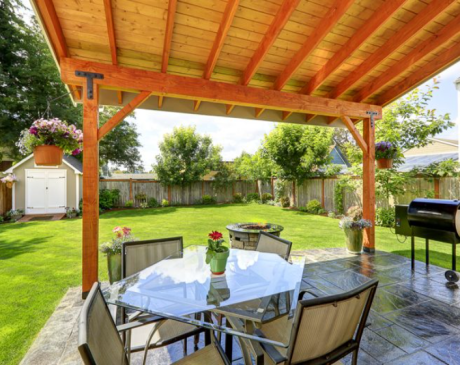 Wood plank is another idea for pergola roofs that ad a rich and warm aesthetic that complements various outdoor spaces, making them an excellent option for both traditional and contemporary designs. A wooden plank refers to a flat elongated piece of wood that is rectangular with straight edges and come in various length, width, and thickness.
They are mostly used for construction, carpentry, and woodworking projects for a wide range of applications. But using it as a pergola is not a bad choice as it can turn out to be a good option if constructed or made properly. Some of the advantages of wooden planks are that they are made up of organic material, you can customize the design according to your roof, they provide shade and protection, they are durable, and is good for all weather conditions.
If given proper maintenance, they can provide years of beauty and functionality, creating a charming and inviting space.
9. Louvers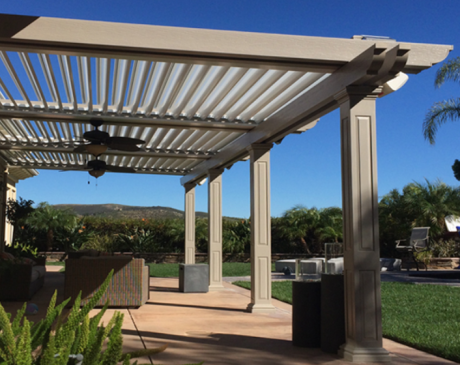 A louver is a parallel or horizontal slat or blade that is set in a frame made up of various materials such as wood, metal, glass, or composite material. They are specially made to block sunlight, protect from rain, and prevent debris from entering a space. Cause of the ability to provide adjustable shade, by tilting the louvers, you can easily regulate the amount of sunlight that enters the space.
This feature is considered best during the hot summer when you can create a comfortable and shaded area for relaxation or entering guests. Another advantage is the flexibility to control ventilation; by adjusting the angle of the slats, you can regulate the airflow and create a pleasant breeze within the pergola.
At last, louvers are a stylish and versatile solution for pergola covers. They can also handle harsh weather conditions.
10. Living Roof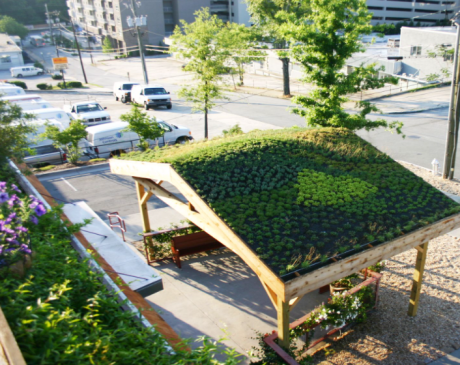 A living roof is a green roof, also known as a rooftop garden refers to a roofing system that includes a layer of soil, and drainage components, on the top surface of the building or structure. The idea of living is something out of the box, but the feeling is very beautiful and soothing. Making a living roof requires proper planning and implementation to ensure its success.
A living roof can transform your simple pergola into a sustainable, virtually appealing, and eco-friendly structure. It offers benefits such as energy efficiency, stormwater management, biodiversity support, and aesthetic enhancement to your place. With proper planning and enhancement, you can create a unique and beautiful place to spend your me time or time with your family.
Remember that the weight of the vegetation and the need for proper structural support must be assessed to ensure the pergola can withstand the added load. Making this roof is a little time taking, so if you have a lot of patience and dedication to take care of plants on your roof, then you can go with this option. Remember that this idea requires a lot of care.
Conclusion
These were the ten waterproof pergola roof ideas that will protect you from sun and rain. Enhancing your pergola not only increases its functionality but also creates a beautiful space for you and your loved ones to spend time together.
The above waterproof pergola roof ideas also provide an aesthetic look to your pergola. Just by investing some time and effort into these pergola covers, a welcoming and comfortable outdoor that can be enjoyed throughout the year.
Which one of the above DIY waterproof pergola roof ideas do you like the most let us know in the comment section.
Frequently Asked Questions
What is the Best Material to Cover a Pergola?
Typically, the best material that can be used to cover a pergola is canvas. It is considered the best choice for covering a pergola, as, it provides ample shade and repels water off the surface area when once treated with waterproofing. Canvas is considered a solid material as it protects the pergola from sunlight and rain.
What is the Best Waterproof Roof for a Pergola?
A clear plastic roof is the best choice among waterproof pergola roof ideas as it will not only protect from the sun but also will allow some of the rays to enter inside. This will give a bright and airy feeling to you inside. The main advantage of this roof is that, unlike other pergola roofs, the clear plastic roof is easy to clean.
How Effective Are Pergolas?
Pergolas are effective as it provides beauty to your place and also can benefit your yard with other benefits like providing shade and protection from rain, UV light, insects, and heat. Additionally, it also provides privacy to your family during outdoor activities if retractable screens are used on one or more sides.
What Are Pergola Covers Made Of?
Typically they are made up of wood, but some other elements like aluminum and steel can also be used cause wood rots easily, so, sometimes, they are also considered a good option. Pergola can be a stand-alone structure, or it can serve as an extension of a building. It is meant to provide a shaded seating area.