24 Easy and Fun Canvas Painting Ideas for Those New to Art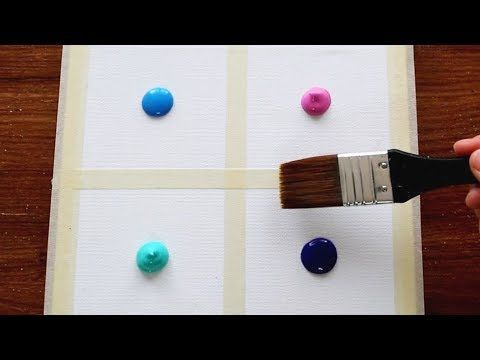 It's amazing how art can rejuvenate the mind and the soul. However, painting on a canvas can be intimidating, especially if you are a beginner. Interestingly, even first-time and aspiring painters can produce some fantastic pieces of artwork, provided they are inspired to do so. We have, therefore, collated here some easy canvas painting ideas for beginners that will help you get started.
Whether you wish to use oil colors, watercolors, or acrylic paints, and irrespective of whether you are yet to make your first art paint or have already begun, these painting ideas will certainly help.
So, without further ado, let's get started on a colorful journey of discovering the inner creative artist within you. I hope you enjoy these as much as we have fun on this art adventure.
A note to all newbie artists out there: try to get started with acrylic paint, as it is not just cheap but also easy to handle vis-a-vis watercolors and oil paints.
1 Stencil Art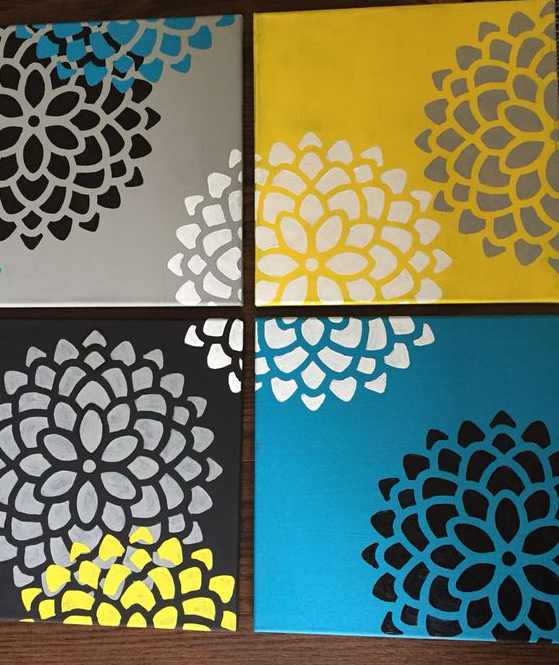 These stencil paintings on canvas can become great decor accessories for the walls of your living room, bedroom, nursery, and kids' room. What you need are basic art supplies that include canvas, acrylic brushes, paints, and readily available stencil sets.
2. Basic Flower Artwork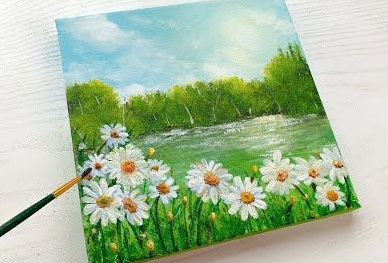 Petite and multi-hued floral artwork is appreciated by one and all. The best part is that you really do not have to be a professional artist to draw and paint flowers. Nature is the best place to get inspired. Your garden outdoors or the backyard may have some beautiful natural samples. If you are good at copying, start with these beauties.
Alternatively, you can look for painting ideas online, be it the strokes, colors, or buyingart supplies.Begin with easy-to-paint flowers, for example, daisies or sunflowers. The trick to mastering this painting idea is to start by painting the sky. Next, use the fan brush for grass strokes.
Once the background is dry, use the chiseled side of your flat brush to paint the petals. The one-stroke technique is recommended for beginners to paint the petals.
3. Tissue Paper Birds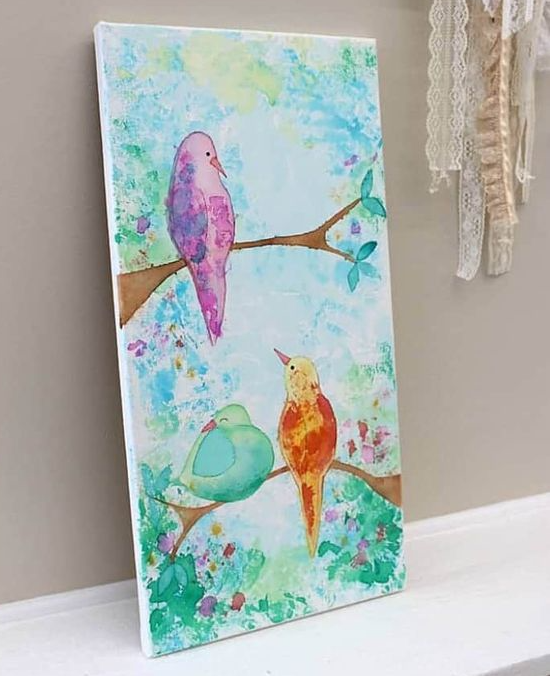 Next on our list is a flock of colorful birds. These are made using tissue paper. Yes, you heard it right. For this artwork, you need a few rolls of tissue paper. Tissue papers are used because they bleed, as a result of which the colors blend onto the canvas with a dramatic effect. You also might want to buy a pair of workable latex gloves to prevent your hands from getting dirty.
The trick to amp up this painting idea is to use the tissues for the background first. The birds are first drawn on paper. Next, use the tissues to let the color bleed. Finally, you will have a painting that looks as beautiful as in the picture here.
4. Snowman Painting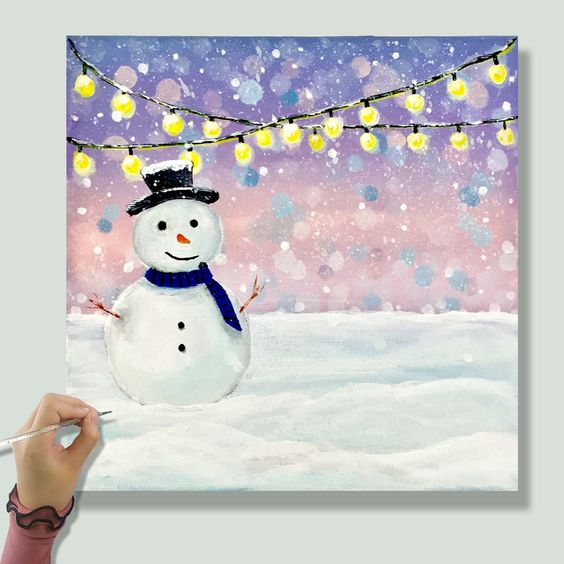 The winter is such fun with the holiday season and snow. All of us have tried our hands at making snowmen with our bare hands. Taking this a level higher, try snowman painting on canvas. This is a great amateur painting idea.
As the first step, you need to paint the background; it could be blue, light blue, or white. Later, you need first to draw the outline of the snowman and then paint it up. The fun part is making a face. There are innumerable expressions to pick from, and we have included here a few top choices to pick from.
5. Signs for The Guest Bathroom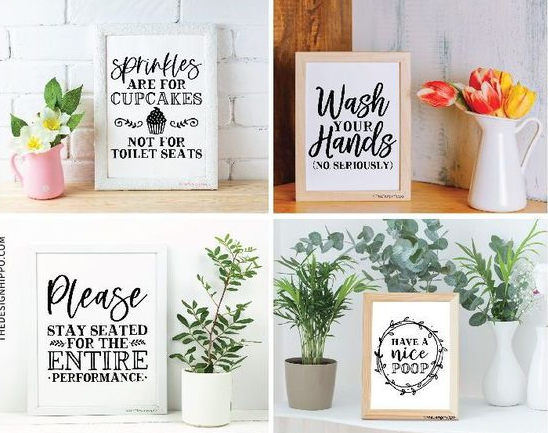 Interesting signs can be created or painted, thanks to the human brain's ingenuity. You can come up with other funny ones or even inspirational ones that help start the day with the right vibes.
For this painting idea, there are no thumb rules, no do's and don'ts. So, it gives you the flexibility to work it out your way. Pick up a canvas and start by writing the one-liner. Then paint the canvas, frame it, and put it up in the bath.
6. Sunset Scene from a Tropical Beach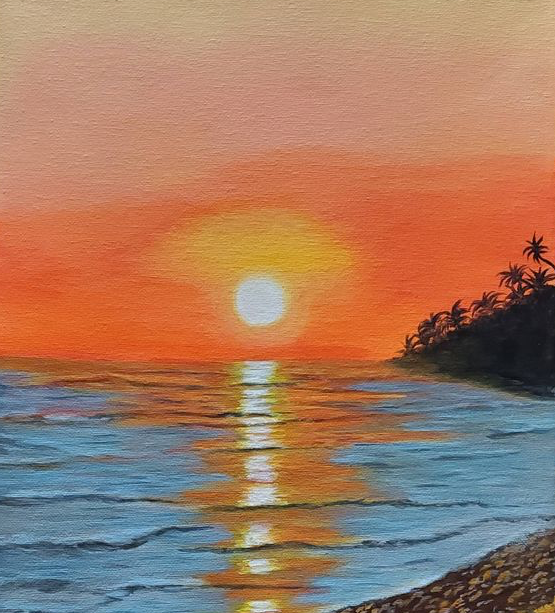 Even as a beginner with absolutely no experience in painting, you can come up with an impressive piece of artwork with this painting idea. Sunset is a beautiful time, especially with the shadows growing larger and the twilight setting in. All of these natural settings can help create an awesome and picture-perfect drawing.
How do I go about it? Try getting a gradient-like effect to your painting by following simple steps like keeping the colors from getting dry by misting them. Similarly, instead of cleaning the brush when moving from one color to another, just let the trace of the previous color be for a natural look. Blend the colors at the border and use horizontal strokes with your flat brush for better aesthetics.
7. Beach Scene Painting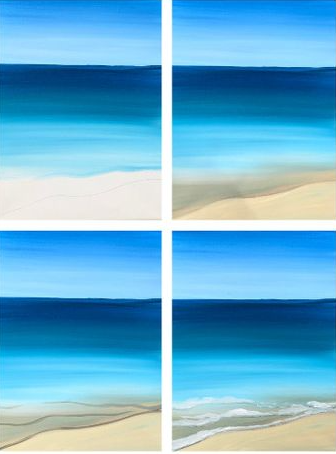 An easy-to-render painting idea is a beach scene. The supplies that you need for this piece of artwork are canvas, molding paste, paper plates to mix colors, painter's tape, and of course, acrylic colors.
In this artwork, the molding paste is first used on the canvas for texturing the ocean and the beach. The colors are blended in the paper plates, and painter's tape is used for drawing the horizon. The first step is to make the horizon. Start with the darkest blue immediately below the horizon. Blend in white at places below to give the water a natural look and feel. The sandy beach should be colored in shades of brown.
8. Botanical Plant Painting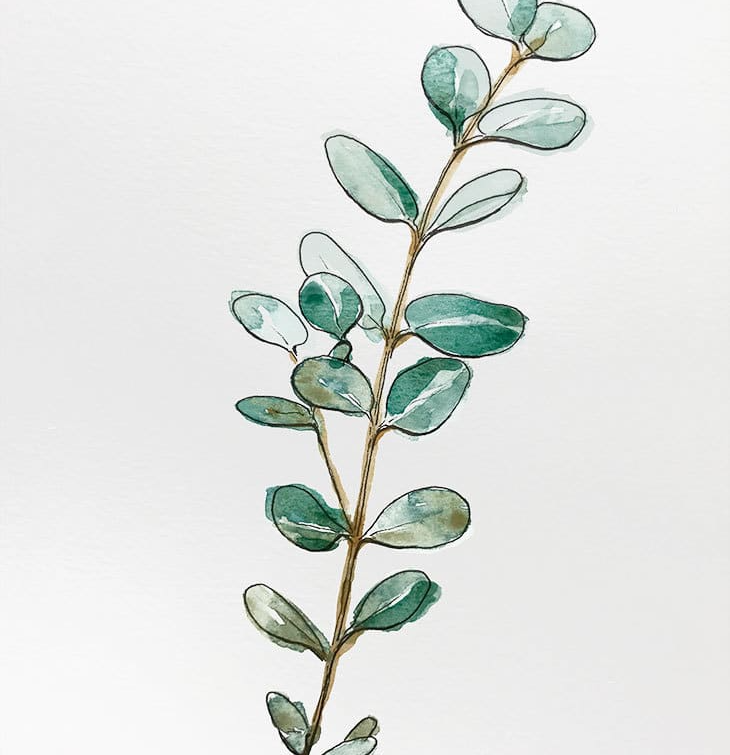 This painting idea uses the line and wash method to paint a eucalyptus plant. In this method, you will need first to make an ink sketch. The good thing is that you can use a greater deal of pen work to detail the outline and the other intricate parts of the plant. Next, you will use watercolor to create washes of color to bring in the natural effect. Ensure to use a waterproof pen to avoid bleeding.
9. Abstract Painting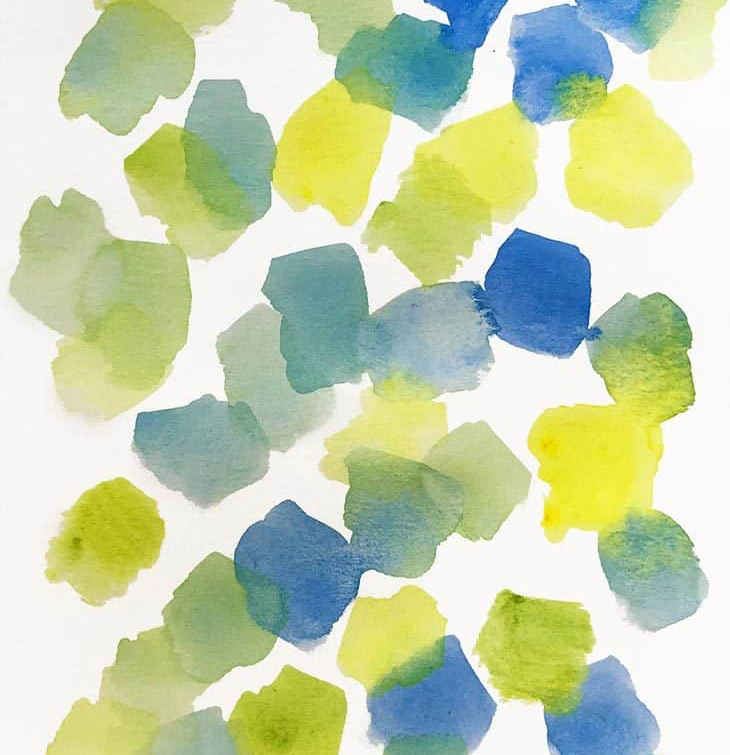 This is one of the easiest painting ideas. Since abstract painting is all a work of your imagination, you can paint geometric shapes of your choice on the canvas. The use of the right colors will help you make an impressive piece of work. All that you need to study a bit before getting started is color mixing and brush control.
10. Cat on Ball Painting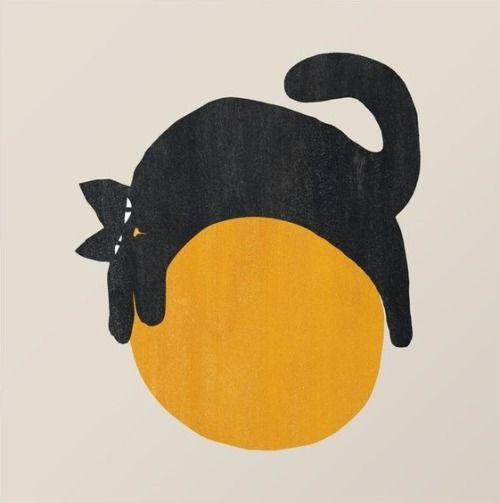 This is another simple and easy-to-render painting idea. Use acrylic colors to make a big round ball. Use a color as per your choice. Next, it is time to paint the cat. Just make sure that the cat has a rounded shape as it is hugging the ball, like in the image above. It is a minimalist art form. Bind it in a frame to increase the show of your bedroom walls.
11. Autumn Tree Painting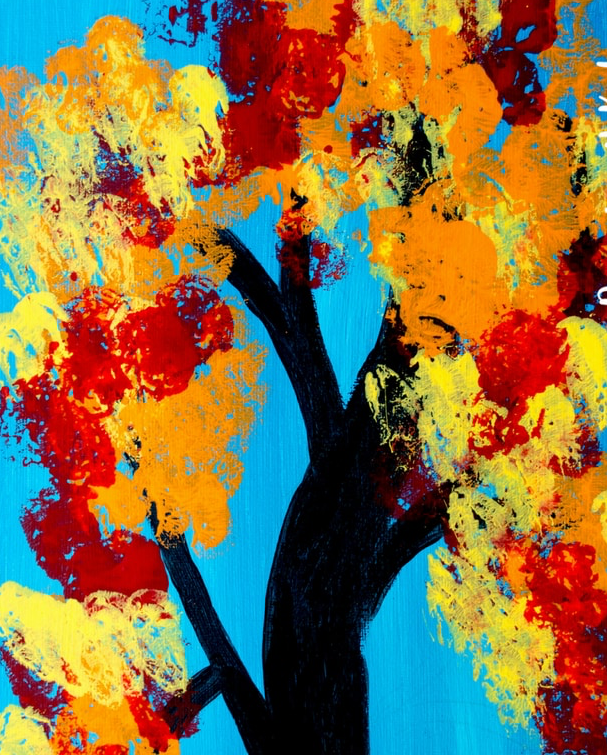 This is a craftwork that even kids can do. Other than the usual supplies required for an acrylic painting, you will need cotton balls to make this a realistic work of art. On the canvas, draw a part of a tree or a branch. Mix colors; first, paint the sky blue and use bright colors like red, orange, and yellow for the leaves. Blend the three colors, and use the cotton ball to give a fluffy vibrant look to the picture.
12. Spray Painting with Toothbrush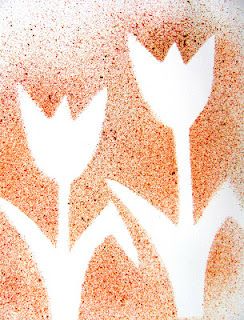 Most of us have tried spray painting during our childhood days using a toothbrush. It is a great painting idea. Any idea is fine as long as the colors are there to make it a nice piece of work. Dip the brush in color and use your hand for the spray. You will have to use paper pieces to cover certain parts of the canvas for well-defined shapes and silhouettes.
13. Moon Painting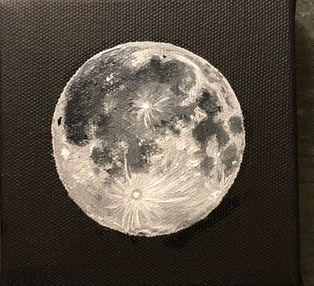 This is another easy painting idea. All you need to ensure is that you get the shape and size of the celestial being right. Start by painting the canvas black. You can also buy a ready-to-use black canvas. Next, depending on the size of the moon you wish to paint, use a circular object to trace the shape on the canvas.
For painting, start with the craters. Shade the moon appropriately and then fill up the surroundings with moonlight and other celestial objects.
14. Sunburst Painting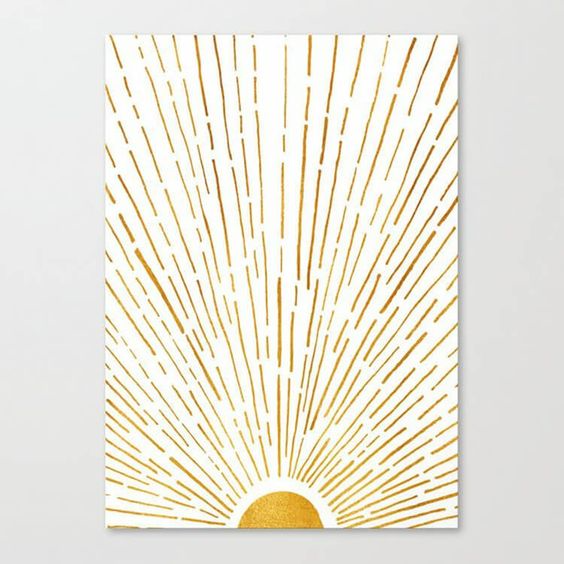 Do you have any simpler idea than this? This is also a great painting idea to keep your kids busy during vacations. The color is gold metallic paint. As you can see, the circular part of the sun has been kept to a minimal size. It's the burst of the sun's rays that is highlighted here. You do not have to worry about getting the lines straight but ensure that there are darker and lighter lines to complete the painting.
15. Home Sweet Home Painting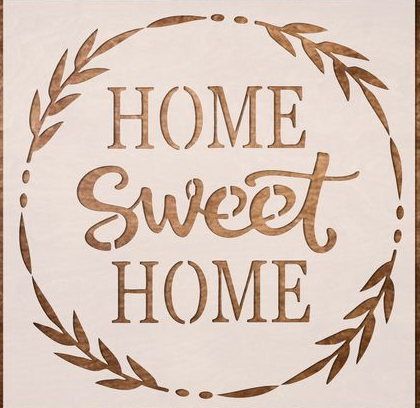 This painting idea generates a great DIY board that you can hang outside the main door. All you need is a few acrylic or watercolors and a canvas. The background can be literally any color of your choice. You can experiment and get any effect that you wish to achieve. Next, use stencils to paint the letters "HOME SWEET HOME." Once you have stencil alphabets, you can choose any text for your home.
16. Heart Twig Art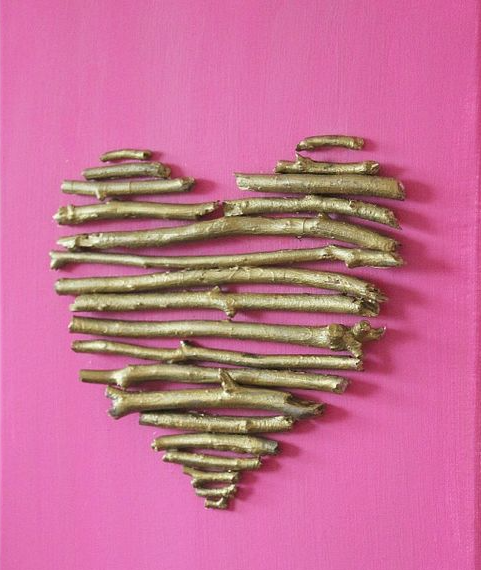 This one may not be a conventional painting idea, but nonetheless, it creates an impressive-looking work of art when it ends. The supplies required for this artwork are a few twigs (easily available if you have trees and shrubs around), a can of gold spray paint, a canvas, hot glue, and of course, a canvas. First, spray paint the twigs of different sizes. Next, paint the background on your canvas. Draw a heart shape on it once the color dries. Lastly, stick the twigs within the heart.
17. Handprint Fall Tree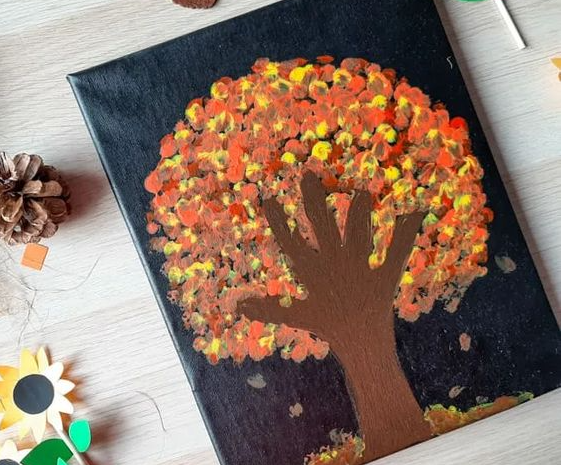 In this painting idea, all you need is a canvas painted black and acrylic colors, primarily orange, red, yellow, and brown. The tree trunk is basically the imprint of your hand. Once that is done, go ahead and make the leaves of the trees with different colors using your fingers and thumb. The artwork, when completed, looks stunning.
18. Footprint Flower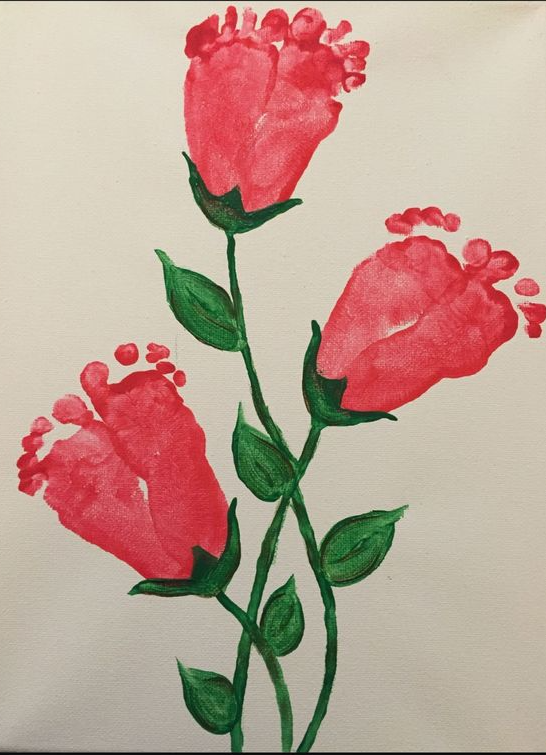 This is another unique painting idea because we all know of handprint art and the use of fingers and thumb to create a masterpiece but foot? That's a bit unusual. This idea is going to transform into a unique art piece if you do it right. Mix colors on a paper plate and then either dip your foot in the color and mark on the canvas or paint your foot and then go ahead with painting the canvas. The end result is gorgeous, isn't it?
19. Galaxy Painting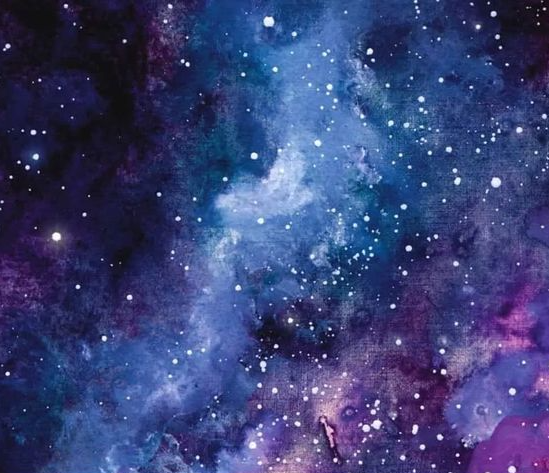 There is something mystical about the galaxy; you have to agree with me. That is why our list of painting ideas for beginners is incomplete without this. It is really simple to make because there is no one way of doing it, no thumb rule to stick to. All it needs is a bit of thought process on the selection of colors. If you wish to stick to the conventional theme, use black, purple, blue, green, silver, and white. Be prepared for the magic by using a sponge brush or a sponge to paint the picture.
20. Initials of Your Name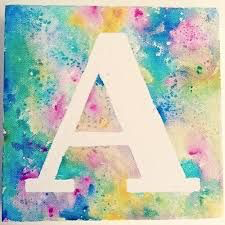 In this art piece, you are going to create your initials on the canvas. The background can be your choice. The letters can be painted using stencils or even handpainted. You can also stick letter stickers onto the canvas and then paint the background. Whichever plan suits you!
21. Simple Flowers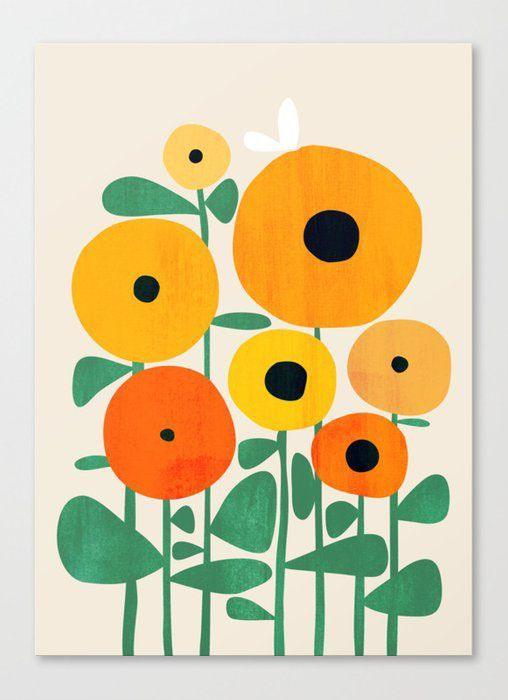 What you will love about this painting idea is the simplicity of the flowers on the canvas. Use circular objects of different sizes to get the sunflowers right. Paint them yellow, orange, and red. The stems and the leaves are green. The black circles in the middle of the flowers mark the bees in this picture. It is a great idea because instead of painting the different entities in their real-life shape, the flowers and the bees are represented by circles.
22. Eggshell Art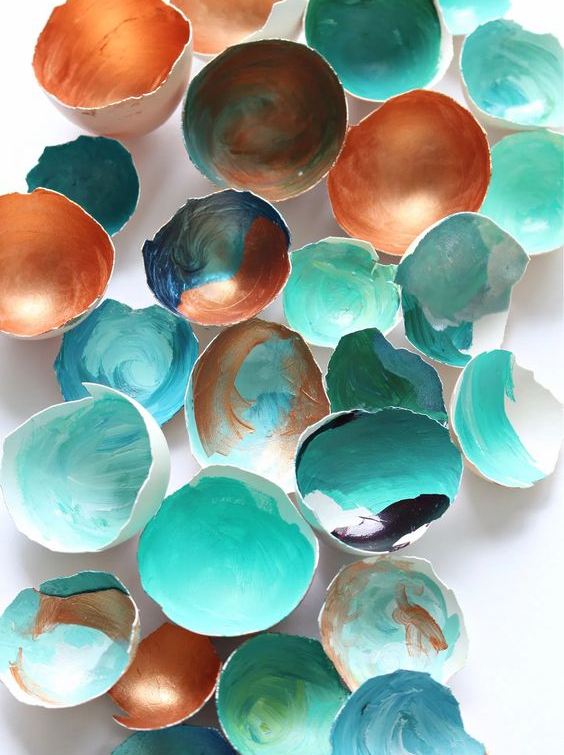 This one is fun, especially with kids, but it can get messy. Ensure you have a lot of tissues around for the mess. In this unique painting idea, you start by getting the eggshells cleaned and wiped dry. Next, involve everyone in painting the shells in the colors of their choice. Once completed, the really fun part begins. The shells have to be thrown on the canvas. As you hear the shells cracking and crunching, you will also witness the canvas getting filled up with an array of interesting colors. Let the colors dry, and then frame the painting.
23. String Art Graffiti
To get this piece of artwork correct, you will need a lot of strings. You can use a tie and dye kit. Place and tape the strings arbitrarily on the canvas. Use spray paint with multiple colors. Let the paints dry for at least 4-5 hours. Untape and remove the strings, and your artwork is ready.
24. Fork-Painted Christmas Tree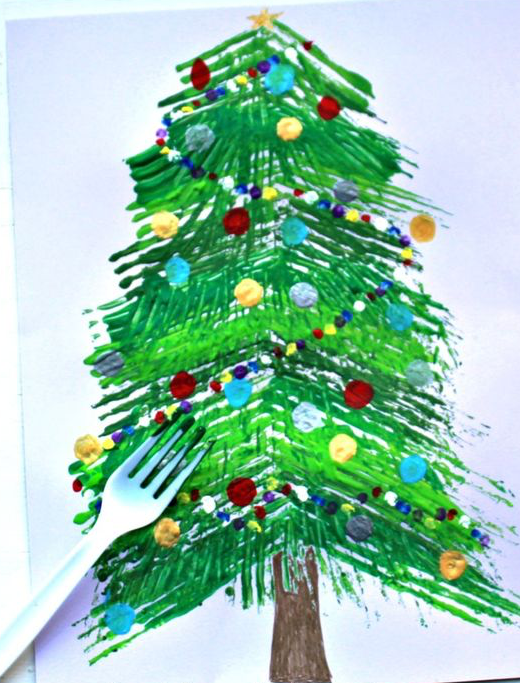 For this artwork, you will need a fork, acrylic colors – green and brown, and a few pompoms and glitter for decorations. Start by dipping the fork in the green paint and use strokes to make the Christmas tree. Remember to give it a triangular shape so that it decreases in shape as you go up. Next, use your thumb, and dip in the brown color to make the trunk. Once done, use pompoms and glitter to decorate and let the paint dry. This an amazing painting idea for the Holiday season!
Conclusion
We hope this collection of fantastic painting ideas inspires the artist in you. The first step is always crucial. Keeping this in mind, I have listed ideas that are easy to create, are mostly hassle-free, and are interesting to render. To top it off, most of these ideas are around acrylic paint, which is pretty easy to use, readily available, and quite affordable.
Let's get you started on your painter's journey. It is surely going to be enjoyable and full of surprises.
Do share some of your beginner artwork here in the comments below to inspire another artist or another fresher to channel their creative juices. And who knows, we might have another Picasso in the making amongst us!