8 Elegant Black and White Floor Tile Ideas for Your Bathroom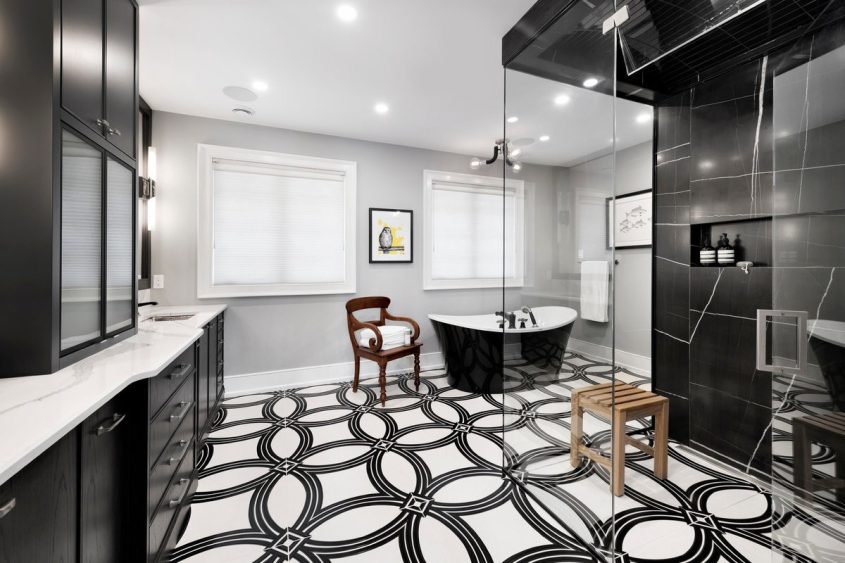 A black and white bathroom floor creates a stunning and appealing ambiance in any place. Endless and timeless combinations of floor tile black and white add elegance and sophistication to the bathroom where it is used. In this blog, we will see a few appealing black-and-white bathroom floor tile ideas that are going to transform your bathroom into a luxurious getaway.
From classic patterns to detailed designs, we will guide you through the options that let you choose how your bathroom looks and the tiles that suit your preferences. Get ready to be inspired as we go into detail about these all beautiful bathroom floor tiles in black and white. Discover how the designs and contrasting colors give a sophisticated finish to your bathroom and transform it into a place that exudes style.
We help you understand the patterns, finishes, and materials with which you can create a floor that acts as a focal point and improves the ambiance of your bathroom.
Ideas to Elevate Your Black-and-White Bathroom Space
1. The Classic Checkerboard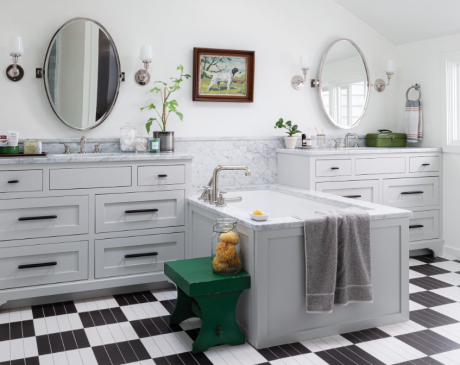 Choosing a timeless pattern that never fails to create a sense of sophistication and elegance for your bathroom is the checkerboard. Featuring strategically placed black and white tiles to create a striking pattern, the checkerboard pattern is the perfect blend of simplicity and impact.
For contrasting floor tile, black and white colors offer depth and enhance the dynamics of the bathroom. You have the option to choose from various sizes to create your own twist on the checkerboard pattern.
This pattern can be used selectively or can be placed across the bathroom floor at your convenience. You can even pair the same with contrasting borders to enhance the overall ambiance.
2. Detailed Mosiac Rugs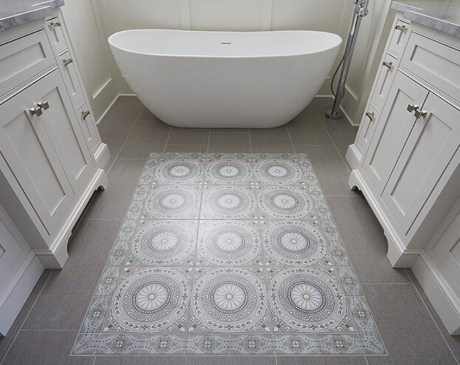 Mosaic rugs include detailed patterns that are visually appealing that mimic the look of a traditional rug. One advantage of the same is that the customization possibilities are endless. You have the option to choose from various tile patterns, shapes, and finishes to create an imprint of your choosing. You can opt for a variation of grays to complement the black and white tones for your bathroom.
Choosing tiles with a metallic finish catches the light to create a shimmering effect to enhance the room's allure. Choosing materials like glass or mother-of-pearl introduces a sense of luxury to the bathroom floor. You can choose various patterns, including geometric designs, floral, or even abstract.
To create a focal point using these rugs, placement is an essential factor. Centrally or strategically placed tiles enhances their importance and make them visually appealing.
3. Geometric Elegance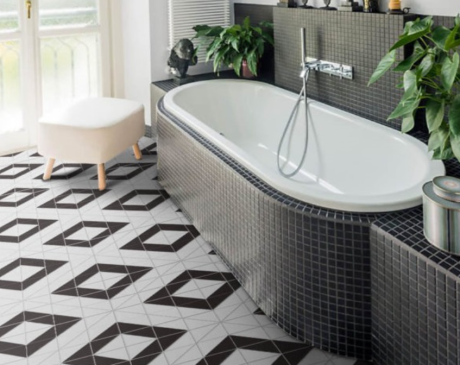 Embracing geometric patterns for your black and white bathroom floor creates a sense of sophistication and gives it a modern touch. Choosing bold and intricate geometric patterns lets you create a striking statement.
One of the most popular designs to choose from is the hexagonal tiles. The six-sided design enables you to create a visually beautiful floor. You can select from various-sized hexagons or even a honeycomb pattern which, as a result, makes a way that exudes charm and style.
You can choose from a mirrored finish or a glossy finish. You can opt for experimenting with various shapes and patterns like rhombuses, triangles, squares, or polygons to create a design that shows your style. While you are choosing a plain black and white floor, you can also opt for various shades of gray to enhance the look of your bathroom.
4. Damask Delight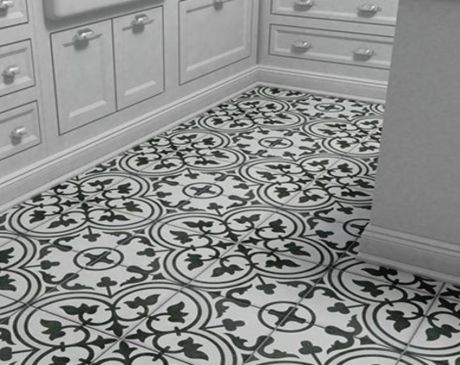 Also known as Arabesque designs, this design can add a touch of sophistication and drama to your black-and-white bathroom floor. This features a symmetrical design taking its inspiration from traditional Western motifs. From various materials, the best options are porcelain and ceramic to match the conventional damask patterns. You can choose a matte finish for a refined look and a glossy finish to create a dramatic look.
The most important task while choosing a damask pattern is selecting the tile pattern and size. Large tiles with single patterns create a bold look, while smaller tiles give them a delicate look. This allows you to alter the design according to the impact you want in your bathroom. Damask in black and white creates a sophisticated atmosphere while maintaining the beauty of the pattern.
The contrast of black and white makes a design that is visually appealing and stylish. It is recommended to pair the same with solid border tiles that are black or white to enhance its look.
5. Marvelous Marbles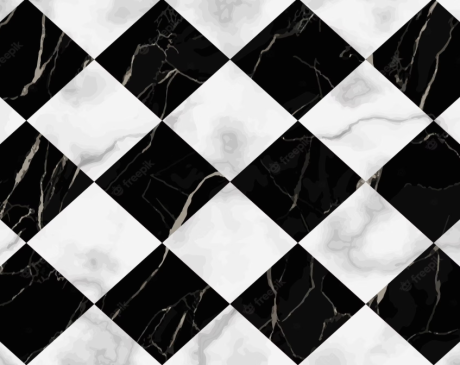 For a truly glamorous and striking black and white floor bathroom, it is recommended that you choose marble as it exudes sophistication. The veining pattern creates a unique appearance and gives a sense of luxury. Multiple colors are available for you to choose from, but for a glamorous black-and-white aesthetic, choose white tiles with black veining.
This creates a timeless look and adds a touch of grandeur to the bathroom floor. The polished finish reflects light to create a sense of depth and make the bathroom look bigger.
Larger tiles create a seamless design, while smaller tiles can be arranged to create sophisticated and intricate designs. Choosing border or mosaic designs further enhances the allure of the flooring. While the looks are an essential factor, it is crucial to maintain the tiles to protect their longevity. Regular cleaning and sealing keep the tiles looking pristine and ensure that the tiles look glamorous for the time to come.
6. Striking Stripes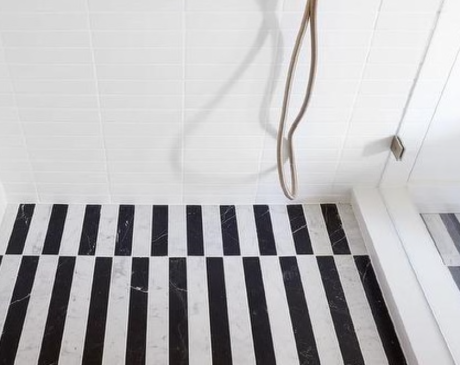 Incorporating striking stripes into your black-and-white floor bathroom can give it a dynamic look. Lines add movement and drama to the floor to create a pattern that is visually appealing. You have the option to choose from thin and detailed stripes or bold and striking stripes that match the aesthetics of your bathroom.
The contrasting design of the colors catches the eye and gives it a glamorous look. The size and orientation can be altered according to your liking. Narrow and elongated tiles can be placed horizontally or vertically to create stripes. Large square tiles can be placed in a checkerboard style to create the illusion of intersecting lines.
To enhance the look of the tiles, you can choose a glossy or a mirrored finish, where the reflected surface enhances the visual impact of the stripes adding depth and dimension to the bathroom. You can choose to place the tiles in a particular area of the bathroom to create a focal point or prefer to spread them across the floor. The best example for the same will be to create a striped rug effect where you can choose to place bold tiles in the center of the foot while spreading the other color across the floor to add extra drama to the bathroom.
7. Floral Flourish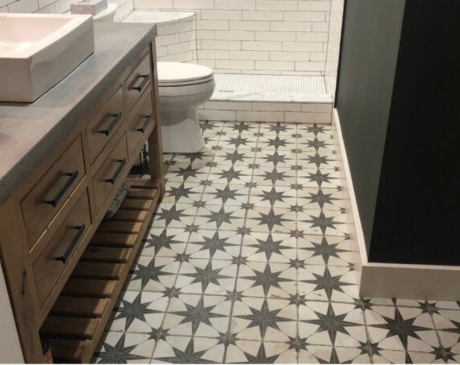 Adding a floral flourish to your black and white bathroom floor adds a touch of femininity and elegance to the space. Floral patterns are timeless and add a charming look to the place it is added to. While choosing the proper design, you can select intricate flower motifs. Opting for black and white tiles that show various flowers, such as roses, lilies, or cherry blossoms, is a plus.
To enhance the look of the tiles, it is better to choose from a polished or a glossy finish. The contrasting dark and light shades give depth to the pattern.
The scale of the pattern plays an essential factor in the visual appeal. Choosing larger tiles with repeating patterns adds drama and gives a bold appeal to the area. At the same time, choosing smaller tiles in different ways creates a delicate ambiance. A randomly scattered pattern can be selected to create an illusion of a garden.
8. Artistic Accents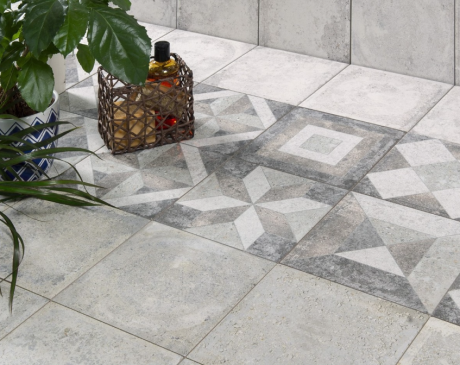 Personalize the black and white bathroom floors by adding artistic accents. These details elevate the space to new levels of artistic allure and enhance the glamorous atmosphere. These tiles act as a focal point despite the placement and are a conversation starter that reflects your personality. Choosing geometric or intricate designs or bold brush strokes create a pattern that is visually appealing and adds a glamorous twist to the bathroom.
You can choose detailed plans to develop a simplistic aura around the area. These can be floral or hand-painted, depending on your preferences. These tiles allow you to showcase your choice and personality. If required, you might also choose to collaborate with an artist that will help you create unique artwork with a sense of personalized touch.
Conclusion
We hope that our ideas to enhance your bathroom's black-and-white tiles will let you transform your space with style and sophistication. You can shortlist from a range of options like stripes, checkerboard patterns, damask designs, or artistic accents. Each of the options offers a unique charm that brings a touch of glamor to your bathroom. These ideas help you personalize your space that reflects your style.
You can add elegant fixtures and fill the bathroom with plush accessories to match the atmosphere. Placement and arrangements of floor tiles in black and white play an important role in making a bold statement.
Customize the size, shape, and design of the tiles to match your vision, and do let us know in the comments below which of the above-mentioned ideas you are deciding to take up for your next home renovation project.