21 Farmhouse Dining Table Sets for Creating an Inviting Space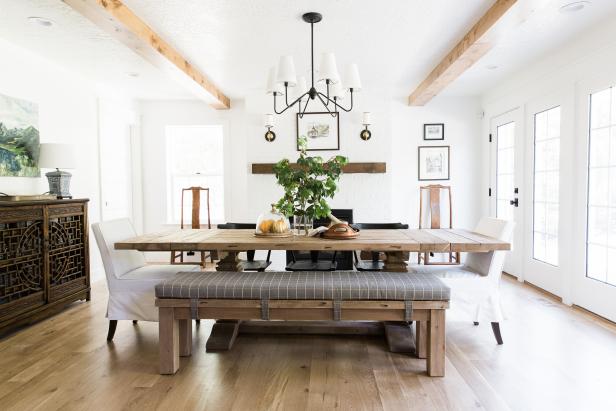 A dining table is the best place to connect with your family, friends, and close ones, so it is necessary to keep that place looking like an inviting space. And if you are looking for a cozy and welcoming ambiance, then a farmhouse dining table is all that you need.
Farmhouse dining table and chairs paired with a bench not only provide you ample seating but also a charming rustic appeal that can transform your space into an inviting space. Most of the farmhouse dining tables are made up of wood and sport a weathered finish.
There are many options available, infuriating as chairs, benches both. In this blog, we are going to learn about 21 different types of farmhouse dining tables and chairs with a bench to create an inviting space.
1. White And Wooden Farmhouse Dining Set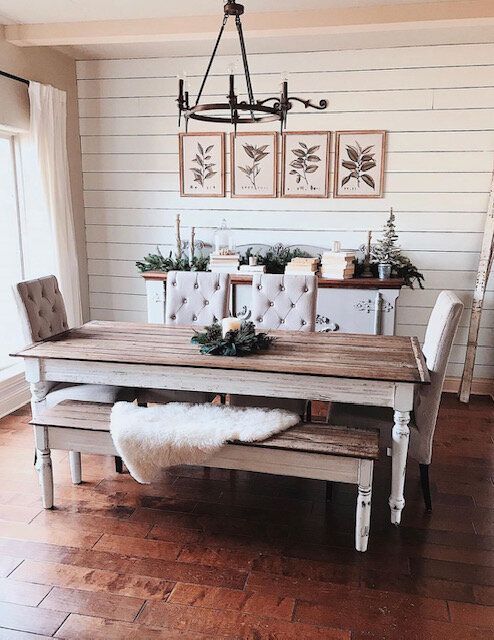 A white and wooden farmhouse dining set typically refers to a dining furniture collection that combines white color elements and a wooden finish that reflects or represents the rustic or charming style of a farmhouse. The aesthetics of this farmhouse are a little popular cause the distressed legs of the wooden table and matching bench give off that aged look. The cushioned French vintage chair infuses an elegant yet modern touch that balances the raw wood of the bench, table, and floor planks.
When you are choosing a white and wooden farmhouse dining set, consider some factors, like the size of your dining area, the number of seats required, and the overall style you want to achieve in your space.
2. Six-Person Traditional Farmhouse with Storage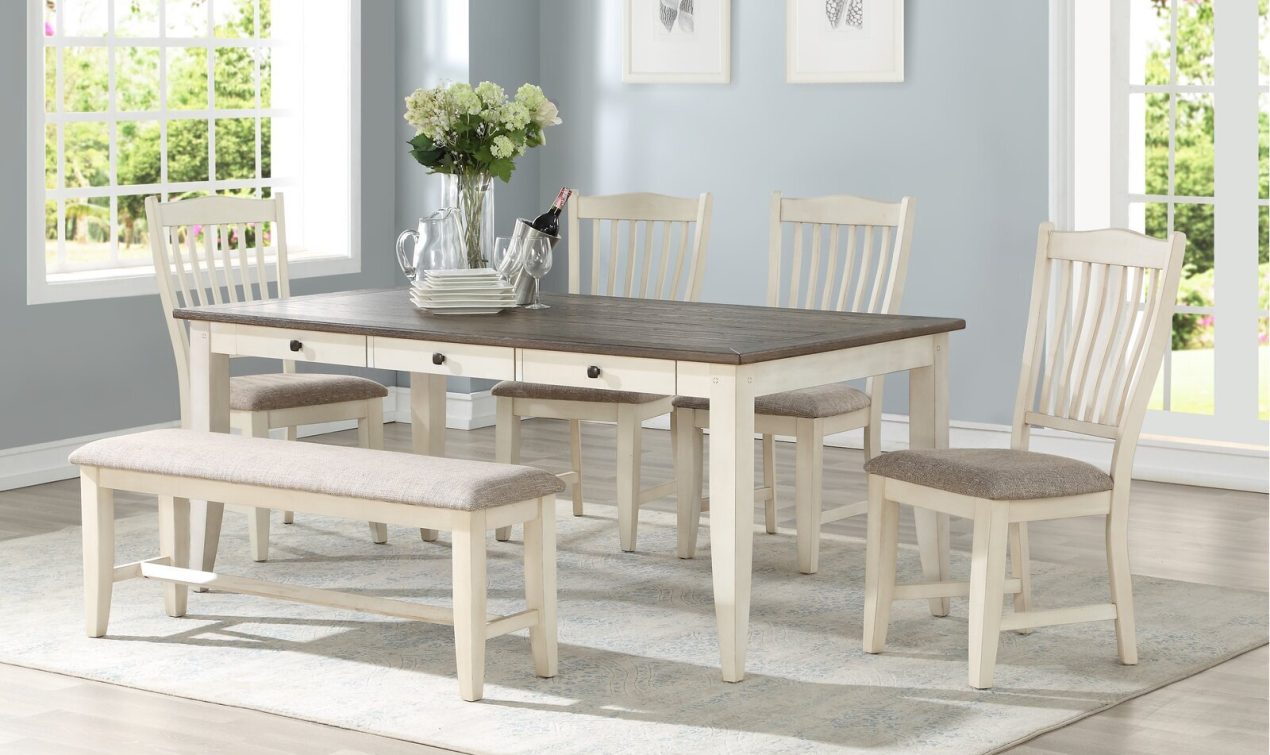 We can get by name that this farmhouse dining table is a table that allows six people to sit. This table serves all the purposes, from making six people sit on the seats to offering built-in storage with six drawers. This is an excellent way to keep your table organized and easy to set up for serving. This farmhouse dining table is a versatile and functional piece of furniture that combines the charm of a farmhouse style with practical storage options. The table that is designed to accommodate six people are characterized by rustic and sturdy charm.
If you are going with this farmhouse dining table option, then consider some facts like design details (like leg style and storage configuration), also, make sure that the size of the table fits your place.
3. Achieve Harmony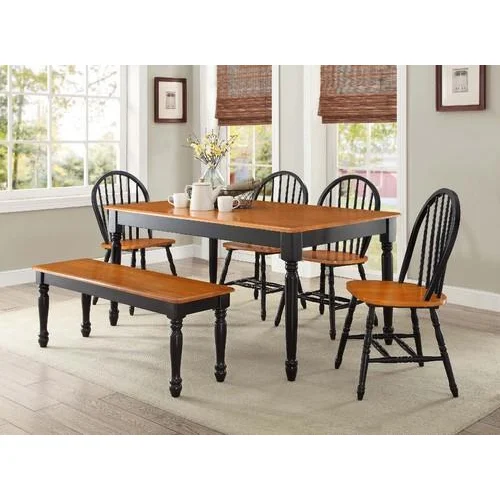 This farmhouse dining table is one of a kind, where the bench is made up of wood, and on the other side, we have black-colored chairs that highlight them the most on the dining set. This table is a mixture of black metal chairs with the subtle warmth of the wooden bench and table, making or forming a striking contrast. They follow the traditional farmhouse dining set that has a rustic-style table.
They are simple in design and feature a sturdy and simple design, with a large rectangular and round tabletop and robust legs. They are usually made up of solid wood like oak, pine, etc., which creates a warm and inviting aesthetic.
4. Fancy Extendable Fashionable Farmhouse Set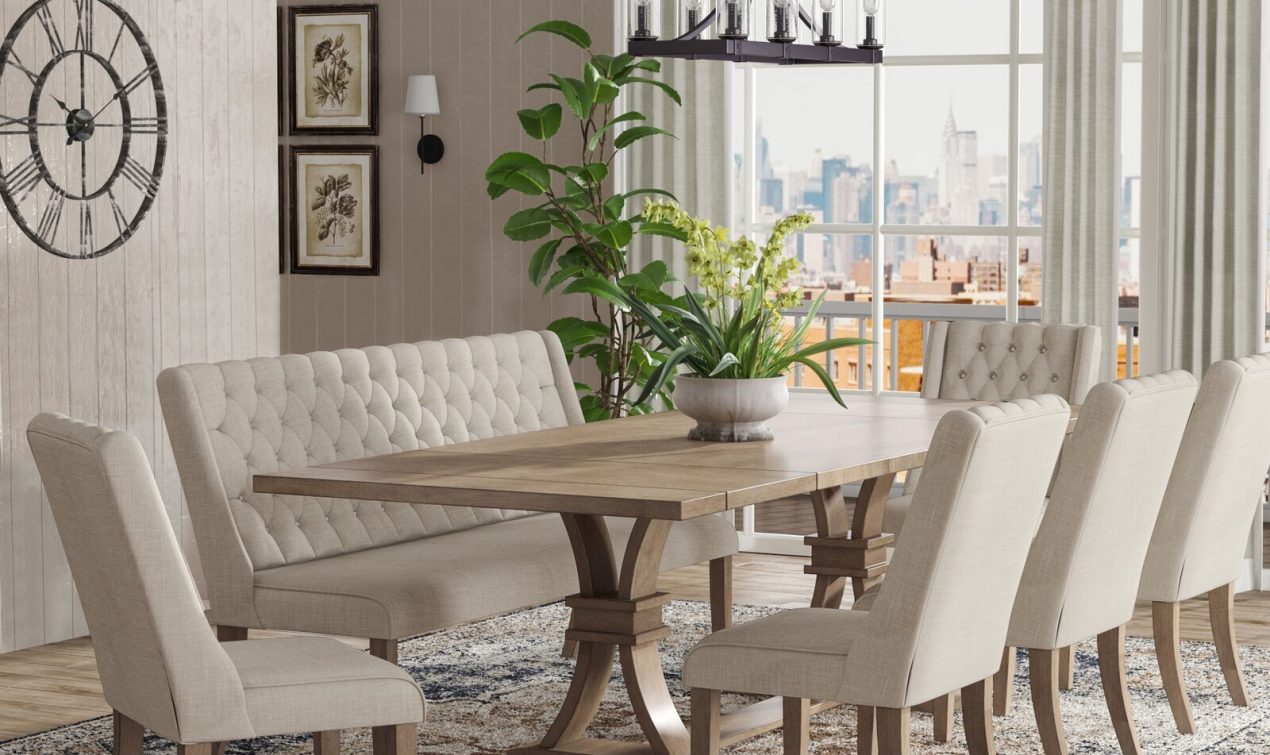 A fancy extendable fashionable farmhouse dining set is a popular choice for rich people, cause instead of being made of wood and maintaining a rustic style, they are filled with modern design and elements. It is designed to provide both functionality and aesthetic appeal to enhance the dining experience. They are high-five and extendable means that they allow you to adjust the table size to your need.
If you want this option, then make sure to check or set your budget and the types of design you want and need.
5. Matching Dining Table and Chair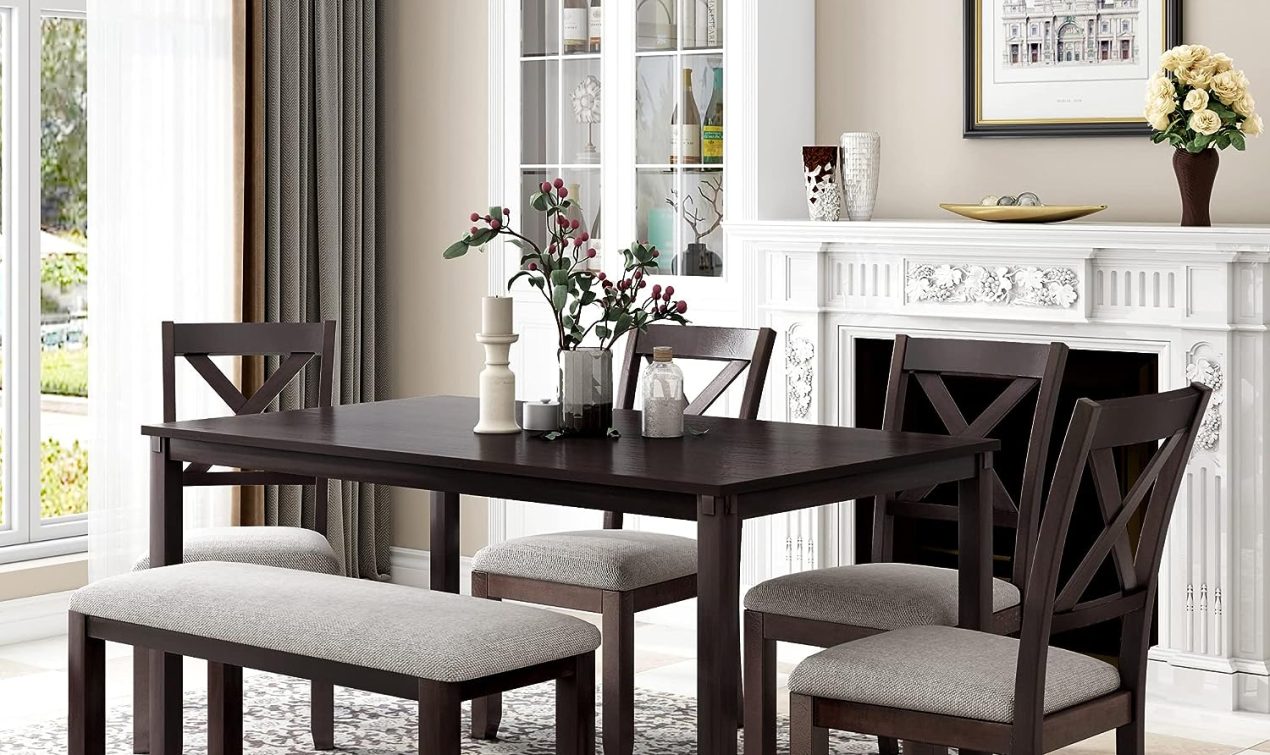 Here we have two benches instead of one, allowing more people to sit. The name "matching" suggest that the farmhouse dining table, chair, and bench have the same design, material, and color. Here chairs and bench are placed opposite to each other.
To buy this, you must determine the overall size you want to achieve in your dining area. Make sure to choose the dining table and chair that goes well with the environment and looks of your house. This will give a vibrant and beautiful look to your room.
Here the table, chairs, and bench need to match whether it's material, design, or color of them.
6. Classic Contemporary Cross-Legged Farmhouse Dining Table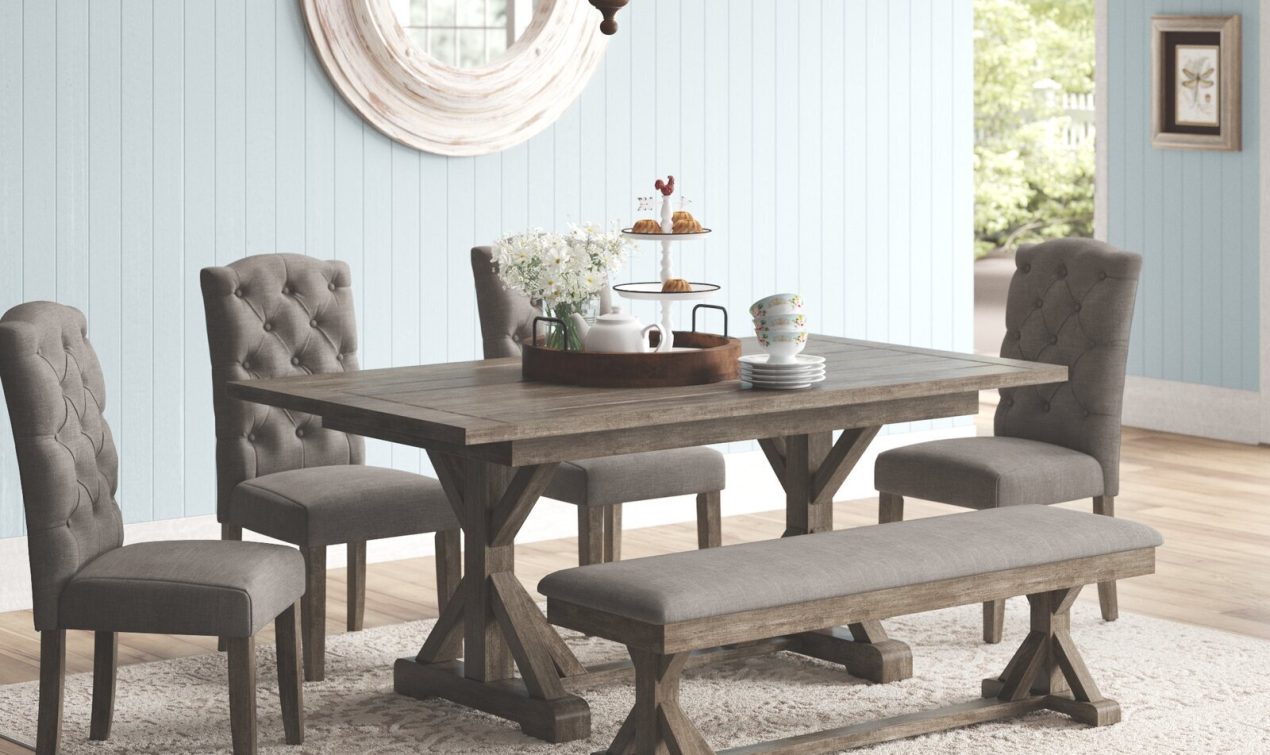 This farmhouse dining table is named cross-legged because the base of this farmhouse dining table has a crossed-leg trellis which is replicated in a spacious bench seat, which makes it visually attractive with a sturdy base. This farmhouse dining table is the best example of combining traditional farmhouses with modern designs.
This classic contemporary cross-legged farmhouse dining table offers a fresh take on farmhouse-style furniture, combining rustic charm and modern sensibilities.
7. Farmhouse Dining Table with Bench for a Bright Room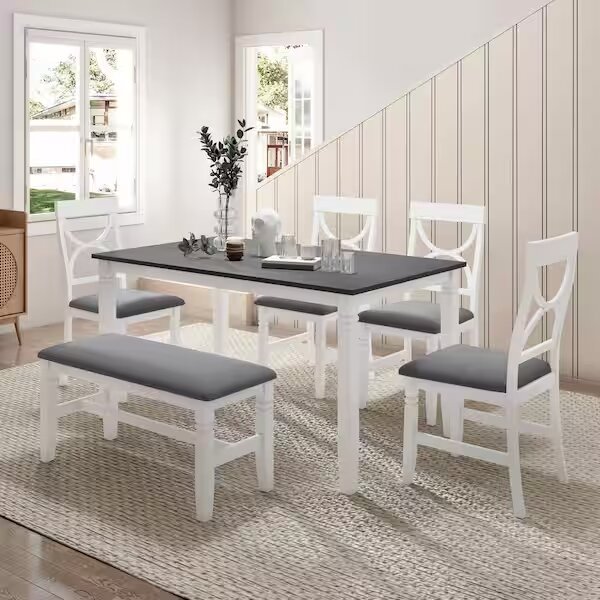 The farmhouse dining table is for a bright room which means color plays an important role in this part. We can take some basic colors like yellow, white, black, or orange, which will suit the bright vibes of the room.
This farmhouse dining table can add a charming and practical addition to a bright room. The farmhouse style is known for its rustic and cozy aesthetic, which can often feature natural materials and a warm color palette.
8. Upscale Acadia Wood with White Seating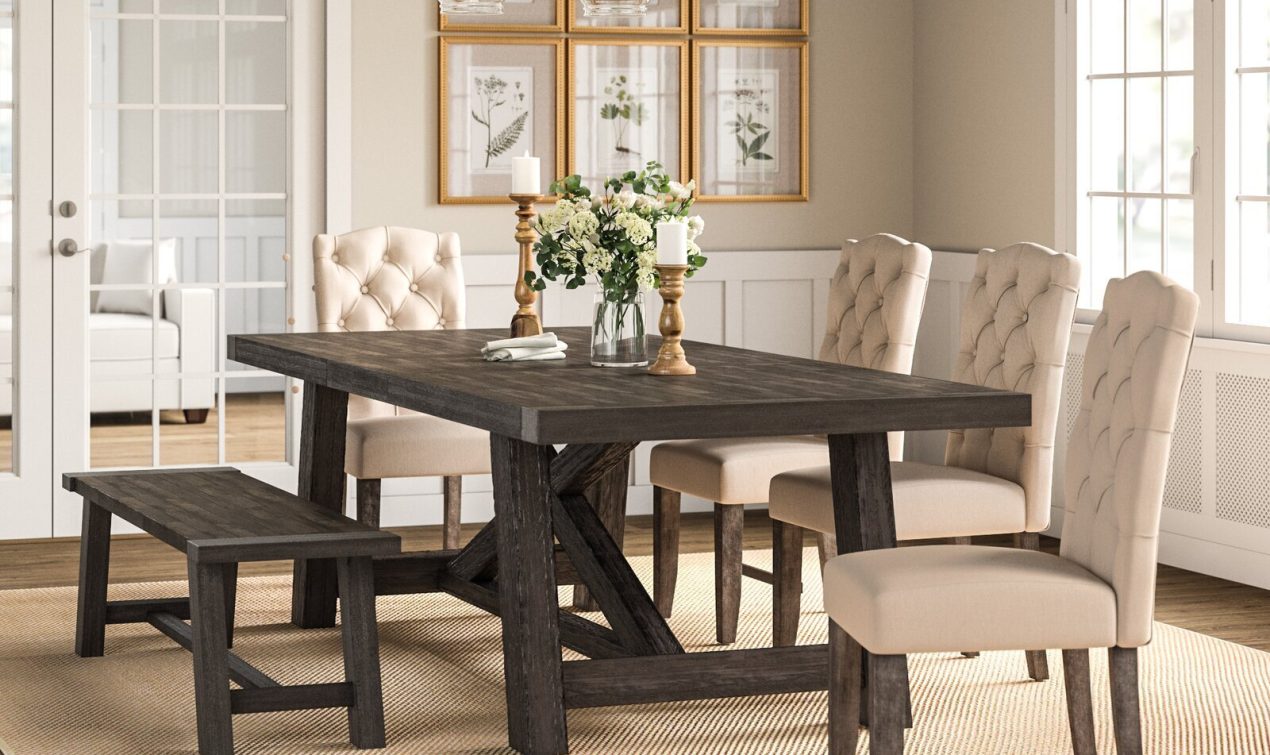 This farmhouse dining table is mainly made up of a wood called Acadia because it is made up of a wood called Acadia. A wood that is known for its durability and attractive grain patterns, white seating elements. This combination can create a beautiful contrast between the warmth and texture of the wood and the clean, crisp look of white seating.
Acadia wood is also known as black cherry or eastern white ash. It is often used in furniture making due to its strength and versatility. And when they are paired with white chairs, cushions, or benches, then they can stand out as a focal point.
9. Vintage Dining Table Set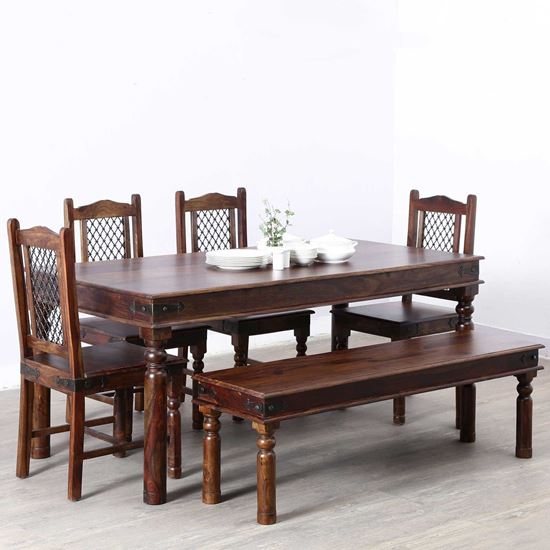 As the name tells, a vintage farmhouse dining table set refers to a dining table and accompanying chairs that are considered to be from an earlier era, typically dating back several years.
The seats have a distinct style, craftsmanship, and design that reflect the period they were made in. Vintage dining table sets are sought after for their uniqueness, historical value, and charm they add to the dining space.
10. Refined Rustic Farmhouse in Dark and Light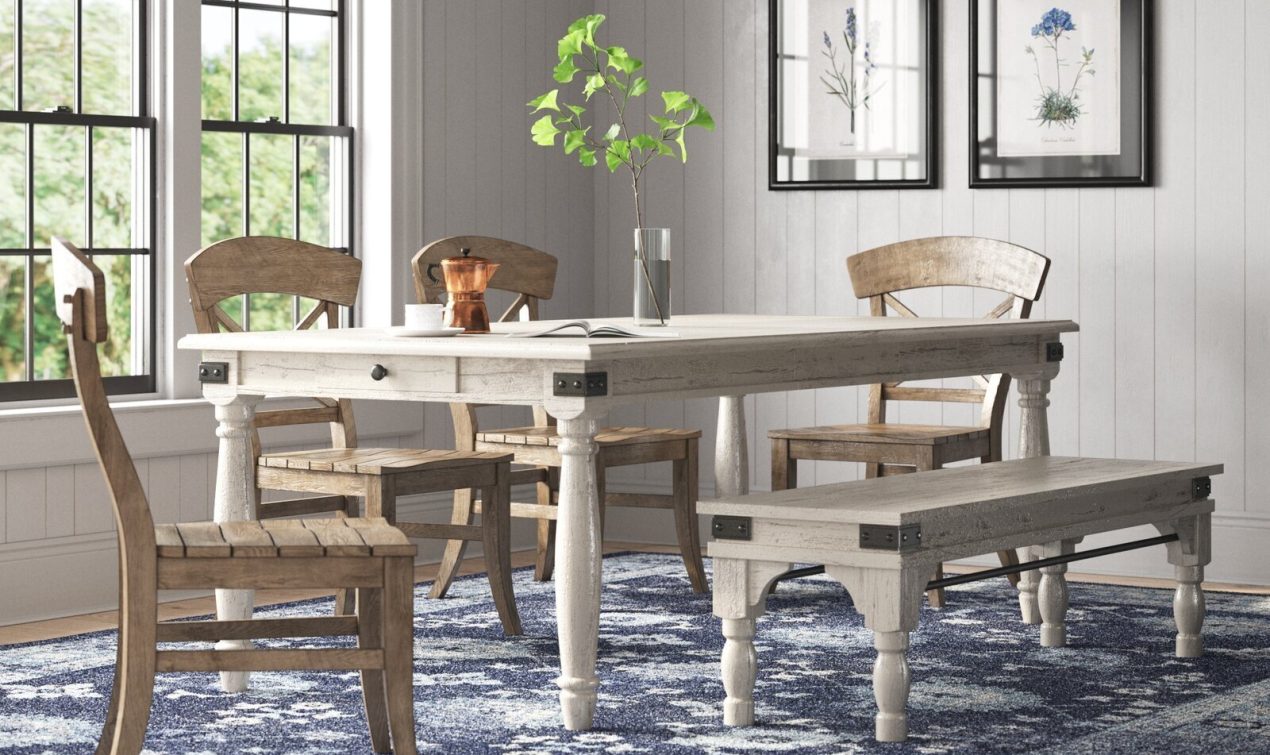 The concept of a refined rustic farmhouse in the dark and light combines elements of rustic and farmhouse styles with a focus on including both light and dark elements.
It brings the charm and warmth of the traditional farmhouse aesthetic with a touch of elegance and sophistication. This farmhouse dining table aims to create a cozy and inviting atmosphere while maintaining a sense of refinement.
11. Matching Farmhouse Table and Chair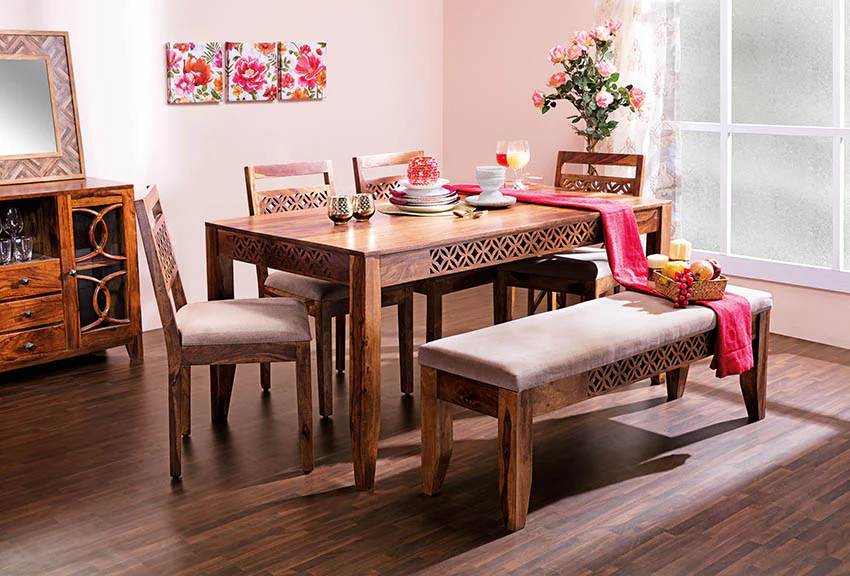 We studied above about matching dining tables and chairs, and now we will talk about matching farmhouse tables and chairs. Here all of the wooden elements on the room or farmhouse match the color of the farmhouse dining table, chair, and bench.
You can do this when you are buying a farmhouse dining table, then make sure to keep your farmhouse theme and color in mind. This is one of the best options for creating a cohesive and inviting space.
12. Rich and Modern Dark Themed Bench Set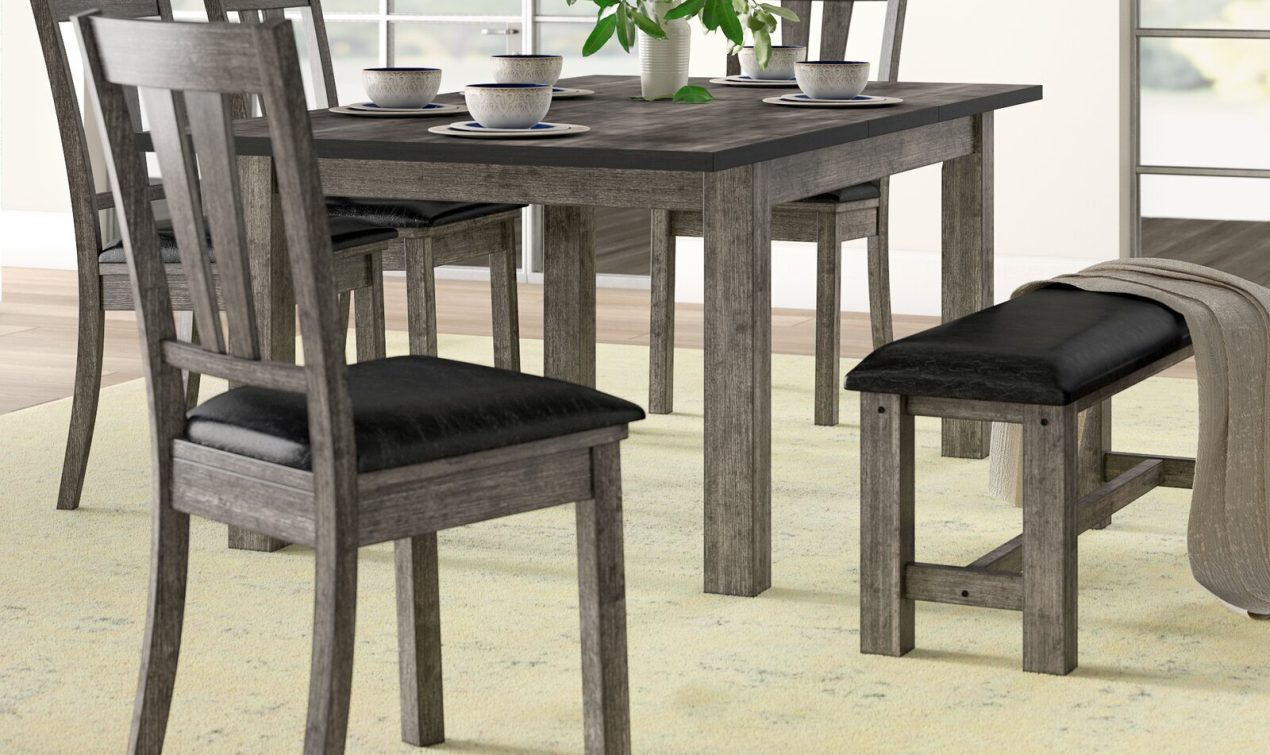 A rich and modern dark-themed bench set refers to a furniture set consisting of benches that have a dark color scheme and contemporary design. The term rich implies a sense of luxury or high-quality material and finishing. The characteristics of this farmhouse dining table are a dark color scheme, high-quality materials, a modern design, comfortable seats, versatility, and additional features.
It's worth noting that the exact features and styles of a rich and modern-dark-themed bench set can vary depending on the manufacturer, designer, or individual preferences.
13. Black and White Dining Table
A black-and-white dining table typically refers to a dining table that features a combination of black and white colors in its design. It can have a variety of styles, like modern, contemporary, or traditional, and can be made from different materials like wood, glass, or metal.
The black and white color scheme is popular for dining tables as it creates a sleek and sophisticated look, and it can easily complement various design styles. The black and white combination creates a strong and high contrast and makes a place an inviting space.
14. Simple Four Person Table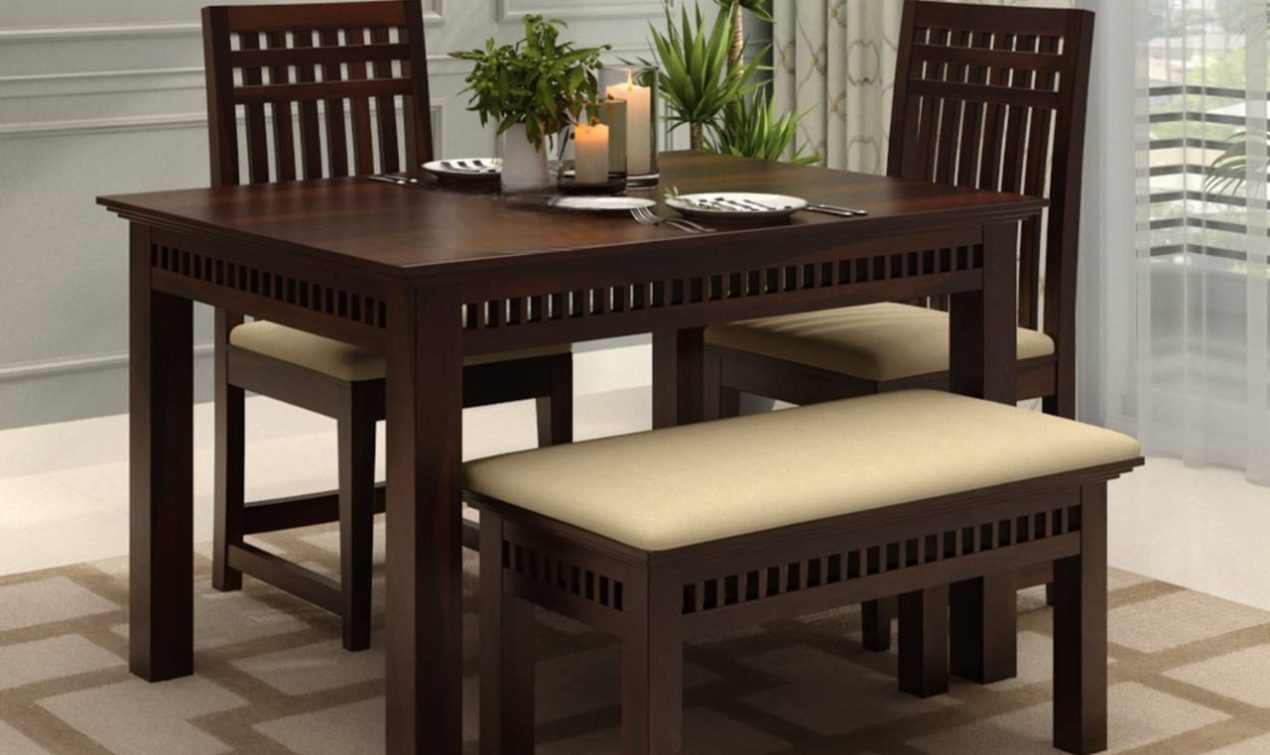 Sometimes choosing simple stuff is better, so presenting you with a simple farmhouse dining table is just a four-seater. This farmhouse dining table has only two chairs and a bench; this table is best for those who live in a nuclear family of just 3 or 4.
The design of this table can vary from simple and minimalist to more ornate or modern. It depends on the overall style of the room and the individual taste of the person who is buying.
15. Extendable Farmhouse Table with Bench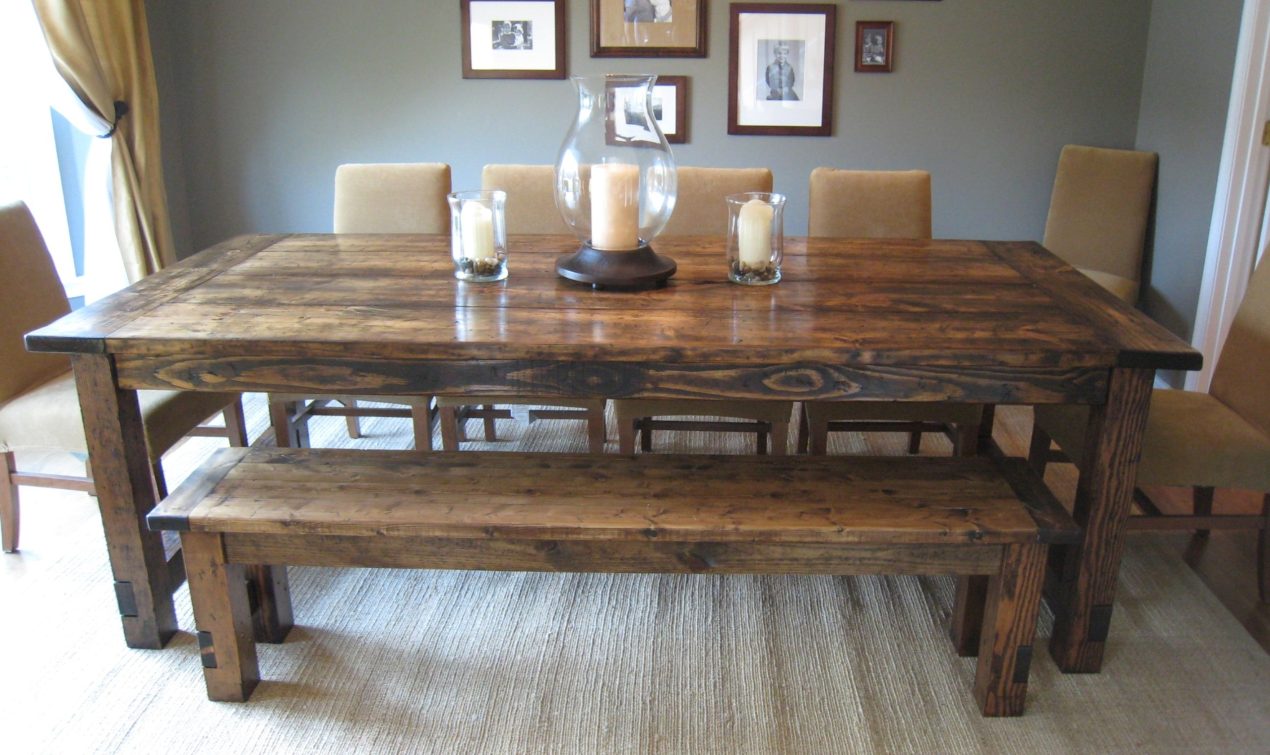 An extendable farmhouse table with a bench is a versatile and practical piece of furniture commonly used in dining areas. It combines the rustic charm of a farmhouse-style table with the functionality of an extendable feature and the added seating space of a bench. It features a traditional farmhouse design, extendable mechanism, and bench seating; the table is versatile as it can easily be extended to gather more people, etc.,
An extendable farmhouse table with a bench offers the main advantage of flexibility, which allows you to adapt your dining space to your needs while maintaining a charming farmhouse aesthetic. This design is popular among those who like to appreciate the combination of rustic style, functionality, and ample seating capacity.
16. Corner Tucked Dining Set with High Back Benches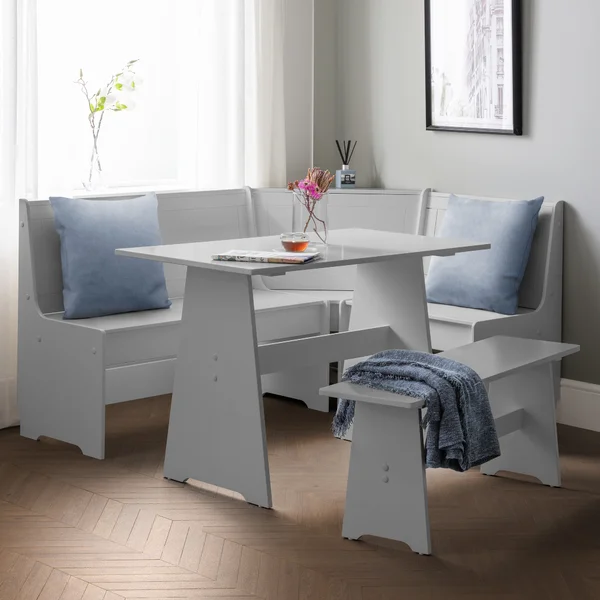 The corner tucked dining set with high back benches is a type of dining furniture that is designed to maximize space and provide comfortable seating in the corner of the room. This particular dining set typically includes a table, high back benches, and sometimes additional chairs. The corner tucked dining set is having L-shape design that allows it to fit in the corner of the room. This dining set comes with various materials, styles, and sizes depending on different preferences and interior design.
Common materials that are used to make them are wood, metal, and synthetic materials, like MDF (Medium-density fiberboard). The shape of the table is usually rectangular or square shaped to fit in the corner of the room.
17. Modern Farmhouse Table with Bench and Chairs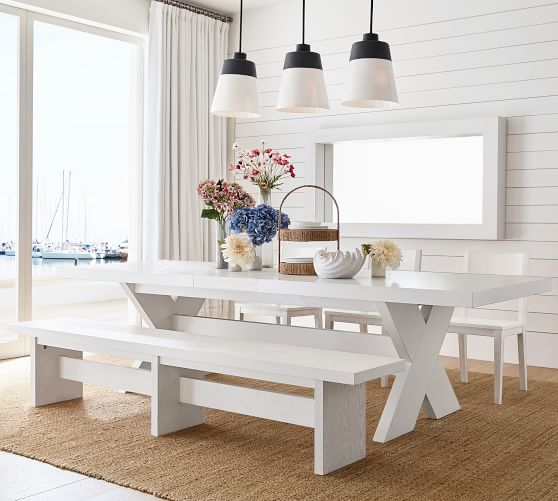 A modern farmhouse table with a bench and chairs is a popular choice among people who like the combination of rustic charm with a contemporary design aesthetic. It mainly comes with six pieces, including four chairs, one table, and one bench complementing each other in style and materials. The table has the shape of a rectangle made up of wood and a base with the same material. This design can enhance the comfort of your dining area.
If you are selecting this design, always consider some important things, like if the color or vibe of your dining set matches your place or not. This table can require a little more space.
18. Picnic Farm Table with Bench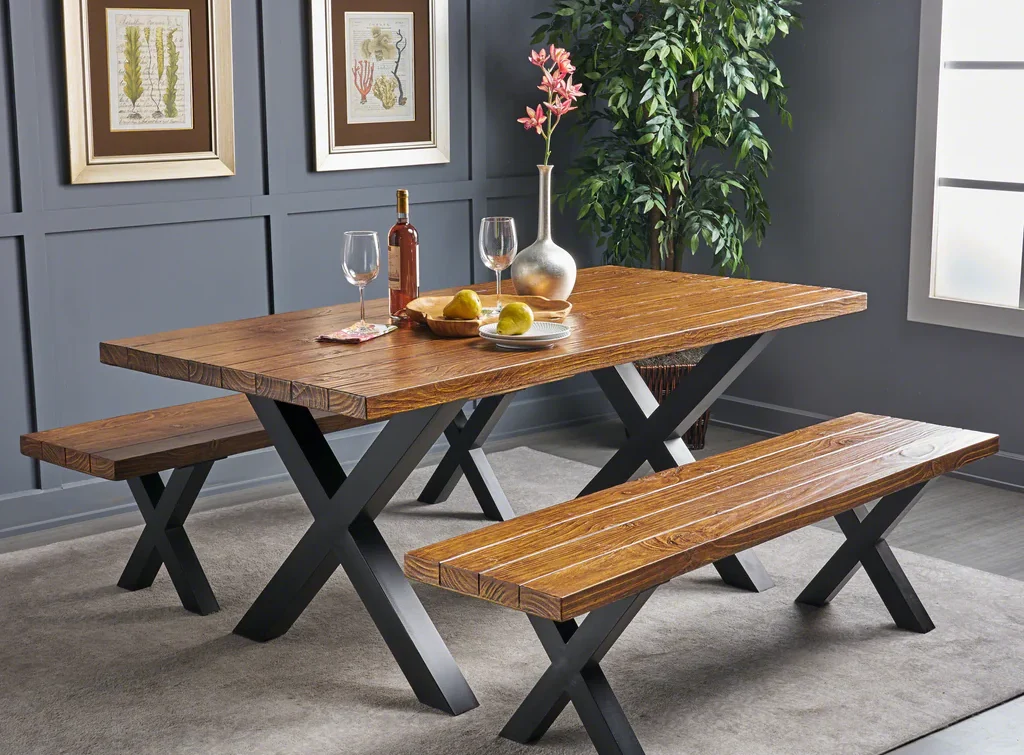 This one is an interesting farmhouse dining table, as it is for picnics and outdoor gatherings. And providing a convenient and comfortable space for people to eat, sit and socialize. These kinds of tables are mainly placed in the front yard or the backyard of the house. Also, while using a picnic farm table with a bench, make sure that the table is stable on the ground. Avoid overloading it with excessive weight, and supervise children to prevent accidents.
A picnic farm is a functional and attractive piece of outdoor that combines dining and seating, which makes it popular for outdoor gatherings.
19. Farmhouse Kitchen Table with Bench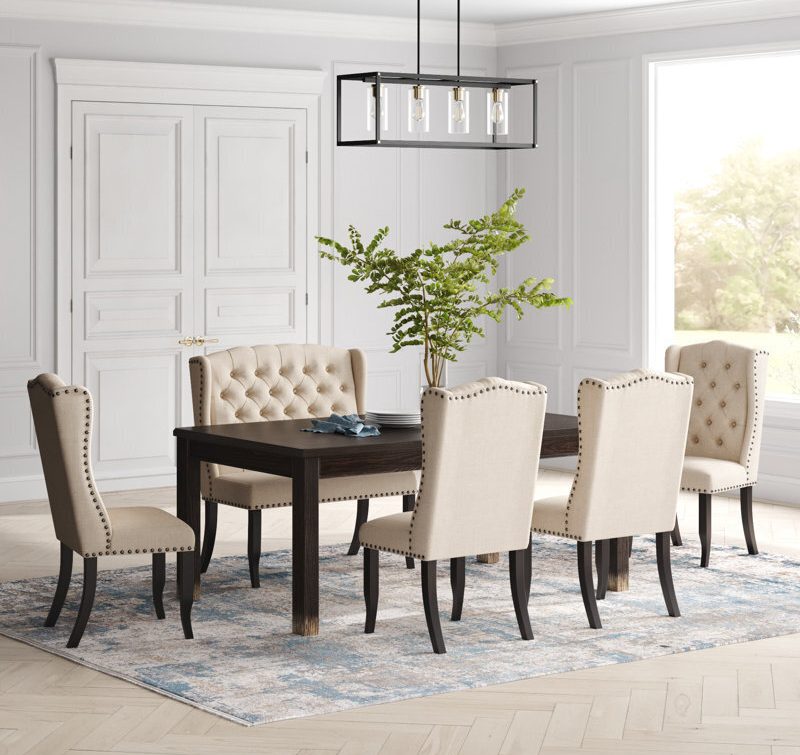 They are popular around rustic and country-style homes; like others, this farmhouse also evokes a warm, cozy, and inviting atmosphere. When you are styling a farmhouse kitchen table with a bench, you can complement rustic charm by using mismatched chairs on the opposite side of the bench.
You can even include natural elements like flowers or greenery as the centerpiece of the table. This farmhouse dining table is also a good option for an inviting space.
20. Farmhouse Minimalist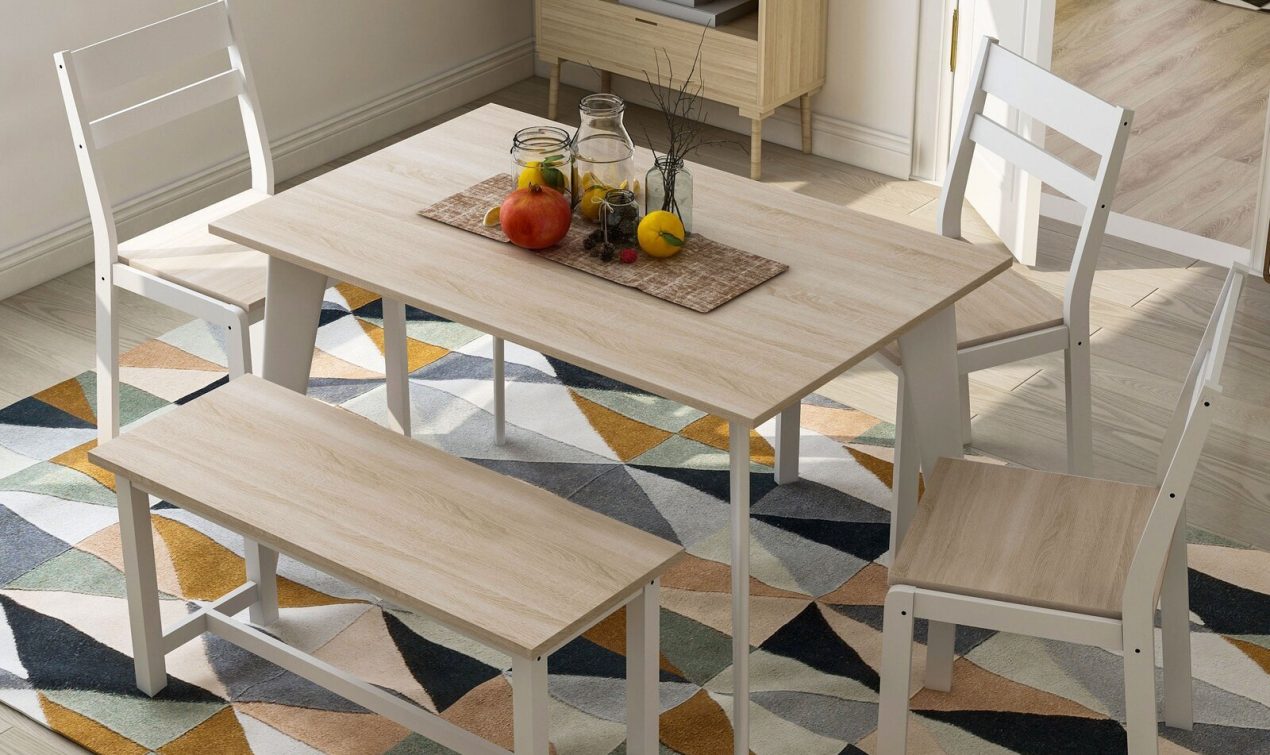 A farmhouse dining table that has a minimalist design carved on it. It is a popular choice for those who appreciate a warm, welcoming aesthetic of farmhouse decor but prefer a more streamlined and uncluttered look. When styling a farmhouse minimalist dining table, you can pair it with a mix of chair styles for an eclectic look or opt for matching chairs.
To maintain a cohesive aesthetic. You can add some simple accessories to the table, like some centerpieces made up of fresh flowers or greenery, and subtle decor elements to maintain the minimalist vibe.
21. Rustic and Elegant Farmhouse Dining Table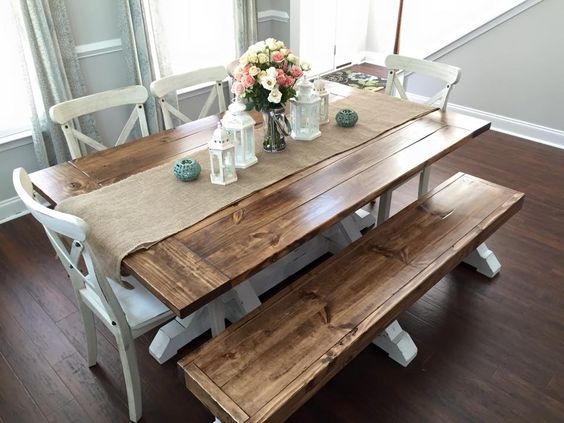 This dining table is a regular farmhouse dining table that maintains the traditional vibe of a dining table with refined elements to create a sophisticated yet cozy dining experience.
This design creates a welcoming and timeless atmosphere, providing a focal point for family meals and gatherings. It is a combination of the simplicity of farmhouse style with refined elements that add elegance and sophistication to your dining space.
Concluding
At last, we want to conclude that a farmhouse dining table and chair with a bench always create an inviting space for your place. With their rustic elegance, versatile seating options, and timeless appeal, these seats bring warmth and charm to any dining area.
The use of natural materials like wood, classic design, and beautiful finishes adds to their visual appeal. They are best for hosting large family gatherings or enjoying intimate dinners. These 21 ideas mentioned above will always be helpful to you.
Which one from the above 21 farmhouse dining table ideas do you like the most let us know in the comment section!
Frequently Asked Questions
How Much Space Do You Need for a Table with a Bench?
The amount of space required for a table with a bench depends on various factors, such as the size of the table, the number of chairs, and the dimension of the bench. In general, the approximate or average space that you must need is 24-30 inches of width per person to ensure comfortable seating.
Does a Bench Dining Table Save Space?
You can say that benches take less space than chairs as they can be tucked inside the table when not in use, also in average one bench can fit two chairs where only two people can sit, but a bench can make three(when adults) to five(when kids) to the same place.
What Makes a Table Farmhouse Style?
Farmhouse styles are always characterized by their charming and rustic aesthetic. A farmhouse dining table is mostly made up of wood and must come out with a chunky wood top made of solid planks such as oak or pine and often have sturdy wooden spindle legs.
What Is the Difference Between a Table and a Bench?
The main difference between a table and a bench lies in their purpose and structure. A table is a flat space supported by wooden legs which are used to place objects, such as food, drinks, or decorative items. A bench is a long seat without a backrest that is used for seating multiple individuals.