25 Must-Try Two-Toned Kitchen Cabinet Designs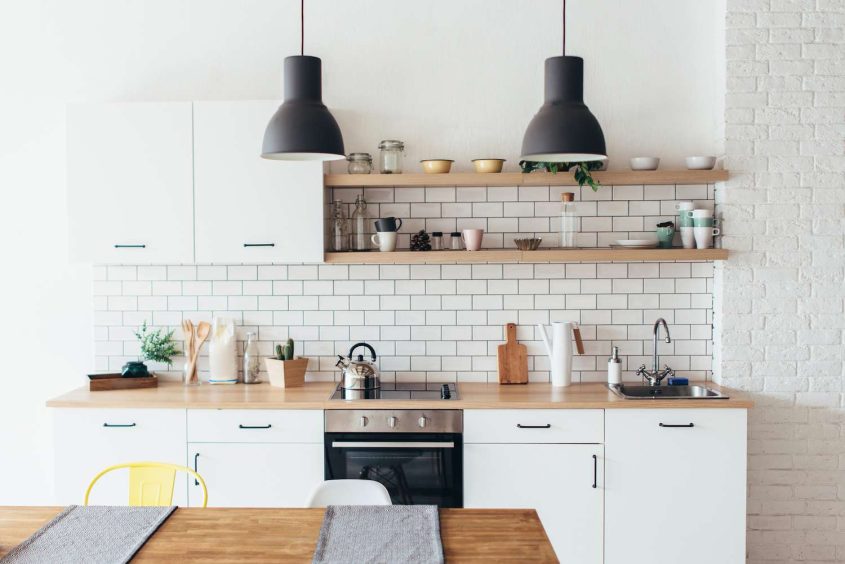 Two-toned cabinets kitchen for your updated modern kitchen! Are you tired of the boring look of your kitchen cabinets? Same color everywhere, which will give you a neutral look and feel.
The kitchen would be the most important place in the house as everyone is associated with the process which is happening there. The mood of the person who cooks will revert to your whole mindset throughout the day. So take care while fixing your kitchen.
You might want to add more colors to make your kitchen appealing visually. The most eye-catching and space-highlighting mode is the two-toned kitchen model. It's a design where the upper and lower cabinets are given separate colors; to put it simply, the cabinets are finished with separate or contrasting colors or designs.
These two-toned kitchen cabinets are the most popular and trending designs at present, as they offer a unique and personalized look to the kitchen. This has become a part of many remodeling projects nowadays.
Color and Contrast
The contrast of the colors used majorly determines the visual appeal of a two-toned effect. The sense of balance gives an overall depth and space to the cabinet arrangement. The particular architectural features are highlighted to stand out with these designs.
1. Choosing the Colour Combination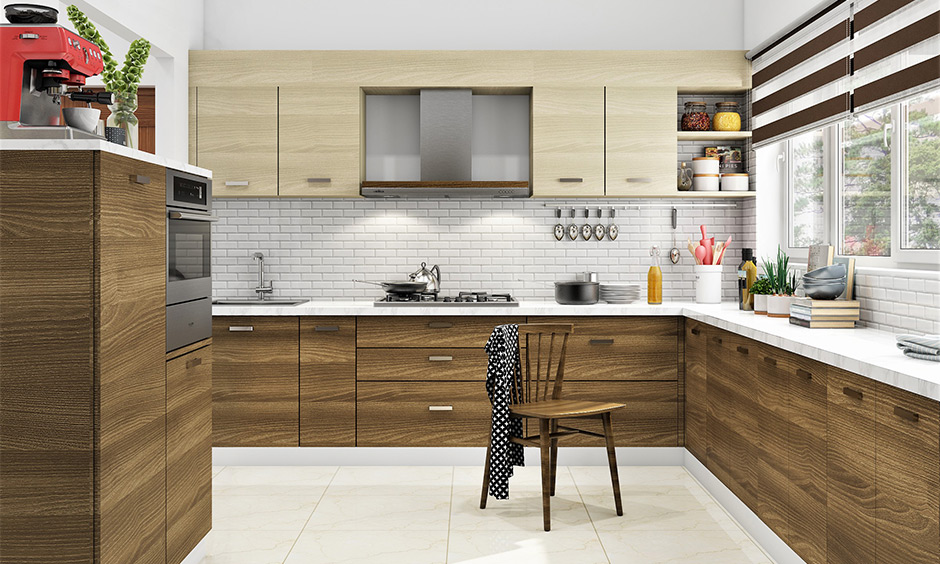 You need to balance the light and dark shades to give an effective look to your two-toned cabinet kitchen. Usually, the upper cabinets are lighter shades, and the lower cabinets are darker shades to create a sense of balance.
These pleasing contrasts allow the cabinets to distribute the visual weight throughout the kitchen. This automatically enables the natural light to pour into the kitchen freely while the darker cabinets anchor and provide a sense of stability.
2. Few Visual Treat Options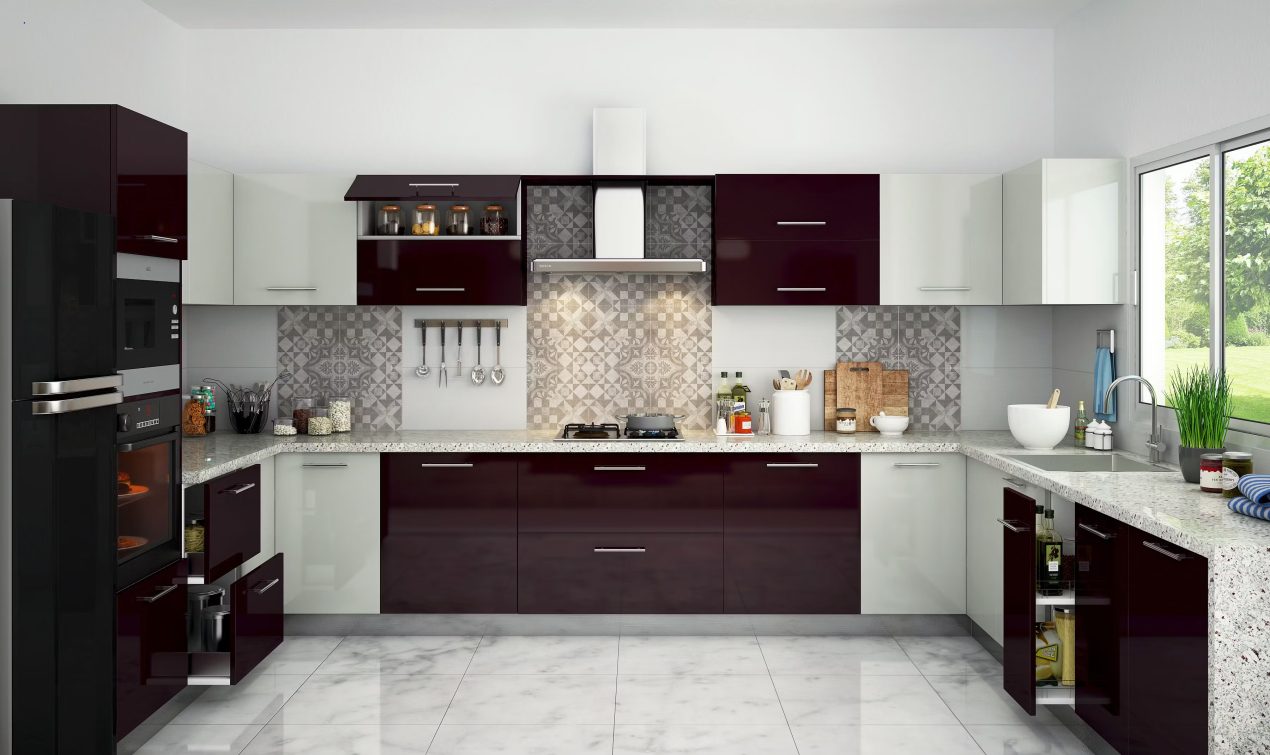 Choosing the best contrast might be a little bit tiresome as every color option will have a great look in a two-toned kitchen.
Classic Black and White is the timeless combination that will give your kitchen the look of elegance. Pairing the Navy blue with a Warm wood tone in the upper cabinets gives a rich and cozy atmosphere to your kitchen. The versatile Grey with a neutral soft pastel will give a calmness and soothing effect to your kitchen.
The dark Grey with white will give your kitchen a sleek and aesthetically modern look.
3. Embrace Boldness with Vibrant Colours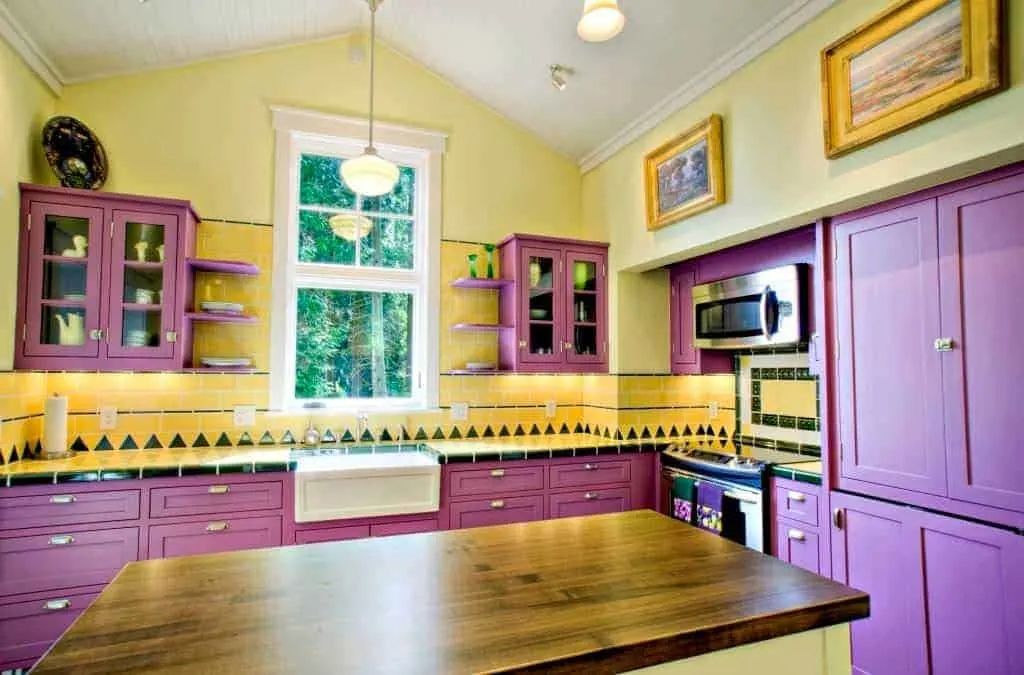 Step out of your comfort zone of staying invisible and neutral. This is the time for vibrancy, so take a break to explore the world with the more strong colors. Your curious mind needs a transformation for your two-toned kitchen to have a captivating space with bold colors.
4. The Captivating Contrast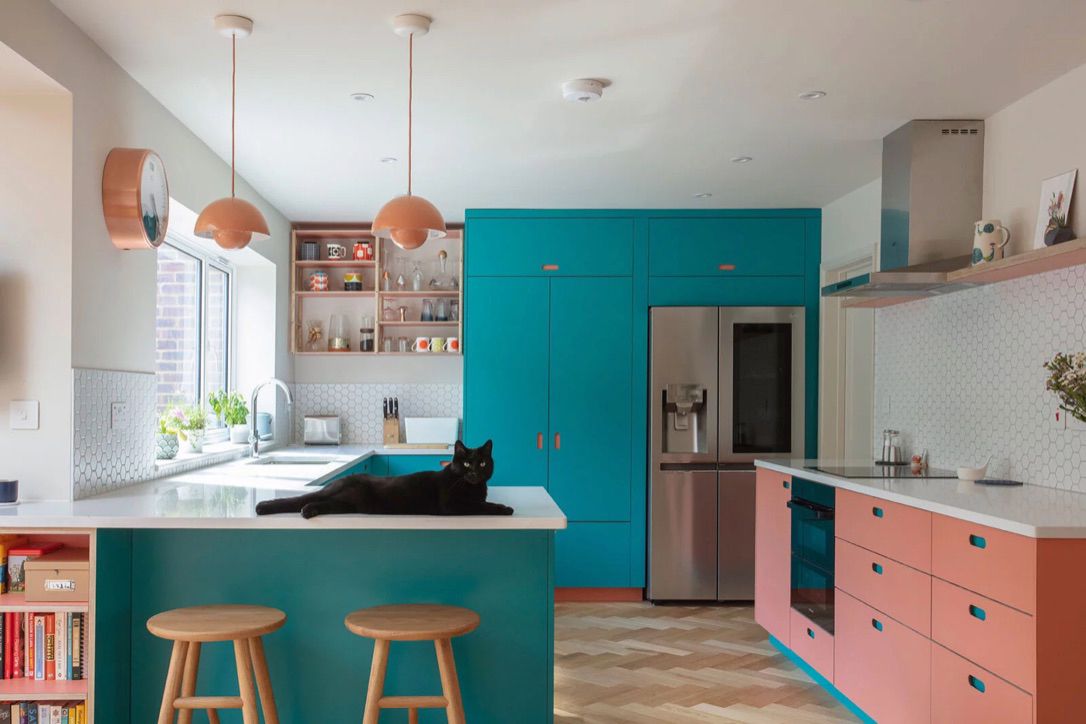 Passionate Red and Calming Turquoise, you must admit this captivating contrast creates a unique presentation. The red can be used on walls and islands with the Turquoise in accessories along with the stool or pendant lights to give you a stunning look.
5. Contrast With Richness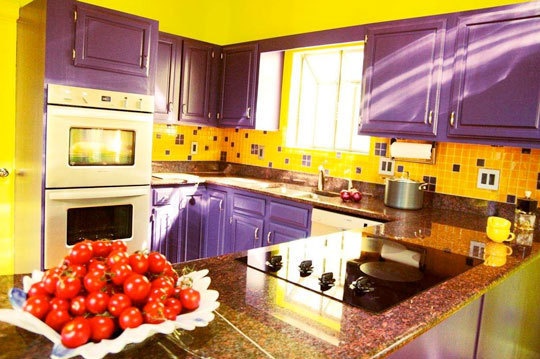 Sunny yellow with Rich Purple, the warmth of the yellow, and the depth of the purple will give a dynamic duo. You can consider using the rich purple for lower cabinets and the yellow for window accessories and decorative lights.
6. Calm And Serine Contrast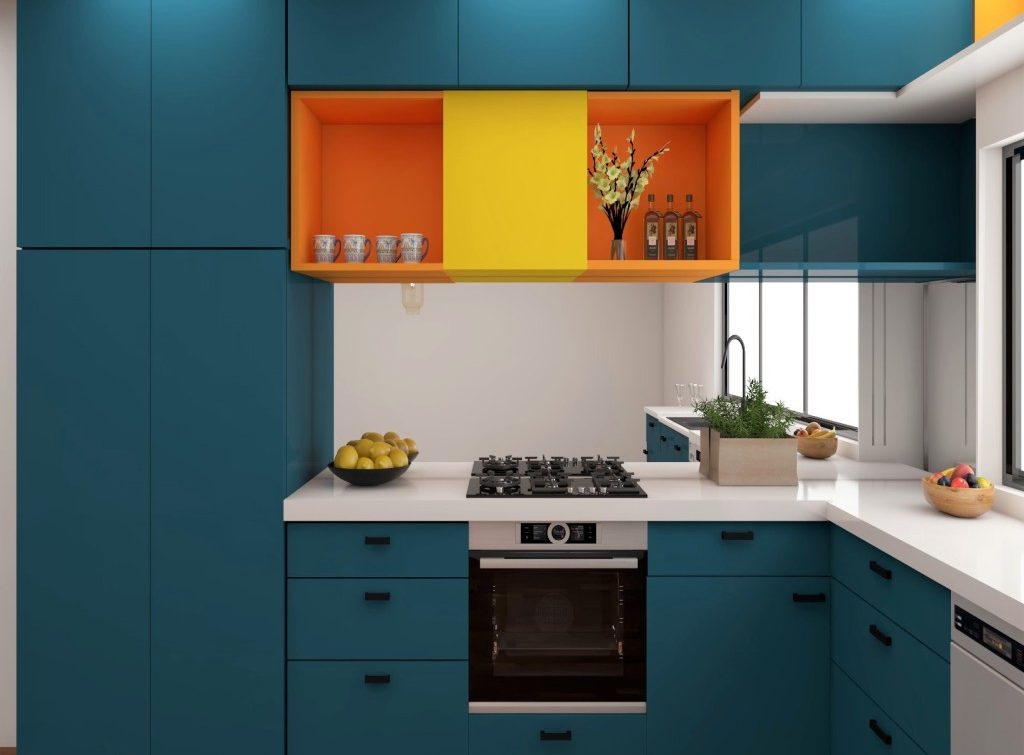 Vibrant orange with Cool Teal, this orange possesses high energy as getting combined with the most calming and refreshing teal is a delightful treat to your vision. Here the orange can be used for upper cabinets, and the teal can occupy the countertop and the tiles.
Two Toned Cabinet Kitchen With Checklist Ideas
Checkpoints always exist in various settings, not just on the road or during exams. You need to check your preferences with the minimum criteria to get the purpose of choosing your two-toned cabinet kitchen.
Let's dive deep down to know this,
7. Balancing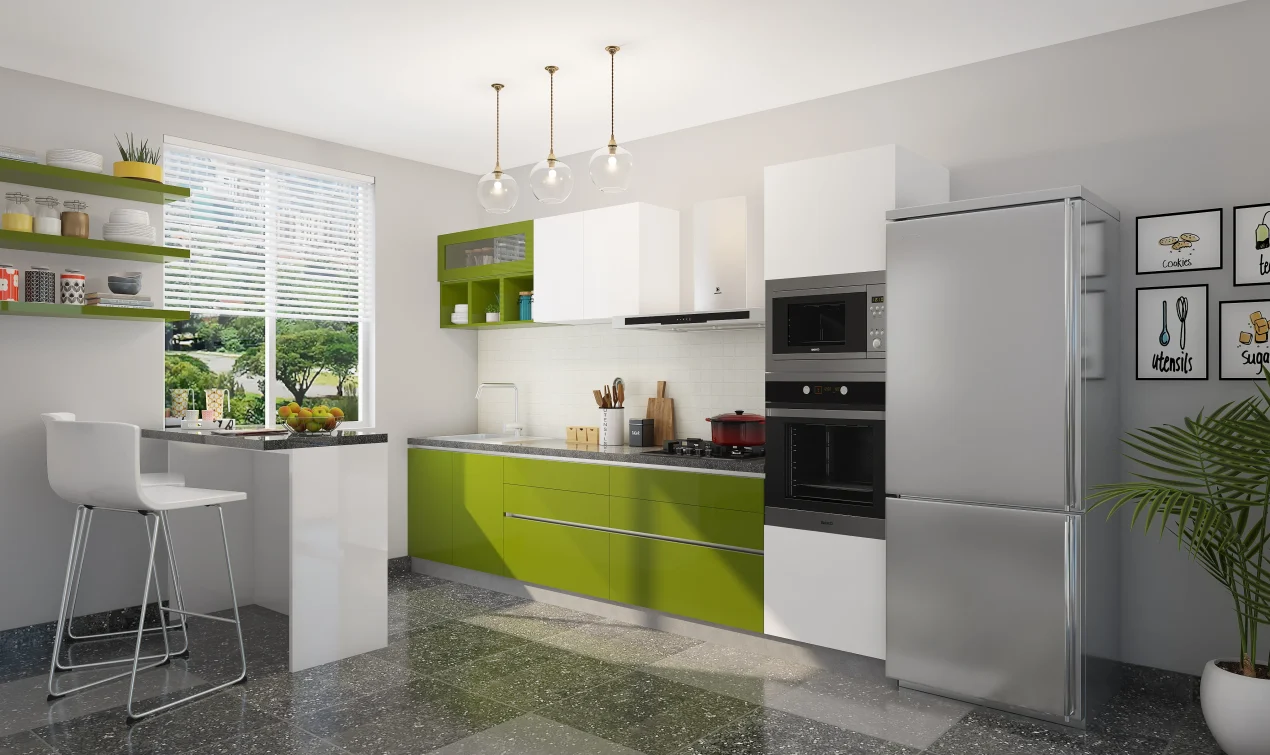 You can clearly see the Two-toned kitchens are a combination of two sets, either color or pattern. While coming to colors, balancing plays a special role. Strive to use the balance in color, like a combination of sunny yellow with pale buttercream. It's the match between the brightness that means a darker hue and a light hue of the same color.
8. Using an Accent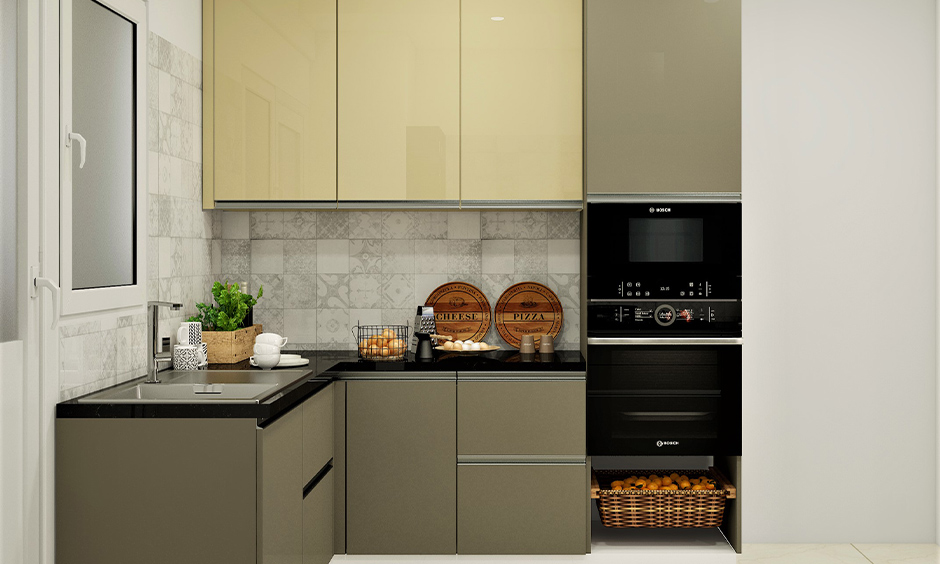 Two tones can be achieved by giving highlights like highlighting a small spot or a short stretch of the culinary holder. Cabinet desks can be given a slightly darker tone to achieve a border-like look.
9. Using Contrast Materials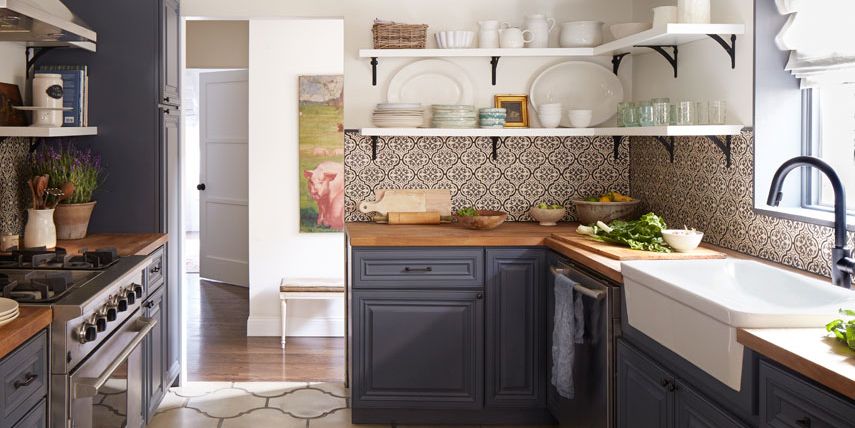 If you don't want to consider a second color, go for different patterns. Give a secondary pattern to make your primary color more prominent.
10. Pick the White Always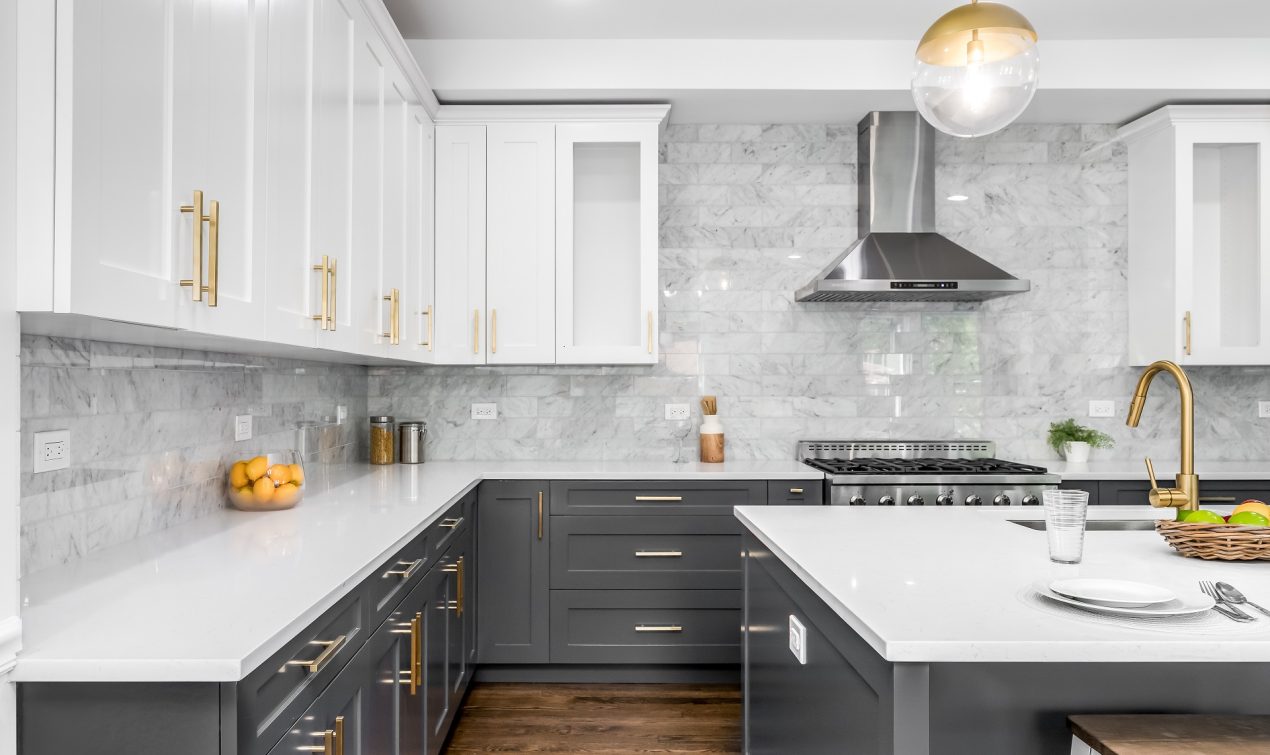 As in two-toned kitchen modeling, most commonly, the white color is used for upper cabinets to show a sense of brightness and openness or any lighter shades preferably. For a visual balance, you need to follow the 60/30/10 rule in which 60 is the most dominant color, 30 is the secondary color, and 10 is your accent color. Most frequently, white is the popular color in the secondary option in many kitchens.
11. Color Wheel at Your Service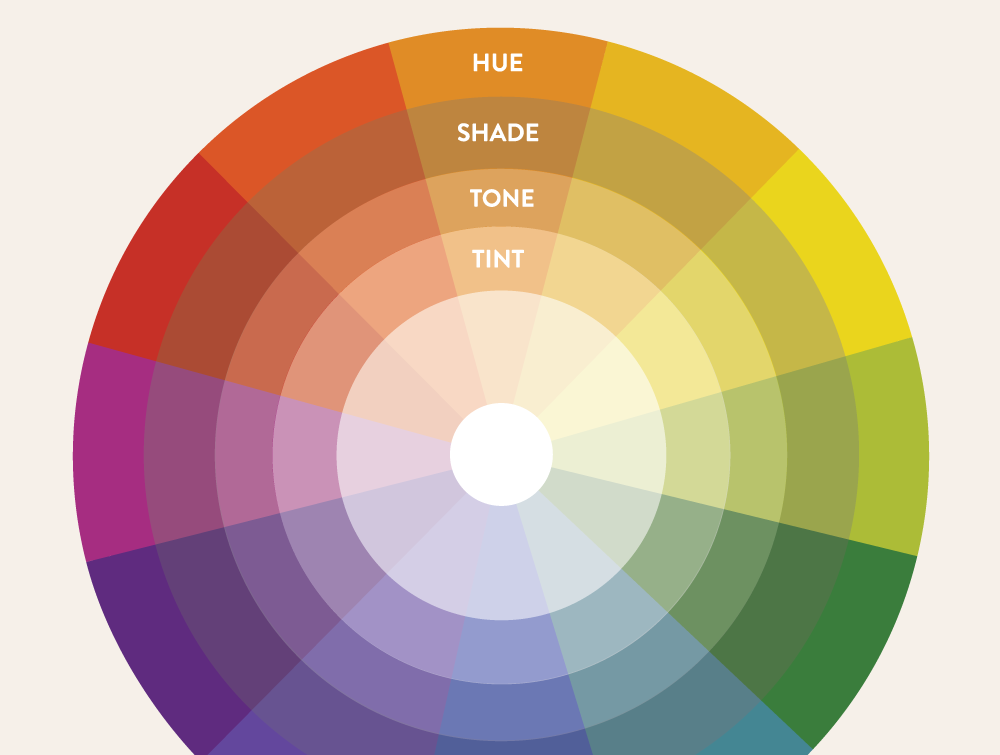 Still, struggling to fix your color? Nevermind. You can get a clear idea from the color wheel for using colors as an addition, or the best complementary combinations are easily identifiable here.
12. Monochromatic Finish in Two-Toned Kitchen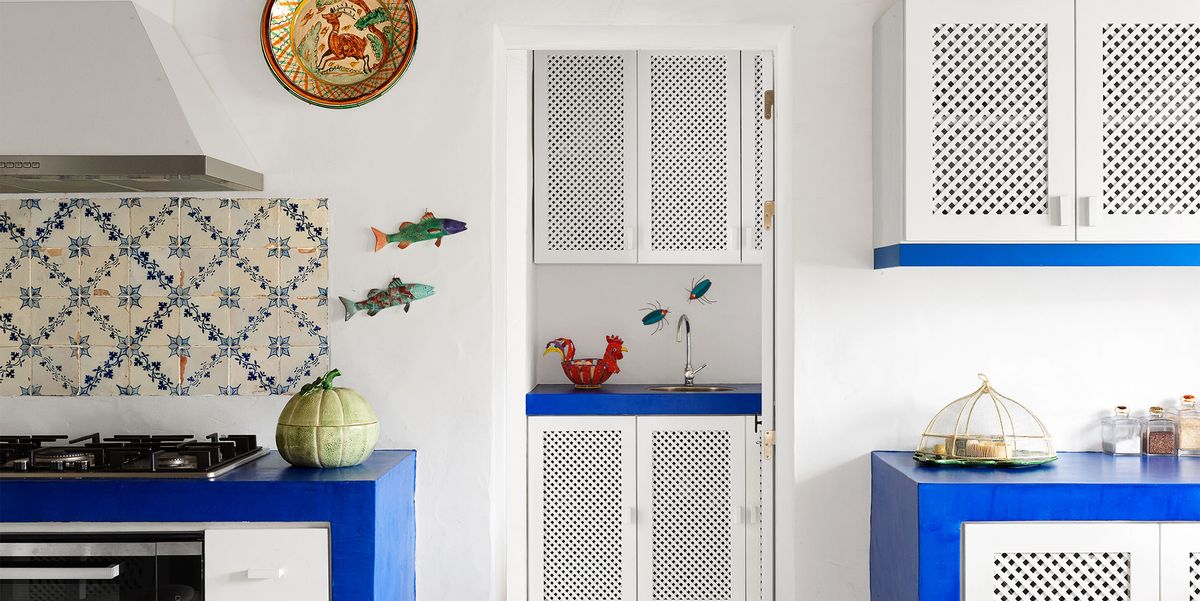 Monochromatic designs are to create a more aesthetic and modern appearance to your kitchen. Single colors are used here, such as gray, black, or white. The other part is designed with elements or a palette of different materials to give a unique appearance. Different textures or finishes give more depth to the cabinets.
13. Metallic And Glossy Finish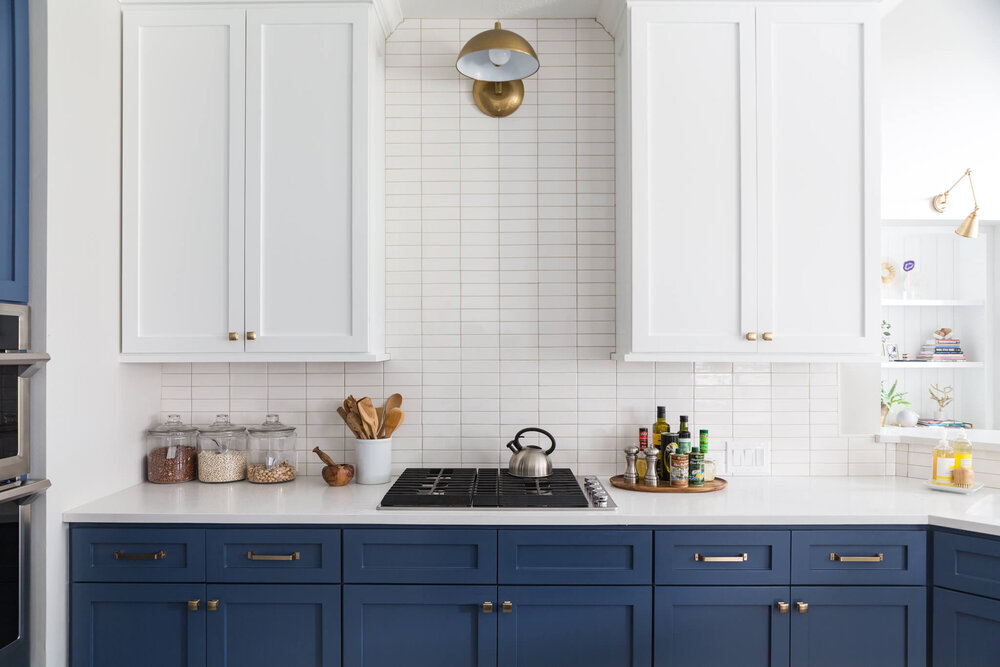 You can add various patterns and textures from your creative side; here are a few tips for choosing the metallic Finish,
Mixing the Glossy finish with a matte finish. This Combination will give a visually tactile interest. Metallic touches such as stainless steel hardware will give a subtle shimmer effect to your kitchen cabinets. A sense of depth is attained by giving different textures from brushes, hammered metals, and textured glass.
14. Solid Countertop With The Same Color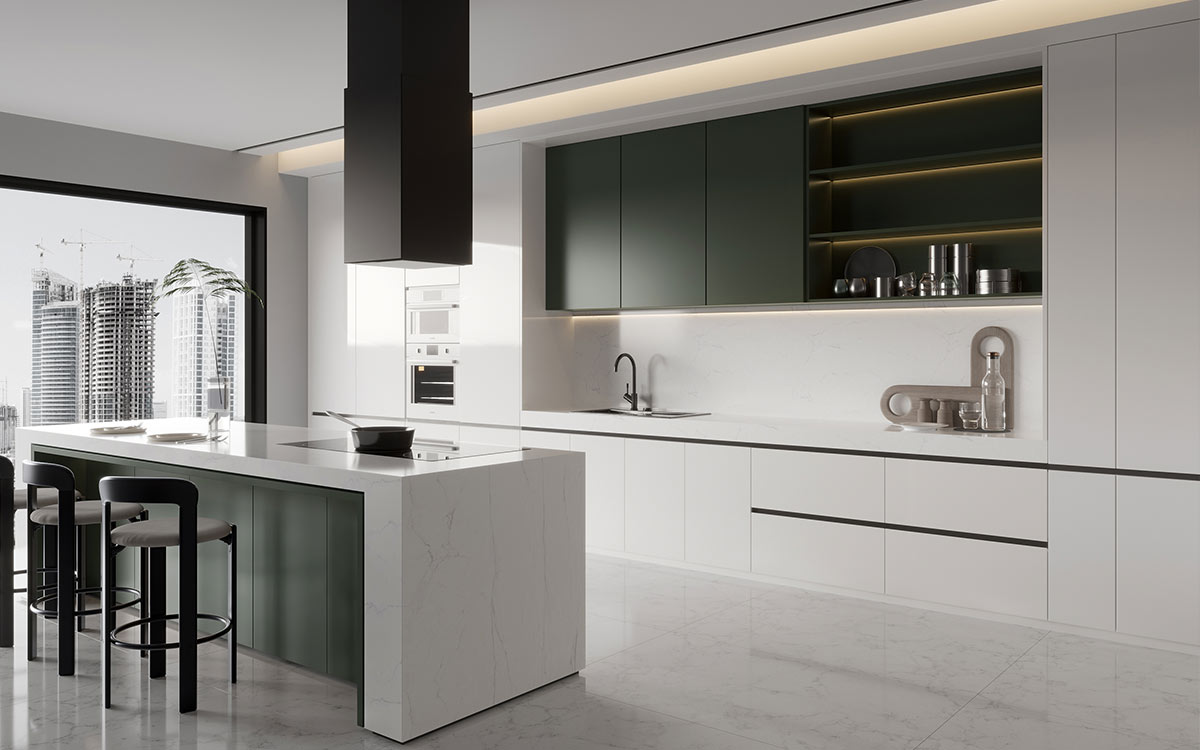 Using Contrasting materials such as marble or concrete will give the mixture an aesthetically appealing look to your kitchen. This monochromatic design gives your kitchen a multidimensional view to engage with more enthusiasm.
Choosing the Hardware and Accessories
Don't forget that the hardware plays a significant role in the aesthetic appearance of your two-toned kitchen. While choosing them, you need to consider these points for the whole effect of an eye-catching look.
15. Finish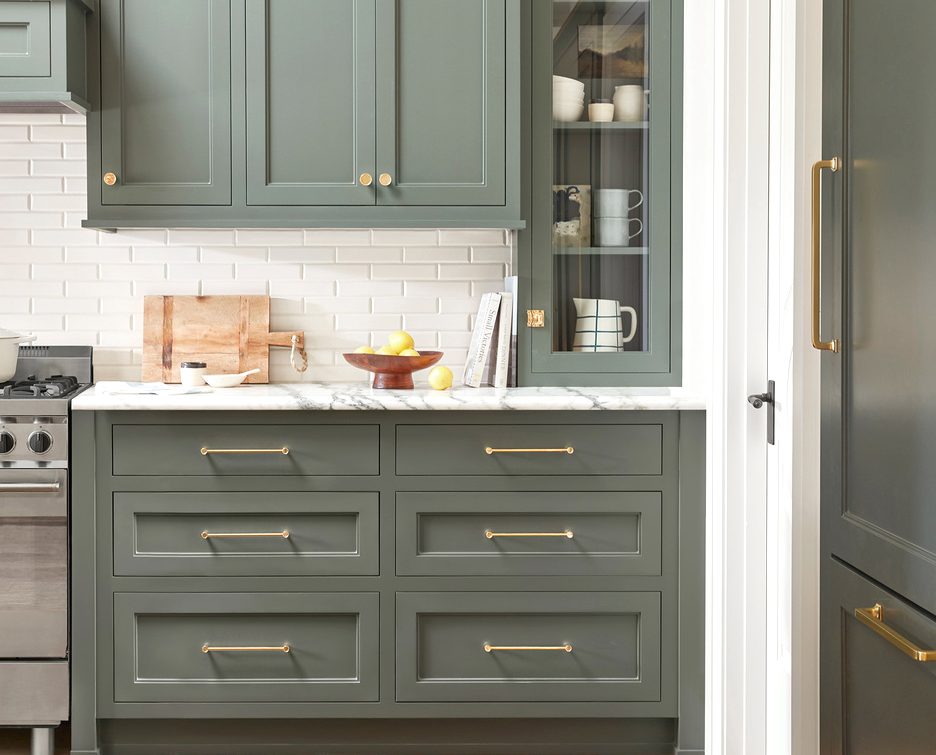 Always choose the hardware finish to go with your two-toned cabinets. You can select something like stainless steel, brushed nickel, oil-rubbed bronze, matte, or antique brass. The styling and color scheming should go well with each other.
16. Style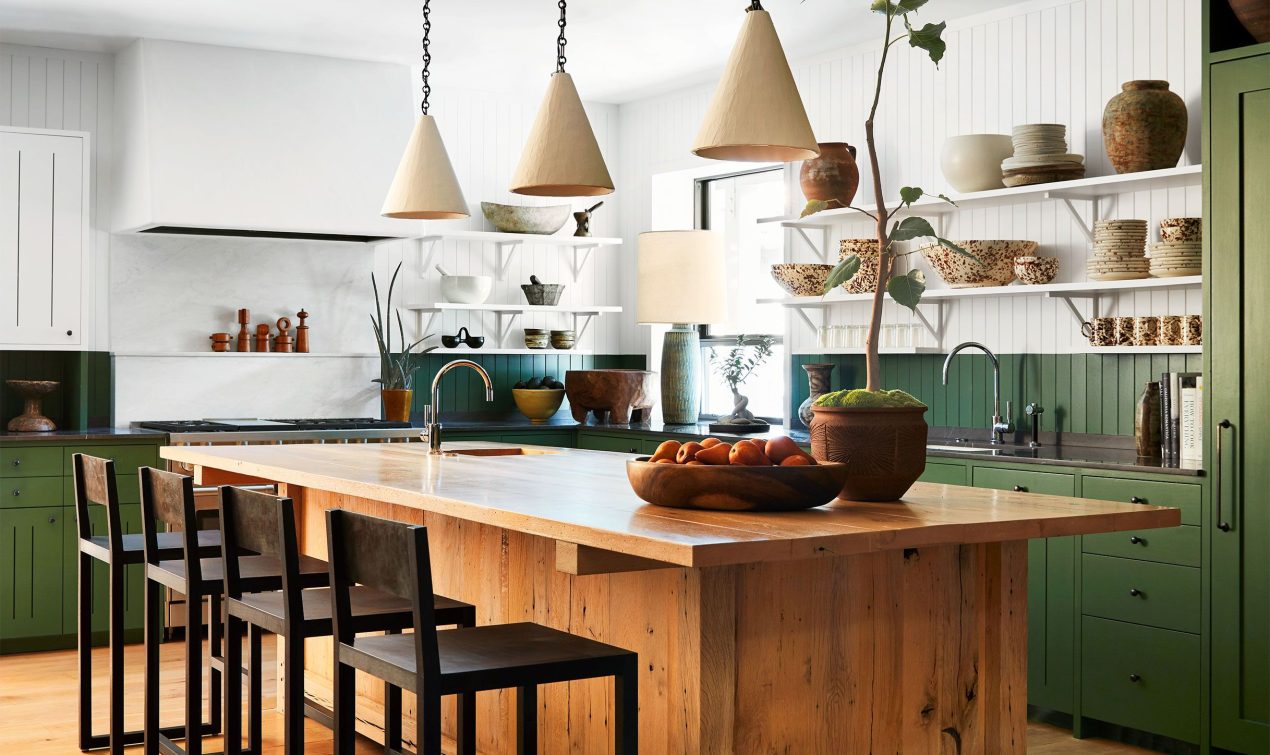 Matching the hardware with your kitchen theme is more important. Modern or contemporary designer kitchens should have minimal hardware designs and sleek pipes. For Traditional types or farmhouses, more ornamental options or vintage designs will go perfectly. This gives you the overall all vibe of your two-toned cabinet kitchen
17. Consistency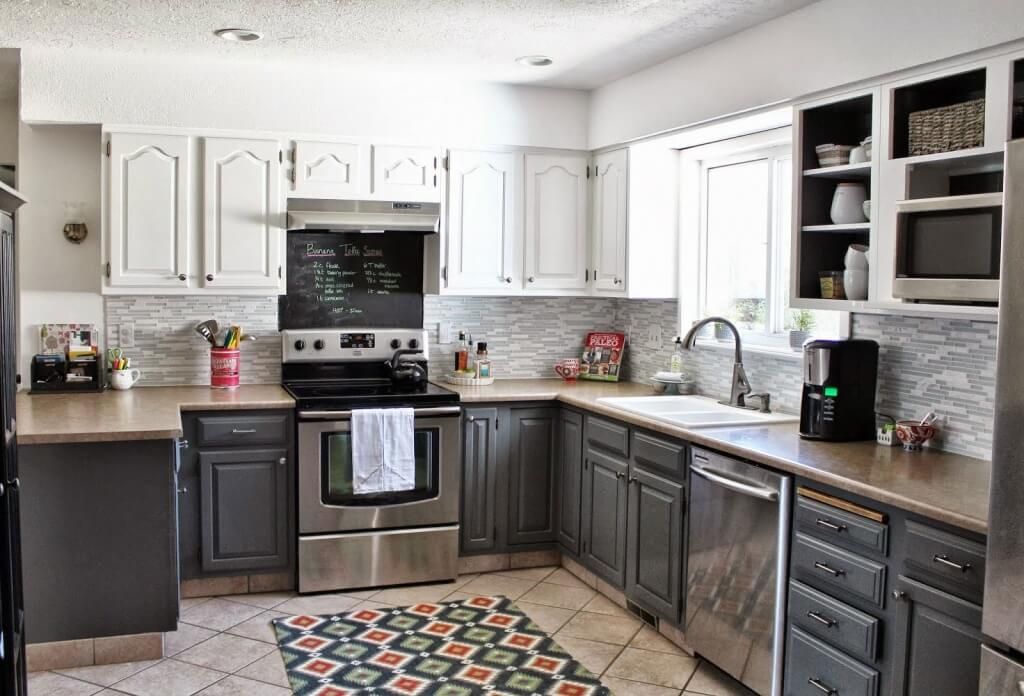 Using the same style throughout your kitchen is a wise thing to consider, as the cabinet pulls, knobs, and handles for both upper and lower cabinets. This consistency will give a sense of uniformity which gives the overall effect.
18. Size and Proportions
Choose according to the size. Mismatching the size gives a dramatic appearance. For larger cabinets and drawers, fix larger hardware. Likewise, you need to pick the smaller hardware for a smaller cabinet kitchen with two toned design.
19. Consider the Contrast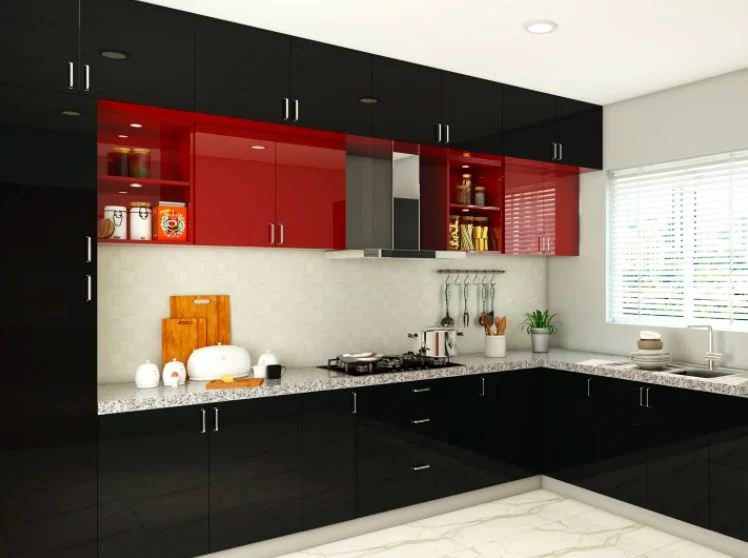 Hardware items are not only placed to satisfy the purpose alone. They will give the final and finishing touch you desire to have for your kitchen. So choose the color of your hardware to pop up over your kitchen cabinets. Certainly, you want to stand out in your two-toned cabinet design, so choose contrast-colored hardware to match your dark and light cabinets. This will complete the overall look of your two-toned kitchen.
20. Both Bright Colors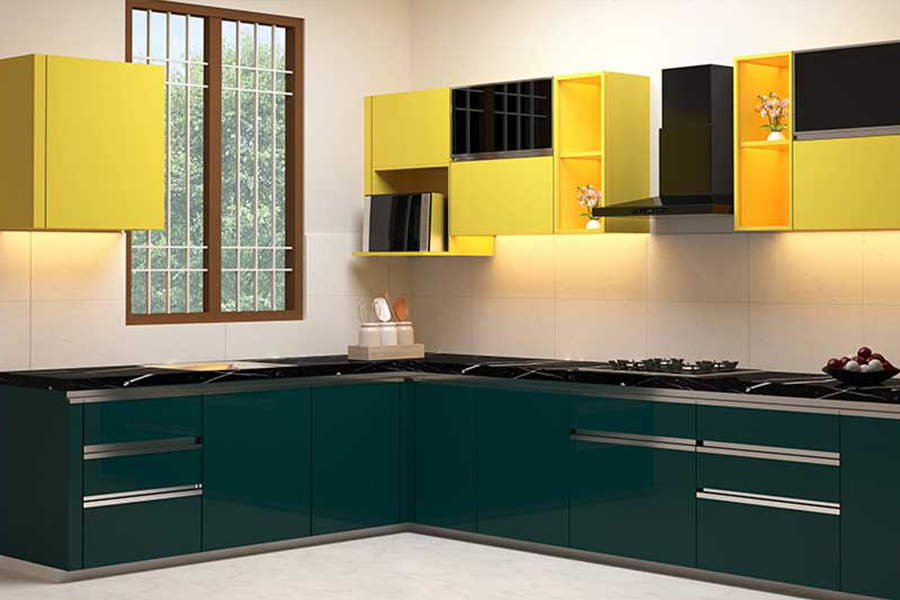 You can pick both the tones of your kitchen cabinets in bright colors. Sometimes these wild creations could bring a sense of joy to your mood. And do a test sampling before you start the final work. This is a must-do in the list for you. Before finalizing and starting fixing your kitchen cabinets, a test sampling of your design is a must to do a thing. This enables you to figure out the contrast between the color and texture of the hardware to match your two-toned kitchen.
21. Country Twist Contrast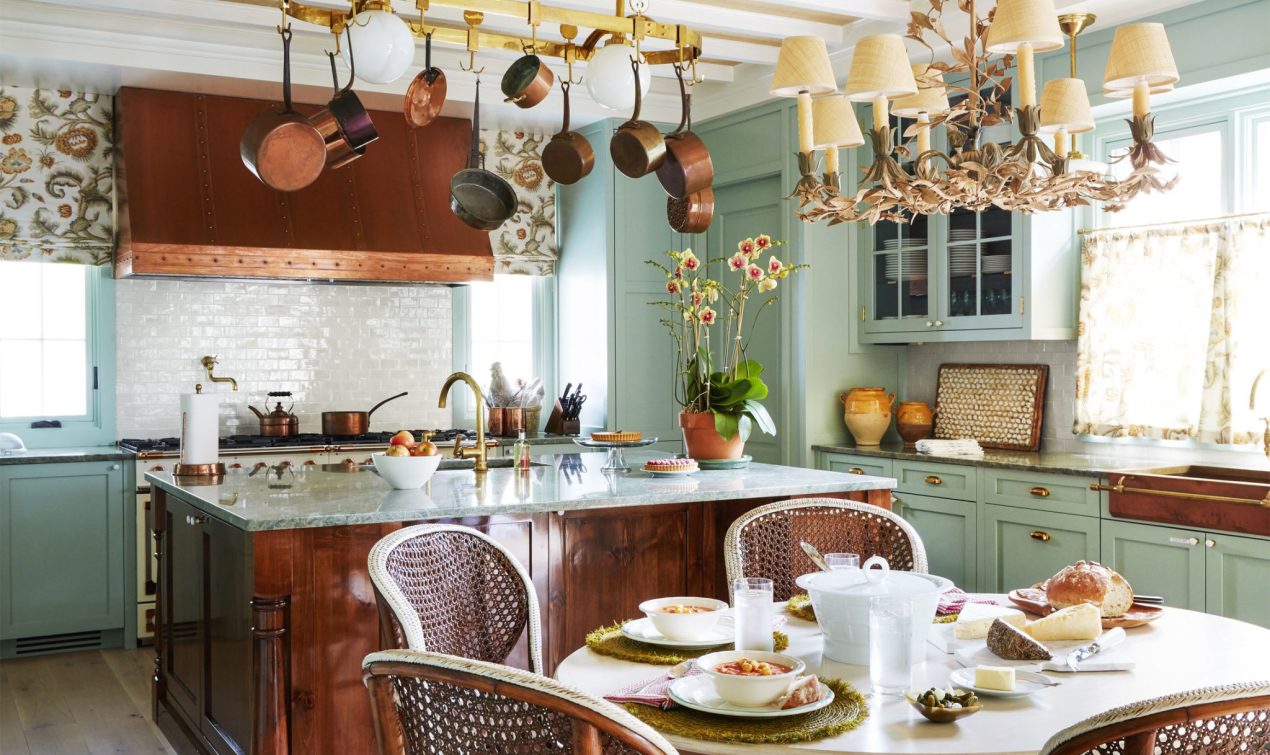 The pale copper green cabinets matched with the timber wood kitchen island, sink, and dinner chairs give your kitchen a country look. This is the perfect option for those who are looking to create their pappa's cozy kitchen from the previous generation.
22. Cabinets with Mirror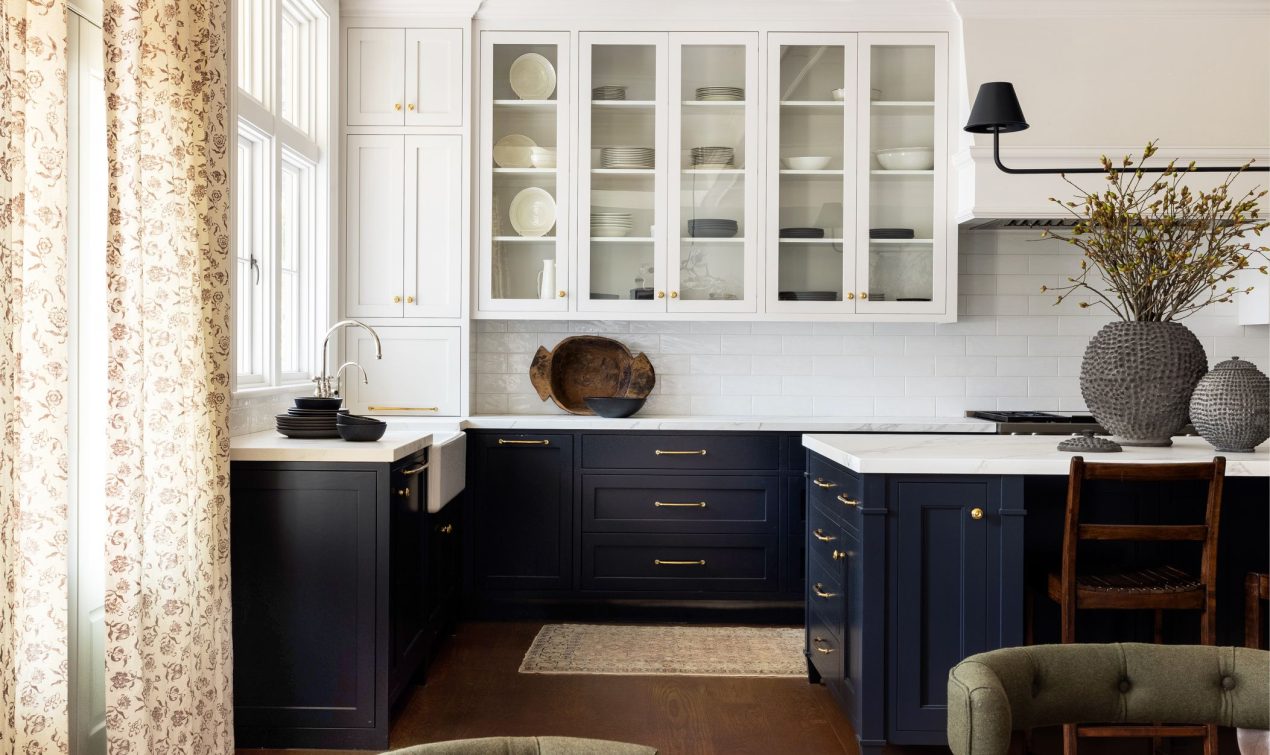 This is a cool way to create a different contrast. You can mix these mirror cabinets with any pattern or texture cabinets. And also, this goes well with any color combination, especially for small kitchens. It gives an appearance of more room.
23. Stainless Steel Cabinets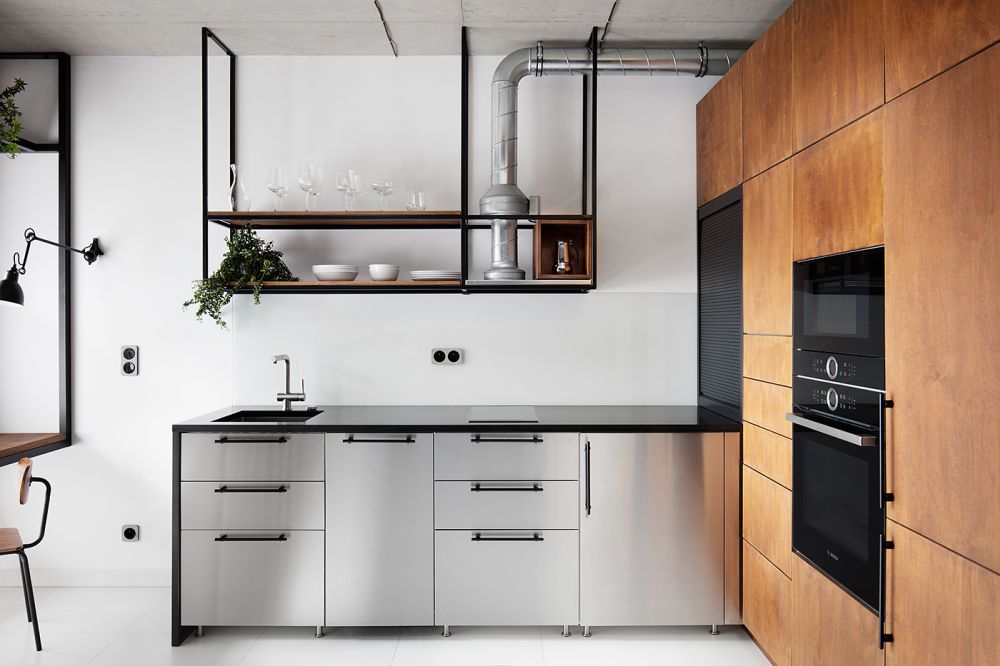 Another mind-blowing contrast to any wooden cabinet is the stainless steel cabinet. This idea might seem a bit old-fashioned, but if you match it with the perfect color, this will be the best classy look you can give for your kitchen makeover.
24. Cream And Gold Touch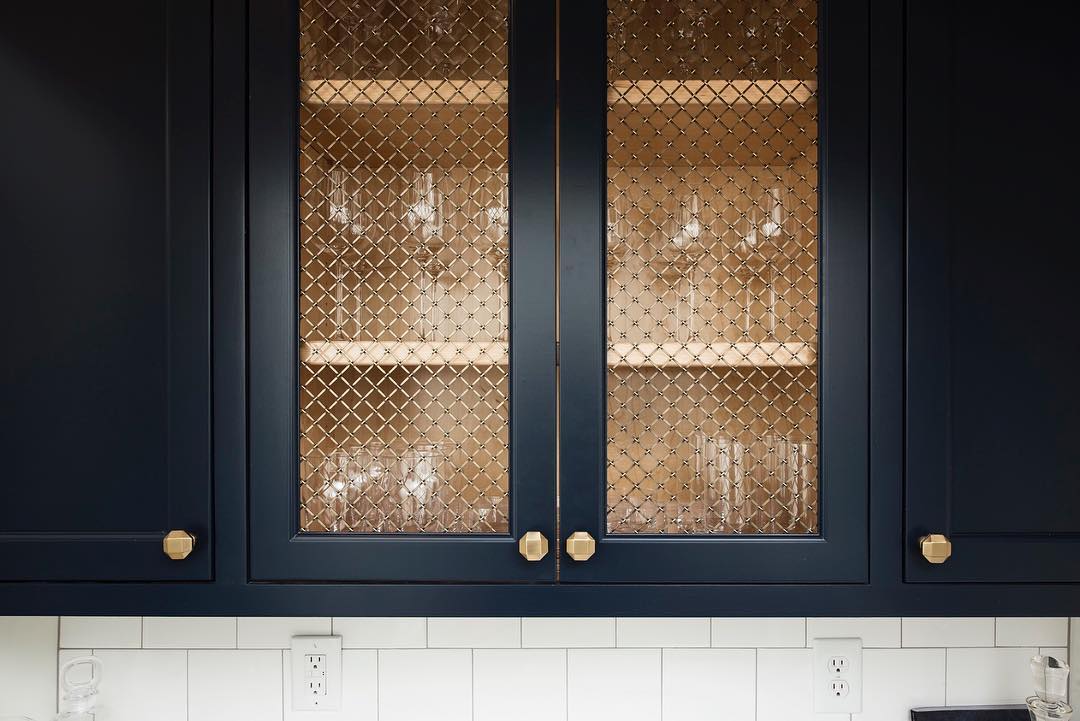 Bring your two-toned kitchen cabinets the golden touch by adding golden or cream wire cabinets. This plays as a window for your cabinet door with a richness in look. You can use a minimal backsplash and chandeliers to give a historic look.
25. Give A Border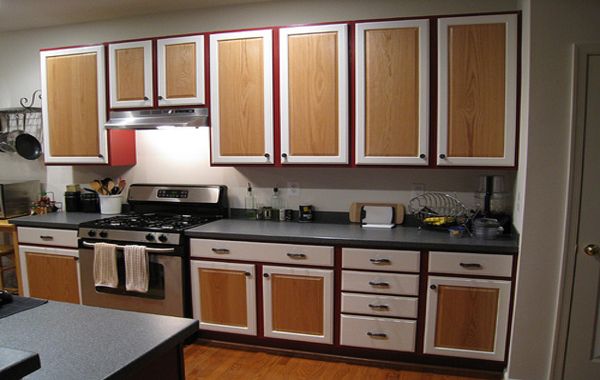 To give a more defined and different aesthetic to your kitchen cabinets, try giving borders to your cabinets. You can take the option of contrasting colors for the border. For example, white cabinets can get a black border, or sometimes with a texture difference, is also a mind-blowing option to be considered to give borders.
Practical Considerations to Check
When choosing the two-toned cabinet kitchen, you need to consider the practical aspects of your list. The size of your kitchen should be considered first to know the impact of the colors on space issues.
The lighter tone on the upper cabinets gives more feel of openness and spaciousness. The darker tone of the lower cabinets provides a solid and ground feel.
Next is the natural and artificial lighting in your kitchen. Both the lighting will affect the appearance of the color of the cabinets. So try using more colors in both lighting before choosing the best one for your kitchen.
Consider the overall color scheme of your kitchen, as this should sink with the other parts of your existing colors. So check the color combination with the countertop, backsplash, and floors to have the best coordination with the colors you choose.
Choose the countertop materials to coordinate with the colors of the two-toned cabinets.
The backsplash should tie both the upper and lower cabinets, so choose a color to give you a marvelous transition.
Please take into consideration the flooring to correlate with your two-toned cabinet kitchen design to give a balanced look.
Conclusion
The combination of colors, materials, or finishes in your two-toned cabinet kitchen is sure to provide a visual treat and help you with the balance in spaces. Your specific feature or zone in the kitchen can be easily highlighted. And most of all, it lets your creativity do the magic to step out of your normal boring kitchen arrangement.
This transformation is not only for the kitchen but also to make you feel fresh and energized. Have fun with the color combinations while choosing the unique style and personality for both yourself and your kitchen!