21 Shiplap Ceiling Designs That Will Transform Your Space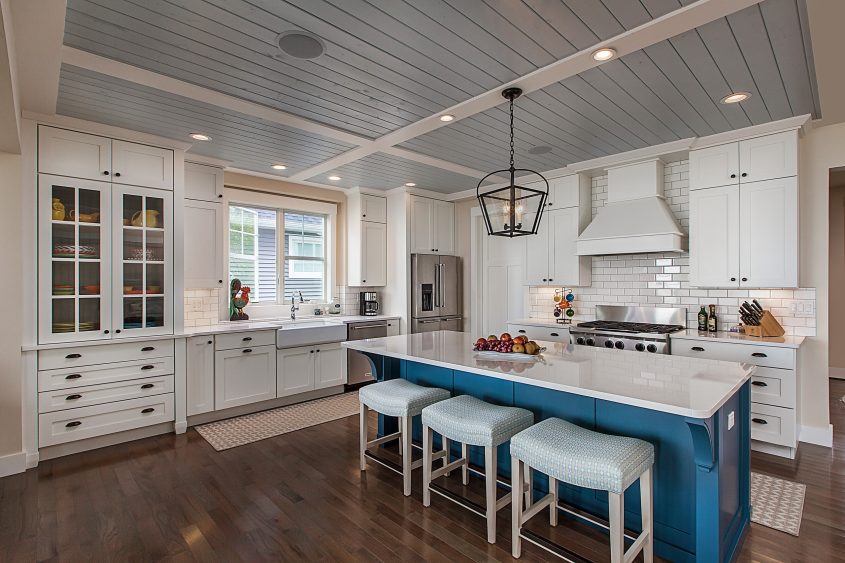 The shiplap ceiling has been emerging as one of the most popular design trends in recent times. Years back, shiplap was traditionally used as traditional exterior siding. Still, now it has gradually paved its way to work for the inner aesthetics, which adds a rustic charm and elegance to your interior space.
One of the biggest attractions of the Shiplap ceiling is its irresistible appealing look that can transform a plain room into a visually exciting element. The natural grain presents a delightful sense of coziness, making it one of the fine choices in almost every type of house design.
Apart from that, the versatility of shiplap extends an option to complement various design schemes. It is one of the best ways to elevate your room and provide it with incredibly stylish and soothing interiors.
If you are also looking forward to designing your home with the elegance of a shiplap ceiling, then you have landed at the right place. We have collated a list of 21 different types of Shiplap Ceiling Ideas to enhance the overall serenity of your home.
Shiplap Ceiling Designs for Your Home
1. Vaulted Shiplap Ceiling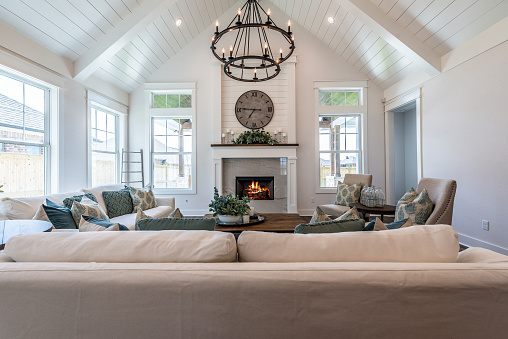 One of the most stunning manners through which you can create a focal point at your home. The vaulted Ceiling design is one of the most standard and used designs in the Shiplap Ceiling category.
It is a great option to extend the stylish and smarter touch to a range of interiors, including farmhouse or contemporary rustic interiors. It is best complemented with an incredible black accent with a bright-colored fitting.
2. Reclaimed Wood Shiplap Ceiling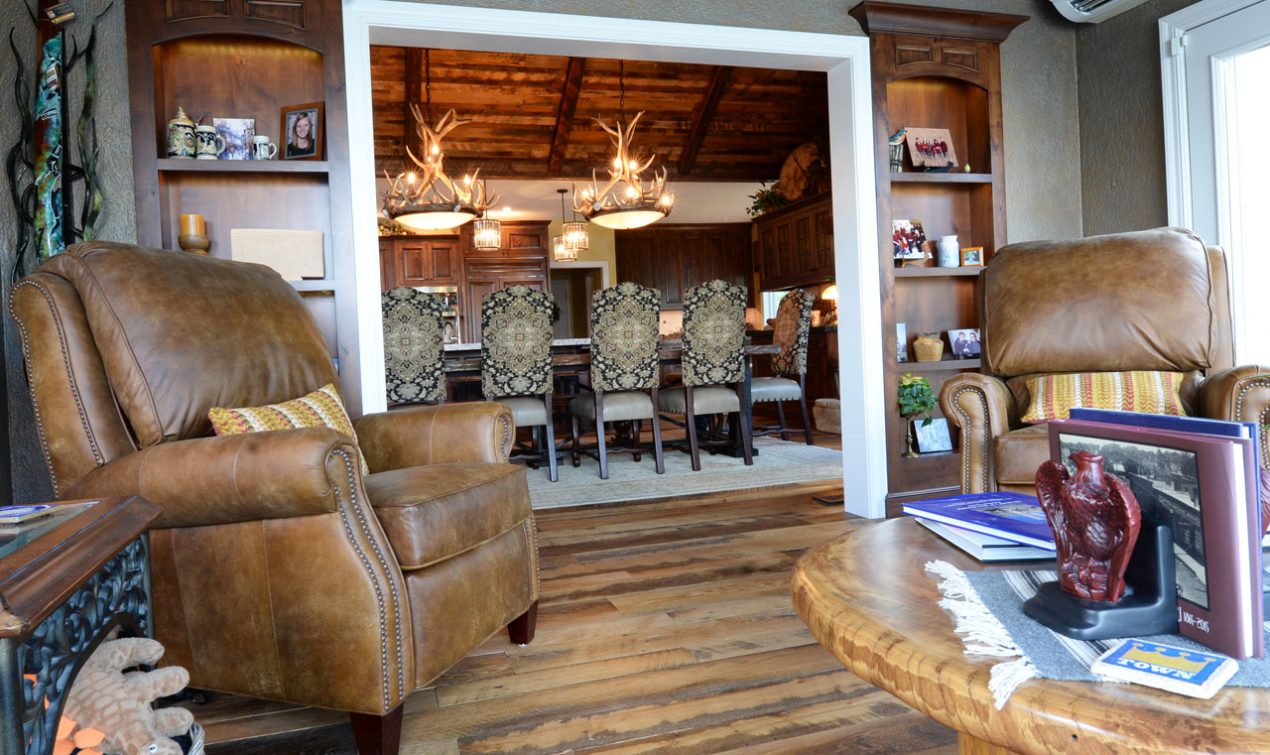 A traditionally stylish option that goes well in sync with modern housing. The essential USP of this design is that you can do a lot for your home's aesthetic just by going alone with this theme instead of adopting any other rustic ideas that involve lighting and a heavy budget and will help you add sudden depth and character to your house.
Reclaimed Wooden material has centuries-old life. Moreover, there is no other material that can beat the uniqueness and charm of reclaimed lumber. The natural element of the wood will fill your space with warmth, irrespective of the fact whether you are using it in your business or personal space.
3. White Shiplap Ceiling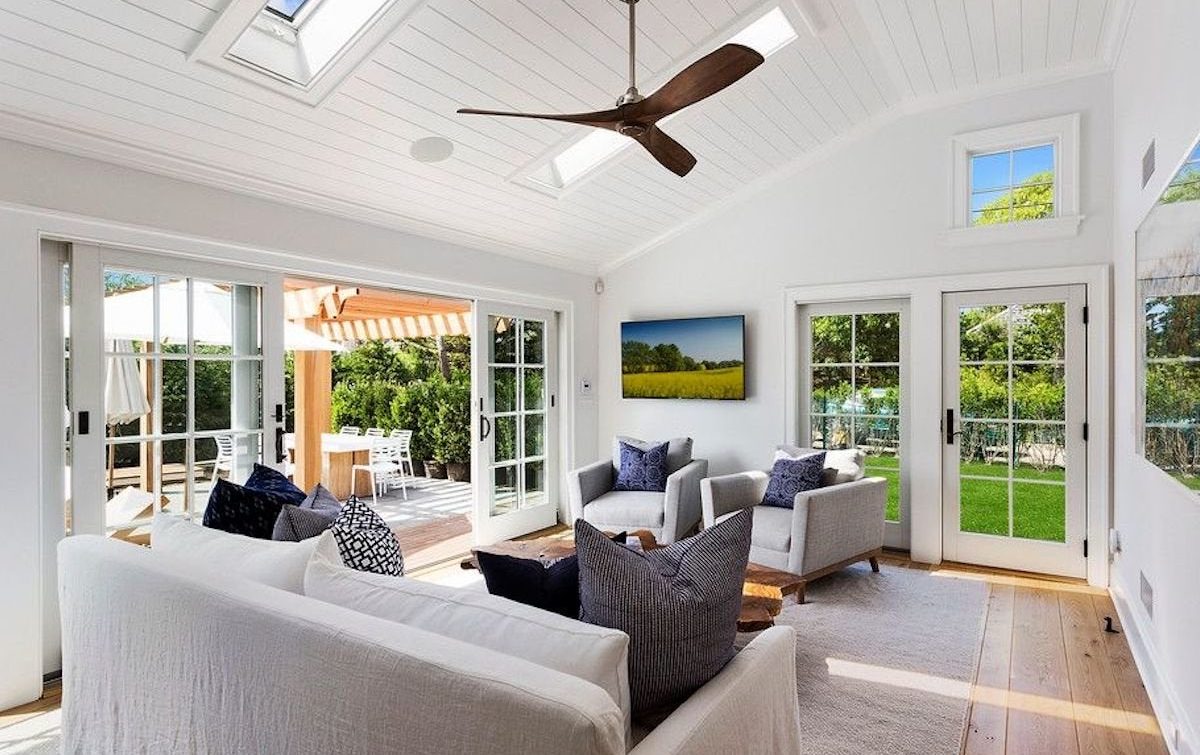 A White ceiling in this category is the most popular finish in this line of coverage. The bright element will draw the sudden attention of anyone entering the room. This also provides the illusion that the ceilings are much taller.
This versatile piece of an idea can possibly go with any other color in the setting. It will look after the overall serenity of the room, which will eventually add a sense of decency and character to your home. In the image as shown above, the best part about this type of ceiling is any sort of color theme can be matched up to enhance its visual pleasure.
4. Shiplap Ceiling with Darkwood Stain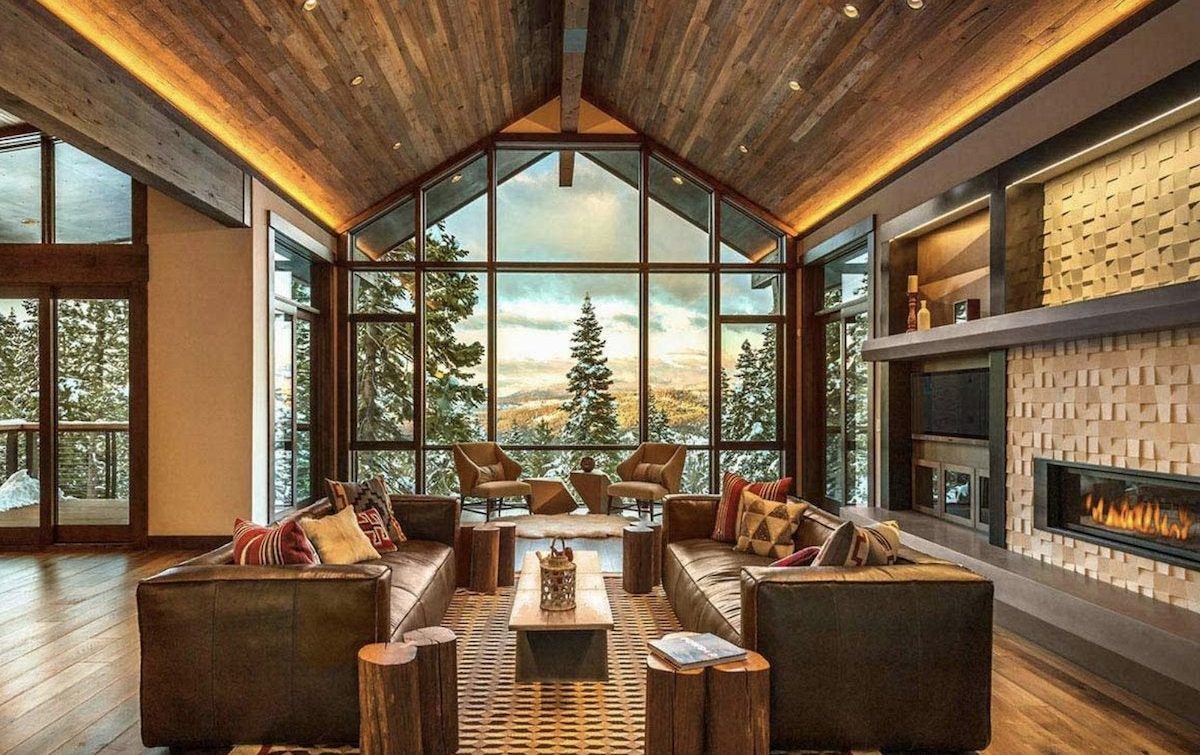 The usage of dark wood stain has immensely grown in recent times, right from homes to your workspaces. Its value has grown at a rampant pace. It is the best choice for an all-white interior that provides a stunning contrasting touch.
A dark theme room, as one shown in the image above, is also a great choice with this shiplap ceiling, which showcases the versatility this option serves that adds a decent character to the space.
5. Horizontal Shiplap Ceiling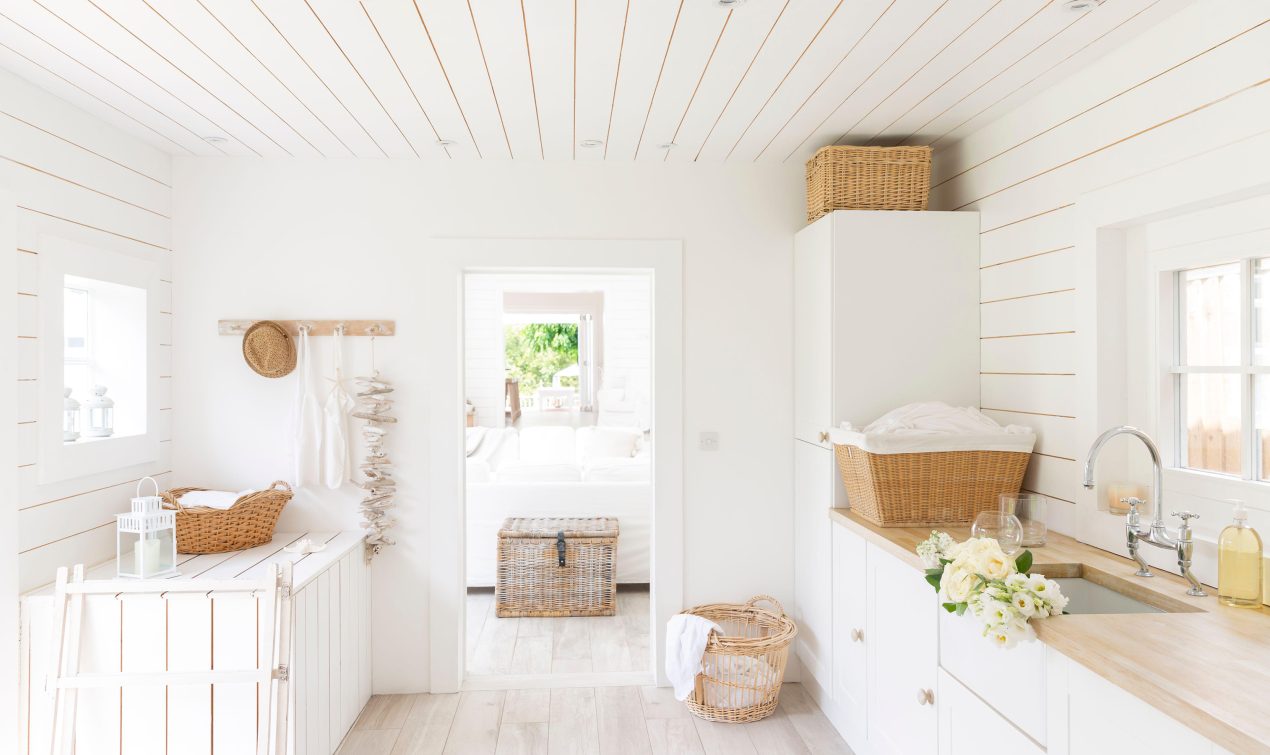 Horizontal Shiplap are best for a room with a sloping ceiling; it helps in giving the room a widened look. The continuation of the horizontal ceiling on the wall helps in providing a beautifully wrapped look. It is more rustic and modern than the vertical shiplap.
This kind of shiplap can be paired with half-wall color like sage green to give the entire appearance as if it is popping up.
6. Black Shiplap Ceiling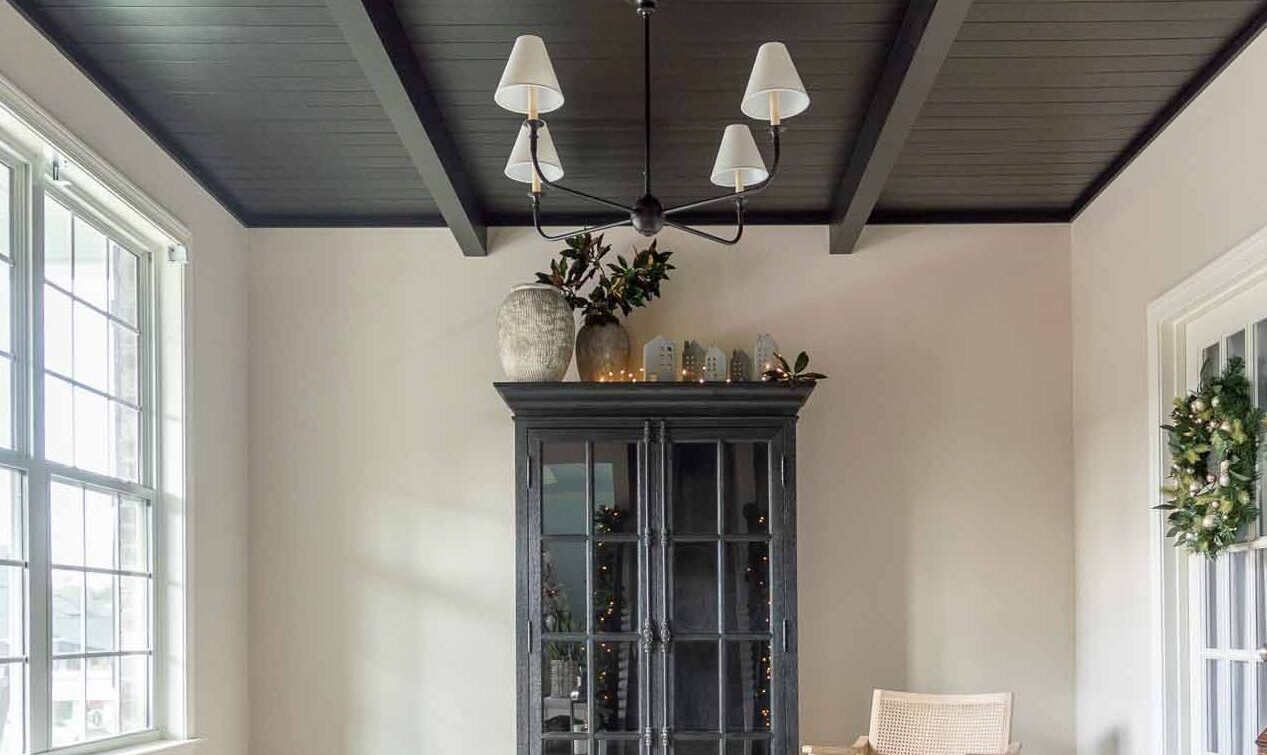 One of the most creative and daring shiplap ceiling ideas. Painting the ceiling completely black gives the room a dramatic touch besides enhancing its attraction instantly. The contemporary modern touch delivers a sleek and stunning look. Designs like this for a complete interior come to stay forever.
The black shiplap idea can go with any interior theme if it has been complemented by the bright-white lighting, which is essential in an interior of darker notes.
7. Extending Wall Shiplap ceiling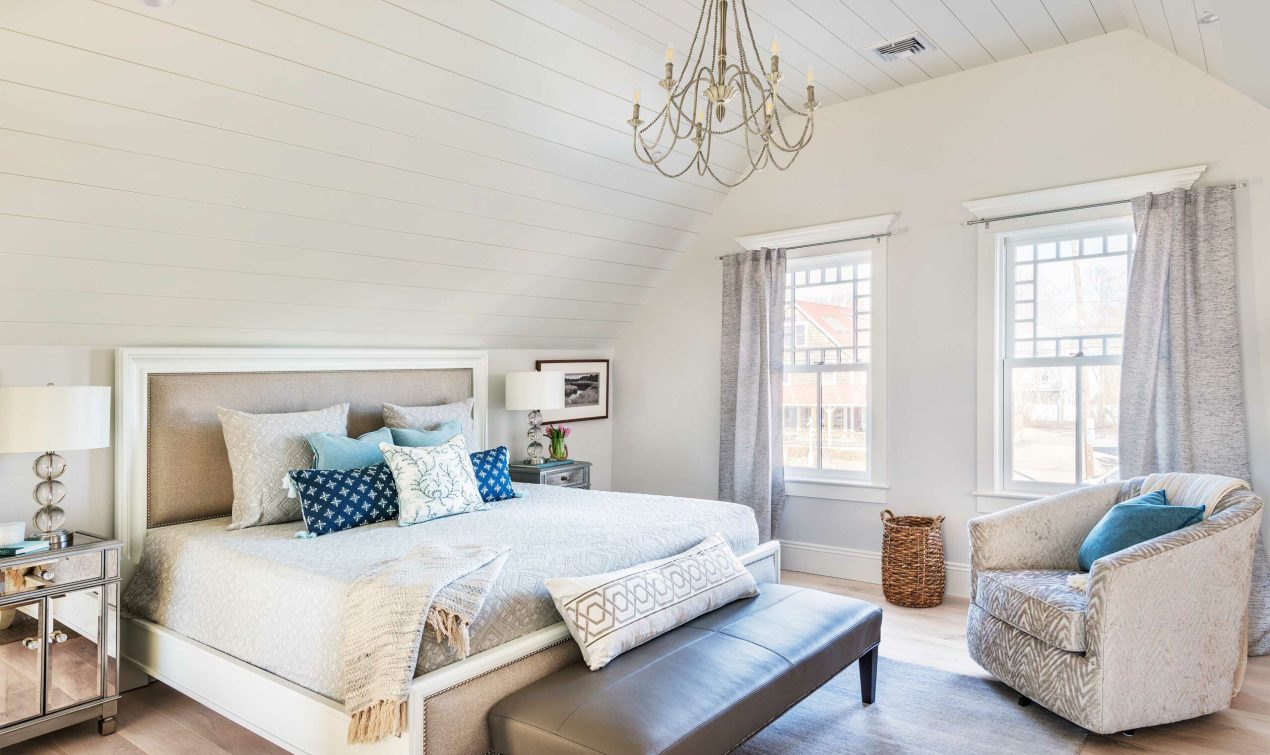 Not just the ceiling, the shiplap is the best option to cover the walls as well. The shiplap is synonymous with farmhouse interiors and adds a huge depth once covered over the wall. The idea can be adapted to a room of any kind.
Colors customization brings great taste to the overall aesthetic and helps in providing a much more pleasant look to the entire setup.
8. Distressed Wood Shiplap Ceiling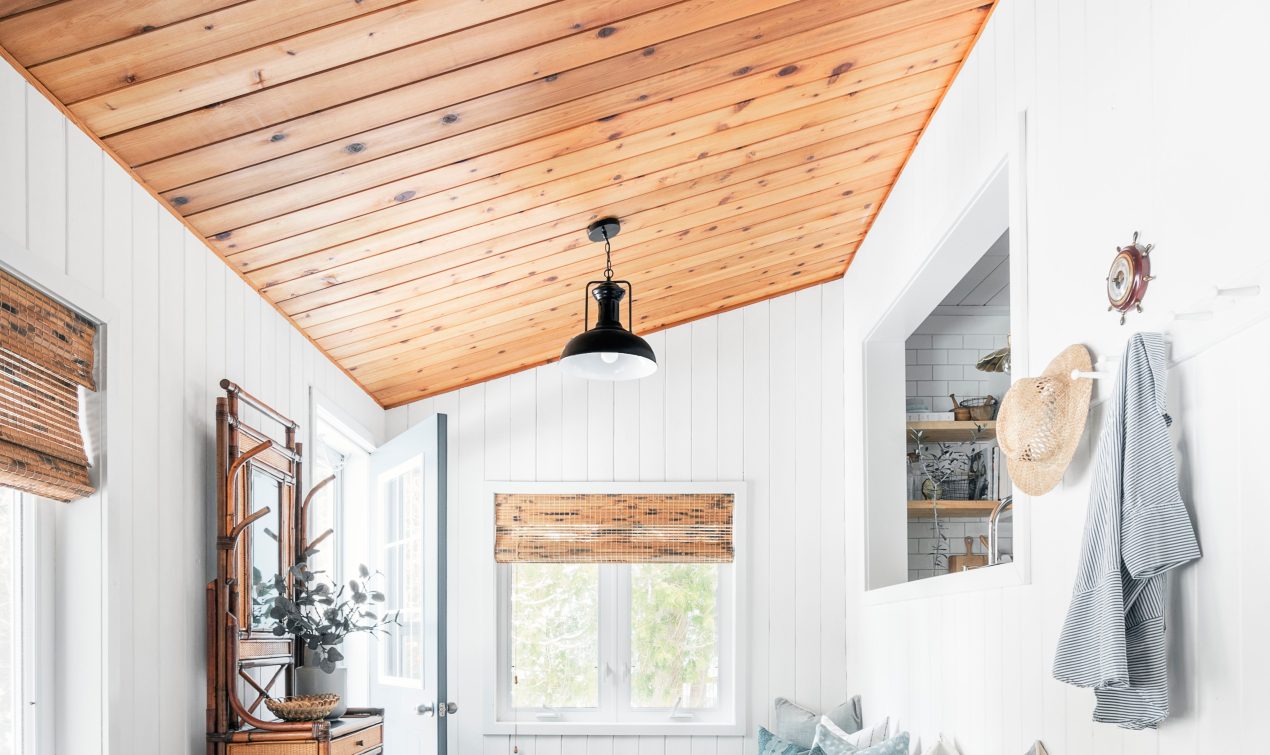 We have provided two wooden options above, and even though that doesn't excite you much, please refer to this intriguing idea that will definitely go with your plan that will turn up as a must-go option for you in any specific setting. The distressed wood style is a perfect option for the modern rustic and your home interiors.
Whether you have an all-white room or a darkish interior, add the lively touch of this shiplap option to your interiors to bring out the most of it.
9. Slanted Shiplap Ceiling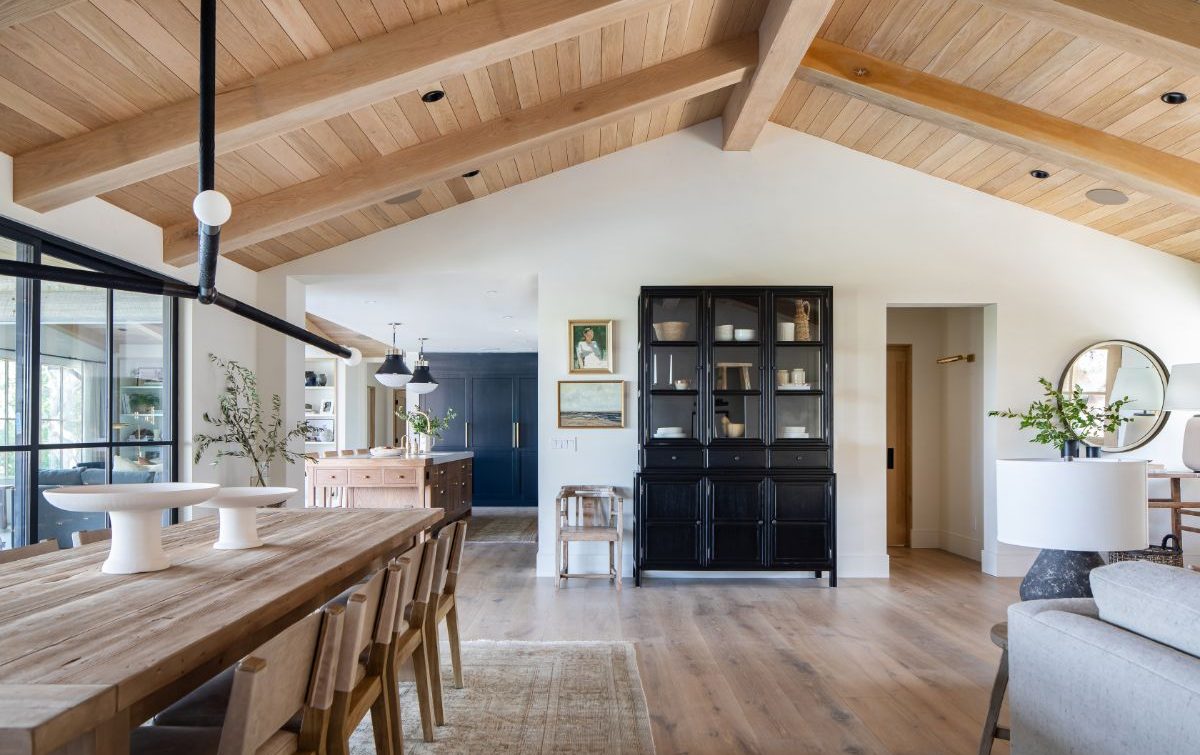 This kind of ceiling is best for slanted roofs. By opting for this type of ceiling, you can easily cater to the need for natural continuation of your interior ceiling. It provides a much more enchanting and catchy finish than that of the painted look.
It is extremely worthy in the odd-styled ceiling and can help in covering the overall flaws by giving it a visually appealing touch.
10. Contrasting Shiplap Wall
Why settle for less if you can have more? The idea of contrasting shiplap adds immense value to a room with the different kinds of vibrance it offers. You can customize in any manner you wish by inculcating all the possible desired colors in any room of your house.
This teal color can go with any lighter shade to give out the best enchanting look to the room. You can also complement the cabinet of your closet with a similar color to cater to the minute ambiance.
11. Adding Beam to Shiplap Ceiling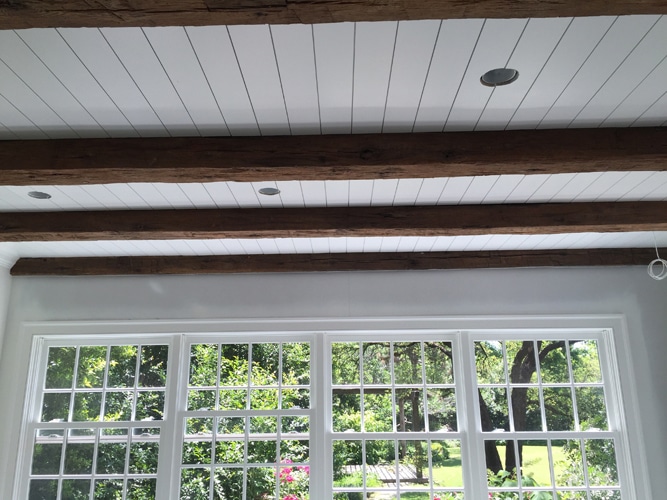 Vaulted ceilings provide dramatic touch to ordinary rooms. Additional installation of wooden beams over a white shiplap ceiling can help you solve a larger cause for enhancing a glorious touch to your interiors. This option provides a contrasting variation to a bland space.
Its breathtaking ambiance is always an option to go with, which makes it a perfect blend of traditional touch with modern delight.
12. Using Slim Shiplap Ceilings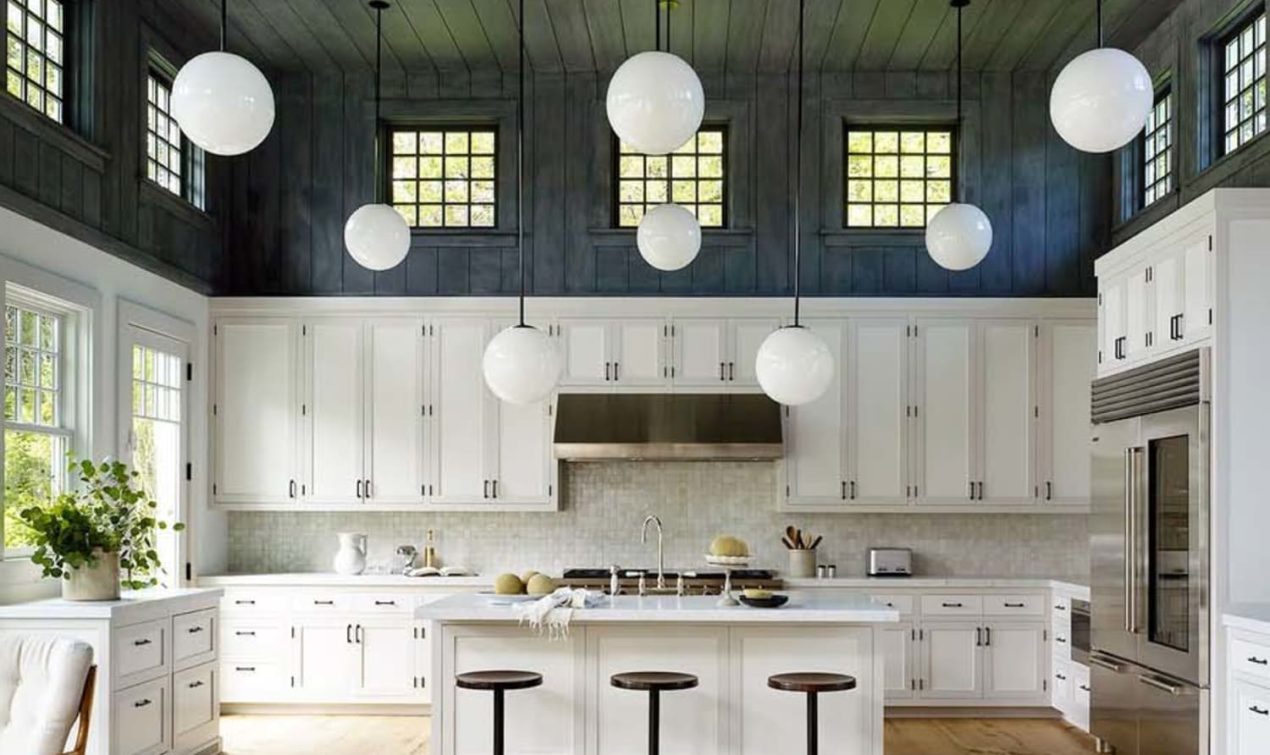 Opting for darker and slimmer wooden panels, as shown in the image above, makes one of the most delightful and enchanting choices on the chart for the ceiling of your interiors that helps in giving both a cozy and formal outlook. It is one of the most unique shiplap ceiling options to take up for your next DIY home project.
It helps in adding depth and detailed texture to your interior, besides uplifting the overall ambiance of your home by giving a rustic touch.
13. Small Beams to Break-up the White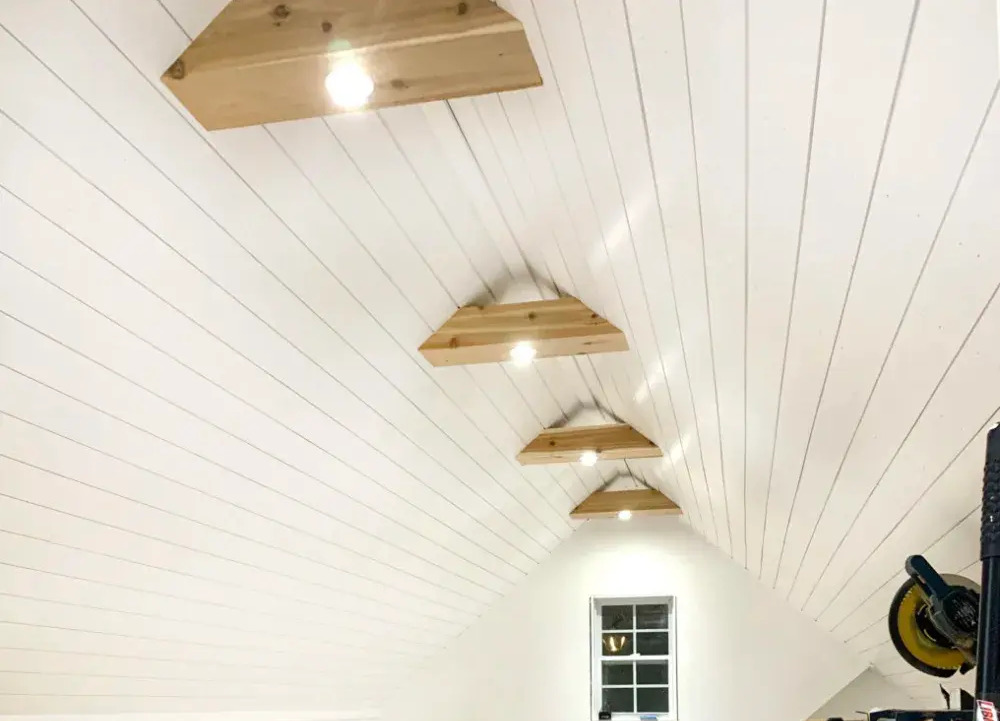 Using complete white is not always desired by all. One basic notion associated with white is that the rooms are sterile or off-putting. But it can be a perfect canvas for various trends in decorating your home and even for those who want to have a white ceiling theme for their interior.
One fine way to achieve this is by molding the design by using small beams in the shiplap at regular intervals that will help in keeping the overall theme lively and transform a dull setting into a cozy room.
14. Diagonal Shiplap Ceilings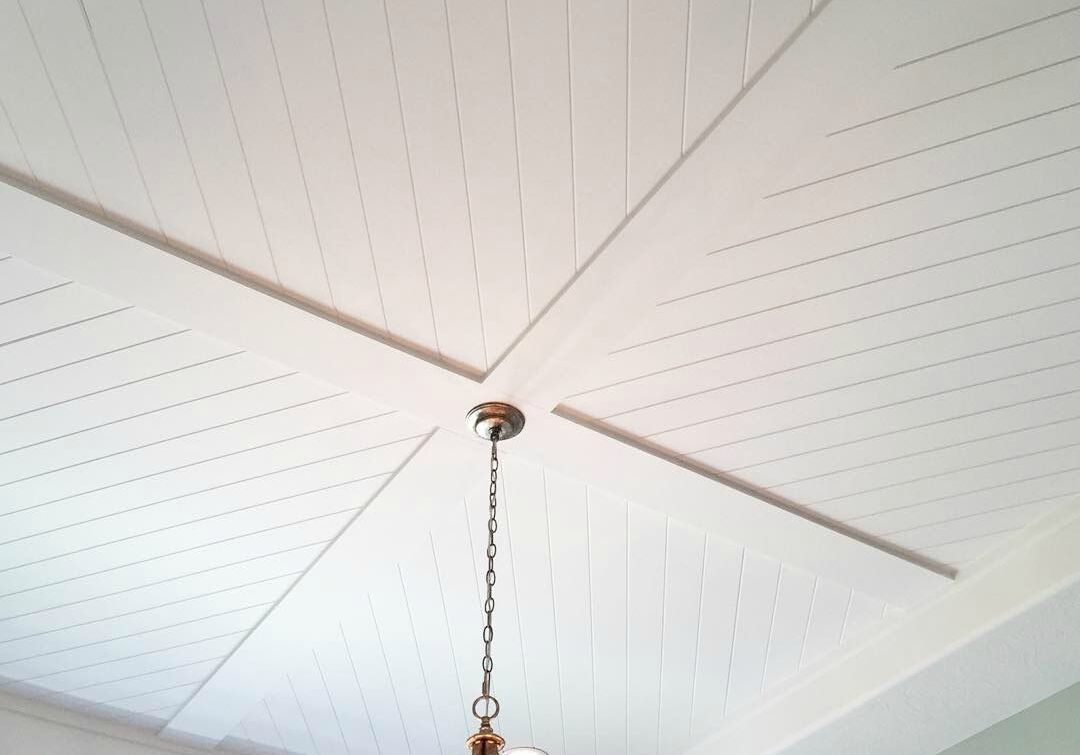 It is always good to try something new with whatever you have. If you are fed up with a similar vertical or diagonal-styled shiplap, try it in a diagonal manner this time. Shiplap, when adjusted diagonally, helps in making a convention that turns the entire attention to its favor by adding visual excitement to the interiors wherever it is placed.
It is the best option if you wish to stand out and aloud.
15. Thick wooden Beams for the Ceiling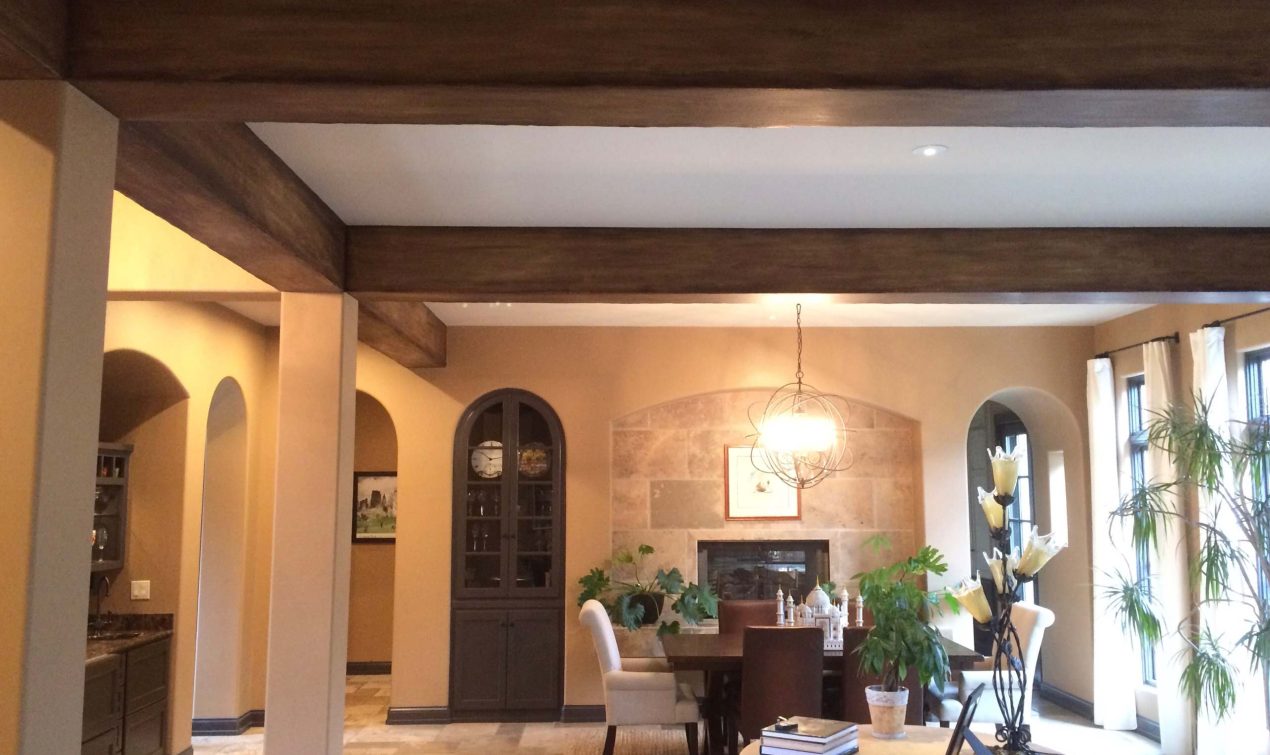 An extended and much more detailed version of the ideas presented in no. 11 and 13 above in the chart. It presents the natural elements and helps in adding extra texture and dimension to the rooms where it is installed, giving your interior an extremely stunning look. It is the best way to add depth and make a room attain a cozier look.
However, it is important to note that this must not be placed in spaces with low ceilings.
16. Blue Shiplap Ceilings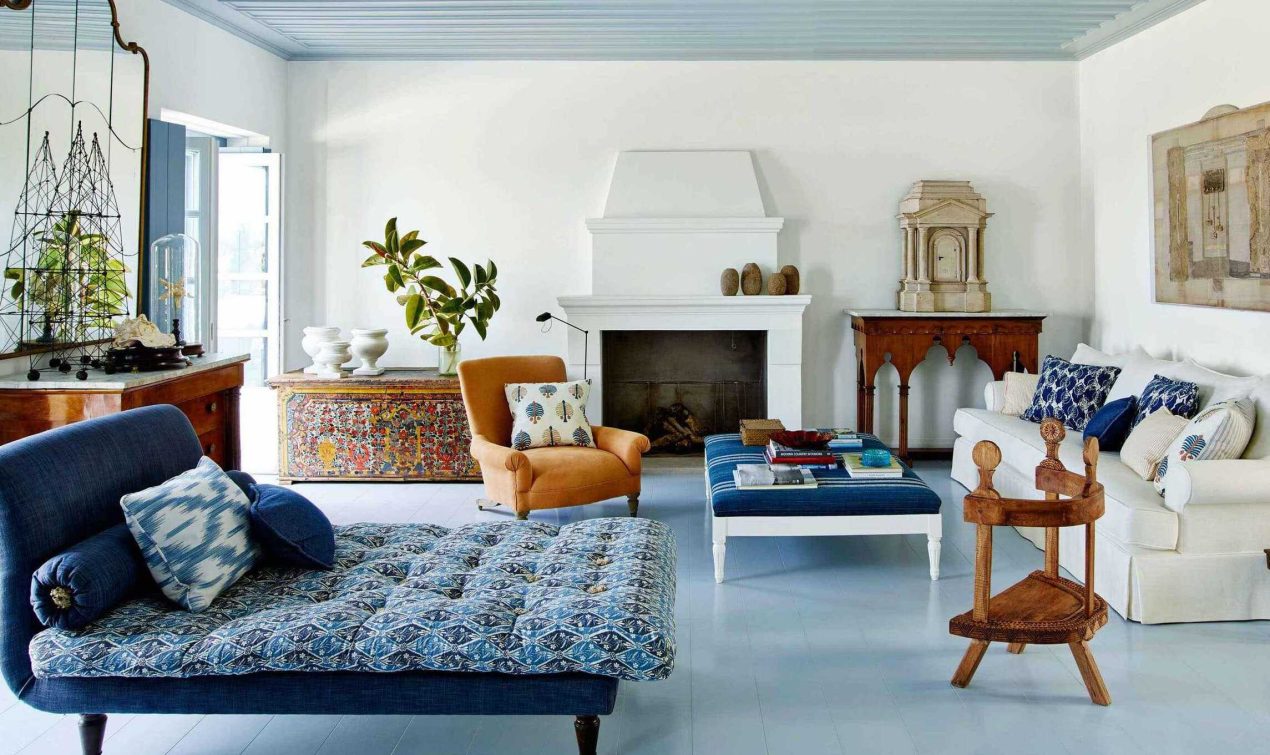 White is a great color for your home's ambiance. However, adding vibrance is always a good option to have. If you are planning for something extra for your interiors, you must consider this ultra-cool blue shiplap for your home. It is the best way to rejuvenate your mood and keep the overall ambiance lively. The tone and the depth of the color always lie in your hand. You can adjust the setting in any manner you wish or similar soothing color options, viz. Green, Light Orange, or Pink are also good options to go with.
17. Varied Pattern Shiplap Ceiling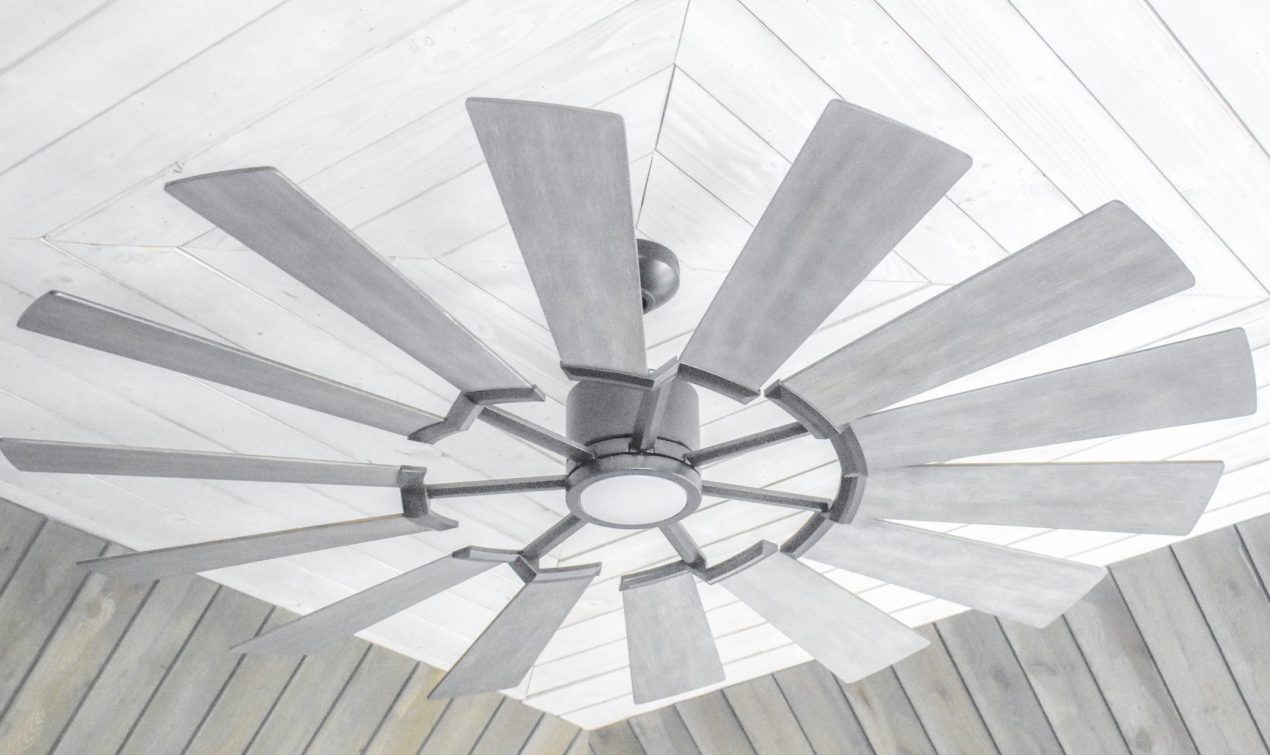 The use of shiplap has immensely gone up in trend for the past few years now. If detailed in the simple sense, Traditional Shiplap is a kind of wooden board that is often used to build barns and sheds. Shiplap comes with a groove cut into the top and bottom, which gives space to fit together and helps in giving a unique appearance. Shiplap has already found a fair section of space in the urban household as an alternative to the traditional home ceilings. However, besides uplifting the homes' ambiance, it brings along its own share of pros and cons. You must also have a detailed look in order to get a detailed idea before you finally proceed with your future DIY home project.
Pros
It adds great visual interest to your interiors, either room, wall, or ceiling. It is extremely easy to install and can be stained or painted without any hassle.
Shiplap is good-to-go at any place in your home. Besides using it on the ceiling, it is a great option for the living room and walls of your fireplace. It is a viable option in the kitchen backsplash and in the bathroom as well, which requires a protective finish in order to prevent damage from food stains and moisture.
Shiplap is relatively cheaper than the existing modern interior decor options. With the availability of a Shiplap cut from inexpensive wood, you can easily cover a 10 by 10-foot area for a mere $200.
Cons
One of the biggest concerns that consistently bothers homeowners with shiplap is that it is a magnet for dust. The dust gets settles in the gaps and affects the beauty of the space.
It is essential to remain extra cautious during the installation of the shiplap, failing which, this can get wrapped or rot. The concern remains highly significant when it is installed in a bathroom or basement, where the chance of moisture penetration is immensely high.
The natural grain and the elegance of the wood add a great sense of coziness and warmth to the interiors of your house. The structured list of Shiplap Ceilings is the best option to give your house a modern touch by keeping the traditional theme intact. Farmhouse, coastal, and cottage-style interiors, city houses, and Shiplap's versatility can go with any of the above options.

With the above-detailed options available, you complement the interiors of your home in a number of ways, whether it be a rustic retreat, a contemporary feel, or traditional attire. Beyond its visual entity, the shiplap ceiling also has practical benefits. You can install it to cover up all sorts of imperfections and outdated popcorned ceilings.

It elevates the overall ambiance of the interior, besides giving a timeless appeal to any room that it embraces. We hope this chart helped you cater to your next renovation project, and do know us in the comments about which of the following ideas you will opt for.
Frequently Asked Questions
Can You Paint Shiplap?
Yes, you have the liberty to paint your shiplap in any possible color. However, it is essential to paint shiplap a little differently than regular walls. It is essential to apply paints with thinner coats on your desired shiplap so you don't fill in the gaps between the boards.
Is Shiplap Costly than Dry Wall?
Comparing the costing will leave you coughing up twice the amount for Shiplap that you would have anyhow paid for Dry Wall. However, Faux Shiplap is relatively cheaper.
How Much Will the Installation of Shiplap Cost?
The installation of the shiplap will cost around $2.5 to $7 per square foot. For details, a 200 square foot of ceiling might cost you somewhere around $500 to $1400 if you plan to execute it by yourself and if you have all the inventory for its installation handy. It also depends upon a range of factors depending upon how you eventually wish your shiplap-enabled ceiling to appear. You can save a lot of money if you plan to install a ready-made shiplap, which comes in different sizes.
What is the Biggest Issue with DIY Shiplap CeilingProject?
From planning to execution, the Shiplap Ceiling project can be carried out easily when handled cautiously. However, the biggest problem arises when the matter comes to the larger rooms or ceilings that are usually shaped owing to the presence of angles and curves. It is when you will need the expertise of a carpenter or a general contractor who is familiar with dealing with Shiplap projects.