30 Super-Comfy Hanging Beds for Your Home's Aesthetic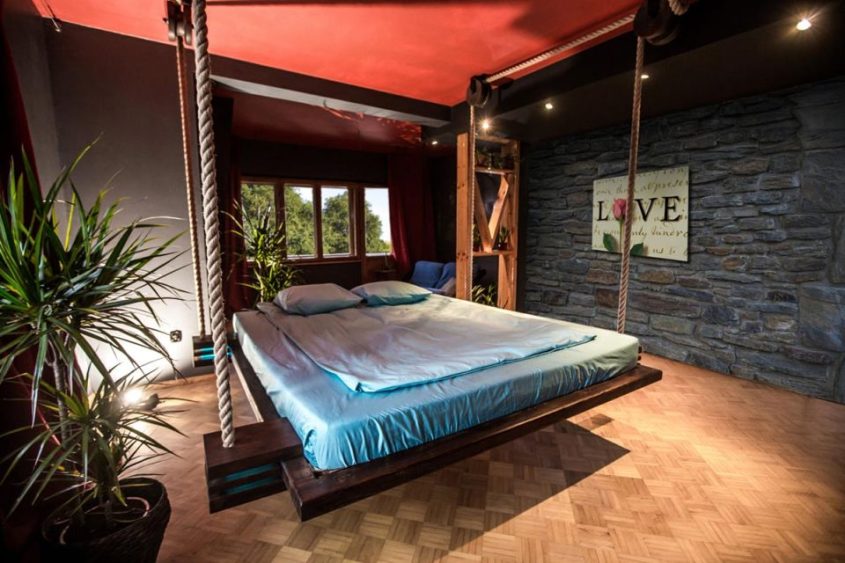 Relaxing on a porch swing in the fresh summer evening gives a wholesome feeling like no other and adds an immense depth of pleasure end. Especially when it is in your backyard, the feeling gets compounded. The idea of a hanging bed is derived from hammocks, which have been in existence for a long. However, the latter is good enough for a small nap but is not a viable option for a comfortable long sleep.
The hanging beds have taken the landscape of modern decor at a very rampant space in recent times and have effectively worked in adding a soothing sense of serenity to your home, irrespective of where it is placed. It also brings along a huge degree of utility. It can be used as additional seating during a housewarming party or a cozy spot to have a great book session. There is no requirement to cough up a huge fortune to have one for your home; there are plenty of ideas for the installation of hanging beds that you can have by yourself through a range of DIY home decor projects.
Presenting a set of 30 enchanting hanging bed ideas for indoor and outdoor home settings through which you can amplify the luxury of your home with ease and can increase the aesthetic value in the best possible manner.
1. Classical Swinging Bed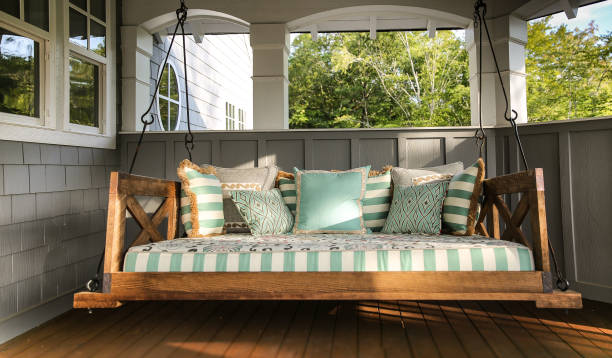 An old and up-cycled bed is a great choice of addition to your in-house patio. You will be required to have an old wooden frame, wooden pallets, and a mattress to complete your setup. An open joist or rafter ceiling is essential to ensure the best suspension. Complementing it with muted hues and organic colors, viz., beige, will suit the overall appearance. It is one of the finest positions in the house for your leisure time to enjoy coffee and read books in solitude.
2. Colorful Swinging Daybed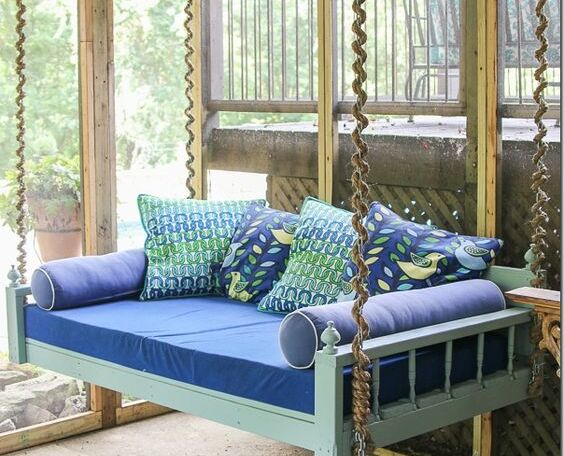 Colors are the best option to add a charming element to your patio. Adding colors immensely helps bring out the rustic look of your hanging bed by complementing it with prints and pop colors. The delightful blue, as shown in the picture, is beautifully accompanied by a thick sisal rope. You can paint the frame with a contrasting shade, or a simple beige finish would also serve the purpose. Providing comfy cushions with a decent print adds up to the overall aesthetic of the set-up, making it a perfect resting lounge for your home.
3. Pallet Board Bed Swing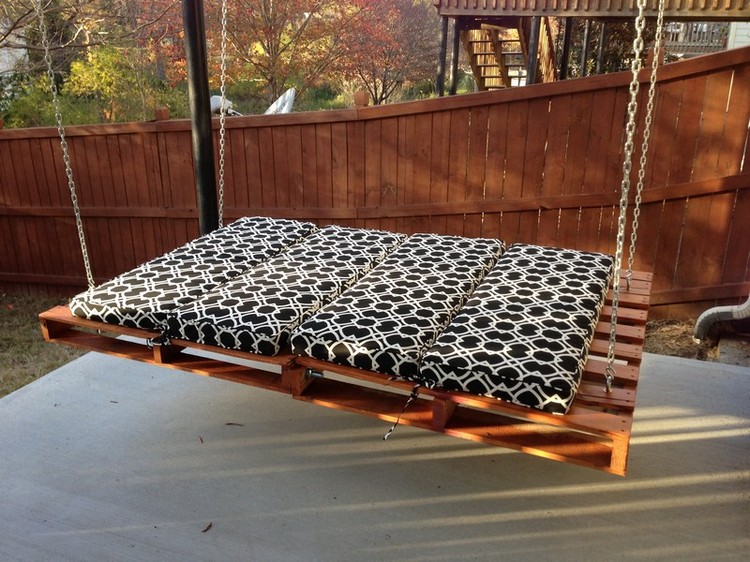 Nothing feels like home when its just you and your leisure time in the backyard while relaxing on the hanging bed under a tree, well this might have been a dream until now but not anymore. Add this uniquely crafted idea of wooden pallet board as your new hanging bed to your lounging set-up in order to make the best of your home's overall aesthetic. It offers a nice place for quality family time. Enhance the overall look by adding a delightful artistic touch consisting of a wide range of elements of your choice.
4. The Floating Bed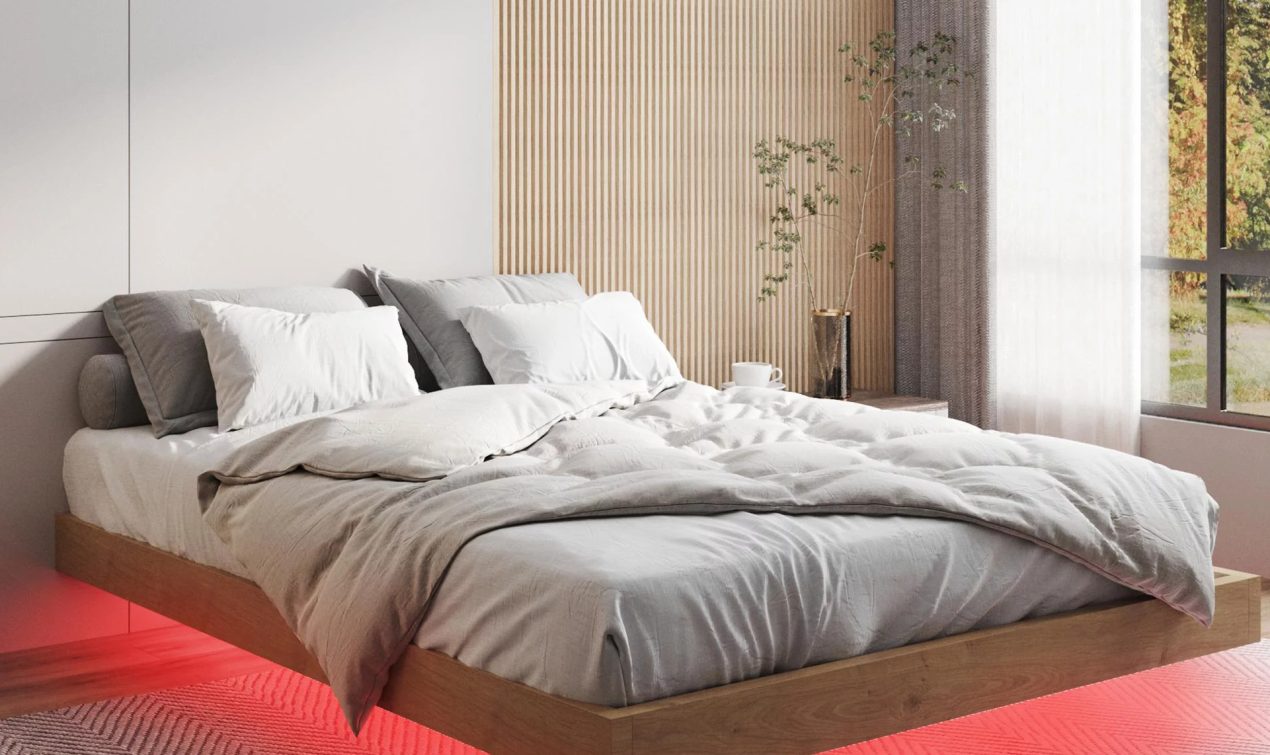 A simple but brilliantly engineered idea, this hanging bed is of immense use and has proven increased sleep benefits. The suspenders of the bed can handle a load of nearly 1000 lbs and provide gentle swinging for proper health benefits. It is perfect for two people. However, you can get it customized to accommodate more people. It can be placed both indoors and outdoors and is made weatherproof with enhanced durability. Besides looking for sound and relaxing sleep, this hanging bed has also been of immense help for kids and adults with special needs or with disabilities.
5. Hanging Trampoline Bed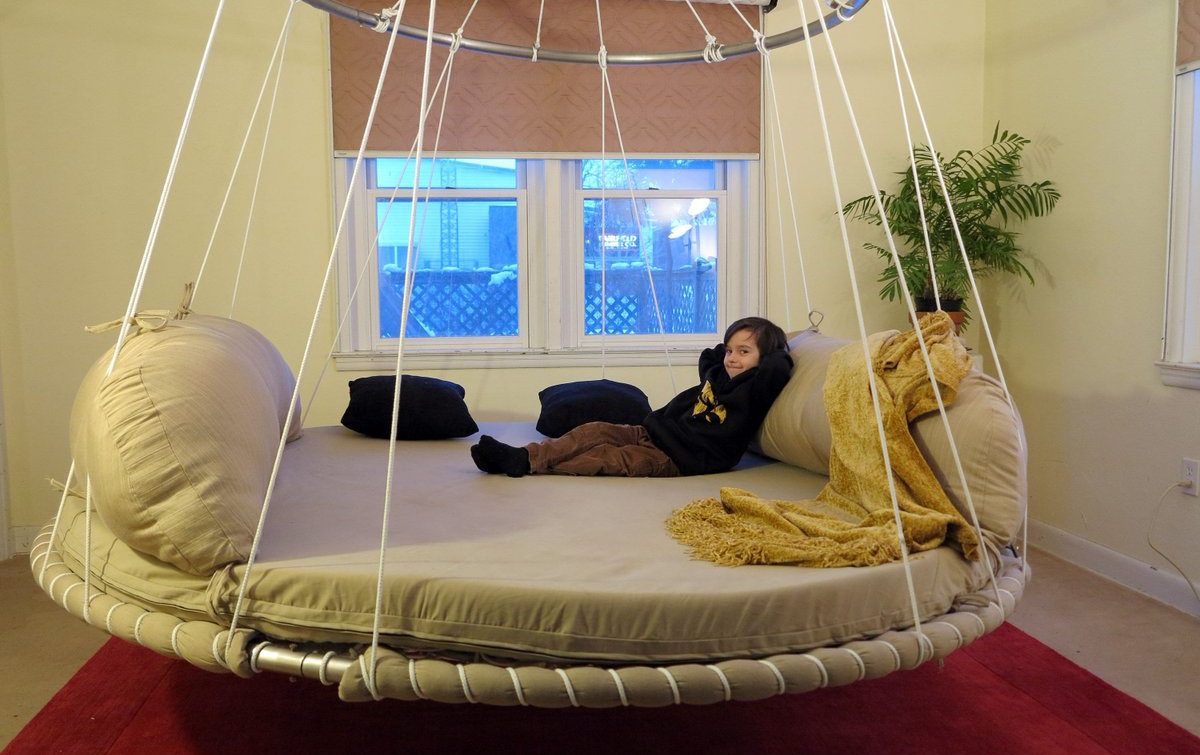 A simple trampoline lying unused in your backyard can be transformed into an element of immense importance in the form of a super comfy hanging bed. This DIY project can help you save thousands of dollars, besides will provide a space of great use to chill along with family and the kids. You must make sure that it is connected well to a metal chain to hang your trampoline set up and complement it with a colorful mattress to bring out the best look out of it.
6. Traditional Hanging Bed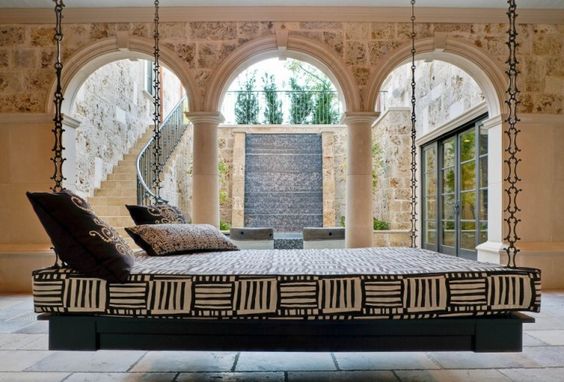 A decent, humble hanging bed still tops the choice of priority for many who wish to have similar beds in their houses. Such beds are reinforced with rope and jute. It is essential to ensure that the bed is fastened in all the possible manners to prioritize safety before it is hoisted at any location. To add extra features of utility, you can get a nifty study table attached to it, besides decorating the same with a glass jar to keep drink glasses if you wish to have one while enjoying your favorite book.
7. Colorful Porch Daybed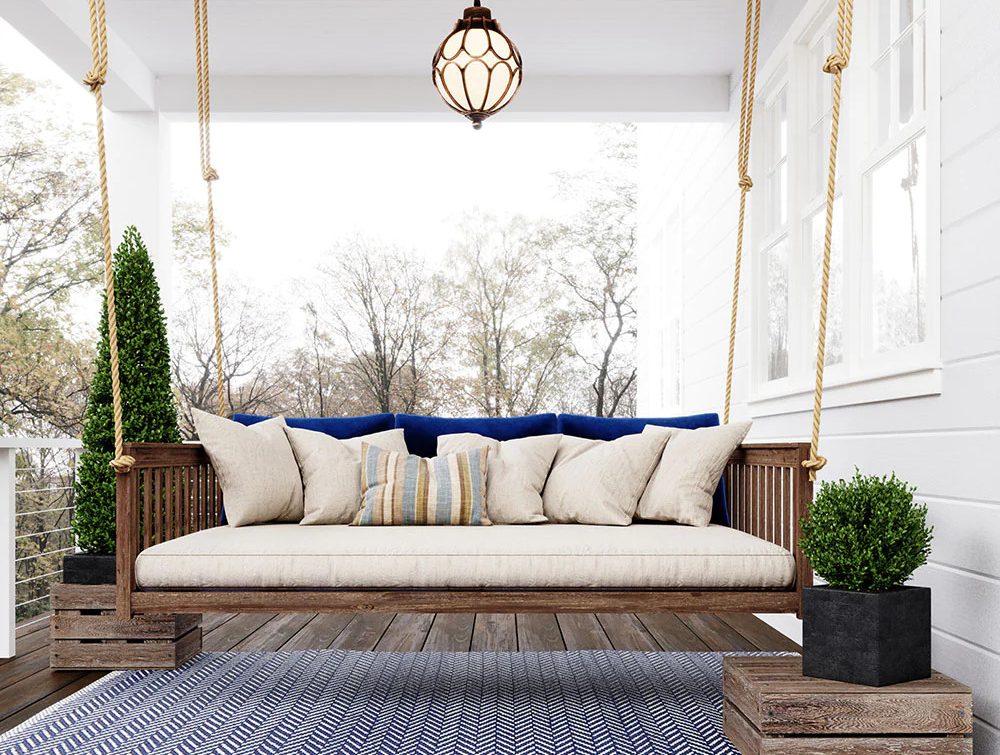 A decent size bed with a double mattress adjusted with pillow borders for neck support and an armrest can as well be a great choice for your hanging bed. With earthy colors, it is a great call to go with the surroundings. A simple plane color or a uniquely designed colorful touch to the entire settlement can be a great option that would go for both indoor and outdoor purposes.
8. Outdoor Hanging Bed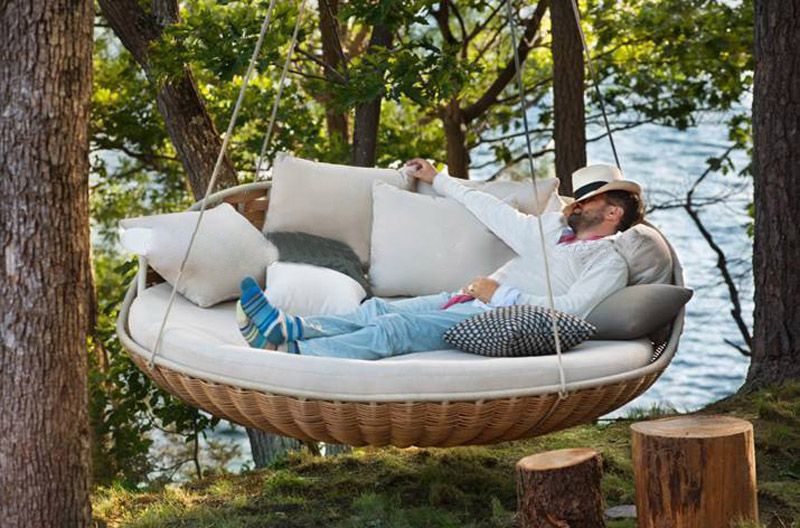 It is one of the best choices on the chart if you wish to have a bed that grants you comfort and privacy at par with a fully covered space in your garden. It is one of the fewer options that grants you the liberty of customization and DIY. However, it is essential to note all the important elements of safety while making this hanging bed to avert all the possibilities of a mishap.
9. Suspended Tree Bed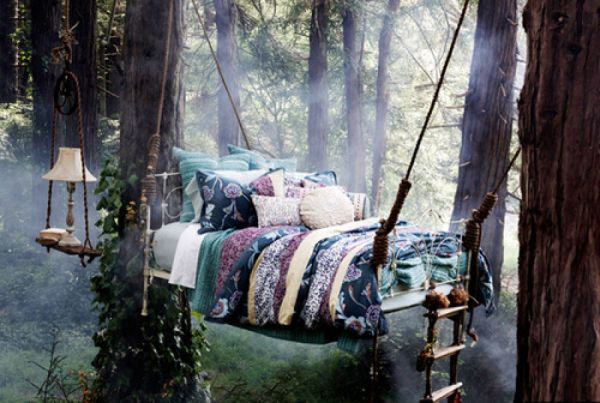 It is extremely soothing to adopt such kind of setup in your backyard and for one who loves to relax in the lap of nature under the shade of comfy trees. This hanging bed is a metal cot suspended against trees with strong ropes. The setup is connected alongside a small ladder from the foot. It is like a hammock combined with a DIY hanging bed.
10. Boat-themed Hanging Bed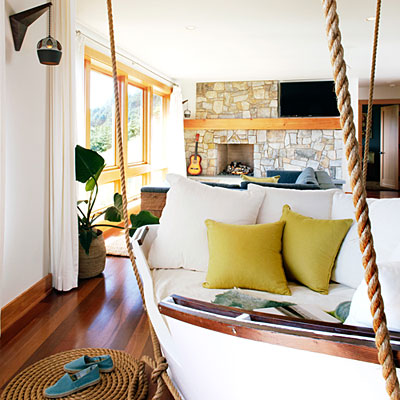 A thematic-styled hanging bed of varied forms is yet another option to add to amplify your home's overall aesthetic. This can be done with complete ease by following certain basic DIY measures. It is one such nifty design that will indeed inspire you to take it up in one form or the other. It is a great option for both indoor and outdoor home decor.
11. Hanging Bunkbeds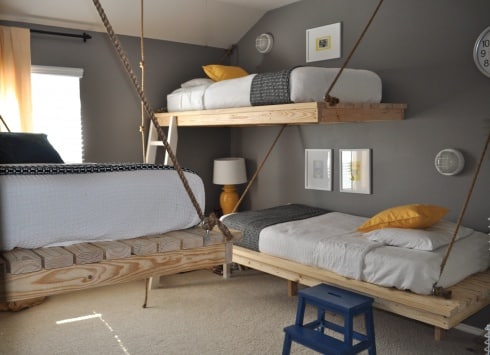 Bunkbeds are the most desirable spots for kids. You can add some extra adventure to their bunk beds by transforming them into the form of hanging beds. The platform is made of wood, which will ensure sturdiness and long-lasting durability, whereas the thick sisal ropes will provide extra strength alongside the much-needed organic look to the entire decor.
12. Hanging Bed to save space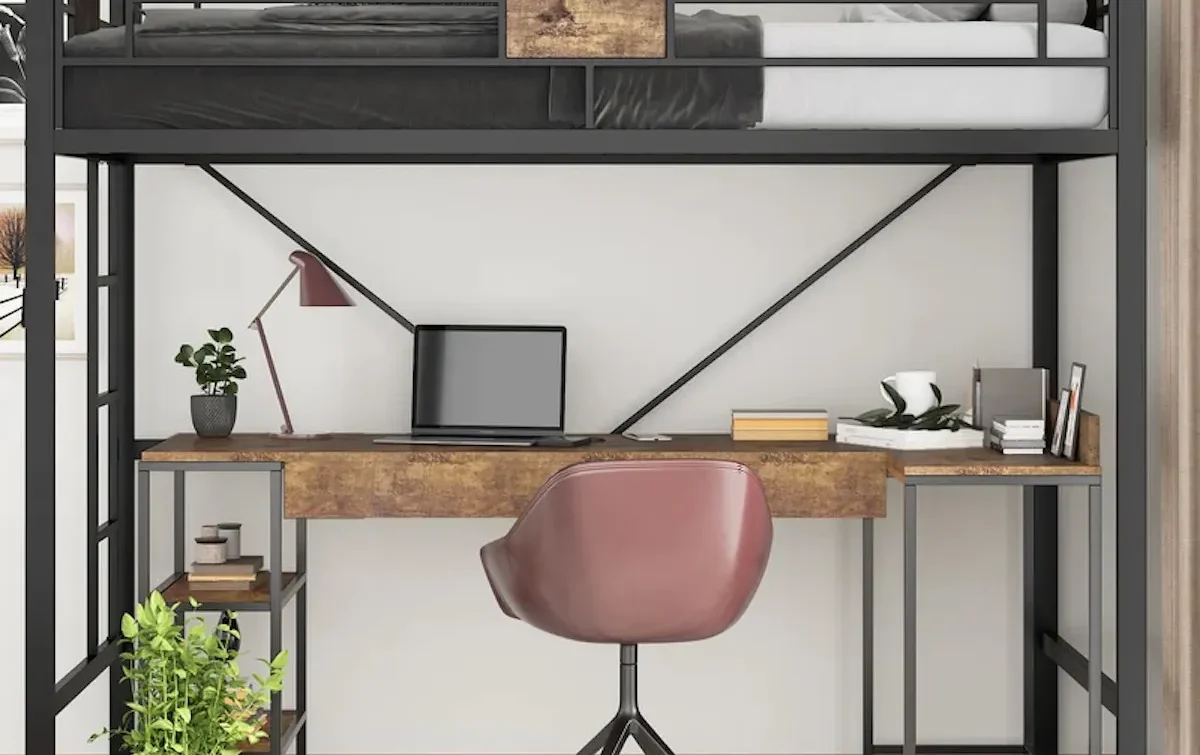 One of the most convenient options on the bloc is built on a bit of innovation and inspiration that will help you save a lot of money and space. A hanging bedof this sort can prove to be of immense help in apartments or offices that have space constraints or even in your workspace. The overhead hanging bed over your workspace is of immense use. It is a top-notch idea for students who have got their entire working area under their beds.
13. Rustic Hanging Bed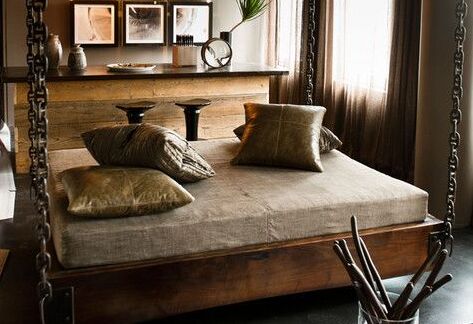 Hanging beds are of great aesthetic importance if well complemented with the home's interior. This bed, for instance, is a perfect example of industrial decor to match the modern look of the room. The cushions with metallic luster are going particularly well with the theme. One can also bring the contrasting color tone into the use to enhance the overall centerpiece of the bedroom or wherever it is placed.
14. Swinging Hammock Bed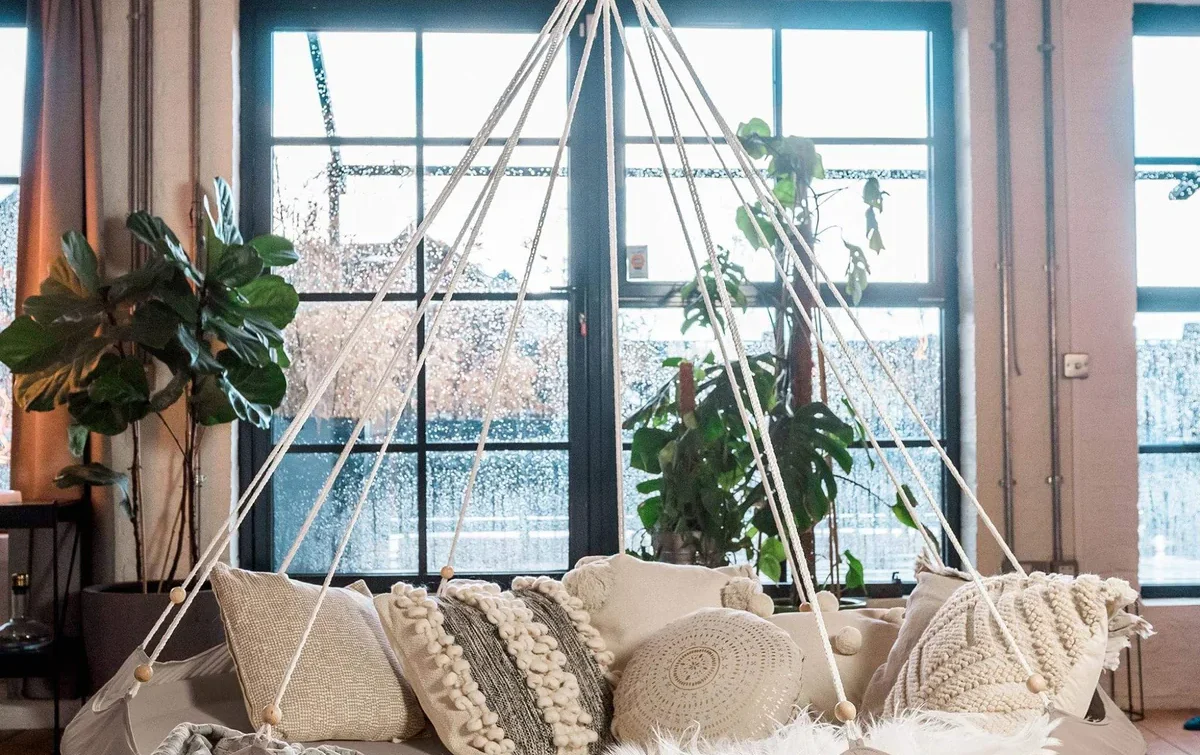 Designing an attic bedroom is a tricky task. However, there is ample space to experiment with all types of interior decor in any room. Having a Swinging bed is a top option and yet attractive if incorporated inside your home. Swinging Hammocks are large and comfortable enough to be regarded as a bed that is easily accommodating. The metal chains are efficient enough to suspend the bed properly without any chance of an accident. The simplistic look of the hammocks complements a room, with all the elements of the modern decor being a perfect match.
15. Simple Beach-styled Hanging Bed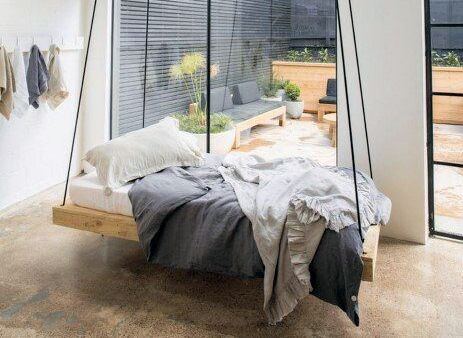 A minimalistic design is not just easy to execute but is super relaxing as well. For many people who wish to design their room by adding the touch of a hanging bed, this is the best idea for them. This bed is constructed out of old wooden materials. The rope used for support is thin, given the wooden material is not so heavy.
16. King-Sized Hanging Bed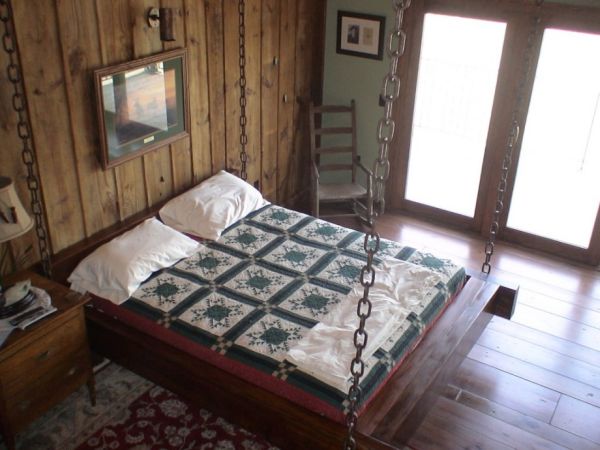 It is always great to have a space for some extra luxury when you can have it in a simpler way. Casting example of this king-sized bed, for instance. The rustic charm of this bed will enhance the sleeping experience to a wholesome level. The wooden base, complemented by the oxidized iron chains with delicate designs and the linen color scheme, provides the entire setup with a much more elegant and majestic look that has the sheer potential to transform any room to a whole new different level.
17. Nest-Designed Hanging Bed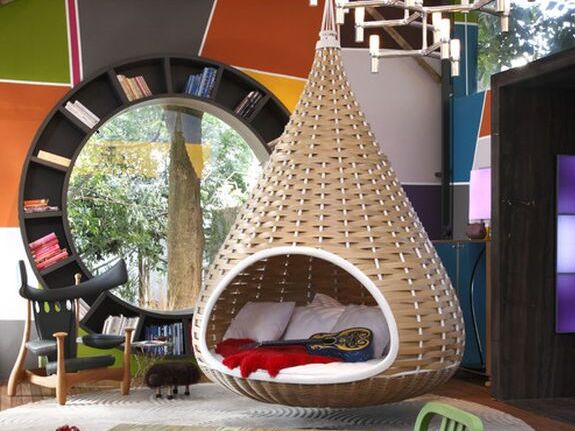 If you are seemingly bored with the above-presented conventional bed designs, then you must try this super cool bed design. This offers a multipurpose objectivity to your lounging time. Whether it's Netflix n Chill or having a good book session, or anything of your choice, this is the perfect option for you.
18. Twin Hanging Beds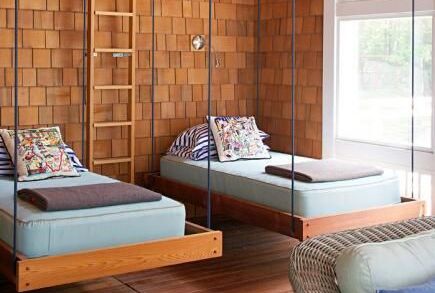 Hanging beds are always a creative and brilliant idea for kids' bedrooms. It does not just add a sense of personal pleasure but is also helpful in accommodating space and other elements of their needs. This room has two identical hanging beds attached with a strong cable wire that elevates the overall look of the room. A good theme would just add up an additional level of grace to the room
19. Hill-Top View Hanging Bed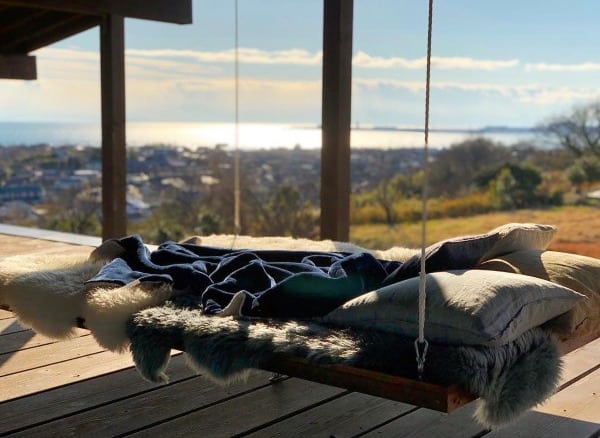 If you are fortunate enough to have a home with a hilltop view or any place of natural beauty, this traditional, decent bed will go well to let you enjoy the serenity of the place by enjoying quality time with your family and close ones. The rustic and casual boutique retreat offers spacious outdoor living spaces for guest suites that will leave you in a complete state of awe and will give you the feeling of being relaxed, besides rejuvenating you after a hectic day out.
20. Lantern Mounted Hanging Bed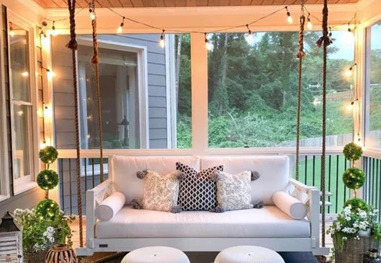 Customization of your hanging bed project gives you free will to make and break things in your own choice. One such idea comes in with the inclusion of a lantern over your hanging bed, as shown above in the image. You can decorate it in any possible manner, whereas the selection of lights also depends upon the kind of hanging bed you actually wish to add the lighting touch. For an indoor setting, it is best to have a decorative fancy light fixed in the ceiling that will not just enhance the importance of the hanging bed but will also work for the overall aesthetic of the room.
21. Baby Crib Hanging Bed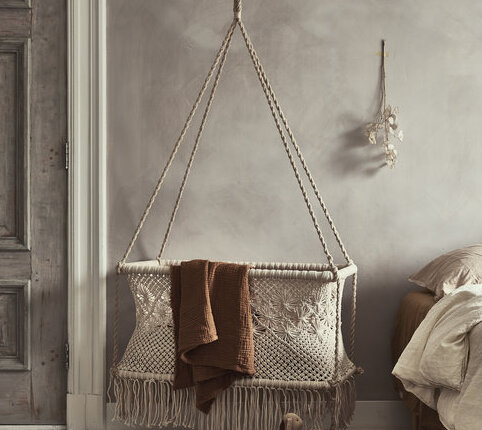 If you have a baby crib at your home kept idle, then it is the best time to include it in a highly comfortable porch swing bed through which you can bring the unused element into use. It is a great option to preserve the precious memories of your baby by including it in your family moment. It can be customized into a super comfy entity by adding the theme of a personal decorative touch to enhance the overall aesthetic of the place where it is placed.
22. Curved Wooden Hanging Bed
A curved wooden hanging bed is the perfect choice for both children and grown-up adults. It is super comfortable and can be made in an absolute hassle-free manner. This minimalistic hanging bed is a great option to be placed on your verandah as well and is an extremely great option to add a delightful ambiance to the area nearby.
23. Resin Wicker Swing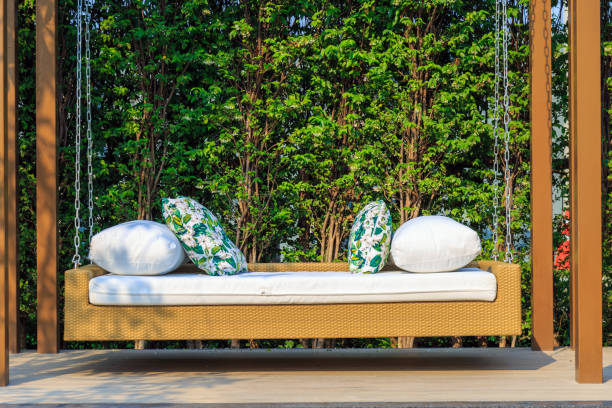 Suppose you are planning to amplify the overall style statement of your home's backyard. In that case, this piece of furniture is the best to add up to the style statement, which will increase the overall look and will infuse liveliness into any dull setting, either in your backyard or the lounging arena. Complementing it with super comfy mattresses and fluffy pillows will help you enhance overall comfort.
24. Modern Curved Swing Bed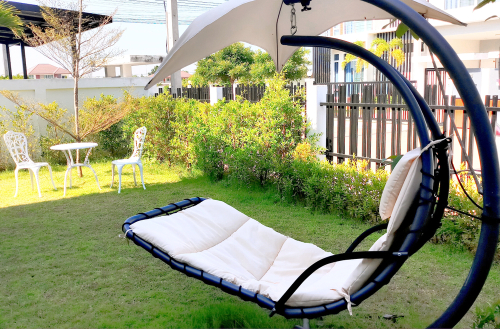 There are numerous options available for the modern hanging bed. However, this modern curved bed makes one of the most enchanting options on the bloc. It amplifies the entire set-up of your garden and helps you elevate your personal and that of your house's style statement. This multipurpose structure has a wide range of utilities and can help you with a number of tasks related to work, other significant purposes, or even during your leisure time.
25. Hanging Bed Amidst Greenery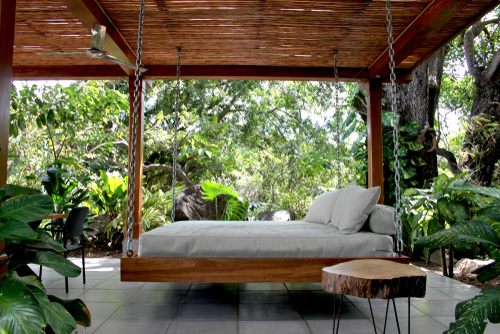 This hanging bed idea perfectly hands your comfort with the tranquility of nature together in your backyard. A comfortable porch in the backdrop of lush green attire, the finer arrangement of plants, vines, and shrubbery is the most convenient option to have in your backyard. It provides you with a wholesome experience and grants you a sense of relaxation and relief after a tedious day at work.
26. Conventional Hammock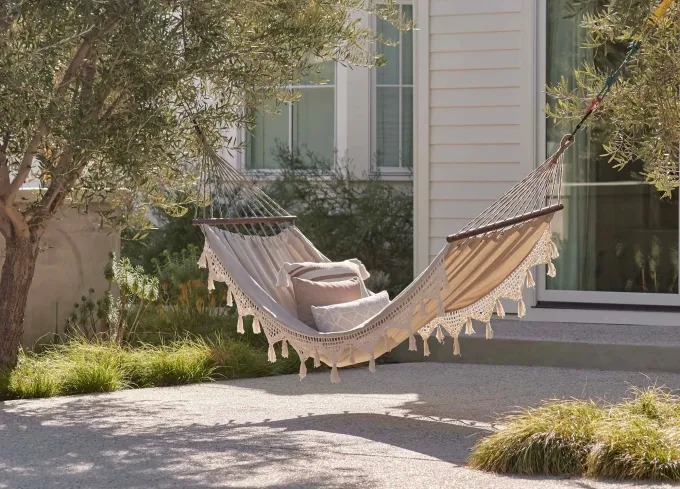 One can never afford to keep this evergreen idea out of the block for a relaxing hanging bed in your backyard. This hammock is the most classic design that brings a tropical vibe right into your backyard that lets you relax in the best possible manner. It is the perfect cozy spot that helps in infusing life into the dull garden scape.
27. Plastic Hanging Bed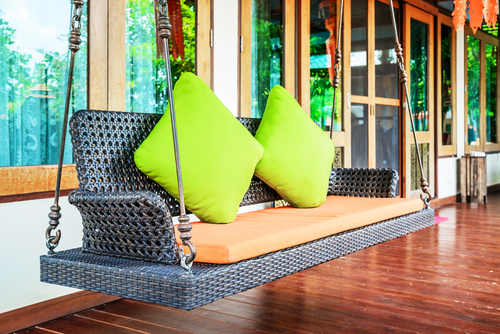 If you have got bored with modern and wooden hanging bed ideas, then you might try this as well. A plastic swing bed is an ideal solution for your needs if you want any kind of switch from the conventional hanging bed ideas. You can curate it in any manner possible and can amplify its overall vibrance by going for dynamic colors for your swing set.
28. Wooden Log Hanging Bed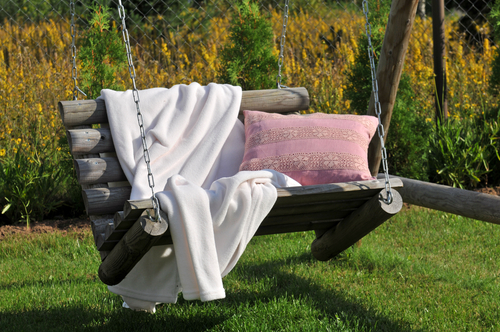 One of the fewest DIY projects of which you will be immensely proud. A super comfy garden hanging sofa cum bed that can be easily made from wooden logs. It is a limited DIY project that can suit any household. Given the matter of fact that it incorporates the mighty wooden logs in the structure in its entirety, it is fairly sturdy and reliable, which will grant strength and safety.
29. Hanging Textile Bed Idea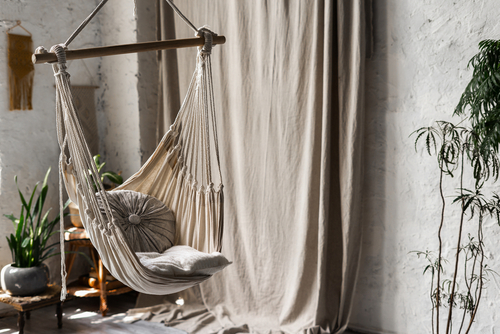 An off-beat hanging bed idea that involves no metals, wood, or plastic, however, resembles a bit of a hammock. Natural textiles like cotton or silk draping are used in the making of this bed. This is not just an elegant addition; rather gives an immense sense of comfort and adds elegance to your backyard. The best part about this hanging bed is the versatility of its use which can be placed in any corner of your house with complete ease and free from all sorts of hassle.
30. Sheltered Metal Hanging Bed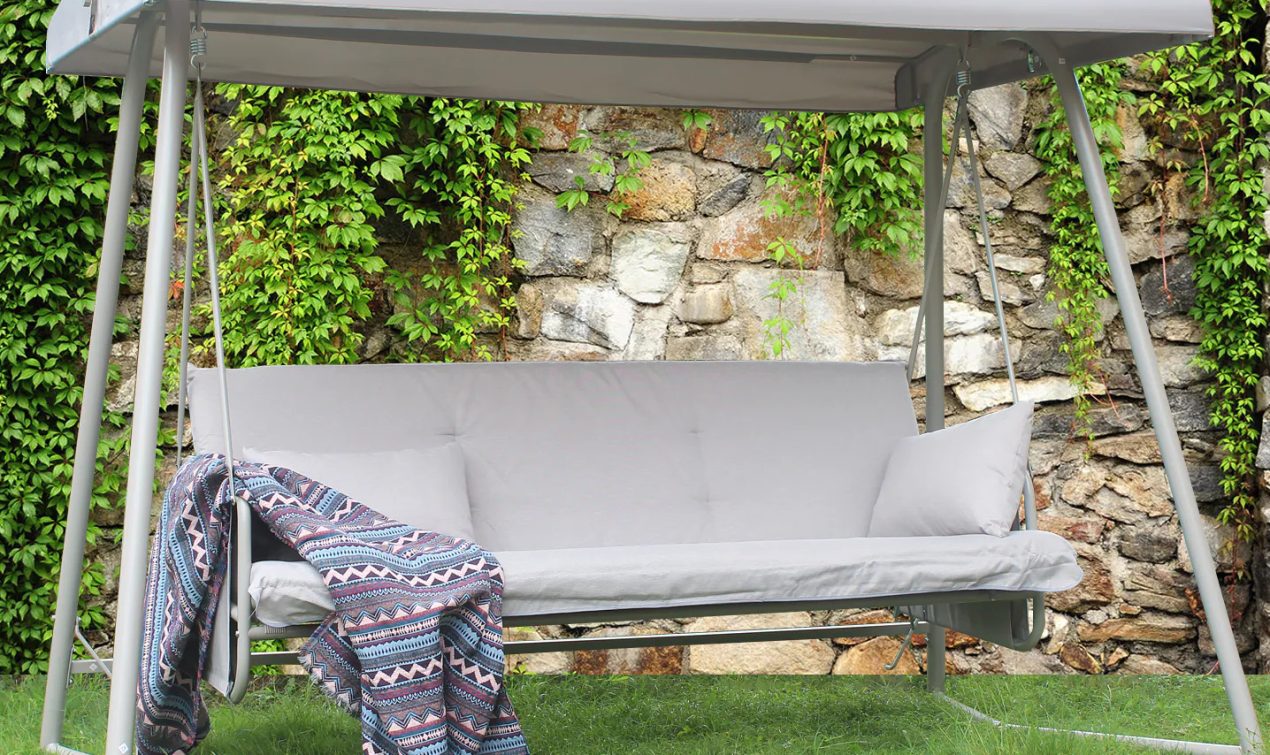 This metal hanging bed idea is the most feasible option for your backyard, which can be made with the help of a simple cloth canopy and metal swing with a solid base. The overhead shelter will help in the protection from the scorching rays of the sun or even during rain, and you can continue with your work or spend moments of sheer relaxation.
Conclusion
The relaxing hanging bed offers a unique yet luxurious way to let you enjoy your leisure time or cherish the natural beauty when placed outside by staying in the comfort of your home. The collection of a wide range of designs offered on this chart of relaxing hanging beds has something to offer everyone.
These beds hand you the experience of serenity and tranquility, which allows you to unwind and get relaxation from your everyday hustle and bustle.
The hanging beds serve multiple purposes altogether, ranging from relaxing in the backyard to enjoying books and from taking a nap to spending quality time with family.
Incorporation of any of these options enhances the overall importance of your home and helps in adding utility to your leisure or family time. Let us know in the comments how much you liked the idea of these enchanting hanging beds and which you are taking up for your next DIY home decor project.
Frequently Asked Questions
How Much Weight Can a Hanging Bed Resist?
The ideal weight limit of a hanging bed is around 220 pounds. Hanging beds have limited capacity in terms of holding weight, unlike beds of solid wood or those made of metals.
What is the Ideal Height of a Bed from The Floor?
Ideally, the hanging bed must be over 18-22 inches from the floor. It is highly recommended to enlist a professional contractor to install the hanging bed to ensure utmost precaution. However, if you are proceeding to install it by yourself, you can use five-gallon plastic buckets to determine the height of the hanging bed precisely.
Are Floating and Hanging Beds the Same?
A floating bed is entirely different from that of a hanging bed. A floating bed is made in a fashion that its bed frame resembles the look as if it is floating. You wouldn't be able to see the legs of a floating bed. However, when looking underneath, you will find that the legs of the beds are placed in the center of the bed frame.
Is Using Hanging Bed Dangerous?
Hanging beds are an element of aesthetic beauty and are not dangerous. However, like any other element, it is essential to proceed with the professional installation. It can surely be dangerous if any of the safety parameters are compromised or it is not installed correctly.
h