13 Luxury Dining Room Paint Colors Options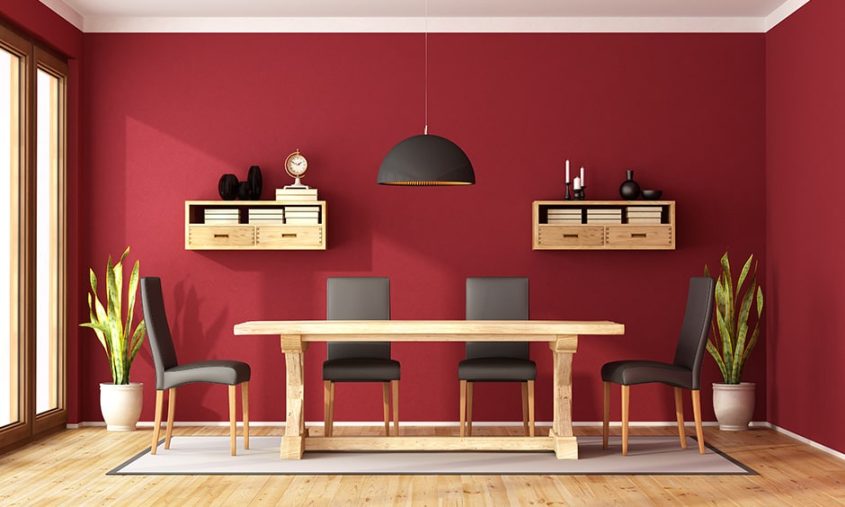 Color is one of the major aspects of a beautiful home. It doesn't necessarily have to be a mansion to welcome a taste of luxury to a home. With the right choice of color, it can simply be small yet idyllic and comfy. You can paint your dining room with the color you always dreamt of, but always keep in mind that a room always looks its level best with bright and gold-toned colors. Any bright color is a happy color.
Every room deserves a good hue, especially your dining room because it needs to stand out and make a statement. As a proud homeowner, you may want to throw fancy dinner parties and feasts, and it's a guarantee that you may also want to flex it a little. So if you're looking for color options for your dining room, we have got you covered.
1. Vision in White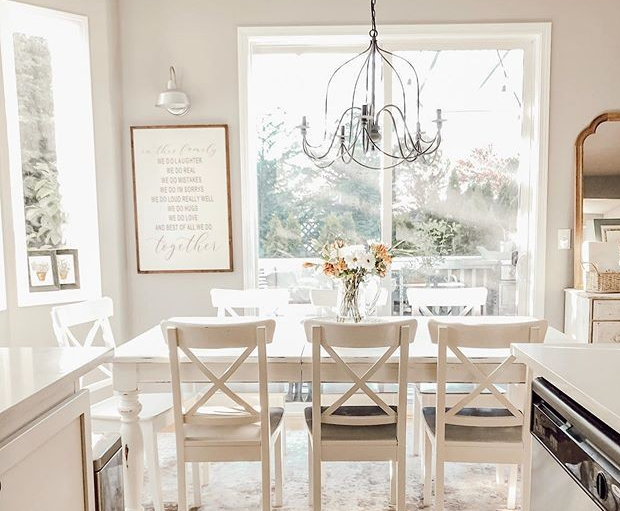 With all the matching decor items, a room that is white in color is really enchanting, and it delivers a relaxing kind of mood. Paint your dining room white to let in the spirit of purity, along with a slight touch of modernity.
Dining in a room that gives you a dreamy vibe is the best thing ever, and the plus is any kind of furniture looks good in a white room. It brings luxury without the need to spend.
2. Olive Green is a Win-Win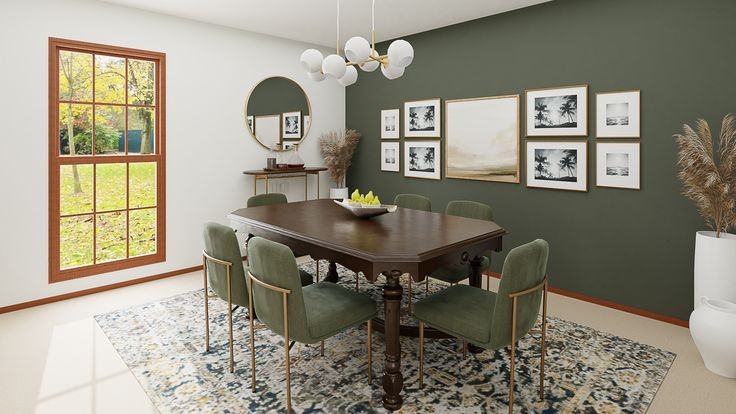 The color olive green gives out a unique kind of beauty and grandeur to the room. And these days, people all over settle for olive green paints and wallpaper. This color brings an extra amount of warmth to your dining room and allows you to have the perfect space to enjoy your food.
Gold-toned furniture is perfect for Olive green, and you should try considering this lovely color if you want something bright and warm. Olive green doesn't disappoint; it is always on everyone's minds.
3. Pretty in Pastel Pink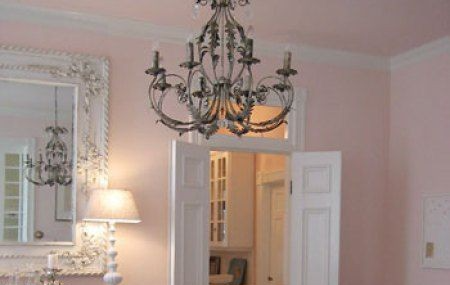 Pastel pink is a sweet and lovely color, especially for a room. A dining room wall that's covered in this shade of pink emits so much blissful energy, making the room look young and happy. To add more elegance to your dining area, paint your furniture white.
These color combinations may give a touch of affordable luxury to your dining room. Pastel pink is also considered a good color choice for people with kids at home.
4. Dinner at Aqua-Land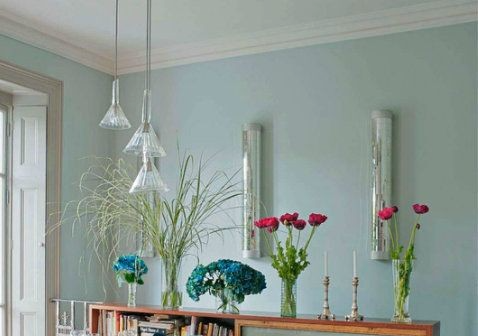 It's always a fantastic idea when you decide to brighten up your room with something out-of-the-blue, like the color aqua blue. It looks fresh, exciting, and absolutely beachy! It's like bringing the whole beach to your dining room.
Accessorize this little space with some beach-themed items and bring the vibe that will freshen you up. Or sometimes, the theme looks its best when it is in a minimal form because the color itself has enough energy to make a statement.
5. Crème-y and Dreamy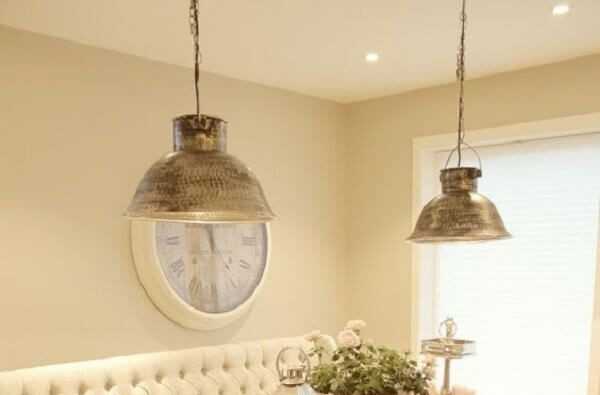 Maintaining minimalism by painting your dining room with crème displays a spirit of class and elitism. The color cream is, in a way, deeply connected to tradition, and it delivers timelessness to your dining space. With not many decorative items in the room, except those that are necessary, it will bring out a monochrome look.
Simple yet so grand and expensive! In order to make your dining space stand out and make jaws drop, pick the best shade of crème and start creating the magic your dining room deserves.
6. Royal Blue, a Popular Hue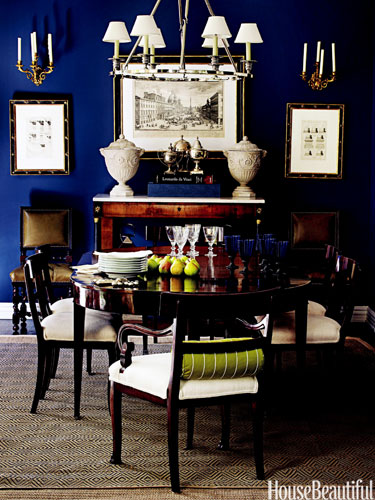 If you are a person who loves royalty and likes to imitate the lifestyle of the royals, this shade of blue will bring the whole energy of royalty to your room. This is the shade of blue that is widely popular and will give you a taste of royal life and, of course, luxury.
Your dining room color needs cooperation from the furniture, so getting a vintage-looking table and a set of chairs may complement the entire look. Just go for it!
7. Hello, It's Yellow!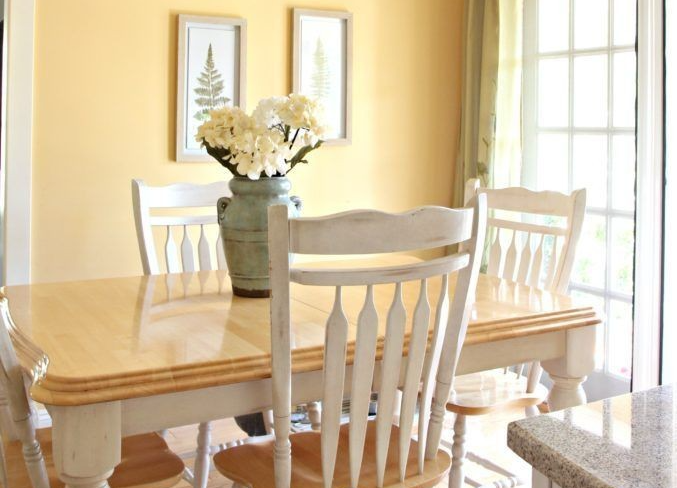 This color has the tendency to bring realistic sunshine to your dining room. It's bright, sunny, and comfortable. When paired with the color white, your dining room may look refreshing and energetic. It also gives a dash of modernity. Yellow is the color of summer, and the summer season is full of bright colors.
Overall, the color yellow will give a good amount of justice to your dining room by gracing it with a pleasant mood.
No products found.
8. Teal's the Deal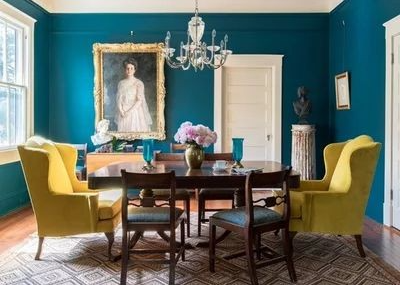 This other shade of blue comes with so much luxurious spirit. The presence of this color in the room creates immediate grandeur and sophistication. Your blue-colored dining room may look like a blue-blooded family's.
And to enhance the look and instill more luxury in the room, paintings or photos with gold frames can be hung on the walls. Sometimes you do not buy luxury; you make it.
9. It's a Collaboration!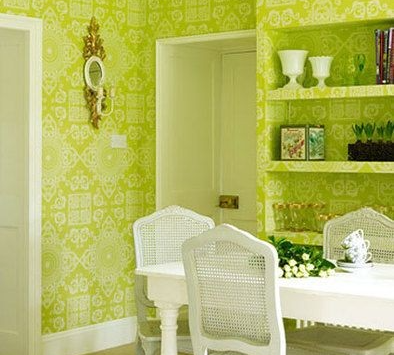 Sometimes the monochrome look is boring, and in order to save your room's soul from dying, you have to bring multiple colors into play. For instance, lime green paired with white is a sight worth melting for. And just like that, many other colors bring life to a room when brought together.
Your dining room will exhibit extra liveliness for the dwellers with the correct pair of colors.
10. RED, Set, Go!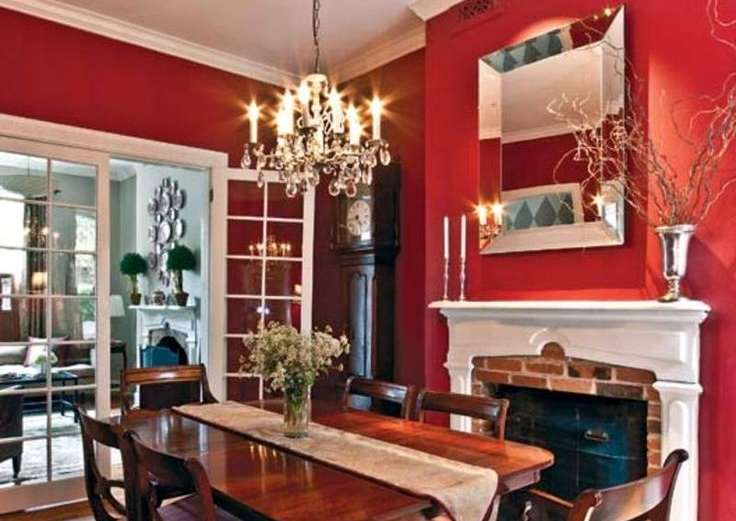 Red is sexy, bold, and daring. If you have opted for a color like this, you dear nothing.You are confused and unimpressed with the other colors because they are not so bright or dark enough, so what do you do? When stuck in a dilemma like this, your go-to color is RED. This color will change the whole mood of your dining room.
It will bring an aura of fire as well as extra energy, and not forgetting the fact that luxury is also tagged with red. In a red dining room, brown furniture happens to make the room appear like it belongs to a wealthy man.
11. Lavender Wonder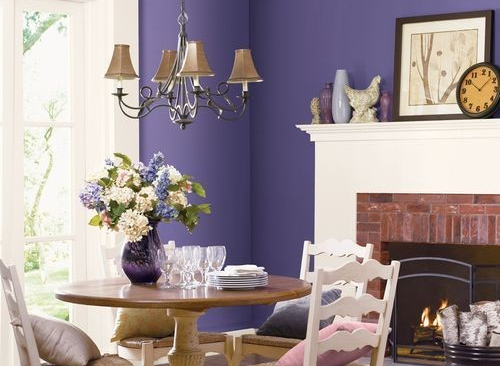 Lavender is widely regarded as a favorite color; in fact, it's trendy and it's the current favorite. Give your dining room a touch of this fabulous color. It will not just bring a touch of luxury to your dining room but may give you extreme happy mood. Bring in some succulents or flowers to the dining space for it to add natural beauty and brighten up everything.
The color lavender is captivating, and it instantly adds the pure magic of nature to your dining space.
12. Neon for the Extra Glow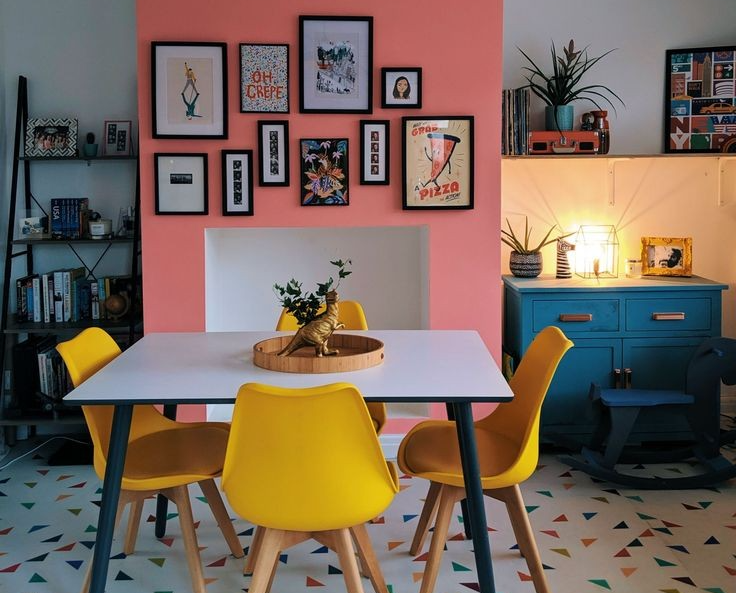 A bright room changes the whole mood to a better and more relaxed one, but a room that glows is exotic and a rare sight. It works as a treat to the eyes. Any color but neon is an interesting idea for your dining room because the glow that fills your room when you are hosting a dinner party is an adorable sight.
Green, yellow, orange, coral pink, etc., are some of the colors you can consider. You can bring in the spirit of art by hanging artwork on the wall. This is luxury in a totally lite version, and it's all in your hands.
13. A Touch of Vintage
A vintage-themed dining hall is an extremely great place to dine. Starting from the walls to the furniture and to the cutlery, set everything according to the theme. For the walls, it can be half-done brick walls painted with a not-so-bright color. You can install a dining table set that's designed to look vintage and traditional.
To add more icing to the cake, a medium-sized chandelier may bring the utmost luxury to your dining room because you have to have money to afford anything vintage.
How Technology Helps You Learn
In an advanced world like today's, where technology progresses every single day, you do not have to spend so much money on skill development. All you need is a smartphone or a computer from where you can learn things. There are tutorial videos that you can access anytime, anywhere. Or if you want the best furniture ideas for your drawing room, you can easily surf the internet and get lessons.
When you want to paint your room, and you run out of ideas or have no idea at all, you can easily google the best room paint colors. And that's how you get to organize your simple dining room into a luxurious one.
Conclusion
When we hear the word luxury, we tend to think of nothing but just money and wealth. We think of all the comforts and extravaganza it can give us. But sometimes, for people who collect innovative ideas and are skillful, luxurycomes effortlessly. It may allow you to pull off luxury even though it's just a pirated version.
When knowledge joins hands with innovation, you can afford to impersonate anything in this world, including luxury. Luxury may be found only in a rich man's pocket, but, in some cases, it may not always be true. We are in a position to say that it no longer comes with just money but with skills, ideas, creativity, and innovation as well.