10 Tips to Design Your Rectangle Living Room/Dining Room Combo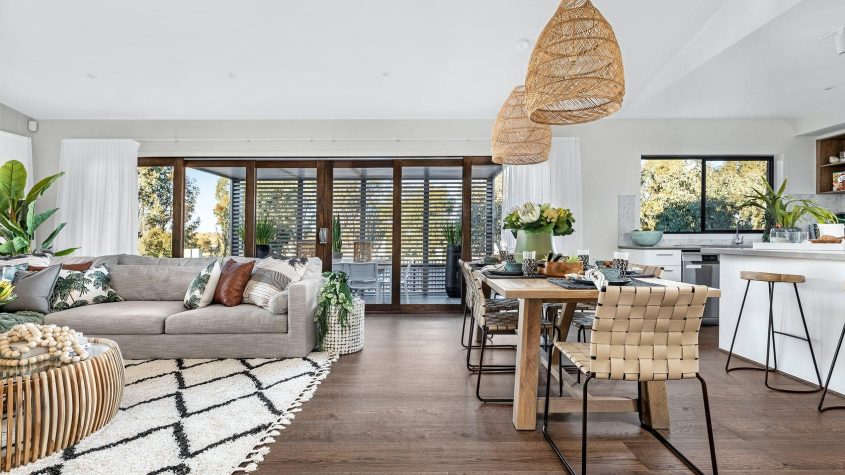 In many contemporary homes nowadays, people prefer to have open spaces rather than confining the place within walls. Be it a kitchen, a drawing room, or a living room, the concept of open spaces has been the essence of the modern interior.
There are a few constraints and specifics that are required for combination spaces like these. The requirement of furniture, their placement, the decor, everything changes with respect to the kind of space. If you have a living room or dining room combo, you will have to look for interiors that will blend in for both spaces and don't look out of place.
In this article, we are going to discuss how to fill life in the living room/dining room combo spaces by decorating it the correct way. We will also discuss how it differs if you have a rectangle living room dining room combo, minimalistic living and dining room combo, or any other style of open concept space. Let's get started:
Tips for Arranging Furniture in The Living Room/Dining Room Combo
Having an outline of how to arrange furniture will help you make a blueprint for decorating your interior. Here's how you can arrange your furniture for different kinds of living room/dining room combos:
For a Rectangle Living Room, Dining Room Combo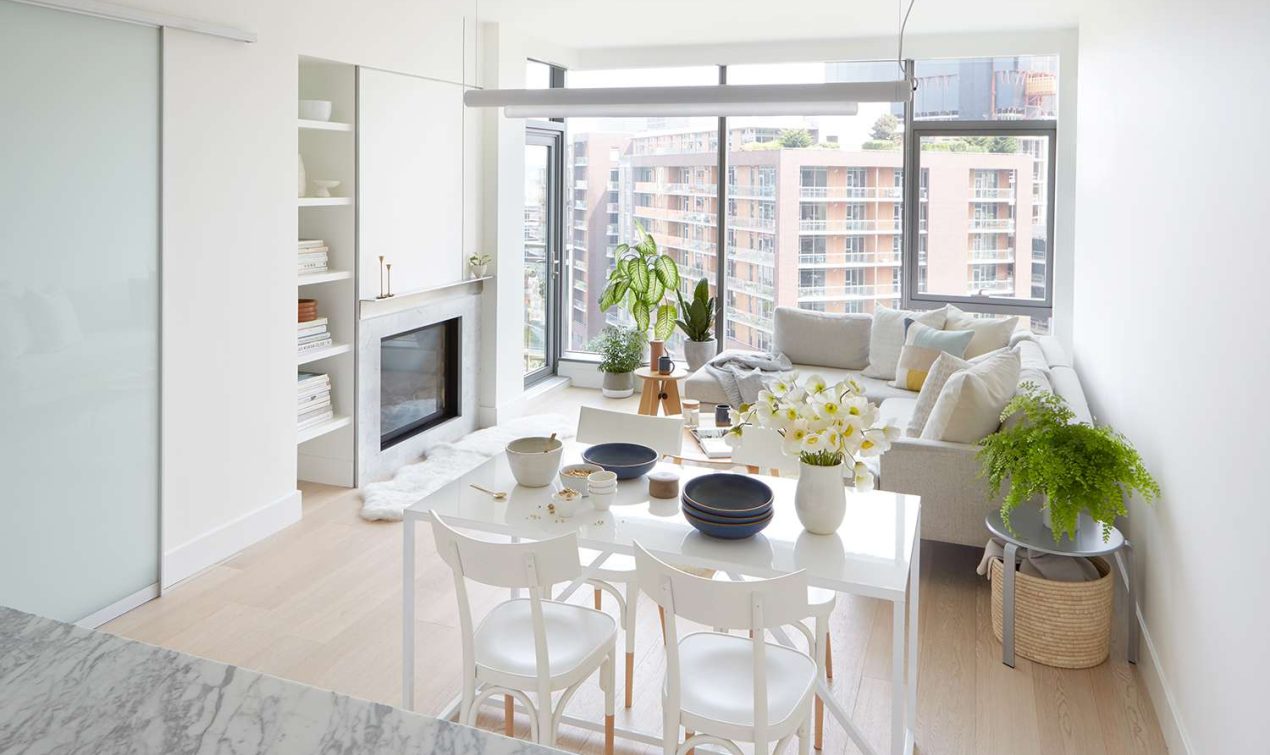 Arranging furniture in a rectangular living room is not that difficult considering the accepting layout. It provides various possible ways to arrange your furniture. Compared to other layouts, rectangular living rooms are definitely the most undemanding kind of layouts.
You can consider using shiplap walls and distressed wood furniture to create a farmhouse look for your rectangle living room. Cottage-style home and Scandinavian-style interior also blend well in a rectangle living room dining room combo. There are two ways in which you can go for arranging your furniture in your living room dining room combo.
1. Creating a Diversion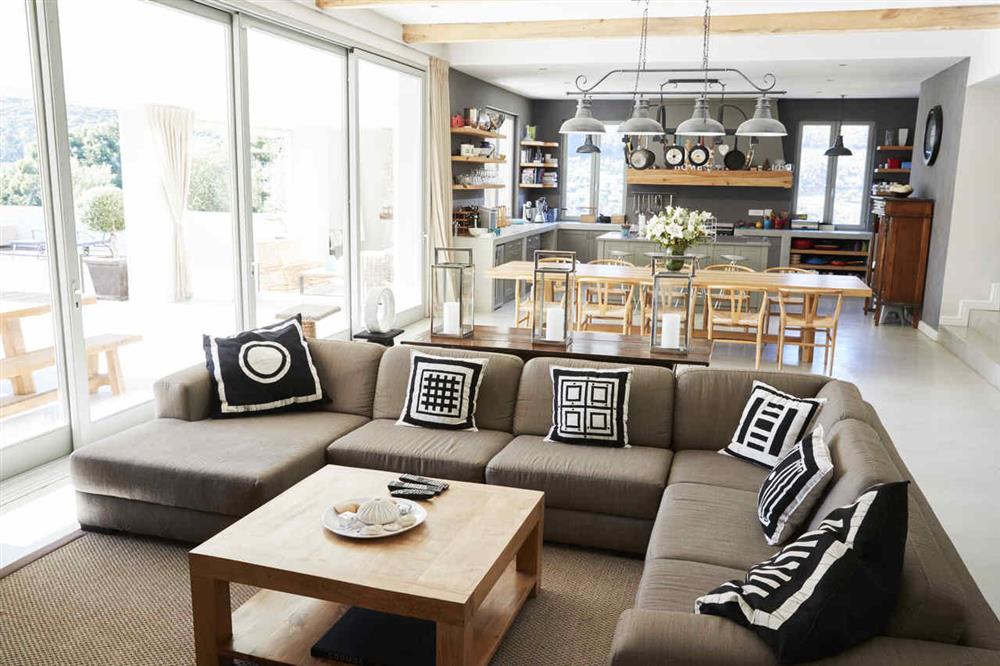 If you would like to create a diversion for your living and dining room, you can consider following the below-mentioned tips. Make sure you place the sofa at a distance from the dining table in a way that the back of the sofa lies in front of the dining table. It will create a diversion between the rectangle living room dining room combo and will make the space appear bigger.
Use similar accents for your living room dining room combo in a way that they appear as a part of the same room, still carrying their own individuality.
2. Blend-In Approach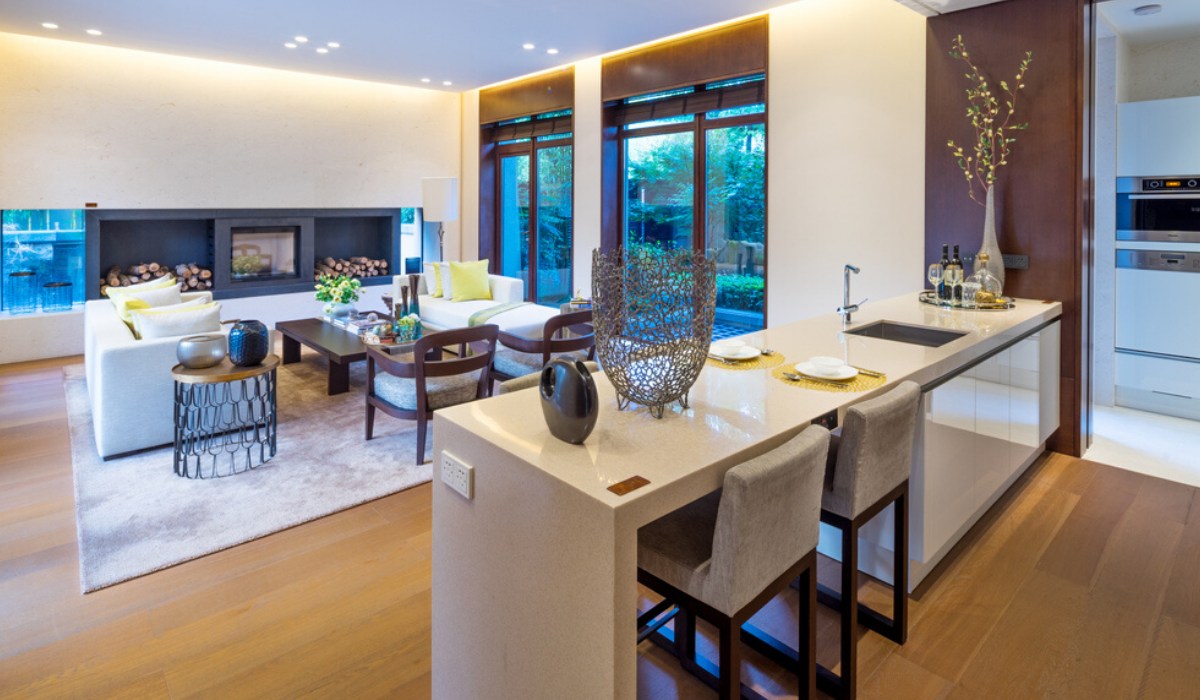 The other way to go about this is the blending-in approach, i.e., to make the spaces flow together. You can do this by putting the couches in parallel positions while making room for the table to be placed between them. This allows your dining to appear more as a part of your living room. This will also help you to entertain more guests. An additional tip to make this space work would be to choose neutral shades for your sofa and dining furniture to make them appear as a single element.
For a Minimalistic Style Living Room Dining Room Combo>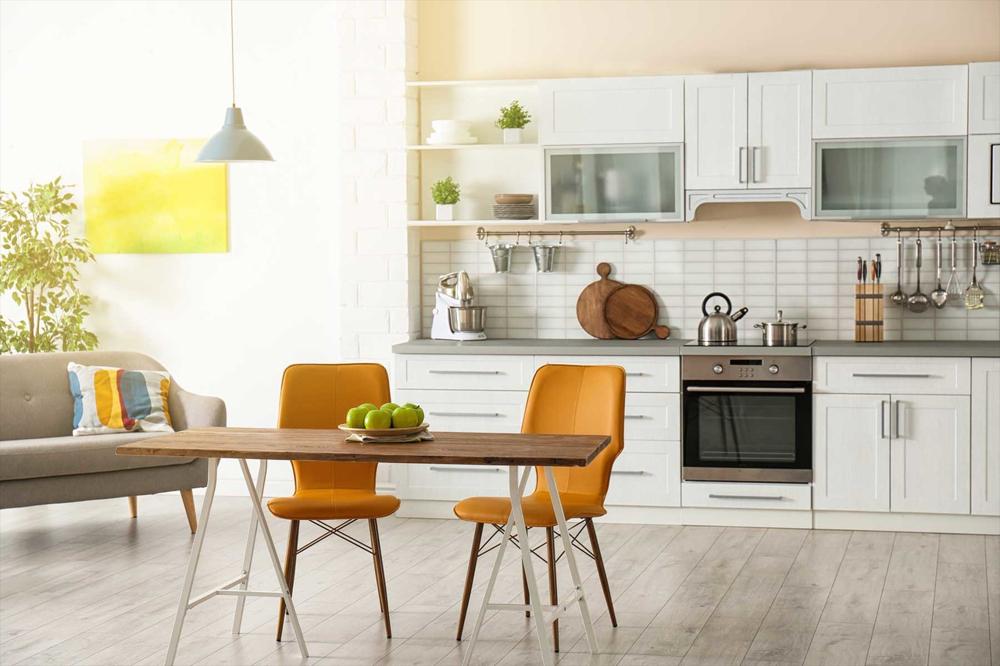 Minimalism has been the center of interior decor for this decade. Minimalism not only makes your space appear bigger and more organized but also minimizes the distraction from the elements you want to be seen. Here are the ways you can use for a minimalistic style rectangle living room dining room combo.
3. Playing with Neutral Hues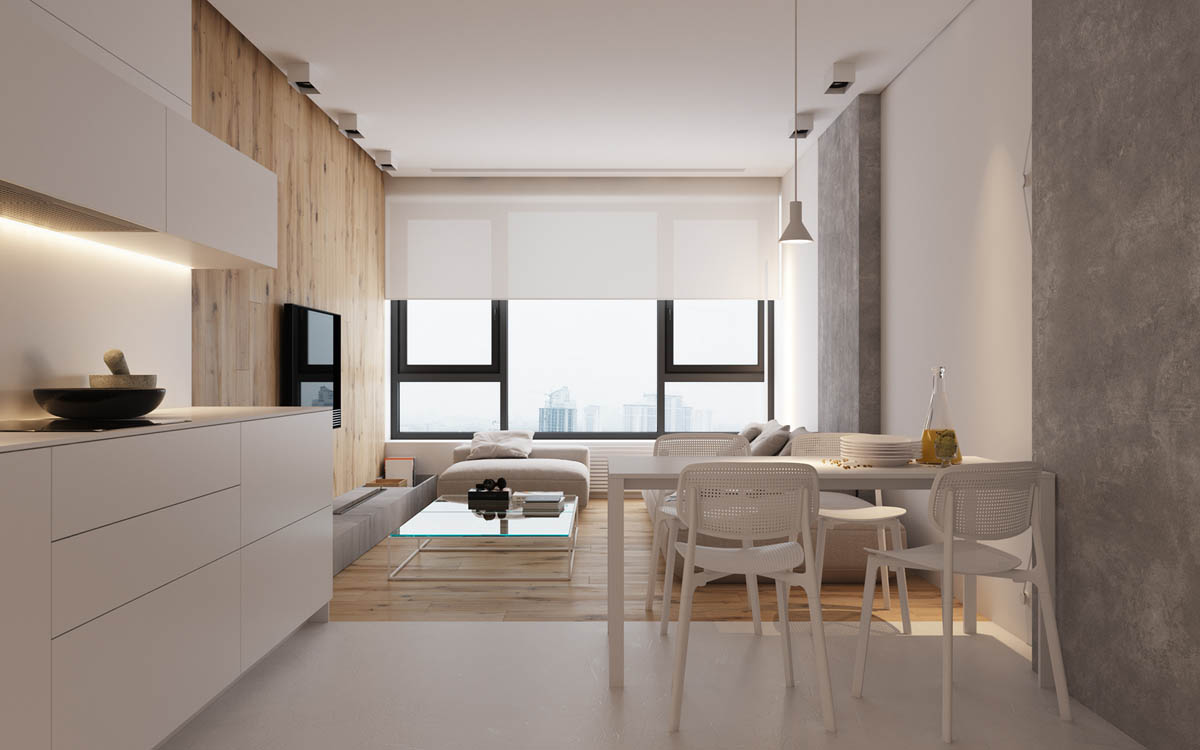 The beauty of using neutral hues for your home is that it makes your space appear clutter-free and shows clean lines of the room. Consider using neutral color furniture made with bamboo or metal.
You can use a few statement pieces to draw attention. However, it should be in congruence with the overall theme and not appear bulky. Use an area rug between the living and dining rooms to separate the areas. You can also go for using wallpapers in the middle wall to give it an appearance of separate space
4. All Eyes on Your Interior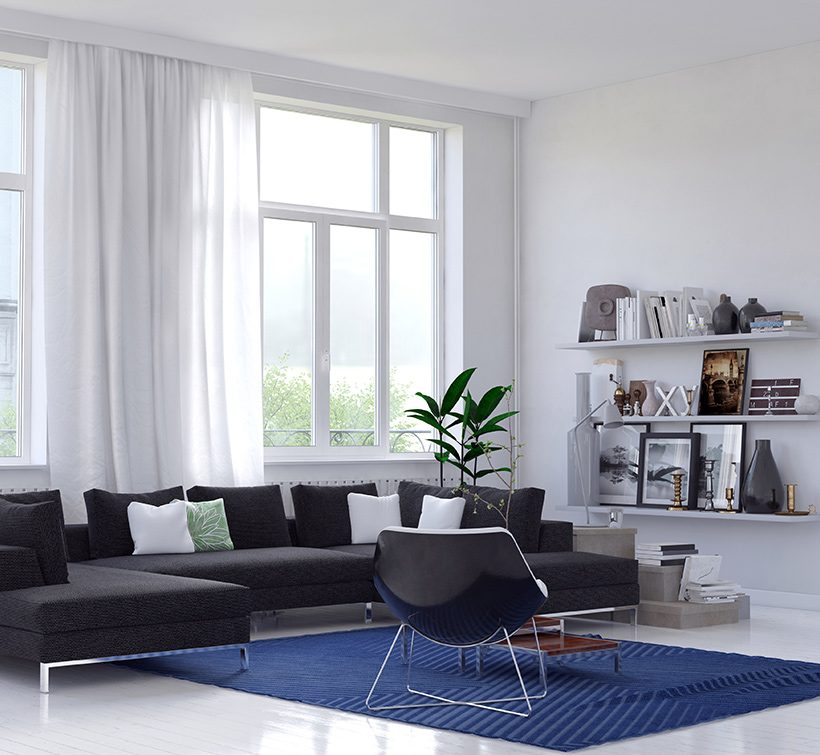 While it may appear that in a minimalist style of decor, there are very few elements to draw attention but that's the beauty of it. Use fewer elements, but the pieces have a unique style and eye-catching ability in them.
Consider adding taller decor pieces such as a tall side table, long candles, and lamps that have a sleek design. Always use a neutral or light shade curtain in your living room dining room combo to match the minimalistic essence. It will create a sophisticated and refined look for your interior.
For Decorating a Combo Space
A combination space has its own requirements when it comes to decorating. Depending on the placement of your furniture, you can decorate your living room dining room combo. Here are a few tips to keep your space visually pleasing:
5. Incorporate Textures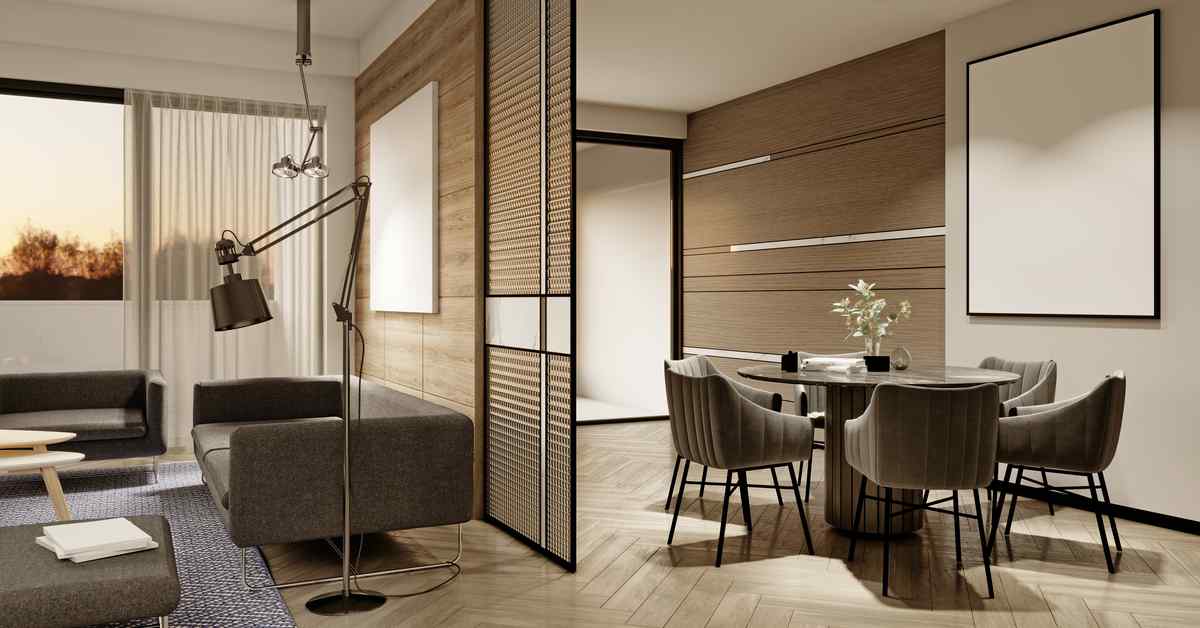 The most significant thing to keep in mind while decorating a combo space is keeping a balance between the choice of textures that works for both the living and dining room while still maintaining the individuality of each room. You may want to use fabrics that are similar or complement each other for both the living and dining rooms.
Choose an ornament that can be kept in the center of both rooms and can be used as a part of both rooms. If you are using wallpapers, you should not use wallpapers that are totally different in both rooms; choose the wallpapers in a way that they may be different but still in unity with each other.
6. Add a Hint of Color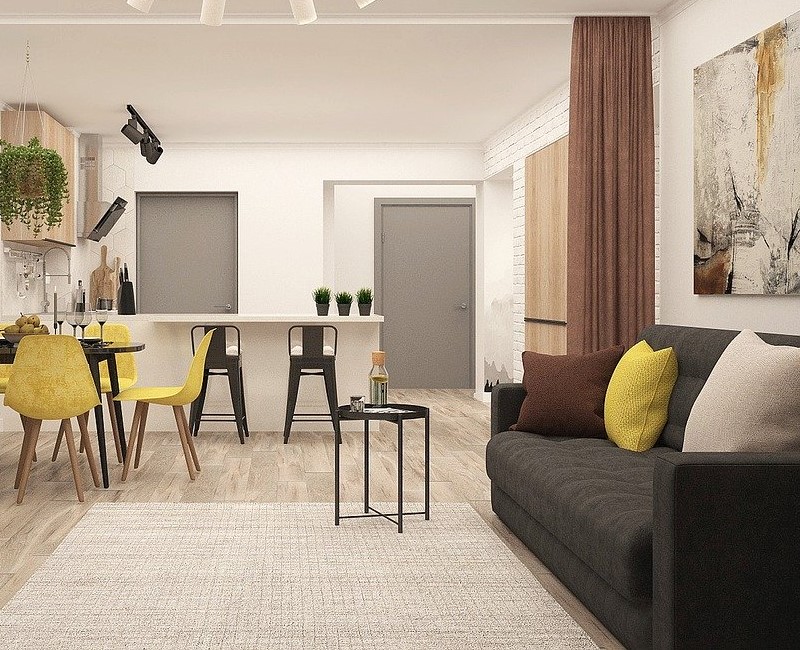 Using color for your living/dining room combo can give it a breath of fresh air. It will instill a spark and make the space appear brighter. Create a cohesive appearance by choosing curtains, and furniture that complement each other. Creating a contrasting appearance may not be a great idea for this kind of space. The choice of colors should be in a way that both spaces appear as a part of the same interior.
7. Using Appropriate Furniture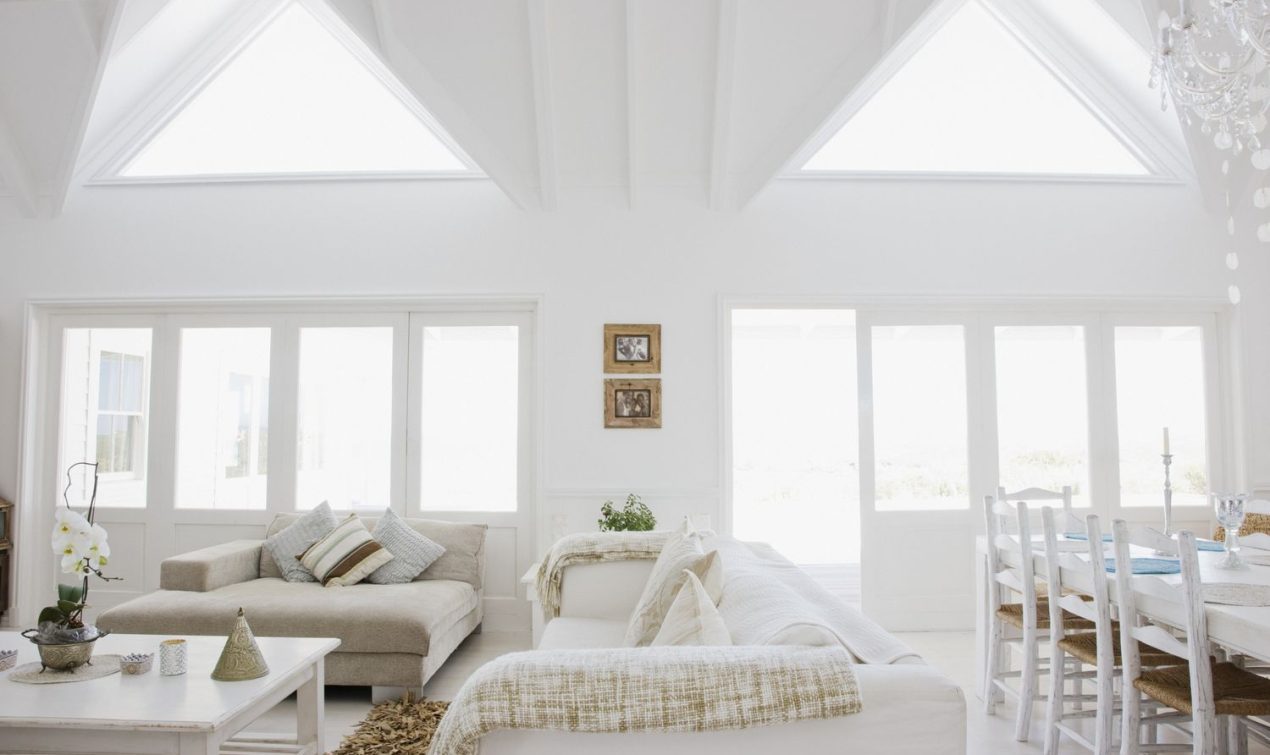 Another important element of any interior is its furniture. Try to use furniture pieces that may be color-coordinated or similar in style. For example, if your using dark wood furniture in the living room, your dining tables and kitchen cabinets should also be made of dark wood.
Although it does not necessarily mean you should choose the same furniture for both spaces, it is all about making the space appear blended rather than disjointed. You can mix and match to a certain extent, but it should all make sense in the end.
For Decorating a Relatively Smaller Combo Space
If you have a smaller space and you are planning to use that space as a living room/dining room combo, there are a few things you should keep in mind.
8. Avoid Overstuffing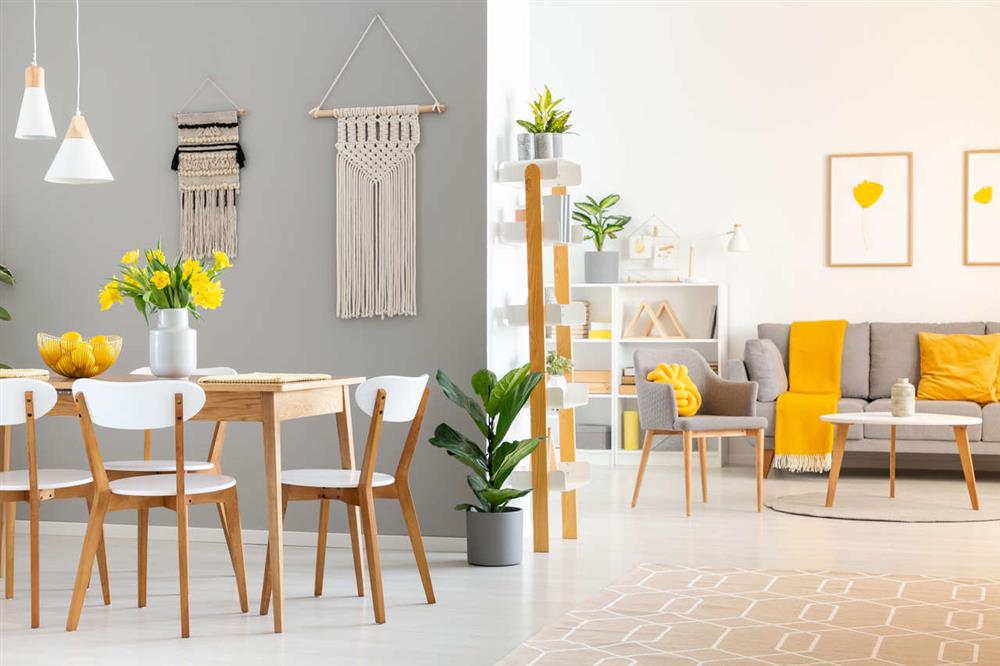 If you are dealing with a smaller space, a common understanding here is to use lesser elements. Smaller spaces need a few elements placed carefully to give out an appeal to clean lines. Overstuffing such spaces may totally ruin the space.
Use round tables and chairs that leave enough space to walk through the kitchen easily. Similarly, for the living room, you may want to use rattan or light bamboo furniture. Avoid using heavy quilted furniture; it will look bulky and appear stuffy.
9. Use Similar-Height Furniture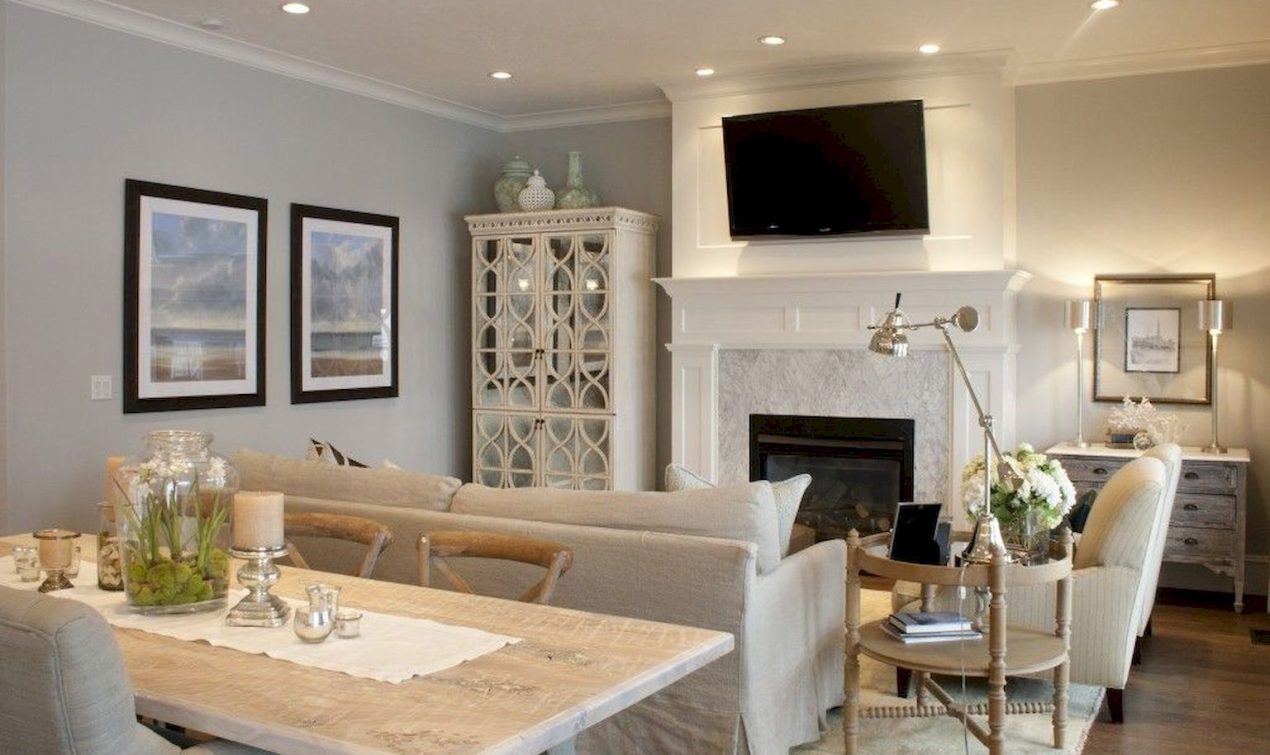 Avoiding clutter is the key to such small spaces. If you want to make small space work as a combo space, try to use similar-height furniture. Using such furniture will not only make a cohesive space but make clean lines and give enough space to your room. It will also allow ample air and sunlight into your space.
Another significant thing to note here is that similar-height furniture will create great aesthetics even in the smaller room, while using different heights in furniture may make the space appear congested.
10. Use Area Rugs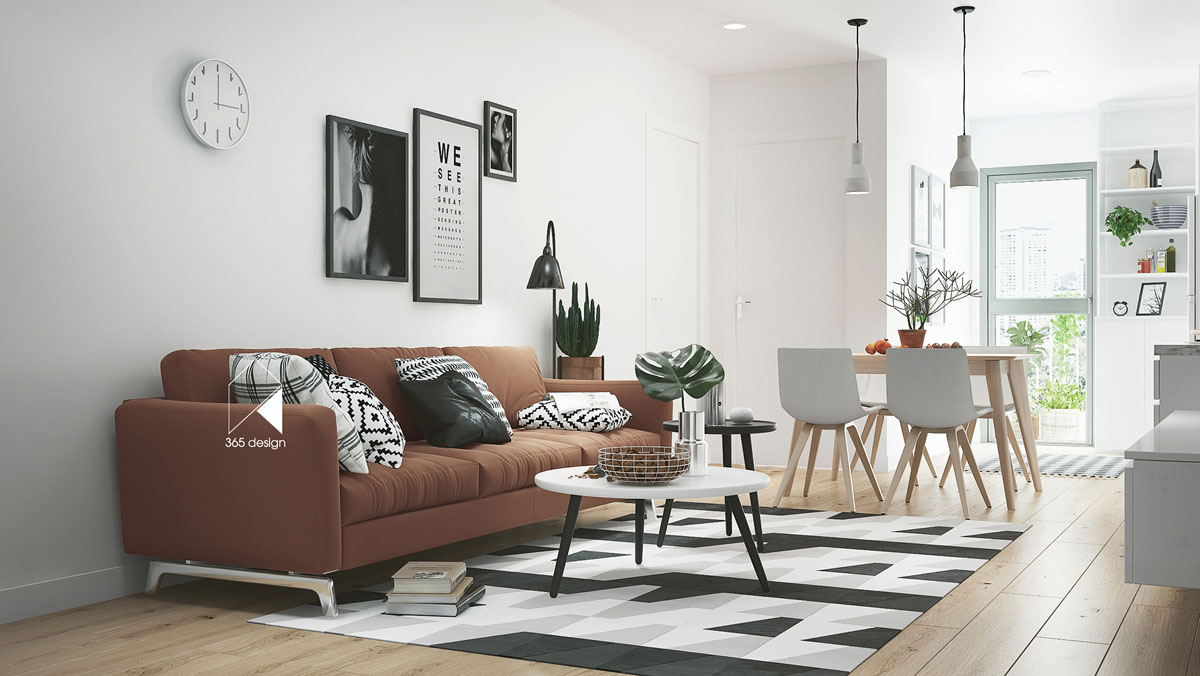 If you want to create a visual appeal without touching the vertical lines of your combo rooms, you can very well do so with the help of using area rugs. Using an area rug can invite a lot of attention to itself and makes for a great centerpiece. If you use it in your living room, it will be easily demarcated from the dining space without taking up any additional space in your already smaller space.
Conclusion
Having a living and dining room combo is not the easiest to decorate. There are a number of factors that have to be kept in mind while decorating such spaces.
In this kind of setup, the basic rule is to maintain a balance between keeping the individuality of the rooms while also creating a blended approach to the interior. It may sound contrasting, but balancing these two elements is the key to this kind of interior.
Furthermore, decorating a living and dining combo space depends largely on the kind of space it is. A rectangle living room dining room combo has its own unique requirements, while square shaped living dining combo may have its own. What works for a rectangular living dining combo may not work for the other one.
So, don't wait anymore! Use these tips to make your living and dining combo shine.
Happy decorating!