25 Practically Stylish Brick Backsplash Ideas for Your Kitchen Decor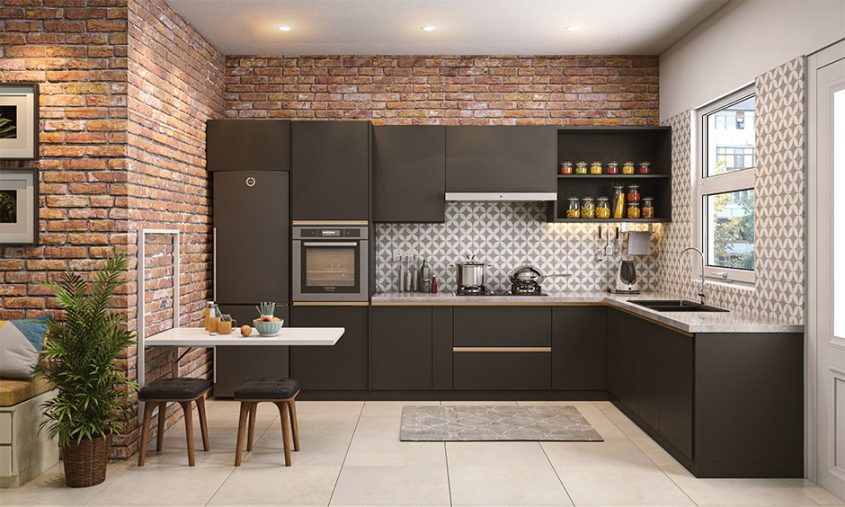 The kitchen, inarguably regarded as the heart of your home, is one space in which everyone wants the culinary activities to be at perfection and in a way that touches everybody's attraction.
Cooking is an art, and an artist can be most creative in his/her own comfort space. With the world growing towards modernity, kitchen designs are moving towards the captivating trend that mixes rustic charm with timeless elegance and appeal.
The bricks have always been associated with immortal aesthetics, and this immortal aesthetic is one that is on trend in kitchen interiors these days.
The superb fusion of viability and grace has awed the heart and soul of interior keens and chefs deep down. We've compiled the most dashing list of 25 Super Practical And Really Stylish Brick Kitchens that will leave you and the visitors speechless with the brick backsplash that will reflect a super classic look.
Brick Backsplash Ideas for Ageless Kitchen Charm
1. The Rustic Charm
This stylish brick kitchen reflects the ultimate rustic charm with the raw brick backsplash that goes so perfectly with the whole kitchen space. Pairing the kitchen with white cabinets and colorful shelves above the kitchen countertop portrays sophistication and classiness that makes this space of your house eye-catching and the center of attraction.
This raw brick look can be extremely versatile for all kitchen combinations and can be combined with any wall paint of your choice. Cooking food after a long working day will even feel so good because of this whole arrangement, as it gives such a peaceful vibe.
2. White Haven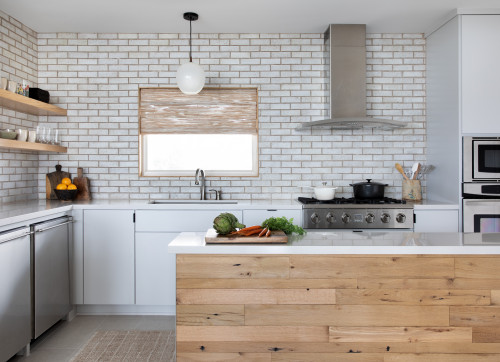 The white brick backsplash is one of the most trending styles used in modern kitchen designs these days. This kitchen design can go up with multiple kitchen accessories and accents, as white has always been the color to place your mind's creativity into reality. The natural light in the kitchen can elevate the overall look of this space as white intensifies the light very brightly.
Add wooden shelves on the wall and keep them filled with glasses and fancy cups. Let your creativity roll and come out in your kitchen in a way that gives you joy while you cook your favorite food.
3. The Creamy Retreat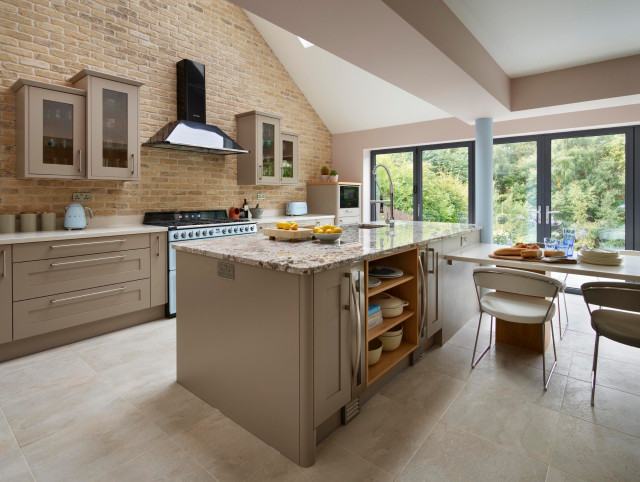 Earthy tones are one of the most soothing touches to give your stylish kitchen a modest look. The creambrick backsplash reflects the peaceful vibe of the overall space. This type of bricky kitchen goes well with the kitchen opening up to the outdoor space, as the natural tone of cream combines really well with the outdoor greenery.
The walls can be painted in light and earthy tones so as to give the appearance of sophistication to the kitchen space. Multiple combinations of dark and light hues and kitchen accents can make this space appear really dreamy for all culinary activities.
4. Dreamy Black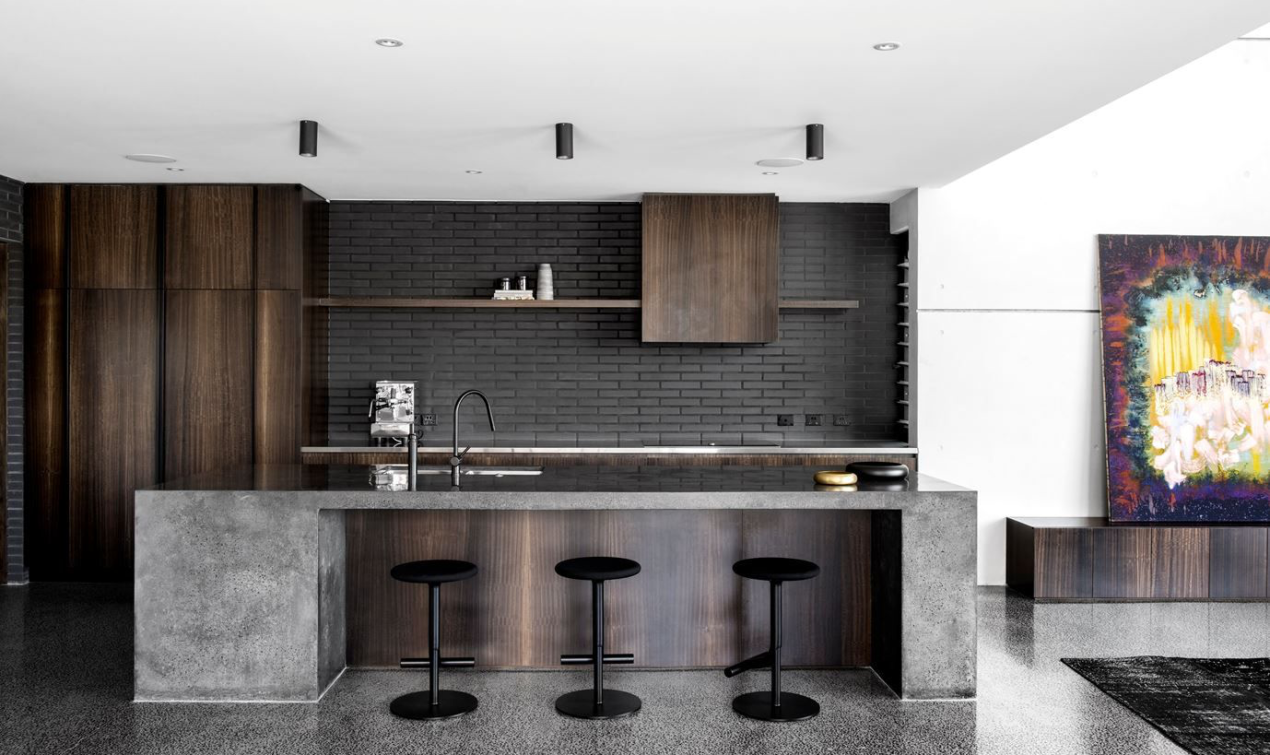 Black in the kitchens has been really common these days because of the luxury that is added to the overall kitchen space. This black brick backsplash fills your kitchen with a striking and contemporary look by giving the whole design depth and substance. The kitchen setup can be combined with various combinations of hues, but it mostly looks good with grey and white as these are the most suited colors with black.
Attach the plain wooden shelves on the wall and decorate them with white vases so as to make your kitchen space aesthetically appealing. This kitchen is sure to leave your guests in awe and make itself the talk of the people!
5. Blue Minimalism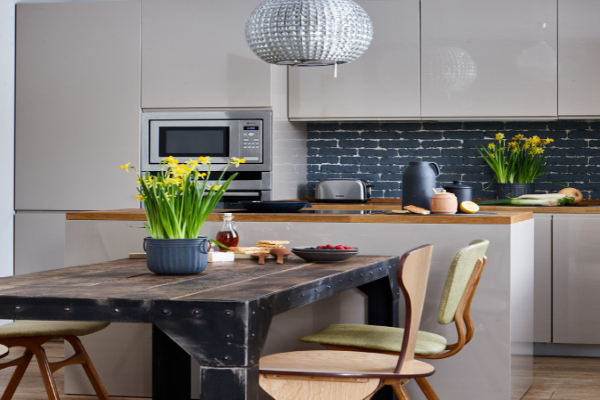 Blue holds a really amazing command over the kitchen since always. This blue brick backsplash is one such kitchen decor that gives your kitchen a timeless elegance and appeal. Pairing up with the wooden tones and lighter tones of kitchen accents and other accessories can give your kitchen a touch of subtleness and calmness, which can be perfect for your mindful cooking.
Decorate the countertop with some small planters, together with a backsplash, so that it adds a contemporary yet classic charm to the heart of your house, along with the positive aura of blue. Let your kitchen transport you to the older times with this stylish kitchen design.
6. Red Sanctuary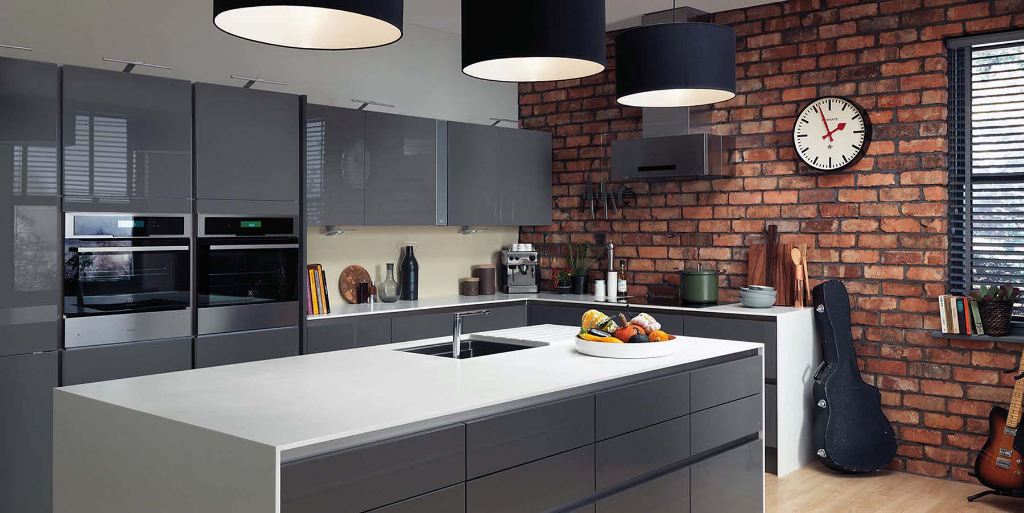 The Redbrick backsplash in this kitchen is all about creating a vintage aura across the kitchen space. The fusion of modern interiors and classic old interiors come together so well that it builds an eye-catching, stylish kitchen. White and Grey are the best colors to go with the overall kitchen combination with this backsplash. Add striking kitchen accents and attach shelves on the wall to keep some kitchen essentials as per your own needs.
Organize the countertop neatly. Add some decor items as well, like small planters, wall clocks, or anything that can help elevate the kitchen's overall appearance. This kitchen is definitely going to make your cook your favorite "me" time!
7. The Grey Charm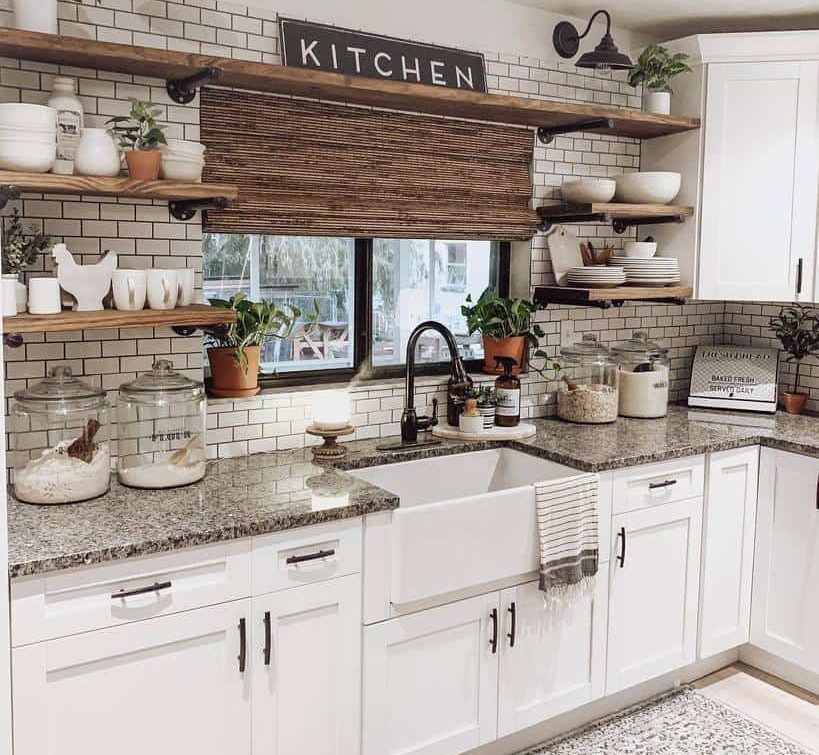 Grey is a color associated with minimalism, and this grey brick backsplash reflects the serenity in this kitchen space. Go for kitchen accents and accessories that are neutral in color, or go for dark ones. Colors like white and black can transform your kitchen space with this backsplash a lot. It's important that the kitchen reflects positivity and calmness, and this is what this whole kitchen arrangement is all about.
Add some decor pieces like small bonsai plants by the side of the window that delivers the freshness of nature as well. Your food and kitchen are both sure to make the invited guests take their eyes and hearts off!
8. The Criss-Crosser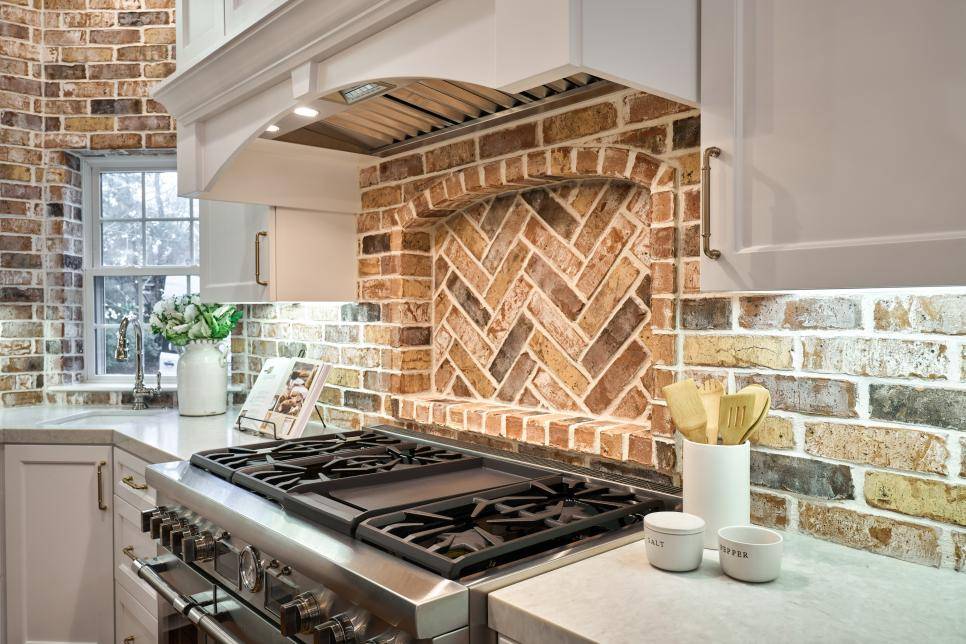 Designer kitchens are in trend these days, and this is what this criss-cross brick backsplash does to this stylish kitchen interior. Made up of colors from the same tone, this brick splash gives altogether a very subtle yet elegant look to the kitchen. Because of the multi-colors used, kitchen accents and accessoriesof any hue can go up with this kitchen combination.
This kitchen is aesthetically appealing and has the power to make the cooking process enjoyable. Keep the countertop organized, and go for the kitchen cupboards on the wall so that you can have enough space to store your kitchen essentials. With its color combinations, this kitchen is going to win hearts!
9. Mint Freshness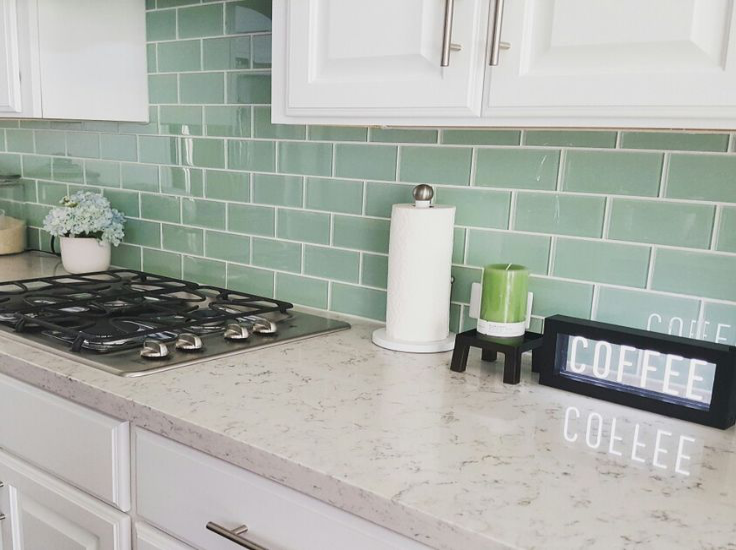 Mint is the color that directly transports you to the feeling of airiness and freshness. This mint brick backsplash does exactly the same by transporting you to nature's lap while you cook in its aura. Apart from the positive vibe check that this kitchen will have, it will also make your mood lighter and happier when you enter this kitchen space.
Kitchen accents of lighter colors will be best suited for this kitchen combination. Cooking can turn out to be really fun with this kitchen space even after your long working day after you return home!
10. Blue Bricking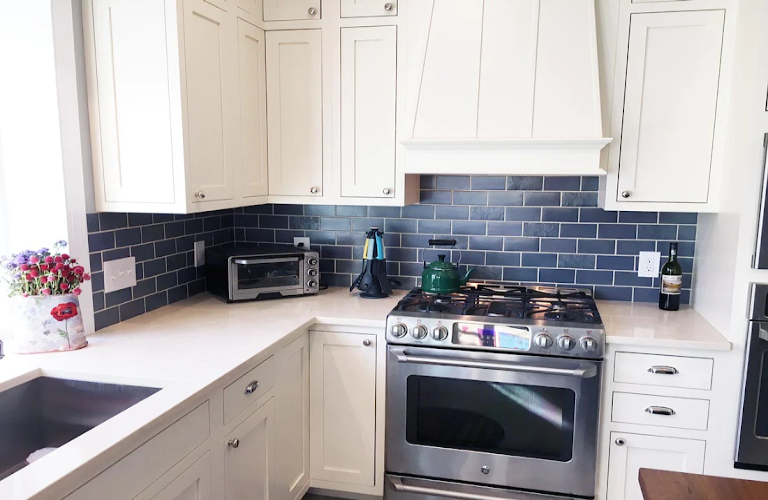 Blues are always going to lift up your mood. This brick backsplash can turn out to be your biggest mood lifter, even on your dull and cloudy days. Put up the kitchen with light kitchen accents like white and decorate it with colorful planters. You can go up with any lighter tone colors on the wall, as blue can be combined with all the colors in neutral or lighter tones.
This kitchen is going to put you in a soothing state of mind while you cook your comfort food and is also going to make your guests happy with your delicious servings.
11. Faded White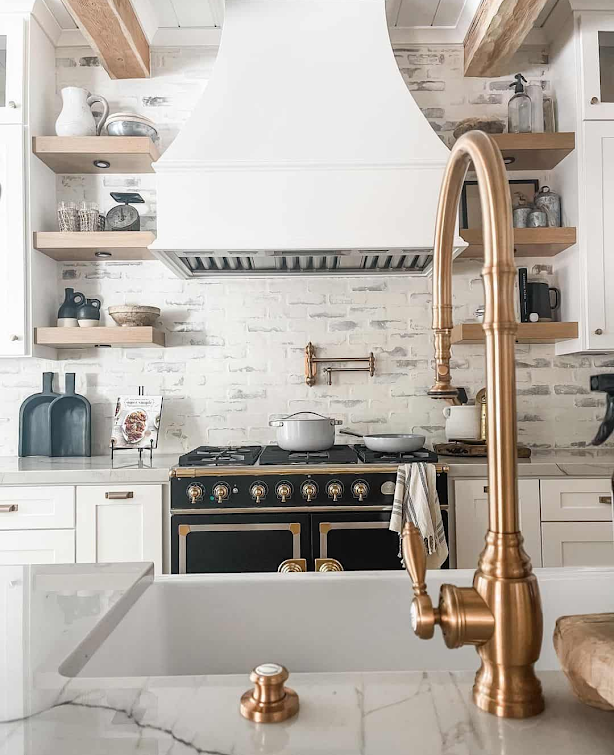 White is one color that goes with every other combination. This faded white brick backsplash with this black countertop is a perfect blend of the traditional yet modern stylish kitchen. The chimney boxpainted in white goes along with the backsplash and creates a subtle combination with it. The wooden sleeves added on the wall go along with the overall appearance created in this stylish kitchen.
This kitchen combination can be paired up with any color of kitchen accents and accessories, as white is the universal color that can be paired up with multiple combinations. The peaceful aura created by this stylish kitchen is going to make you enjoy your cooking at any hour of the day!
12. The Brown Tone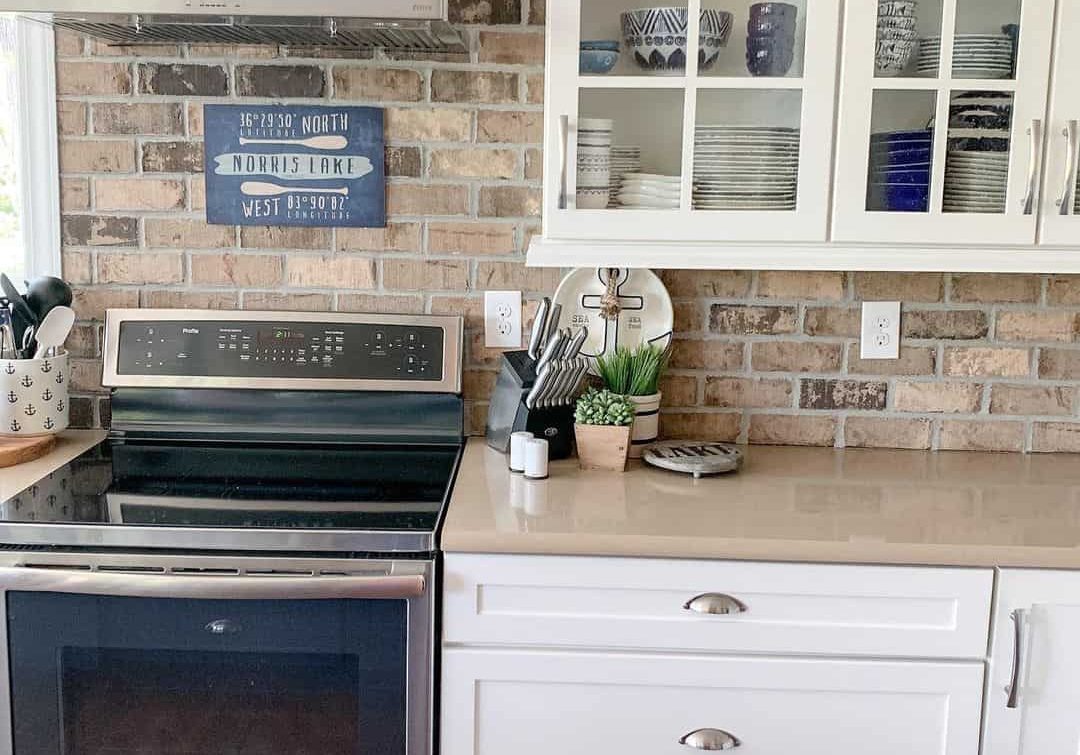 Browns are earthy colors, and the vibrations they reflect are very natural in type. This brown brick backsplash makes this kitchen creates an environment of the outside nature and fills the kitchen with very subtle and soothing energy. The white cabinets and the white glassed shelves on the wall go really well with the overall kitchen aesthetics.
The brown countertop paired with the backsplash is very simple yet eye-catching, as it easily blends with everything. Add some decorative pieces to the countertop, like small planters, so that you can feel the freshness of outside nature with all earthy tones while you cook your favorite food.
13. The Vibrant Pink
Pink is a chic color and is used a lot in modern interiors these days. This pink brick backsplash makes your kitchen stylish and gives a lighter essence to its overall appearance. The dark kitchen accents and accessories go really well with the kitchen combination that showcases the perfect blend of traditional and modern aesthetics at the very same time.
The wooden or brown-toned kitchen top mixes well with the kitchen combination due to the versatility that the pink color carries along with itself. This stylish kitchen is sure to be your mood changer and can help you cook in a playful way with its joyful vibrations.
14. The Brick Hue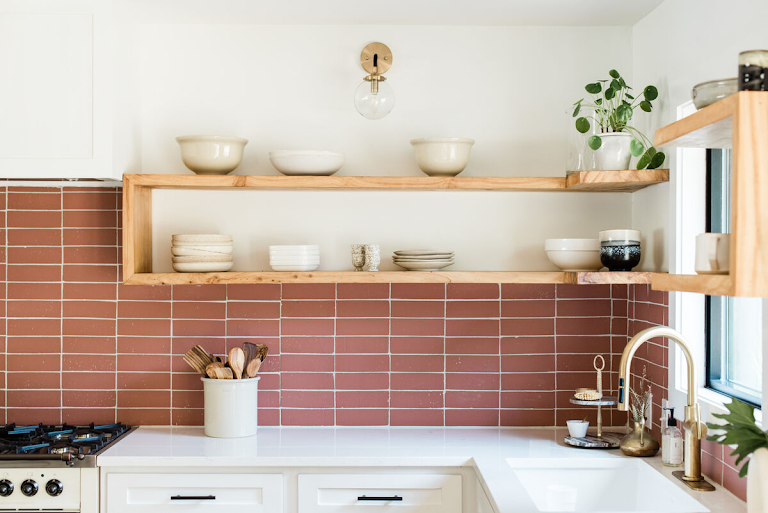 The bricks have a color that is between red tones and brown tones. This brick backsplash is one of a kind to reflect the natural tone of bricks directly to your stylish kitchen. The ravishing interiors of this stylish kitchen are so attractive that they can even make your guests speechless. Whit white countertop perfectly mixes with the overall kitchen theme and creates a very beautiful environment.
The wooden shelves are kept with white dining sets, and the planter attached to the wall sums down the entire kitchen combination. This stylish kitchen is so enticing in a way that one can relish their cooking time even on long days after work.
15. Greenish Bay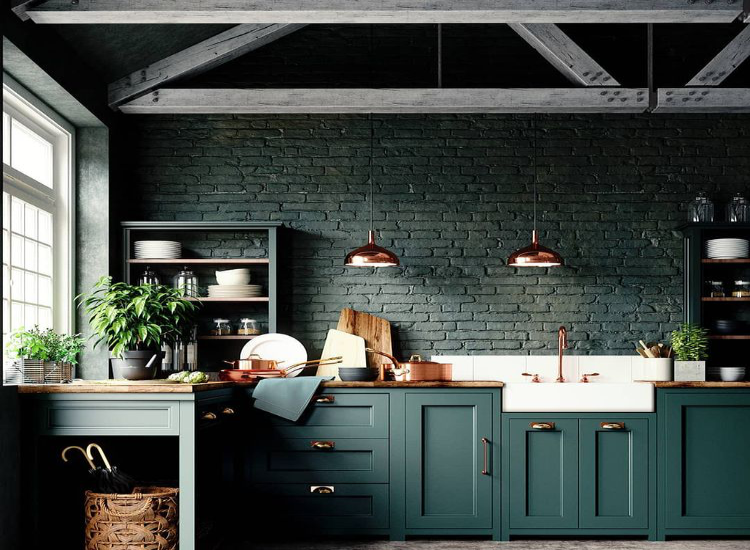 The green hue resembles nature and gives a leafy feeling wherever used. The green brick backsplash is an exquisite piece of art, making this stylish kitchen the center of attraction for your entire house. This dark-color-themed kitchen is bold and exhibits a very tacky energy that will never make you feel down while you cook.
The green kitchen accents go really well and perfectly blend into the complete kitchen combination. Green shelves installed on the wall are an eye-catching element of this super stylish kitchen. The brow countertop elevates the overall kitchen aesthetics as brown and green are a fusion related to the outdoor natural world, which with this kitchen, is created indoors.
16. Darker Aesthetics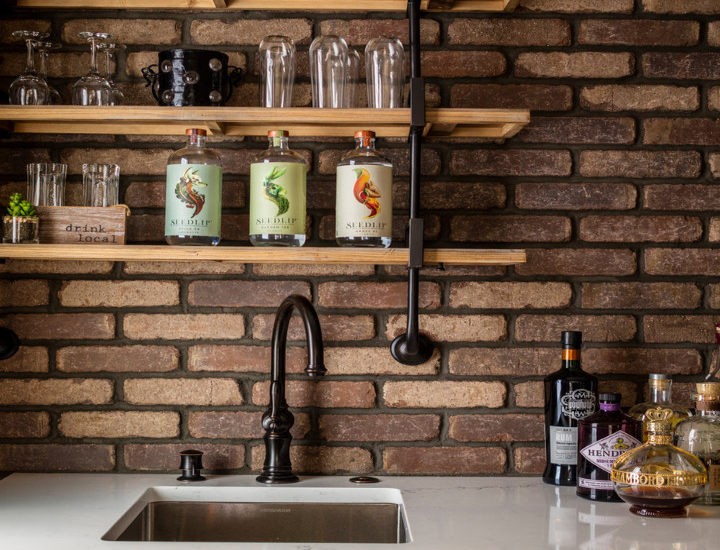 Using darker tones in kitchens is trending in modern interiors. This multiple brown-toned brick backsplash is one of the most used backsplashes in kitchens these days as they appear very natural and are very pleasing as well. The best part of this complete kitchen combination is that it can go with any color combination of kitchen accents and accessories, be it lighter or darker.
The white countertop blends with the entire kitchen's aesthetics and comes up as a very attractive element of this stylish kitchen. The wooden shelves decorated with glasses and bottles combined with the backsplash perfectly. This stylish kitchen is sure to make cooking your favorite pastime with its appealing interiors.
17. Peachy Glamour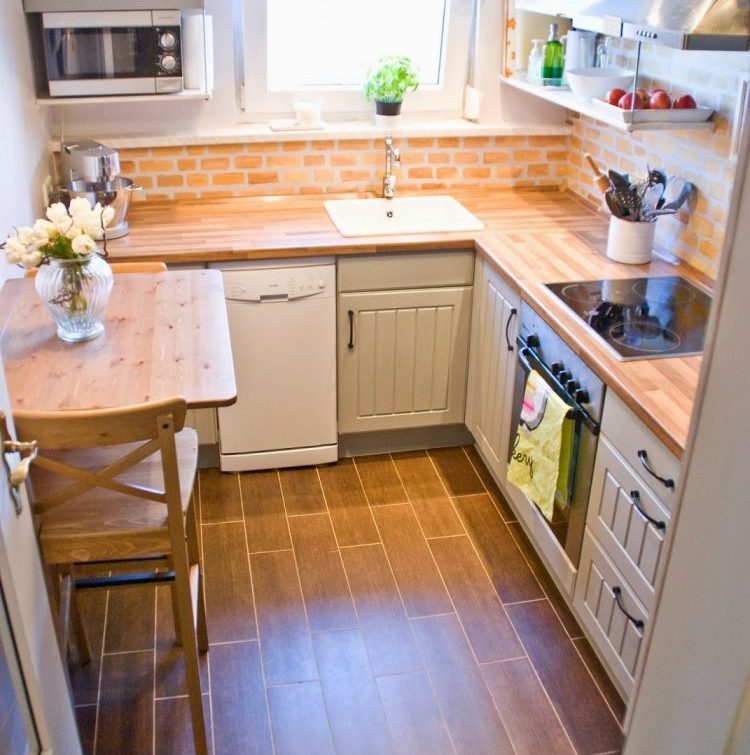 The orangish tones are always associated with the feeling of freshness. This peachy brick backsplash is all about the easy breezy, and cozy vibe that it brings to this stylish kitchen. The wooden-styled countertop adds a touch of sophistication to the kitchen. Kitchen accents and accessories of lighter colors like white, cream, or off-white blend really well with the entire kitchen combination and create a very aesthetically appealing environment in the overall kitchen. The airy and fresh feel that this kitchen reflects will make you want to cook and enjoy the process even on dull and gloomy days.
18. The Vintage Energy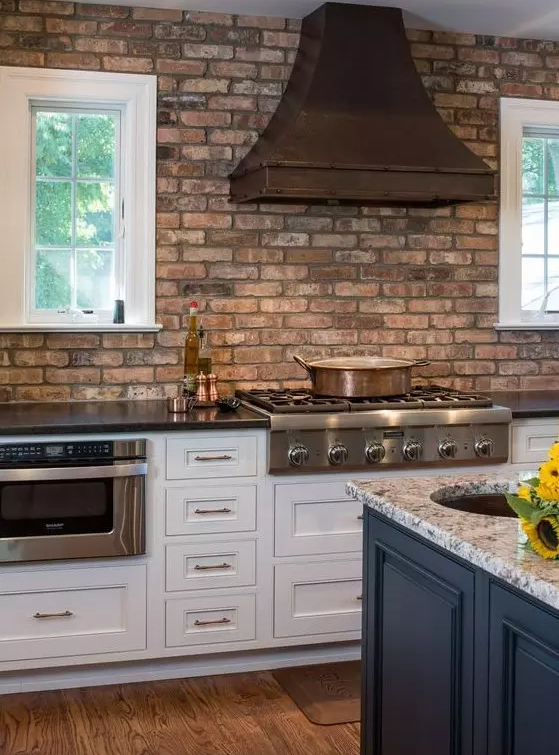 Vintage aesthetics in the modern interiors create an eye-catching blend. The vintage brick backsplash is about going back into the traditional times with ultimate contemporary interiors. The white kitchen accents and accessories sum up ideally well with the overall kitchen combination. The earthy brown kitchen countertop blends as well with the entire kitchen theme perfectly to develop a very sophisticated yet very classic appearance.
This stylish kitchen is completely going to be an eye-catching space for your entire house and is going to help you cook masterpieces with a very pleasing mindset with its peaceful vibe.
19. The Gentle Touch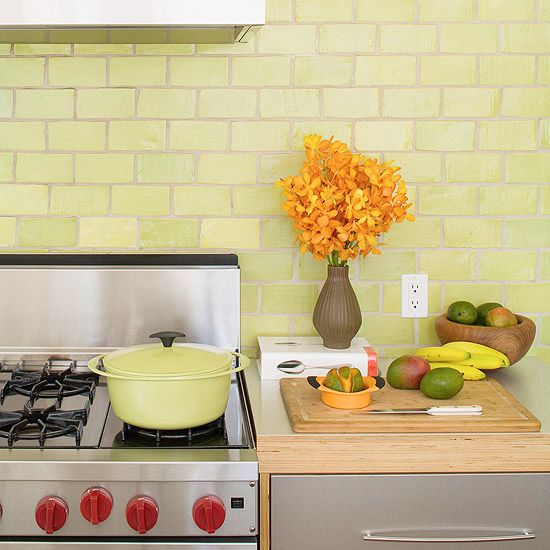 Softer and lighter tones are always very pleasing and attractive. This gentle lime brick backsplashcreates a very soothing aura across your entire kitchen space. The soft glam that this color of backsplash offers is sure to make one fall in love with their kitchen aesthetics. The lighter or muted tones of kitchen accents and accessories can be combined with the kitchen to make it appear cozier.
Adding some flower pots for the decoration part on the white countertop can give a very pleasing and natural energy. With such kitchen interiors, you're surely going to love to make cooking your favorite hobby.
20. Carmine's Beauty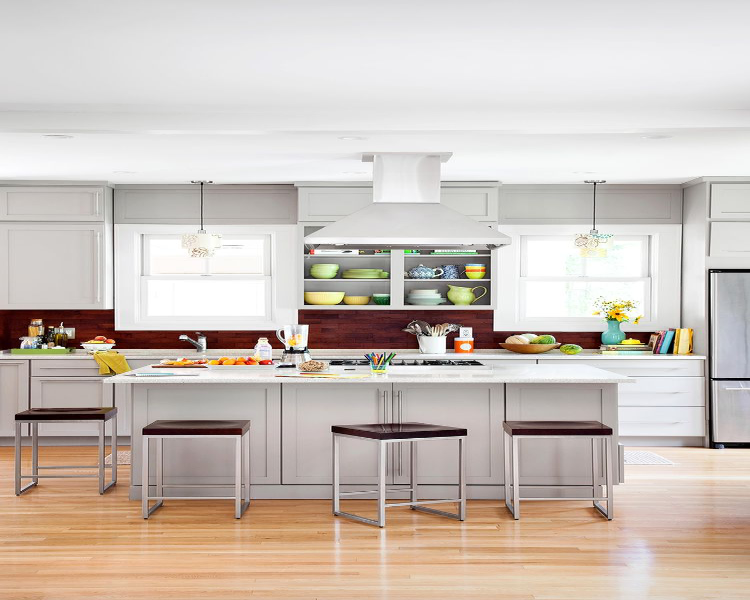 Carmine is a deep dark red color that adds a dramatic feel to the space. This carmine brick backsplashadds a dramatic touch to warm up the overall lighter kitchen appearance. The white kitchen accents and accessories are the best color that can go with the overall theme of the super stylish kitchen.
The white shelves attached to the vibrant backsplash lend a very neutral pinch to this dramatic backdrop and balance out the kitchen combinations well. This elegant kitchen is sure to be the one masterpiece of your home and also the talk of the people for its great dramatics and mouth-watering delicacies.
21. Dusky Blues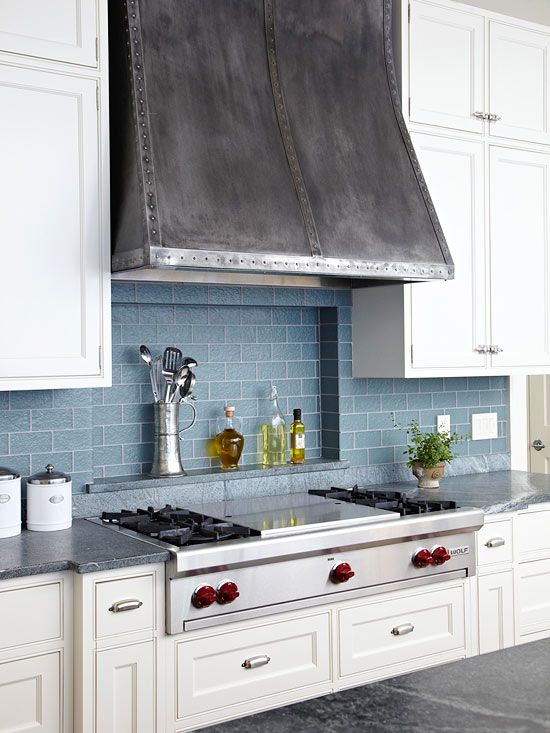 The dusky blue is a soothing tone that enchants peace all over the space. This dusky blue brick backsplash is an elegant pick and a soothing alternative to put in your stylish kitchen. The dark-colored countertop complements the backsplash in a very sophisticated nature. The kitchen accents and accessories in white or any lighter tone can jam up really well with the overall kitchen theme making it very attractive and peaceful.
This kitchen also exhibits a vintage aura because of the multiple kitchen combinations used to design this stylish kitchen. Cooking can be a happy moment with the energy that this elegant kitchen exudes.
22. The Multi Backdrop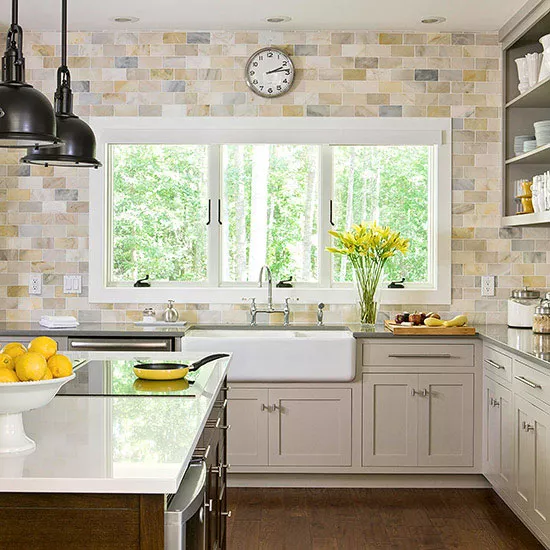 Using multiple colors can transform any kitchen into a very beautiful space. This multi-brick backsplash glows up the kitchen with all the neutral tones used in the backsplash. The dark countertop mixes well with the overall kitchen combinations. The kitchen accents and accessories in cream shades or lighter shades can elevate the look of the kitchen in an even more beautiful way.
Attaching lighter color shelves on the wall can give an additional space to store kitchen essentials that are frequently needed while cooking. Add some planters to the countertop for freshness that can help you feel good and calm while you cook your comfort food.
23. The Soft Glow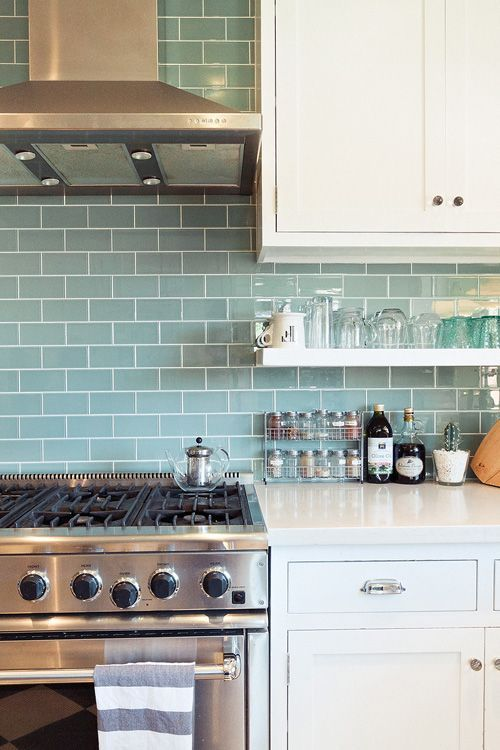 The soft glow of green shades is all about feeling nature in your favorite space. This soft brick backsplash transports you to the outdoor greenery in the comfort of your kitchen. The white countertop complements perfectly in a very sophisticated manner to the entire kitchen combination. The white accents and accessories are best suited to this type of kitchen arrangement as they reflect very calming energy. This entire kitchen combination is very stylish and elegant, making sure that it helps you cook food in your best mind and leaving guests awed with the food and the kitchen arrangement.
24. Neutral Glam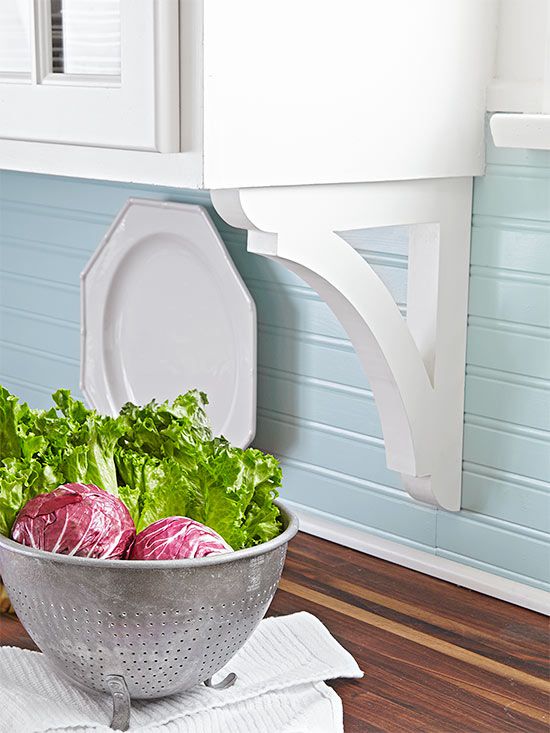 Neutral tones are always the colors that create a very positive aura around them. This neutral brick backsplash is also the element in this stylish kitchen that develops a very positive and peaceful vibe. The lighter-tone kitchen accents and accessories match up really well with the entire kitchen theme and look absolutely stunning as well. Adding shelves on the wall and some decor items in the kitchen can also enhance the appearance of the kitchen space. With such an ethereal appearance of this stylish kitchen, you and your guests are going to be in love with the food cooked in this beautiful space.
25. Effortless Ivory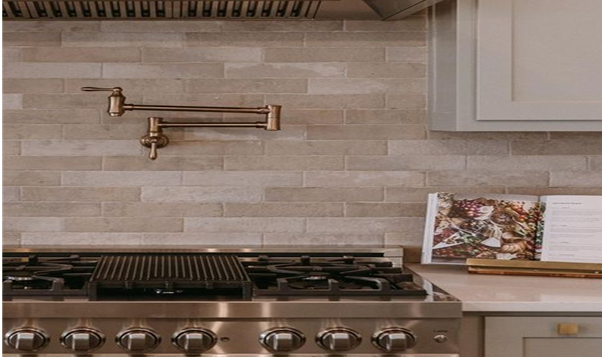 Like the word effortless ivory, this ivory brick backsplash is one of the serene backsplashes to add to your kitchen for a soft and serene glam. One best tone to go with this ivory shade of backsplash is metallic tones. Kitchen accents and accessories of metallic tone give an ethereal appearance kitchen in such a way that everybody who comes over to your house is going to love your stylish kitchen space. Even on your boring days, cooking in this kitchen can make you happy by cooking your favorite cuisines for yourself and your loved ones!
To Summarize
Brick backsplash has been in trend since always, but with the modern world updating itself almost daily, these trends tend to elevate even more beautiful day by day.
Stylish kitchens these days are all about the fusion of traditional elements with modern interiors that blend up so enticingly that one can turn their kitchen into the most attractive corner, adding a beautiful flair to the entire house.
These brick backsplash ideas are sure to fall in love with your kitchen all over again and also can make your cooking a fun and favorite activity. Let us know in the comments down below how you feel about these appealing kitchen designs! Happy brick designing!