20 Elegant Black Window Frame Ideas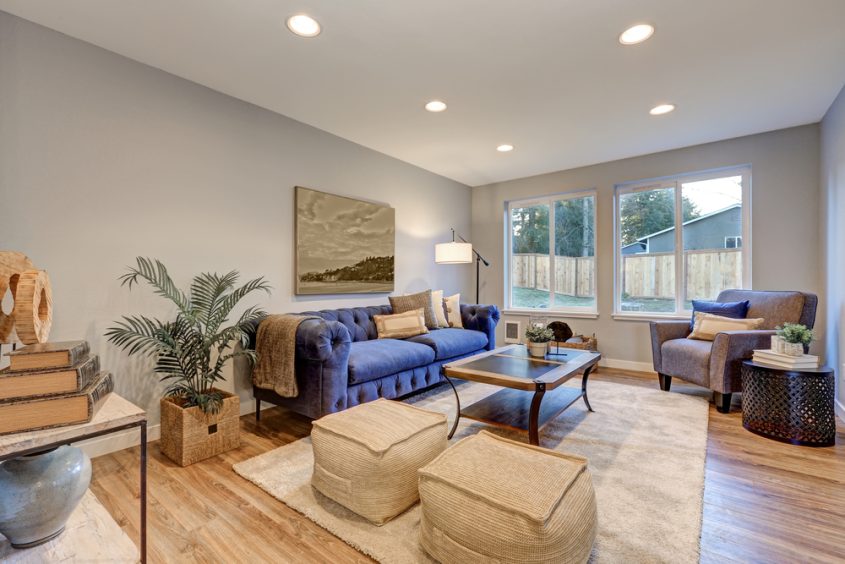 One of the various home decor trends that is surely a blast from the past is the trend of industrial-style black window frames in modern homes. We all know that black is never out of fashion; it was relevant in past home decor, and it will be here even 100 years from now, which may be the reason for its popularity in current home decor trends.
Black windows and frames are an extremely useful and appealing design trend that offers many benefits, such as enhanced contrast, easy maintenance, and a bold look, which we will gradually discuss in this blog.
If you are looking to renovate your home or searching for ideas to give your home a subtle modern appearance, you have come to the right place.
Read on to learn about some of the most beautiful black window frames that can brighten up your space in no time.
1. Contrasting Appearance with Classic Black Windows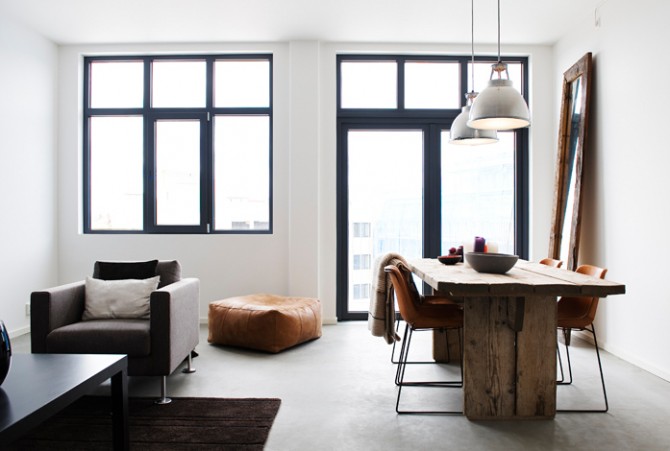 One of the reasons black windows have become the talk of the town lately is their ability to create a beautiful contrast with the walls. Since pastel color decor has also gained momentum recently, it just makes sense to use black window frames to create a stunning contrast.
Black window frames with light-colored walls also make natural sunlight appear brighter in the room.
2. Spot-On Elegance with Neutral Shades
Create a dramatic diversion from your black window frame with neutral shades. While your window will offer you ample sunlight, you can effectively regulate it with neutral shades.
These neutral shades can create a beautiful and sophisticated appearance and will complement your black window frames delightfully. Neutral shades give your home a modern touch and help in creating a subtle warmth to your overall home decor.
3. Contemporary Style Minimalistic Approach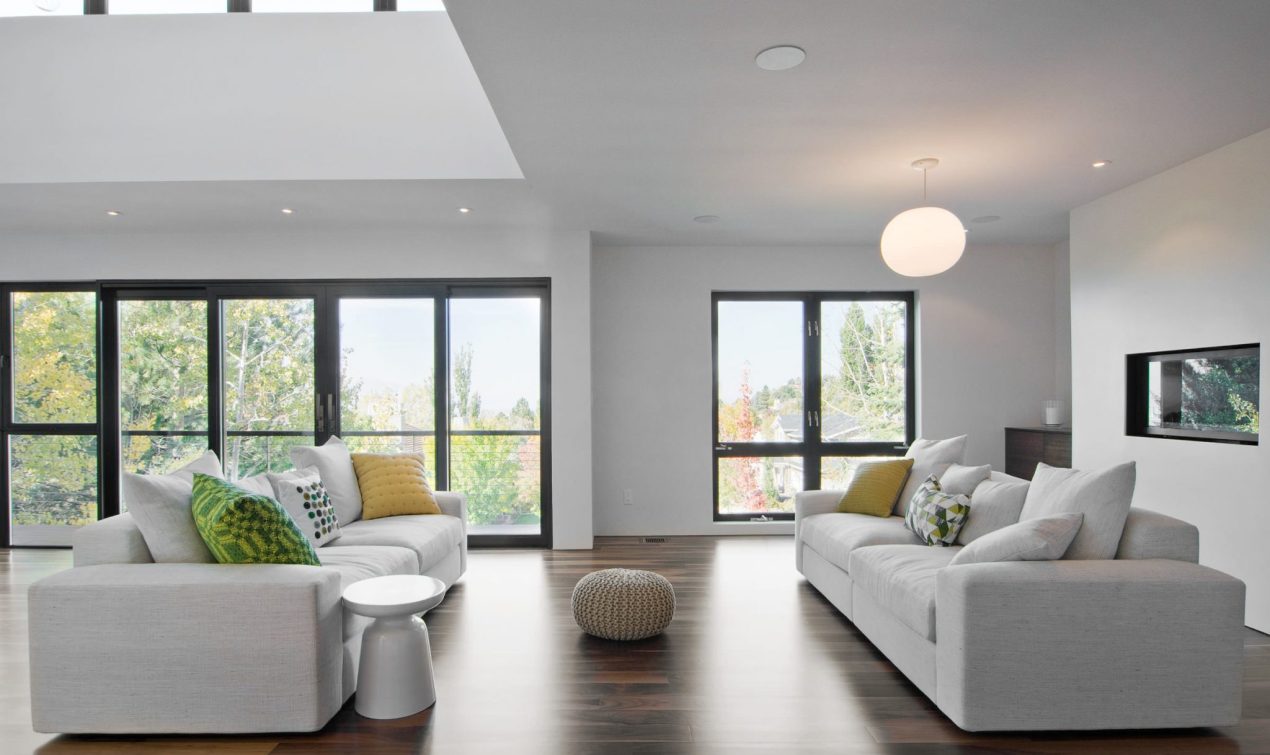 Minimalism has been the essence of modern home decor in recent years. Black windows blend well with a contemporary style of minimalistic home decor. The straight lines, the clutter-free spaces, and the use of geometric spaces all these elements, combined with black window frames, give out a minimalistic vibe and are best for modern homes.
The contemporary-style decor with a minimalistic approach is all about finding a balance between simplicity and striking details. The use of black window frames can add a nice touch to the details of your contemporary-style home.
4. Creating a Visual Delight with a Broad Black Window Frame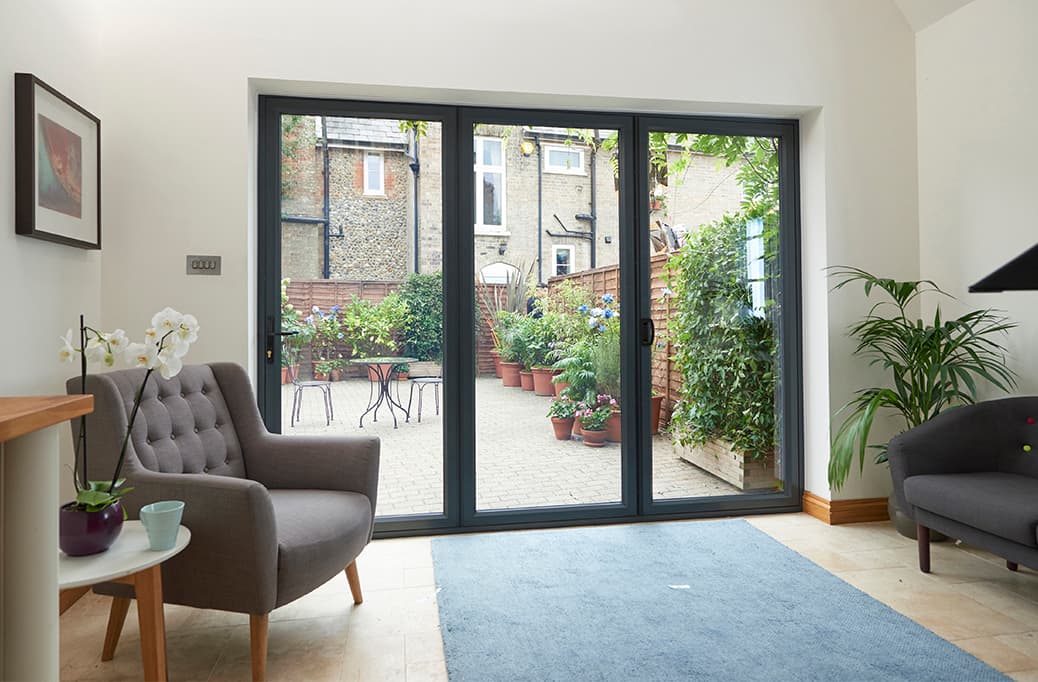 If you are looking to create a nice focal point for your home, a broad black window frame is a great idea. These broad frames capture the attention and make for a bold and bright space. These are perfect for smaller spaces such as a half bath, dining room, or a sleek home office.
To bring out the overall appearance, you can use light-colored curtains, a chandelier, and a few potted plants. A broad window frame not only guarantees a great visual appeal but also ensures that there is ample sunlight in the room.
5. Enhance the Beauty of Your Farmhouse-Style Home with Black Windows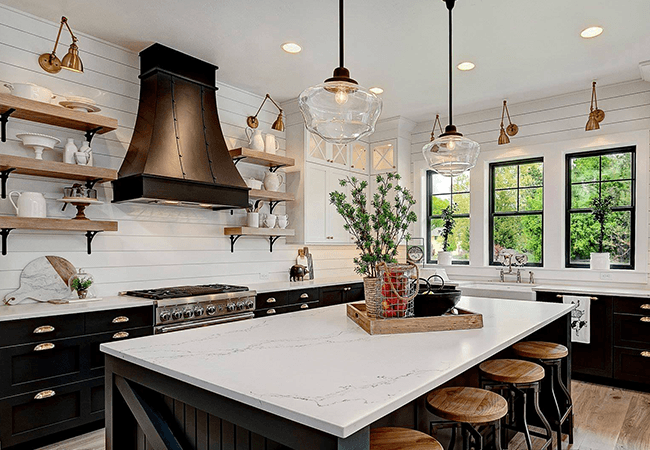 The farmhouse-style decor is an extremely popular trend. It is characterized by the usage of rustic elements to give a bold countryside look to your home. Don't hesitate to blend it with black window frames to balance out the rustic appeal.
While the idea of defined edges in fixtures may not give out a perfect farmhouse appeal, the combination of black window frames with it makes for a perfect modern farmhouse style home design.
6. An All-Wall Black Window Frame for a Great Outdoor View
One of the greatest things about using black windows in your home is that there are various ways in which you can incorporate them into your decor. The idea of an all-wall window frame is perfect for rooms with a great view. It creates a beautiful diversion to highlight your outdoor area and makes for a wonderful opportunity to showcase your garden scape.
Add in a few elements, such as rugs and pendant lights, to complement the existing decor.
7. A Blend of Chic and Bold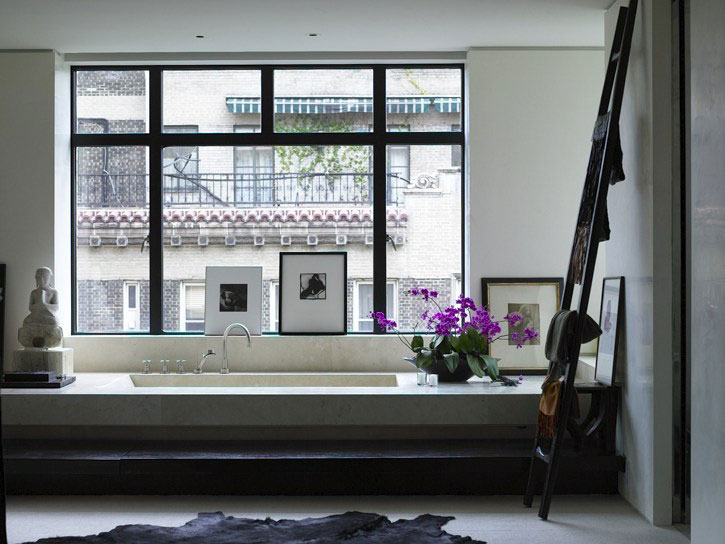 Black window frames are known for making a bold statement, so to get a blend of a chic and bold look, opt for softer hues of white, grey, or beige colors. Choose bold-statement furniture such as a pink or blue colored sofa, bright chandeliers, and patterned rugs. This will create a nice contrast and will make the place quite visually engaging.
To add a hint of glamour to the space, try experimenting with metallic accents such as gold vases, silver mirrors, etc.
8. Black and White Decor to Complement Black Windows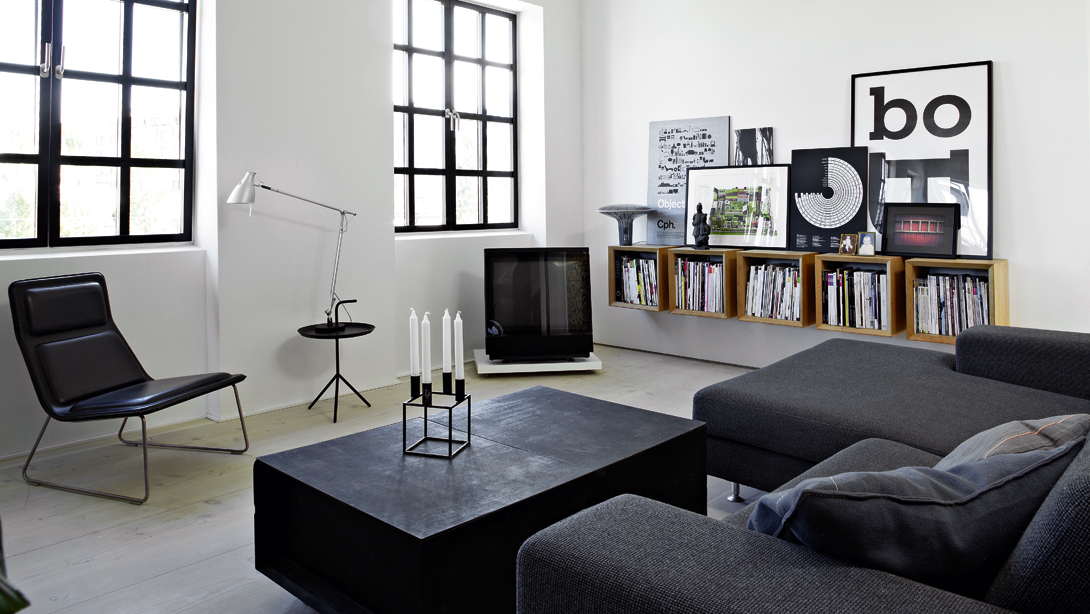 There are two ways you can make a statement in your home decor. The first one is blending in, and the other is standing out. While contrasting colors and patterns are known to complement black window frames in their own way, it is possible to enhance the look of your home with a blend-in approach.
Black and white decor paired with black window frames can work for the places wherein you want to make it smaller. Use neutral flooring to make the look stand out. Don't forget to incorporate textures and patterns to break the monotony created by black and white so that it doesn't overpower the decor.
9. A Beautiful Picture Window to Transform Your Place into a Stylish Retreat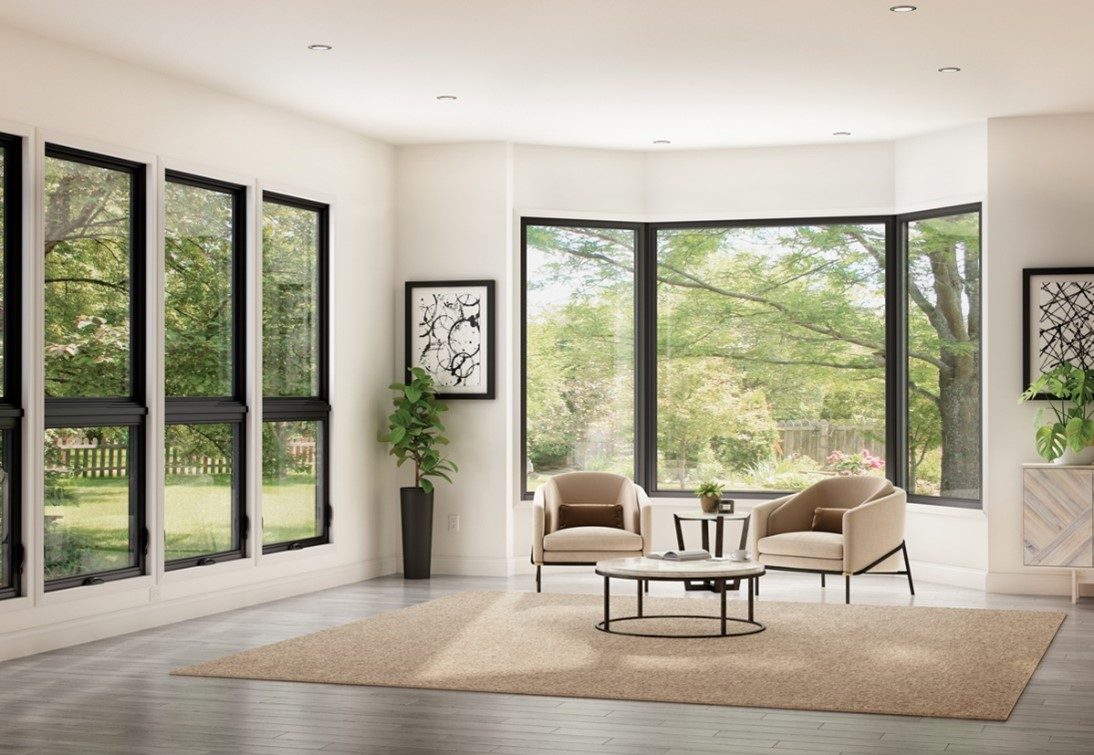 A picture window can be a gorgeous addition to your stylish abode. It works perfectly if you have a great outdoor garden. You can make your seating place beside this picture window and entertain your guests here.
This window allows ample sunlight in your home and can easily serve as a statement piece for your home decor. To make the window frame stand out, paint the surrounding wall in soft hues of white or black and add light-colored curtains. To make the window the centerpiece of your home decor, incorporate a few decorative elements, such as long and slender vases or sculptures near the window.
10. Create a Blended Style with a Black Beam on Your Ceiling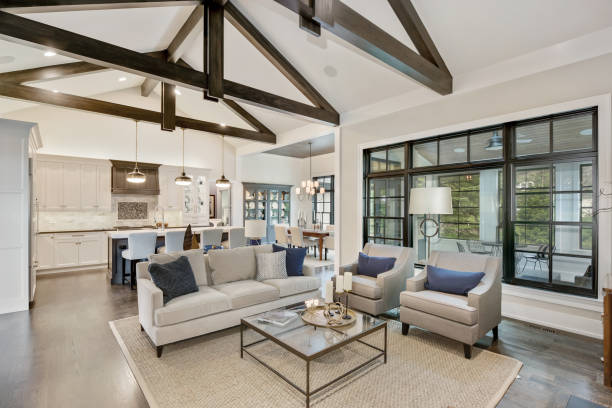 Adding a black beam to your ceiling can accent your black window frame effectively. It adds a sleek and modern touch to your decor. To make your black beam stand out, you need to choose a light-colored background for your ceiling.
Opt for a black window frame that is large enough to cover at least half of the wall. This will create a stunning, blended look with the beam. Pair your black beam and black window frame with two-tone furniture and ornaments, and you have got your own stylish abode.
11. Bring out The Beauty with Warm Tones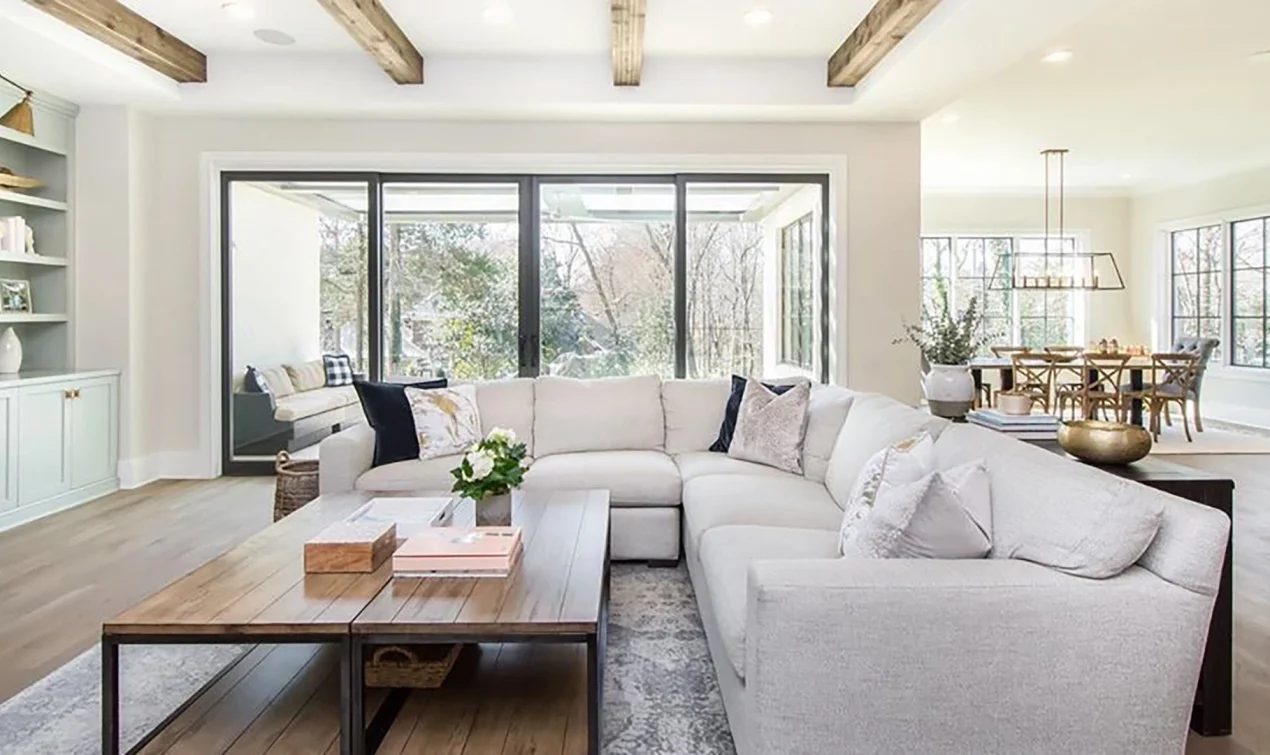 A combination of a black window frame with a warm tone can create a stunning interplay. You can also add neutral curtains and furniture in natural colors such as cherry or walnut to bring out the charm of warm tones. These colors easily blend with warmer tones and add warmth and depth to the overall decor of the room.
Amplify the look with warm shades of light in your lighting fixtures. Go with soft yellow colored lights to bring out a cozy ambiance.
12. A Harmonious Appearance with Black Windows and Matching Home Decor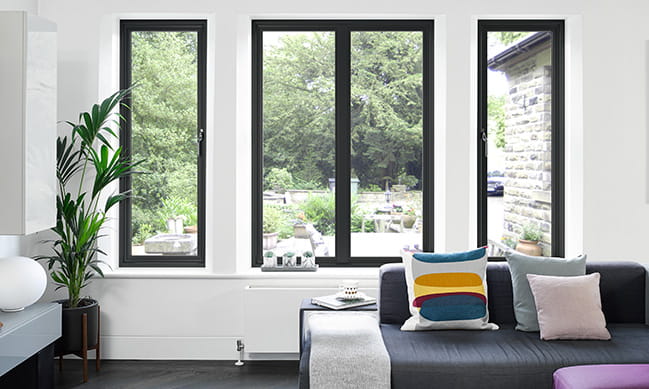 Consider your home aesthetics before installing a black window frame in your home. Create a matching decor that provides a clean backdrop and makes the windows appear more profound. Use clear and crisp lines in your decor rather than involving a lot of elements.
Achieving a harmonious look involves maintaining an equilibrium between all the elements of decor. Everything should be cohesive and blended in a way that they complement one another; this is the main essence of creating harmonious decor for your home.
13. Revamping Classic Interior with Black Window Frames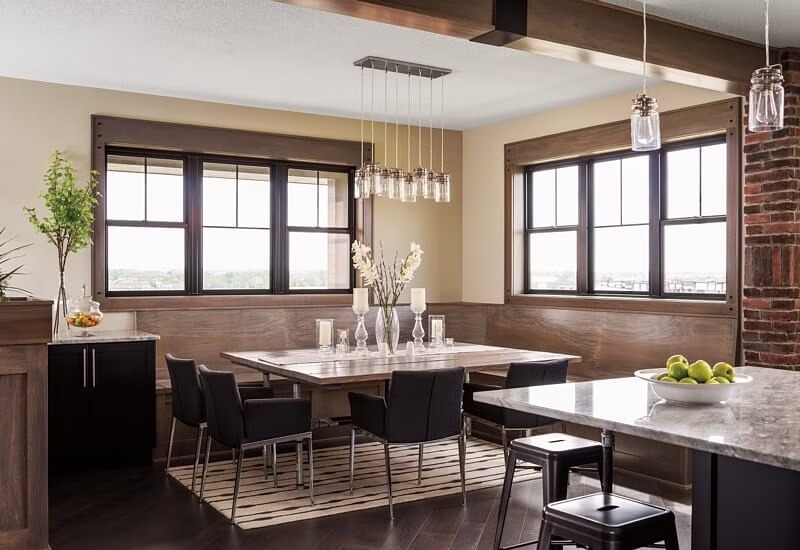 You don't have to remodel your entire home in order to incorporate black windows in your home decor. Your existing decor can work just fine with black window frames if used meticulously. You just have to assess your home interior and make a few changes to accentuate the overall look.
Select the frames that are in line with the classic style decor, such as casement, picture windows, or double hung. Look for ways to blend it with your existing interior. If the walls are light-colored, they will create a beautiful contrast with your black window, but if the walls are in dark shades, choose a light shade of black or a dark grey-colored frame to bring out the beauty of your windows.
14. A Black Window Frame that Stands out in a Contemporary Home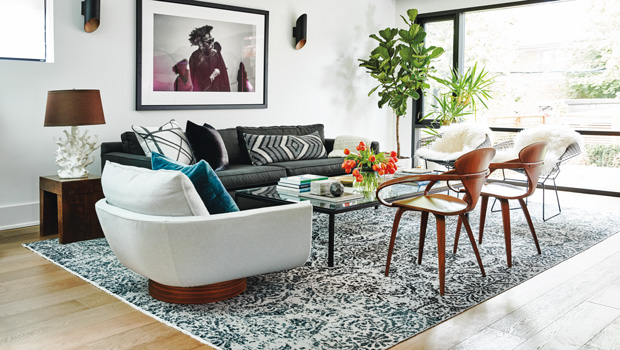 A combination of black and white in your decor is undoubtedly the best way to make use of this black window frame trend. The beauty of black frames is that they are timeless and they don't interfere with your decor; however, using black and white can enhance your home with its bold and sophisticated look.
You may consider white or light-colored flooring and furniture with a black accent. Monochromatic fixtures and sleek furniture go really well with a contemporary style of decor.
15. A Dramatic Contrast with Neutral Walls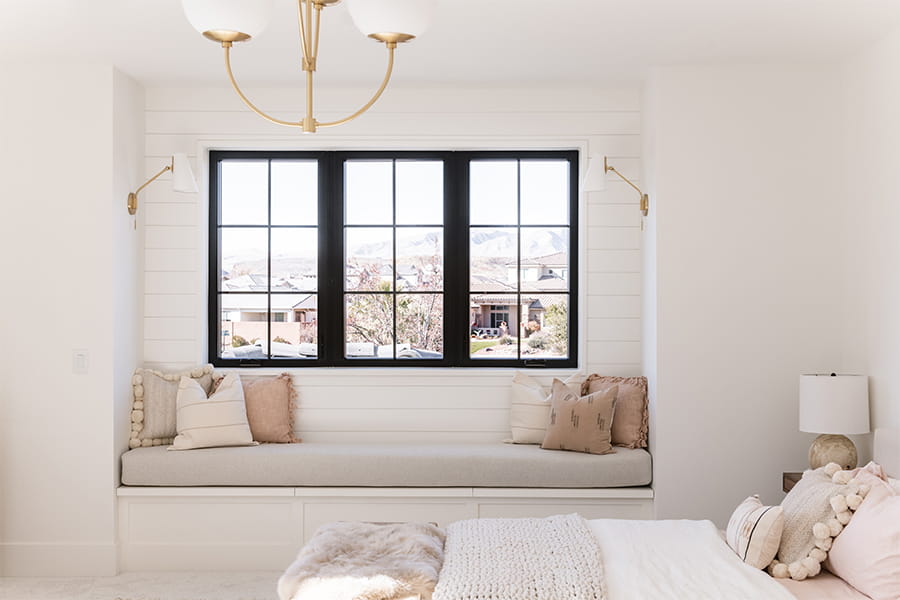 Black windows with neutral walls make for beautiful and elegant decor. Neutral walls provide a clearer backdrop that allows the natural lights to fill the room and create a bright atmosphere.
To create visual interest, add elements in dark colors with a touch of metallic finish. Remember to consider your personal preferences, too, in order to make a nice personalized inviting space.
16. Minimalistic Style with Accents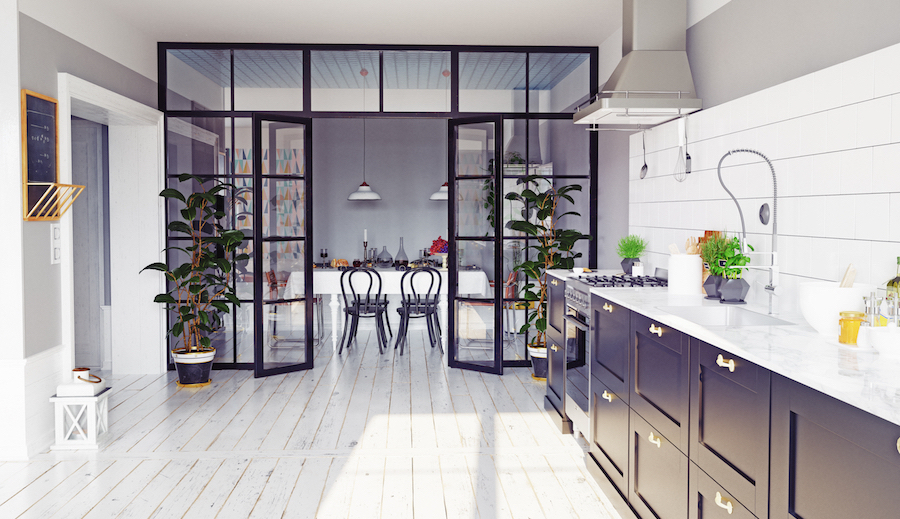 The greatest thing about black window frames is that they tend to enhance the effect of other black accents in the decor. They create a statement that appears completely out of this world if used correctly. Modern style of decor is more about sleek lines and incorporating focused elements in your home. Similar accents with minimalistic style make for intriguing decor.
To give it a more subtle look, you can use a few statement lighting in black accents. The pendant or floor lighting having a sleek minimalistic design will work perfectly here.
17. Style Your Kitchen with a Matching Black Window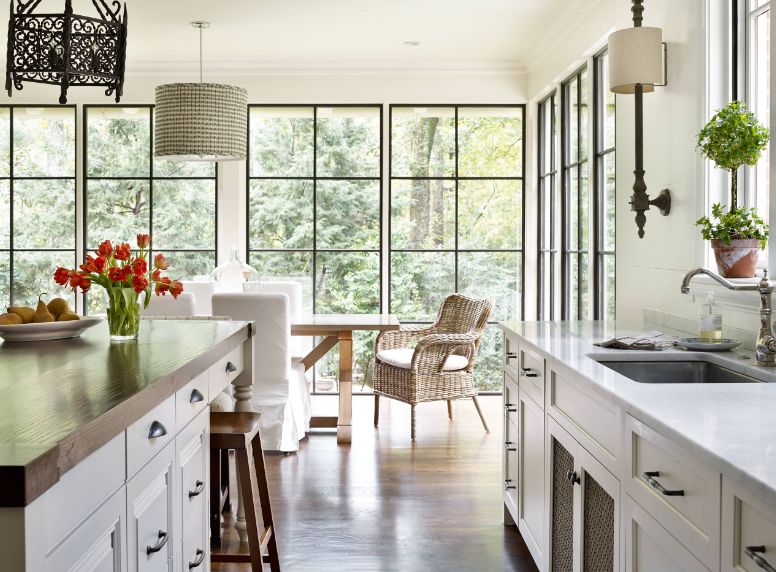 The beauty of black windows lies in their versatility. There's no place in your home that cannot be enhanced with black windows. Be it your living room, drawing room, bath, or kitchen, and they are a stylish choice for all of your spaces. Styling your kitchen with a matching black window makes perfect sense.
Since the kitchen is usually smaller than the living or bedrooms, you can start your experimentation with black windows in your kitchen and then move on to other rooms.
18. Creating the Perfect Picturesque View with a Grid Black Window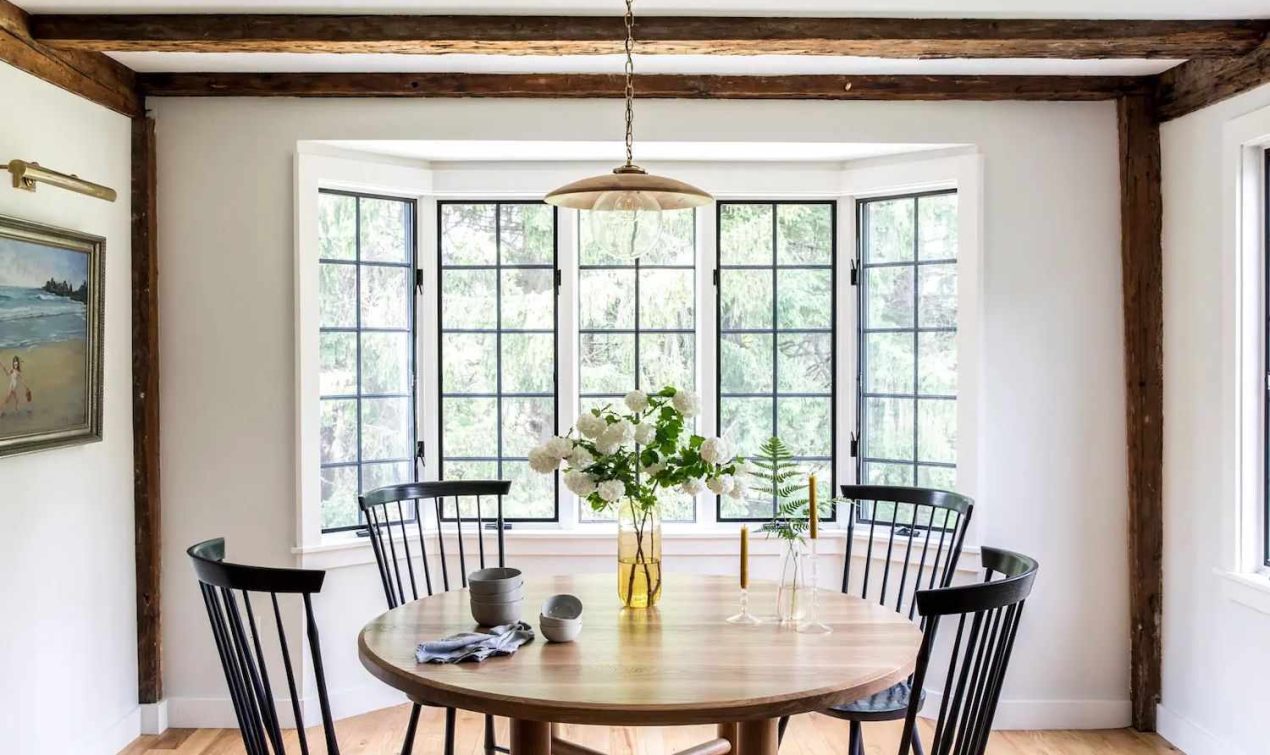 Grid-style black windows are highly popular. They offer a great view of the outdoors while providing a very functional window. If you are a private person, these are the best kind of window treatments for you.
They reduce visibility from the outside without affecting the view from the inside. They also offer better insulation, so if you are living in a place that has colder days, you may prefer this kind of grid black window.
19. Refreshing Clean Window Treatment with Sleek Black Window Frames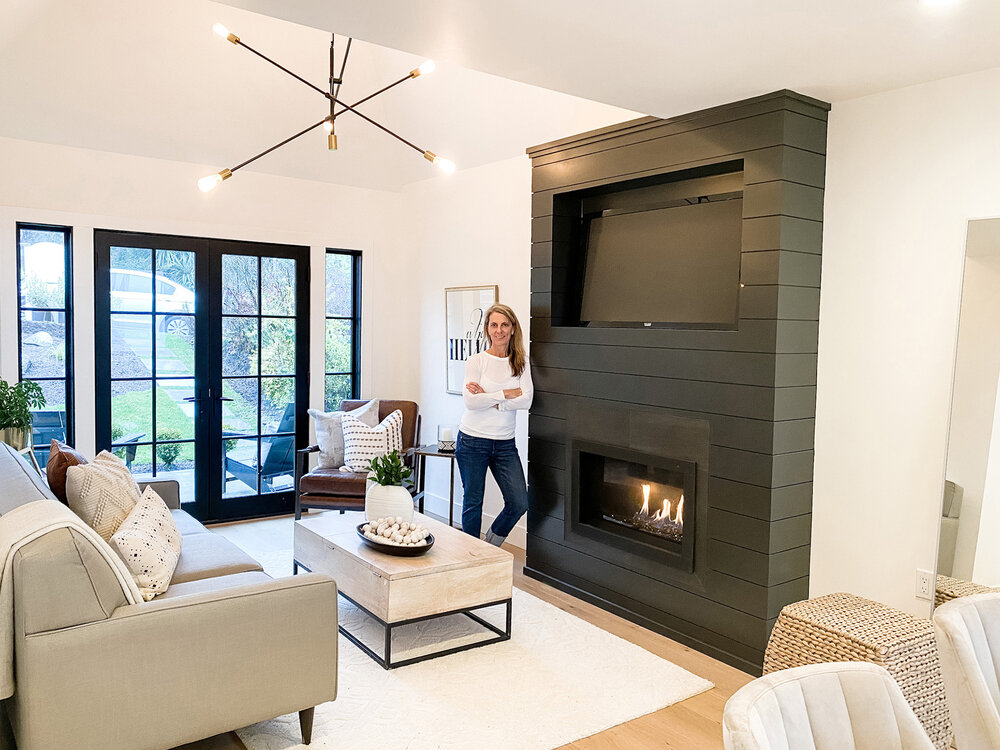 A sleek and narrow black window can work for places that are a little confined. Use bolder frames to make it the focal point of your space. This kind of window treatment can effectively enhance your entryway.
Also, consider using simple and minimalistic style lighting fixtures to pull it all together. Consider using clean lines and neutral tones so that the black windows stand out. Do not clutter this space by using a lot of design elements; rather, focus on keeping it simple and sophisticated.
20. The Perfect Urban Look with Black Windows and Industrial-Style Interior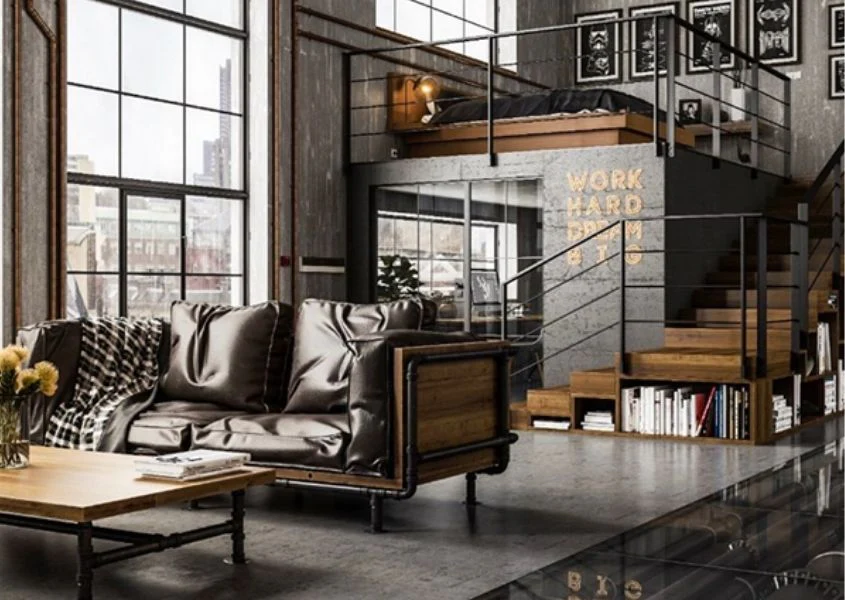 The evolution of black windows is a result of the popularity of industrial-style decor. An industrial style decor perfectly blends with black windows. The industrial-style decor is all about using raw elements, recycled materials, and rustic elements in decor, and adding black window frames in this kind of decor gives an industrial-style home a more crisp and finished look.
Black window frames and industrial-style decor together are perfect for creating a contemporary and stylish look for your interior.
Conclusion
Black window frames have emerged as the most sought-after interior trend in recent years. Their immense popularity is due to the numerous amazing benefits that they have to offer.
The ability of black windows to strike a contrast, their versatile nature, and the fact that they can be customized according to your requirements make them a must-have for any decor enthusiast.
So, if you are also looking to elevate your home decor, don't forget to incorporate elegant and versatile black window frames. Don't forget to let us know how that works out for you in the comment section below.