20 Creative Aesthetic Wall Collage Ideas to Add Life to Your space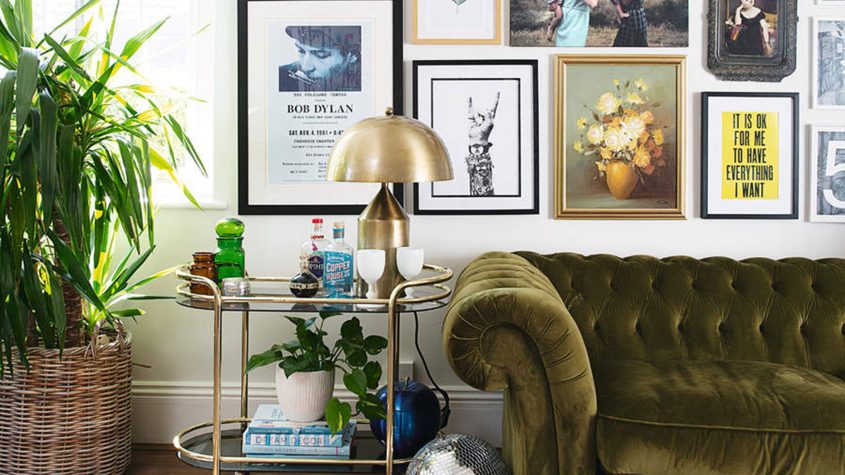 A good life is a collection of happy memories- Dennis Waitley
Memories are an integral part of human life. There are many precious moments in human life that are worth cherishing for a lifetime. And what better way to remember those happy moments than to have those memories captured in the photos?
We all click tonnes of pictures these days; sometimes, we get so involved in clicking those photos that we forget to live the actual moments. Don't we? But we will all agree that there is hardly a time when we actually look at those photos. We just click them and forget.
However, rather than keeping them hidden in your phone, you can transform your home decor with a collection of aesthetic pictures for walls made exclusively with your photos. Here are some ideas to create a beautiful wall collage that you will absolutely adore.
1. Create a Picture-Perfect Display with Hanging Photo Frames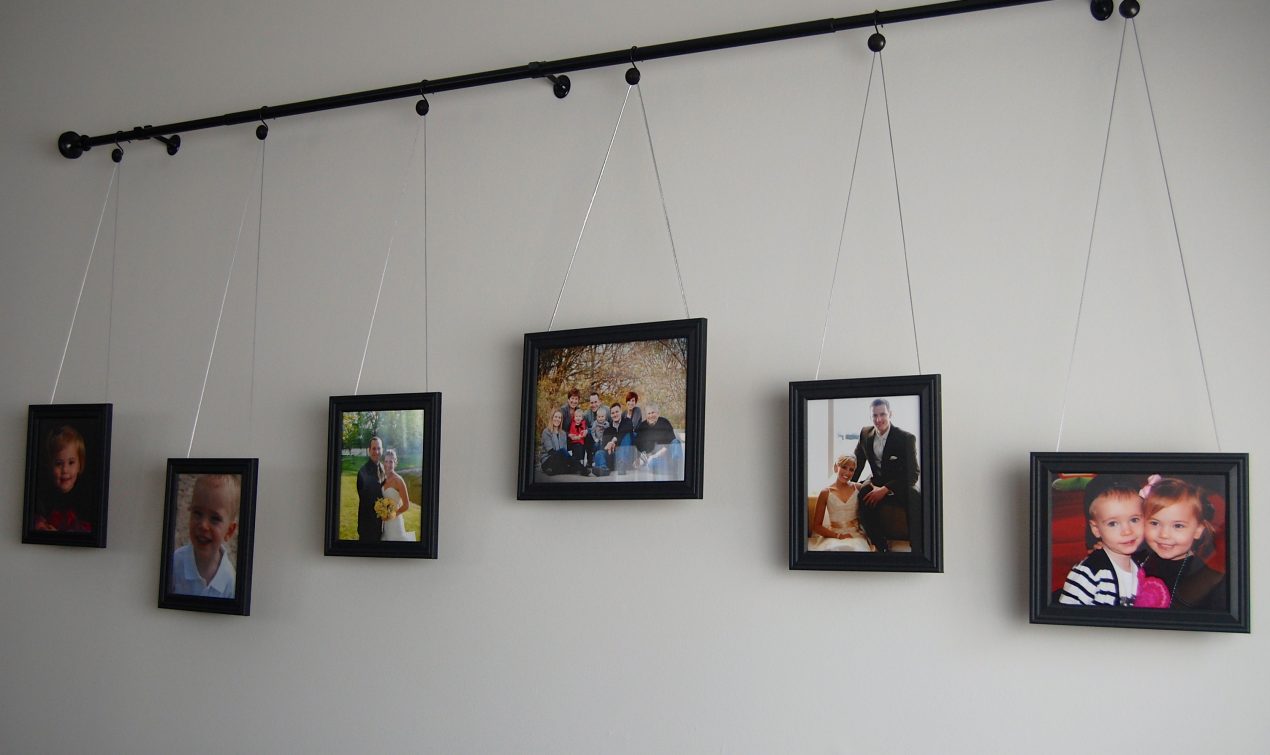 How about going for a little unconventional style to create an eye-catching corner for your room? If you love things a little differently from the usual, you will surely love this idea.
All you need is some wires, ribbons, thread, photos, and frames. Use whimsical and quirky photo frames for your pictures and hang those framed pictures through threads. You can add clips, too, for attaching these pictures on the thread.
Match the color scheme with your walls to let it merge with the background, or go with contrasting colors to make the photos stand out. Overall, just remember to match it with the aesthetics of your room, and your picture-perfect wall collage will be ready in no time.
2. A "wall of Moments" Covered with Your Wonderful Memories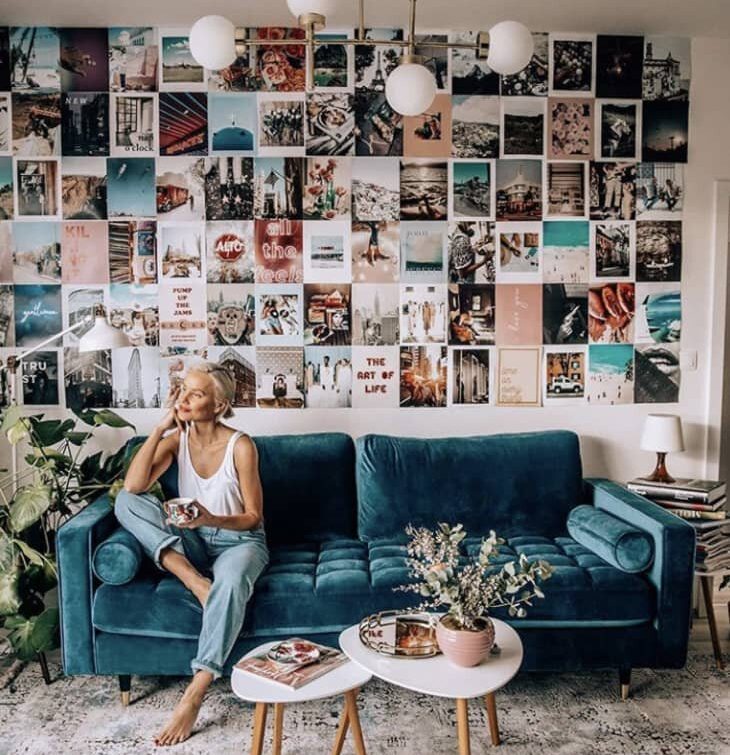 Dedicate an entire wall of the room to display your photos. You can paint the wall or buy readymade wallpapers and stick them on the wall.
Paste your photos on the wallpaper or the painted wall in patterns. You can make the photos overlap or leave a little space between all the photos, as per your wish. It is better to use photos of the same size so that it looks neat.
You can decorate the wall with some fairy lights or make cutesy patterns such as the sun, moon, and stars with colorful markers to bring out the beauty of space.
3. Express Yourself with The Floating Cloud-Style Wall Collage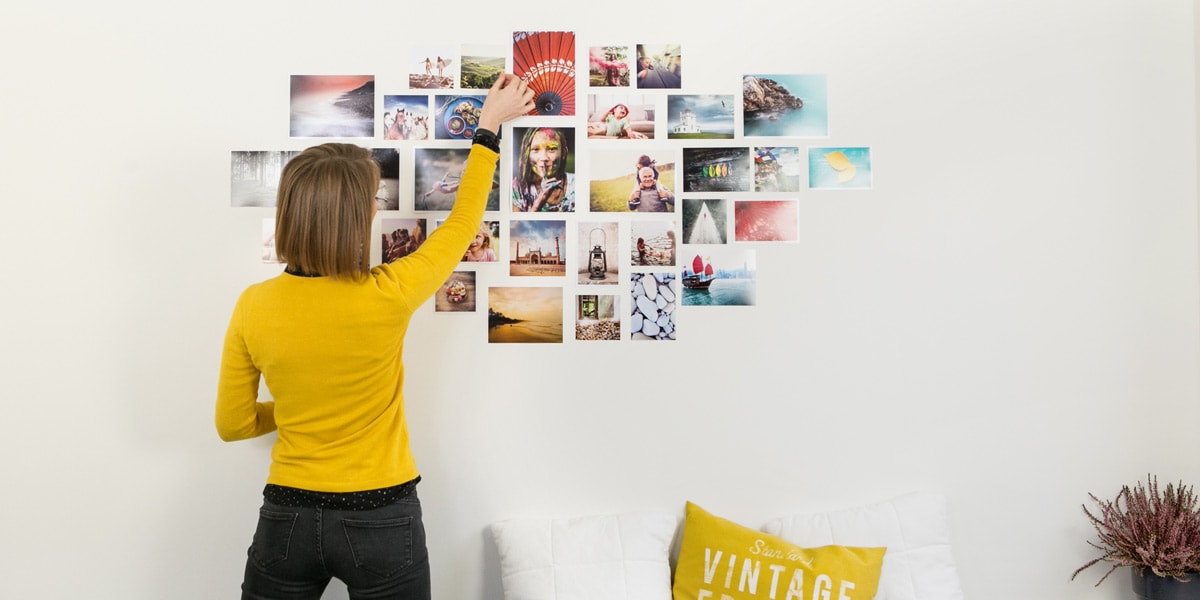 Create a beautiful cluster of your photos in the shape of a cloud above your seating place. Choose different shapes and sizes of frames to make the perfect shape of a cloud.
You can use some aesthetic pictures for walls or display your own life's memories. It creates an illusion of clouds floating on your wall. To make the design more profound, outline it with the small string lights of your choice.
This kind of wall collage is perfect for your drawing room, living room, or dining area. Make sure that the wall has no other ornaments, as it will create an unnecessary distraction from the main element of the room.
4. Unleash Your Memories with a Metallic Photo Grid on Your Wall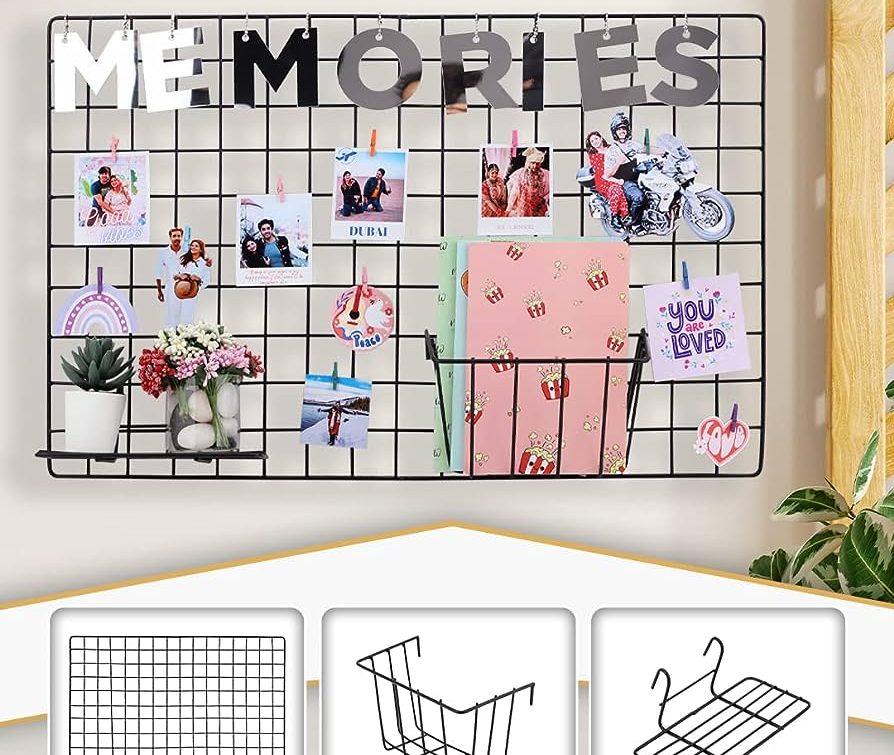 Use a metallic photo grid that is quite easily available online, and use your photos on them using clips. It is perfect for small places and gives out a neat appearance.
You can use different quotes, pictures, or small hanging toys on it too. Enhance its appearance by using some star-shaped string lights and create a fun and inviting aura for your home.
5. Capturing the Moments Using Polaroids and Fairy Lights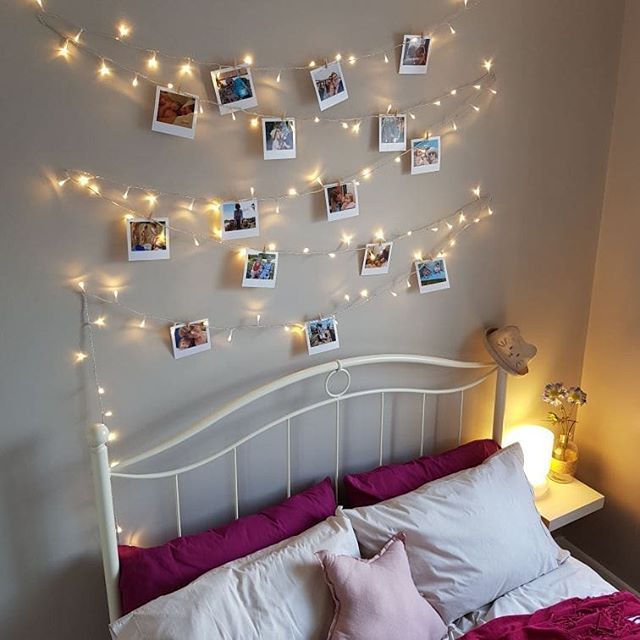 One of the cutest and cheapest ways to give your home decor a lift is by using some fairy lights in geometric line patterns and hanging your Polaroids on them. You can use some fancy clips to hang your pictures.
It's a great way to add a fun element to your room and is definitely one of the most visually appealing ways to display your photos. These polaroids on fairy lights look stunning in the night light, and to look at photos in those glimmery lights is truly a delight to the eyes.
6. Finding Solace in Chaos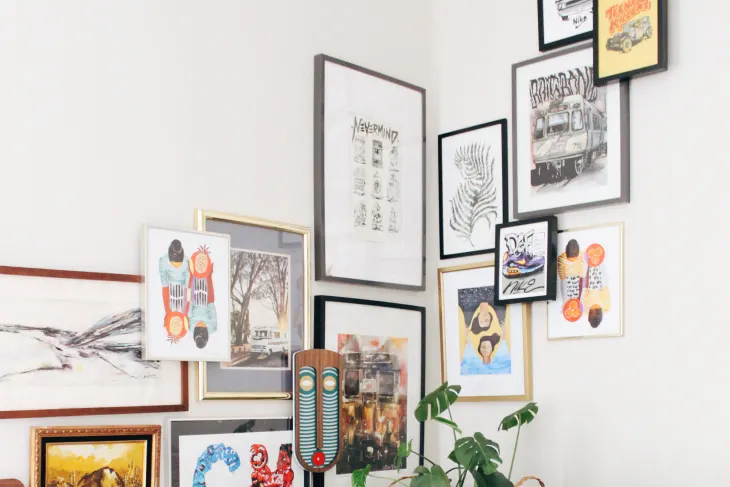 Not all of us like everything in an orderly way; there is a rustic beauty in chaos. Displaying your aesthetic pictures on the wall in random order can be fun and exciting.
Although remember to show them in sync with your design, start pasting your pictures according to your own preferences, and you will have your own personalized wall corner. Show your creativity, mix and match with all kinds of frames and art to bring alive your space.
7. In Love with The Good Old Heart-Shaped Wall Collage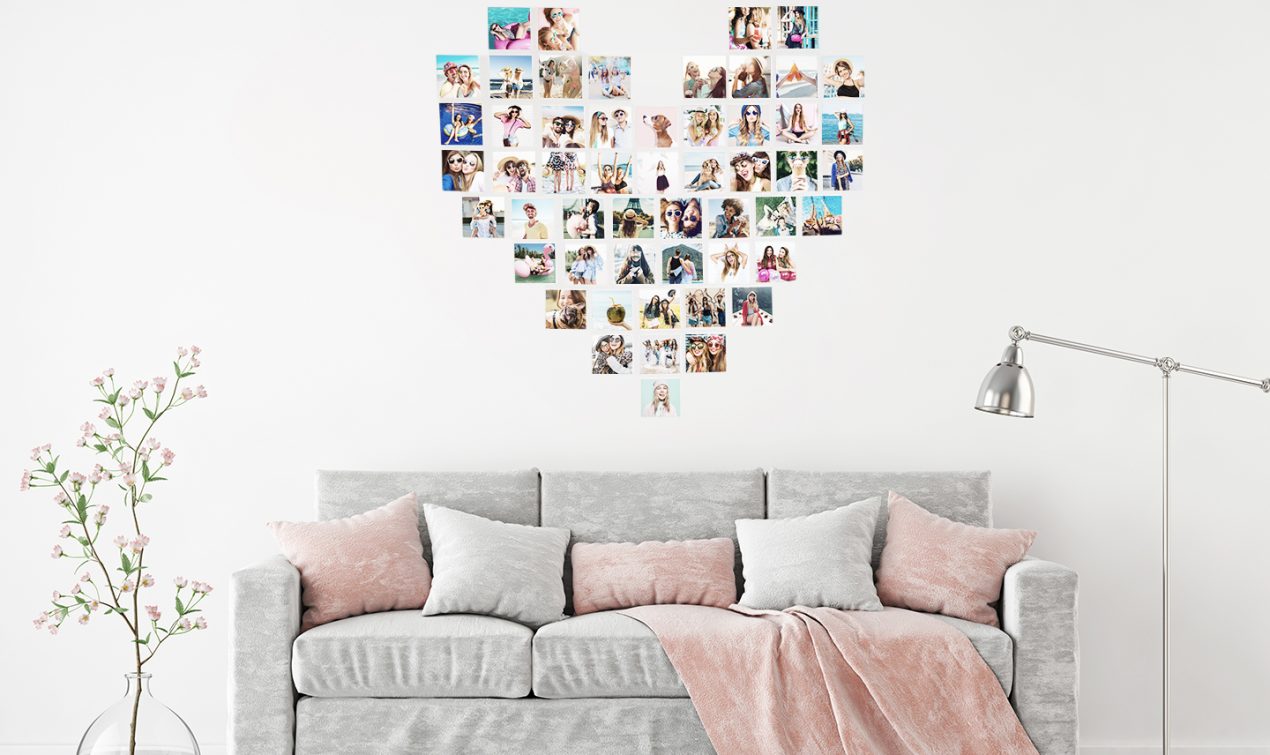 One of the most widely used wall collage ideas is to display your photos in a heart shape. It's cute, it's easy, and doesn't look cluttered on your wall. However, you need to resize your photos to create the perfect heart shape design.
It's perfect for newly married couples and is quite simple to execute. You can color the space between your photos in red to make the appearance of the heart shape more profound.
8. Photo Montage Magic with Cubic Wall Collage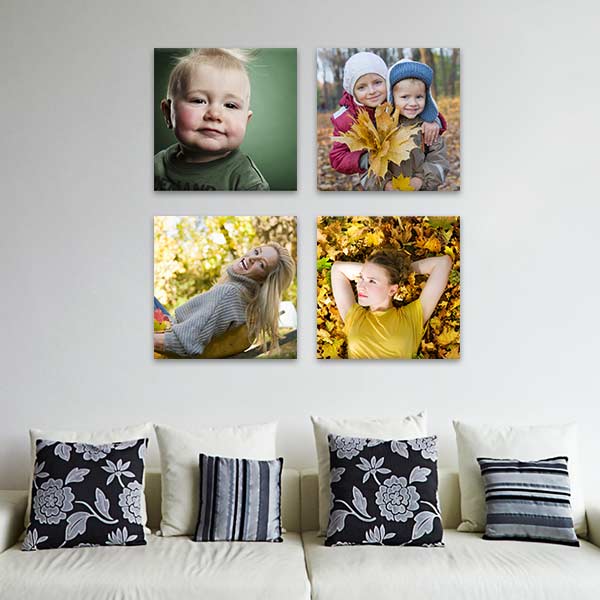 Discover the captivating beauty of an orderly arrangement with a cubic arrangement of aesthetic pictures. This beautiful and neat arrangement of photos makes for a stunning display. In this kind of collage, pictures are blown up and printed on a canvas in a neat and sleek manner.
You just need to take care of the proportions of each photo and make sure that the photos do not get pixelated in the process of blowing up.
9. Indulge in The Visual Delight of a DIY Wallboard Collage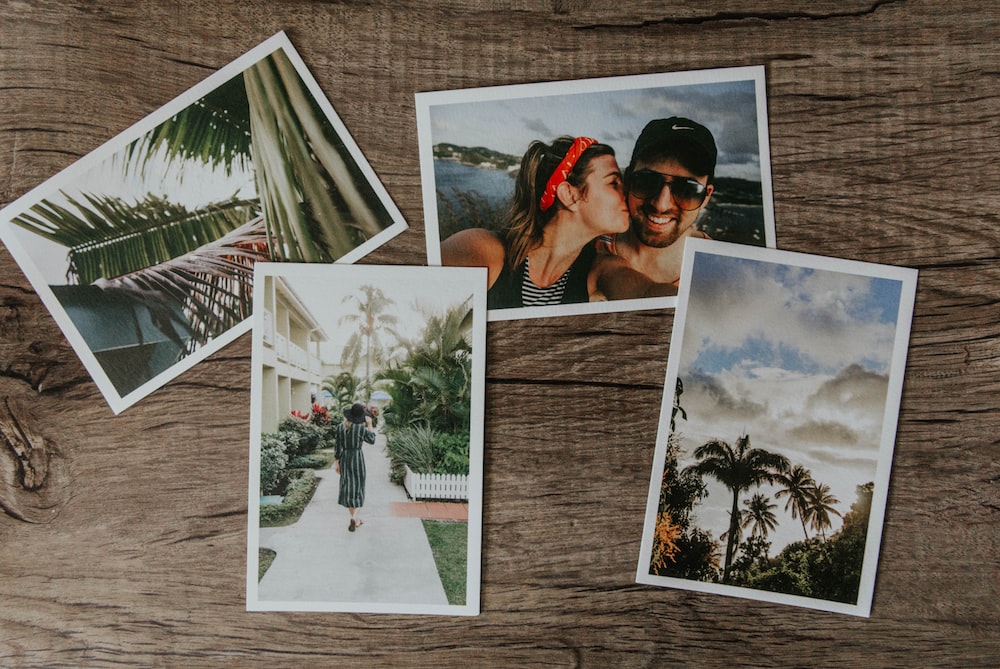 You don't always need to spend a lot to create the perfect ambiance. Sometimes little things make for a wonderful treat. You can use the cardboard lying in your garage and DIY it to create a beautiful display of your photos.
Arrange your favorite pictures, throw in some fancy tape and decoration items, and voila! Your economic collage is ready to be hung around in your living room.
10. Create a Vintage-Chic Wall Collage for An Antique Look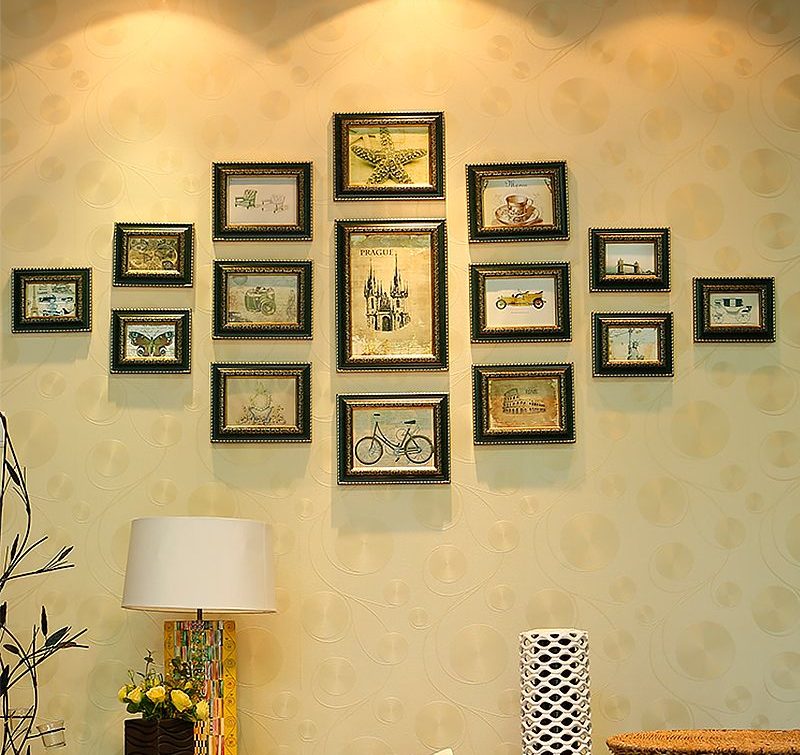 If you are someone who appreciates a retro vibe, you would definitely love the idea of creating a vintage-chic collage. You can get those retro wall collage kits and mix and match them with your photos to display on your walls.
There are a number of options to choose from, such as hippie style, retro music, teen girls, etc. Go with something that matches the aesthetic of your room and create a wonderful delight for your eyes.
11. Mix and Match with Quotes and Beautiful Pictures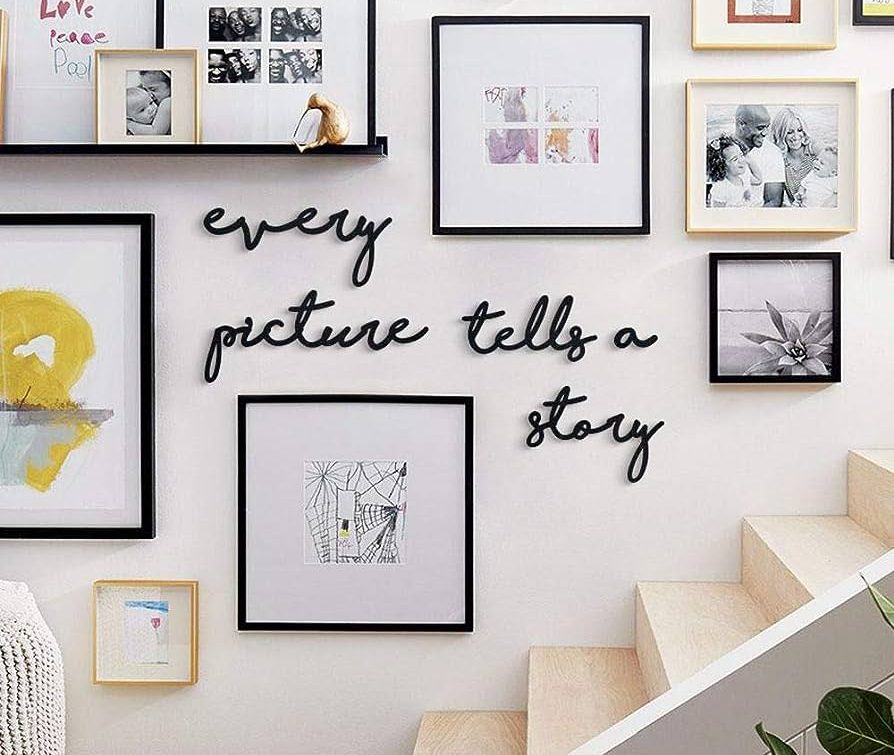 Tell your unique story with a combination of exquisite pictures and quotes. You can truly jazz up your space with this stunning display.
You can create a space that reflects your passion, dreams, and individuality through the quote. For a more aesthetic look, you can get those neon light quotes and hang your photos around them.
They are perfect for the bedroom, kids' room, or living room and give your home a warm, inviting makeover.
12. Weave the Perfect Story with a Gorgeous Family Tree Wall Collage
When it comes to enhancing your decor with aesthetic pictures, creating a family tree collage on your wall is surely one of the finest ideas.
It not only evokes a sense of nostalgia but also gives you a chance to cherish the most beautiful moments of your life. It helps you celebrate the bond between your family and gives others a sneak peek into your family connections.
13. Enhance Your Staircase Area with Aesthetic Pictures for Wall Ideas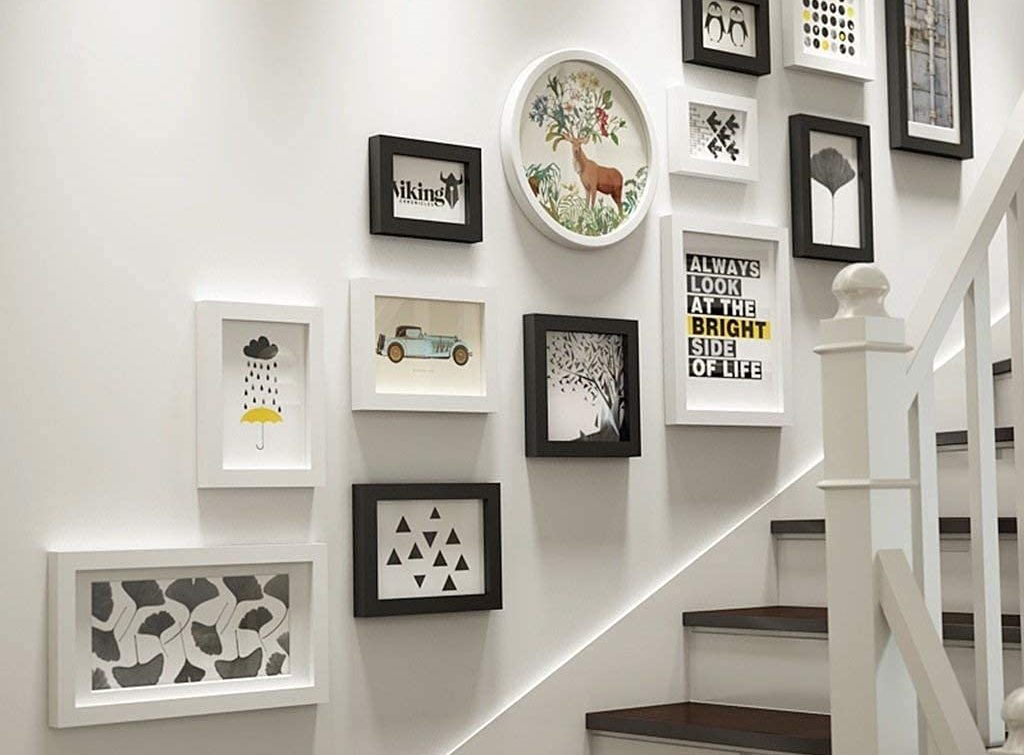 Your staircase area is the perfect spot for a wall collage. You can create a black-and-white-themed collection of photo frames in all sizes. Hang them in an orderly fashion, from large to small, or create your own style.
To give it a more classic touch, you can go with choosing minimalistic-themed black and white frames.
Consider the overall appearance of your home while choosing the wall collage theme. Choose the frames that complement the decor and experiment with various layouts and themes before choosing the final one.
14. The Montage of Happiness with The Wired Clothesline Wall Collage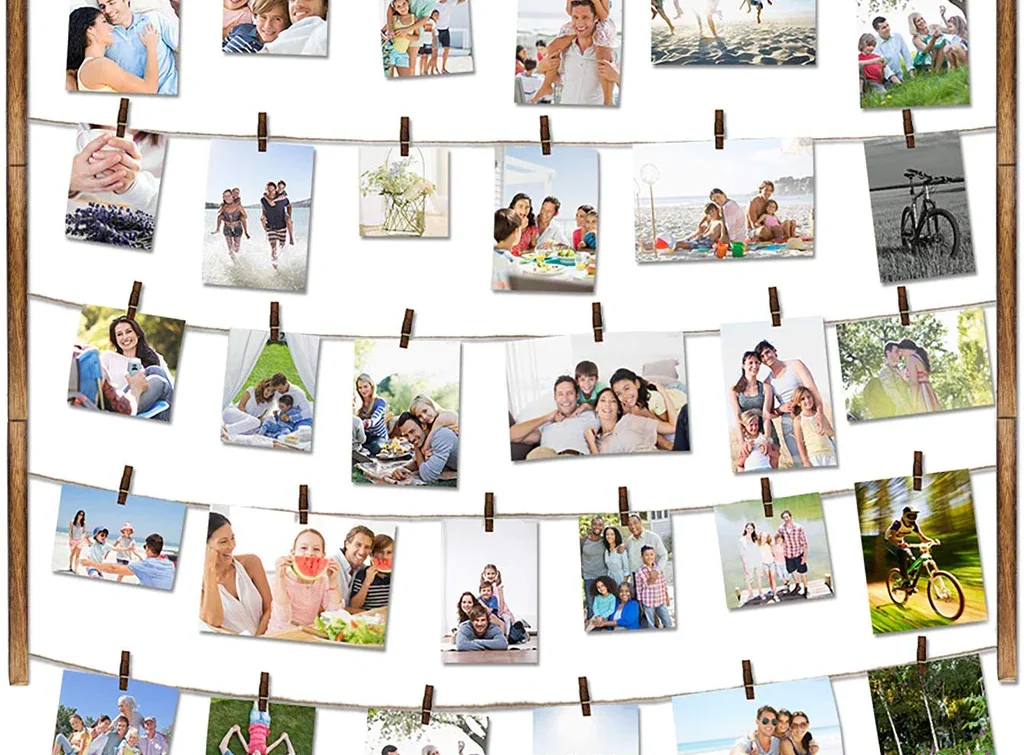 Make a cute and fun wall collage with the help of a wire, a few clips, and your photos. You don't need a photo frame to display this kind of collage. This kind of wall collage is best for a temporary set-up, such as a rented apartment or your college dorm; also, you won't need any special equipment to create the collage.
Just hang your photos with the clip on a wire just like you would hang your clothes and create your own visual masterpiece.
15. DIY Photo Holder for Those Bitten by Creative Bugs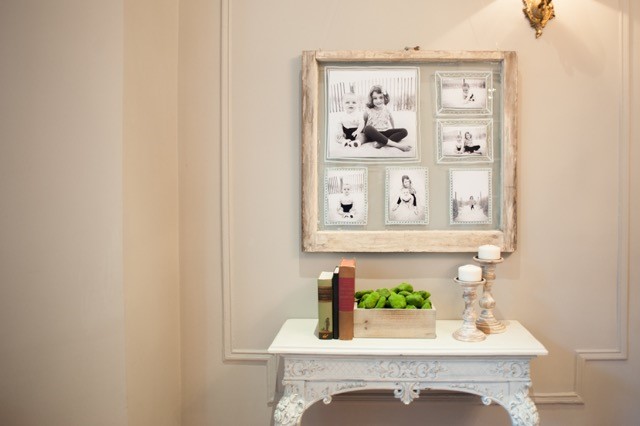 A little DIY every now and then never hurts, and when it is something as simple as a stunning photo holder, you will definitely want to create your very own montage of happiness.
All you need is wood, twine, and some mini clips. Just hang your naked (without framed) photos on the twine, and your DIY photo holder is ready. You can also attach some string lights on the twines, and you are all set to display your photos in style.
16. A Boho-Chic Super Funky Wall Collage Idea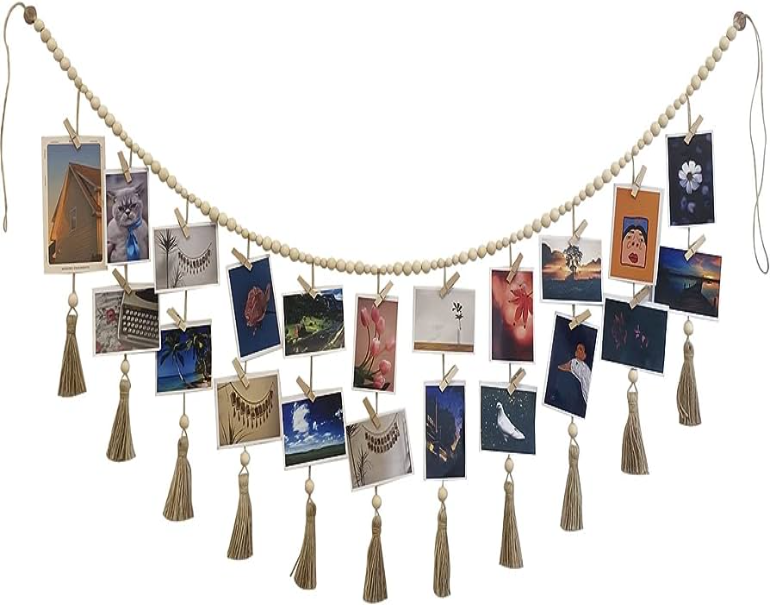 Add a little fun to your boring walls with this exquisite boho-style wall collage! Make a string of your photos, preferably of the same sizes, and add some boho-inspired tassels in the last one. Hang it in your living room, and we bet your guests won't stop looking at it.
To add a more bohemian touch to it, use a few decorative elements such as colorful feathers, dried flowers, and ribbons.
17. Create a Cozy Corner Collage of Your Dreams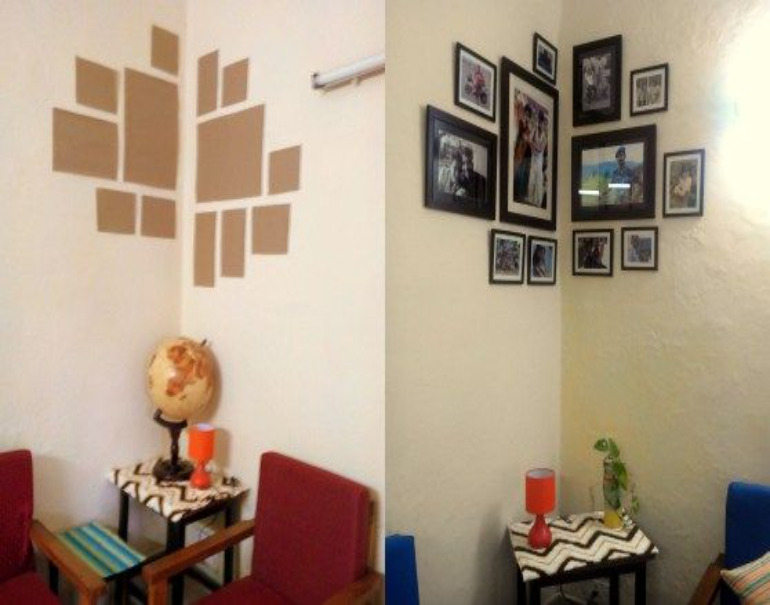 Brighten up the corner of your home with an impressive display of aesthetic pictures for the wall. Get a combo of photo frames in multiple sizes create an artistic display of memories in the corner of your room.
This kind of wall collage is neat, fresh and grabs a lot of attention from onlookers. You can use nails for hanging these photo frames. Get those customized peel-and-stick frames and paste them meticulously in the corner and create a delightful focal point for your room.
18. A Beach-Themed Photo Wall Collage for Your Beach-Vacay Pics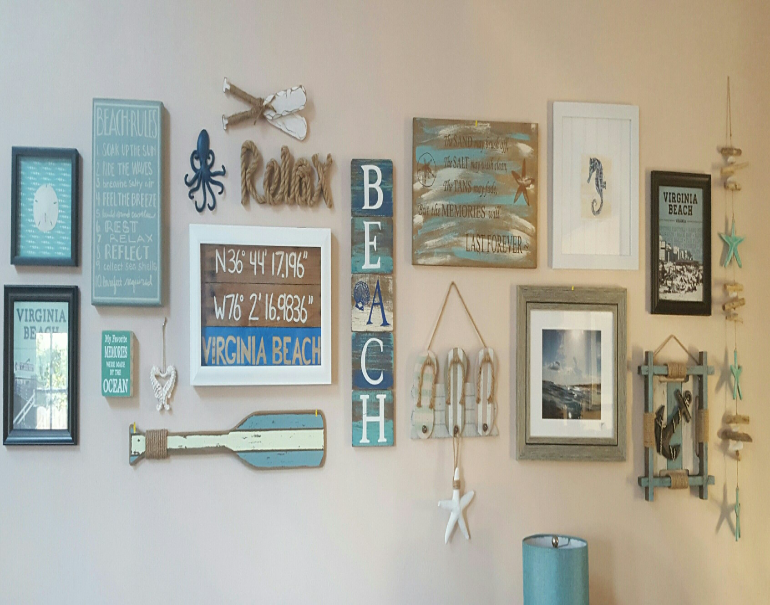 Display your beach vacation photos with a beach-themed wall collage to relive your vacation memories. A white-painted wall would be perfect for displaying your beach-themed wall collage.
Find your snappy pics and grab some cool beach-themed signs and artifacts and attach them with your pics, and your beach-themed collage is ready.
19. A DIY Picture Ledge for a Delightful Display of Your Memories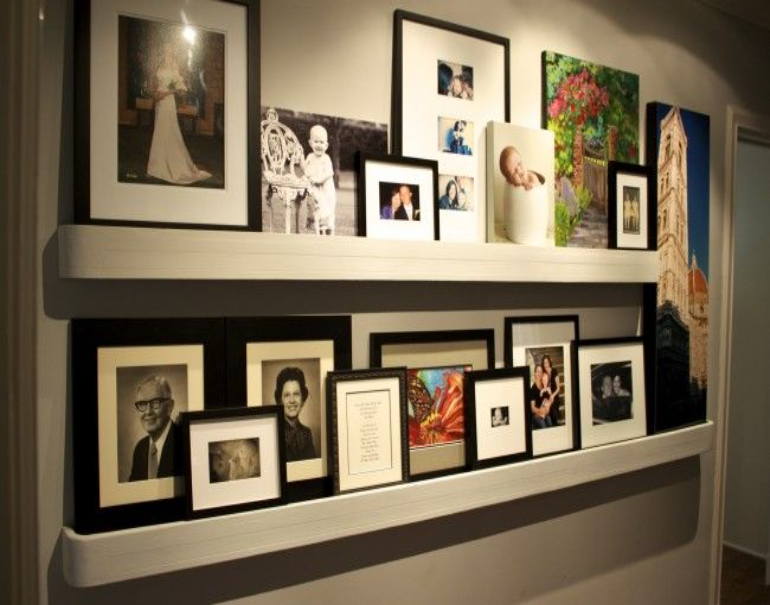 Create a harmonious symphony of your special moments with a sleek and narrow picture ledge. You can buy fof your choice and get them installed in your living room, bedroom, or just where you want.
Display your photos on these modern and trendy floating shelves to add a touch of sophistication to your home decor.
20. A Butterfly-Shaped Collage to Capture Your Beautiful Moments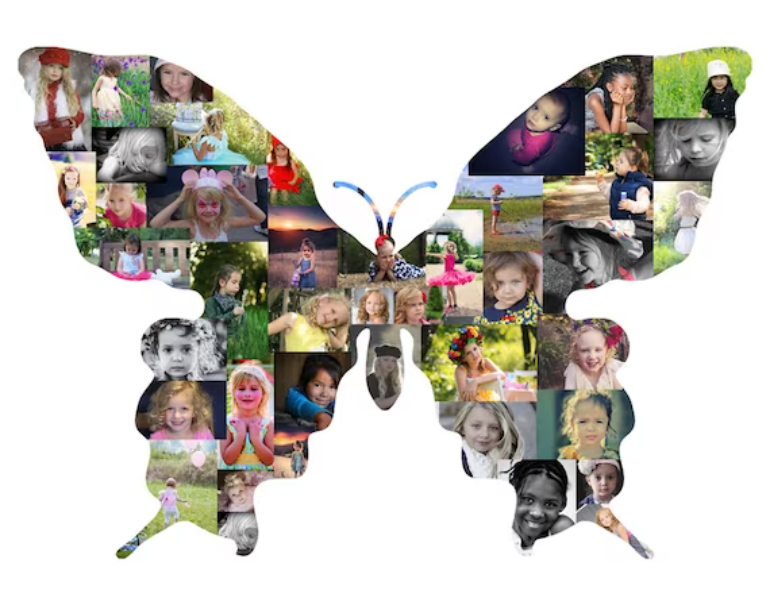 If you want to give a little gentle feminine touch to your home aesthetic, a butterfly-shaped collage is perfect. A beautiful butterfly-shaped collage creates an inviting aura and serves as a captivating visual for your home.
The best thing about this collage is that you get to choose your photos in different sizes, and it grabs instant attention.
Conclusion
We hope you loved our suggestion for alluring wall collages to enhance your home decor. Displaying your aesthetic pictures for walls is an integral part of your home decor and can lift your decor manifolds. Needless to say, it is significantly important to give the idea of wall collages a thorough consideration if you are looking to uplift your home interior.
There are a number of options for creating a wall collage, some are simple, and some require a bit extra effort on your part; however, if you choose the correct wall collage, it can instantly elevate the aesthetics of your room. Just make sure that the option you have chosen blends with your home decor and does not look out of place.
Start your creative journey now!