25 Stunning Wedding Backdrops to Make Your Big Day Extra Special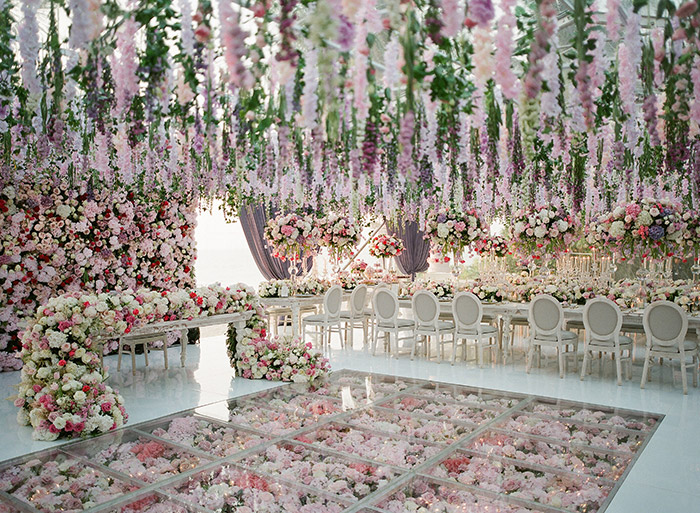 Planning for the dream wedding celebration with a tight budget is indeed a tedious task to achieve. However, now not anymore.Wedding Day is the big occasion of life which every couple wishes to be perfect and wouldn't wish to compromise anyway.
And to have a perfect day, planning is a must that fits your budget in a friendly manner. The perfect plan starts with scheduling the date of marriage, besides setting up a budget for it.
Everything else revolves around these two and, of course, the bride, groom, and their families, which make an integral part of the celebration. However, above all, it is the venue and decor that sets the entire tone of the grandest day of your life.
To help you prepare well with the flow, we have curated a list of some of the best cheap wedding backdrop ideas that are budget-friendly and will perfectly match the vibe of the occasion.
1. Wedding Flower Wall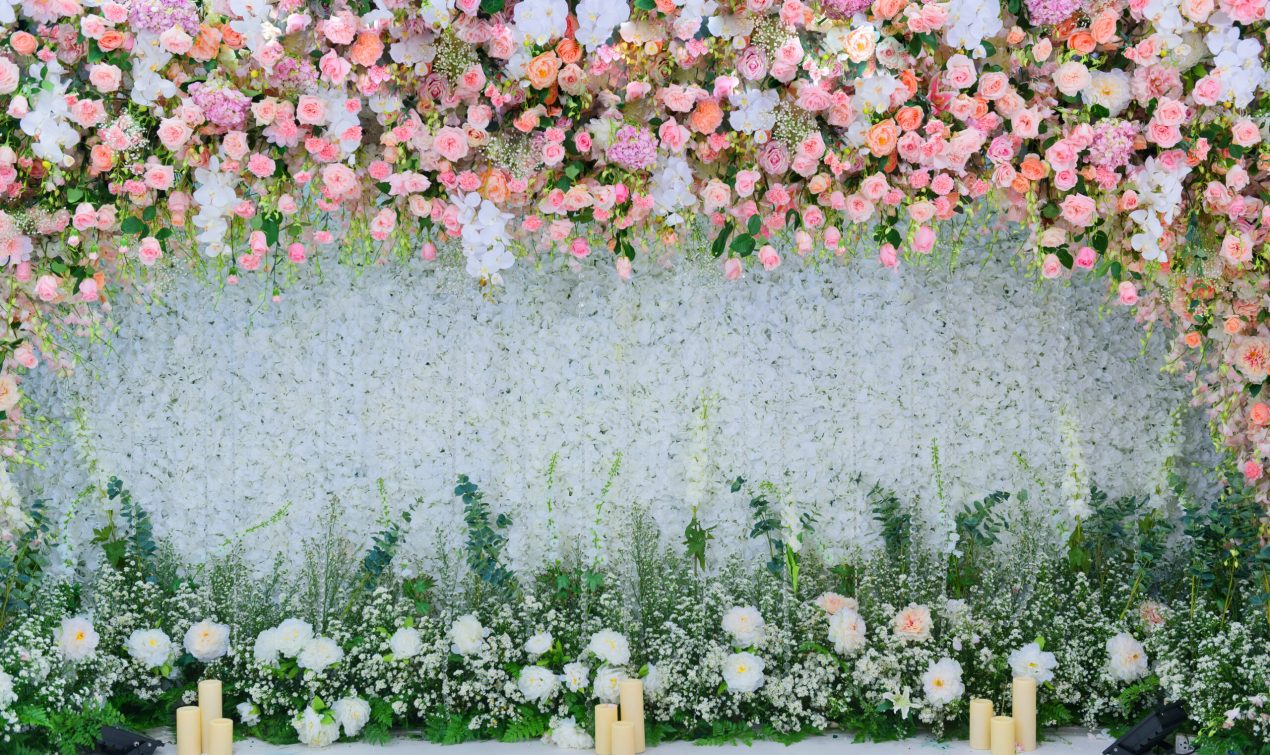 Weddings and flowers go a long way back. And with the change in the era from traditional to modern, a picturesque flowery wedding is a perfect Instagram hype. A floor-to-ceiling floral decor is not very difficult to create. First, one is required for one to decide on a fixed place for the flower wall, and the exact measurements of the place must be noted down. However enticing the real flower decor feels, it is advised to use faux flowers to create a mesmerizing backdrop for cheap wedding backdrop ideas.
2. Monogram Wall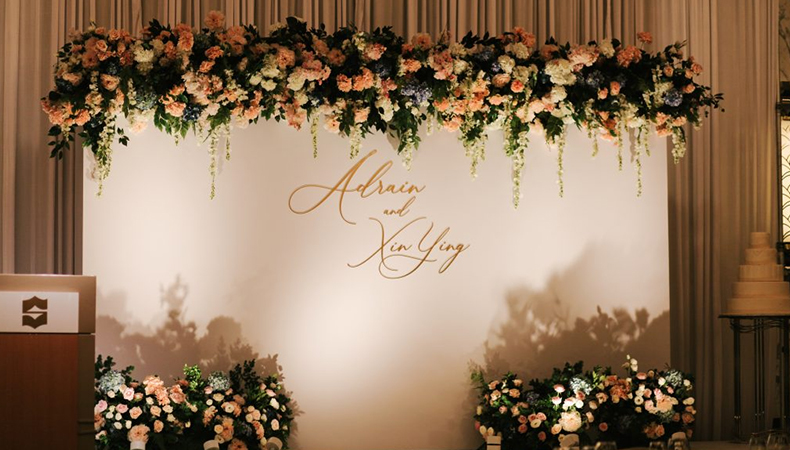 Hashtags and monograms can be used as the main theme of the wedding with an aesthetic touch to it. While creating a backdrop with a monogram along with heart-shaped motifs and other intricate details has become mainstream, you can add to the fun by placing a board at the entrance with the couple's monogram where all the invitees can put down their warm wishes and celebrate the couple which the couple later can hold on as a reminiscence.
3. Floral Candle Fireplace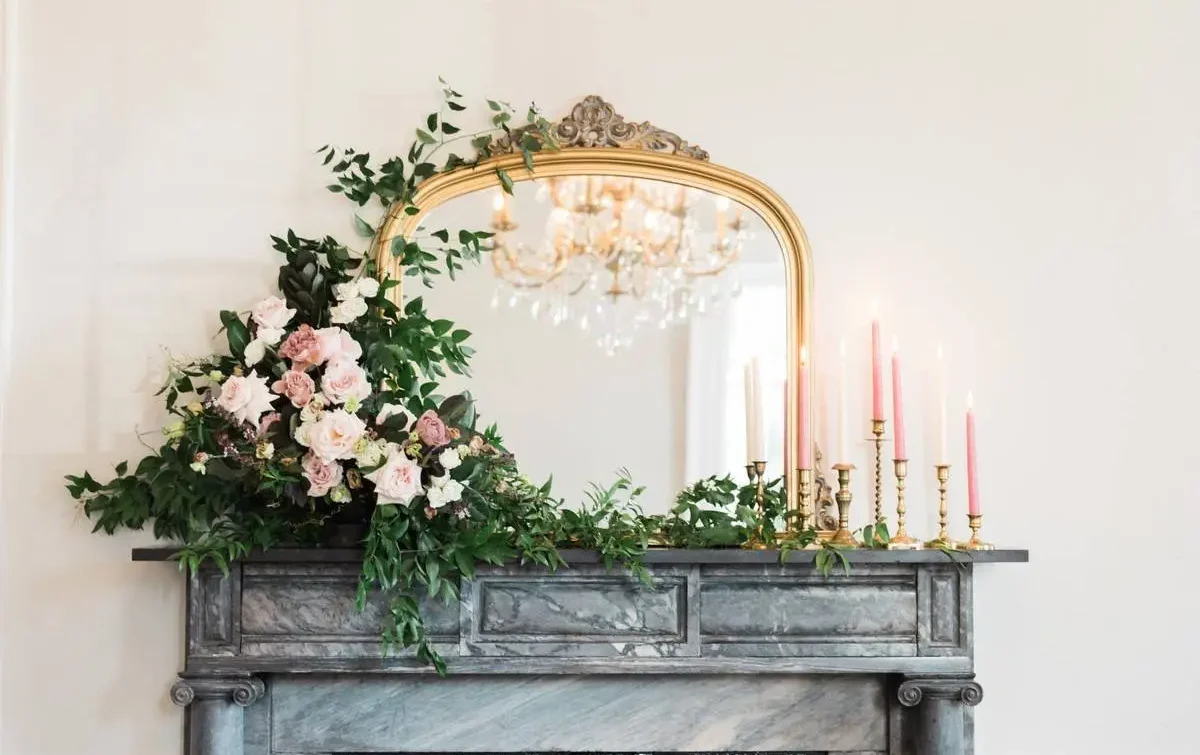 A warm altar for the couple to take their vows is a treasure for a lifetime. It is wholesome to set up flowers and candles around the fireplace for an aesthetic wedding ceremony to take place. You can also place candles around the sitting area but make sure to place the candles such that it hurts no one. The cheap wedding backdrop ideas include more joy and less expense.
4. Twinky Lights
One can never go wrong with flowers, food, and the right amount of lighting. While there are various mediums of lighting a place, using the string twinkling lights can set the stage for the celebration in the right mood for cheap wedding backdrop ideas. It gives a fairy tale vibe and can be decorated in various ways. You can add layers of strings to give a luminous look or place the strings inside lanterns and hang them around the wedding area. During a winter wedding, the altar can be set up under a large tree covered with silver foil with string lights wrapped around its branches, and it will definitely be a dreamy vow-making.
5. Semi-circle with Floral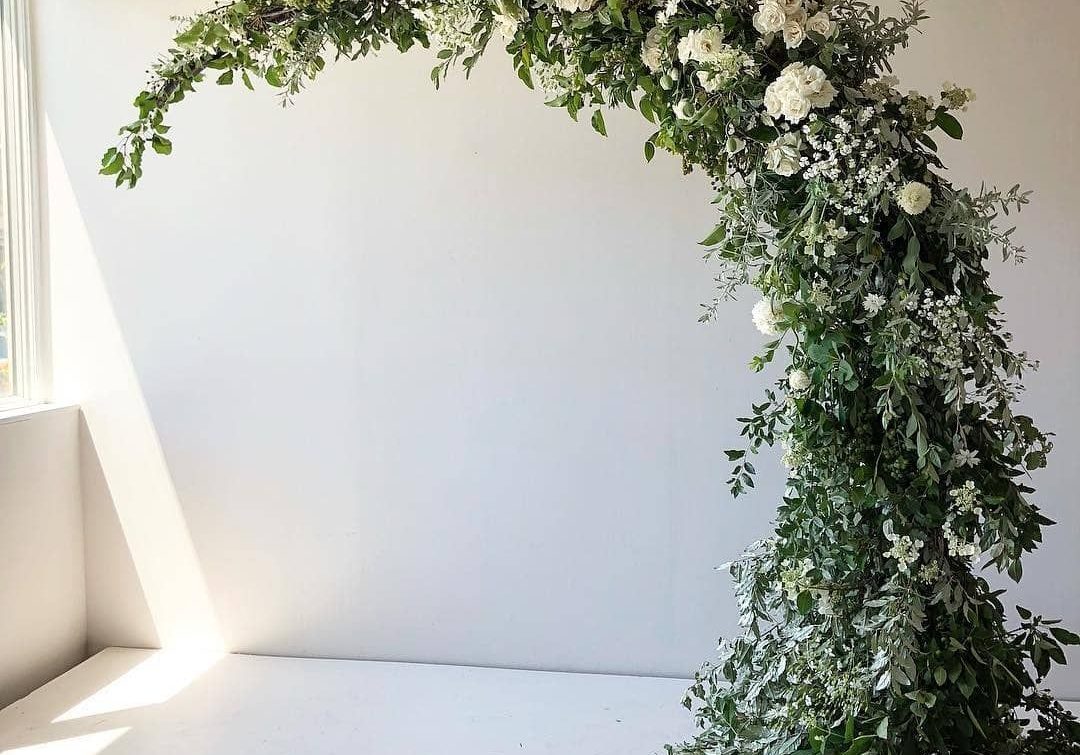 By keeping the wedding area sweet and simple, you can draw attention to the 'sweetheart table' by decorating the area with a semi-circle floral arch. The floral wedding arch symbolizes life. It is a link between God and men and a stage between past, present, and future.
To bring in good blessings for the wedding dinner and couple, a wedding arch is a good fortune to start a happy married life. The best part is you can never go wrong with cheap wedding backdrop ideas by including a wedding arch with faux flowers to decorate the wedding location.
6. Macrame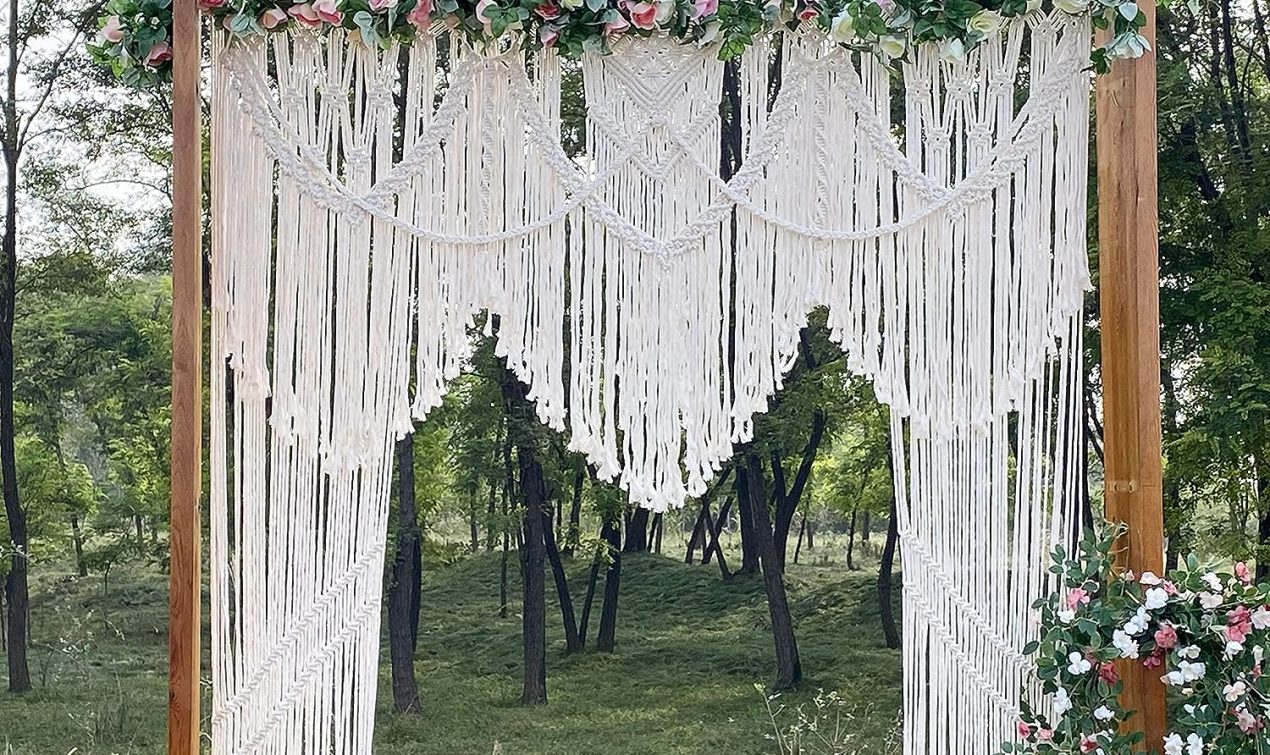 A perfect wedding is all about fun and love, and macrame is to fall in love with. Create strings and patterns with macrame for cheap wedding backdrop ideas. Backdrop and table runners in white macrame create the look for a dreamy wedding. In fact, even wedding dresses can be customized out of macrame. You can decorate it with flowers and lights for a more lively effect.
7. Green Wal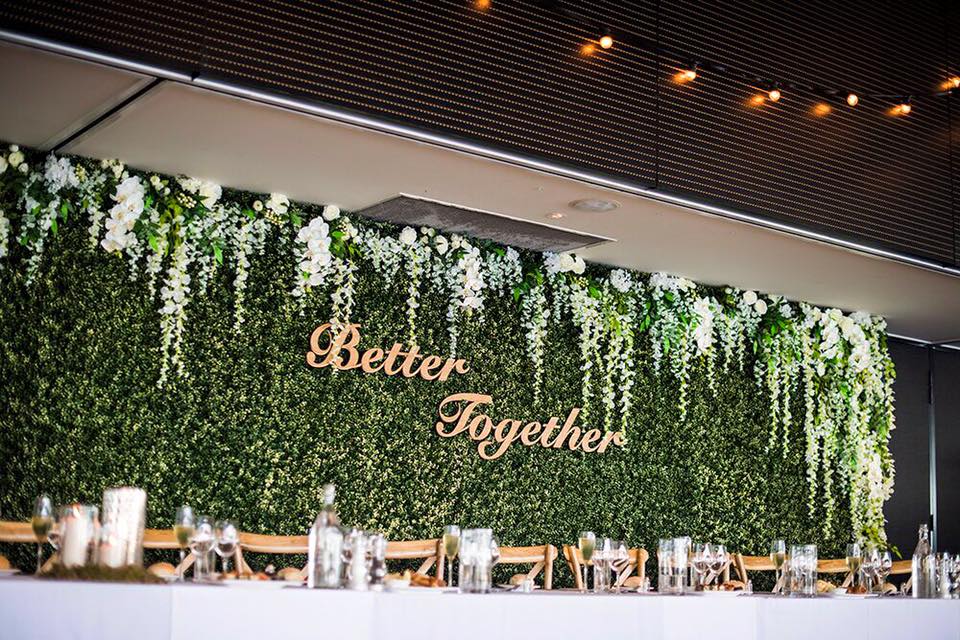 If you are a nature lover, greenery is your go-to option. You can place a boxwood wall with shelf holders to serve drinks to the guests and decorate the altar with a green wall backdrop with succulents and other flowers. Green is a color of hope, and cheap wedding backdrop ideas of a green wall will fill the couple with freshness and positive hopes to start a new life together.
8. Boho Wedding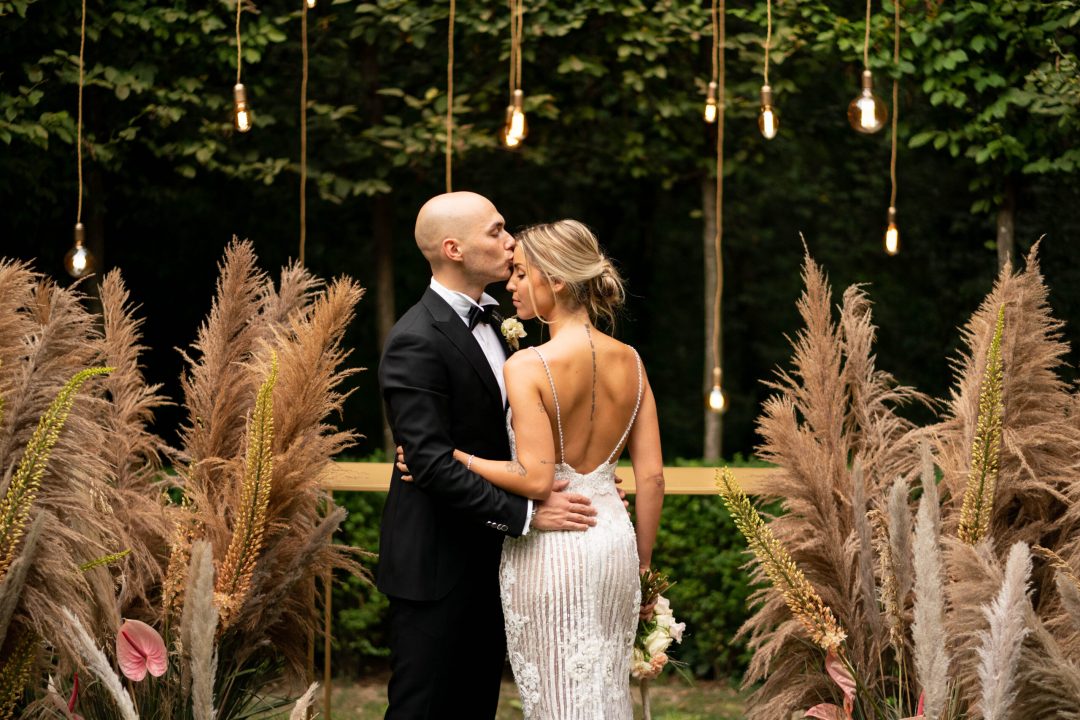 Love sees no barriers, and so does a bohemian. To break the rules and go beyond the stereotype is the main theme of a bohemian styles theme wedding. It expresses freedom of expression and thrift as the theme can range from using a light color palette with light flowers and grasses to bold red circles and pampas grass. It's your wedding, and nothing can be compromised with the root of your expression
9. Chandelier of Greenery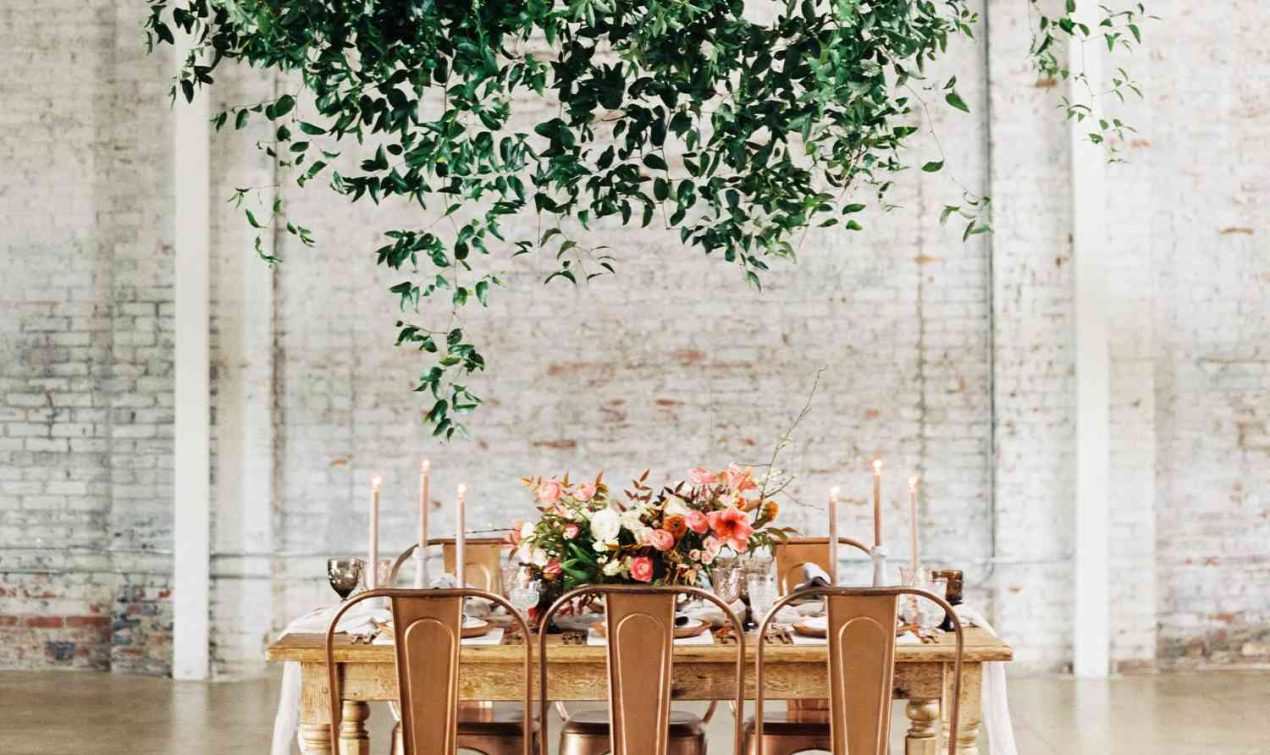 Did it ever cross your mind that instead of a green wall backdrop, you can opt for a greenery chandelier for cheap wedding backdrop ideas? Well, it's been the talk of the town recently and is worth the hype. Consider putting up a classic chandelier at the altar to create a canopy of green leaves over your head. This will surely bring out the magic of the occasion by standing apart from all the hefty materials like crystals and emotions.
10. Love Poems on Fabrics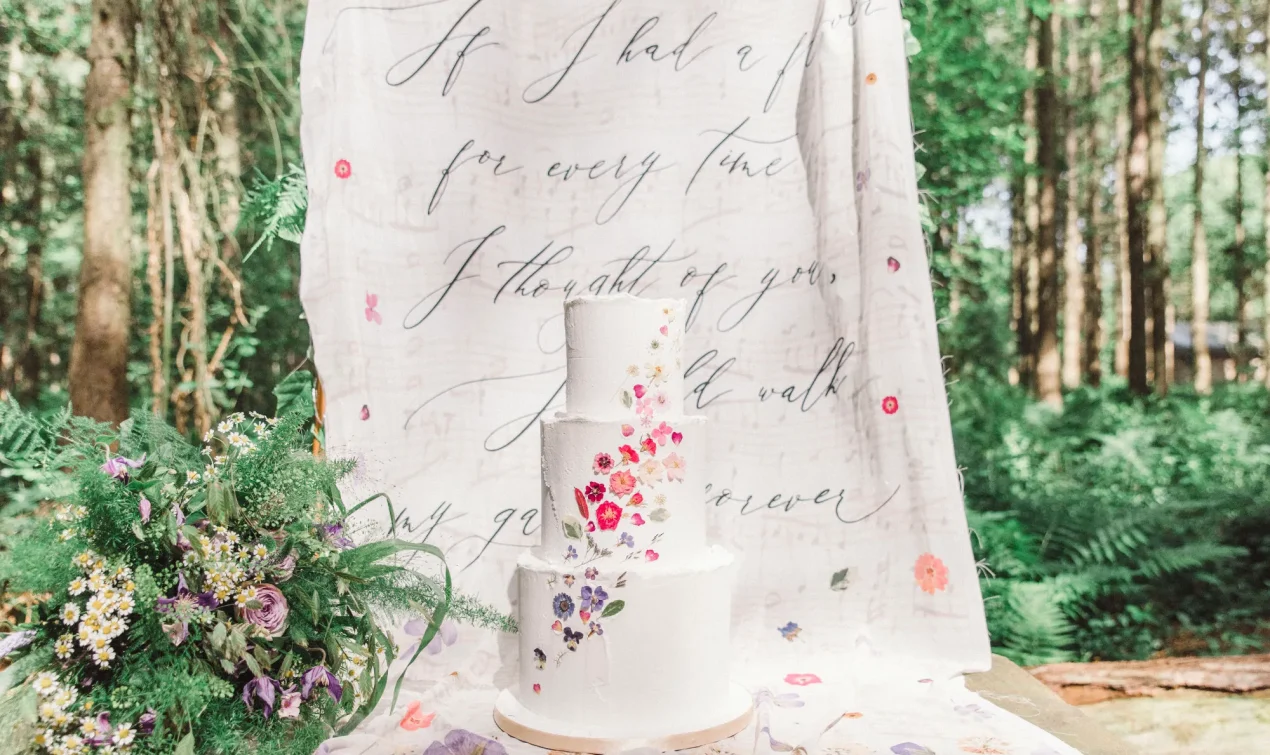 The couple rich in intellect will always have fonder poetries and would love to preserve them. Wedding vows are no less than heartfelt poetry. Try getting your wedding vows printed on silk fabric which can be used as a beautiful wedding backdrop and later can be hung in the living room or master bedroom of the couple's house.
11. Balloon Fun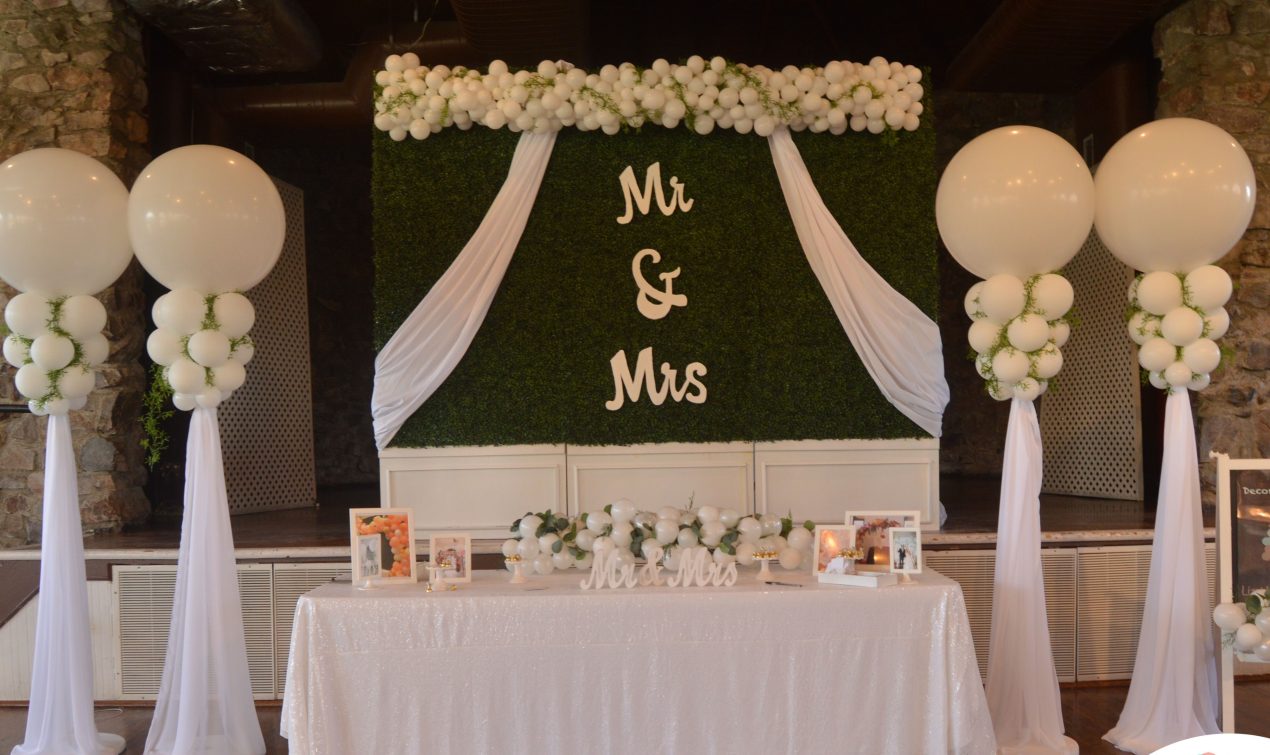 Balloons are a forever joy ride. No matter what the occasion is, balloons are always the perfect celebration tool. You can combine bunches of balloons or use a balloon arch for the altar and also decorate the dinner table with complimenting balloons. You can also use the helium gas balloons to raise a toast in the air to mark the beginning of a beautiful journey of married life, and it all comes within your cheap wedding backdrop ideas.
12. Antique Folding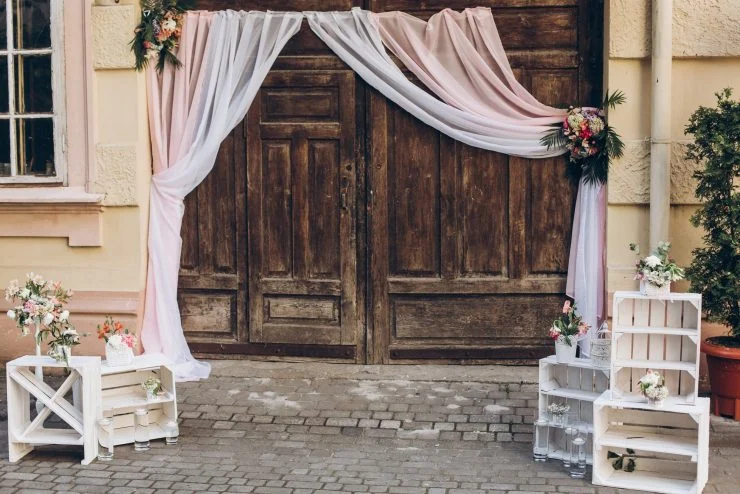 Planning for a vintage wedding to celebrate the old school love? This is your go-to wedding theme backdrop in a budget-friendly pattern. A wooden folding screen with DIY decor or a simple rustic makeover will bring all butterflies to the couple madly in love. An old-school couple is fond of simplicity and does not long for anything fancy, and thus, keeping this theme minimalist in every possible way should be the motive.
An old vintage backdrop can also be created with flowers and lights for the guests to indulge themselves in capturing memories while the couple enjoys their D-day. The idea of an antique arch also goes well in enhancing the entrance of the wedding location.
13. Distressed Wood Wall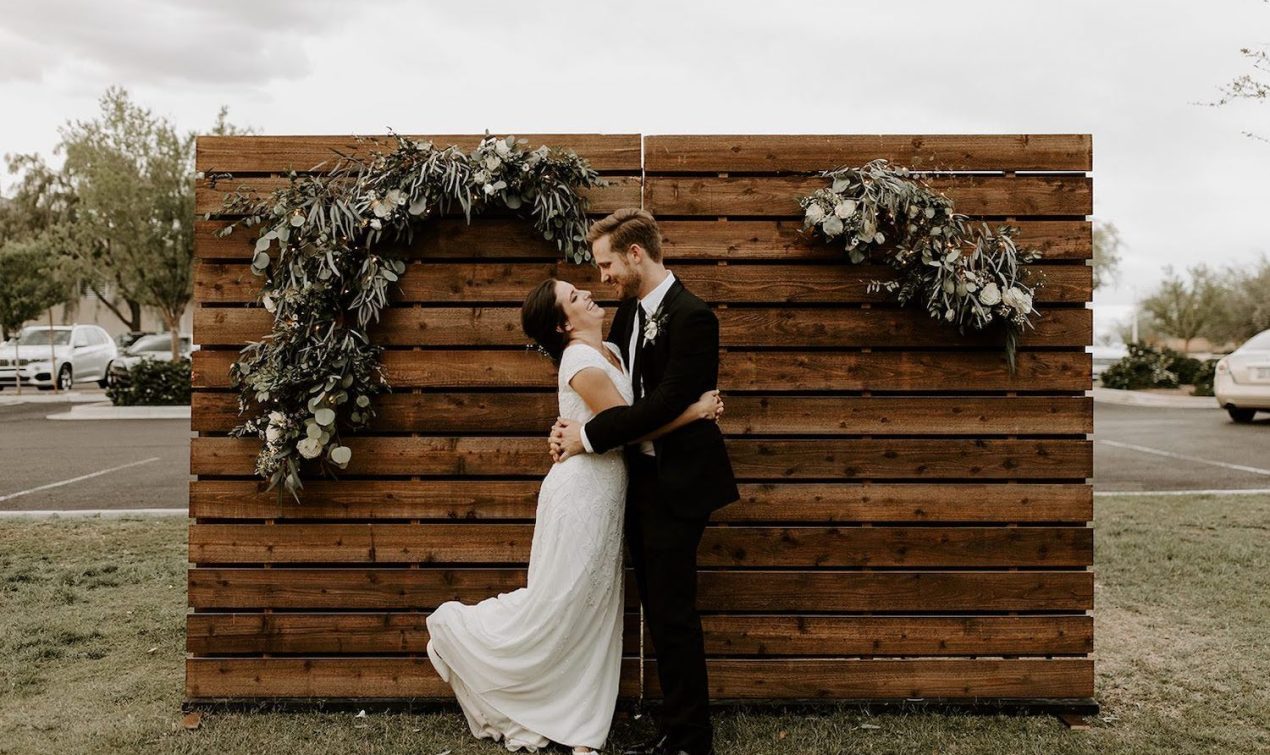 A simple and cozy winter wedding with a wooden background brings just the right feel for the perfect wedding. You can also use wood and timber plaques and wedding arches and also make friends with tree logs and arrange candles over them. Make use of wooden walls for cheap wedding backdrop ideas.
14. Hanging Lanterns
Lanterns do not only mean the old age light lantern. It has taken various sizes and shapes with changing times. It can be used as a flower lantern for a day wedding or as a lighted lantern for sundowner weddings. Lanterns can be used in shapes of rectangles, circles, ovals, mushrooms, and various other DIYs. You can place it at the altar or centerpiece or entrance or one for each table, and it will still be a cheap wedding backdrop idea.
15. Crepe Paper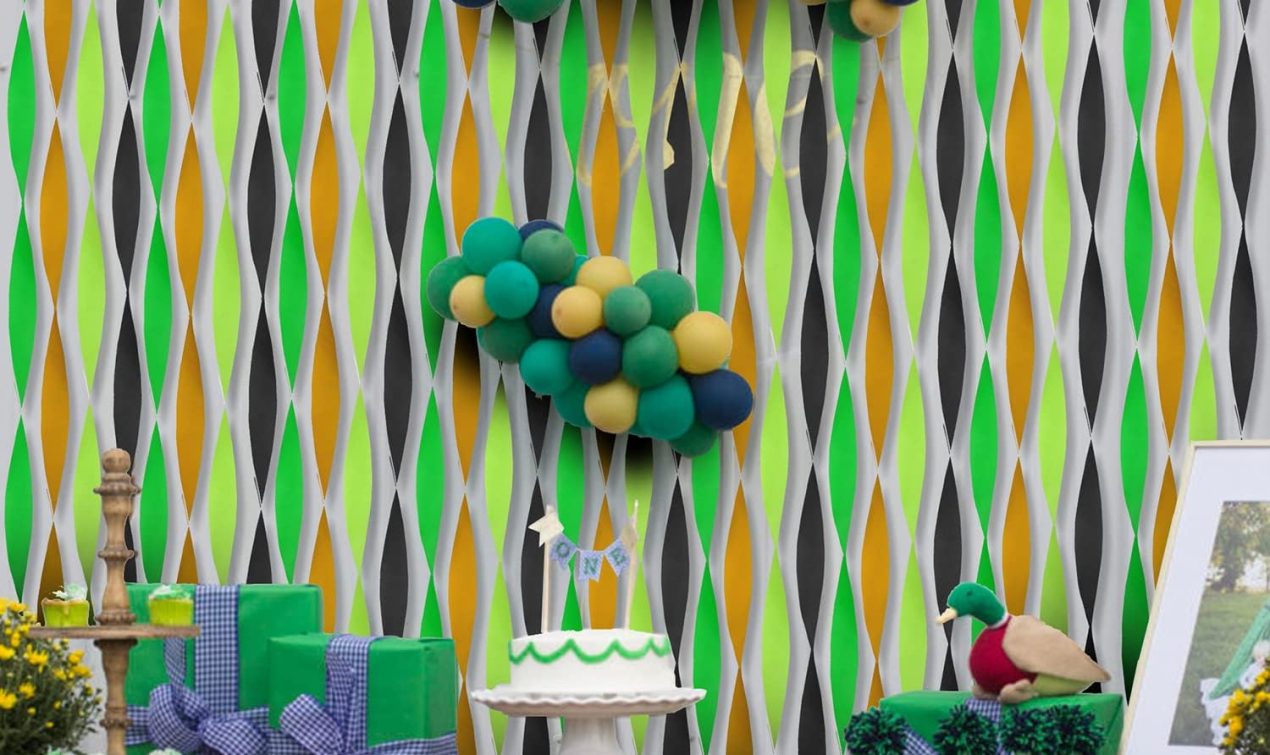 The versatility of crepe paper allows it to be used for organizing a beautiful backdrop for weddings. Buy in bulk for an outdoor wedding or wedding beside the beach. A flowing crepe DIY is an easy and cheap wedding backdrop idea and would be loved for its simplicity and versatility. Use crepe paper in bright colors and add a placid vibe to the wedding.
16. Bohemian Macrame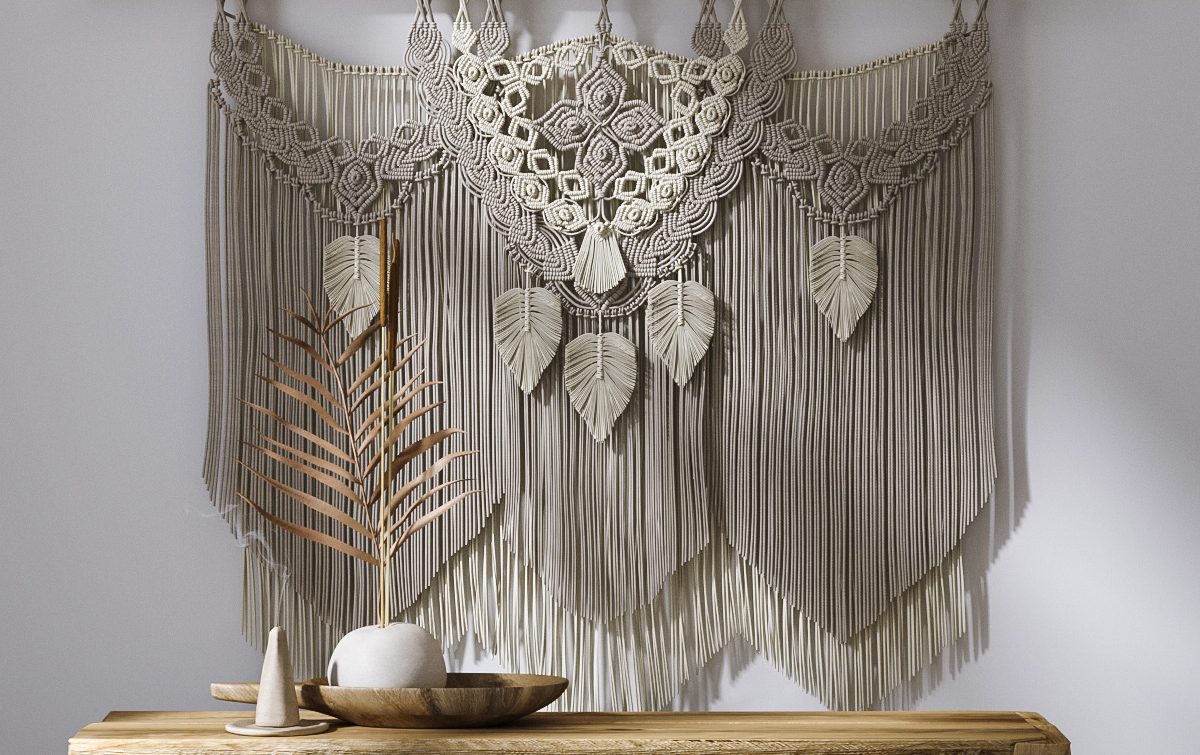 Bohemian and Macrame are two different themes that can be combined to bring out the best of your creativity for cheap wedding backdrop ideas. You can use bohemian-style altar and macrame designs for the rest of the decoration or vice versa to complement each other, or you can strategically blend the two together for a consistent effect.
17. Industrial DIY Arbours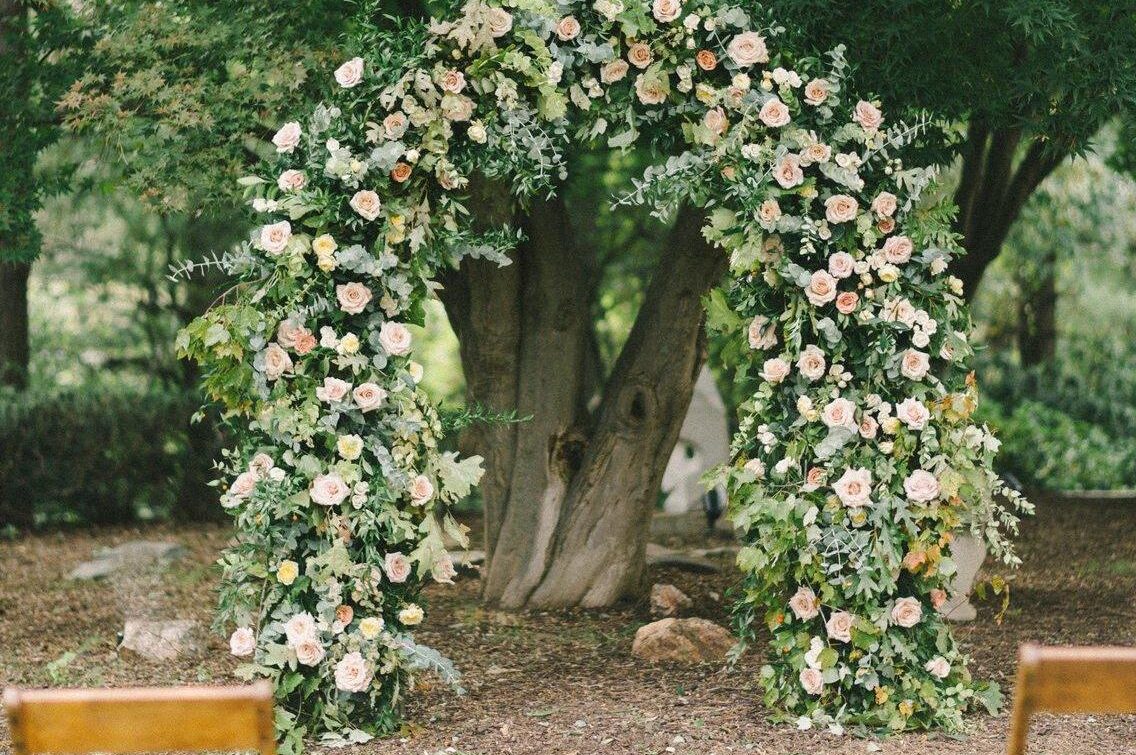 Use a copper DIY A-Frame arch to stand out from the crowd. In today's world of modernization, industrialization, and development, it is easy to create Industrial arbors to get a frame of your own imagination. Customize your wedding arch and might also want to place the setup at your home as a memory that can be put to use for other things.
18. Chalkboard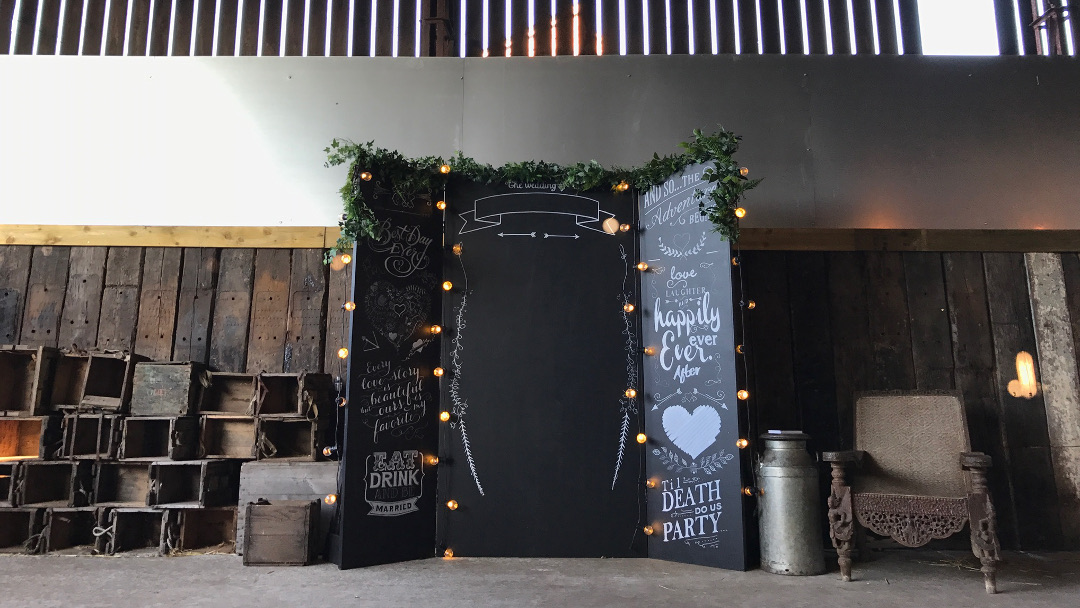 To have a more relaxed setup for a wedding or celebrate a love that began during school days, a chalkboard theme is perfect. The chalkboard can be beautifully handcrafted with monograms and wishes, and pictures from the first date. Creating memories never goes out of style and is easy on cheap wedding backdrop ideas.
19. Fabric Streamers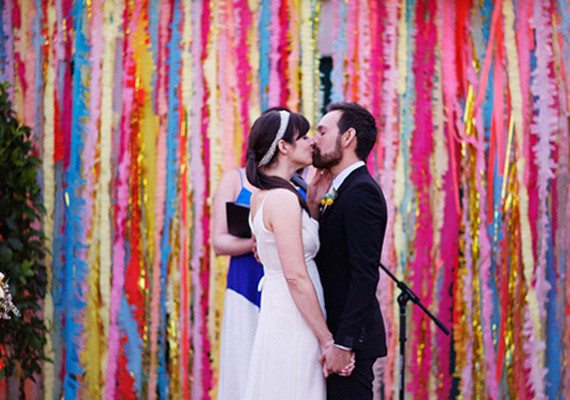 The fabric streamers are mess-free, easy, and cheap to create. You can welcome the guests by waving the fabric streamer attached to sticks and also handover fabric streamers to them to toss onto or wave to celebrate the wedding of the couple. You can also use light-colored fabric streamers to decorate the cheap wedding backdrop idea, which will be beautiful and cheaper than the floral arrangement.
20. Hanging Paper Birds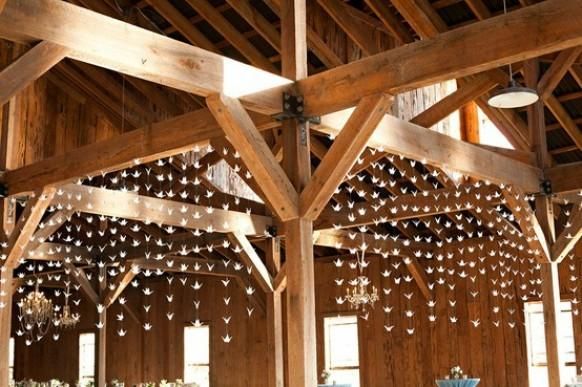 Origami paper birds and creativity can be used to set up the wedding backdrop of an artistic couple. You can use single-color or multi-colored origami papers to make birds out of paper to symbolize the freedom to fly the couple together. You can also ask the guests to use their creativity and make origami birds and hang it to the strings attached, which will also keep them entertained. Guests enjoying themselves in cheap wedding backdrop ideas is a win-win situation.
21. Circular Theme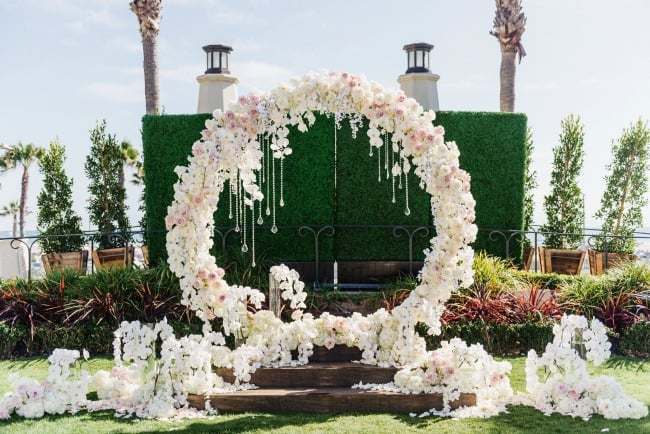 The circle represents infinity, perfection, and completion, and after the various wedding arches discussed in the list above, the circle arch for the wedding is to go for if nothing is selected yet definitely. Simple, romantic, and chick, this setup will also aid in Instagram-worthy images. You can decorate the circular arch with flowers and leaves and lights and love, and it will still be one of the best cheap wedding backdrop ideas.
22. Mosaic Wall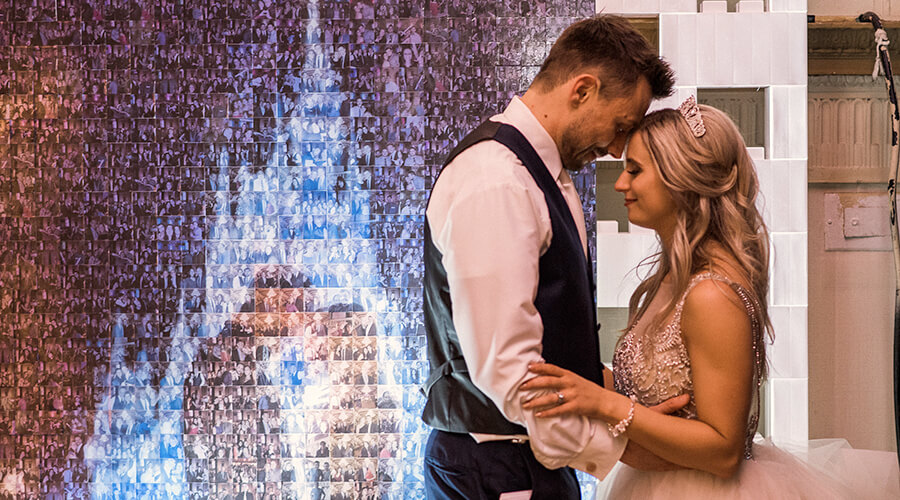 For a couple that has been dating for a long time and has a lot of pictures together, make use of this idea to enrich your memories on your special day. Make a mosaic wall out of all the pictures to hit the nostalgia while also creating better memories. Make sure to use a mosaic wall that does not have too loud colors, or it may divert the attention from the wedding attire, and the purpose will not be served.
23. Triangle Collage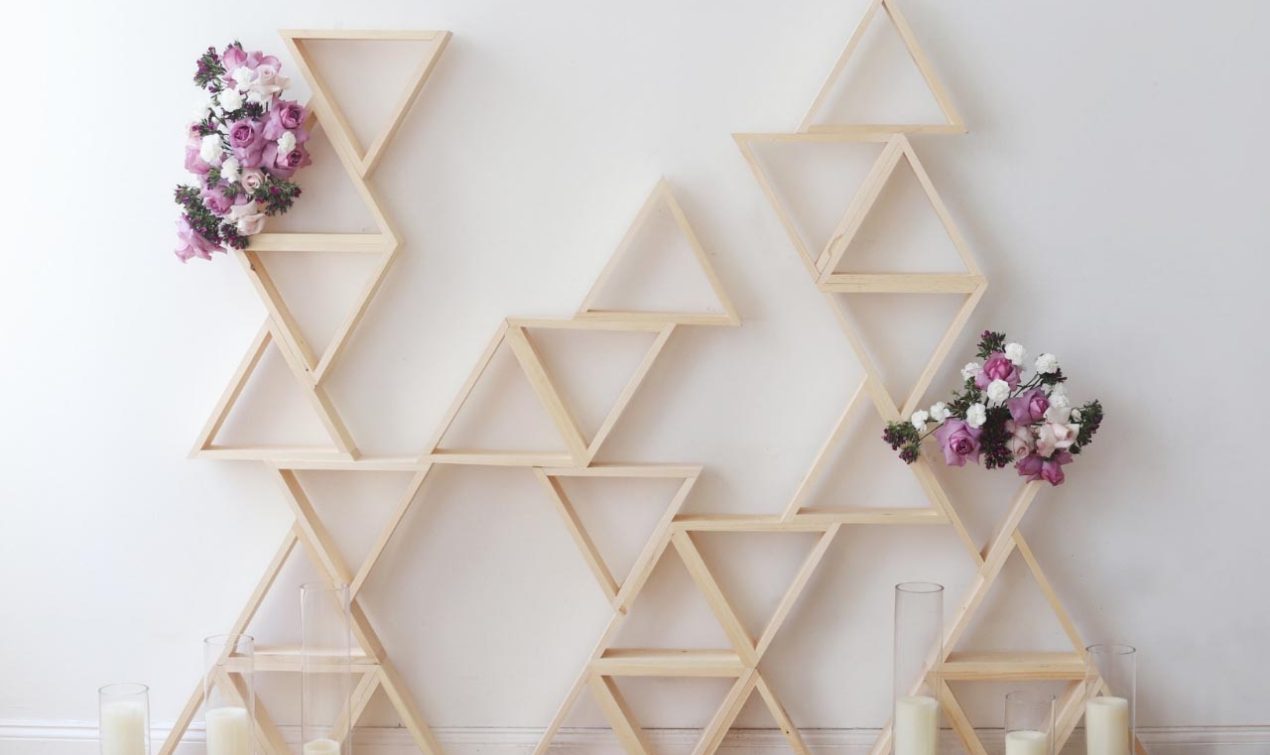 Make the best out of waste to cut down on cost and also not make it look very cheap. Use the leftover wood pieces from the furniture to make triangle-shaped collages which can serve as backdrop-sum-shelf to be placed at the altar. A similar collage can be placed around the dining area to serve drinks to hold fancy artistic objects as a showcase. While it is one of the cheap wedding backdrop ideas, it can revitalize the spirits of the guests.
24. Floral Cross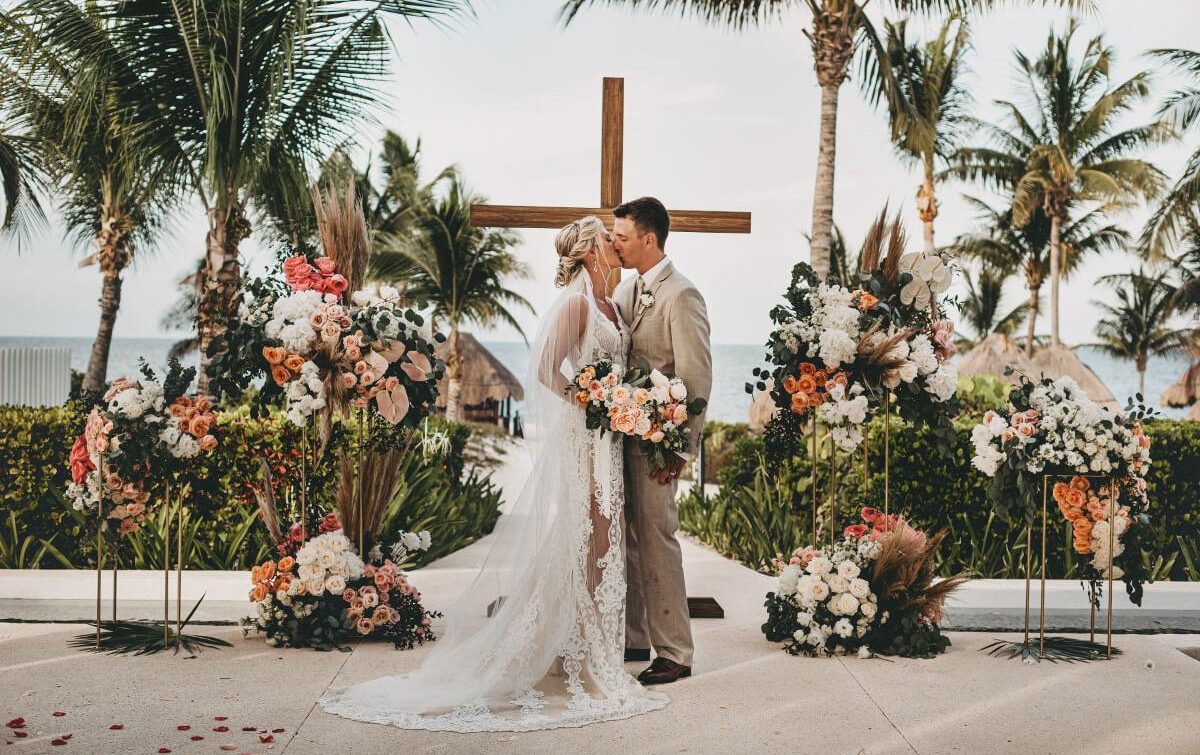 To have an authentic religious wedding, use a cross symbol and decorate it with flowers and place it on the top of the altar for the couple to worship. Weddings are spiritual, and thus, floral crosses are an elite way to celebrate the spirit. The blessings of the Almighty will be bestowed on the beautiful couple while elevating the cheap wedding backdrop ideas.
25. Go Natural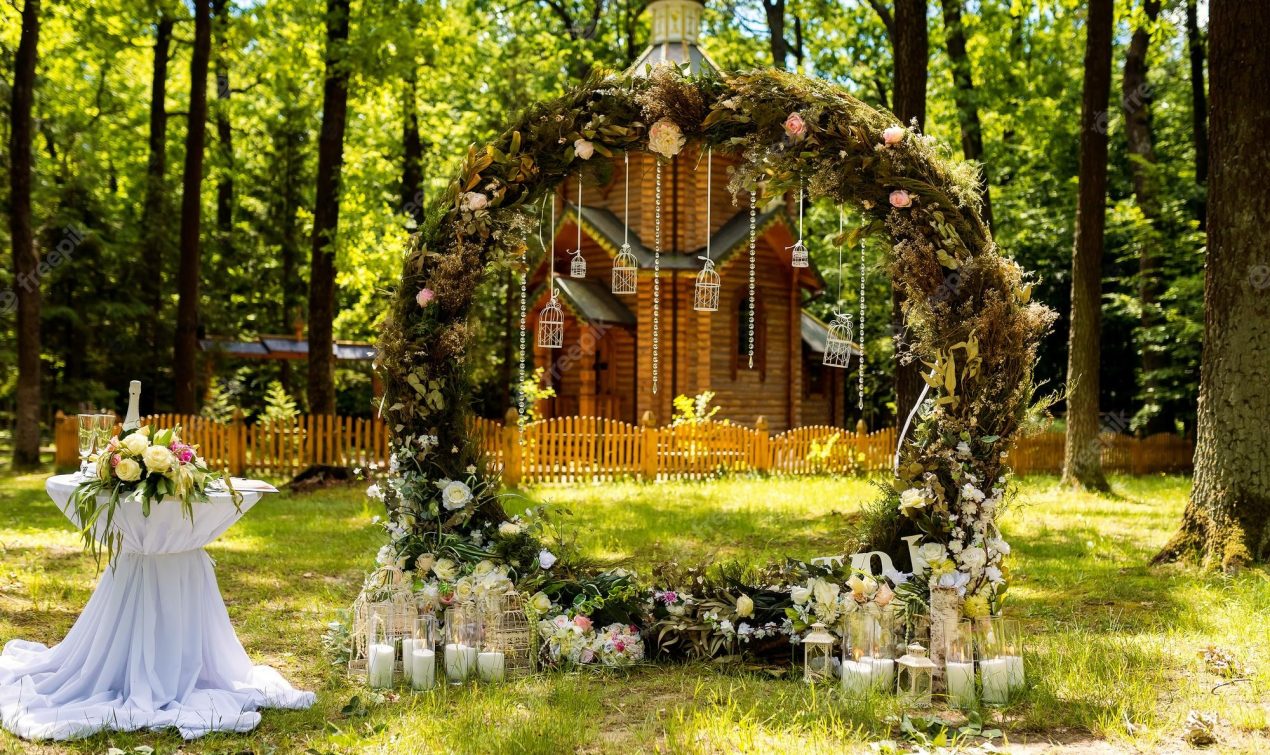 While we mentioned all the DIYs and industrial arches and lights and poems, how can we forget to list out the basics? Create a simple basic backdrop with natural things like flowers and wood. Make use of the natural scenic views for the altar and let everything flow along the breeze of nature. You can make use of natural riverside plots or plots in the forest for cheap wedding backdrop ideas. Go Natural!
The Bottom Line
We have listed out the best cheap wedding backdrop ideas. Remember to organize the wedding in a way that the focal point will be the newlywed couple and not the decor.
But it doesn't hurt to add a backdrop, so choose one from the list to match the vibe of the wedding. Be it either a fancy hefty wedding backdrop or a simple, cheap wedding backdrop idea, implement it well and let the couple enjoy the day of their life.
While expensive decor can be appealing, remember that cheap wedding backdrop ideas highlight the purpose of the celebration- the happy couple. Spending excessively can stress out the finances, which in turn will stress out the bride and groom, and that's the last thing we want.
Implement these ideas, and let us know your views about the results in the comments section below.
h