24 Fun Fall Baby Shower Themes to Welcome the Little Pumpkin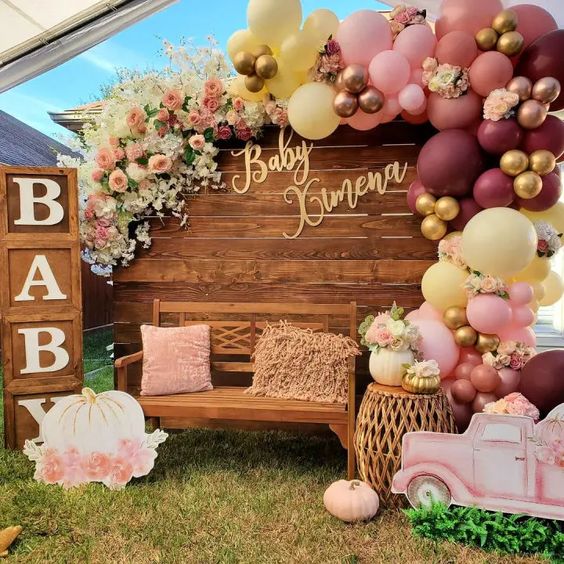 Planning a baby shower can be a daunting process as this day happens to be the most celebrated day for all family and friends. Whether you are a mom-to-be or her best friend, every fall baby shower idea feels repeated! But don't worry. We are here to help you.
The fall season is known for celebrating with our loved ones and chunking on those bonfires while the leaves turn around. If you are fortunate to expect it during the fall season, then you can plan an amazing fall baby shower for the mom-to-be.
So, are you looking to host a memorable baby shower? Look no further. Check out our 24 fall baby shower ideas to celebrate the little pumpkin on the way. Indulge in the warmth of the mulled cider and the glimmer of gold-dipped pumpkins.
Here is a list of amazing and unique fall baby shower ideas that will surely rock the entire baby shower party. The best part about these baby shower ideas is that they are budget-friendly.
1. Shining Sunflowers Baby Shower Theme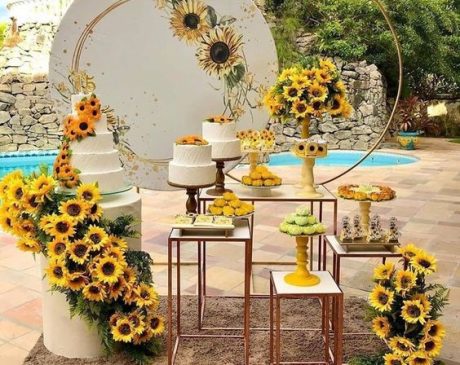 Looking to host a baby shower in the month of September or October? Consider choosing a sunflower baby shower theme to make it a bright and cheerful celebration. No sunflower baby shower theme idea is complete without the burst of vibrant colors on the venue.
You can include blooming sunflowers and a perfect color palette of beige, greens, and yellow. You can make it personal with a personalized banner and yellow balloon garland. For invitations, you can keep the design related to sunflowers.
You can incorporate desserts like strawberries dipped in yellow chocolate, sunflower cupcakes, and cookies for your food table.
2. Welcome Little Pumpkin Baby Shower Theme Party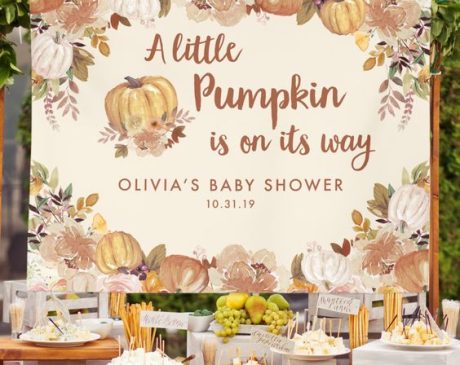 The pumpkin theme party tops the list when we talk about fall baby shower ideas. This baby shower theme party is the best way to celebrate the new arrival in a classic fall season style. As the fall season comes with its own colors and natural elements to play with, Pumpkins are one of them.
You can easily purchase artificial pumpkins for the decors from a crafts store or online. Moreover, you can use real pumpkins to decorate your home around. You can use hollowed pumpkins to serve food.
You can select delectable dishes that go perfectly with your fall baby shower ideas, like corn on the cob or pumpkin pie. And don't forget to order the Little Pumpkin banner to complete your backdrop.
3. Halloween Baby Shower Theme Party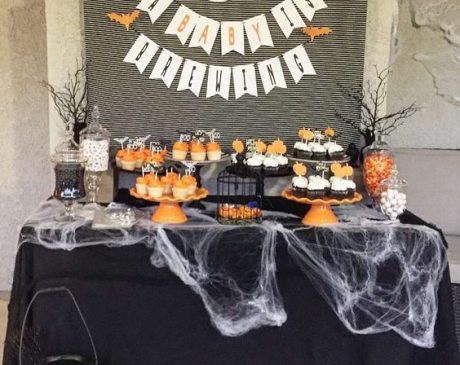 A Halloween baby shower is a fun and unique way to celebrate the upcoming arrival of a little one during the spooky season. You can experience the spooktacular vibes but in a cute way, as it is also a baby shower.
You can easily create a Halloween theme with classic decors such as Halloween pumpkins, webs, lanterns, and drinks served in a witch's cauldron. Moreover, you can instruct your guests to dress up in costume and celebrate the baby on the way.
4. Wonderland Baby Shower Theme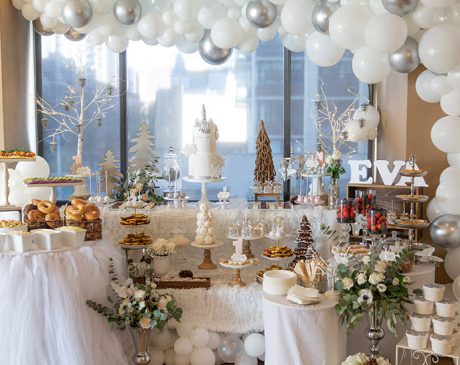 Elevate the cuteness quotient of your baby shower with these adorable baby animals. Looking for the perfect fall baby shower idea that's both effortless and perfect for your baby? Then, look no further! Transform your living space or any venue into a colorful and playful atmosphere. Decorate the space with bold and bright colors like browns and greens.
Add a touch of joy by incorporating charming creatures in their places. You can further decorate the home with pinecones, dried flowers, and many more. You can also add theme-related food, like cookies in the shape of baby animals.
5. Rustic Baby Shower Theme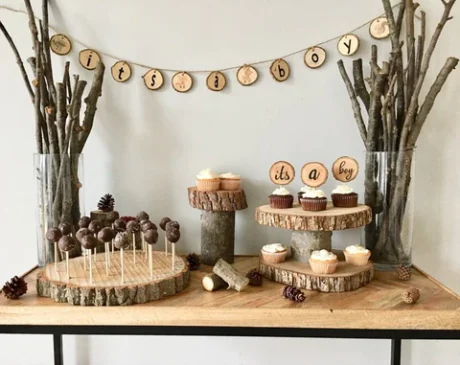 With a rustic baby shower theme, you can indulge in colors like browns, pastel blues, and accent gold to give it a chic and rustic vibe. Add blue and white cakes, brown chairs, or wooden thrones to your space. Rustic baby showers can be the best theme if you are planning to host a baby shower at outdoor locations.
You can also use wooden crates and boxes to give more rustic vibes. To give it more of an autumn look, you can add a wooden backdrop to your food corner and can add fall leaves along with pumpkins.
6. Rainbow Baby Shower Idea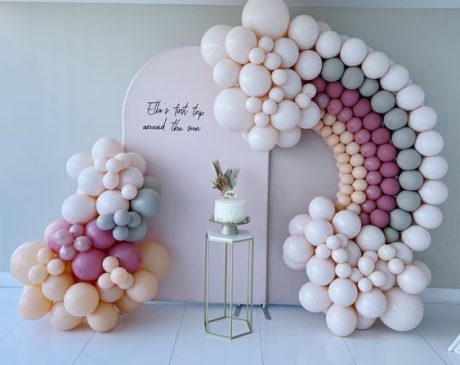 Experience the joy and warmth with this rainbow-themed baby shower. Rainbow means colors. You can add lots of colors to your decor and food to make it more vibrant and charming. Even during fall, as the weather gets colder, the colors of this theme will keep your heart happy.
From vibrant rainbow balloon arches to delicious rainbow-colored desserts, you can go full swing with all your creativity. You can also add any rainbow theme centerpiece to give it a final look. You can add a color code to the party as the rainbow colors only.
7. Boho Baby Shower Idea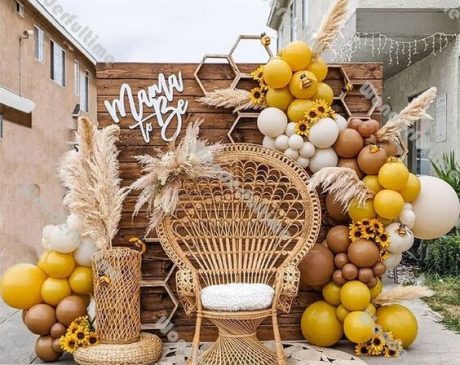 Boho styles are the most trending ones on the internet. You can start by setting a bohemian vibe through your invitations and add your custom welcome sign related to your party color palette. With the boho baby shower theme, you can play around with various bohemian details. If you are planning it outside, then you can go for drapery or tent-style decor.
Don't forget to add the fringes and boho balloons of matt colors. For backdrops or photobooths corners, you can personalize them with a message or a monogram. Ensure that the cake also has that bohemian touch, including the party's color palette.
8. Stars and Moon Baby Shower Theme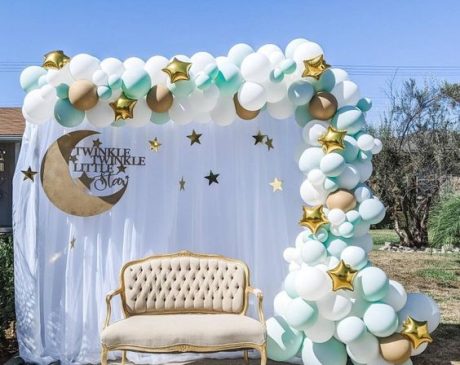 Why not choose a baby shower theme that reflects your love and affection for the little baby, such as a theme centered around the stars and the moon? Are you considering hosting your baby shower in the evening and looking for ideas?
Then this is the best fall baby shower idea for the evening. You could pair it with themes such as Twinkle, Twinkle Little Star, Over the Moon, etc. You can also add a bonfire to keep everyone warm on a chilly evening. It can be even more entertaining if you add S'mores and campfire stories. To figure out the menu, you can add the BBQ, which is fun for such evenings.
9. Thanksgiving Baby Shower Theme
The fall season means Thanksgiving, making your baby shower celebration even more memorable. Consider incorporating a Thanksgiving theme into your baby shower plans if you love this holiday. Fall leaves will look great for the centerpieces or backdrop. Bring out all the fall season colors like orange, brown, yellow, and gold.
For the dessert option, you can present a lovely cake with a turkey cake topper enriched with sunflowers. You can also add Thanksgiving finger foods like Cranberry Brie Pinwheels or Pumpkin Wontons.
10. Barnyard Baby Shower Theme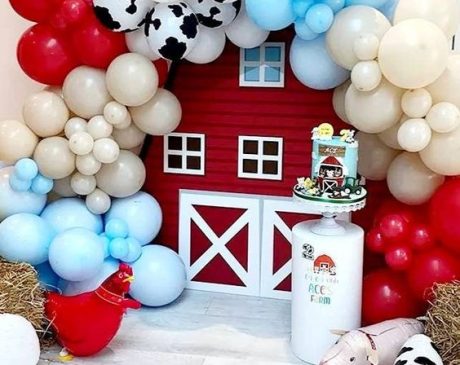 Next up on our list of fall baby shower ideas is the barnyard baby shower theme. One way to celebrate the harvest is by incorporating fresh produce and a healthy baby shower.
If you wish, you can also add an amazing Peter Rabbit theme. The color scheme is simple: browns, burgundies, or navy and gold. Add a banner with a farm theme, such as made of leaves or with farm animals on it. You can also scatter toy barns and farm animals around to give it more barnyard vibes. You can also use baskets and wooden crates to hold the food.
11. Apple Baby Shower Theme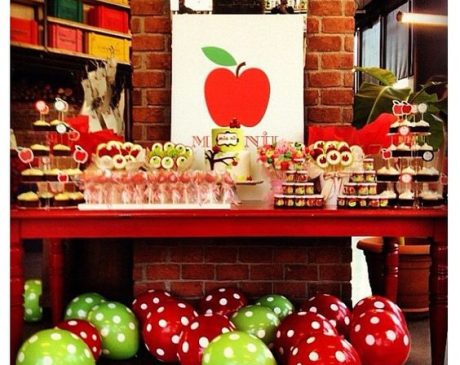 Autumn is the season when apples are at their prime. Add the seasonal charm by utilizing apples in your baby shower. Create a beautiful decor by slicing the apples and layer them inside the clear vases and the cream-colored candles.
You can also play lots of games keeping the apple center of the theme. There are numerous food options that can be made with apples. Pair warm, spiced cider with apple cider doughnuts with a sweet vanilla gaze.
12. Unicorn Baby Shower Theme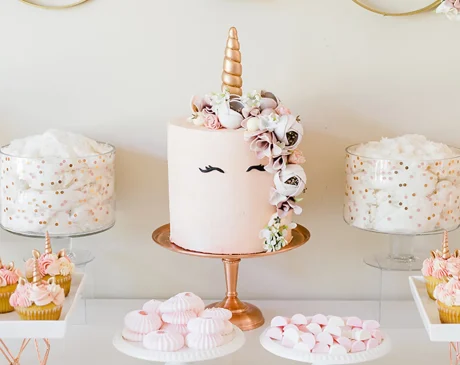 If you want to host a fairy tale baby shower, then the Unicorn Baby Shower theme is best for you! Transform your venue into something fantastic, just out of a fairy tale, so that you can WOW your guests.
You can send invitations featuring adorable unicorns and colors related to the unicorn to give the idea of the theme to your guests. To enhance the decor, you can add a combination of pastel purples, greens, gold, pinks, and blisters of glitter. You can even order the unicorn head and can decorate your place with them.
You can order unicorn cake and pastries for food, which will go perfectly with the theme.
13. Sugar and Spice Baby Shower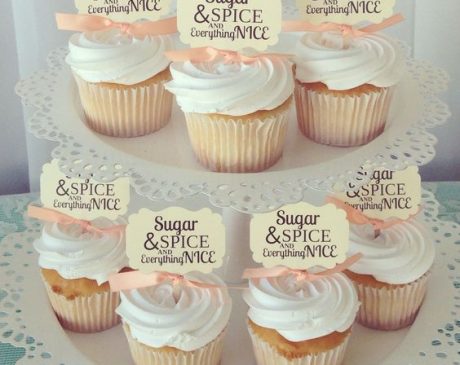 Have you heard that saying, "Sugar and Spice and everything nice"? Well, you can also include this saying at your baby shower party. With this amazing fall baby shower idea, you can make your baby shower simple yet elegant. For decorations, choose pastel colors, pink, blue, yellow, and green.
To complete the trendy look, include lots of ribbons, tissue paper, tulle, and many more. With yummy treats such as cupcakes, brownies, and cookies, you can match the theme. You can include spicy cake to bring the spice to the party. Moreover, you can also make sugar and spice jars for your guests to take away from their homes.
14. Cowboy Baby Shower Theme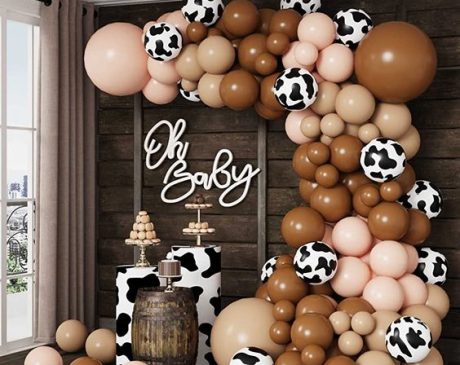 If the mom-to-be is expecting a baby boy, then this theme is the best way to celebrate the new family member. Whether the parents appreciate Western films or country music, there are numerous options for the cowboy baby shower theme. You can decorate the venue with hay, headwear, boots, country music, and many more.
On invitations, you can write, "A little cowboy is on his way." In decoration, you can give a wooden, rusty feel. You can add fun drinks to the menu, like root beer which gives the cowboy feel to the party. Don't forget to add marshmallow s'mores to the party.
15. All-White Baby Shower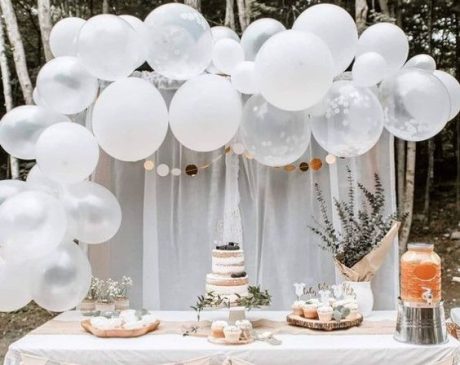 White color resonates with purity and goodness. So, if you are considering going to an all-white baby shower theme party, this is the best idea. Planning for this theme is the easiest.
All you have to do is choose decor all in white, like white balloons, streamers, and a little bit of beige. You can even dress up all in white. Serve food in white porcelain and dishes made of glass, and top up your party with an entire white cake and a candy bar where your guests can snack on the delicacies.
16. Little Fox Baby Shower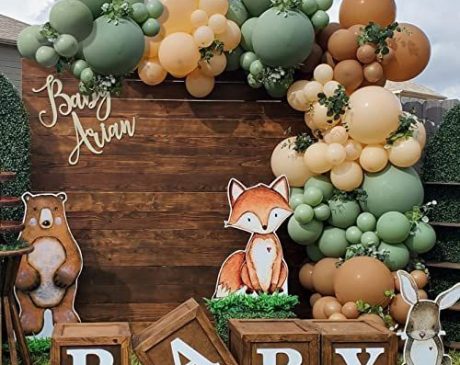 If your mom-to-be is feisty and wants to have a unique baby shower, then the little fox baby shower theme is best. For your decorations, include warm tones that charm the theme and guests like a crackling fire.
Includes candles made up of pine cones and boxes of wood. Stakes plates in red or pink or fox brown color to give the little fox vibe. You can also sprinkle little foxes on the food or include fox-shaped cookies and pastries.
17. Autumn Baby Shower Decoration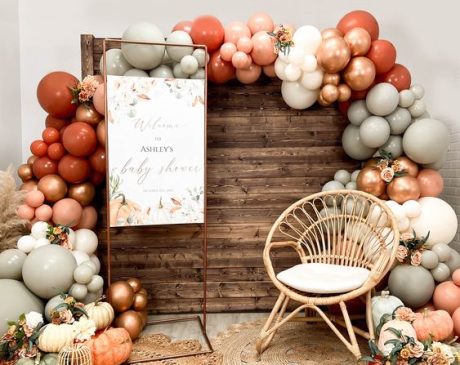 When we talk about fall baby shower ideas, decoration plays an important role in giving the party that fall/autumn vibe. You can decorate one corner of your venue with different colors of orange and brown. You can use pumpkins, hanging frames, teddy bears, crates, and autumn leaves to create that fall look.
If you are planning your baby shower in the evening, then you can also use antique lanterns and hand lights to sparkle the space more. You can go for drinks like pumpkin spice lattes, apple ciders, fall-themed mimosa bars, and many more.
18. Woodland Baby Shower Theme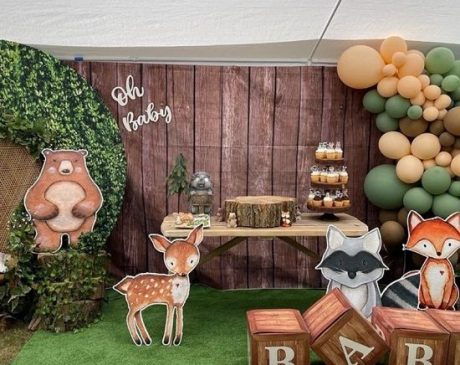 Think of all the woodland creatures and rusty fall vibes at the baby shower! Sounds amazing right? You can create a focal point on the venue by putting up a balloon garland. This can be used as a photo booth or a mom-to-be sitting place.
You can add big wooden boxes of BABY to add the theme. For the cake, you can order a wood-shaped cake with cute little woodland creatures on it. On invitations, you can add the theme with an entire forest look and those pug marks as well.
19. Mother-To-Bee Baby Shower Theme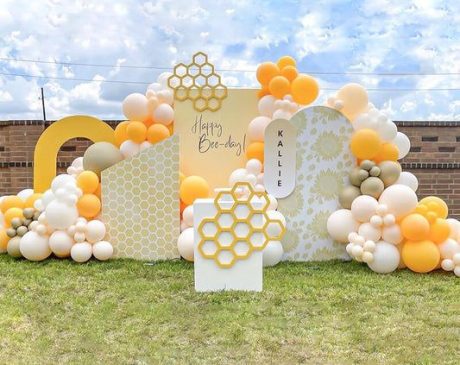 Since your baby will be as sweet as honey, you can plan on throwing a bee-themed baby shower. For decorations, you can include honeycomb lanterns, honeybee lingers, and honeybee lights. You can add a balloon garland of yellow, white, and a little green color. The color palette of this fall baby shower idea will give a vibrant and cheerful vibe, just like honeybees. You can make personalized honey jars to gift to your guests.
Moreover, with food, you can have honeybee-shaped cookies and candies. To make it more interesting, you can have a yellow and white colored cake with small honeybees. You can use quotes like "sweet as honey" on invitations, backdrops, napkins, etc.
20. Football Baby Shower Theme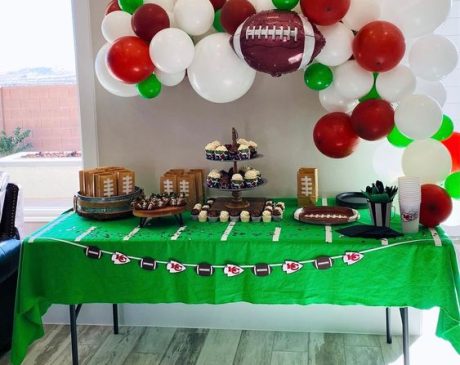 Are parents-to-be fans of football? Then this fall baby shower idea is the best for you. The fall season brings up football, and what else can be a better time to incorporate football into your celebrations? So get those jerseys-shaped invitations to welcome your guests and celebrate the baby's welcome. To make the party even more interesting, you can add a goal-shaped diaper cake which can also be the centerpiece of your event. It's easy to hang those miniature football cutouts all around your venue.
Football means lots of finger food, so you can include chips, dips, popcorn, and pretzels on your menu. You can even use football-themed plates, cups, and napkins to serve the food.
21. Harry Potter Baby Shower Theme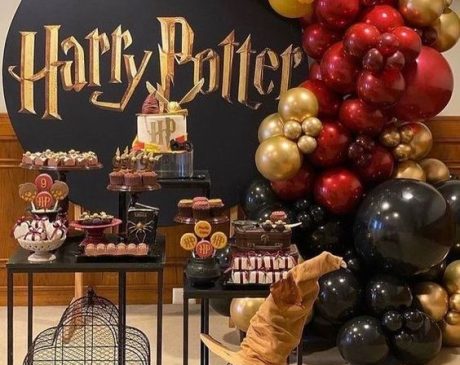 Planning for the Harry Potter Baby Shower theme is the easiest DIY theme when you don't want to hustle a lot. If you are a super fan of harry potter, there are many ways to incorporate this fall baby shower idea into your celebration.
Invitations are the best way to communicate your theme to your guests, and you can even instruct guests to dress as their favorite houses from Harry Potter. You can use Harry Potter balloons, banners, and many more things for decor. For food, you can include jelly beans and pumpkin pasties to give the feel of Harry Potter.
22. Autumn Leaves Idea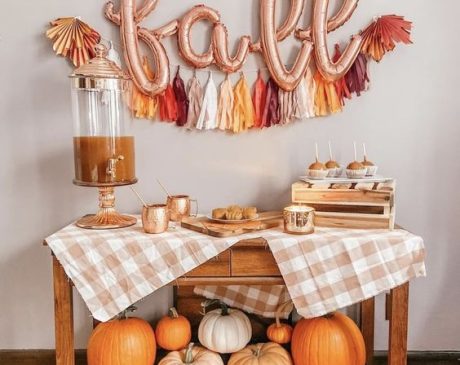 Fall is the best time to decorate your baby shower venue with its leaves. You can experience the beautiful tones and hues of the leaves as the ideal backdrop for your baby shower celebration.
From the vibrant sunflowers to the gorgeous paper mache gourds adorning the table, every element will be a feast for the eyes. You can use the color combination of orange and yellow for your decoration and dresses as well.
23. Ready to Pop Baby Shower Idea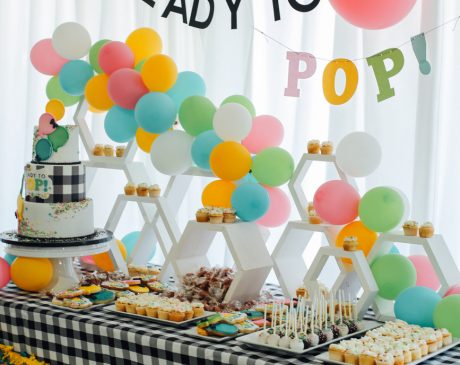 Ready To Pop Baby shower theme is one of those versatile themes where you can do a lot. As mom-to-be ready to "pop" out the baby soon, you can include items that "pop" or have the term pop in them, like popcorn, bubble gum, soda pop, popsicles, cake pops, and many more.
For the color theme, you can either go with your mama-to-be's favorite color or any gender-neutral color. For invitations, you can add bubbles that are ready to "pop." You can also add lots of balloons to your decor and desserts.
24. Adventure Begins Baby Shower Theme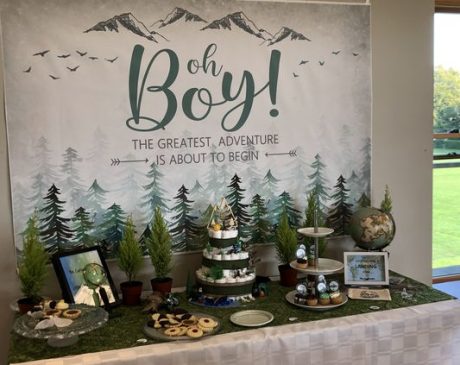 If the parents-to-be are fond of traveling, then this theme is best. You can actually decorate your venue just like an airplane to give it all the feels of traveling. Consider adding miniature globes and maps as backdrops or table centerpieces.
Moreover, you can use vintage suitcases in your decoration that will transport your guests to a different world. You can add travel theme diaper cake which is all decked up with passports and will be too cute for your baby. Don't forget to add some delicious "in-flight snacks" to give all the vibes.
Conclusion
No doubt, pregnancy is a special time for the parents-to-be and the whole family. Celebrate this beautiful phase and mommy-to-be by choosing these 24 fall baby shower ideas. Fall is a wonderful time to celebrate the arrival of a new baby. From pumpkin-themed decorations to apple cider cocktails, there are so many creative ways to incorporate the spirit of fall into your celebration.
Choose what's best for you and make changes according to that. The fall season will make your baby shower celebration more exciting and joyful. Use autumn colors and a cute theme to make the best for the little pumpkin and the mom-to-be.
So, get ready to embrace the beauty of autumn and create a special day that the mom-to-be and her loved ones cherish forever.