32 Stylish Farmhouse Living Room Ideas and Design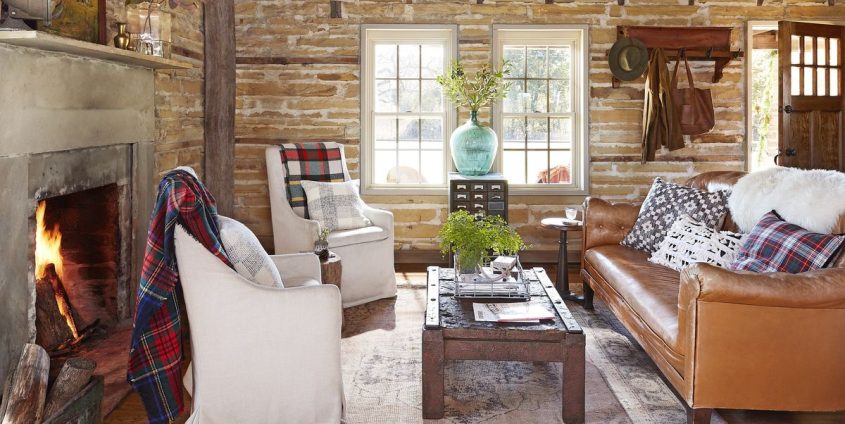 Are you trying to create a warm and welcoming atmosphere in your living room? Look no further than the alluring charm of Comfy Farmhouse Living Room Ideas! These patterns offer a unique fusion of style and comfort that is challenging to resist with its rustic components and warm aesthetics.
Farmhouse-style living rooms effortlessly create a comfortable and welcoming ambiance by embracing the essence of rural living. The secret is striking the ideal harmony between traditional comfort and modern minimalism.
Every piece in the room has been meticulously picked to inspire a sense of calm and tranquillity, from the worn wooden furniture to the vintage decorations and soft, neutral palettes.
We'll look at some lovely, comfy Farmhouse living room ideas in this article that you can use to design your quaint retreat. Prepare to be captivated by the rustic elegance and timelessness of farmhouse design.
Here is a list of 32 comfortable and unique Farmhouse living room ideas to inspire you:
1. Cosy Plaid Paradise
Step inside your farmhouse living room's cozy chequered wonderland. Use plaid curtains, blankets, and upholstery to add a sense of coziness and warmth to your area.
The soft textures beckon you to unwind, while the traditional design provides a homely appeal. This design creates a warm refuge ideal for chilly evenings or gatherings with loved ones, whether you use plaid accents in pillows, carpets, or wallpapers.
So, grab a cup of hot cappuccino, cozy up in your plaid paradise, and let the inviting atmosphere of your living room wrap you in total relaxation.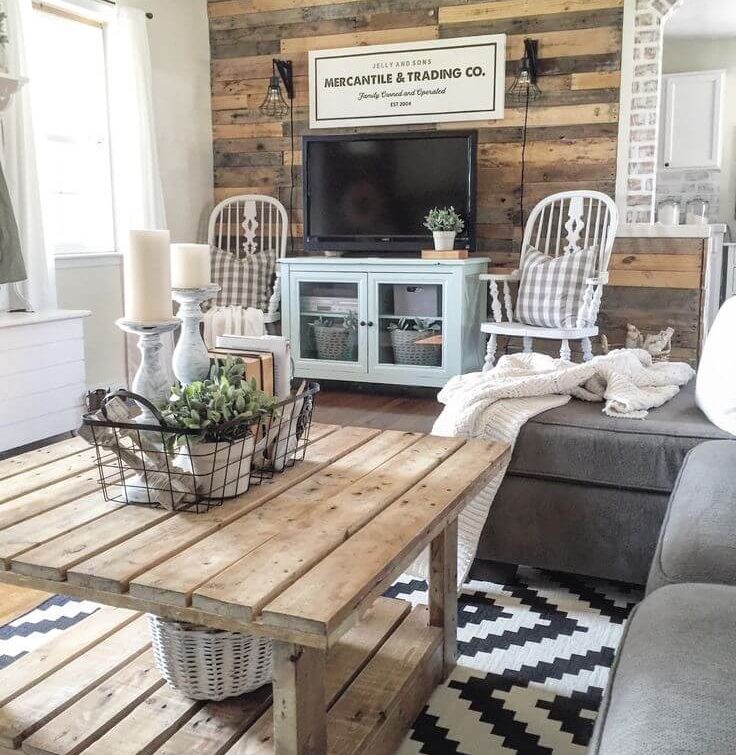 2. Rustic Reclaimed Wood
With the timeless beauty of reclaimed wood in your farmhouse living area, transport yourself to a rustic haven. Accept the distinct personality and coziness that only old wood can offer.
Reclaimed wood lends your room a sense of authenticity and eco-awareness, whether used for an accent wall, a coffee table, or floating shelves. Unrefined charm is evoked by the rough textures and inherent flaws, which evoke a feeling of connection to nature.
Rustic reclaimed wood gives your farmhouse living room ideas a feeling of history and character while blending in smoothly with various design styles, making it unique.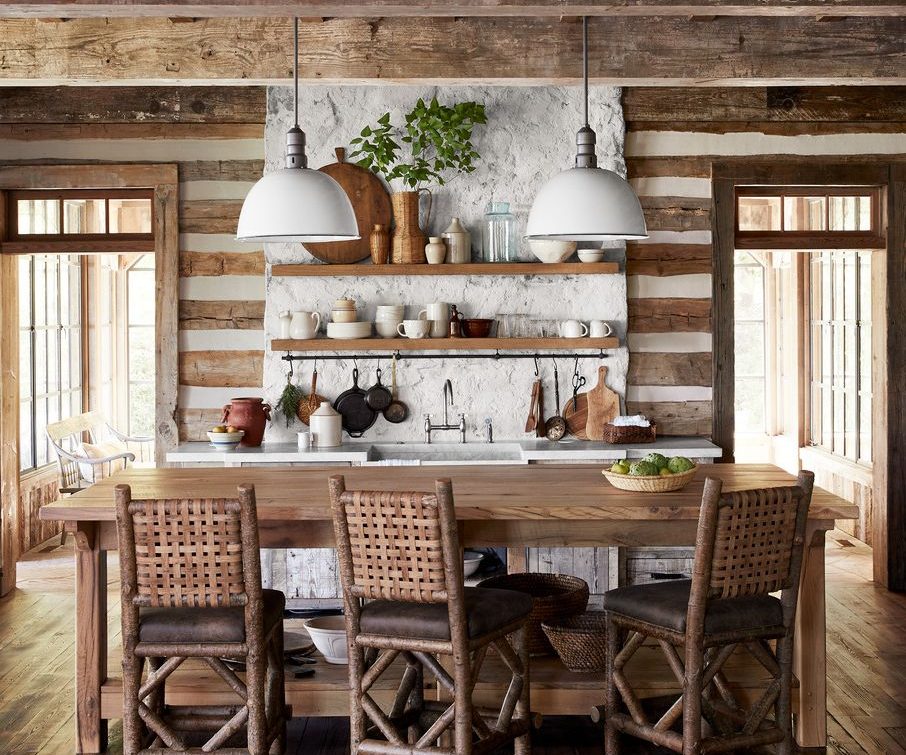 3. Farmhouse Sunroom Retreat
Enjoy the peace and tranquillity of a farmhouse sunroom refuge in your living area. This retreat establishes a seamless connection to the outside thanks to the enormous windows that flood the space with natural light.
Consider relaxing in the sun's warmth while seated comfortably amongst various beautiful vegetation. Add cozy chairs, plush fabrics, and nature-inspired décor to improve the peaceful atmosphere.
This tranquil haven in the sun is ideal for reading, relaxing, or unwinding. Your farmhouse sunroom hideaway creates a tranquil haven where you can escape the bustle of daily life and appreciate nature, rain or shine.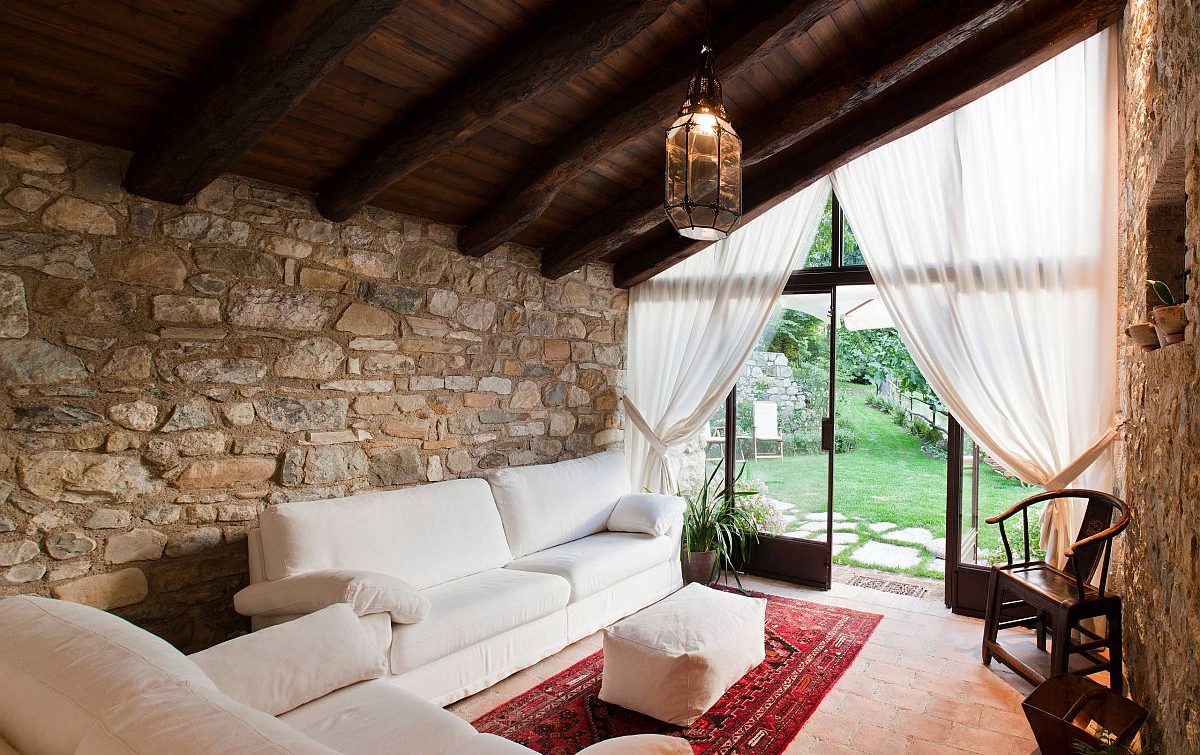 4. Farmhouse Industrial Blend
Discover the alluring blend of rural charm and industrial edge in your living room. Accept the vintage features of farmhouse style while adding modern components such as exposed pipes and metal accents.
This distinctive mixture produces a setting that radiates individuality and flair by striking a harmonious balance between toughness and sophistication. Consider distressed leather chairs, reclaimed wood, modern metal fixtures, and lighting.
The farmhouse industrial blend creates a living space that is both warm and visually appealing by bringing a dash of urban grit to the cozy comfort of country aesthetics.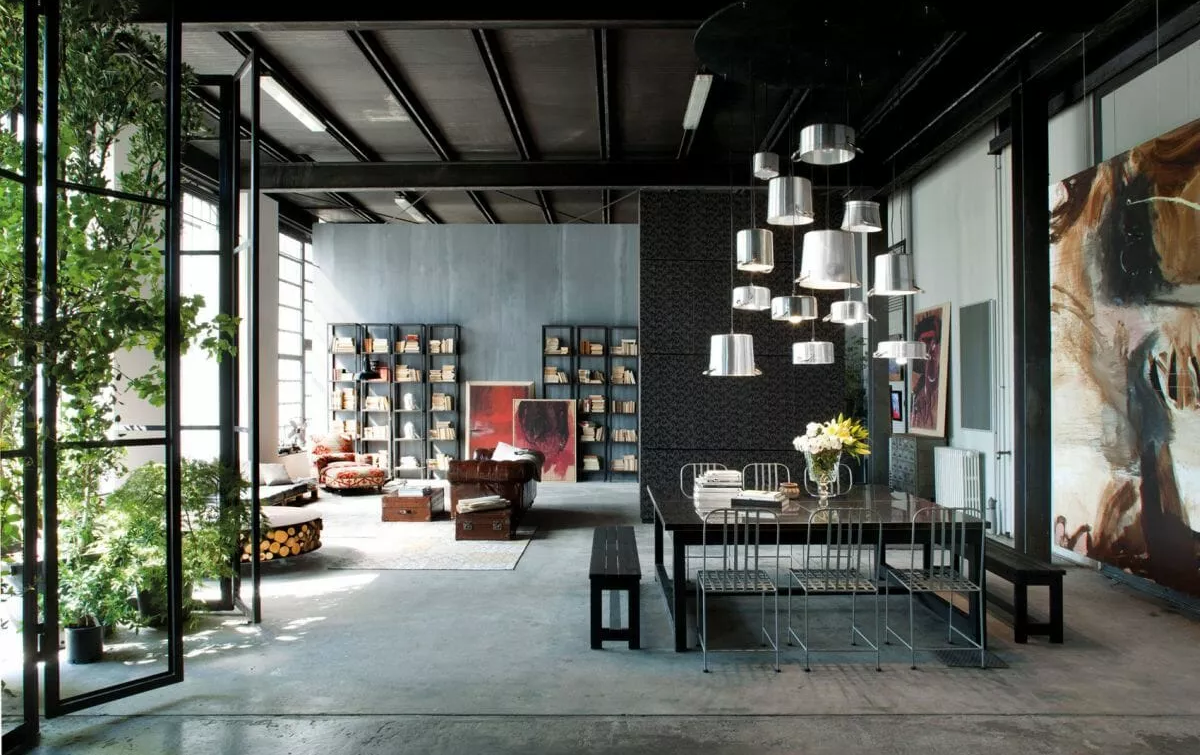 5. All-White Farmhouse
The tranquil and timeless appeal of all-white farmhouse living room ideas will help you establish a living environment. To create a fresh and airy atmosphere, embrace the purity and simplicity of white walls, furniture, and décor.
Add warm, natural elements to the design, such as bleached wood, faded paint, and cozy textiles. Add rustic touches like wicker baskets, vintage-inspired light fixtures, and plant embellishments to give the stark white backdrop some personality.
Your living room feels calm, elegant, and charming because of the farmhouse's all-white design, which also serves as a blank canvas for your style.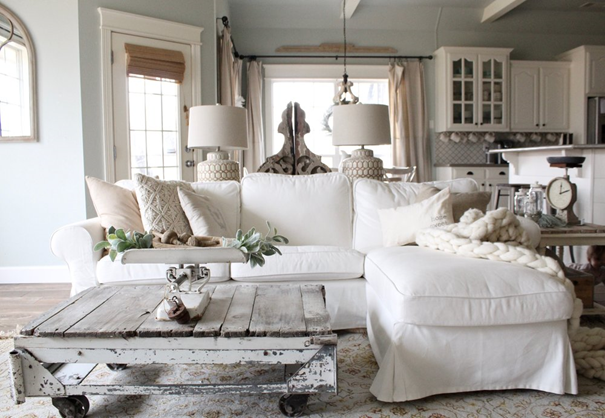 6. Farmhouse Cottage Cosiness
Give a makeover to your living space to create a cozy country retreat. Accept the appeal of cottage-style components, such as furniture with slipcovers, flower designs, and pastel colors.
You can create a welcoming and warm ambiance with soft and cozy seating arrangements covered with plush cushions and warm throws. Use vintage-inspired design items like distressed side tables or antique mirrors to emphasize the cottage feel.
Fresh flowers and light, breezy drapes add a sense of femininity. The cozy farmhouse cottage atmosphere infuses your living area with a tranquil, nostalgic feeling reminiscent of a tranquil rural hideaway.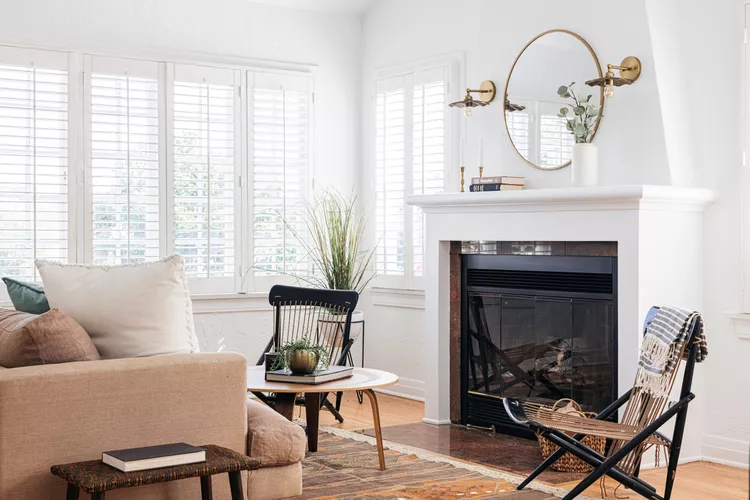 7. Farmhouse Chic
Use Farmhouse's chic design to create the ideal fusion of natural beauty and modern refinement in your living area. Combine natural textures and distressed wood with sleek, contemporary details like clean lines and metallic finishes.
Choose a neutral color scheme with accents of delicate hues for a classy and peaceful ambiance. You can give your farmhouse living room a bit of glamour by using striking components like a button-tufted sofa or a classy crystal chandelier.
With Farmhouse chic, you may create a sleek and sophisticated living space that skillfully strikes a balance between unrefined charm and modern attraction.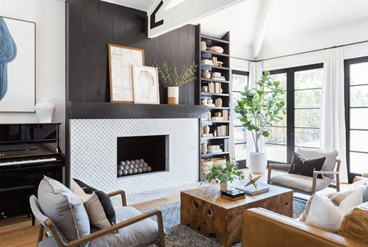 8. Warm Planked Walls
Warm planked farmhouse walls will turn your living area into a welcoming retreat. Install hardwood planks in deep, earthy tones to produce a texture and sophisticated background that radiates warmth and charm.
The wood's natural grain and color variations give the room personality and visual intrigue. Complement the planked walls with soft, neutral furnishings and warm lighting to heighten the cozy atmosphere.
Add vintage artwork, woven baskets, and soft linens to complete the farmhouse living room ideas. The cozy, inviting ambiance that the warm planked farmhouse walls produce is ideal for unwinding and spending time with loved ones.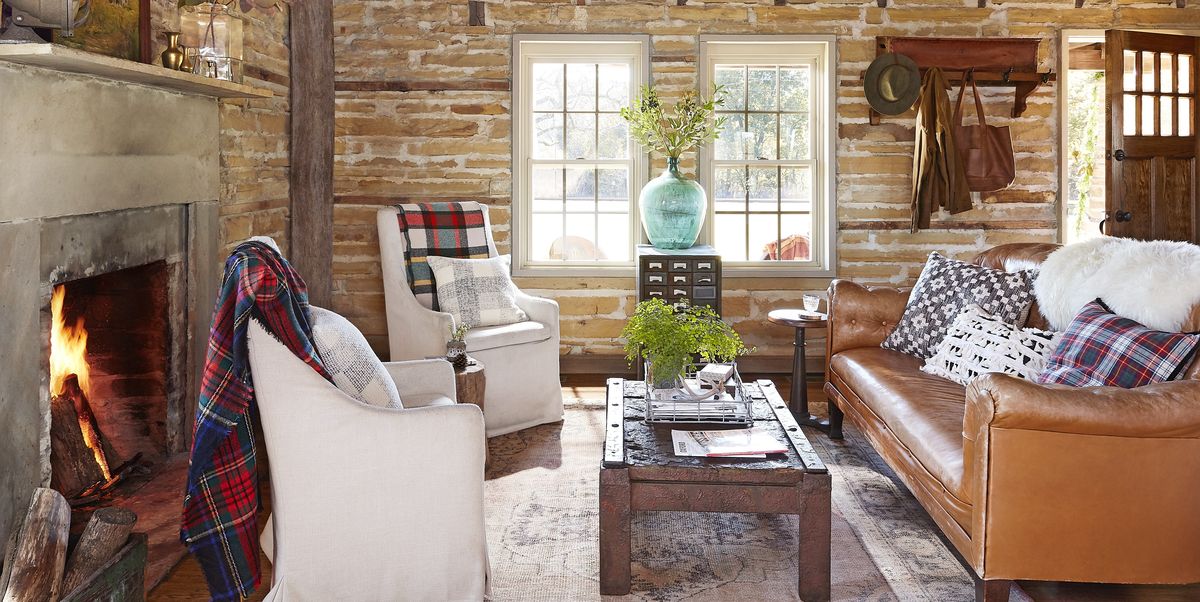 9. Farmhouse Floral Prints
The allure of floral designs will enhance your living room. These botanical motifs bring natural beauty and grace to your living room, whether they are accent pillows, curtains, or upholstery with floral designs.
Accept the subtle beauty and classic elegance these prints provide to your room. Floral designs, which range from delicate roses to attractive blossoms, produce a calming and welcoming ambiance that inspires peace and serenity.
Farmhouse floral prints offer a hint of romanticism and whimsy to any décor, whether vintage or modern, transforming your living space into a blossoming retreat you'll want to unwind.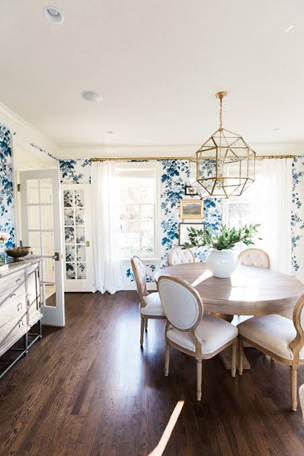 10. Farmhouse Farm Animal Accents
With farm animal décor, you may add whimsical appeal to your farmhouse living area. Include farm animals like cows, chickens, or horses in your artwork, sculptures, or printed fabrics.
These amusing details offer a hint of nostalgia and foster a fun atmosphere. Hang a piece of artwork that features a pastoral landscape or display a collection of vintage farm animal figurines on a shelf.
Oversized cushions or blankets with charming farm animal patterns will give your farmhouse living room a warm and inviting air. Farm animal decorations give your living space a feeling of rural charm and fun, making it warm and distinctive.
11. Farmhouse Fresh Florals
Elevate the charm of your farmhouse living room ideas with the beauty of fresh flowers. Integrate bouquets of fresh flowers in mason jars or vintage pitchers as captivating centerpieces.
Enhance the natural aesthetic with floral patterned upholstery, curtains, or accent pillows. The vivid colors and delicate blossoms give the space a sense of freshness and vigor, resulting in a cheery and welcoming mood.
Whether you choose tulips, roses, or wildflowers, fresh farmhouse flowers bring nature's beauty into your living area and create a lovely and cheerful area.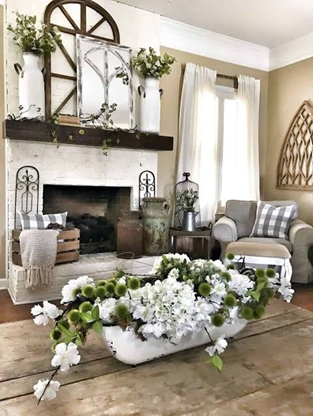 12. Farmhouse Nautical Vibes
Create a marine atmosphere in your farmhouse living room by using nautical accessories. Choose a colour scheme with sand-coloured neutrals and white and blue hues influenced by the ocean.
Add seashells, rope accents, and driftwood furnishings for a hint of nautical whimsy. Utilise striped textile designs and beachy themes in wall art and pillows. Pick-up pieces made of worn wood and wicker reminiscent of beachfront homes.
The farmhouse's nautical feelings create a laid-back and breezy atmosphere that invites you to repose in a seaside-inspired sanctuary. They bring the refreshing allure of the coast to your living room.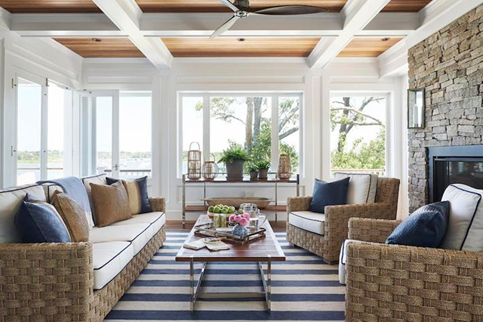 13. Cosy Farmhouse Reading Nook
Create the perfect cozy farmhouse reading nook in your living room. Settle into a comfortable armchair or plush window seat adorned with soft cushions and blankets. Surround yourself with vintage bookshelves filled with your favorite reads.
Add a vintage side table for a cup of tea and a charming table lamp for warm lighting. Incorporate natural elements like woven baskets for storage and a potted plant for a hint of greenery.
The cozy farmhouse reading nook becomes a sanctuary where you can escape into the pages of a book, immersed in comfort and tranquillity.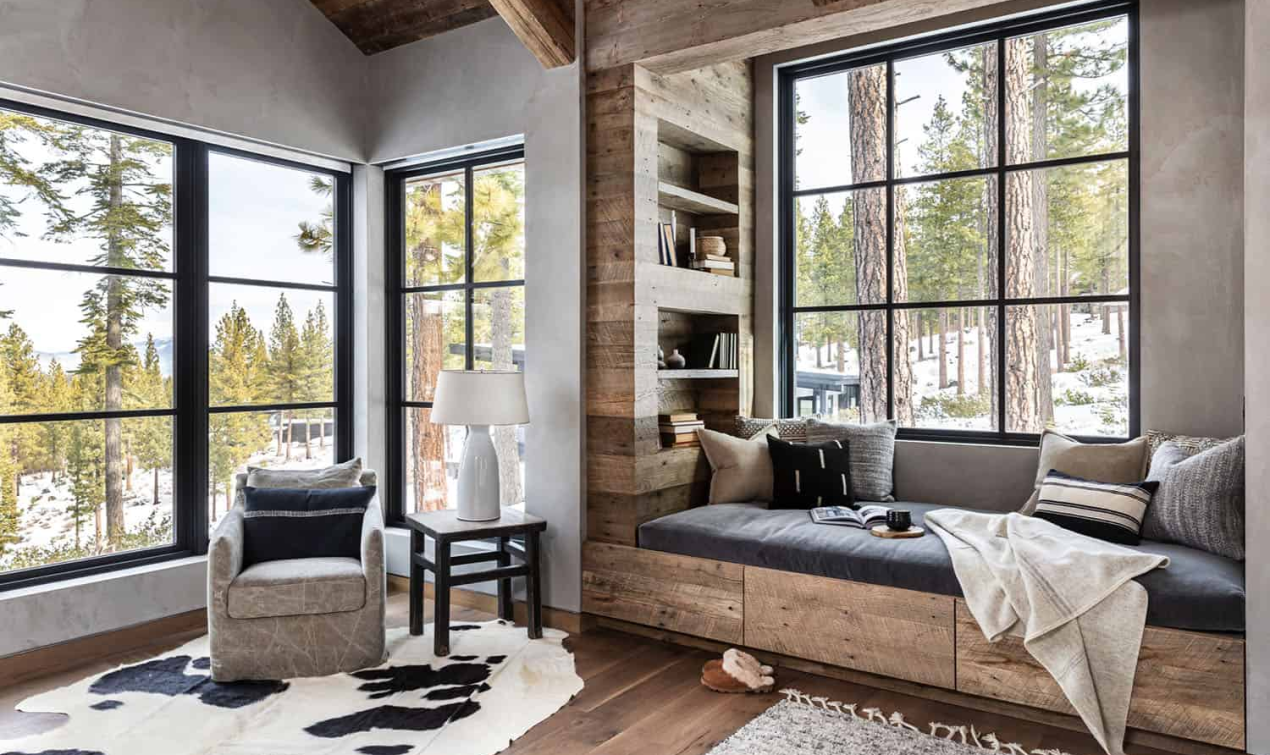 14. Farmhouse Open Shelving
Open Shelving will give your farmhouse living area a sense of vintage charm. Mount reclaimed wood or distressed metal shelves on an exposed brick wall to make a visually appealing display area.
Showcase your favorite books, trinkets, and plants in a mix of vintage and farmhouse-inspired décor, such as mason jars, galvanized metal containers, and woven baskets.
Your living area gains character and utility from the open shelving, which lets you show off your style and establishes a pleasant focal point that captures the essence of farmhouse living room ideas.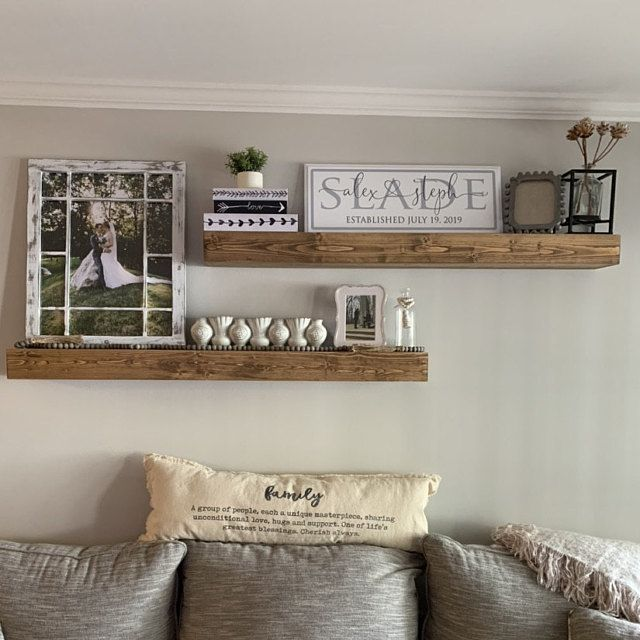 15. Farmhouse Leather and Wood
Use the ideal balance of leather and wood in your farmhouse living room to embrace a classic and unpretentious design. Include distressed leather armchairs or a sofa with a wooden side or coffee tables.
Rich, earthy tones and textures are juxtaposed, creating a cozy and welcoming ambiance. Choose leather and wood decorations like pillows, ottomans, or wall art to increase the farmhouse look.
Your living room's combination of leather and wood offers a hint of urbane sophistication while giving the room's farmhouse-style décor a sense of comfort and longevity.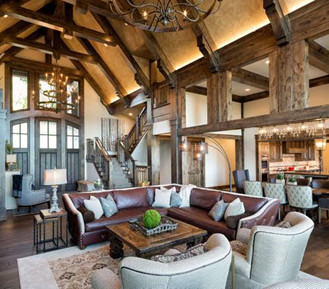 16. Farmhouse Window Seat
Incorporate a comfortable and lovely farmhouse window seat into your living space. Installing a built-in seat with plush cushions and pillows can help you make the most of the area underneath a big window.
Dress up the window with flowing drapes and enjoy the sunlight. Add farmhouse-style accessories to the space, such as woven storage baskets and an antique side table for books and beverages.
The farmhouse window seat turns into a lovely place to unwind, read, or take in the scenery. It gives your living space a dash of coziness and personality, luring you to unwind in comfort and style.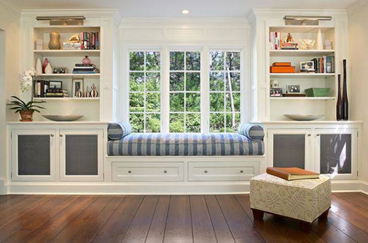 17. Farmhouse Natural Elements
Give your farmhouse living room a natural beauty makeover. Add raw materials like jute rugs, stone accents, and exposed wooden beams for a pastoral and natural look.
You may bring the outside in with farmhouse living room ideas like potted plants, dried flowers, or a botanical wallpaper. Use wicker furniture, rattan accents, and woven baskets to give texture and warmth.
Your farmhouse's use of natural elements produces a peaceful and harmonious ambiance that connects you to nature and inspires calm in your living space. Let the essence of nature flow through your farmhouse living room with enchanting natural elements.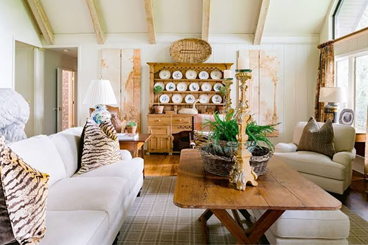 18. Farmhouse Wooden Ceiling Beams
Elevate the charm of your farmhouse living room with wooden ceiling beams. Install exposed wooden beams across your ceiling to add a rustic and architectural element to the space.
Opt for natural wood finishes or distressed treatments to enhance the farmhouse aesthetic. The wooden ceiling beams bring warmth, texture, and visual interest to your living room, creating a cozy and inviting atmosphere.
They complement various design styles and pair well with other farmhouse elements, such as reclaimed wood furniture and vintage-inspired décor, completing the farmhouse look with timeless appeal.
19. Farmhouse Wicker and Rattan
Wicker and rattan may add an age-old appeal to your unpolished living area. Rattan side tables, chairs, and baskets can all be used to give the room a more natural and organic feel.
Welcome the woven textures and earthy hues that give off a casual and countryside vibe. Rattan lighting fixtures and wicker storage options can enhance the country's style.
The wicker and rattan materials work together to give your living room a distinct farmhouse feel while adding warmth, texture, and maritime attractiveness.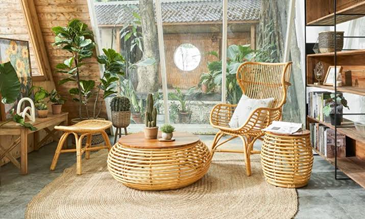 20. Farmhouse Vintage Trunk Coffee Table
Add a touch of nostalgia and functionality to your farmhouse living room ideas with a vintage trunk coffee table. Repurpose an old trunk or seek a vintage piece that brings character and history to your space.
The trunk serves as a unique coffee table, providing storage for blankets, books, or board games. The worn, distressed appearance adds natural charm and becomes a conversation piece.
Pair it with cozy seating and vintage-inspired décor to complete the farmhouse look, creating a living room that is both stylish and practical.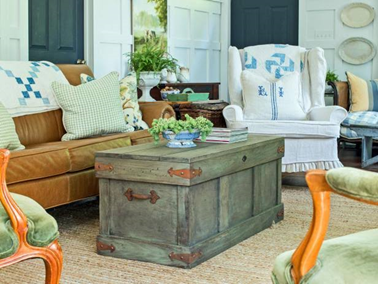 21. Farmhouse Brick Accent Wall
Your farmhouse living room can benefit from an accent wall made of brick. Expose the brickwork's natural beauty to give your space more texture and warmth.
The rustic appeal and character that brick adds are evident whether you use actual brick or imitation brick panels. Reclaimed wood furniture, cozier linens, and vintage-inspired furnishings are set against the brick accent wall.
Your living area becomes incredibly captivating thanks to the addition of a hint of architectural interest while preserving the warm, welcoming atmosphere that characterizes farmhouse design.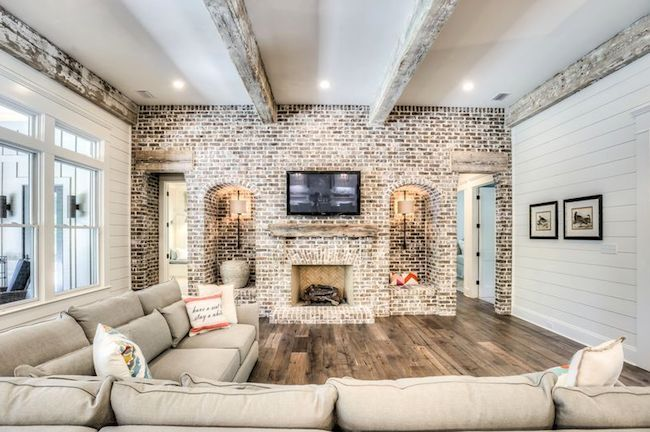 22. Farmhouse Signage
With attractive farmhouse signage, you may enhance the farmhouse theme in your living area. Hang signs that have a vintage feel and rustic calligraphy with words like "Farmhouse Fresh " or "Gather Here."
Include signage made of wood or metal with aged or worn finishes to add a vintage or realistic feel. Select wall hangings that express your sense of style and give the room a dash of whimsy or inspiration.
Your living room gains personality and visual appeal from this farmhouse living room ideas, giving it the warm, inviting feel synonymous with farmhouse décor.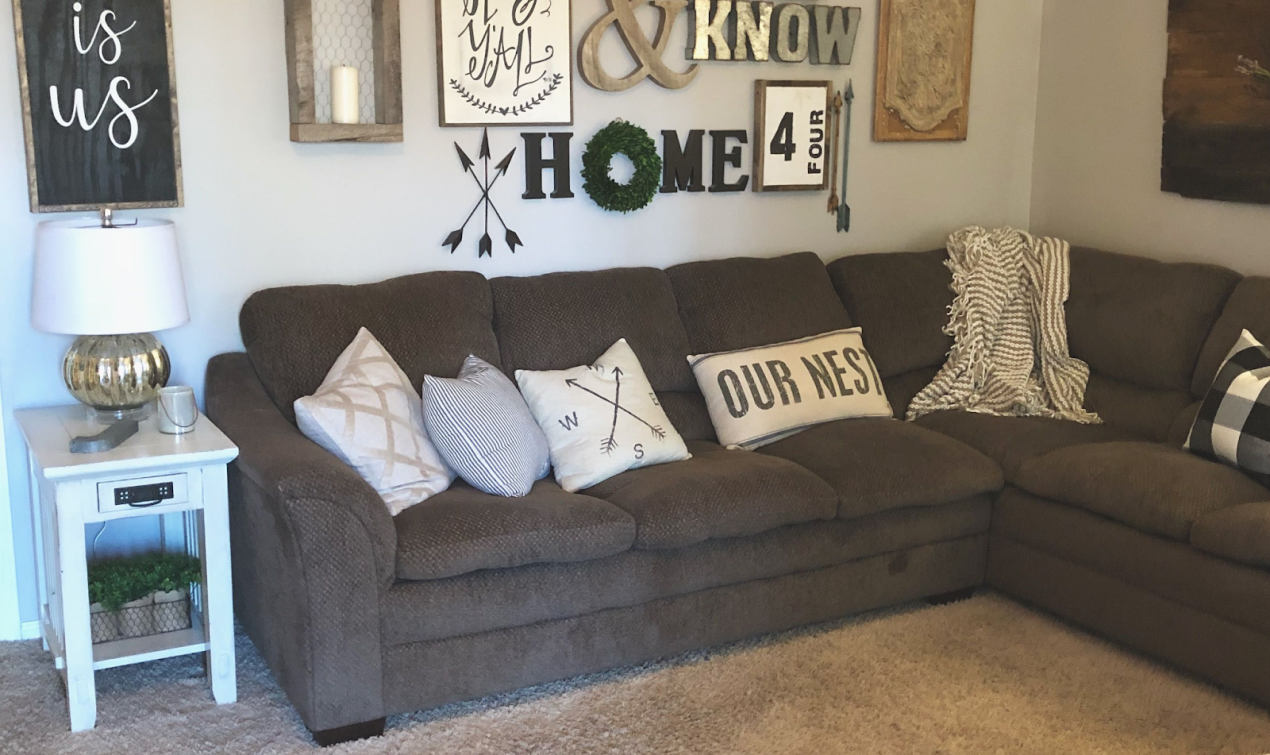 23. Farmhouse Country Kitchenette
Create a farmhouse country kitchenette within your living room, adding functionality and charm. Install open shelves with vintage dishes and mason jars for storage. Add a rustic farmhouse sink with an antique tap and a wooden countertop to improve the look of your farmhouse living area.
Display a collection of rugged kitchen utensils and hang a decorative chalkboard for meal planning or grocery lists. Add a small stove or an antique microwave for convenience.
The farmhouse country kitchenette brings a touch of rural simplicity to your living room, allowing you to prepare snacks or drinks while maintaining the cozy farmhouse ambiance throughout your space.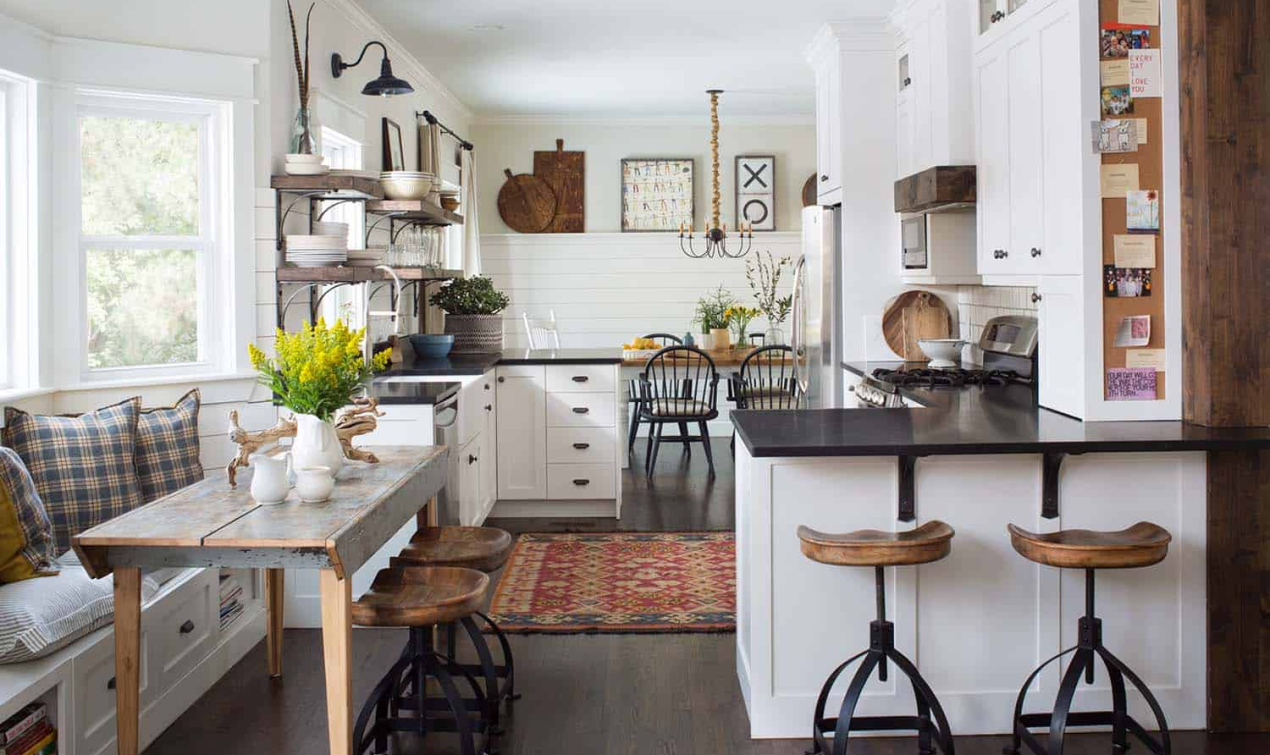 24. Farmhouse French Country Fusion
Discover the perfect fusion of farmhouse charm and French country elegance in your living room. Combine natural elements like distressed wood and woven textures with refined touches such as toile patterns, delicate floral accents, and ornate chandeliers.
You can give your farmhouse living room an eclectic look by combining a worn farmhouse table with chic chairs with French influences. Opt for a cool color palette with pops of pastel hues and floral prints.
The farmhouse French country fusion creates a harmonious blend of classic simplicity and sophisticated allure, resulting in an inviting and timeless living room.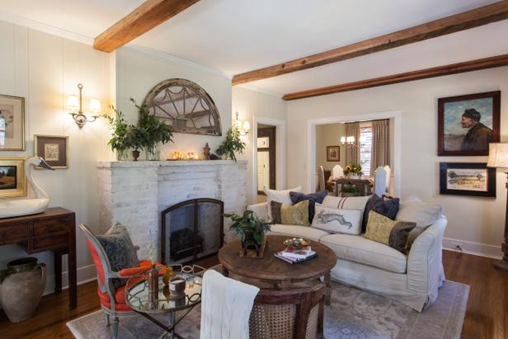 25. Farmhouse Sliding Barn Doors
Add a vintage look to your living room with farmhouse sliding barn doors. Use these fashionable doors in your farmhouse living room not just for their useful space-saving advantages but also as eye-catching decor components.
Choose weathered wood or distressed finishes to enhance the farmhouse aesthetic. The sliding barn doors can separate spaces or act as an accent wall, adding character and visual interest to your living room.
You may choose a single large door or a set of smaller doors for the farmhouse sliding barn doors to bring a cosy and inviting vibe. This will help you elevate the charisma of your space.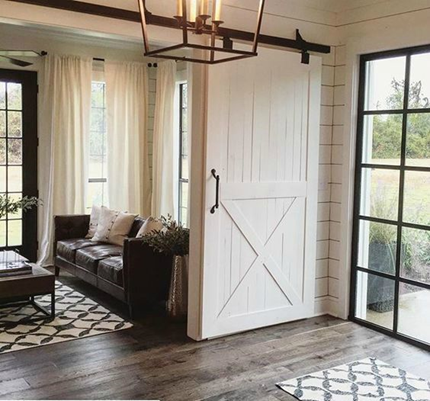 26. Farmhouse Chandelier
Illuminate your farmhouse living room with a stunning farmhouse chandelier. Choose a chandelier that combines antique elements like distressed wood or wrought iron with delicate details such as candle-shaped lights or floral accents.
Hang it as a centerpiece in your living room to create a captivating focal point that exudes charm and elegance. These farmhouse living room ideas cast a warm and inviting glow, enhancing the cozy ambiance of your space.
It adds a touch of vintage-inspired beauty and completes the farmhouse look, elevating your living room with its timeless and enchanting appeal.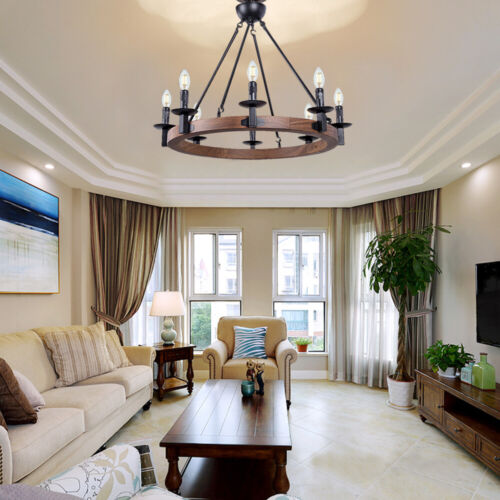 27. Farmhouse Cosy Corner Fireplace
Create a cozy and inviting corner in your farmhouse living room with a charming fireplace. Install an unfinished fireplace in a corner adorned with natural stone or reclaimed wood.
Enhance the ambiance with plush seating, like a comfortable armchair or a cozy loveseat arranged around the fireplace. Decorate the mantel with farmhouse accents such as vintage candle holders, botanical prints, or antique mirrors.
The farmhouse cozy corner fireplace becomes a gathering spot, radiating warmth and comfort and adding a touch of graceful elegance to your living room.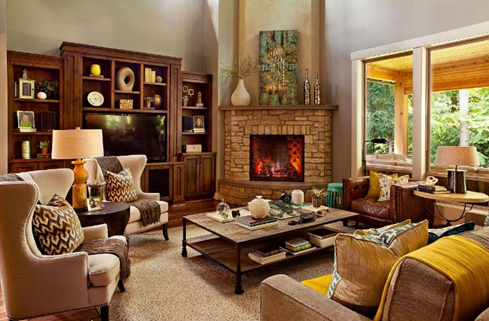 28. Farmhouse Bohemian Blend
Infuse your living room with a stunning fusion of farmhouse charm and boho flair. Combine bold patterns, bohemian design, and colorful textiles with unpolished features like worn wood and woven textures.
Mix and match the furniture with vintage and boho influences for a distinctive and eclectic style. Use farmhouse living room ideas like layered carpets, eccentric paintings, and macrame wall hangings to create depth and visual intrigue.
The farmhouse-bohemian fusion gives your living area a laid-back, artsy vibe that invites you to embrace a free-spirited, cozy style that is alluring and brimming with personality.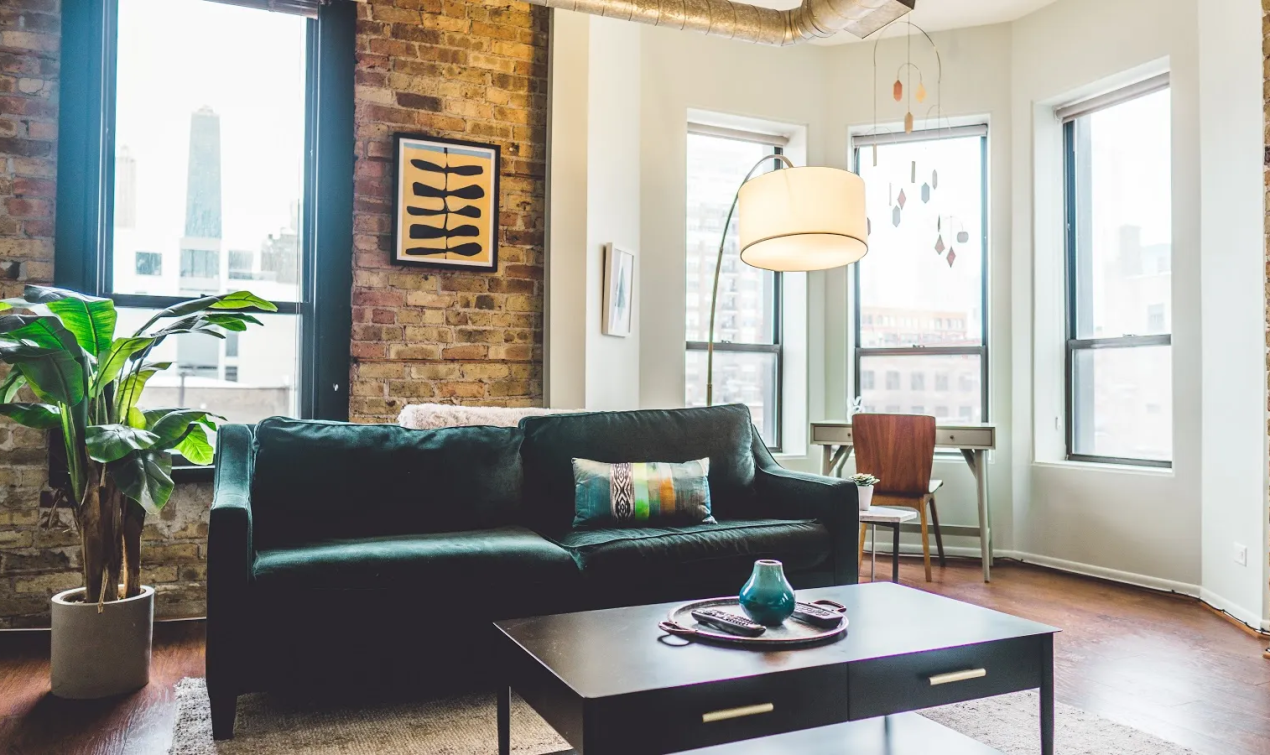 29. Farmhouse Bench Seating
You may enhance your living room's farmhouse aesthetic with comfortable and adaptable bench seating. Opt for an upholstered bench with a farmhouse design or an unfinished wooden bench with a worn finish.
Create a comfortable and valuable seating area by positioning it next to a window or against a wall. Adorn it with plush pillows, textured blankets, and ornamental cushions for more comfort and style.
The farmhouse bench seating provides a sense of warmth and simplicity, creating a quaint and welcoming spot for gathering and unwinding while taking in the farmhouse ambiance in your living room.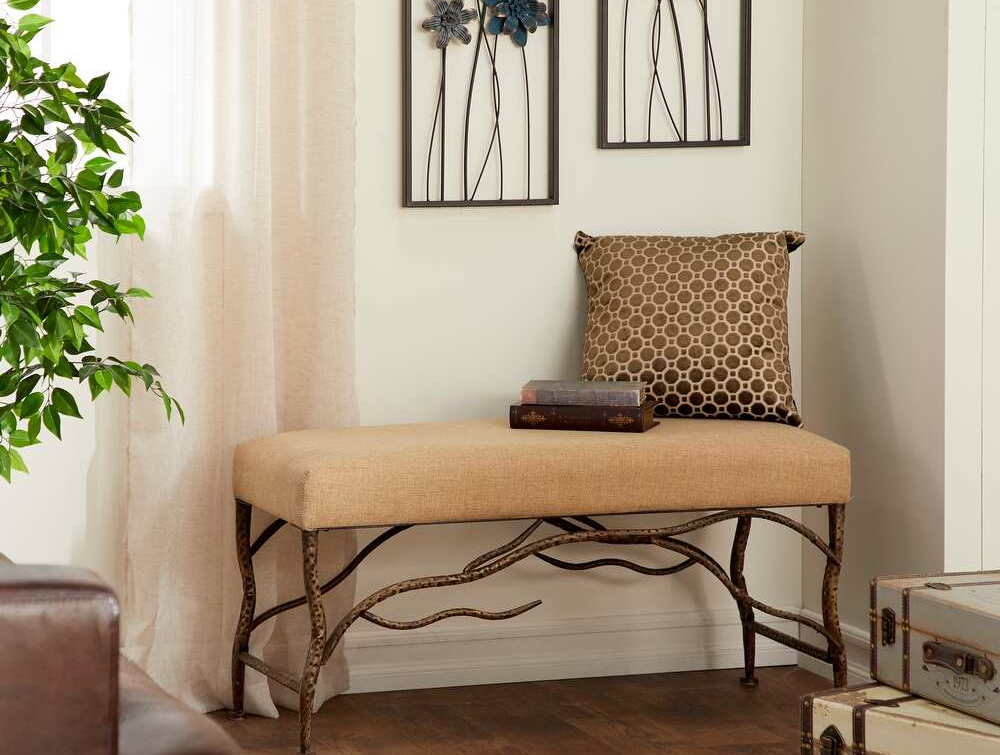 30. Farmhouse Vintage Lanterns
Vintage Lanterns will provide a touch of nostalgia to your farmhouse living space. You can hang antique lanterns from the ceiling or put them on shelves and side tables to display them.
Use lanterns with aged finishes, ornate metalwork, or old glass panels to give your area personality and warmth. The antique lanterns add a dash of nostalgia and whimsy, illuminating your farmhouse living space with a warm, magical illumination that flawlessly accentuates the style's classic allure.
Let the farmhouse living room ideas transport you to a bygone era, casting a warm and inviting glow in your farmhouse living room.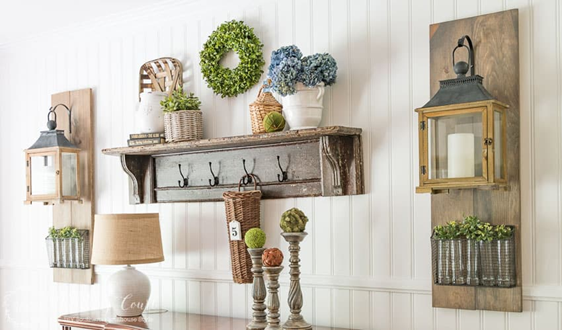 31. Farmhouse Soft Neutral Elegance
Take pleasure in an atmosphere of soft neutral elegance in your farmhouse living room.
Embrace a calming color palette with shades of beige, cream, and muted pastels. Incorporate soft and plush fabrics like linen and velvet in upholstery and throw pillows.
Add touches of refined elegance with decorative accents such as crystal chandeliers, gilded mirrors, and delicate ceramics. Enhance the farmhouse charm with reclaimed wood furniture and vintage-inspired pieces.
The soft neutrals and elegant elements create a serene and sophisticated ambiance, allowing you to unwind in a space that exudes comfort and timeless beauty.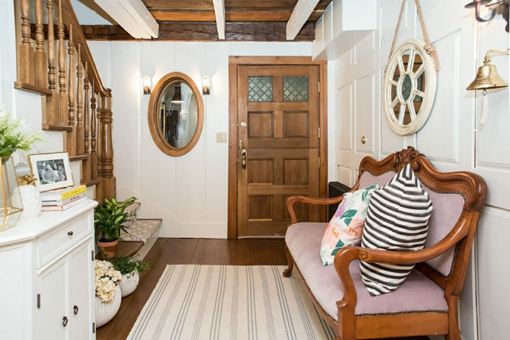 32. Farmhouse Vintage Charm
Bring the attraction of old beauty into your farmhouse living room. Accept aged furniture with intricate detailing and worn finishes. Add retro-inspired fabrics like floral upholstery and lace curtains for a sense of nostalgia.
Showcase treasured décor items to your farmhouse living room ideas like ancient books, antique trinkets, and family relics. Choose vintage-inspired lighting fixtures like crystal chandeliers or brass sconces to create a cozy and welcoming atmosphere.
Your living area will become a haven of luxury and comfort thanks to the farmhouse's vintage magic, which evokes a sense of history and timelessness.
Factors to Consider Before Choosing an Ideal Farmhouse Living Room Ideas
Space – Think about the shape and dimensions of your living room. Small and large spaces can benefit from farmhouse designs, but picking one that balances the room's dimensions is crucial. To create a cozy and valuable setup, take measurements and think about how the furniture will flow.
Color Scheme – Soft, neutral color schemes are typical of farmhouse living spaces. Think about white, beige, cream, and light grey as examples of color. These colors provide a serene and classic backdrop that you may accent with bright furniture, accessories, or nature.
Furniture and upholstery – Distressed finishes, raw materials, and old pieces are frequently used in farmhouse-style furniture. Look for wooden items to add to your farmhouse living room ideas that give an aged or reclaimed appearance. Consider natural fabrics like linen or cotton in earthy tones for upholstery.
Accessories and décor – Take note of the extras and accents that will improve the farmhouse look. Antique mirrors, vintage signs, and rescued architectural elements may all give character to a room. Furthermore, adding components like floral arrangements, mason jars, and woven baskets can add a rustic appeal.
Timeless Appeal of Farmhouse Design
Comfortable Farmhouse Living Room Ideas provide a fascinating fusion of coziness and rustic allure. These designs, which include distressed wood flooring and vintage details, produce a hospitable ambiance that is difficult to resist. Discover countless options for your farmhouse living room. You may choose to combine rustic charm with contemporary components or even choose a calming neutral color scheme.
You can design a farmhouse living room that represents your taste and offers a tranquil haven for relaxation by including personalized touches and paying attention to the above-listed factors. Therefore, embrace the classic attraction of farmhouse style and make your living area a cozy retreat that radiates warmth and individuality.
Frequently Asked Questions
Can I Combine Farmhouse and Modern Components in My Living Room?
Yes! A unique and eclectic aesthetic can be produced by fusing contemporary and farmhouse components. To add a hint of modernity while preserving the farmhouse aesthetic's vintage appeal, think about introducing sleek furniture pieces or modern art.
Can Designs for Farmhouse Living Rooms Be Used in Closed Areas?
Definitely! Farmhouse living room ideas can accommodate small spaces. To make the most of your available space, choose furniture with a slim profile and items that serve many purposes. Use light colors and smart storage ideas to establish a spacious and airy feel.