The Ultimate Guide to Kitchen Floating Shelves: Pros and Cons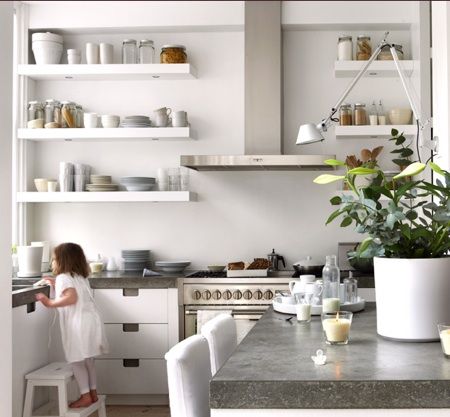 Kitchen floating shelves are trendy and considered ageless. But can floating shelves in your kitchen transform the place? Will these racks help save space or cramp it up? Should you replace the cabinets on the wall, and would it be cost-effective to do so?
Open shelves attached to the wall may not work for all kitchens, but these certainly infuse a modern vibe into the hearth of your home. In smaller kitchens, the floating shelves help maximize space. In bigger kitchens, it empowers you to play with the decor.
Are you keen to know if floating shelves in the kitchen will work for your home? Read this article, as it will help clear all your doubts.
What Are Kitchen Floating Shelves?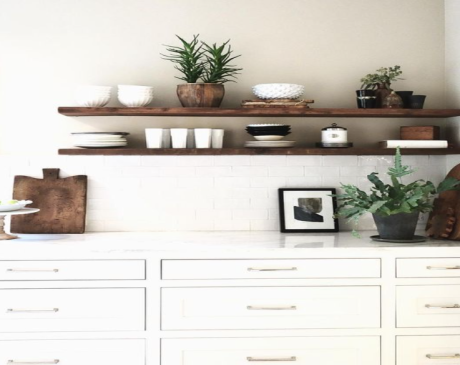 Open shelves fixed to the kitchen wall without a trace of brackets or screws are called kitchen floating shelves. These give your kitchen a boho or a farmhouse look and are trending across the country.
With various shapes, sizes, and designs available in the market, these serve multi-purposes. You can do a lot with floating shelves in your kitchen. Use them to spruce up the space or arrange your daily-use crockery items. Keep the place clutter-free, organize the spice jars, or simply decorate the space with potted greens!
Sale
Pros & Cons of Floating Shelves in The Kitchen
Like all other things, floating kitchen shelves have distinct advantages and disadvantages. First, let's look at the pros.
Pros of Open Shelves
It helps you keep different items within easy reach in the kitchen.
These are versatile. No rule-of-the-thumb, no right or wrong way of using the shelves.
It helps break the monotony created by rows of wooden cabinets on the kitchen wall.
It helps transform the place with an airy and tidy feel to your kitchen.
There are certain places where cabinets don't fit, for example, corners. You can affix a round-edged open shelf and use the space ergonomically.
It helps you display your gorgeous kitchenware and glassware collections.
All required items can be kept right in front of you. A cost-effective proposition, for sure!
Maintenance is comparatively easier than closed ones.
Cons of Floating Shelves
While cleaning open shelves is easier, the fact that they are open means that the stands start to collect dust and grime in no time. Cleaning can be a nuisance.
With floating shelves in the kitchen, you must be extra careful when stuffing them with items, especially heavier ones. Overloading might be dangerous.
Comparing Kitchen Floating Shelves & Cabinets
1. Aesthetics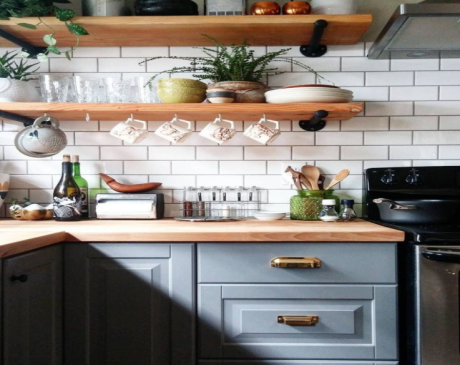 One crucial aspect to consider when choosing between cabinets and floating shelves is visual beauty. With numerous designs and flexible options, floating racks undoubtedly are better as these are open from three sides. There is a breezy look and feel to the entire setup.
Besides, you can use the shelves creatively. From exhibiting your top-of-the-line glassware to placing kitchen appliances, you can spruce up the shelves and keep changing the decor, as per your choice and when you like it.
With cabinets, unfortunately, there are limitations. Only a little can be done to enhance the aesthetics; even if there is, it could be a long-drawn and expensive process, usually a one-time affair.
Another feature that works in favor of floating shelves in the kitchen is that it helps keep things organized and clutter-free. With cabinets, you are more likely to cram the space because no one can see behind closed doors.
2. Strength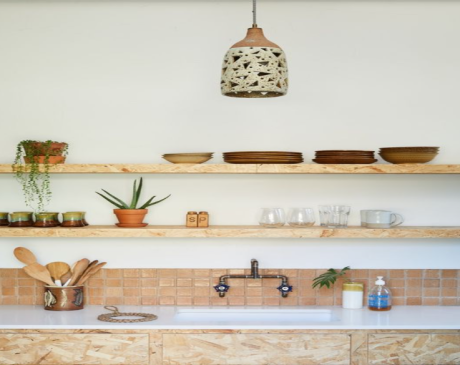 When supported by the right fixtures and screws, cabinets can support considerable weight, up to a few hundred pounds. Floating shelves in the kitchen do not have any visible support. Hence, these are perfect for placing lightweight items only.
If you have sturdier items, it is best to go for cabinets. If your kitchenware is lightweight and flimsy, floating shelves are advised. You have to be very cautious when handling floating shelves. Only delicate and fragile items should be positioned on these racks.
If the shelf material is of better quality, like engineered wood, and the depth is considerable, you can enhance the decor of your kitchen by using planters, small or mid-sized appliances, large pots and containers, and more.
3. Storage Space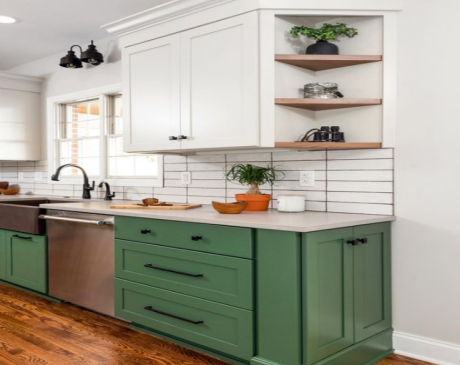 Since cabinets have doors, you can take the liberty to jampack them and use the last available space. On the storage front, cabinets have an upper hand vis-a-vis floating shelves.
Other than stuffing to the gills, you are free to overstack the space in any manner – orderly, haphazardly, or otherwise. Again, because cabinets are closed, there's a certain amount of freedom in how you use the space.
With open racks and shelves, this freedom is limited. Everyone gets to see and judge your skills – therefore, you are almost forced to keep things in an orderly manner. Additionally, the space on such racks is less compared to cabinets. And, the shelves without brackets and screws cannot take too much weight.
4. Versatile Design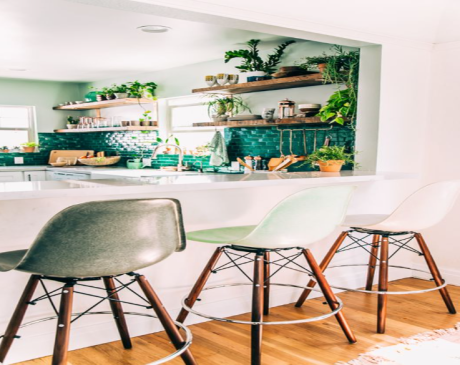 Cabinets and floating racks are available in different kinds of wood and paints. Cabinets have some alternatives, as far as the door designs are concerned. But, overall, this is very limited. Floating shelves, on the other hand, give you more flexibility in decking your kitchen space.
The difference is that cabinets are closed, and floating shelves are open. This aspect makes it easier for you to play with the space on these open shelves and use it resourcefully. You can incorporate various decor elements to transform your kitchen into an extension of your personality.
Many modern kitchens use a combination of cabinets and floating racks to get the best of both worlds!
5. Cost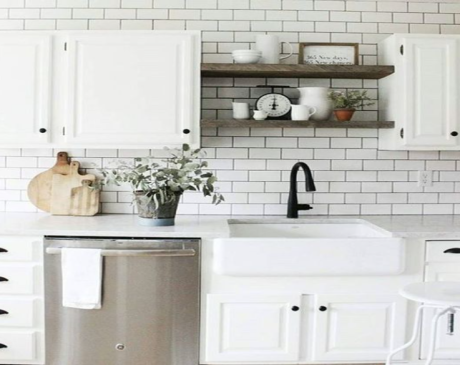 On average, floating shelves are cheaper than cabinets. Of course, the pricing depends on several factors like wood quality, stain, paint, etc.
The price will proportionately increase if you buy top-quality cabinets made from cherry wood or other. On the other hand, floating shelves, even when made with the finest wood quality, like walnut, will cost comparatively less.
If you have budget constraints, it is best to go with floating shelves. To top it off, installation of these shelves can be done by you at home through DIY methods, whereas, to fix cabinets, you'll usually need to call in expert services.
Kitchen Floating Shelves – Good or Bad Idea
We have evaluated the pros and cons of floating shelves in the kitchen. We have also compared cabinets and open shelves. Lastly, before making up your mind and choosing between the two, you need to take into account two more considerations.
How Spacious Is Your Kitchen?
If you are lucky to have a roomy space, or in other words, your kitchen is big; floating shelves can be used to enhance the aesthetic essence of the place. Add these shelves to improvise the decor and to keep things within easy reach. You can get creative to make the best use of these minimalist-looking shelves.
However, with a larger space, cabinets are more practical to use the available area optimally. Floating shelves can be installed to add aesthetic value to the place simply.
But if your kitchen is small, can floating shelves come to your rescue? Yes. The truth is that closed shelves or cabinets can make a small space look more cramped and limited. Open shelves, on the other hand, create the visual impression of a bigger space. Hence, many modern small kitchen designs incorporate floating shelves for a neat and orderly look.
How Much Kitchen Stuff Do You Have?
Floating shelves may not be a good idea if you are a connoisseur of utensils, crockery sets, and kitchenware. Reason? These petite shelves are not made to hold too much stuff. As mentioned earlier, overloading can cause them to fall off the wall. Closed cabinets usually have more space and should be your go-to kitchen design idea.
If you wish to use floating shelves in your kitchen, look for corners or the space next to the window for decor purposes.
Floating shelves are an excellent idea if you love running your kitchen with fewer items. Your minimalist streak gets a motivated nudge with these open shelves in the kitchen!
Where to Fix Floating Shelves in the Kitchen
After assessing all the points above, you can now decide whether floating shelves in your kitchen is the right choice or otherwise. If you choose to invest in these bracket-less open shelves, here are a few tips for using them suitably in your kitchen.
Open racks should be used at particular spots to pep up the look and feel of the place, big or small. For example:
1. Corners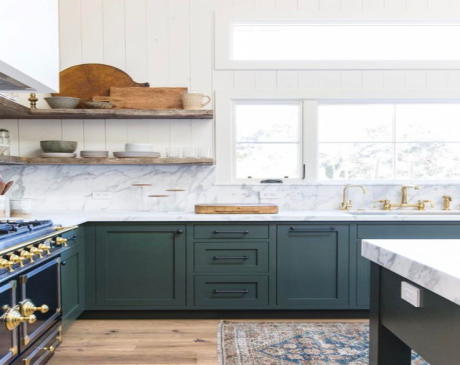 One of the best places to affix open shelves without screws is the corner space where same-sized bulky cabinets cannot be fixed. A narrower cabinet will spoil the flow and consistency; hence, use a floating shelf to fill the space, use it optimally, and enhance the kitchen's visual appeal.
2. Near the Windows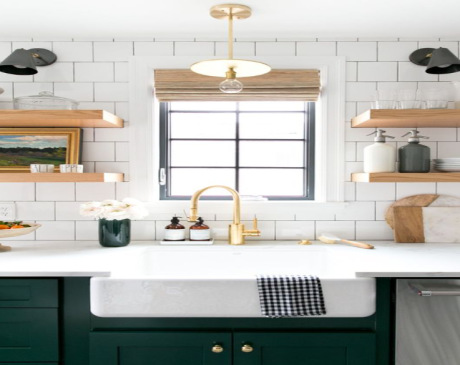 Another impressive way of improving the kitchen's aesthetics is to place them near a natural light source. Placing small planters on the racks makes the place greener, healthier, and lovelier.
3. The Cooking Range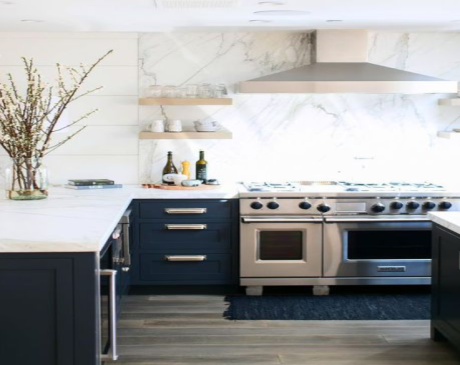 Positioning open shelves next to the range means a practical place to keep the oils and the spices close at hand, all the required daily stuff handy and within easy reach.
Conclusion
Floating shelves have an extraordinary visual appeal while also being a functional add-on in your kitchen. However, when deciding on incorporating these open shelves in your kitchen, you need to evaluate the pros and cons and assess the availability of space. Also, a crucial factor that will affect your decision is the amount of kitchenware you need to stack and store.
Utilizing the corners, space near the window, and the cooking range are a few smart ways to add floating shelves in the kitchen.
Remember to share with us other practical ideas for making open racks look good in the kitchen. Comment in the box below to let us know your thoughts!
Frequently Asked Questions
Are Floating Shelves Reliable in The Kitchen?
Yes, floating shelves are reliable as long as you ensure that they are of good quality and have been fixed properly to the wall. Also, make sure that you do not overload them. The best way to use these shelves safely is to stack smaller items for daily use or for ornamentation purposes.
Do Floating Shelves Sag with Time?
Floating shelves might sag with time, but it mainly depends upon the material of the shelves. It also will depend on the usage and maintenance of the racks. Try not to keep heavyweight items on these racks; depending on the material, keep these shelves moisture-free.