18 Timeless and Beautiful Color Schemes for Your Tan House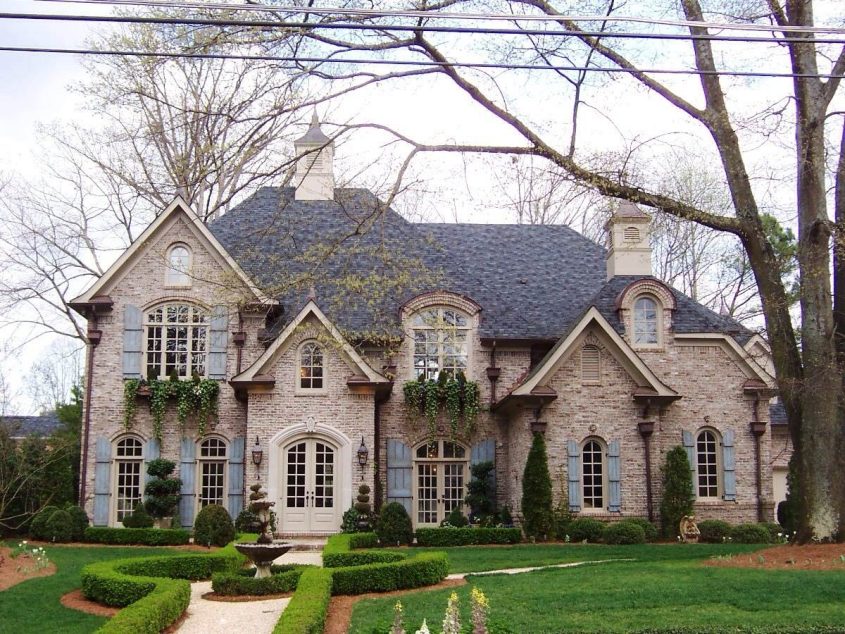 Do you need the inspiration to create a calming yet attractive exterior using the tan color? It creates a warm and inviting atmosphere that beautifully changes the exterior of your home.
Tan is perpetual and versatile and can be used in tandem with multiple color combinations. You may play a safe bet by including tan with black and white in your color schemes, as they provide a pleasing contrast. Green, blue, and even red can look great with shades of tan. Moreover, when combined with complementary accents, it increases the curb appeal of a home.
This article will introduce you to 18 tan house color schemes that will make the exterior of your home look like a work of art. So, gear up to get motivated by these incredible color combinations.
1. Tan Siding with Black Roof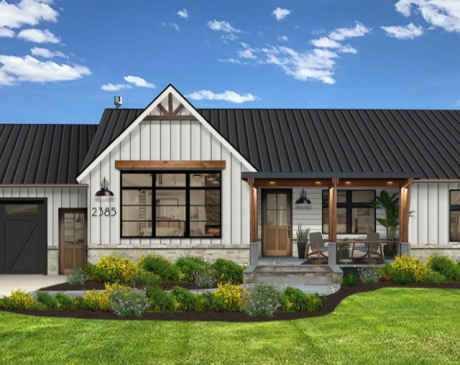 To create a stark contrast, paint your house roof black against the tan or mild beige house siding. For better results, apply a black finish to door and window openings.
The extended house part has a black color gable that looks impressive. Hang a black decoration on the tanned striped wall. Don't ignore the exterior flooring. The owner has a tan and light brown surface in the front that matches well with the green landscape.
Look at the combination of yellow blooms and foliage, as they are great inspiration for your exterior decoration
2. Tan Siding with Black Shutters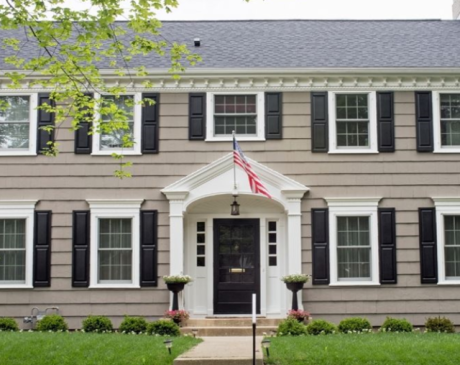 If you have decided to paint the shutters on your tan house black, you'll notice a big difference. As experts opine, the color black provides defiance rather than simplicity. Black shutters can give your house a more imposing appearance from the outside.
As long as there aren't excess black components in the exterior design, you have no reason to be concerned that the coloring could make the dwelling look too brassy. If you value boldness, you can increase the amount of black in your design, which is acceptable.
You may paint the broad white window lintels and the entire frame in white to create a subtle impact. The green landscape and the tall planters on the sides also enhance the charm.
3. Tan Siding with Grey Shutters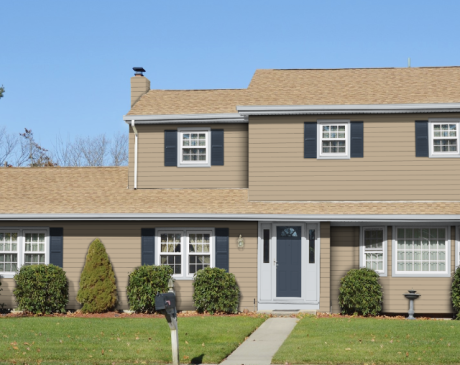 Isn't it a really great idea to apply a darker tan house color scheme to match the exterior design or create an unusual combination? With tan siding, choose the deeper grey shade shutter for your openings.
The appearance can change your exterior remarkably. A good example is the modern exterior shown in the image above. The contemporary-styled house receives a noticeable dose of classic elegance from its bright gray shutters.
The board and batten shutters' design mimics the windows' shape, making the visual more powerful and appealing. Another intriguing element in this house is the choice of off-white window trim color, and the grey roof enhances the curb appeal.
4. Tan Siding with Rosy-Beige Roof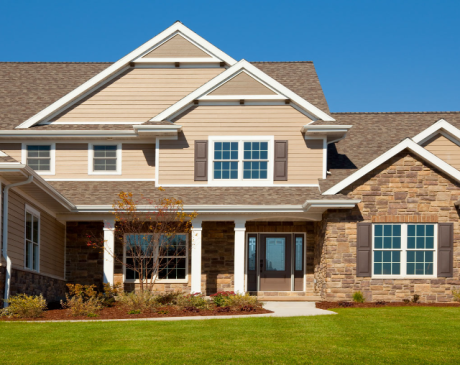 Does your house look super chic in architecture? Hence, you need help to decide which exterior paint color best suits its modern look. The predominant wall color in this bungalow is tan, and the beige with red undertones on the roof adds contrast. The porch, supported by white columns, adds texture and dimension to its pattern.
It might be a terrific decision to use a thick, wide trim to spice up the depth of tan, brightening the structure's overall vibe and adding a stylish element. A small tree with blushing leaves creates the yard's delicate landscaping in order to complement the roof's rosy beige hue.
The brown-hued frosted glass front door is distinct from far and creates a unique view for visitors. The use of red mulch complements the rosy-beige roof.
5. Tan Siding with Dark Blue Opening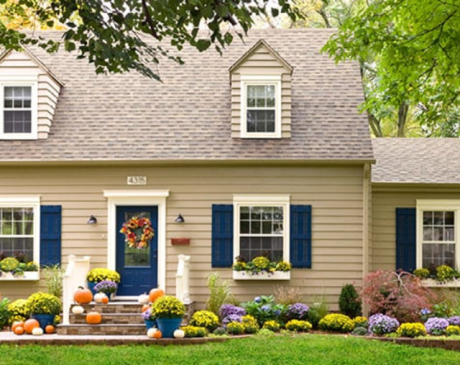 This is again the unstoppable mosaic of tan, deep blue, and white. Moreover, the light-hued brown metal roof is the cherry on the cake. You may create magic with navy blue shutters in this color scheme. Due to its airy and cheerful vibe, this shutter color is ideal for houses in open spaces.
Additionally, it has a youthful vibe, thus a viable option for young people purchasing their first home or those who are always young at heart. Remember to include some ornamental pieces and decorative plants to mesmerize your neighbor!
When your home has a pale shade of tan siding, sky-blue shutters also look good. Your home will look cheerful and sunny with sky-blue colored shutters.
6. Tan Siding with Burgundy Shutters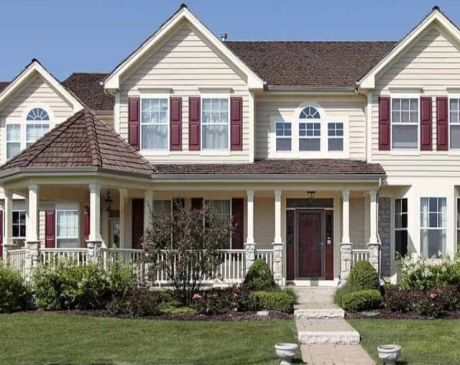 In addition to being covers that keep your home energy-efficient, shutters can significantly improve the visual appeal of your dwelling. Burgundy is a rich, opulent color for shutters. This can exhibit an added charm with a tan decoration.
If you want to add a touch of comfort and richness to your tan house, burgundy has no competitor in this context. When the exterior is spacious and open with details, such as a classic Victorian-era house, burgundy shutters look fantastic.
Additionally, more contemporary homes can benefit from the style and integrity that these shutters can bring. This home's front door is a complementary shade of burgundy, adding to the beauty of the exterior.
7. Tan Siding with Natural Green Shutters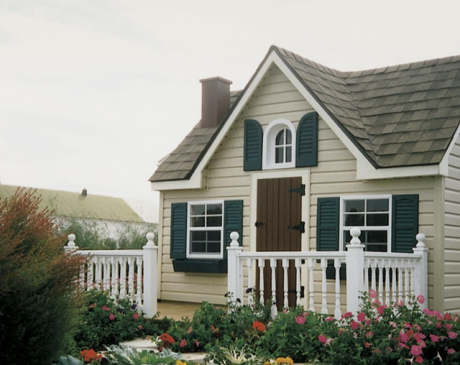 No matter what urban life offers, you still are a "nature person." You love wilderness and want to display it in the color idea you pick up for your exterior. The natural tint of the siding needs to be supported by a lively shade for opening. So, apply a natural green finish for the same.
Deep green shutters are an excellent way to achieve this when you live in a tree-clad area or want to give your home a more natural feel. A tan exterior can benefit from the sophistication and vibrancy that lush green shutters can bring. Anyone who wants to evoke a sense of peace and tranquility should choose this one.
It also goes well with a range of house styles. The walls are neatly painted in a brown hue that gives off a lovely tan and cozy vibe.
8. Desert Tan Color Roof Pattern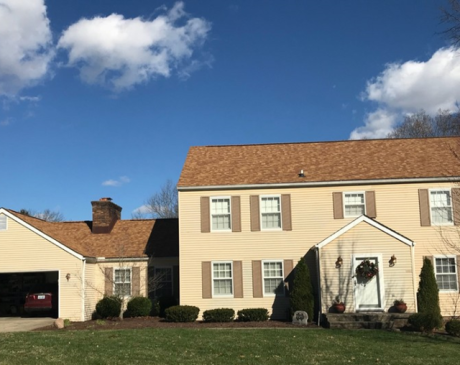 Although picking a roof color may appear unimportant at first glance, it significantly impacts the design and appearance of your home. Desert tan is regarded as a toasty neutral color, making it a reliable choice for roofing, trim, and exterior walls.
Many color accents go well with this tint, and more or less, homeowners find them attractive. The tan has deep shades of brown that can warm up the atmosphere in your house. Although the color is pleasant, it is still mild and goes nicely alongside ivory or white trim.
Mild shades, like the desert tan roof shade, create an illusionary spacious sight of a compact home by giving it the appearance of being bigger from the outside. Furthermore, tan house color schemes are an appropriate choice for large, imposing homes that want to present a softer exterior appeal.
9. Tan Siding with Dark Roofing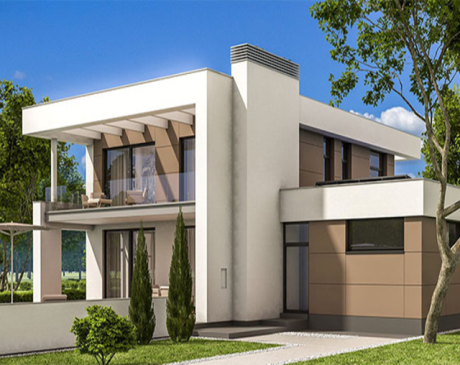 Beyond the shadow of any doubt, you can do scores of design experiments with this neutral color. Choose muted tans for the walls and combine them with chocolaty or black siding and other accents.
Nothing beats a house with light tan siding, glass window frames, shutters, and chocolate panels. The top section of the garage wall's neutral color contrasts the dark shade of the wall beautifully. The color gives the appearance of an open and serene space because it is so pristine and tidy. The color also complements contemporary block compositions. The owner uses black-paned windows to add a subtle contrast. The house is surrounded by greenery, and a mini wall with a natural finish separates the patio area.
10. Tan Siding with a Brown Roof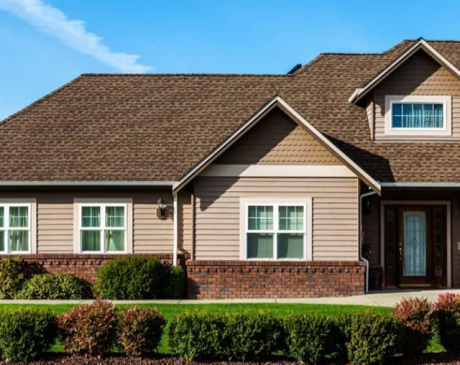 Tan is an excellent neutral to pair with a brown roof since it can cleverly exhibit the darker hues in the roof's shingle. Tan siding looks simple but timeless in this picture, enhancing the attractiveness of the brown roof. The exterior looks neat as a crystal with its tan finish.
Additionally, any landscape design you have near it will appear lush. While you may believe tan is a single hue, there are several variations with red, blue, or yellow undertones. You can buy pale brownish tans that complement brown shingles in the marketplace.
There are numerous other subdued variations of this color, but commonly, the color carries warm undertones of red, yellow, or green.
11. Tan Siding in a Ranch-Style Home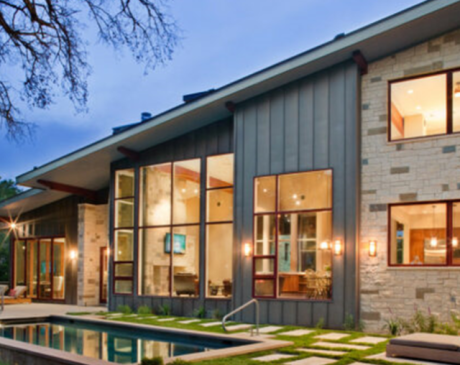 If you have a ranch-style home, the tan house color schemes can do wonders. Rest assured that it will have a stunning appearance that sets it apart from the homes of your neighbors or friends.
The primary building material of this home is stone. Check the tanned stones that take up the best part of the outside with some darker hues. However, the architect added straight metal siding, just like a decorative element, and placed it in the middle section.
The metal panels serve as siding to highlight the subdued stone. You may have noticed wood and vertical metal siding in combination. Undeniably, you got a chance to be inspired by the impressive contrast that metal sidings make with these pale-colored stones.
12. Tan Siding with Decorative Layout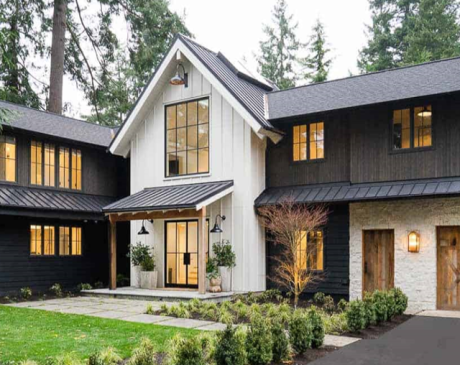 Initial perceptions are crucial because they set the tone for everything that comes after. When you renovate your home, you get a couple of benefits.
Your front entrance is highlighted and given an aura of elegance by its wooden ornamentation, designed and installed imaginatively.
This idyllic country house-style home's exterior facade is made of pale-glow Buechel Stone. It displays some insightful, creative design elements to inspire you.
13. Tan Siding in a Mid-20th Century Home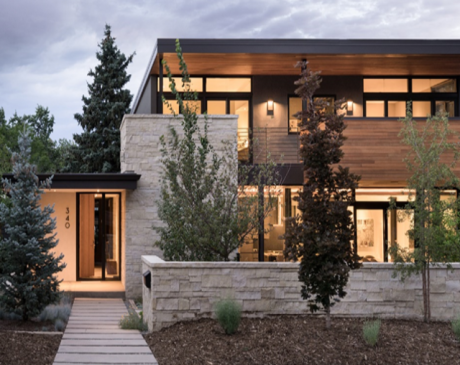 The use of organic resources, clarity, and comfortability of the architectural styles were the characteristics of mid-century contemporary architecture. It made it so appealing during that period and remains popular today.
You can apply the house color schemes to renovate your home in this fashion. The primary building materials for this type of home are mostly wood, stucco, and stone. Its uneven front design, flat roofing, and large glass casement windows contribute to its simplicity incredibly.
A low fence, a large structure, and pave ways made of neutral-colored stone give the area an informal look. You may add or reduce stucco or wooden elements as per your need.
14. Tan Sliding with Yellow Front Door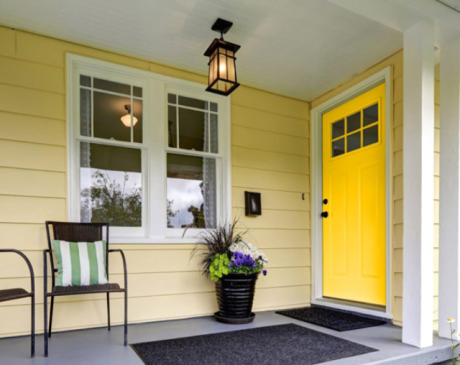 Your dwelling can have a cheerful and welcoming mien with a yellow front door and tan exterior siding. The yellow-hued front door adds vibrancy and persona to the space, while the neutrality of tan accentuates its impact.
If you want the appearance of your home's exterior to give you a feeling of peace and spirituality, you can harmonize the mute-hued walls with a yellow entrance.
In Feng Shui, yellow represents the sun and can infuse a space with happiness, fun, and optimism if paired with a golden tint. It would also be a good idea to accent it with metallic gold.
15. Tan Siding with Black Front Door
The black front door will indisputably complement the tan sidings. In the image, suitable accents have enhanced the aesthetic of the exterior. The black door with glass panels and silver grip complements the neutral shade of the walls and the planters.
You may employ an elegant lighter effect on the front door trims. In other words, black is always a good choice. Let this theme stand on its own, and pair it with some mix n match color patterns if you like it.
16. Tan Siding with Crimson Front Door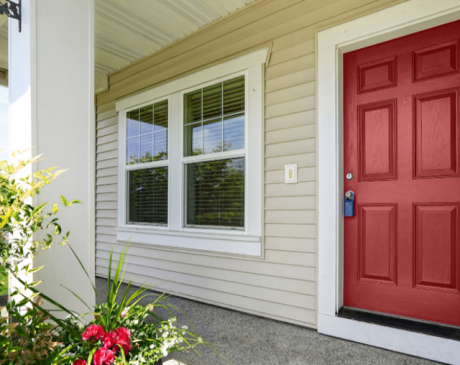 How about an imaginative, striking hue that will draw the attention of your guests and acquaintances? Any red hue can add color to your tan home, combined with neutral trim. Crimson happens to be a hit among red front door colors. However, you must obviously consider your home's exterior design when choosing bolder tones like these.
It has a lasting impact on buildings with brick exteriors. In Feng shui, red represents auspiciousness that attracts abundance and good fortune to the homeowner.
17. Tan Siding with Purple Front Door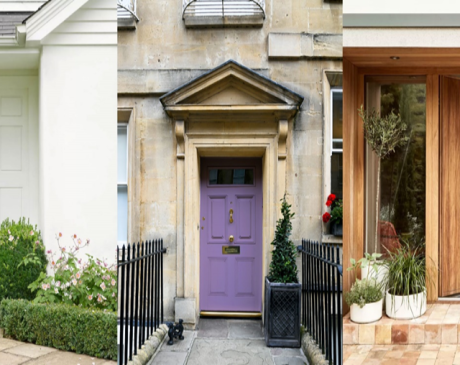 Many house owners prefer purple color for its versatility. It complements tan siding greatly. If you want to blend warm and cool tones in a single hue, pick it up without wasting your time.
In this image, the gable-designed shed above the doorway is obviously an innovative idea. The ornamental plant in the black container complements the exterior decor.
Due to the fusion of blue and red, you would have an extravagant yet rustic appeal. This is the ideal match to coordinate brilliantly with a neutral shade. You can choose the theme if you wish for the outside of your property to convey a subtle, refined message.
According to Feng Shui, the different hues of purple can increase your chance for success by inviting opportunities into your home and energizing the entranceway.
18. Tan Siding with Neutral Front Door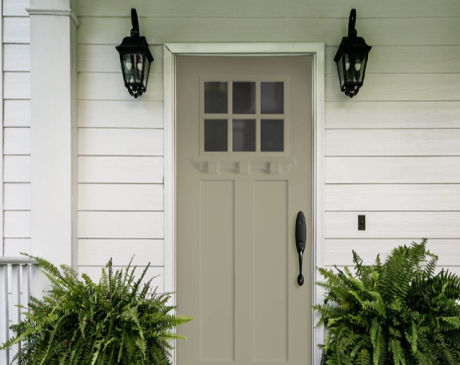 The tan house color scheme is a safe choice if you prefer monochromatic designs; it will save you time and effort at the same time. In this image, it augmented the beauty of the exterior. The black handle on the door with black mounted lamps on the siding creates a stunning impact on the visitors.
A crucial element in home design plans is the home exterior's uniform appearance. You would therefore receive this advantage if you chose a tan front door. You can give your home a hassle-free temperament by painting the front door and exterior siding with neutral hues.
Color the trim and frame of the door white for a serene look, or use deep hues to add contrast. You can also add some lively vegetation or colorful blossoms to the entrance of your house.
Conclusion
We hope these 18 exquisite and evergreen tan house color schemes can inspire you to decorate the exterior imaginatively. You can determine what design or style best suits you from the diverse options this post suggested.
Beyond the shadow of a doubt, you may argue with the curb appeal of your tan house in numerous ways. The best color combination for your outers should contrast with the neutral shade, even though you can paint it in different colors. Exploring contrasts and patterns is one of the things to remember that the post pointed out. Even so, don't be afraid to push your own creative boundaries.
Which idea do you like to work on? Please feel free to comment with your thoughts.