20 Trendiest DIY Outdoor Bar Ideas and Designs for the Year 2023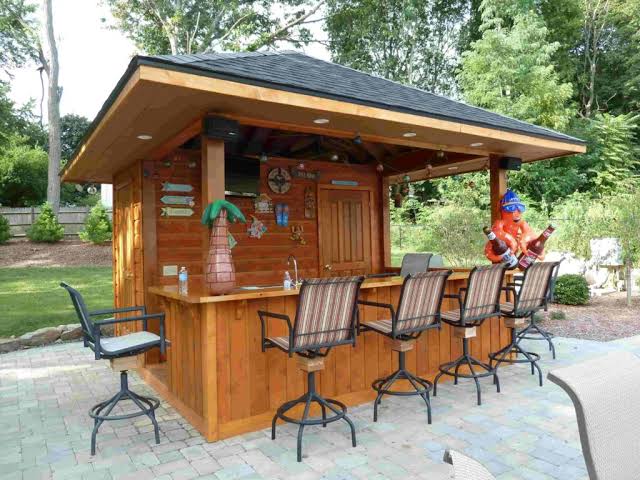 Love spending time outside the house? Then getting a DIY outdoor bar is a nice option. You can use up your space in the best way. And if you love planning and organizing things, this can keep you busy for weeks. Imagine how exciting it is to have a trendy place in your backyard. If you ever want to have a peaceful and joyous time, you just have to visit your backyard.
Here are the options which you can explore and make your own DIY outdoor space. We have curated the list of the best options and guarantee that one of them will melt your heart.
List of Best DIY Outdoor Bar Design and Ideas
1. Pallet Bar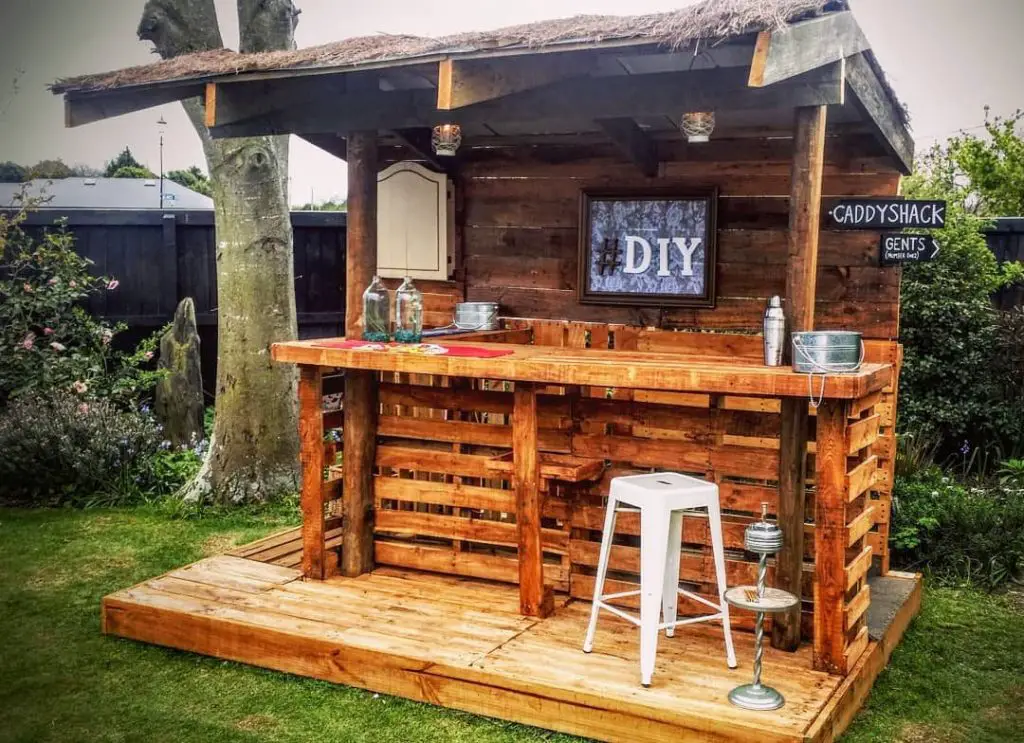 Want to construct a wooden bar for your DIY outdoor bar? Then pallet bar can become your right choice. In this, you have to use pallet wood to construct the wood bar. Build the bar yourself using the wood pallets. First, decide on the dimensions of the bar. After that, build the wood pallet to some height and add a double layer on the wood pallet for extra support.
Now, add a counter on top of these wood palettes. This way, you will get a sturdy table. For your comfort, you can add a surface in the middle to store your wines, whisky, and glasses. You can see the picture to get an idea of the construction.
2. Tiki Bar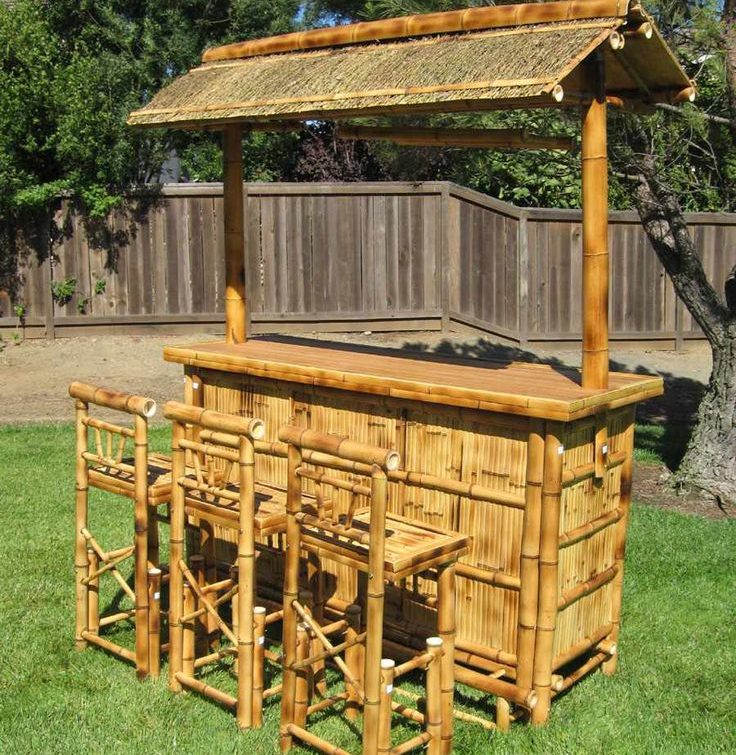 Give beach vibes to your DIY outdoor bar, and it is very easy to make. Built a sturdy frame of wood sticks and attached a bamboo roofing. Install a counter and add stools for seating. You can decorate it using an artificial decoration kit and give it a tropical vibe. And don't miss out on your favorite "Beverages."
With this Tiki Bar, enjoy your weekend like a vacation. As summer approaches, you can spice up your joy with Inflatable Pool and enjoy your bar to the fullest.
3. Concrete Block Bar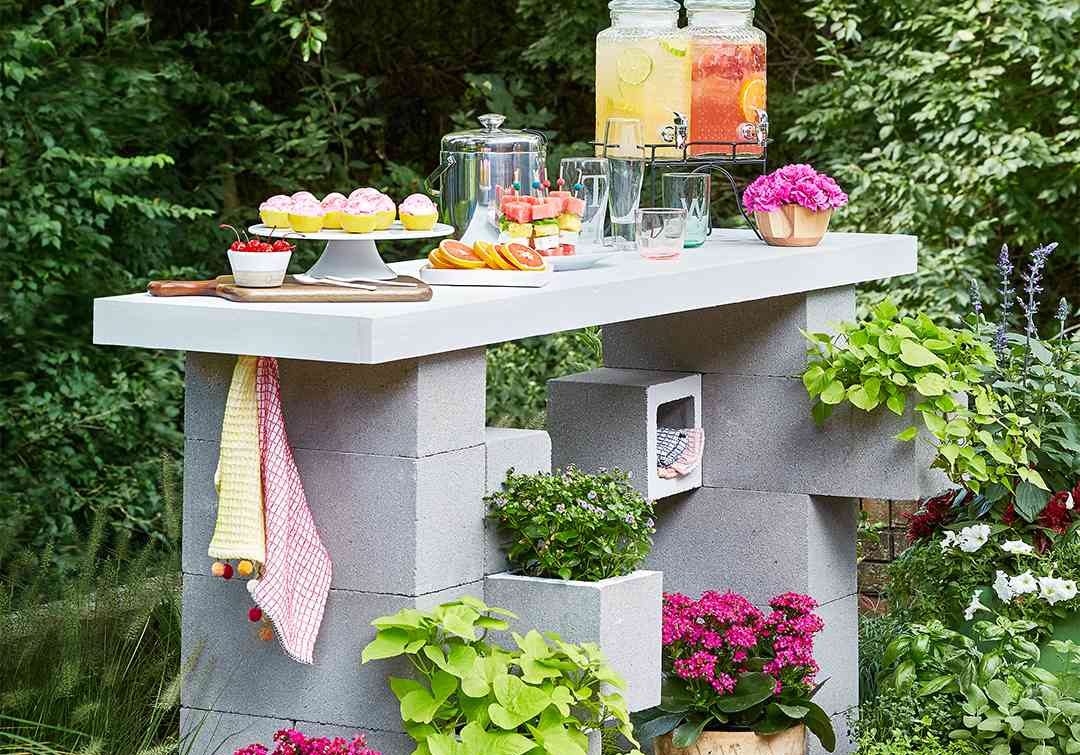 Just need some bricks, and you can get your DIY outdoor bar ready. Just plan and design your bar layout. Then give it a shape; it's better to get some professional help for this Concrete block bar. You will be able to use this block bar after a month as it requires lots of water.
To give it an appealing look, add radiating colors and design to the bar. This bar is convenient as it helps you include the barbecue inside it. Therefore, reduces your expense of buying a barbecue. Watch the best way to build a Concrete Outdoor bar.
4. Rustic Wine Barrel Bar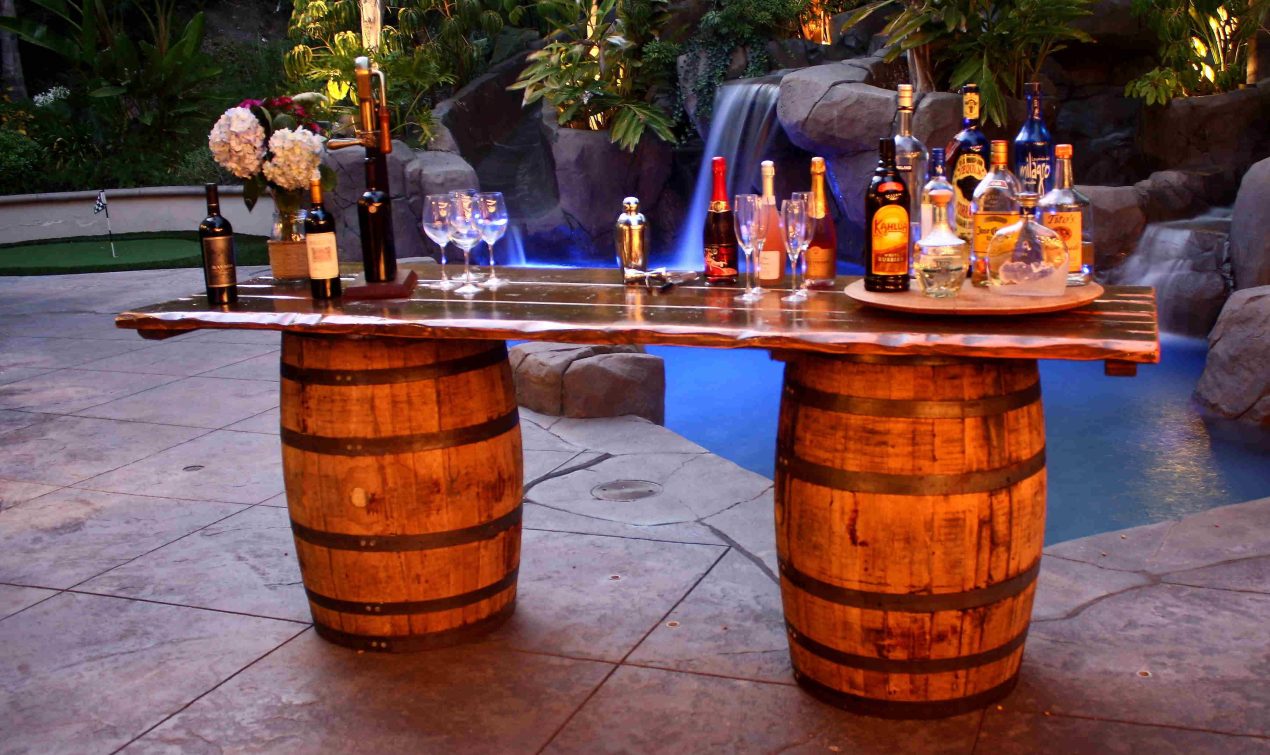 Have you seen Pirates of the Caribbean? If yes, Then you can recognize the wine barrel very easily. Get an Oak Wine Barrel, and the height can depend on your choice. Based on the bar opening, cut the barrel using a sharp knife. After that, place the countertop on the barrels. Choose the best-fitting countertop and connect it using screws or an adhesive. You can witness firsthand dedication in this video – Watch Now!
Now, you got your Rustic Wine Barrel bar ready. Add finishes, and decorate it to make it more impressive. Many people go for the bar sink in the bar itself. But, for that, you might need to seek professional help.
5. Repurposed Dresser Bar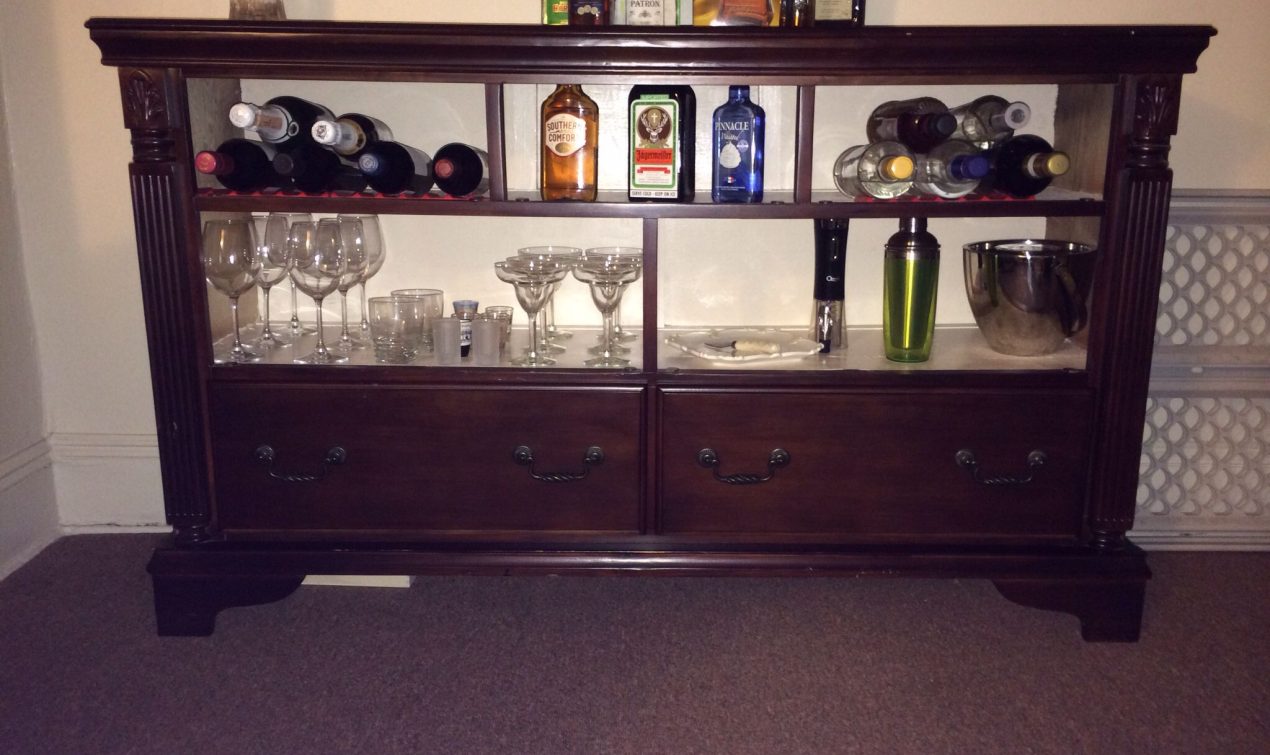 Buying a new cabinet is costly, but you can use your old Dresser as your new bar cabinet. You can get your DIY outdoor bar by removing some of the drawers from the dresser to keep your beverages. Later, you can use the drawers on the bar wall for decoration. Coat the dresser with polyurethane to protect against spillage.
This way, you get your Re-purposed Dresser Bar at the least expense without any professional help.
6. Outdoor Kitchen Bar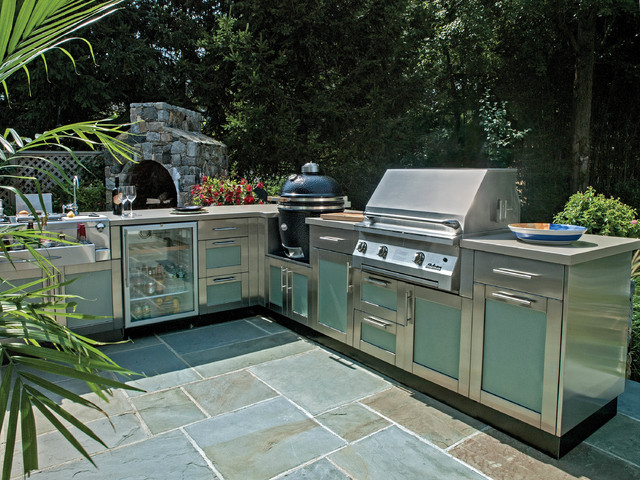 Want to create a whole vibe? Get this Outdoor Kitchen Bar; the only issue with this bar type is the cost. To set this bar, you also need the help of manpower and an architect. Other than this, you need an area around your kitchen.
With the help of the architect, build a layout and include everything you want in it. Then choose high-quality appliances like a sink and refrigerator. For electricals appliance, use water-resistant products. In metal, use stainless steel to avoid rusting. Then give it a premium finish and do leave the airflow space.
7. Fold-Down Wall Bar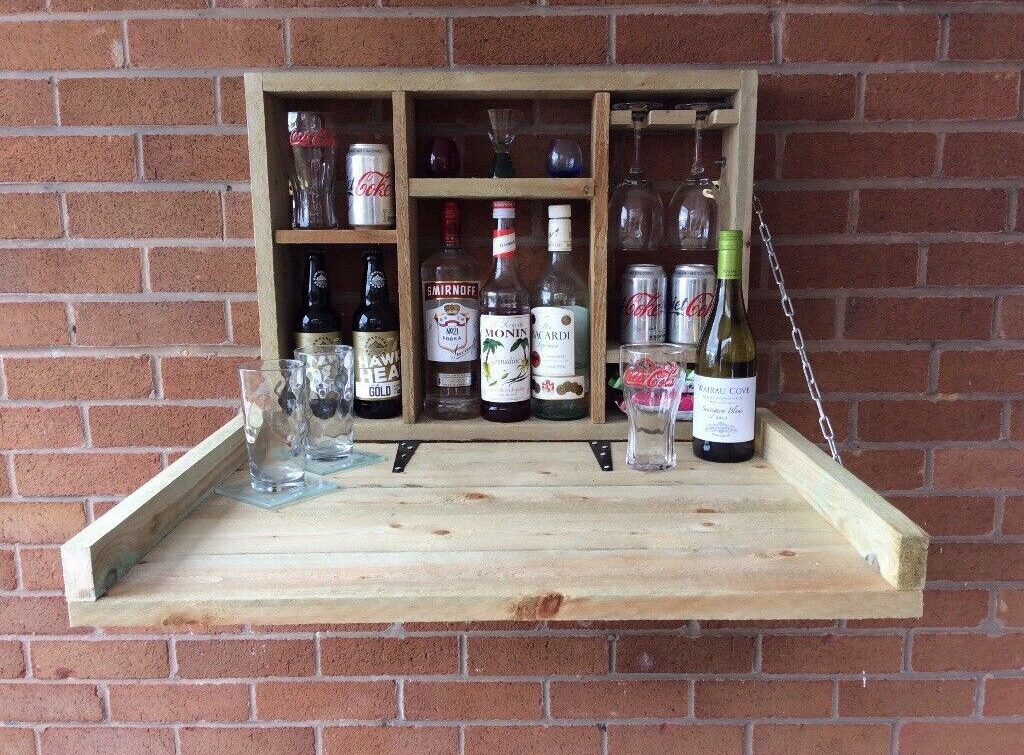 Get a DIY outdoor bar that requires less effort and money. Fold down bar is very easy to install, and in case you want something that doesn't need any installation, then you can go for the supportive Fold Down Wall Bar.
In this bar, you need a wall where there is some space to place your beverages. At the same time, you can also use the wood pallet to build that storage area. The installation is very easy. You just need to screw wooden cardboard using the chains on the wall, and your bar is ready.
8. Beach Bar-Inspired Cart
Not interested in the fixed bar? Purchase a Bar Cart which can be transported to your desired place with ease. You can get different designs in this category which makes this a great option.
You can choose the variety based on your need. Some carts are different because they provide holders for wines, glasses, and other bottles. Whereas some are simple carts available with flat surfaces to place your drinks. Therefore, it depends on your feasibility and budget.
9. Cinder Block And Wood Bar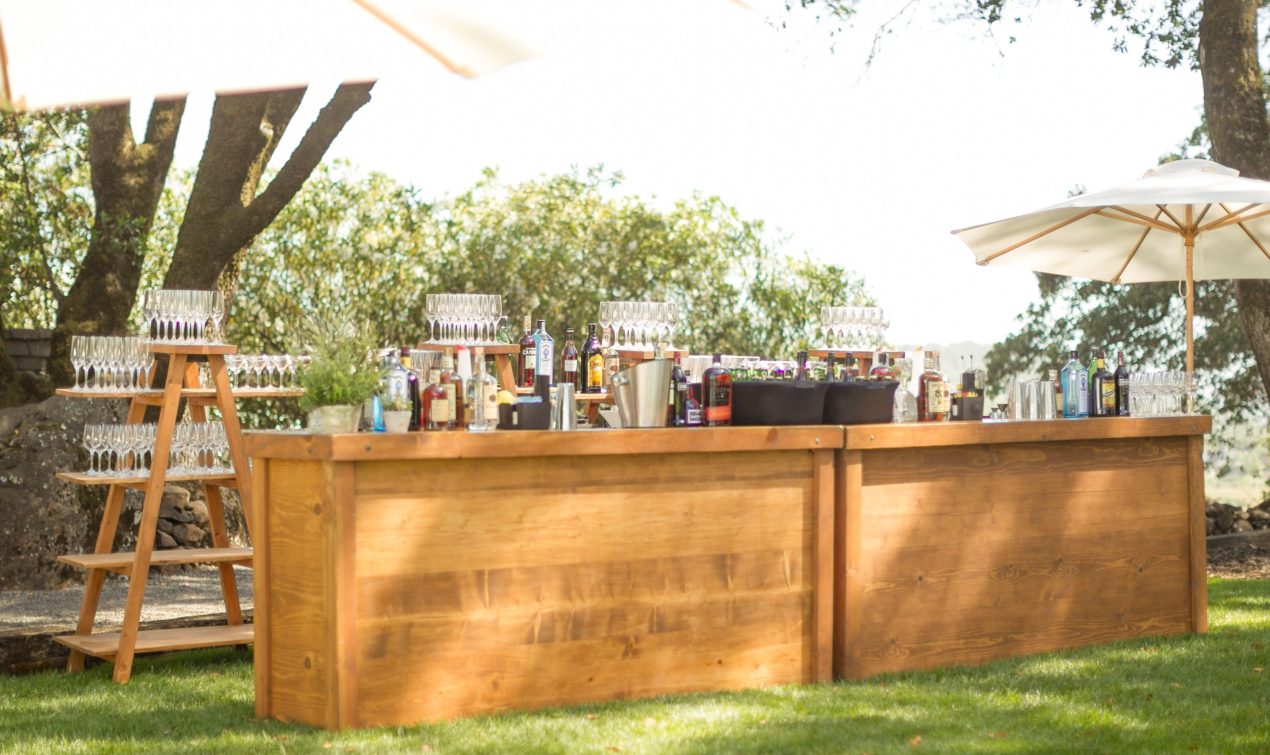 Cinder Block And Wood Bars require no manpower. To build this outdoor bar, you just need Wood and the right size of nails. Using the support of two concrete blocks of cement, make a wooden wall and adjust the countertop on the blocks.
For durability, hamper the countertop with the blocks. For the longevity of the bar, use good quality wood. And do paint and polish the wood to avoid damage from fungus and bacteria.
10. Outdoor Pallet Bar With Roof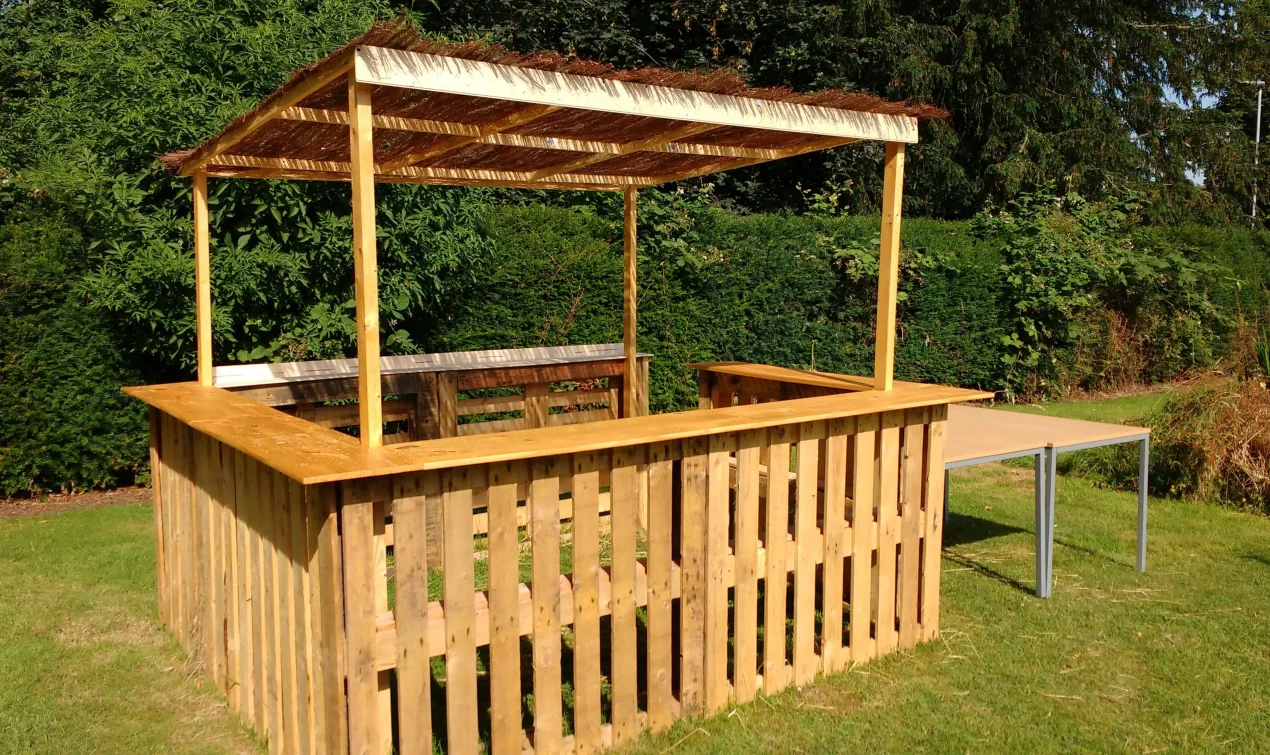 Buy six pieces of wood pallet and a counter which can be adjusted over the top of the wood pallet. But, as a roof, you can use wood pillars and proper grass roofing. To store your beverages add a cupboard behind the bar.
Precautions to take while setting up this pallet bar are location and materials. Build a strong base and roof so your pallet bar doesn't get damaged in heavy rains and strong winds. Another is to use strong and durable adhesive to paste the pallets and roofing.
11. Repurposed Boat Bar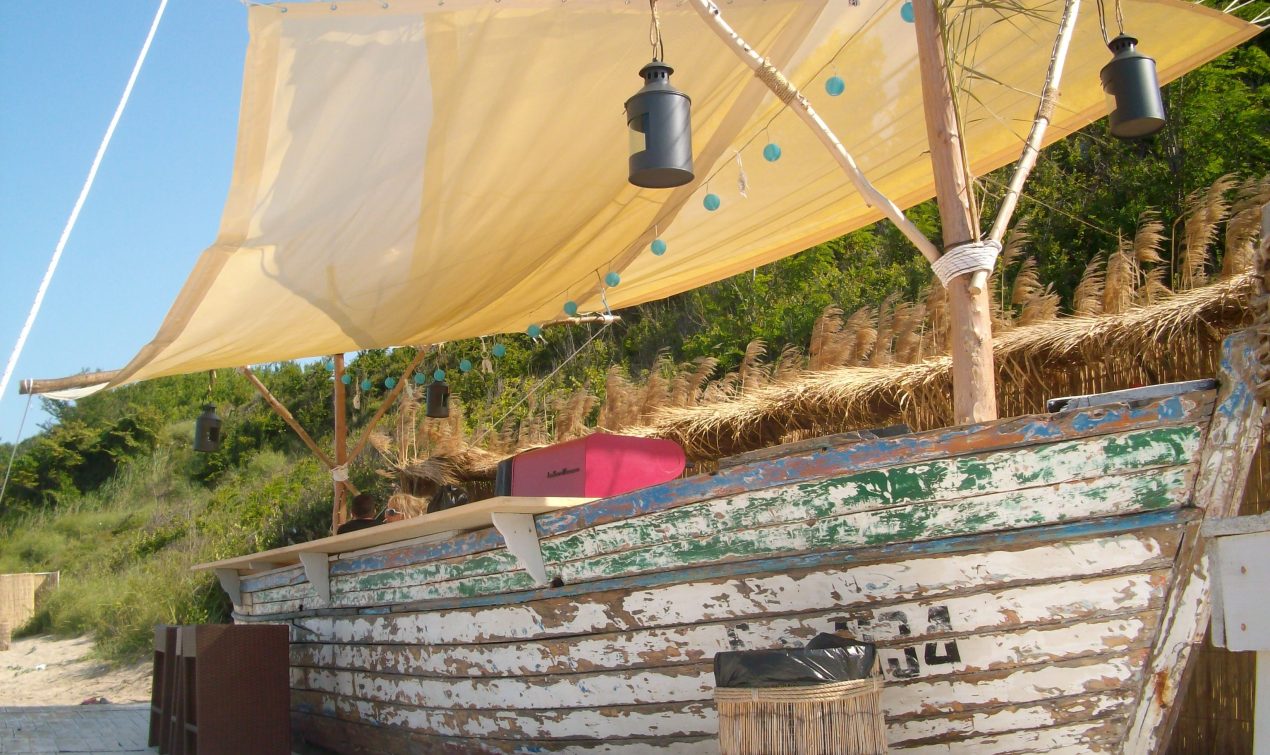 The boat bar looks like an interesting idea, but manufacturing it can be tough. In this, you need an old boat and some technical skill using which you can turn a boat into a bar using two ways.
In vertical, cut the boat in half. The bottom should be flat, or dig a hole and embed some portion inside it for support. After this, place it along the support of the wall, and you are good to go! Place your beverages inside the cupboards and decorate them with lights for a better view.
12. Fold out Murphy Bar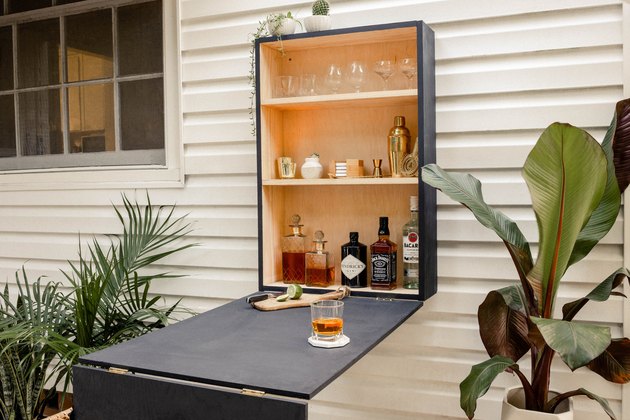 Fold-out Murphy bar is sometimes mistaken as Fold Down Wall Bar. But there is one huge difference. In Fold Out Murphy Bar, people build a storage room for beverages just like a birdhouse.
It has A-shaped roofing, and the whole cabinet is built of wood. In this, you need to design the layout and cut the pieces. After that assembly, this will consume a lot of time because it is the most crucial step. After that, install the bar on the wall, and your outdoor bar is ready.
13. Vintage Bicycle Bar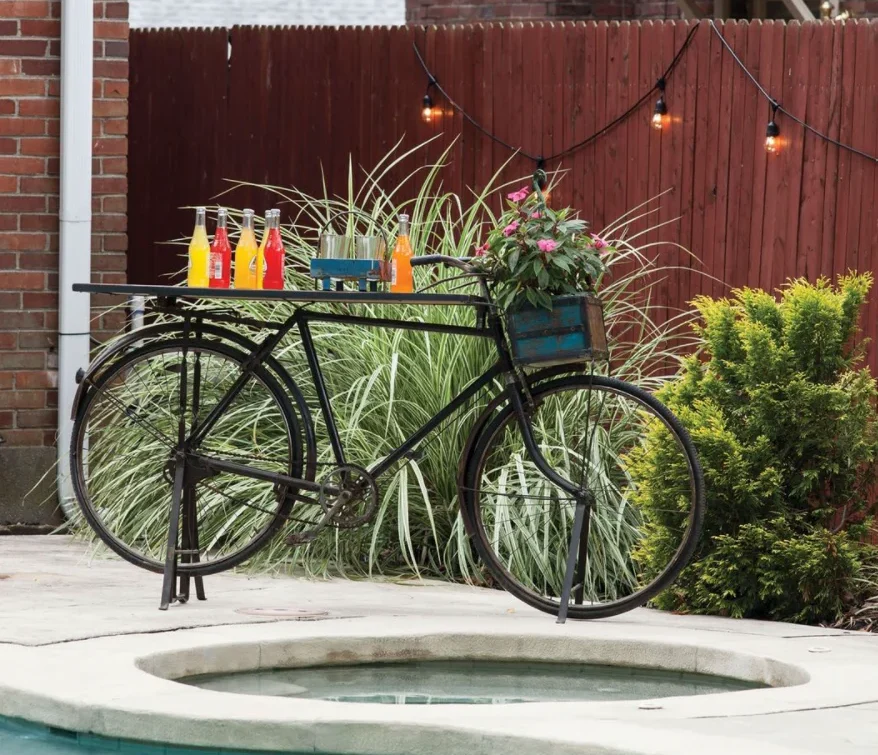 bicycle bar is an outstanding idea for an outdoor bar if you have a lawn area in your backyard. This outdoor bar can become the show-stopper at your next house party. You can use an old bicycle for this outdoor bar and make sure that the bicycle is 19 inches long.
For a flat surface, remove the seating and fix a wooden board on top of the cycle. You can use the Wine and glass holder on the top for support. In case you have a basket in front, then add flowers to it. This will make your bar more appealing and wonderful.
14. Outdoor Bar with Pergola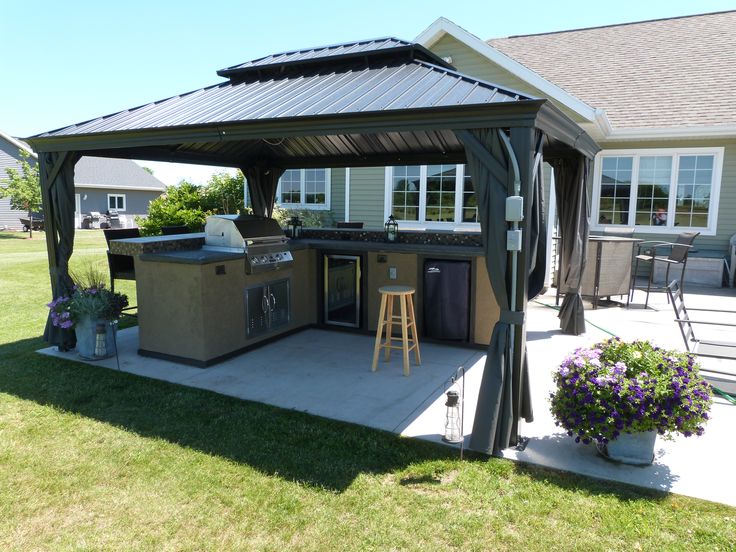 Searching for a DIY outdoor bar but don't want to put much effort. For that, we have the best and most reliable method. Buy a Pergola, which is a roofing that comes with support.
This outdoor bar is easy to build, and you will get an outdoor bar in a few minutes. After that, just set up the tables and the beverages. But, if you love building, then build a pergola yourself using metal rods and curtains.
In both ways, you will get a guarded bar along with protection from sun rays. This job is easy also because in this, assembling and layout work is minimal or almost negligible.
15. Concrete Countertop Bar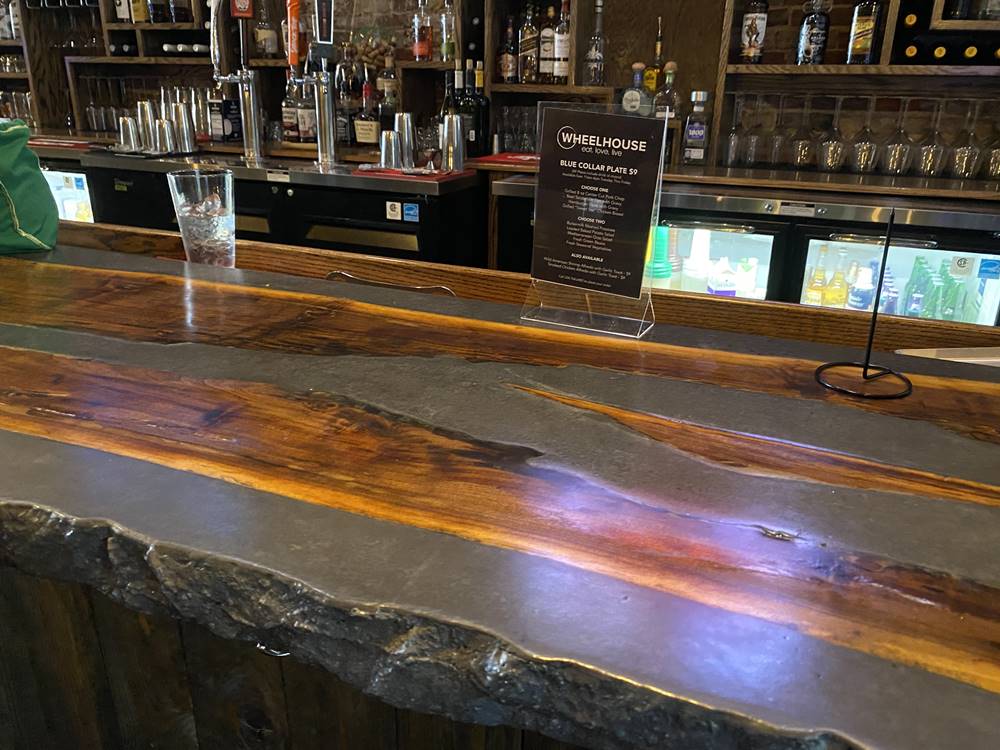 Concrete Countertop Bar is mostly preferred by people who are interested in a one-time investment for an outdoor bar. Choose the spot and, using bricks, build the base of the bar.
The countertop should be a layer of concrete, and this bar requires a week for settlement; when the bar solidifies, you can decorate it using the texture or design. This is a one-time investment, and you can even add shelves on the bottom to store your drinks.
16. Repurposed Metal Drum Bar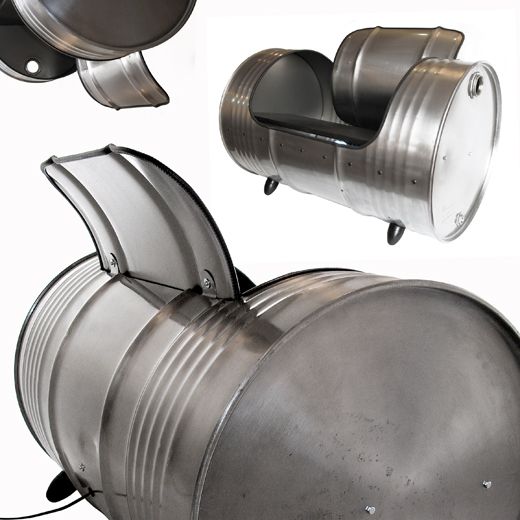 Many of us have Gallons of metal drums which is of no use. But now you can use your metal drums and make it your DIY outdoor bar. For this, you just need to cut the drum into two halves and install a flat surface inside for storage.
Using a thread and drill, you can even make the other half a door to protect your beverages from spillage.
17. Adirondack Bar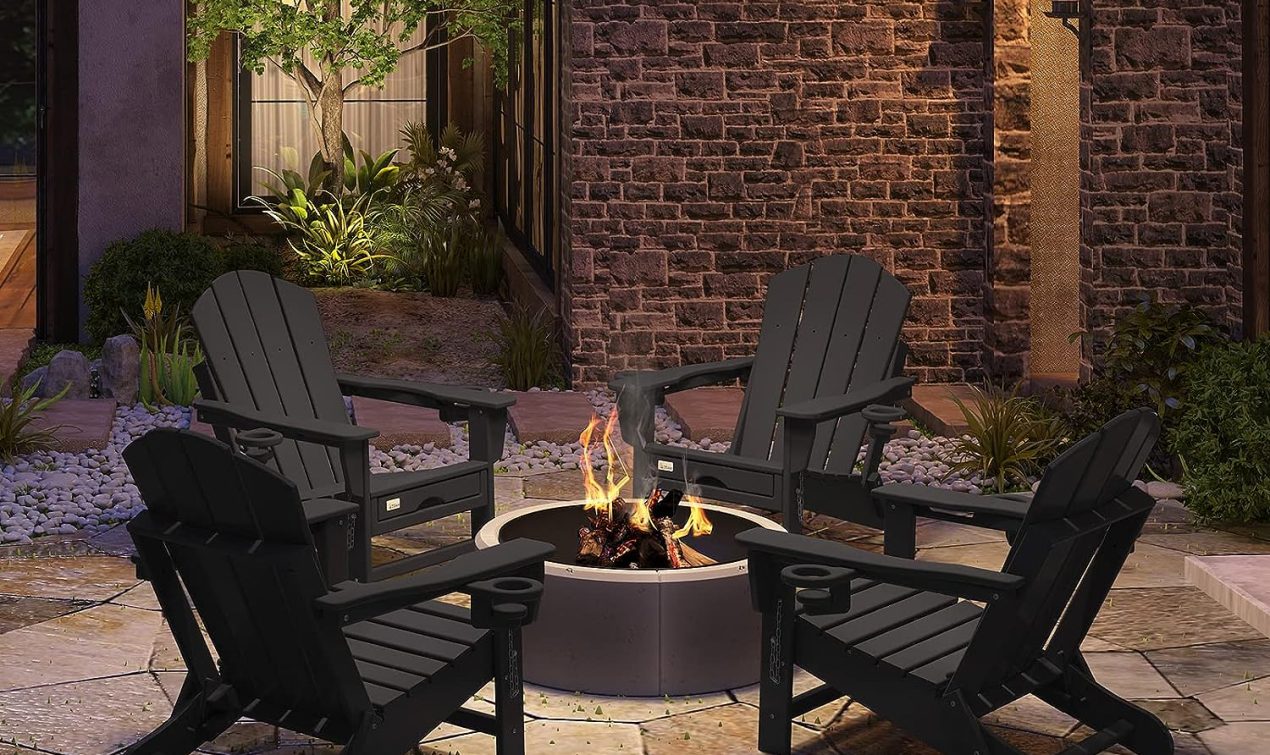 Just Imagine you just need to buy a chair, and you are getting the facility of your personalized beverages and comfort along with it. This will cost you little but will serve you for years.
18. Bamboo Bar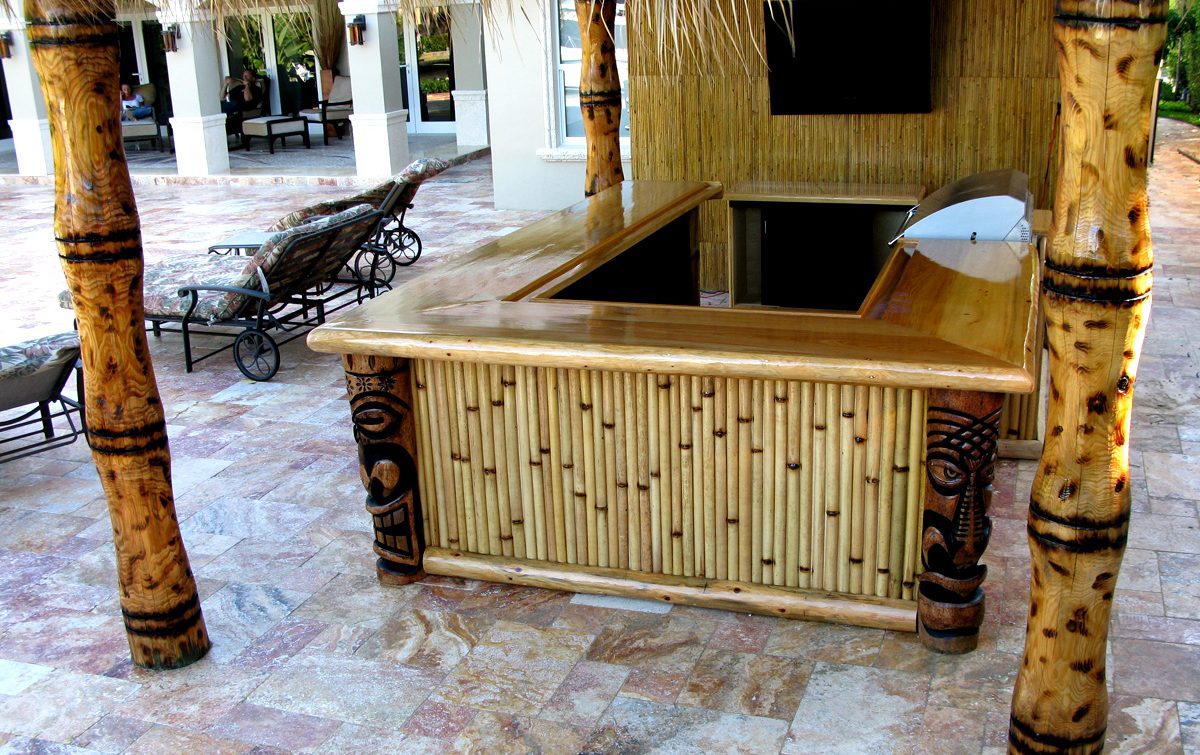 Embrace the tropical aesthetic with this Bamboo Bar, even though we call it a DIY outdoor bar. The cost will depend on the local market and surroundings. In some parts of the USA, you might get bamboo for free, whereas in other parts, it may cost a fortune.
If you have bamboo available at cheaper rates, then you can try this bar. Just collect the wood and assemble them in the form of a table. To enhance the view, you can add roofing and decoration. Bamboo polish can give a sleeky finish and also protects the wood from fungus infection. Watch This Video to build a bamboo bar yourself.
19. Glass Bar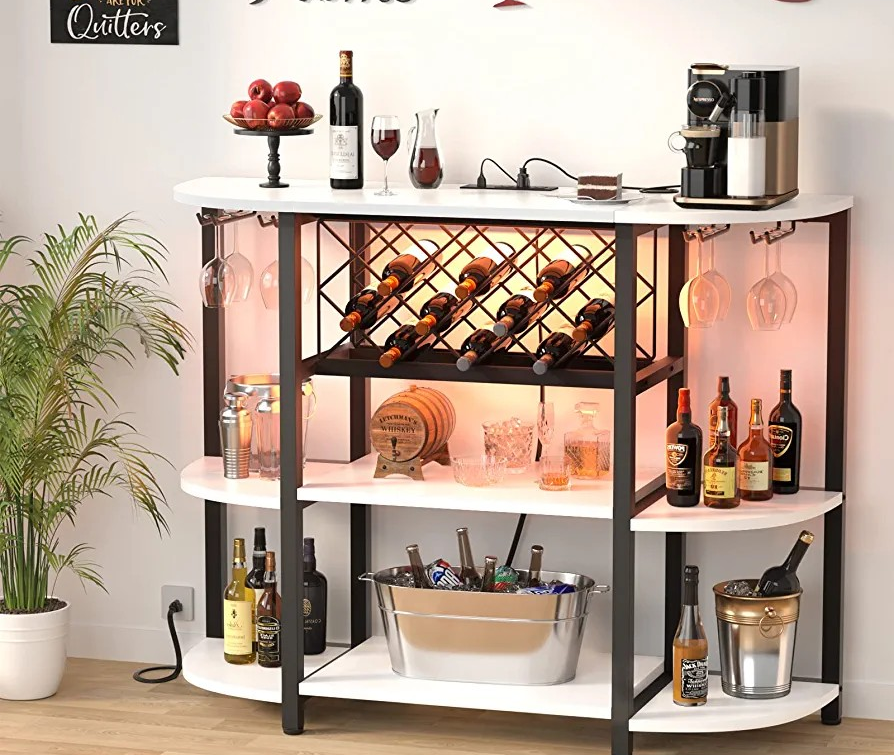 Glass Bar is a good option if you want to keep track of your beverages. You can either buy the glass bar or build this DIY outdoor bar using your old Bookcase cabinet.
Just remove all your books and shift them to another place. Clean and disinfect the cabinet for safety. Then, place your beverages inside them. For bigger bottles like wine and beer, you can use the bottom area or cut the cabinet according to that.
20. Bar Table Cabinet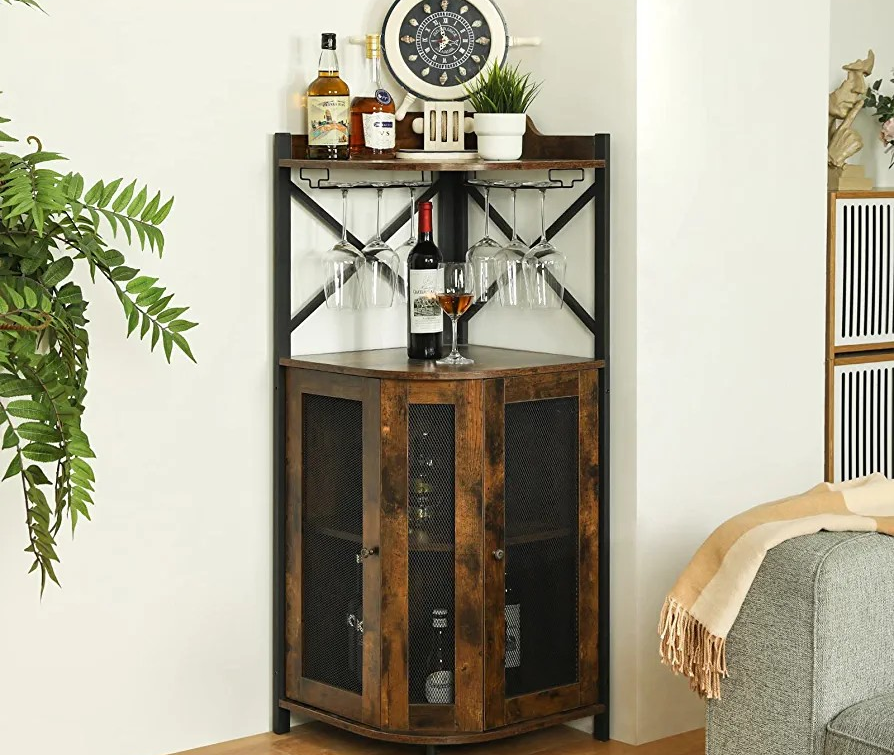 Movable and classy Bar Table Cabinet, if you have reached this last type, then you are surely searching for an easy-to-make DIY outdoor bar.
For this, you just need some metal rods for support and then some flat surface where you can place your beverages. You can use plastic, glass, or any other type of countertop. Just fix them using screws, and you're good to go. To know the exact structure, look at the picture. It will give you an idea of the layout on which you have to build your cabinet.
Conclusion
Create a hub of entertainment and relaxation in your backyard with these DIY outdoor bars. You might need professional help and technical skills to assemble the options mentioned above. Whereas some are so easy, you only need old furniture to build a bar.
Incorporate your favorite bar and choose based on your skill and space. So, gather your tools and innovate your backyard. Fascinate your guests and even neighbors with your DIY outdoor bar.
We hope that you have decided on your type of bar idea. Share it with your friends who are also thinking of building a DIY outdoor bar. And don't forget to share your experiences in the Comment box.